Have you been following along with my "Bright White Home Series" here on my blog? I am loving all of these beautiful homes that these talented designers and home owners are allowing me to share with you.  The fifth home that I'm honored to share with you today is of Anita Yokota.  I found Anita's feed on Instagram and found her fresh, bohemian style so lovely. She's truly made it a home of things she loves and a style all of her own.  She and her family reside in my home state of California.  Come and visit the Bright White Home of Anita Yokota with me!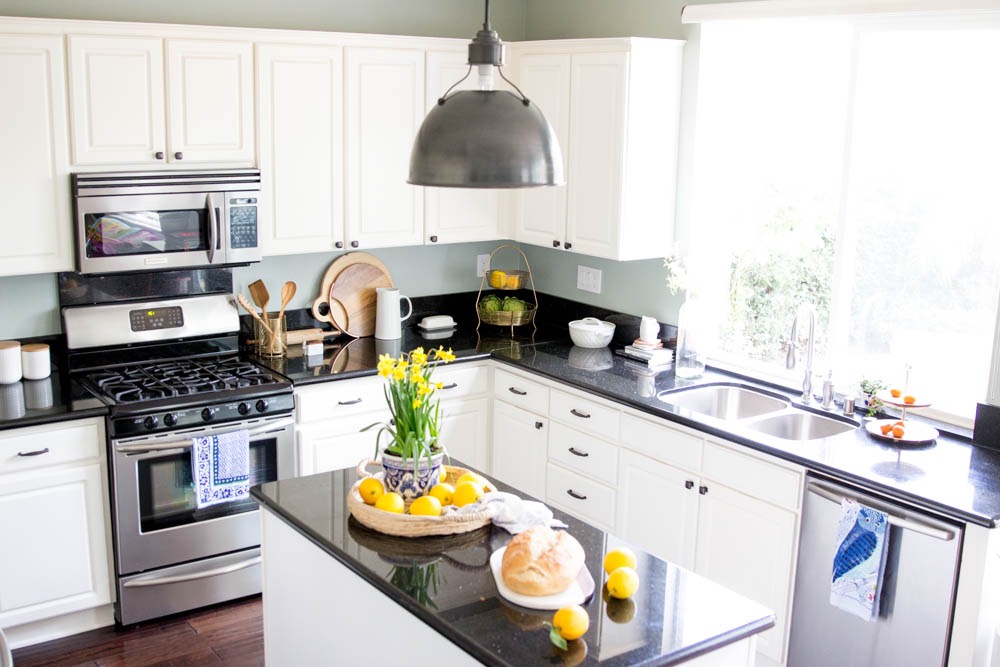 Anita has a beautiful bright white kitchen and chose a dark countertop for a lovely contrast.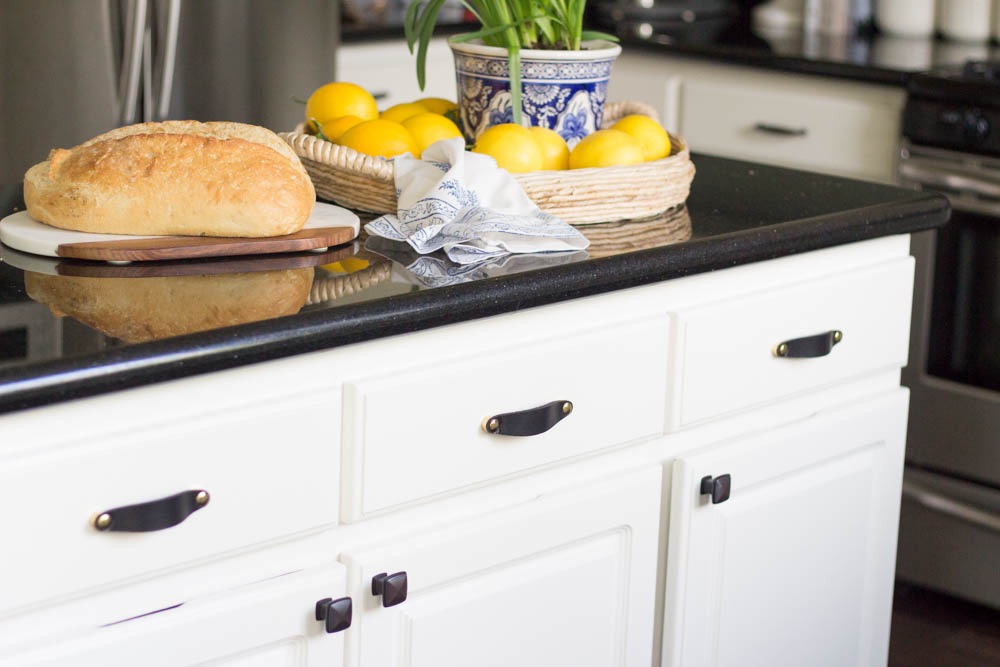 The hardware Anita chose is a perfect compliment to the countertops.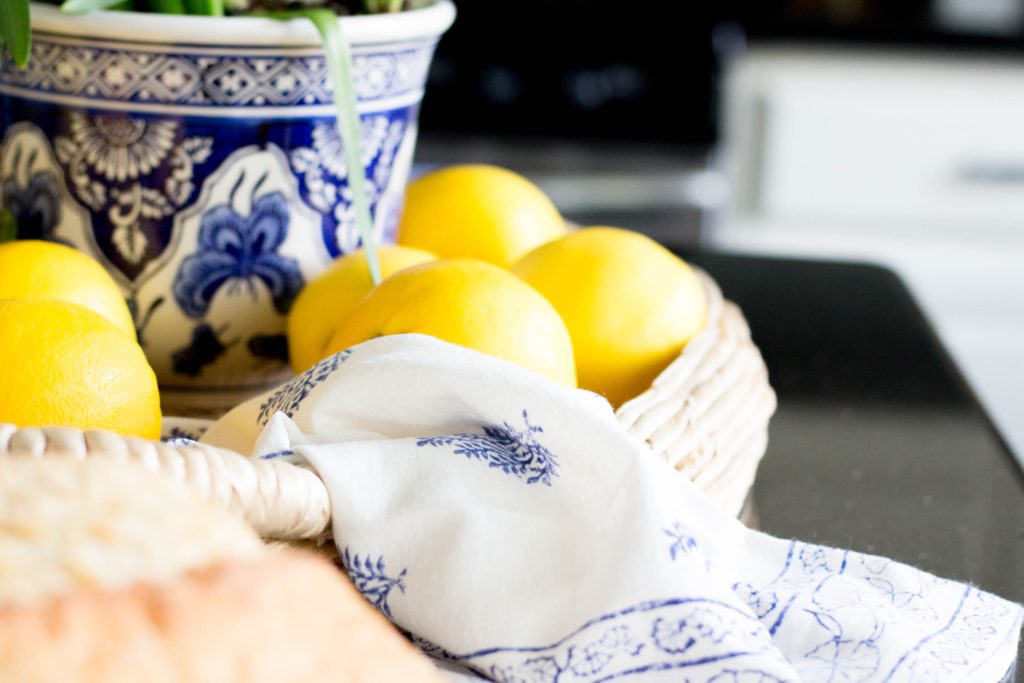 Nothing brightens up a kitchen better than some yellow lemons.  I love the way they look against the gorgeous blue and white planter pot and kitchen towel.  Picking the right kitchen accessories can change the feel of your kitchen.  And nothing is as inviting as fresh produce and hearty bread, as Anita has put out here on her kitchen island.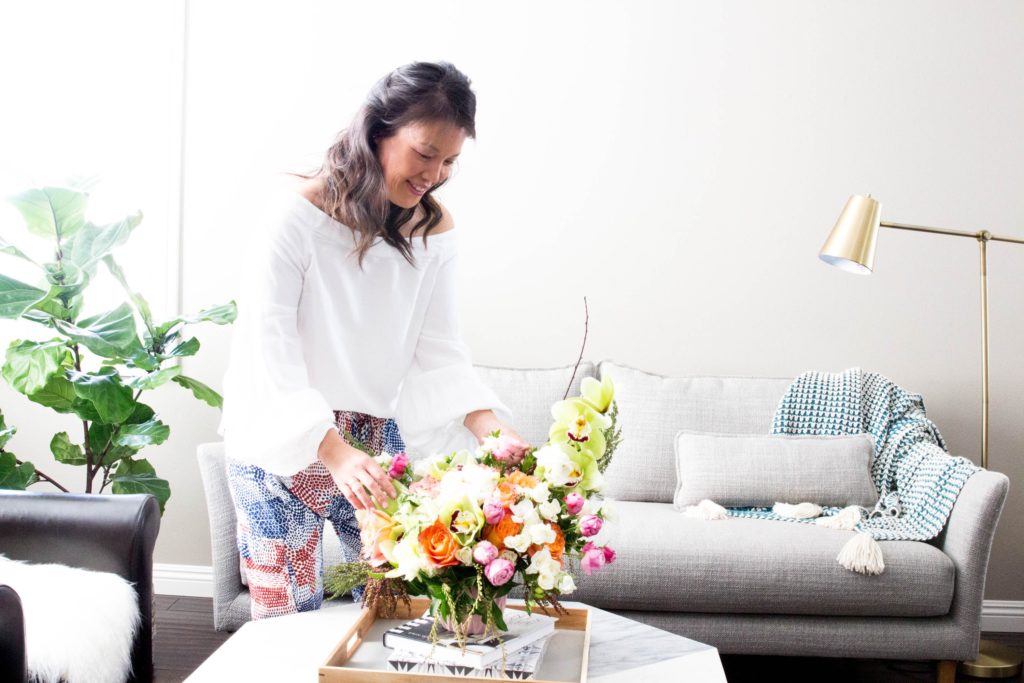 Anita chose the most lovely color for her walls, Ash Gray by Dunn Edwards.  She layers her great room with not only different pieces of furniture, but pieces with different textures.  Gorgeous plants and flowers are the perfect way to brighten up your home.  Bring something "living" indoors as a pop of color and see what a difference it makes.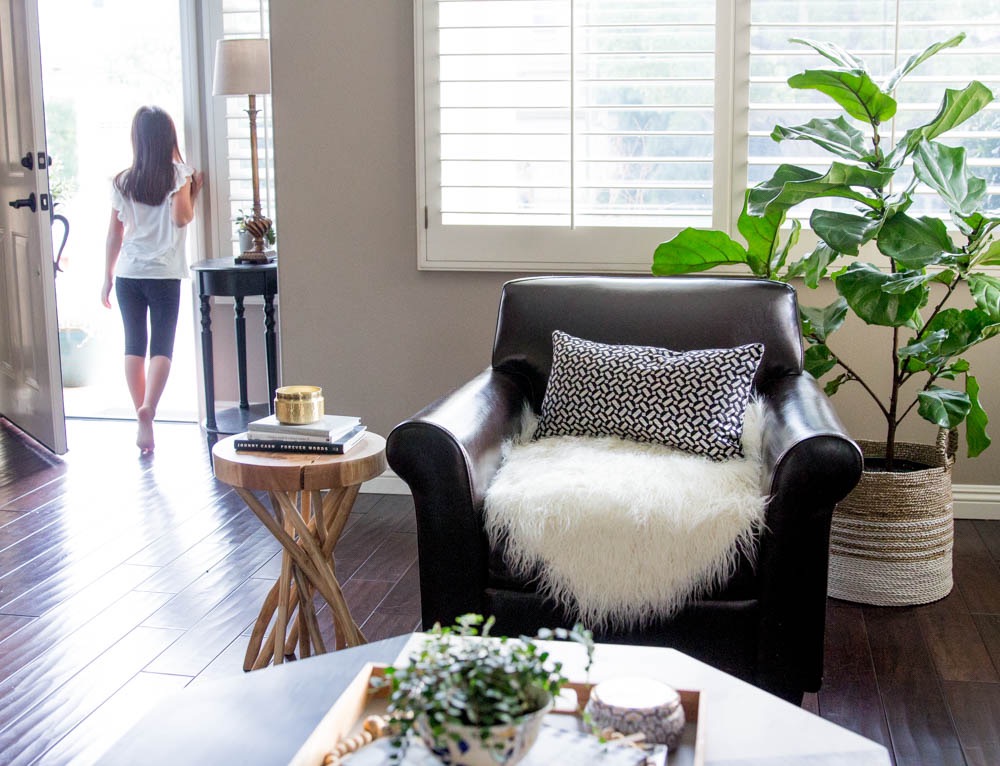 Beautiful leather furniture is classic.  But if you're looking to brighten and lighten up your home, try adding gorgeous faux fur throws and rugs.  I love the touch of glam it also adds to any space.  No matter your style, faux fur is always a good idea!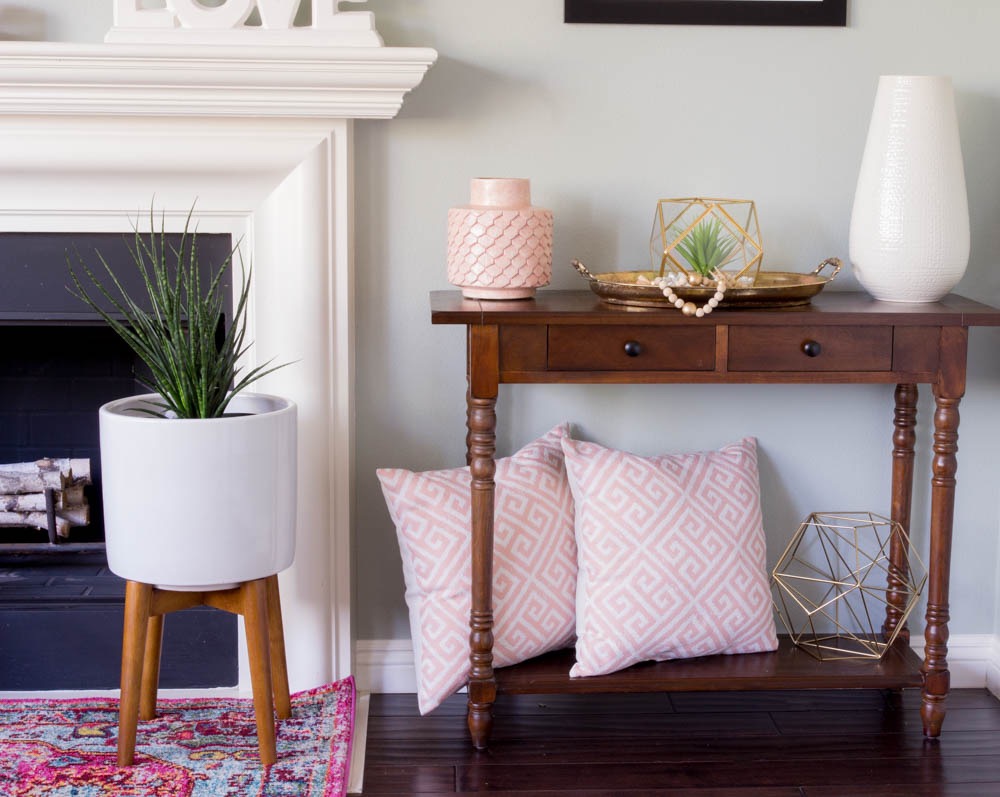 You can create a bright white space in any home by balancing darker pieces of furniture with lighter pieces of home accents and decor.
While keeping this area brighter with the pieces she chose, Anita also shows her love for textures as she layers beautiful pillows and rugs in this space.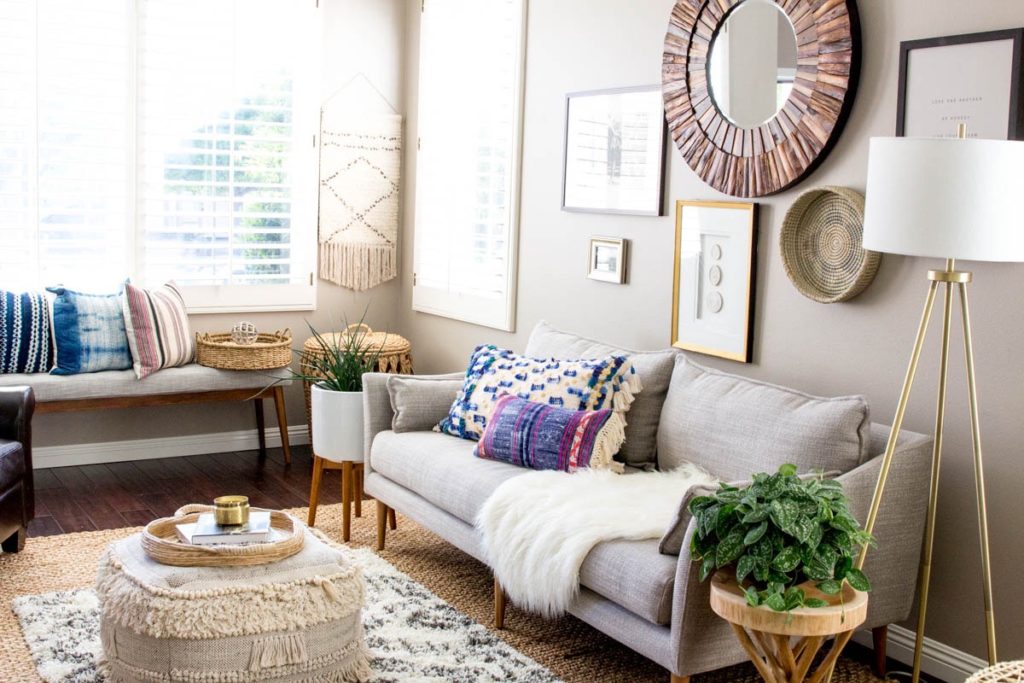 If you don't love some of your pieces, you can always try layering them first and using what you have before making any big purchases.  I love every piece that Anita chose here.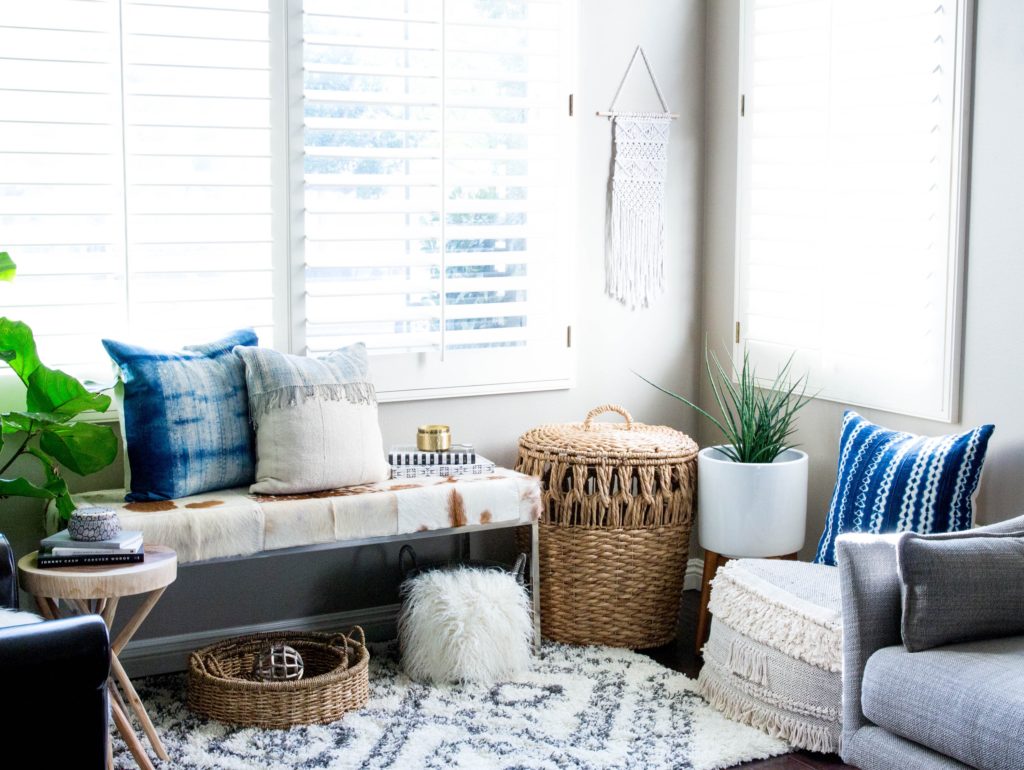 Anita is so good at rearranging her pieces from time to time to keep her home looking fresh.  Do you ever do this?  It's a fabulous idea!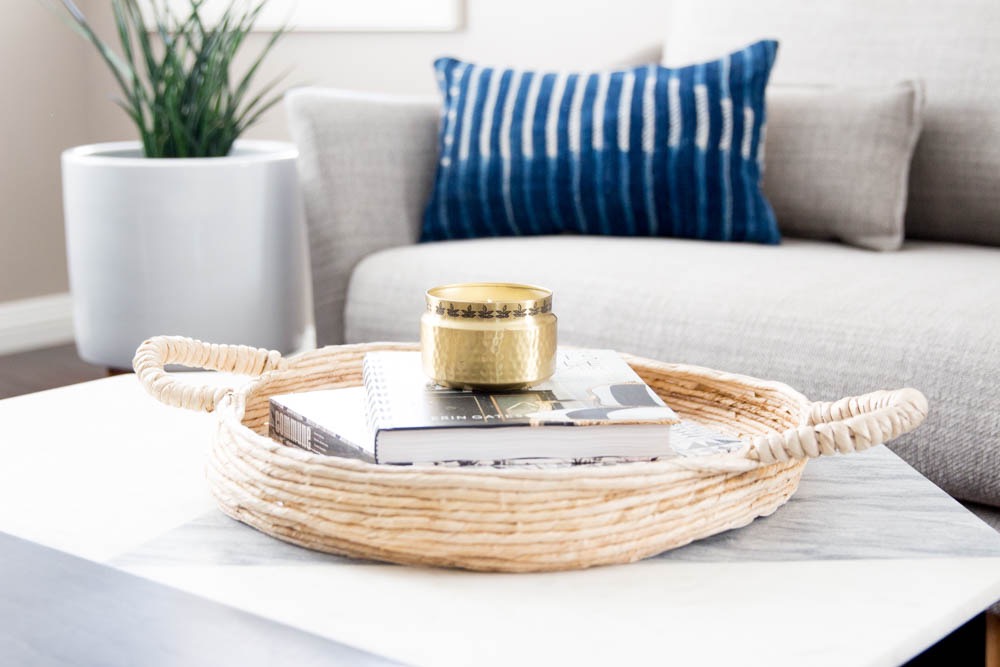 I really like the natural elements that Anita chose to use to layer and accessorize each room in her home.  This can also keep any one area from looking too heavy or dark.  And the "less is more" rule can also be great advice as clutter can tend to make a room look busier, more chaotic and just distracting.  Lighten up your colors and textures but also "lighten your load", as I like to call it.  You don't need to display every piece of home decor you love on a single coffee table or console.  Change them out from time to time and keep things fresh.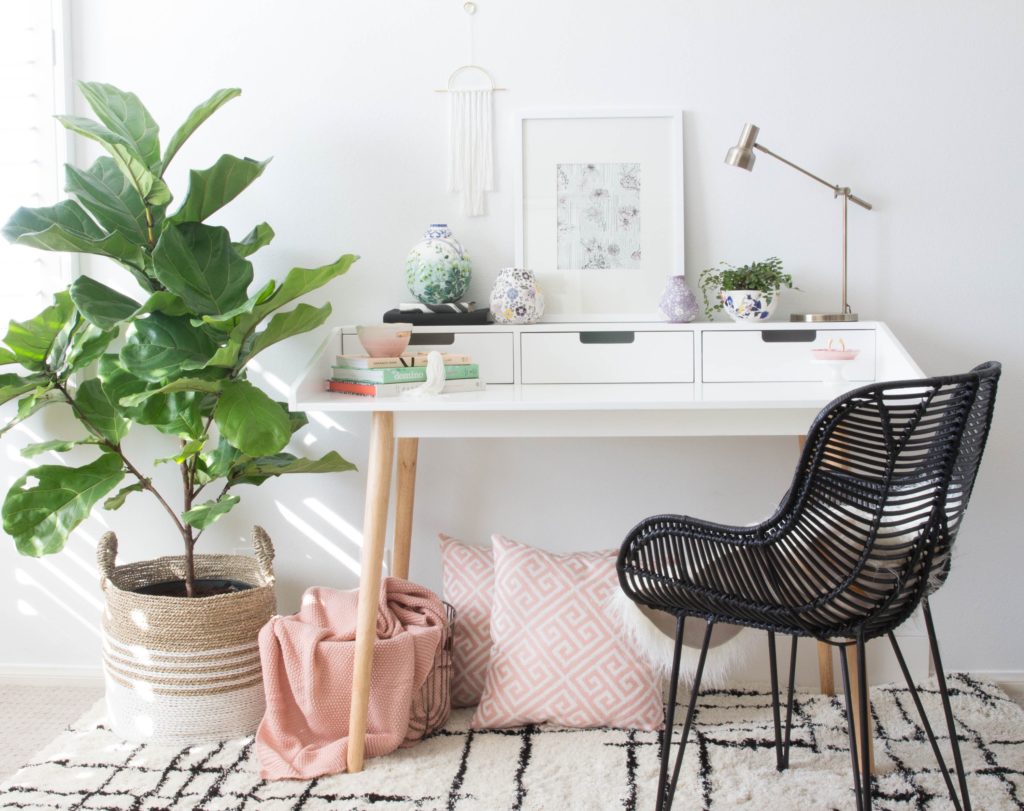 This writing desk has so many cool elements to it without looking messy and busy.  Instead, Anita has created a space that is inviting, bright and tranquil.
A bright white home does NOT mean a home without color.  This bathroom is full of light and the pop of aqua blue tiles in this bathroom niche is brilliant and fun.
"Get Happy" is right!  This backsplash in the bathroom makes me very happy!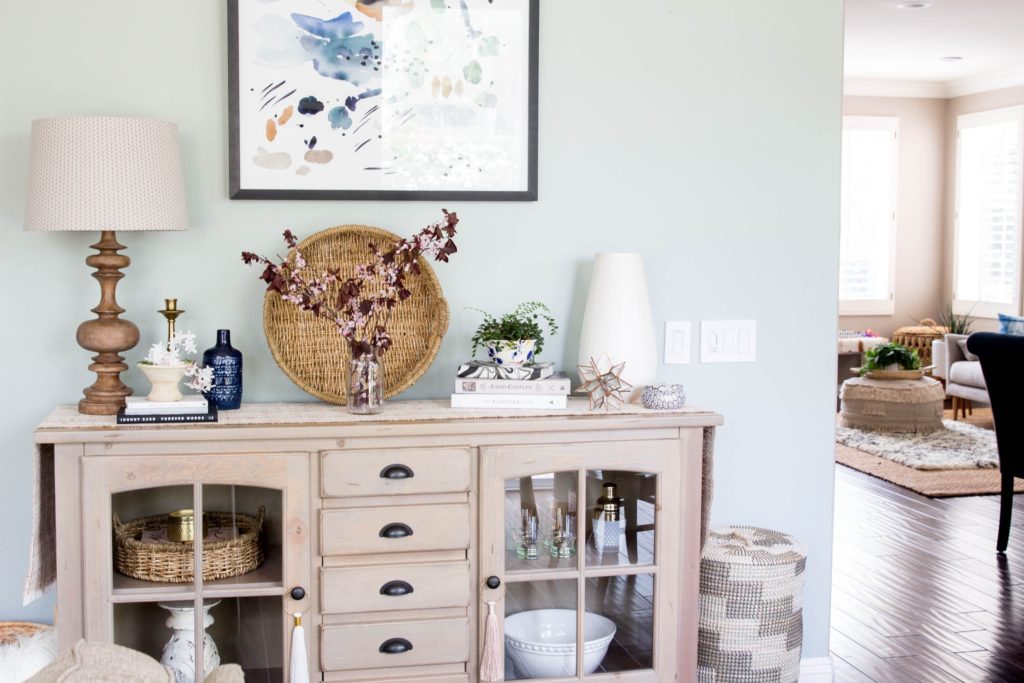 Choosing light wooden furniture as opposed to darker pieces keeps the room looking brighter and more open.  This gorgeous paint is Dunn Edwards Ashwood.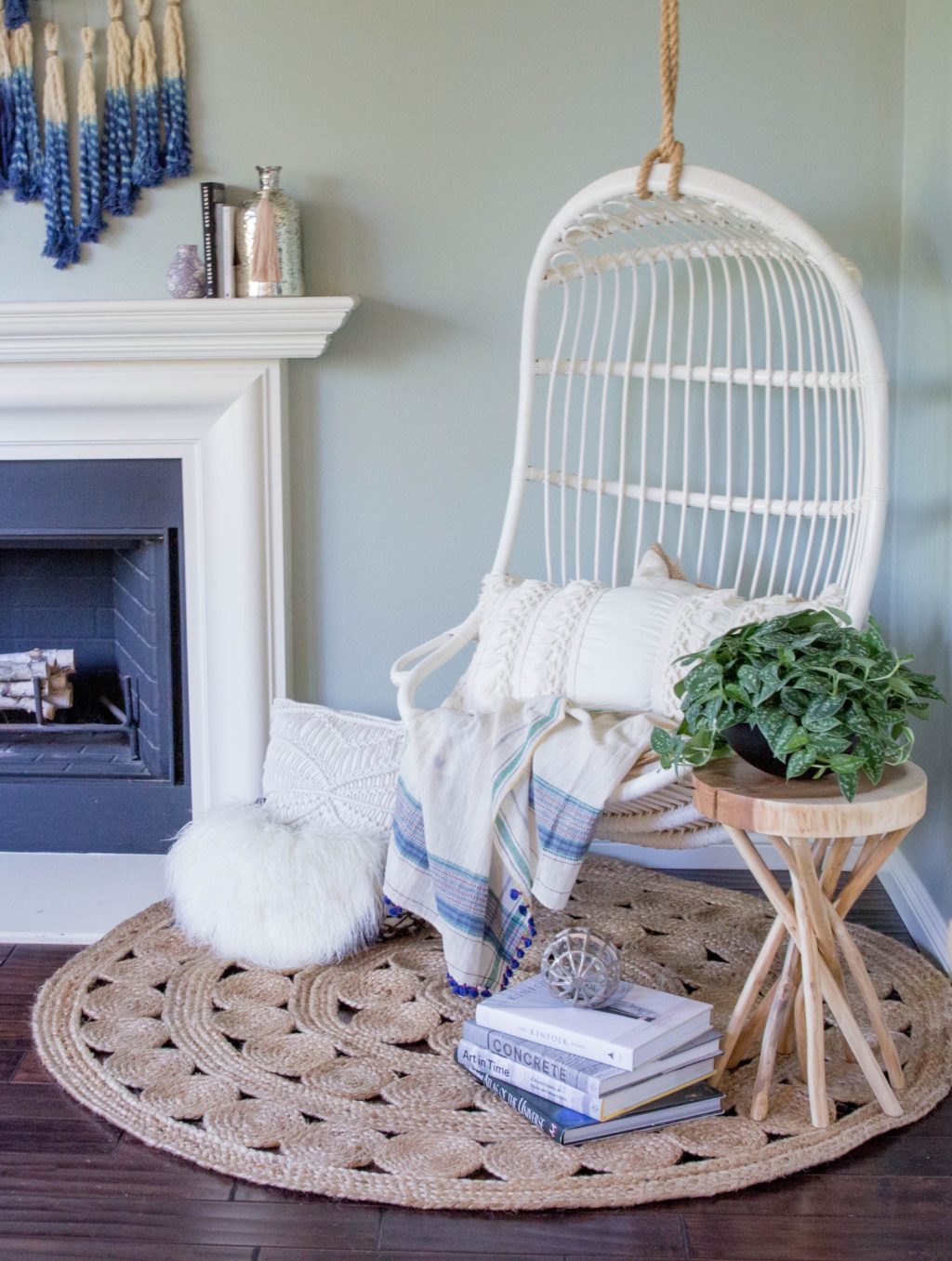 I absolutely adore this swing chair in the corner of this room.  Think outside the box when you are decorating your home!  Anita's home flows so well together, room to room, and yet she does such a fabulous job at styling each individual space in each room.
But check this out…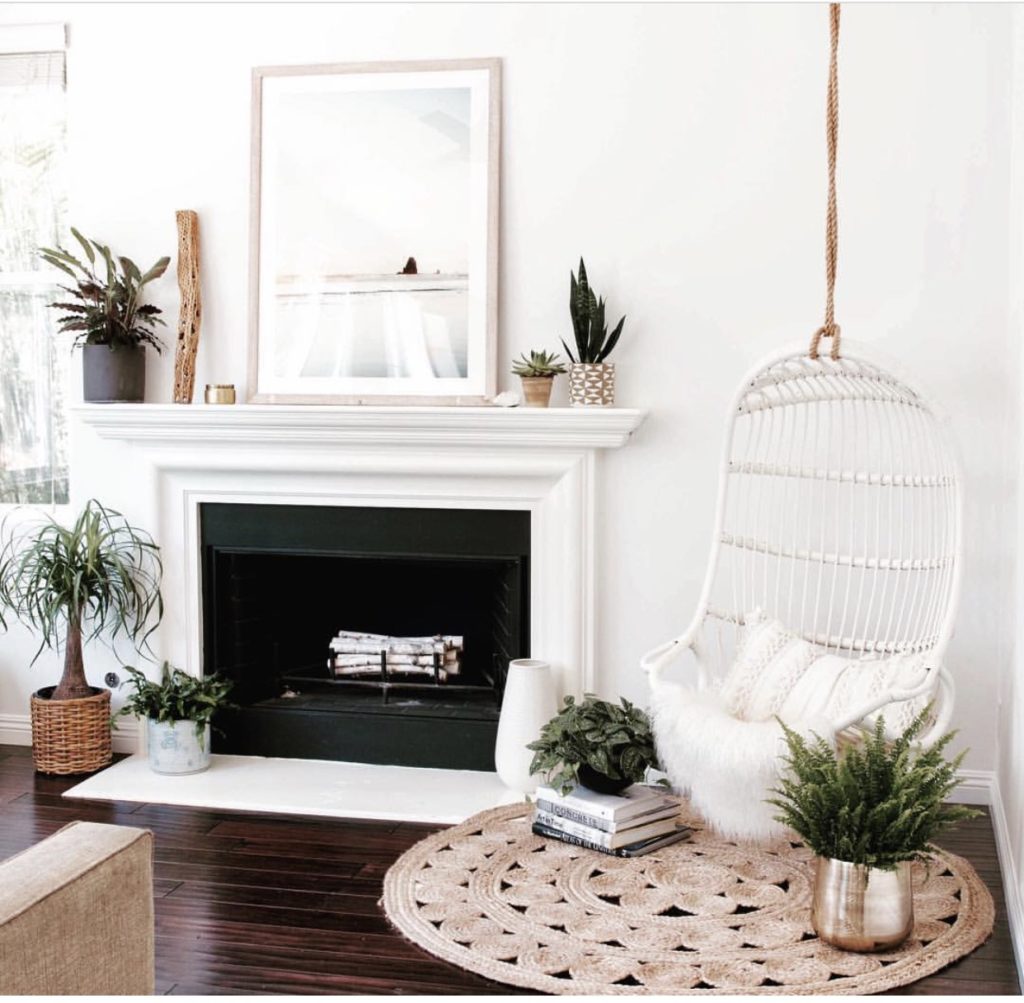 Anita decided to try out the white trend and paint this space back to white.  Look at how STUNNING this room became!  Just when I thought it could not get more lovely!  I'll say  again…I LOVE white!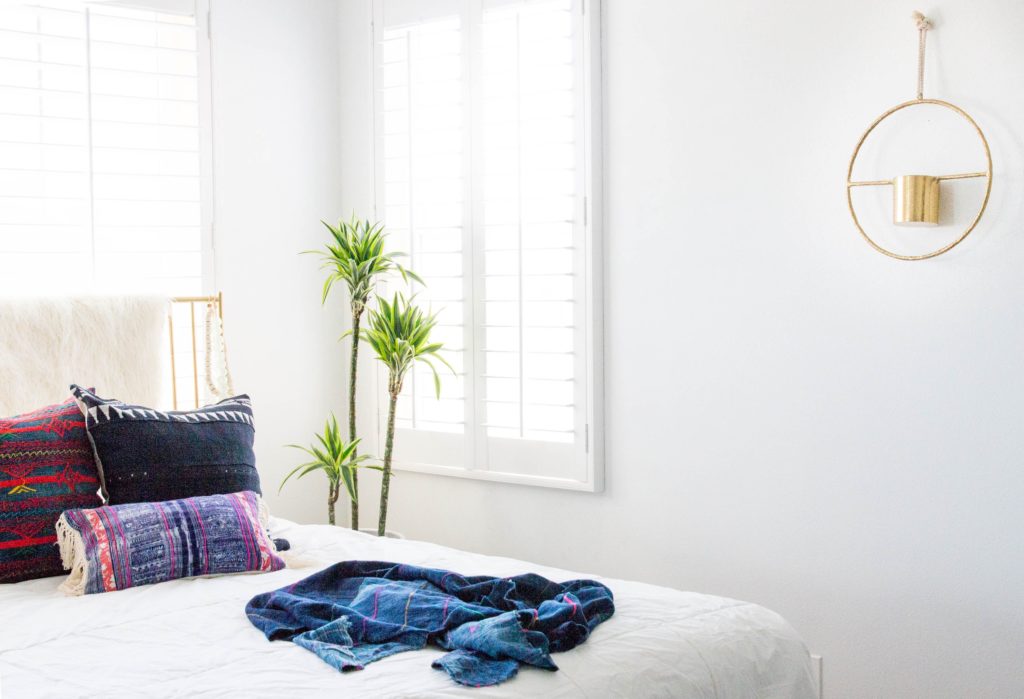 Over and over I hear other moms say, "You can have a white home with kids."  Well yes, yes you can!  I shared that bit of advice HERE with my daughter Brooklyn last year.  I'm so glad that Anita agrees.  It's so easy to wash white!  And how stunning is it to throw pillows and blankets, as Anita has done here, for a pop of color?!  Don't forget that plants and flowers are perfect for your bedrooms and offices as well as your kitchens and great rooms.  Often times, people neglect to think of those things.  They make such a statement and add so much!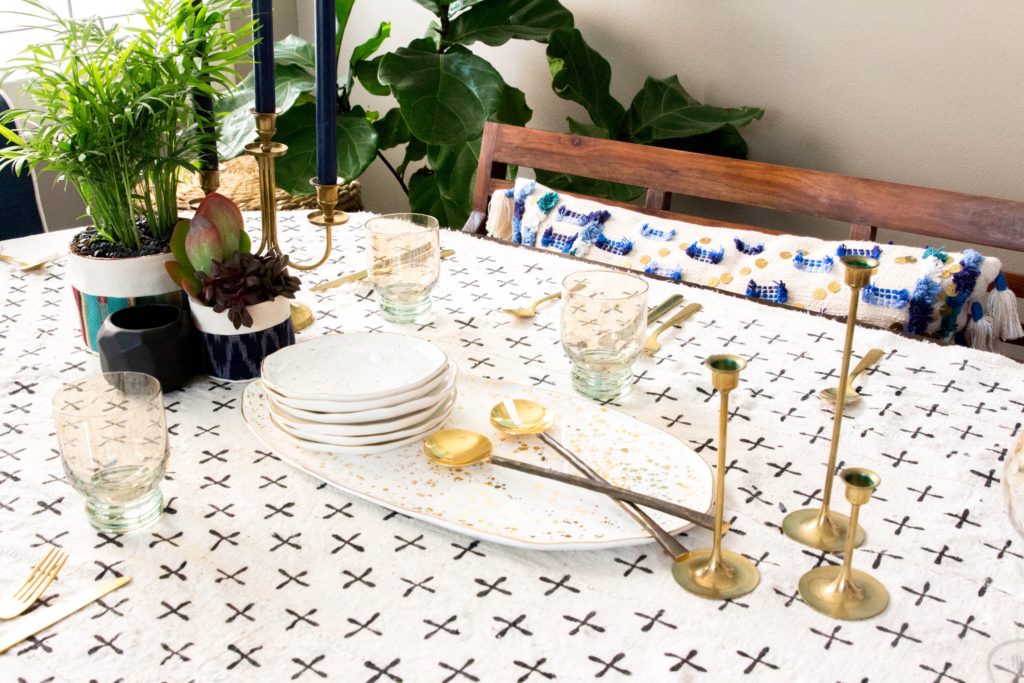 And of course, nothing is more beautiful that a bright white dining space!  Everything looks good against white!  Anita chose such gorgeous brass home accents and gorgeous serve ware here on her table, mixed perfectly with her wooden bench and pretty plants.  Wouldn't you love to sit here with your friends and catch up over lunch?  I know I would!
I hope you're feeling inspired.  I know I do!  Thanks soooo much to Anita Yokota for inviting us into your home today!  Readers, please make sure to follow along with Anita for continued inspiration.
SaveSave
SaveSaveSaveSave
SaveSave
THANK YOU for stopping by today!!!  Especially for continuing with me in my "Bright White Home Series" here on my blog.  I have other beautiful homes I can't wait to share with you AND we are still designing and building our own bright white home in the Pacific North West, after leaving our beloved Texas recently.  So I look forward to sharing that, as well as the entire designing and building process, here on my blog.
••••••••
I would LOVE it if you subscribed at the top of the page in order to receive my weekly emails of all my latest posts and keep up to date on all this fun.  You can also follow me on Instagram, Pinterest, and Facebook to see what I'm up to in creating a home and lifestyle of inspiration!
See you soon!
xoxo,

SaveSaveSaveSaveSaveSave
SaveSave