Welcome to another edition of my Bright White Home Series! Today I'm so pleased to share with you a new friend of mine and her beautiful home. I met Julie Alpert on Instagram a few short months ago. She became a quick friend and I just loved her feed and her home. It was not only bright and beautiful but so inviting and had all the perfect touches of a good homemaker. You could just tell that she loved her home and making it beautiful for herself and for her family. If you see one picture, you'll want to step inside her stunning Floridian home and see more. So come on in with me as I share this Bright White Home of Julie Alpert!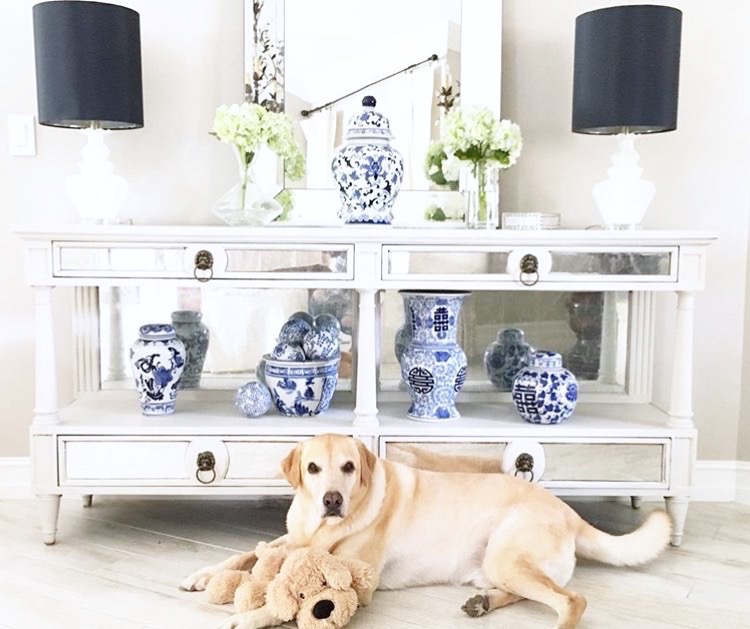 The sweetest face greets us. Is that not the cutest thing or what?!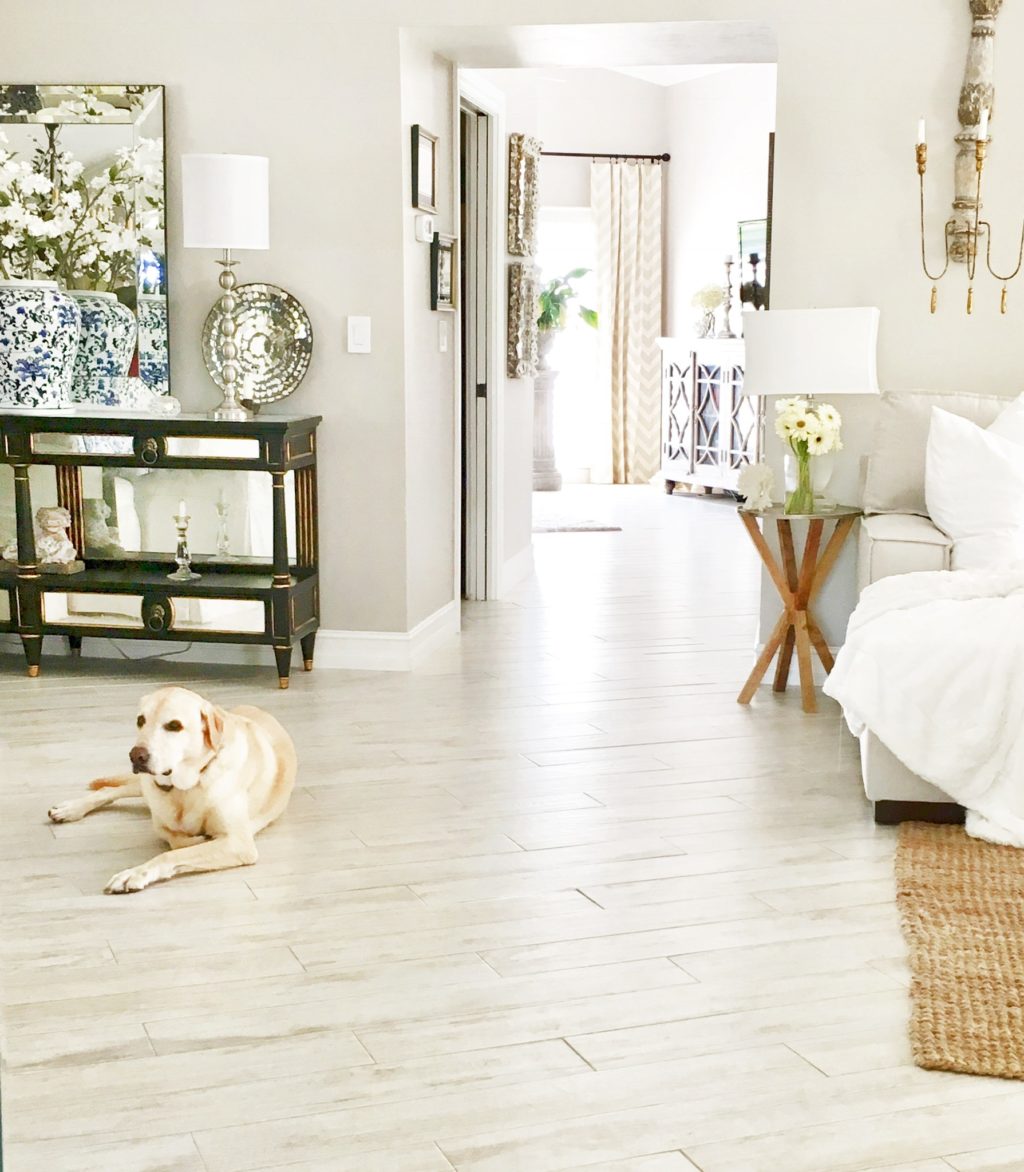 Entering Julie's home, you quickly feel happy. The light enters and bounces off all her beautiful mirrored furniture and warms the feeling of the room and of the entire house.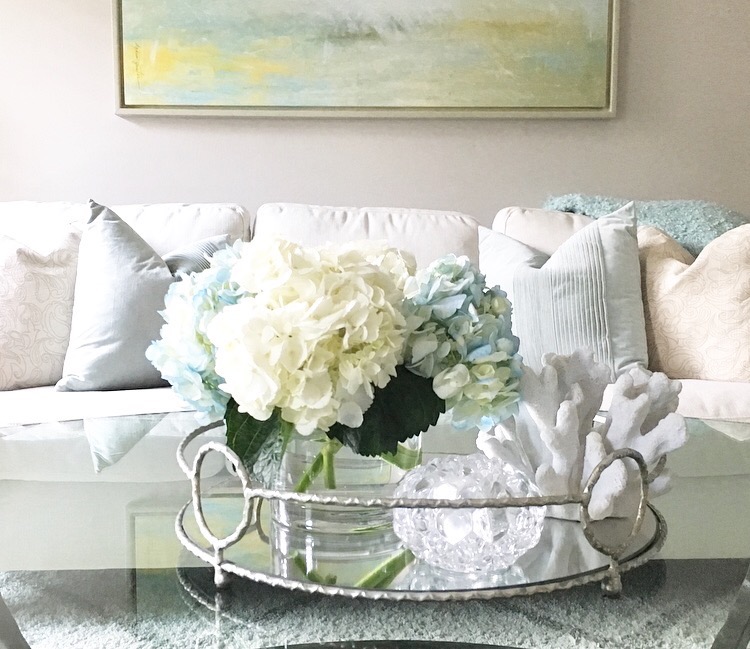 Julie's home has a gorgeous coastal style with a touch of glam which is perfect, as she resides in the sunny state of Florida.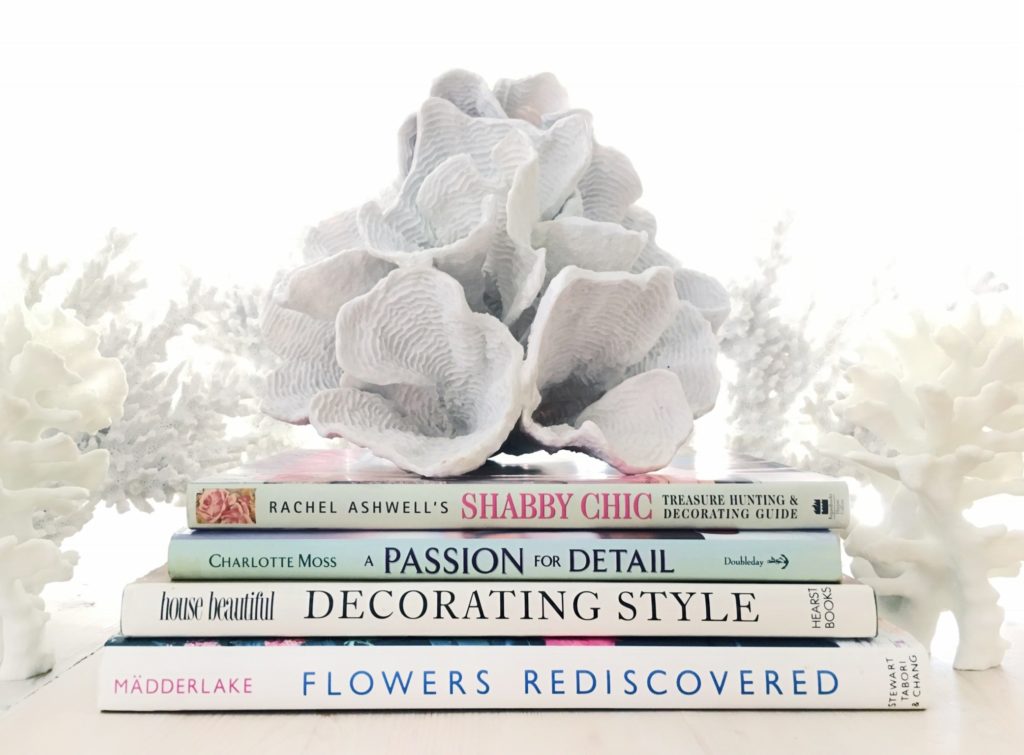 She chooses accents and decor that help continue to reflect light and allow light to pass through instead of using heavy, dark pieces.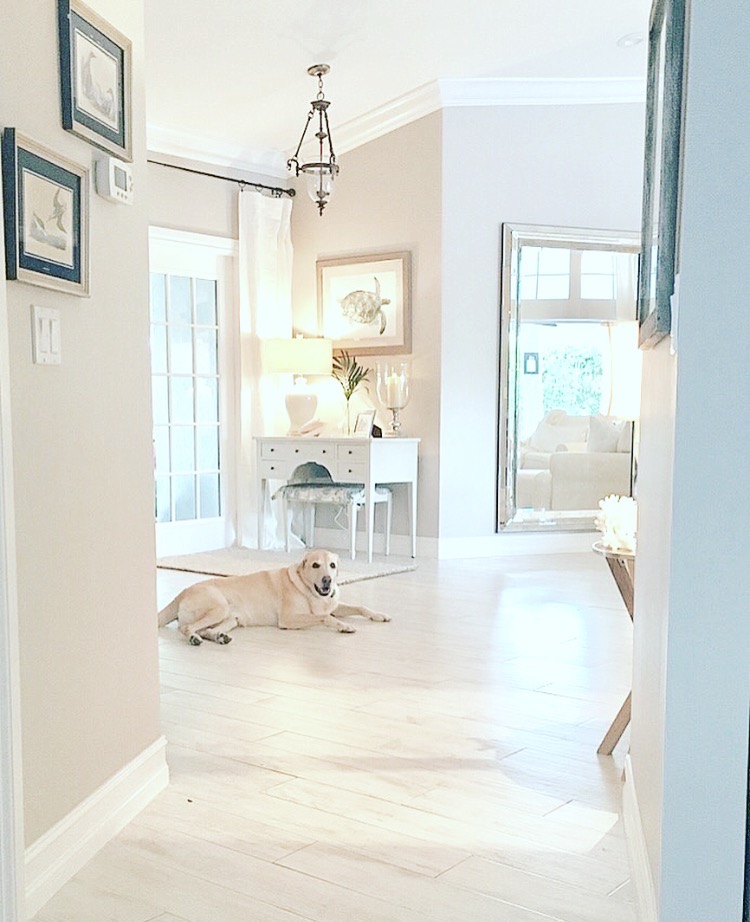 I love the floor plan in her home. Each space flows to the next and Julie has done such a perfect job of allowing the decor to flow as well, instead of creating completely different spaces.
Julie has added cool, ocean colors to accent each space so beautifully.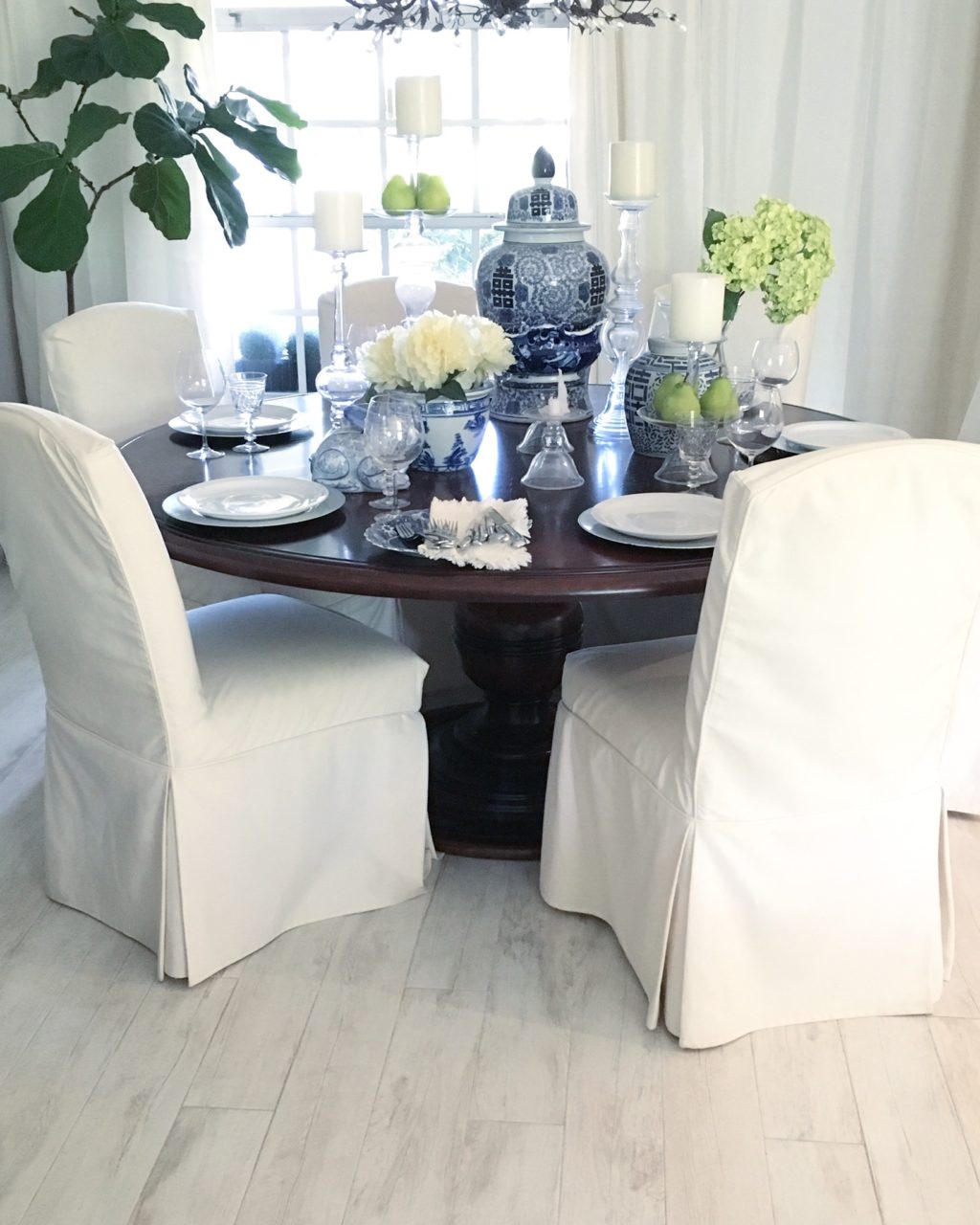 Julie beautifully balanced a stunning dark table with light linen-covered chairs.
This shot shows off these gorgeous bleached wood floor of hers.
The beautiful blue and white chinoiserie ginger jars were found at Home Goods.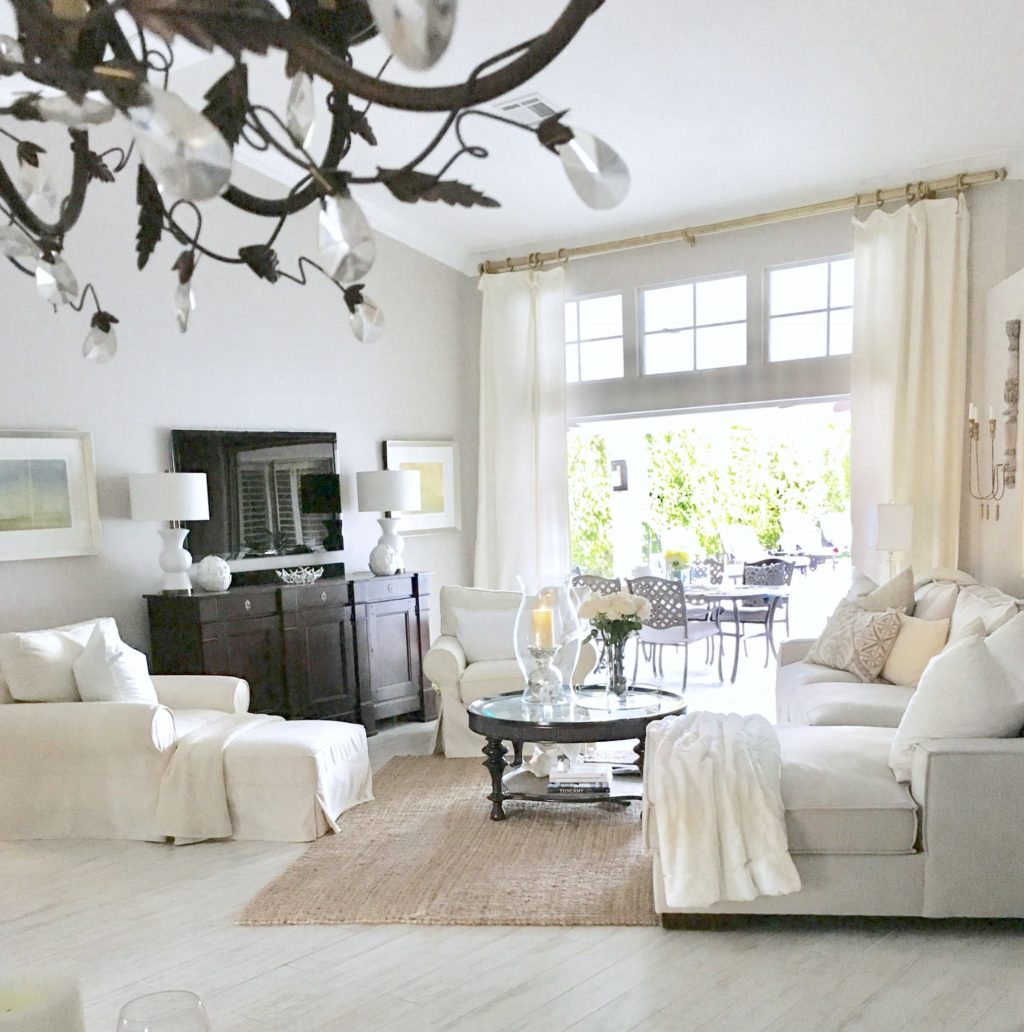 The wall color Julie chose was Sherwin Williams Alpaca SW7022 and the trim in Extra White SW7006.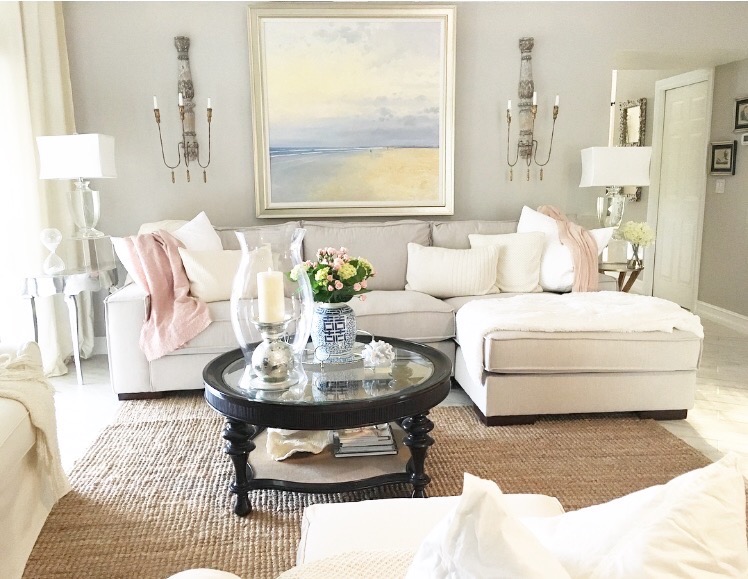 These gorgeous wall sconces, found at Ethan Allen, bring in that coastal yet vintage element that Julie loves so much, as do I!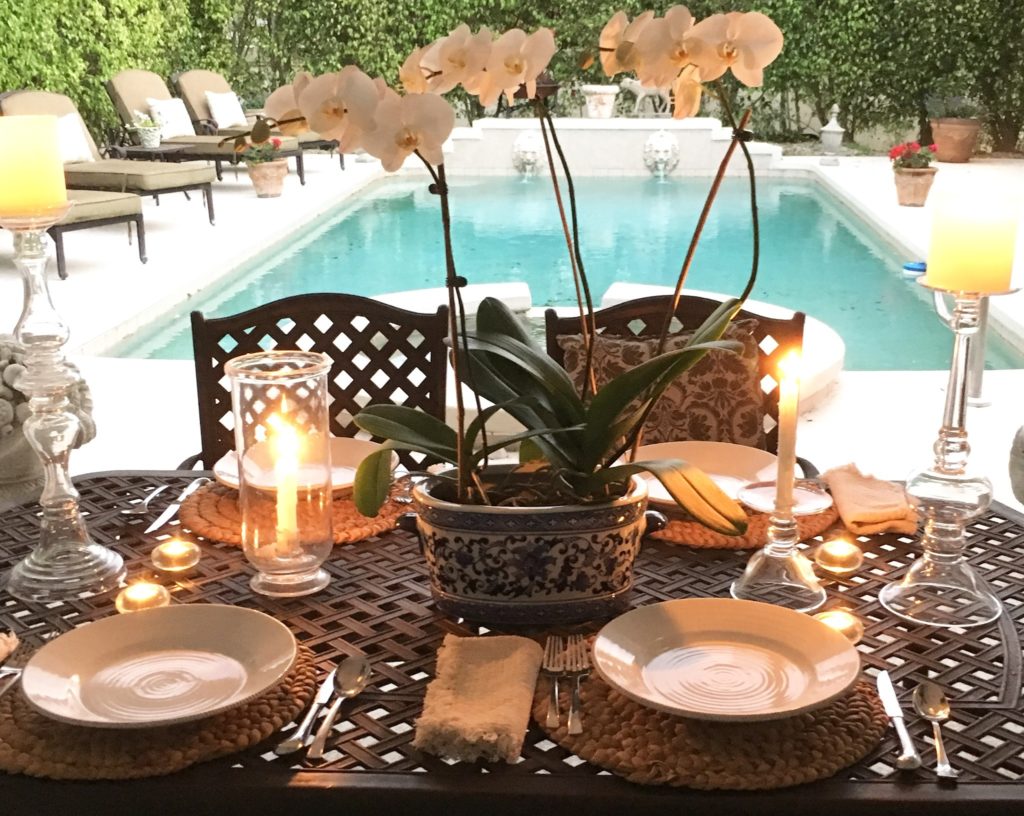 Just outside those gorgeous french doors is the lovely patio and swimming pool. I've said it before but a swimming pool is a MUST HAVE if you can afford one. It's not only the perfect way to add value to your home but also gives your family hours of enjoyment! Take a look on California Pools to find out more but can you imagine feeling the gentle breeze in the living room and then continuing on out to the back patio for a lovely evening dinner with a little swim afterwards? Again, Julie designed the flow of her home so elegantly. It truly feels like an oasis, whether you prefer being indoors or outdoors.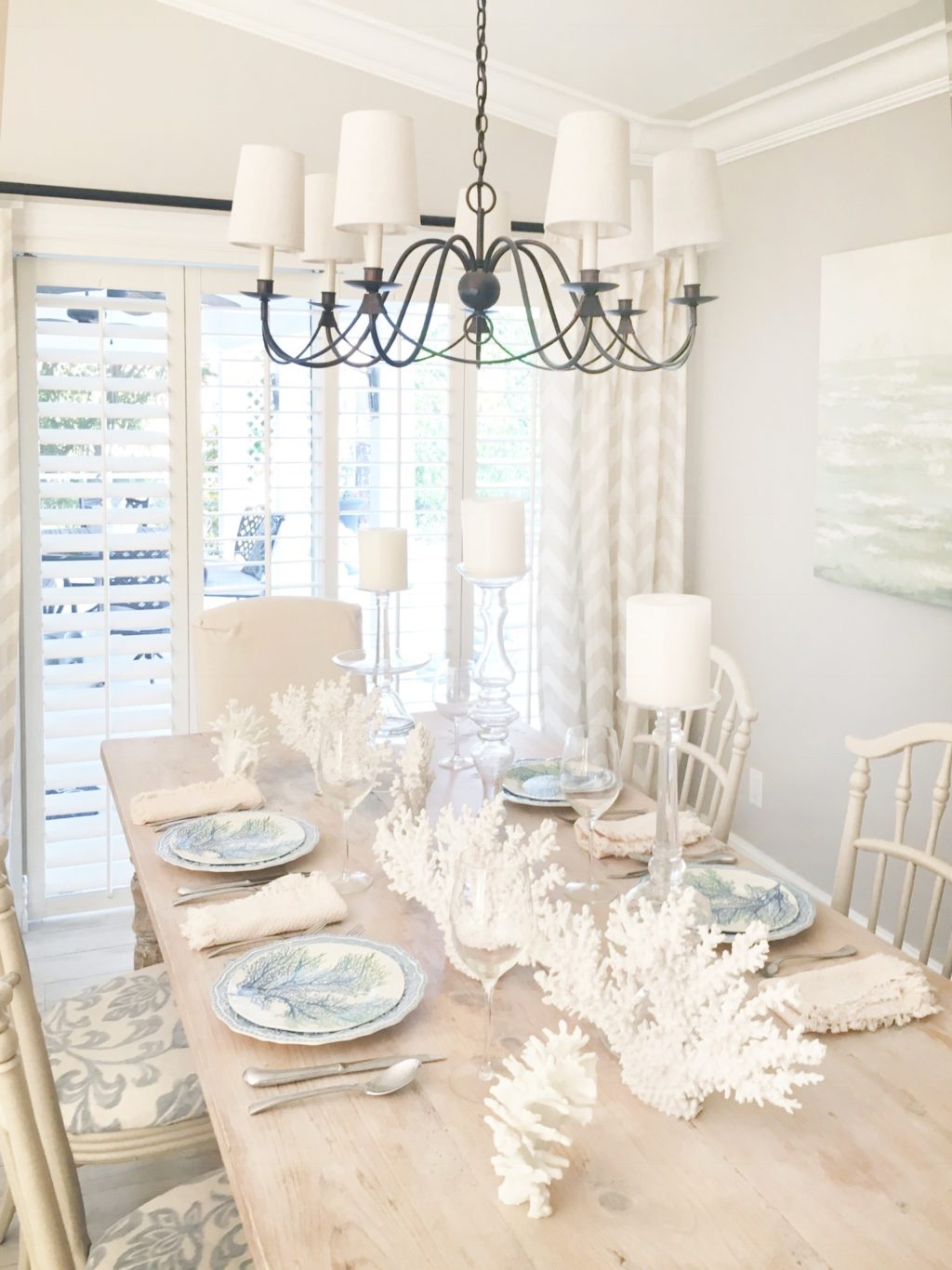 I love this coastal dining room! This bright space is sure to please any guests!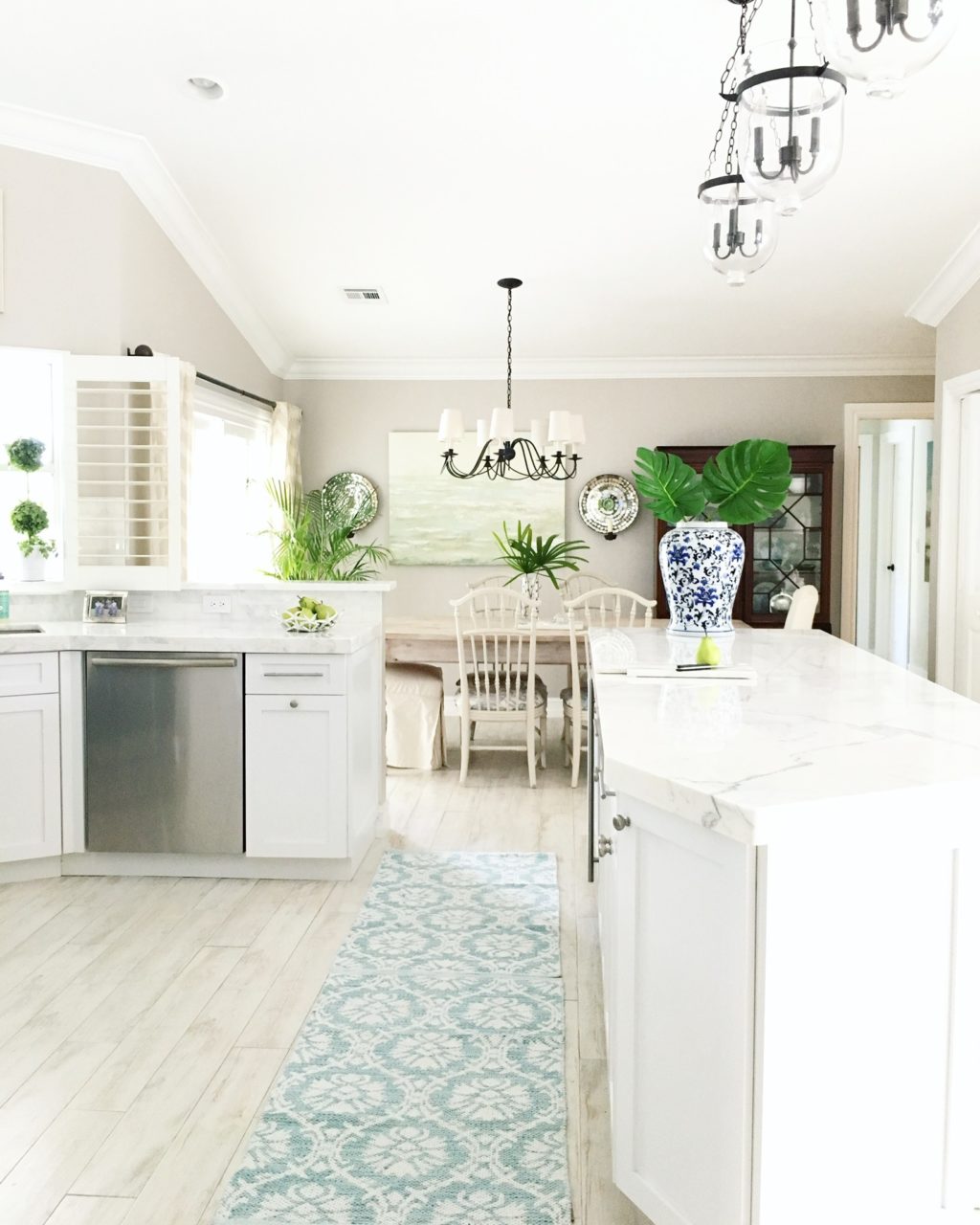 Notice how easy it is to add a piece of darker furniture for contrast while keeping the home feeling bright when you choose lighter flooring, wall colors, and cabinetry.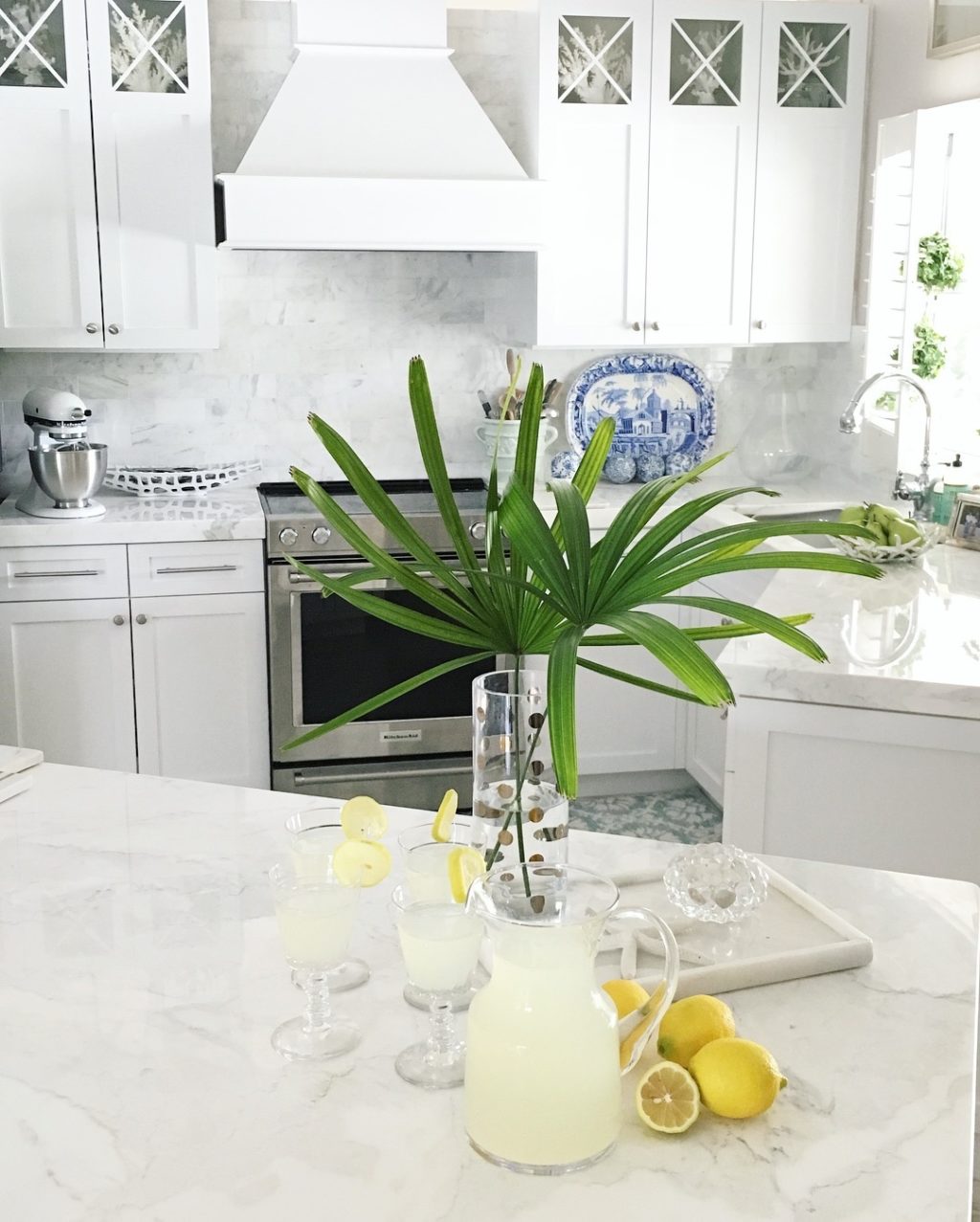 It also allows each natural element to create a true pop of color, whether it be a plant, flower, or produce.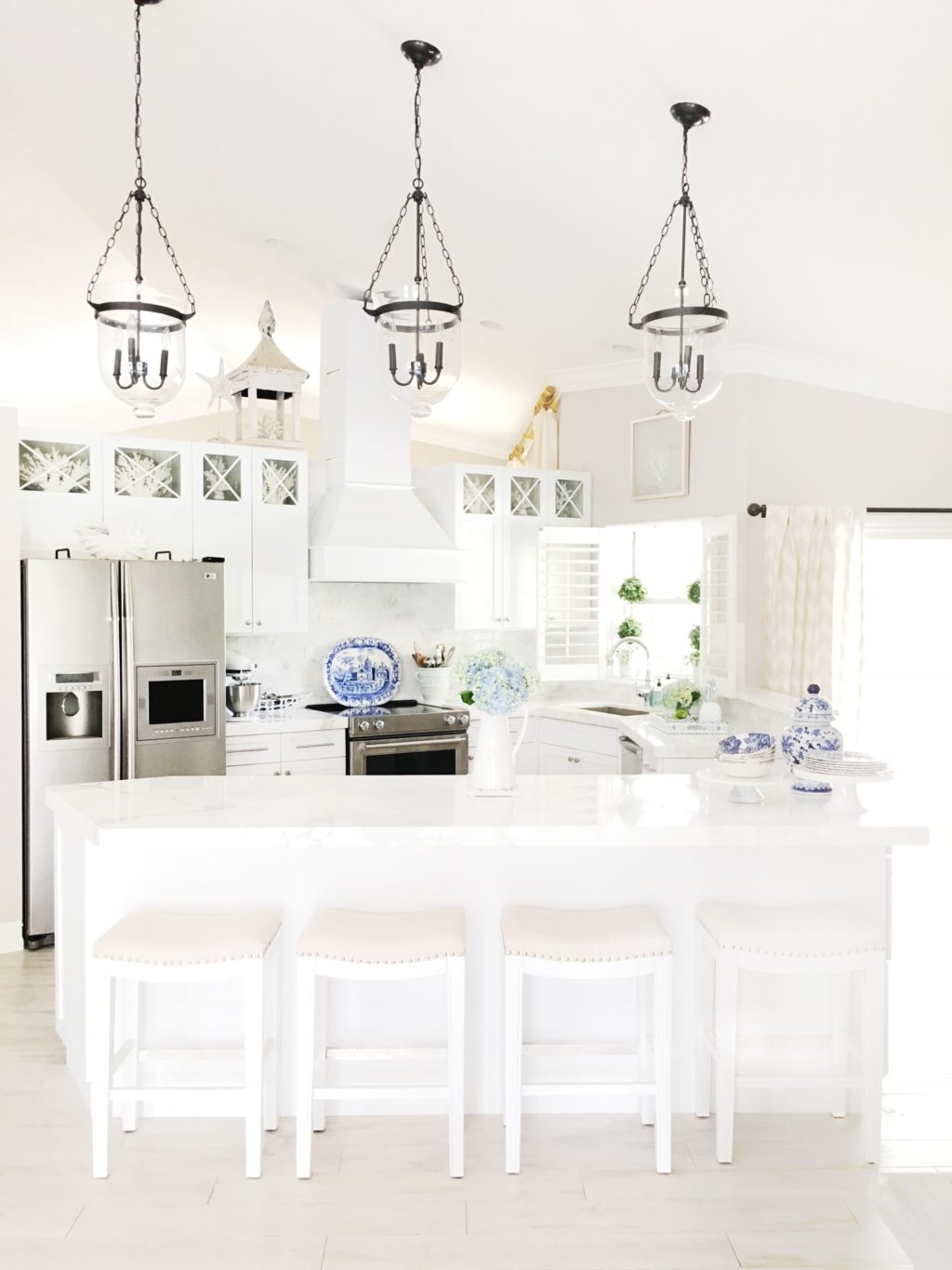 It's the kind of kitchen you just want to sit in and visit for a while. Don't you think?!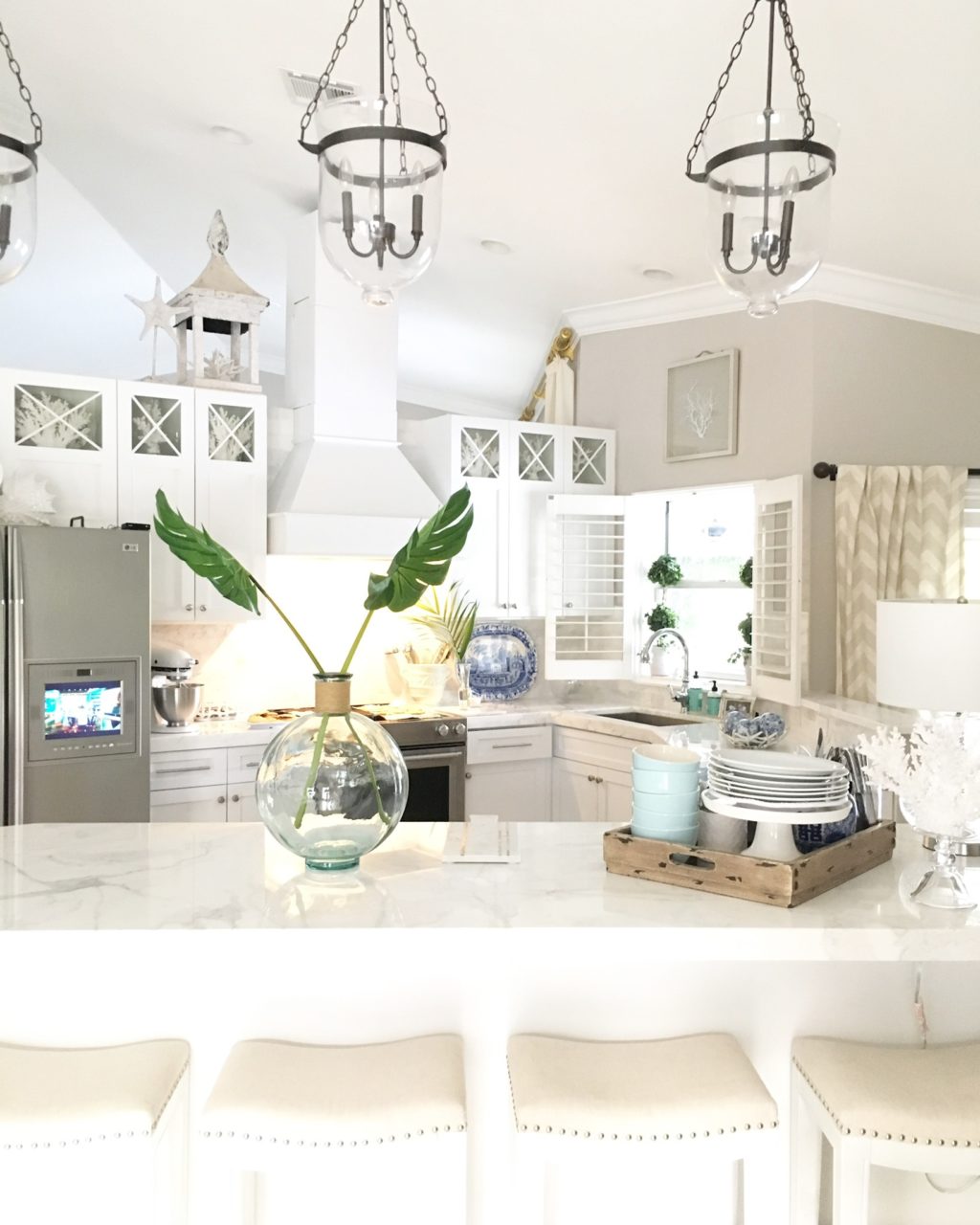 Julie chose these gorgeous pendants from Pottery Barn. They catch your eye but also allow light to pass through, illuminating the kitchen. It also allows you to see the beautiful cabinetry without effort.
The gorgeous linen saddle seat bar stools also allow you to see and access the kitchen island easier.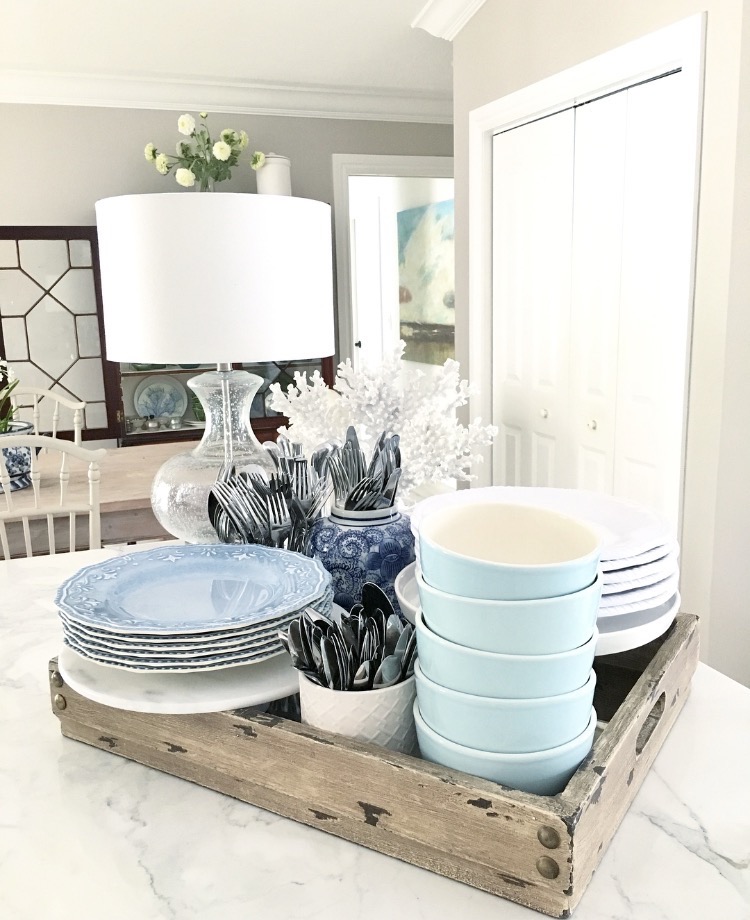 I love these beautiful pieces that Julie chooses to entertain and serve her guests.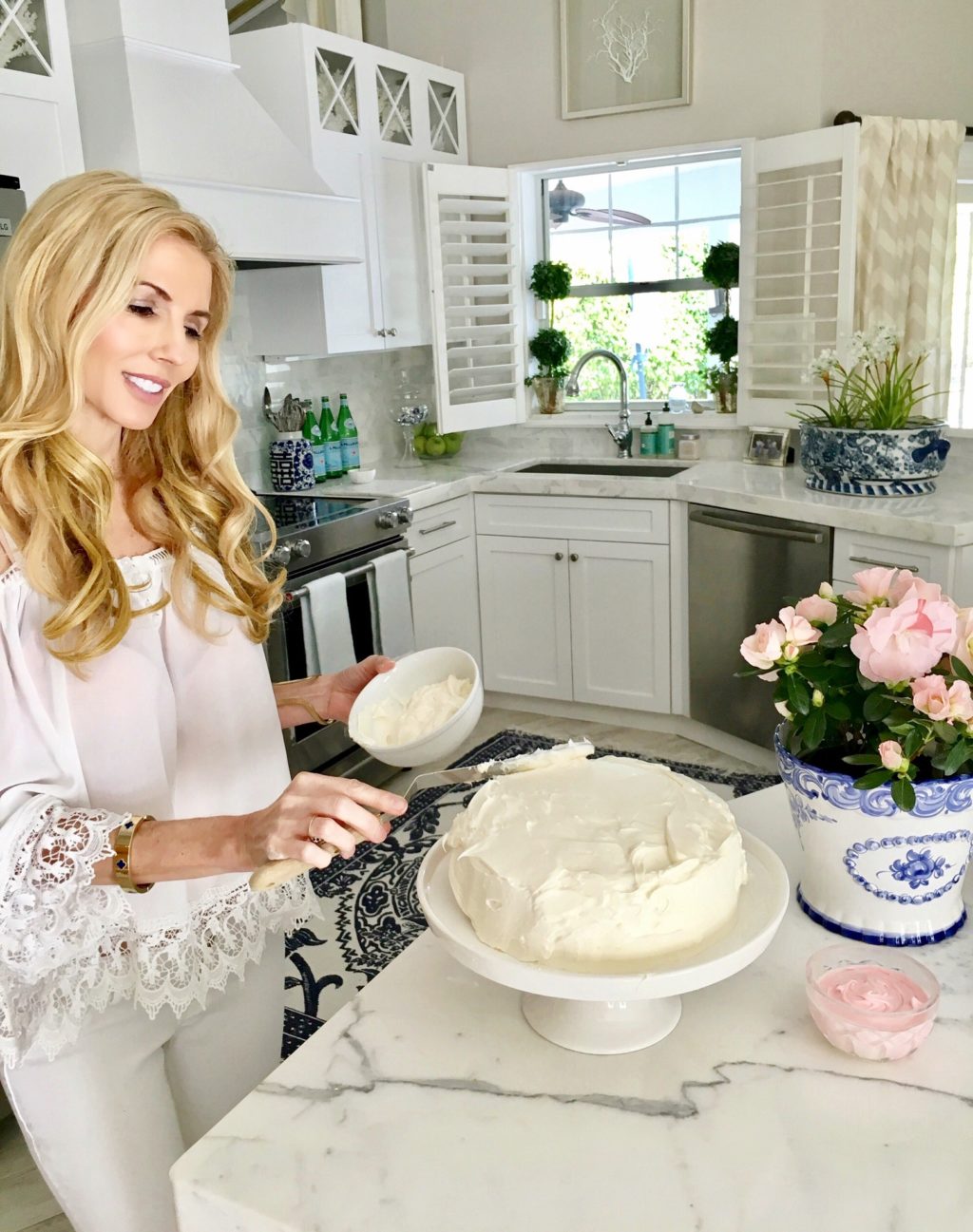 Isn't she adorable?! Truly the hostess with the mostest!
Julie chose white shutters to keep things light or keep light out. Opening all the way allows more light to pass through and brighten the space that much more. This is so important for any kitchen, as it seems to be the hub of all homes.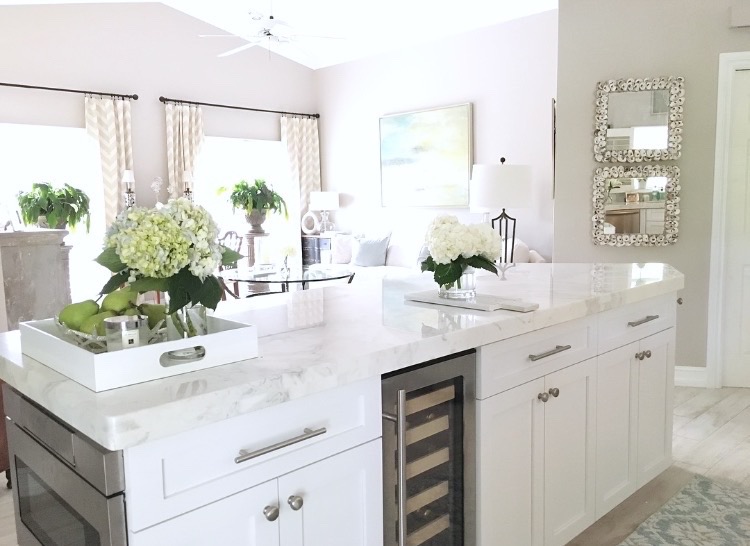 Julie's open concept keeps her home truly "open" to entertain guests and to know what's going on with her family. I'm so glad that open concept homes are more popular than ever! Gone are the days of pining away in the kitchen…all alone! Nope, everyone's invited!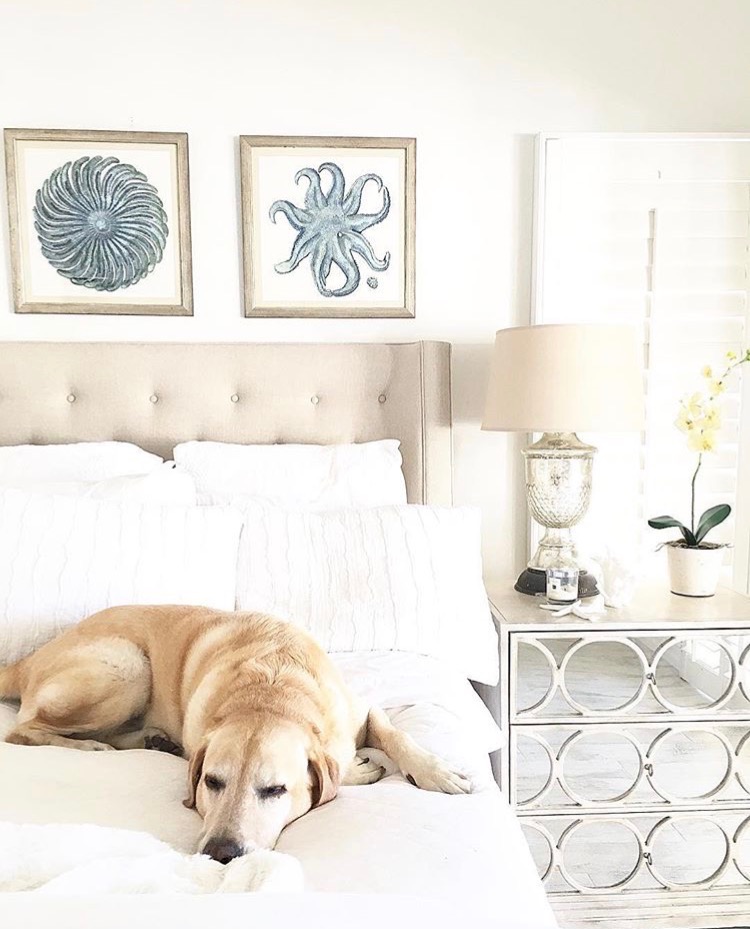 Someone is waiting for us in the bedroom. This definitely seems like the perfect cozy spot in the house!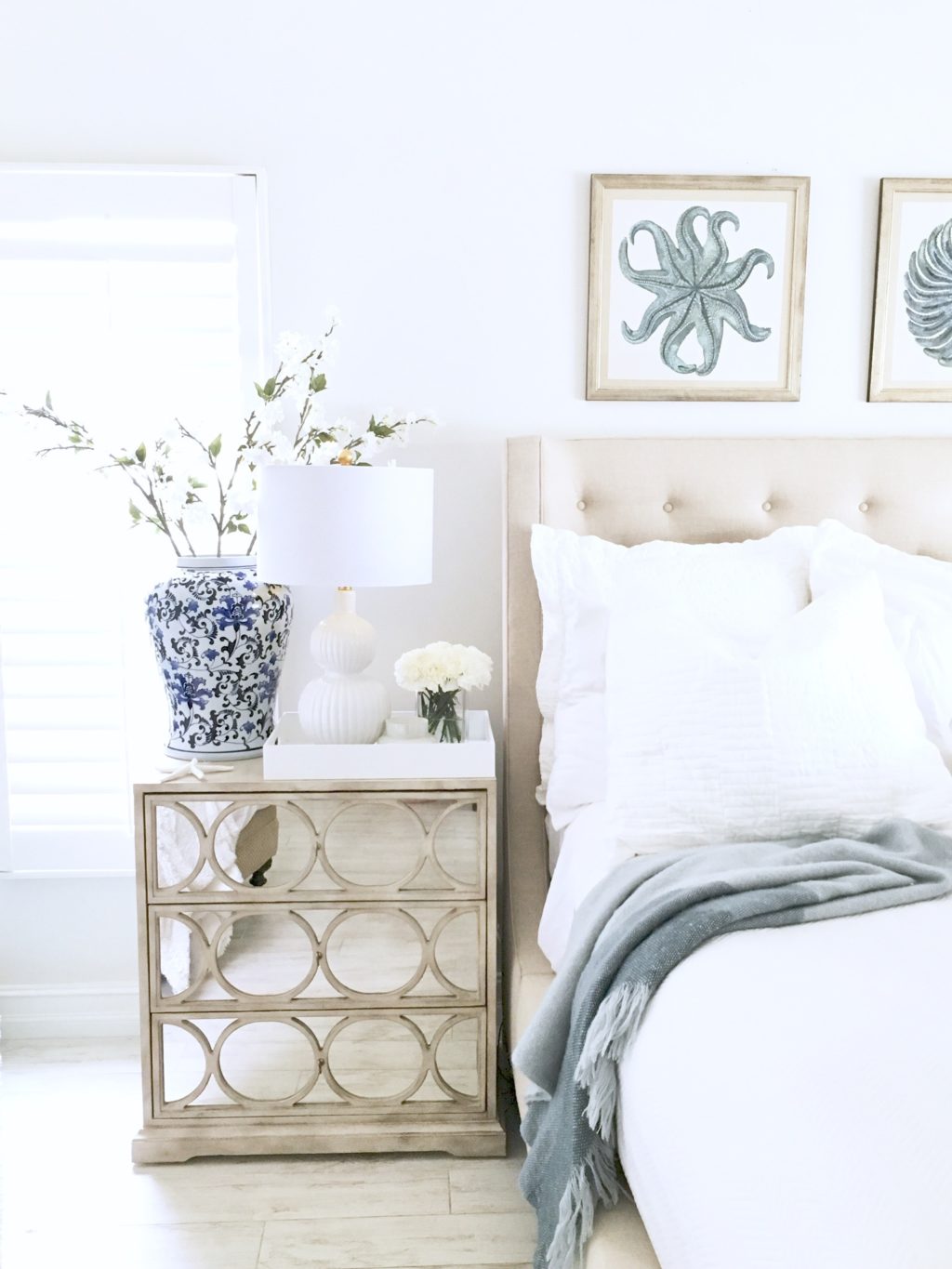 You can create a "bright white home" without using all white furniture. Julie shows us how using lighter bleached wood pieces, again with mirrored accents, keep everything feeling light and serene. It definitely feels spa-like in here, wouldn't you say?!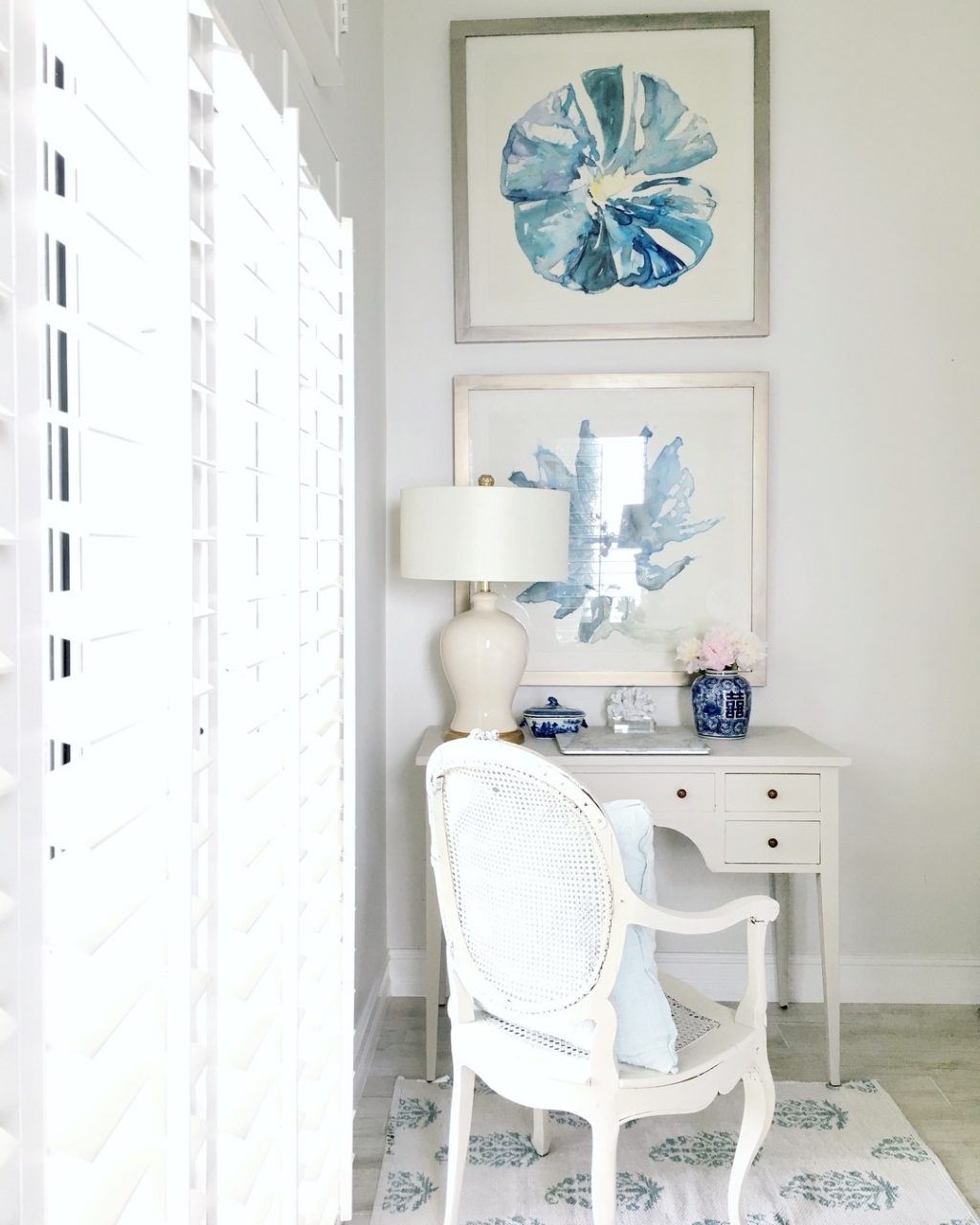 I love the french influence in Julie's home, and her soft feminine touches.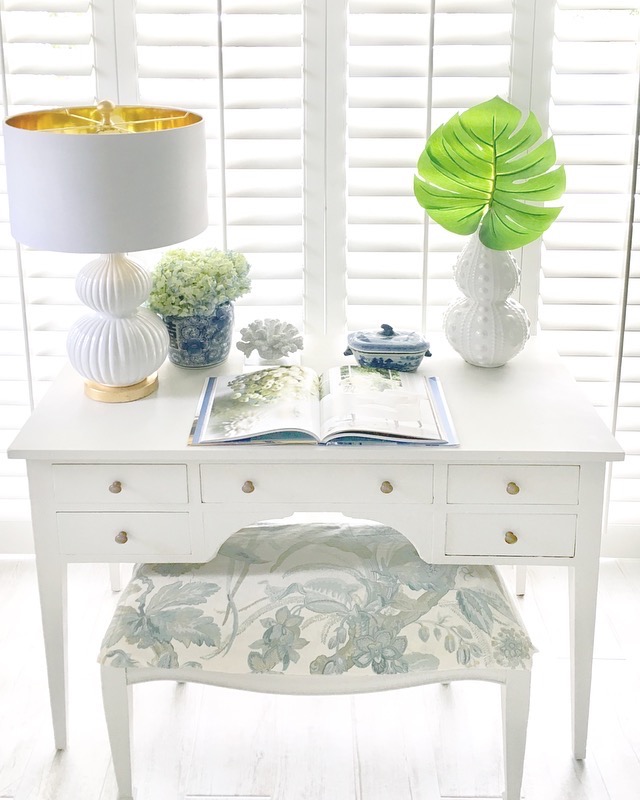 Every girl needs a vanity or writing desk of her own.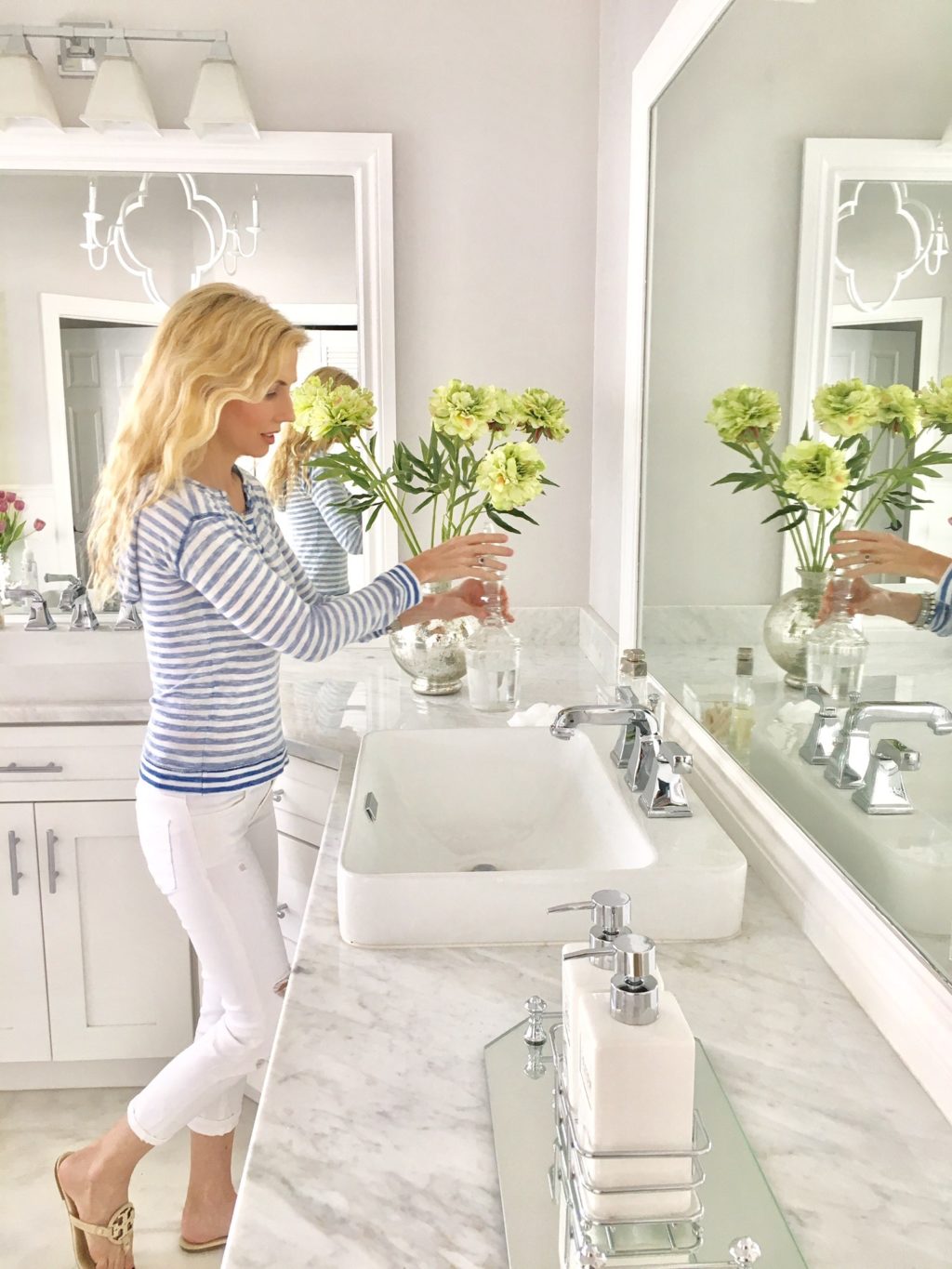 I'm a firm believer in any bathroom feeling like a spa! We love to go to the spa and we spend hundreds of dollars because, besides their fabulous services and pampering us, the ambiance is serene, calming, and quiet. Julie perfectly designed and styled her bathrooms to feel that way. Treat yourself to pretty trays and lotion and soap pumps, glass accessories, rolled towels, and even fresh flowers. You'll enjoy being home and in your own spa so much more when you create a tranquil environment.
*****
Thanks so much for joining me in another edition of Bright White Homes! What was your favorite space in Julie's home? I love the extra effort she gives each space to feel extremely special and comfortable, soothing and inviting. I hope this has inspired you to reflect on what changes you might want to make to create that same feeling in your home and I hope you enjoyed touring it as much as I did! Please follow Julie on Instagram HERE for continued inspiration! Julie, thank you for allowing us to tour your home!
I would love it if you subscribed at the top of the page in order to receive my weekly emails of all my latest blog posts and hear about digital printables & freebies, as well as sales or new items in My Online Shoppe. You can also follow me on Instagram, Pinterest, and Facebook to see what I'm up to in creating a home and lifestyle of inspiration!
xoxo,