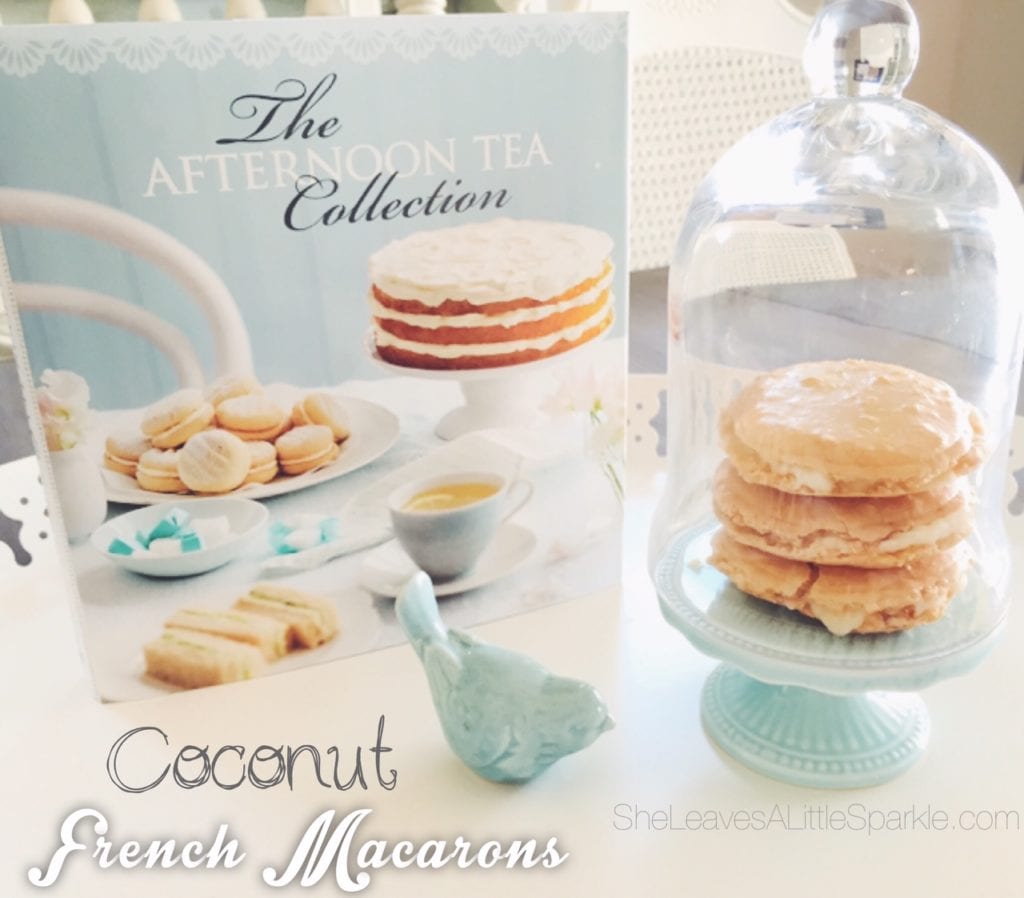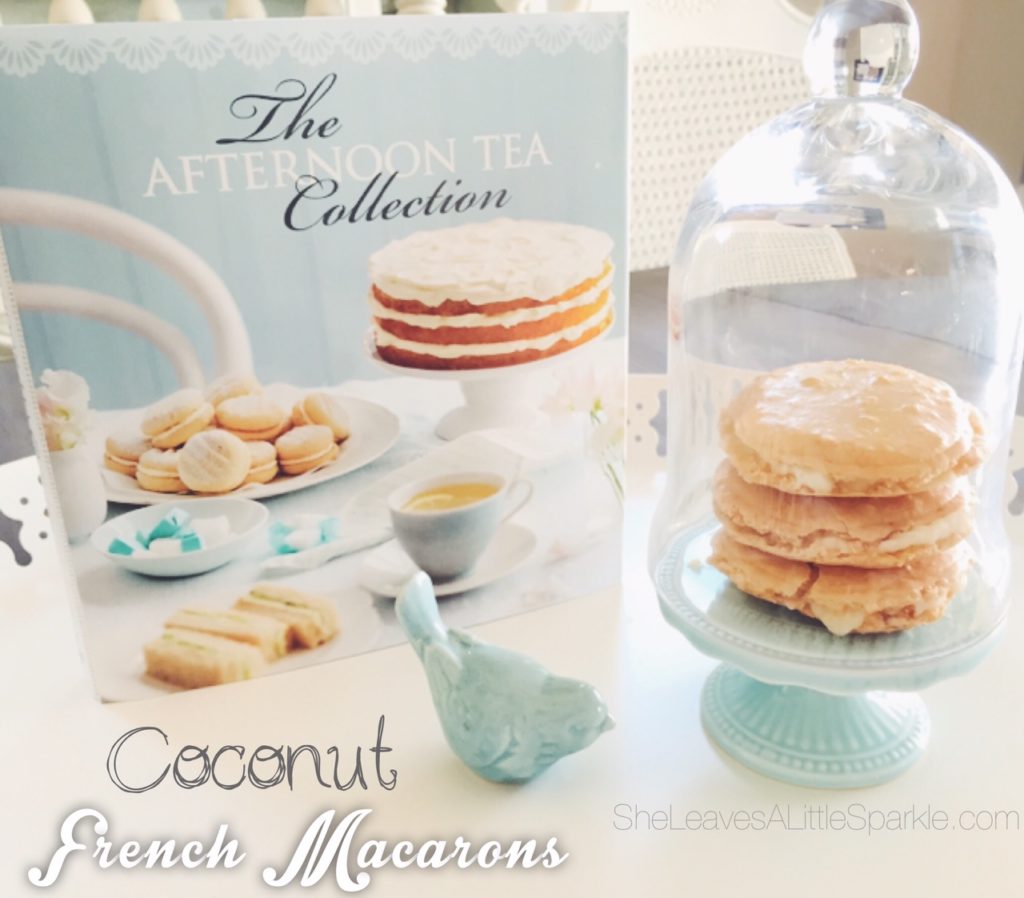 I just ADORE macarons!  Not the crispy, pre-packaged kind full of preservatives that you'll see in a certain home decor store checkout line.  I'm talking about fresh, chewy, melt-in-your mouth goodness!
And while we are talking about it….let's have a little lesson of MACARON vs. MACAROON.
The confusion between macarons (pronounced mah-kah-ROHN) and macaroons (pronounced mah-kah-ROON) happens all the time. But is it just a difference of spelling or of pronunciation? Neither.  Here is a pic of a macaron (French cookie, which we are making) and an actual macaroon (American coconut treat).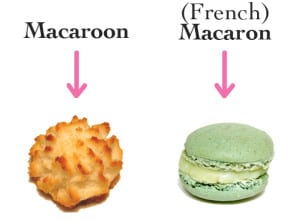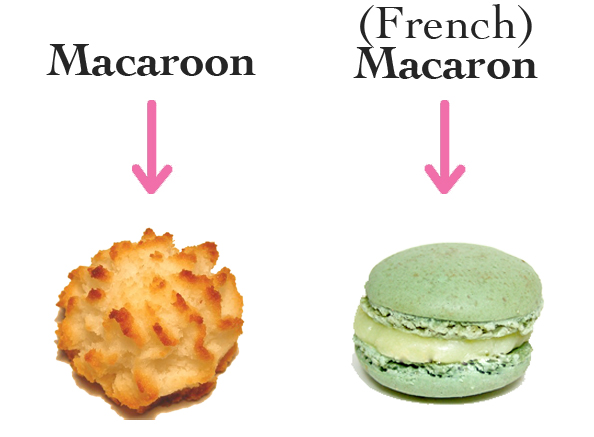 You're welcome.  Now…where were we…..
Oh yes…. So I'm teaching my 9 year-old daughter how to bake right now and she loves it.  We've done cookies and cupcakes but never a macaron.  And I have a confession….I haven't ever made one myself 😉  So we thought it was time to make them from scratch and learn together.  Oh soooooo fun!!!  These might be the BEST macarons I've had in my LIFE!
So, I originally found the recipe I wanted to make in one of my favorite recipe books
The Afternoon Tea Collection.  However, it called for coconut liqueur in the filling which I did not want to use and there were a few other things I didn't have on hand. So, I tweaked it and made it my own.  Here's the yummy recipe below:
Ingredients:
3 egg white
1/4 c. fine sugar
1/2 tsp coconut extract
1 1/4 sifted powdered sugar
3/4 ground almonds (I used my Pampered Chef™ nut chopper)
1/4 c. desiccated coconut (found in my local grocery store)
1 TBSP powdered sugar (to dust cookies later)
White Chocolate Ganache:
1/4 c. heavy cream
5 ounces white chocolate, coarsely chopped
1/2 tsp. coconut extract
1/4 c. sifted powdered sugar
Directions:
·Preheat oven to 300°F.  Coat cookie sheets lightly with coconut oil (or non-stick spray) and then put down parchment paper.  (Do NOT use wax paper!!!  It is NOT to be used in the oven and I hear people say to put it in the oven if you don't have parchment paper.  NOPE!  It could melt or ignite!)
·Beat egg whites in small bowl with electric mixer until soft peaks form.  Add sugar and extract, beating until sugar dissolves.  Transfer the mixture to larger bowl and then fold in the powdered sugar, ground almonds and coconut…in 2 batches.
·Spoon mixture into piping bag with 1/2 inch plain tube.  Pipe 1 1/2 inch rounds about 1 inch apart onto trays.  Let them stand 30 minutes so it can set and slightly harden.
·Bake macarons about 20 minutes.  Cool on tray.
·Meanwhile, make the white chocolate ganache.
·Sandwich the macarons with the ganache and dust with extra TBSP powdered sugar, if desired.
White Chocolate Ganache directions:
Bring cream to boil in small saucepan and immediately remove and pour over chocolate in a separate small bowl.  Stir until smooth.  Add coconut extract.  Let stand at room temperature until spreadable.
Makes about a dozen sandwiches.
***I did not get step by step pics because I was too busy teaching my daughter, ha!  But the texture, the flavor….amaaazing!!!  ENJOY!!!***
xoxo, Summer