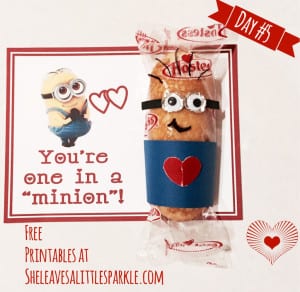 My kids GIGGLED over this one! We love these weird little creatures and are very excited for their new movie to come out on July 10th.  And yes, we LOVE us some Twinkies…lard, preservatives, sugar and all!  I only buy them a few times a year but nevertheless…I'm glad that Hostess brought them back because there is just something nostalgic about eating a Twinkie.  My mom never bought them either….ever!  But I'd earn money and go to the AM/PM and buy myself one every few months as a young kid 😉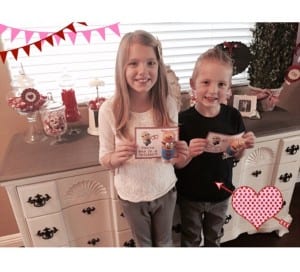 Ok, so it literally took me like 5 minutes to print this out (I made all the printables on photoshop days ago so it made it easier), decorate the Twinkie and glued it on the back.  Start with the pdf download: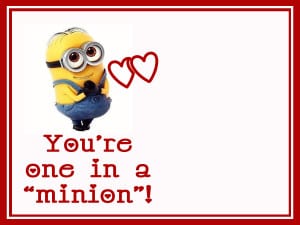 "You're One In A Minion" Free Printable
EASY Directions: 1- Cut a thin little strip of black paper and glue it across the Twinkie.  2- Cut 2 little circles of tinfoil and glue next to each other (touching) on black strip.  3- Add googley eyes.  4- Cut a strip of blue paper and wrap around bottom third of Twinkie and glue the back ends on top of each other.  5- I then grabbed a small piece of red paper and folded in half and cut out the 2 hearts. 6- Unfold hearts and glue on blue paper (see above).  That's it!  Sooo cute and soooo easy right?!!!  You do NOT have to be a crafty person to do this.  I've seen primary kids make these before and you should have all of this in your home already (except the Twinkie).  If you don't have googley eyes, just cut out little white circles and draw them.  Have fun!!