Welcome to my 1st Christmas Home Tour of the season!  I'm joining some of my favorite blogger friends to ring in this Christmas season by sharing our homes!  You'll find a ton of inspiration as you tour many different spaces in many different homes and in various styles.  Get that finger ready to pin away because you'll want to save all of these fabulous ideas!  Today I'm sharing my elegant Christmas entry with you on our tour!
Welcome to all those of you who are coming from my friend Jackie's blog at Finding Lovely and welcome back to all of my regular readers.  I'm honored to have all of you today for a couple of reasons.  First, I love Christmas so so so much!  And second, we just moved into our home this last month that we finished building, after relocating here to the Pacific Northwest from Texas.  It's our first Christmas in our new home and we are so happy to be in here as we decorate for the festivities and celebrate our Savior's birth!
Our Christmas Entry
This post contains affiliate links for your shopping convenience.
Click here to read my full disclosure policy.
I'm not sharing much of the outside of my home today but I will share with you our front door.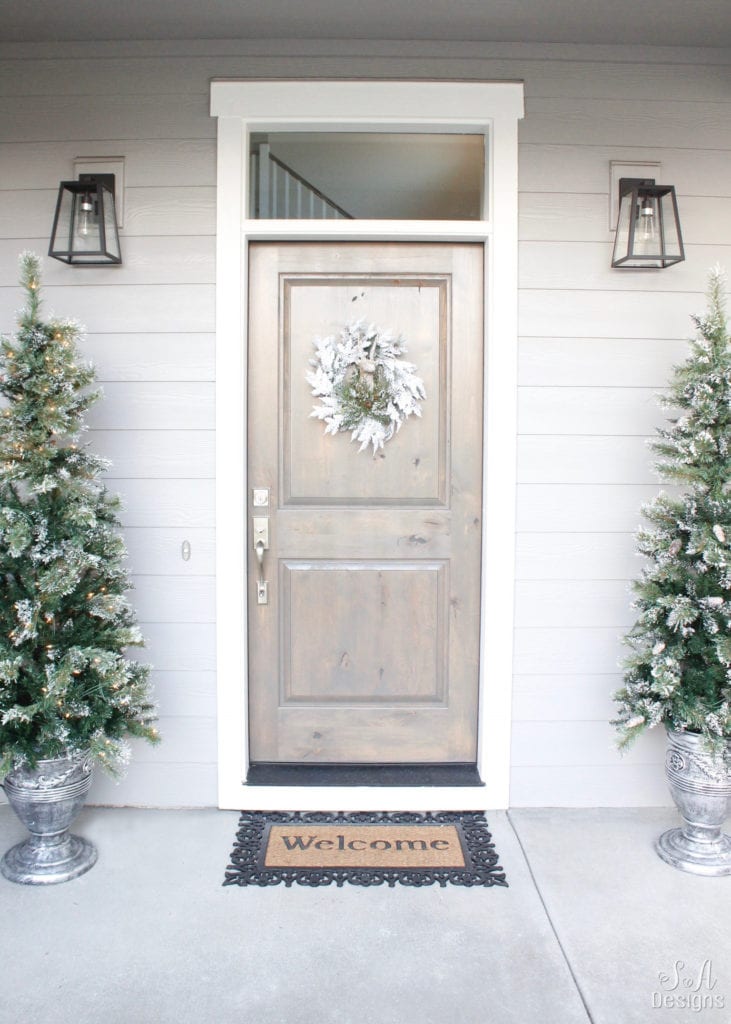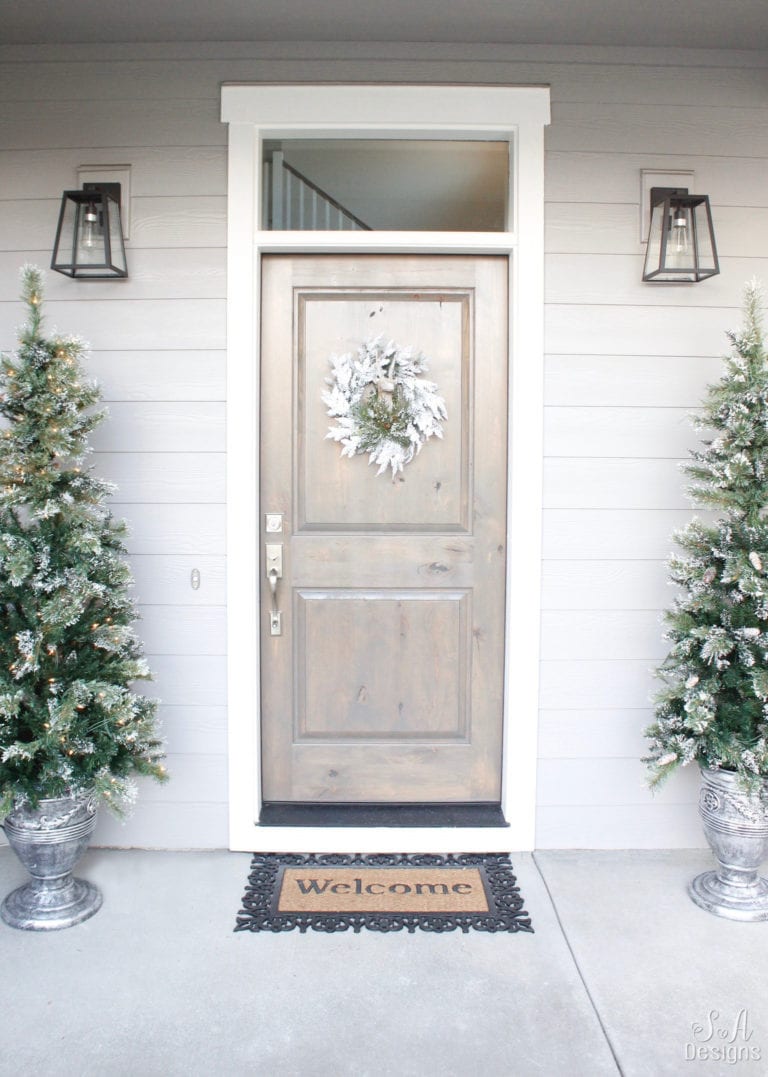 Last year, I found these lovely potted faux pine trees, pre-lit and with a sparkly frost throughout the trees.  I layered a deer ornament I had in my collection with a new faux flocked wreath I bought this year.  Instead of a heavy wreath-hanger, I chose to use those trusty Command hooks and they've been working very well through the wind and rain this last week.
I'll share more about these outdoor lanterns later when I do an exterior blog post but my friends at Lamps Plus sent them to me.  They're exactly what this home needed and I'm so thrilled with them!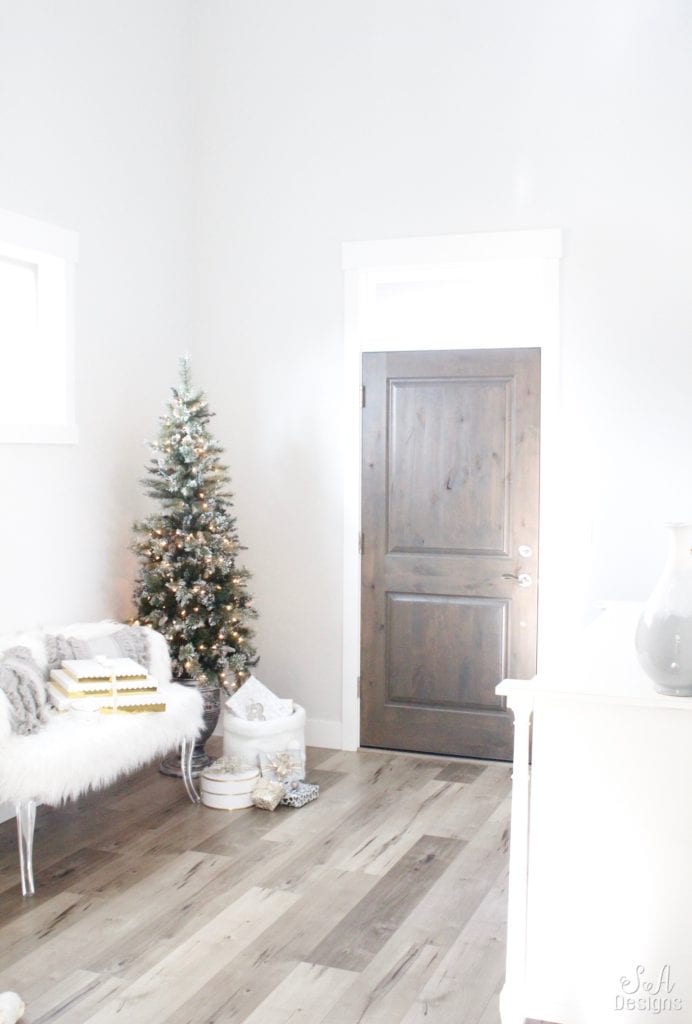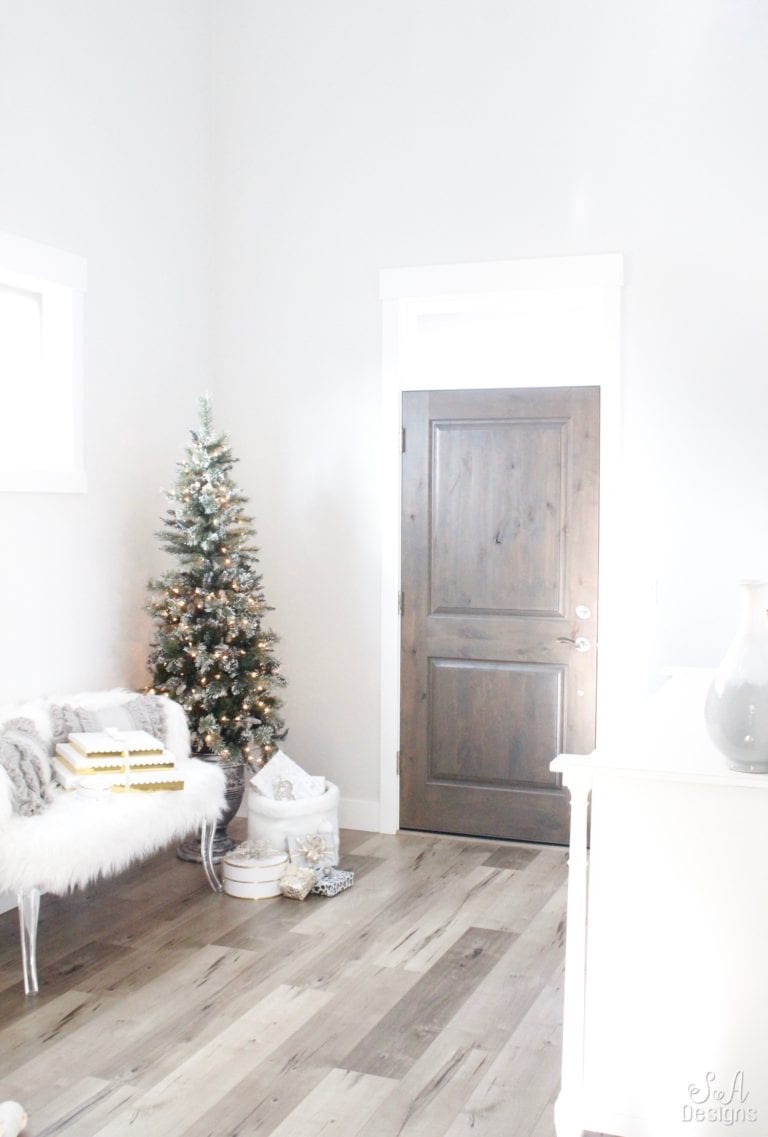 I was recently acquainted with the company My Chic Home.  They had such lovely pieces and I fell head-over-heels over one piece in particular. When I saw the Emilia Faux Fur Settee and those acrylic legs, I could imagine it in my new home at winter time.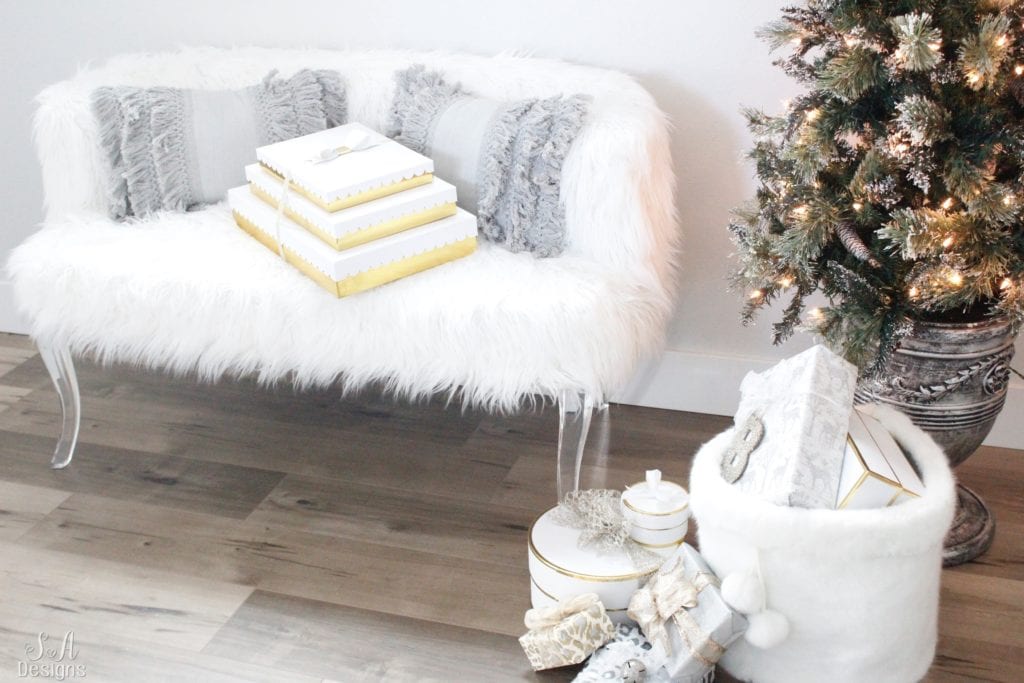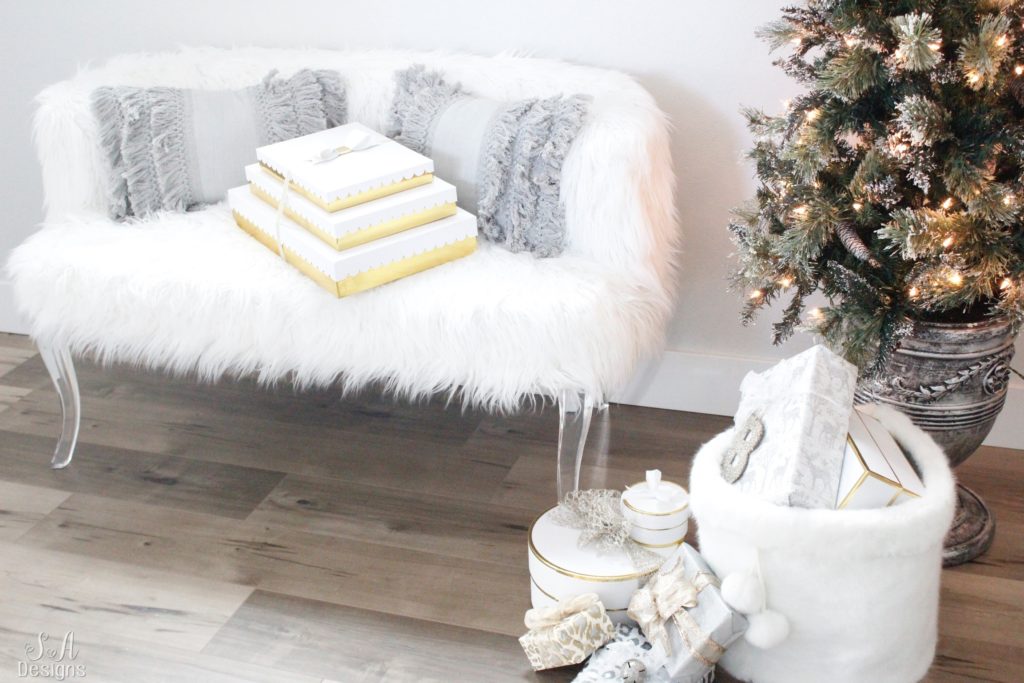 Sitting on it and sipping hot cocoa by the fire or wrapping gifts and setting them near the tree.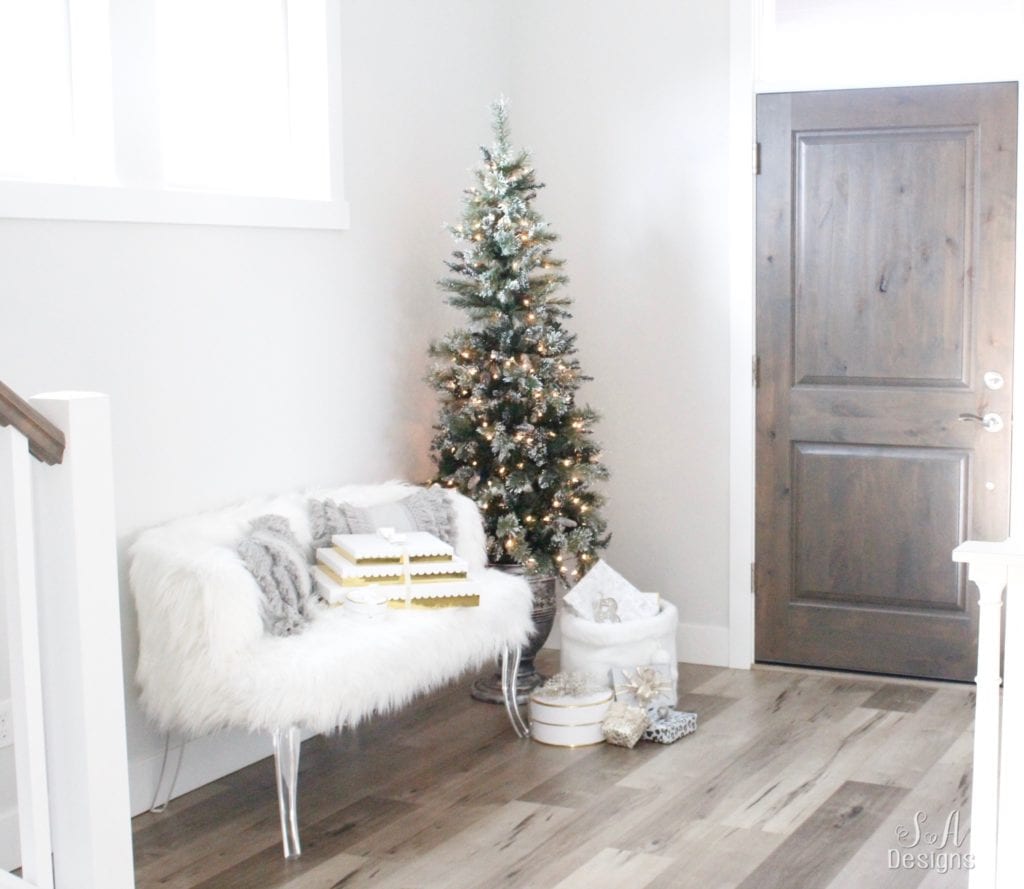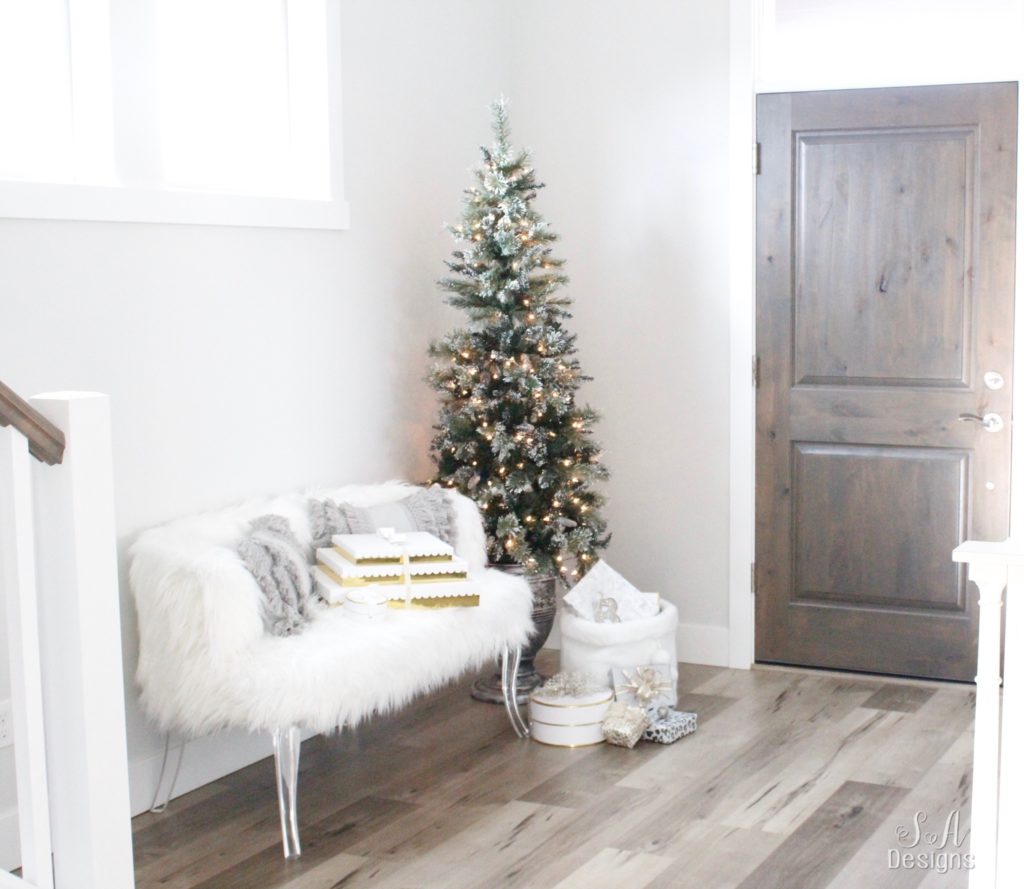 For now, I have it in our entry because I think it's stunning and it's such a lovely piece to have when you first enter our home.  But honestly, I'm dying to move it into the family room next to our tree when it's finished.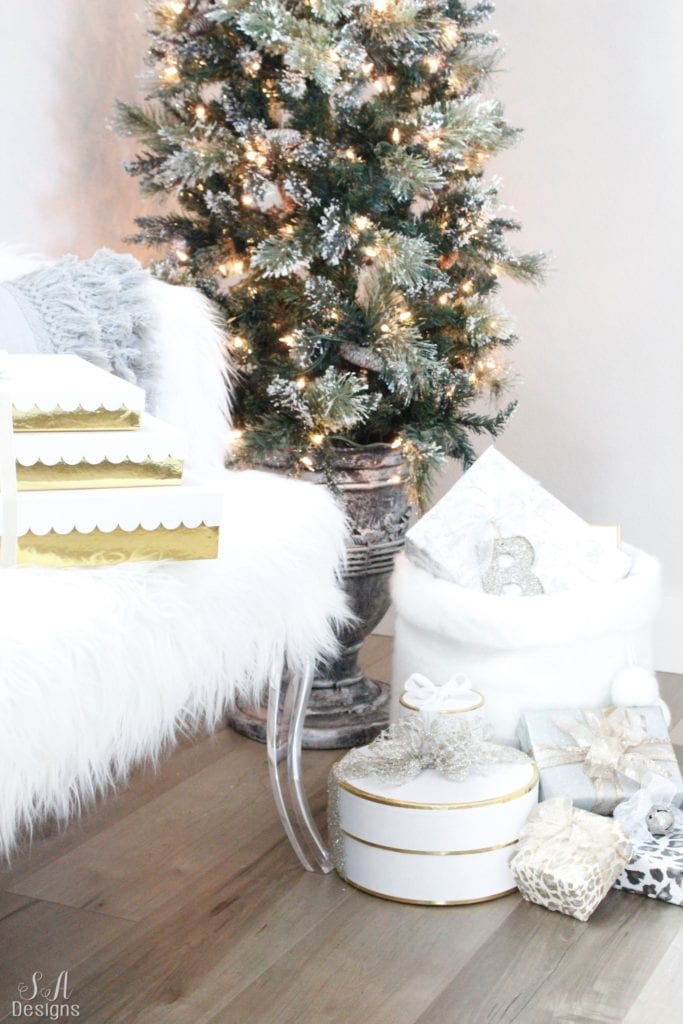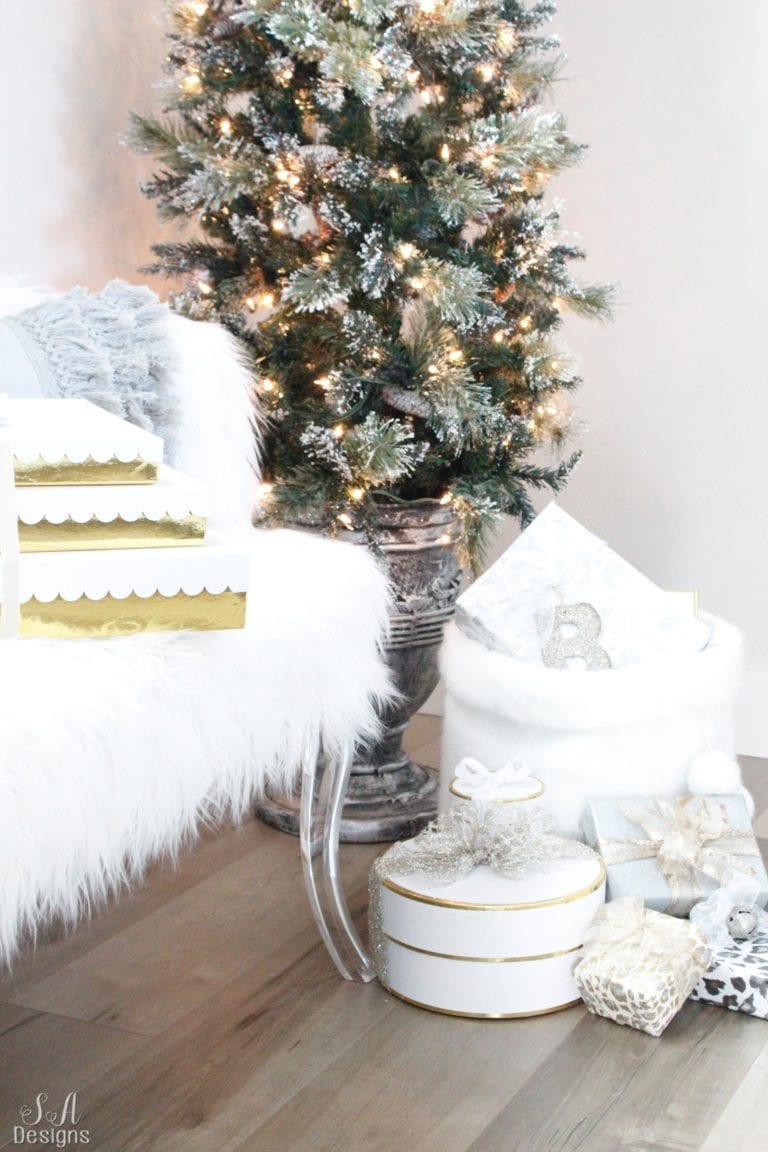 Don't you love those sexy acrylic legs?!  They have such pretty curves and are extremely sturdy.  Many people have already sat on this settee and it's in excellent condition. The faux fur is such a pretty and soft ivory of high quality.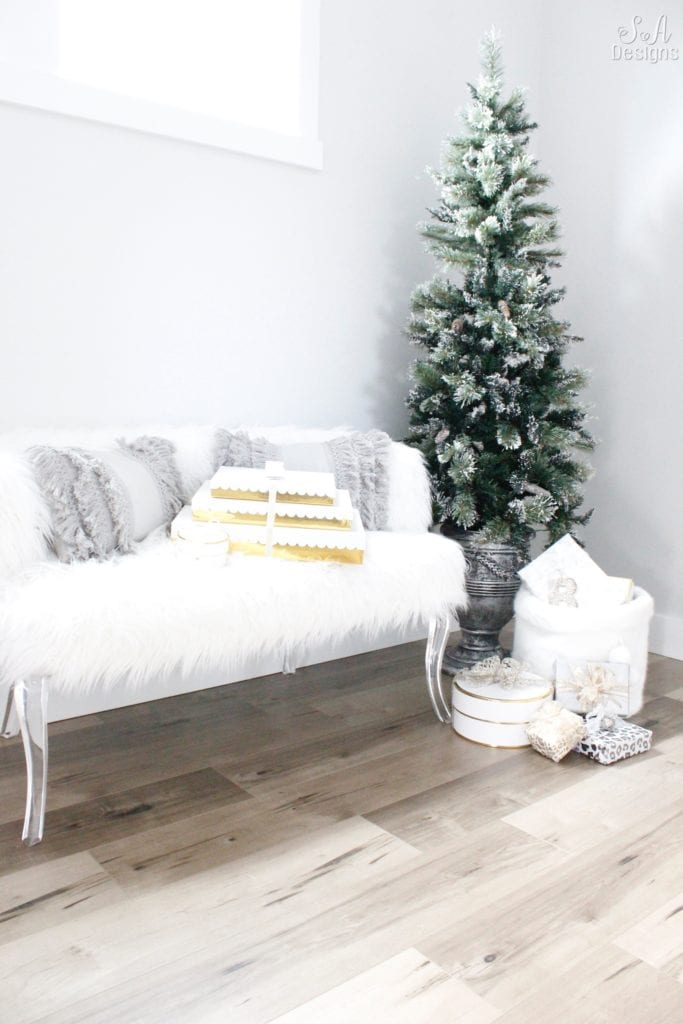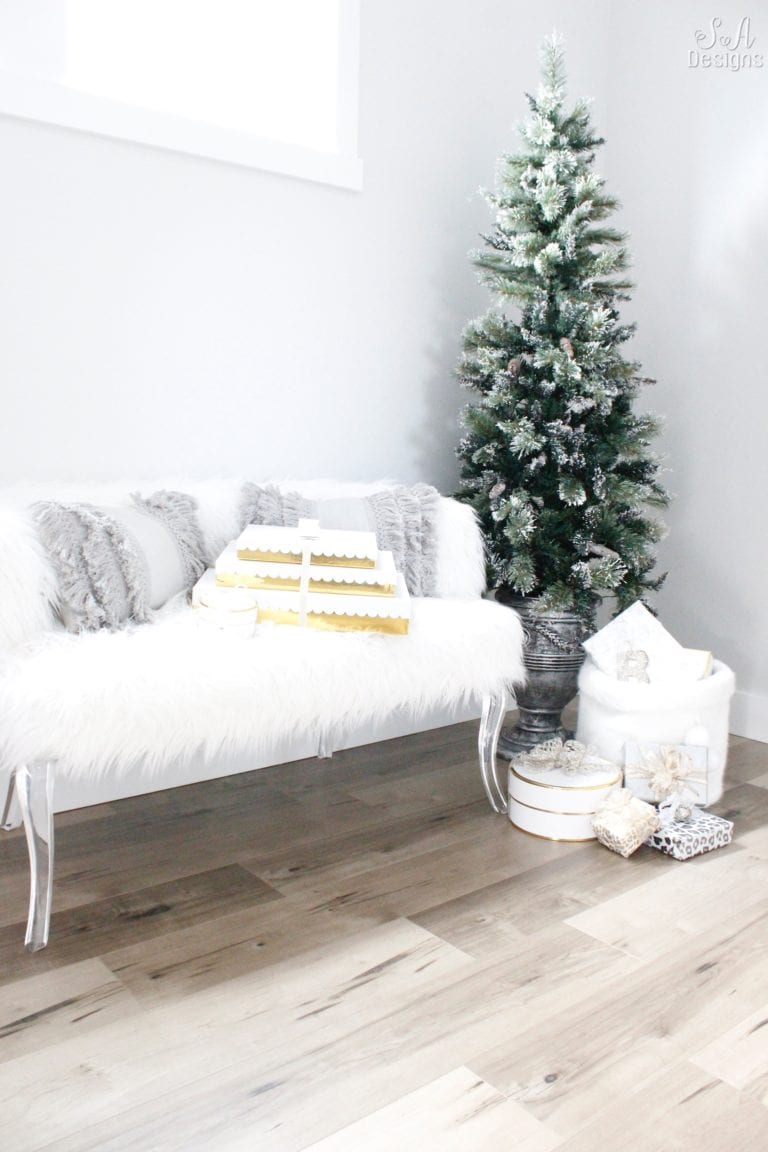 I love fur benches, stools, and settees all year-long but I especially love them in the cold winter days.  They're so cozy and inviting.  They add that soft touch of romance and elegance.
Please make sure to visit My Chic Home and look at their selection!  The prices are shockingly-low and absolutely affordable.  I couldn't believe my eyes as I was going through their online catalog.
***And guess what?***
 They are giving my readers an additional 20% off on their website using the code SUMMERCHIC! Isn't that incredible?! Head over there now to find something fun for yourself for Christmas. I highly recommend my settee, although there are other pieces I really love also. You can't go wrong!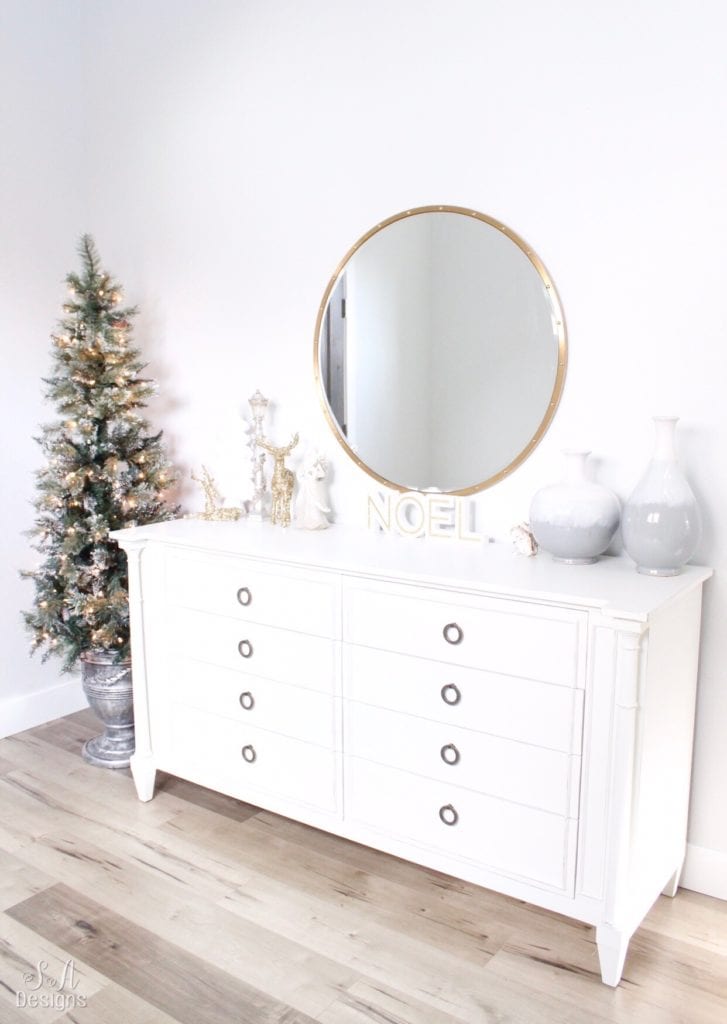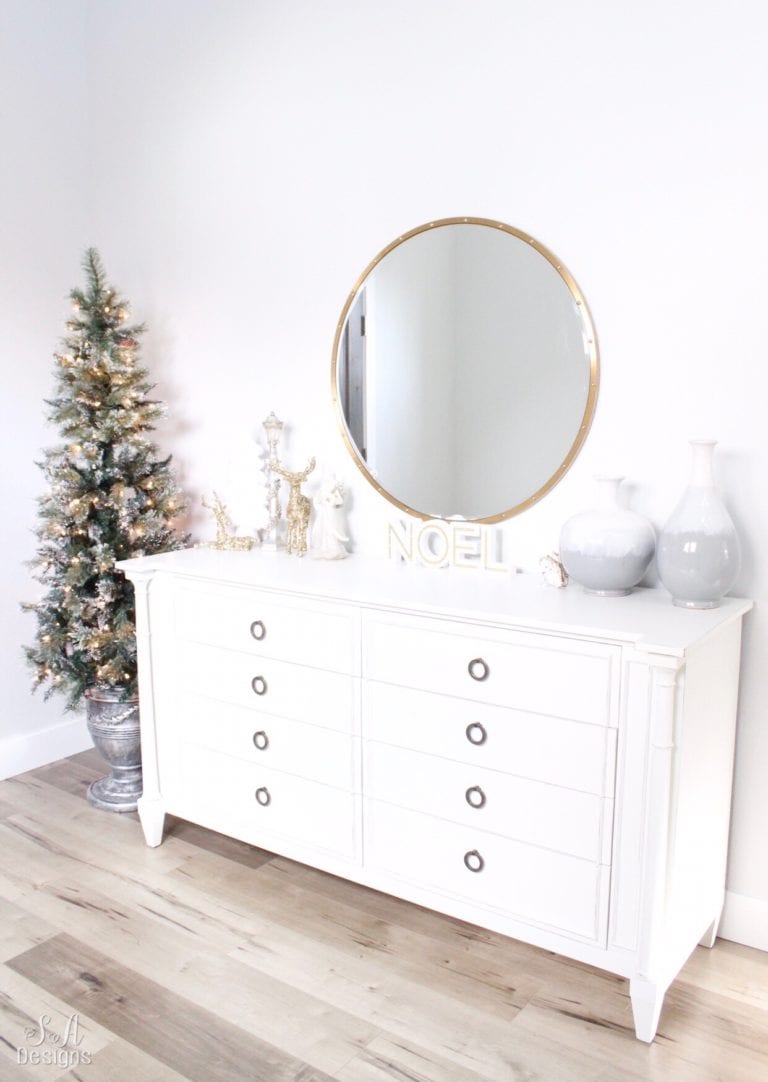 On the other side of the entry, I partnered with my friends at Perigold and chose the most gorgeous piece as my entry table.  Most people choose a buffet, console table, dresser, or sideboard of sorts for their entry.  When I saw the Havana Crossing Villa piece, I knew it would be perfect to make a grand statement with the benefit of storage as well.  I also wanted to keep the entry as bright as possible and knew I wanted a strong white piece of furniture as my entry table.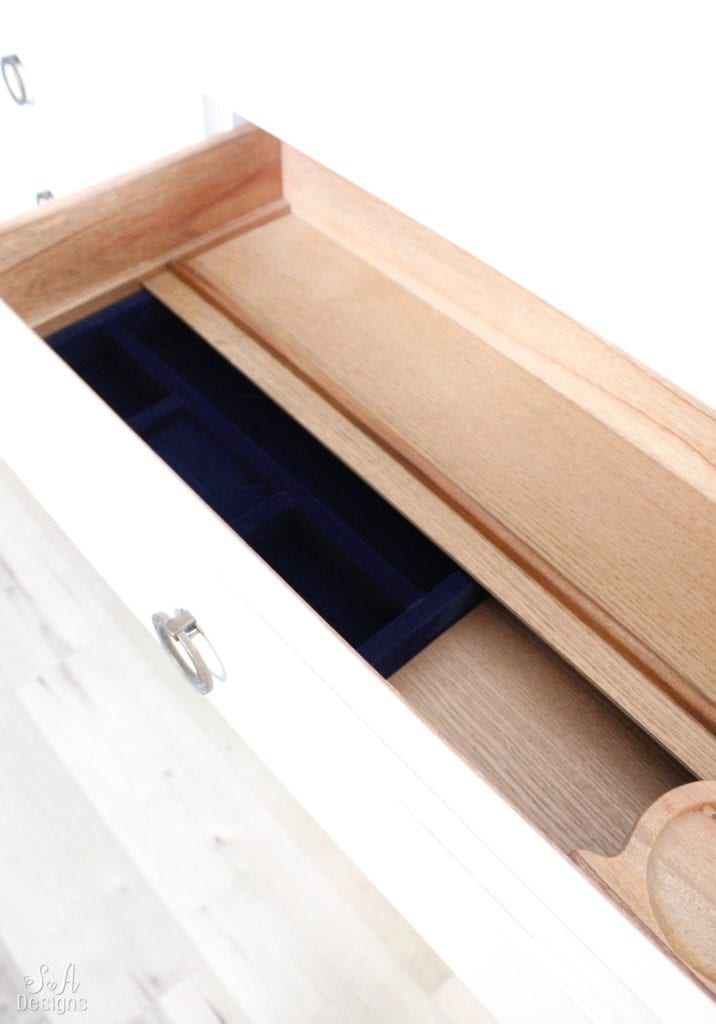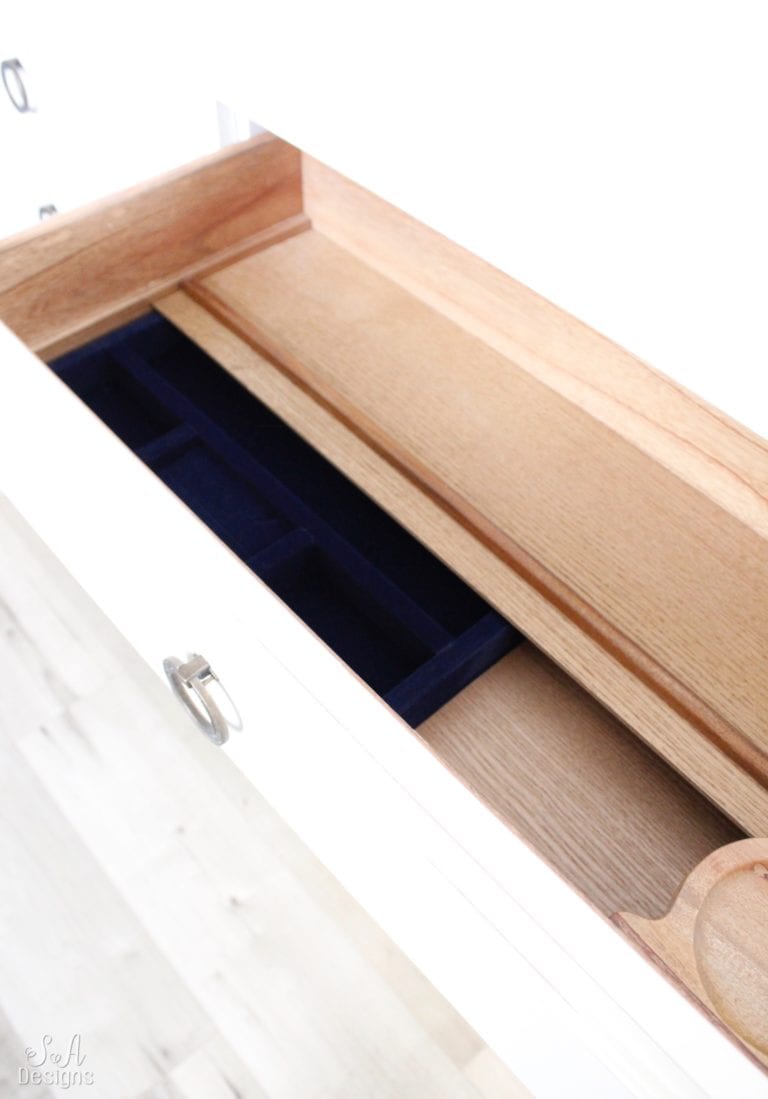 It has a hidden drawer for any valuables.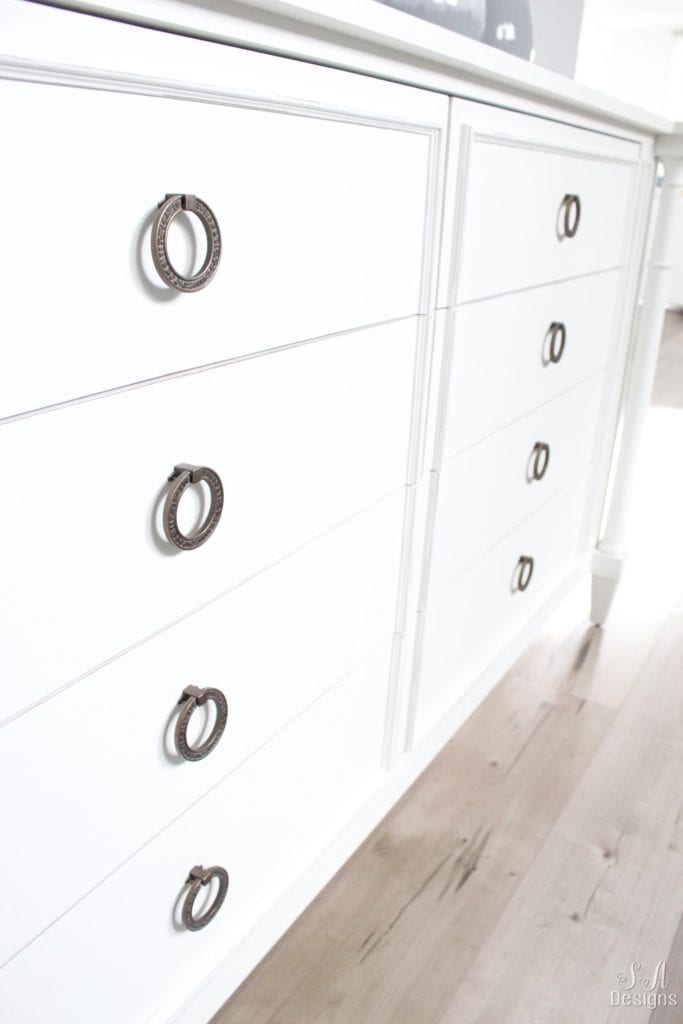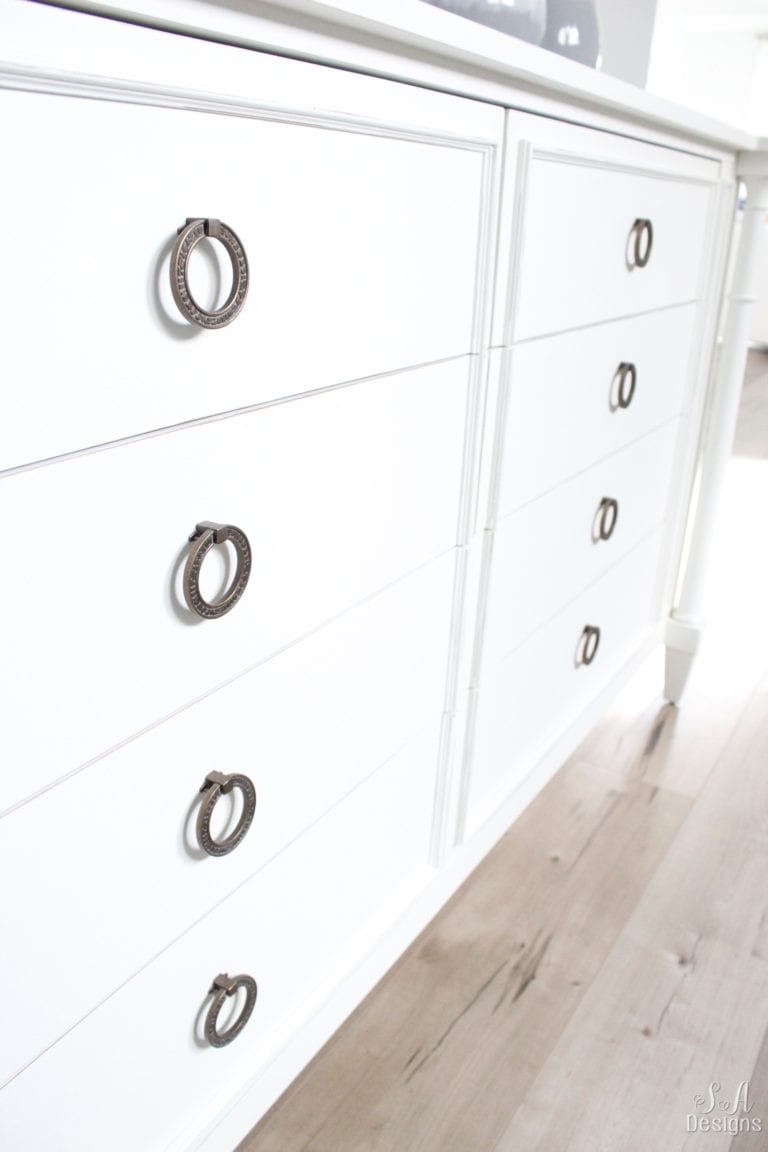 I love the hardware.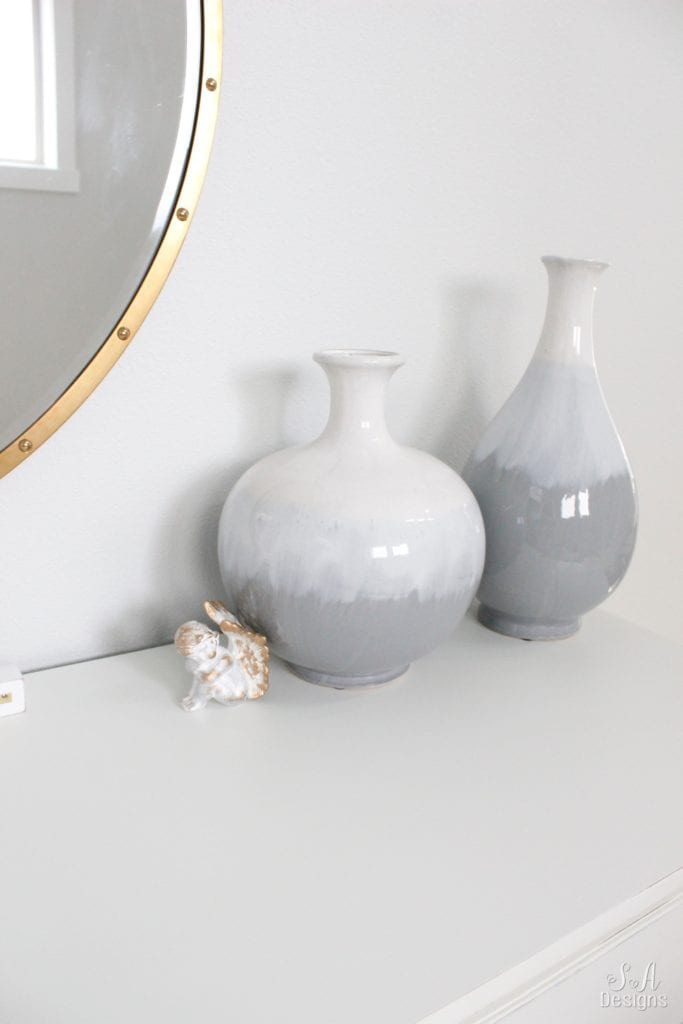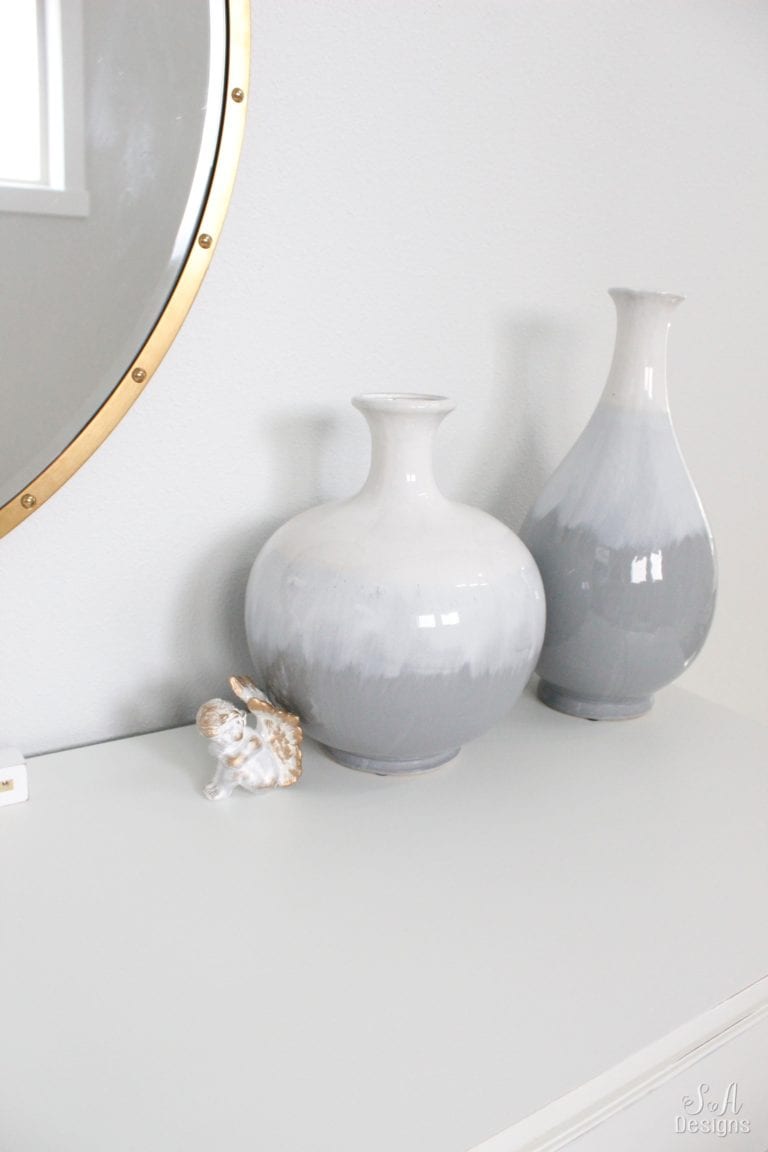 I wanted to keep this transitional-style entry elegant yet simple and elegant.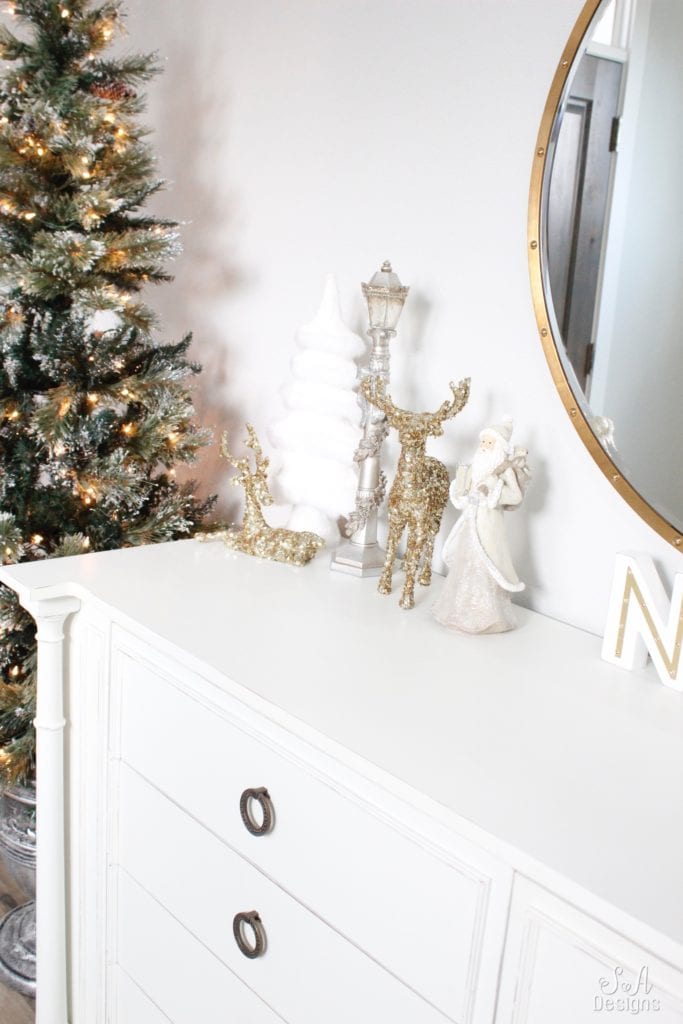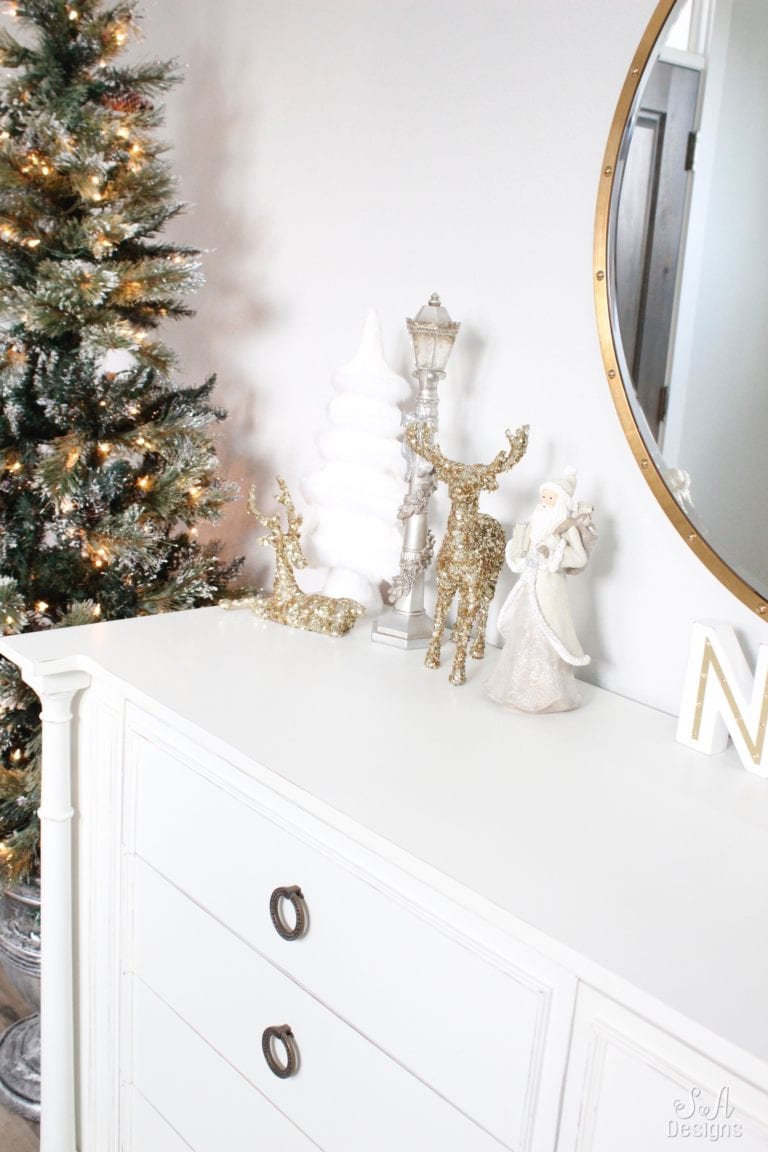 I originally wanted to put my entire Christmas Village scene on this table but it seemed to busy for the entry and I didn't want the fake snow flying off every time the door was opened.  Can you imagine?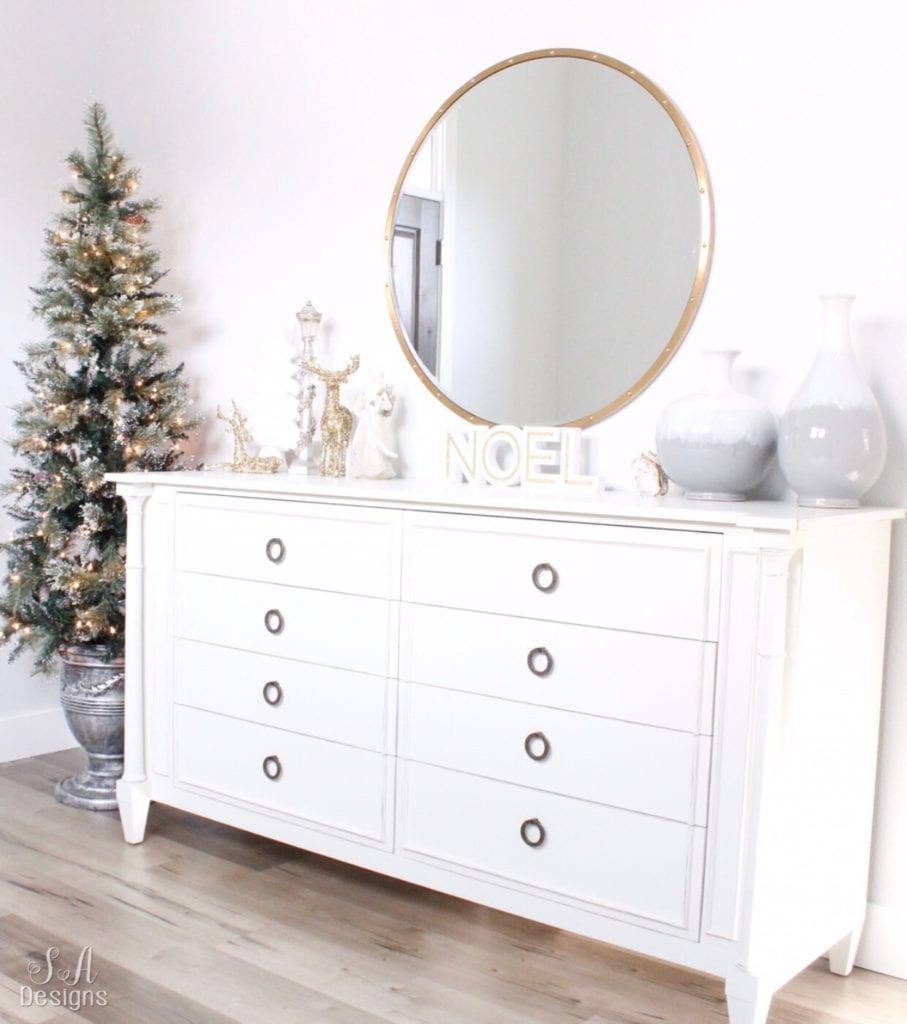 I can't say enough about this gorgeous piece that I'm using as my entry table.  The quality is top-of-the-line and such a stunning piece.  Please make sure to hop on over to Perigold to shop all of their fabulous furniture and home decor!
For your convenience, I'm adding links to shop from for the decor used in this post or similar to it.




Thank you so much for visiting my elegant Christmas entry tour today! Please make sure to visit my friend Judy from Life Is Better At Home next and see what she is sharing on our tour today!  And please make sure to visit all of my talented friends sharing today!  See their links below.
Make sure to visit our Christmas Home Tours!
Amie @ Memehill | Gloribell @ Know How She Does It
Ashley @ Modern Glam | Kathleen @ Lindsay Hill Interiors
Sheila @ Maison de Cinq | Julie & Jodie @ The Design Twins
Kim & Lacey @ Styled with Lace | Janine @ Happy Happy Nester
Oscar @ Oscar Bravo Home | Mysha @ Remington Avenue
Martha @ Simple Cozy Charm | Joan @ 2 Ladies and a Chair |
Jackie @ Finding Lovely | Summer @ Summer Adams
Judy @ Life is Better at Home | Amy @ Crazy Chic Design
I would love it if you subscribed at the top of the page in order to receive my weekly emails of all my latest blog posts and hear about digital printables & freebies, as well as sales or new items in My Online Shoppe.  You can also follow me on Instagram, Pinterest, and Facebook to see what I'm up to in creating a home and lifestyle of inspiration!
xoxo,


SaveSave
SaveSave
SaveSave
SaveSaveSaveSaveSaveSaveSaveSave
SaveSave
SaveSave
SaveSaveSaveSave
SaveSave
SaveSave
SaveSave
SaveSave
SaveSaveSaveSave
SaveSave