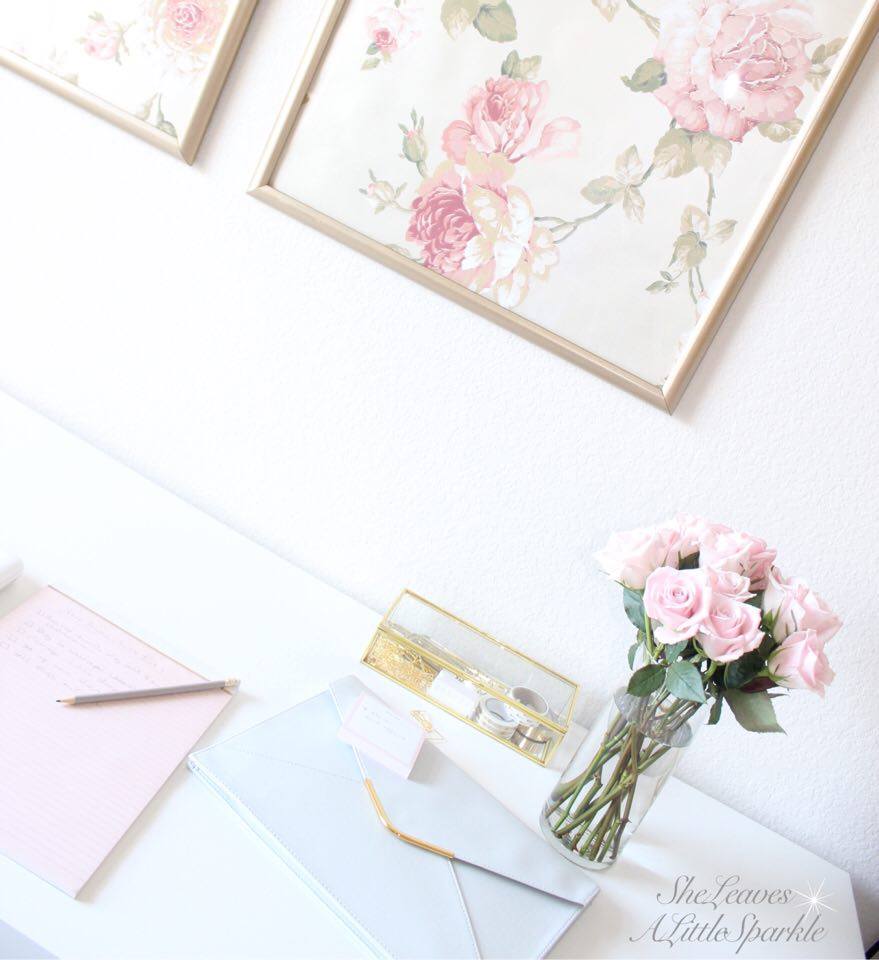 Wallpaper comes and goes. It's either trendy or it's not.  I grew up thinking 'I will NEVER ever put wallpaper in my home,' after my mom put up a large, mauve and green floral pattern in our large living room and dining room, ha!  Granted, it was lovely at the time but then it stayed for years and years and we eventually cringed at the sight of it.  Then, we'd visit my grandmother and she had metallic botanical wallpaper in the guest bathroom and wallpaper throughout the whole house.  I felt like I would leave the home and could still see the pattern at everything I was looking at!  Well, guess who eventually grew up and wants wallpaper? I'm raising my hand right now.
Here's the thing…when you have a neutral palette in your home like I do, you like to make a statement somehow with wall art or subtle pops of color.  A small amount of wallpaper just sounded so fun to me. I'm crushing on so many wallpapers but we're renting before our final move so I decided to do create framed wallpaper panels for my office.
I'd been stuck for over 2 months brainstorming what kind of wall art I wanted above my desk.  My office is blush and gold and a few subtle hints of light grey.  I couldn't find one thing, in stores or online, that I wanted for that space.  Half asleep in my bed one night (when inspiration usually comes, so silly), my eyes open and I know what I want to do!  I remember doing wallpaper panels 8 years ago in one of our other homes and I loved it.  That was it!  A beautiful statement piece with wallpaper that can be changed in and out!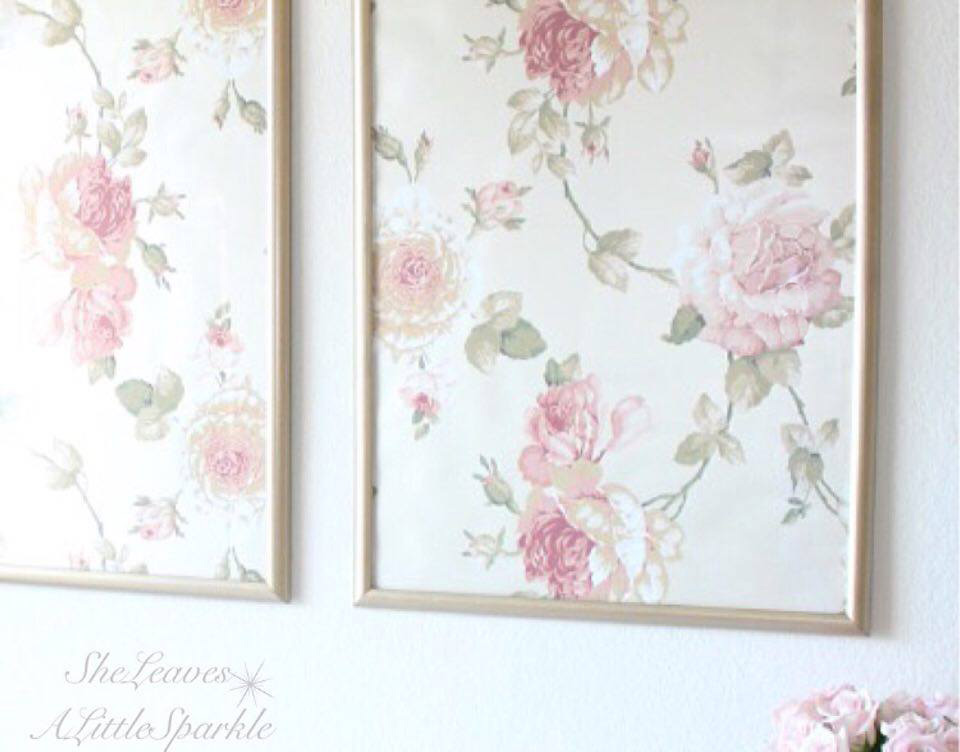 The wallpaper I chose is called the "Arlington Pale Gold Large Rose Vine" and as soon as I saw it, I knew it was THE ONE!  Love at first sight.  You just can't tell in the photograph but the background is this shimmery, pale goldish-blush and it is stunning in person.  I love the different shades of blush on the rose petals.
All I had to do was buy 2 large frames, I used 20″x30″, spray paint it gold and then cut out the wallpaper to fit and stick it into the frames.  It may have taken a few months to decide on, but only took a couple of hours to spray, cut, and put together.  I love the romantic, feminine statement it makes.  I love flowers, anything floral and I'm really hoping I don't make fun of it in 30 years like I did our wallpaper growing up…ha!  I know I won't.  This is just the perfect amount of wallpaper and floral and looks very sophisticated.
I know I'm surely not the first one with this idea but I hadn't seen it done anywhere else.  So I went to Pinterest after hanging my framed wallpaper panels yesterday and was curious to see how others had done it and what wallpaper they had chosen.  I wanted to share a few examples with you for inspiration.
This wallpaper panel is so lovely and really adds a bright statement against the darker grey.  It adds that perfect touch of elegance to this bedroom.
I love the the 3 panels of this chinese botanical pattern against the green sofa.  Notice how they kept everything else very simple and clean so that it wasn't too busy.
I love these colors together!  It really adds height to this nook and an additional pop of color.
The gold and grey….just exquisite!  And to take them from the baseboards to the ceiling is brilliant.
I love this bold black panel.  Just stunning!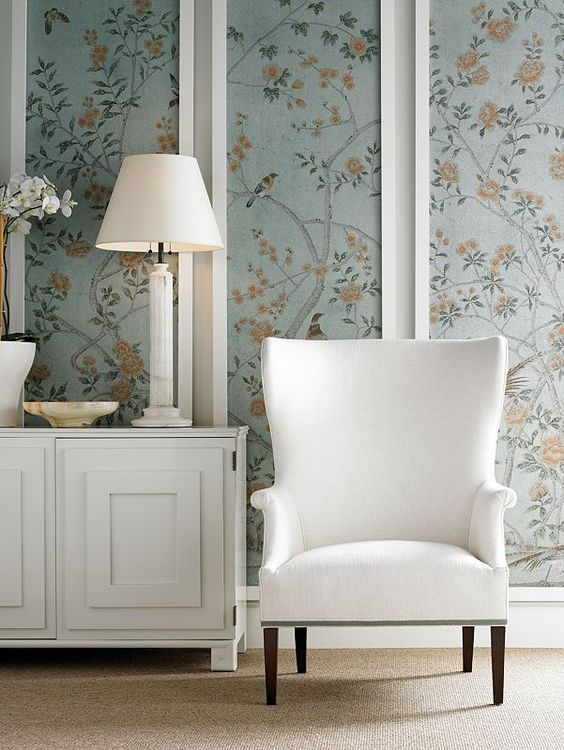 I love the idea of 3 panels for a bold statement AND it can be switched out when you fall out of love with it.  You never have to steam and peel and deal with the mess.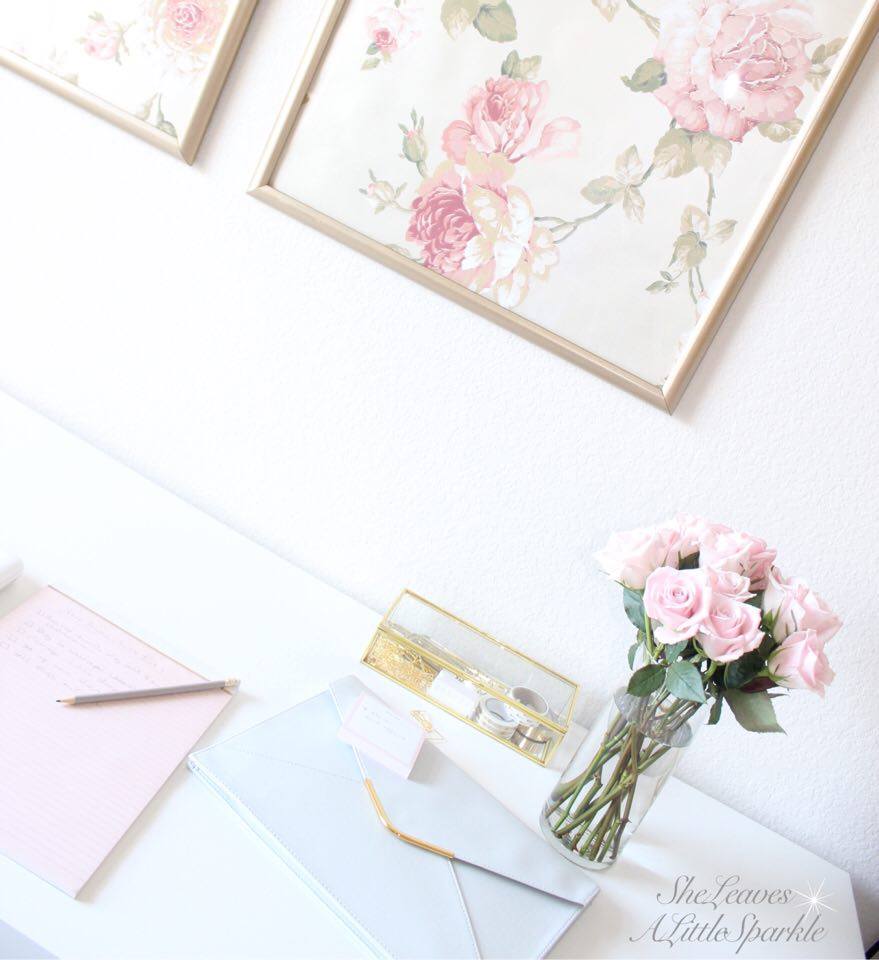 Whether you're a renter or you own your home, making framed wallpaper panels as an option for wall decor is a great way to enjoy wallpaper you love without marrying it!  I'll be sharing my entire office makeover in the next week so make sure and check back (and subscribe to my email list) to see the update!

Wallpaper:


Frames & Spray Paints:


Don't forget….if you love this, pin it to Pinterest or share it on Facebook!
xoxo, Summer