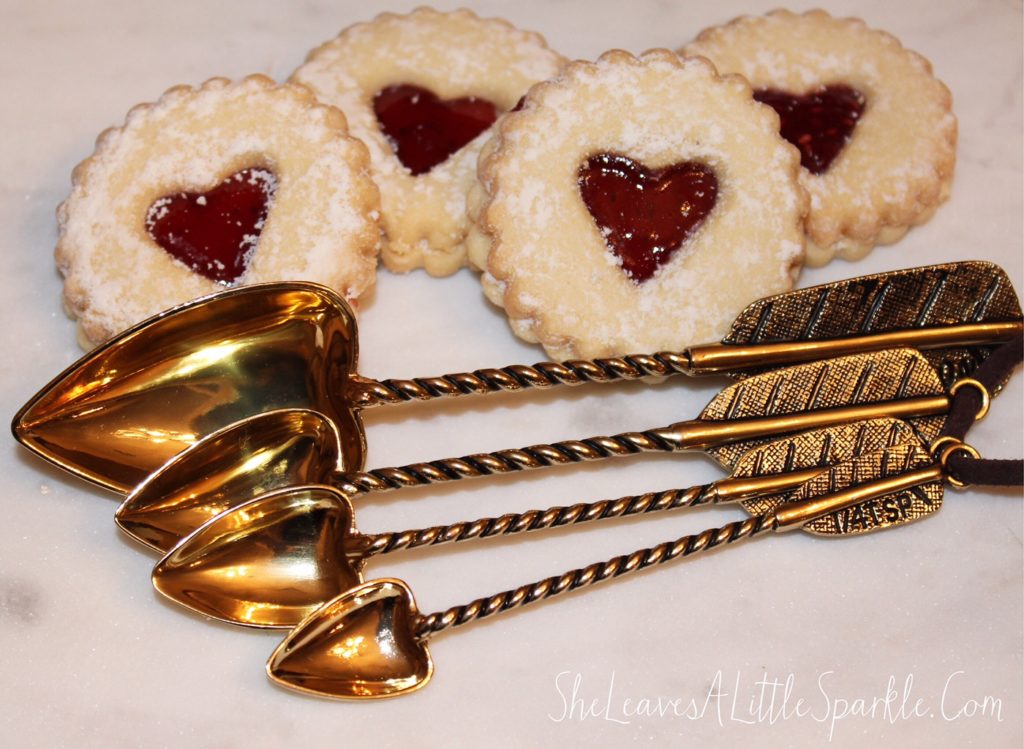 It's mid-January!!!  Can you believe it??  Valentine's Day is just a month away.  As soon as Christmas is over and I have all my decor put away, it feels empty and plain and sad.  It makes me excited to bring in Valentine's Decor.
On that note, we start baking everything in heart shapes around here.  I absolutely ADORE these italian sandwich cookies with raspberry preserves.  I used my little heart cookie cutter to cut out the middle of one side to make them more of a valentines cookie.  These are simple and soooo delicious!
Easy Italian Raspberry Preserves Sandwich Cookies:
Ingredients
3/4 pound unsalted butter at room temperature
1 cup granulated sugar
1 1/2 teaspoon pure vanilla extract (I like to use vanilla bean paste)
3 1/2 cups flour
1/4 teaspoon salt
3/4 cup good raspberry (or preferred fruit jam) preserves
Confectioners' sugar, for dusting
Directions
Preheat the oven to 350˚ degrees F.
In the bowl of an electric mixer fitted with the paddle attachment, mix together the butter and sugar until they are just combined. Add the vanilla. In a medium bowl, sift together the flour and salt, then add them to the butter-and-sugar mixture. Mix on low speed until the dough starts to come together. Dump onto a surface dusted with flour and shape into a flat disk. Wrap in plastic and chill for 30 minutes.
Roll the dough 1/4-inch thick and cut 2 3/4-inch rounds with a plain or fluted cutter. With 1/2 of the rounds, cut a hole from the middle of each round with a heart-shaped cutter (optional). Place all the cookies on an ungreased baking sheet and chill for 15 minutes.  It's important to chill them to keep their pretty shape (I may have learned this the hard way, wink wink 😉
Bake the cookies for 12 minutes, until the edges begin to brown. Now, my gas oven cookies super fast so I only did 10 minutes.  You may want to try that first and possibly do less, depending on your elevation.  Allow to cool to room temperature. Spread raspberry preserves on the flat side of each solid cookie. Sprinkle the cut-out piece of the cookies with confectioners' sugar and press the flat sides together, with the raspberry preserves in the middle and the confectioners' sugar on the top.
And how cute are those golden arrow measuring spoons?! You can find them here below by clicking on the picture:


Search through all my other Valentine's here on my blog!  I have other fun recipes and gift ideas!  I sure LOVE this time of year! 🙂  Happy Baking!
xoxo, Summer