I know the Nordstrom Anniversary Sale started yesterday and I told y'all about HERE in yesterday's post, and you could say that all of those things are current crushes.  But here are a few more of my latest current crushes that I'm sharing with you today.  Don't forget, you can always see all of my "Current Crushes" on my "Current Crushes" page all year-long.  I update it and change it constantly.  The crushes below are fun things I'm adding that I just love.
This post contains affiliate links for your shopping convenience. Click here to read my
full disclosure policy and here for my privacy & cookies policy.  All opinions are my own.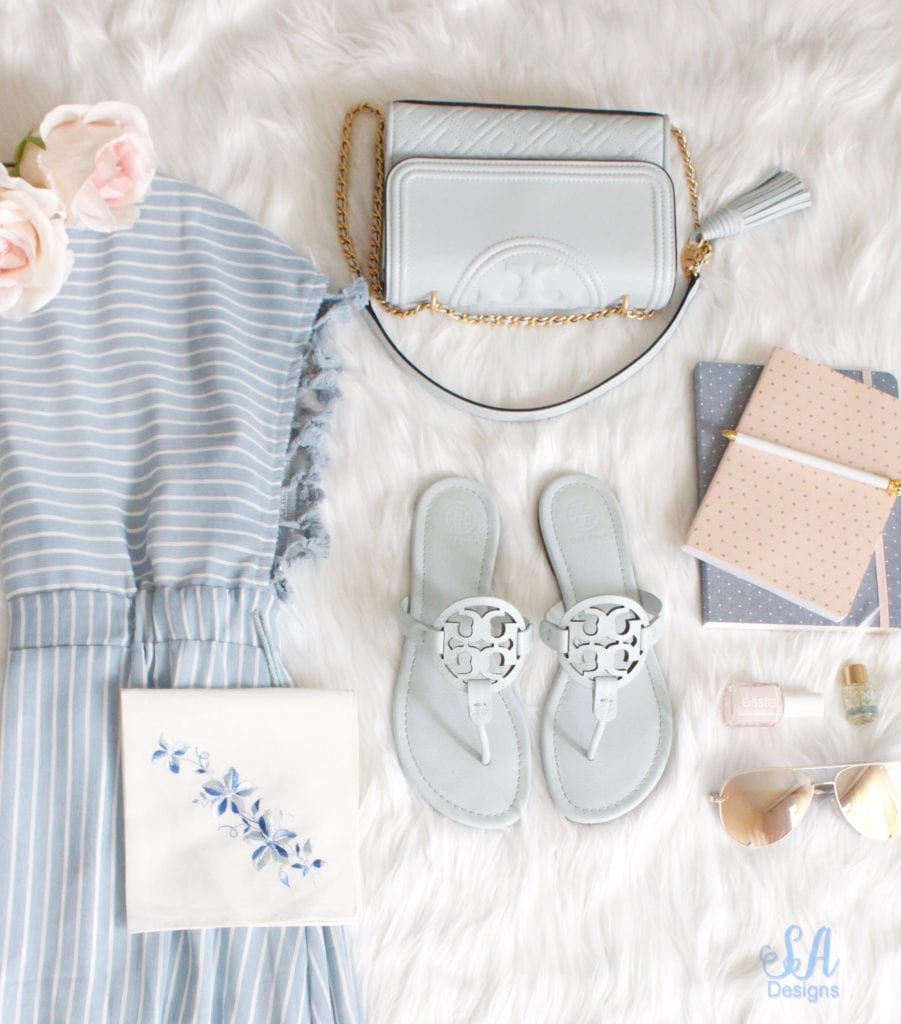 Ok, let's go from left to right clockwise.
I bought this darling sundress as a swimsuit coverup but it can also be worn by itself.  I love the soft blue, I love stripes, and I just absolutely love anything with tassels.  I have so many Amazon fashion favorites that I'll be sharing soon because their variety is quite impressive, you can get them quickly, return them easily if necessary, and the prices are pretty darn good.
The cute white handkerchief is my grandmother's.  She passed away in March and I brought a lot of my favorite things of hers home with me and this is just precious.  I love to keep it with me and think of her.  And it's stylish….so that's fun.  She had great taste.  Do you carry something sentimental like that?
This Tory Burch Small Fleming Convertible Bag in "Seltzer" was so hot that it sold out quickly. I found a couple places for you to purchase it though, HERE and HERE. But you'll have to hurry because they'll be impossible to find soon. Josh bought it for me last month for my 40th, matching the Tory Burch Miller Sandals that were also in "Seltzer" which you can find HERE or HERE.  I get so many compliments on them both and it's the prettiest color this summer!
I found some darling blue and blush notebooks at my local HomeGoods and TJMaxx.  I love notebooks!  I use them for so many different things and always have one on hand.  I love when they coordinate with my outfit, ha!  It's the little things!
I get asked all the time what nail polish I'm wearing. It's a gel color from the salon and doesn't have a name, just a number, and only salons can get it. But it matches my toe color that I wear all summer and looks so pretty on tan skin or pale skin.  It's Essie's "Ballet Slipper" and you can get it HERE or HERE.
A really lovely light scent is Lollia Wish "Sugared Pastille"and I've fallen in love with it all over again and is so pretty and light to wear during the day.  I also keep a small travel size (shown above) in my purse.  I haven't met a person that didn't love it!
If you've seen my Instagram stories, you already know how much I love these Quay "Muse" Sunglasses.  The price point is fabulous and so much better than other designer brands.
Do you have any fun recent purchases or finds?  Do tell!  Leave a comment below or email me!
Thanks so much for stopping by today!  I would love it if you subscribed at the top of the page in order to receive my weekly emails of all my latest blog posts and hear about digital printables & freebies, as well as sales or new items in My Online Shoppe.  You can also follow me on Instagram, Pinterest, and Facebook to see what I'm up to in creating a home and lifestyle of inspiration!
xoxo,