Do you love Diet Coke as much as I do?  Or maybe you know someone that loves it so much!  Well you are in the right place. I am sharing with you the free printable I made that says "I love you more than Diet Coke."
I am staying home with my sick daughter today, bless her heart!  And my husband left to take our son to his basketball game.  This is what was said as he kissed me goodbye and left:
Josh:  Love you, Babe!
Me:  Love you too….more than Diet Coke! (that's a whole LOT, by the way)
Josh:  Wow….good one.  You should make a printable-thing with that on it.
So I did….you're welcome, my fellow Diet Coke-loving/addict friends ha!  I'm printing it out and framing it as we speak!   It's great to frame or make as a tag on a gift. You can also printed out on card stock and make a card out of it  and stick it in an envelope.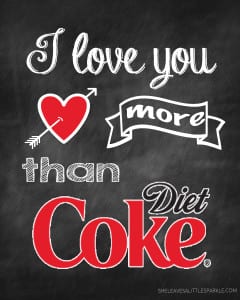 Right click and save OR you can download the pdf I created also in a 5×7 size.
Here you go —–> "I Love You More Than Diet Coke" Free Printable (for personal use only!)
Update: As requested, here is an 11×14 pdf as well.  —> "I Love You More Than Diet Coke 11×14"
***PLEASE FEEL FREE TO SHARE AND TAG ME 😉  THANKS!!***