I'm so excited that the Seasonal Simplicity series is back again; and this time it's to celebrate Summer! Welcome to those of you who might be here for the first time!  So glad you could stop by and hope you will, time and time again!  Today I've joined up with a talented group of bloggers to share our summer recipe ideas and I'm sharing one of my new favorite recipes with you, a luscious lemon curd parfait!
This post contains affiliate links for your shopping convenience.
Click here to read my full disclosure policy.  All opinions are my own.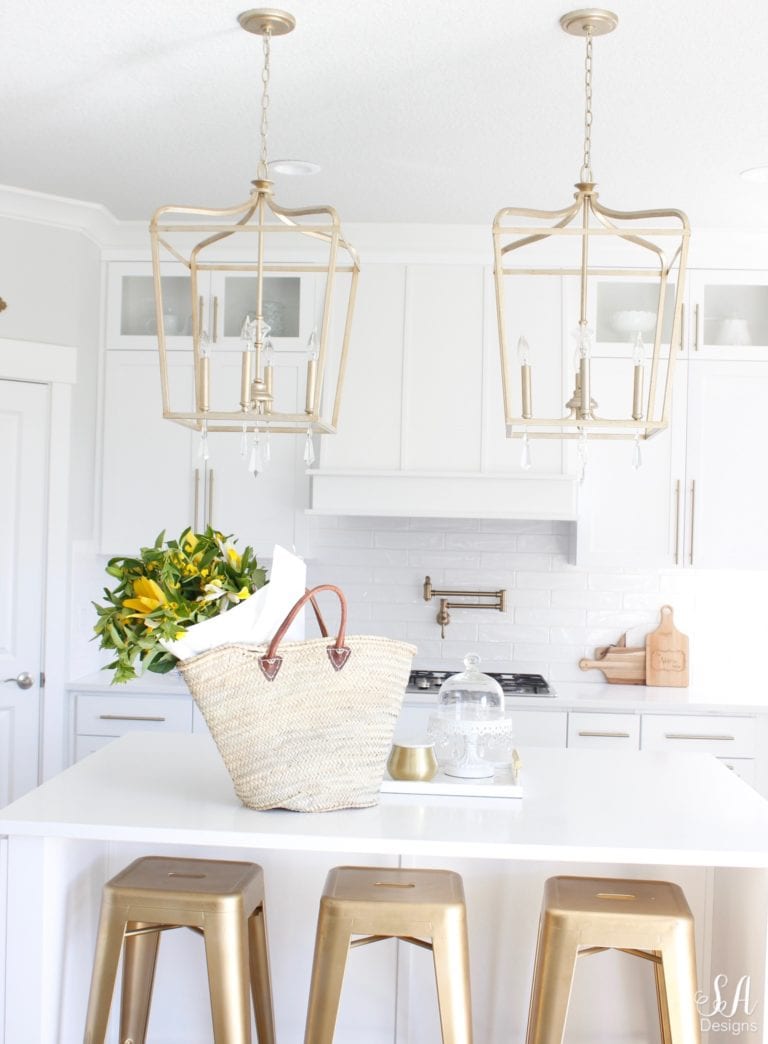 My mom is in town visiting and, not only is her favorite color yellow, but she loves anything lemon and has made so many delicious lemon desserts since I was a child.  We went to the Farmer's Market the other day, as we do each Saturday after Beckham's soccer games, and picked up fresh organic lemons and the most beautiful bouquet of lemon flowers.  So fitting for her visit, don't ya think?!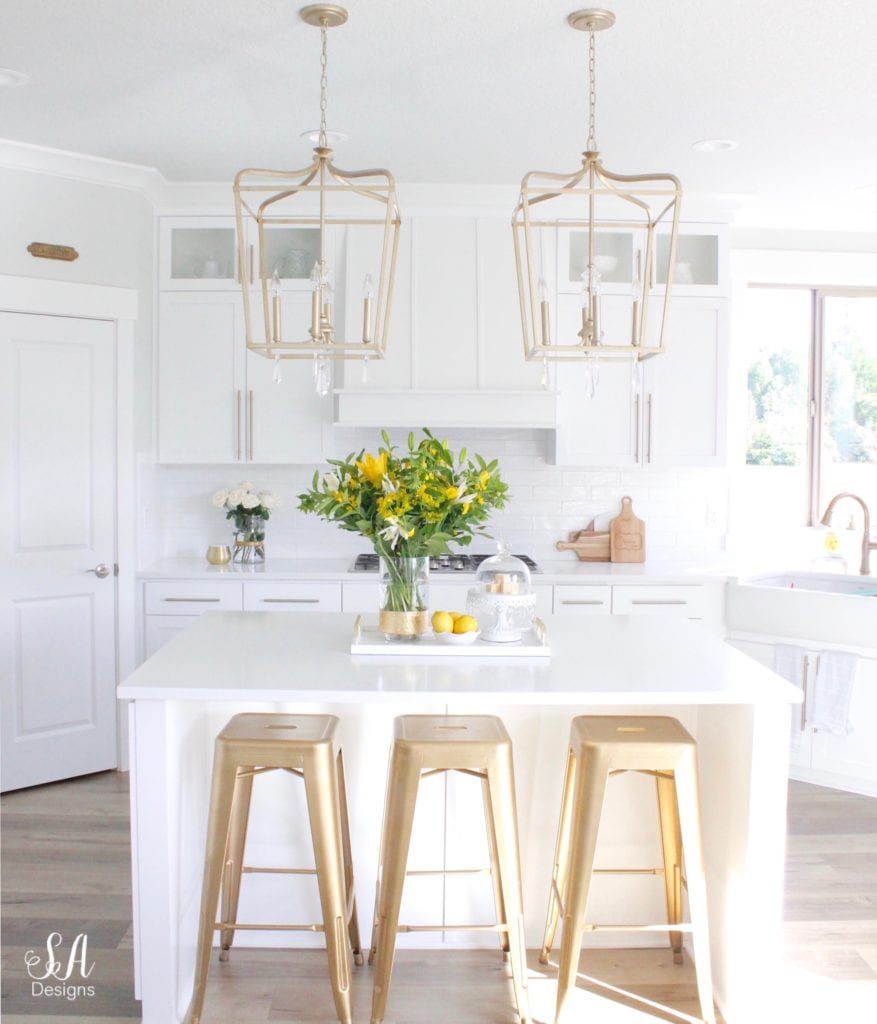 I told my mom that I wanted to make a lemon dessert for our family on Sunday after dinner and she was excited.  Perfect timing for this blog post.  (See this post for more details on our kitchen.)
I would call this a semi-homemade recipe and it's not only sooooo easy but it's soooo delicious!!
Cake:
•We prepared a moist white cake from Betty Crocker.  Easy peasy!  Just omit 1 of the 3 eggs and only use 2.  It makes it more dense when you only use 2 eggs.  We also added 2 TBSP of fresh lemon zest.  Bake as directed, cool, and then cut into little squares.
Lemon Curd:
•1/3 cup granulated sugar
•1/3 cup fresh lemon juice
•2 tsp lemon zest finely grated
•2 large eggs room temperature
•1/4 cup butter room temperature
In a small saucepan, combine sugar, lemon juice, lemon zest, and eggs.

Add the butter and cook over low heat, stirring continuously with a whisk, until the first bubble appears on the surface of the mixture and the curd is thick enough to hold marks of the whisk, about 6-8 minutes.

Strain the lemon curd through a fine-mesh strainer if you don't want the lemon zest in the curd. Transfer the hot lemon curd to a bowl or jar and cover the surface with plastic wrap. Refrigerate until cold, then take off the plastic wrap and replace with a lid.

The curd keeps fresh in the refrigerator for about 1 week.
Whipped Cream:
•We used whipped cream from a can for this simple recipe but y'all know how much I love homemade whipped cream (with Mexican Vanilla for an unbelievably delicious kick) so I highly recommend it if you want a homemade option.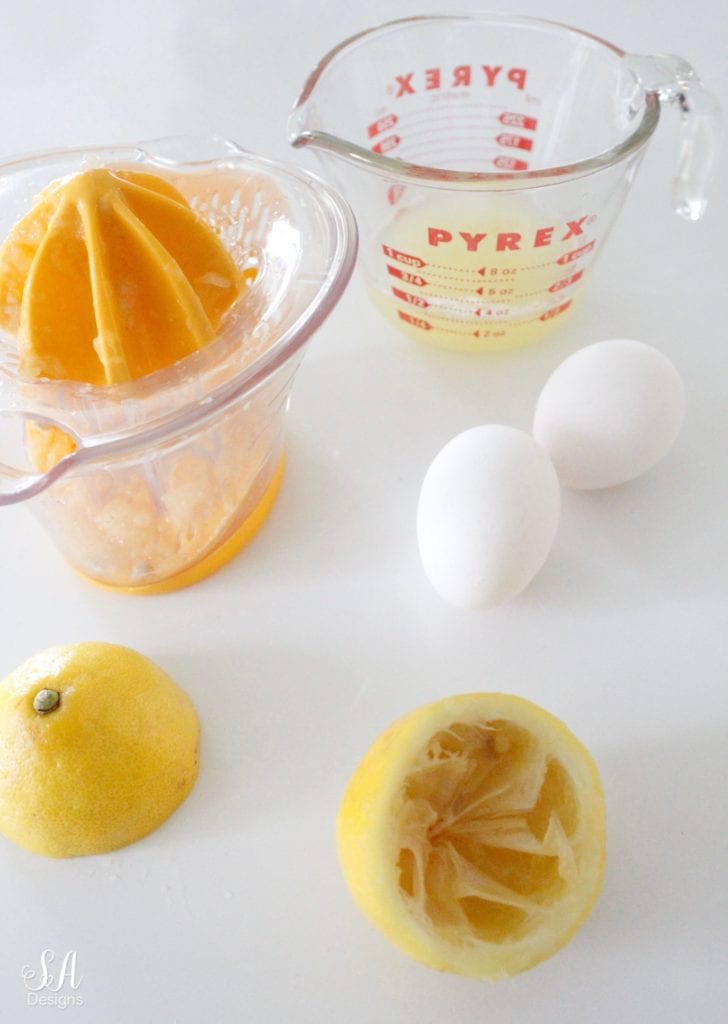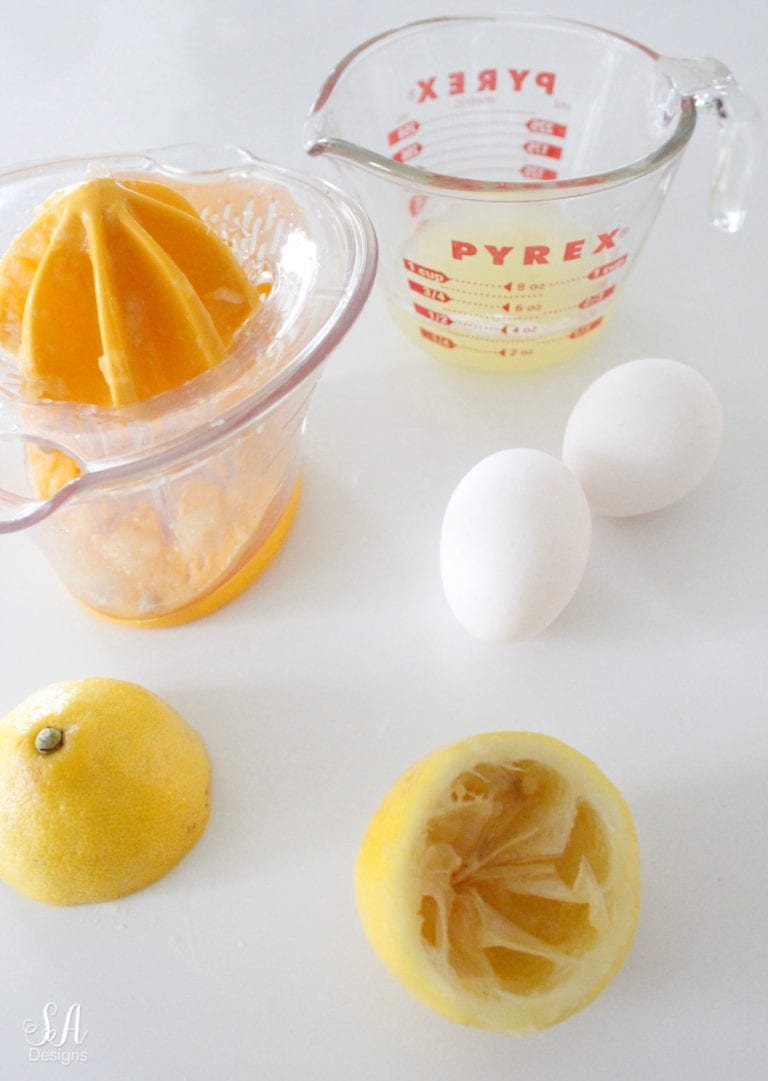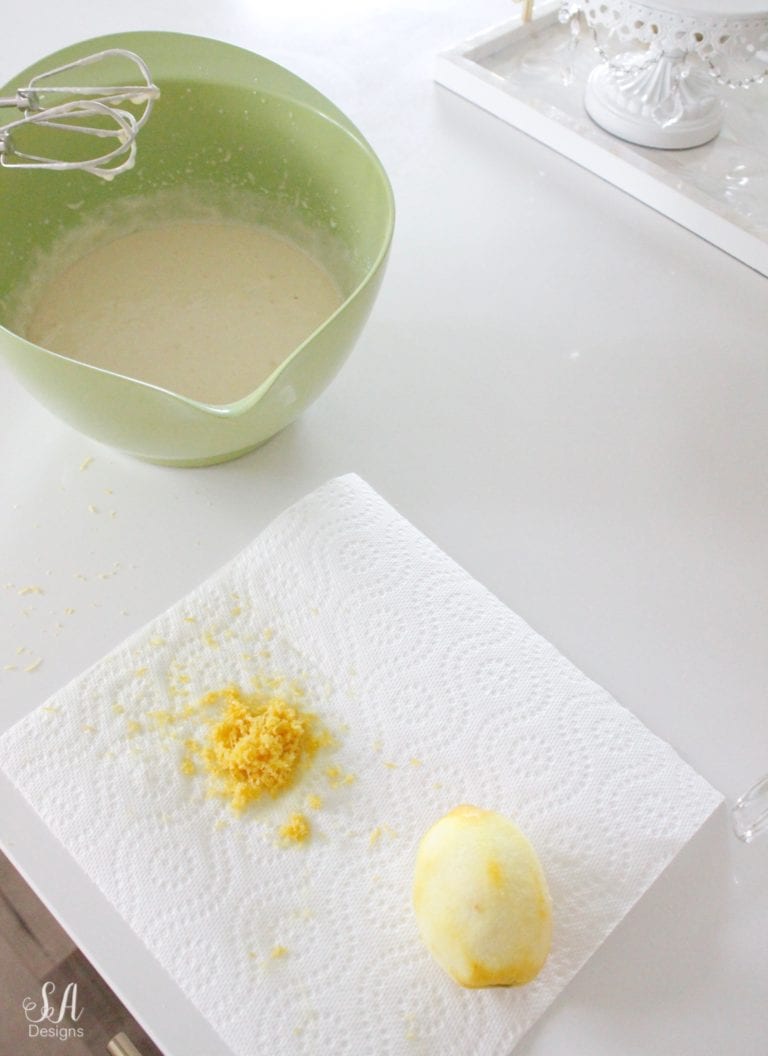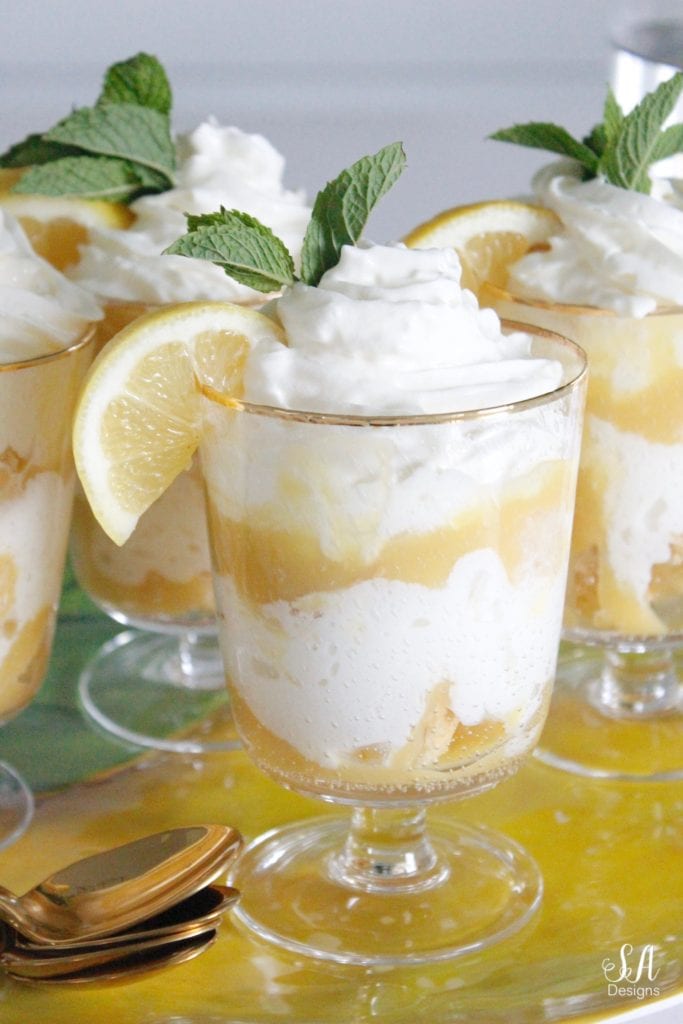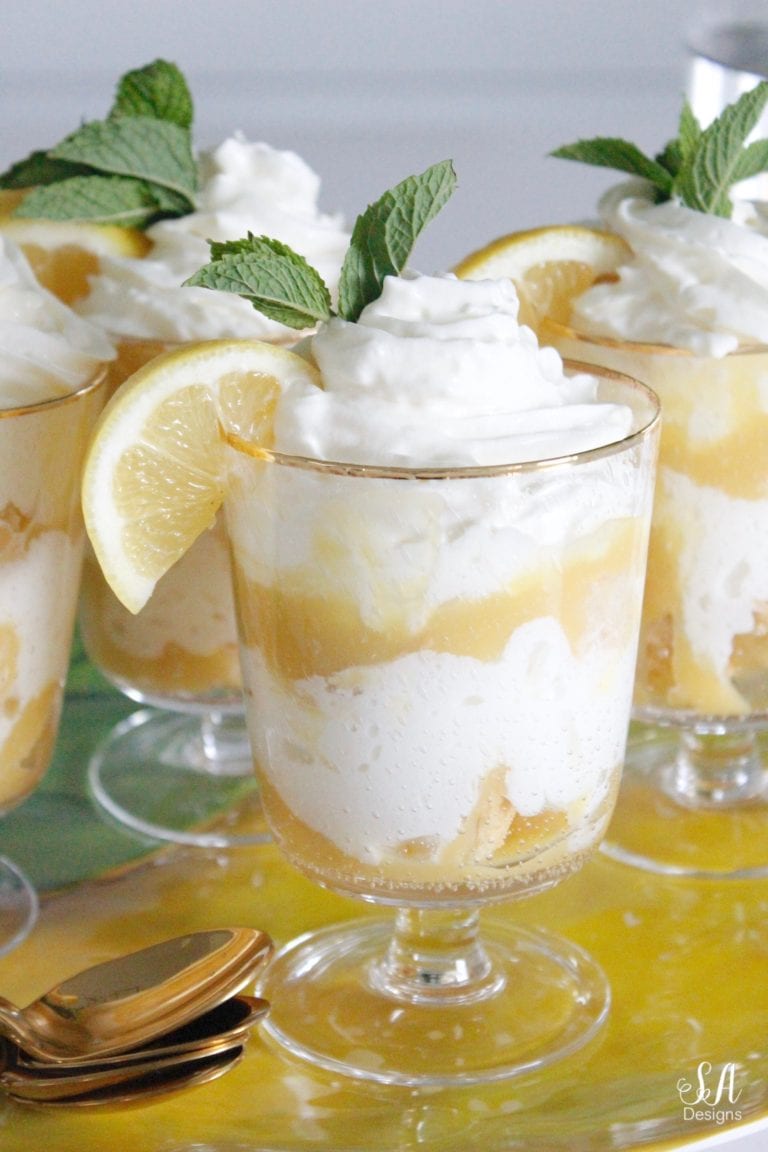 Layer the cubed cake pieces, a light layer of lemon curd, and whipped cream.  Repeat those layers and then add extra whipped cream on the very top.  Add a lemon slice and some mint for garnish and serve.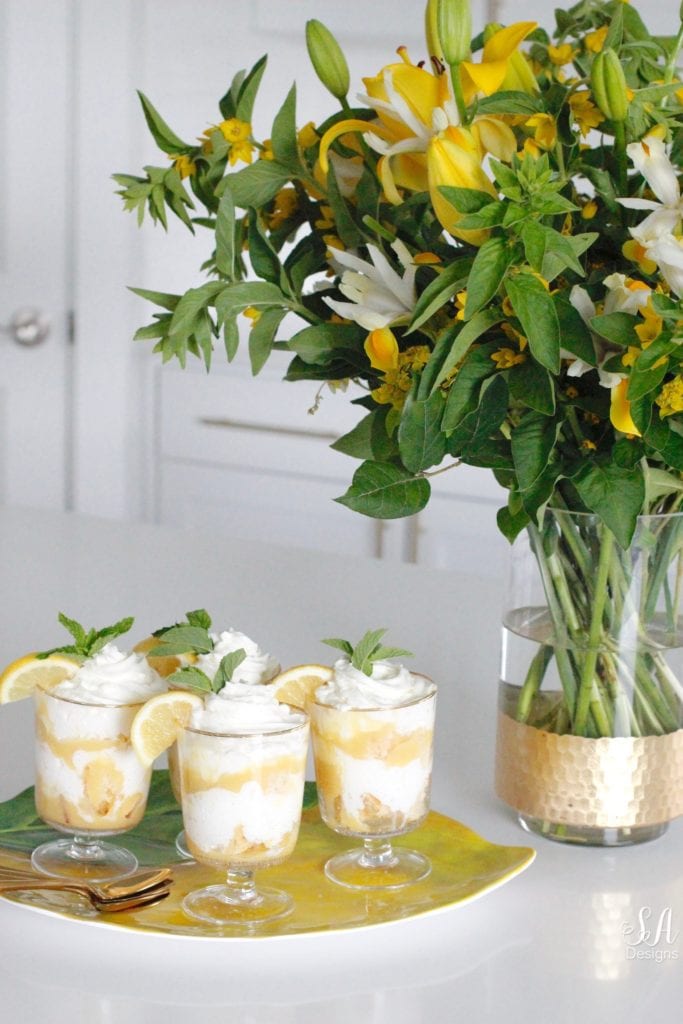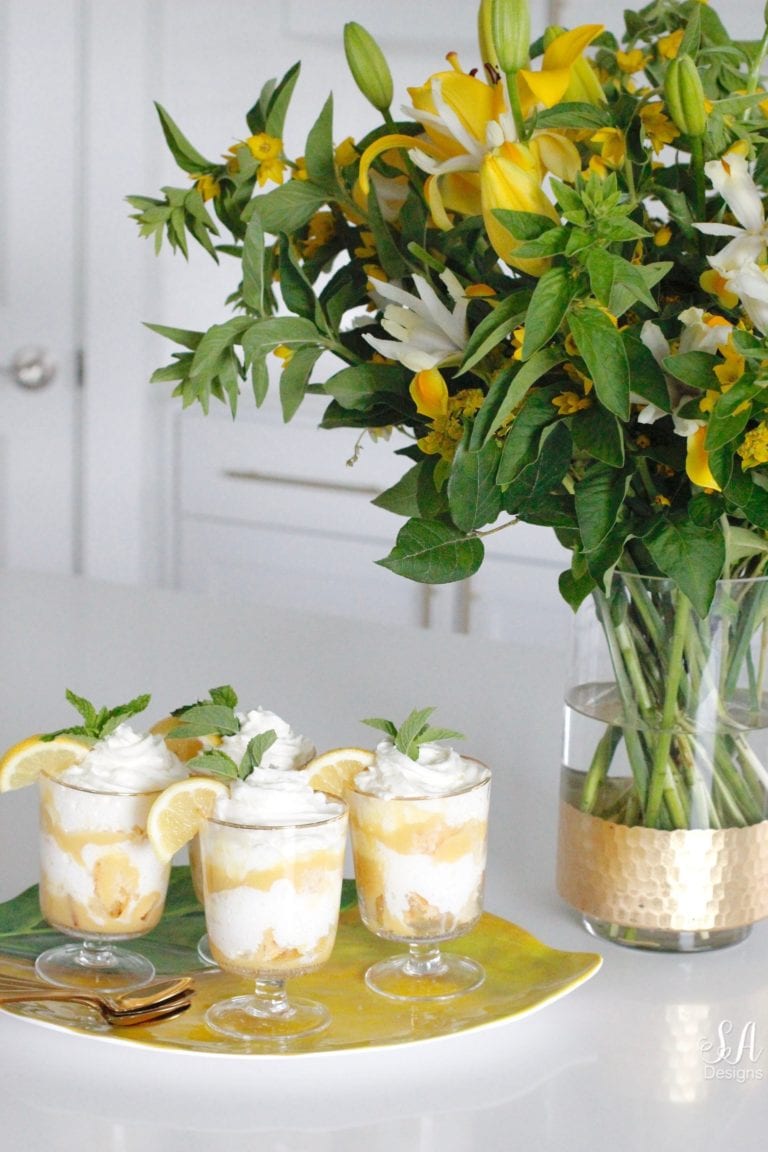 Remember that scene from What About Bob where Bill Murray is eating and making sounds while he was eating?  That was our family while eating this luscious lemon curd parfait, haha!  We were like "ohhhhh wow, oh this is so good", and so on.  Hilarious!  But that's how good it was!  The sweet tart lemon curd was so delicious in between that cake and whipped cream.  It was heavenly!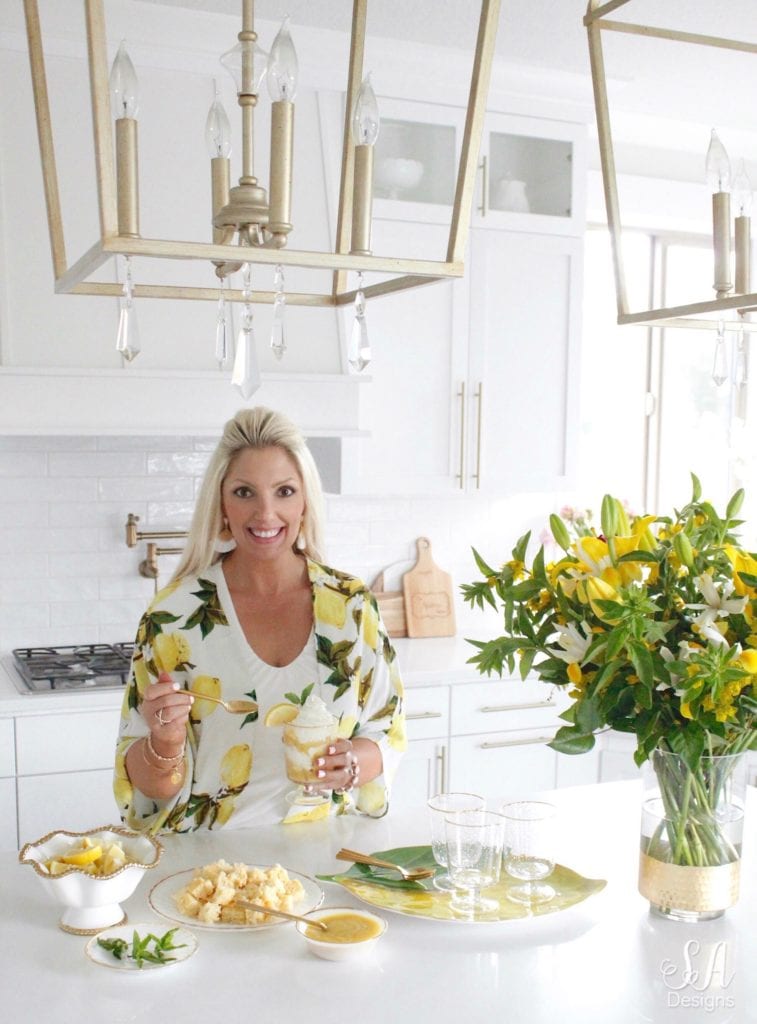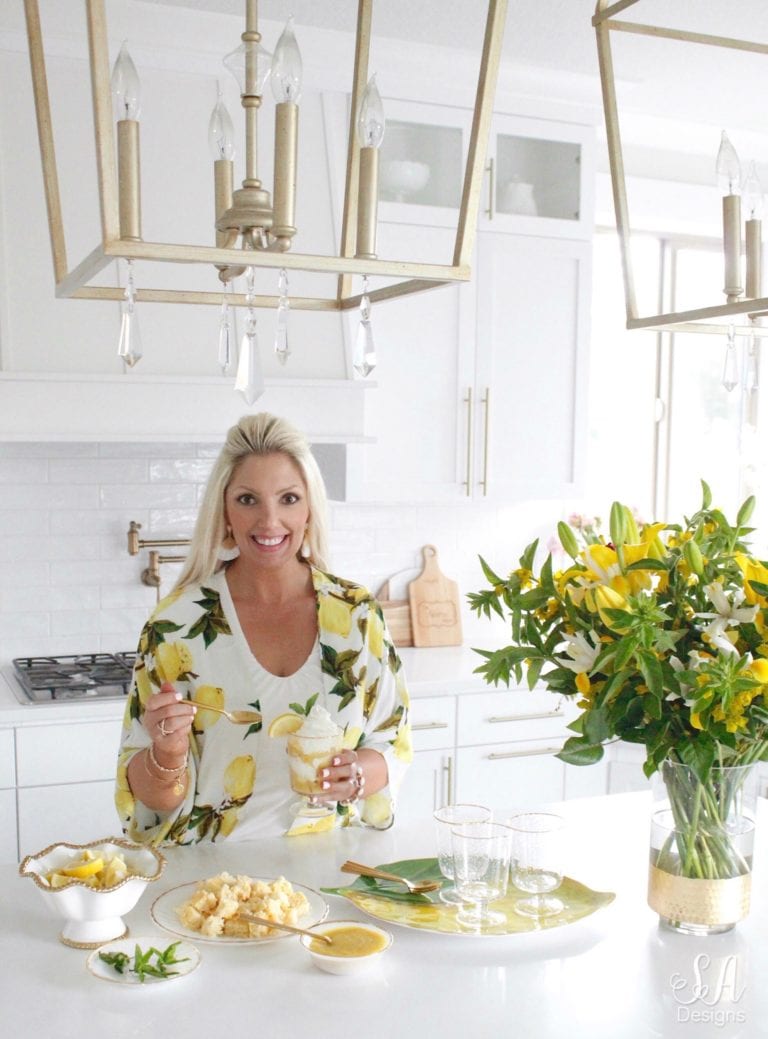 As soon as I made the first parfait, I had to taste it and oh WOW….it might be my favorite lemon dessert ever!  And it's just the perfect size.  Mom loved it so much too.  I found this darling melamine lemon platter at HomeGoods.  I even found this darling lemon kimono HERE for the occasion.  You can find these darling glasses HERE and spoons HERE (or similar here).  Vase is found HERE.  Other dishes are vintage milk glass with gold-rimmed edges. Far left bowl is from HomeGoods too.
Other ideas for using your leftover lemon curd:
-spread it on toast
-top ice cream
-use it as a filling in a cake
-stuffed cupcakes
-filled donuts
-top pancakes
-throw it in a pie shell and top with whipped cream
-fruit dip
-Stir into plain Greek Yogurt and top with granola and/or fruit
-Fold into whipped cream and top a cake with it
-Top a bagel or breakfast pastry
-Fill crepes
-Spoon a bunch on top of softened cream cheese and serve with crackers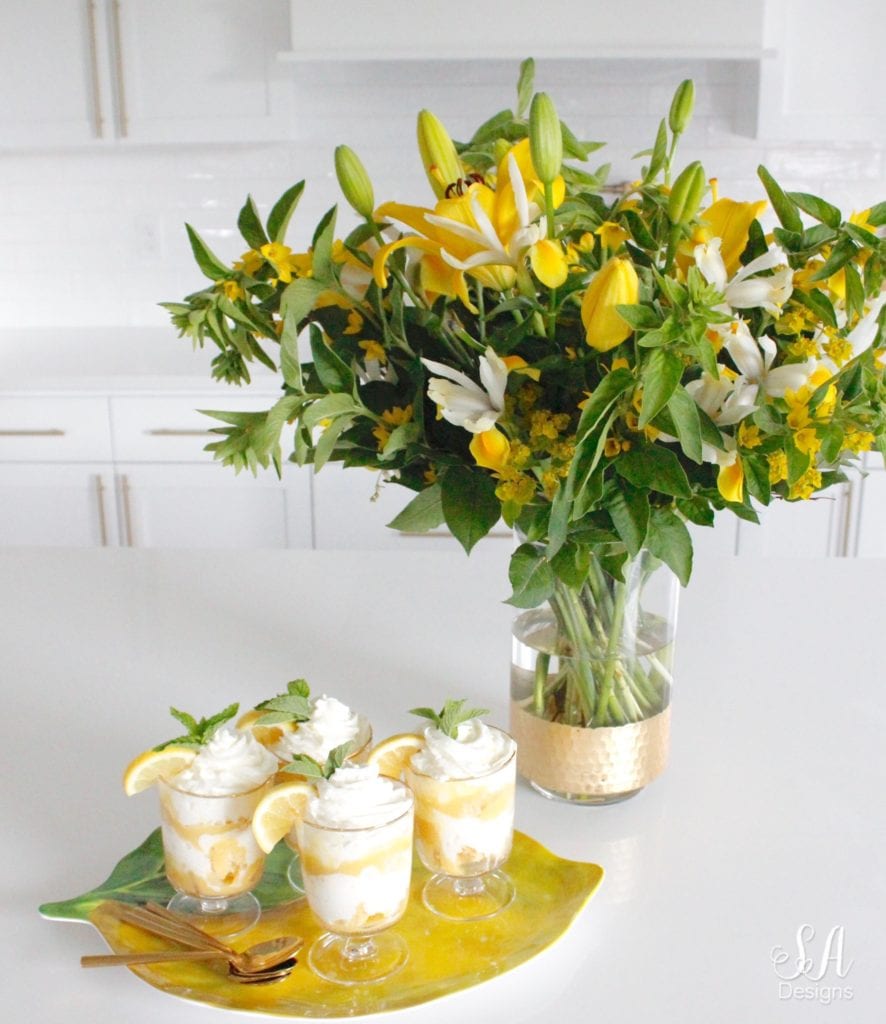 Is your mouth watering?  Make sure to pin any one of my images to Pinterest by hovering over the top left and clicking on "pin it" button so that you have it for later.  Please hop on over to the other friends of mine below and see what delectable summer recipes they're sharing today!  They are all amazing!!!
Make sure to visit my Loveliest Looks of Summer Tour that I posted earlier this week, including summer decor and fashion!
The Happy Housie // Sincerely, Marie Designs // Home.Made.Lovely //Inspiration for Moms
Maison de Pax // On Sutton Place // The DIY Mommy // Duke Manor Farm
TIDBITS // In My Own Style // Two Twenty One // Finding Silver Pennies
Satori Design for Living // Nina Hendrick Design Co. // Summer Adams // A Pretty Life
Town and Country Living // Rooms FOR Rent Blog // Clean and Scentsible // Craftberry Bush
*****
Thanks so much for stopping by today!  I would love it if you subscribed at the top of the page in order to receive my weekly emails of all my latest blog posts and hear about digital printables & freebies, as well as sales or new items in My Online Shoppe.  You can also follow me on Instagram, Pinterest, and Facebook to see what I'm up to in creating a home and lifestyle of inspiration!
xoxo,