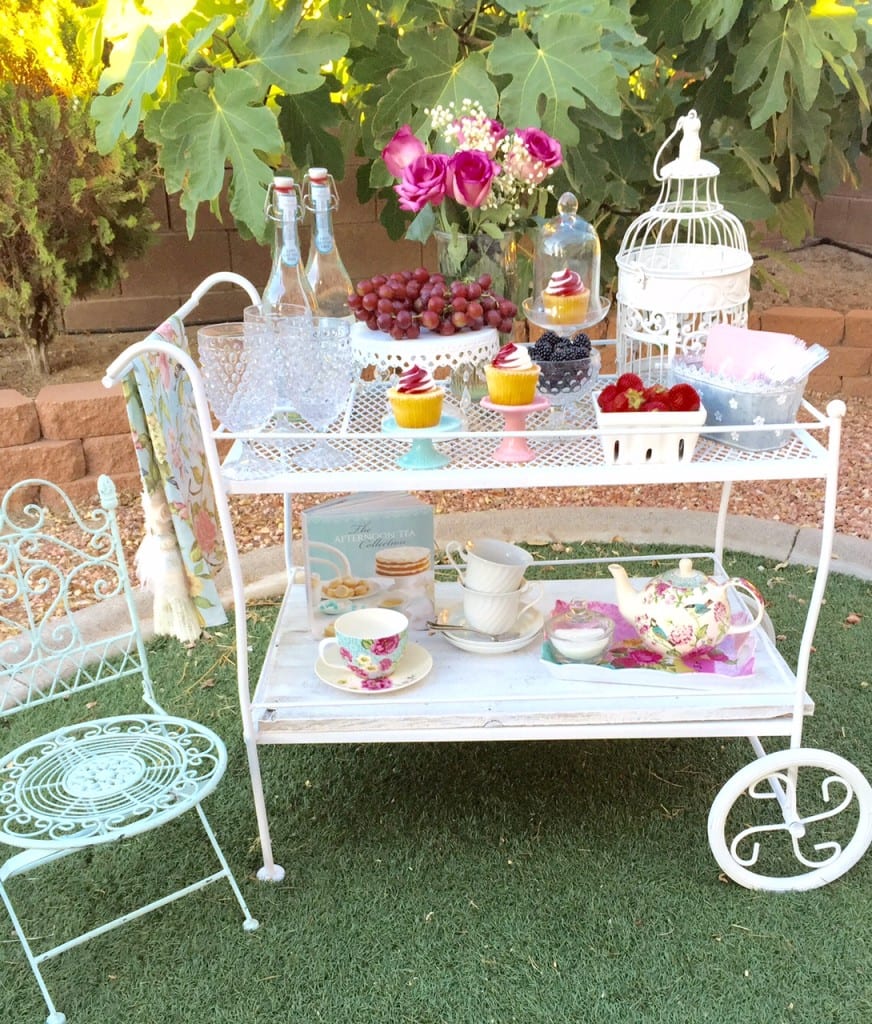 Let's be clear about one thing….
Here in Vegas, where we currently live, it is not common for most people to have "Garden Parties"…especially during the summer.  It is VERY hot and, thanks to the lack of water and dry ground, most people do not have lush green yards with vegetation growing and flowers aplenty.  This has been hard for me.  Being a native Californian and from the Sacramento area (a.k.a. The City of Trees) and adopted Texan by marriage (where we have lush, green rolling hills and gorgeous trees and farms outside all big cities where it becomes rural), this desert landscape has been one of the HARDEST adjustments for me when moving here last year.
That being said…..
Nothing, and I mean NOTHING, will keep me from having a garden party!  I will find a way around it.  We may not have a garden or vegetation in our backyard.  We have cement walls instead of fences and desert rock instead of lush, green grass.  But we have a fig tree and a couple of bushes!  And I have a gorgeous vintage tea cart and roses from the grocery store!  So by golly….we will have a garden tea party LOL! 🙂  Perfect timing, since I had a few special guests for tea JUST as the sun was going down, it was cooling off, and a breeze started to grace us with its presence.
I found this gorgeous cart a few years ago, back in Waco, Texas. I painted it another color after washing and cleaning it originally but then repainted it white the other day and I'm loving how it looks now!  I always have fresh flowers from Trader Joe's in my kitchen on a weekly basis but loved using my daughter's roses that we gave her at her dance recital last night.  It was the perfect touch!  Here's where I found everything else used in this picture:
Cake pedestals, cake stand, bottled sparkling lemonade, clear hobnail glasses, floral teapot and matching teacup/saucer, porcelain strawberry basket, "delish" napkins:  Home Goods
Hobnail pedestal bowl and teaspoons:  World Market
Pair of white teacups/saucers:  found at antique store on anniversary trip
Small rod iron chairs. grey galvanized metal napkin holder:  Hobby Lobby
Floral tea tray:  TaiPan Trading Company
Tea Towel:  handmade by Candice Lee
The Afternoon Tea Collection Book: Magnolia Lane Boutique (but also found on Amazon)
Birdcage:  Ross Stores
Berry Twist Cupcakes and fruit: Smith's Grocery Store