I'm so glad that I get to share my master bedroom with you today in our new home, here in South Carolina! I've teamed up with Walmart again to focus on self-care (one of my favorite things these days) and to share with you some tips to make your bedroom an oasis. Maybe turn on some relaxation music and sit back and read this…ha!
Affiliate links are included in this post. Click here to read my full disclosure policy and here for my privacy & cookies policy. All opinions are my own.}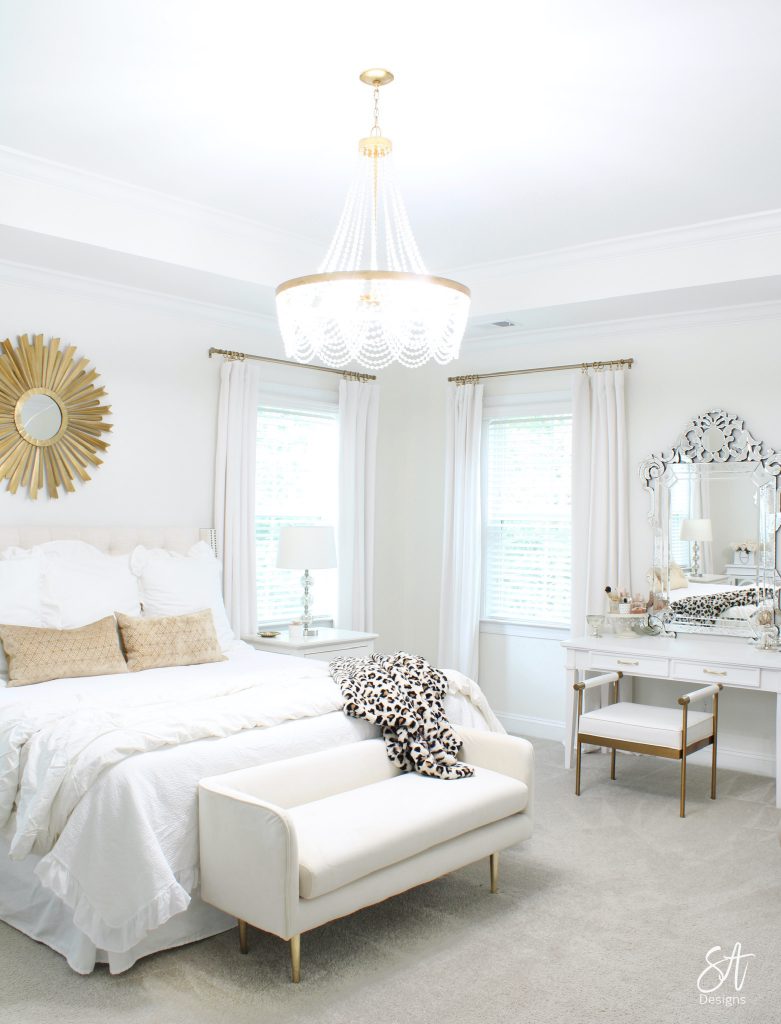 There are a few things I needed to create a bedroom oasis. I needed comfort and coziness, relaxing scents, and lots of glam! I made some fun changes and additions to my bedroom in this new house.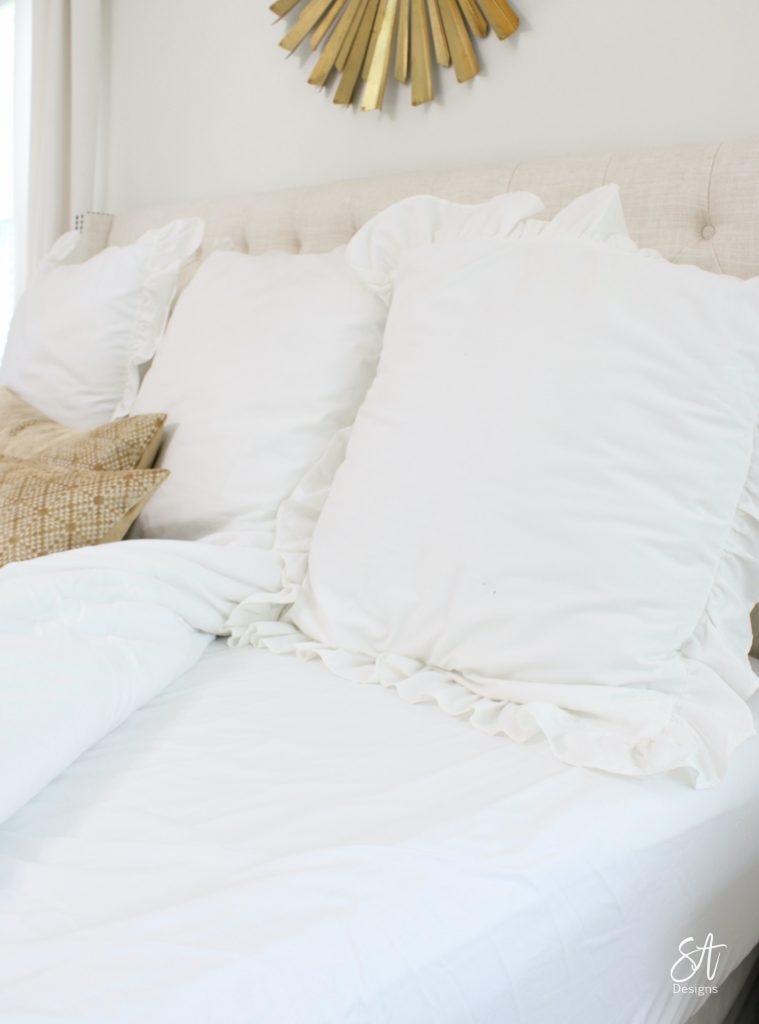 It's imperative to keep your linens clean and fresh. I ordered these crisp white sheets for the bedroom. There's nothing like the feeling of new sheets when climbing into your bed at the end of the day. Am I right?!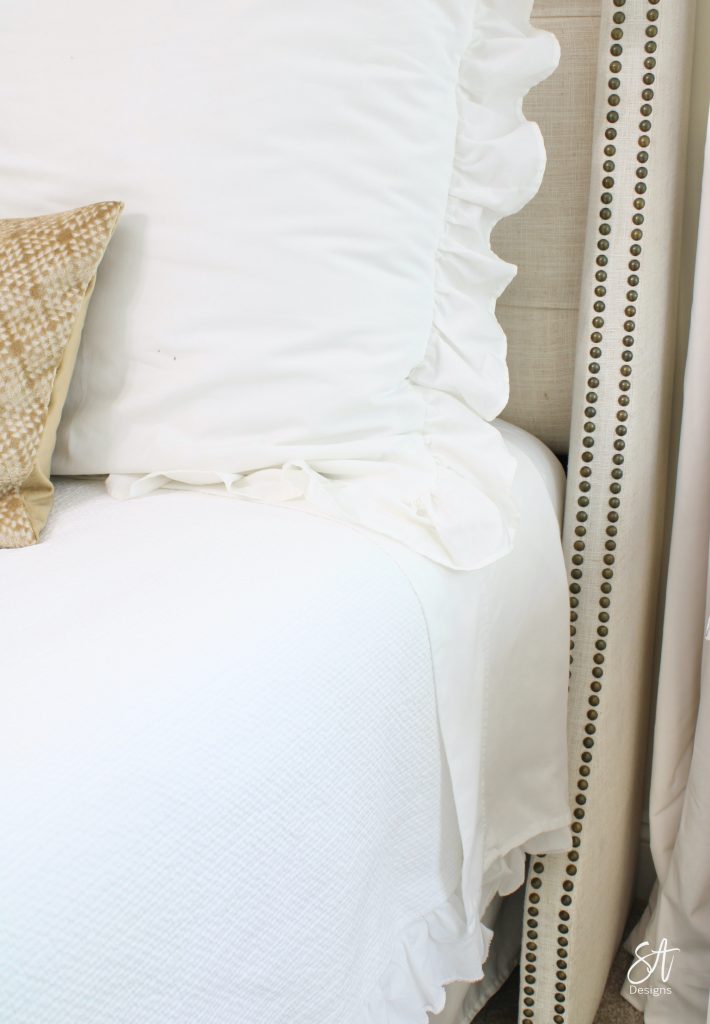 Sheets, bedding, duvet covers, pillows…all essential layers to create comfort in your oasis.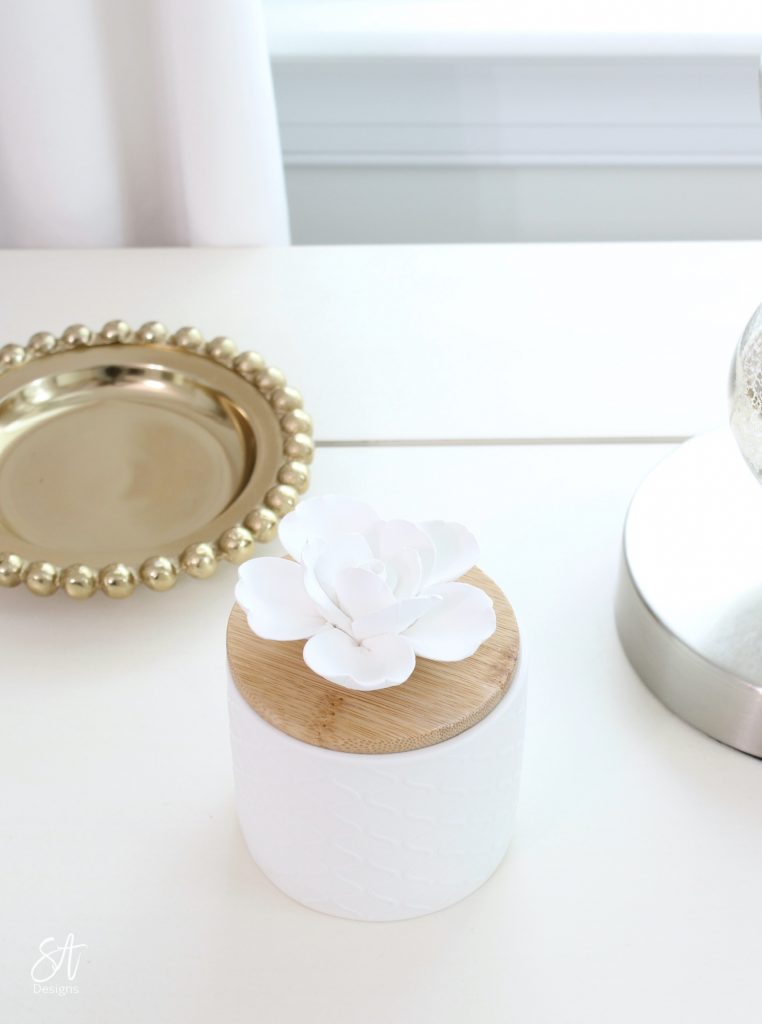 When I think of relaxation, I think of soothing essential oils. I love the way they smell in a diffuser so I bought this floral diffuser and put it next to my bed.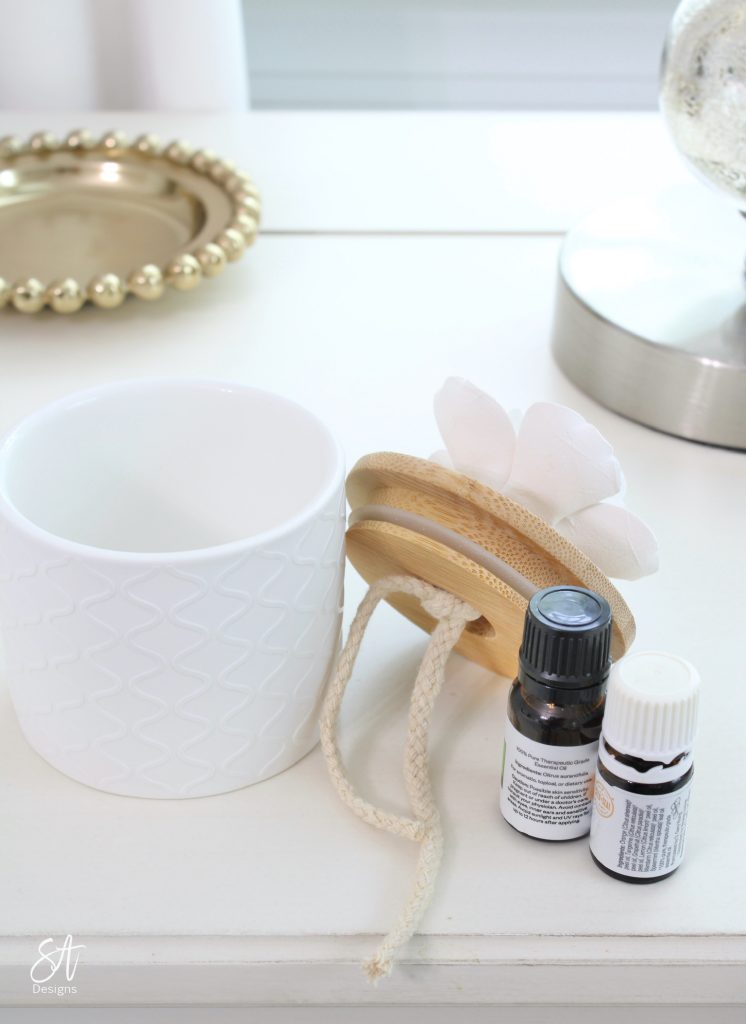 I added enough drops of the essential oils to coat the rope inside and within 30 min there was a heavenly and relaxing aroma from the diffuser. No water needed. Isn't that cool?! So it smells good all the time without having to plug something in or burn a toxic candle.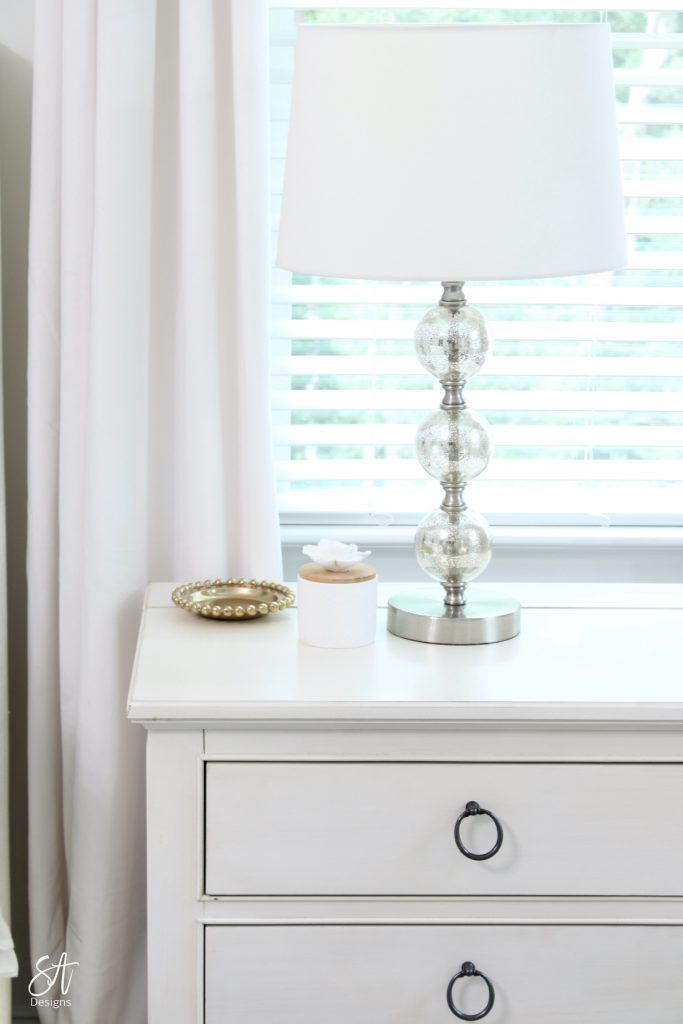 Really loving this idea! It also doubles as a pretty piece of decor as well.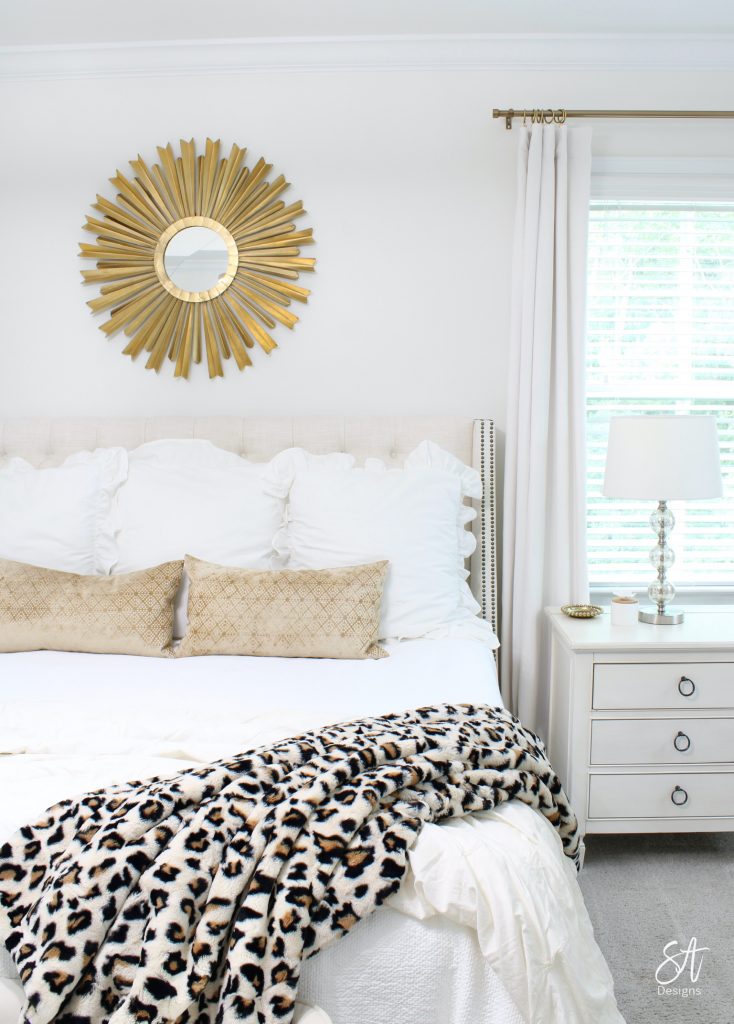 Layered bedding, throw blankets, and plush pillows create a cozy place to lounge and give that feeling of relaxation in any bedroom.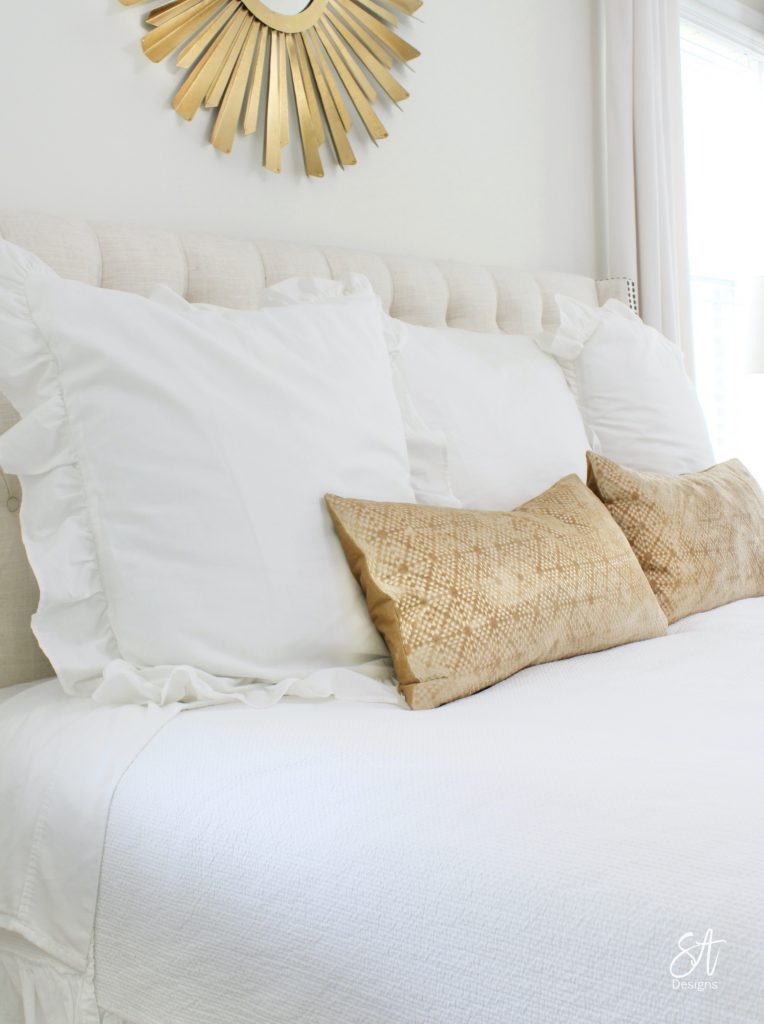 I love ruffles and large euro pillows. Neutral colors and white bedding create a very calm atmosphere.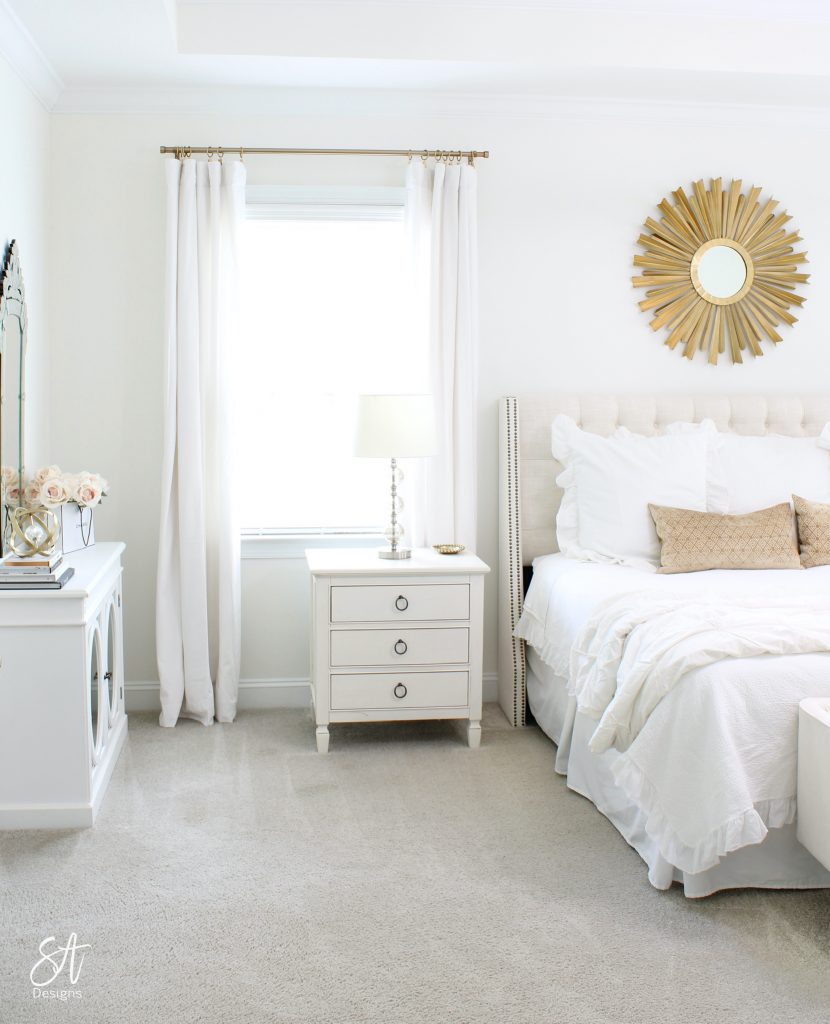 That sunburst mirror though…..the perfect glam accent!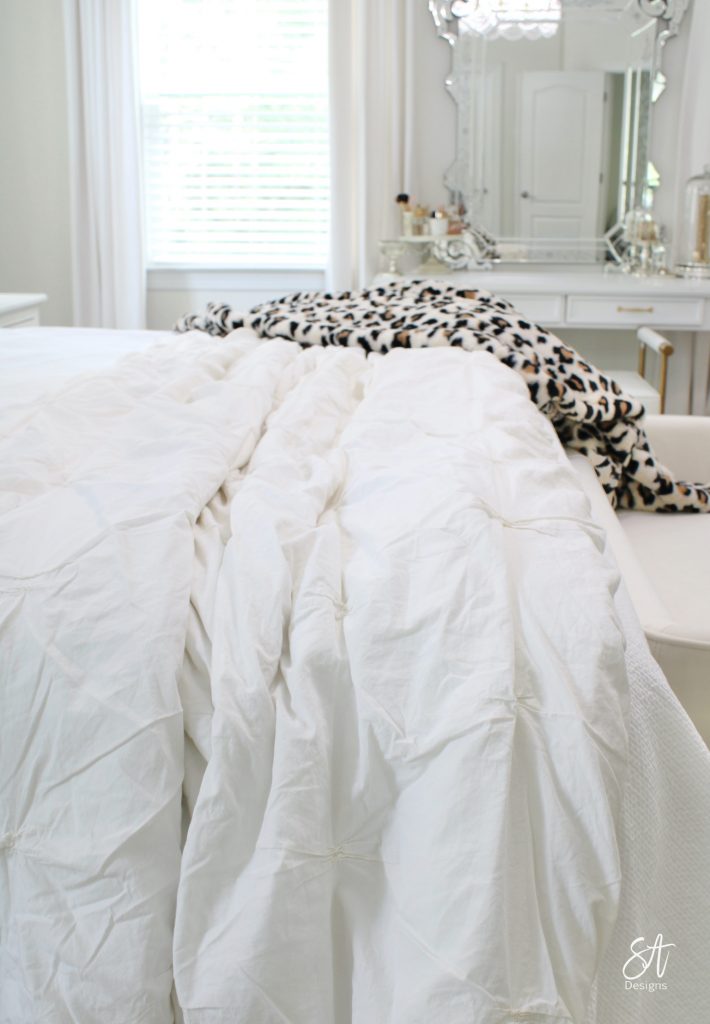 Tip: To create an inviting bed that looks extra comfortable, put a down comforter (or down alternative – this one is luxurious) in your duvet cover or under a quilt AND also put a second one in another duvet cover at the foot of your bed. Large home retailers do this to add layers of plushness.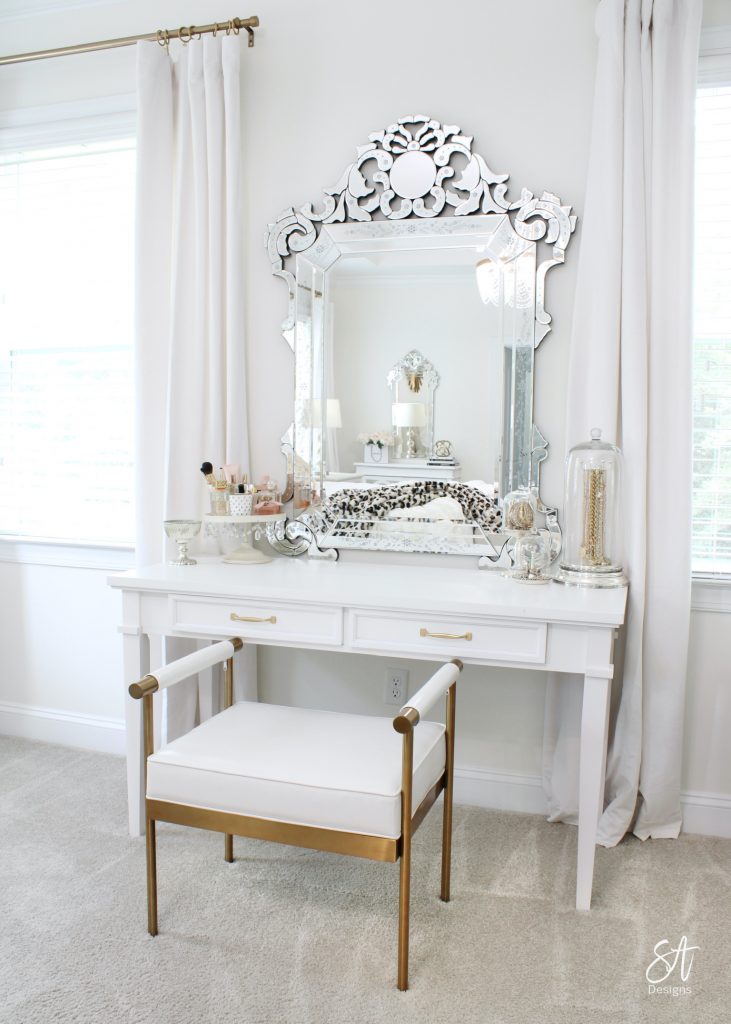 Every woman needs a pretty place (with a pretty mirror) where they can sit and get ready each day. I turn on music, listen to podcasts, do my hair and makeup…it's a great way to start my day!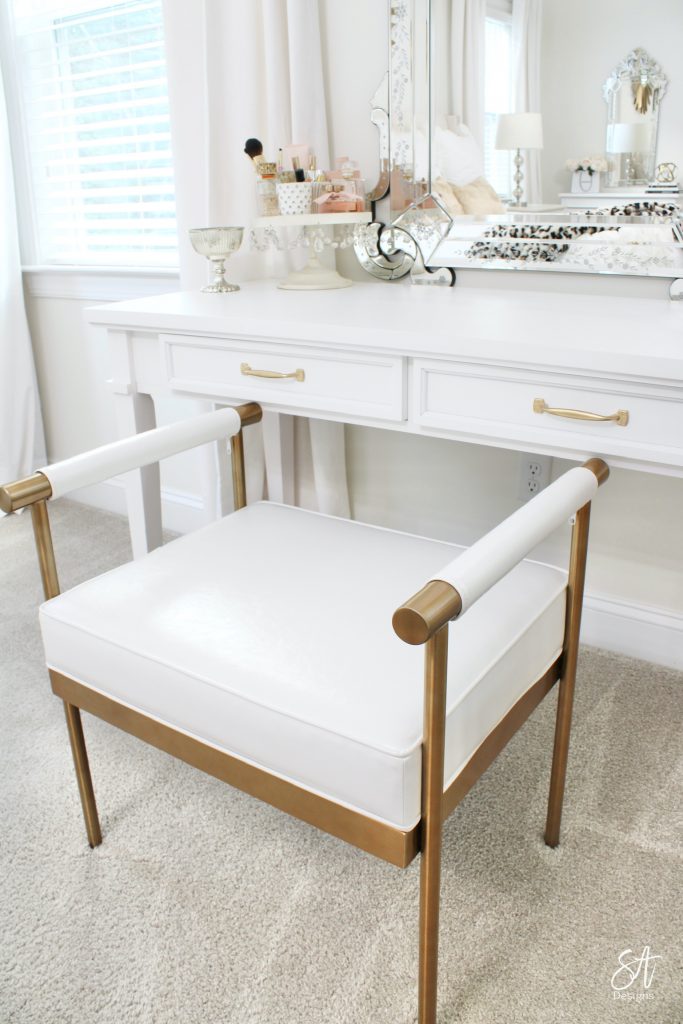 I wanted a really beautiful and modern bench and this was the perfect fit, the moment I saw it! White leather, high arms, comfortable…I'm obsessed!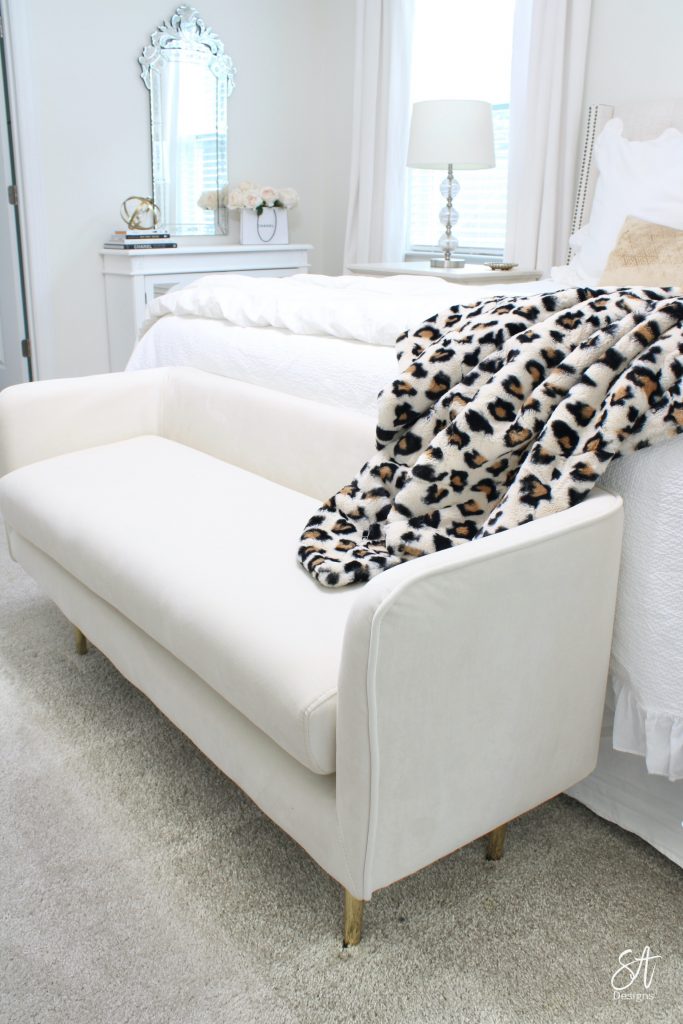 My bench before was pretty but it was time for an update and if I truly wanted to make this bedroom an oasis, it had to have more of a modern glam feel. This bench with the ivory velvet and gold legs that this was "the one" as soon as I saw it. Also, Gracie loves the height of the bench and makes it super easy for her to hop up on the bed.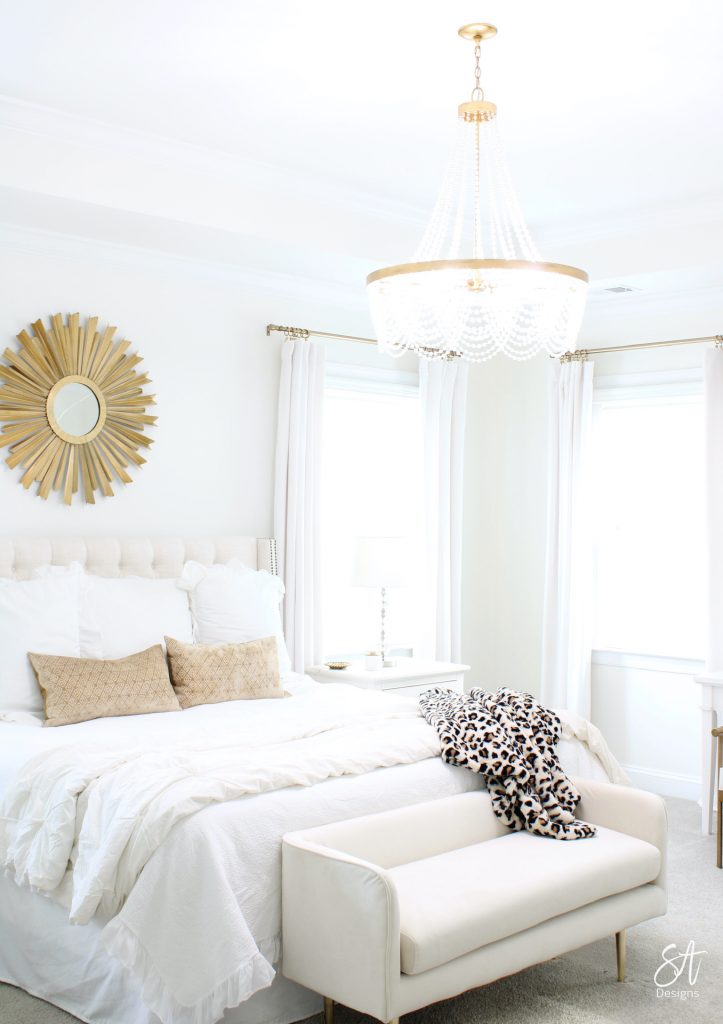 To finish off any space and to create the perfect oasis in your bedroom, you need fabulous lighting! I wanted a really glamorous chandelier and the minute I saw this beaded chandelier, it stopped me in my scroll. It was perfection!
Walmart has ALL your essentials to creating the perfect bedroom oasis and helping you focus on self-care and your best sleep! They have mattresses, pillows, blankets, and other accessories in their One-stop Sleep Shop. I'm linking the products I used above and also below. Is your bedroom an oasis? If not, treat yourself! You deserve it!

Click on arrows to scroll right and left!


I'm so glad you could stop by today! I would love it if you could subscribe at the top of the page in order to receive my weekly emails of all my latest blog posts and see everything I'm working on! You can also follow me on Instagram, Pinterest, and Facebook to see what I'm up to in creating a home and lifestyle of inspiration!
xoxo,

---
Want to shop my Instagram posts? Click on any square below!