Confession…I started this gift guide post a month ago but I've been so busy I haven't been able to get it completed and posted. Well, now Christmas is just 2 weeks away so I better get it out to you. I think all of these items can still be ordered to arrive by Christmas, so that's a relief. Most stores are offering free and quick shipping so there's no need to worry. Here you go ladies (and men that are reading this because their ladies sent them a bold hint…ha!), this is the ultimate gift guide for the stylish homemaker! There's something that I bet every girl will find in this post that they can't live without, whether it be fashion or something for the home.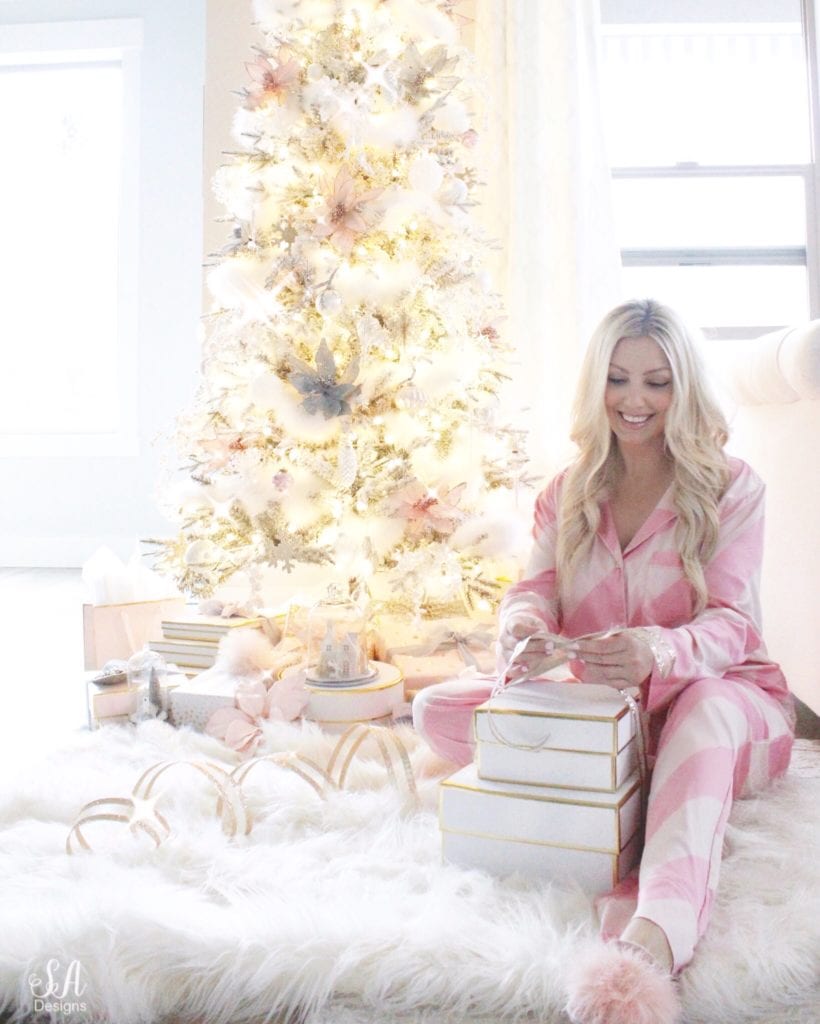 This post contains affiliate links for your shopping convenience. Click here to read my
full disclosure policy and here for my privacy & cookies policy. All opinions are my own.
Here are the shopping links for my pajamas, slippers, throw blanket, and gift boxes above. Click HERE for more on my living room tree, pictured.

First…An easy way to shop all my gift ideas and posts – Like To Know It
Do you follow me on the Like To Know It? They have an app or you can shop on your desktop site, either way. It's like having hundreds of personal shoppers (or as many as you want to follow) at your fingertips and we, influencers, link all our favorite things and do the hunting for you.
Here's a super quick explanation below of how and why to use the Like To Know It App and website if you prefer to use that.
Honestly, that's how I do most of my shopping! It's FABULOUS!!
Below is a quick tutorial on how to shop on your phone with the app.
Isn't that brilliant?! I promise you'll love me for it. Make sure to follow me on Instagram and on LikeToKnowIt. You can download the app for free in your app store and it's simple to create an account and start shopping.
The Ultimate Gift Guides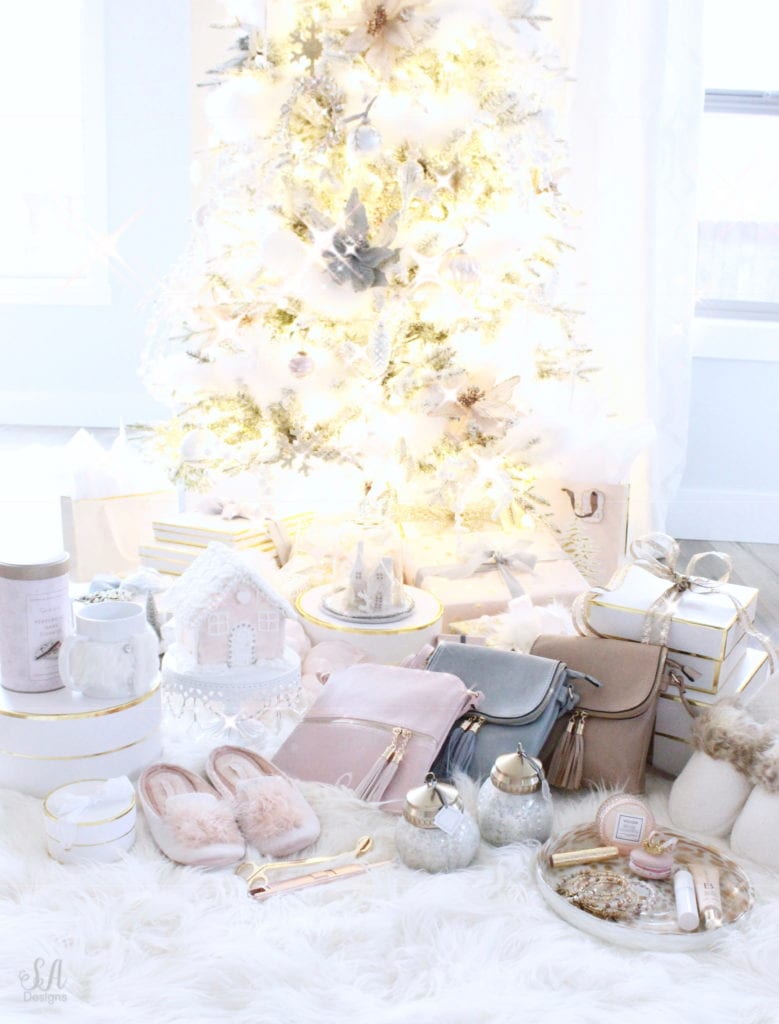 First, I've gathered some of my favorite gift ideas and put them here in front of my tree to share with you.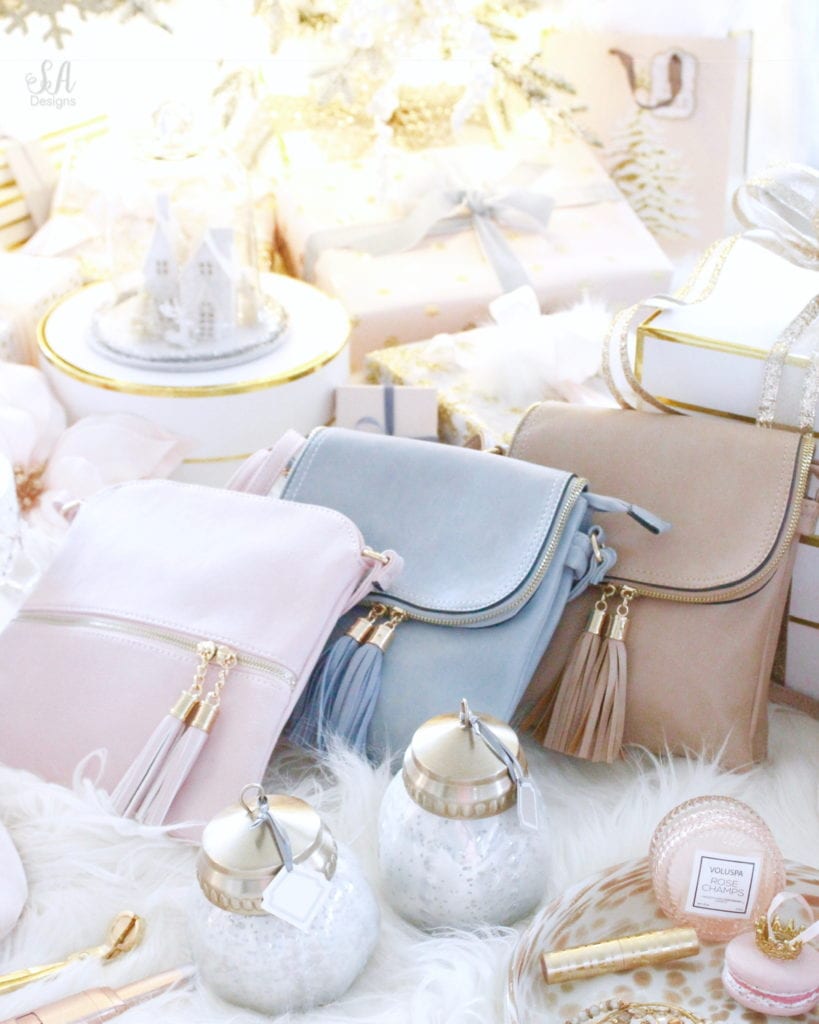 While I love a nice handbag, I really LOVE a nice crossbody purse as well. When I'm out Christmas shopping and don't have a shopping cart to put my purse in, like at the mall, carrying a handbag is just too heavy and makes shopping exhausting. But a small and lovely crossbody is the perfect solution to allow me to shop for hours without back and shoulder and neck pain. These 3 shown here are under $30 and I'll link them below. I'll also link a few high-end pieces that I have and love as well.

These ornament candles have been so popular this holiday season. They are a great gift idea and you can keep them around all winter long.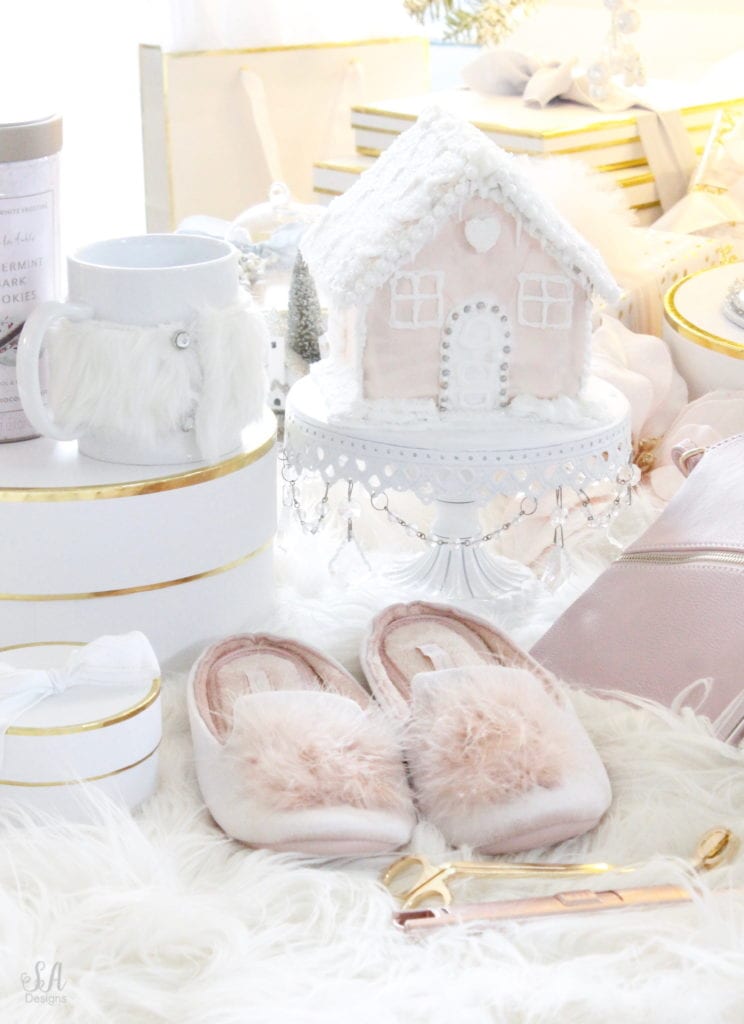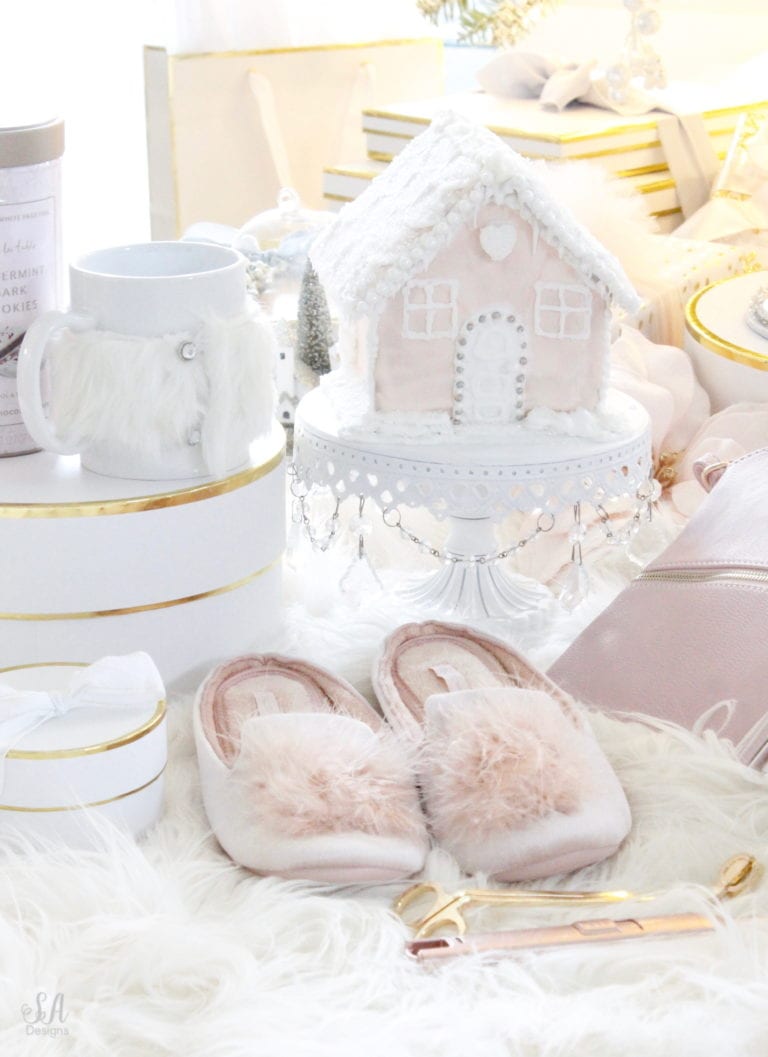 Do you have a gift exchange where the gift has to be handmade? Make a pretty gingerbread house that can be displayed in their kitchen. The pretty cake stand alone also makes a great gift.
Cute mugs are always a darling idea. Everyone seems to love my mug with the fur collar and it keeps your hands off the hot mug.

Slippers are my favorite shoes….at home at least. I wear them all year long. In the summer, I wear open-toed slippers, or house shoes, because it's just more comfortable on the hard floor. These are so affordable and I get so many compliments.


Pretty treats are always a huge plus.

Candle accessories are always a good idea. I love this brass wick trimmer above.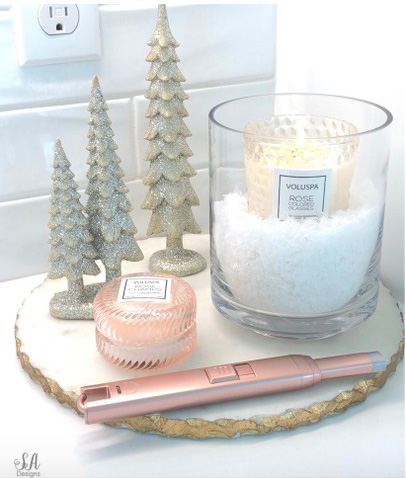 Also, this flameless lighter (charged by a USB cord) has been one of YOUR favorite things I've shared this season on my LikeToKnowIt feed. I've enjoyed all your feedback!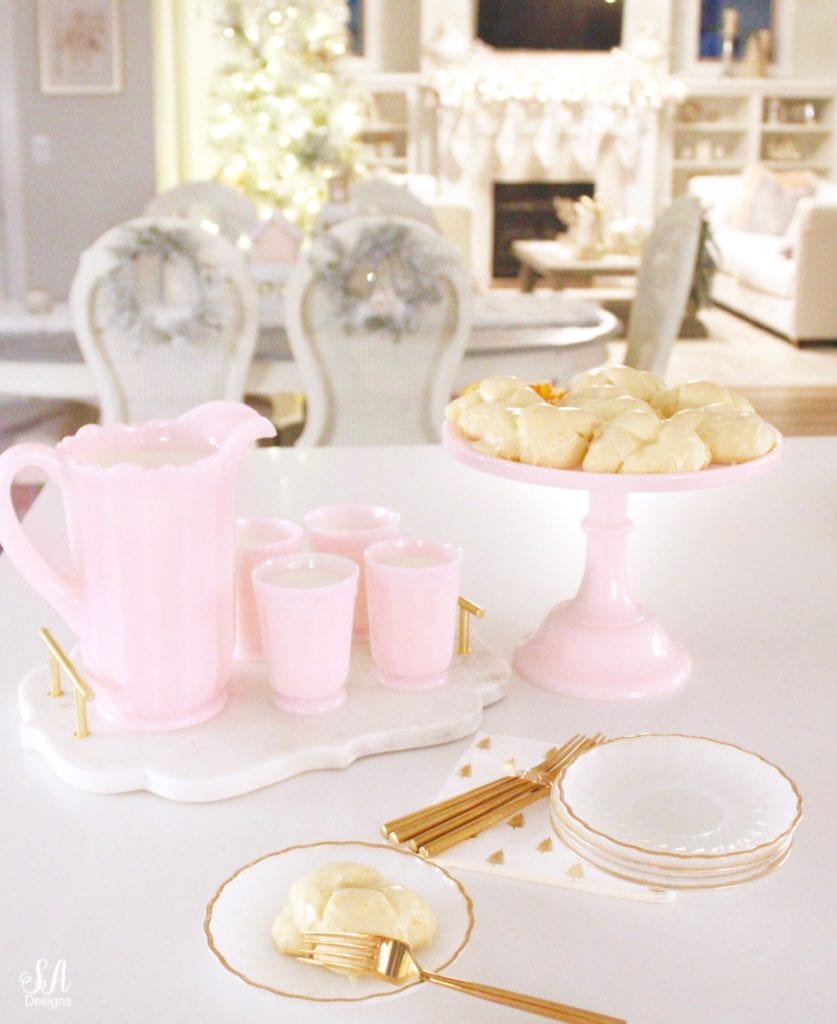 I forgot to add these pieces to my first photo BUT…
I use these gorgeous pink milk glass pieces to serve treats and drinks to guests, like my one-hour orange rolls (soooo good) and they would make the perfect gift, as would the tray!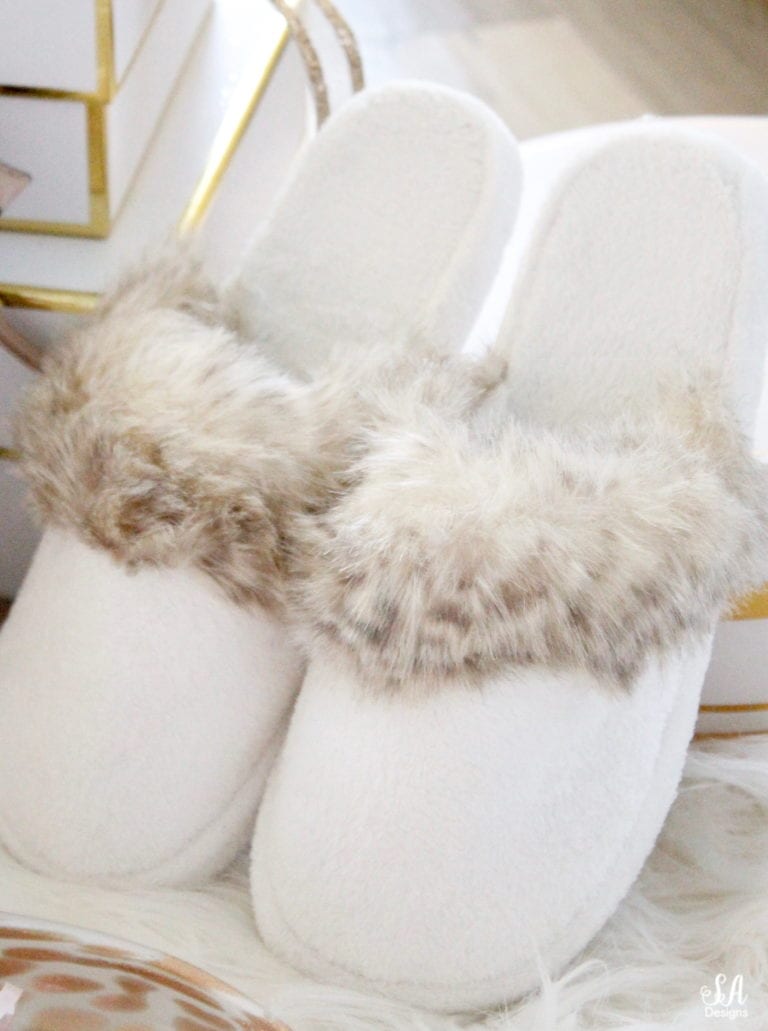 More slippers! But these are special because I like to wear them with my favorite robe.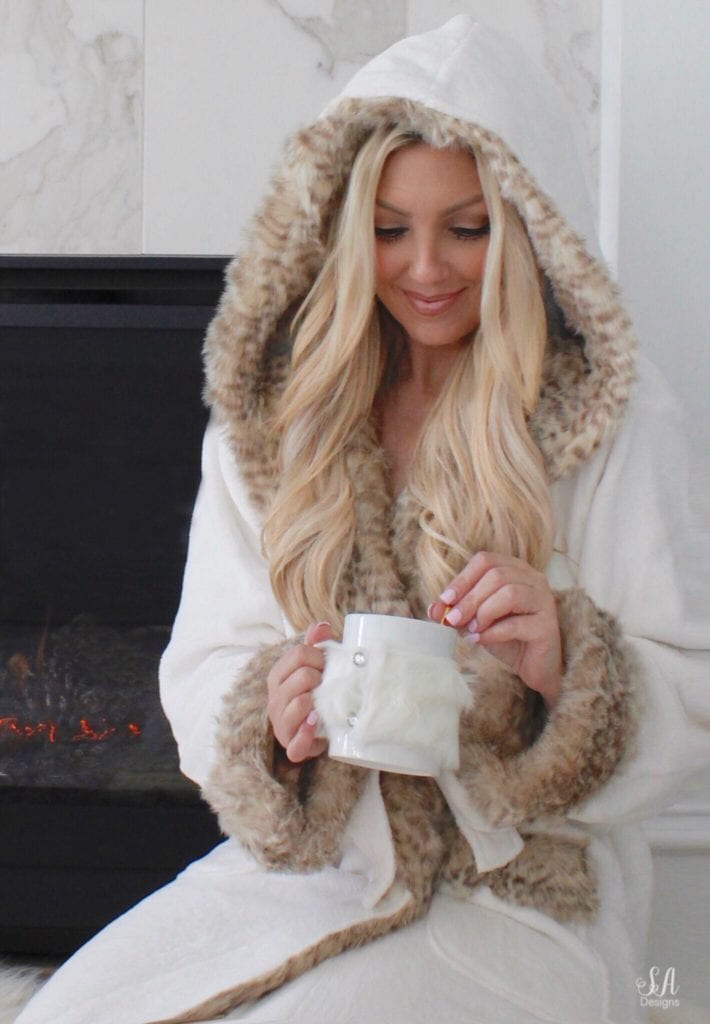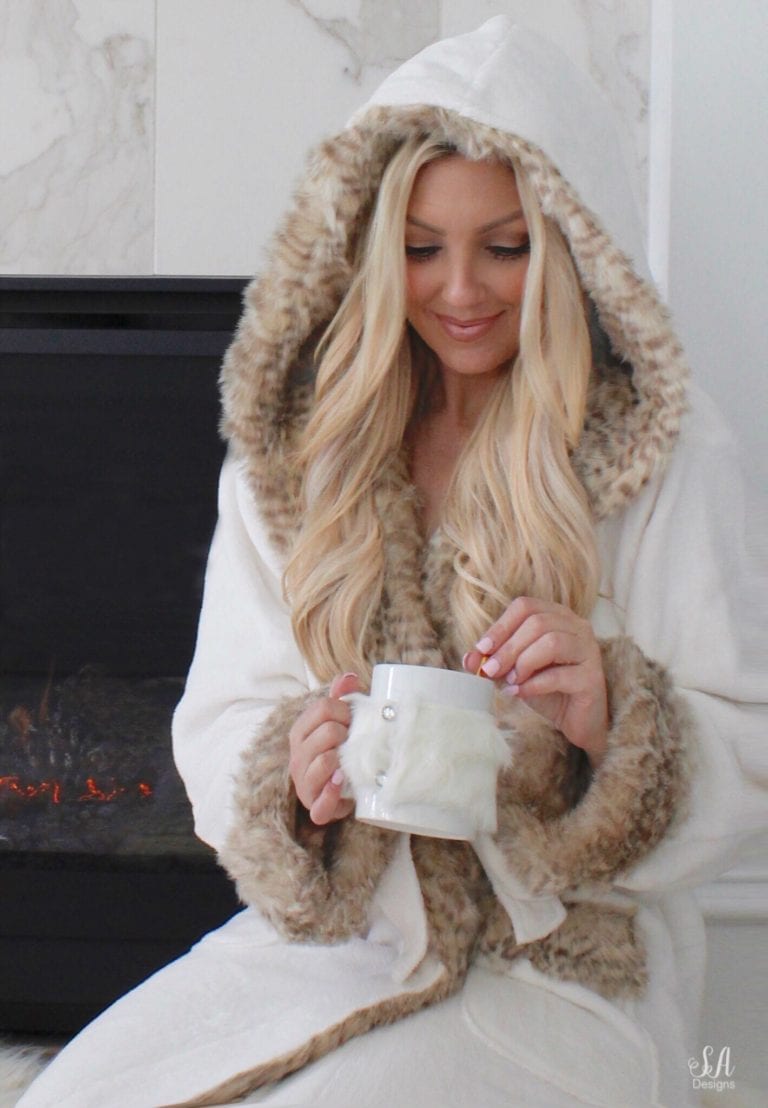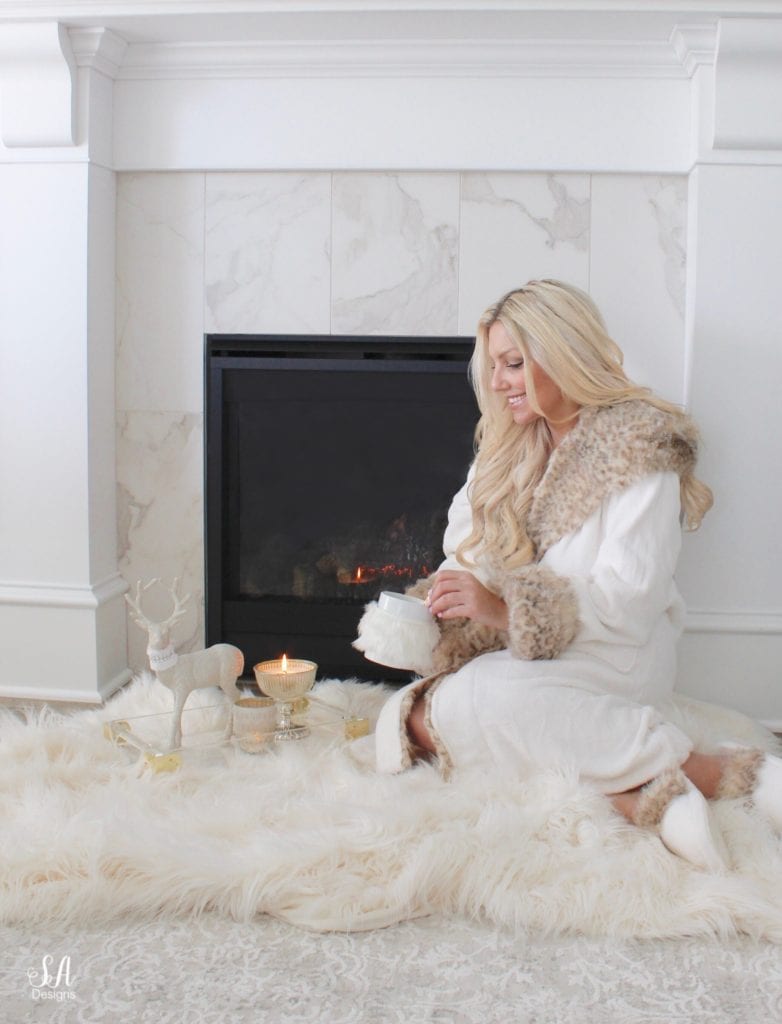 I first shared these ideas in my Loveliest Looks of Christmas Tour, sponsored by Pottery Barn, earlier this season and you all looooved them! I know many women put them on their wish lists so I'm crossing my fingers for all of you! In fact, just gift them to yourself!!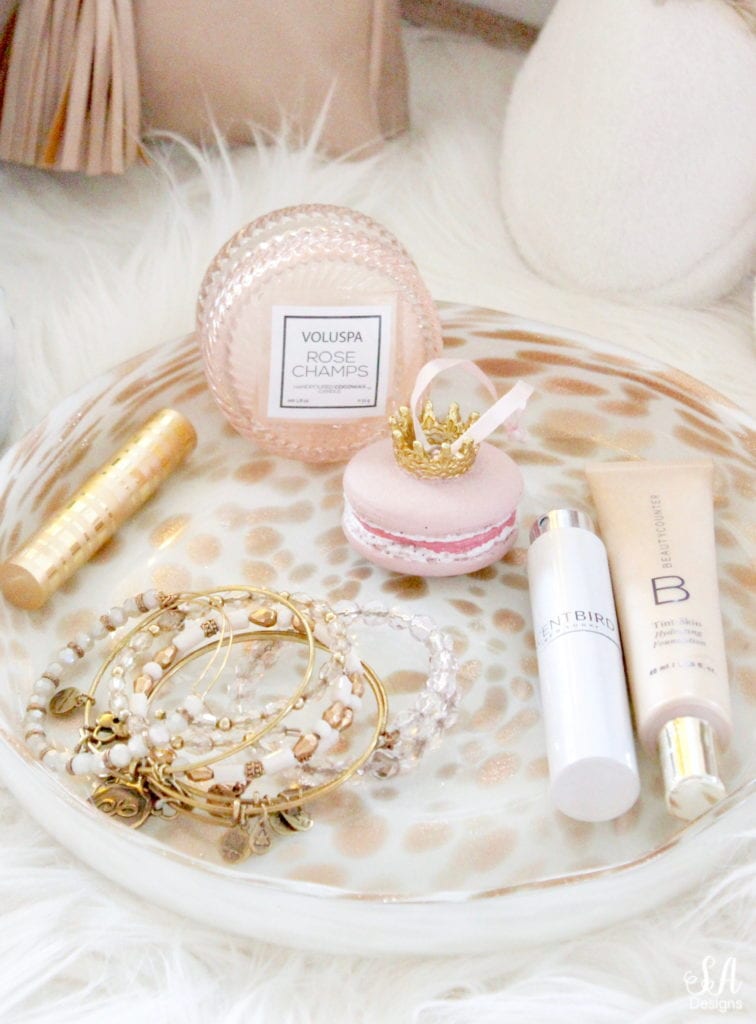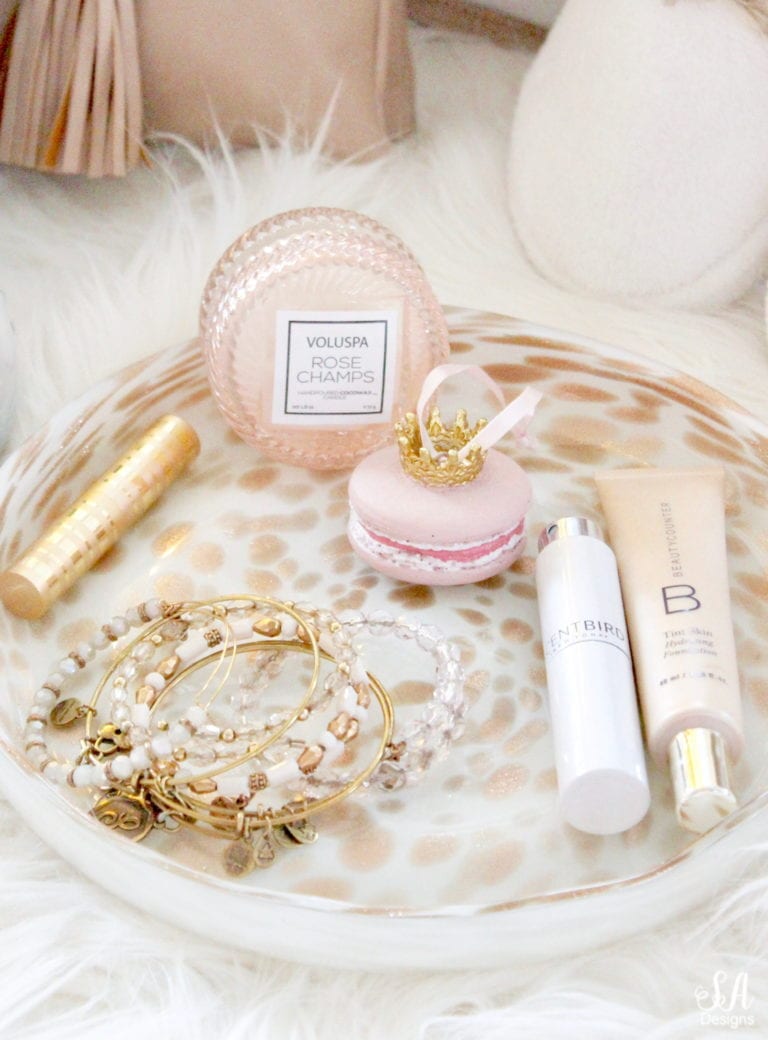 This glittering glass tray is so gorgeous and it would be perfect for your bathroom or to put candles on or jewelry.
A small monthly perfume membership to Scentbird is such a cool idea! For $14.95 a month and free shipping, you get to select from their collection of 450+ designer and niche fragrances and line up your monthly queue. Get a generous supply of fragrance (0.27oz/ 8ml) in a travel-friendly spray (see white tube above in pic). Free refillable case with your first order. You can cancel ANY time. I love it!! I have wanted to try soooo many fragrance but I'm not wanting pay $100 a bottle. If I love it, I order another month of it. You can cancel at ANY time! Click HERE to see more and get a free month of perfume with my link! I've been subscribing for over a year and I love it!

Stackable bracelets are a brilliant and thoughtful gift.

Unique ornaments are things I love getting at Christmas as well
.

Candles, candles, and more candles…always a good gift idea.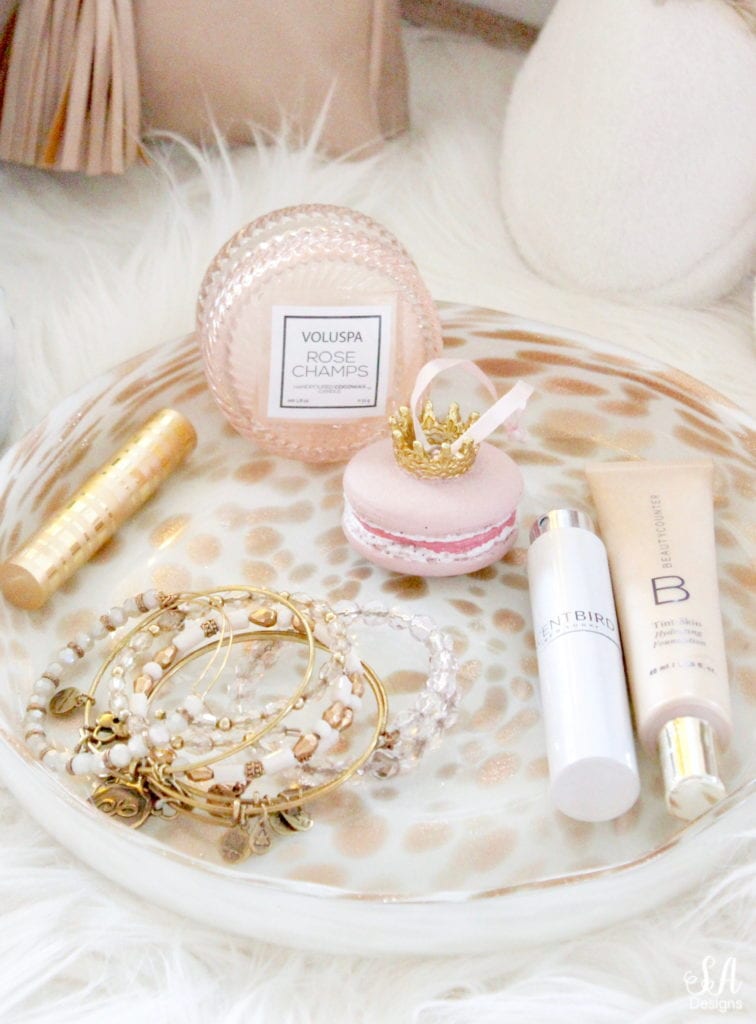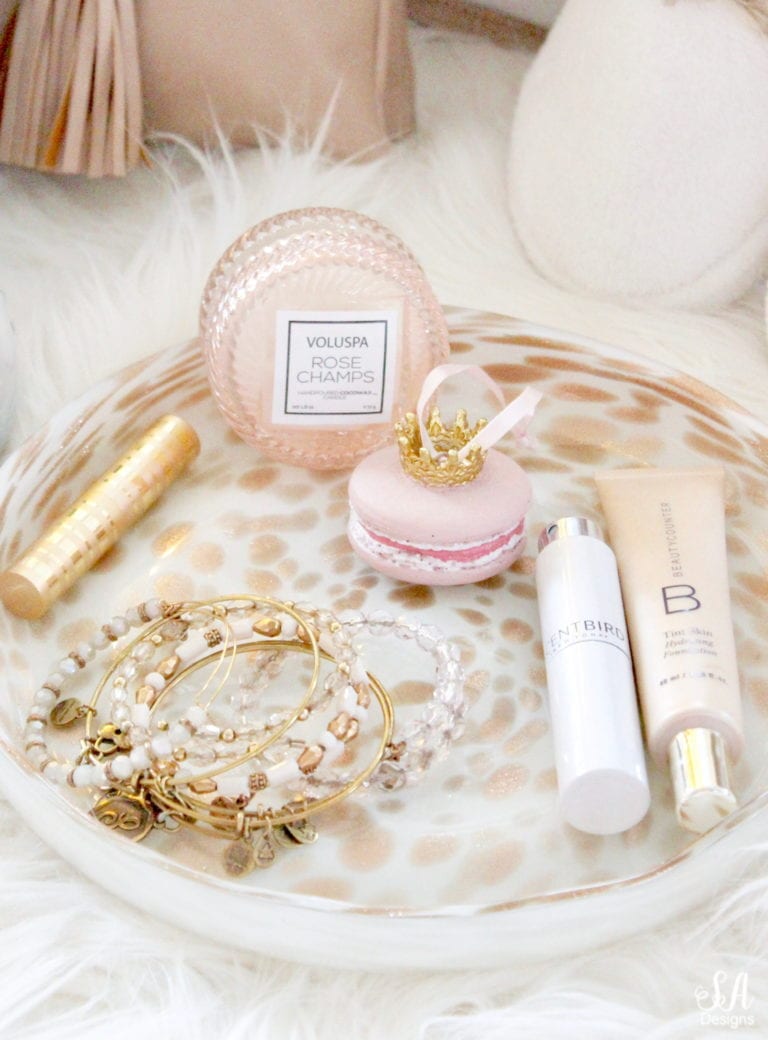 How about giving the gift of the PUREST and SAFEST beauty products that exist? BeautyCounter is my new favorite cosmetic line (foundation and lipstick shown above – the skincare is amazing). With all the health problems I've been trying to solve lately (my regular readers know this) I'm now clean-eating, I gave up Diet Coke (still sad about that!!!!!), and switched to the most FABULOUS skin care and beauty line I've ever used. Coming from former make-up artist who has literally tried EVERYTHING, that is saying a LOT. No joke, my skin has never looked and felt so good. I'm 40 so I'm only going to use the best from here on out. You'll hear me talk much more about this in the new year!
Variety of gifts in pink
I couldn't resist linking a TON of fabulous gift ideas (home, fashion, beauty) for the girl who loves pink! Like me! But if they don't like pink, no worries because most items you click on will probably offer one or more other color options.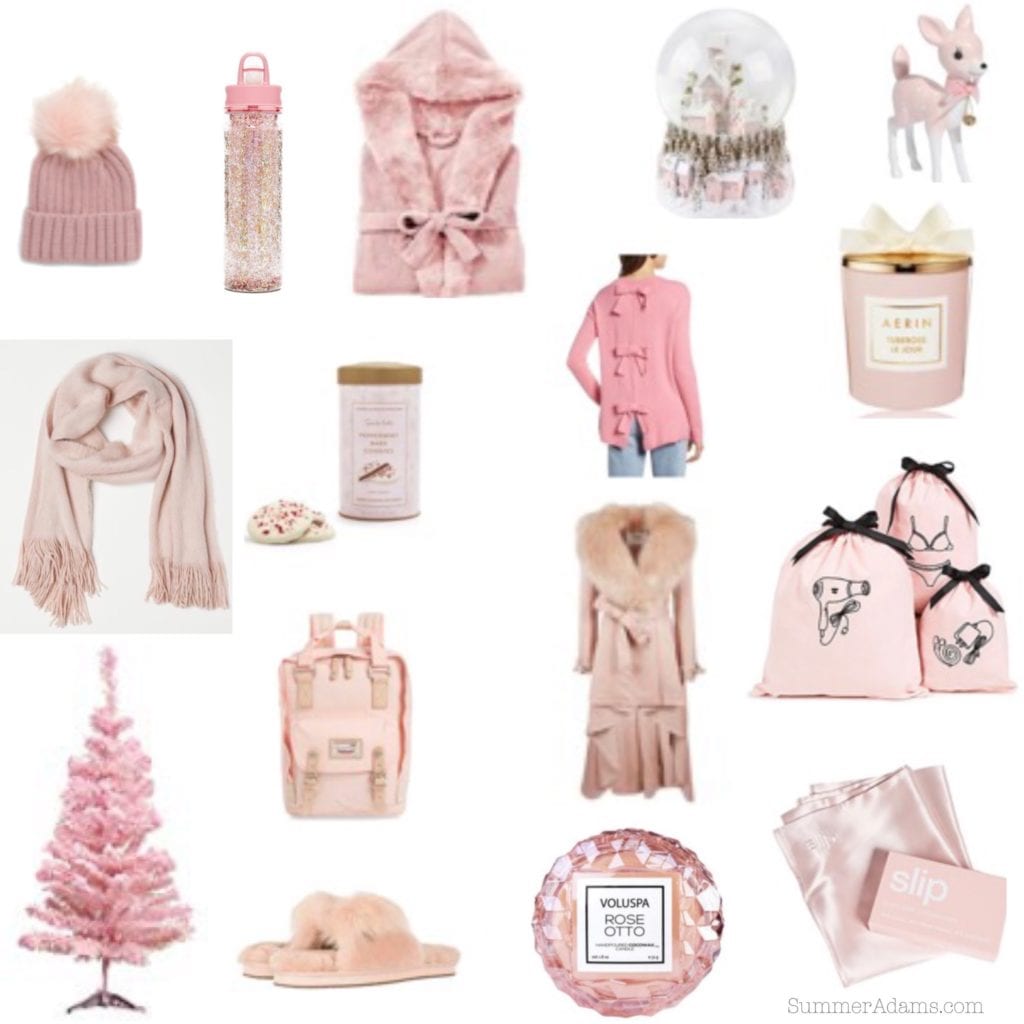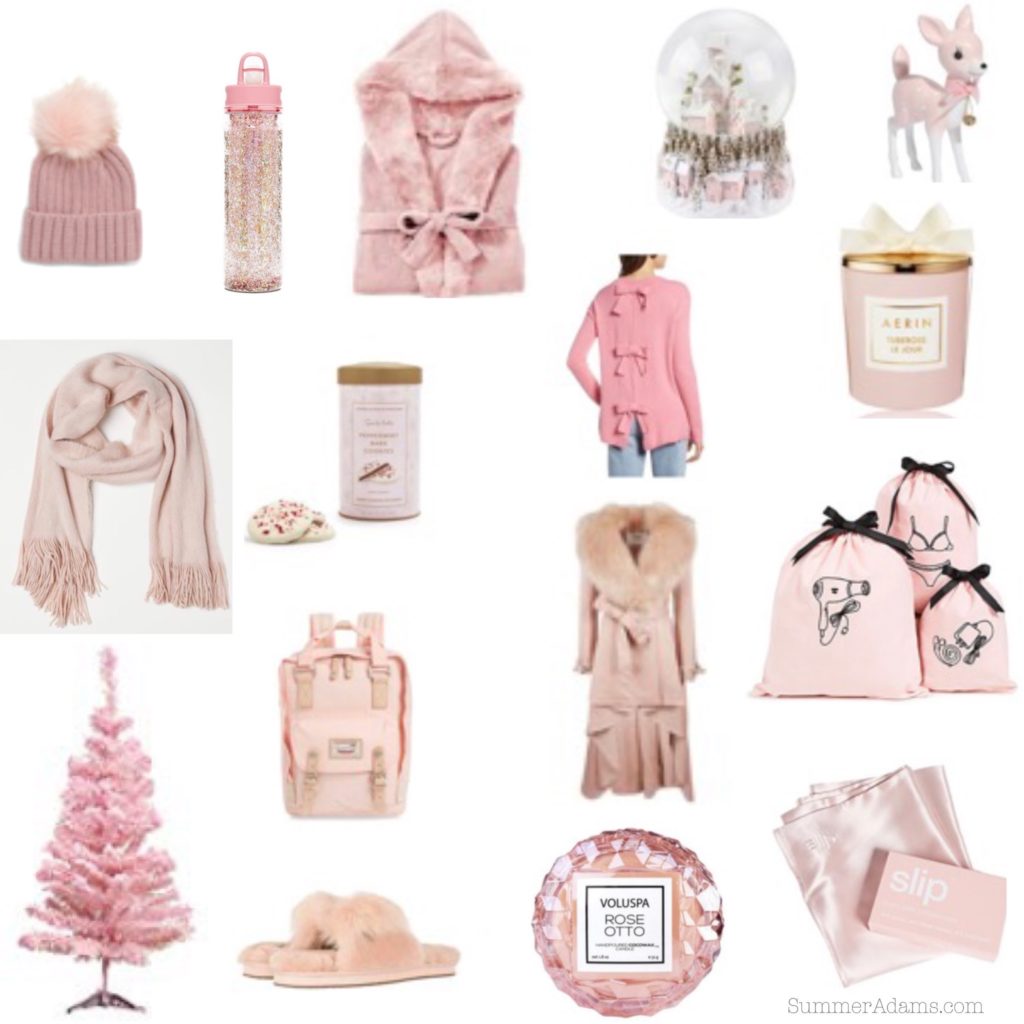 Gift ideas for the stylish homemaker who keeps a clean home

A clean house is a happy house! That's my mantre. However, just as I like pink items to bake and cook, I like pink items to clean my home. I looove NORWEX so much that I signed up as a rep and now they are producing many items (some of my faves above) in Rose Quartz & Champagne. Hallelujah! They are so pretty. Anyway….I'm done with chemicals and all I've learned about them causing lung cancer etc. My housekeeper won't even use chemicals to clean. She was using "natural/safe cleaners" but we found they weren't that natural or safe after all. Norwex microfiber is the only company with a patent on their self-cleaning sterling silver microfiber threads. Shop all their products HERE. I was like a kid on Christmas morning when all my "pink cleaning things" arrived a few months ago (they're prettier in person). I'm obsessed!
Gift ideas for the Tween or Teen Girl
Ok, so I'm going to through these ideas in here too because they are so fun! Maybe you're shopping for a tween or teen girl? I certainly am and these are all Brooklyn-approved (my almost-13 yr old) so I'm sure they're good picks.
Thanks so much for stopping by today! I would love it if you could subscribe at the top of the page in order to receive my weekly emails of all my latest blog posts and see everything I'm working on! You can also follow me on Instagram, Pinterest, and Facebook to see what I'm up to in creating a home and lifestyle of inspiration!
xoxo,