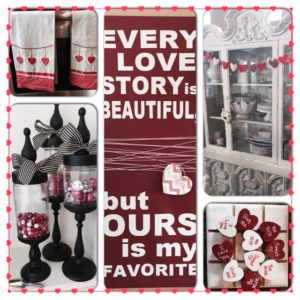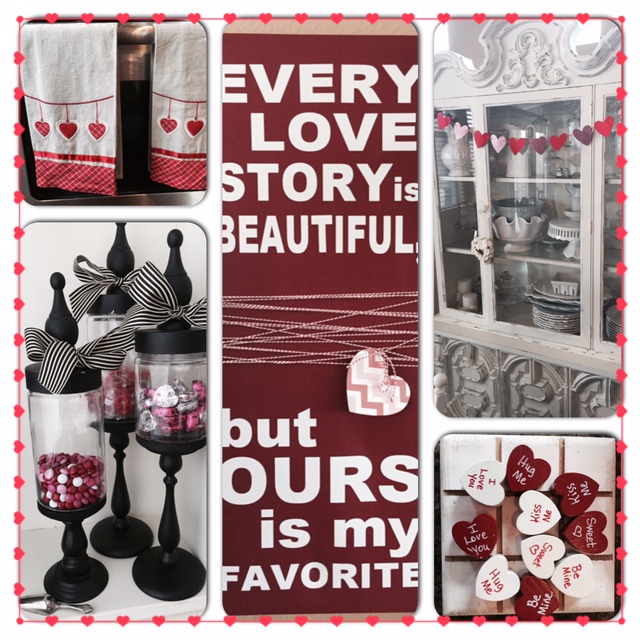 I've had my Valentine's decor up for a week now! I just loooove LOVE and although I really like neutral color schemes in my home, even during most holidays, Valentine's is where I feel my love for red just burst all over anything and everything!  Red and pink…all over.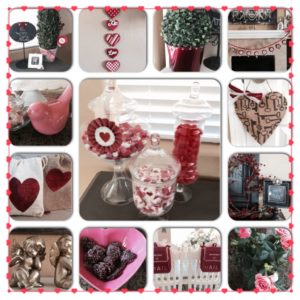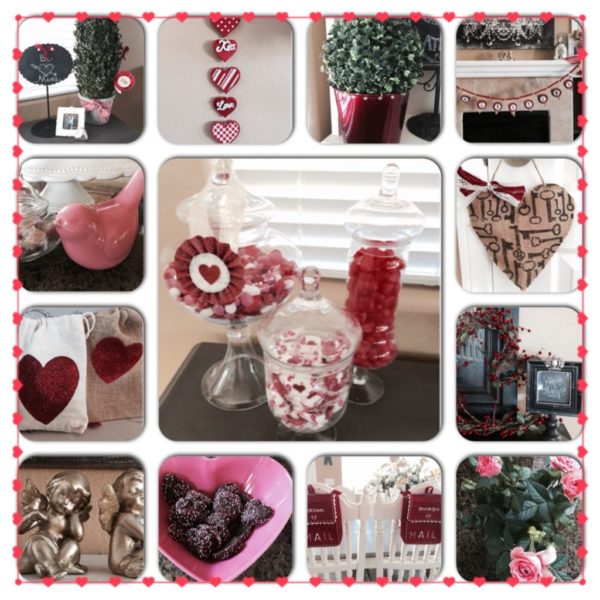 Here's what and I've found and where I found it:
I spotted these cute hand towels this year at Home Goods (my 2nd home…Hobby Lobby would be my 3rd and where I picked up those cute gold glitter cherubs).  The darling red chair backers for the kids are from PB Kids and although they no longer carry that style any longer, you can still find them on eBay or find new cute styles here.  And stay tuned for more on that because starting February 1st I do what's called the "14 Days of Valentine's" for my kids and that is so fun!  I love the cute treats and cookies they have at Trader Joe's this time of year and then there are the beloved bulk candy bins at WinCo just FULL of pretty and yummy Valentine's candy that look so cute in apothecary jars.  And on that note…my kids know that we do NOT under any circumstance touch the candy in the clear jars because those are for looks (or guests) ha ha but they can have the candy in the other set of cute black apothecary jars (see easy and inexpensive tutorial here) because that candy is less expensive and easier to refill 😉 Anyone else this crazy?  I found a darling  printable here that I framed.  The red berry wreath was from Taipan years ago (found in Utah and SoCal…what a FUN store!) and they also added some online shopping now too so check them out.  Target has one here too if you're in the market for one.  And they always have cute knick-knacks like ceramic birds and wall decor etc.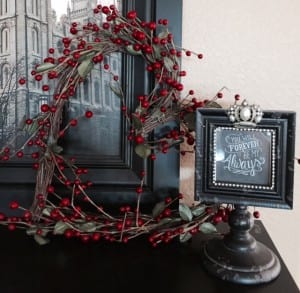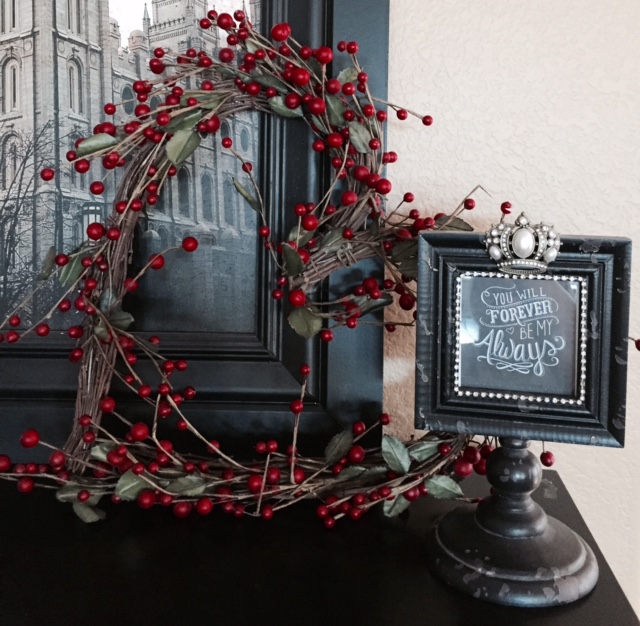 The fun Valentine's Tic-Tac-Toe game is something I found for 25 cents at a garage sale a few years back and my kids LOVE it!  We keep it at the table and they'll play sometimes while they're eating or watching a movie or just talking to me while I'm making dinner.  I made the banners and wish sticks myself (tutorial coming soon), as well as the cute burlap and linen gift sacks (use acrylic paint to paint red heart and then sprinkle red glitter…easy). While I pride myself on a homemade banner, because they are usually the cutest and most unique, Target did have a couple that were okay and so I bought the $5 one pictured above (not sold online).
If you don't have many Valentine's decorations but you feel inspired to start…don't get overwhelmed!  You don't need to fill up your house or go overboard….at first, anyway 😉  Collect things you love and that you can afford each year.  And head on over to Pinterest and find crafts and other things that catch your eye but also don't feel overwhelming.  Plus, your kids will enjoy it! xoxo…