We are experiencing a heat wave here in the Pacific Northwest and next week is officially Summertime! So this is the perfect time to welcome all of you readers to my first summer tour of the season, the "Season Simplicity Summer Series", hosted by my friend Krista from The Happy Housie. A special warm welcome to those of you here for the first time today! I hope you sign up at the top of the page for my emails so that you don't miss out on all the fun. I have some really exciting events and things up my sleeve for all of you so make sure to stick around! But first….let's go straight to my back patio and yard for a little summer tour!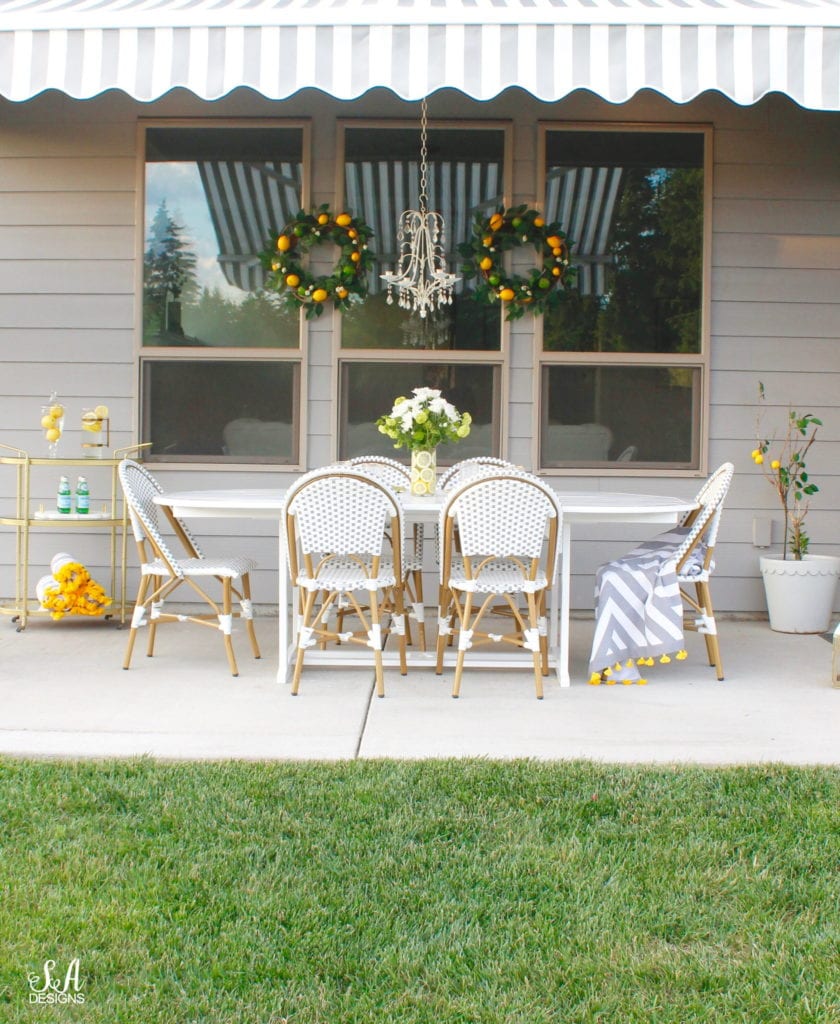 This post contains affiliate links for your shopping convenience. Click here to read my full disclosure policy and here for my privacy & cookies policy. All opinions are my own.
Items from the post will be linked in the "Shop The Post" section at the end!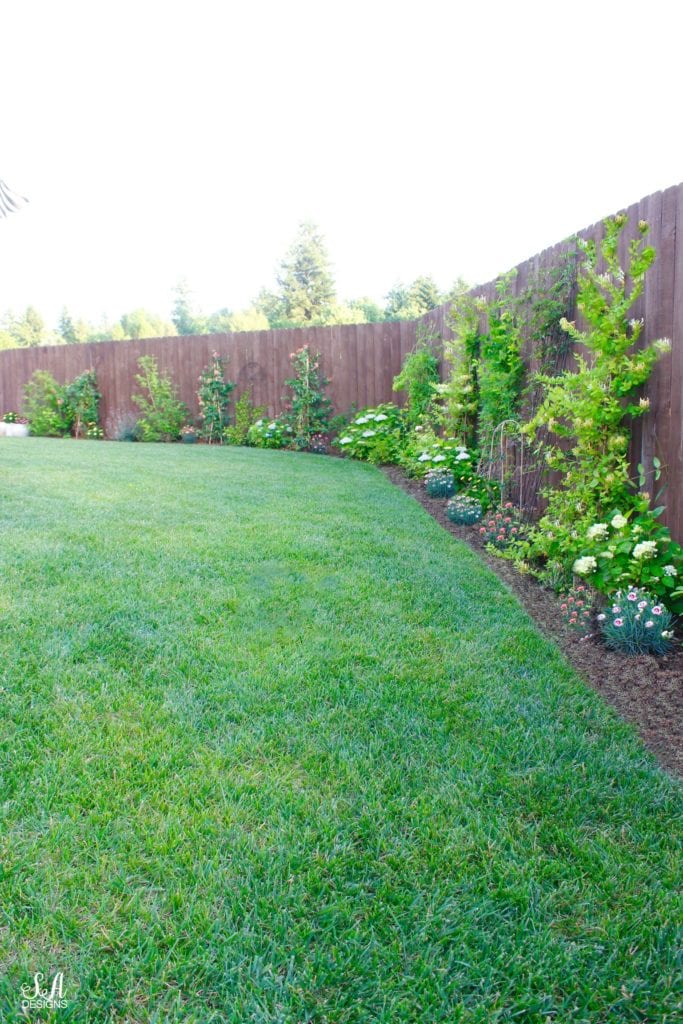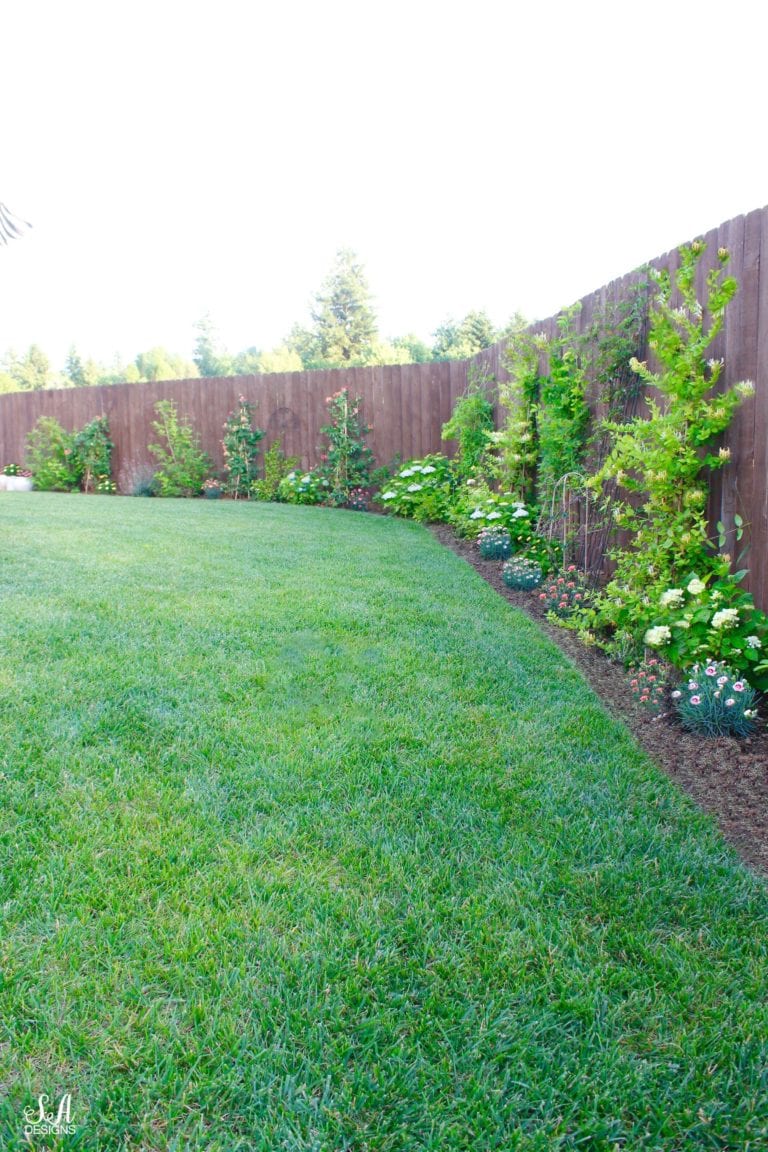 Last year was our first summer in our new home that we built here after moving from Texas here to Vancouver, Washington. Back in Texas, we were already familiar with the people we needed to contact when in need of any immediate services, like the much needed AC repairs from JAK Services (https://jakservices.com/fort-worth-air-conditioning-repair-service/) or others in our neighborhood. Whether we were preparing the home for the summer heat wave or getting it cozied up for the winter, we knew whom to approach. In Vancouver, everything was new to us and it was slightly overwhelming at first, to be honest. Nevertheless, we were able to design everything from scratch and really make it our own, I was so happy about this. The community is lovely here so we all helped each other over winter, and a couple of neighbors came round to help me out as well. Quite a few houses around here have some flags up which makes me feel all proud to be living here! They looked a bit like the residential flagpoles at Flagpoles Etc that I've seen before. I was wondering if we should do it too, it gives off a vibe of patriotism, so many people are proud to be American after all! Anyway, that's by the by! We had so much more to sort as well. Making our house look incredible, and our garden too, because this was super important to me. Our few flowers and shrubs were newly planted and small and not much had been done. Now that we've been through a winter with them, we've been able to see what's survived and what hasn't. Most everything did.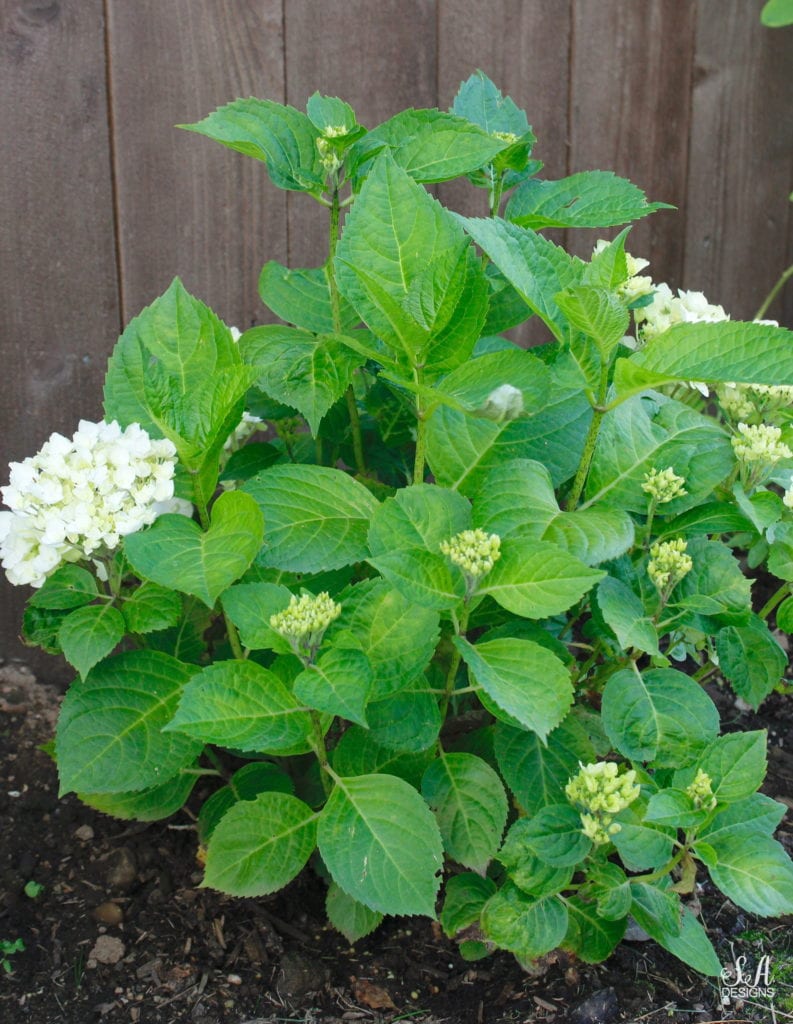 I'm not a fan of annuals. I usually only have 2 of them and keep it pretty low maintenance with those, other than the annuals in my hanging basket. I plant perennials and like to find things that will bloom spring to fall and keep color all summer long. I also like to add other plants that will bloom at different times.
I have 1 type of rose that blooms in March and April and then that's it. I also have my yellow lilies, daffodils and tulips, hyacinth Then my peonies in May and June. These are my peony bushes (now empty) that just all bloomed and finished and then I have 2 rose bushes on the end.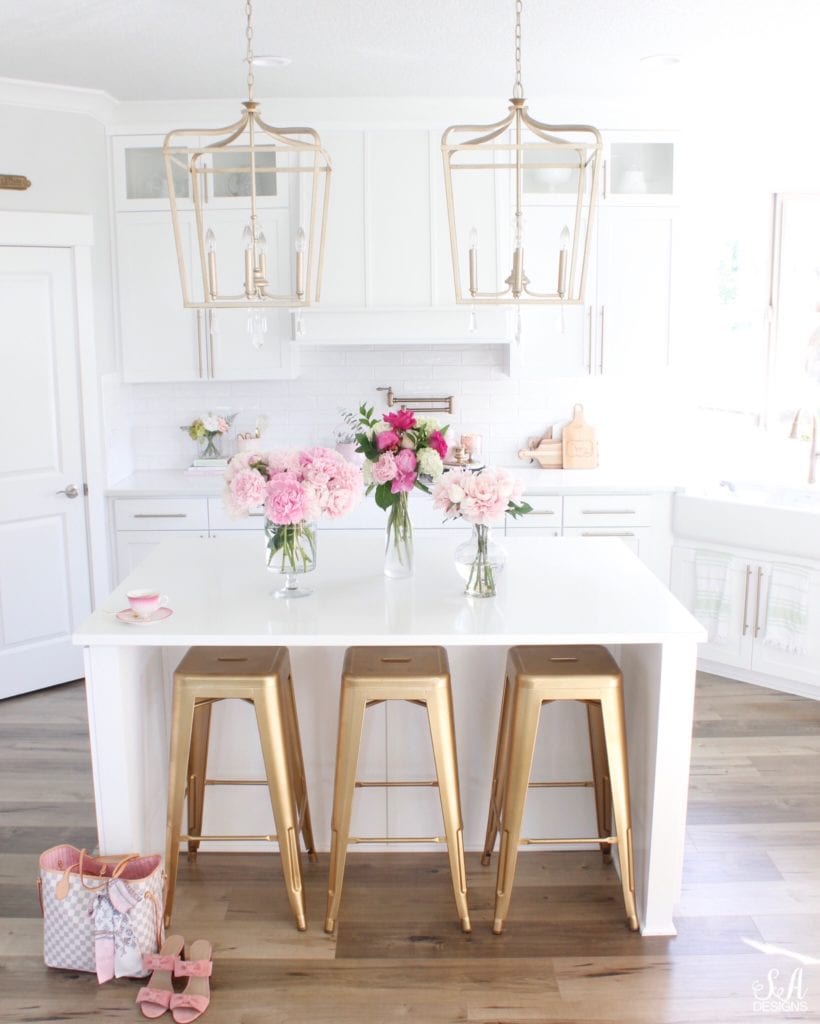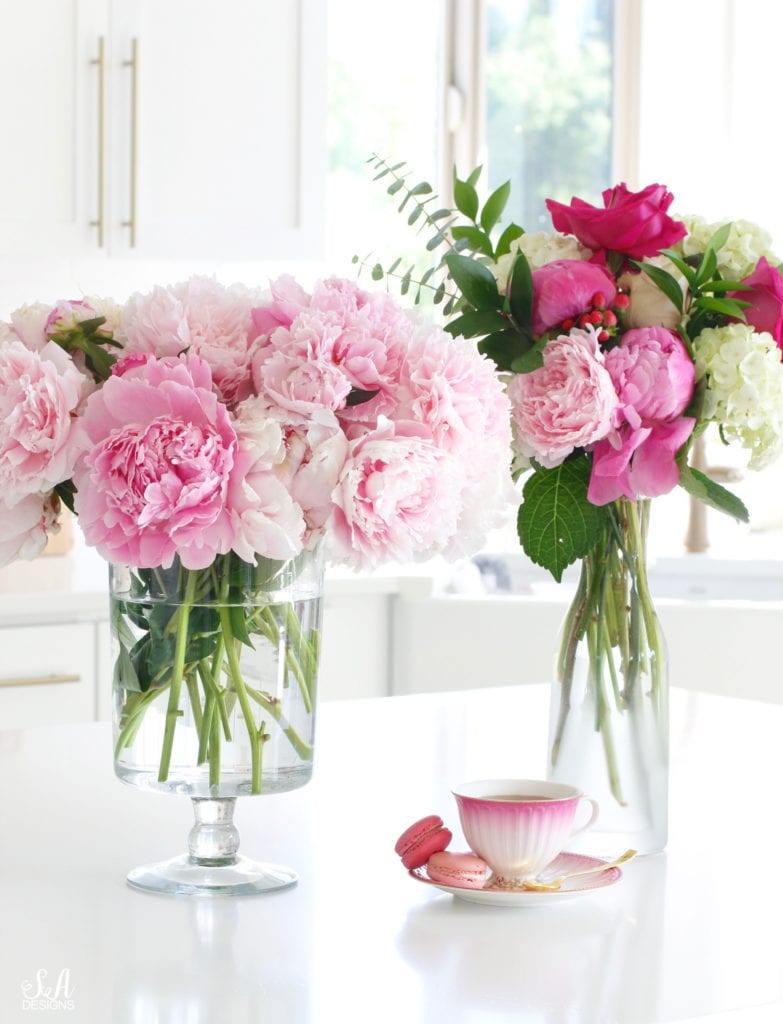 I picked the last of my peonies (left arrangement) last week and they all look beautiful inside my home! Imagine those empty peony bushes on the previous outdoor picture filled with peony blooms. It was gorgeous! I'm so sad I didn't get it photographed but I was so ill with health problems and just didn't catch it. Next year for sure!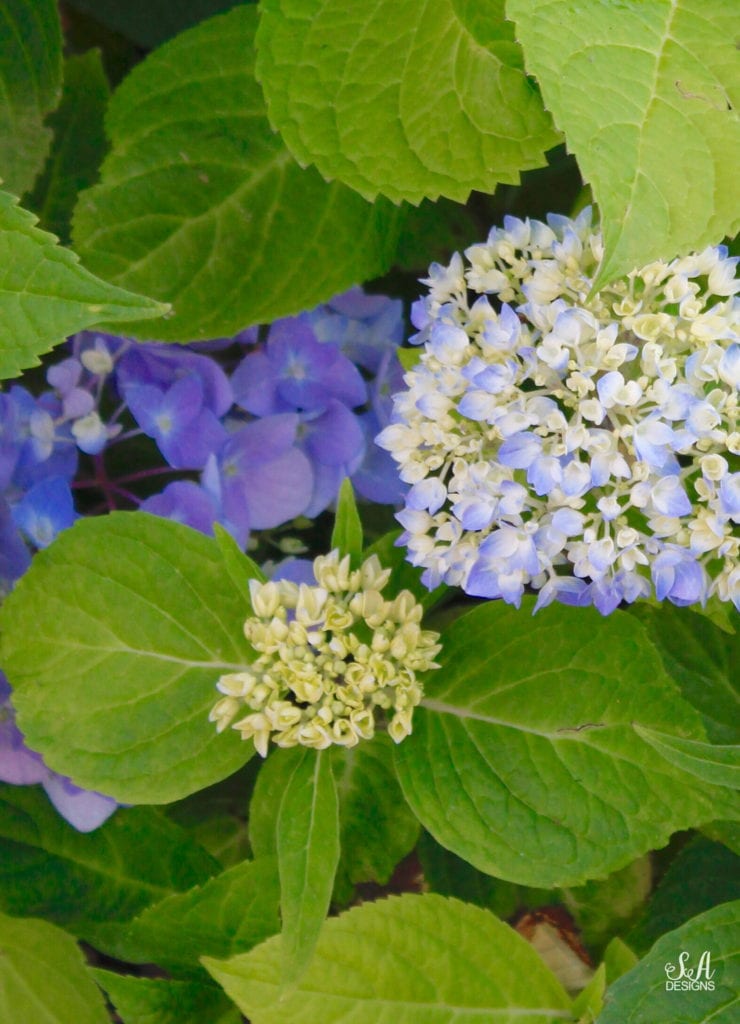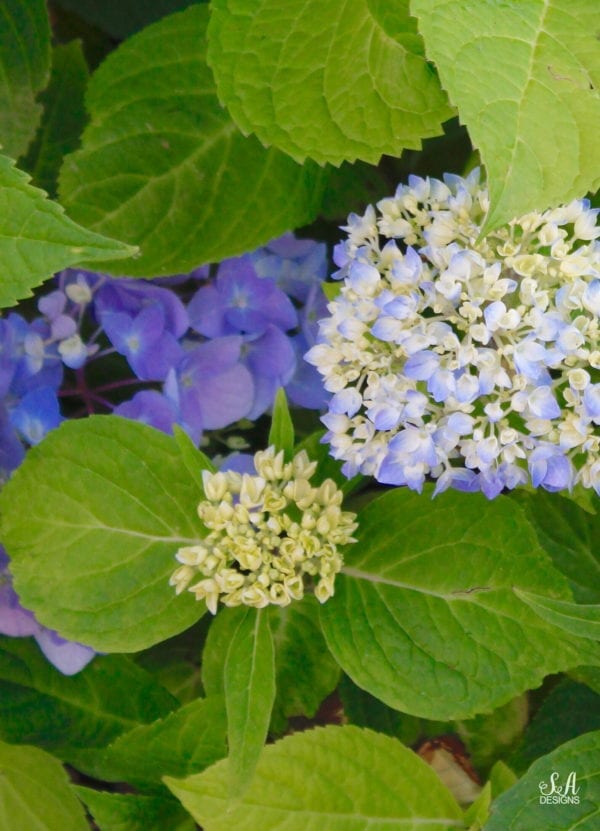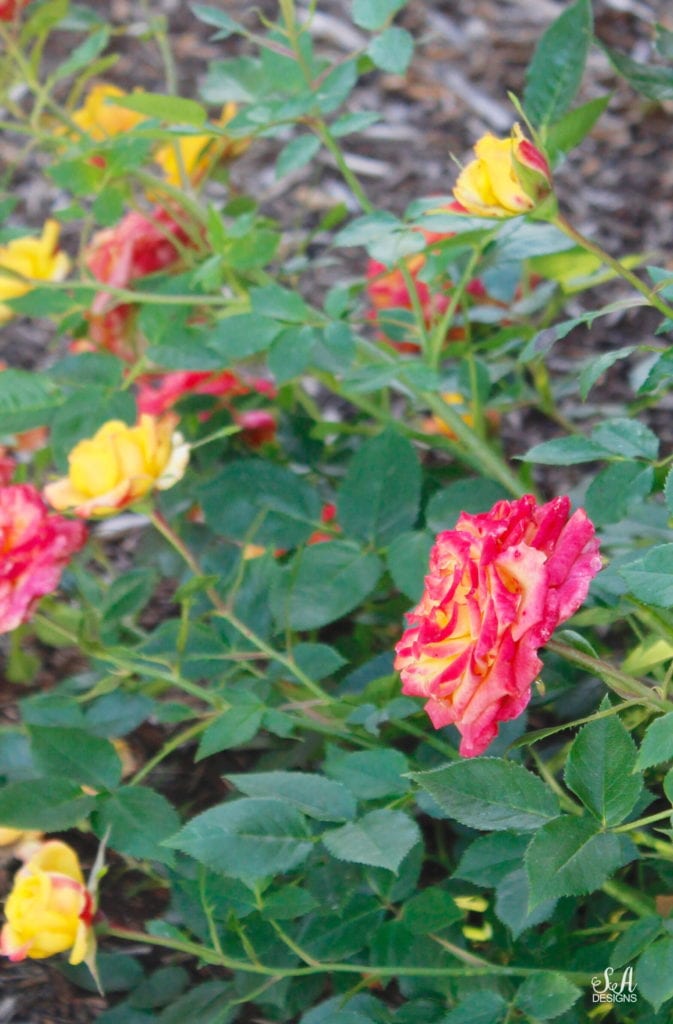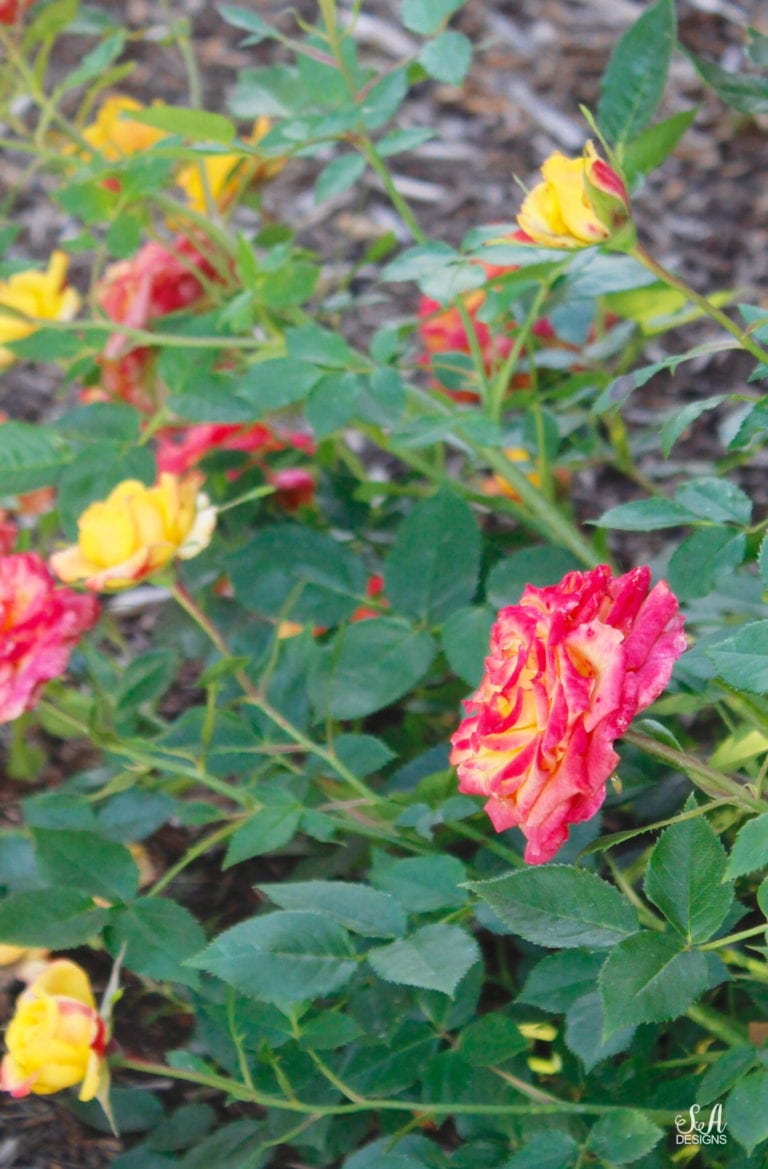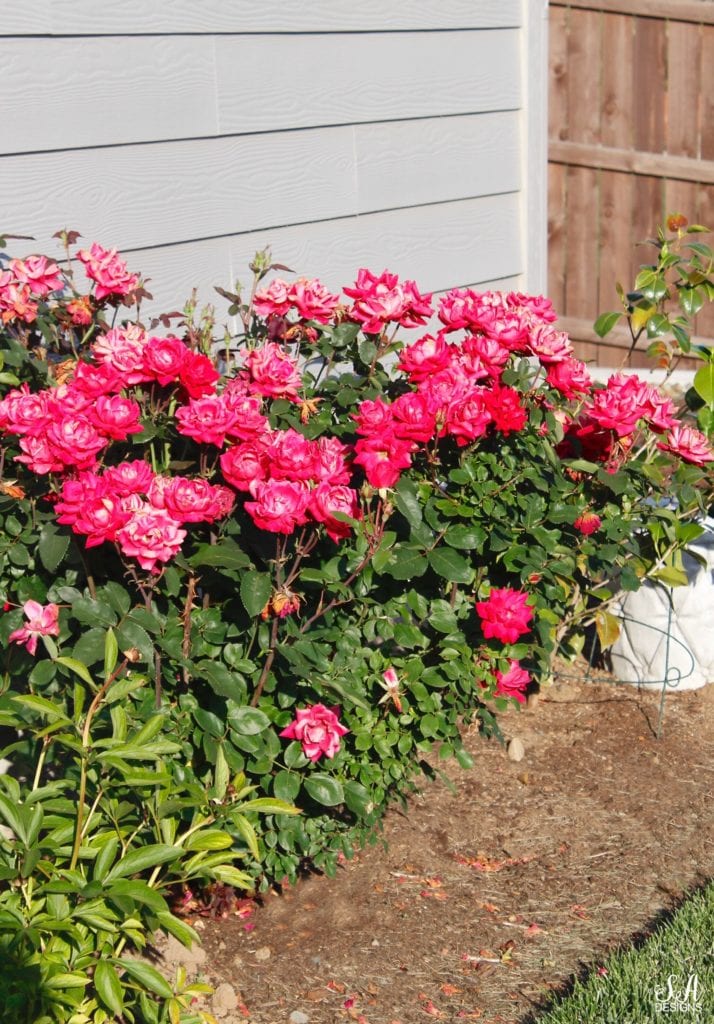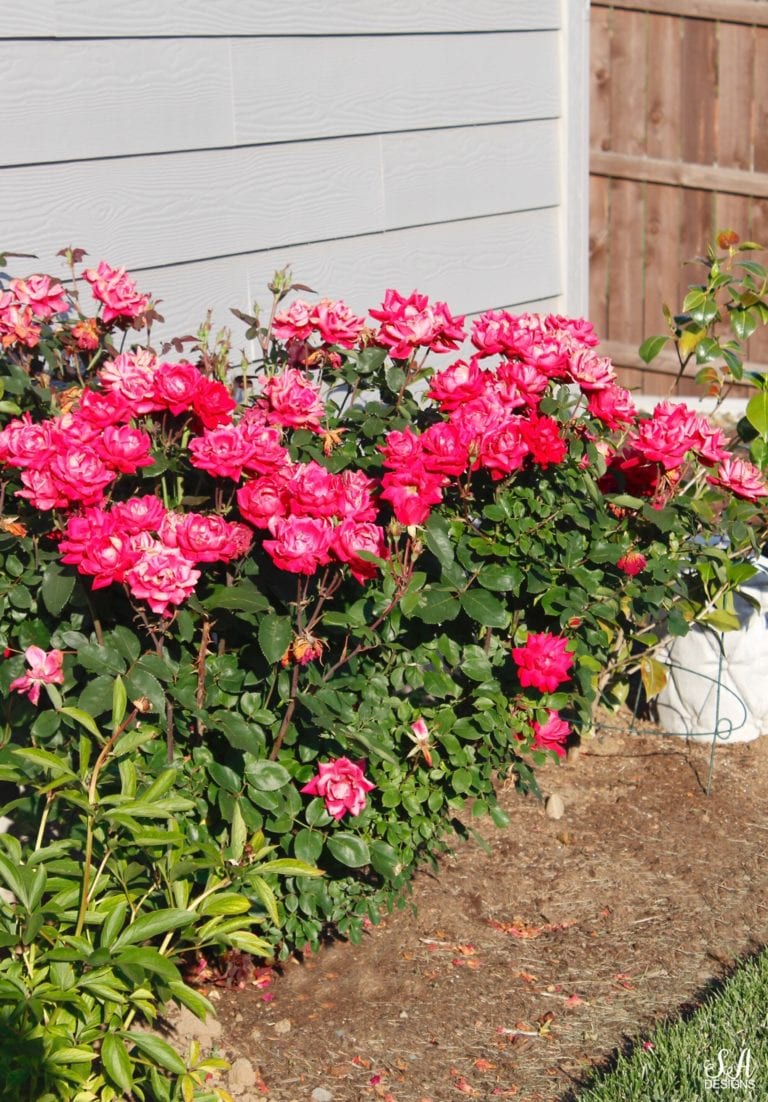 All my roses and hydrangeas are next through the summer. I just LOVE roses so I have some on each end of my yard and some in the middle.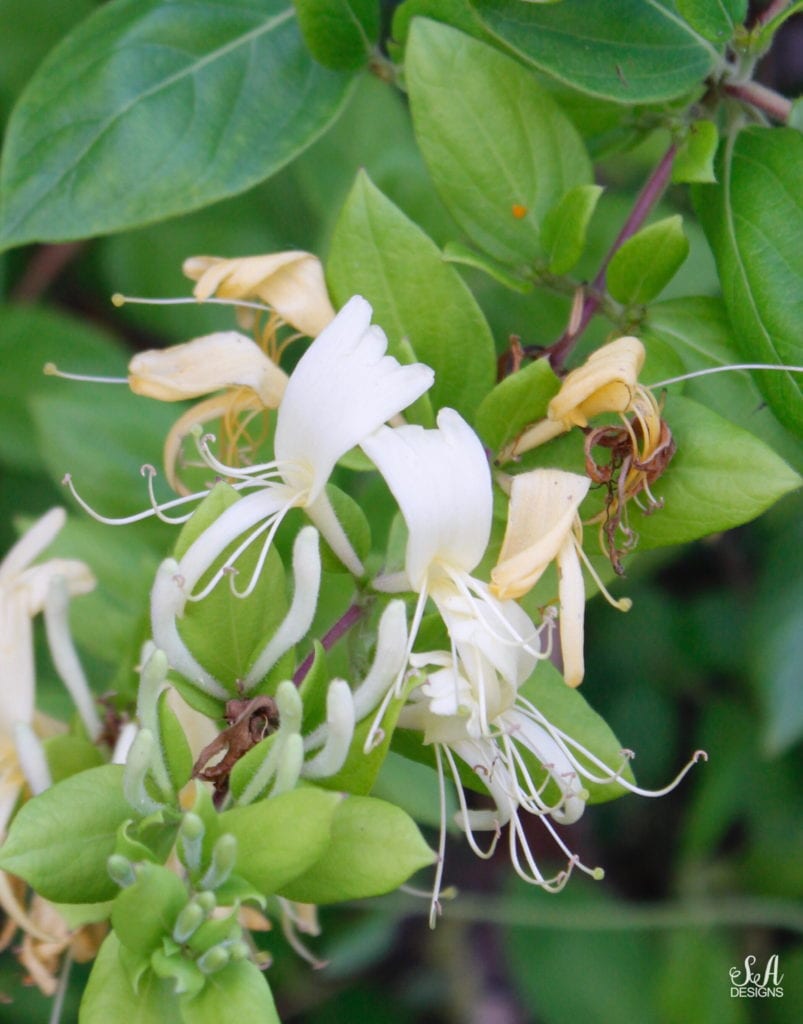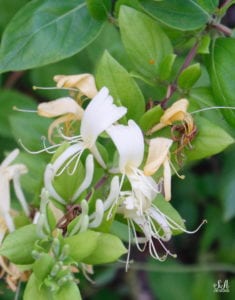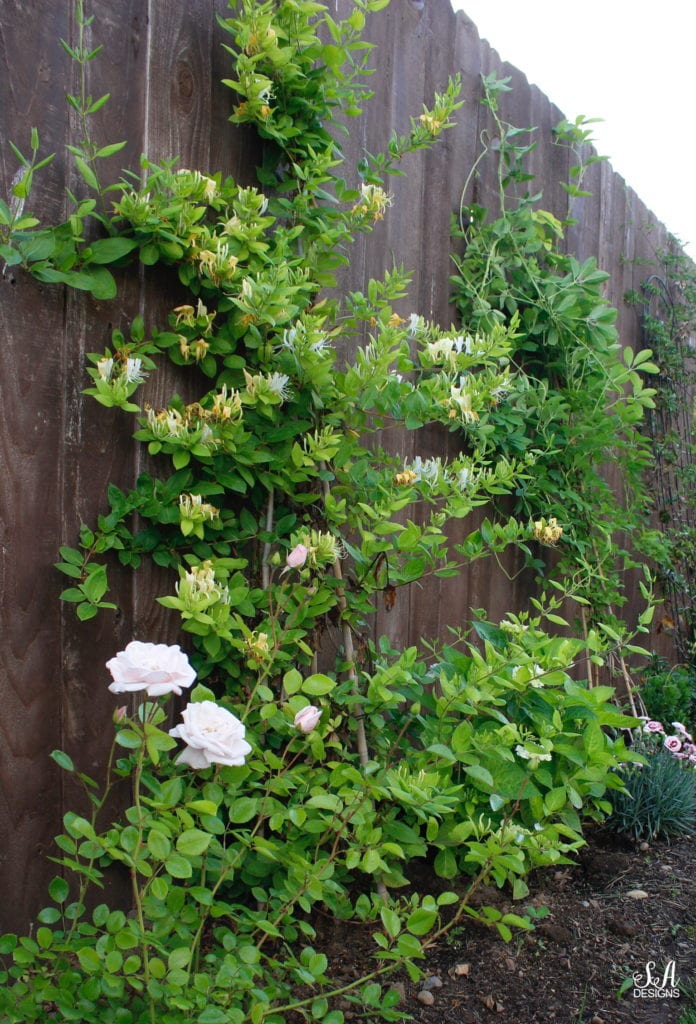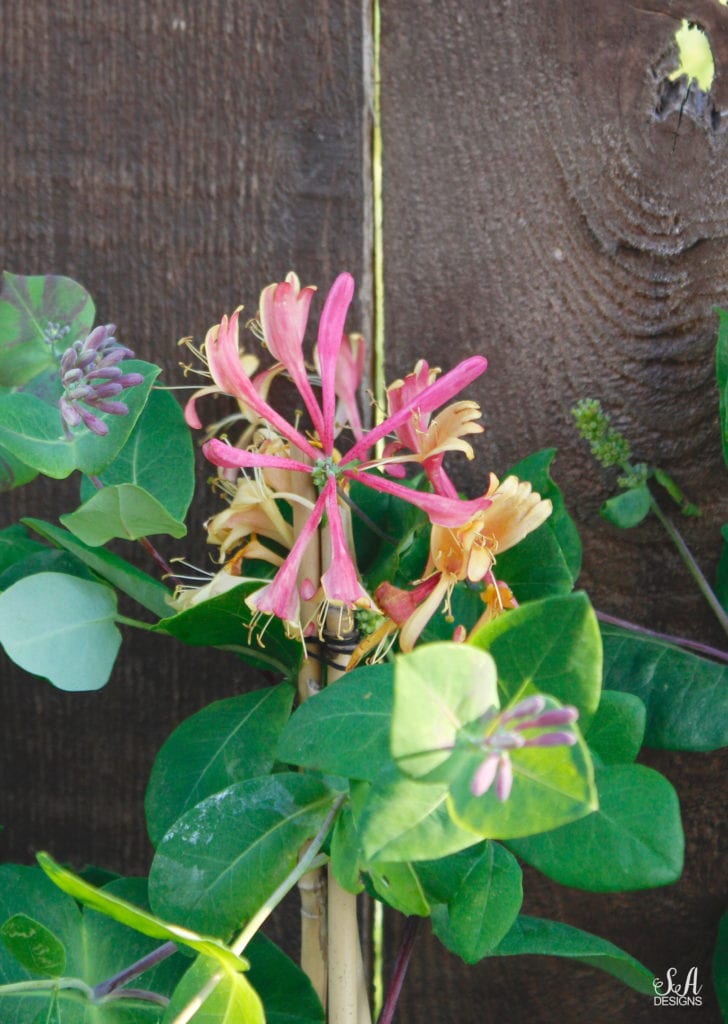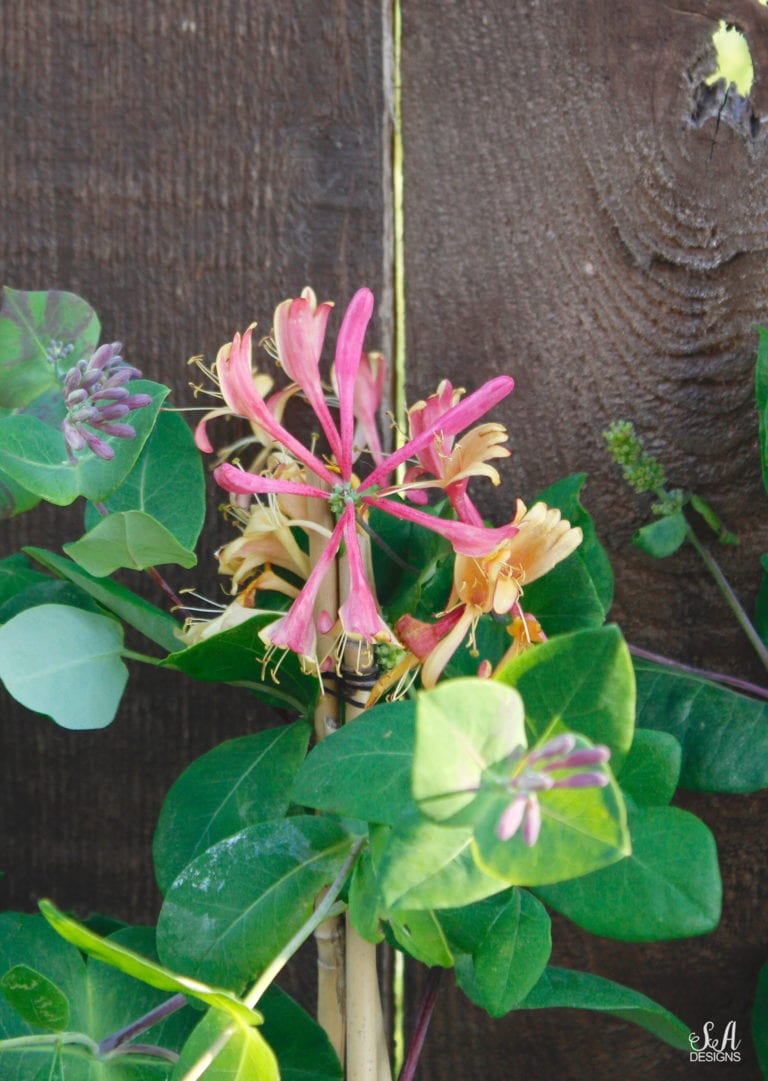 Our backyard is not very deep, it's shallow. But the sides are large. I won't be showing you those today as I had hoped because we didn't get them done in May, due to some health problems I've had. I'm bummed! We have had some fun things mapped out but hopefully we'll get them done by the end of the summer. I'll let you know.
That being said….with the space from our back door to the fence being more shallow, I really wanted a lot of greenery and to not just look out back and see "Fence!" every time I looked out the back windows. My solution was to buy a lot of beautiful honeysuckle plants, white flowered chocolate vine plants, clematis (planted one last year and it came back after I thought it wouldn't) and then I just planted a couple of climbing rose bushes. I think it'll be just beautiful. It already is.
Tip: The great thing about the honeysuckle and white flowering chocolate vines is that they are evergreen! That will be the most aesthetically-pleasing. Plus, they smell sooooo good and the honeysuckle attract the humming birds so it's just wonderful!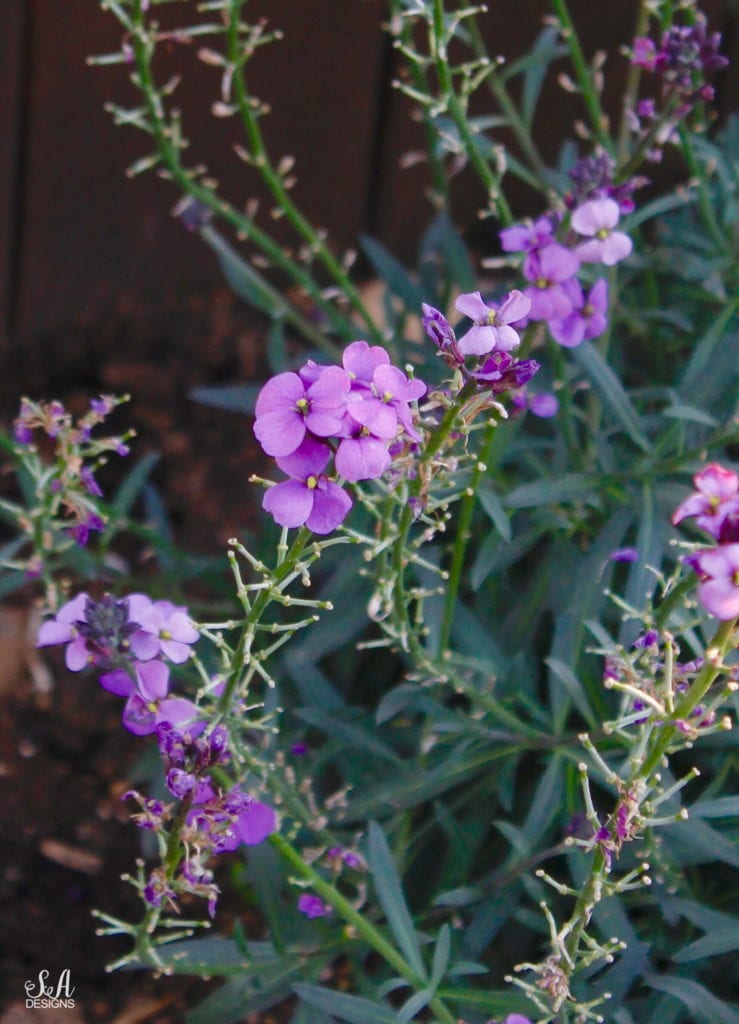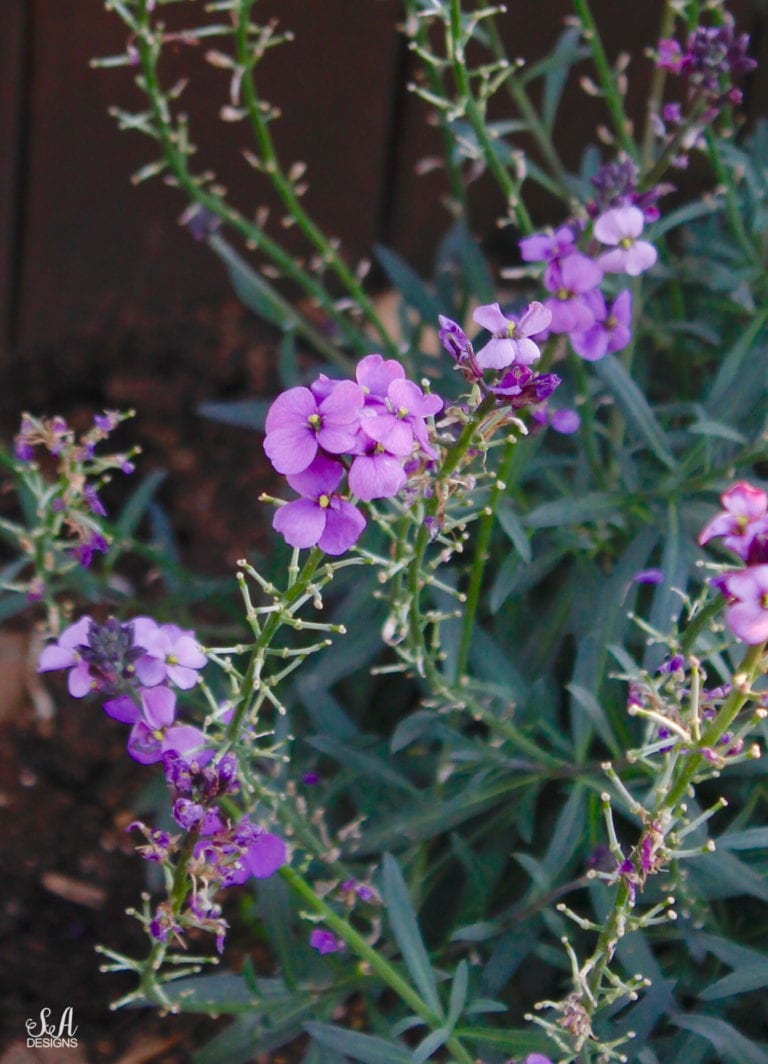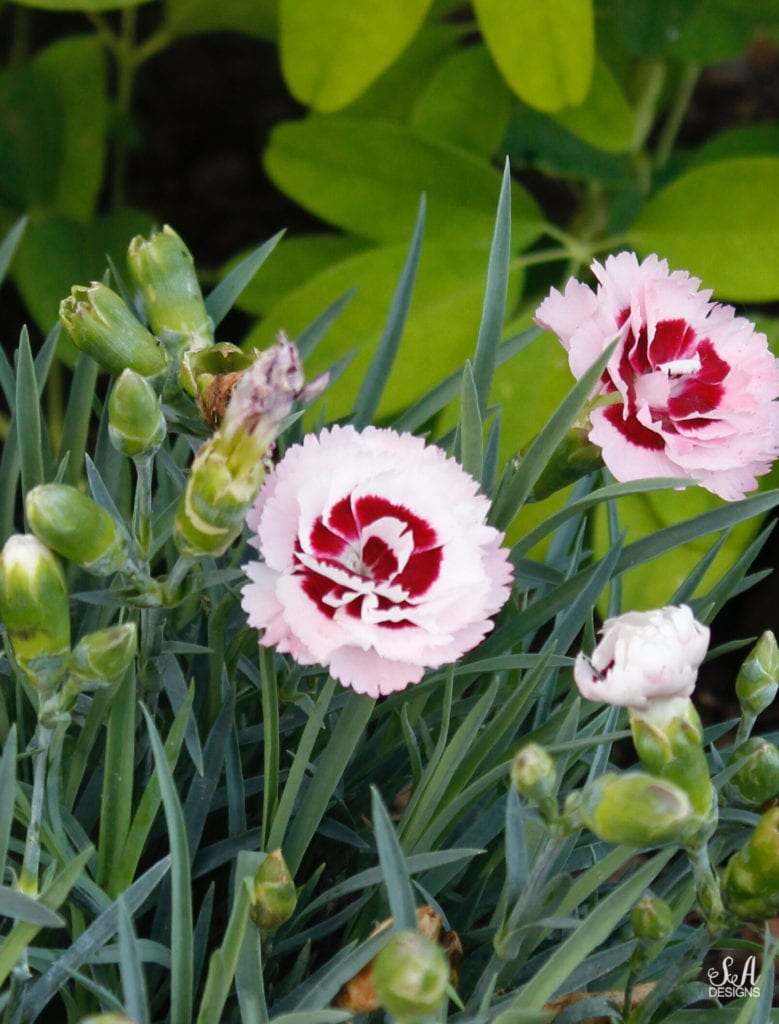 I love a variety of color in my garden but I also love aroma! Dianthus are very aromatic and have such various delicious smells. Some smell like raspberries dipped in chocolate to me….some like vanilla and cherries…they are just yummy smelling and so easy to care for.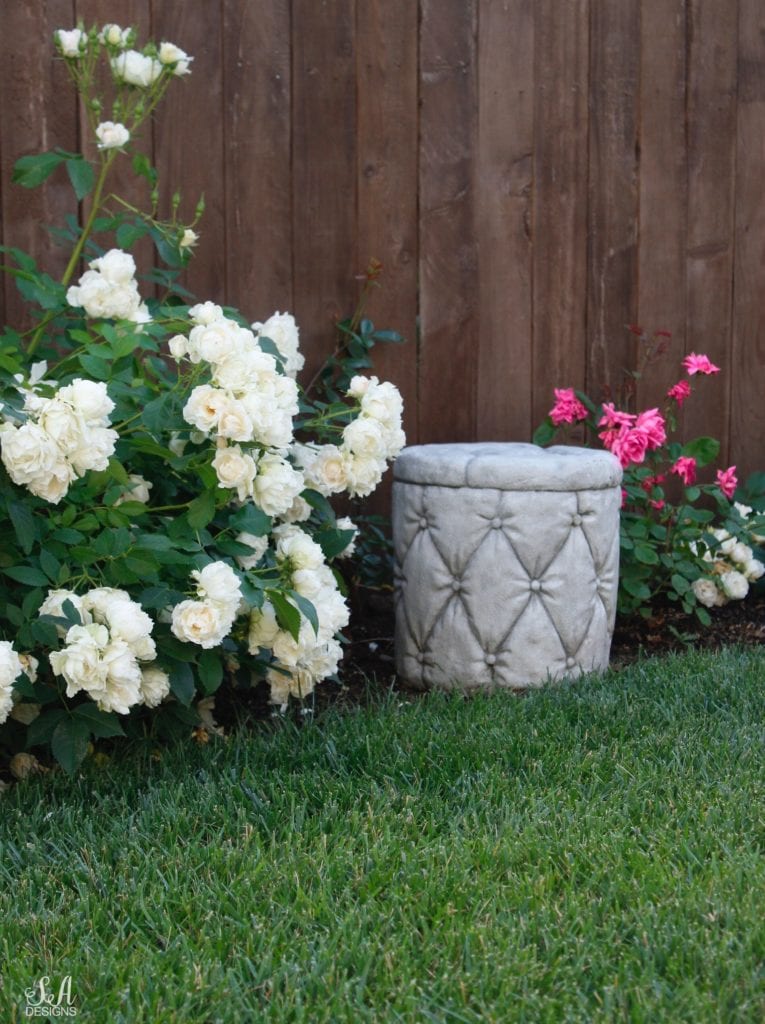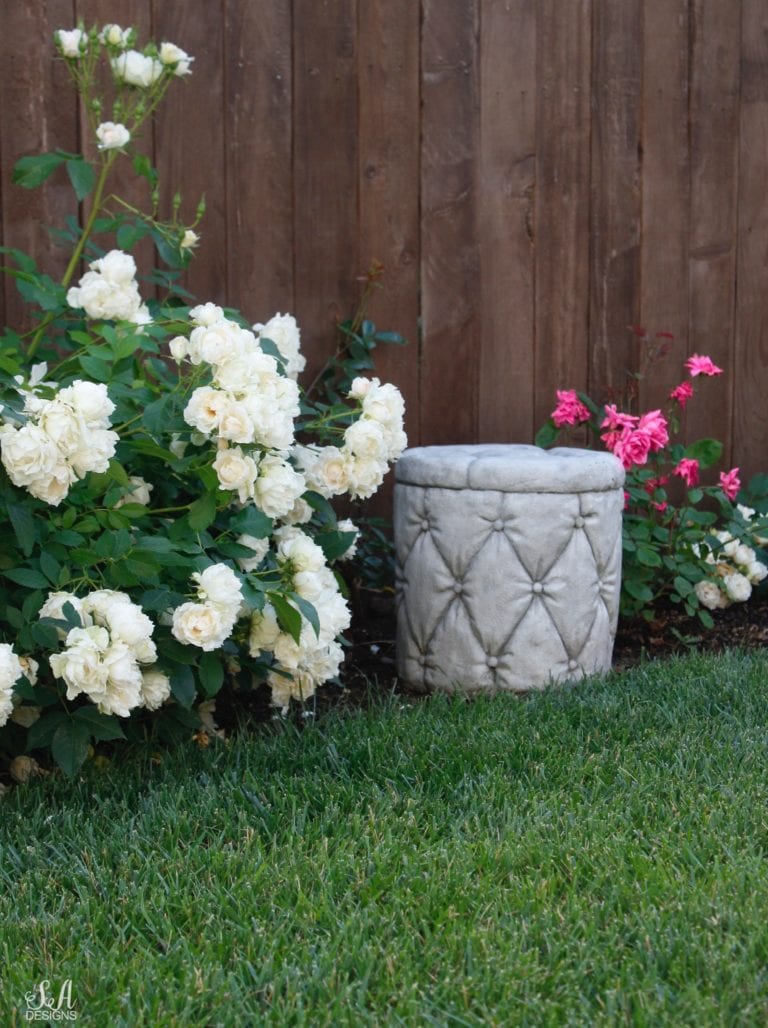 I love roses! I have quite the rose garden but I'm embarrassed to post these as I haven't even had a moment to trim these all back yet before taking pics. Like I said, I've been suffering from some health issues that are new and taking getting used to.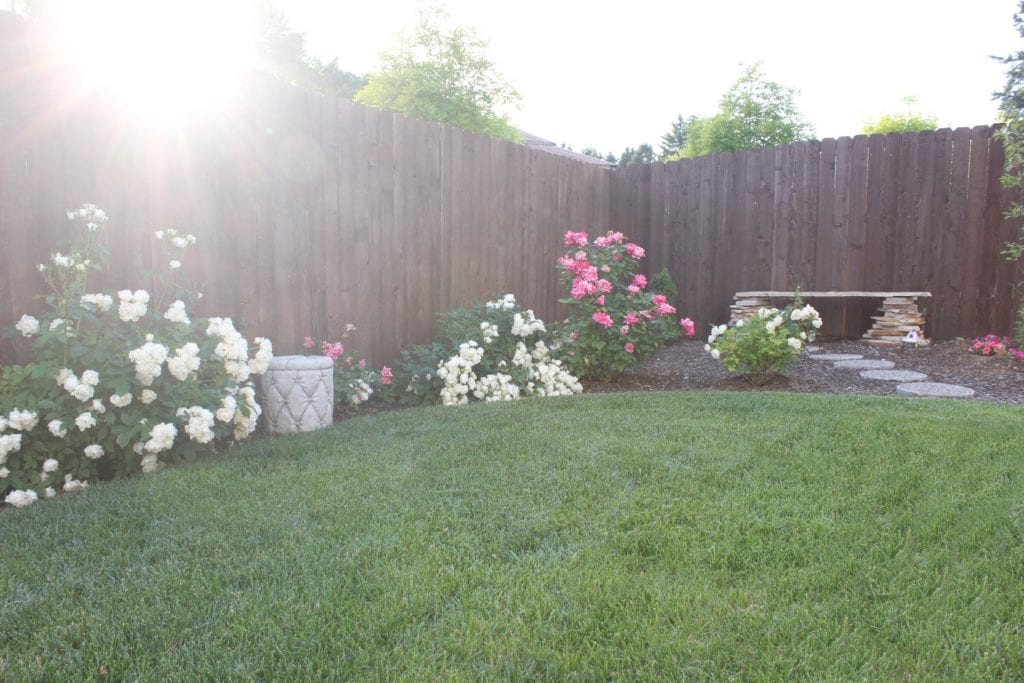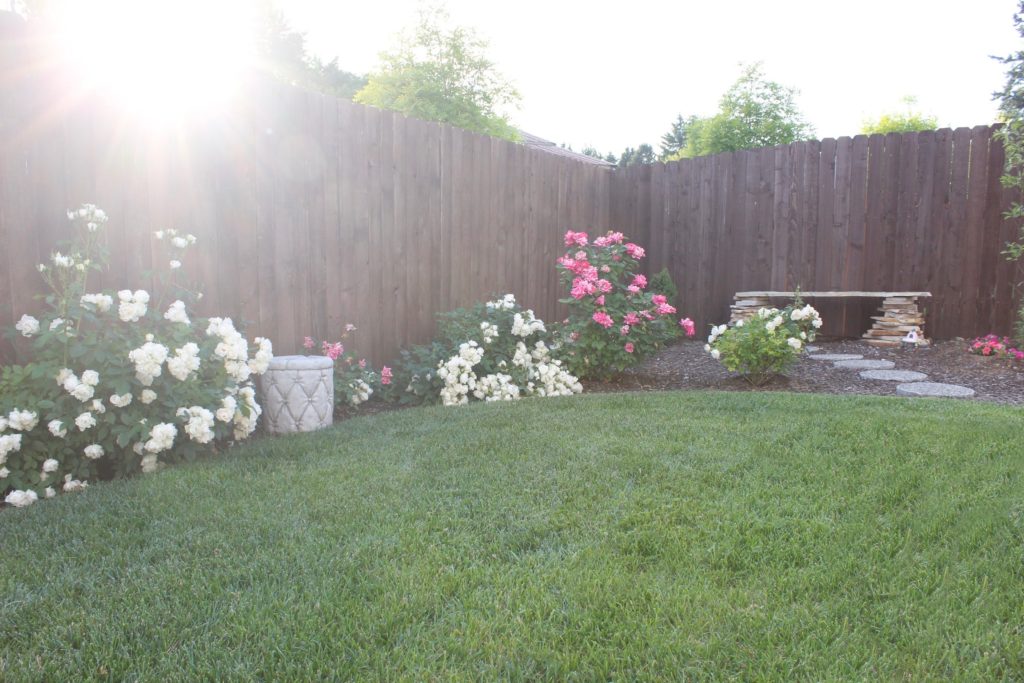 My mom is here for a bit helping and she and I are tackling that next. It's crazy how they've all toppled over in just the last couple of weeks! They are growing soooo fast! How cute is that cement tufted-style garden stool?!! I found it at HomeGoods and knew it would be just darling in my rose garden.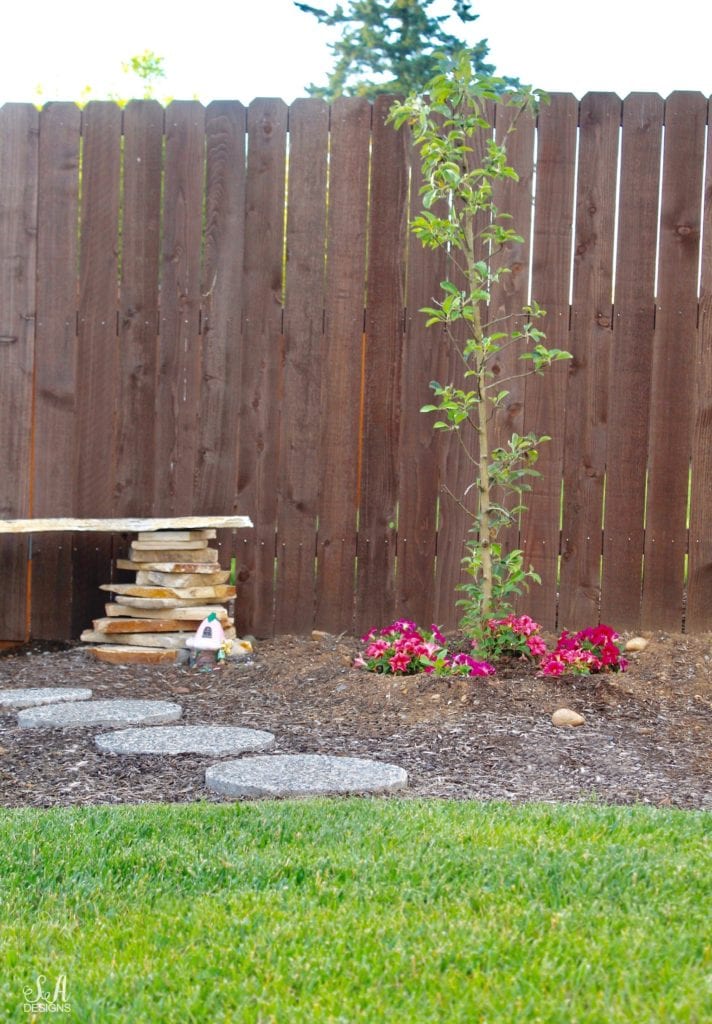 At the end of the lawn where the stone path starts, we are going to be putting a little trellis over it with climbing roses. It'll be so cute. This leads to our DIY stone bench. I purchased the stone at a supplier here locally and added cement ($3) in between. The stone cost about $90. It leads to our little fairy garden and sits next to my first apple tree. I'll be planting a row of fruit trees. Can't wait! I have petunias around the bottom of my tree for fun.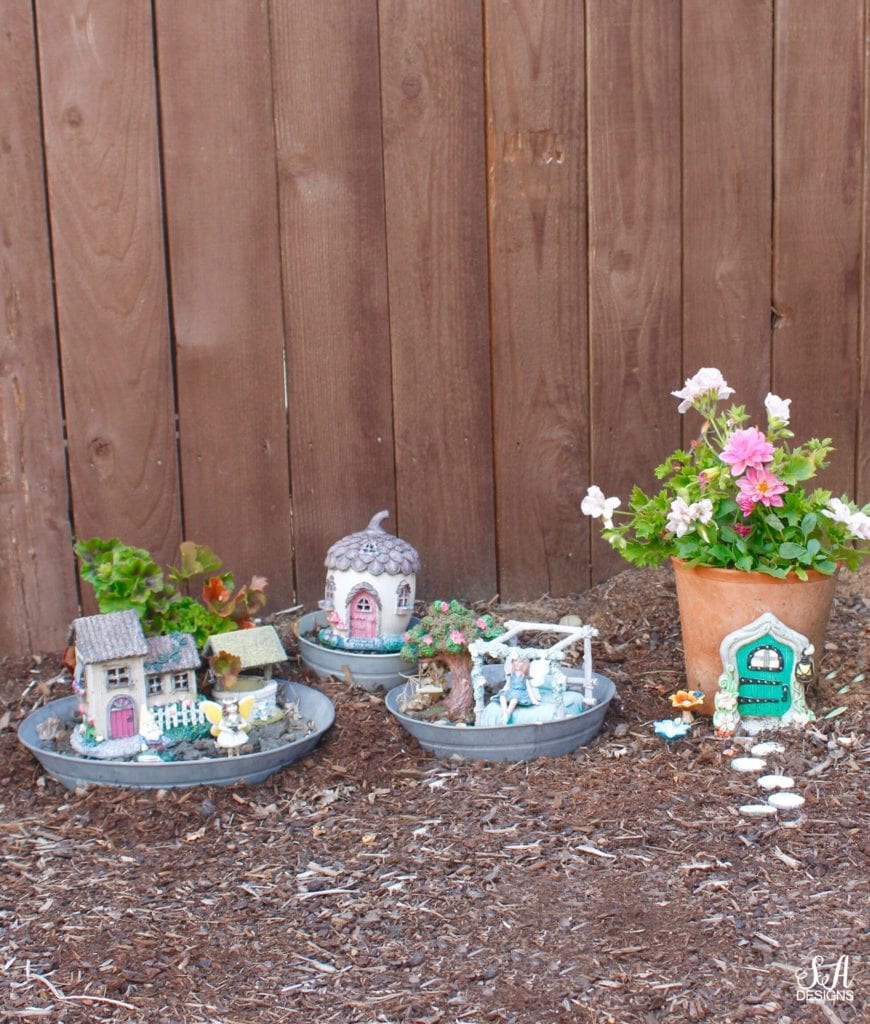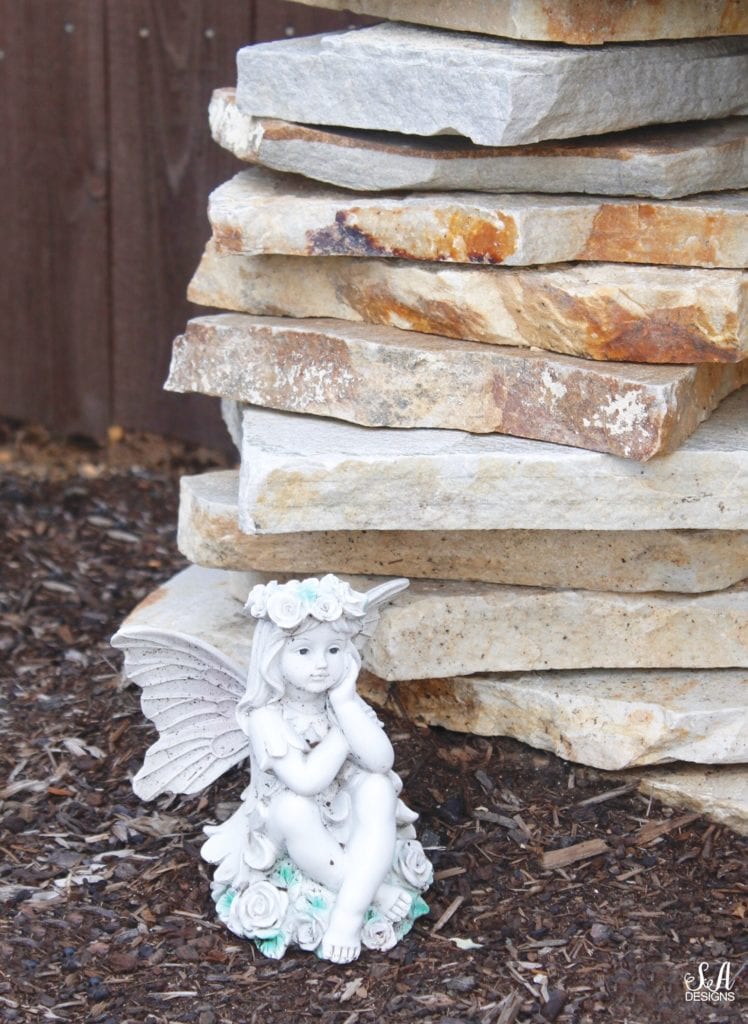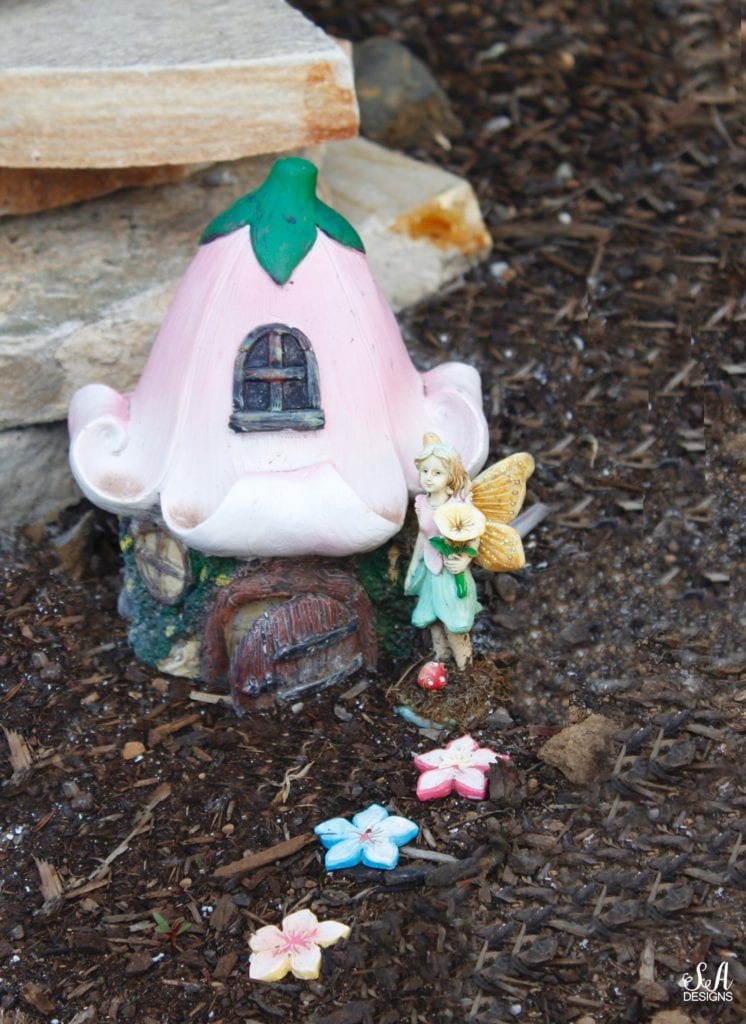 My kids helped me create this small fairy garden in the corner, behind my rose garden. I know they're too old for it, but we really did it for my nieces and nephews that come to visit and the smaller children who come over to play. It's a fun little area. I bought everything at Michael's last year on sale at the end of the summer so the prices were awesome.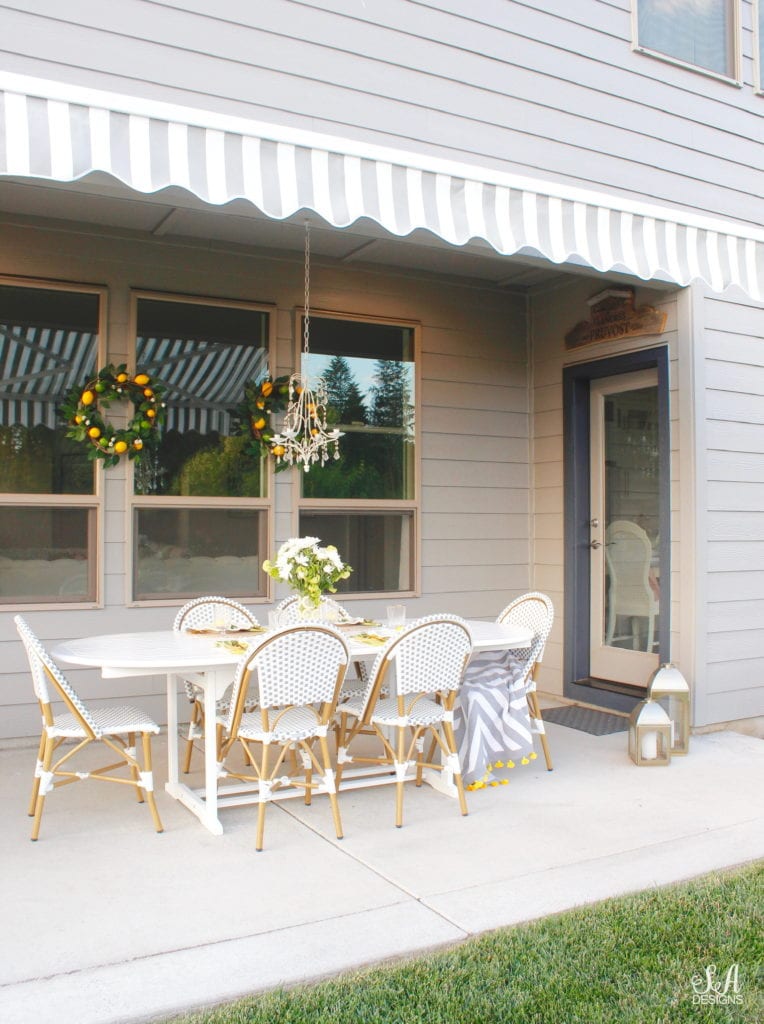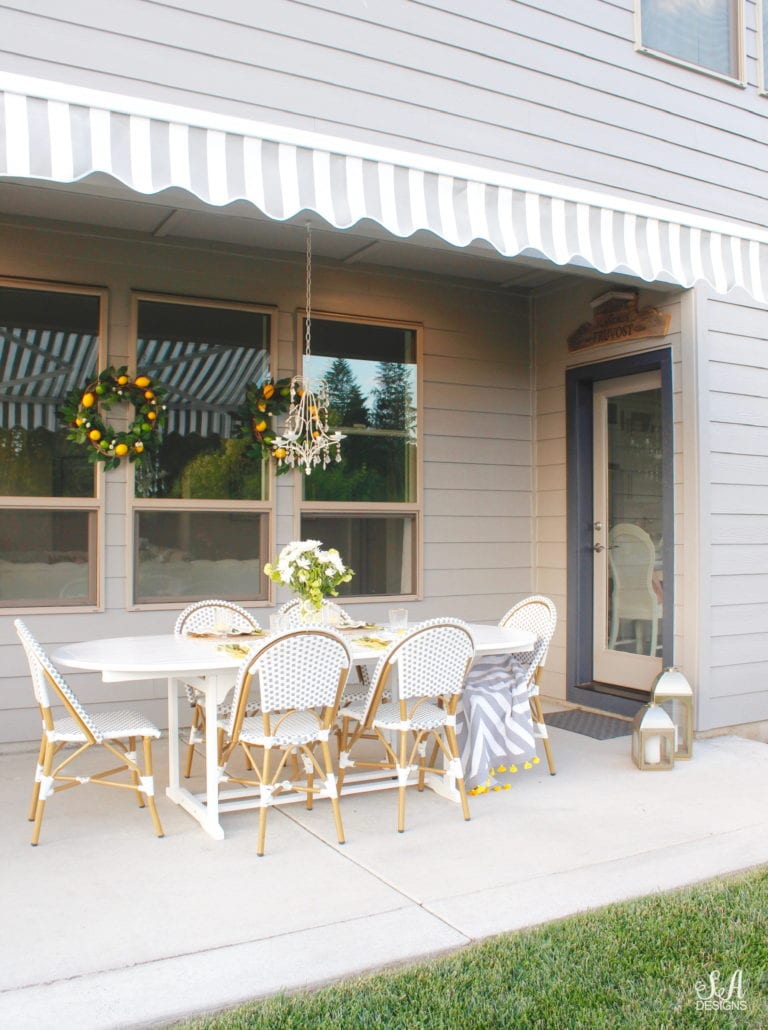 One of my favorite additions this year has been to our patio…our retractable awning. It's manual but it was just a few hundred dollars and it is quick and easy to roll in and out. We paid a local company to come out and install it for a few hundred dollars because we wanted it done really well. I suggest doing that unless your husband is super handy. Mine is great at closing business deals and sports but he will tell you that he'd feel more confident hiring someone for this task and I'd agree that's best when the wind whips this thing around. You want it really anchored and sturdy!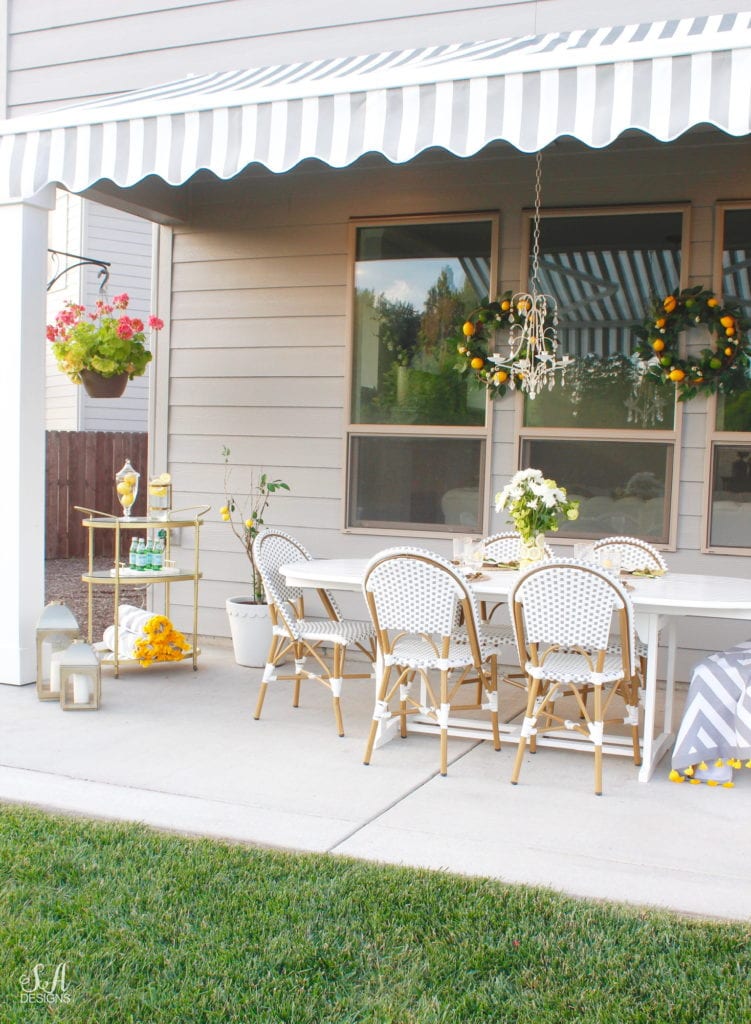 I like keeping to wreath hangers in between my windows during the summer entertaining months so that I can switch out my wreaths with tablescapes.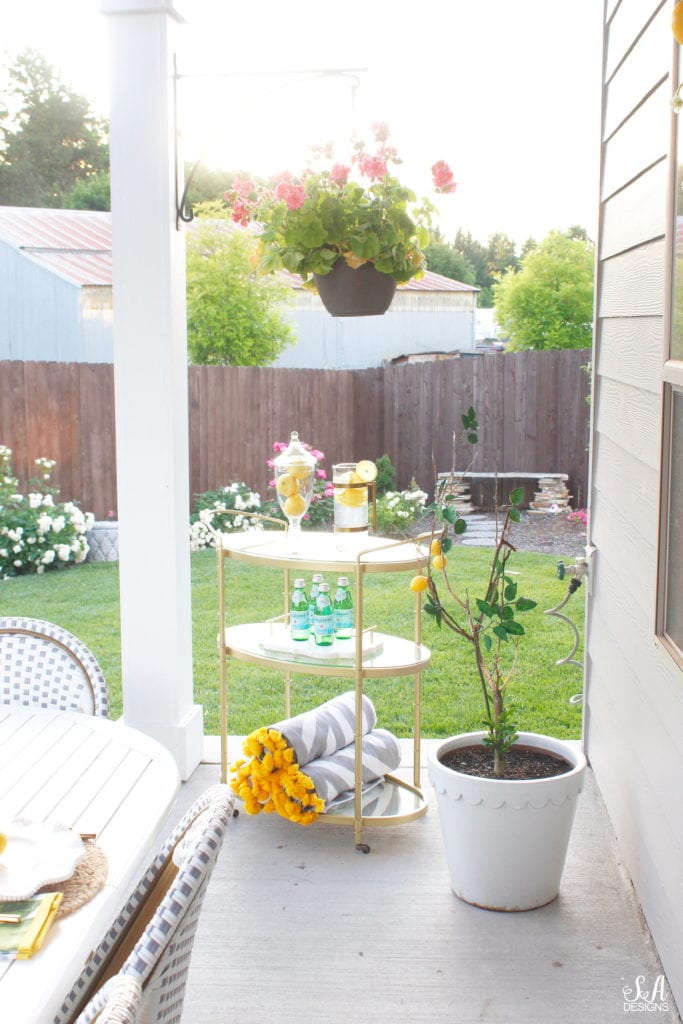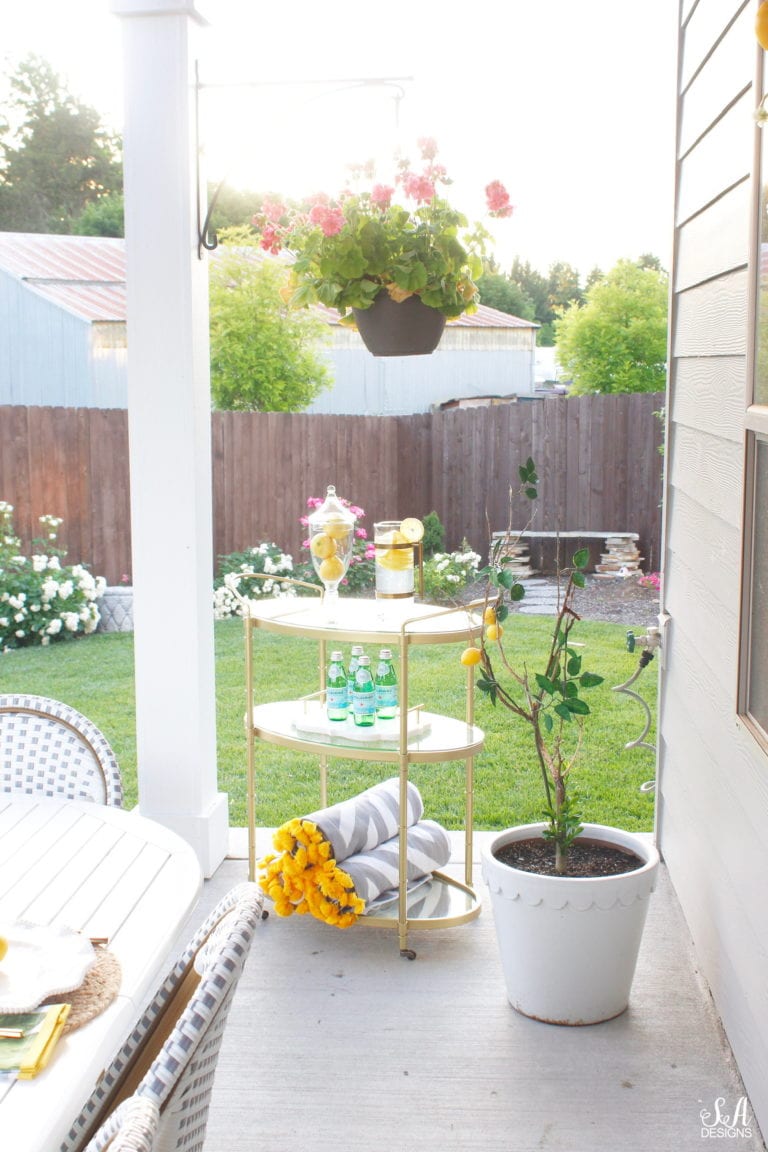 Bringing your bar cart outside for summer entertaining is a MUST!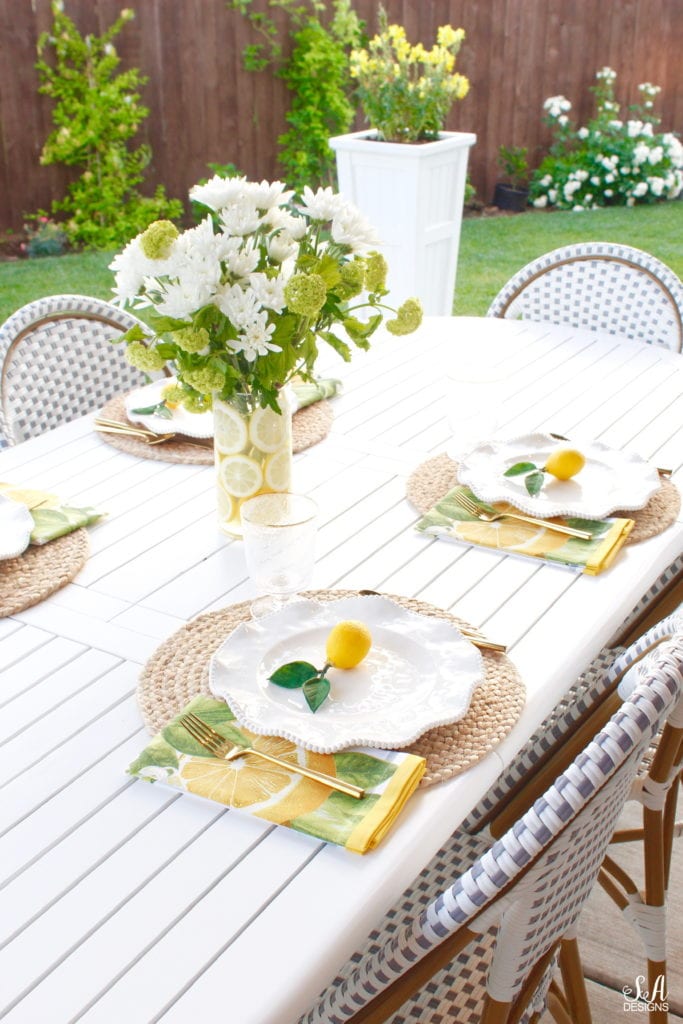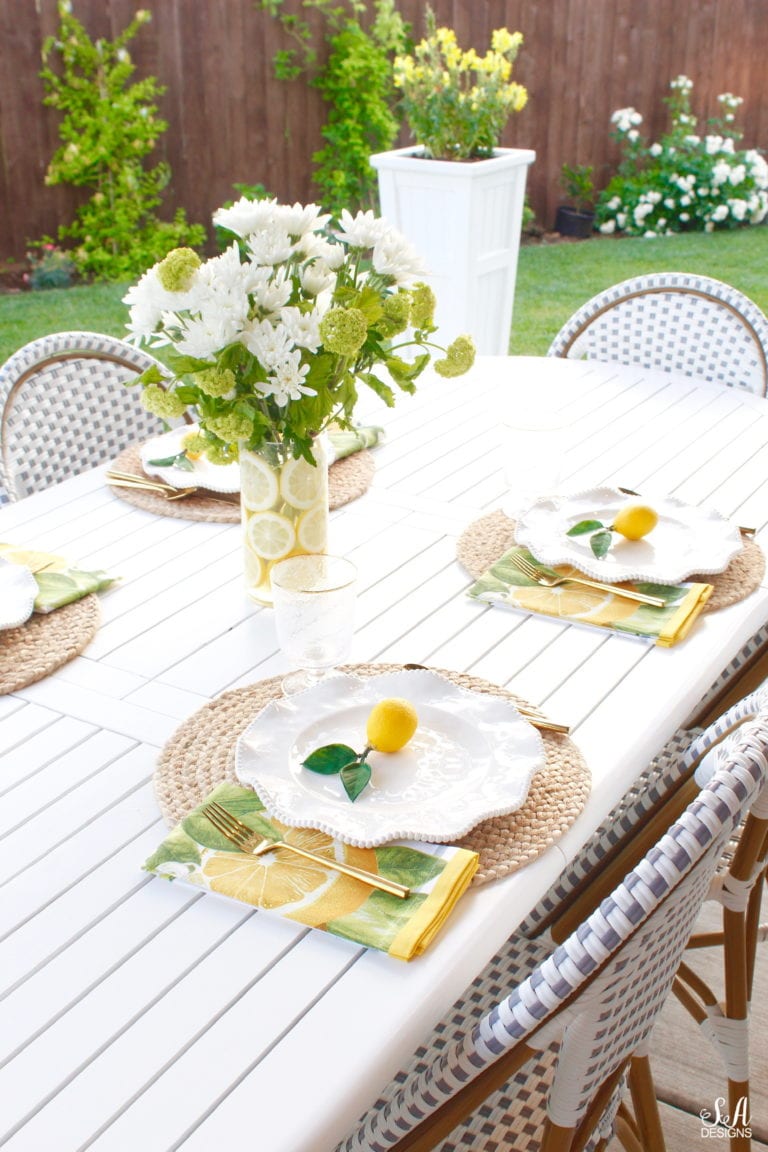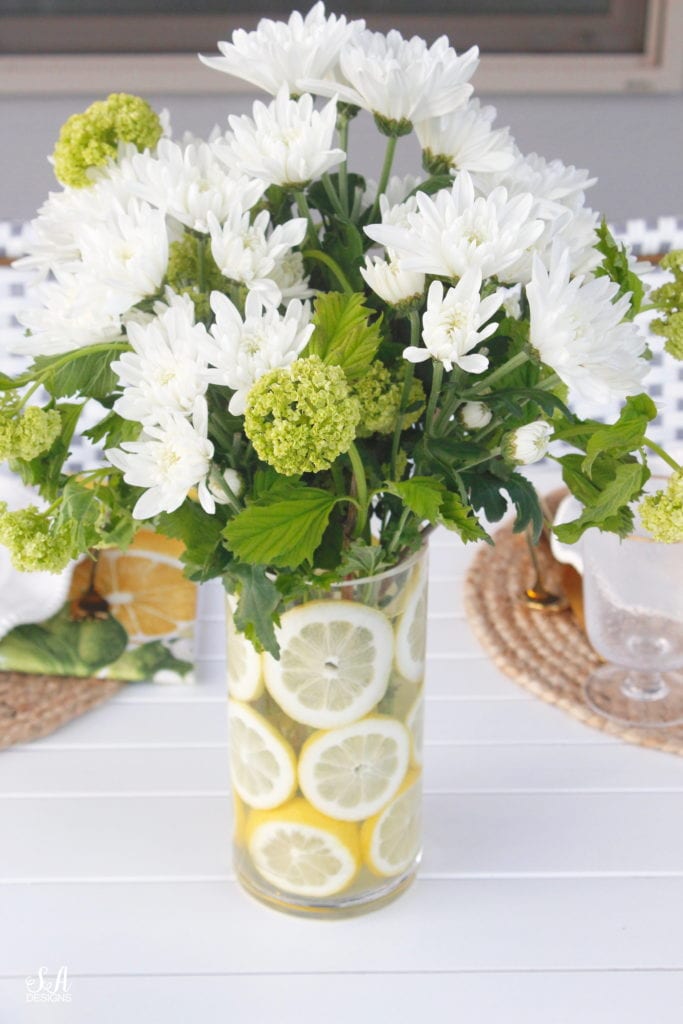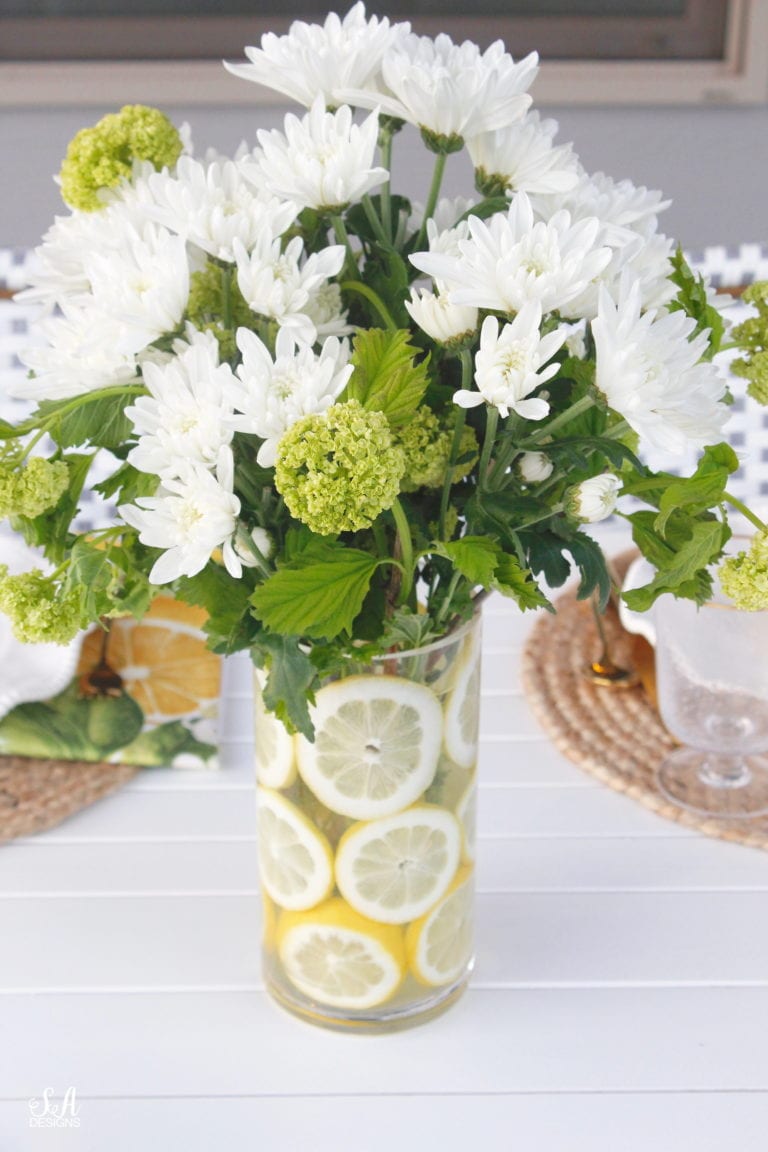 Lemons are so fresh and summery so I thought this was the best way to kick of the summer, with an easy lemon floral centerpiece. I added a cup inside the vase for the flowers to sit in. I added the thin slices of lemons in between and that was it. These were very inexpensive flowers from the grocery store, $10 total. And $2 for the lemons.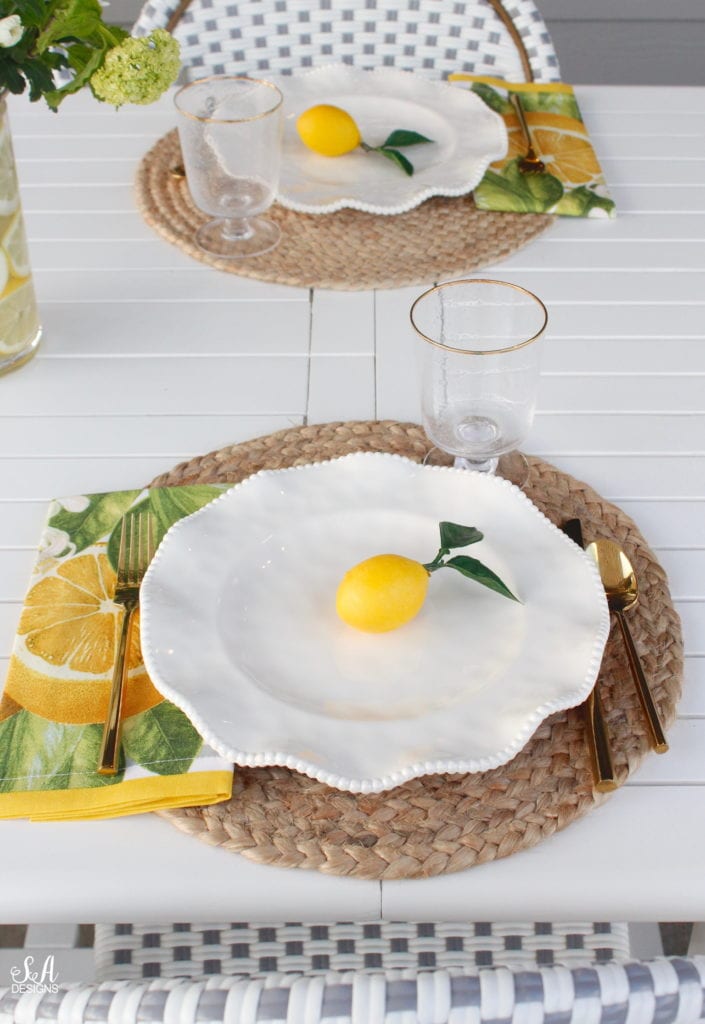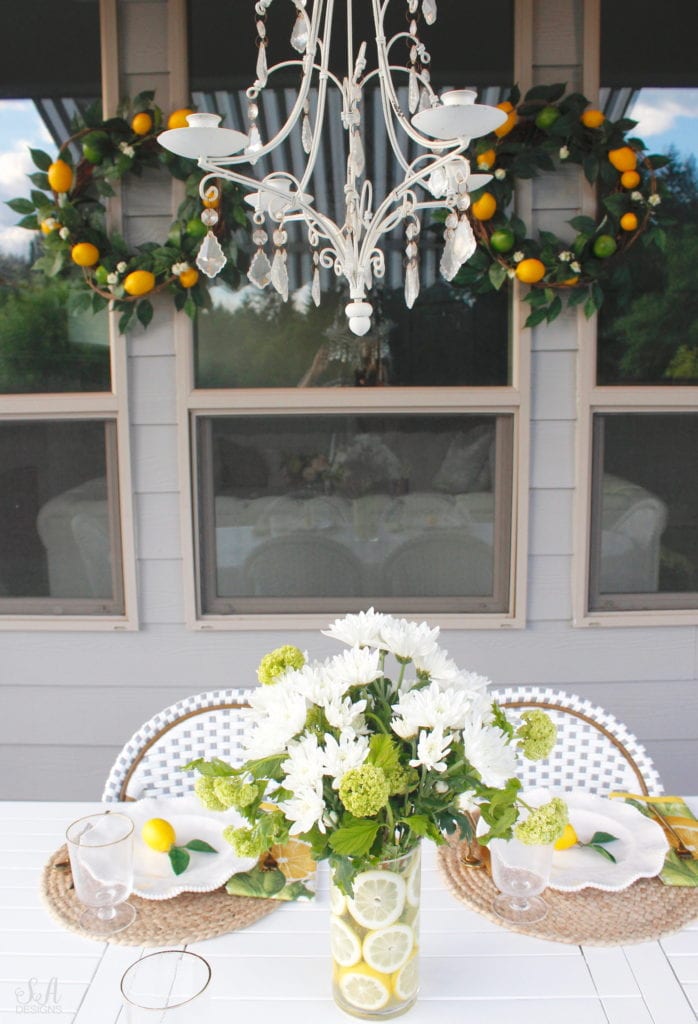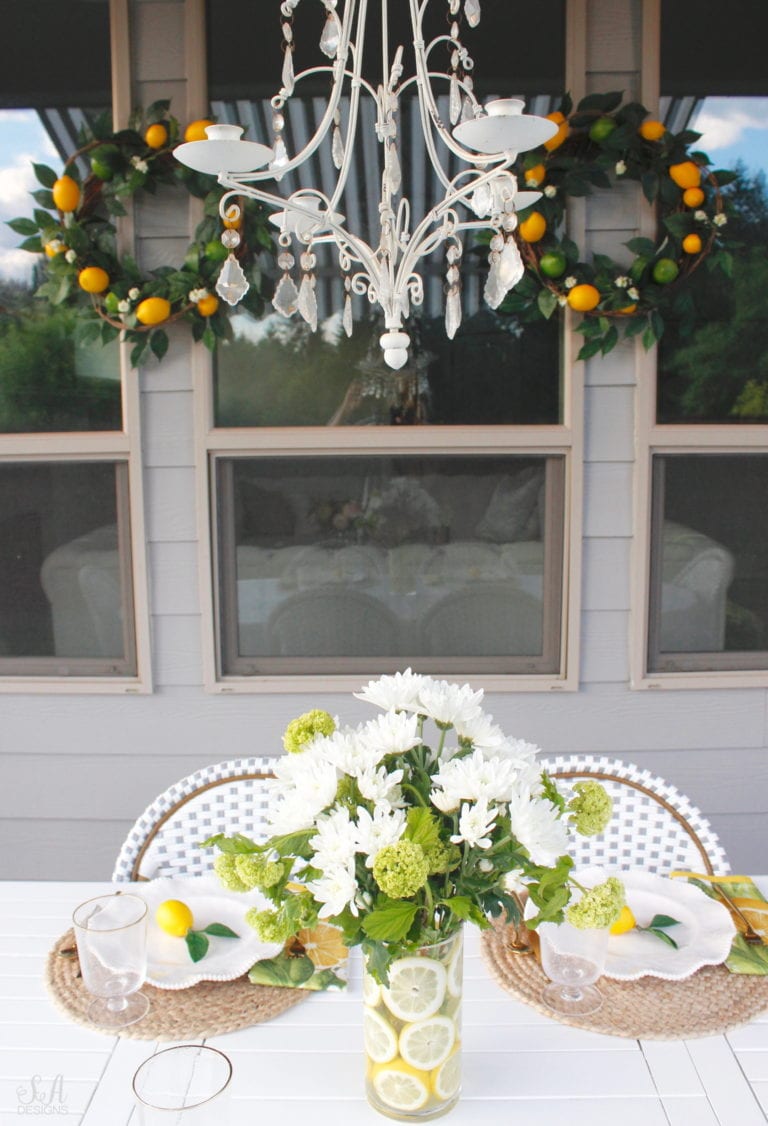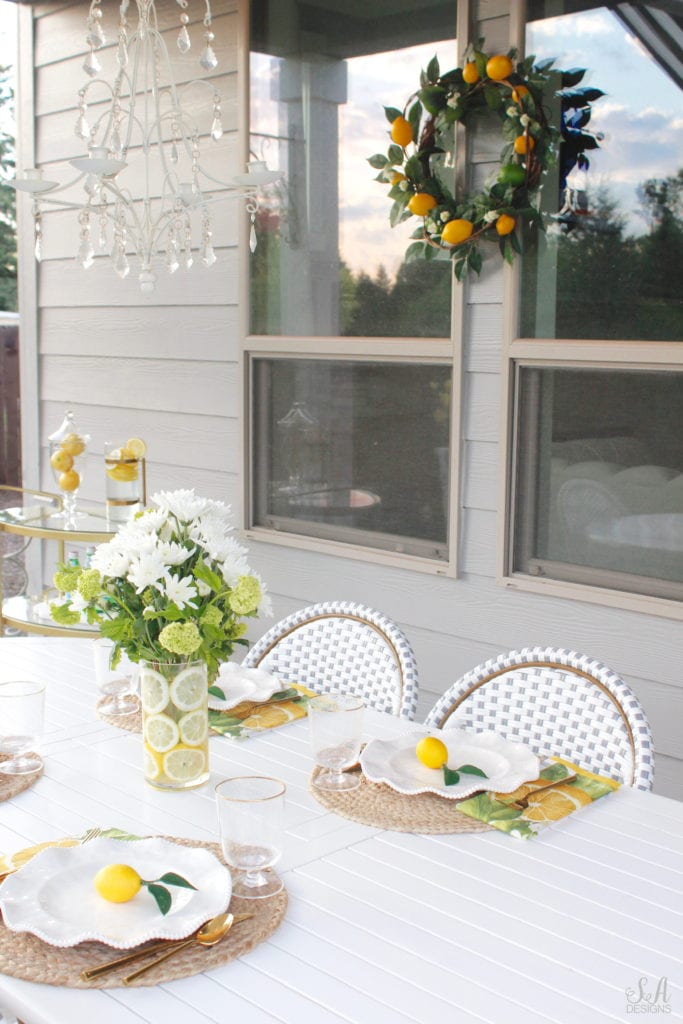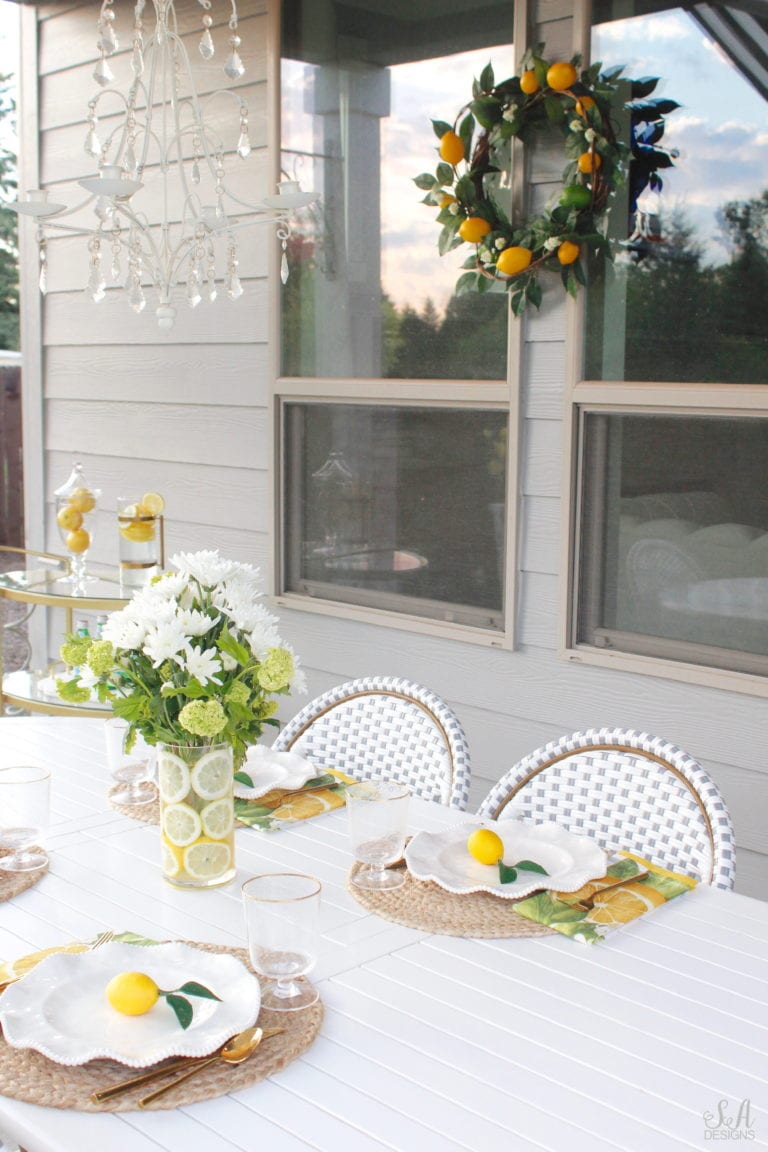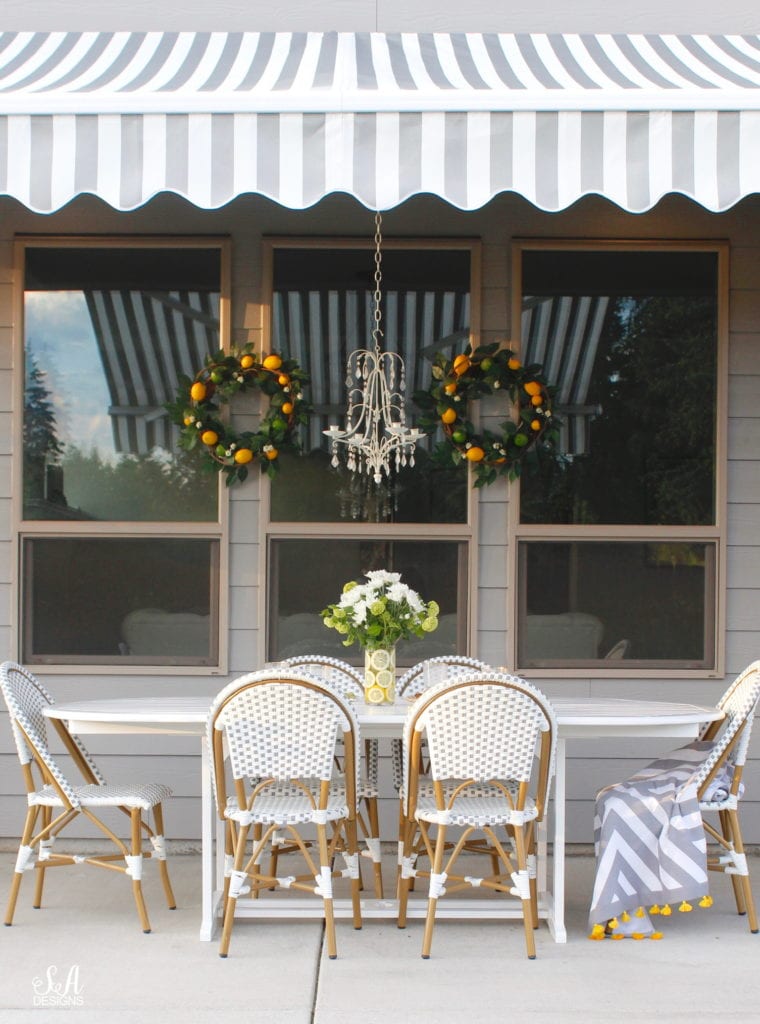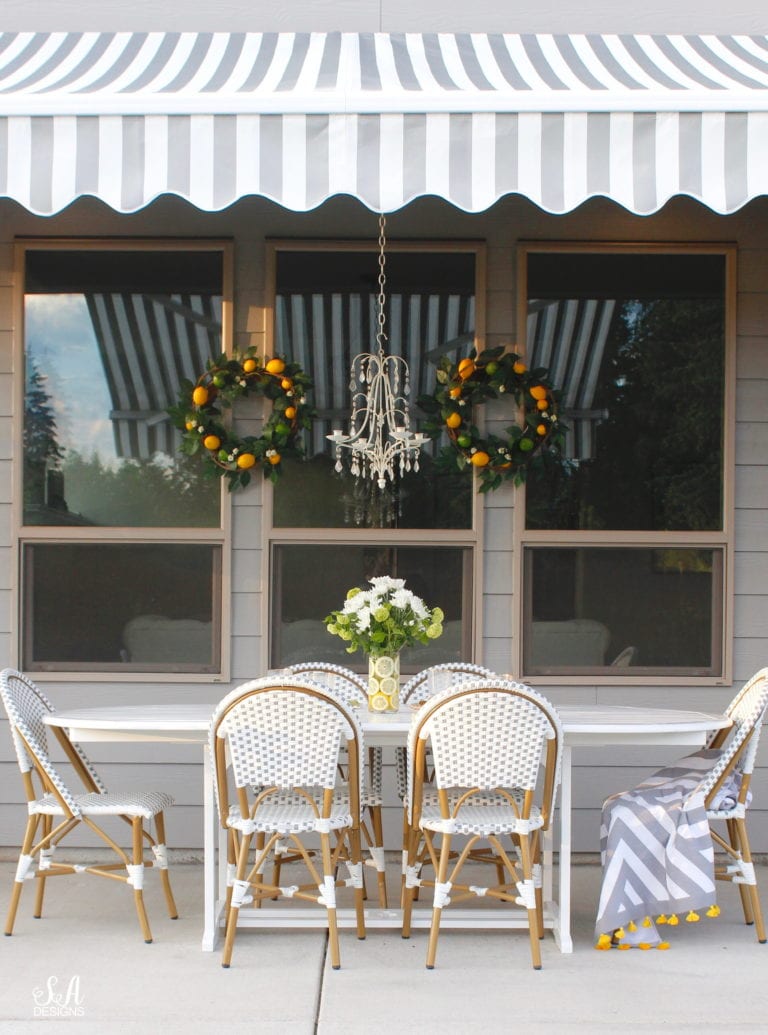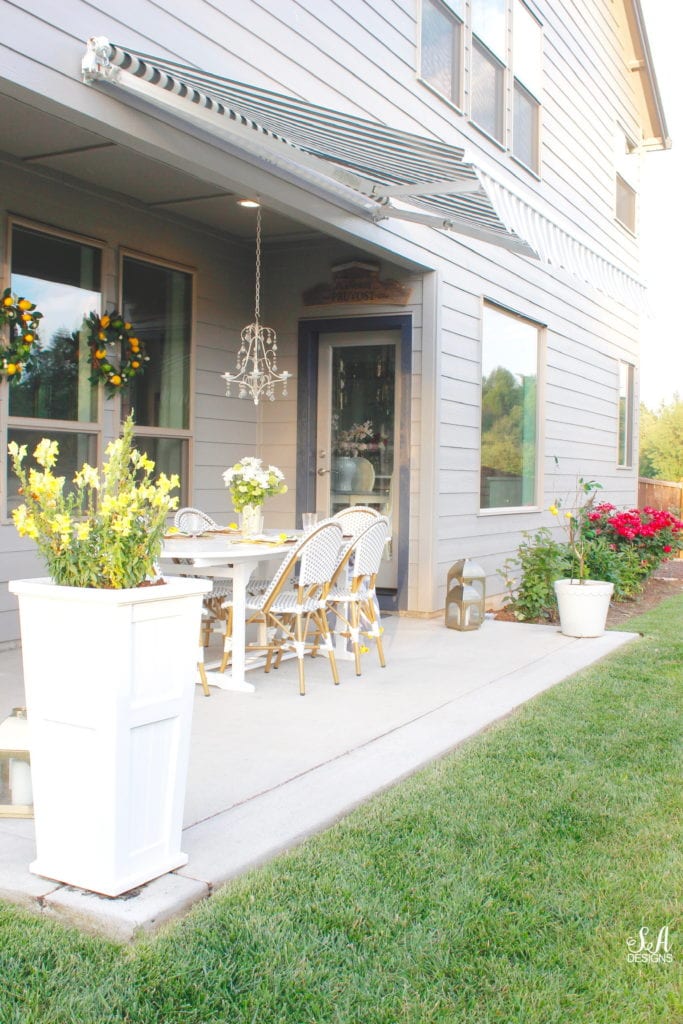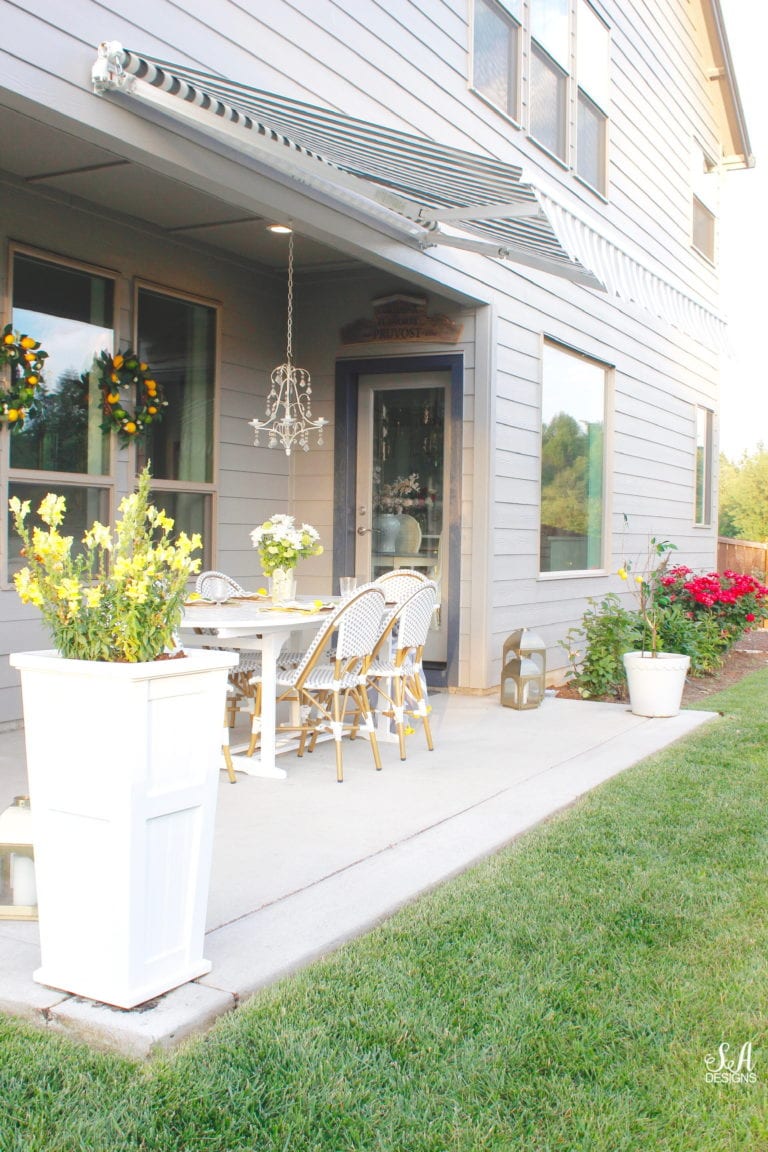 We could sit out here every night for dinner and watch the sunset and look at the view of the Wetlands and those gorgeous trees! Love it out here!!!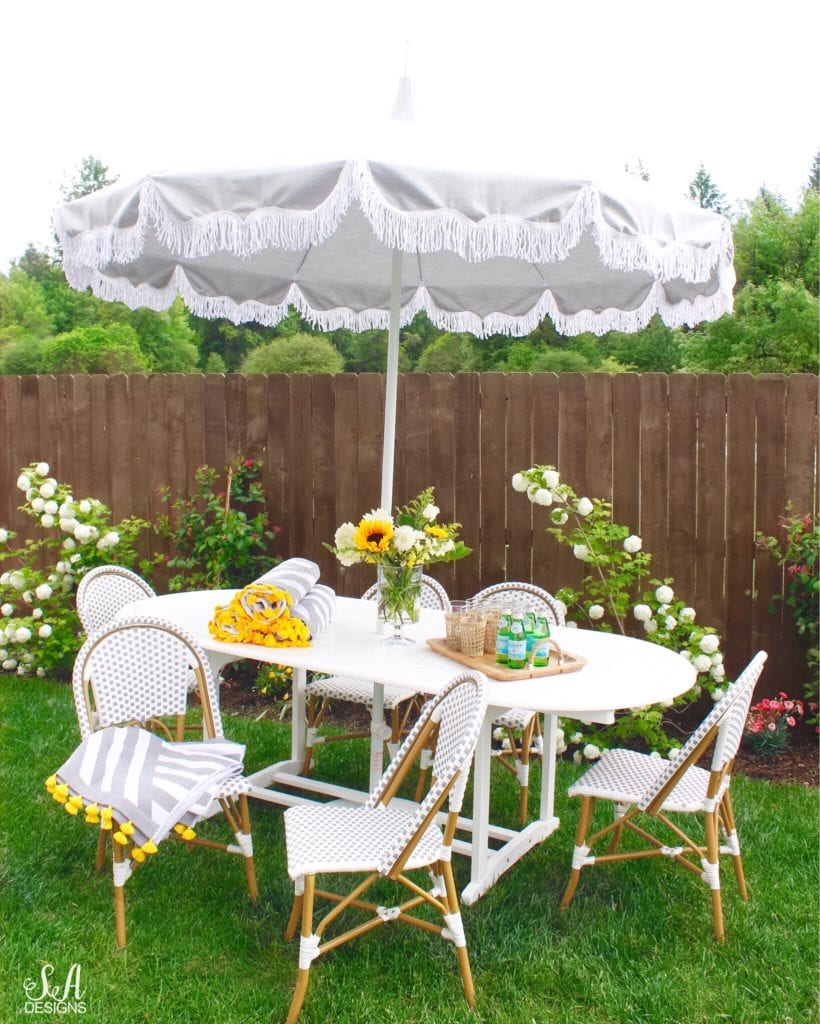 My other favorite addition this summer to our backyard has been our new grey umbrella with white fringe. (Everything is linked below.) It's fun to take out our dining set for more of a "garden party" feel with the umbrella and set it up on the grass. It's the cutest umbrella and I'd been wanting it for a while. We'll be using it in another spot that we are designing that we hope to have finished.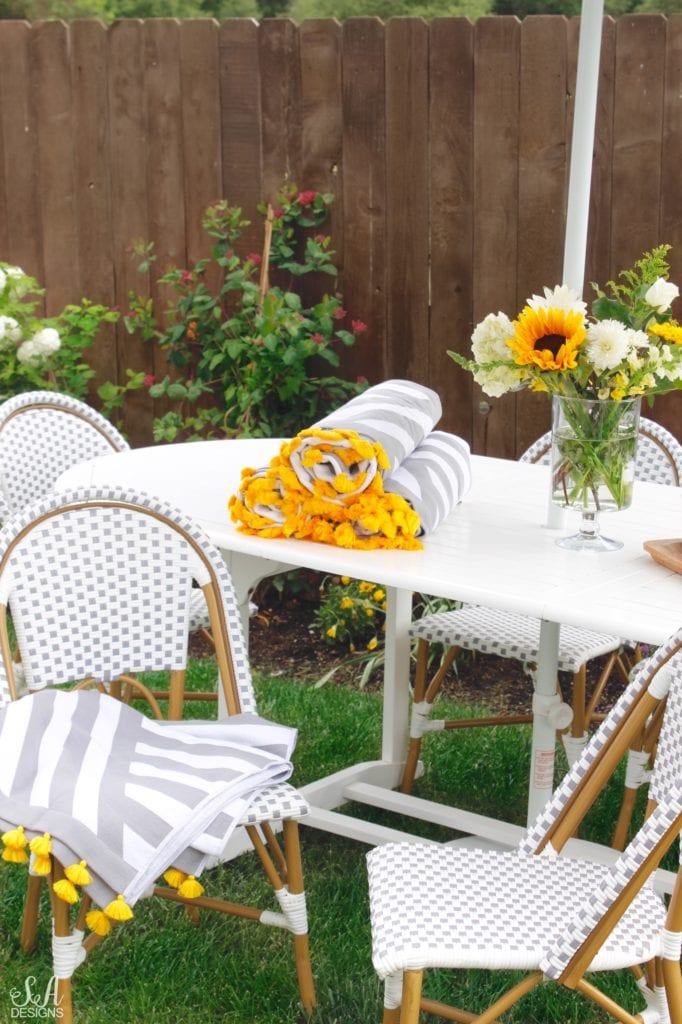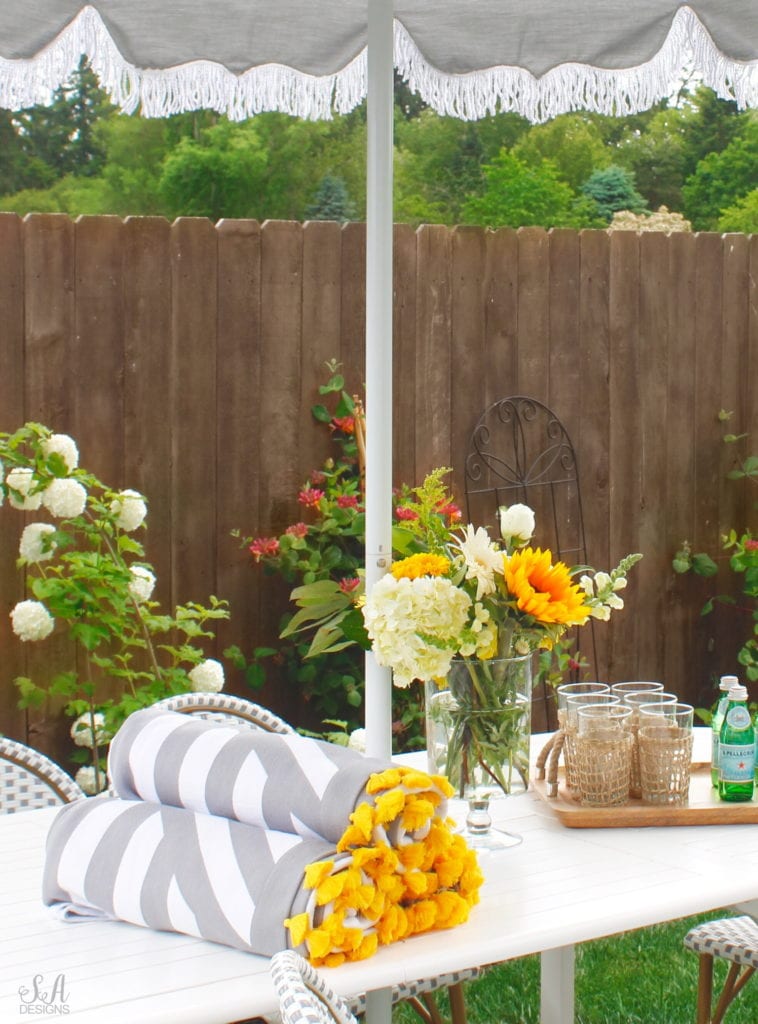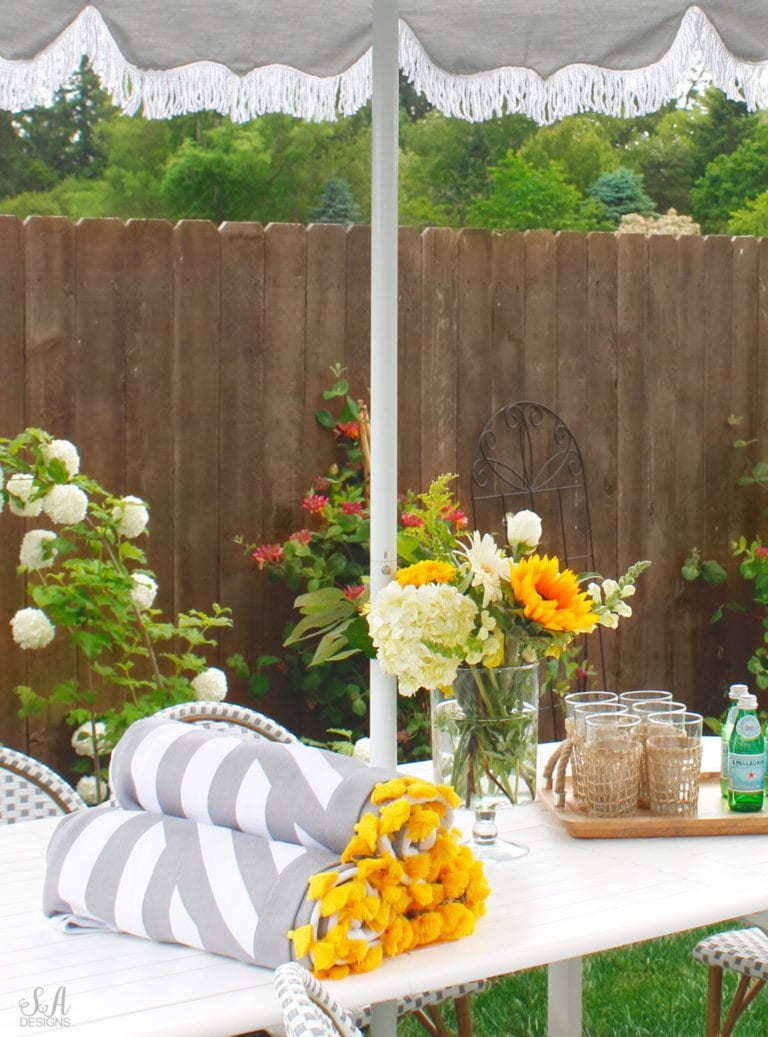 I like to have towels ready for water balloons fights and water fun in the backyard at all times!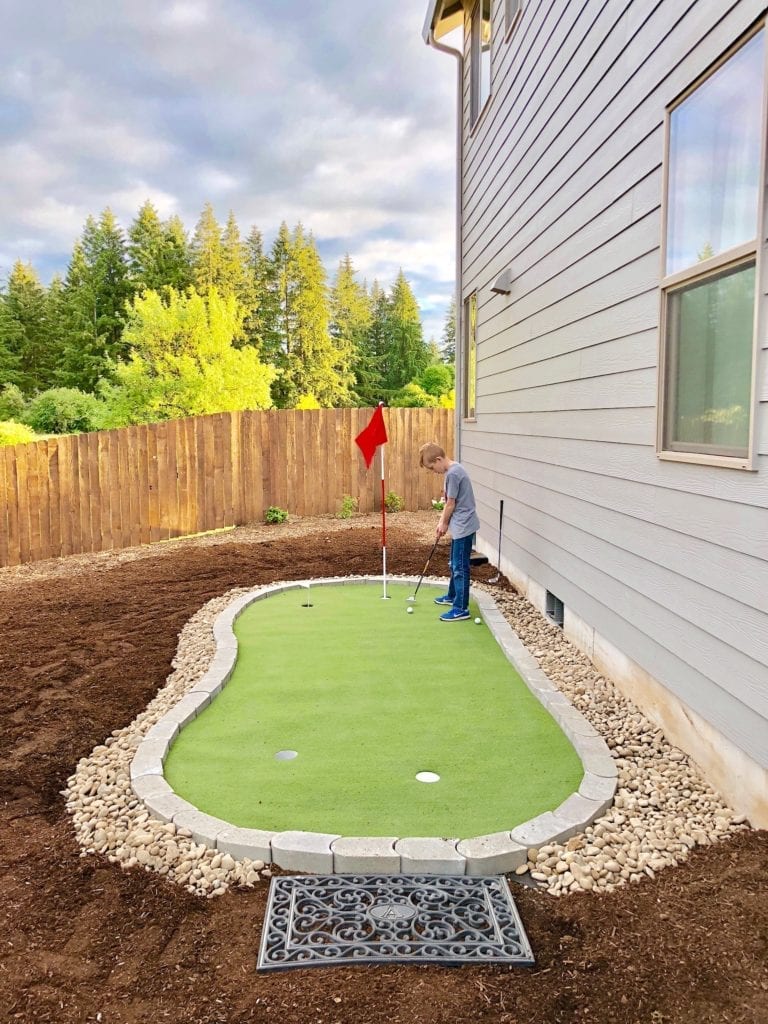 I'll finally be getting around to the tutorial on the putting green I made for my hubby on the side of the house as a surprise gift so stay tuned! (Beckham was trying it out. He approved.)

Click on the arrows to scroll right and left. Click on picture to shop item!


Nearly 40 bloggers are sharing their summer home tours this week! Sharing with me today are…
Thursday
Kim Power Style // Maison de Pax // Jenna Kate at Home // Two Twenty One // Just a Girl and Her Blog
Summer Adams // tatertots and jello // The Tattered Pew // Aratari at Home // Crisp Collective
And sharing the rest of the week…
Monday
The Happy Housie // Rooms FOR Rent // Shabbyfufu // Maison de Cinq // My 100 Year Old Home
Southern State of Mind // All Things with Purpose // Grace in My Space // Love Create Celebrate
Tuesday
Town and Country Living // Taryn Whiteaker Designs // Designthusiasm
// This is Our Bliss // My Sweet Savannah
Rambling Renovators // The Turquoise Home // Clean and Scentsible
// She Gave it a Go //Lemon Thistle
Wednesday
Modern Glam // Craftberry Bush // Setting for Four // Inspiration for Moms // Zevy Joy
Life is a Party // Tauni Everett // Finding Silver Pennies // Sincerely, Marie Designs // Amber Tysl
I'm so glad you could stop by today! I would love it if you could subscribe at the top of the page in order to receive my weekly emails of all my latest blog posts and see everything I'm working on! You can also follow me on Instagram, Pinterest, and Facebook to see what I'm up to in creating a home and lifestyle of inspiration!
xoxo,

---
Want to shop my Instagram posts? Click on any square below!