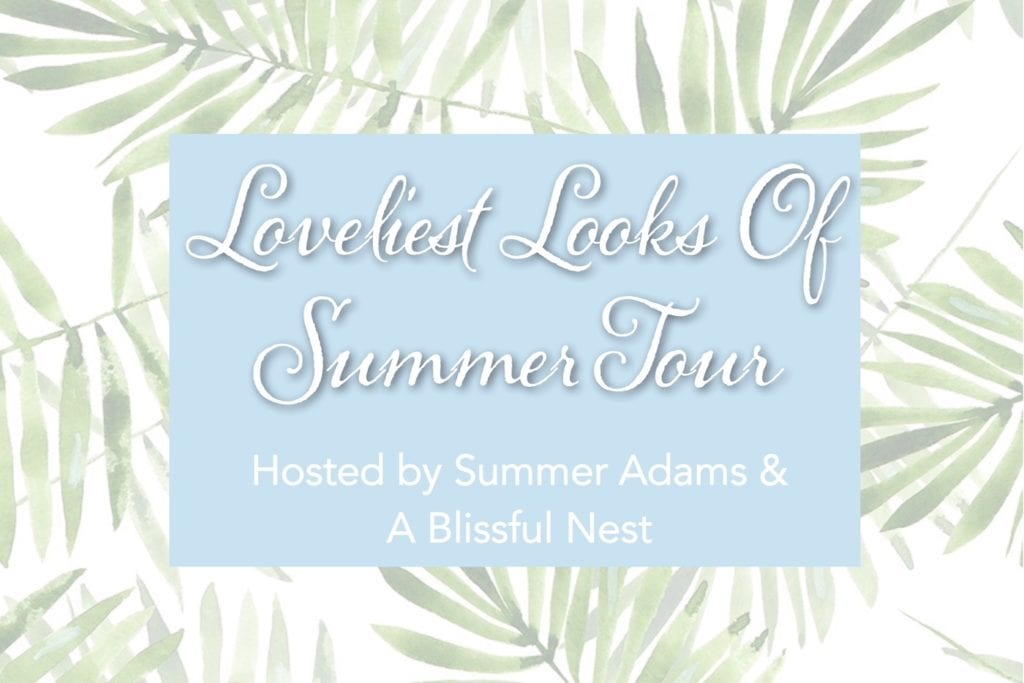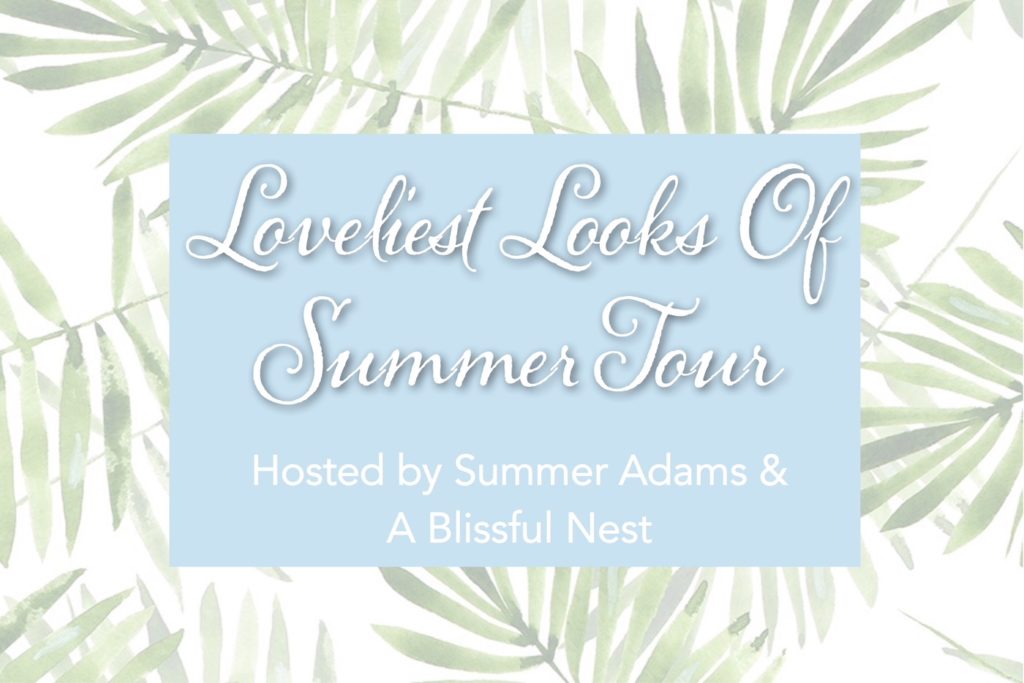 It's finally here! This week, the official first day of summer begins and my kids just finished school yesterday (probably the last school in the nation) and we are so excited to get this season of fun started! Today my friend Rebekah from A Blissful Nest and I are back to co-host another "Loveliest Looks of Summer Tour" with some fabulous friends who are joining us in sharing their gorgeous summer decor and summer fashion with all of you. Thanks for being here and make sure to pin all the things you love and sign up for our newsletters so that you never miss out on our latest posts!
This post contains affiliate links for your shopping convenience. Click here to read my full disclosure policy and here for my privacy & cookies policy. All opinions are my own.
Items from the post will also be linked in the "Shop The Post" section at the end!
Summer Backyard & Patio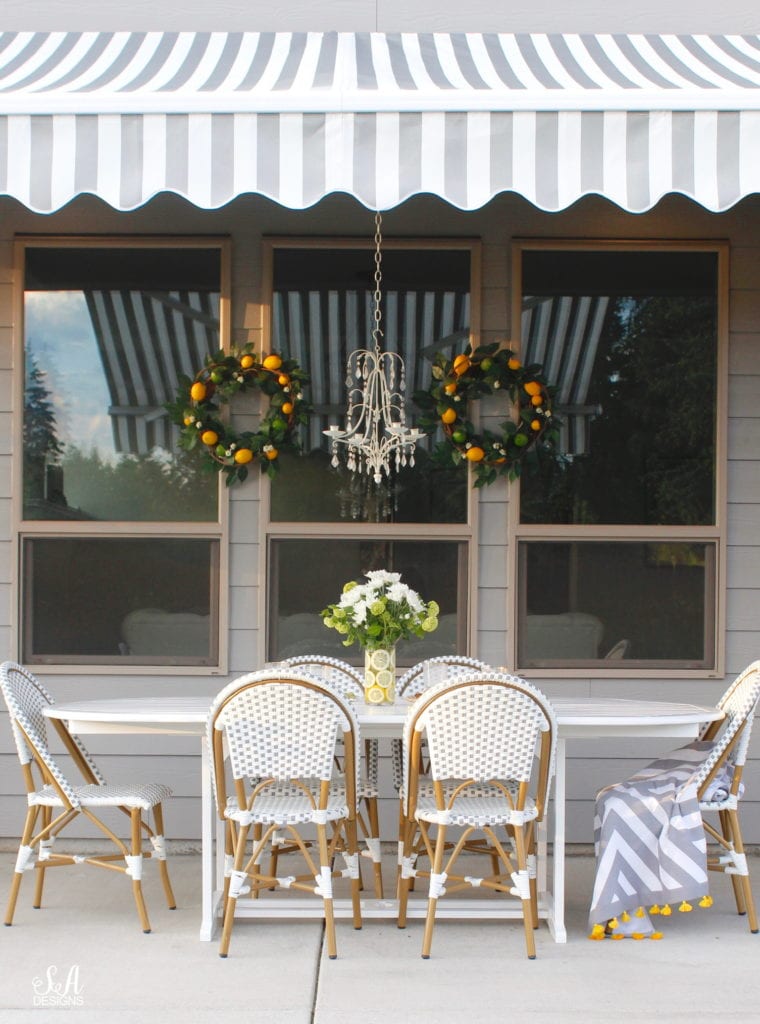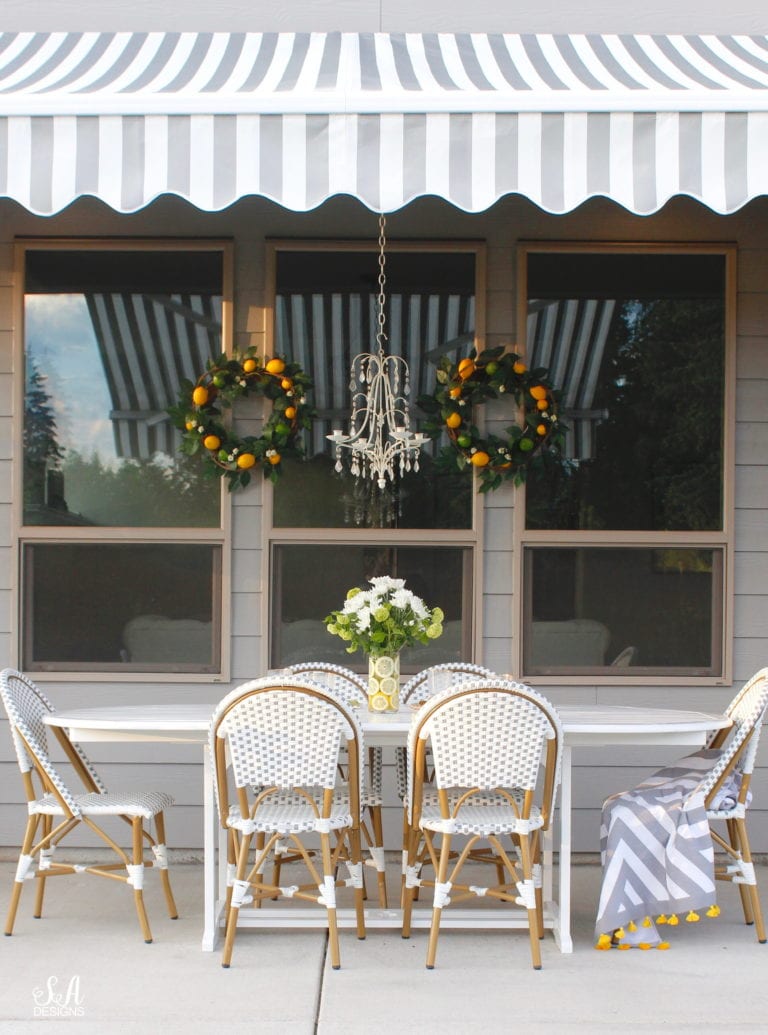 Last week I shared our summer backyard in this post, as it's our 2nd summer in this house, and we've made a few updates.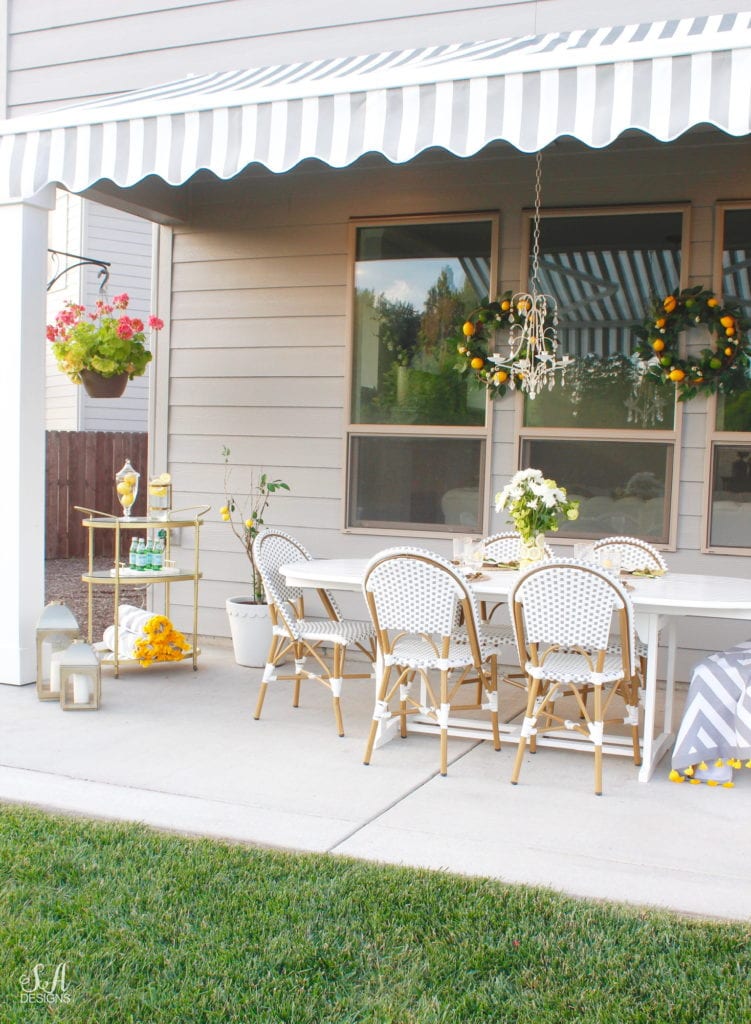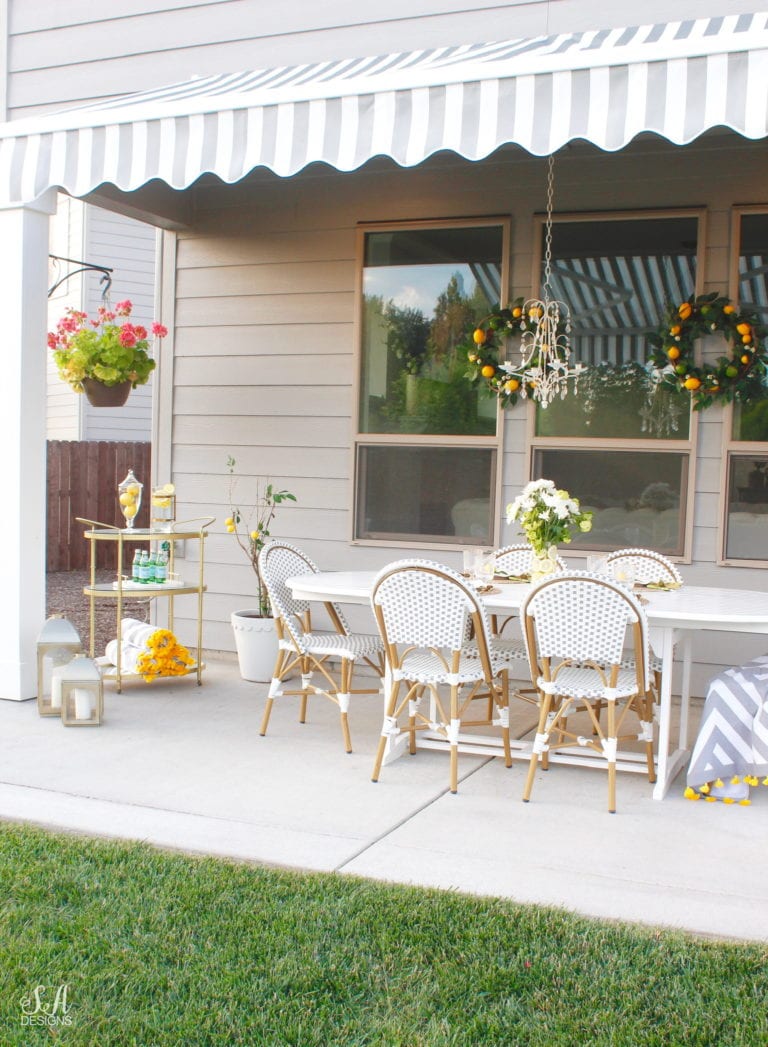 You can read more about our new patio awning here and also our new umbrella we love too!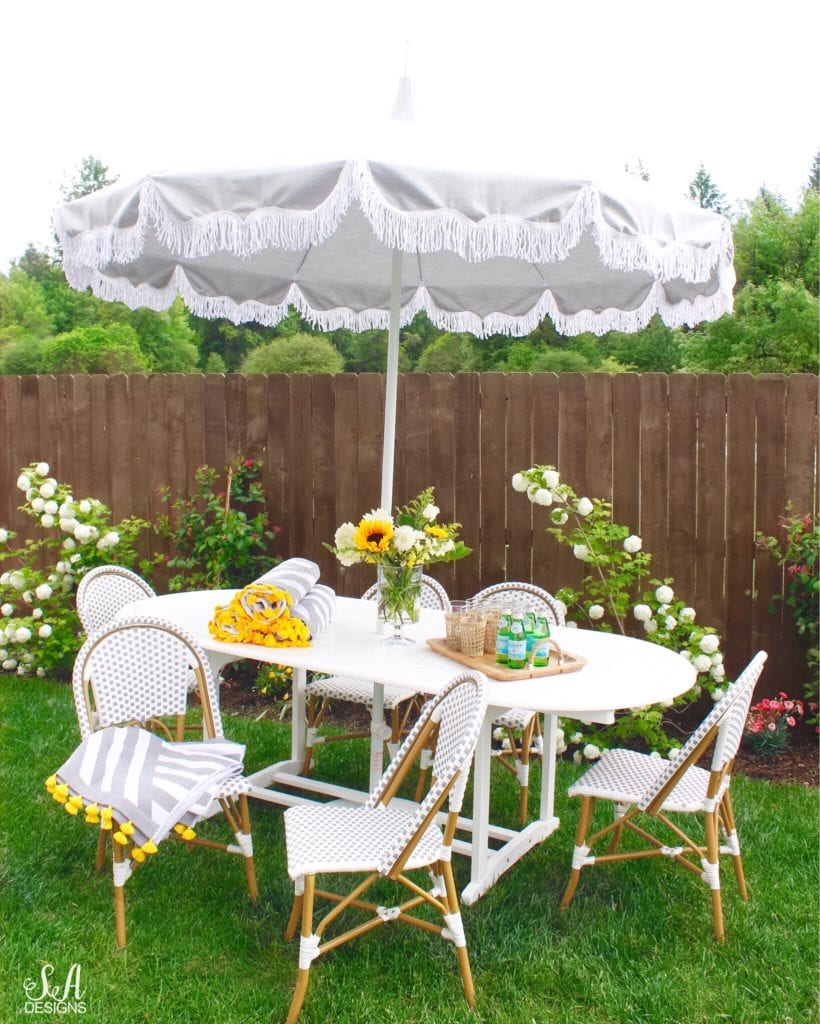 They make summer dining so much more fun and I plan on entertaining a lot this summer! We have 2 other outdoor spaces in the works but with some new unexpected health issues since May, they had to be put on hold. Hoping we might get to them before we leave to Europe this summer. Crossing my fingers!
Easy Summer Dining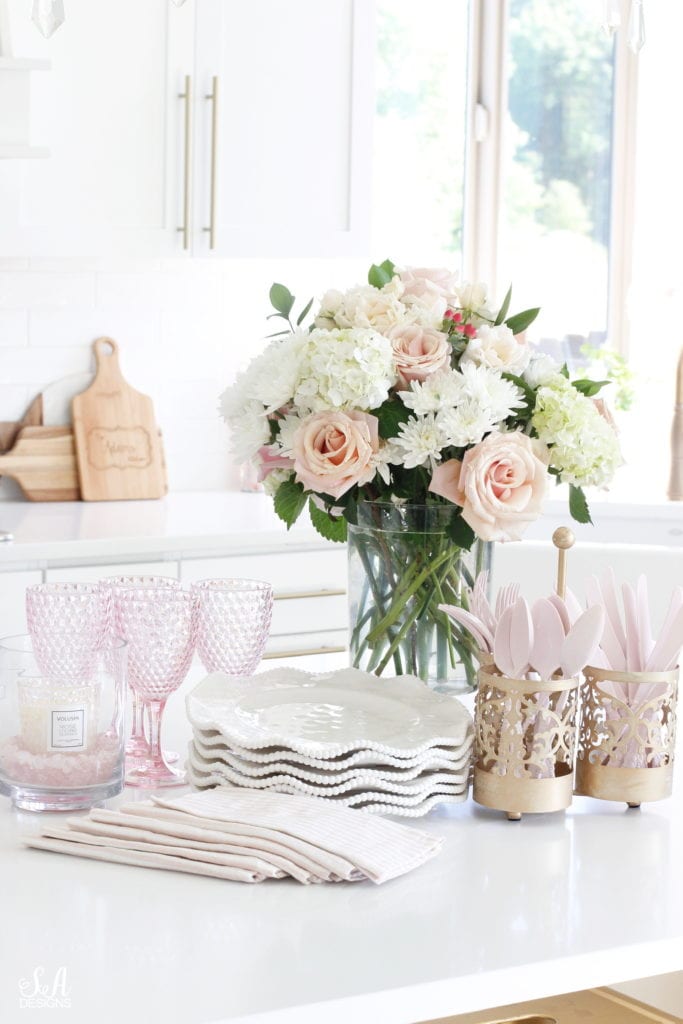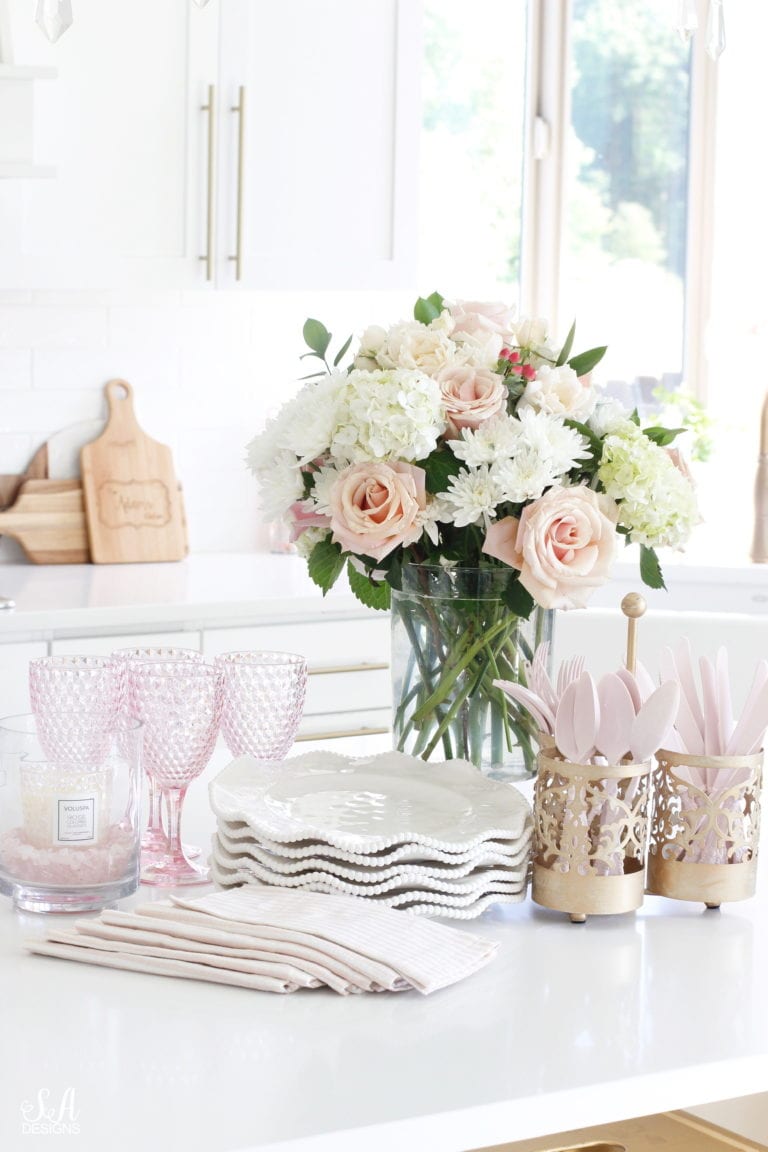 We eat out on the patio most nights this time of year. Here in the Pacific Northwest, it actually cools down in the evenings and we have the prettiest view of the sunset behind our home so we love eating out back.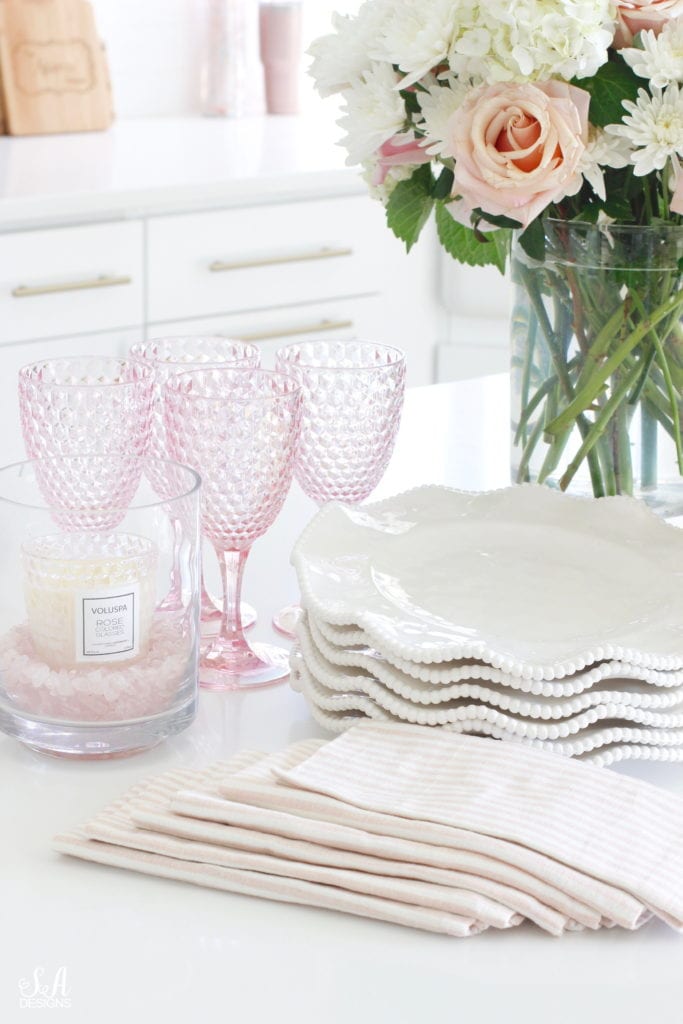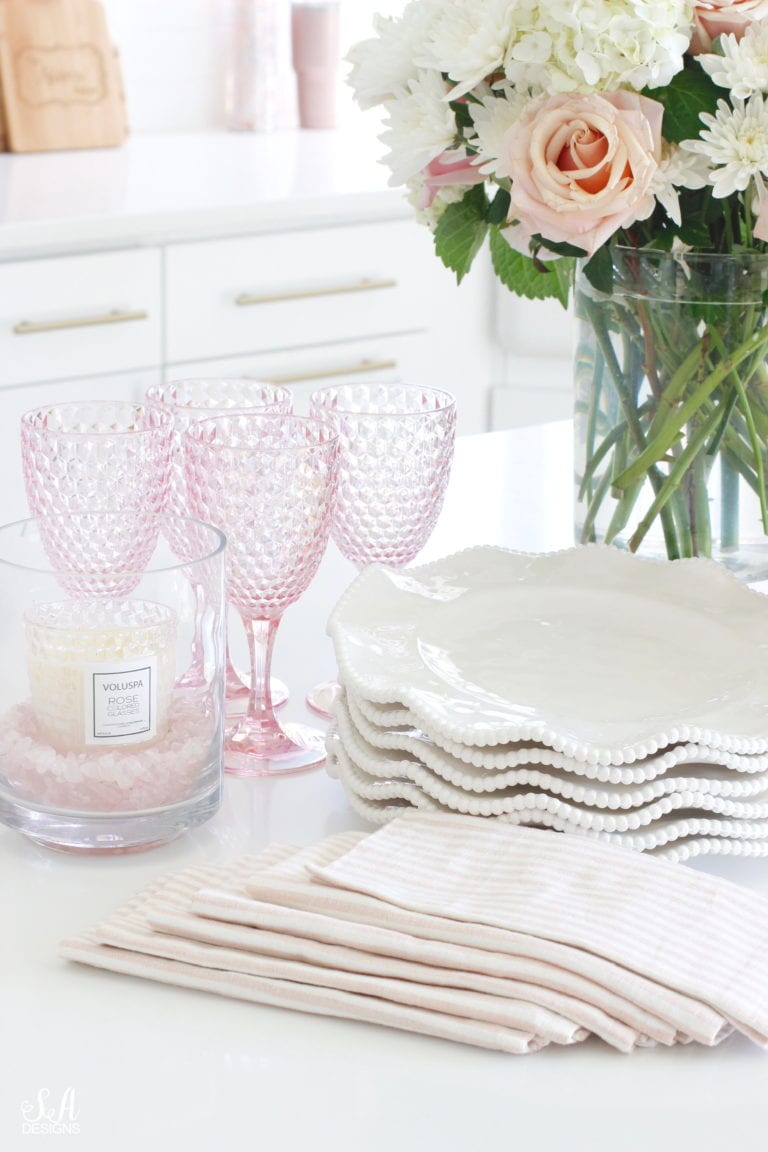 These melamine plates above are our favorite (linked at end of post too). They're so easy to take out back and they just wash and rinse off so quickly and are so easy to use most nights. The cute melamine pink goblets are from HomeGoods and I found them in blue also and bought them in several different sizes (goblets, tall and small tumblers) for outdoor dining.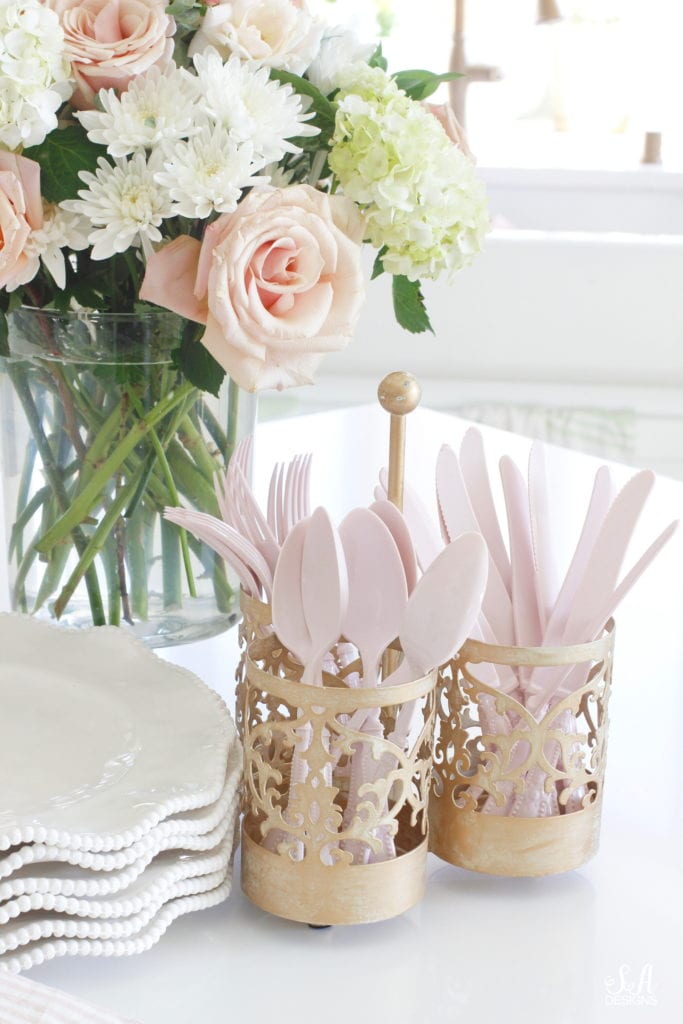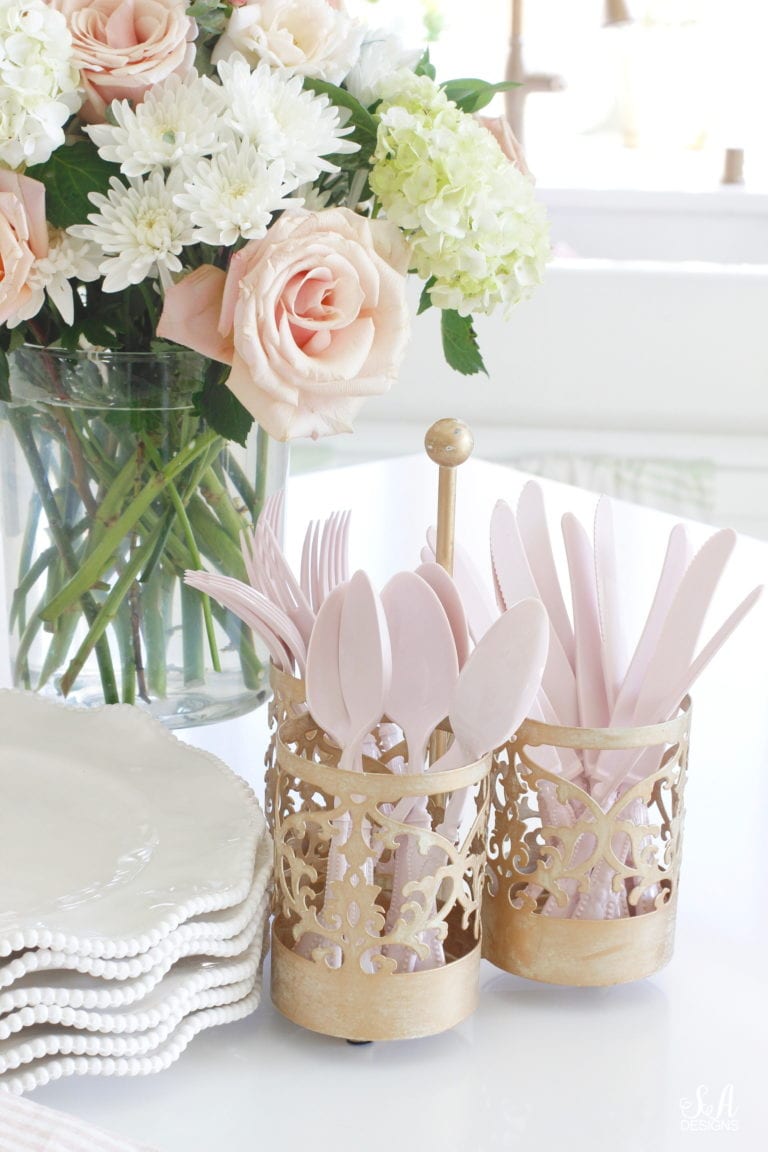 I found the cutest pink plasticware and at HomeGoods and also this caddy that I use and keep this and other plasticware or flatware in so we can just grab it and take it outside. It makes dinner time so easy.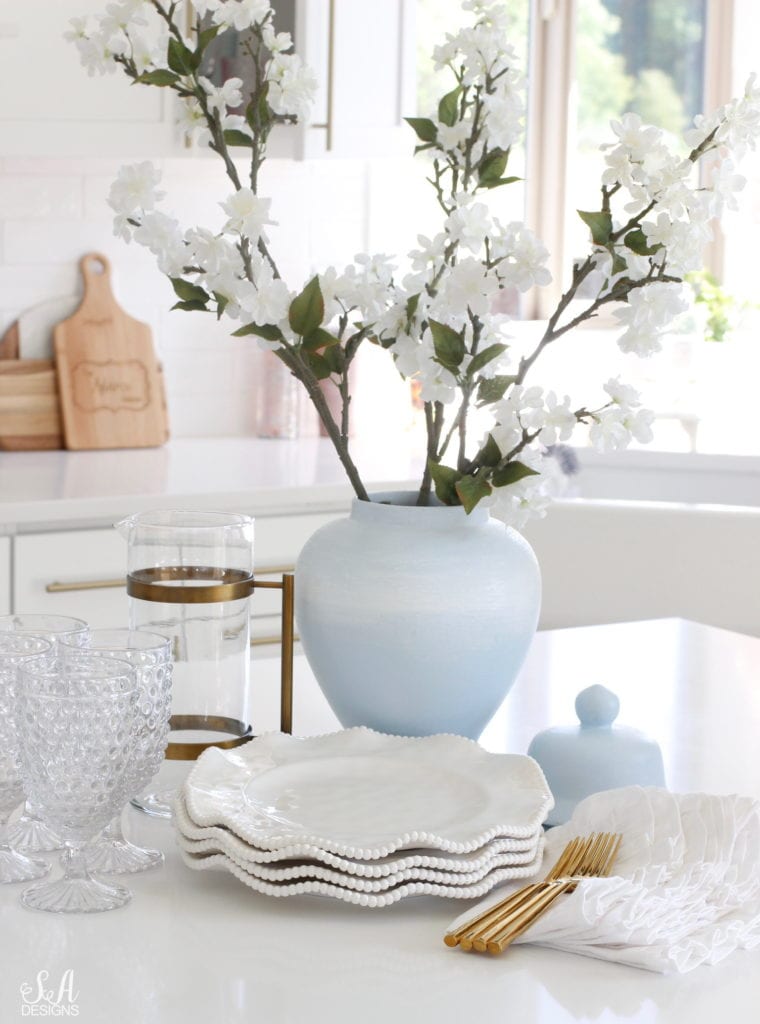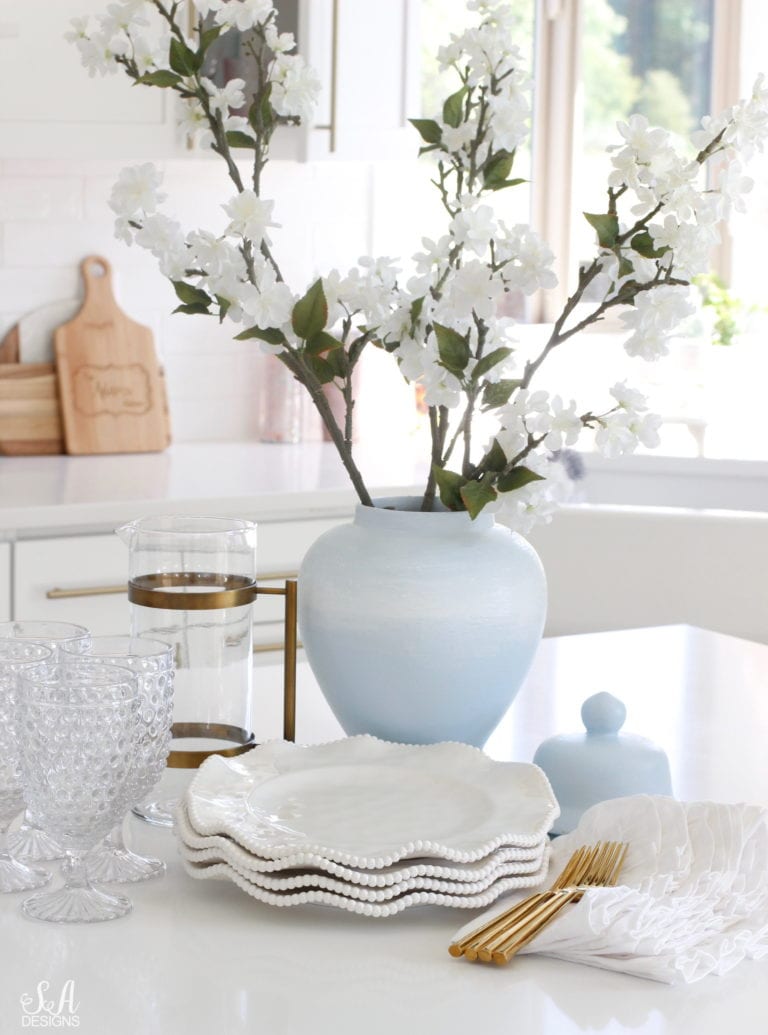 These plates again! You can mix and match them with so many different things to make different place settings. They're so darling and so versatile! I also love these hobnail melamine goblets. They're another summer dining staple of mine.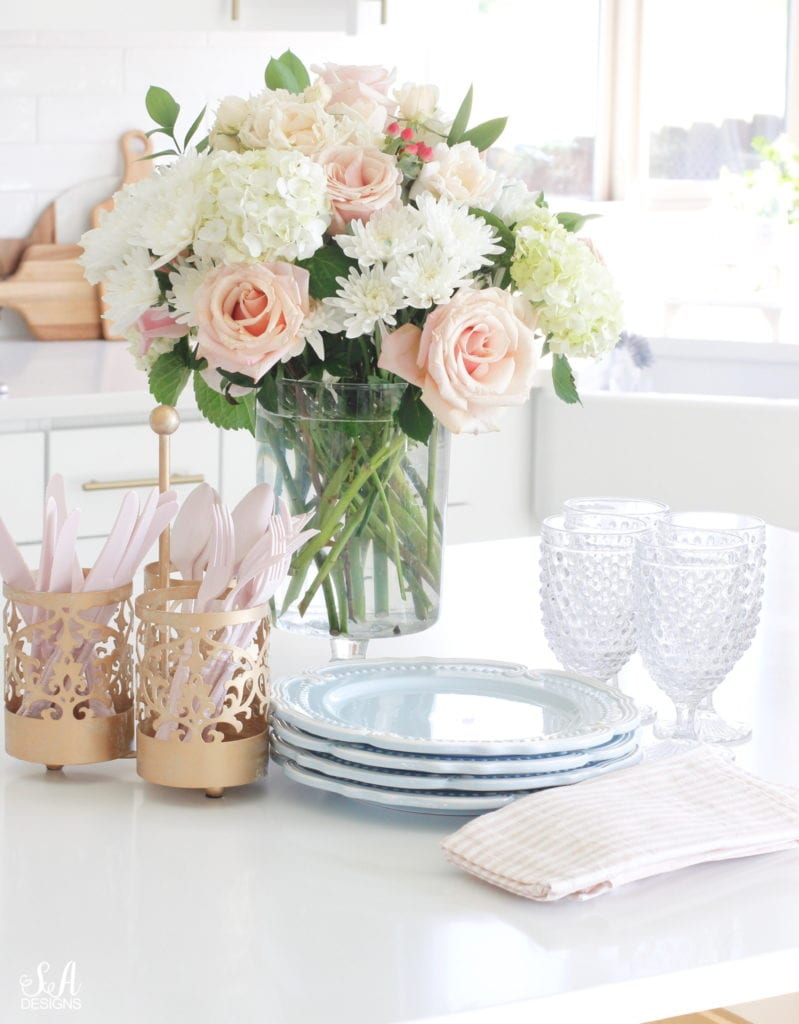 I love pulling out all my fun plates and mixing fun summery colors, whether we are eating indoors or outdoor, for summer dining.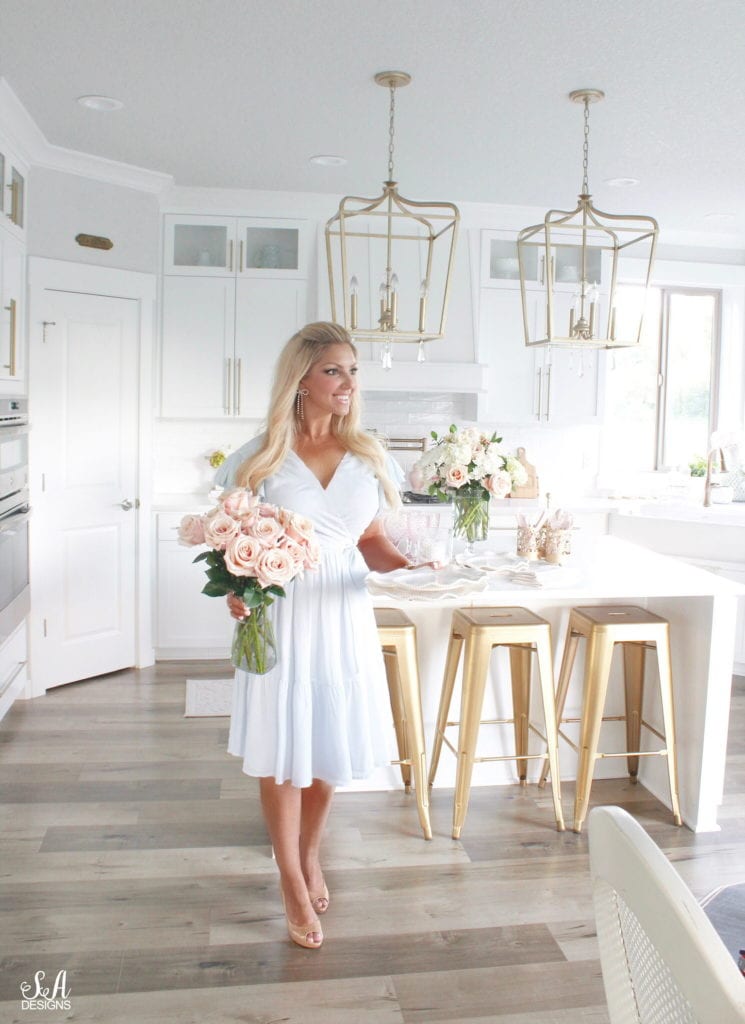 I have soooo many different plates, especially for spring and summer, so I like to make a point to pull them out since we aren't rushing around in the summer.
This pretty blue dress is one of my new favorite summer dresses. I've been a big fan of Rachel Parcell's dresses and own almost a dozen of them. This blue dress is so light, airy, feminine, and has the prettiest ruffled sleeves and layers. It's so comfortable and so flattering!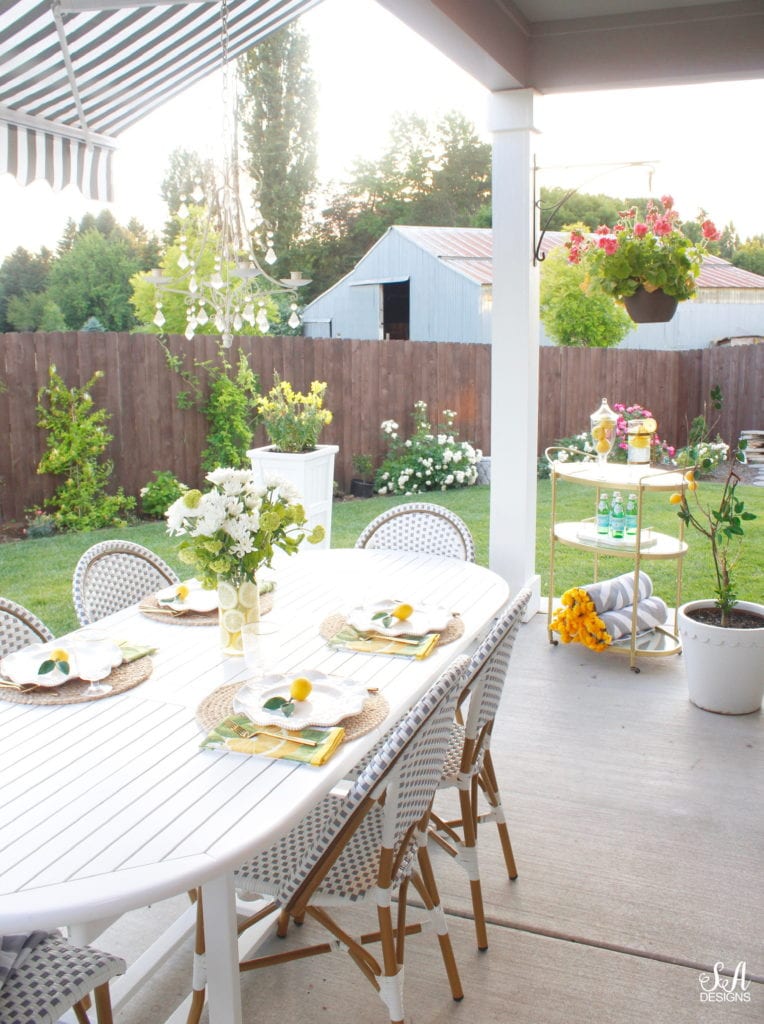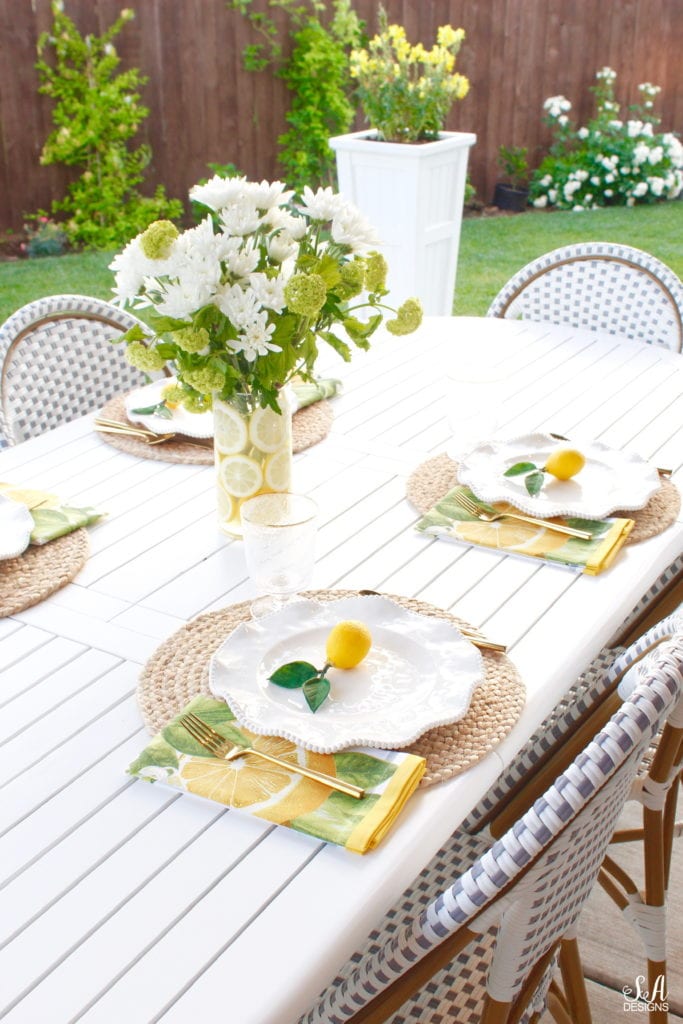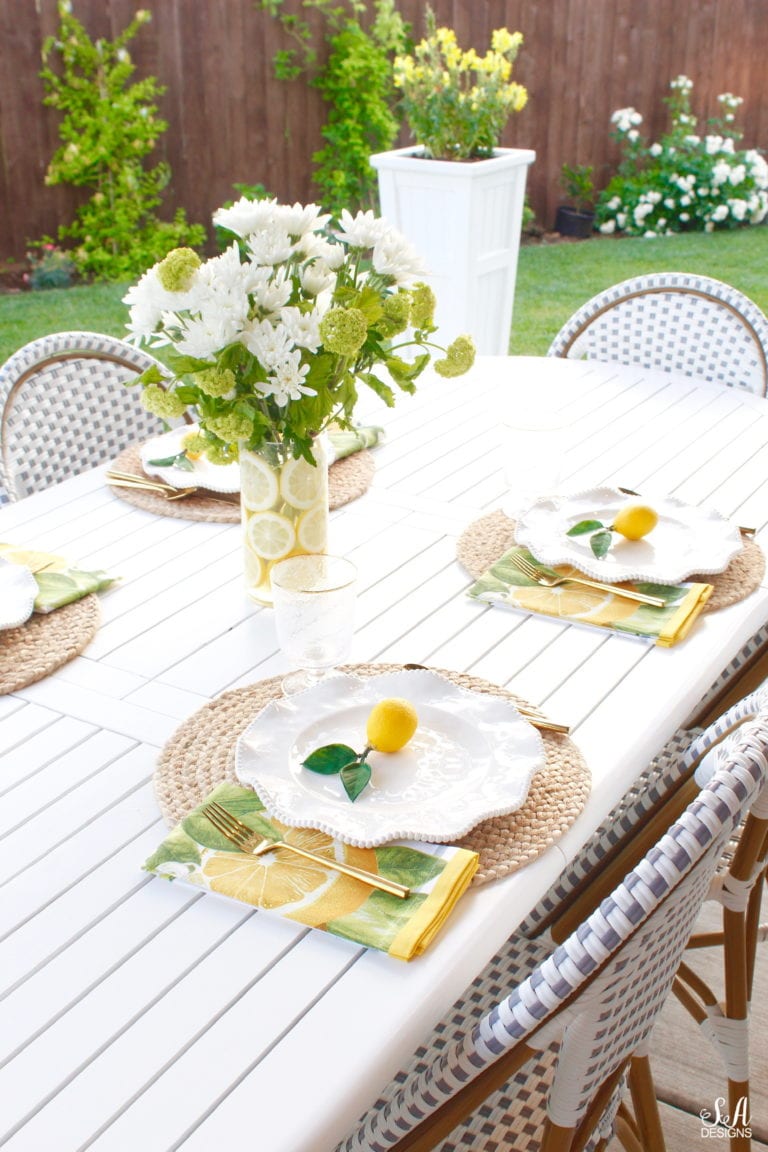 I like to be a little more thoughtful about setting a simple but lovely table for my family and especially for friends when they come and join us. I love using the plates and napkins in my cabinets and not just saving them for a blog post or a special occasion. That doesn't make sense to me.
Summer Living Room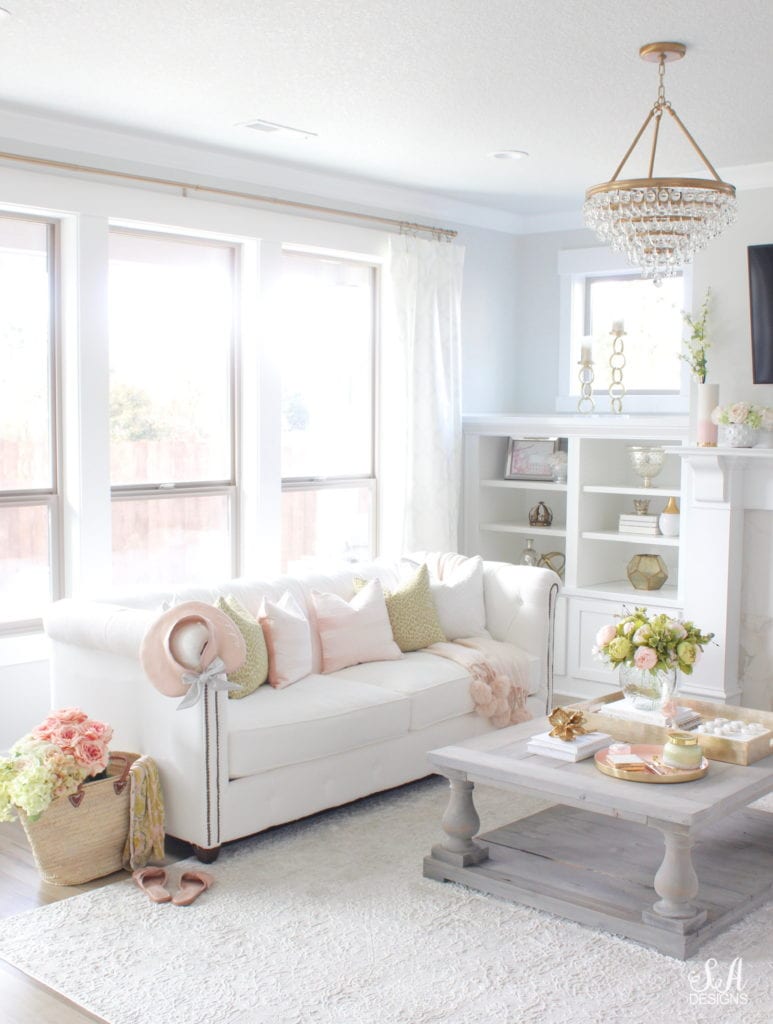 Guess what? My summer living room is staying exactly the same! I changed it for spring and love the blush and green so much that it's staying.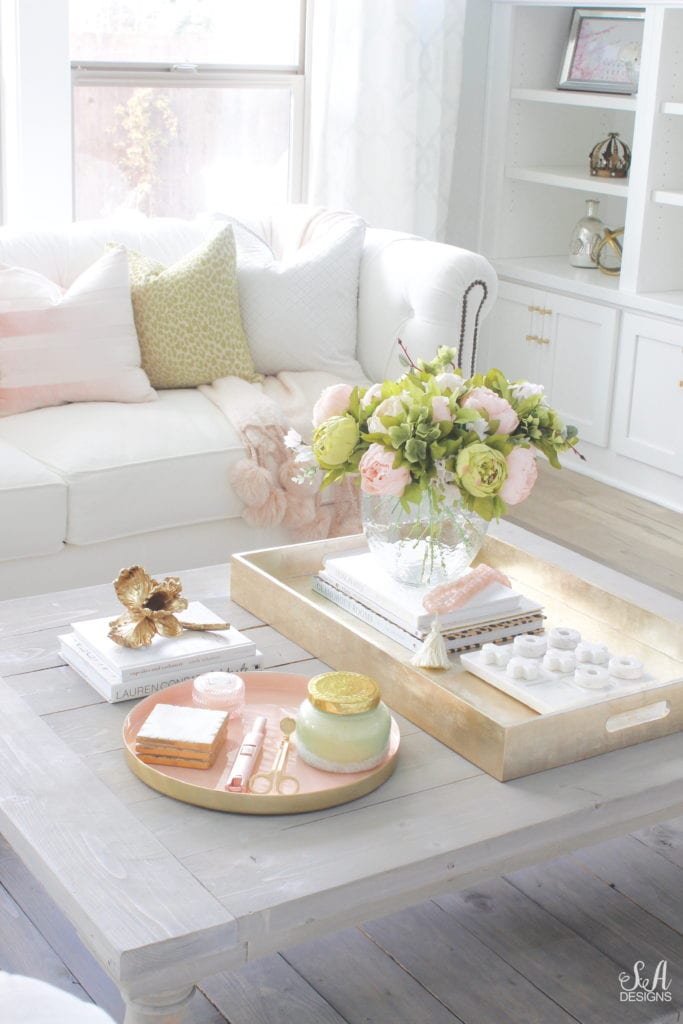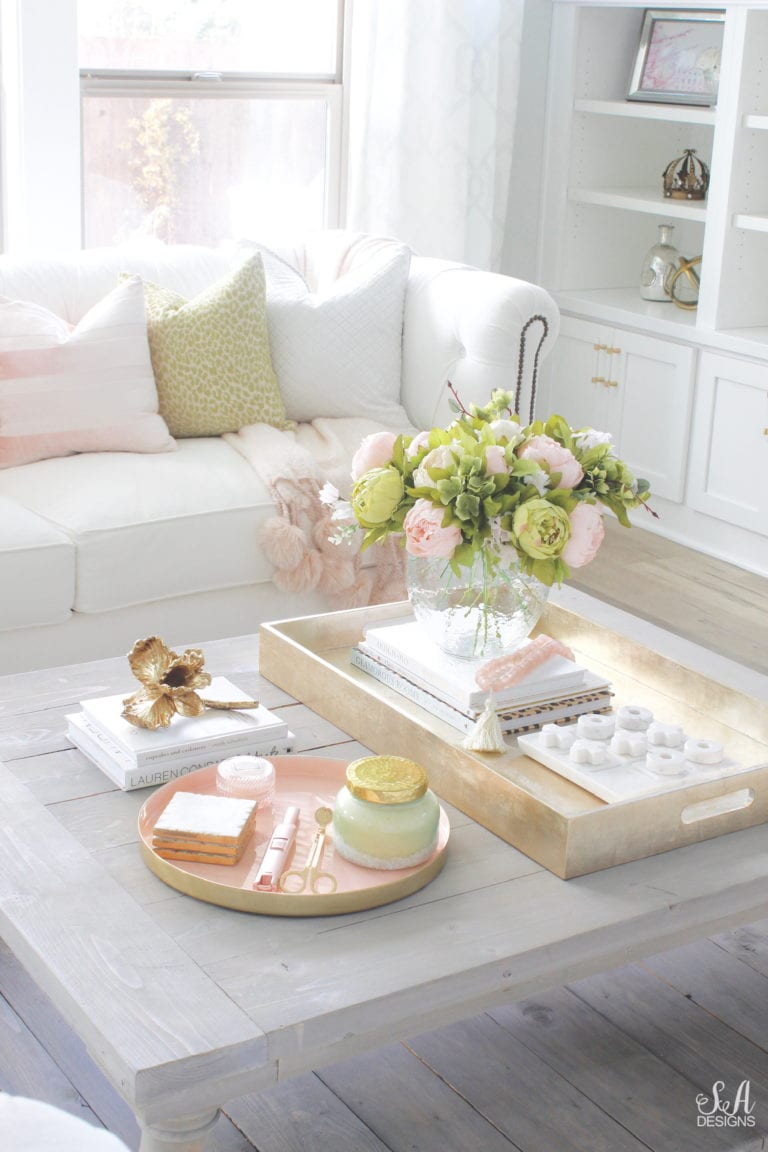 The only thing I was going to change was the custom drapes that are being made for the downstairs but they're not finished yet. Stay tuned for that. I'm so excited to share those with you!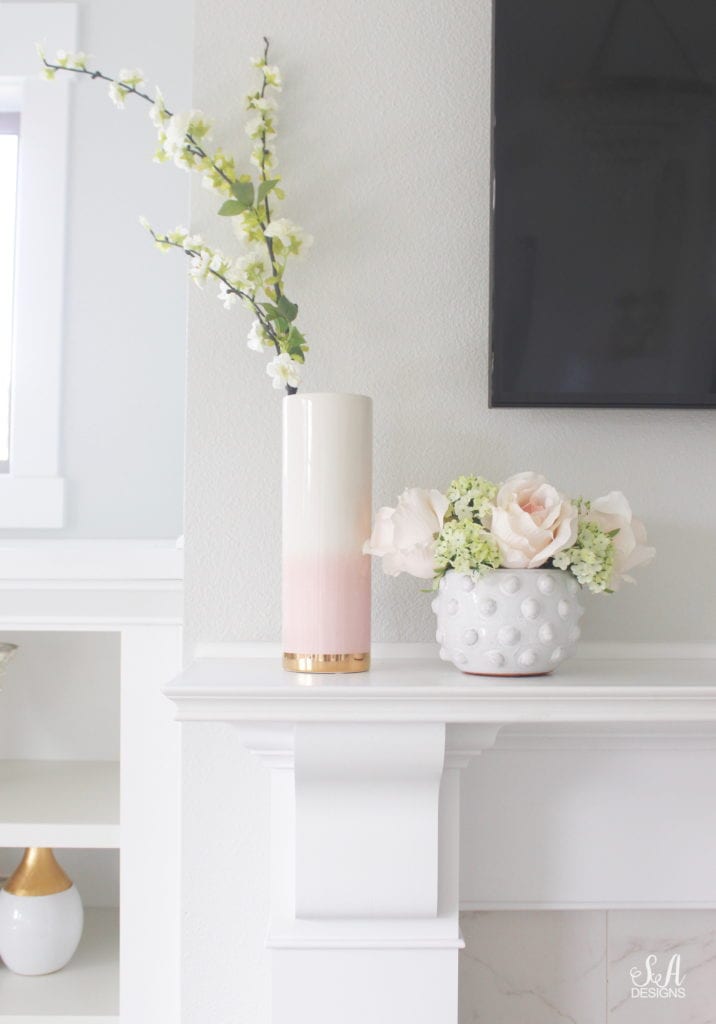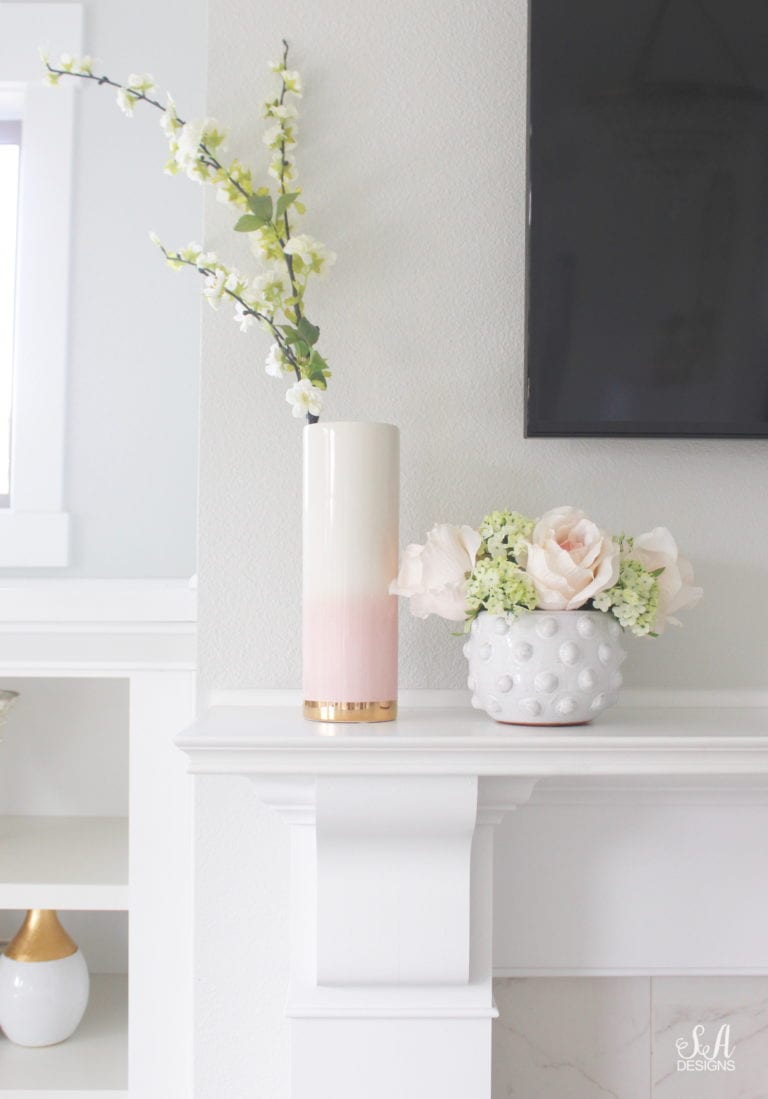 Pink and green is so fresh, don't you think?! Last year I did pink and blue and loved it but really wanted something different and new this year.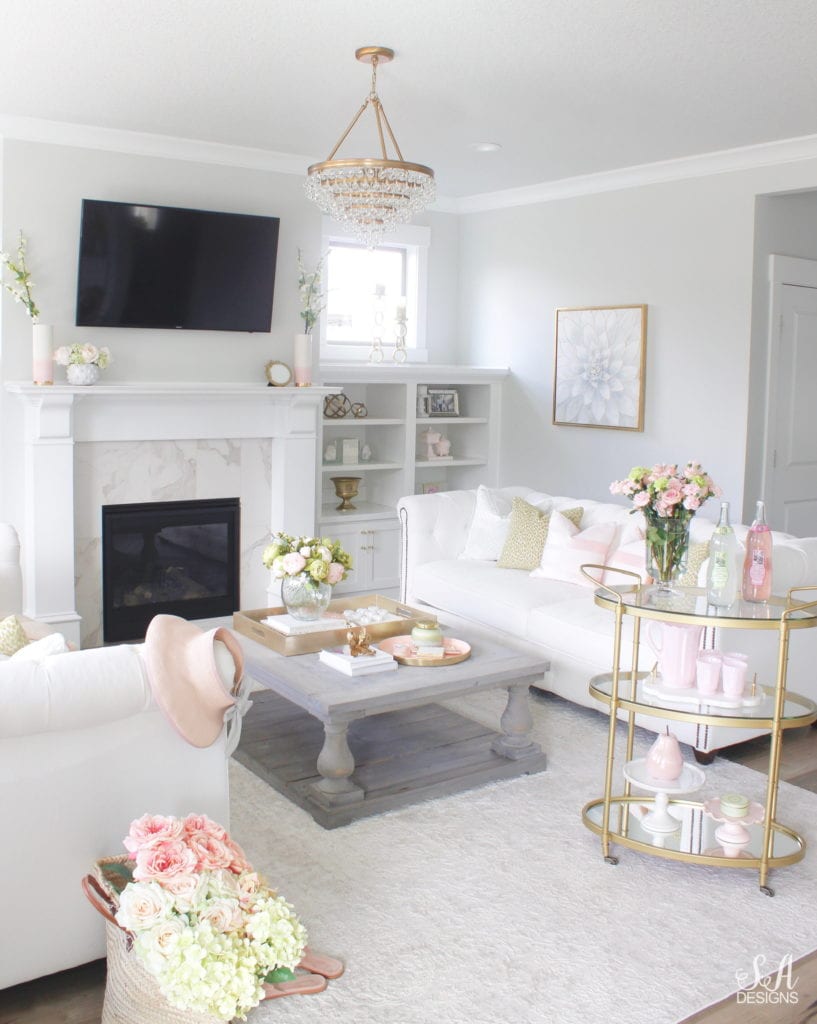 I don't know why I was so nervous about the green….maybe because I'd never decorated with it before. Ok not true…I did about 11 years ago but it's been forever. But green with the blush….oh I just loved it.
Summer Kitchen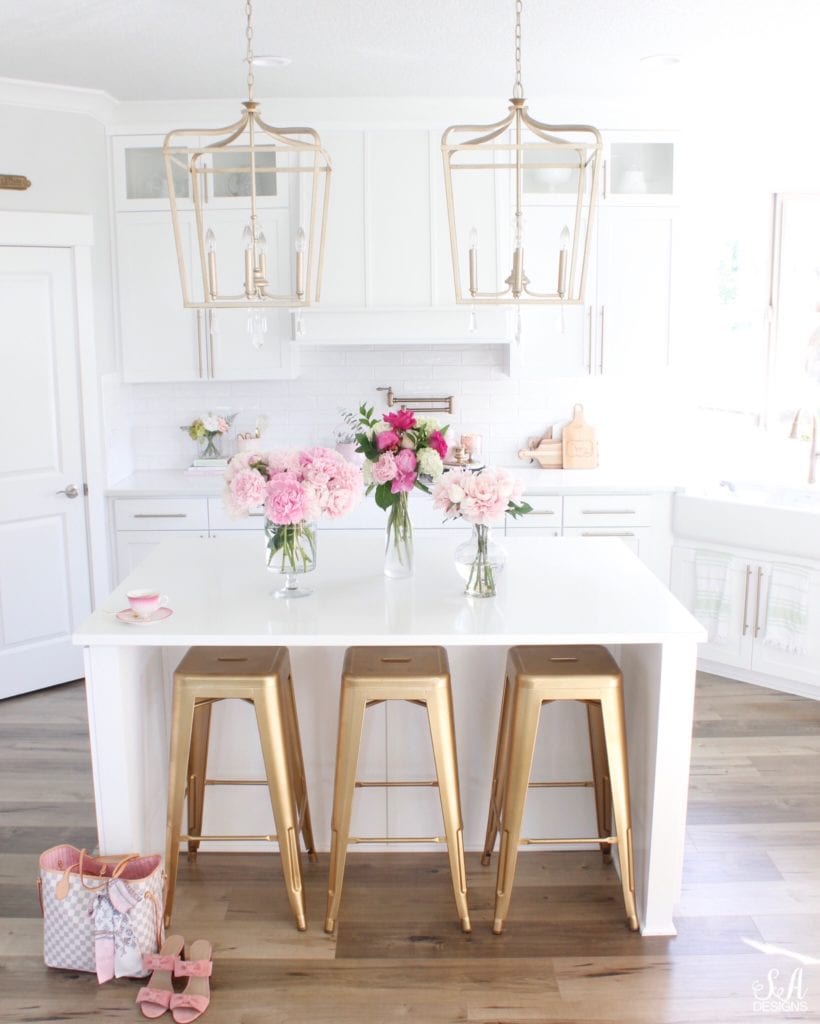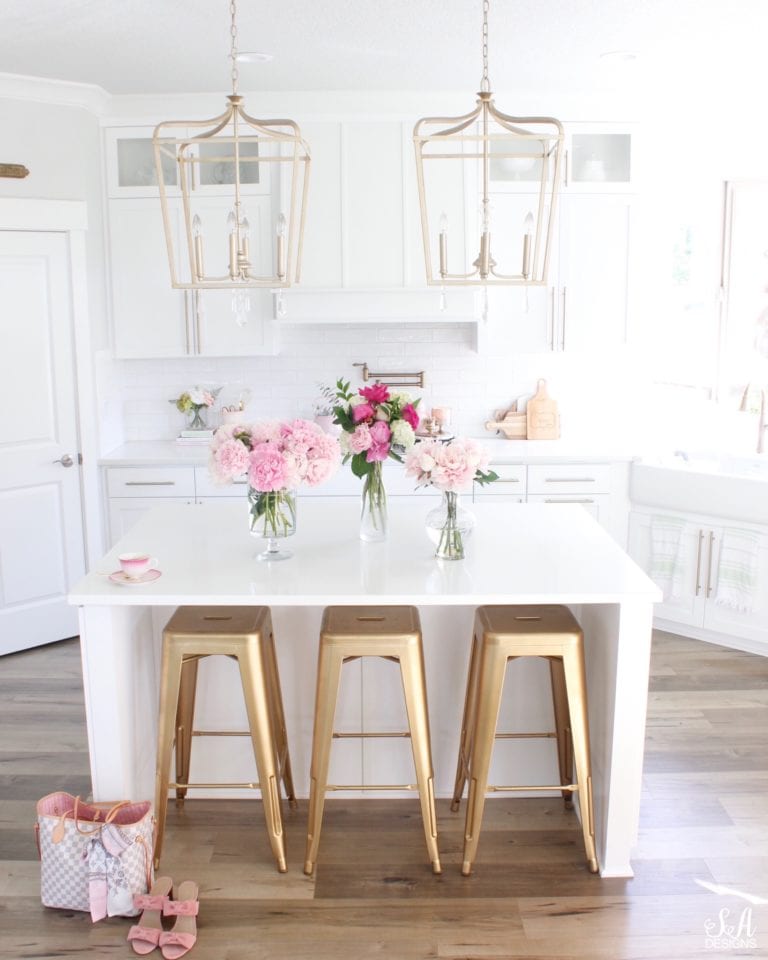 My summer kitchen means two things…..fresh flowers and fresh fruit. All the time. Yep. We love it.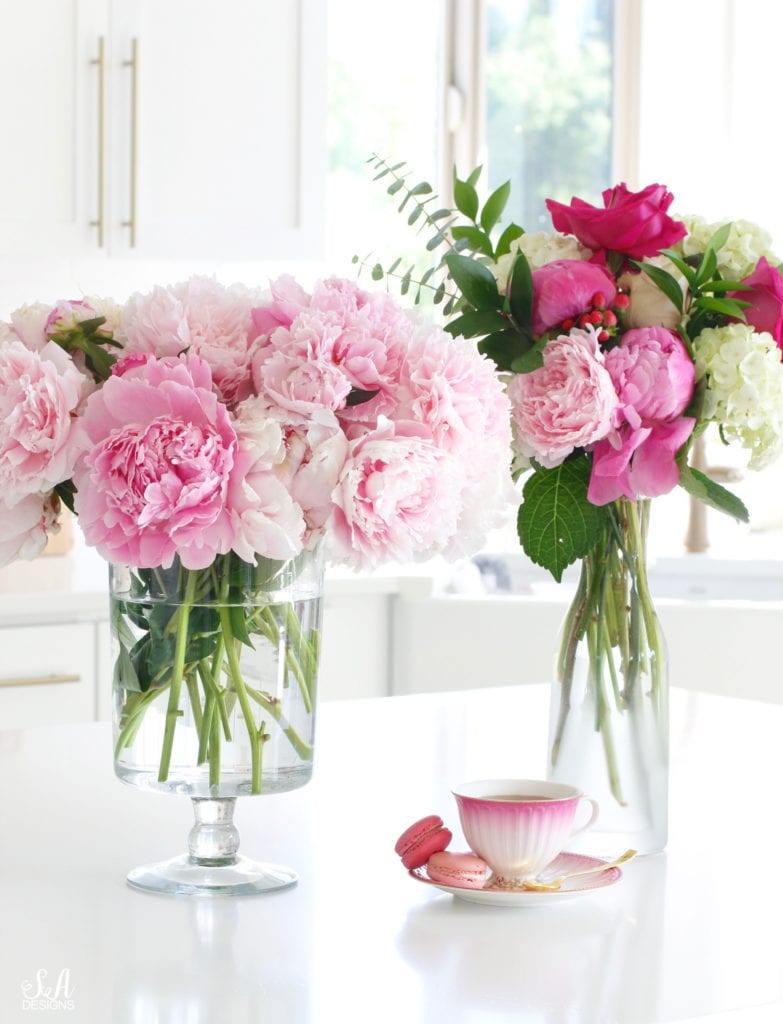 I just cut the rest of the peonies off of my peony bushes and brought them inside. I have a large rose garden too and many other types of flowers in my garden so I love cutting them and bringing them in. I don't grow my own fruit yet (planted my first apple and lemon trees) but we go and pick our own fruit here at all the orchards around town and have TONS of fruit constantly. It's heavenly!
Summer Entry Way – New Hand-painted Chinoiserie Framed Panels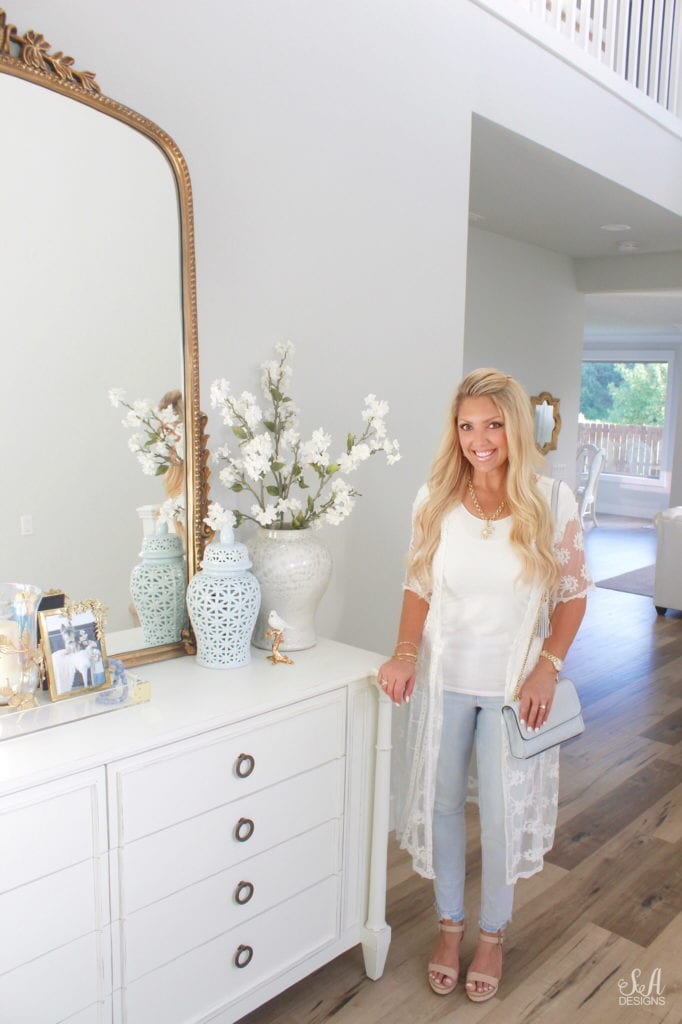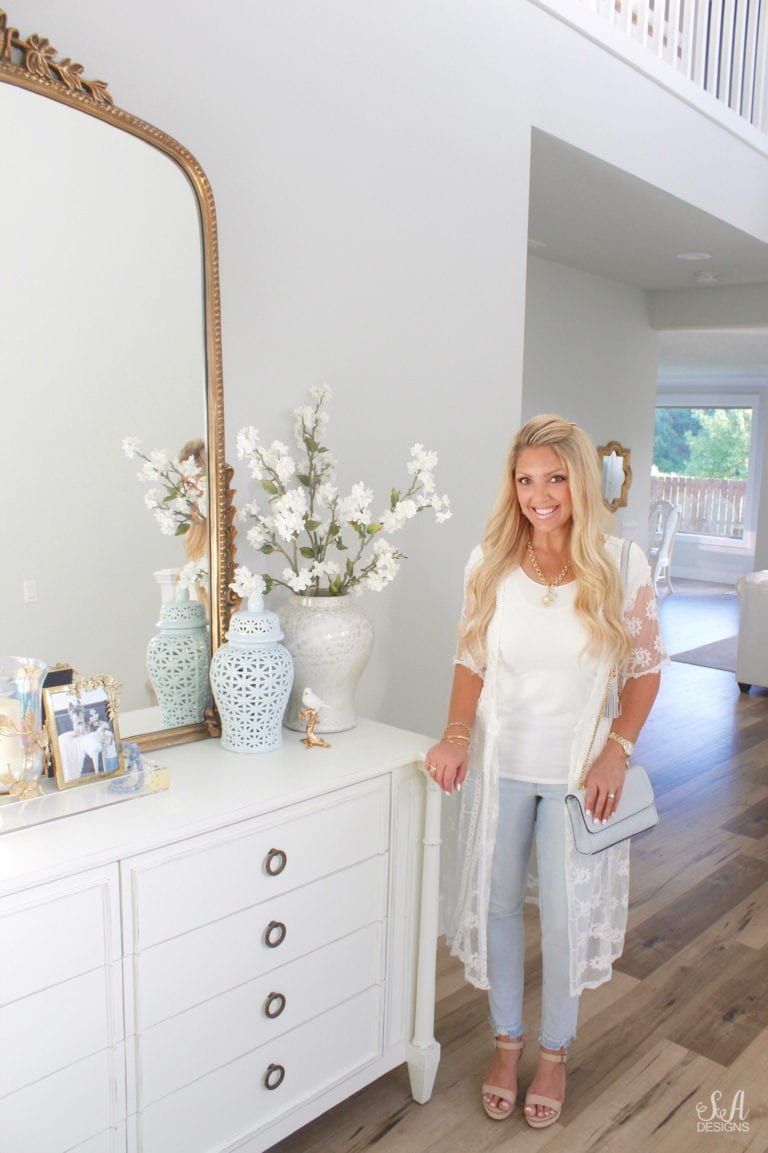 I love this warm glow in my entry in the summer afternoons! This long lace kimono and a light blue pair of denim is the perfect go-to for an evening out (since it's not so hot in the evenings) like a concert in the park, dinner out on the restaurant patio, dinner and shopping downtown…whatever. It's light and feminine and very summery.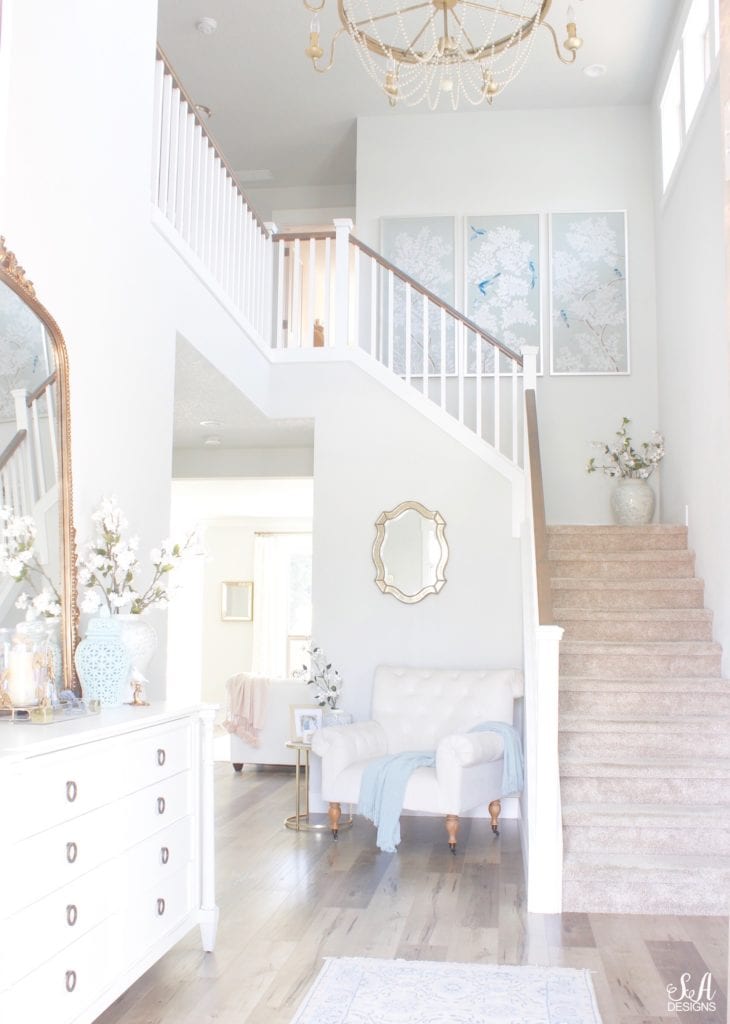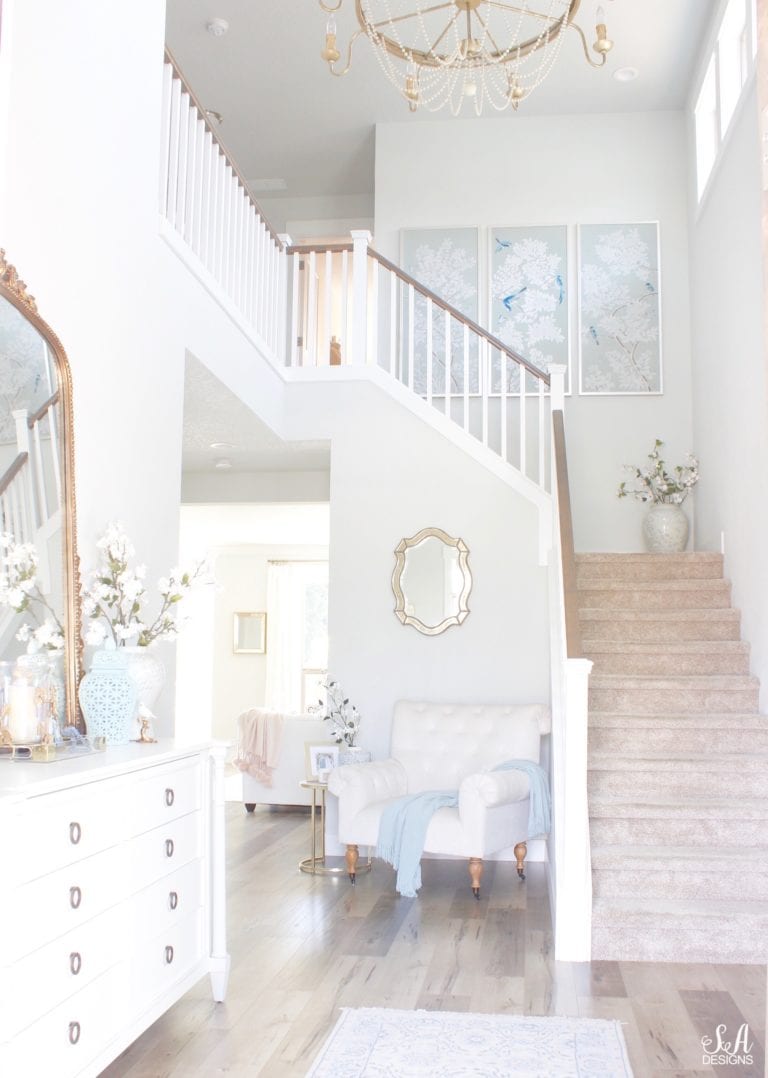 My friends from the Collective and Company reached out to me earlier this year and introduced their GORGEOUS hand-painted chinoiserie panels to me. I was so excited to receive these beautiful panels in my home and knew exactly where they'd go. I'd been looking for the perfect art work for a year and a half since we moved in here.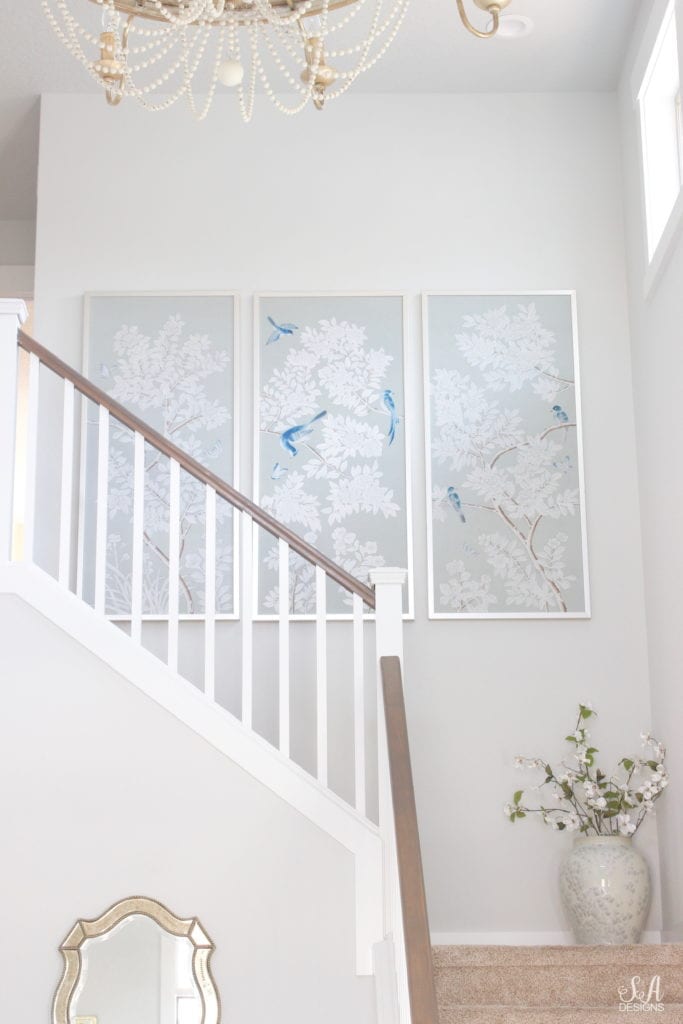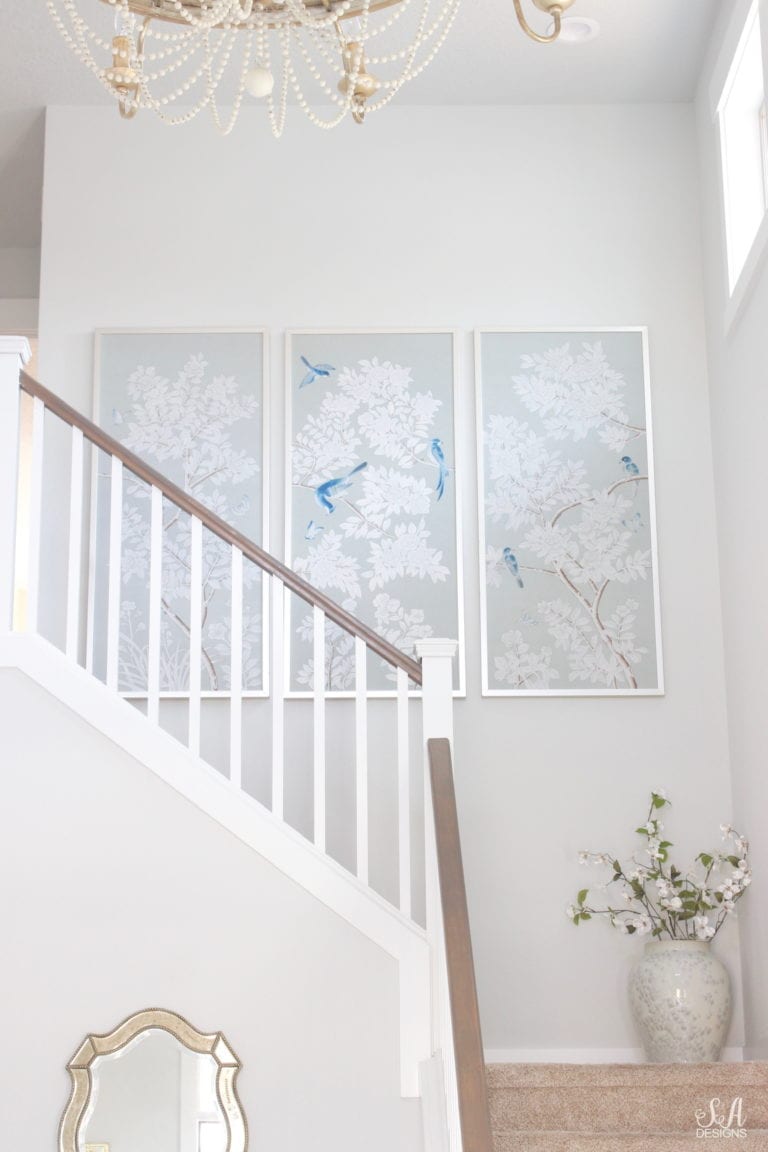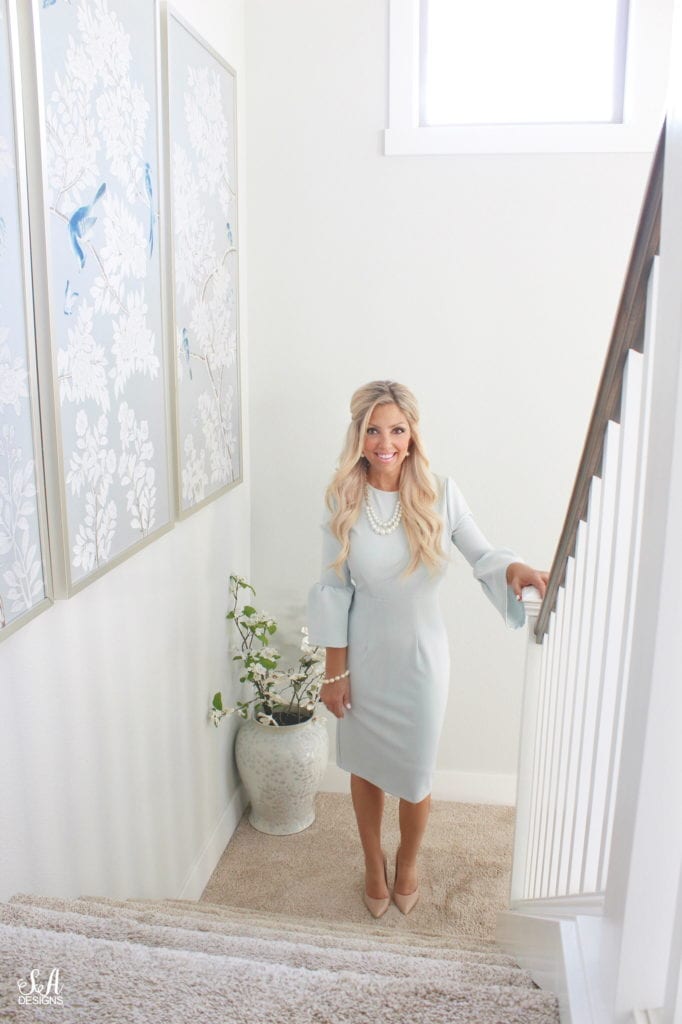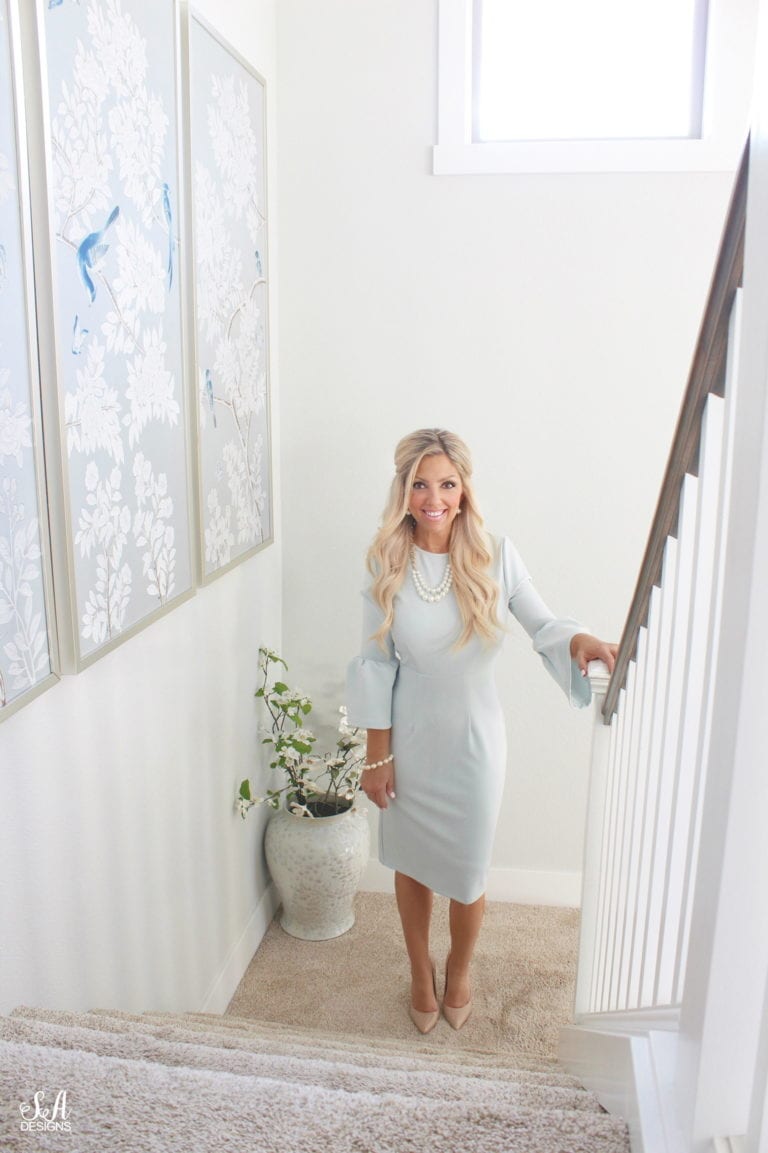 They are even more gorgeous in person and come in several different color options. My largest ginger jar with faux dogwood branches at the top of the first stair landing was a beautiful compliment to the panels.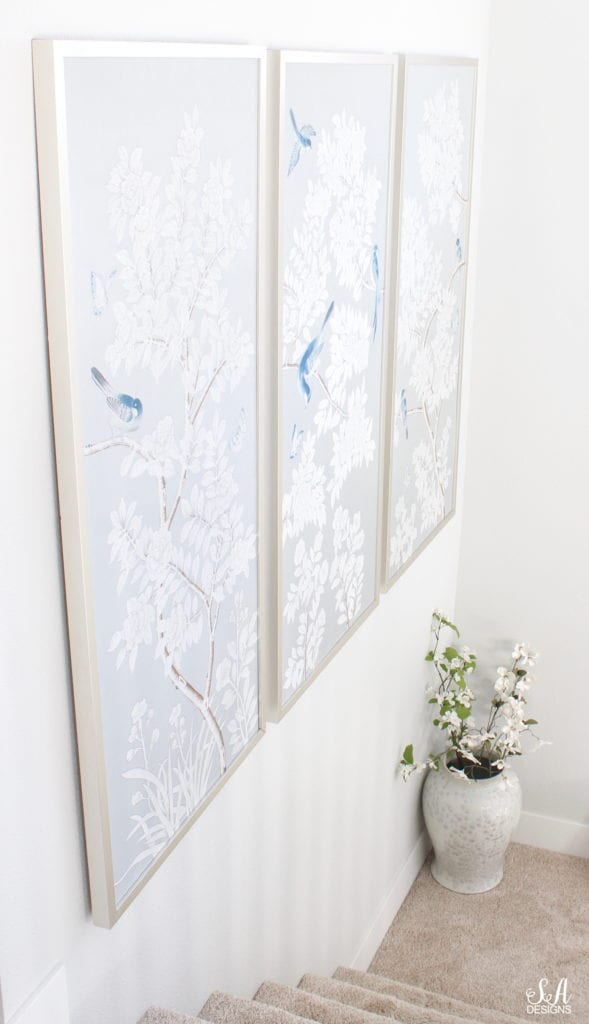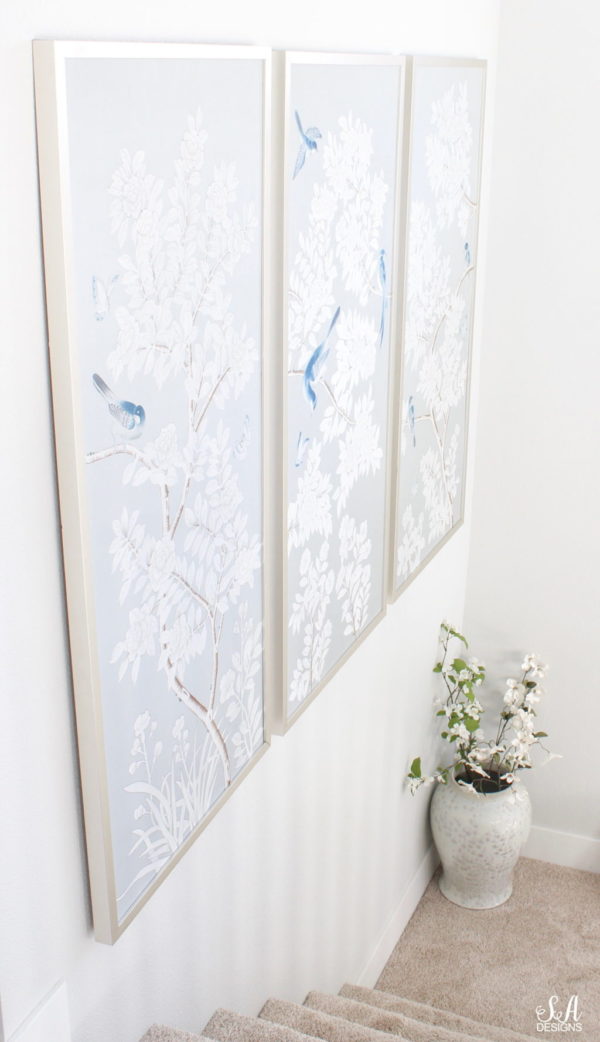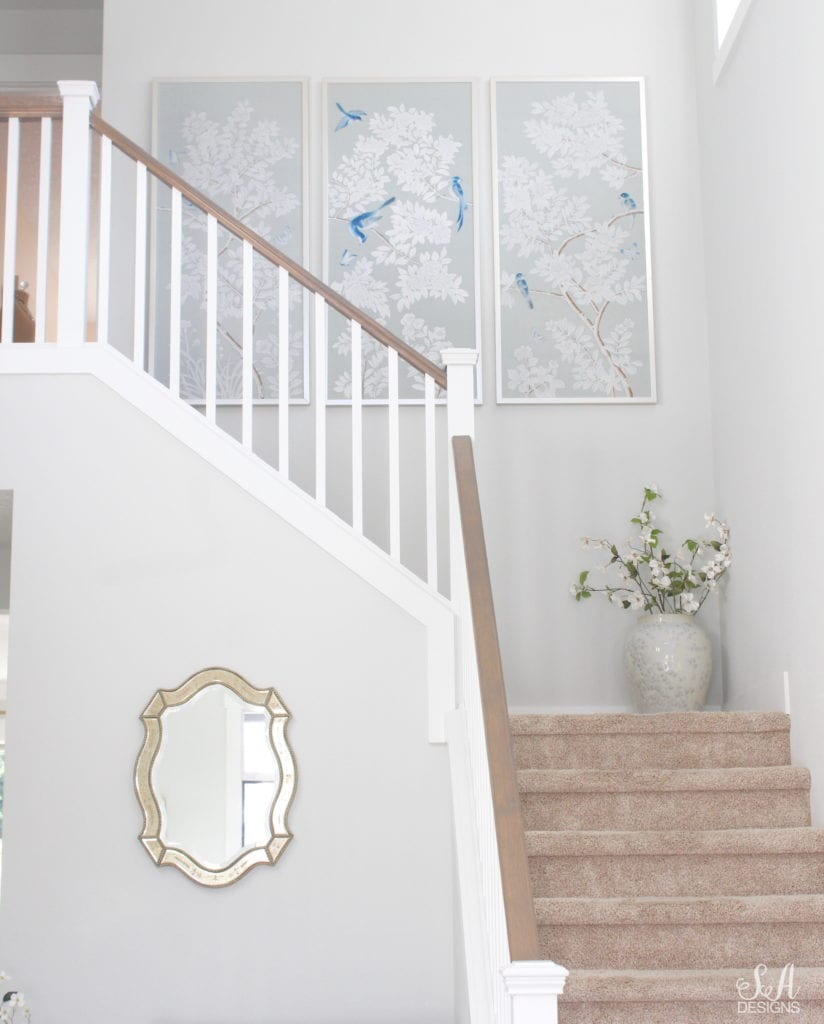 They make such a dramatic and stunning statement when you walk in the door now. It's exactly what this entry needed!!!!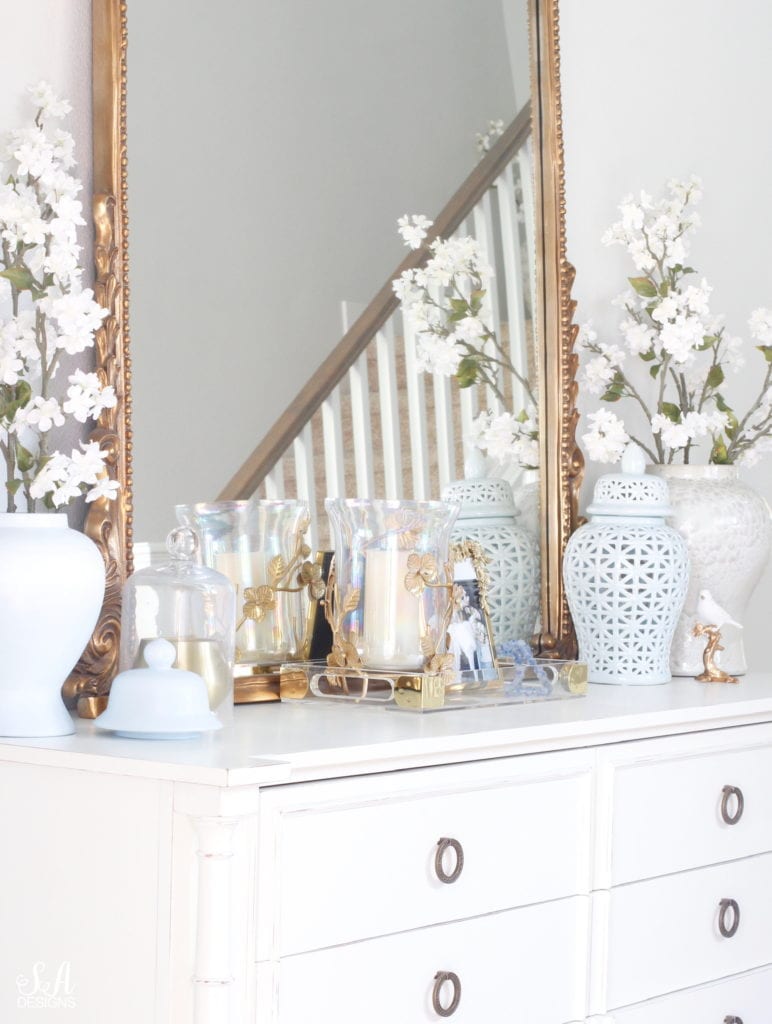 I changed my entry from pink and blue to this gorgeous light seafoam or spa blue color and some darker blue accents.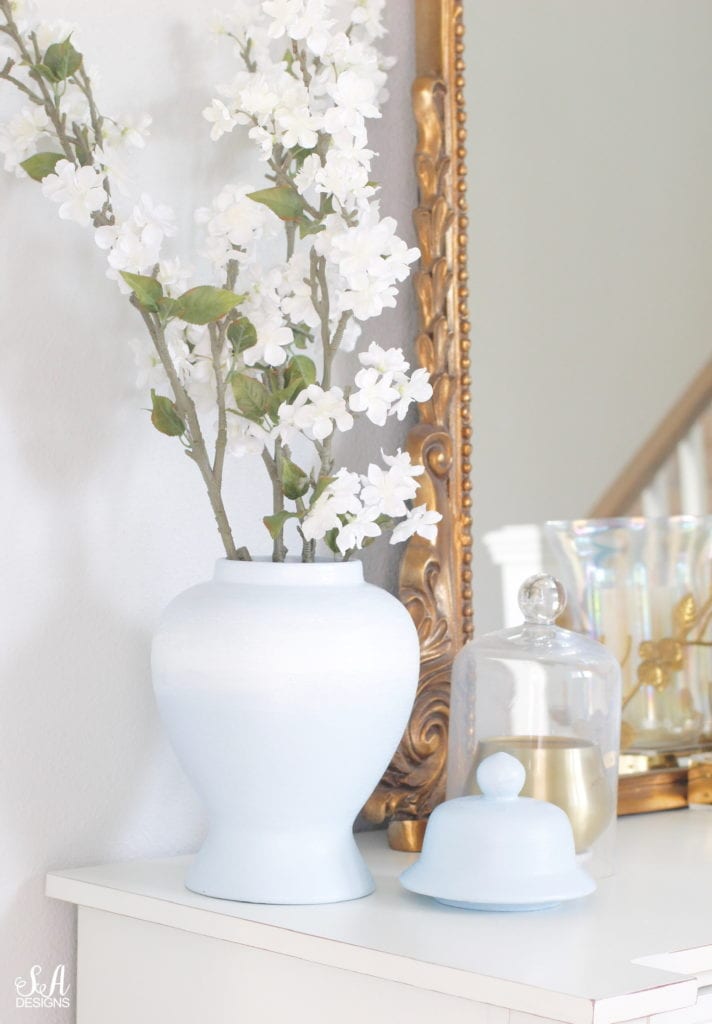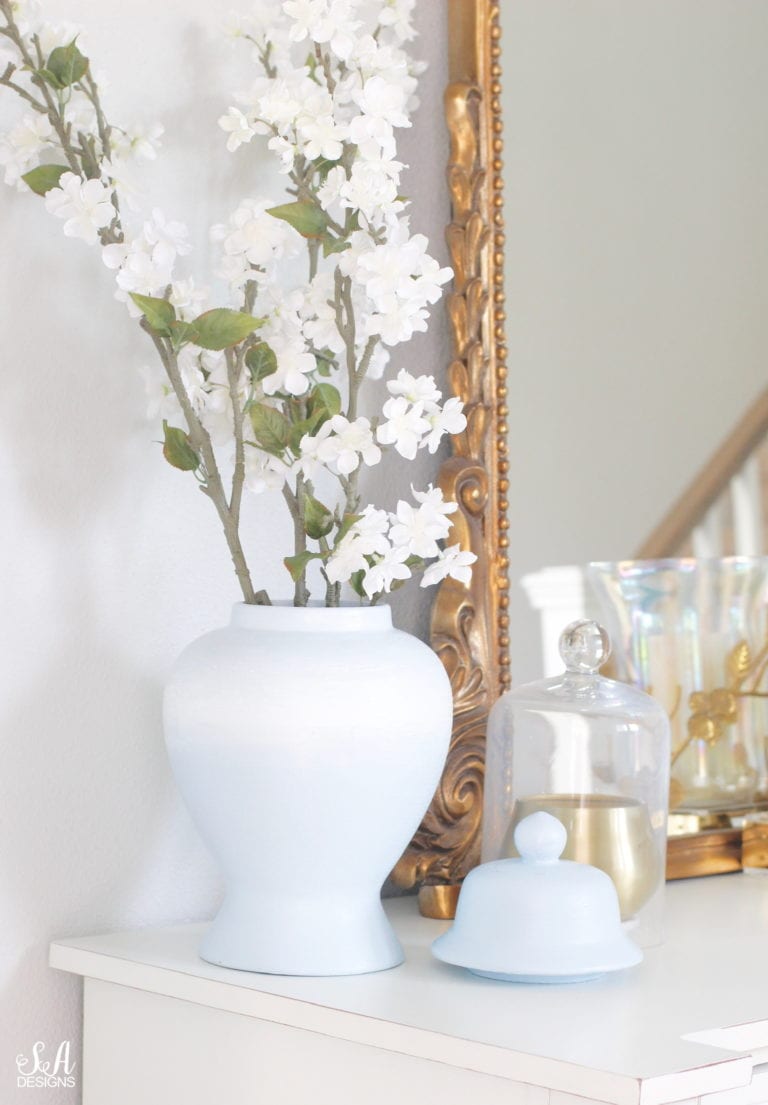 Did you see my Instagram stories the other day? This was my ugly Salvation Army ginger jar for $2.49 (it was yellow and green sunflower-patterned) and I hand-painted it a white-blue ombre with acrylic and chalk paint I had here at home. I love how it turned out for my entry!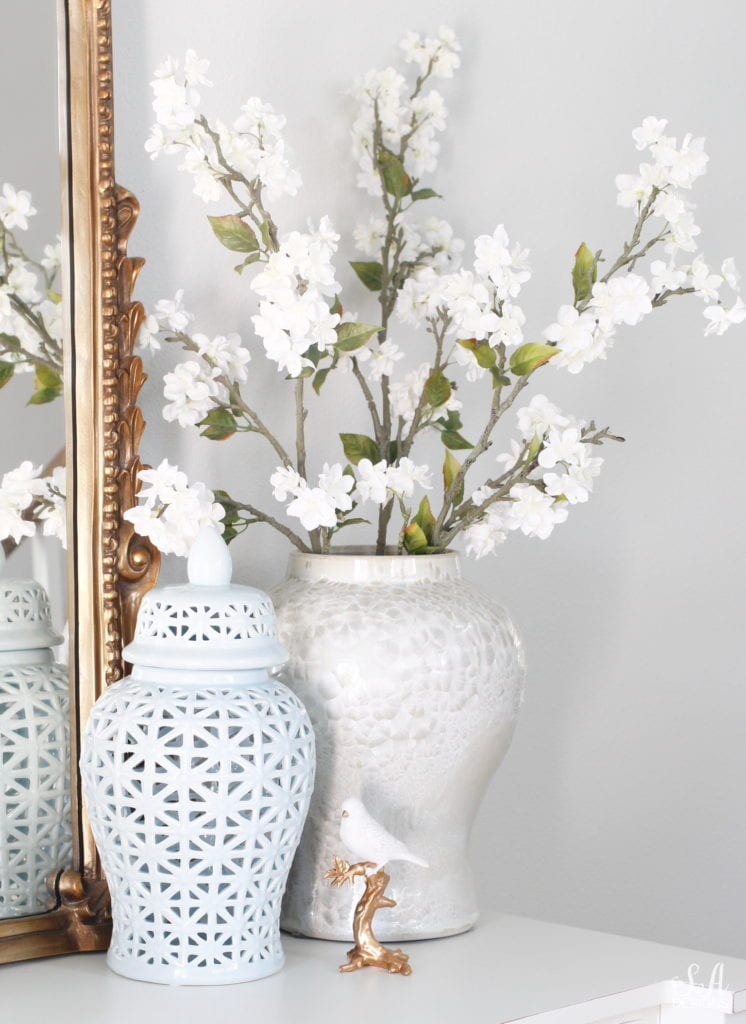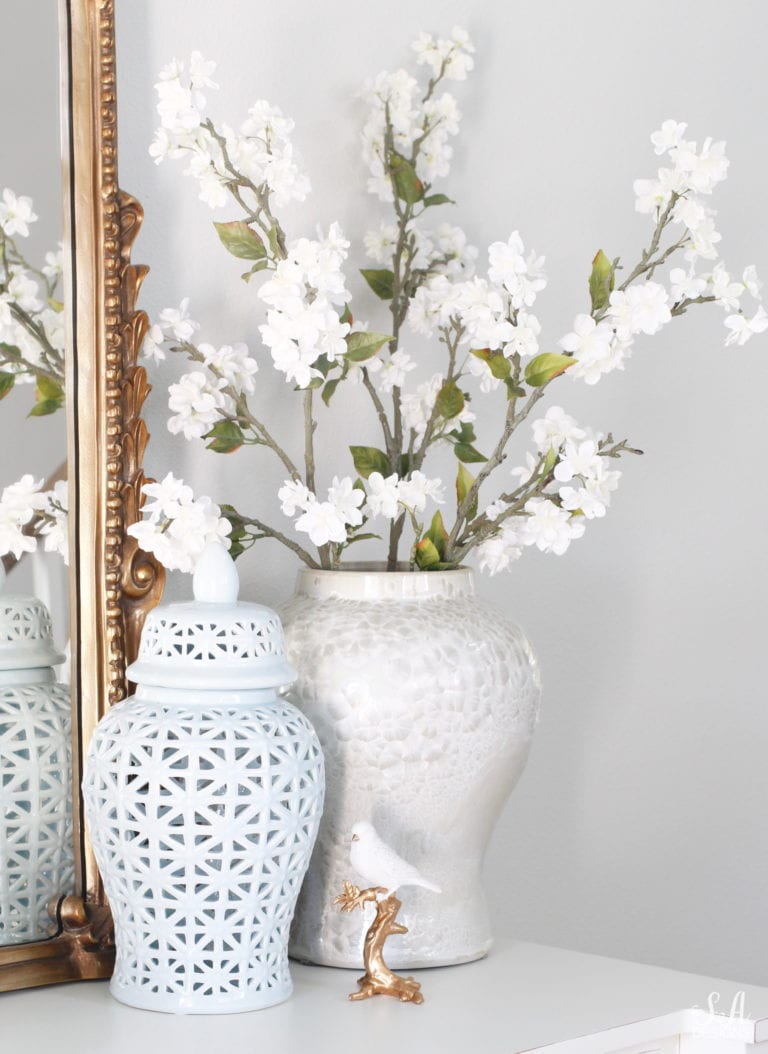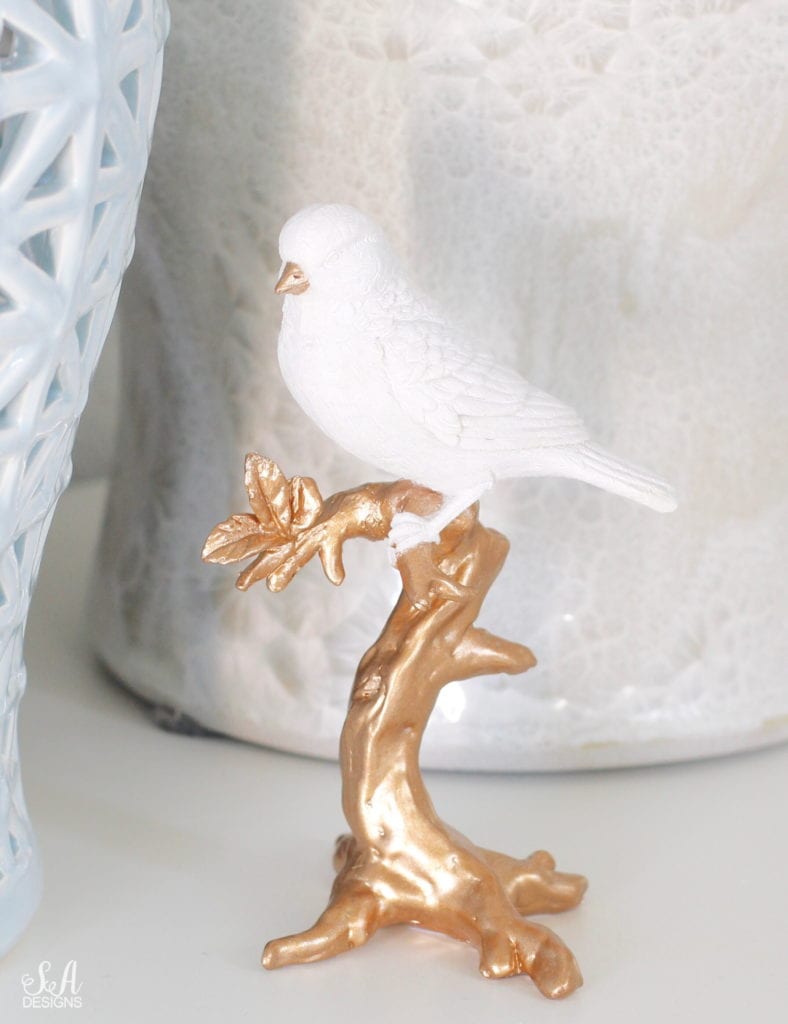 I found this darling bird at Canon Beach at a boutique on Spring Break. It's perfect for my new entry!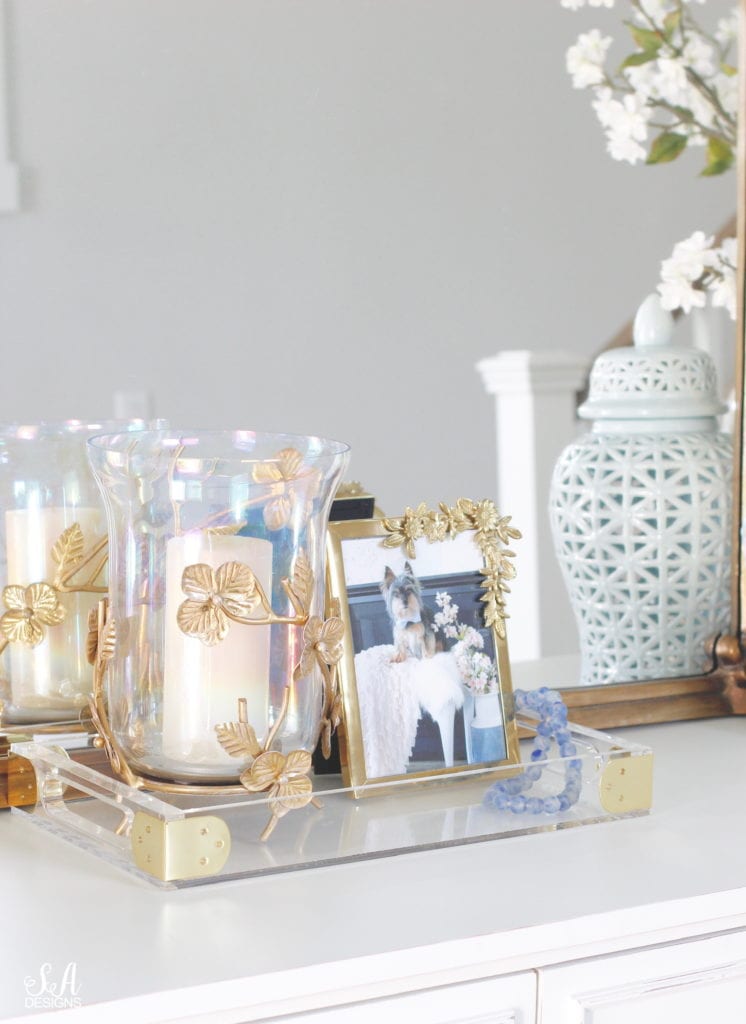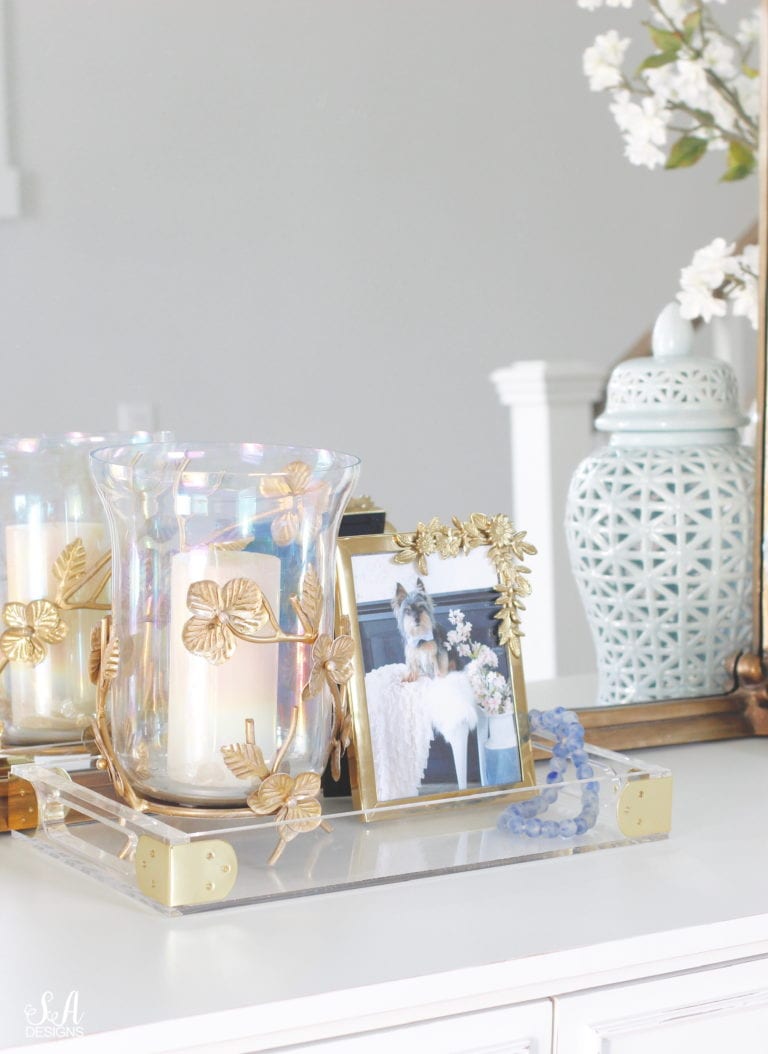 This new ornate candle holder from HomeGoods was also the perfect addition for my entry. I have a new runner on the way for my entry and new bench that both arrive by Friday so I'll update this post with them AND share them on Instagram so stay tuned for that. Other than that and this candle holder, I didn't want to buy any new decor for the summer. I wanted to shop my home and move things around. Speaking of….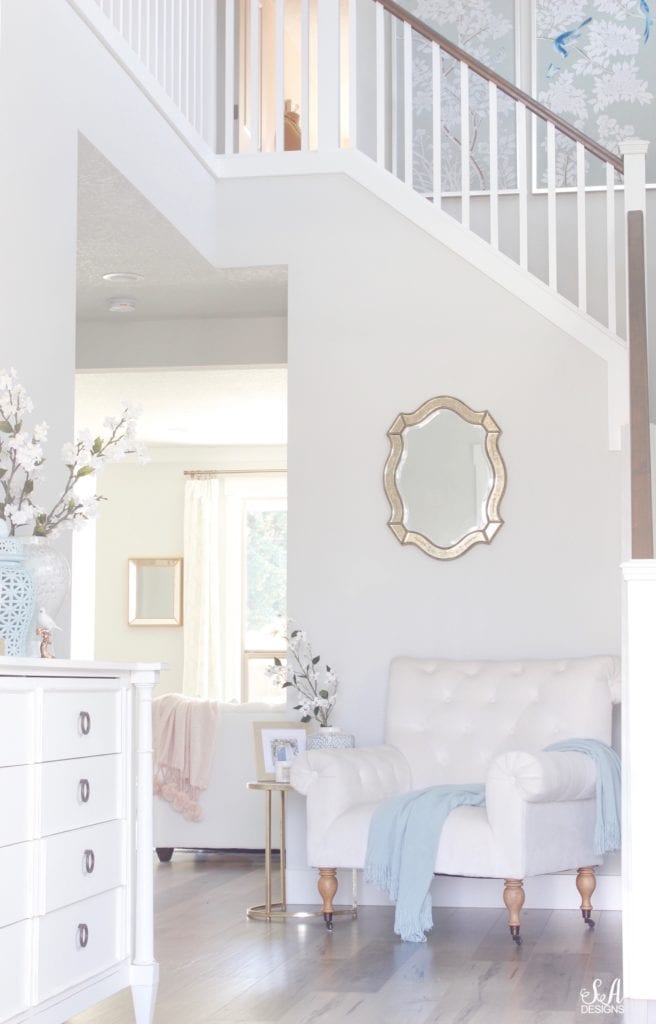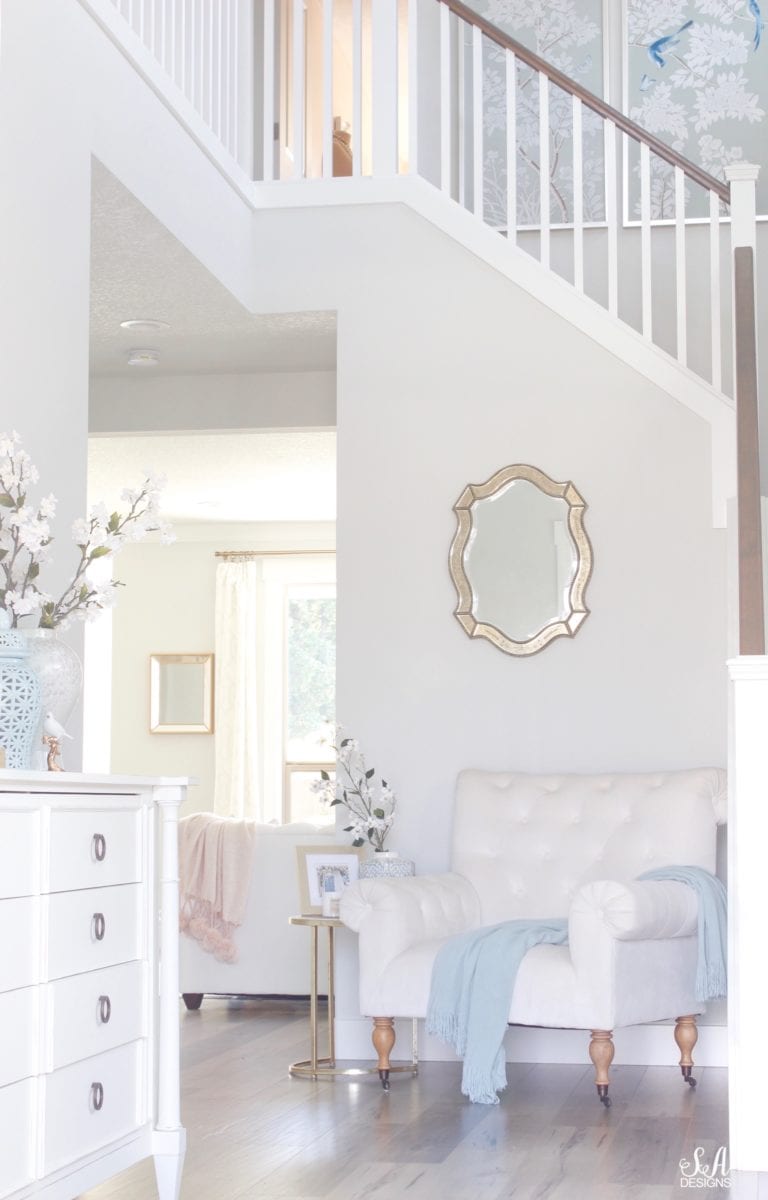 I brought this chair down from the bonus room (that has also been in the family room) and switched out what was here to give a fresh new look. I'm loving it! Do you ever "shop your home" and move stuff around? It's a great way to save money and a great way to re-love your things again when you get sick of your spaces.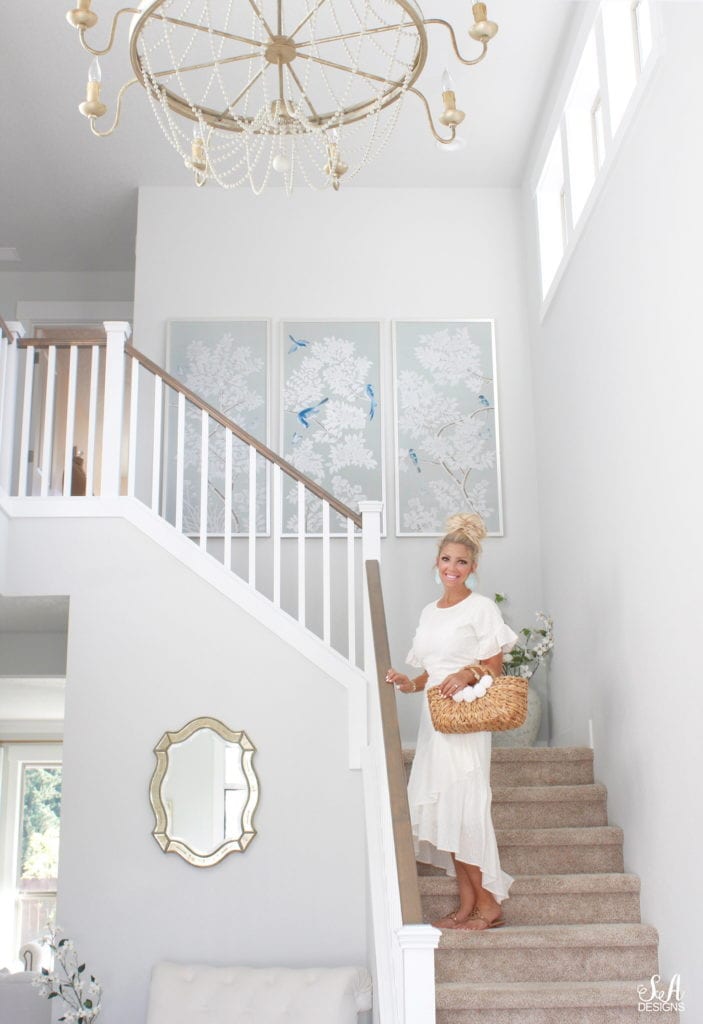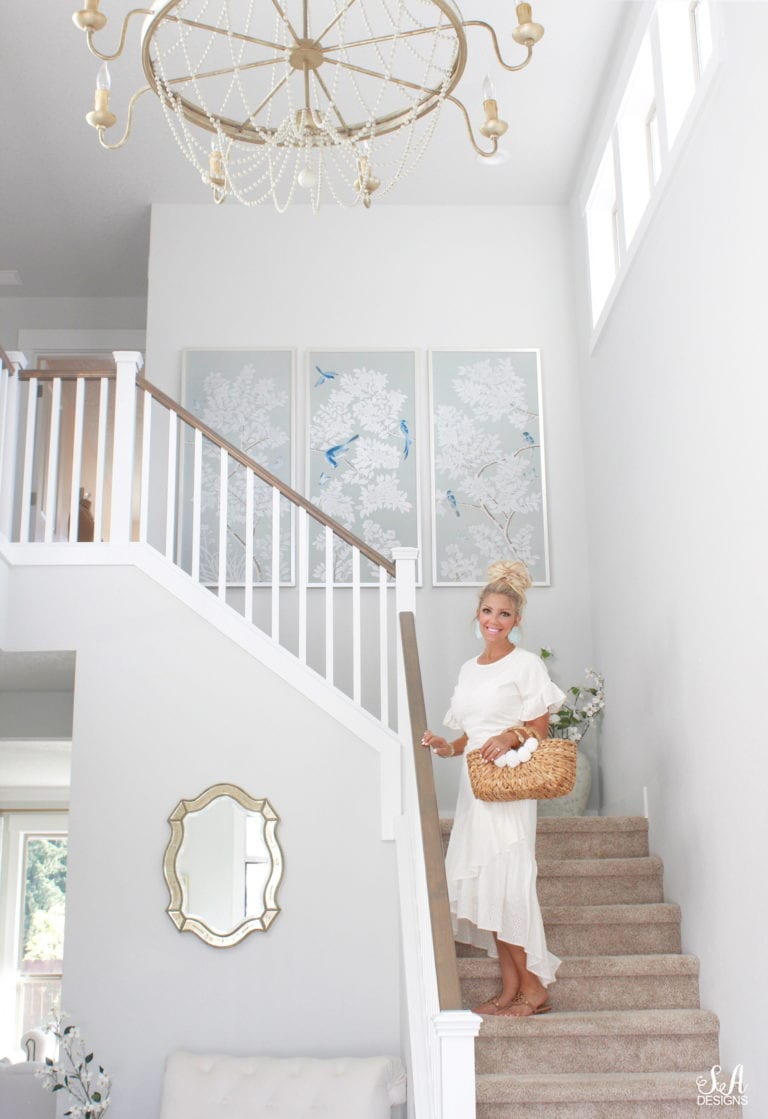 Simple white summer dresses, sandals, messy buns, and straw totes are a great summer staple! I'll link a bunch of great summer white dresses below. This was my favorite from last year but there are so many cute ones for sale online right now that I'm tempted to buy. (How many white sundresses does a girl need? haha) Oh, and don't forget big earrings! I love big earrings with a messy bun.






Please make sure to stop by and visit my other friends that are sharing today!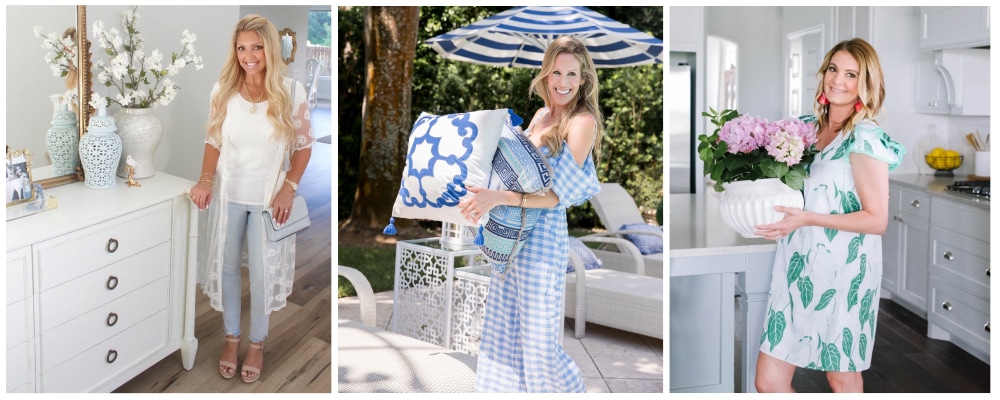 Summer Adams | Fashionable Hostess | A Blissful Nest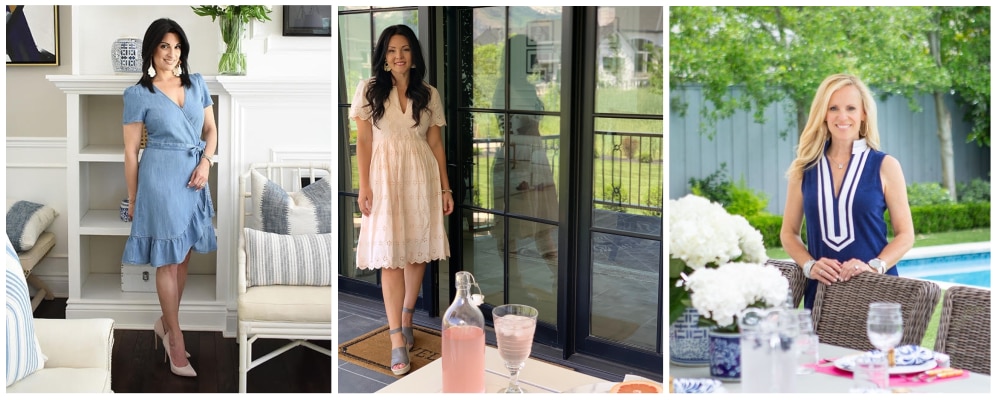 Citrine Living | Remington Avenue | Alicia Wood Lifestyle
I'm so glad you could stop by today! I would love it if you could subscribe at the top of the page in order to receive my weekly emails of all my latest blog posts and see everything I'm working on! You can also follow me on Instagram, Pinterest, and Facebook to see what I'm up to in creating a home and lifestyle of inspiration!
xoxo,

---
Want to shop my Instagram posts? Click on any square below!