Welcome, dear friends and also 1st-time visitors! Some of you may have come from Joan's blog at 2 Ladies & A Chair and I'm sure you're still swooning over her blue and yellow Easter table like I am!  I'm so glad that you've joined us for our 2-day Easter Tour with a group of fabulous interior bloggers.  Yesterday I shared my spring/Easter mantel and today I'm thrilled to share my blush and blue Easter table and also the Easter decor in my kitchen.
This post contains affiliate links for your shopping convenience.
Click here to read my full disclosure policy.  All opinions are my own.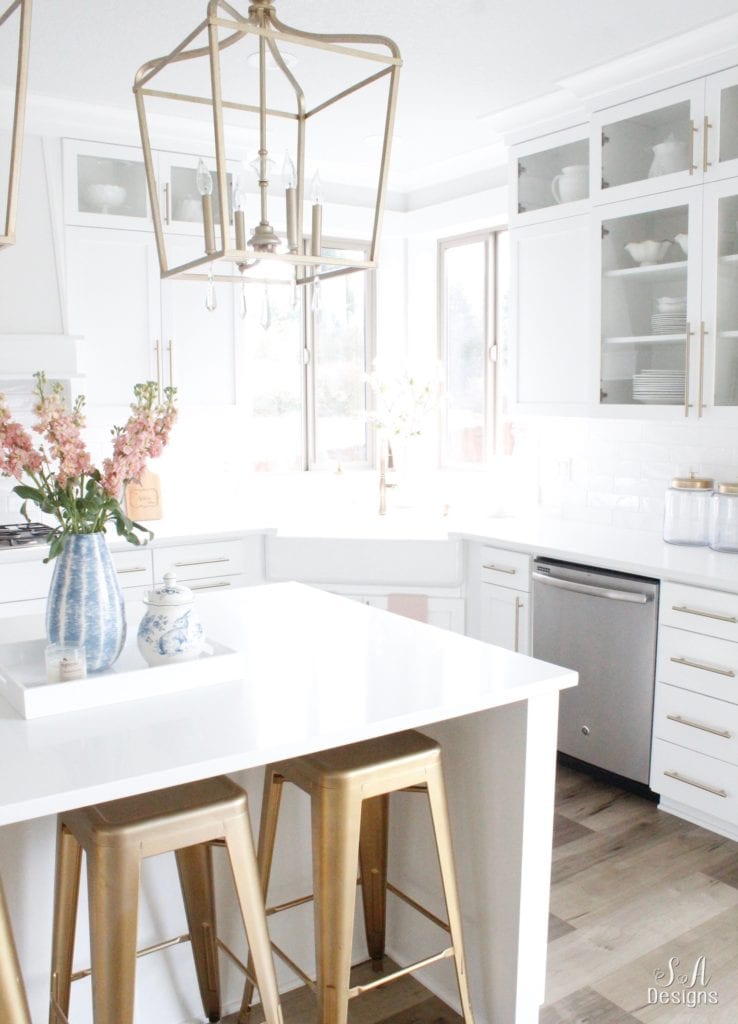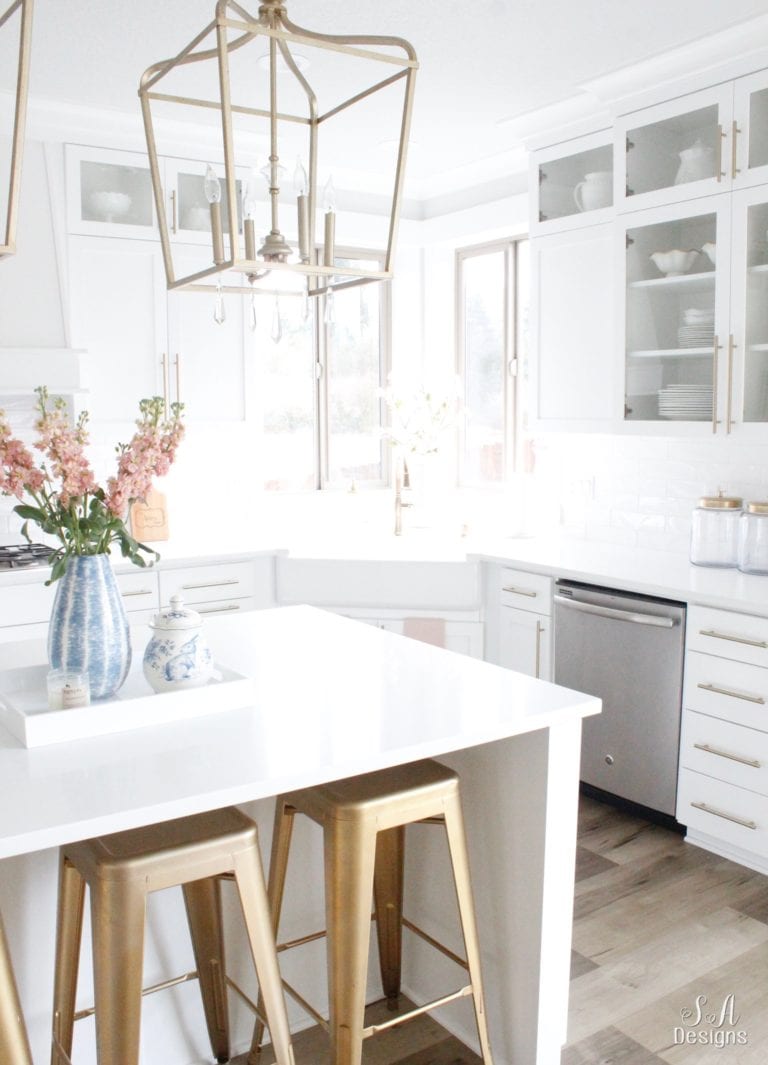 The blush and blue has been a favorite color combo of mine this spring and such a fun color palette to bring into my bright white home.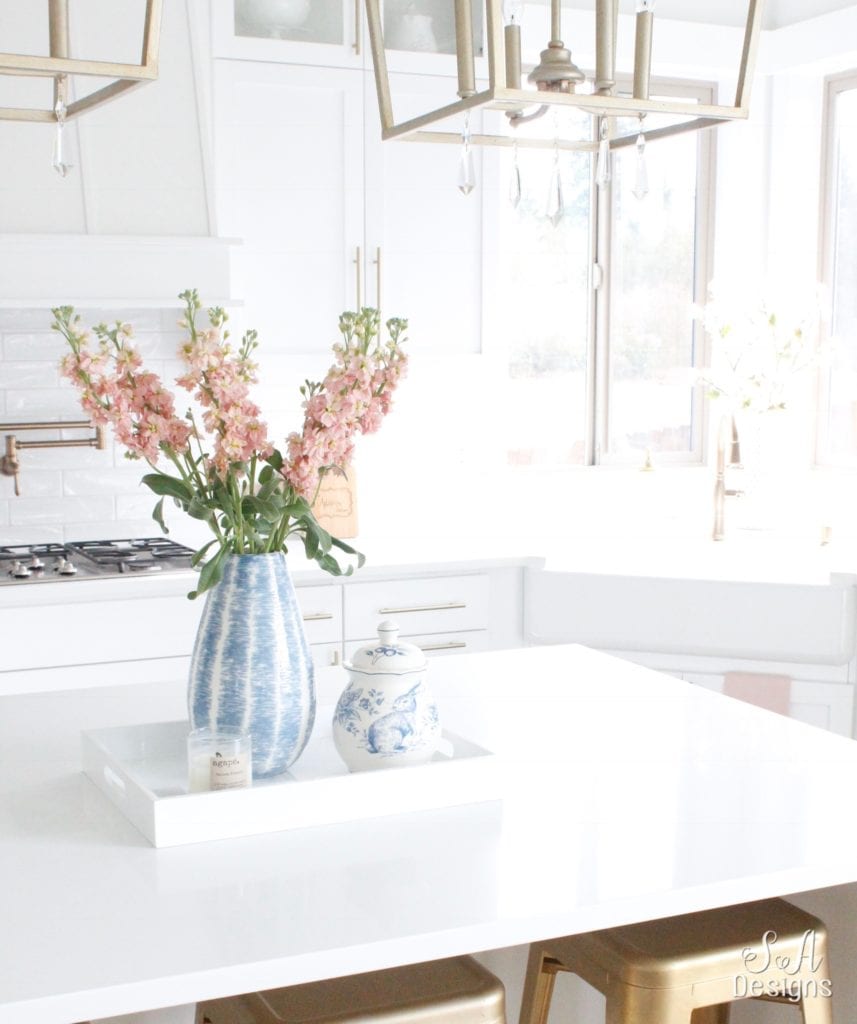 I was so happy to find these blush stock at my grocery store to go in this new vase I found at HomeGoods.  I also found this adorable blue and white bunny jar there and it may or may not have some of my favorite Cadbury Eggs.  Is anyone else obsessed with those like we are?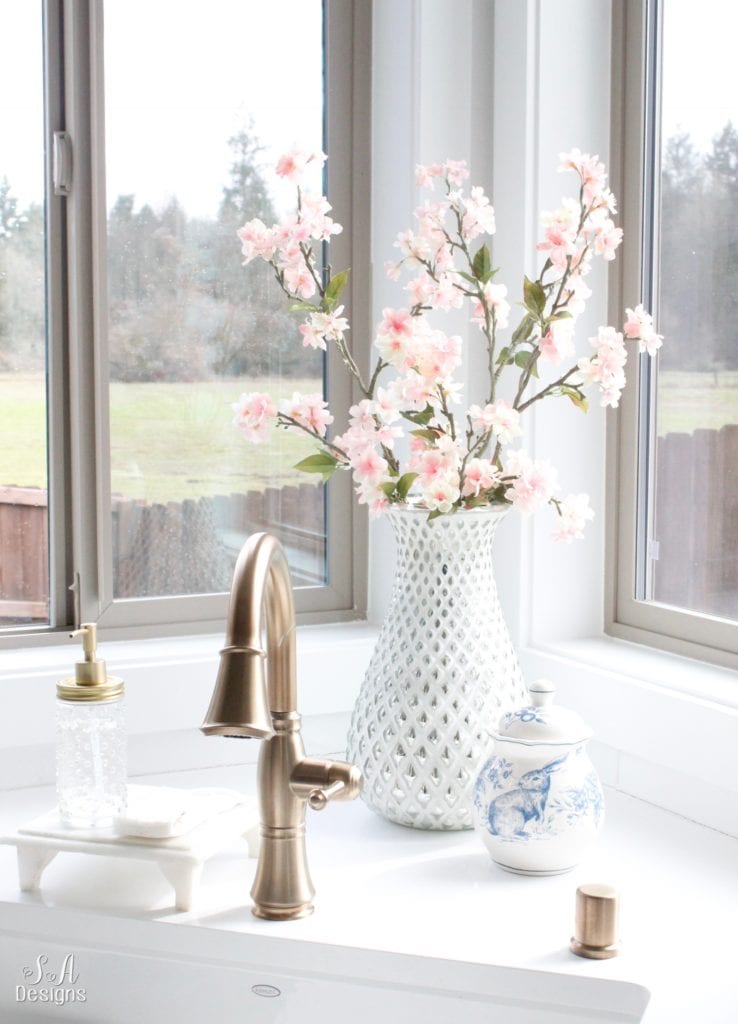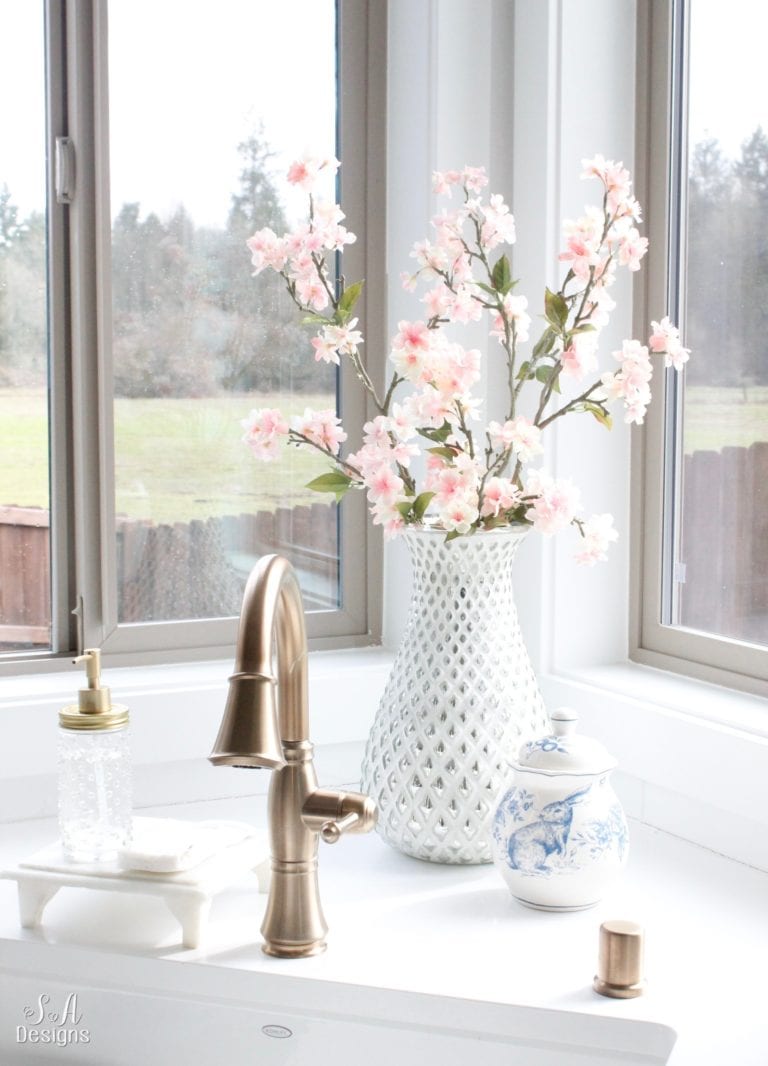 I traded out my white cherry blossom stems for these pretty blush-colored stems.  I tried bringing the jar over here but it's going to stay on the island…where we can all easily reach our favorite candy…ha!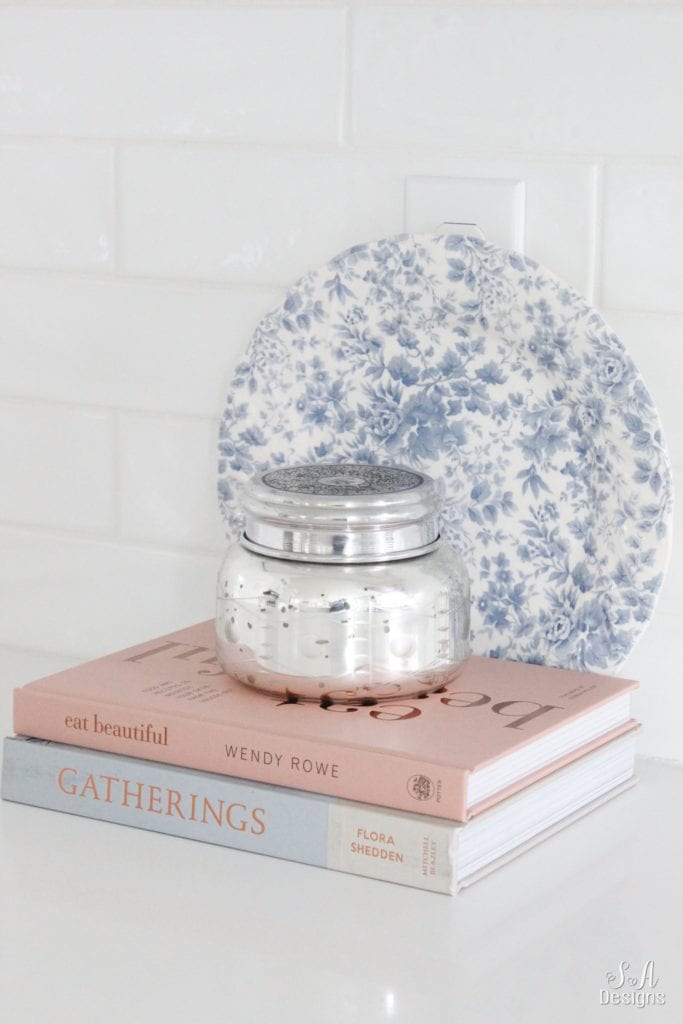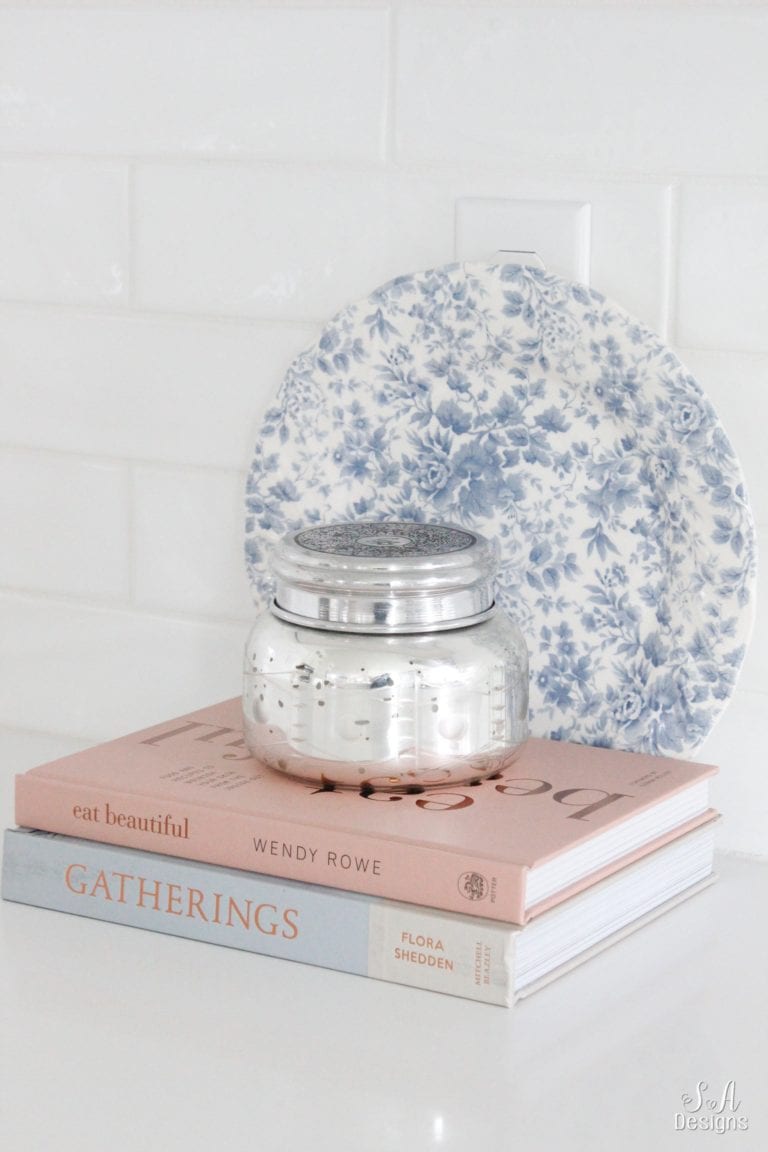 On the other side of the kitchen, I grabbed blush and blue cookbooks from my cabinet and stacked them with one of my favorite candles and placed behind it the cutest floral plate I found at an antique store.  There was only 1 plate, sadly, but I knew I could find a way to use it to decorate some vignette.  It'll also be perfect to put our pink sugar cookies on that Brooklyn just made.
Tip:  Don't be afraid to try something unconventional and use what you have in your kitchen to style it.  get creative and think outside the box!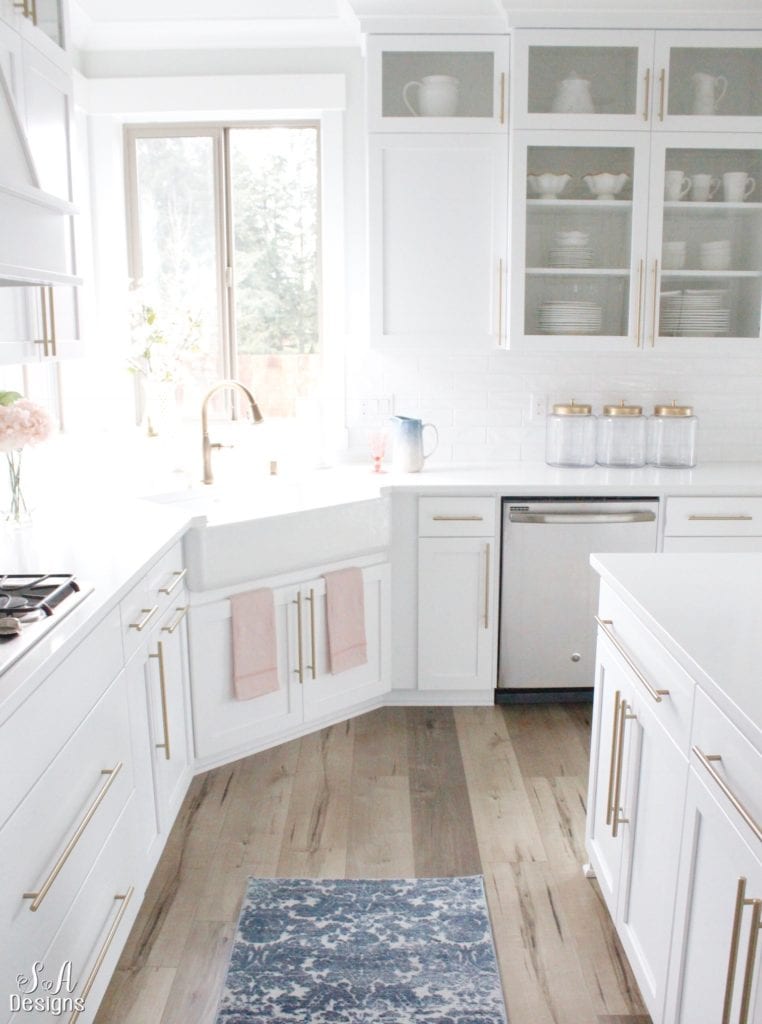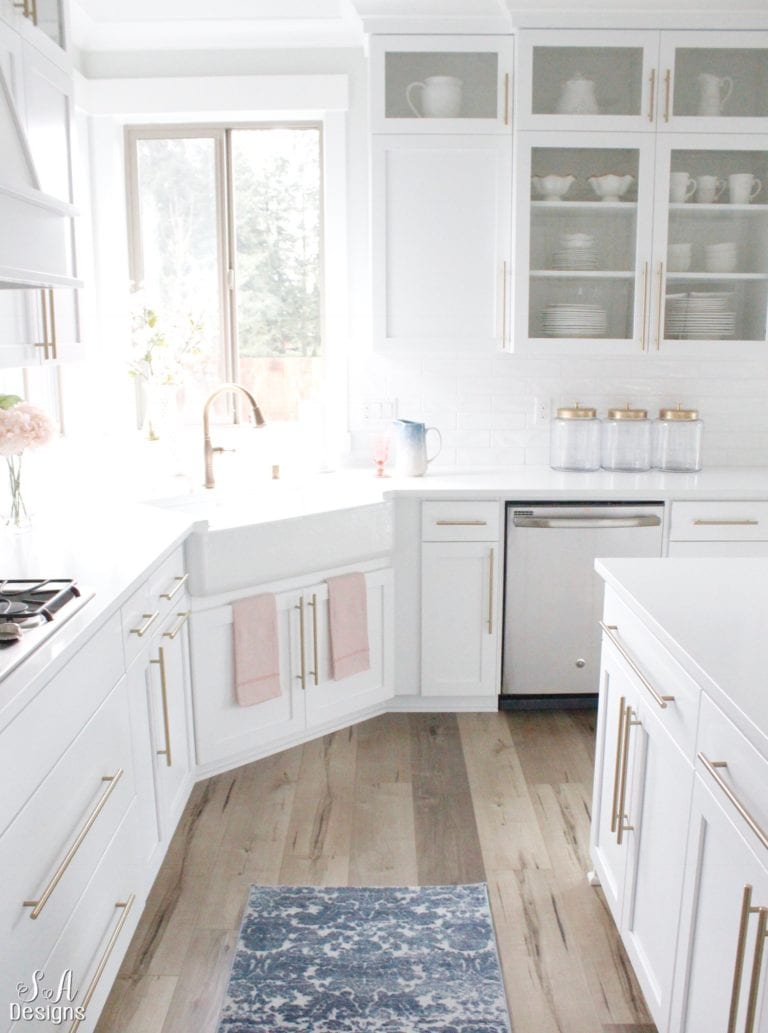 I was so excited to find this blue rug runner and bring it into my kitchen.  It's a darker dusty blue but perfect over a lighter blue, as to not show as much wear and crumbs.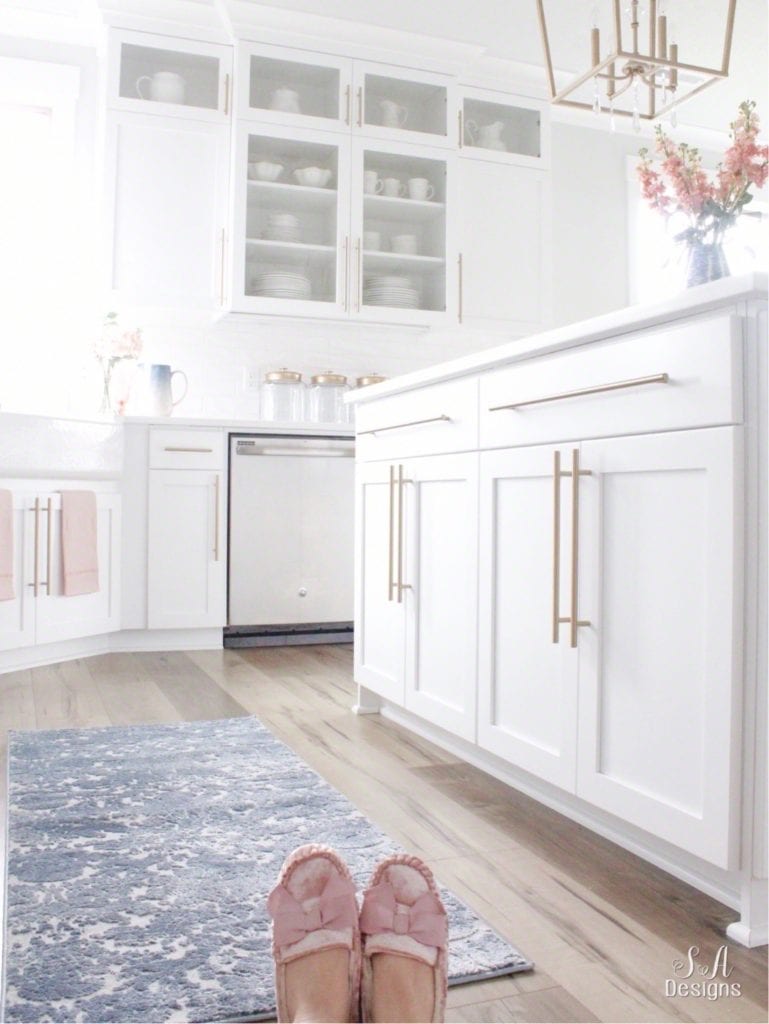 And since my floor had just been swept and mopped, I sat and admired it for a while.  Yep, it's a keeper!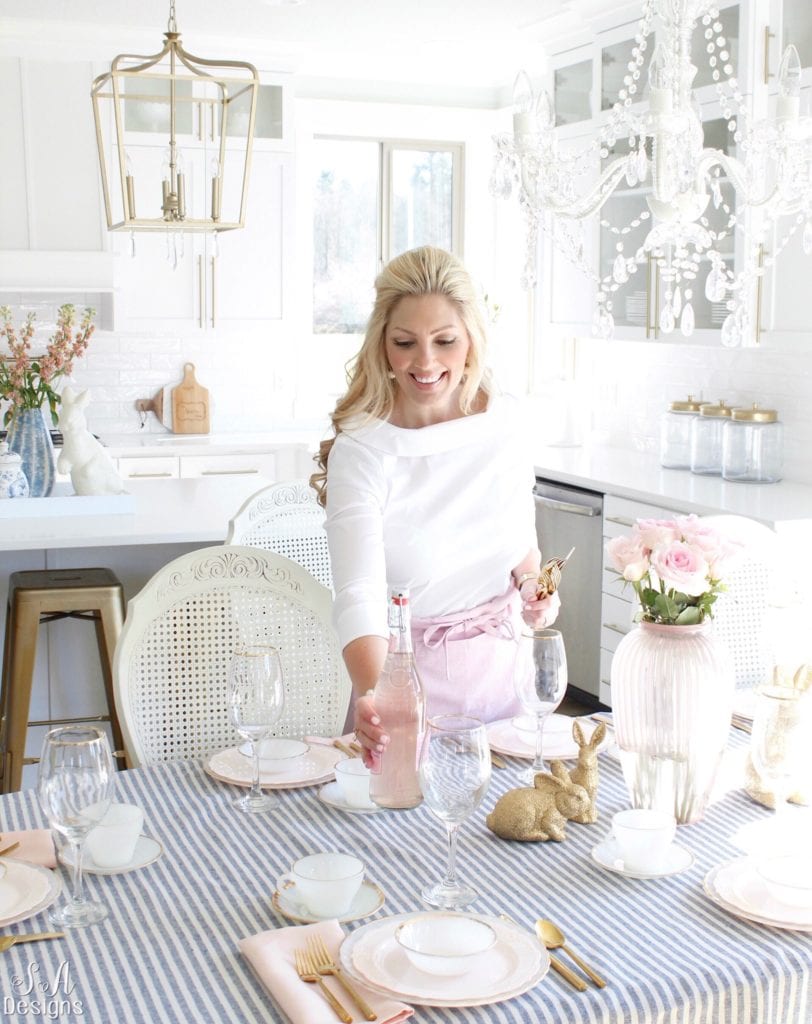 Let's head over to my table!  When I lived in Portugal years ago, so many cafes and restaurants had blue striped table linens.  In fact, so did Italy and several other European countries I've visited, so it makes me smile to have found this one that I love.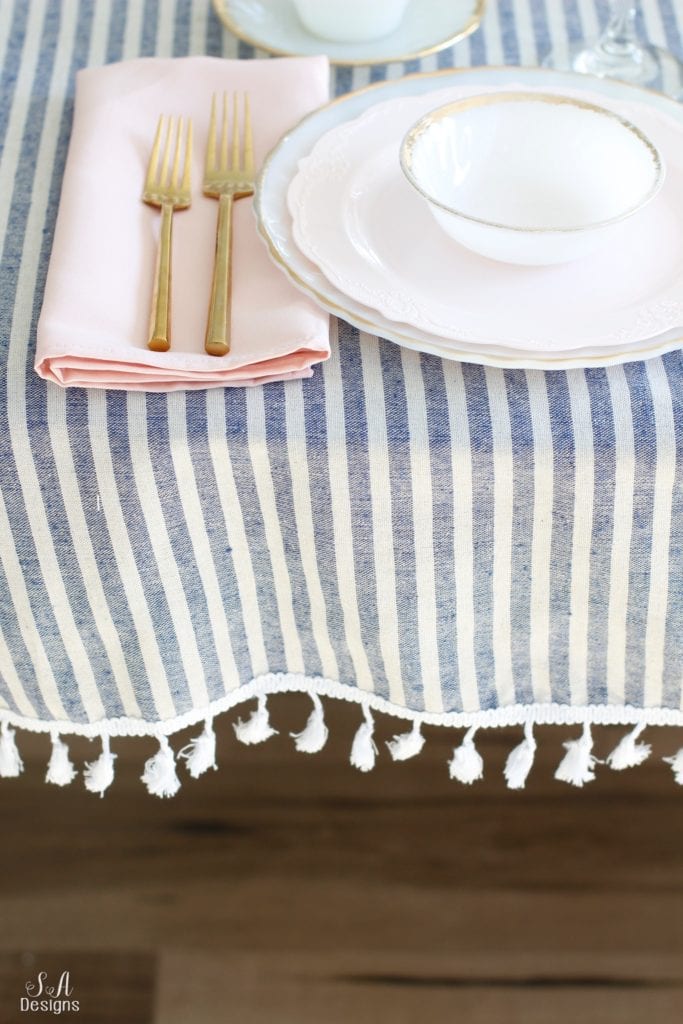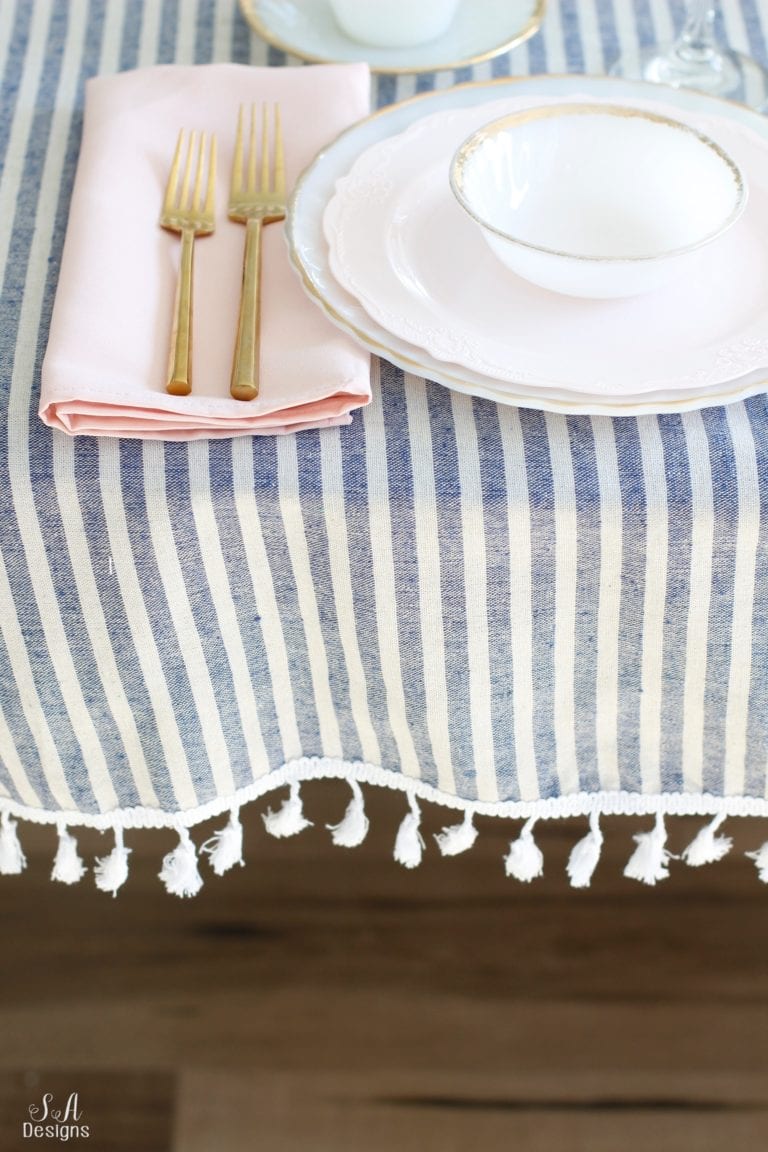 It's adorable AND it has the cutest tassel trim!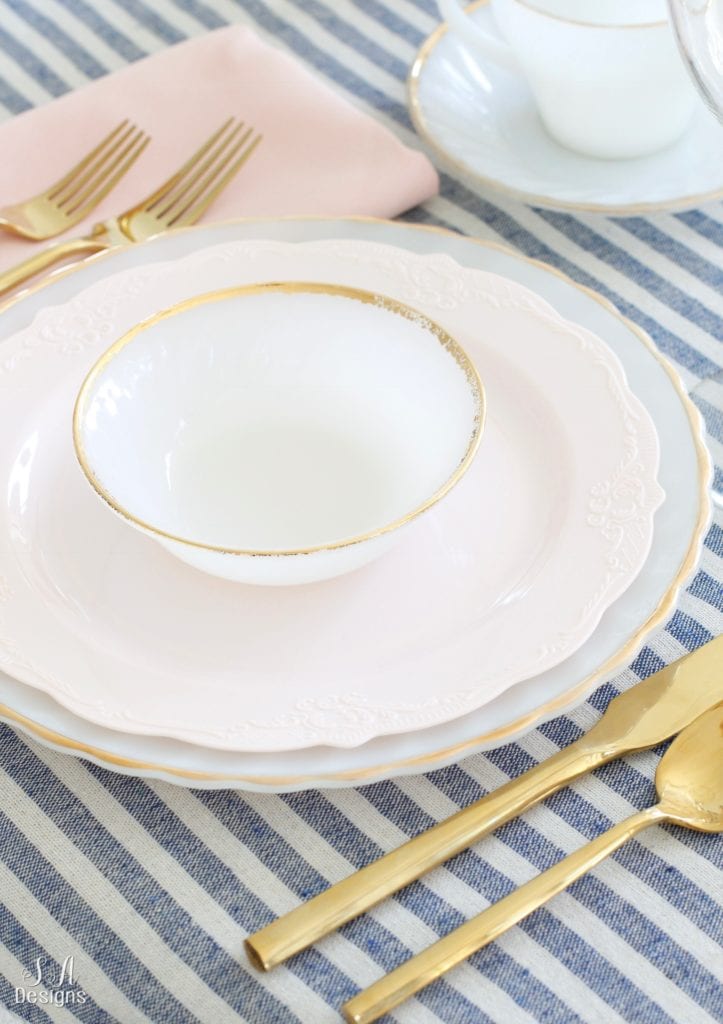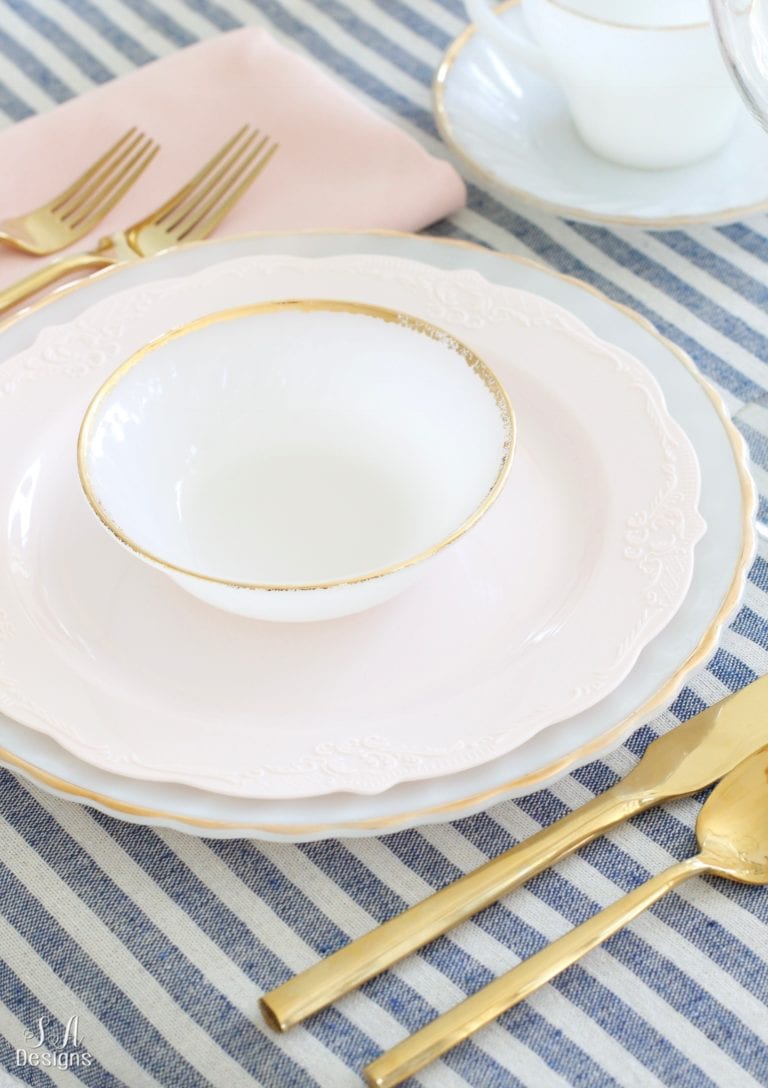 A few weeks ago on Instagram, I posted about this gorgeous set of vintage gold-rimmed milk glass place settings and teacups that I found on my local Facebook Marketplace.  I am so in-love with them.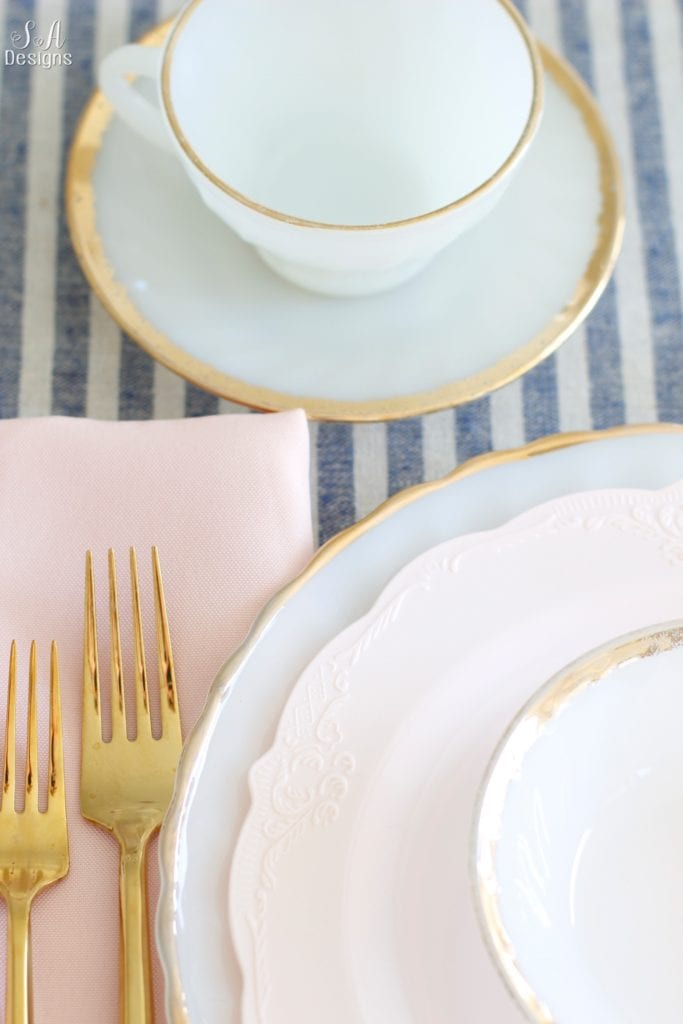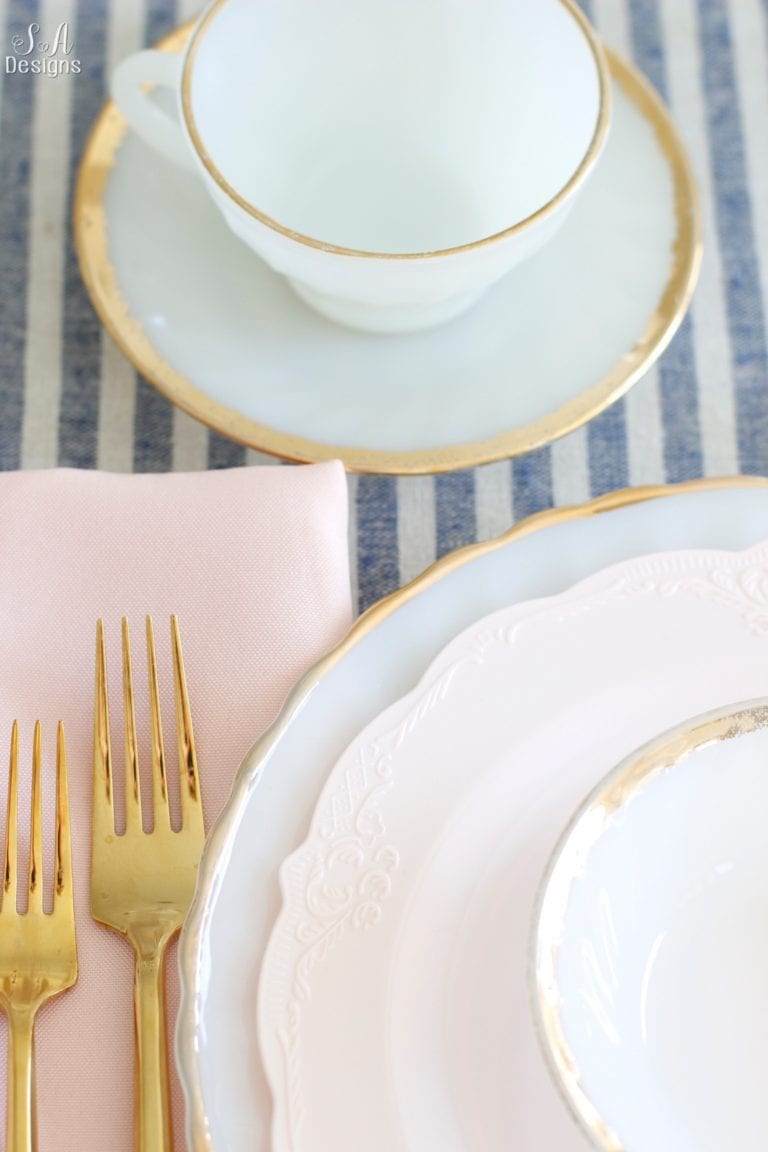 They were well-loved by this lady and her family before moving in with her daughter and have served many meals and been a part of many memories.  I will treasure them always and couldn't wait to use them on my Easter table.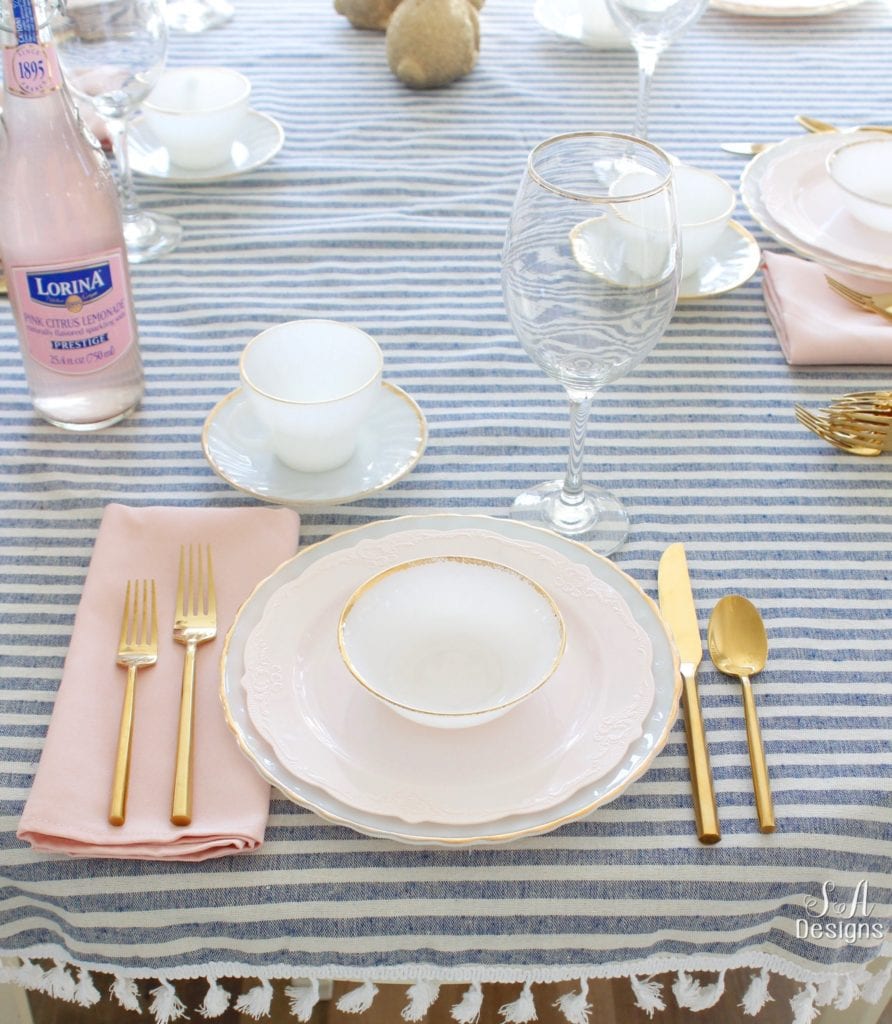 I already had this lovely gold flatware, or "goldie-ware" as I like to call it, and the gold-rimmed goblets.  But I found the most perfect and affordable blush cloth (no-iron) dinner napkins.  Score!  I was really wanting blush plates but the ones I wanted from Pottery Barn HERE don't ship for a few months.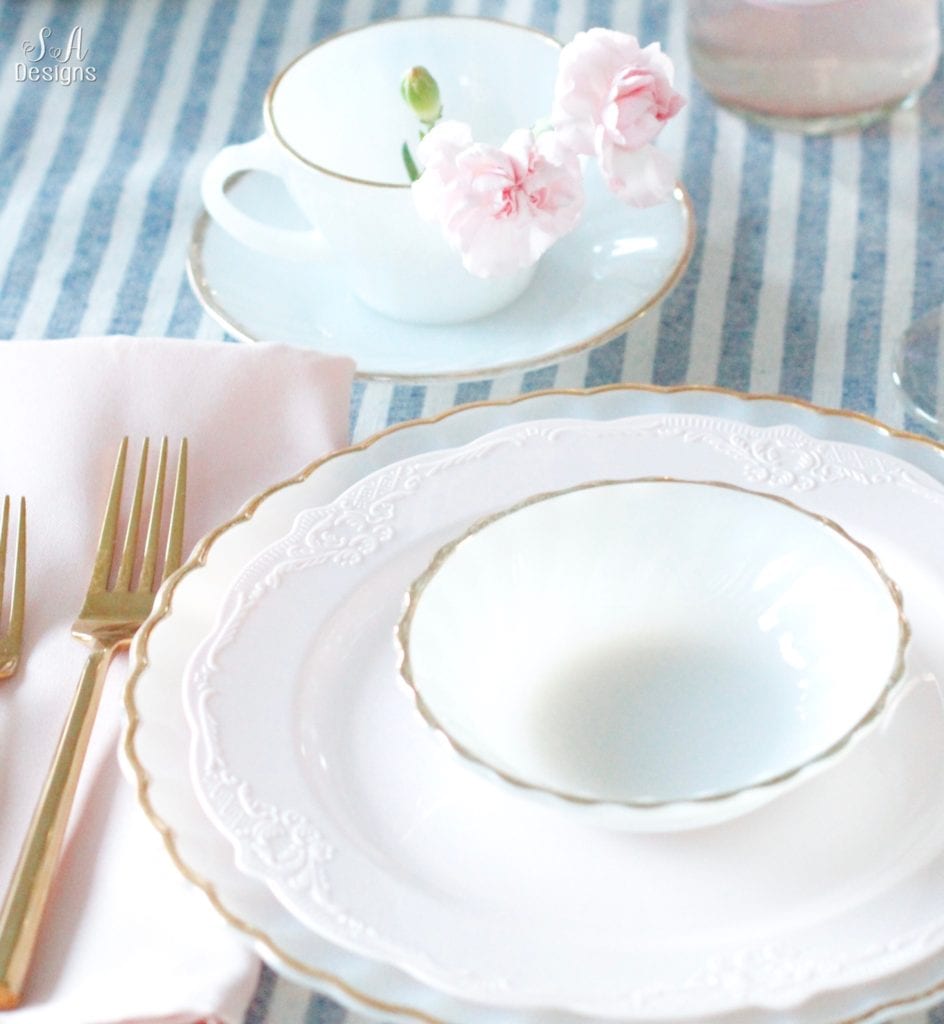 So in the mean time, I found these adorable disposable vintage-style blush plates that come in several sizes. I bought the salad plates and layered it with my dinner plate and then a small bowl for dessert.  It was a perfect fit!  I'm crazy about them and will use them for cookies to friends and neighbors too.  Wouldn't that be the cutest plate to gift them on?!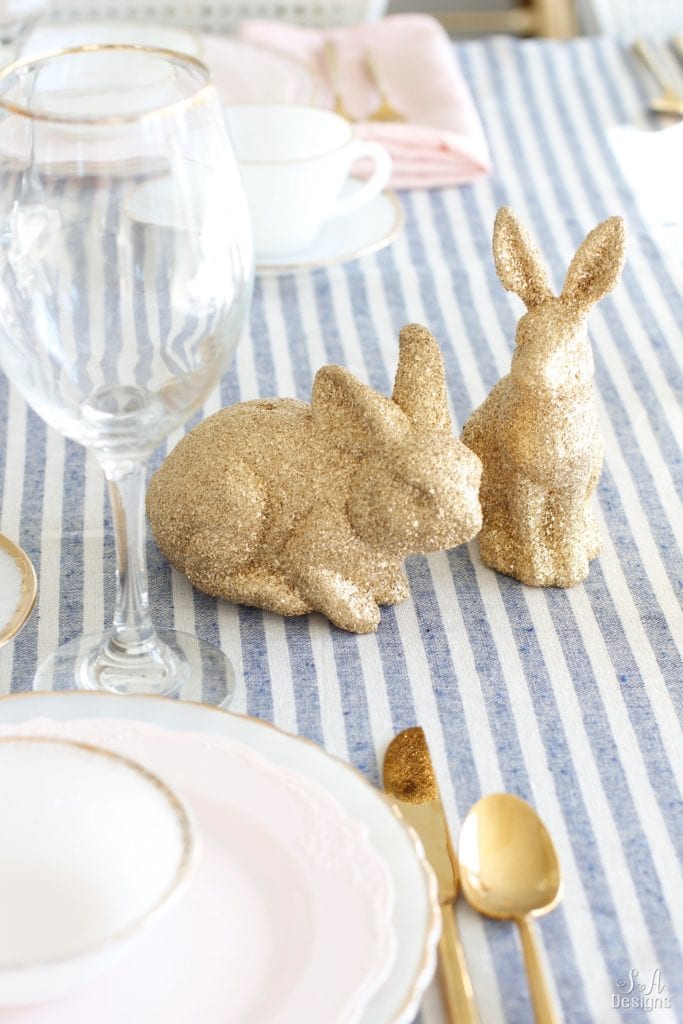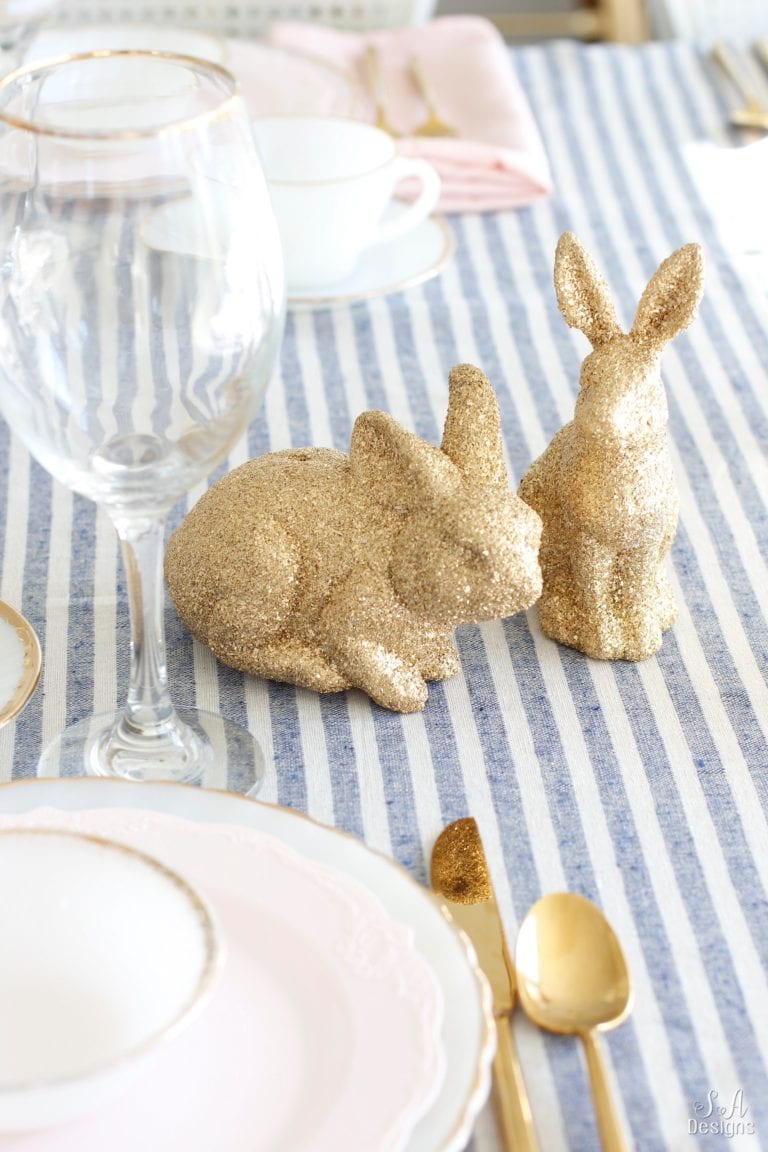 In my Spring Mantel post yesterday, I talked all about how I gave these german glass glitter bunnies that I had (I have a lot of them) a little makeover with some gold spray paint since they'd aged and changed color.  It's charming and a lot of people love that but it didn't go with my more transitional style.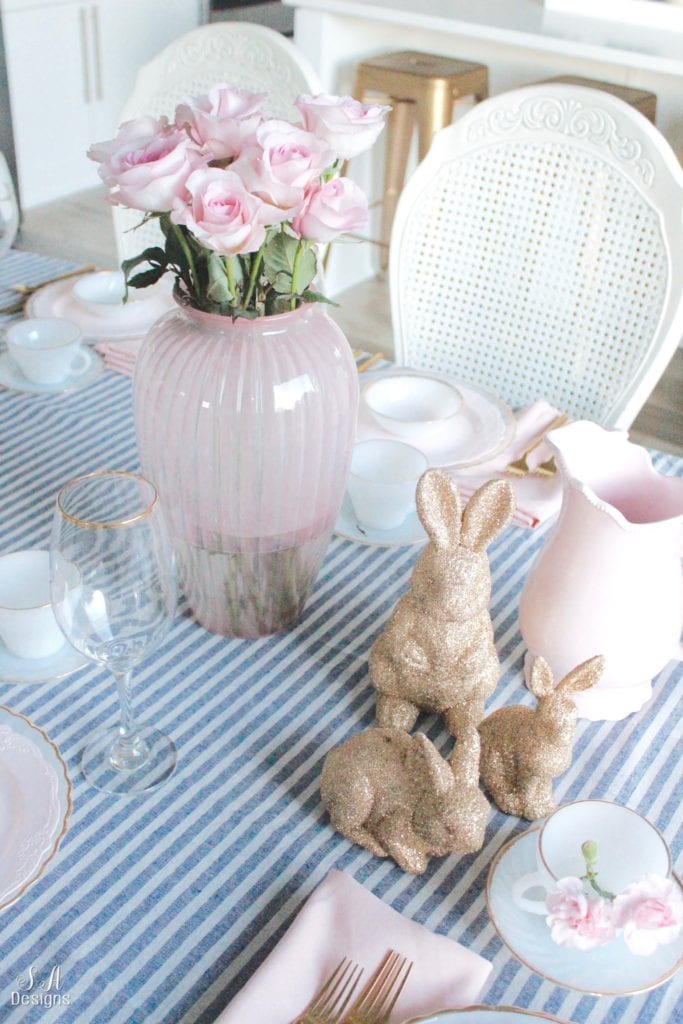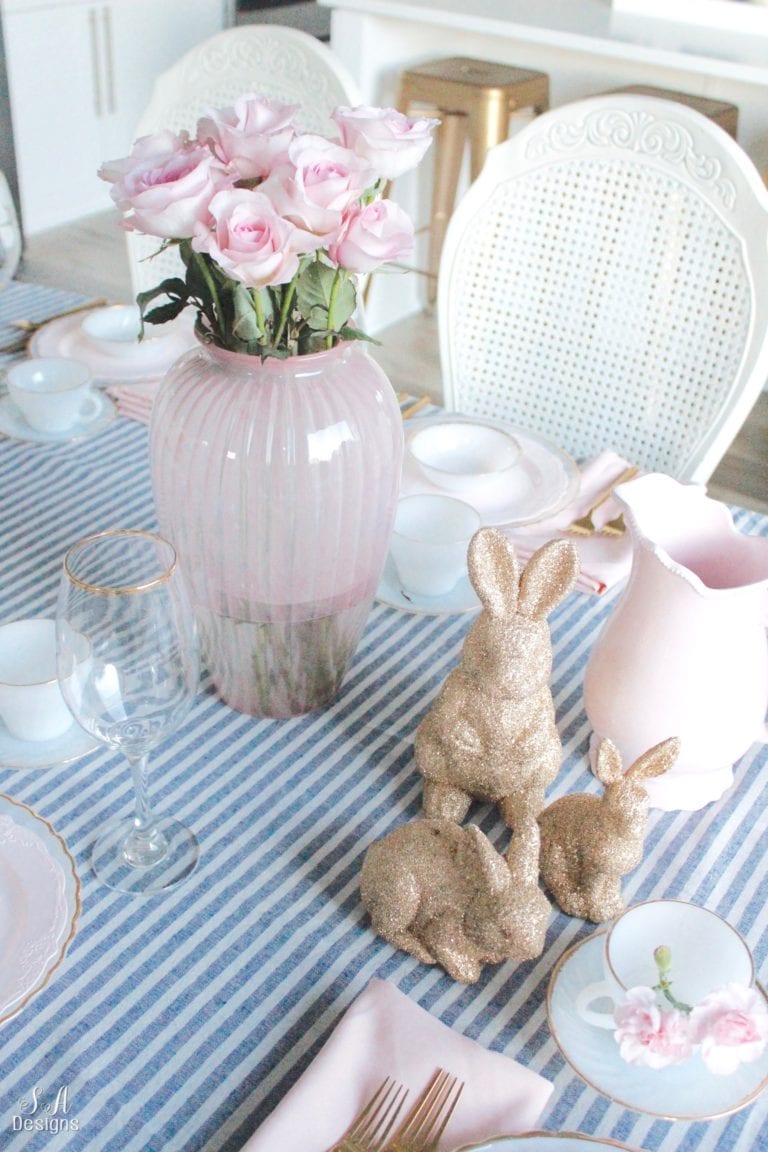 The gold was perfect!  And to think, I almost tossed them out….gasp!
Ok now for the vase……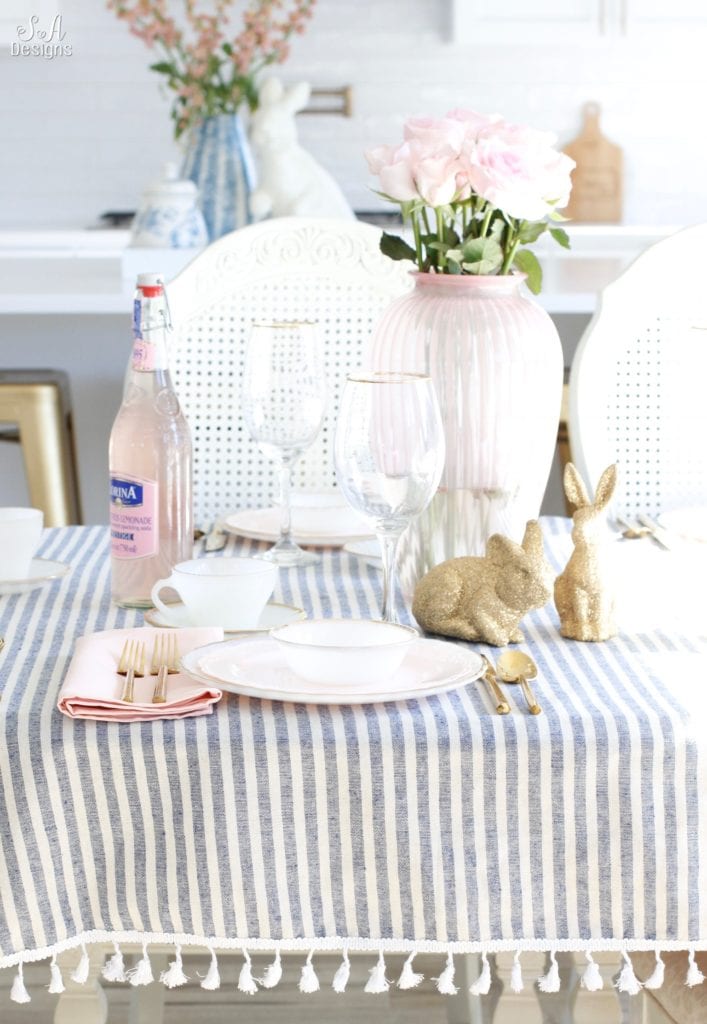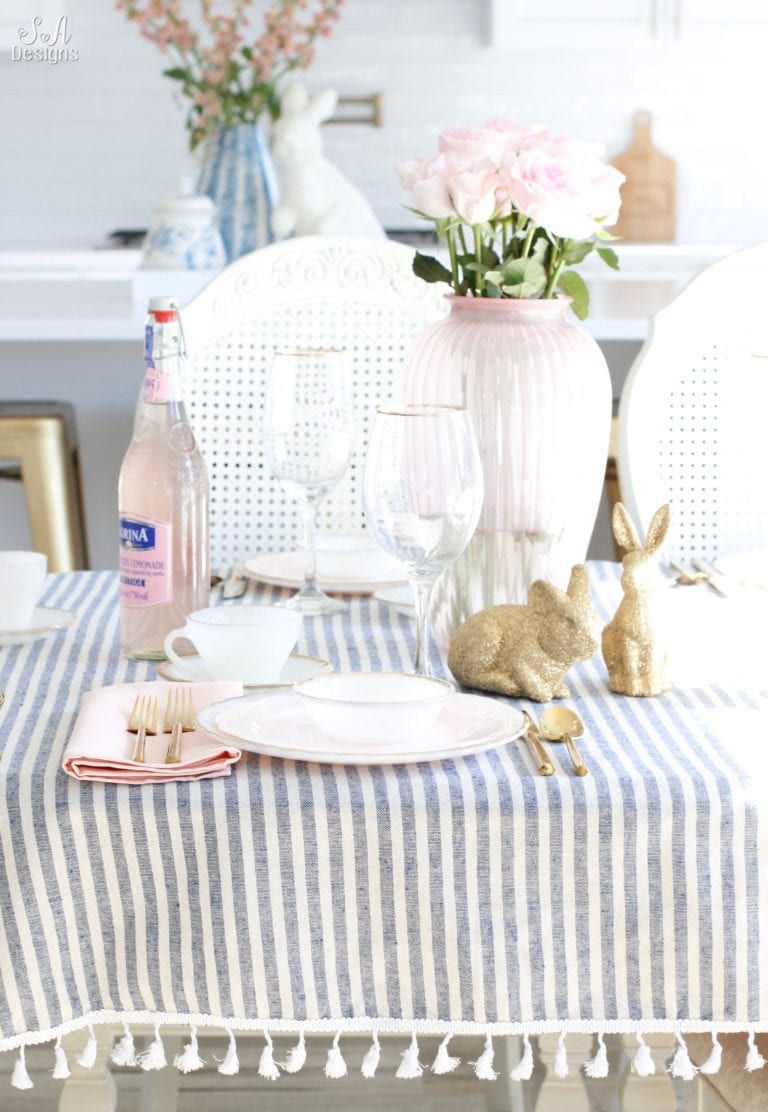 So…I'm in this thrift store a couple of weeks ago looking for snow boots for homeless people at the shelter I volunteer at.  I found boots and I was glad.  And then, like a "High 5" for doing a good deed, there it was….a lovely blush pink vintage vase.  Aaaaaaaaah!  (cue angels singing)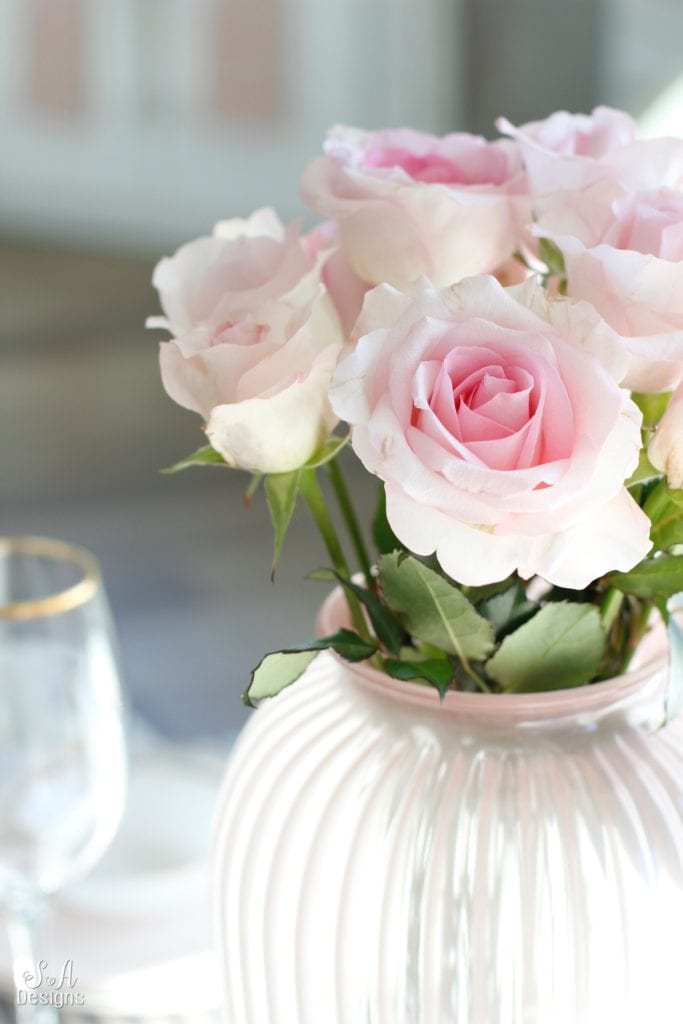 Three dollars later it was mine and I knew it was going on this table.  I had this grandiose flower arrangement in mind for this table but then when it came down to it….I wanted simple.  Pink on pink.  Pink roses in the pink vase. This is also very European.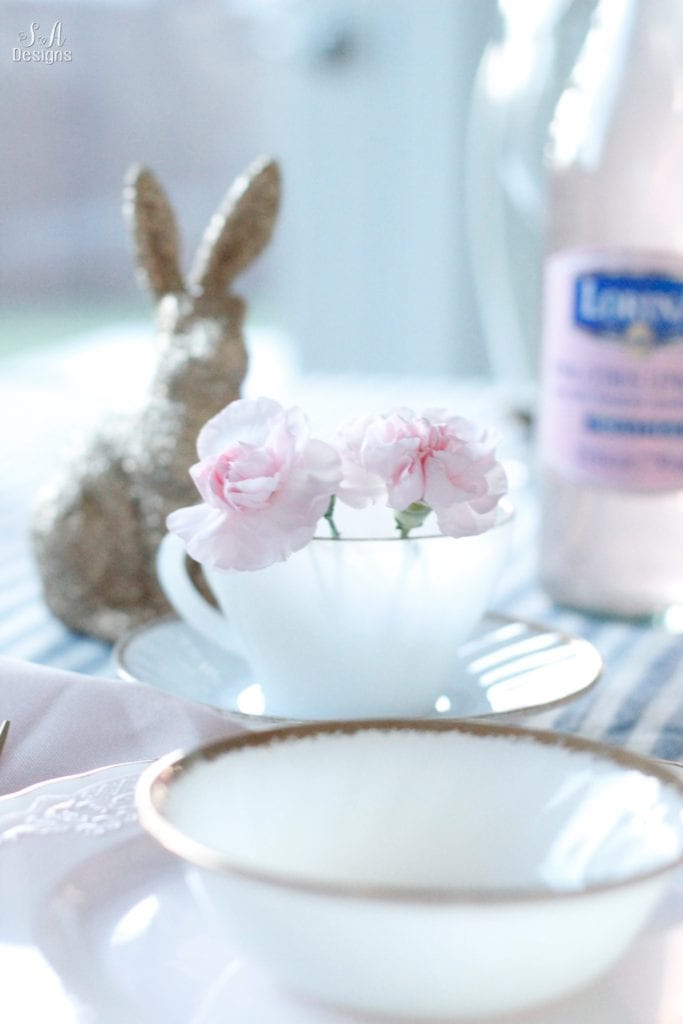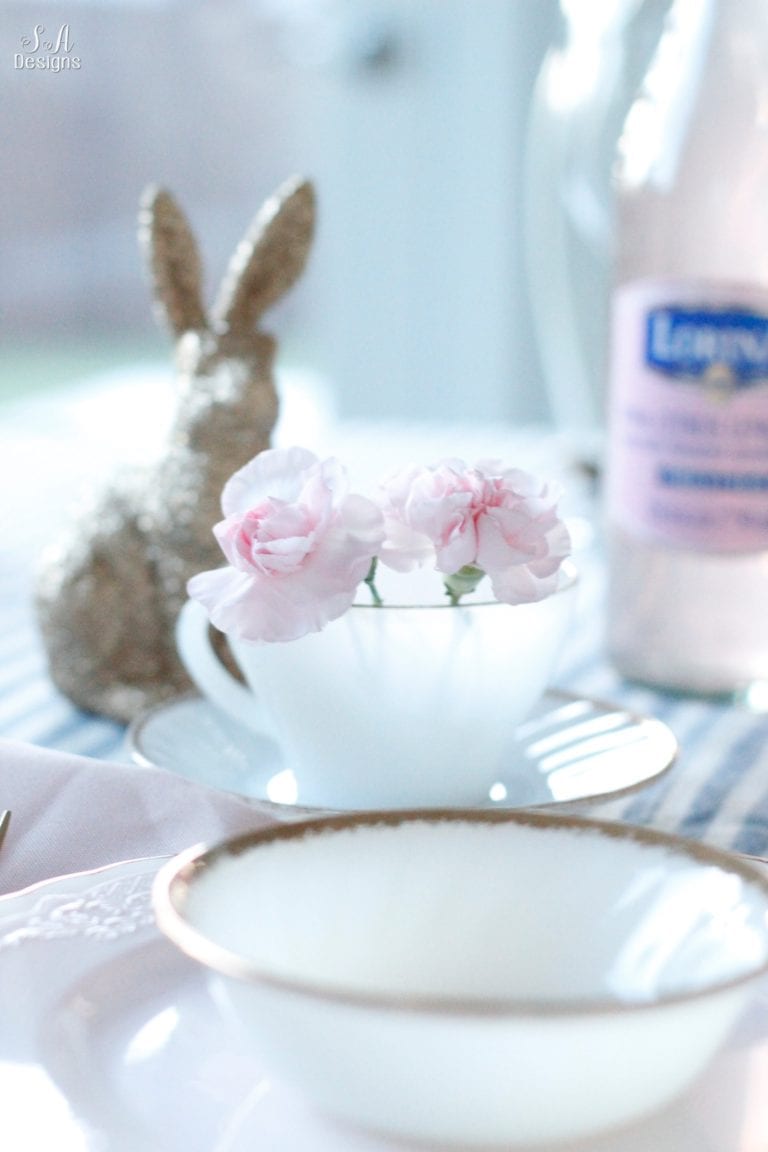 I wanted it to compliment the simple striped tablecloth and compliment the gold-rimmed and layered plates. I didn't want the enormous floral arrangement to take away from all the dainty and elegant little details.  Very often in Portugal you'd see the same thing.  Roses or carnations were found often in the vases and on tables of clean, pressed linens.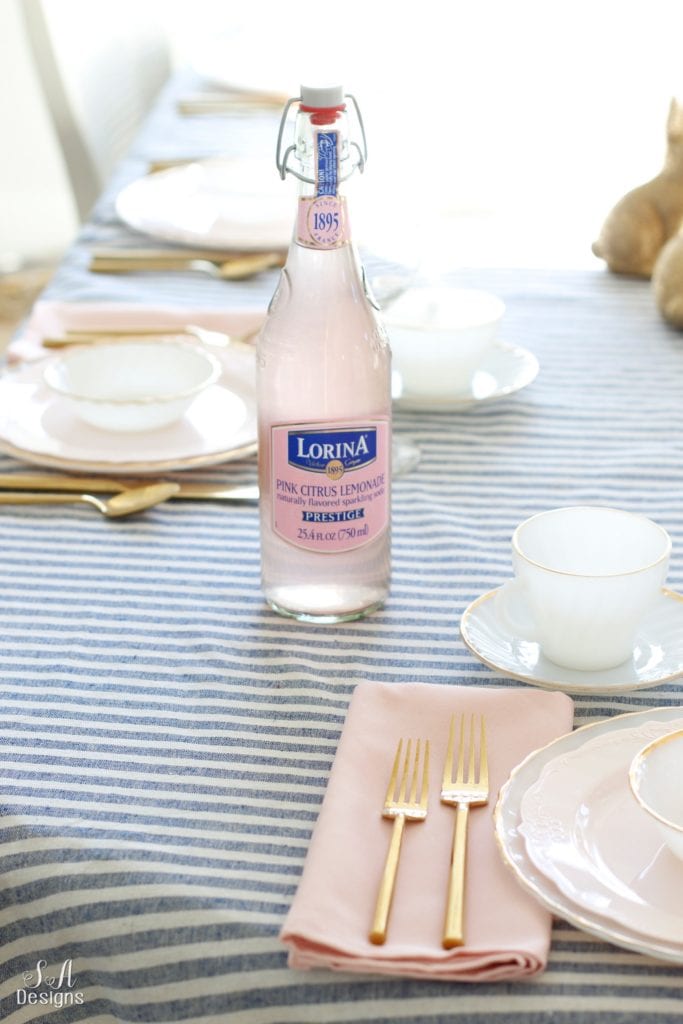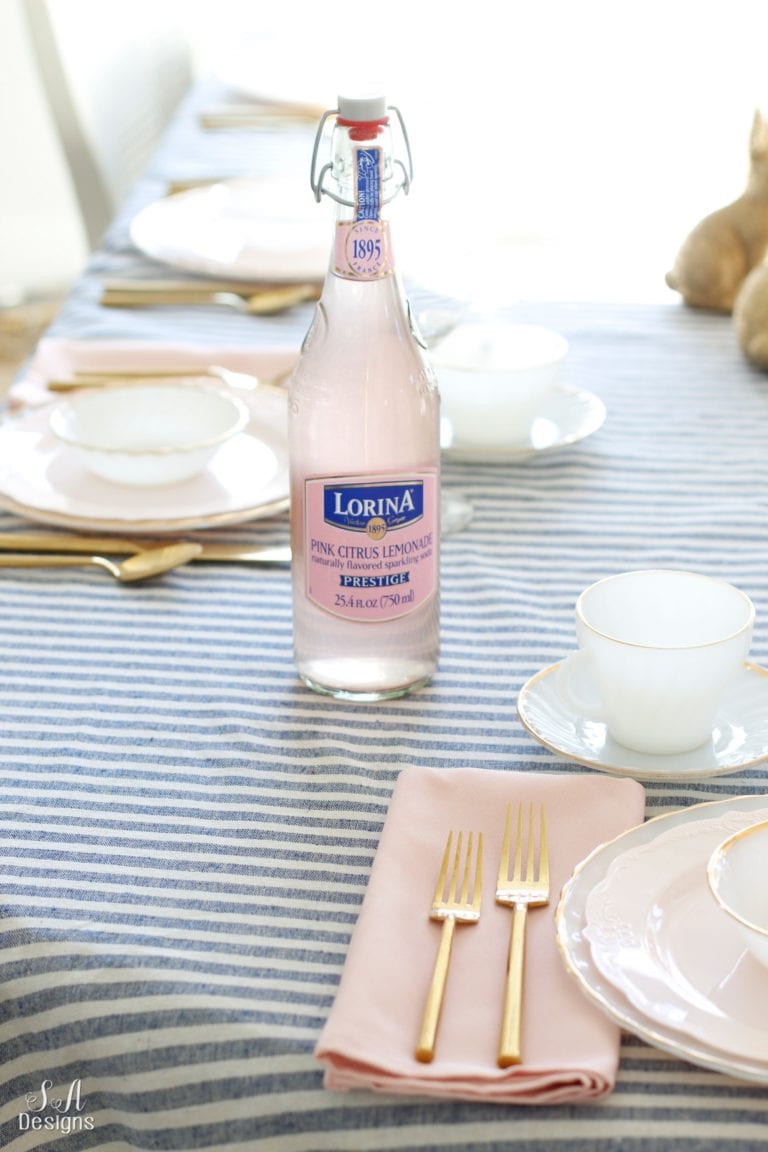 Also common in Europe, since I'm reminiscing and getting all sappy and missing it there, are drinks in pretty glass bottles and carafes.  This pink lemonade from World Market is not only delicious but color-coordinates with my table so I had to pull it out of my pantry and set it on the table.
THEN…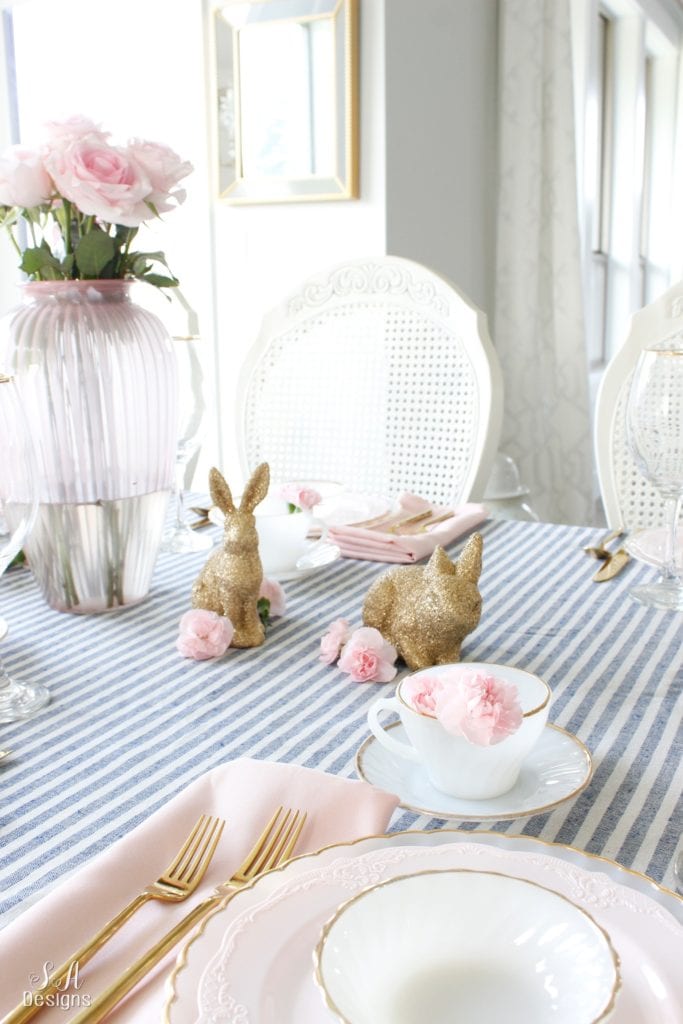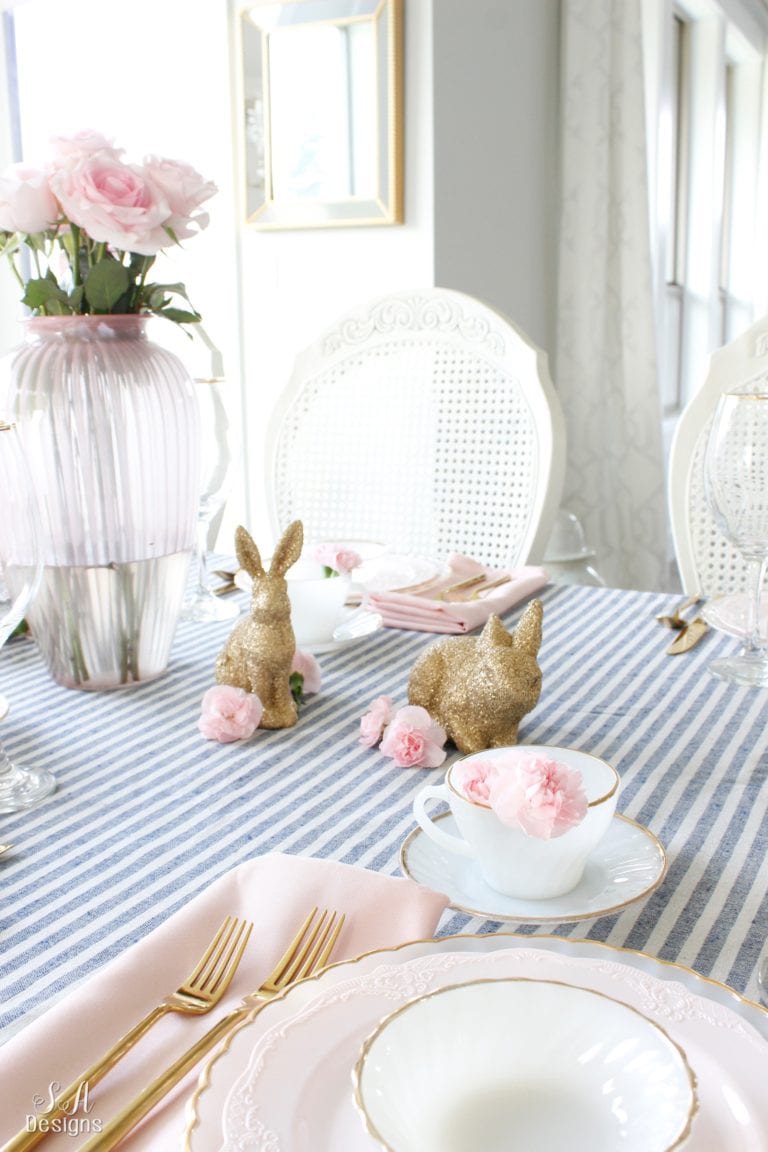 ….I wanted to keep it simple but it needed more floral.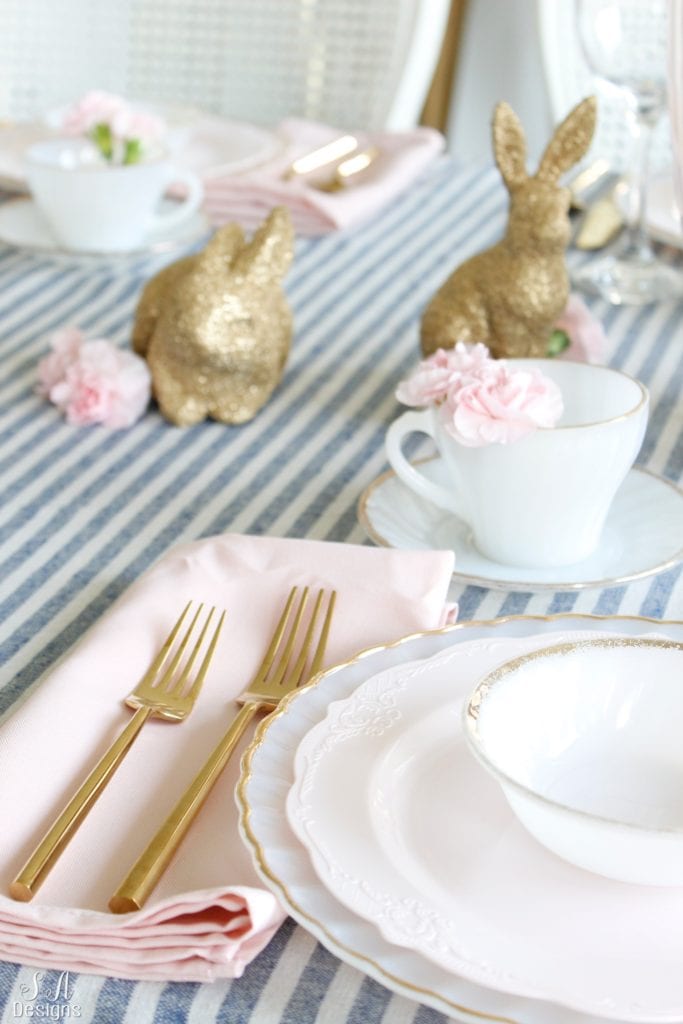 So I added snips of carnations to all the tea cups and around my gold glitter bunnies.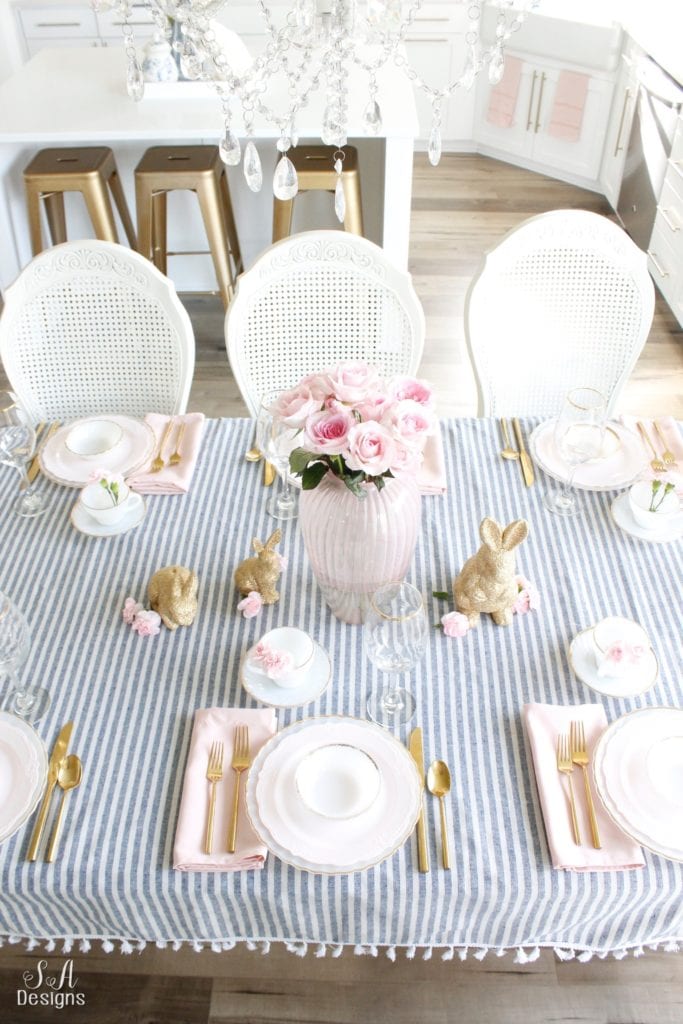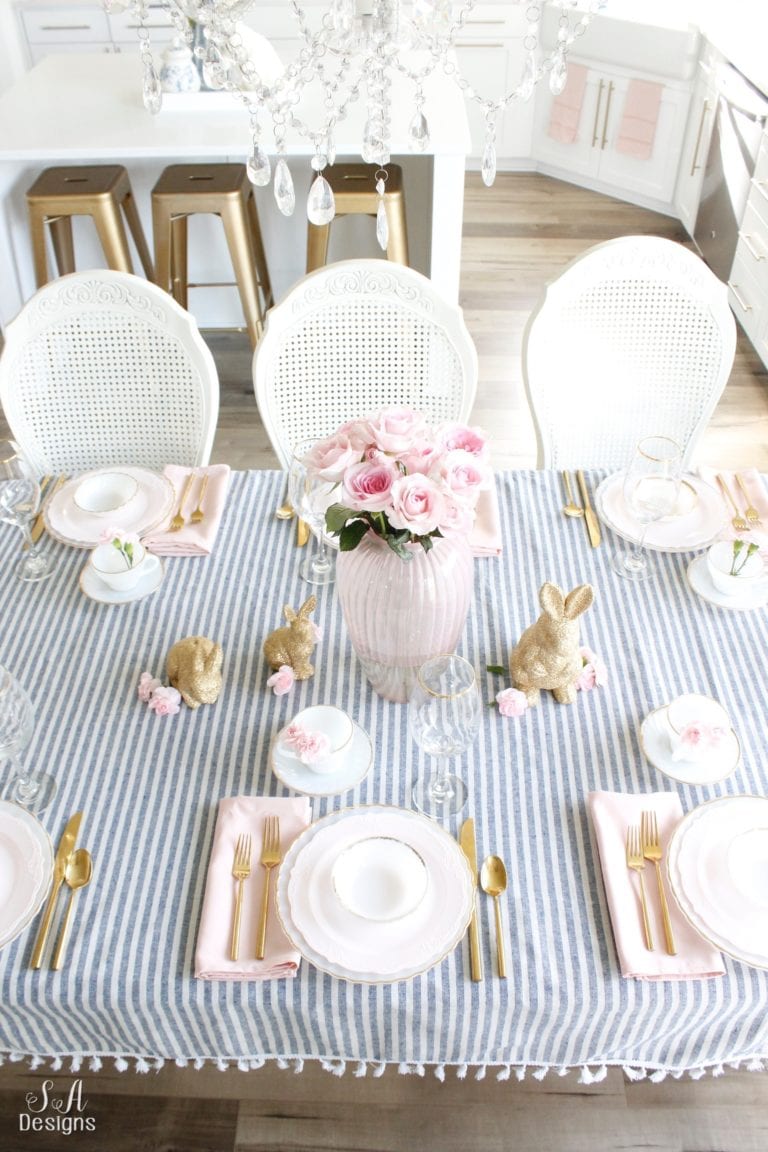 Much better right?!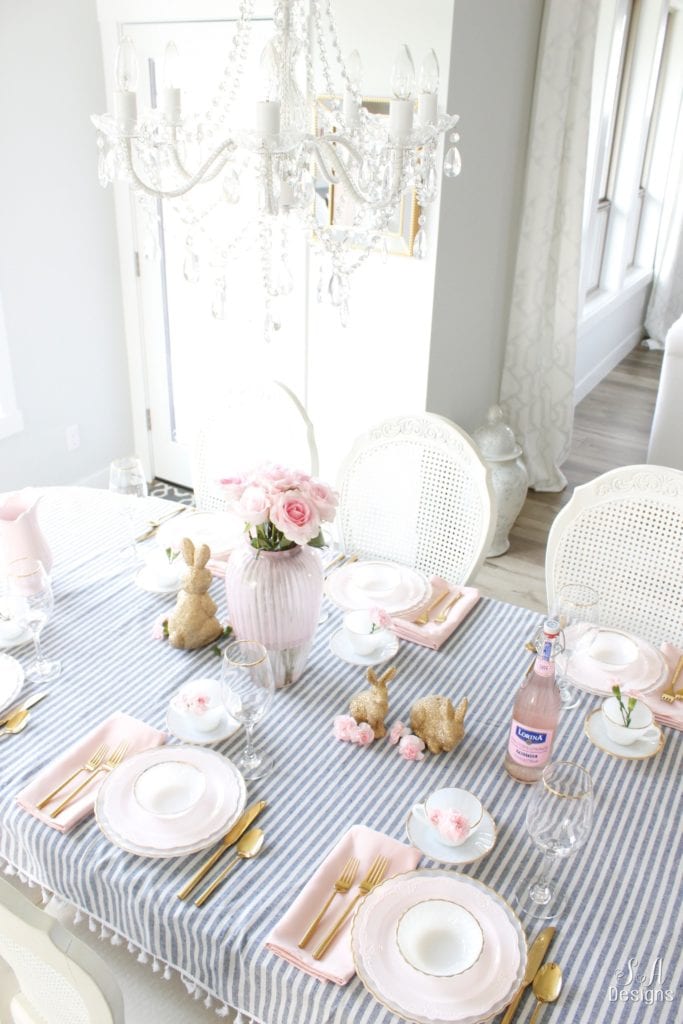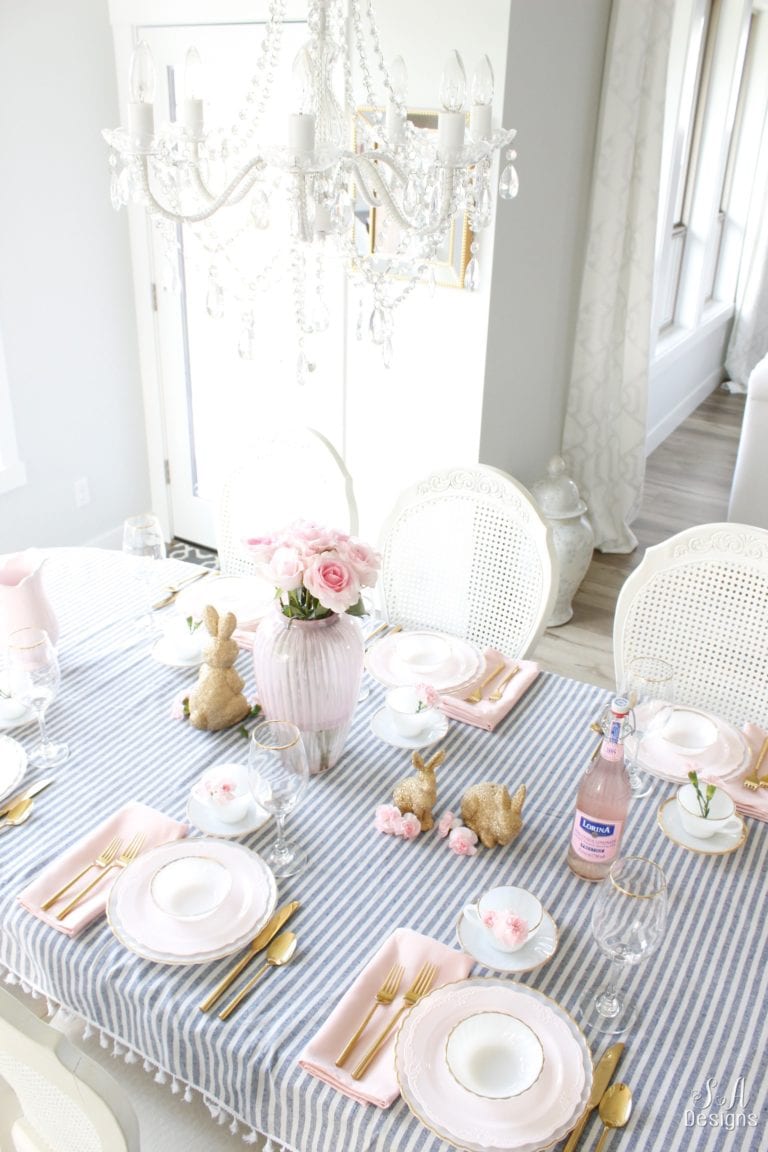 Carnations are so under-appreciated.  Wouldn't you agree?!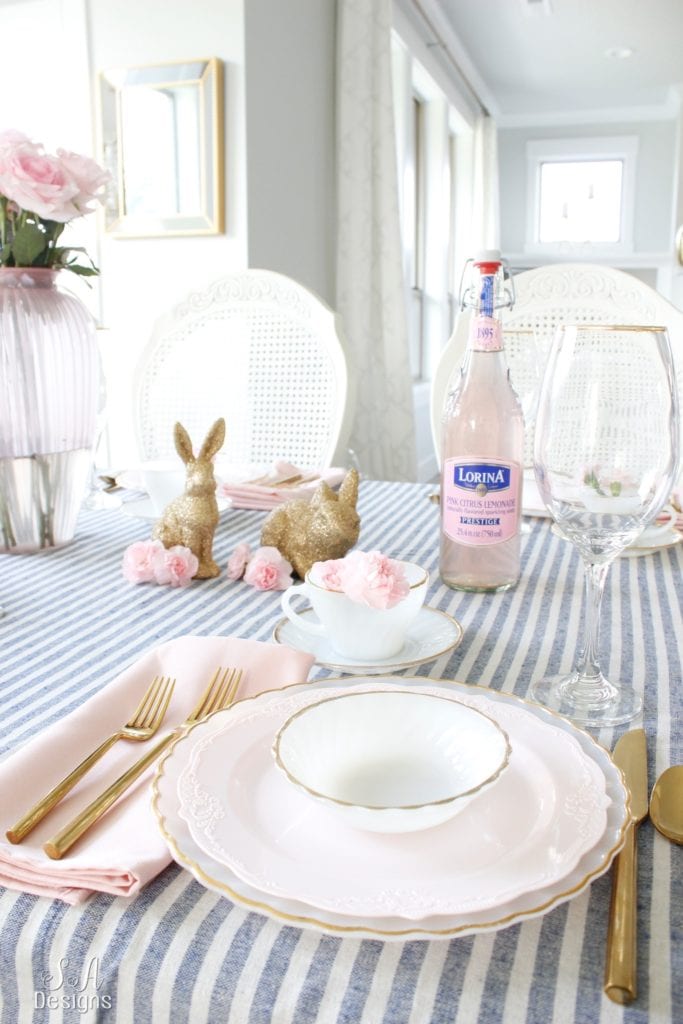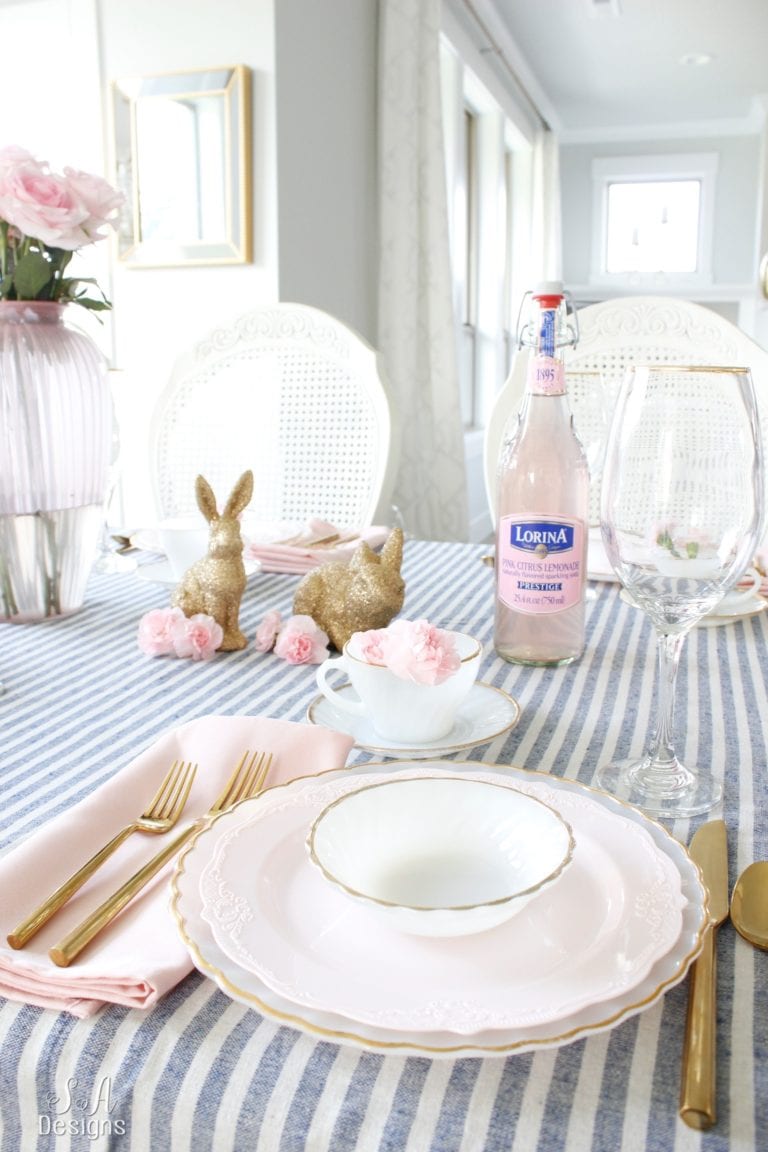 They're such pretty, little ruffly flowers.  Love them!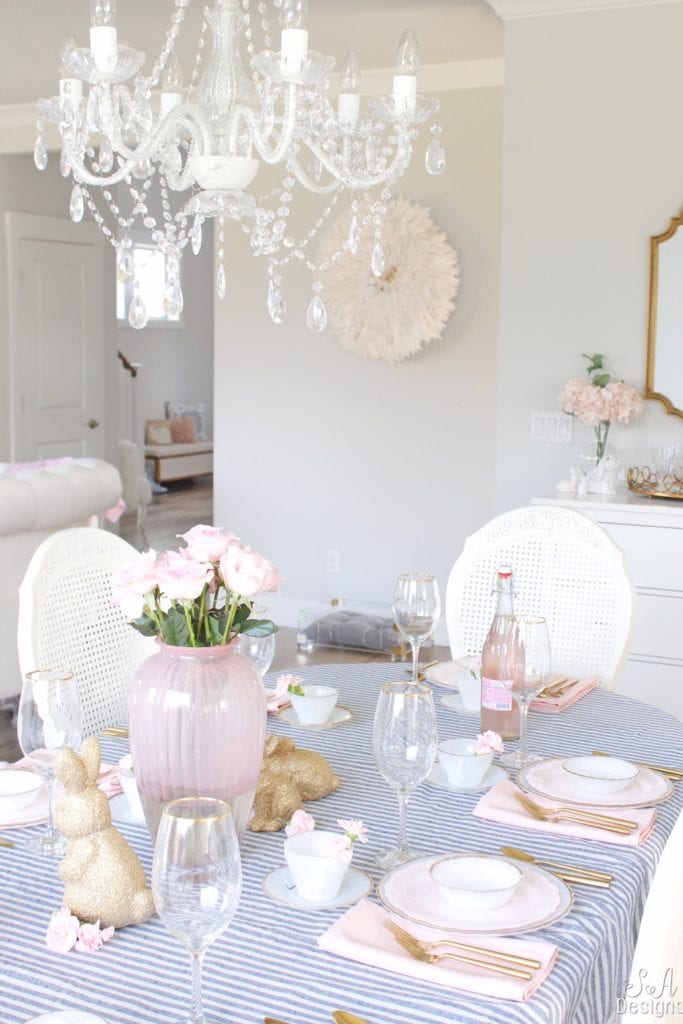 So as the sun starts to set and I watch it from this side of the house…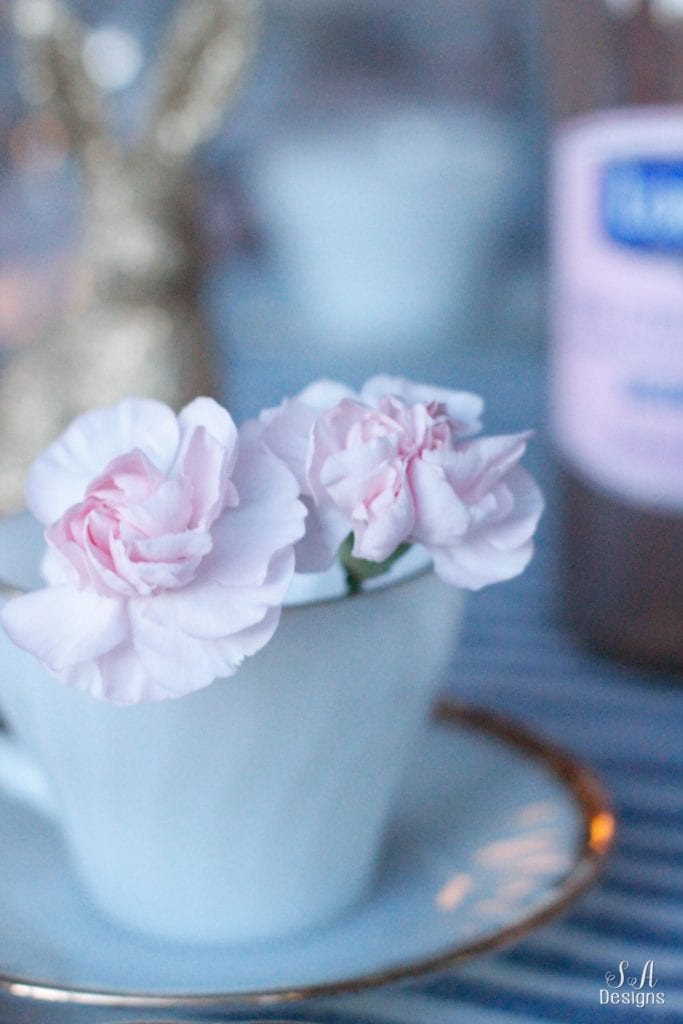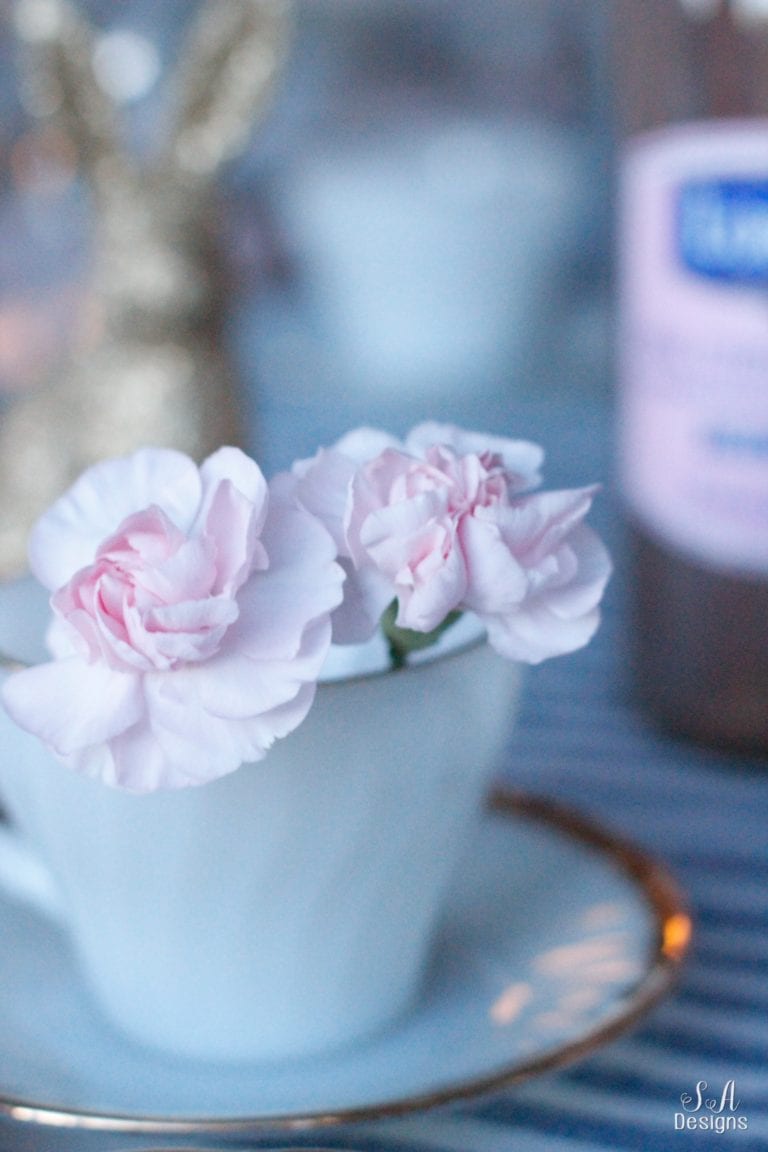 …I sit and reminisce of my time living overseas and dream of being back in Portugal.  I'll just linger here a little longer and imagine I'm outside at a cafe….with gold bunnies..ha!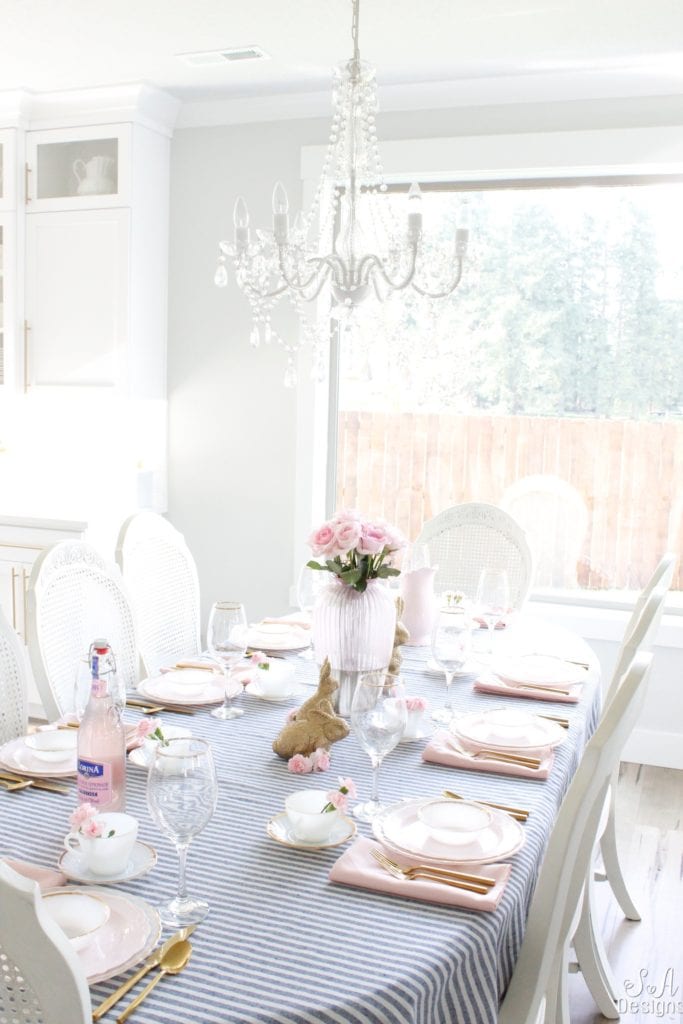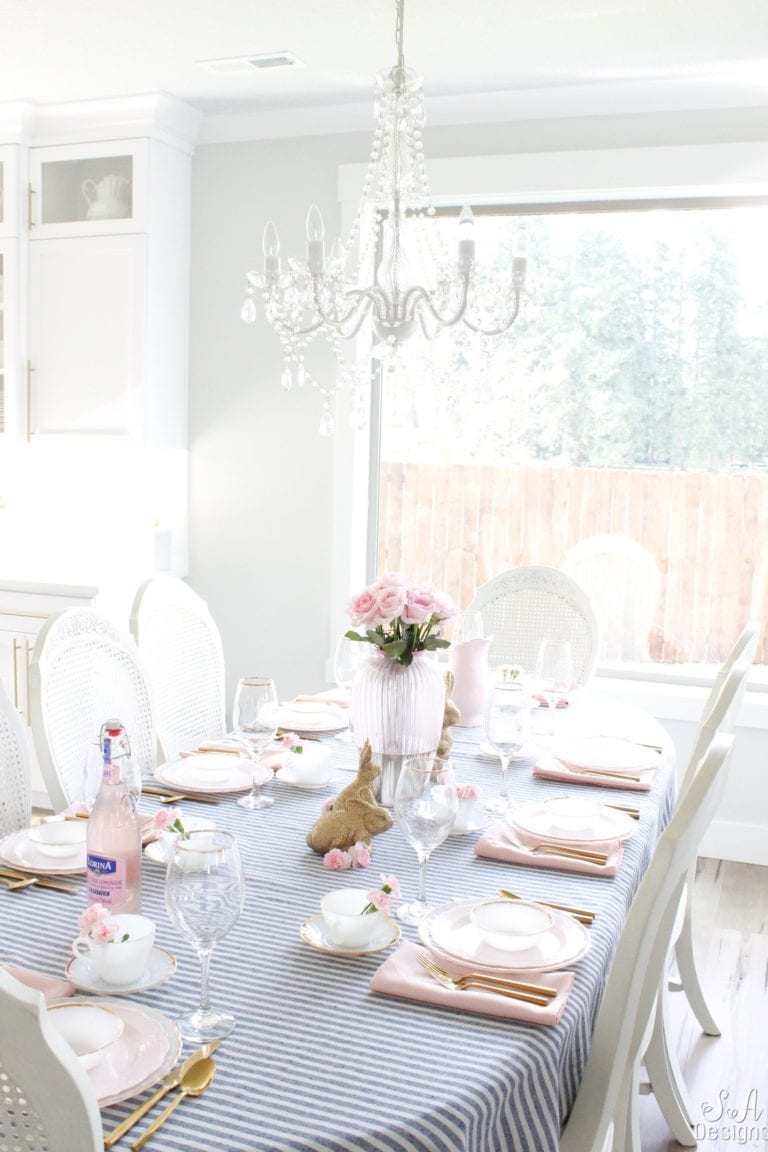 I swear I'm getting more sentimental with age but I have so many good memories and I love that they reflect my design and style.  I love that this Easter table and kitchen remind me of a special time in my life, a time that changed my life.  I've loved my travels overseas.  I'm loving my adventures here right in this home.  And I'm so glad you're here joining me for ALL of it!
So, thank you!!!
I'm linking items from my post today, or suggested items, for your shopping convenience.





Please make sure to visit Judy at Life Is Better At Home and see her gorgeous Easter decor!  Don't forget to visit all my fabulous friends and pin all the ideas you love!
WEDNESDAY'S TOUR
Joan | 2 Ladies & A Chair
Summer | Summer Adams
Judy | Life Is Better At Home
Gloribell | Know How She Does It
Jackie | Finding Lovely
Ashley | Modern Glam
THURSDAY'S TOUR
Yuni | Love Your Abode
Rhonda | Hallstrom Home
Amie | Meme Hill Studio
Kim & Lacey | Styled With Lace
Sheila | Maison de Cinq
Janine | Happy Happy Nester
*****
I would love it if you subscribed at the top of the page in order to receive my weekly emails of all my latest blog posts and hear about digital printables & freebies, as well as sales or new items in My Online Shoppe.  You can also follow me on Instagram, Pinterest, and Facebook to see what I'm up to in creating a home and lifestyle of inspiration!
xoxo,

SaveSave
SaveSave
SaveSave
SaveSave
SaveSave