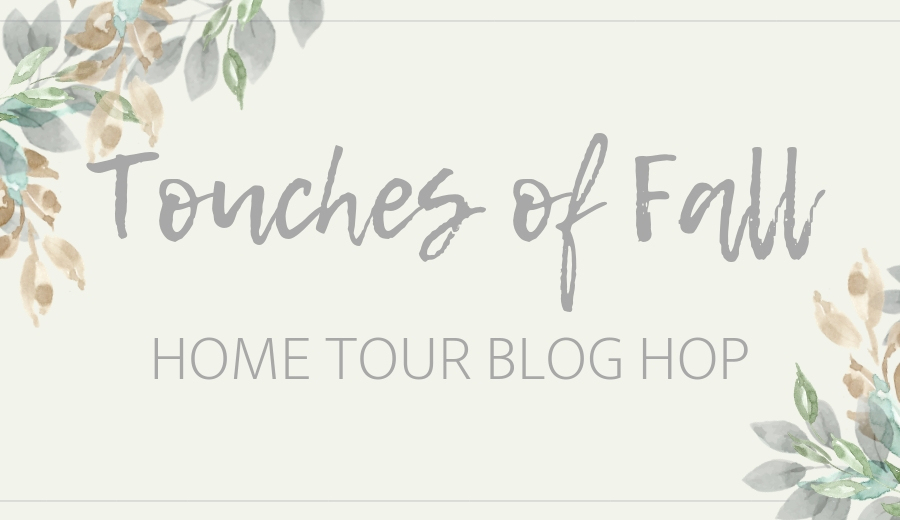 One of my favorite things about Fall is that it's the beginning of that part of the year where one holiday leads to another and our home decor and festivities change every month and to celebrate! It also means that, with all of the constant celebrating and changing of season and decor and favorite foods, that all of us bloggers have so much to share with you so we get together and organize blog hops. It's such a fun way to share all of our ideas and homes with our readers and our friends' readers too. Think of it as…an online party…
…and you're invited!!!
So thank you for being here today, from wherever you came from, and we hope you make it around to all 6 blogs for this "Touches Of Fall" Home Tour Blog Hop. I have set a blush velvet pumpkin tablescape for fall that I've been so excited to share with all of you.
This post contains affiliate links for your shopping convenience. Click here to read my
full disclosure policy and here for my privacy & cookies policy. All opinions are my own.
The Prettiest Blush Pink Velvet Pumpkins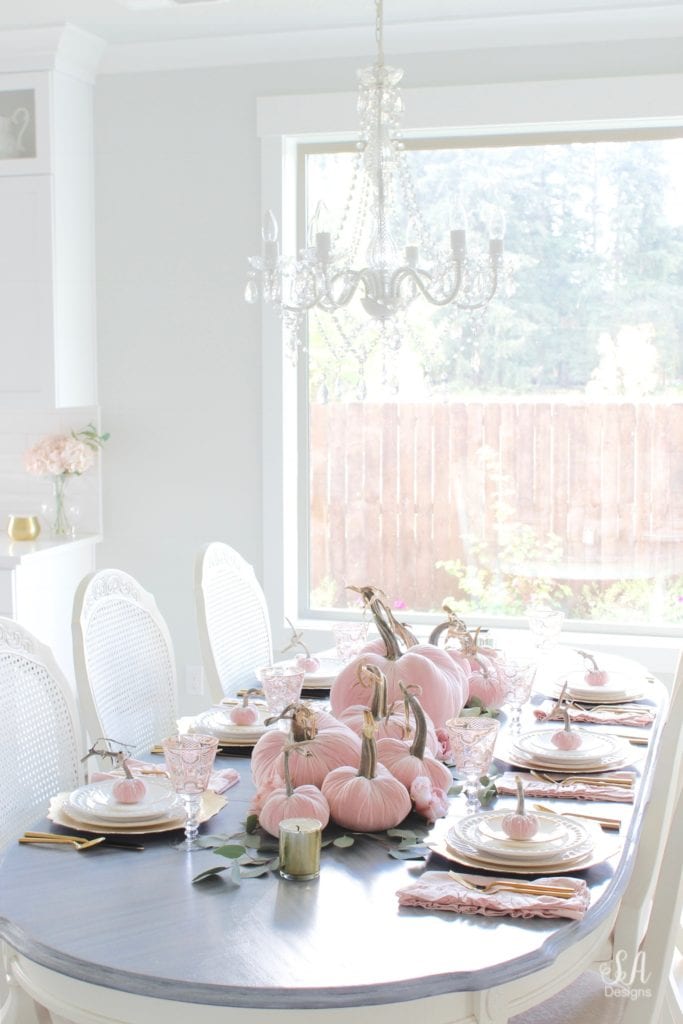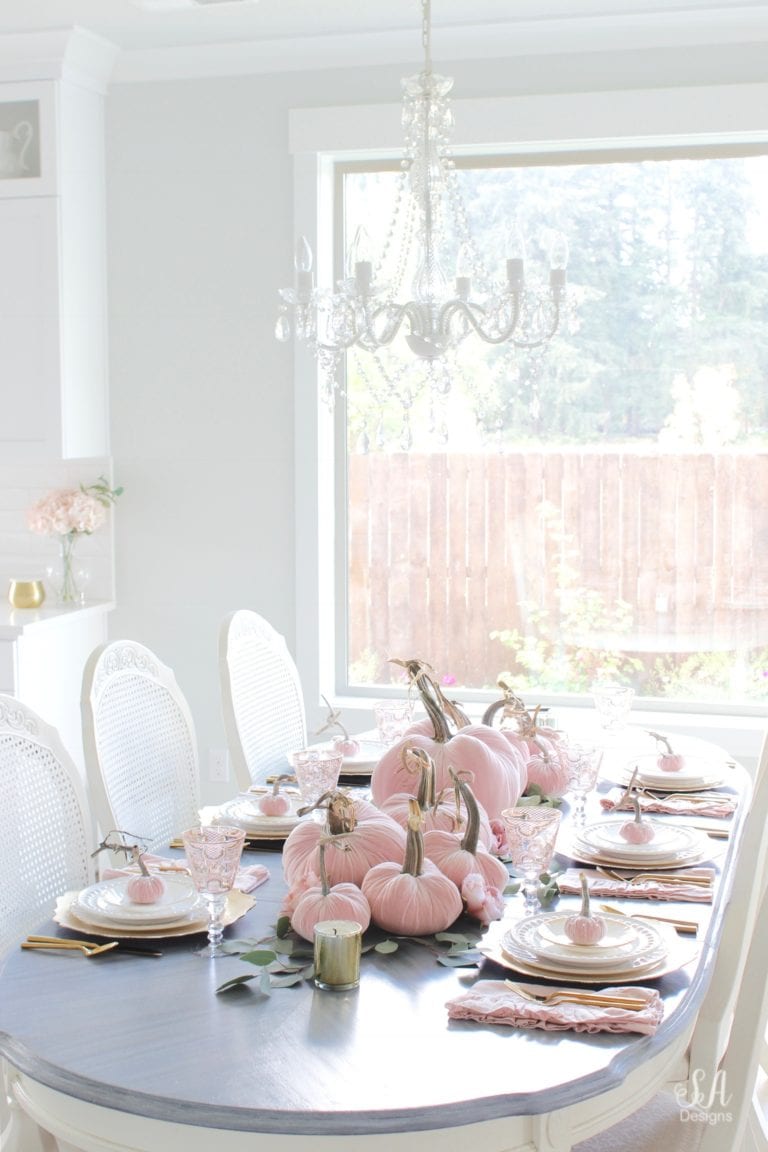 Recently I met Daria, the designer and creator behind Hot Skwash, and had the privilege of going to her office/warehouse in Tigard, Oregon (just across the river from us) and see all of the gorgeous pumpkins and other creations in person. She was so gracious to collaborate with me and help me create gorgeous fall vignettes with her pumpkins. I recently shared some of her gorgeous pumpkins in my fall master bedroom post.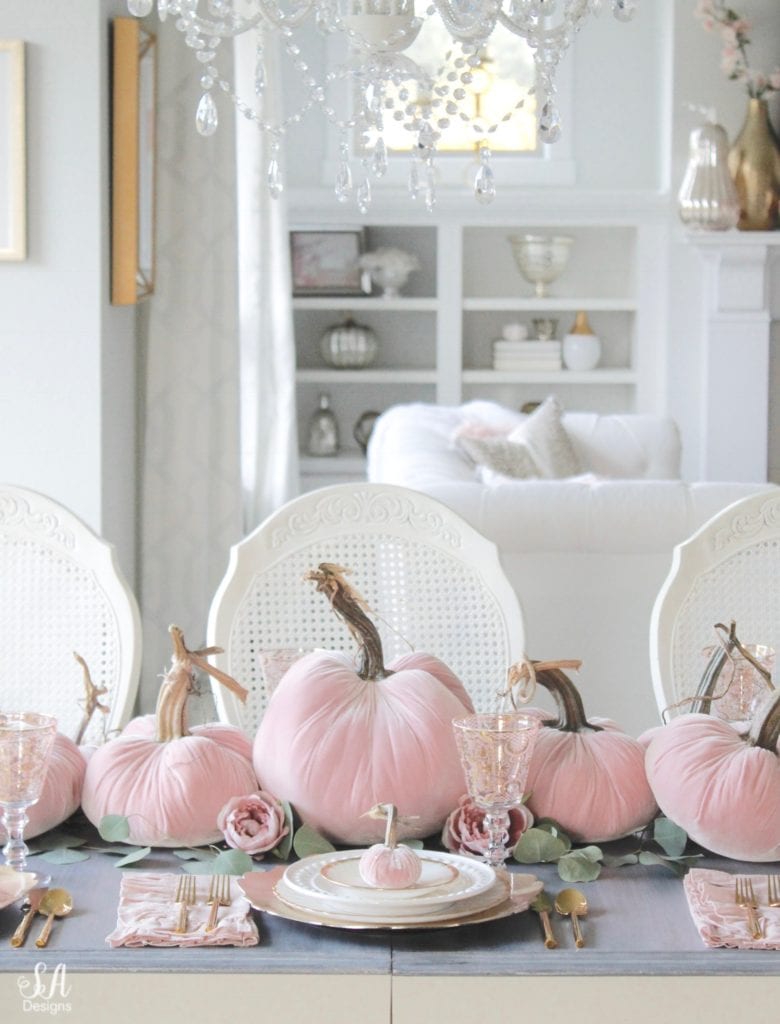 I told Daria that I had blush pink and golds and taupes in my living room and into my kitchen AND she knows how much I love pink so she made sure to send me home with a plethora of these new blush pink velvet pumpkins that she released this year. I thought of mixing them with some other colors but we both agreed that it would break up the pink and not look as stunning.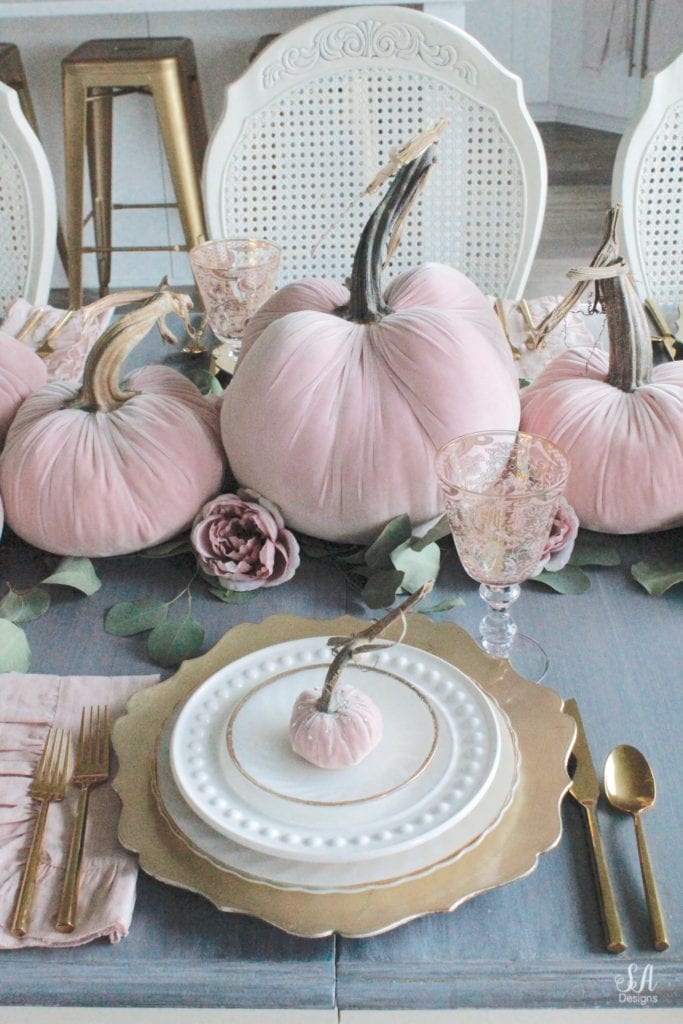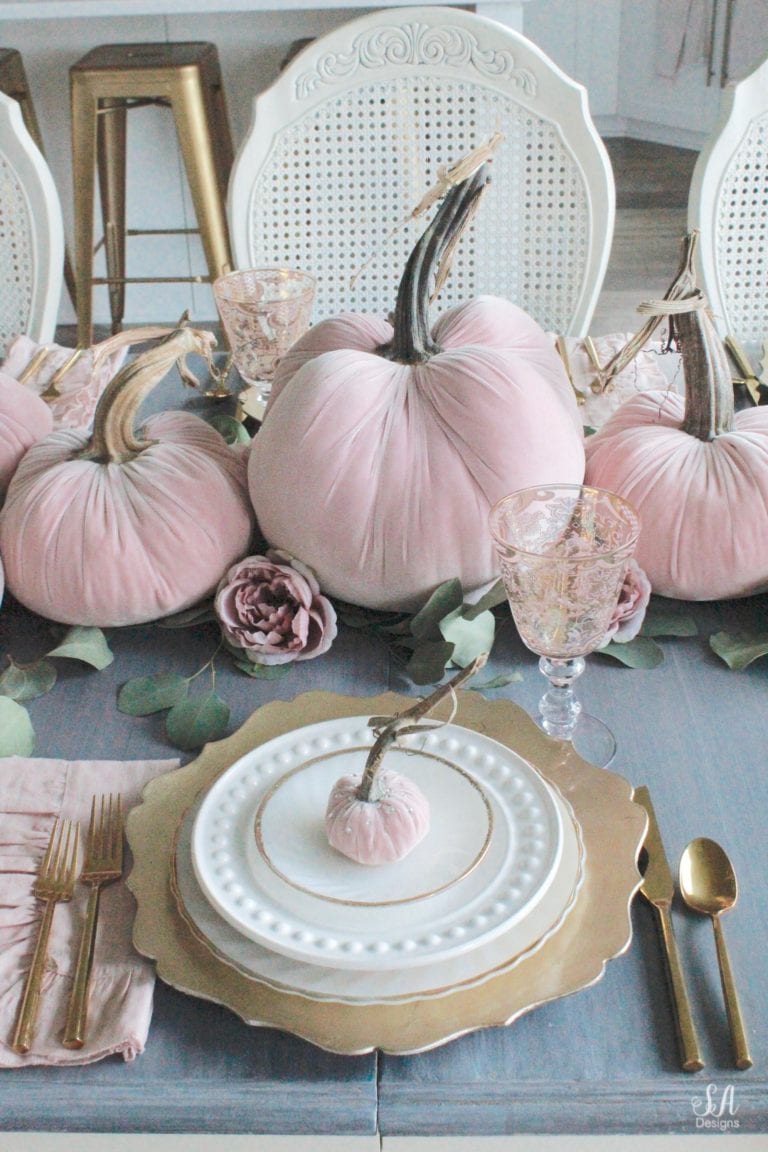 I decided to do the same thing with faux blush fall roses (I used them in these candle wreaths also and on my fall mantel) and keep it monochromatic because using white roses or lighter blush pink roses took away from the blush pumpkins and distracted your attention. I wanted them to compliment them instead.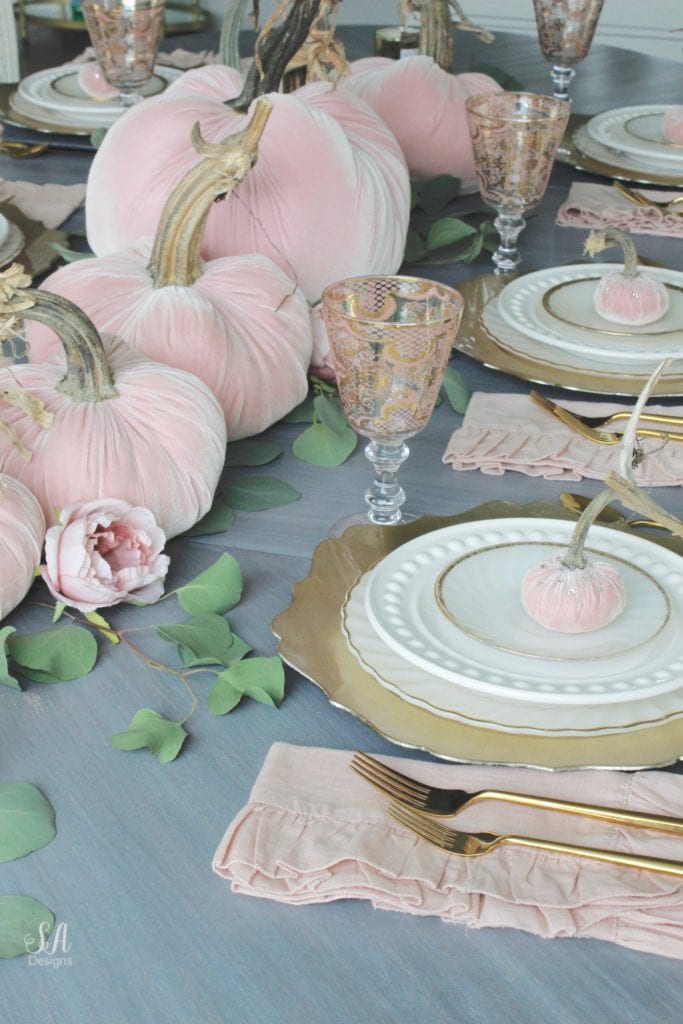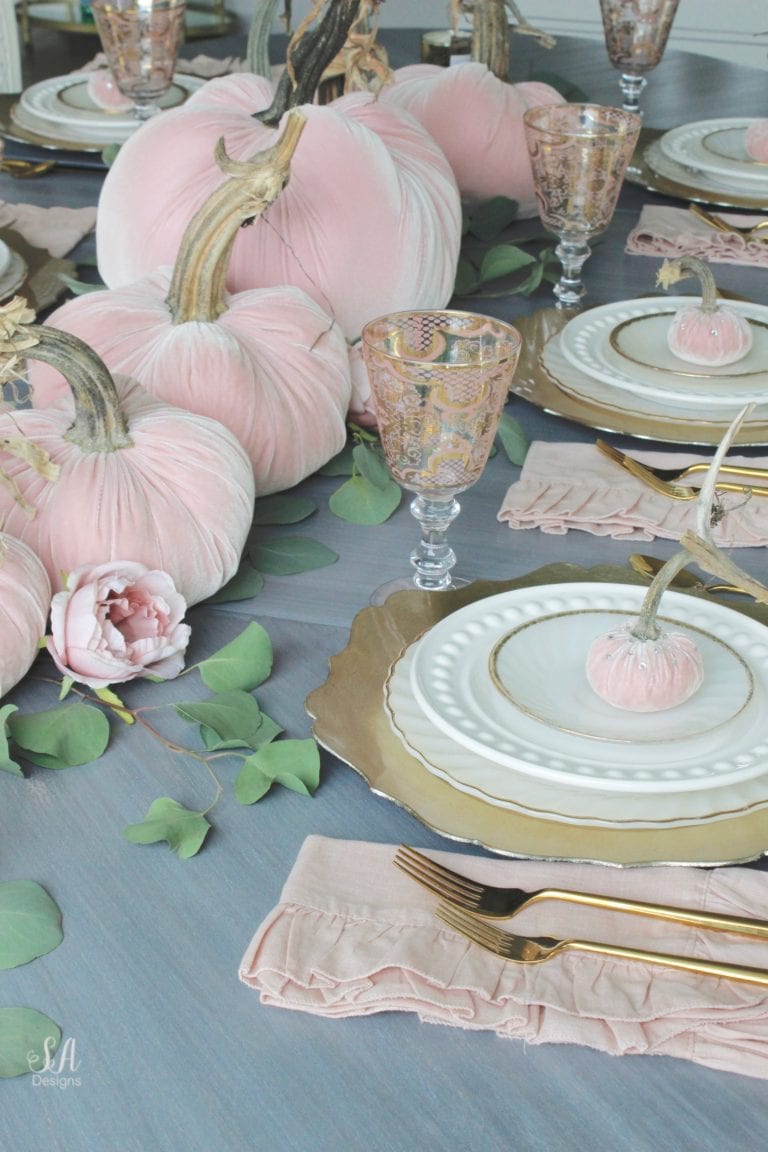 I originally planned on using a certain tablecloth BUT when I brought out the eucalyptus and faux roses to place in between my pumpkins, I immediately knew that they'd look best on my pretty grey-stained table I refinished. I love the rustic-glam look it created!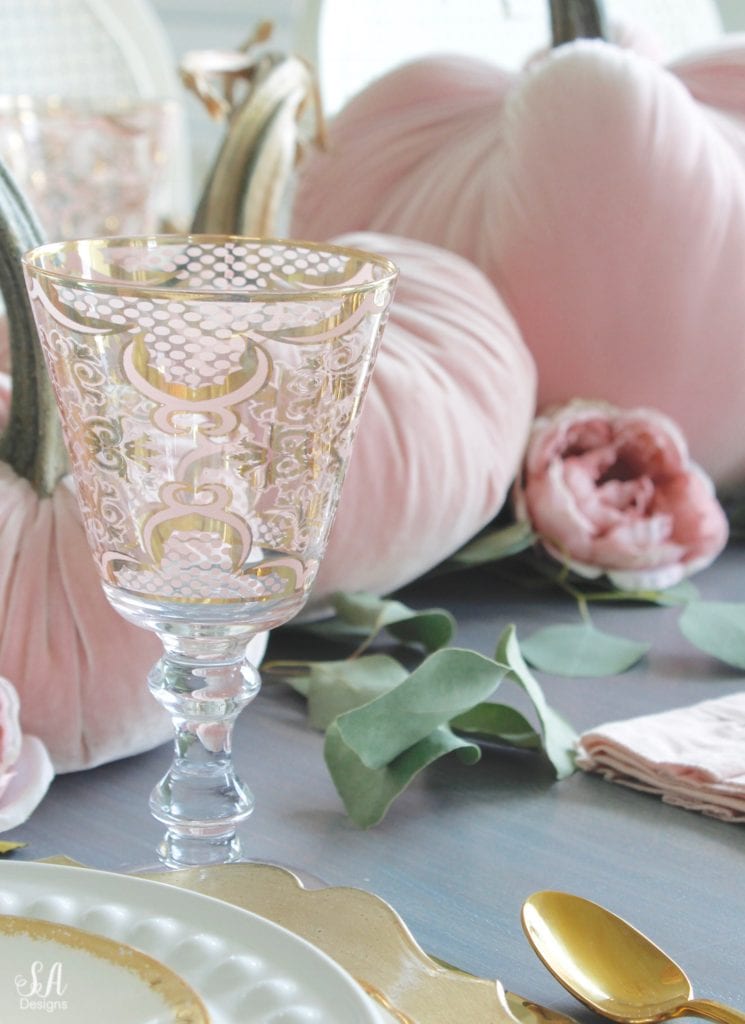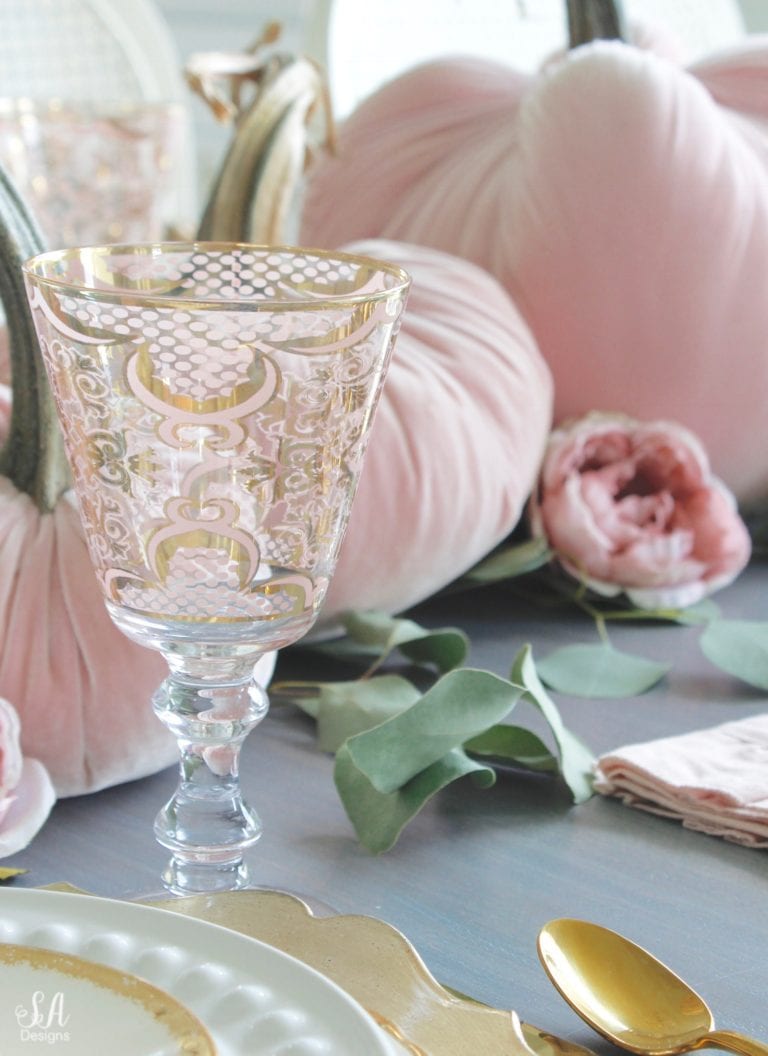 I recently received these gorgeous new blush and gold goblets and I'm soooooo in-love with them! They were perfect for this tablescape!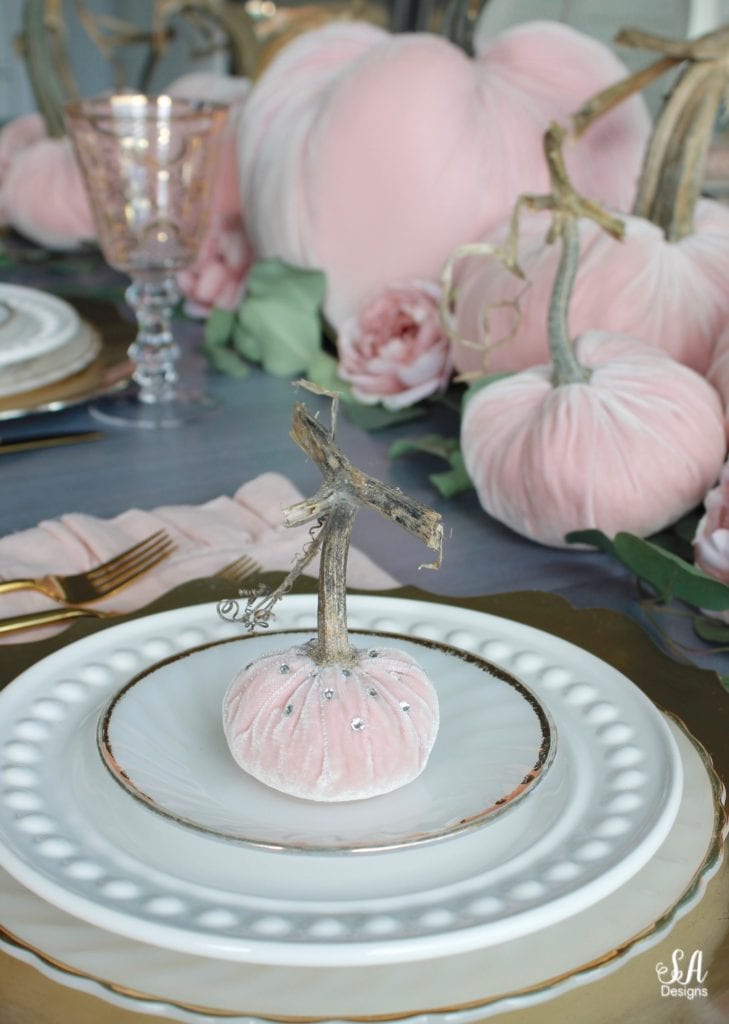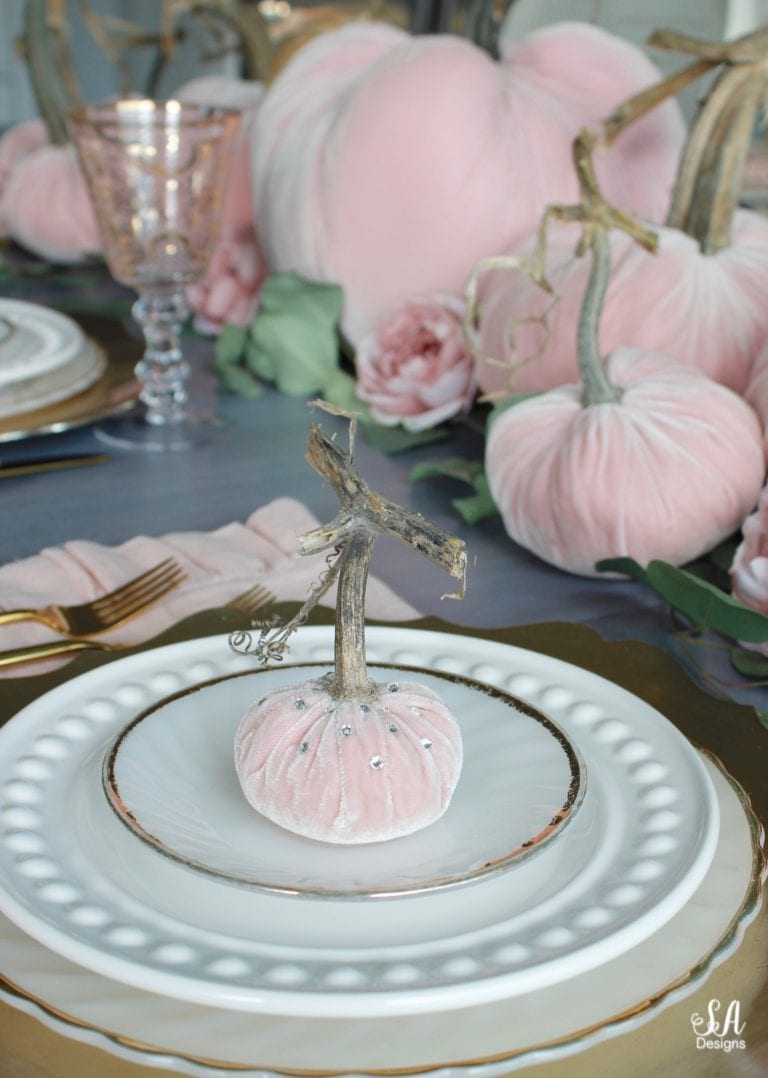 Daria showed me these mini blush pumpkins with swarovski crystals and my jaw hit the floor! I had to have them. They not only look cute on top of each setting but they'd be so cute with a name card tied to them OR to give as a little gift or party favor if you were having a shower or brunch with girlfriends.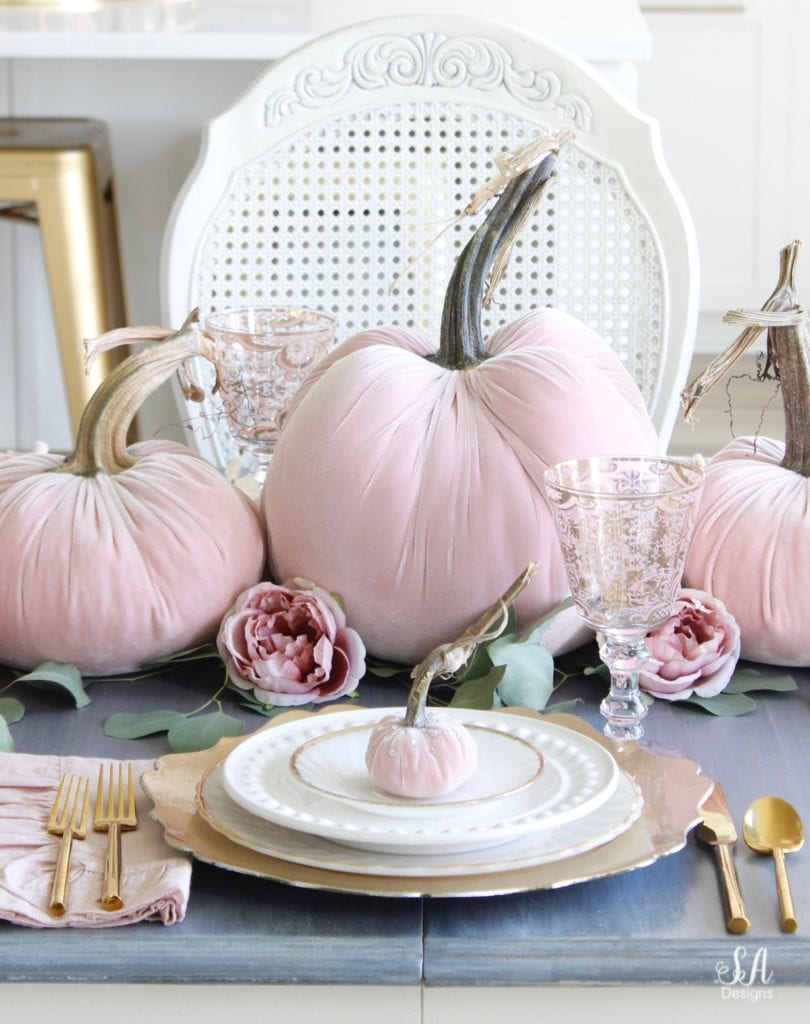 Aren't they precious?!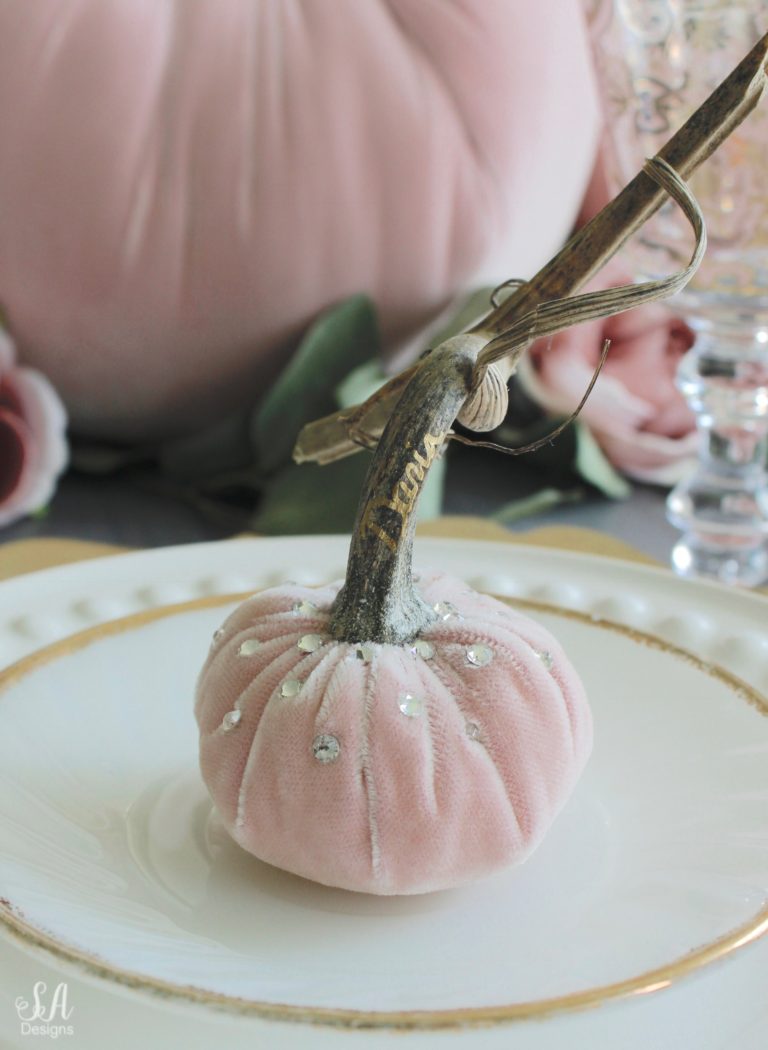 Oh! And I love that each pumpkin stem is signed by Daria herself….just like every piece of art should be!
I decided to use my gold chargers, vintage milk glass dishes and layered them with my white beaded dishes.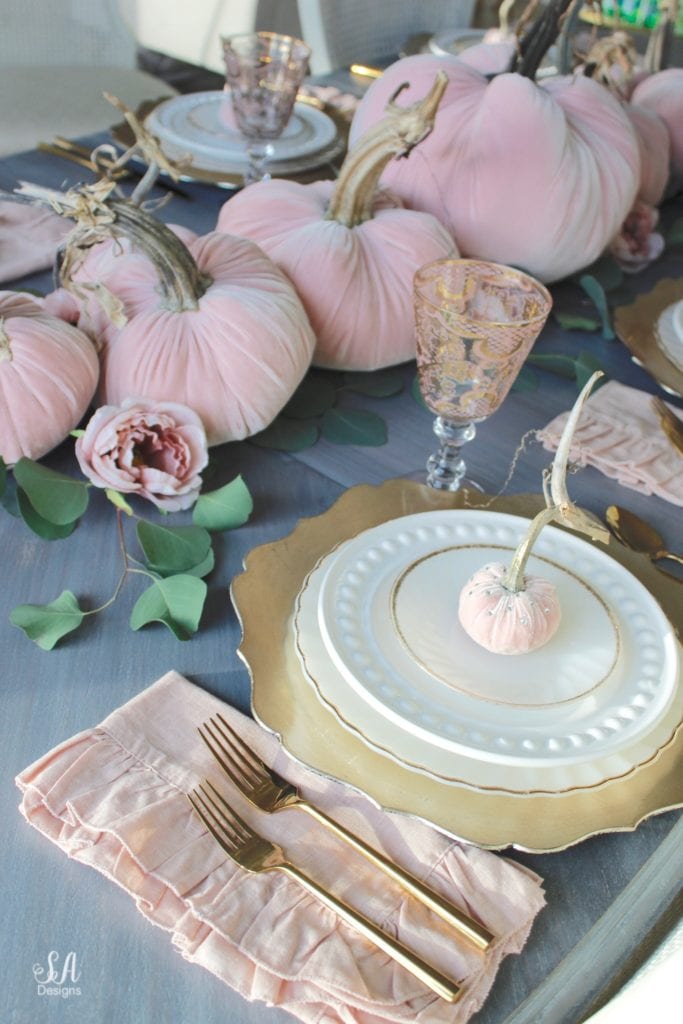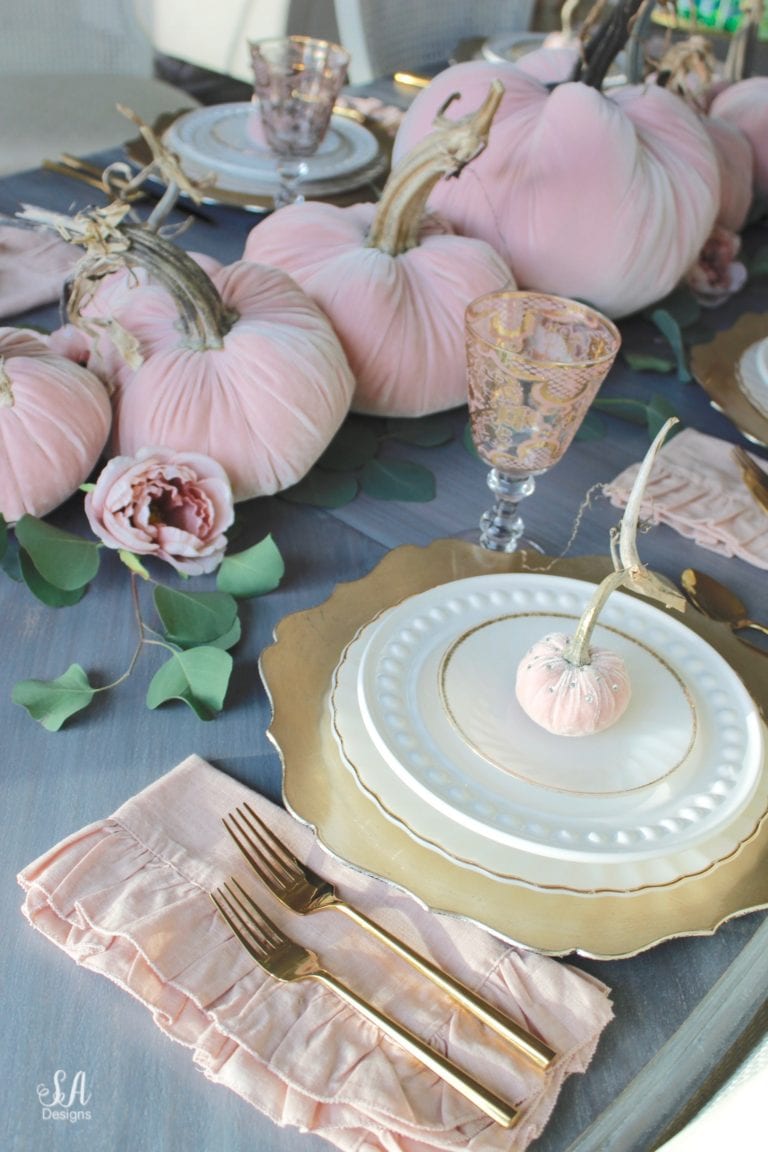 These blush pink ruffle dinner napkins made another appearance with my "goldie-ware", as I call it (you call it gold flatware…haha).
Romantic Fall Table By Candlelight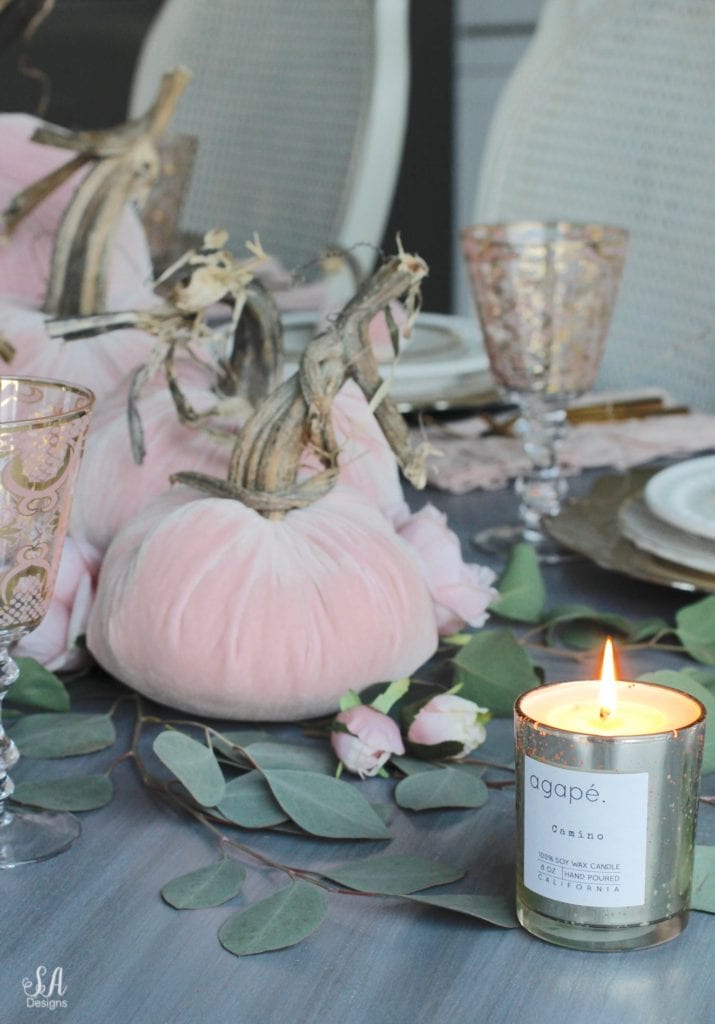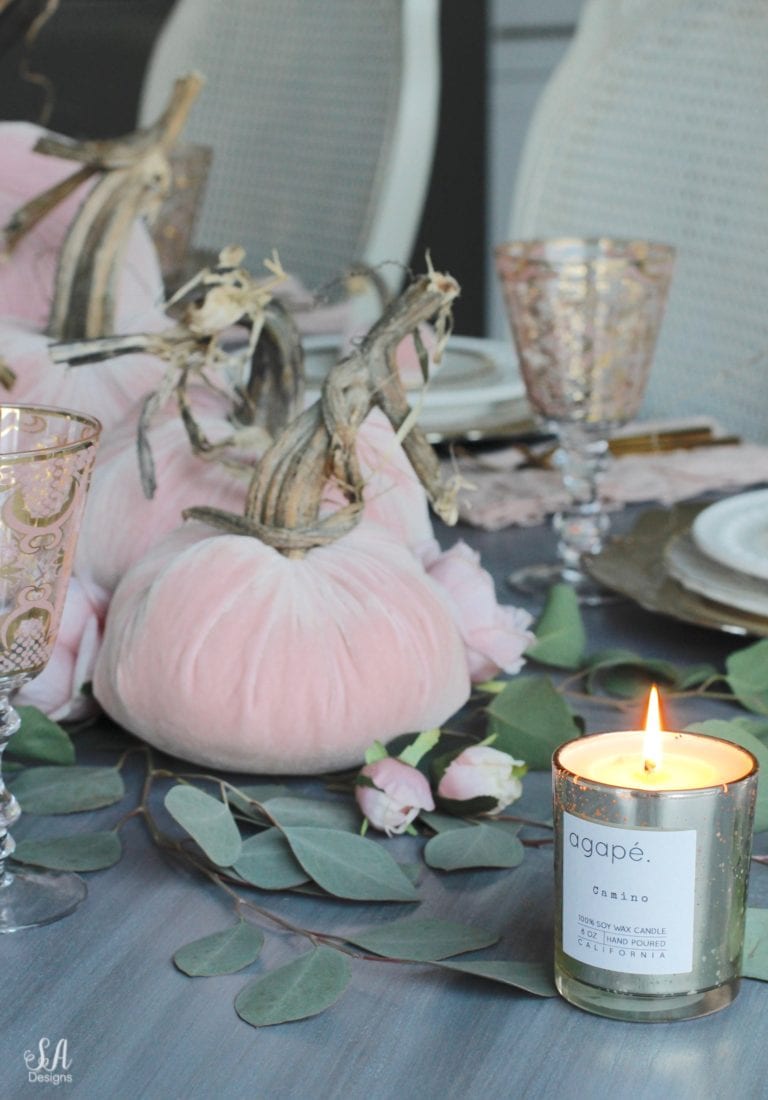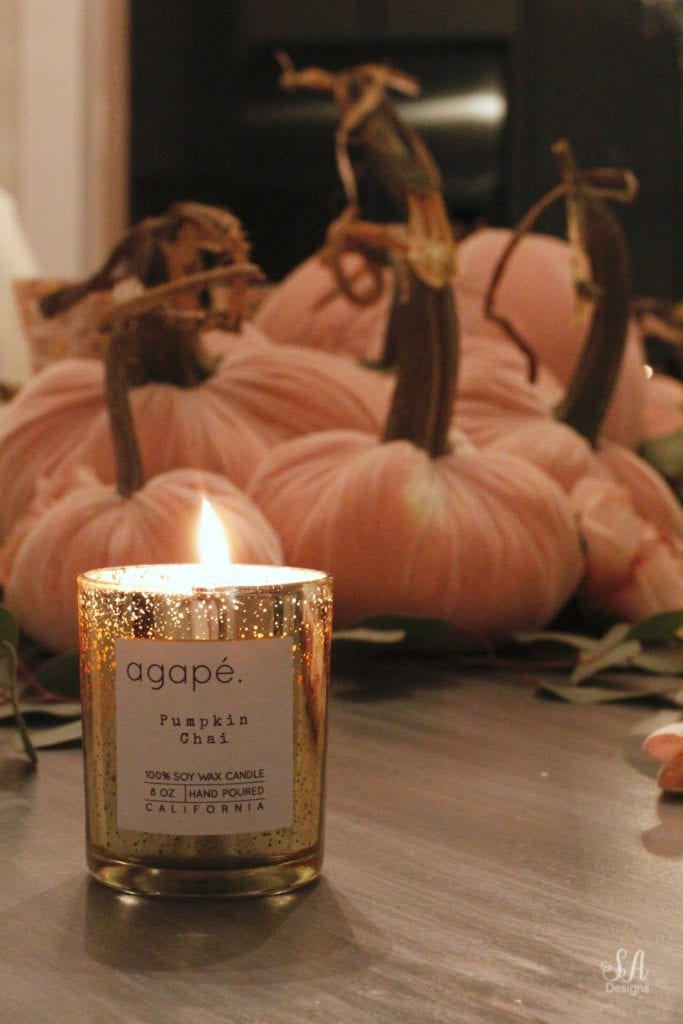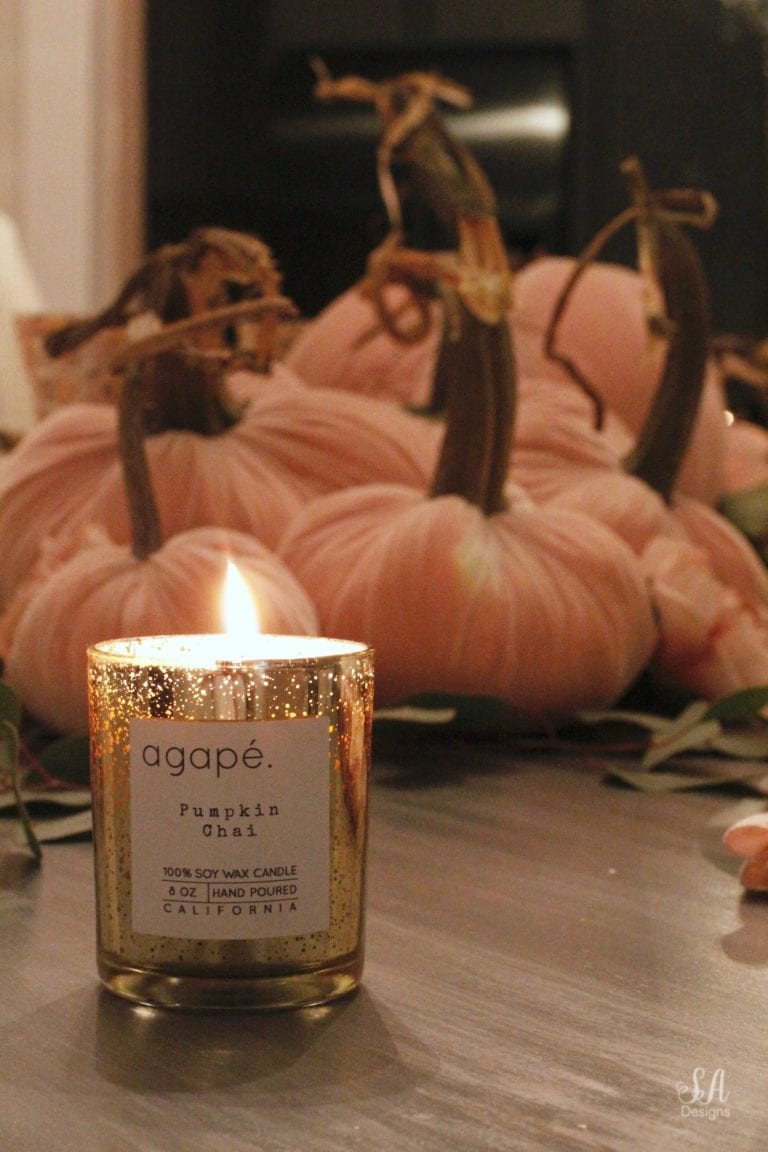 If you're a regular reader, you know how much I love Agapé Candles, especially these new fall scents, and they were perfect to bring out at night in their pretty mercury glass votive sizes.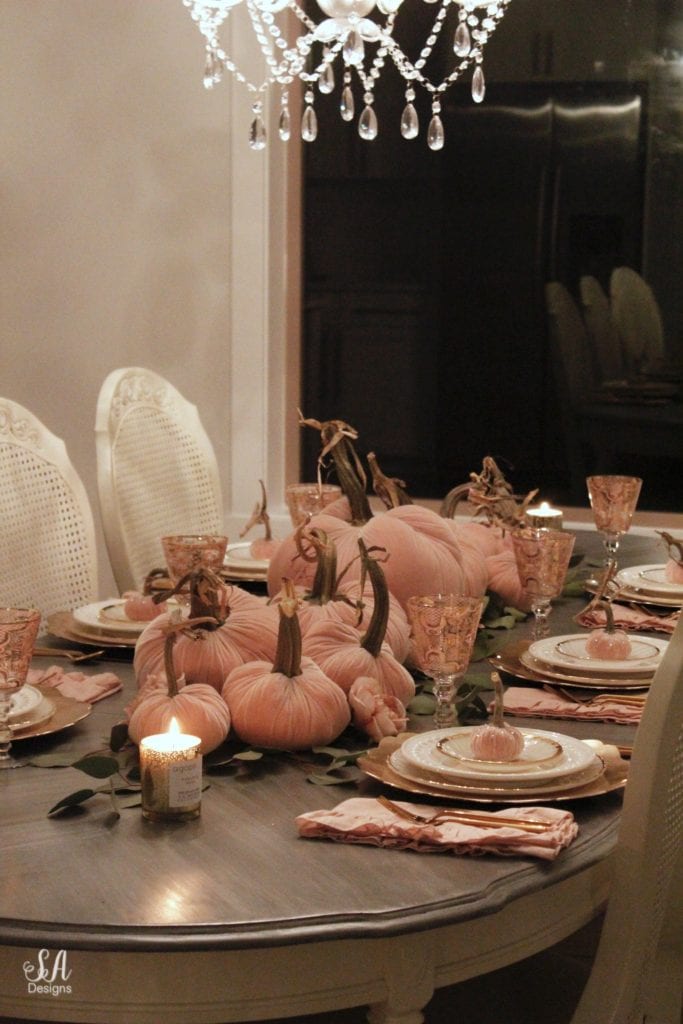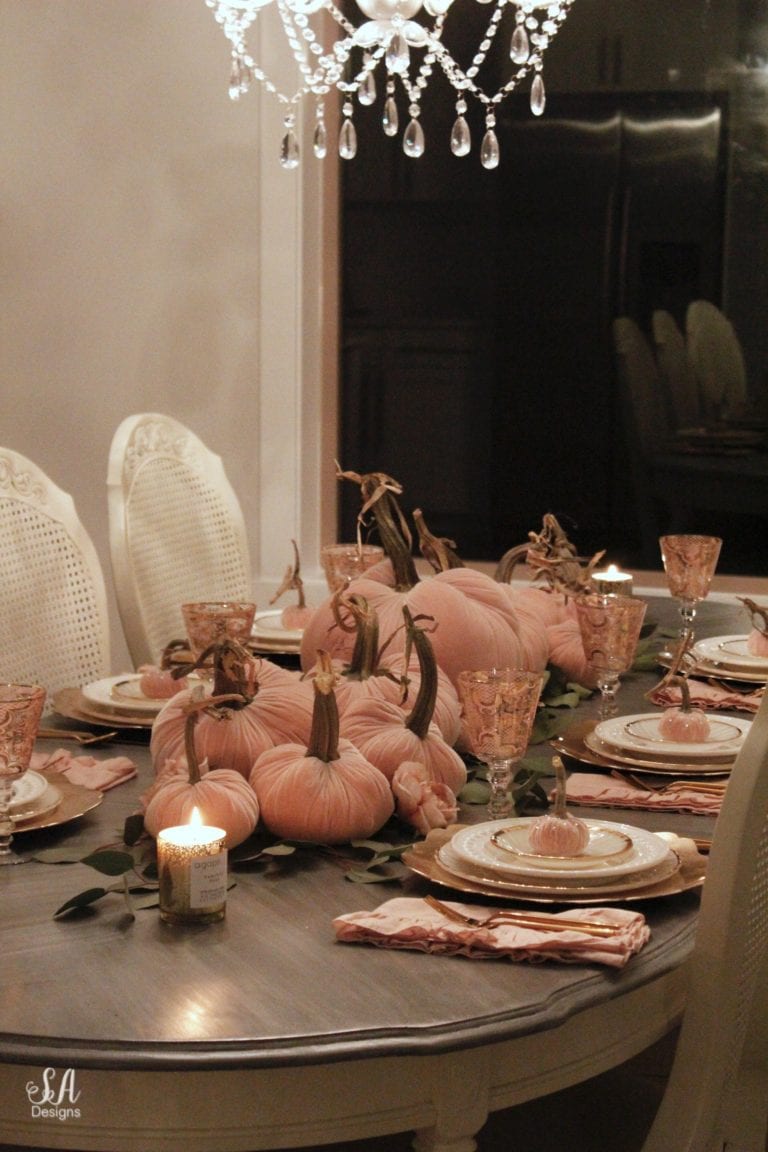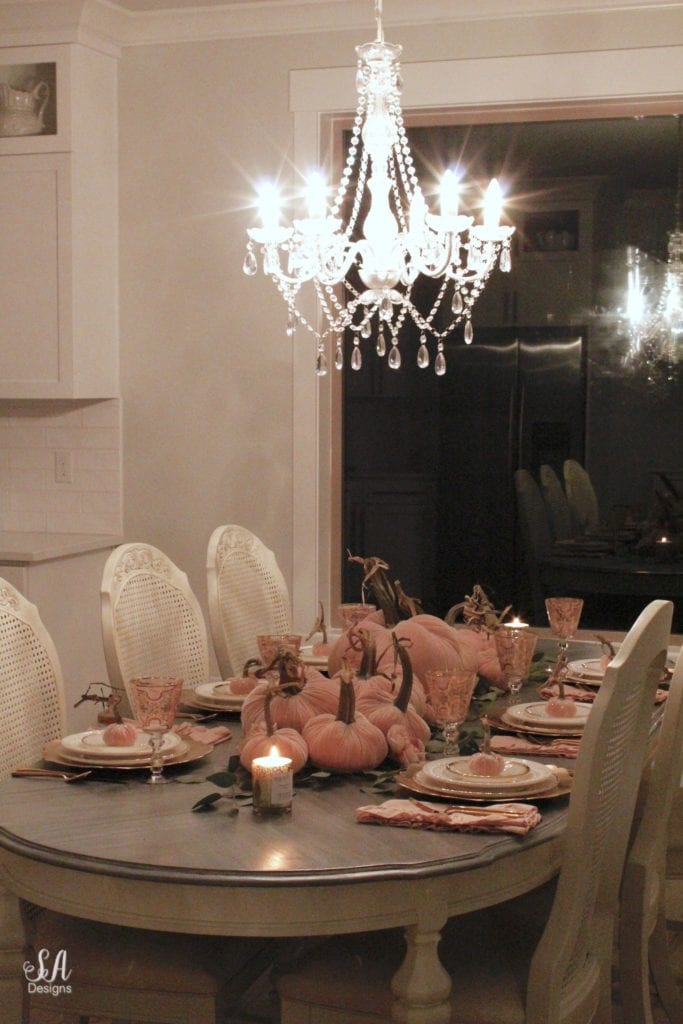 Cue music, light a fire in fireplace, add yummy food and you have the most beautiful and romantic blush rustic glam fall table with the prettiest blush velvet pumpkins. Oh! And good company, of course!
Create Your Own Blush Velvet Pumpkin Tablescape For Fall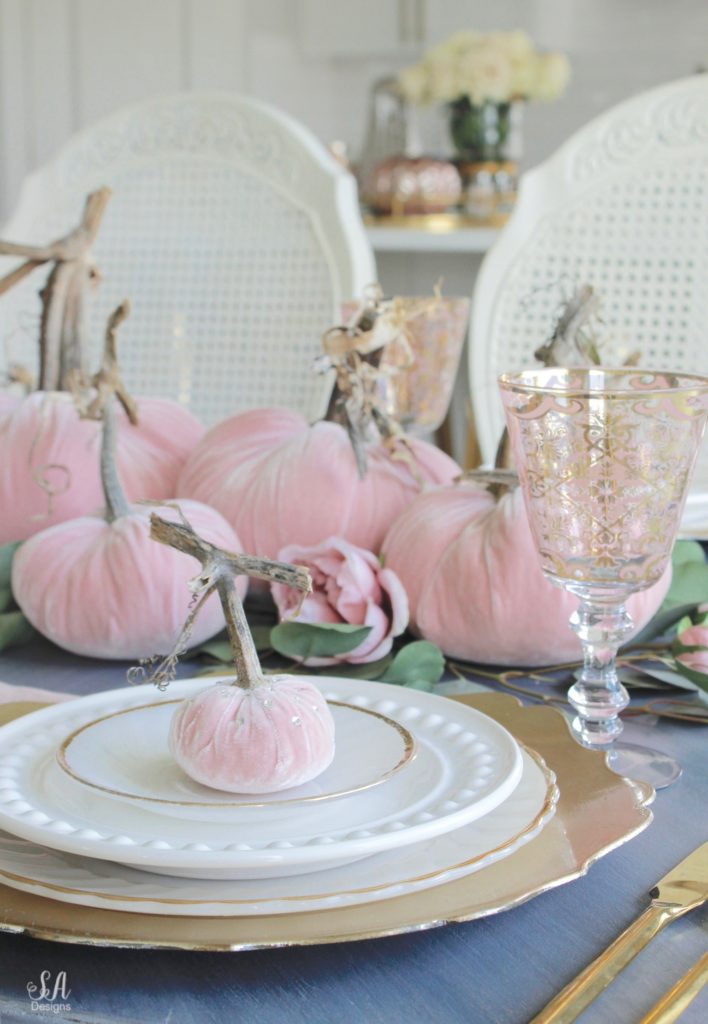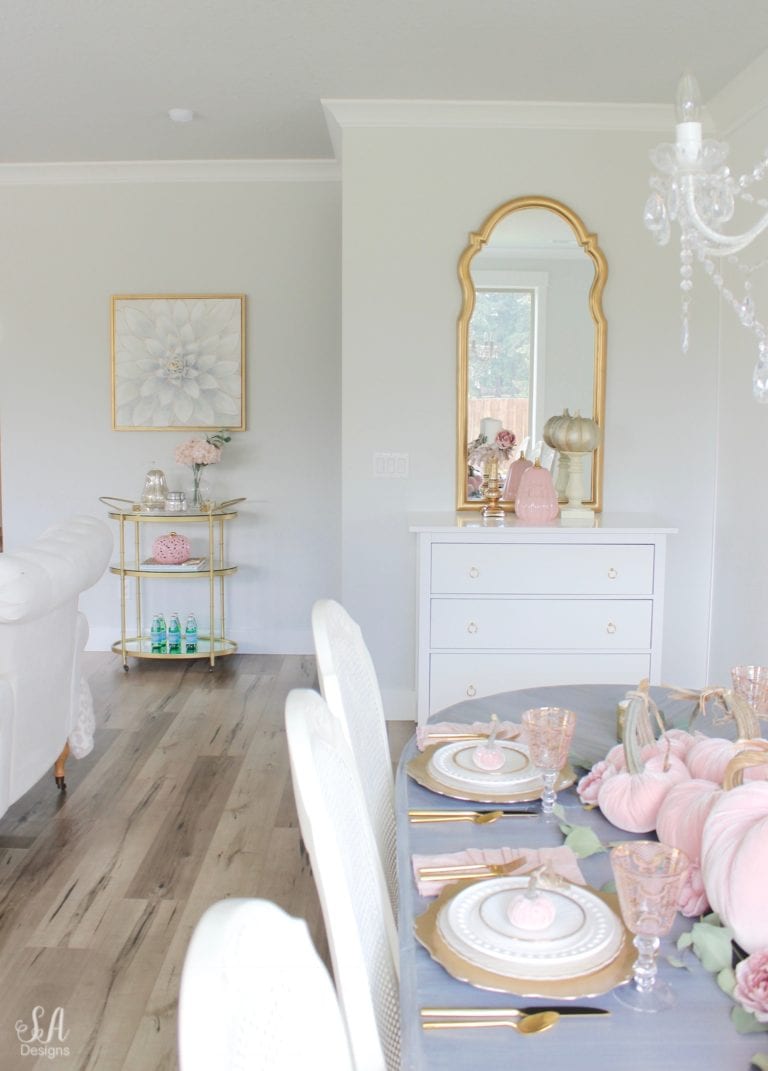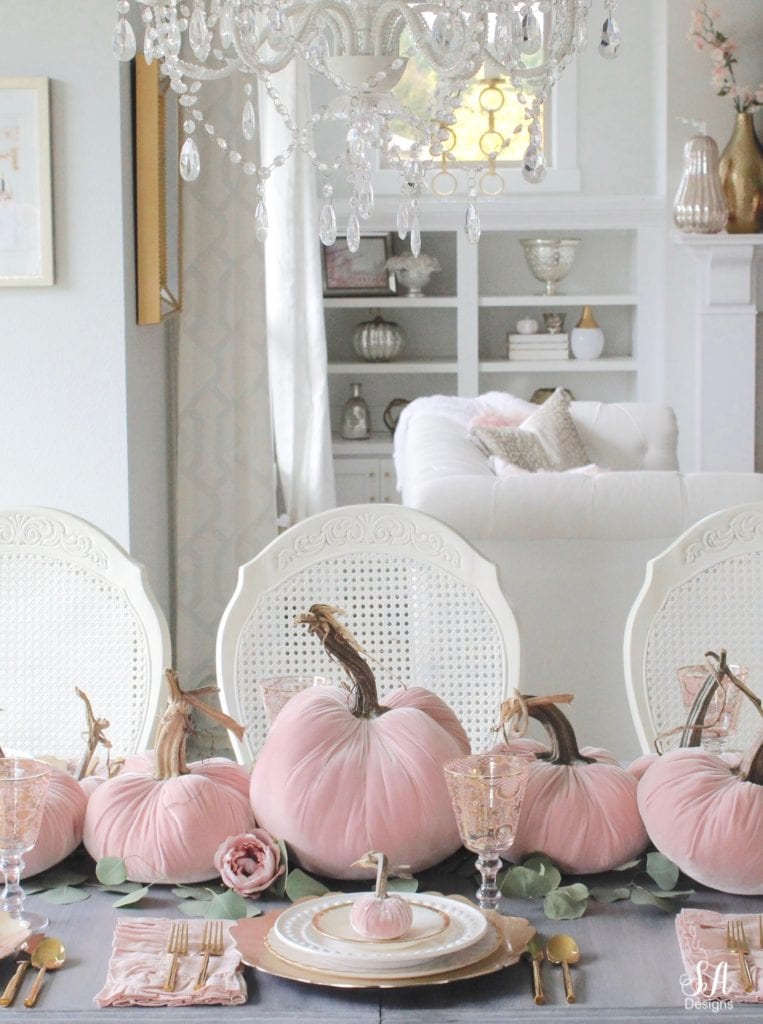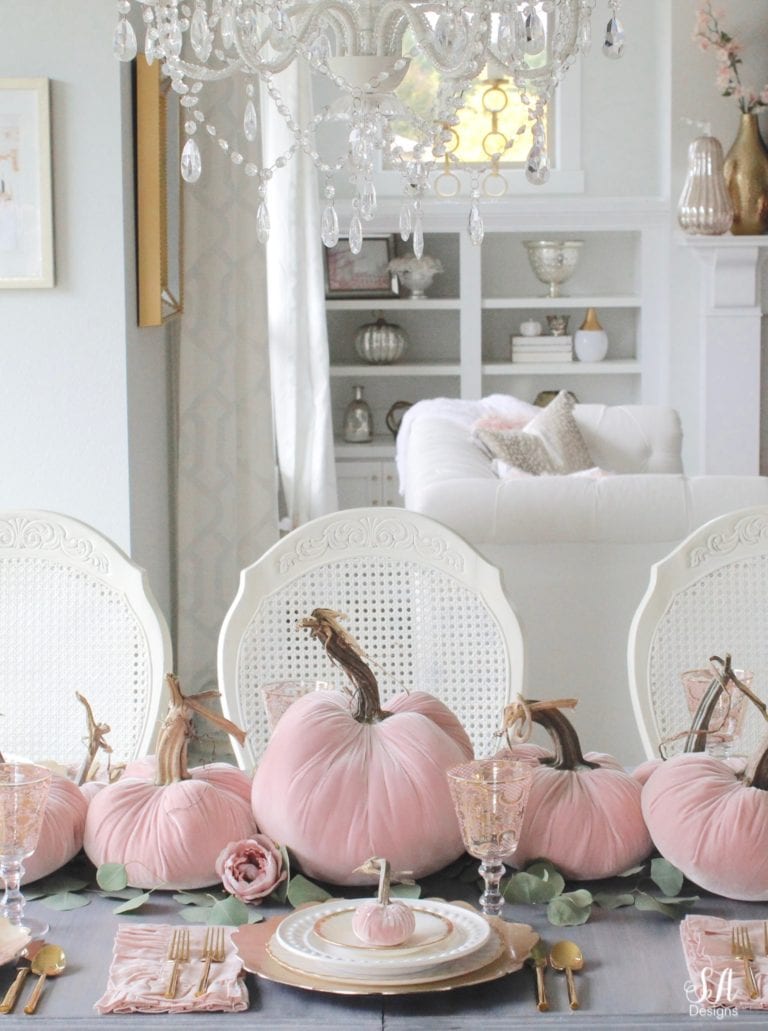 I will link the items below that I used, or items like them, for your shopping convenience. It is so easy to find things from your home that you already have to incorporate in a tablescape like this OR you can add to it and purchase pieces. You'll be able to mix and match good napkins, goblets, flatware, dinnerware and more when creating beautiful tables. It's really important to invest in good pieces that you'll use over and over that are also within your budget.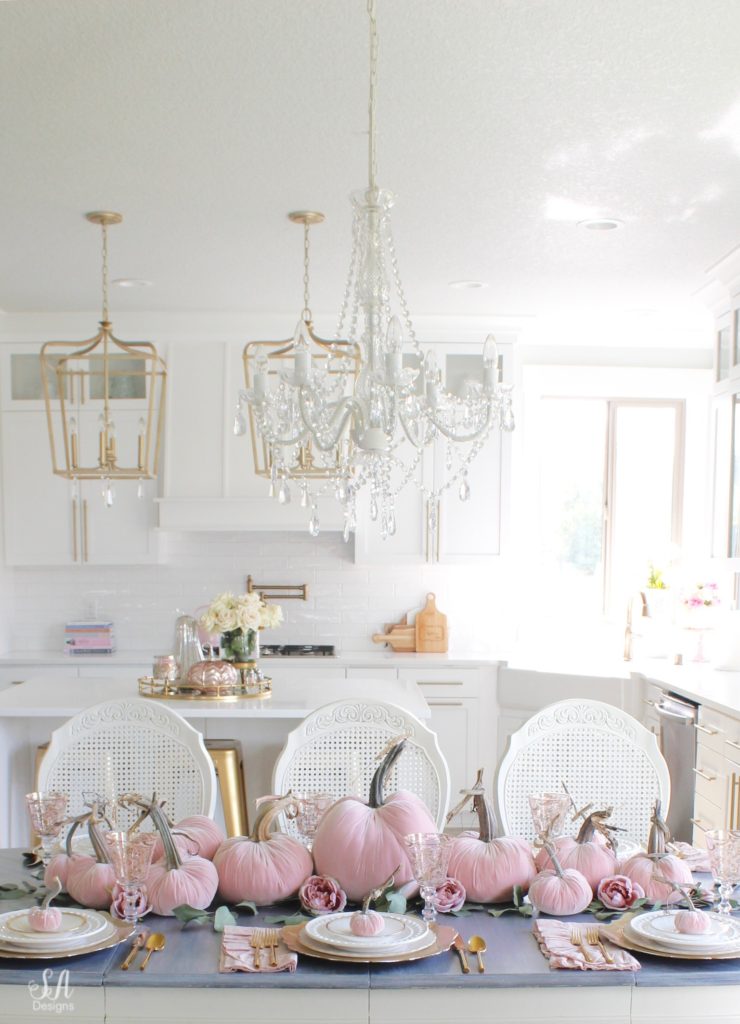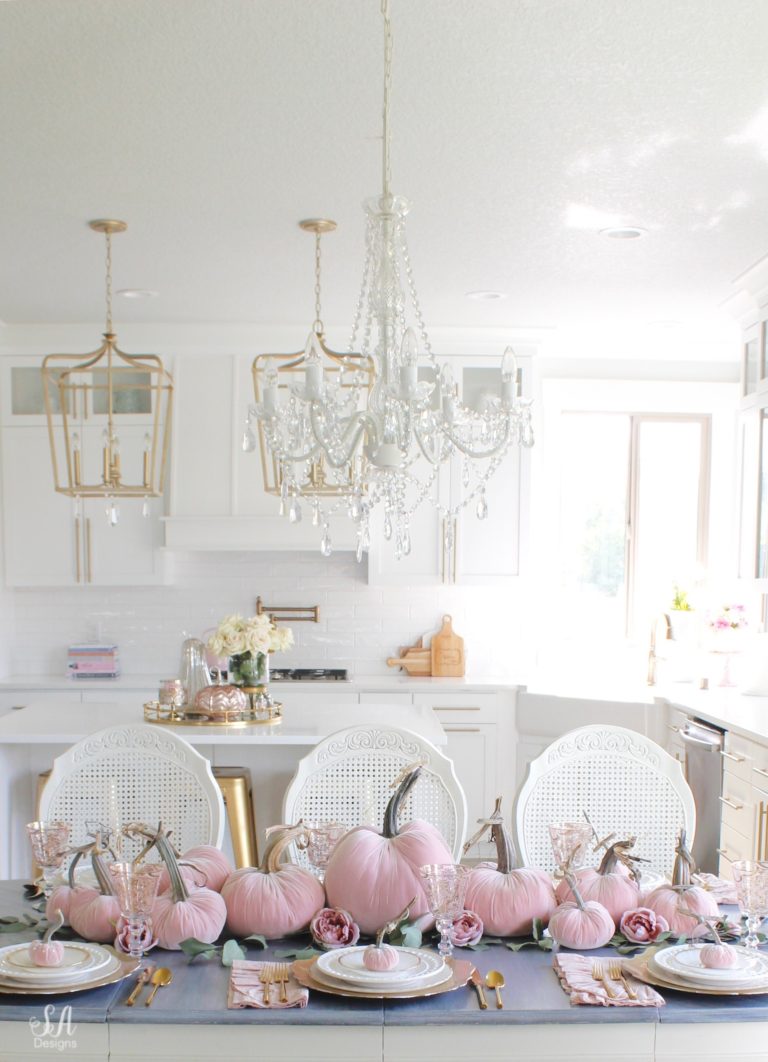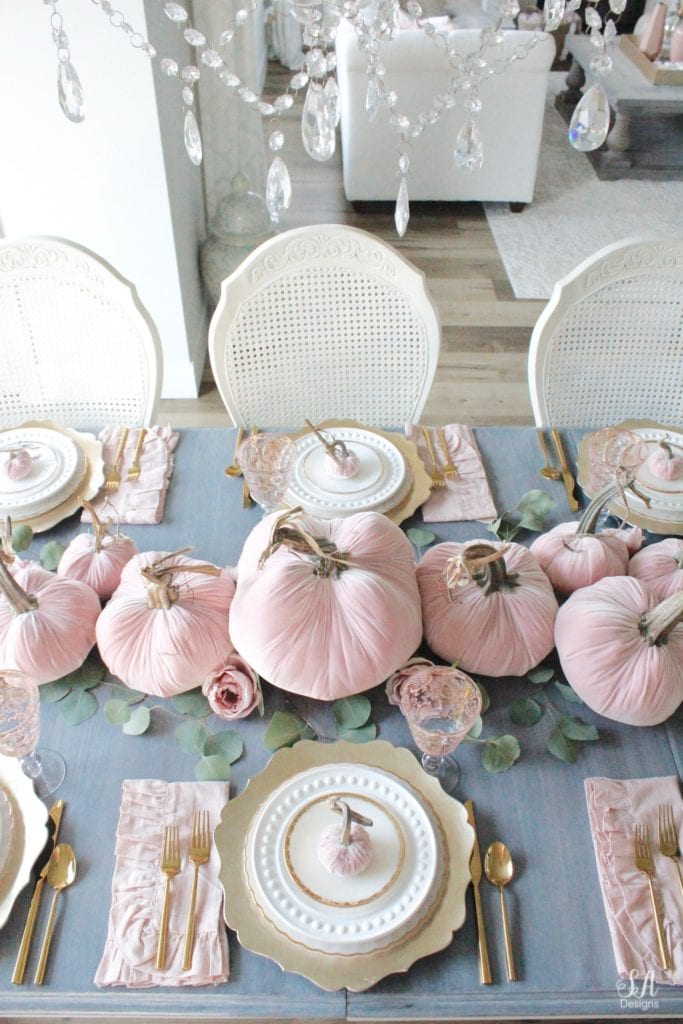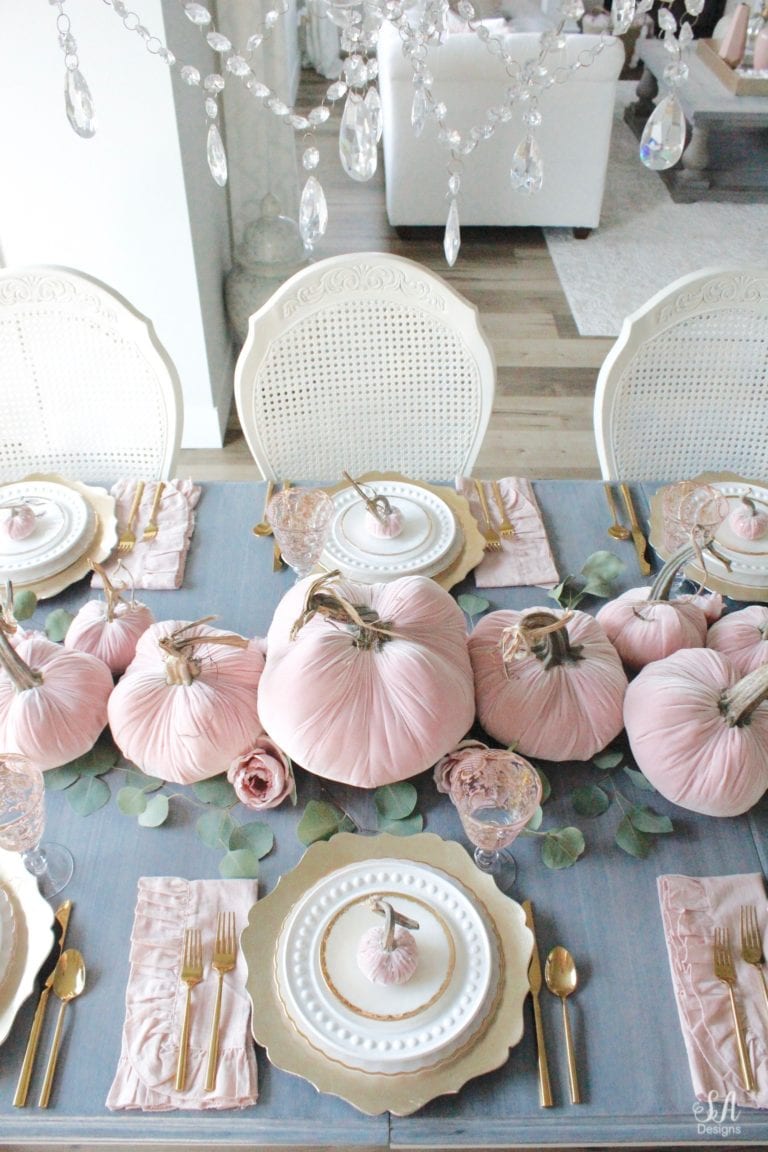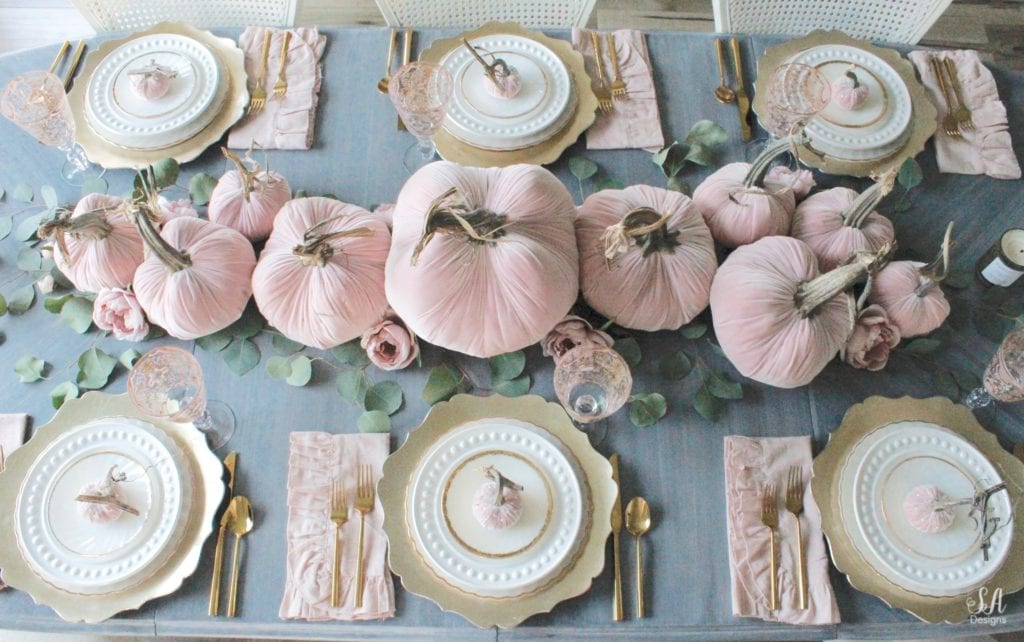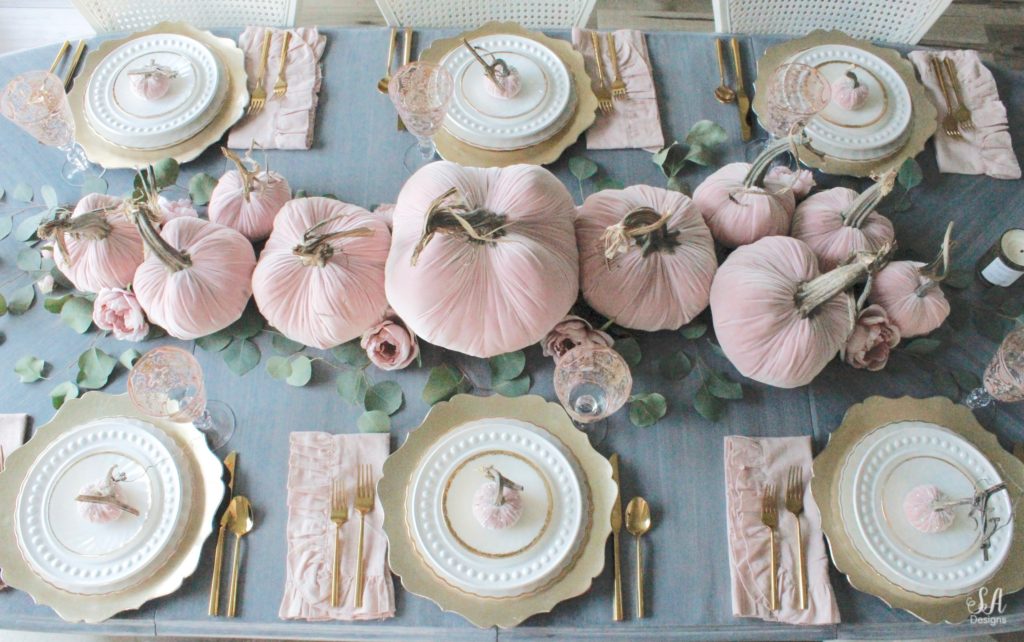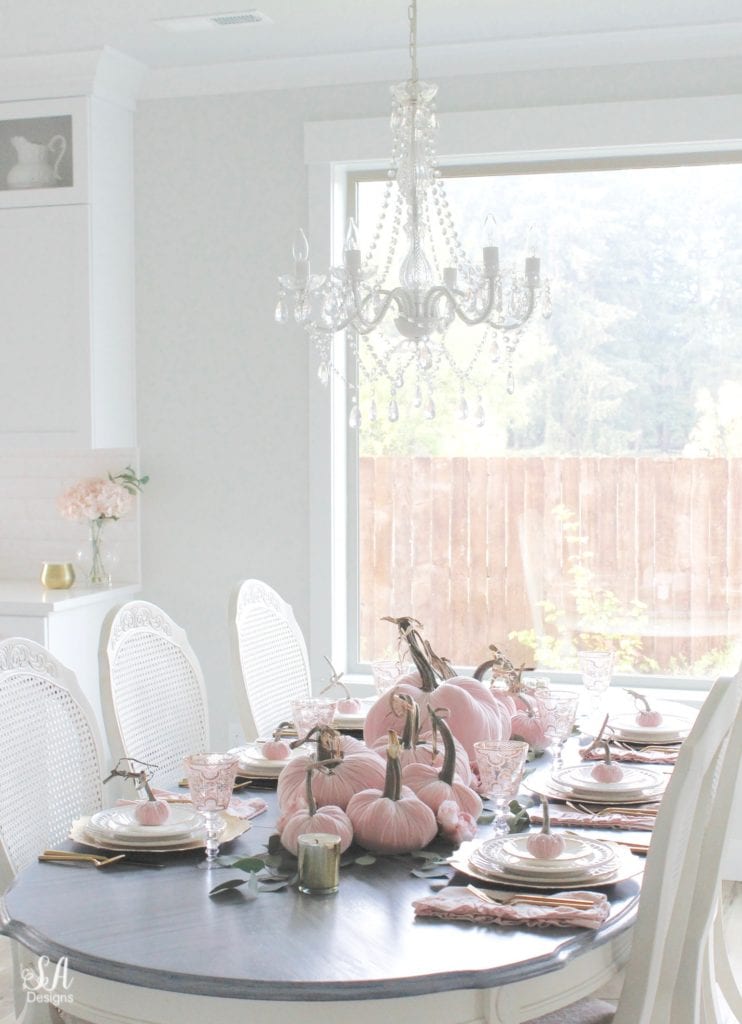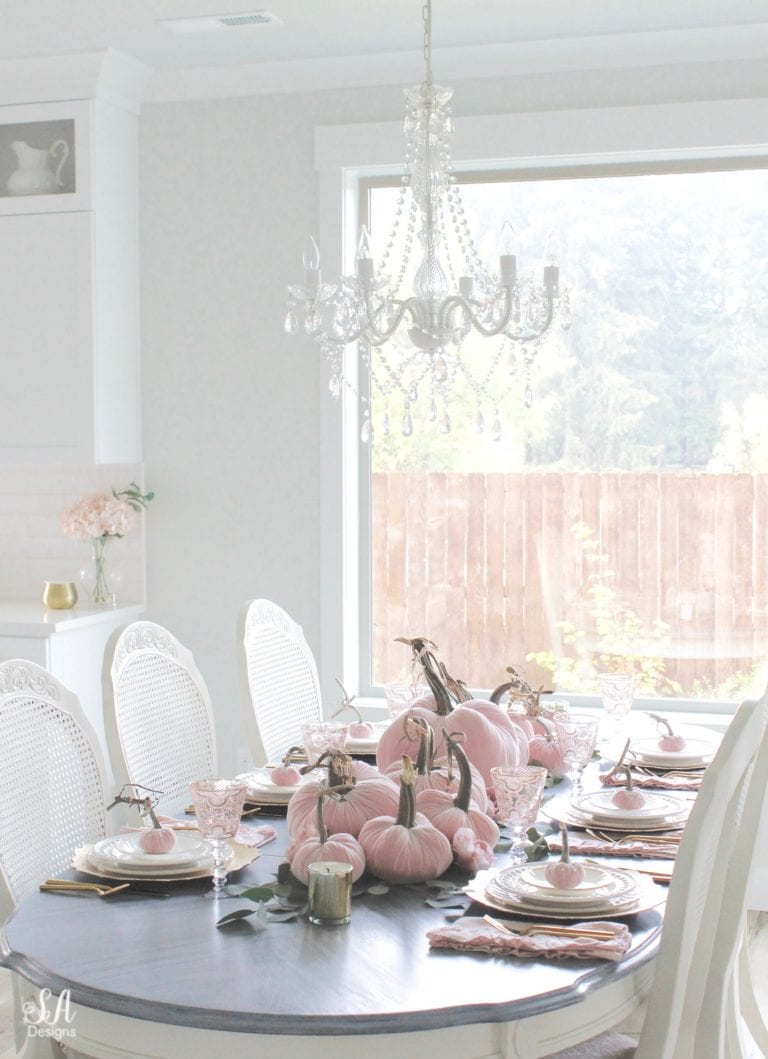 You can purchase these blush pink velvet pumpkins HERE.

If you want to see my other fall table (it involves flowers coming out of a pumpkin…so fun), click HERE.
Please make sure to visit my other 5 friends and pin everything you love!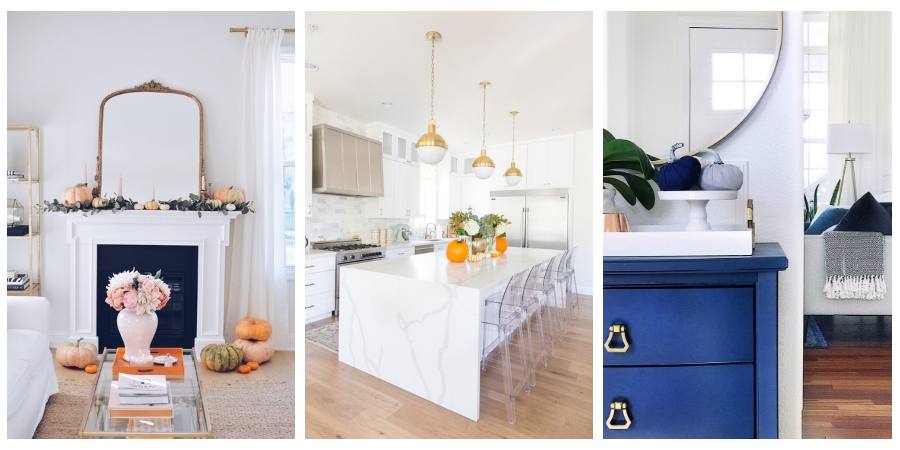 The Pink Dream | The Posh Home | Jane at Home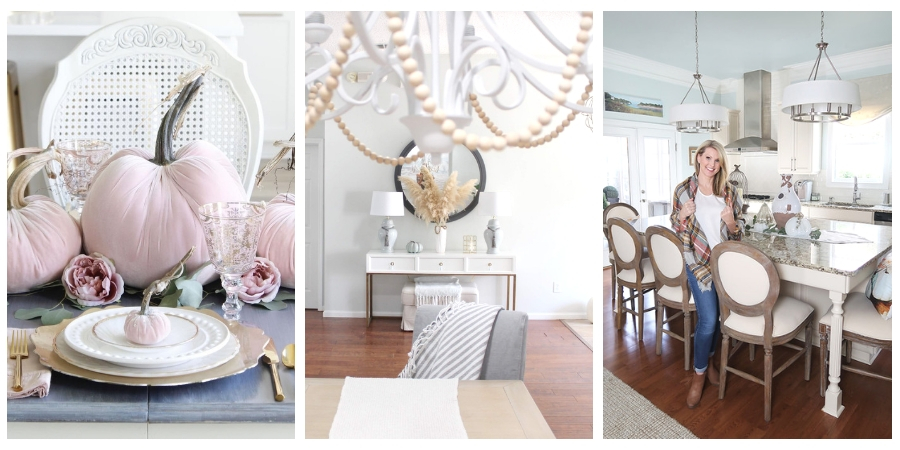 Summer Adams | House Full of Summer | Porch Daydreamer
***
Thanks so much for stopping by today! I would love it if you could subscribe at the top of the page in order to receive my weekly emails of all my latest blog posts and see everything I'm working on! You can also follow me on Instagram, Pinterest, and Facebook to see what I'm up to in creating a home and lifestyle of inspiration!
xoxo,