If you know me at all, you know that I love anything with a bow!  A present, a ponytail, or even on a Kate Spade handbag….I just adore it!  So why not put it on a table setting somehow?  For years this has been one of my favorite ways to fold a napkin so I decided to share many different now napkins that impress!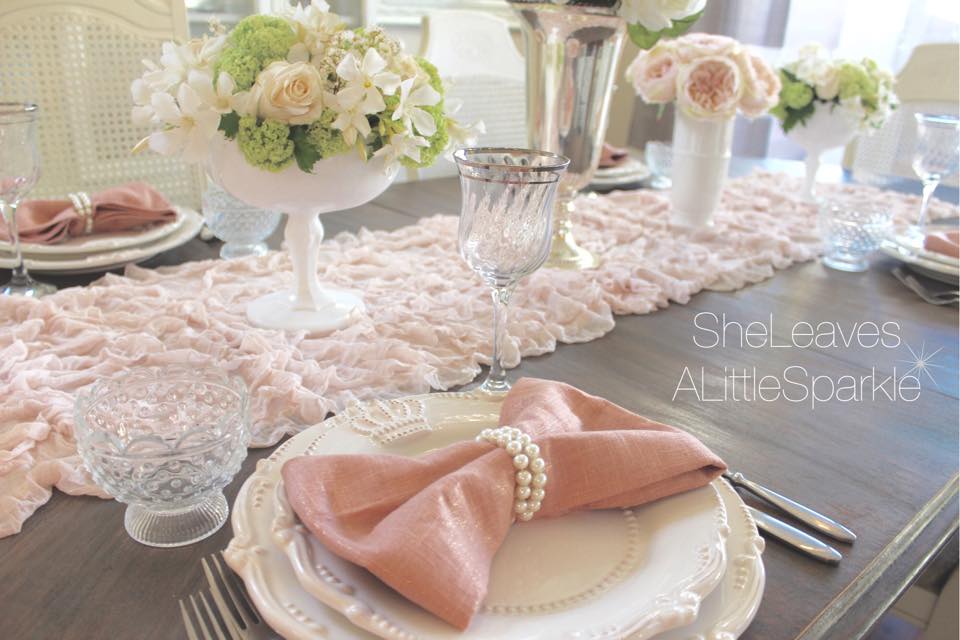 This past May I participated in a Mothers' Day Tablescape Blog Hop with some of my blogger friends.  I wish my mom could have been here to enjoy it but she still loved all the pictures.  I thought of her when putting it together.  I wanted it to be soft and feminine with ruffles and flowers and pearls.  It came together beautifully and those bow napkins with pearl stretch bracelets from my online shoppe were the perfect touch of elegance!  Also from my online shoppe is this blush ruffle throw blanket that can be cut length-wise to turn into a runner.  Don't these bow napkins with pearls make you think of Audrey Hepburn?!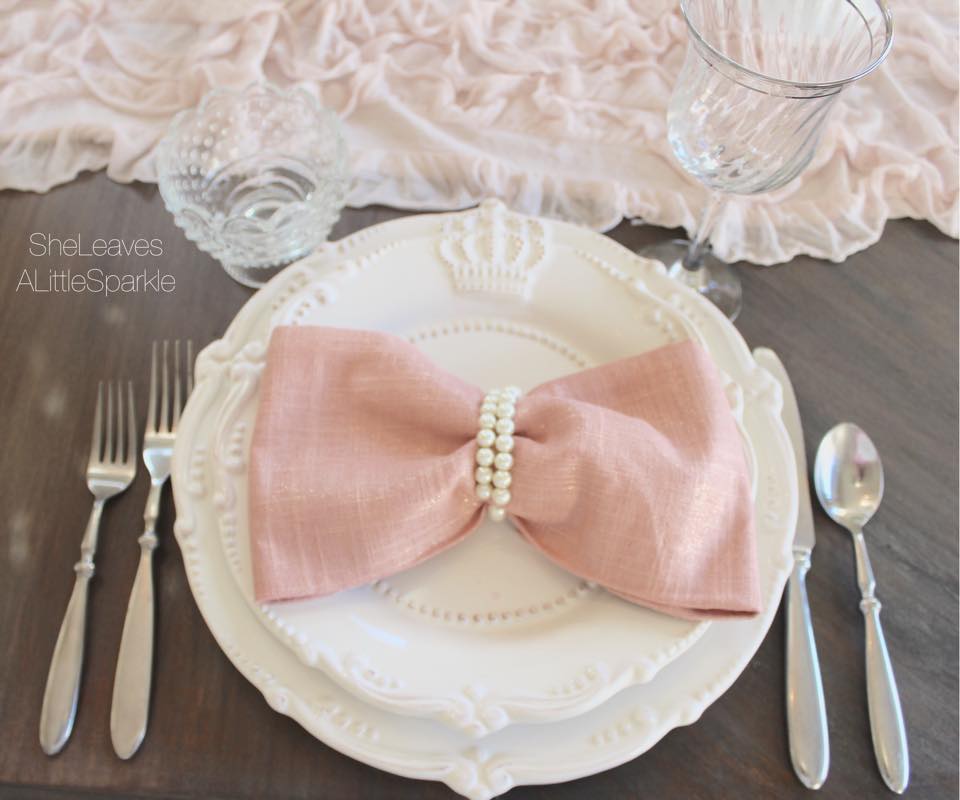 It was very easy to make this bow napkin and I have the directions all on that Mothers' Day post here.


Here are some of my other favorite bow napkins that impress and will give you some fabulous inspiration.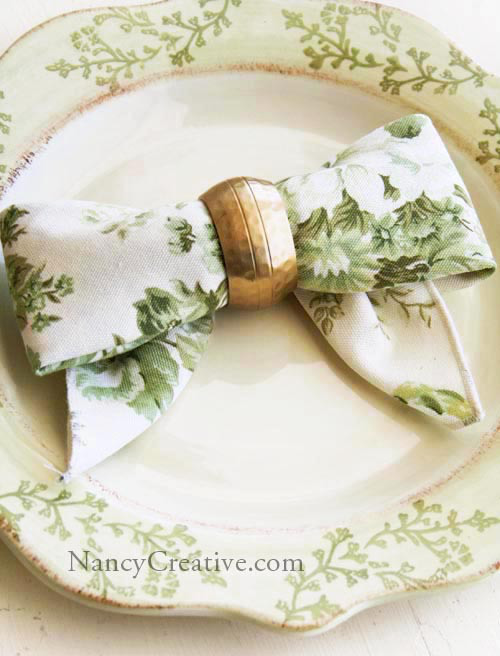 I love green! It's so fresh and vibrant and I especially love it paired with gold.  I died when I saw this one made by NancyCreative.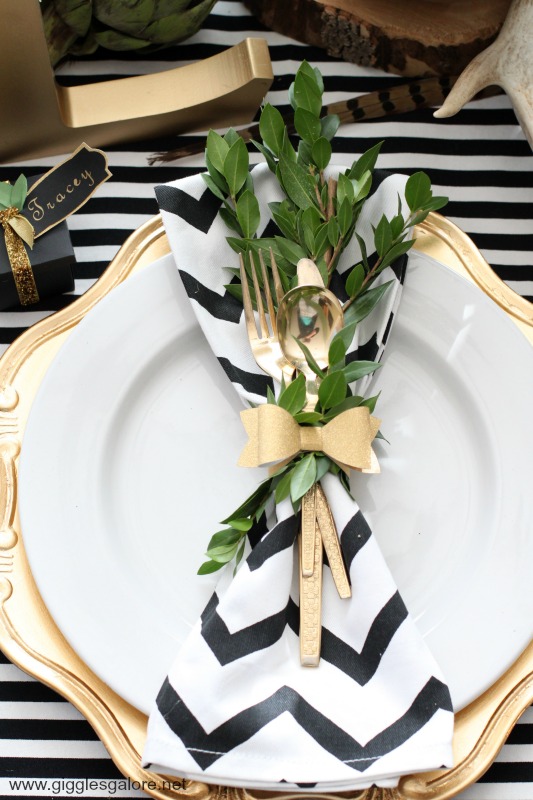 In case you couldn't already tell, I love gold.  I love the way that GigglesGalore used this bow napkin and placed it vertically, tied with another gold bow.  Just fabulous!  This was her Thanksgiving Tablesetting but I think it would also be stunning for New Years' Eve.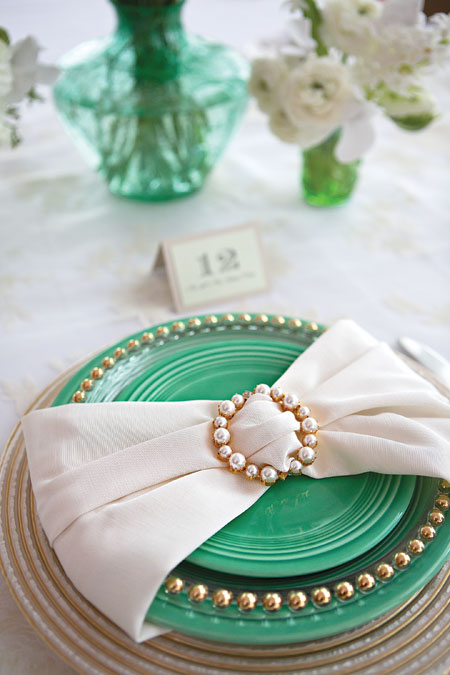 This emerald place setting by Kate & Co. is just divine!  The bow napkin perfectly loops through the napkin ring and behind the top plates.  I love how the ring goes with the gold beaded glass plates (on my wish list).  This was for a wedding but it can easily be used for a dinner, ladies luncheon, St. Patrick's Day, Christmas….the options are endless!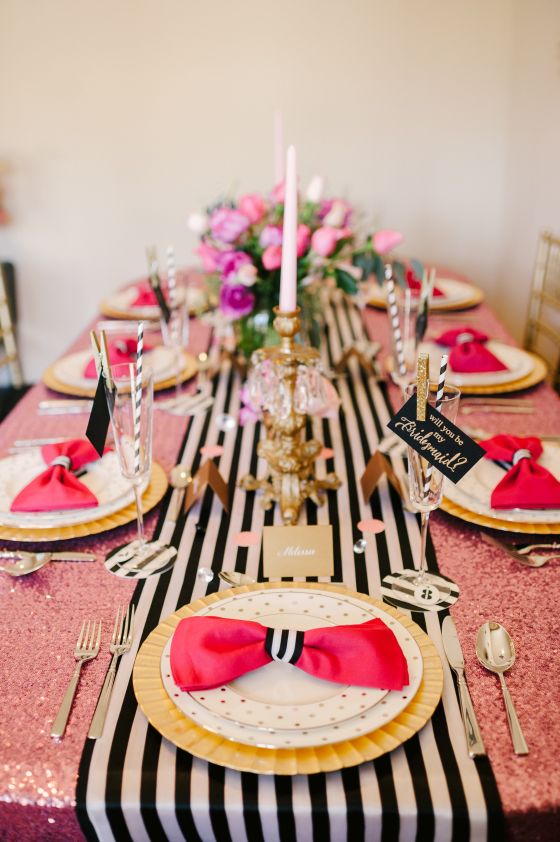 Did someone say Kate Spade?  Yes please!  ThePerfectPalette shared this Kate Spade-inspired dinner party that is so swanky and chic for a bunch of girlfriends getting together.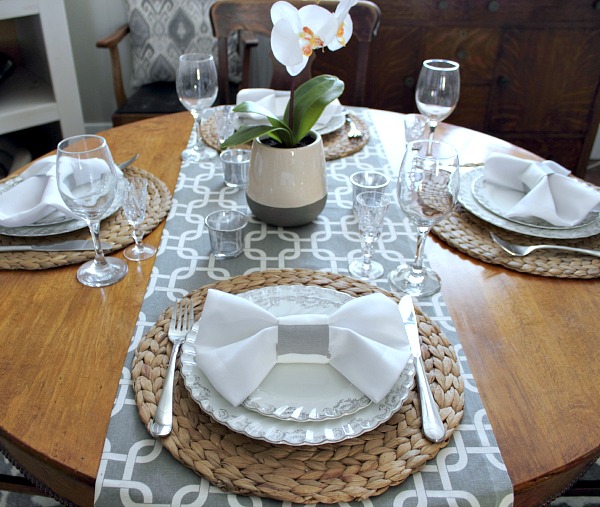 Courtenay at CreekLineHouse shared this more casual way to share a bow napkin at dinner time.  I think it's absolutely adorable!  Wouldn't your family just love it for a change?!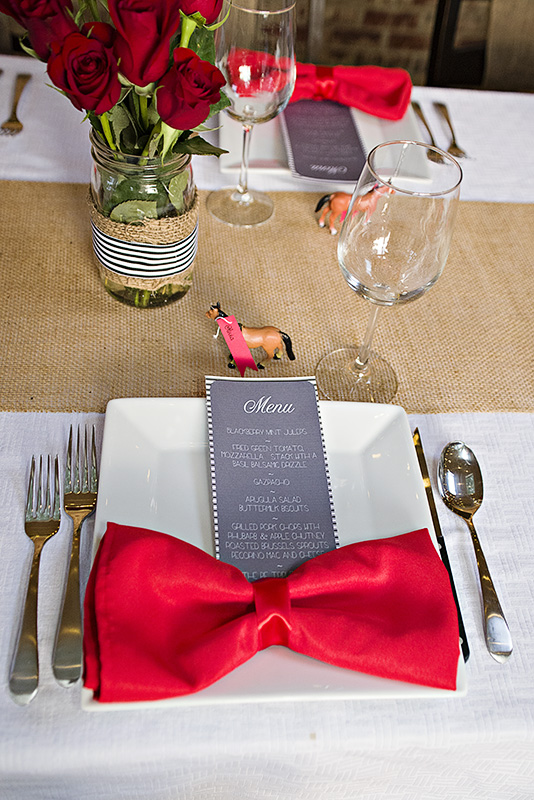 These adorable group of women at DC Gourmet Club get together and have dinner parties.  Here are their bow napkins and place settings they made for their Derby Dinner (and wore hats).  My dream group of girlfriends! I love this so much!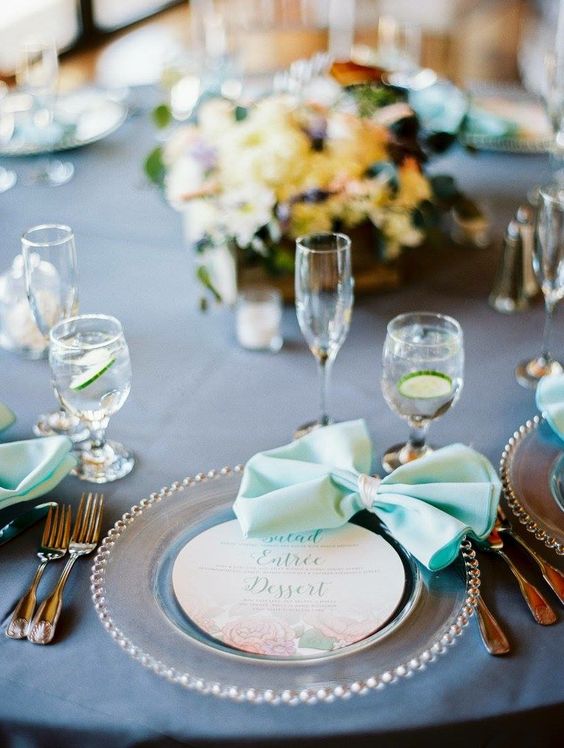 I love Tiffany Blue and these bow napkins by Weddings By Vistancia is not only perfect for a wedding or shower, but the size is adorable and I think it would be perfect for a baby shower or luncheon with girlfriends.  This is the first time I've seen the bow napkin at the top corner like that. And instead of a menu in the center, you could print out some lovely and inspiring quotes and cut them out in circles.  Wouldn't that be so fun?!  Putting that on my list!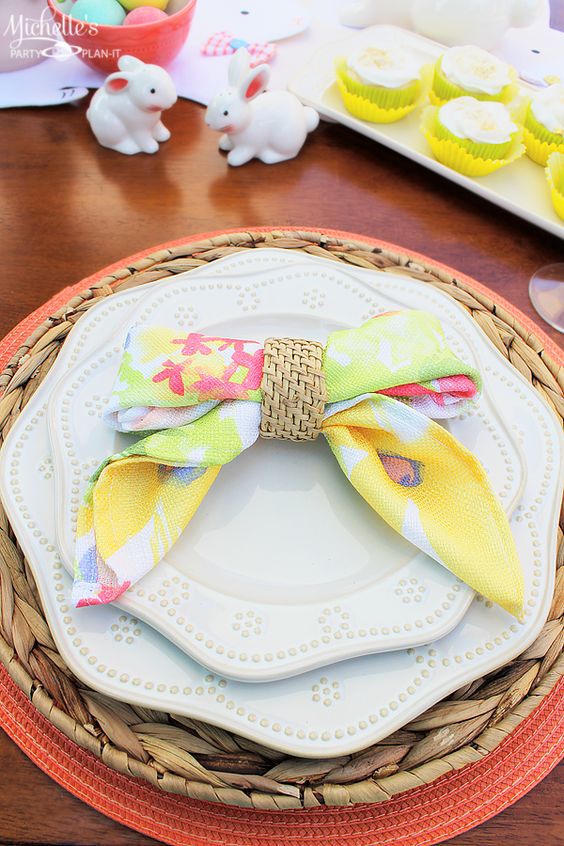 This bow napkin by Michelle's Party Plan It is adorable at Easter but can also be perfect throughout the entire spring and even summer with it's vibrant colors.  Your guests would be delighted to sit down at such a happy table!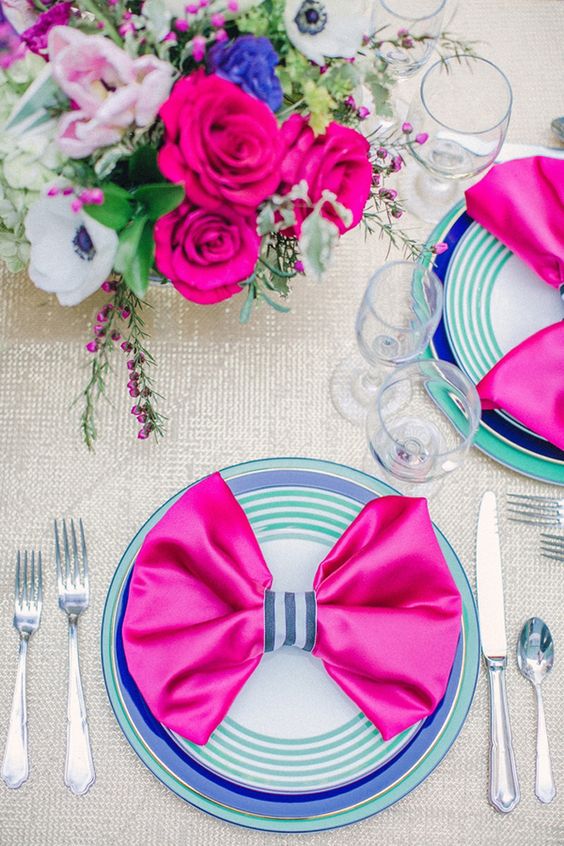 Grey Likes Weddings created this bright and fun place setting with bright colors and the bow napkins but why couldn't you use this on a summer night with dinner on the patio? Or inside! It's so bold and beautiful and complimented perfectly with that gorgeous floral arrangement.


Tip: I have a lot of fun plates and serve-wear that I've collected over the years and MANY of them have been found at thrift stores, garage sales, and estate sales.  So when you see those stack of blue plates or pink or yellow or green, etc. Grab them!  They look stunning as you layer them with your other pieces, especially with your basic white plates.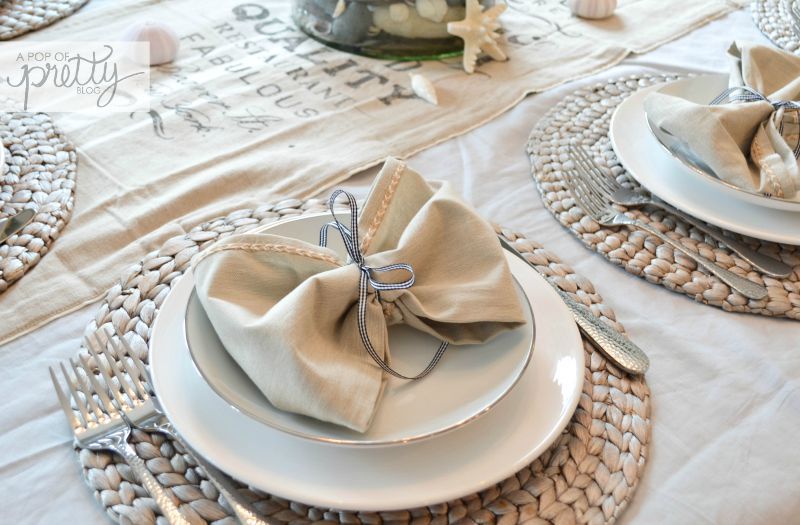 I adore this summer table that Kerri from A Pop Of Pretty created with these linen-looking bow napkins and natural elements.  She included shells around the table and in the centerpiece and I found it to be a perfect, simple, and classic table without breaking a sweat. And yet, I'm impressed!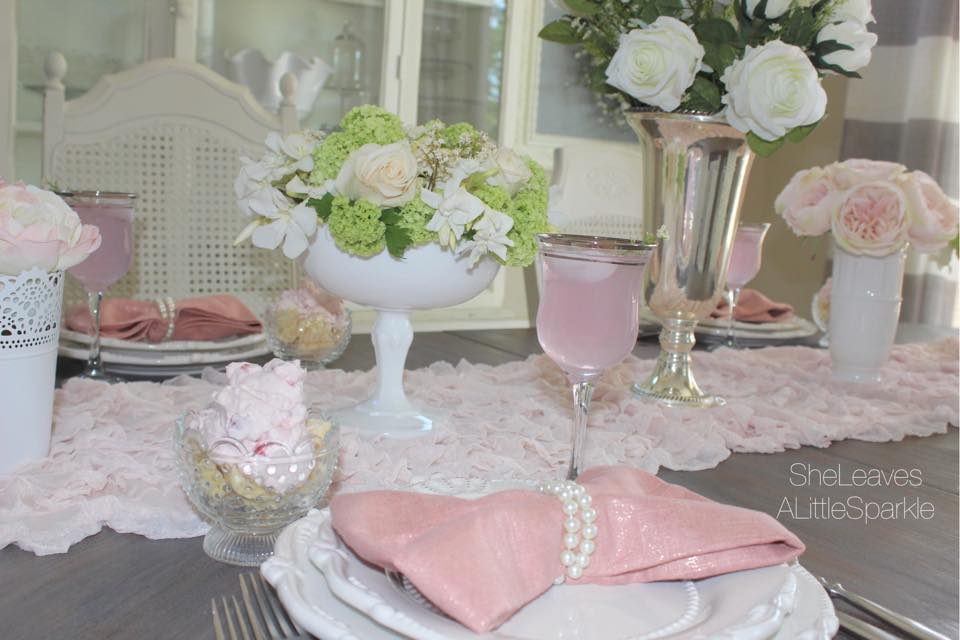 So whatever event you have coming up, I hope you feel inspired to try these bow napkins that impress! I promise, they're simple and your guests will absolutely love the extra detail! Kate and Audrey will be so proud! {wink}
xoxo, Summer