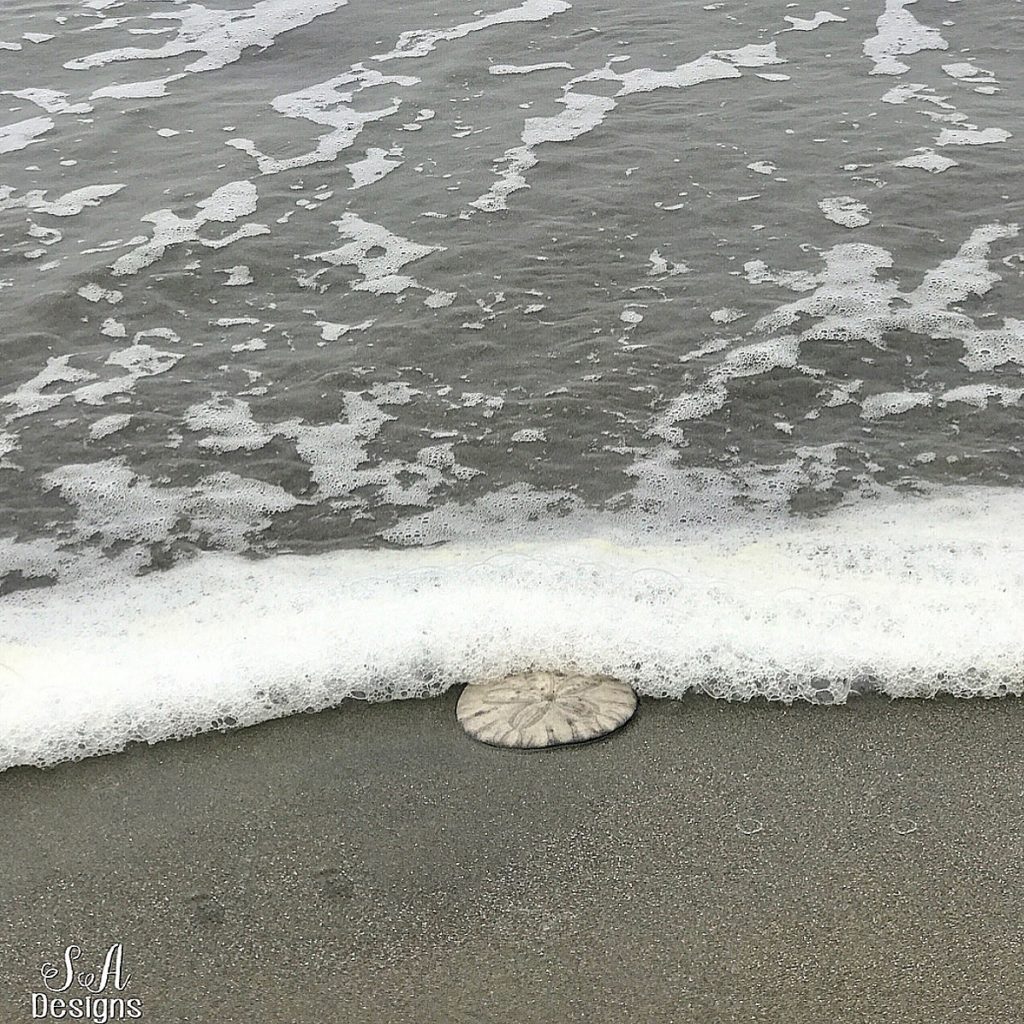 I'm so pleased you're joining me for another edition of my Bright White Home Series!  Today I'm sharing a home with you that is special to me.  It's a beautiful bright white beach house in Aptos, California and it belongs to my best friend's family, who is like my second family.  I've known them and loved them for more than 27 years and they were so gracious and allowed me to photograph this special vacation home of theirs when we went for a visit this summer and stayed. This split level home is such a wonderful and beautiful place for this family to purchase as this family has been coming here for years and making memories.  After renting out another beach home, it made sense to get one of their own, as they were coming to the beach so often.  Well, join me and let's go inside!
My friend's mother is a fabulous decorator, her own home is gorgeous, and she designed the remodeled spaces in this home herself and chose the decor and furniture.  They recently had this kitchen remodeled, as this home was older and needed some cosmetic and structural changes.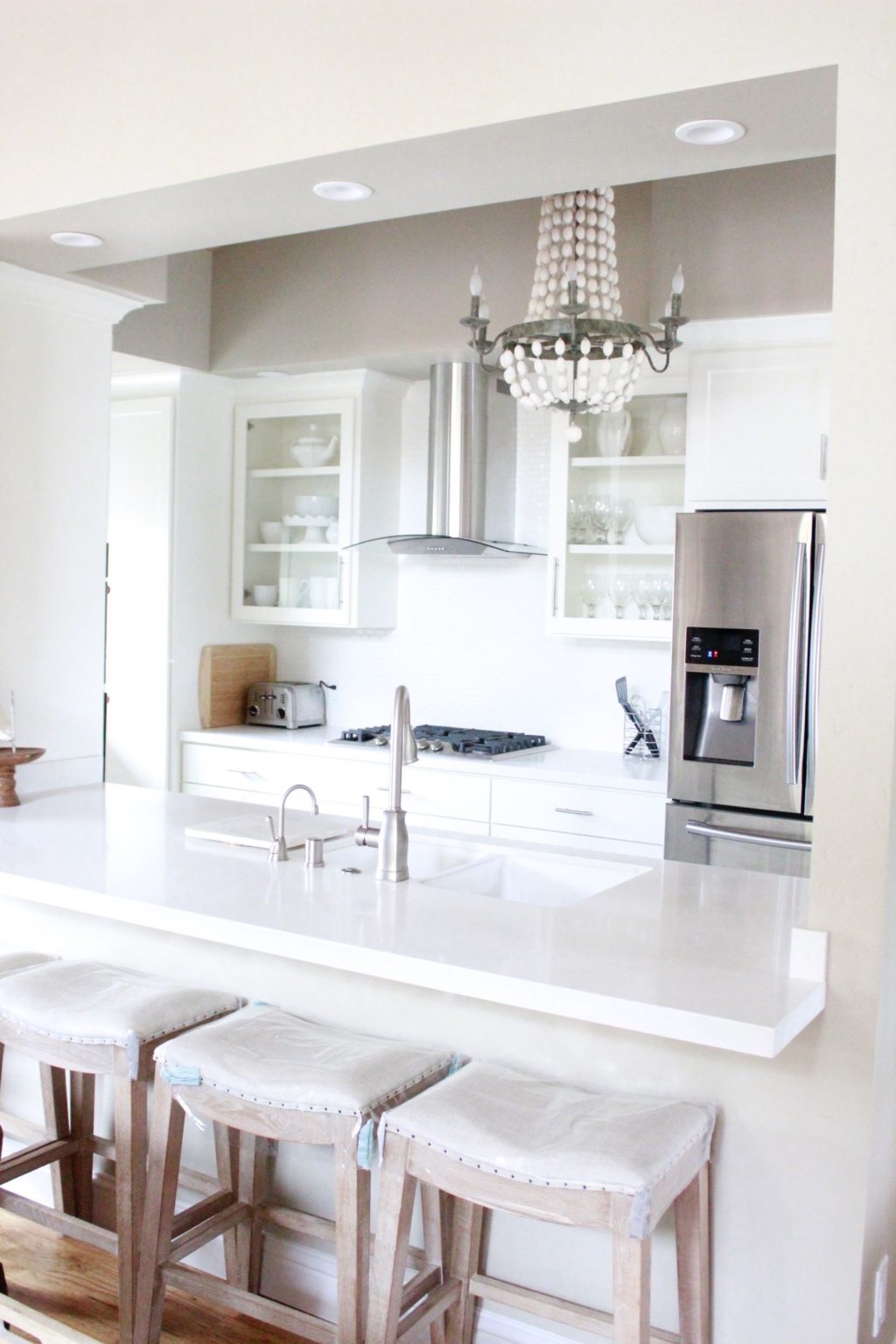 Where you see this countertop and barstools was actually a wall and completely closed up the kitchen from the rest of the family in the living room.  Rearranging the kitchen created a more open living area and was more functional and cohesive.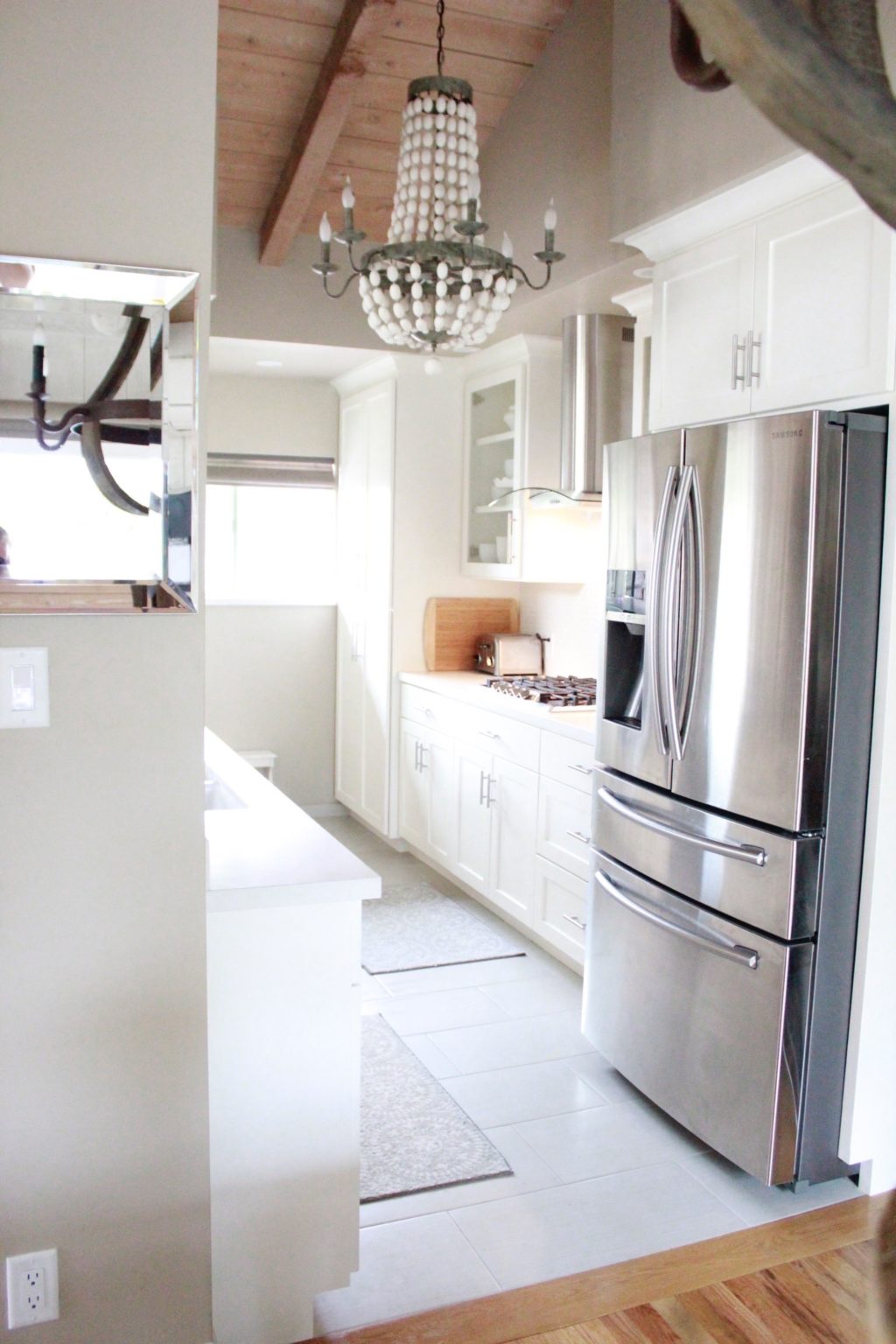 The original appliances once in this home were replaced and updated, as well as the flooring, shaker-style cabinets with hardware, and addition of the stainless steel hood.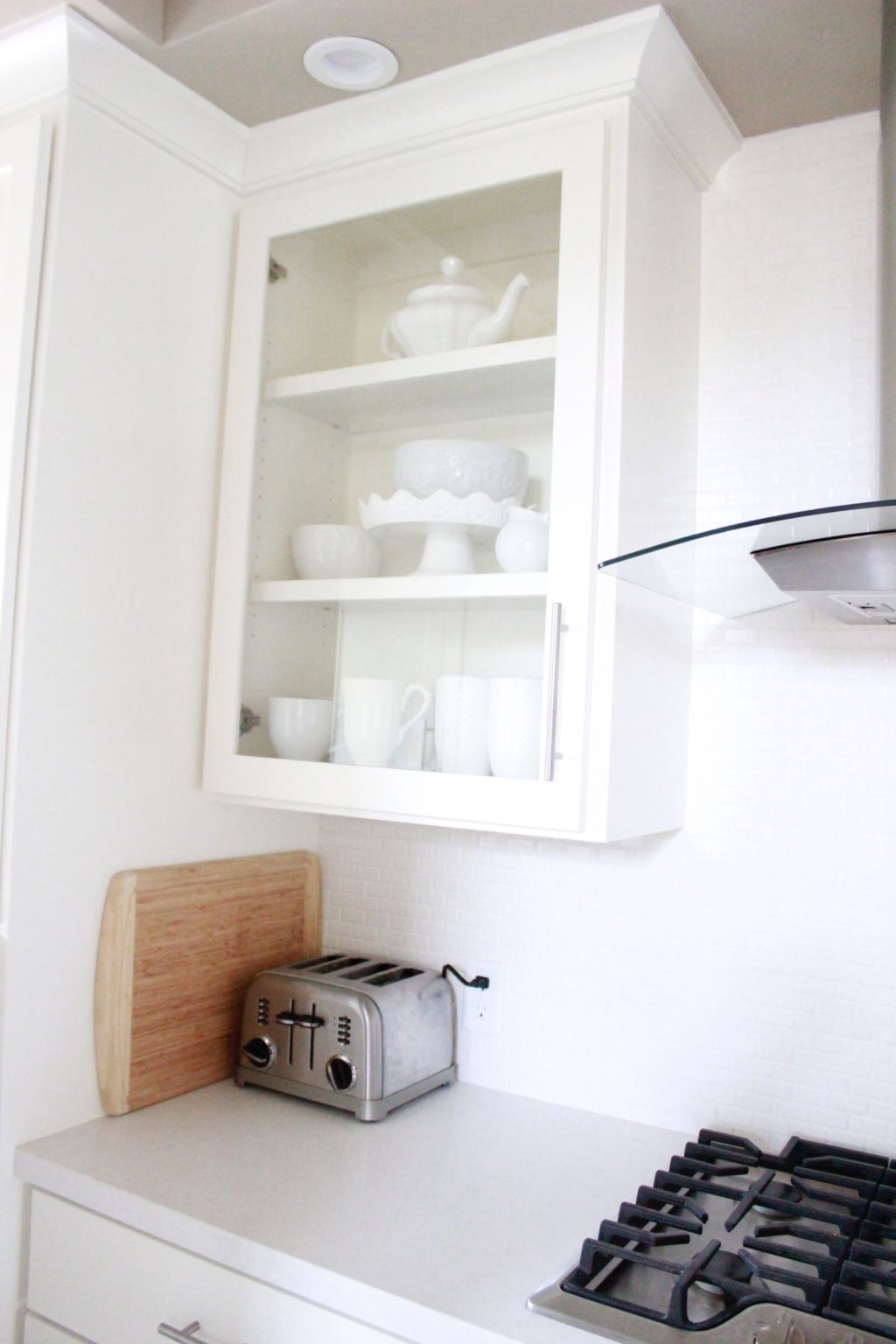 Glass cabinets were used in 2 of the cabinet doors to display pretty white dishes.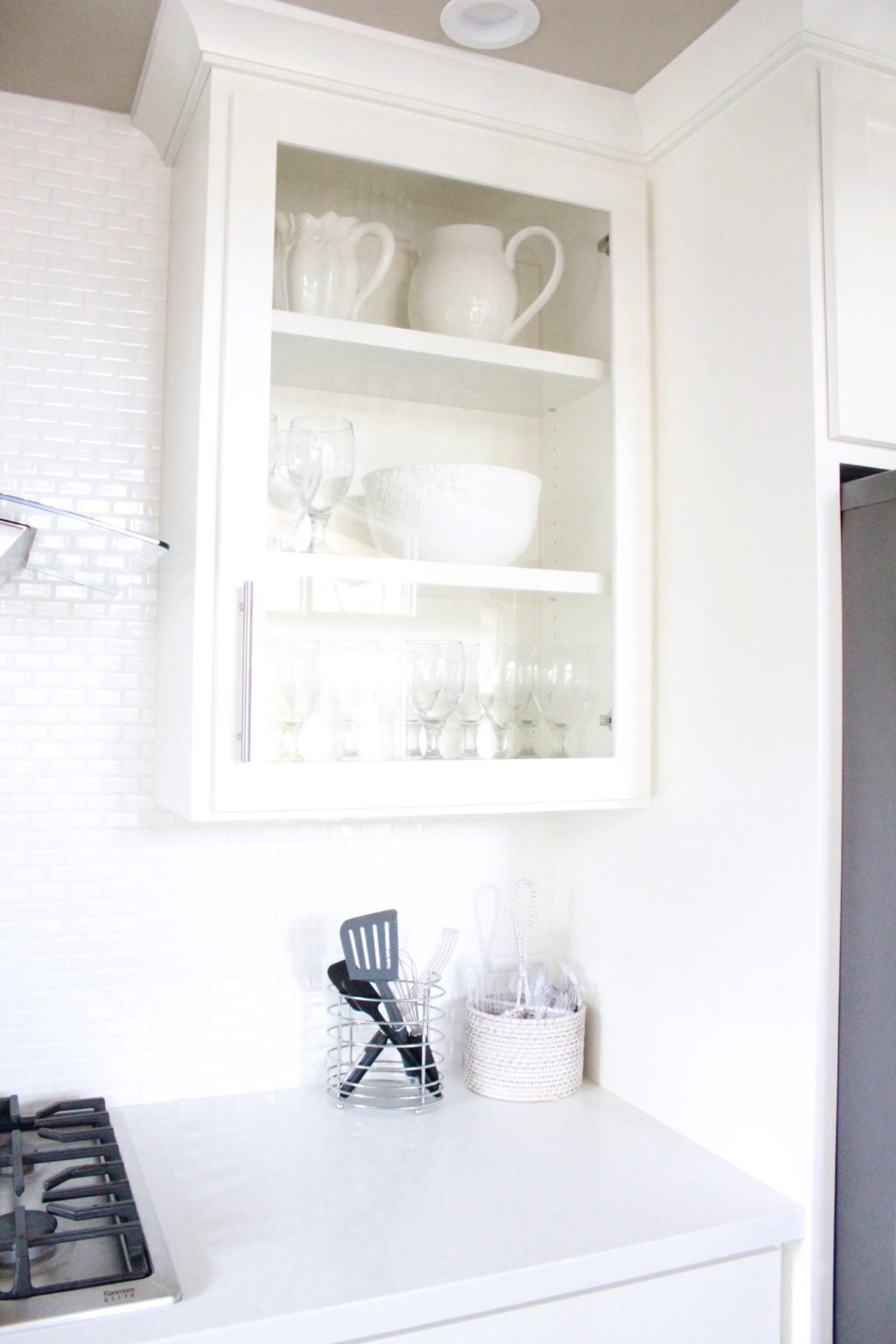 Small, shiny white subway tile not only allows the kitchen backsplash to be easily wiped down but also looks clean and chic.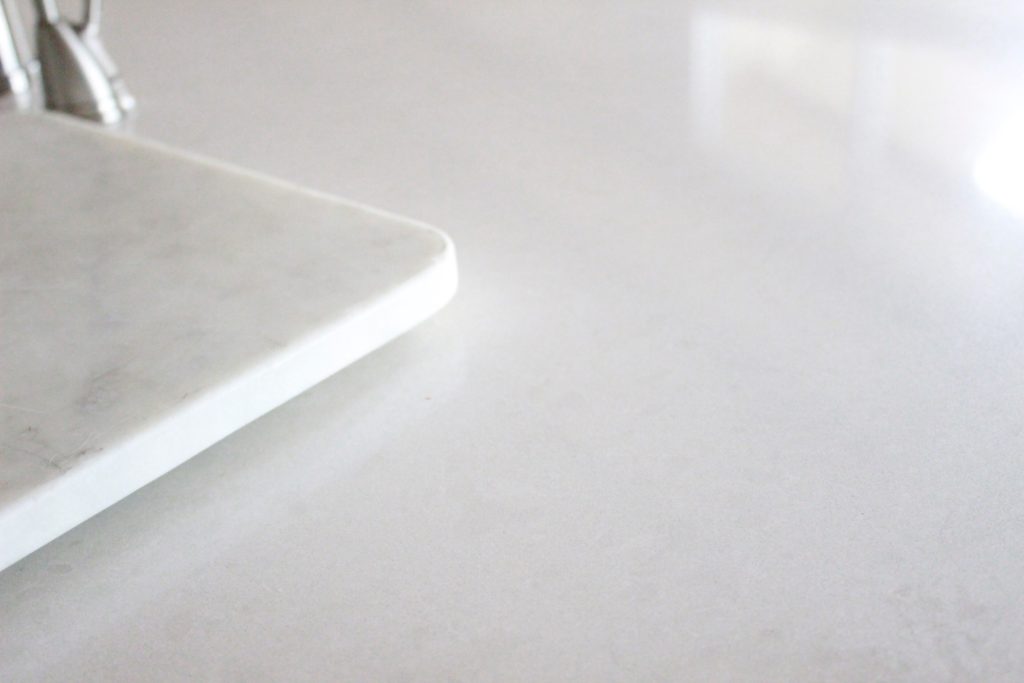 They chose a beautiful quartz for the countertop that has a small and very light gray marbling pattern to resemble marble.  With all their children, grandchildren and guests visiting and staying here, this allows them to easily use the kitchen countertops without the panic of immediate maintenance and care.  Quartz is not only beautiful but forgiving.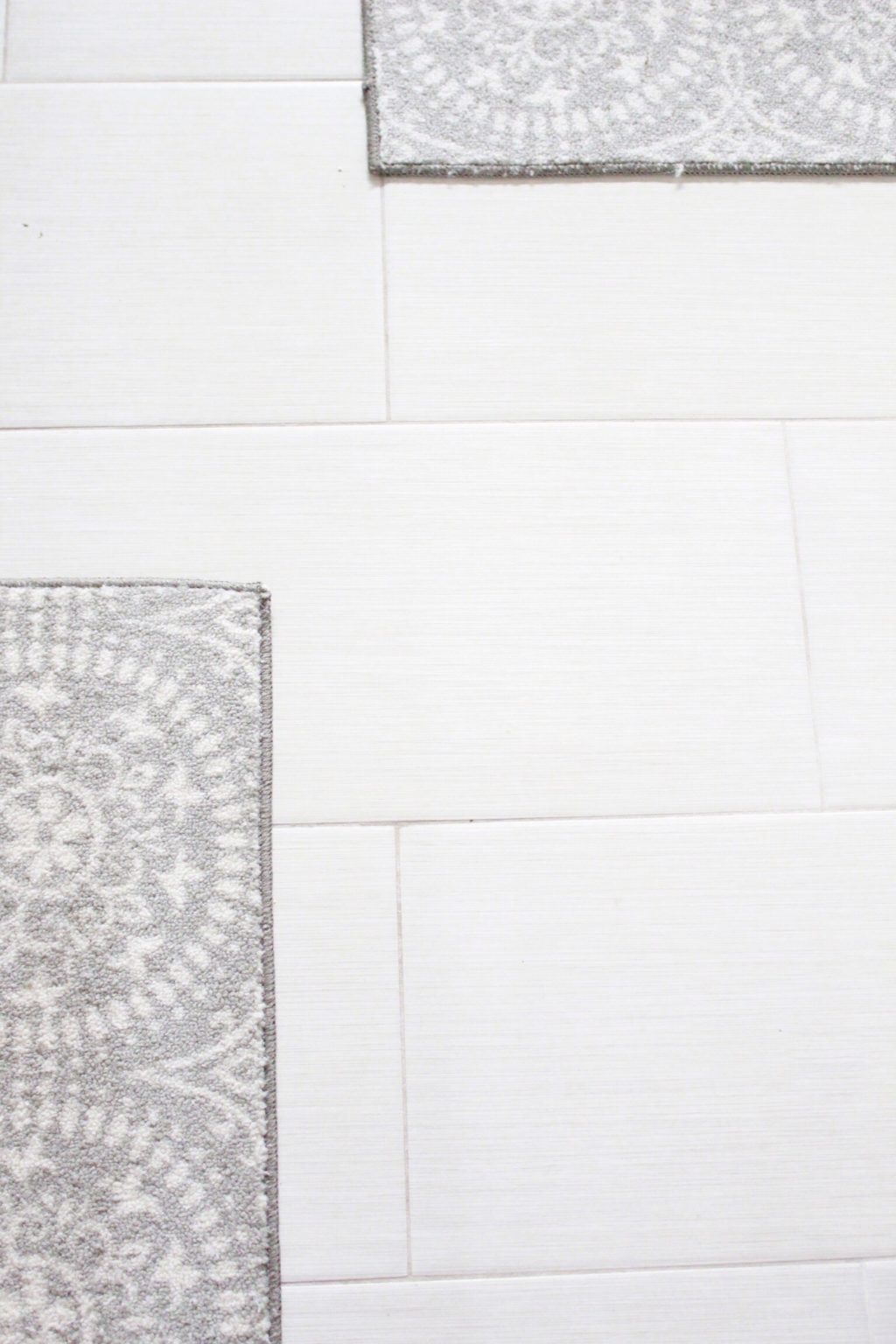 A very light gray, almost white, tile was used for the floor.  I love how they kept the grout extremely thin and light.
Then there's the "jewelry to the room".
This gorgeous beaded chandelier captures your attention as soon as you enter the upper level of the home.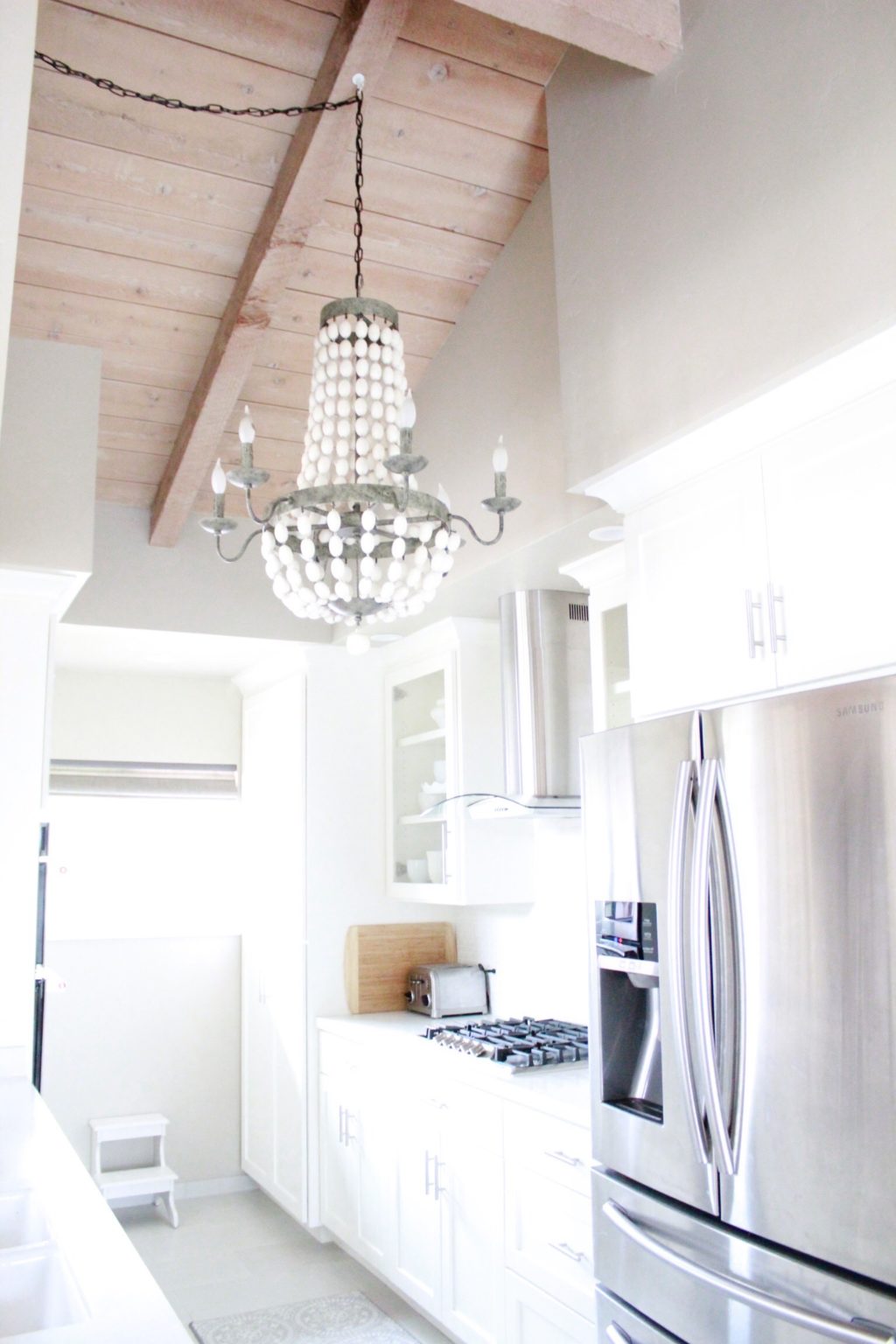 Lighting is one of my favorite pieces about any space, and one of the most important.  This was obviously a replacement to the original lighting as well.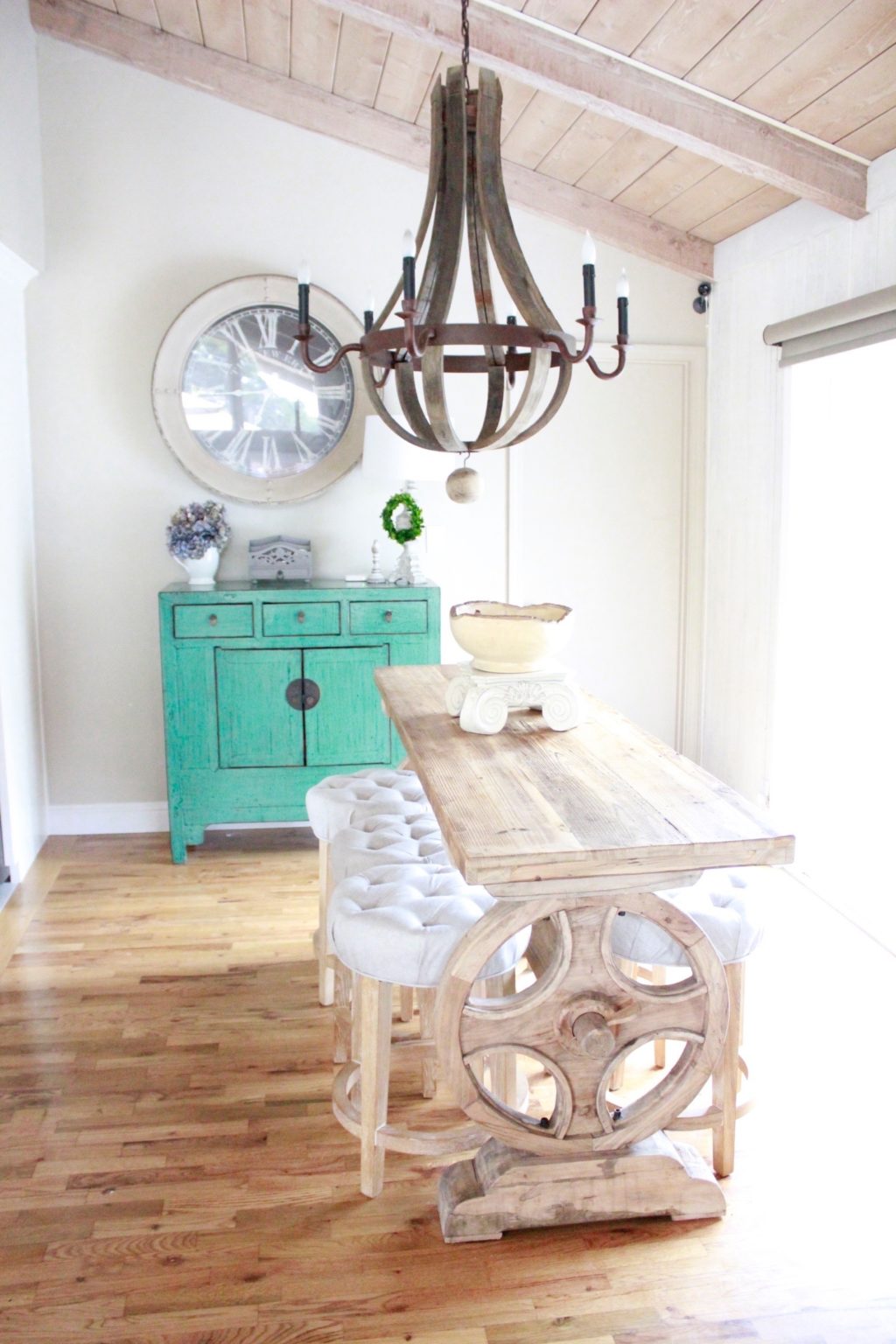 Just off the kitchen is this adorable dining area.  I love the pop of teal from that stunning hutch. But the table is the really brilliant part of the space.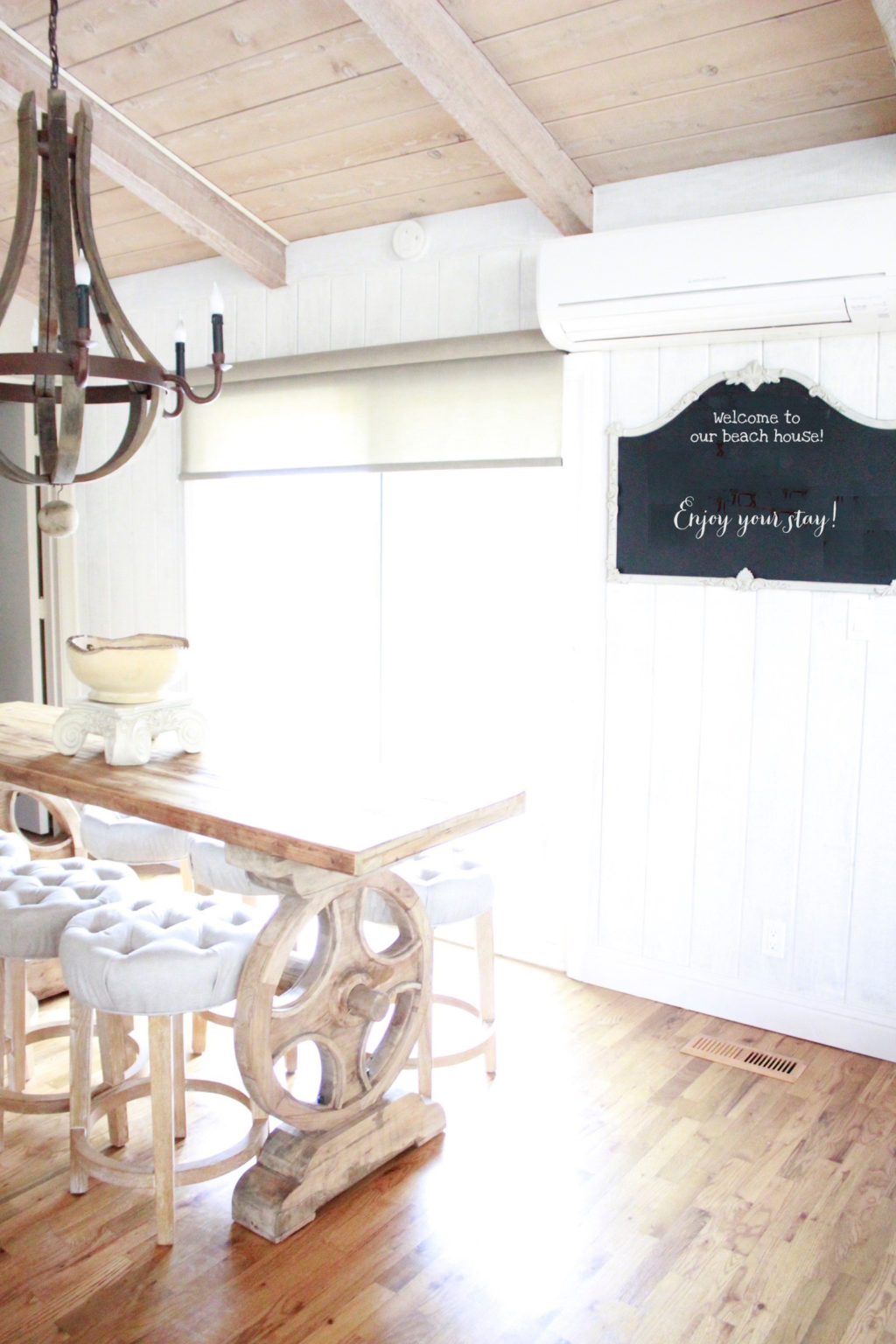 To maximize the smaller dining space with so many family members staying at a time, they decided to purchase a wine-tasting table and add beautiful tufted barstools.  Just outside those doors is one of 3 decks and there is a large outdoor table for other family members.  The deck on the front of the house, same level, is very large and also has plenty of seating.  I told you….brilliant!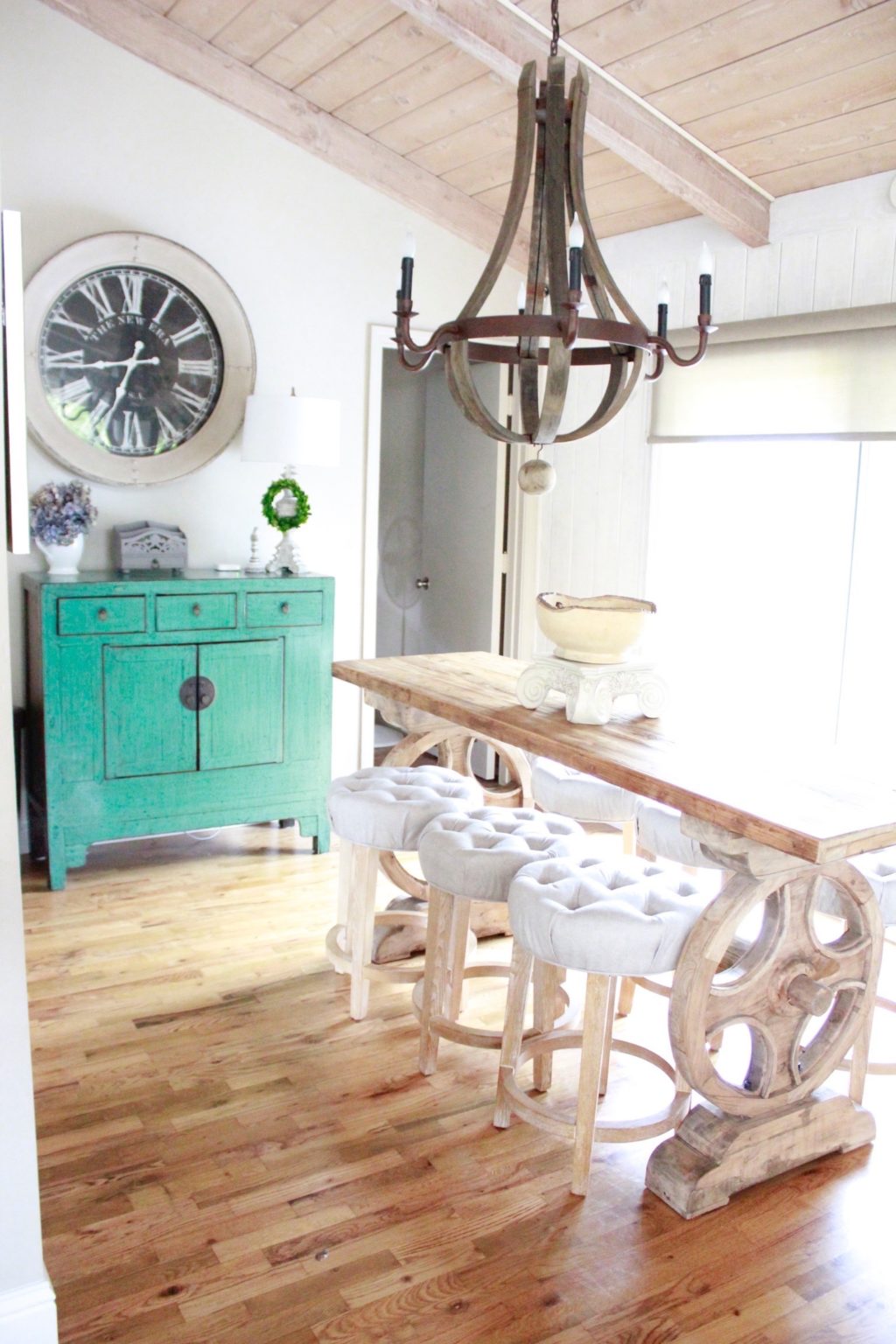 To keep the coastal feel that the owners wanted to maintain without feeling kitschy, the incorporated all of these fabulous pieces of wooden furniture and chandeliers.  I love that!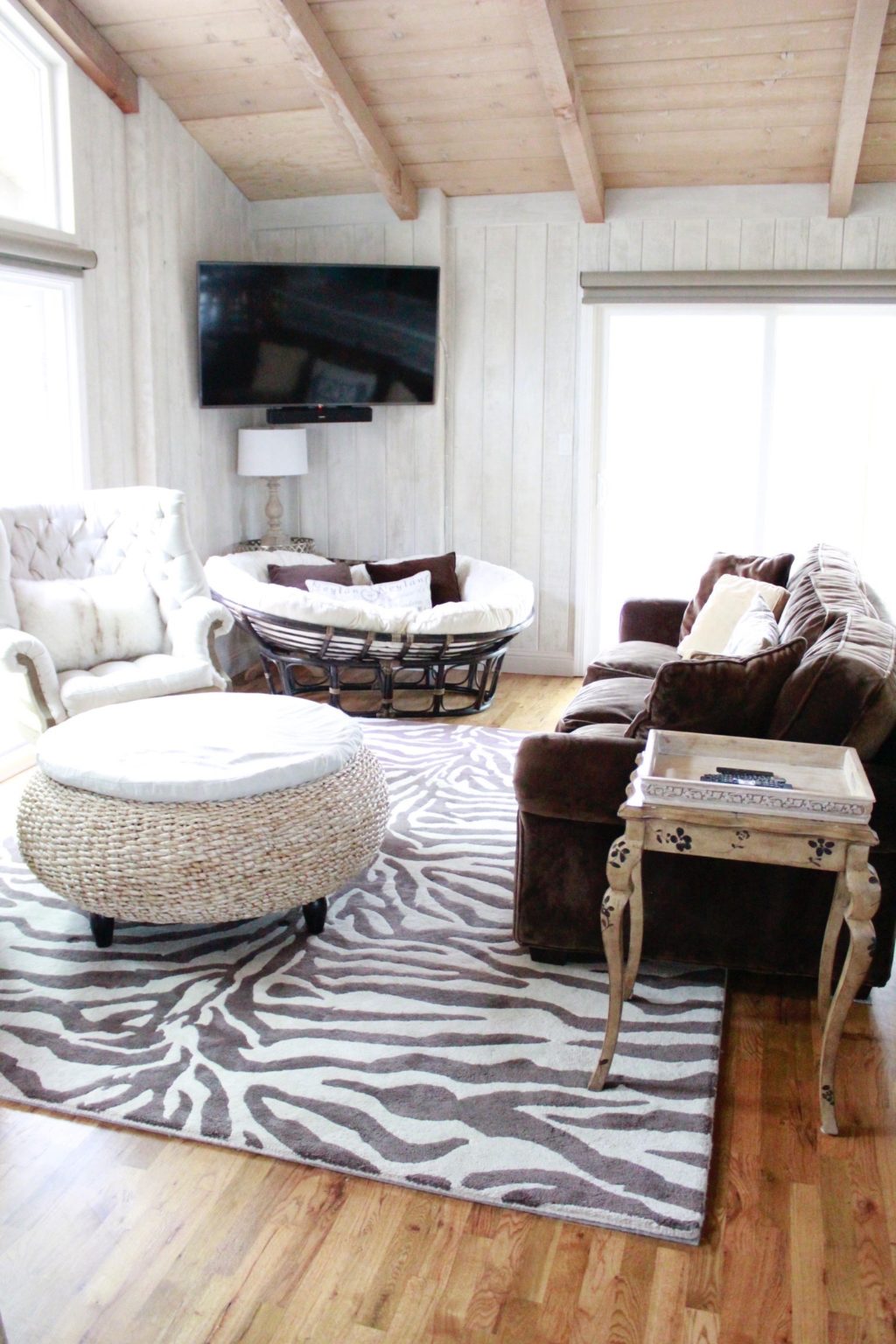 Instead of your typical blue and white coastal decor with starfish and seashells, my friend's mom created a chic and elegant look using a cozy feel with a neutral and earth-toned palette.  I love the idea of the zebra print rug with woven furniture and wooden and linen elements.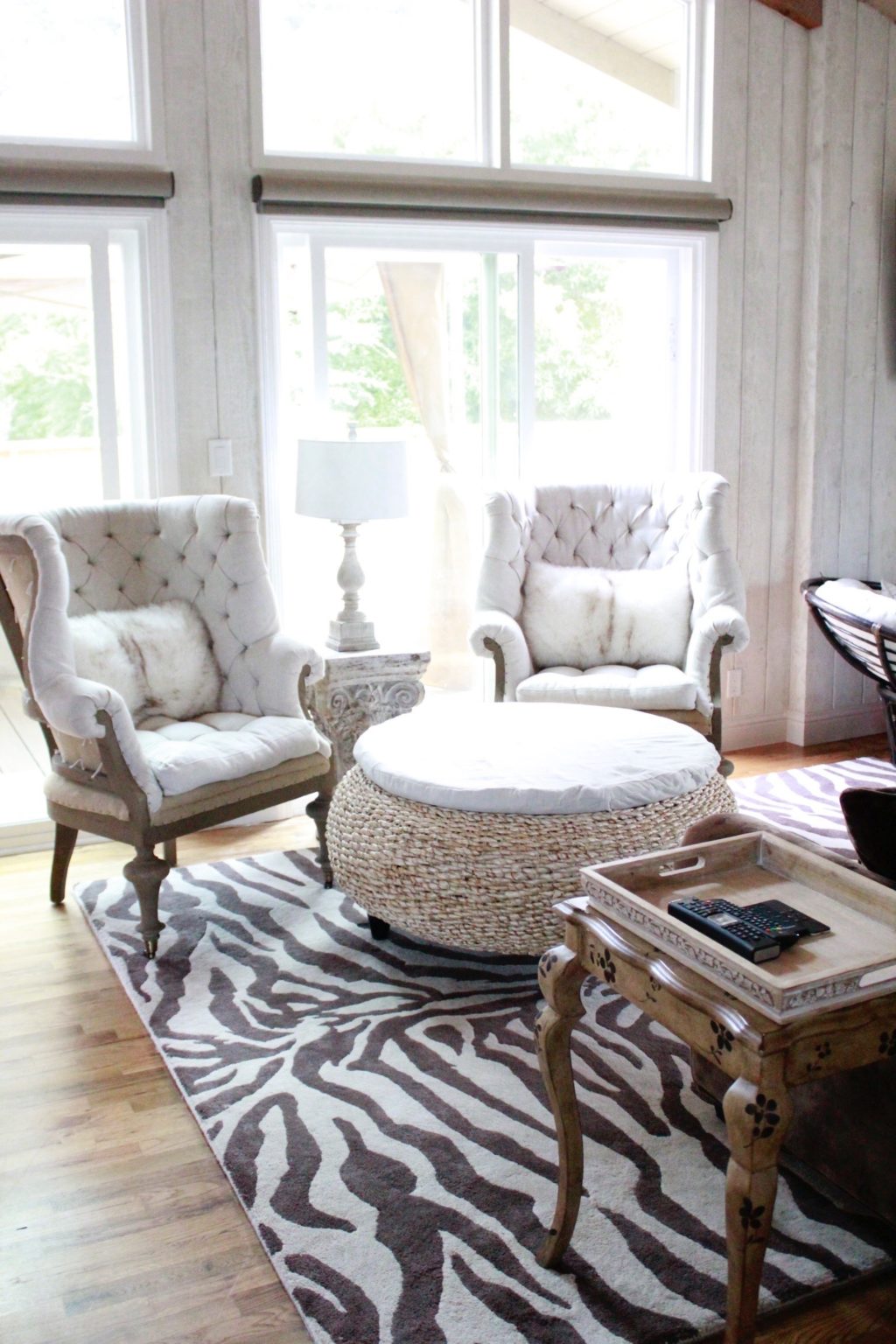 It's such a calming and relaxing, yet sophisticated look, right?!  Those tufted linen and burlap chairs are to die for.  Just behind those chairs is a very large deck with beautiful outdoor furniture, a fire pit, planters and a table.  There is plenty of space to relax and play and eat outside, while enjoying the sunset.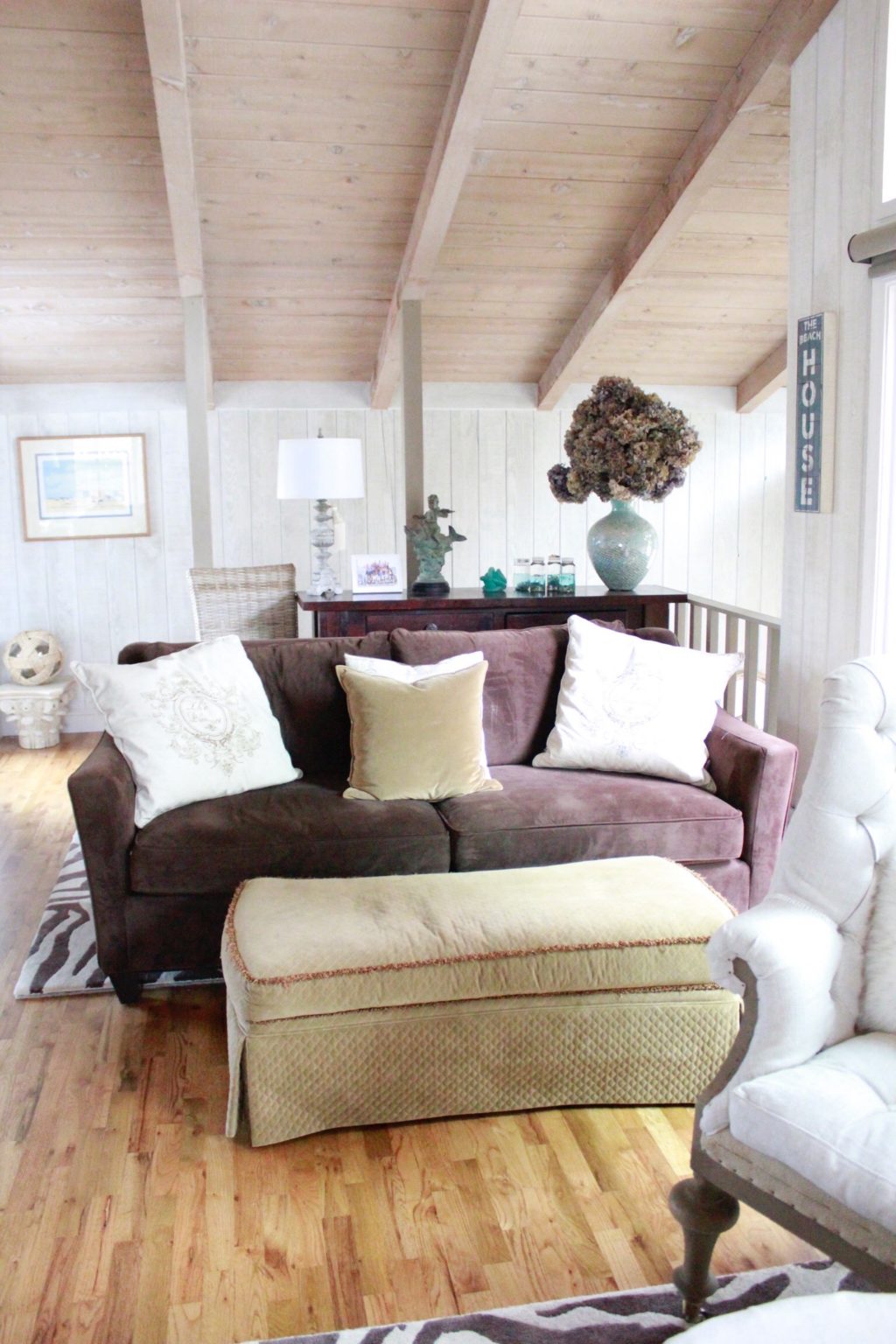 The family brought their 2 brown velvet sofas that were no longer being used and an ottoman for extra comfy seating.  With plush linen french-style pillows, it allows grandkids to climb all over them while still looking sophisticated.  They are the most comfortable sofas!  Perfect for when we curl up and watch movies at night.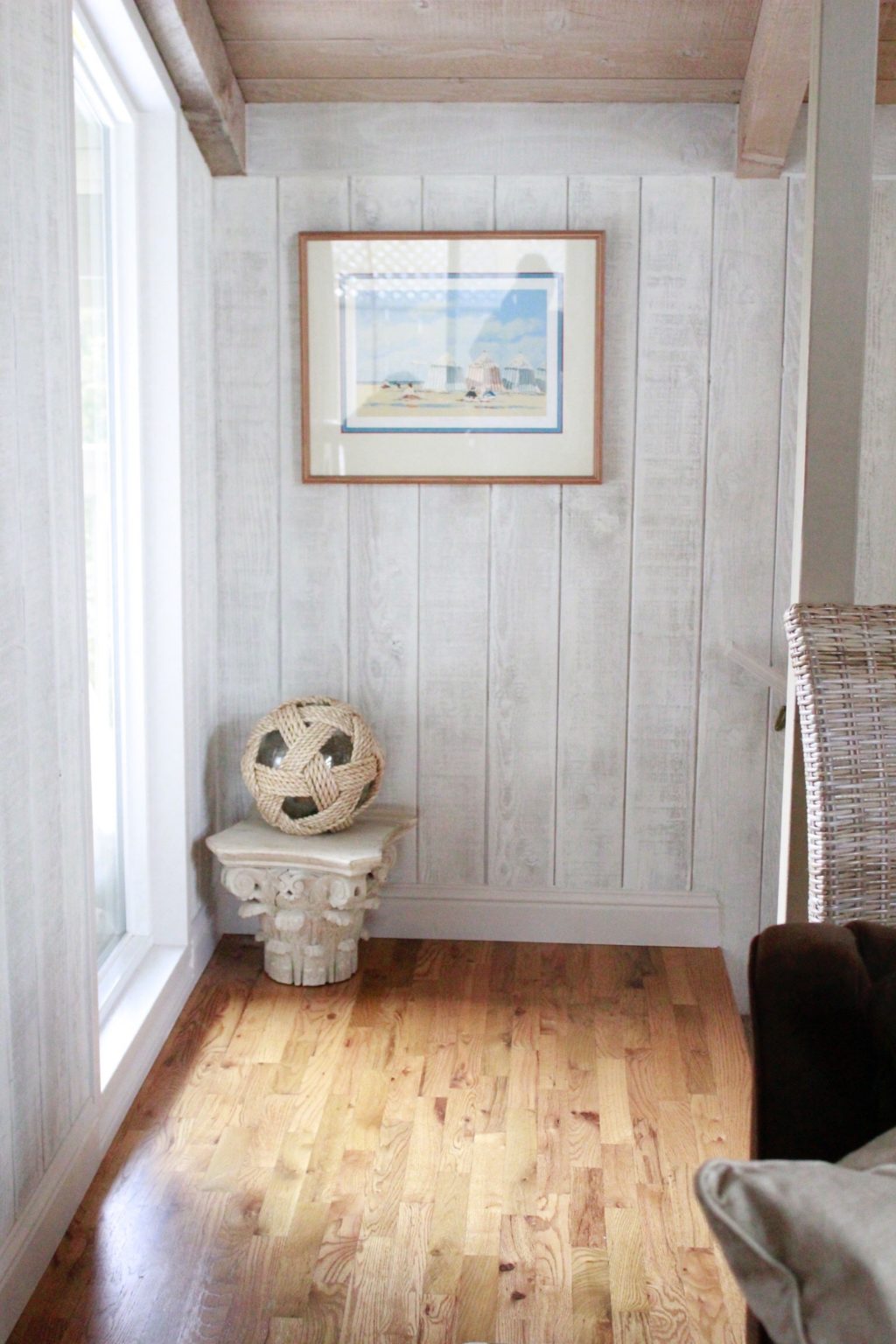 I love all the natural and coastal accents throughout the beach house.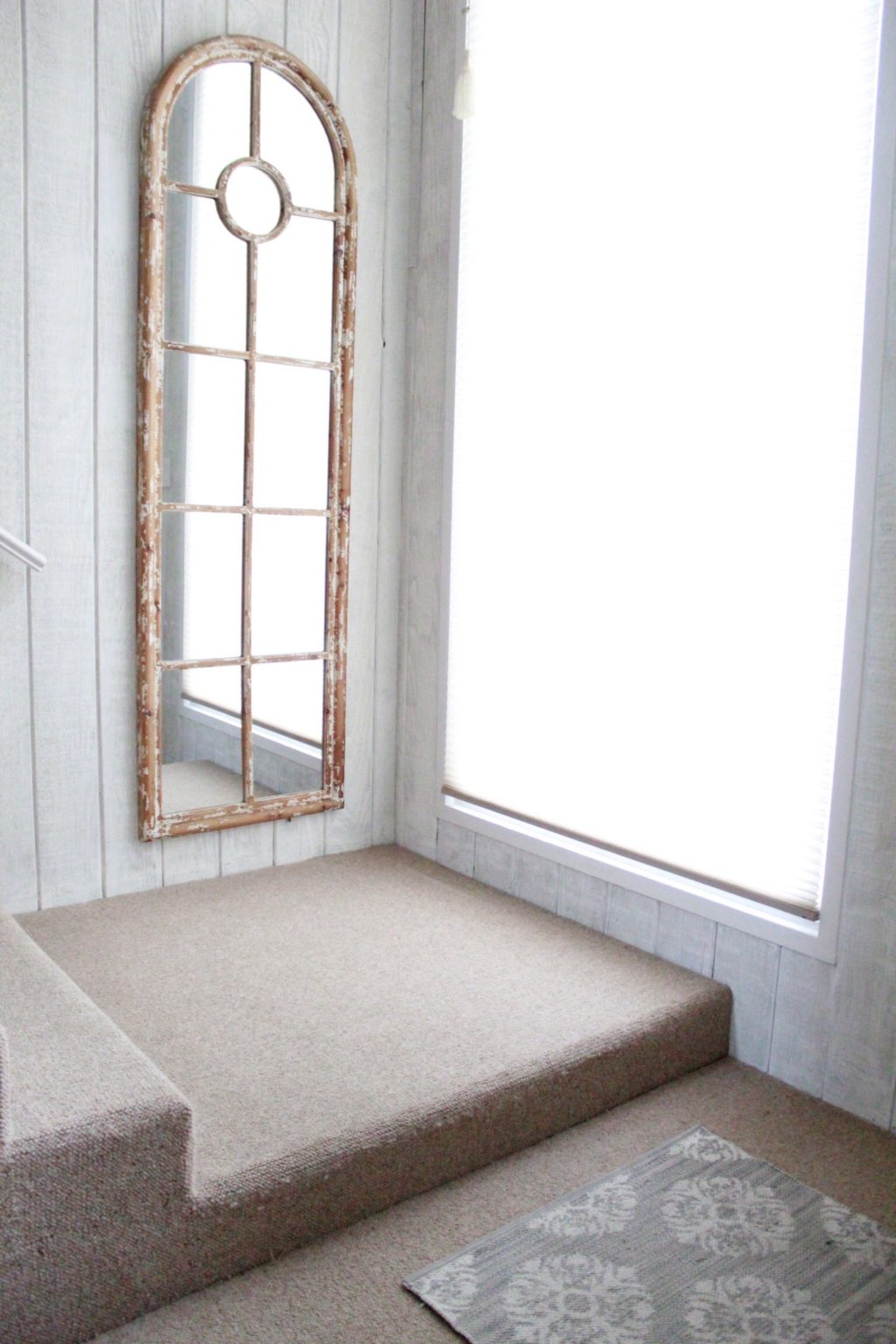 Recently, this family had all the indoor walls white-washed.  They loved the original wooden paneling but wanted to keep this a bright white space.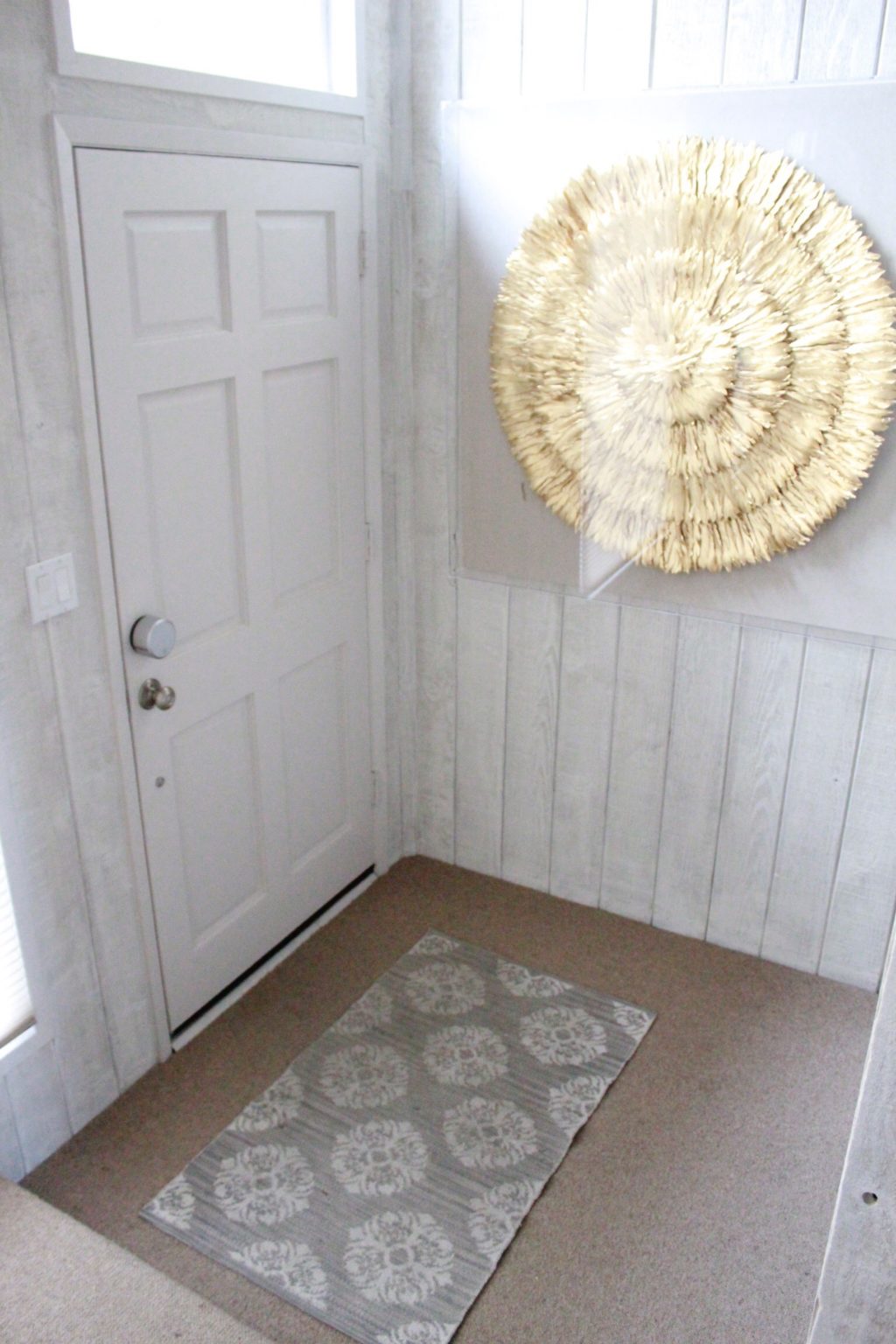 I love the way it turned out!  I also love this wall art and the touch of glam it gives the entry!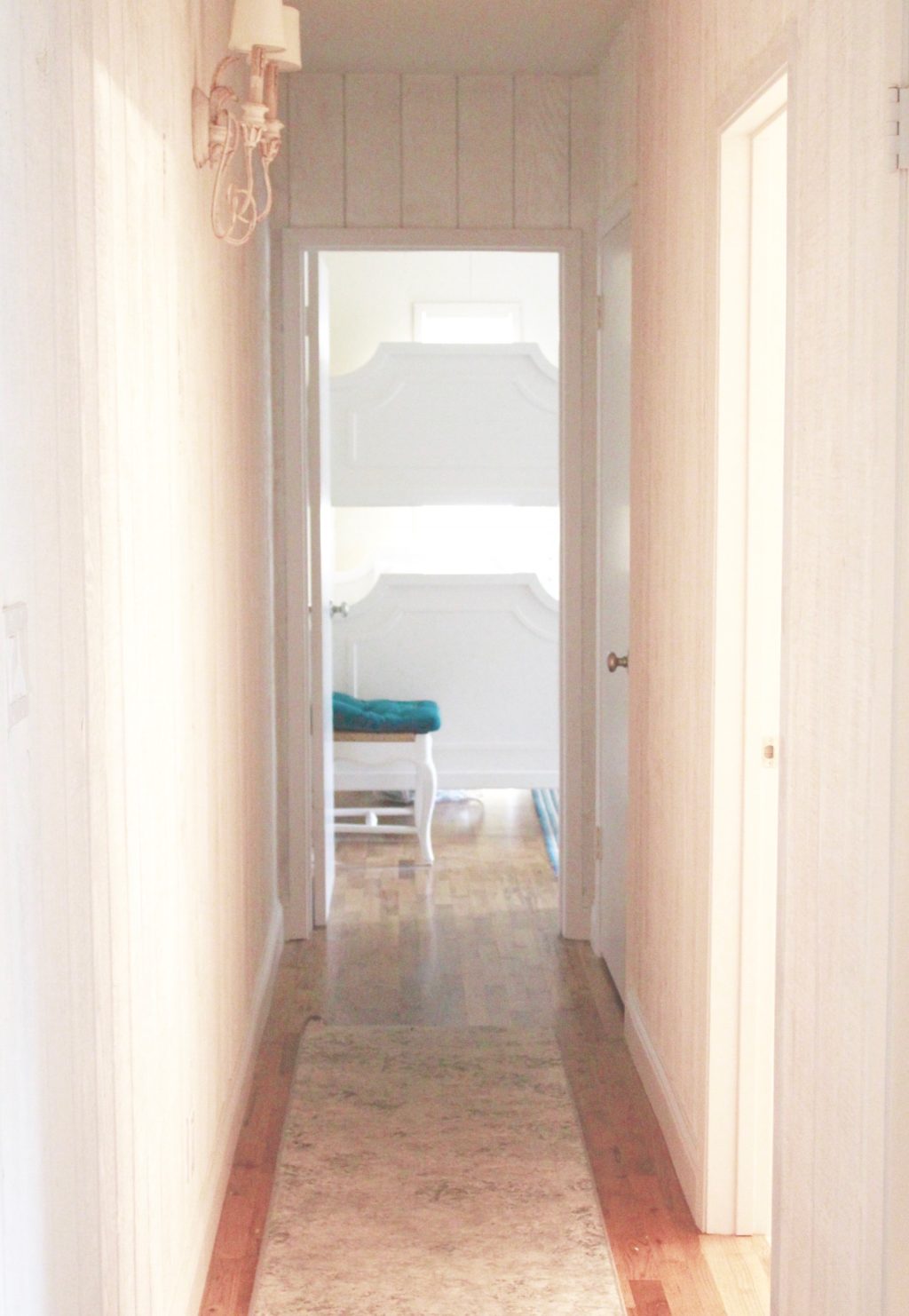 This beach house has a master bedroom and bath upstairs, 2 bedrooms and bathroom on the second level, and a large bottom floor with 4 queen beds, a sleeper sectional,  2 armoires, large TV, AND an additional playroom attached.  The grandkids all go down there to sleep and have the best time!  It's really adorable! I'm not sharing the lower level today but let's head on down to the main level to one of the bedrooms.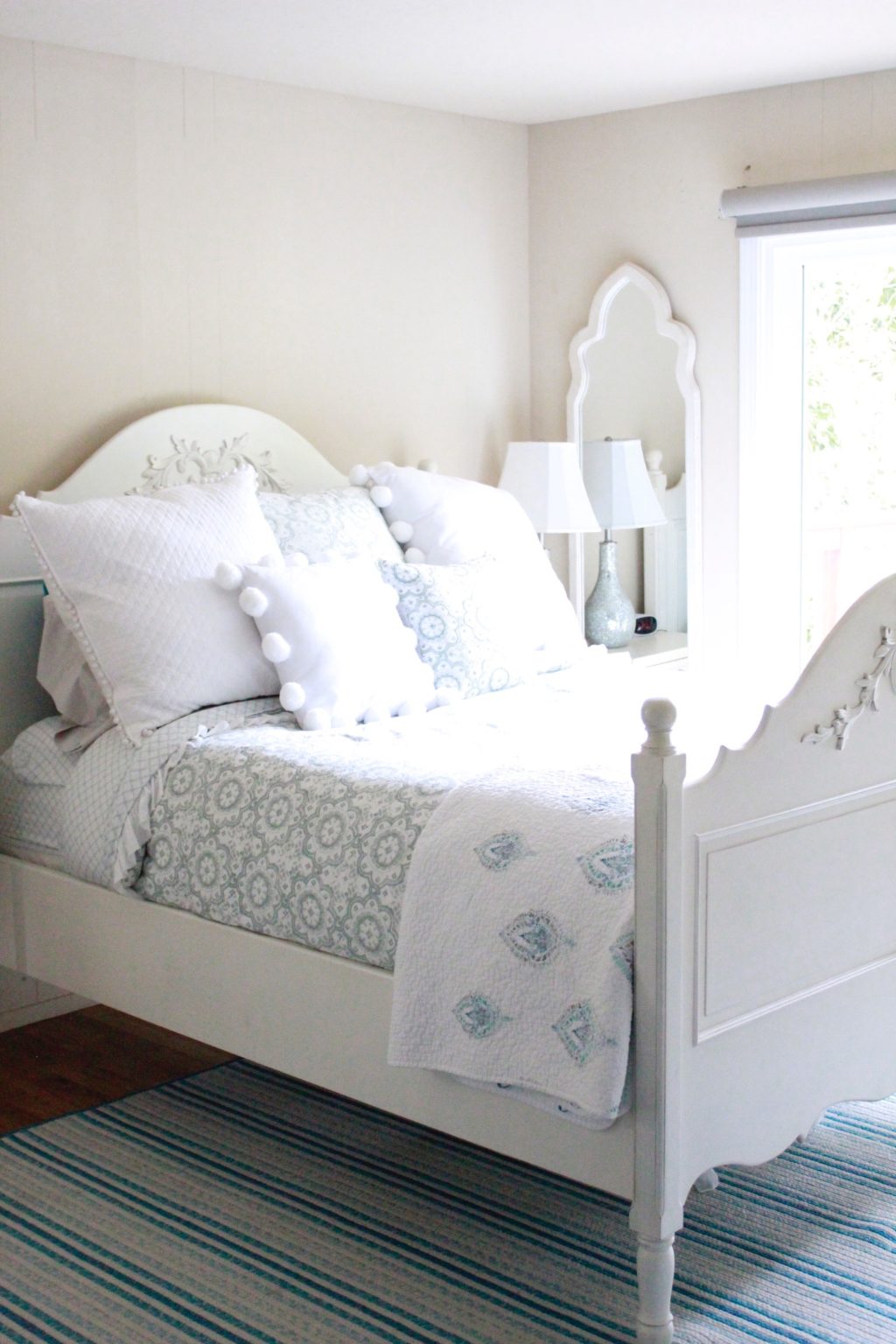 I love this coastal/shabby chic queen bed in this guest room.  Each mattress purchased for this beach house is so incredibly comfortable that it doesn't matter where you sleep or which bed you choose.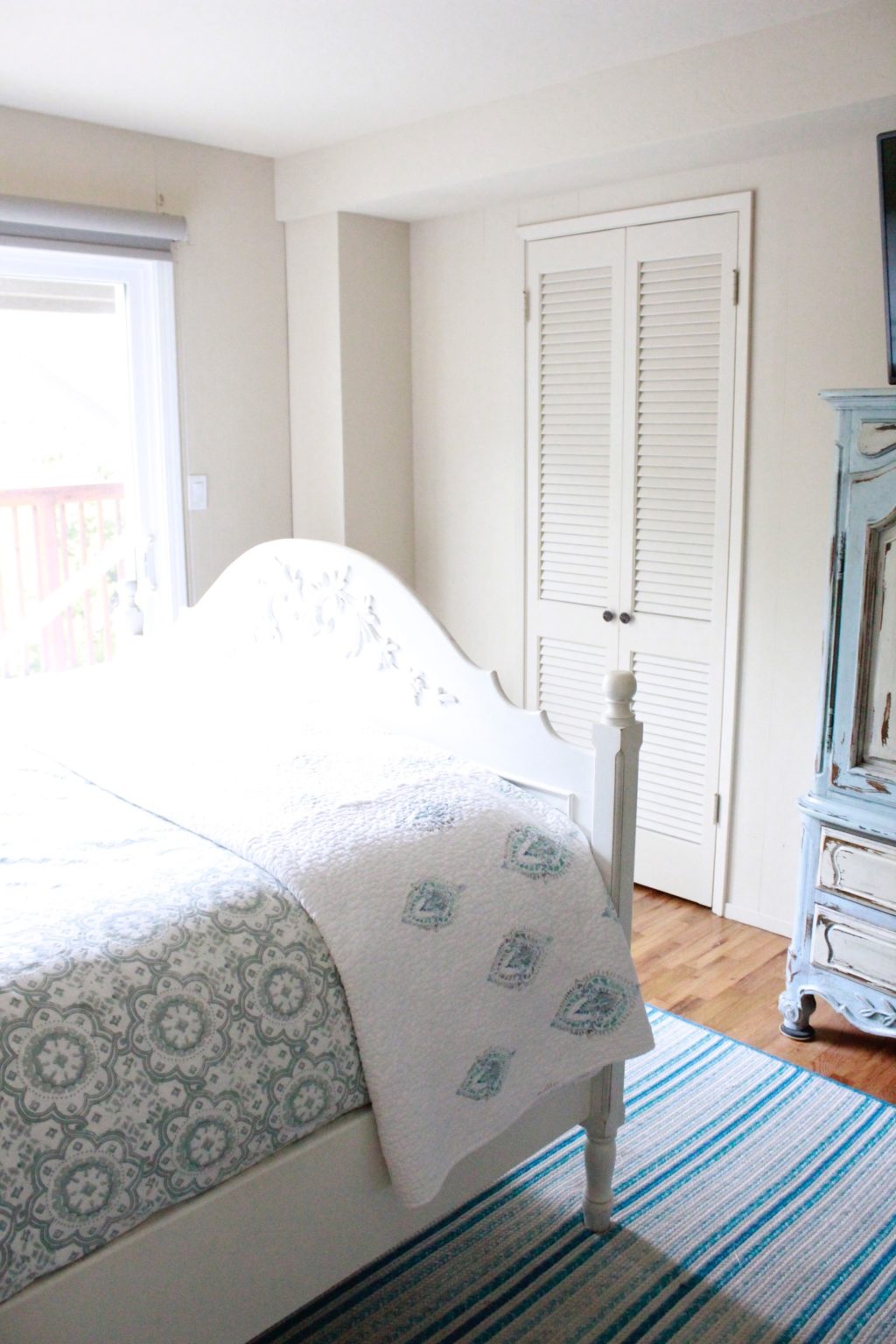 I love the blues in this room and the mixed patterns.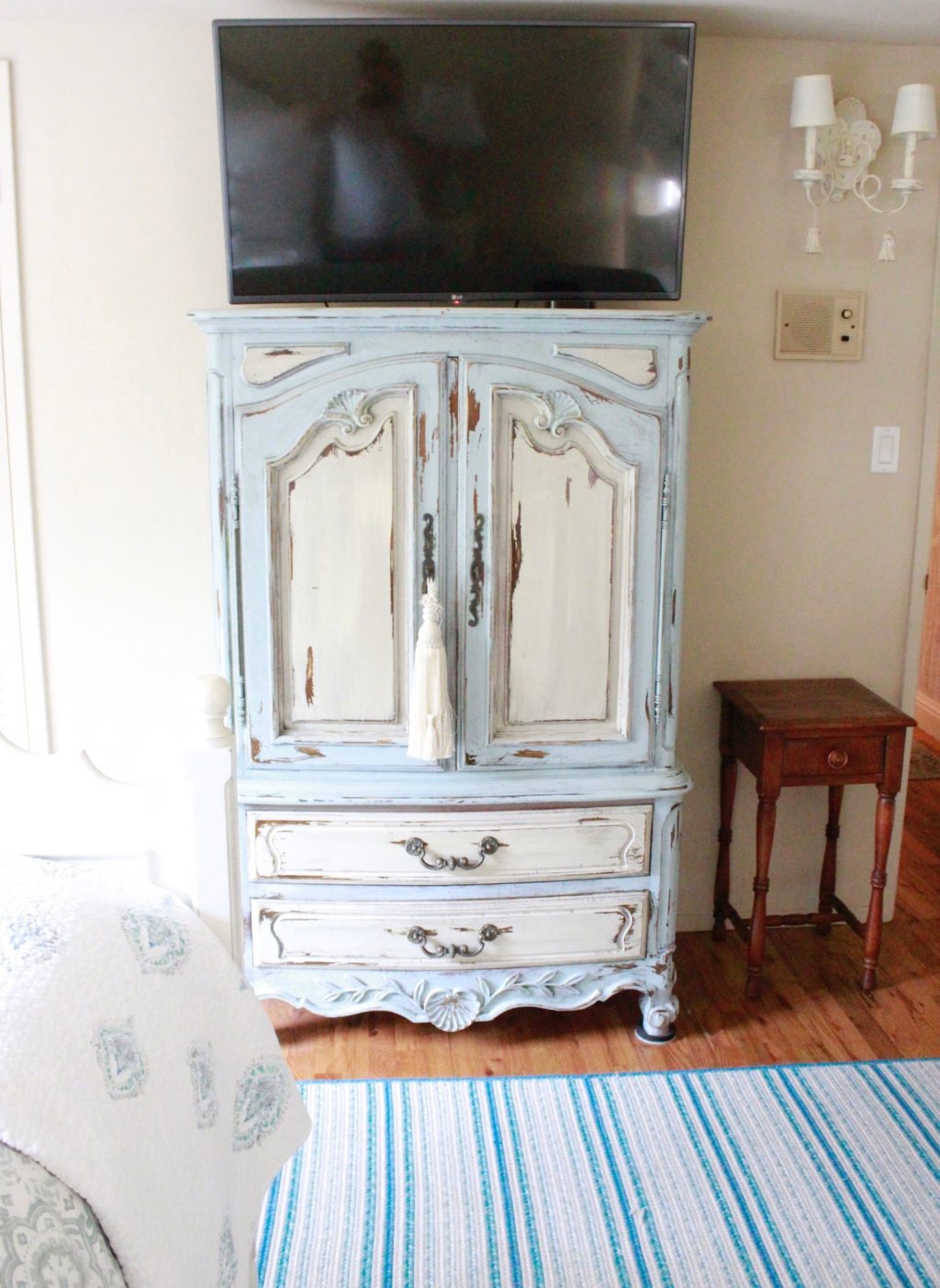 This shabby chic vintage armoire is chalk-painted in the prettiest soft blue and white.  Each room has a new flat-screen TV with cable and Apple TV's so that all family members' iTunes accounts can be shared and a plethora of movies are available to choose from.  It's the best way to relax and fall asleep!
On the OTHER side of this room is a pair of beautiful white bunk beds, also comfortable, that somehow got deleted from my camera.  I'm so sad about it!  But they did add extra sleeping space in this room, as well as a pack-and-play in the closet, making plenty of room for a family to sleep here.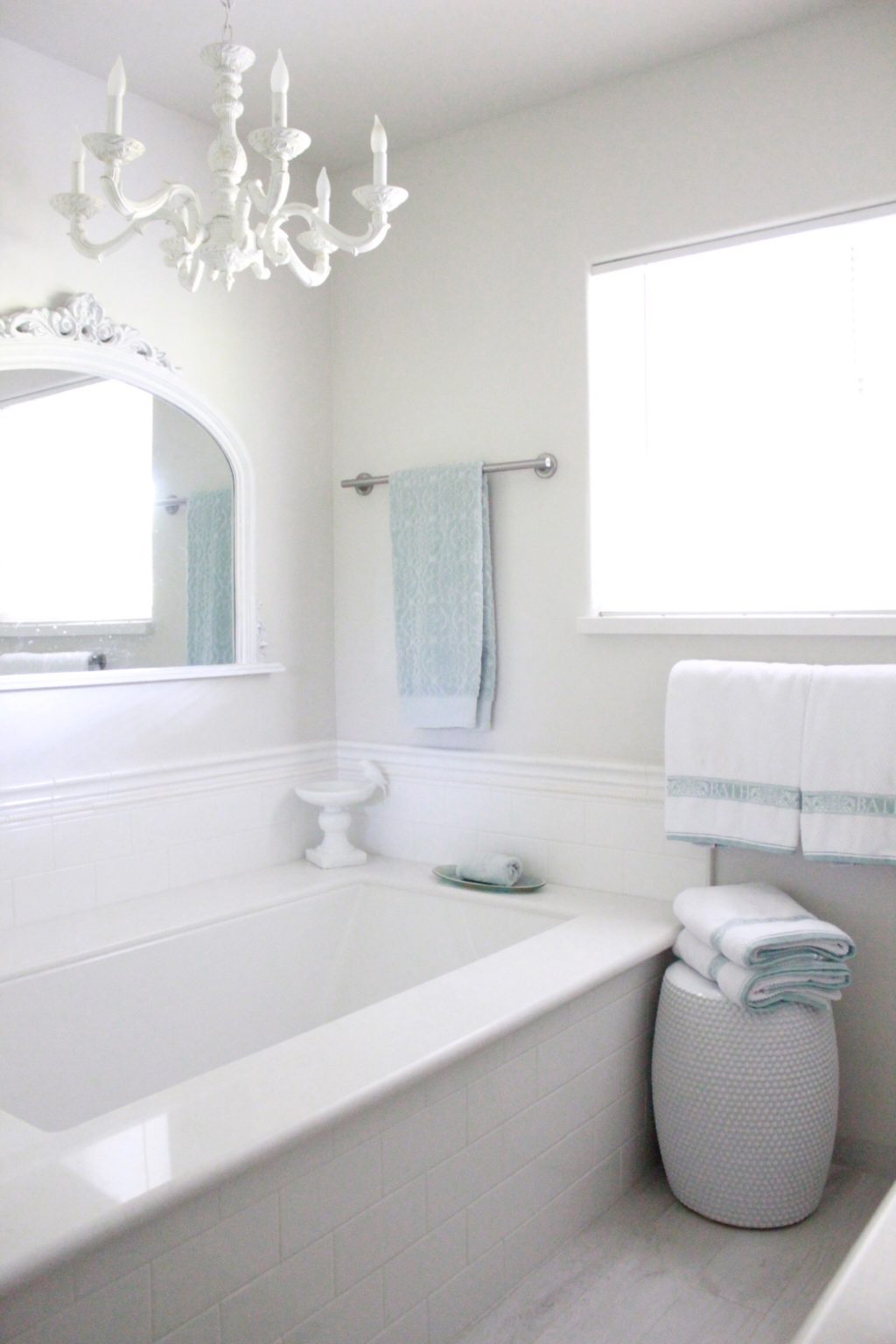 Down the hall is this bright white and newly-renovated bathroom.  Small hints of ocean blue give it the perfect coastal feel.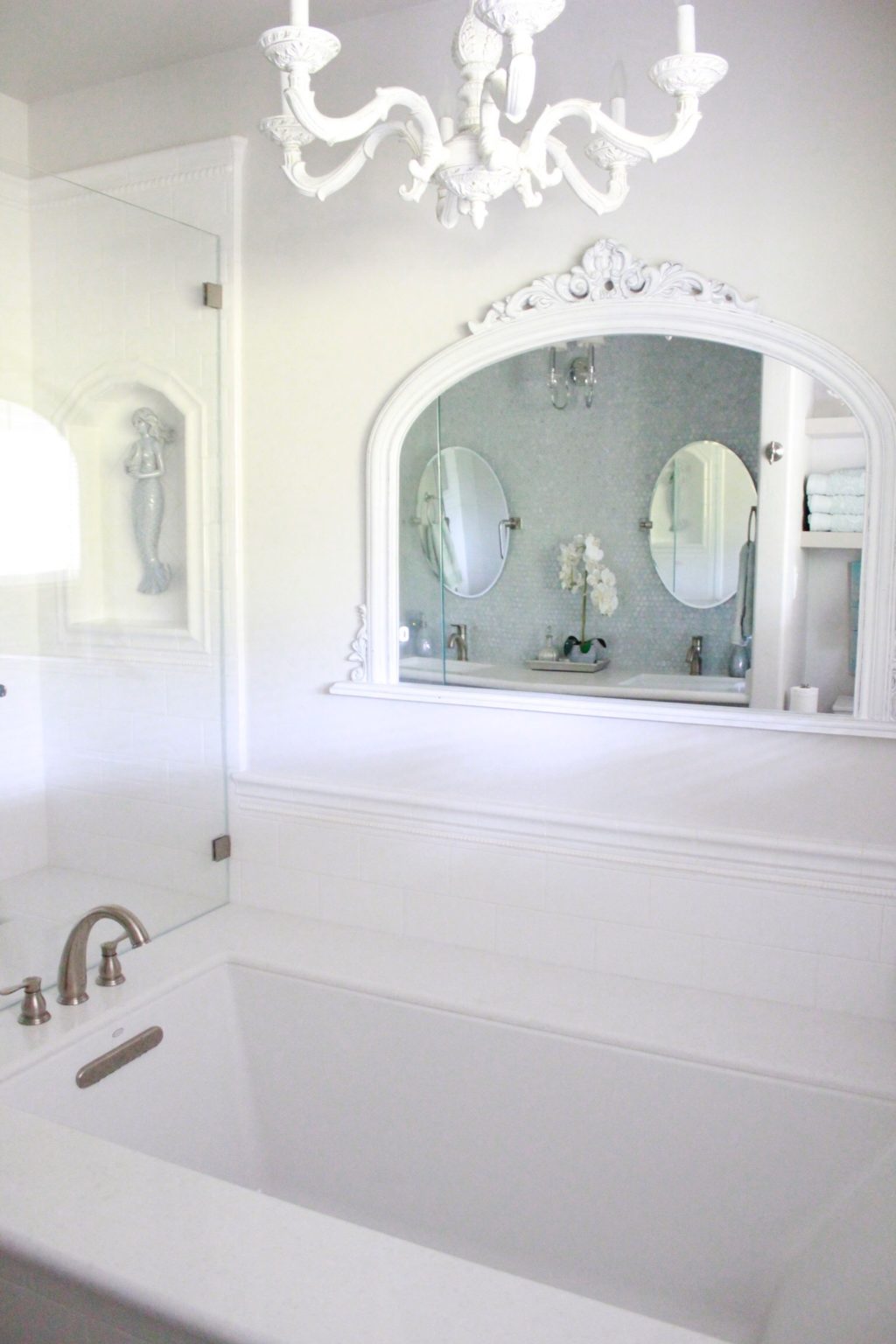 Every detail is gorgeous, including this chandelier. Can you see that beautiful ocean blue backsplash in the mirror's reflection?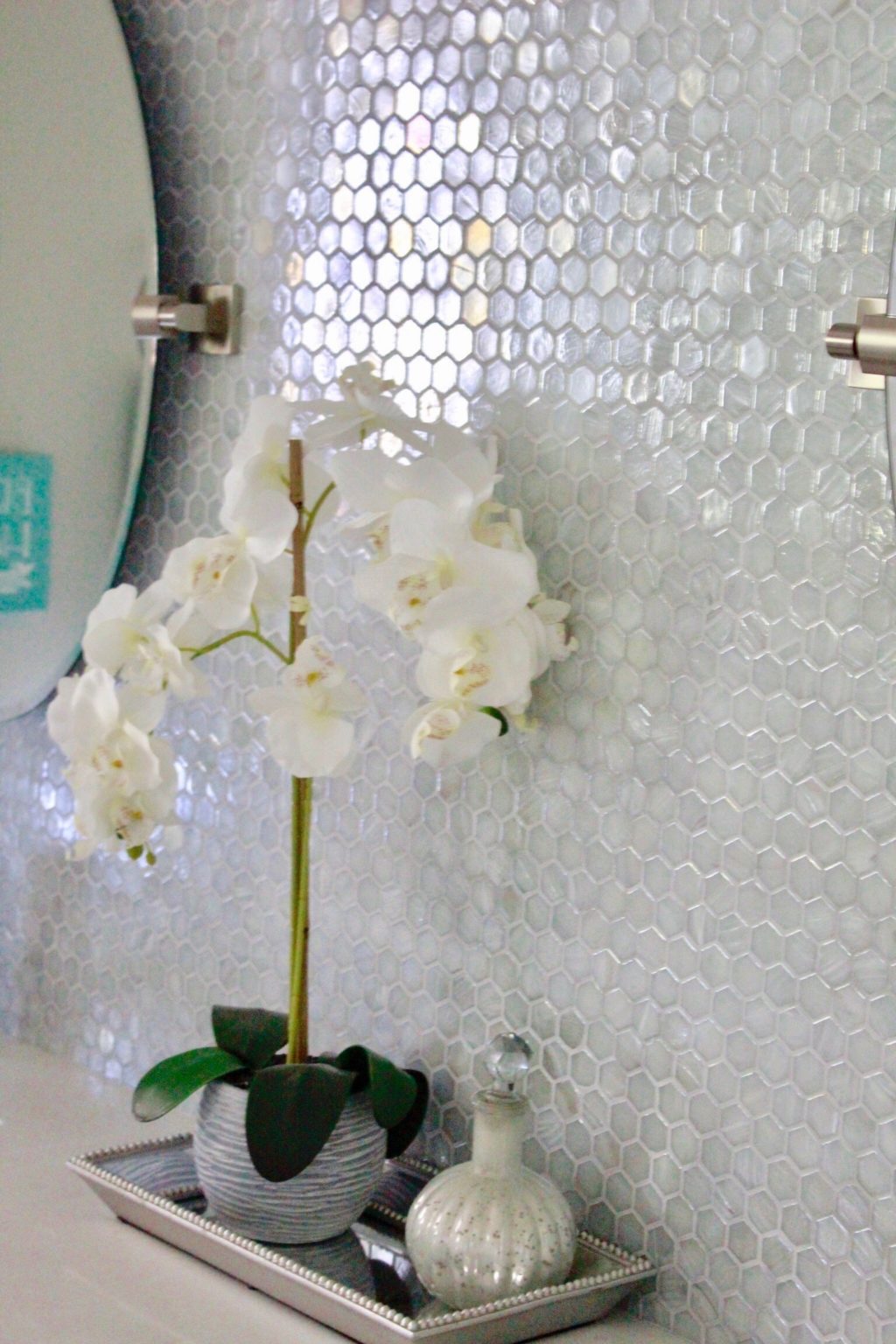 It's such a lovely iridescent hexagon tile.  The pictures don't do it justice.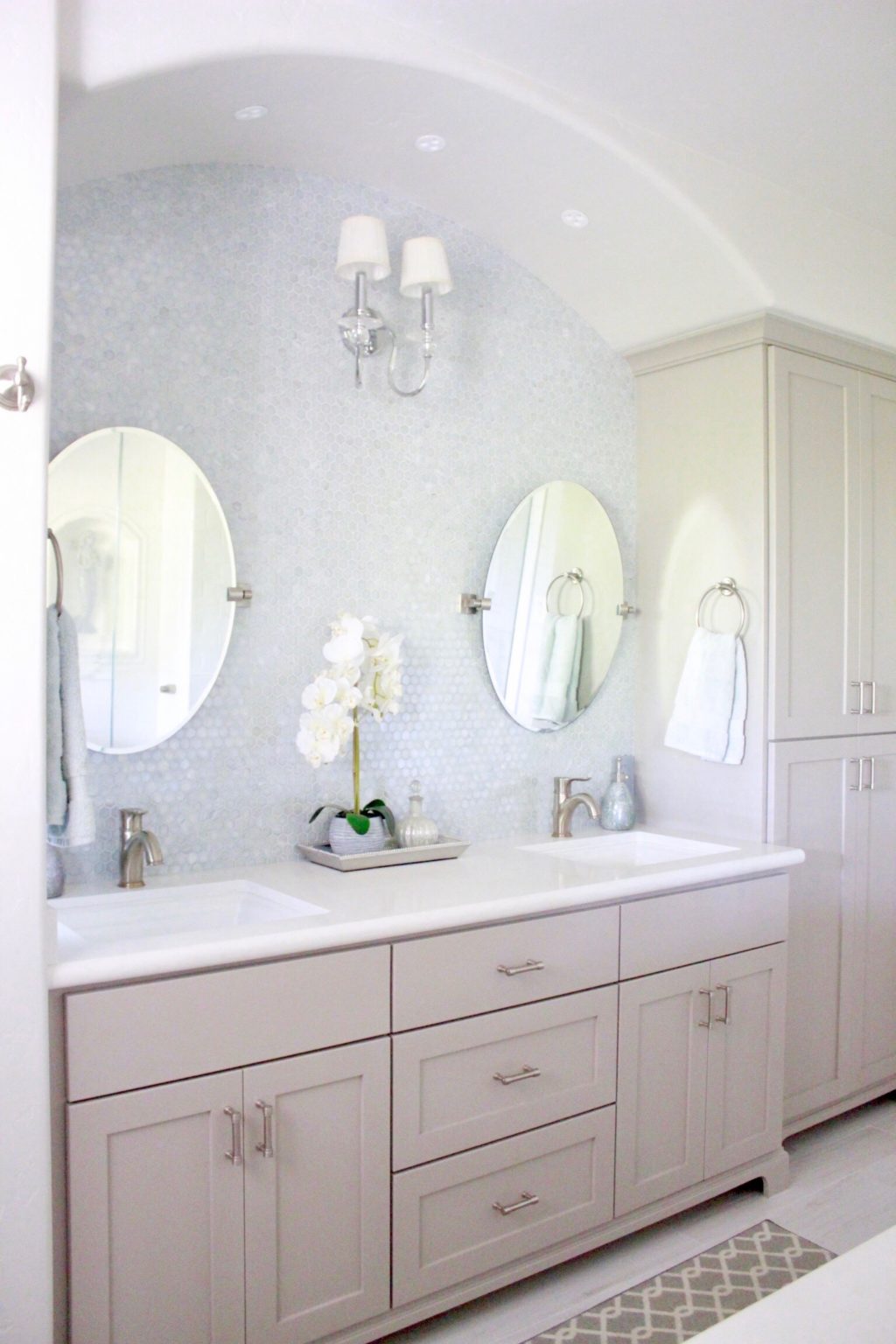 The light grey cabinets give it just enough contrast while keeping it bright and soothing.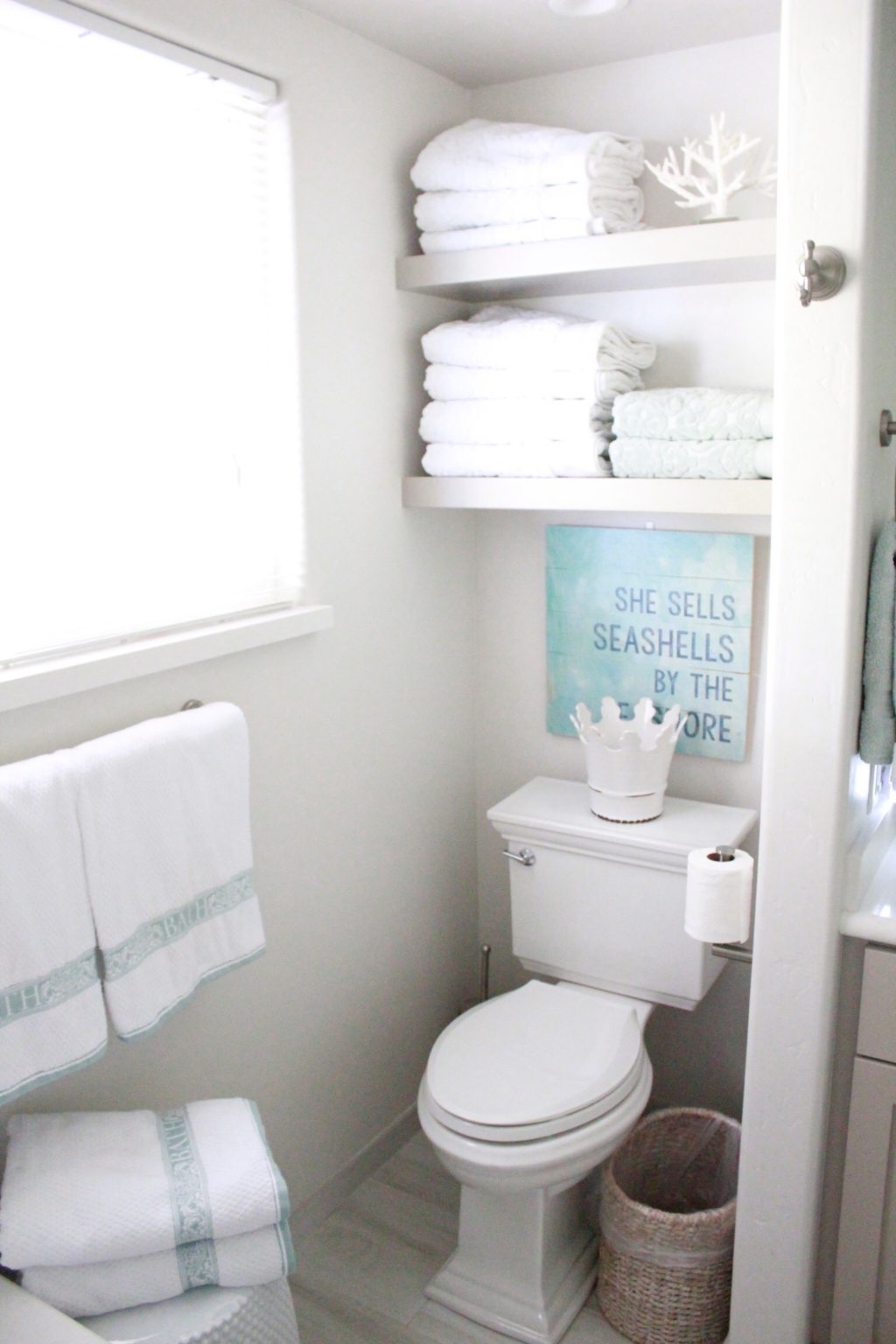 I love that you remember you're "at the beach" in this house with subtle hints instead of obnoxious accents everywhere you look.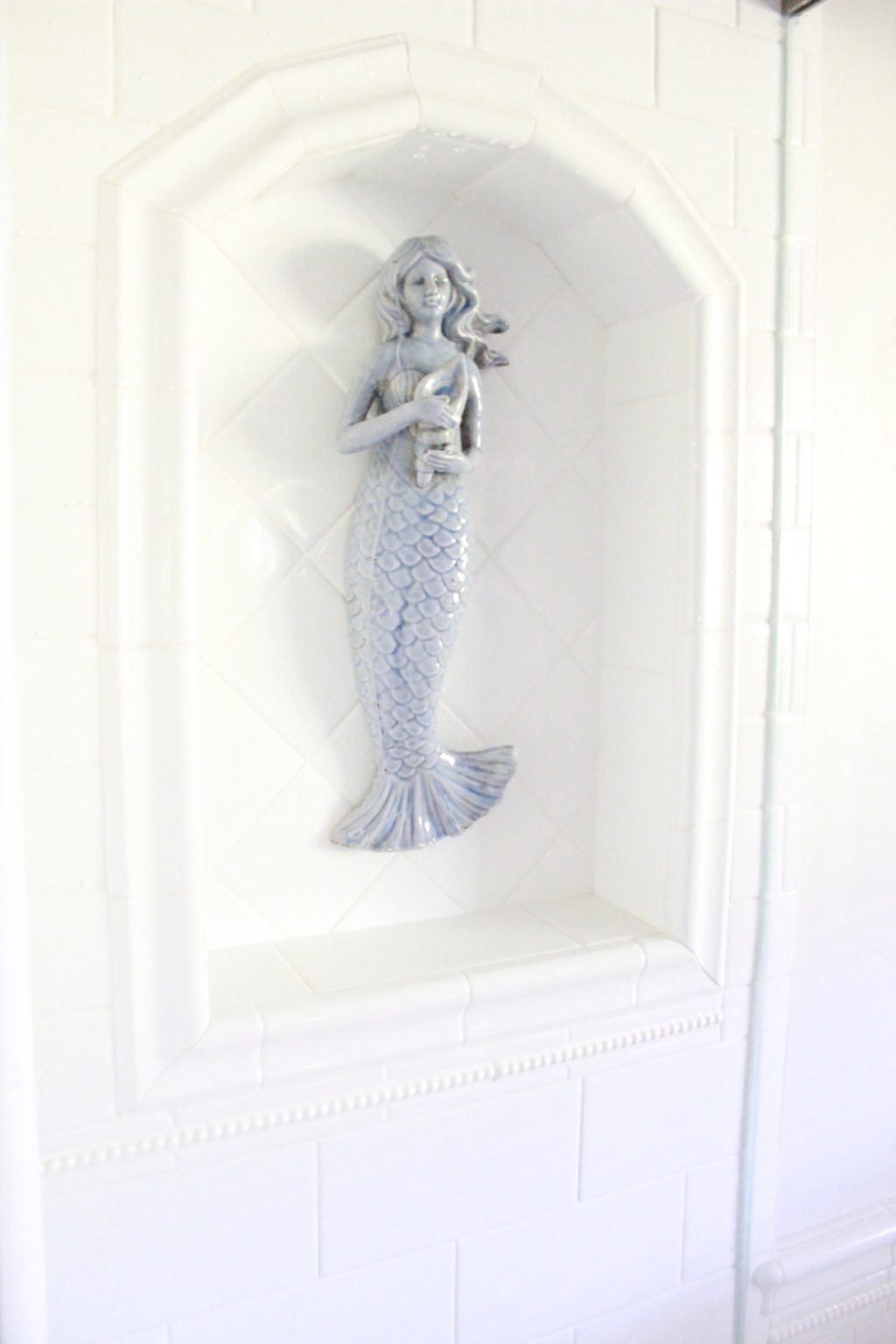 One of my favorite things in this bathroom is this precious blue mermaid in the shower niche.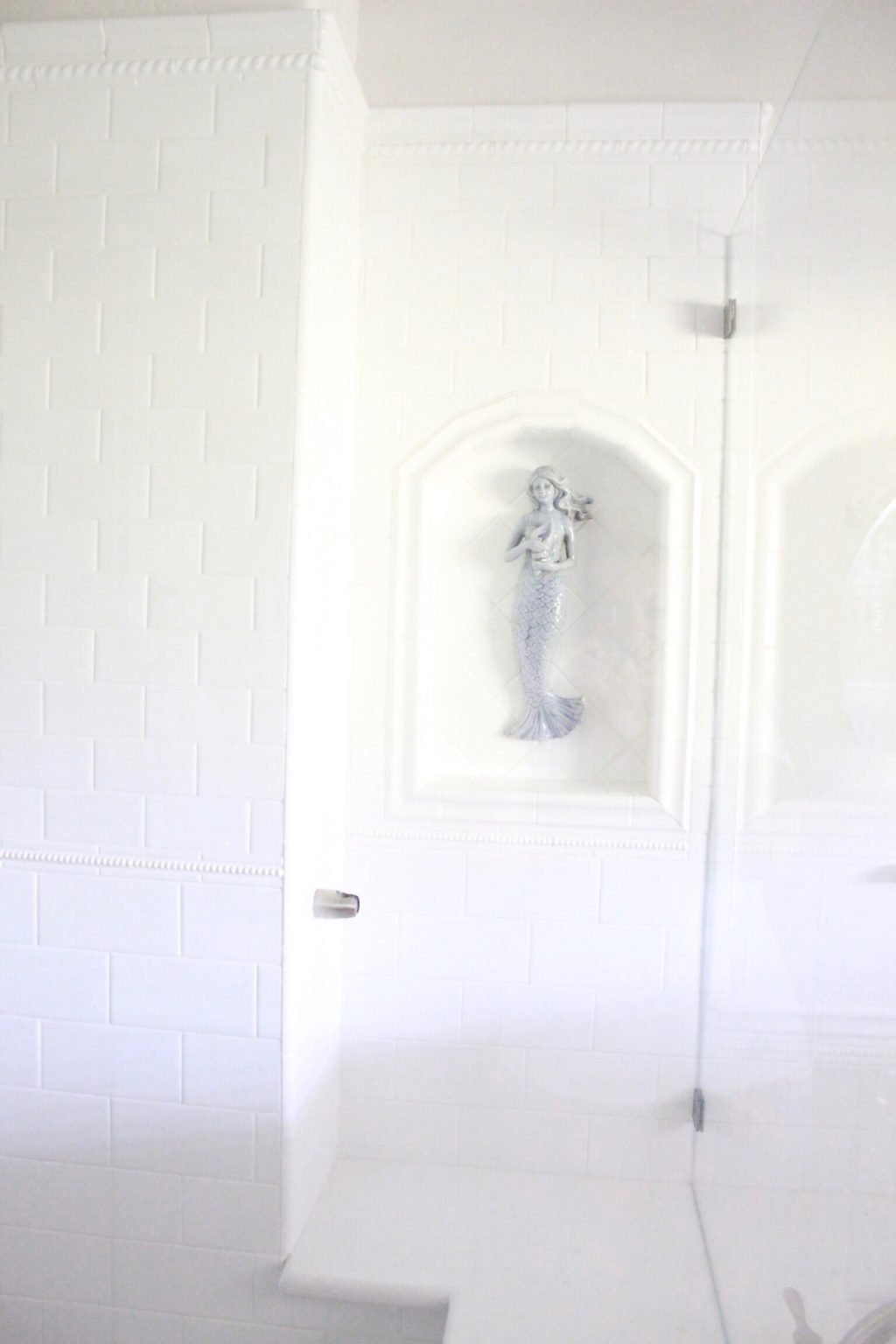 Isn't it just the cutest?!
The sun was going down when I took this picture but I had to show you the great storage space in this bathroom.  I love the way this bathroom remodel turned out. I wish I could show you "before" pictures from last year.  This was so beautifully-done…perfection!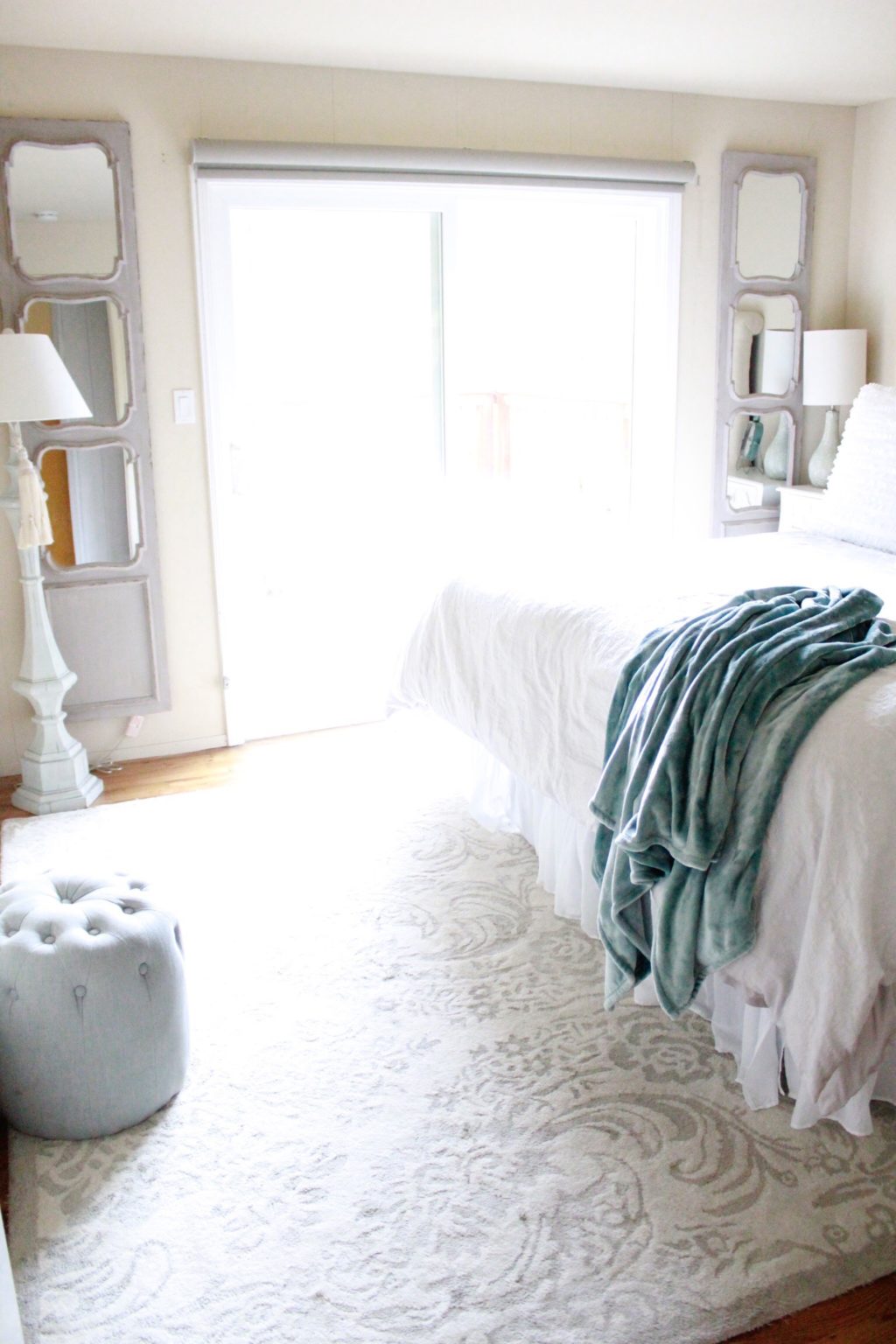 This beautiful color palette continues down the hall into the next guest bedroom.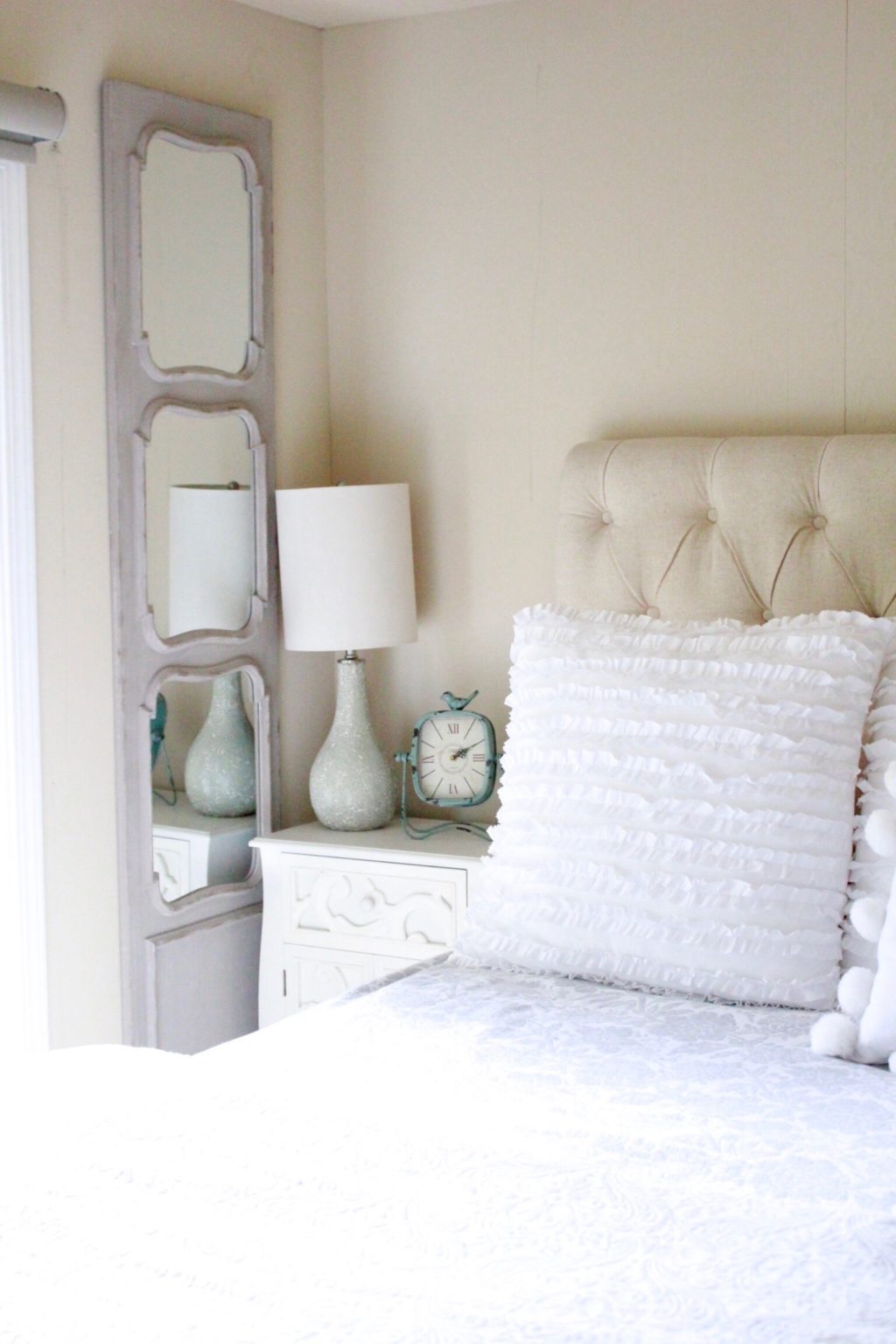 This bright and beautiful bedroom has soft accents of ruffles, light grey and ocean blue.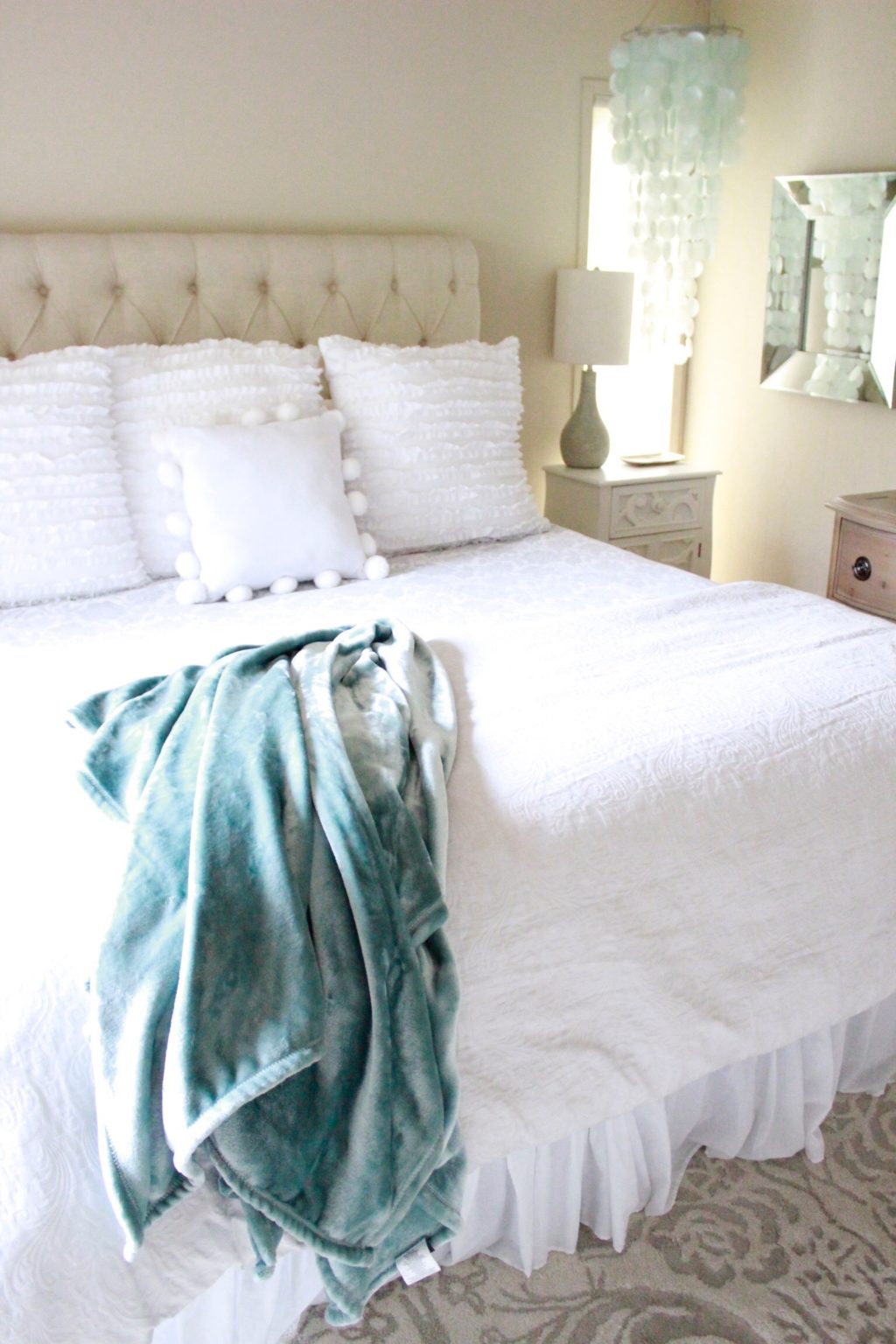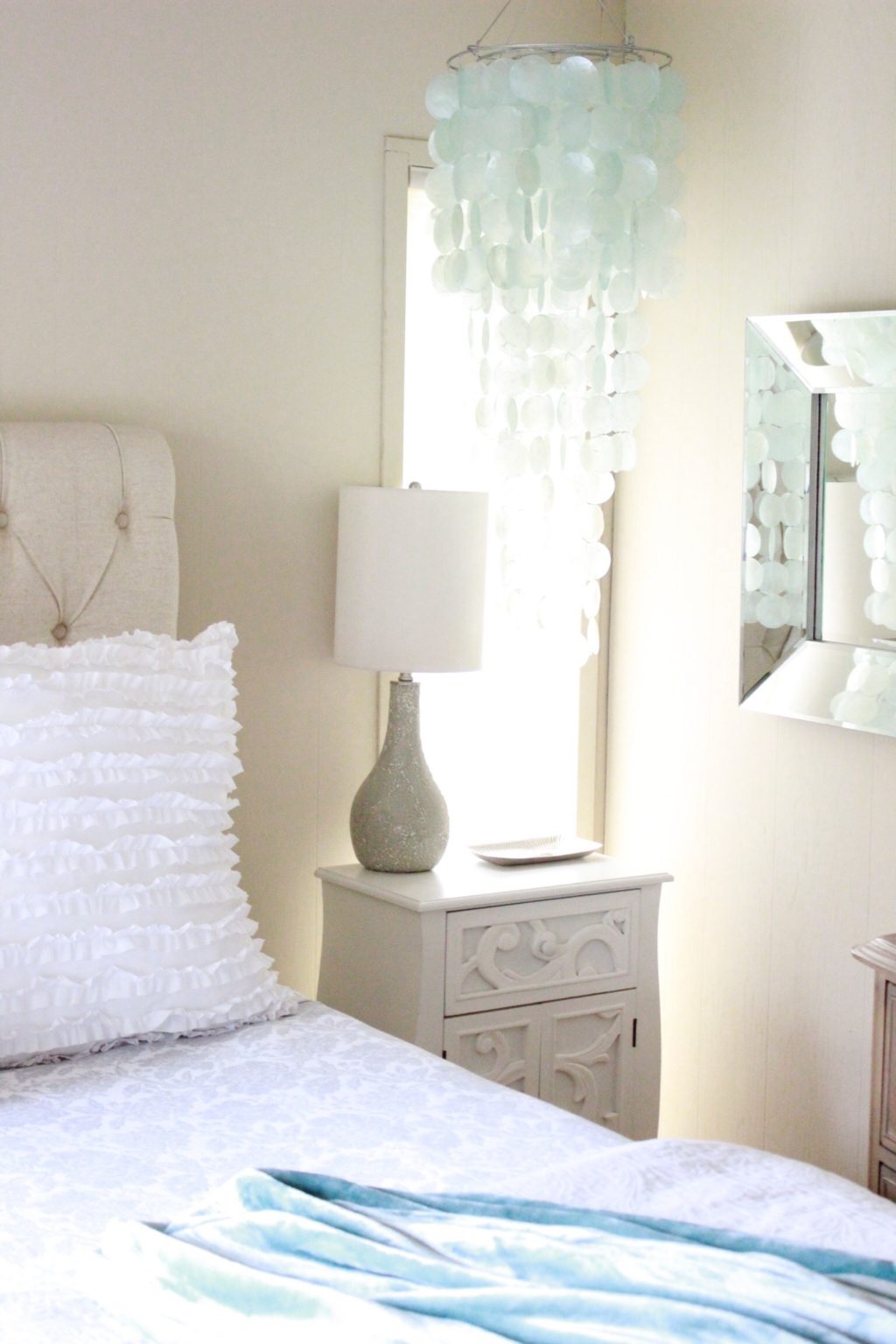 To the right is a lovely chest of drawers and another TV.  Who wouldn't want to be a guest here?  It has all the amenities.
One of my favorite parts of this bedroom has to be the shell chandelier.  Pretty gorgeous, isn't it?!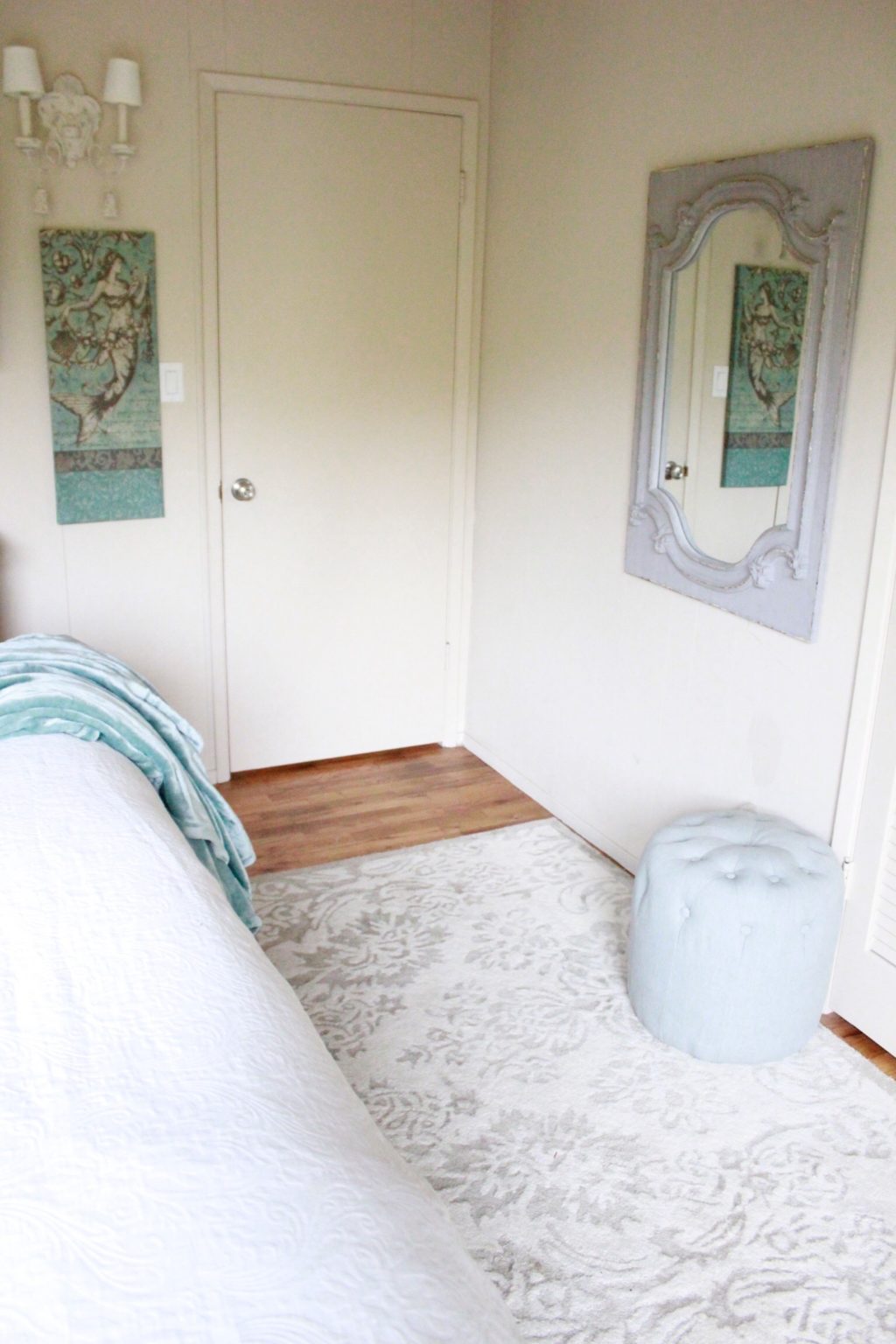 I love the pretty art and tufted stool.  And if I remember correctly, I believe these are the original sconces in this home.  If I'm wrong, I'll publish an update.  But I love the charm they add.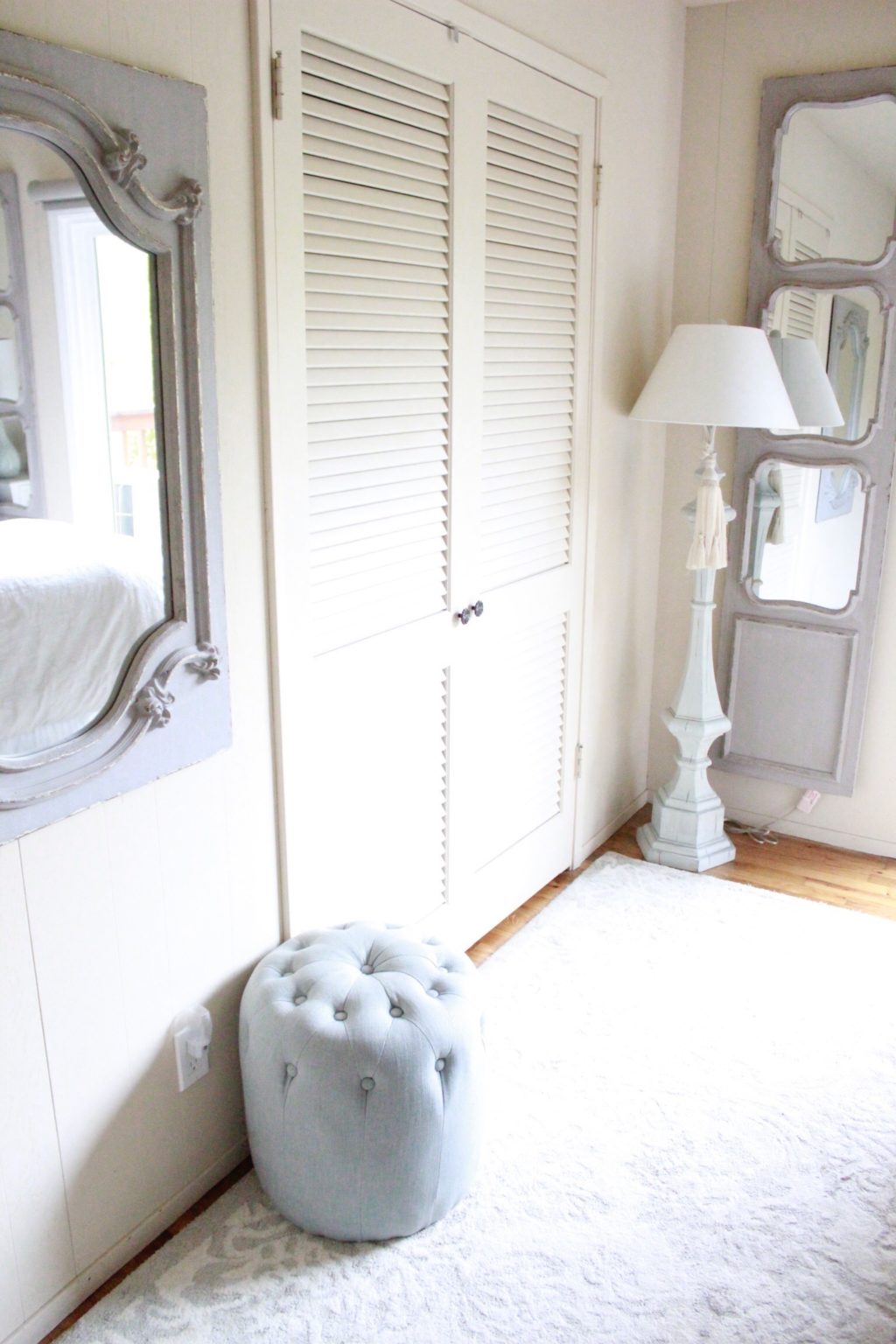 This bedroom is a perfect combination of french country, coastal, and shabby chic styles.  My favorite!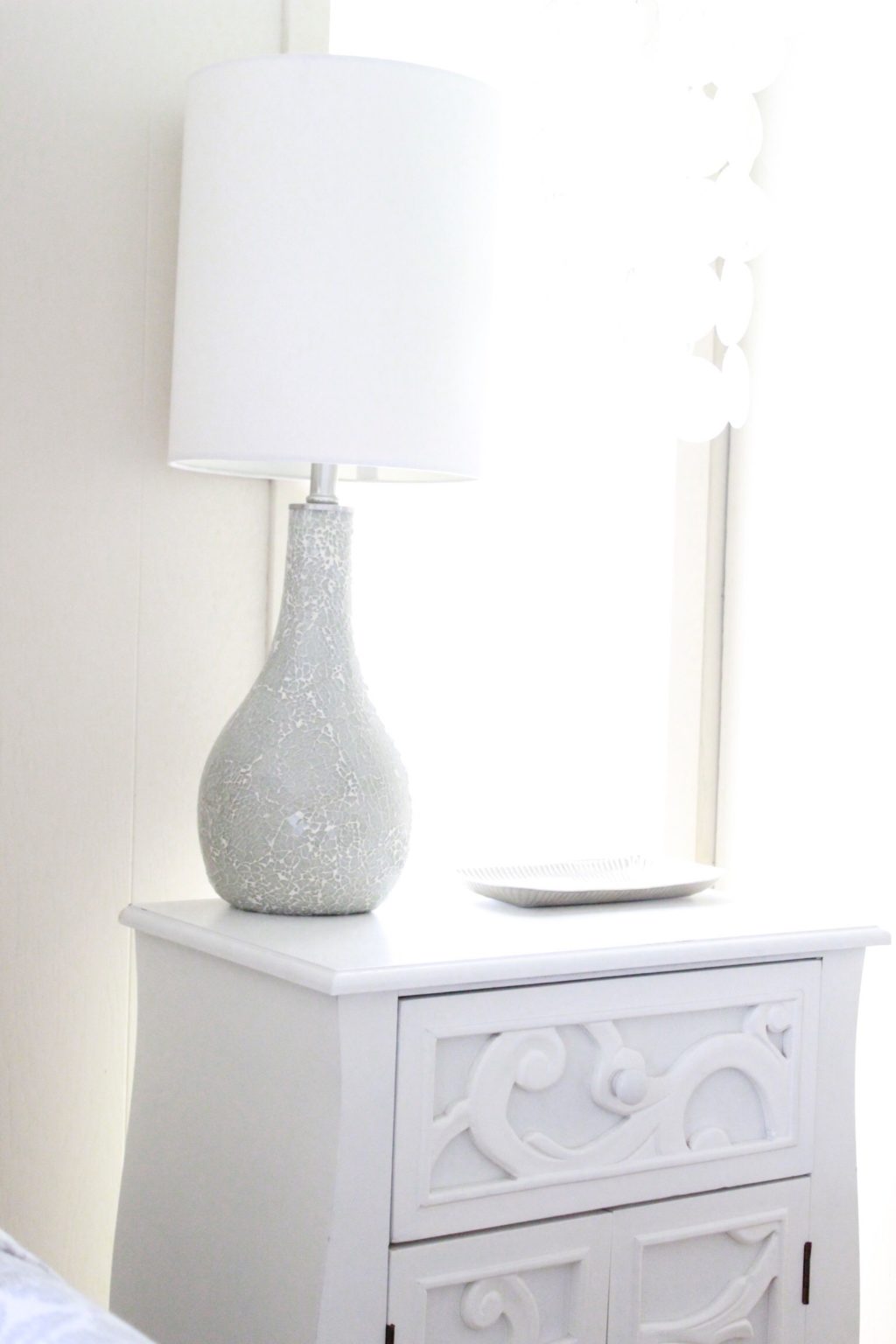 Every pretty piece adds a touch of elegance and glam.
Let's run back up stairs so I can show you the master bedroom.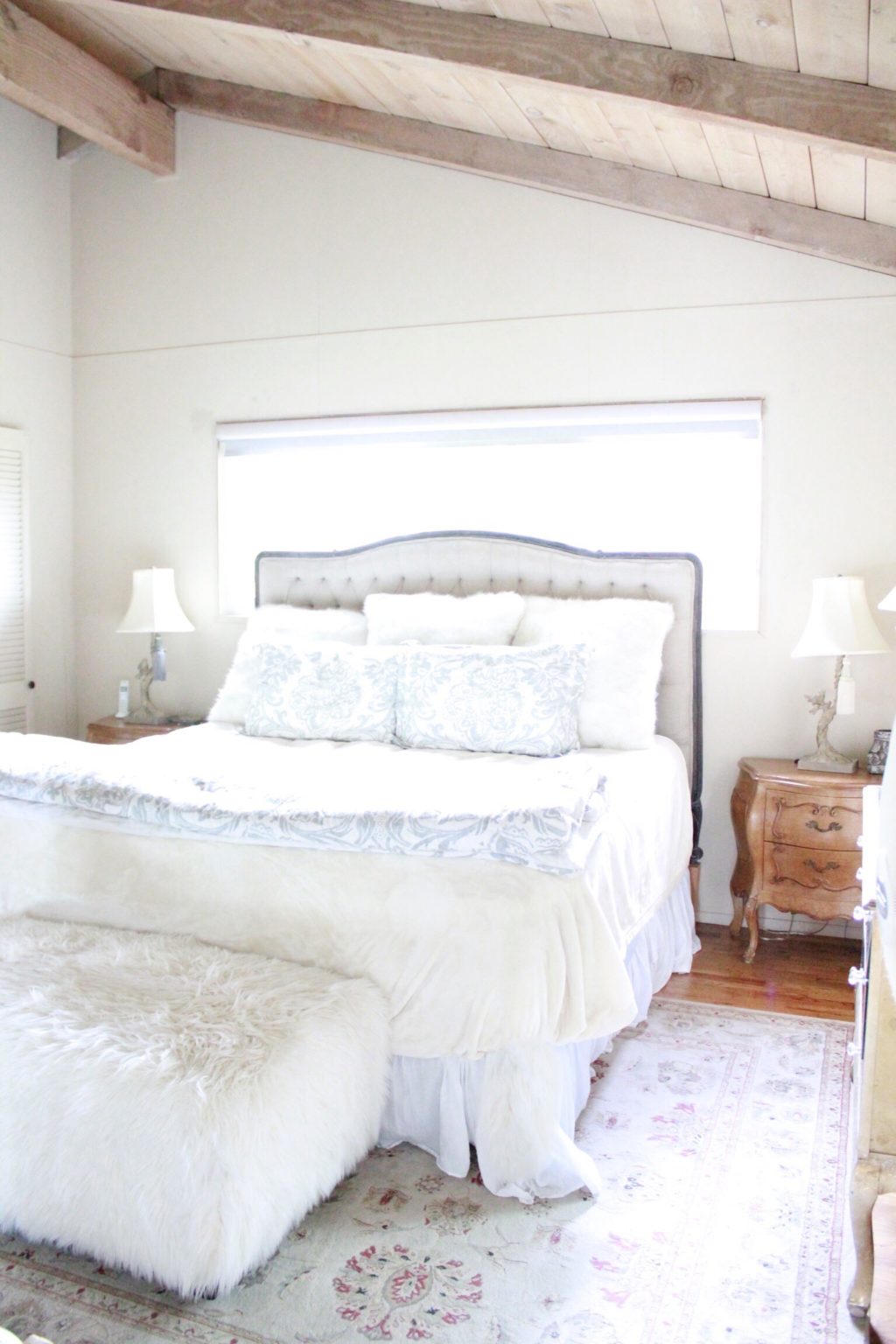 White, soft bedding with a fabulous fur bench makes this just the cozy place you want to run to after a day at the beach.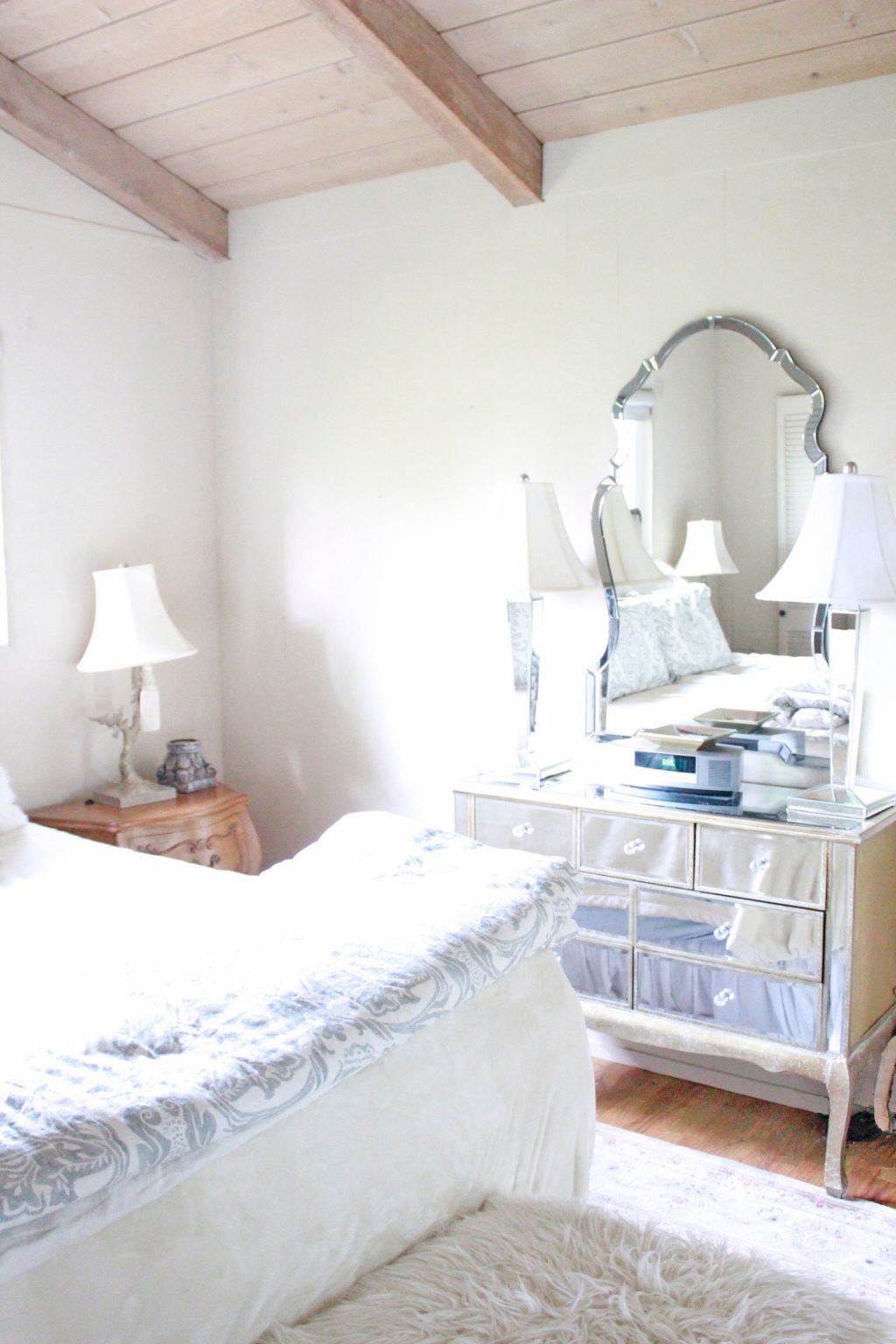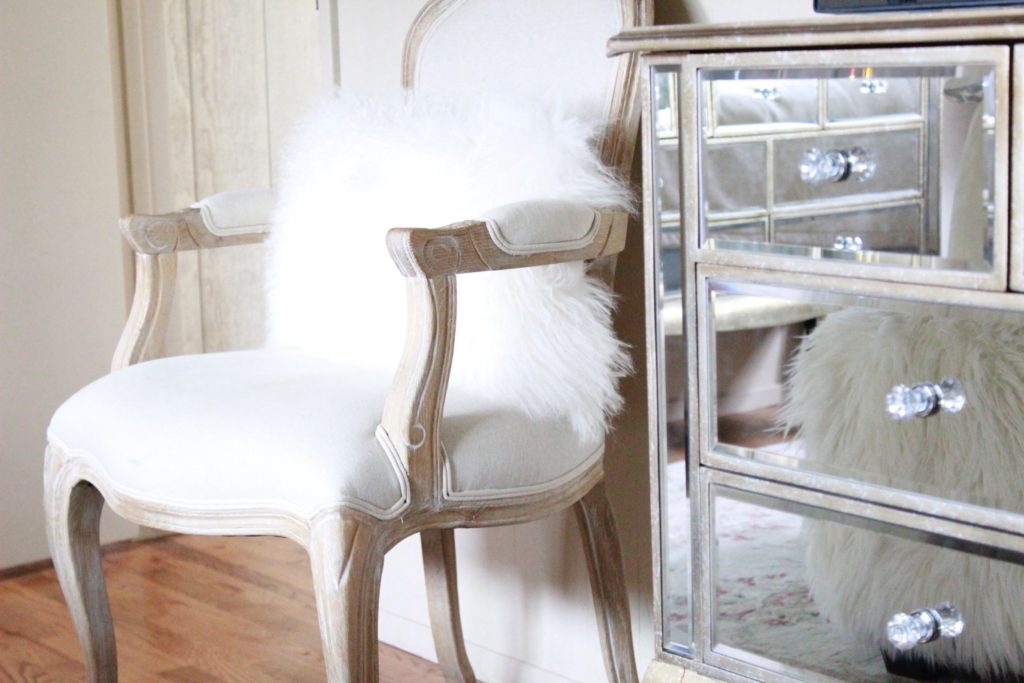 With mirrored furniture and such a pretty chair, there is no shortage of glam in this master bedroom.
Speaking of glam….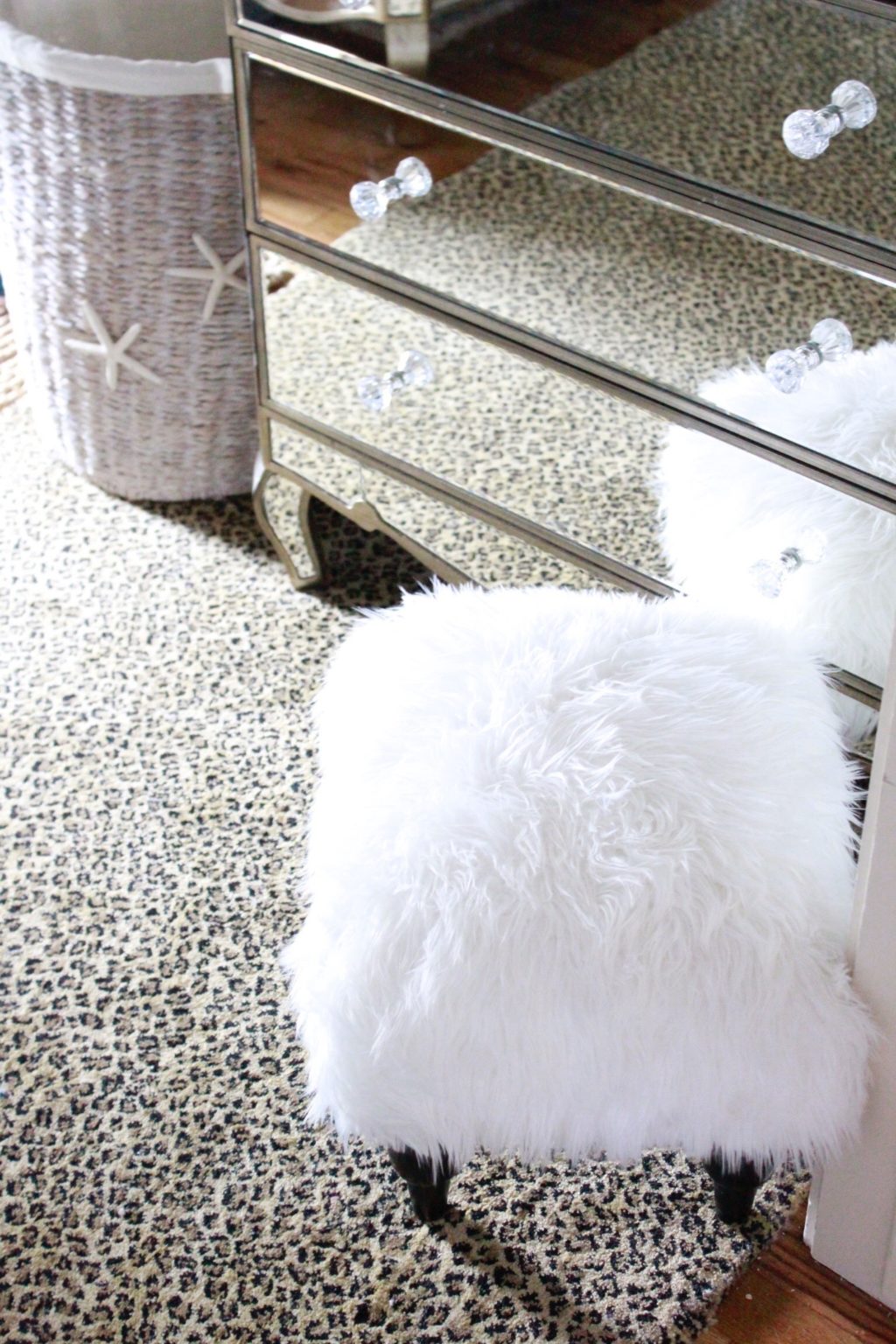 Here's a little peak of the walk-in closet inside this master bedroom. It has a beautiful window that allows extra natural light to pass through here and into the bedroom.  The leopard carpet is also in the homeowner's Northern California home (swoon) and also has mirrored chests for storage.
Not your typical beach house right?!  Good.  That was the goal.  Elegant and comfortable, sophisticated and cozy, coastal and chic, family-friendly and functional….this home has all the best vibes and most gorgeous touches!
For your convenience, I'm linking similar or suggested items below to help you achieve the look of the spaces in this beach house.
Affiliate links used.







Thanks so much for joining me in another edition of Bright White Homes!  What was your favorite space in the beach house?  I hope you enjoyed touring it as much as I did!
I would love it if you subscribed at the top of the page in order to receive my weekly emails of all my latest blog posts and hear about digital printables & freebies, as well as sales or new items in My Online Shoppe.  You can also follow me on Instagram, Pinterest, and Facebook to see what I'm up to in creating a home and lifestyle of inspiration!
xoxo,

SaveSave
SaveSave
SaveSave
SaveSave
SaveSave