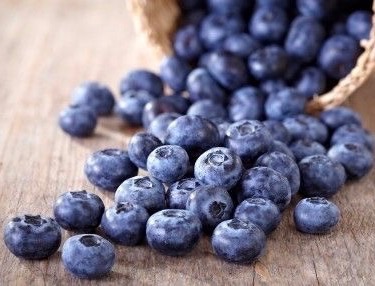 Let me preface this post by saying that I've never been a huge pie fan. I mean, I'm a HUGE fan of the Peach Meringue Pie that I make each year during peach season but it is not your traditional pie (it's my readers' favorite so you need to check that out). But then my hubby and I are in Hawaii last week and I get a text from my mom with pictures of her and the kids picking blueberries and making pies. She taught Brooklyn to make her first blueberry pie and when I took my first bite upon arriving home…I died and went to Heaven. So here is the recipe, because I know you'll ask, for the best blueberry pie I have ever eaten!
First, these are the pictures my mom took on her phone and sent to me while I'm lying on the beach in Hawaii.  She took the kids blueberry picking, something we've been wanting to do since moving here this spring to the Pacific Northwest from Texas.
I love these pictures! How fun to pick your own blueberries and then bake with them!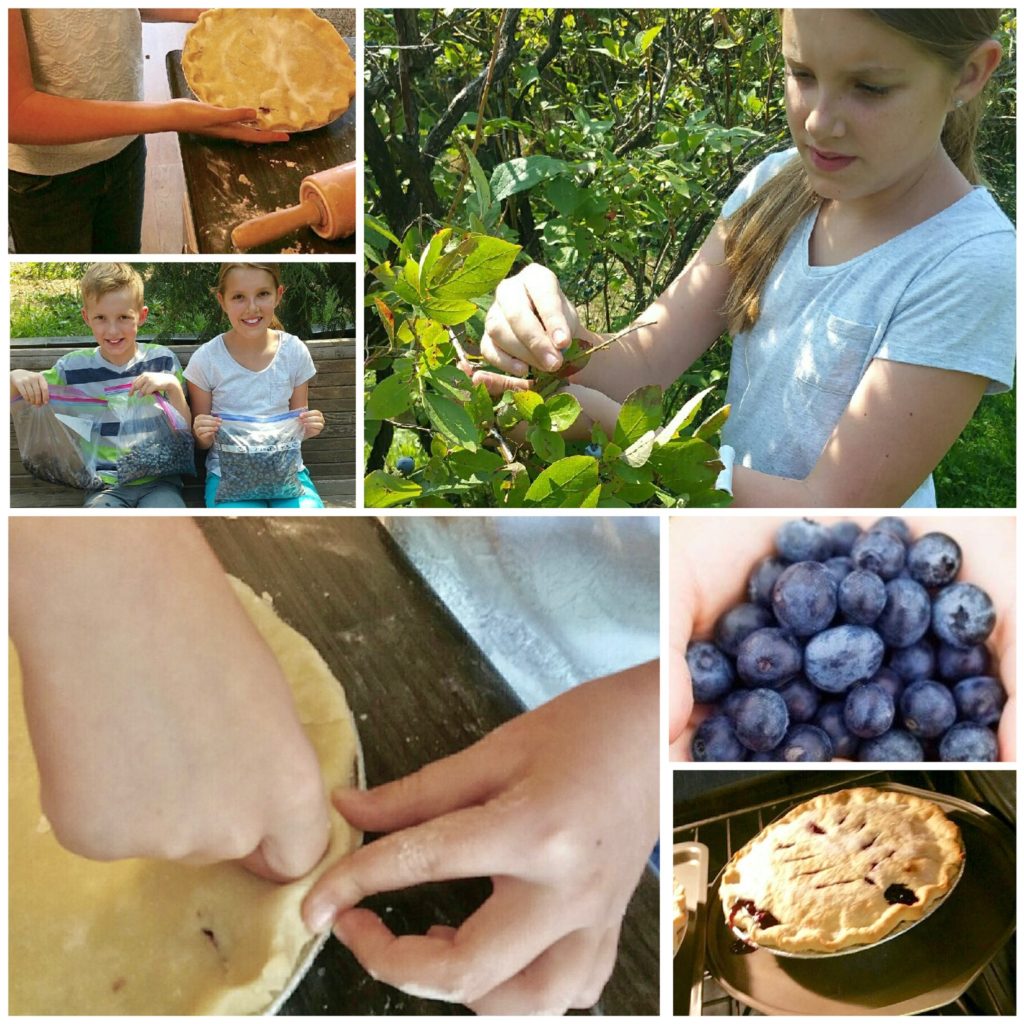 Brooklyn learned how to press the crust around the edges (Beckham was more interested in Legos and passed on the baking, typical boy).  She even made pretty slits on the top of the crust.  Isnt it pretty?! Ok I could eat a whole jar of that blueberry filling! But let's move on to the recipe…
The Best Blueberry Pie I Have Ever Eaten
Ingredients:
1 refrigerated pie crust (they made their own from scratch so you can use a pie crust recipe or a good store-bought crust)
4 cups blueberries
½ cup sugar
2 ½ tablespoons cornstarch
1 tablespoon butter
½ teaspoon grated lemon peel
Instructions:
Roll out one sheet pie crust to flatten. Fit into a 9-inch pie dish.
In a medium saucepan combine 1 cup of the blueberries, sugar, cornstarch and 2 tablespoons water.
Bring to a boil; cook and stir until mixture is thickened and clear.
Stir in butter; cool for 5 minutes. Stir in the remaining 3 cups blueberries and lemon peel.
Preheat oven to 400 degrees.
Turn cooled filling into pie shell. Lay the remaining pie crust on a sheet of wax paper. Roll out to flatten.
Arrange crust on top of blueberries, pressing ends into the edges of the bottom crust and pressing to seal.
Place pie on a baking sheet. Bake in the bottom third of oven until crust is golden and filling bubbles gently, about 30 minutes. Cool on rack.
Serve with vanilla ice cream and enjoy!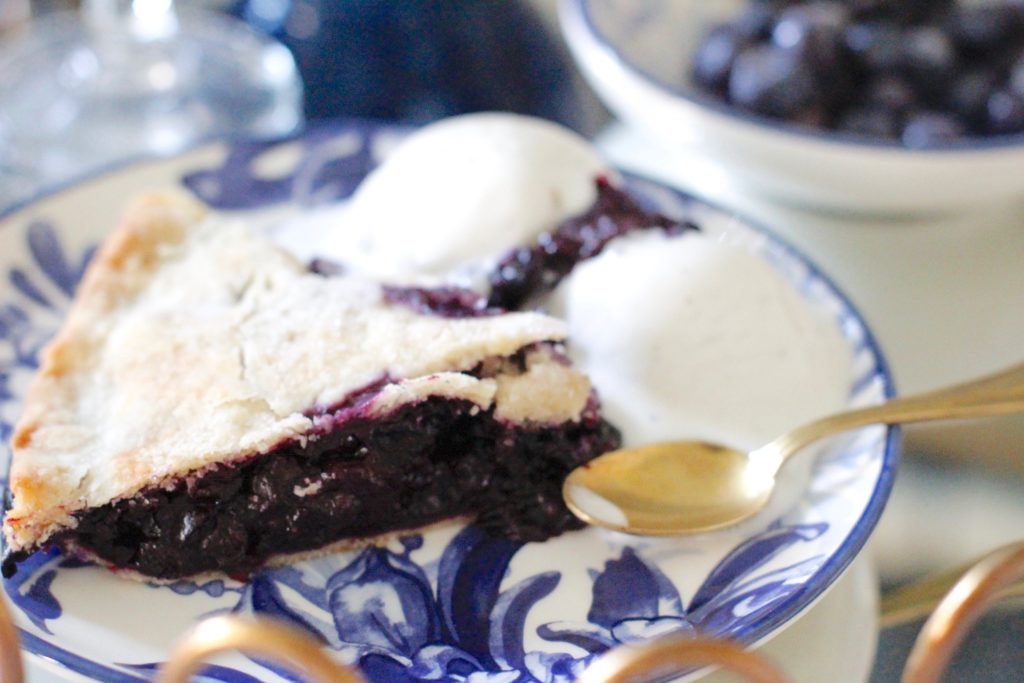 I like to scoop any blueberry filling I missed the pie plate and put it on top of my vanilla ice cream!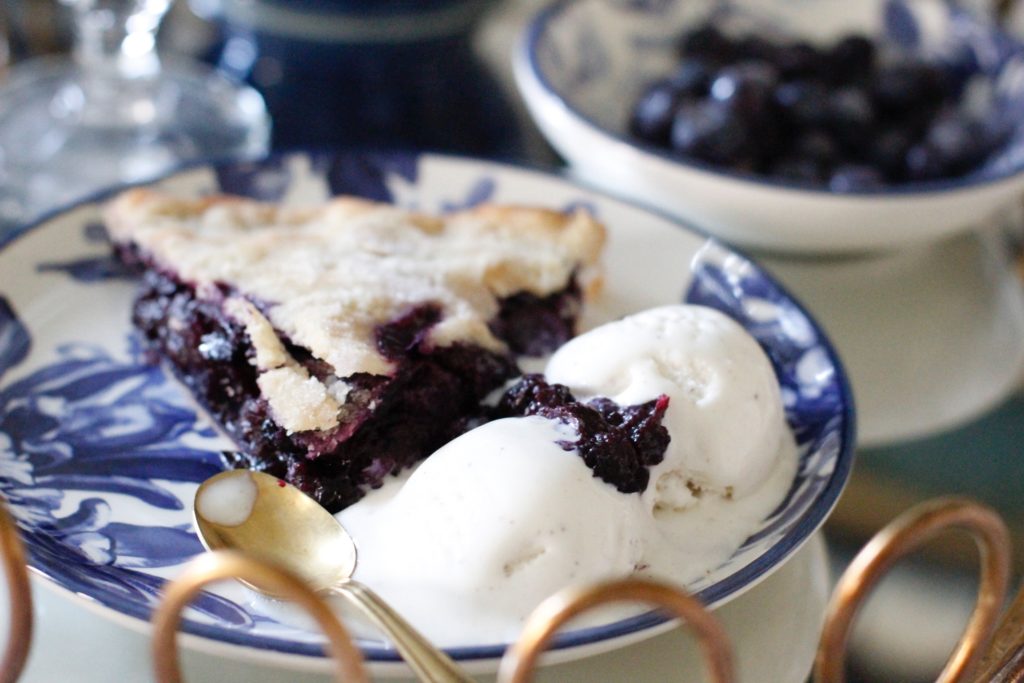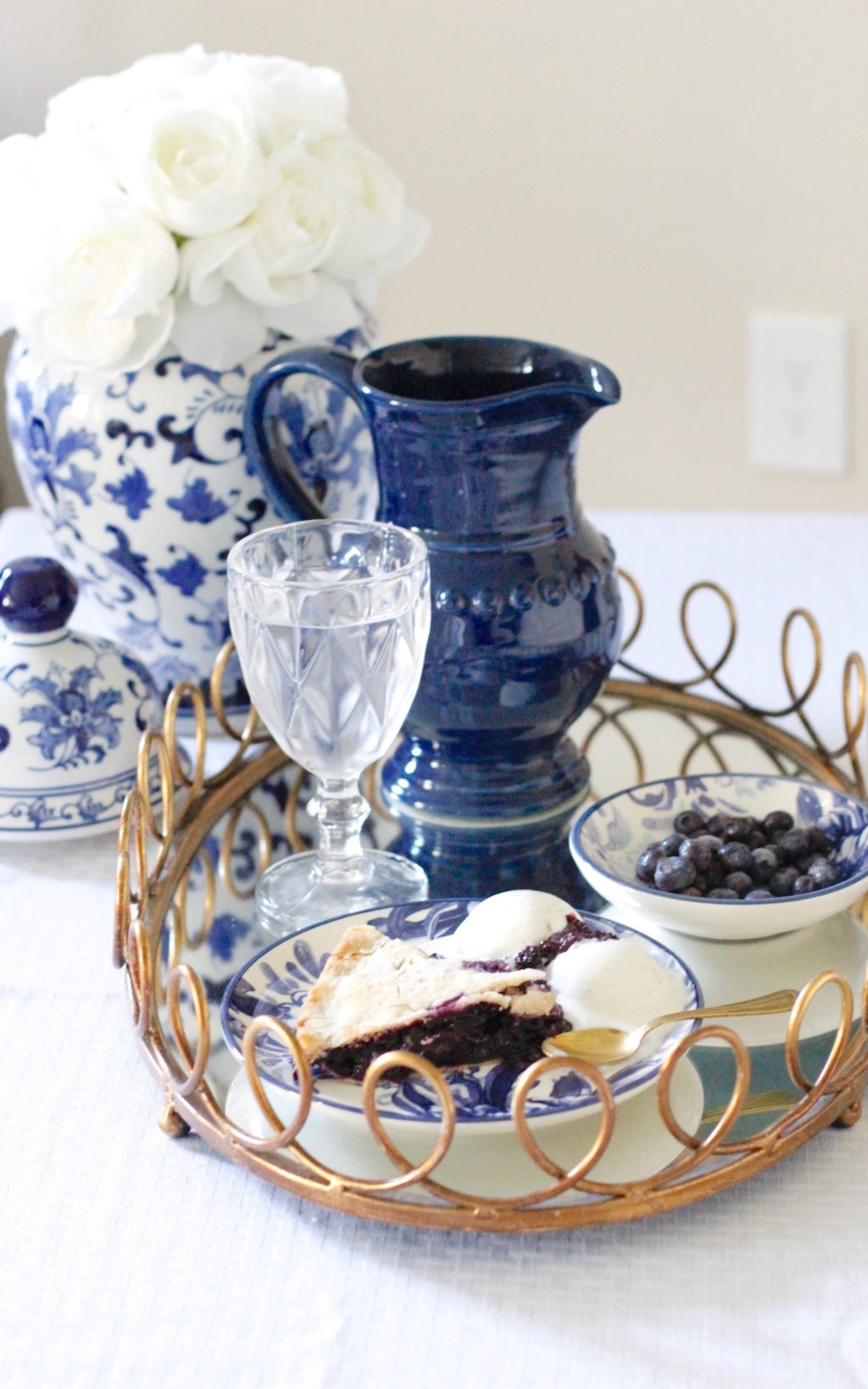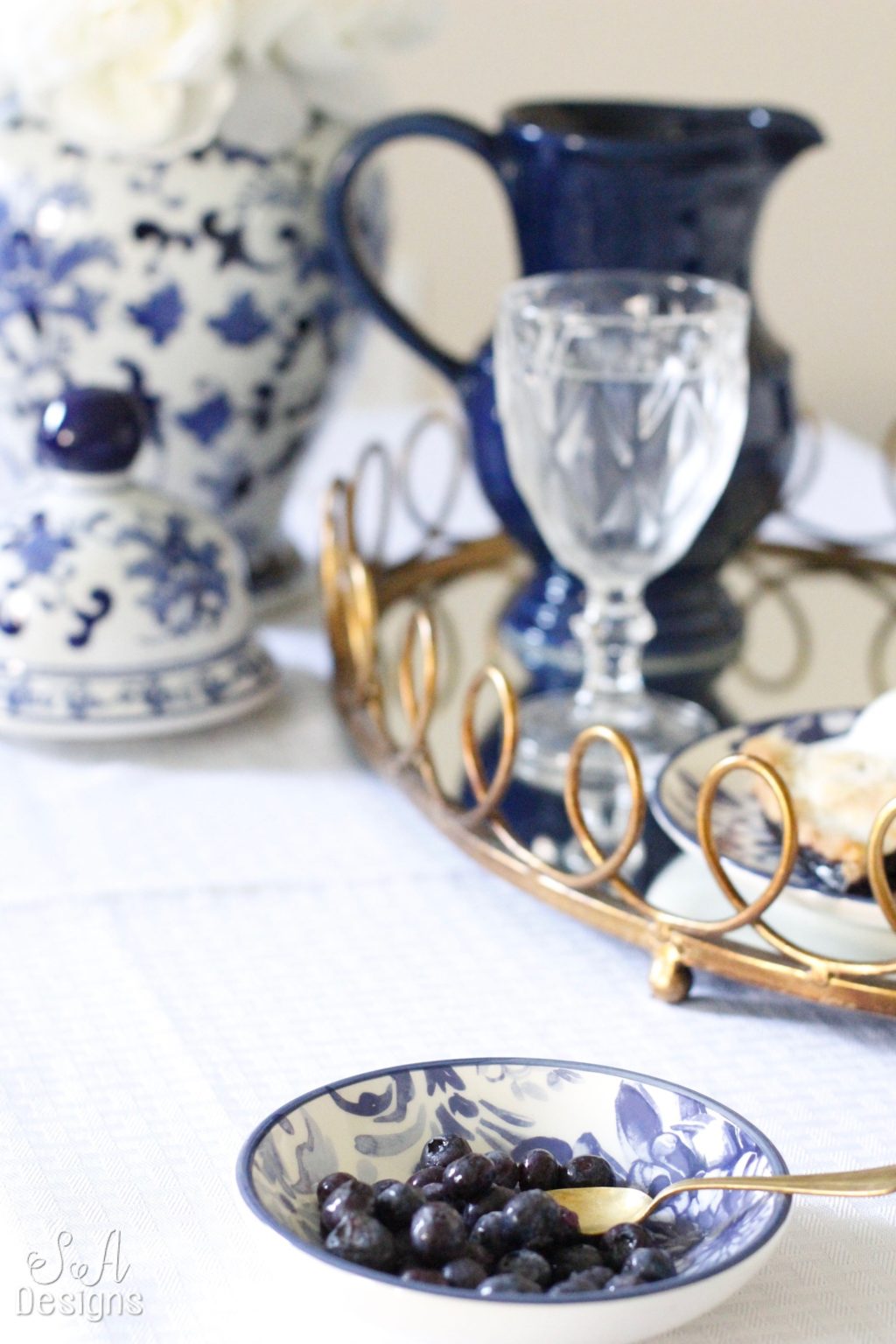 Give me blueberries any day!  They're so high in anti-oxidants too!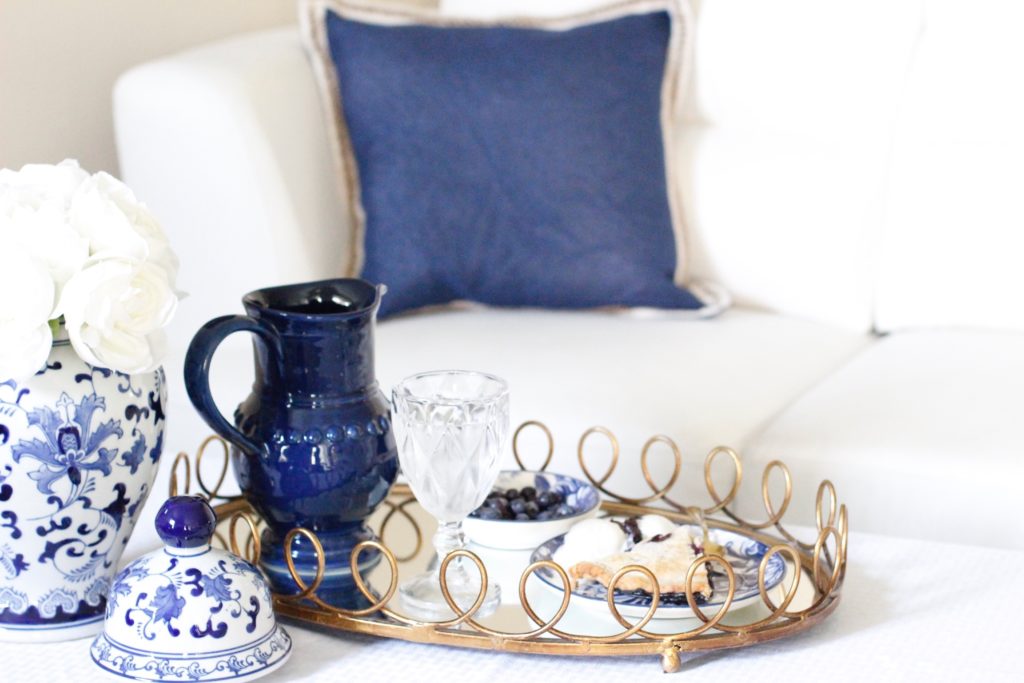 And if you love blue and white and chinoiserie as much as I do, here are some beautiful pieces and collections below.



You can also shop below for my favorite gold kitchen items and entertaining pieces.


Thanks so much for joining me today! I would love it if you subscribed at the top of the page in order to receive my weekly emails of all my latest blog posts, hear about digital printables & freebies, and also hear about sales or new items in My Online Shoppe.  You can also follow me on Instagram, Pinterest, and Facebook to see what I'm up to in creating a home and lifestyle of inspiration!
xoxo,

SaveSave
SaveSave