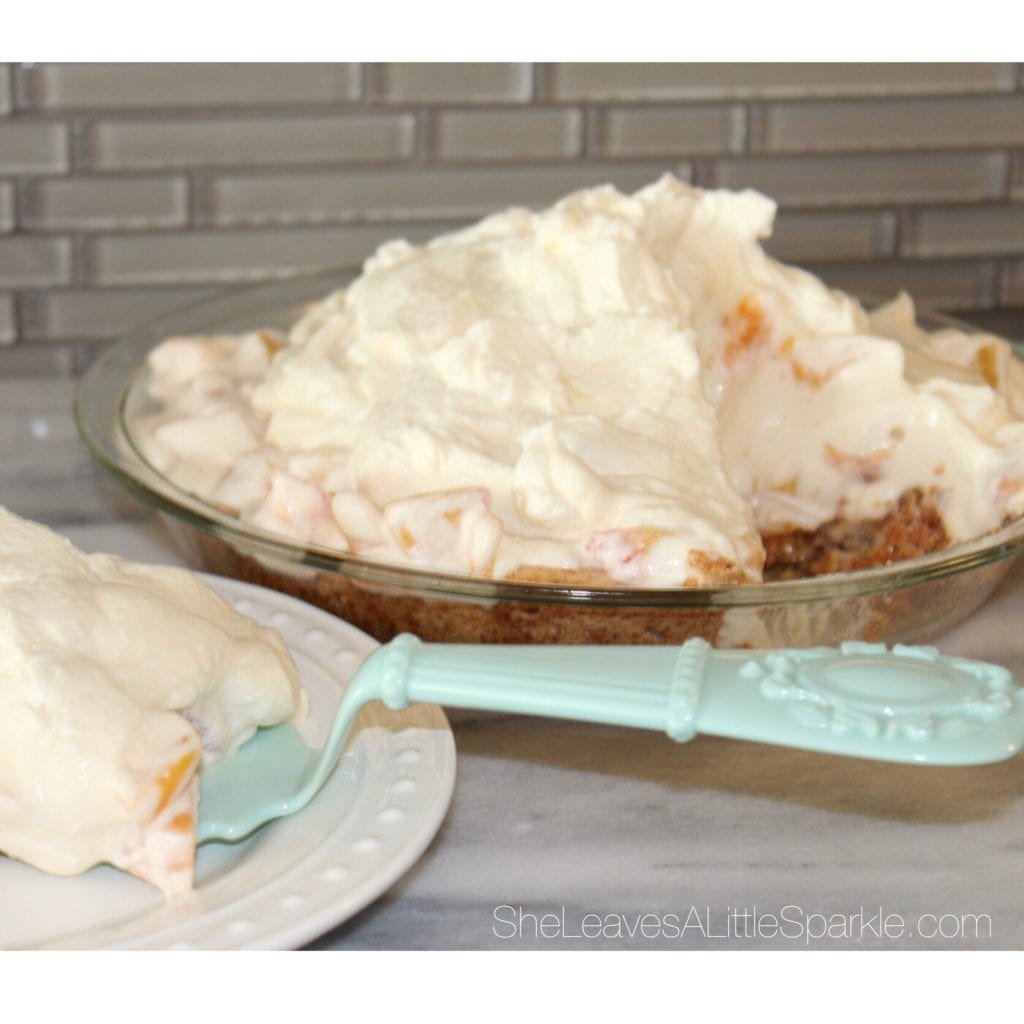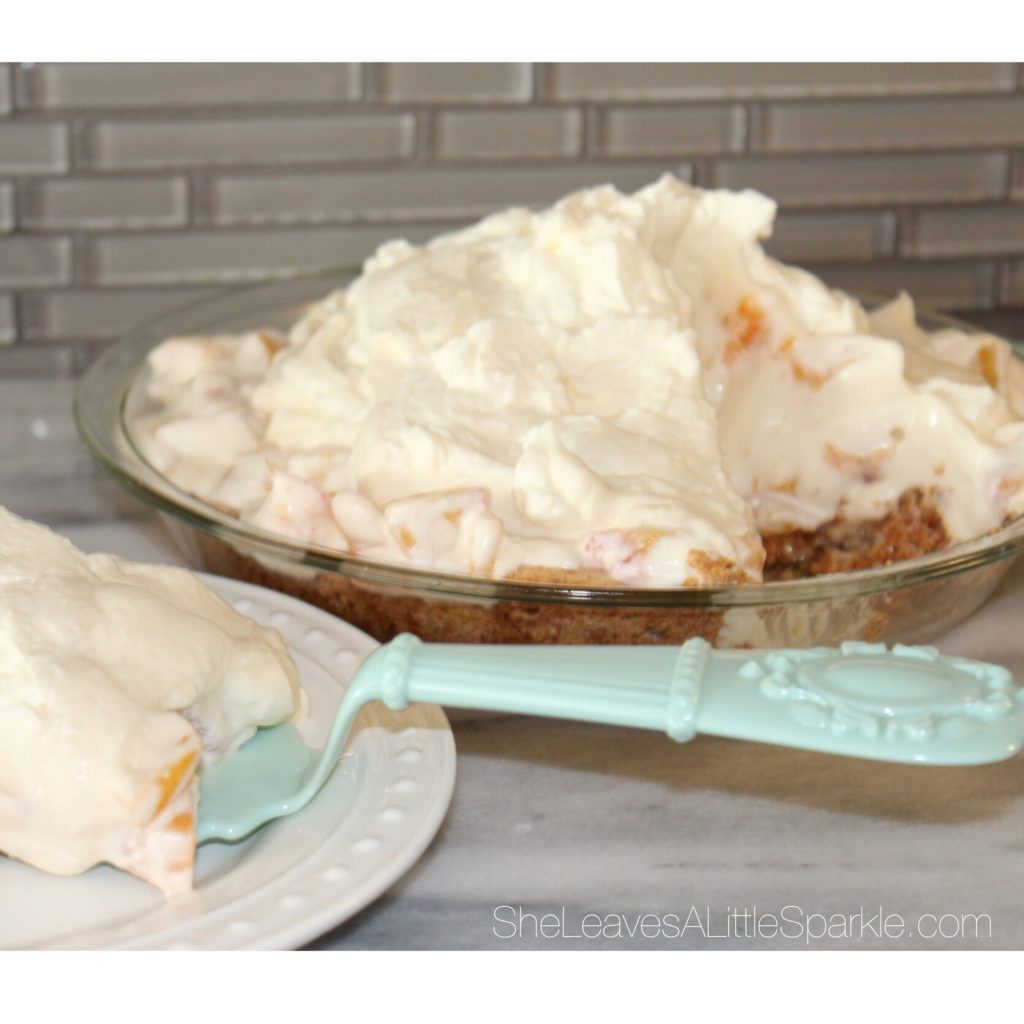 First off, Happiest Fathers' Day to all the wonderful, loving, men out there that provide for their family and leading by righteous example! What a sacred an important role and calling that is! I prayed for a good man to be a wonderful father to my children and I'm so grateful to have found one and married him. There's not much I wouldn't do for that man, and when he asks for something he loves… he usually gets it. Which includes making him a Peach Meringue Pie! "It's the best dessert I've ever had," he says. It definitely one of his most favorite things that I make.
My husband, Josh, had never tried this Peach Meringue Pie until we got married and my family introduced it to him. I've never seen him act that way as he took each bite. LOL! He really inhales food that he loves but not this one… Josh savored each bite and it was hysterical as it reminded me of Bill Murray in that food scene from "What About Bob" haha.
This Peach Meringue Pie is a family recipe and my Great Grandma Croff made it for years and passed it down. I thought it would be fun to share with the rest of you and I hope you love it as much as we do! I love peach cobbler, homemade peach ice cream, peach shakes…anything peach. But this Peach Meringue Pie takes the prize! It's very simple and you make it in 2 parts with the crust and then the filling. Oh, and it makes 2 pies, so that is a bonus!
Let me preface this by saying, I really don't care for pie. I don't like pie crust, especially dry pie crust. But this is no ordinary crust. There are no words…you just need to make it and see what I mean.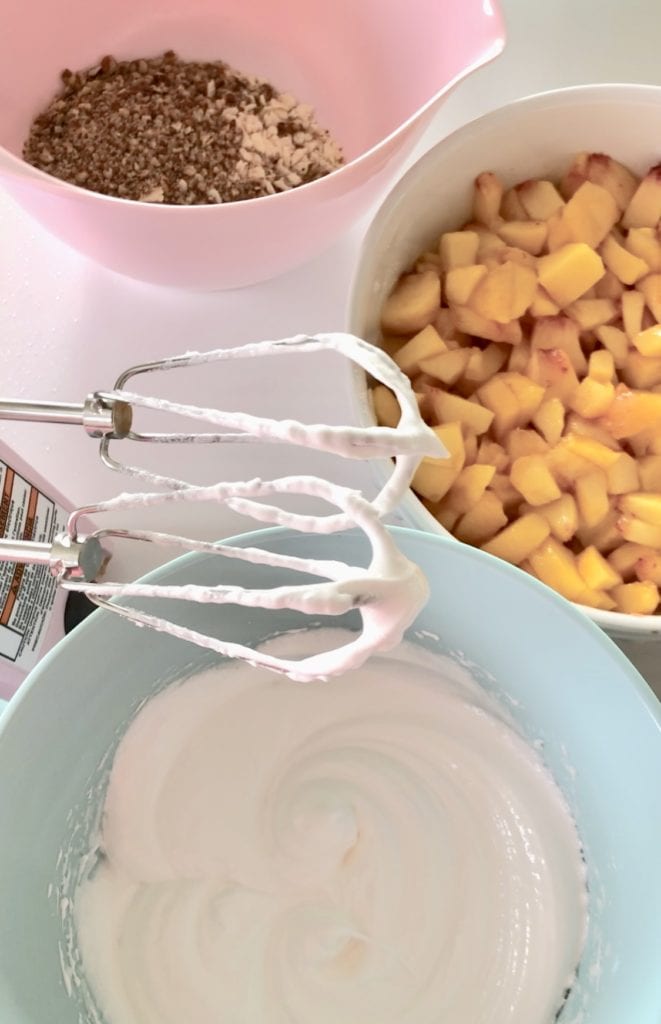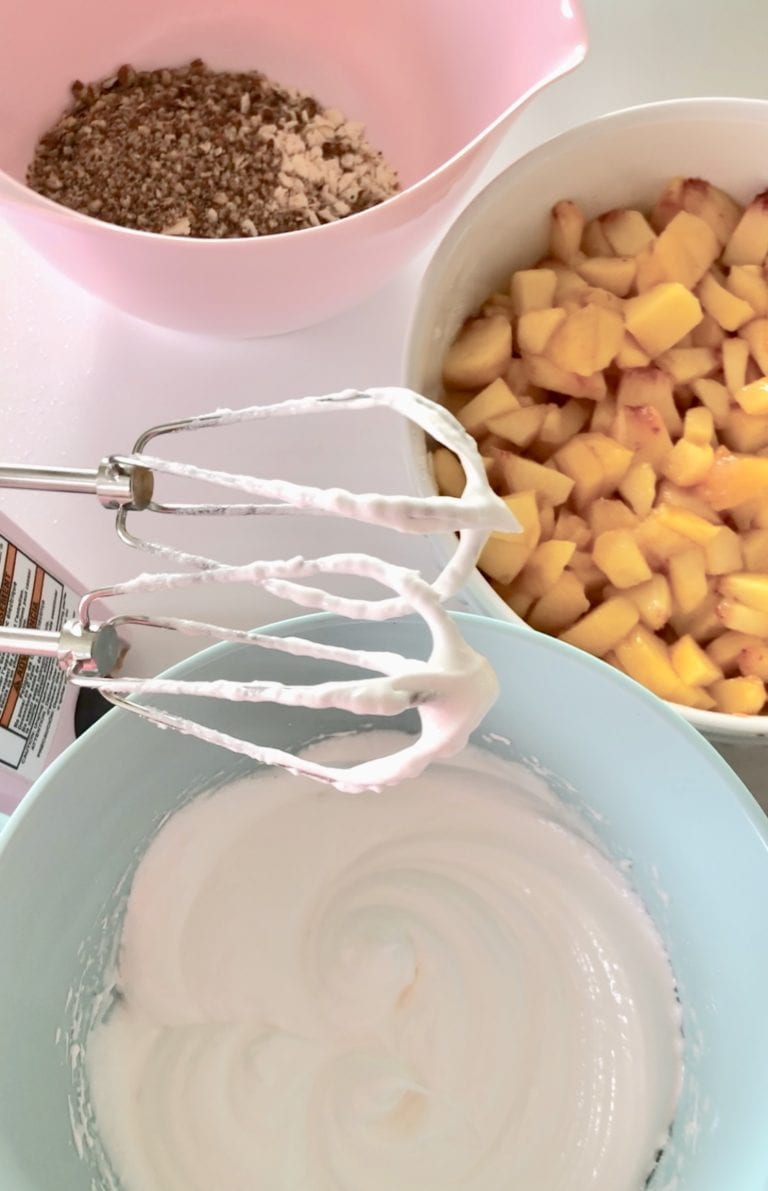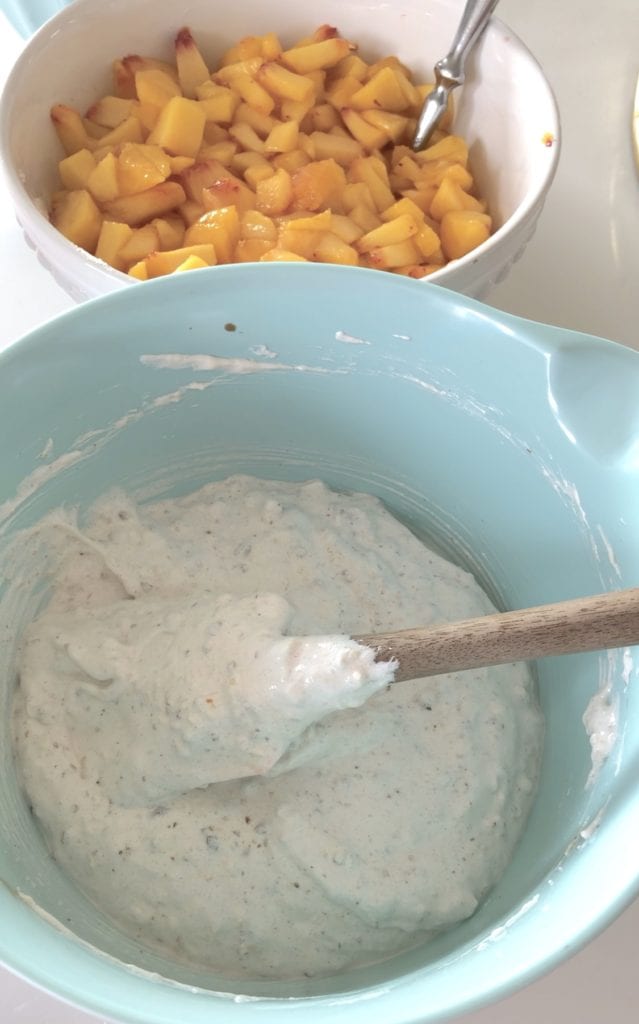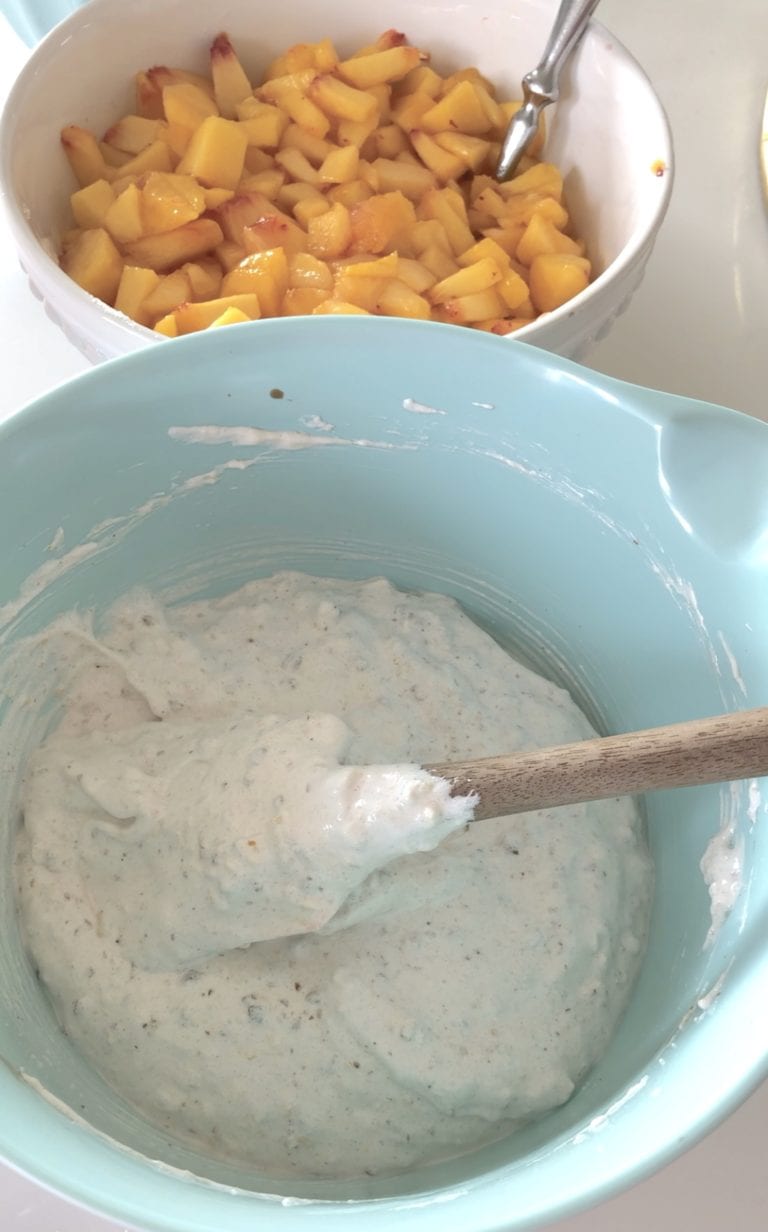 Peach Meringue Pie
Ingredients
Pie Crust (aka A little bit of Heaven on Earth)
3

egg whites

1/4

tsp

baking powder

1

cup

sugar

1

tsp

vanilla

14

saltine crackers, crushed

1/2

cup

pecans, chopped
Peach Mixture
1/2

pint

heavy whipping cream

1/2

cup

sugar

1

tsp

vanilla or almond extract

(I love to do 3/4 tsp Mexican vanilla and 1/4 tsp almond extract since I love both)

7

fresh peaches, cut into chunks and sweetened with some sugar

Drain before you fold them into this mixture.
Instructions
Pie Crust
Crush 14 saltines in large ziplock bag with a rolling pin. Add chopped pecans and vanilla and set aside.

Whip egg whites until very stiff. Mix baking powder, sugar and add a little at a time, beating constantly.

Fold in cracker/nut mixture to egg whites and sugar.

Spread into pie pan and bake at 325ºF for 25 min. Completely cool before adding pie filling.
Pie Filling
To make peach filing, whip heavy cream until stiff. Add sugar extract. Fold in drained peaches.

Pour into cooled crust. Let stand in fridge 2-4 hours for best taste. (If you're impatient like me, 1 is fine.)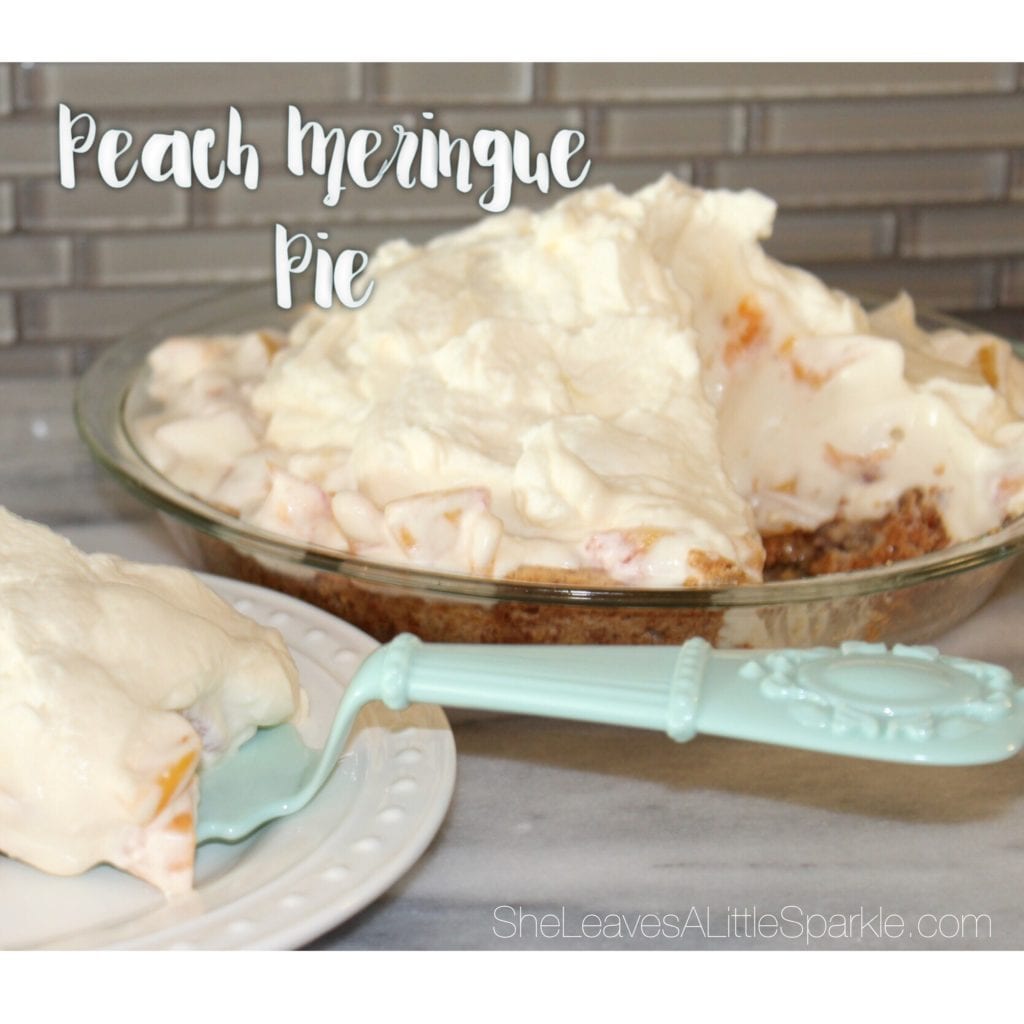 And if you're wondering why there are not any stiff meringue peaks on top like a traditional meringue pie, it's because the "meringue" is made as the crust, as you will see. Now, THAT is the way I like meringue!


Update Aug 2018: I made this pie again the other day for my husband's Birthday. Here's a picture of how much "shorter" or "flatter" the pie can look when you don't drain the peaches all the way from the sugary juice it's been sitting in. But no worries! It's just as delicious! It tastes every bit as good, just doesn't look as fluffy. So there's no need to fret over the appearance.
Bon appetit! And don't forget to pin this Peach Meringue Pie recipe and save it so that you always have it and can pass it on too!
I would love it if you could subscribe at the top of the page in order to receive my weekly emails of all my latest blog posts and see everything I'm working on! You can also follow me on Instagram, Pinterest, and Facebook to see what I'm up to in creating a home and lifestyle of inspiration!
xoxo,

---
Want to shop my Instagram posts? Click on any square below!