I'm so delighted to have you here today and you will be too, after you see what I'm baking.  This morning I'm sharing one of my FAVORITE treats…Cinnamon Baked Peaches!  Peaches are in season right now and thank goodness!  The timing is perfect for two reasons.  One, my husband's birthday is in August and instead of cake he always requests our favorite, most amazing, Peach Meringue Pie (recipe here).  Two, I feel like this is the perfect way to enjoy a summer fruit and lead us into the fall as well, with the delicious smells and flavors of the cinnamon and brown sugar.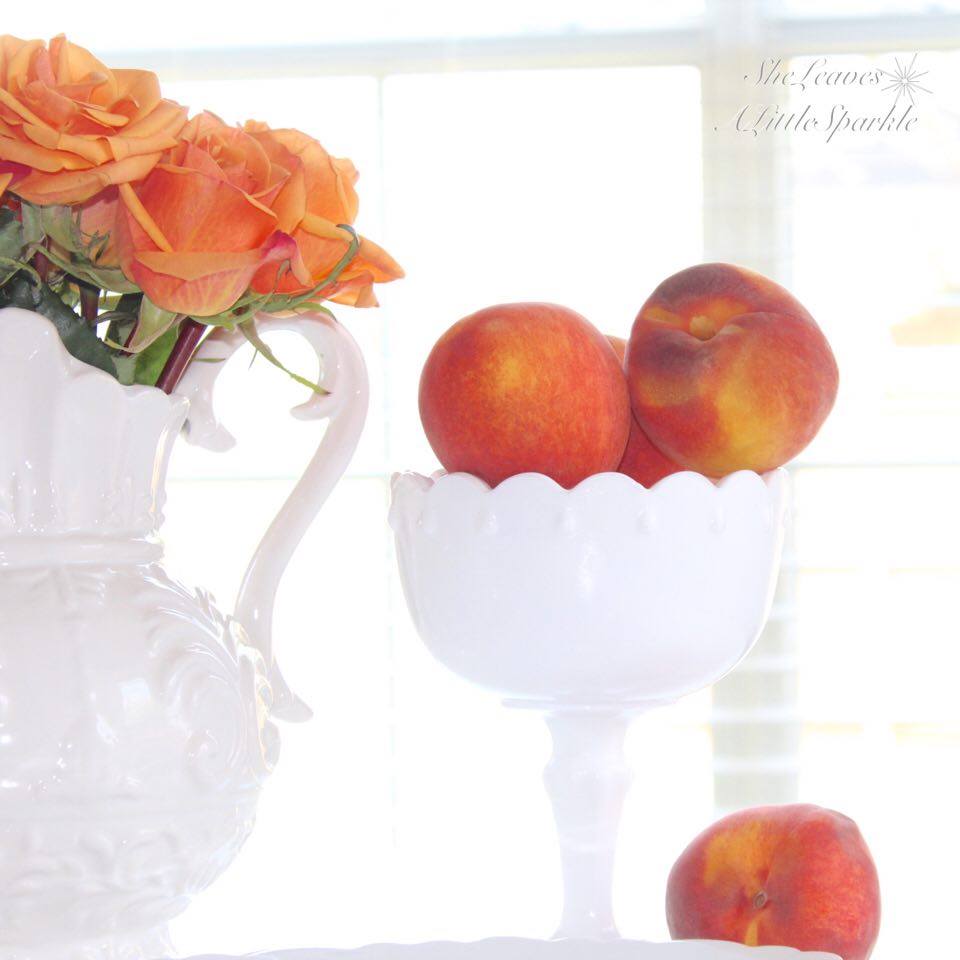 Here in Texas, peaches are in season until mid-September so they are easy to find but you don't want them unless they are nice and ripe.  Hard peaches will not be as sweet and delicious.  These Cinnamon Baked Peaches might sound like a dessert to you, and they can be, but I love them for breakfast as well.  I'm not a sausage and egg breakfast person.  I have a sweet tooth and when I wake in the morning I just love a little something sweet. Breakfast desserts are becoming a common trend among those foodies with a sweet tooth. So I would much rather have Puffed Pancakes with Strawberries, Red Velvet Waffles, or this delicious peach recipe!
Cinnamon Baked Peaches
Ingredients:
5 Ripe Peaches
10 tsp Brown Sugar
5 tbsp Butter
1 tsp Cinnamon
2 tbsp Sugar
Directions:
Preheat oven to 350ºF
Split peaches in half and remove pits.
Place peach halves in 9×13″ dish.
Fill each with 1 teaspoon of brown sugar.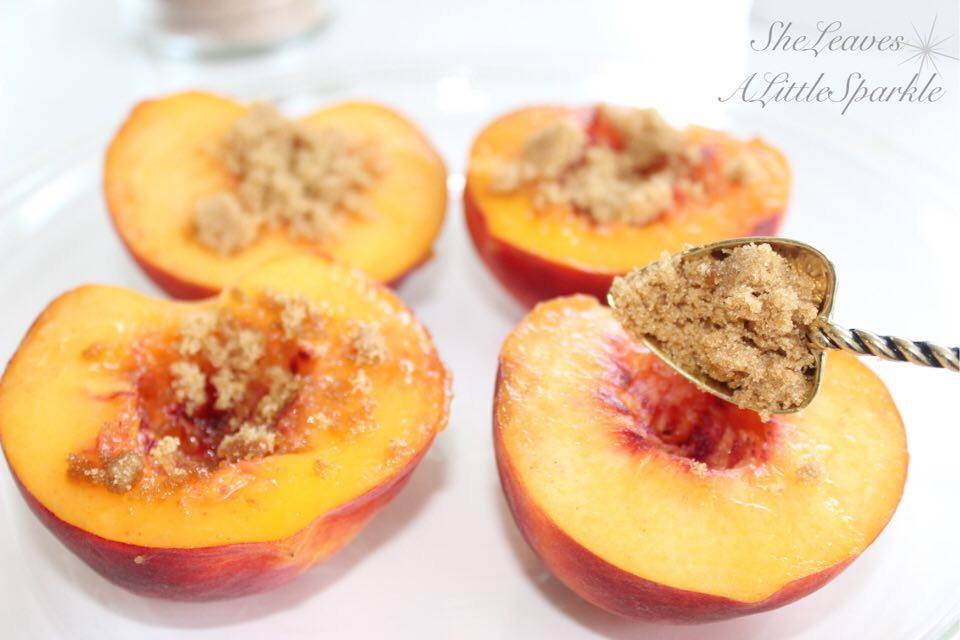 Cut butter into ½ tablespoon slices and place on top of each peach half.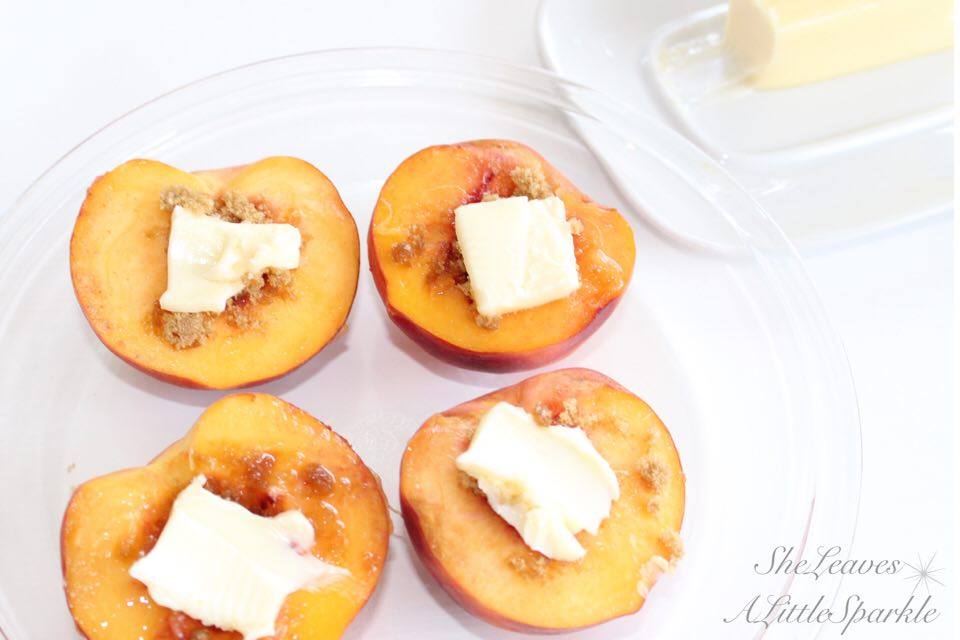 In a small dish, combine cinnamon and sugar and mix well.
Sprinkle each with cinnamon sugar mixture.

Bake for 30 minutes (or less depending on your oven…check at 20 min).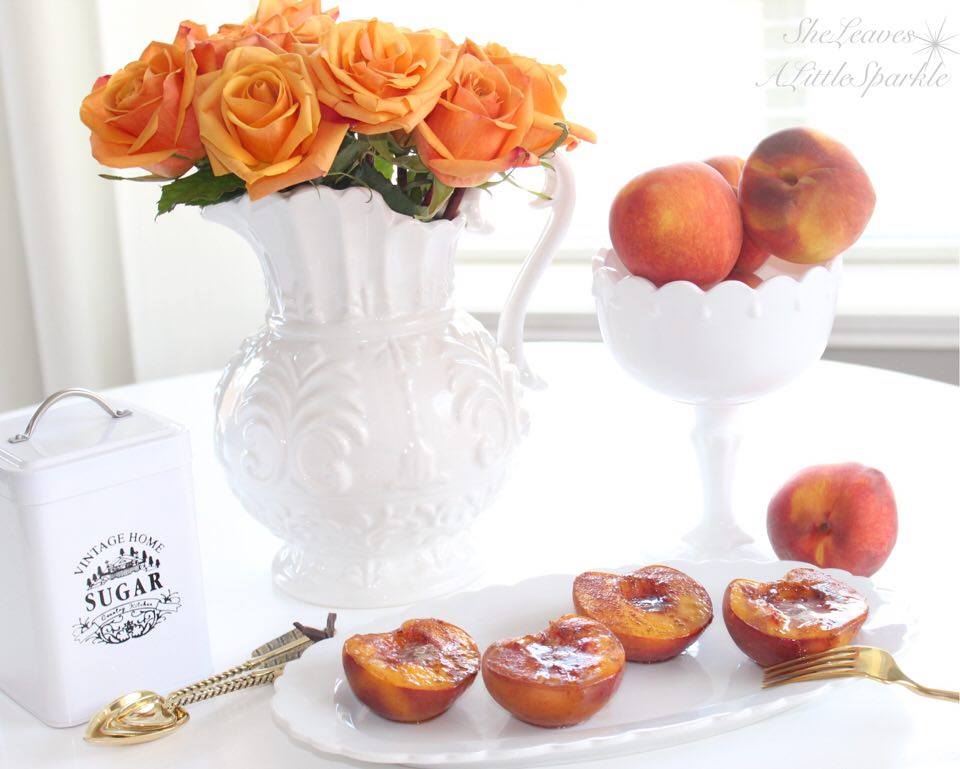 It's that easy!  And THAT delicious!  It tastes like peach cobbler but without the other ingredients and would be a great gluten-free dessert.  Add a big scoop of vanilla ice cream, if desired!
So yes, for my husband's birthday breakfast he was served these Cinnamon Baked Peaches, bacon, and his favorite chocolate twist donuts.  After dinner….that divine Peach Meringue Pie I mentioned above.  I just love peach season, don't you?!  Make sure to pin this to Pinterest or share on Facebook so that you have it for later!


xoxo, Summer