I'm so pleased you're joining me for another edition of my Bright White Home Series!  This week, I'm honored to share the bright white home of realtor and interior stylist, Alita Malinowski.  I met Alita on Instagram after seeing her beautiful feed and knew she'd be the perfect fit for this inspiring series.  I know you'll agree!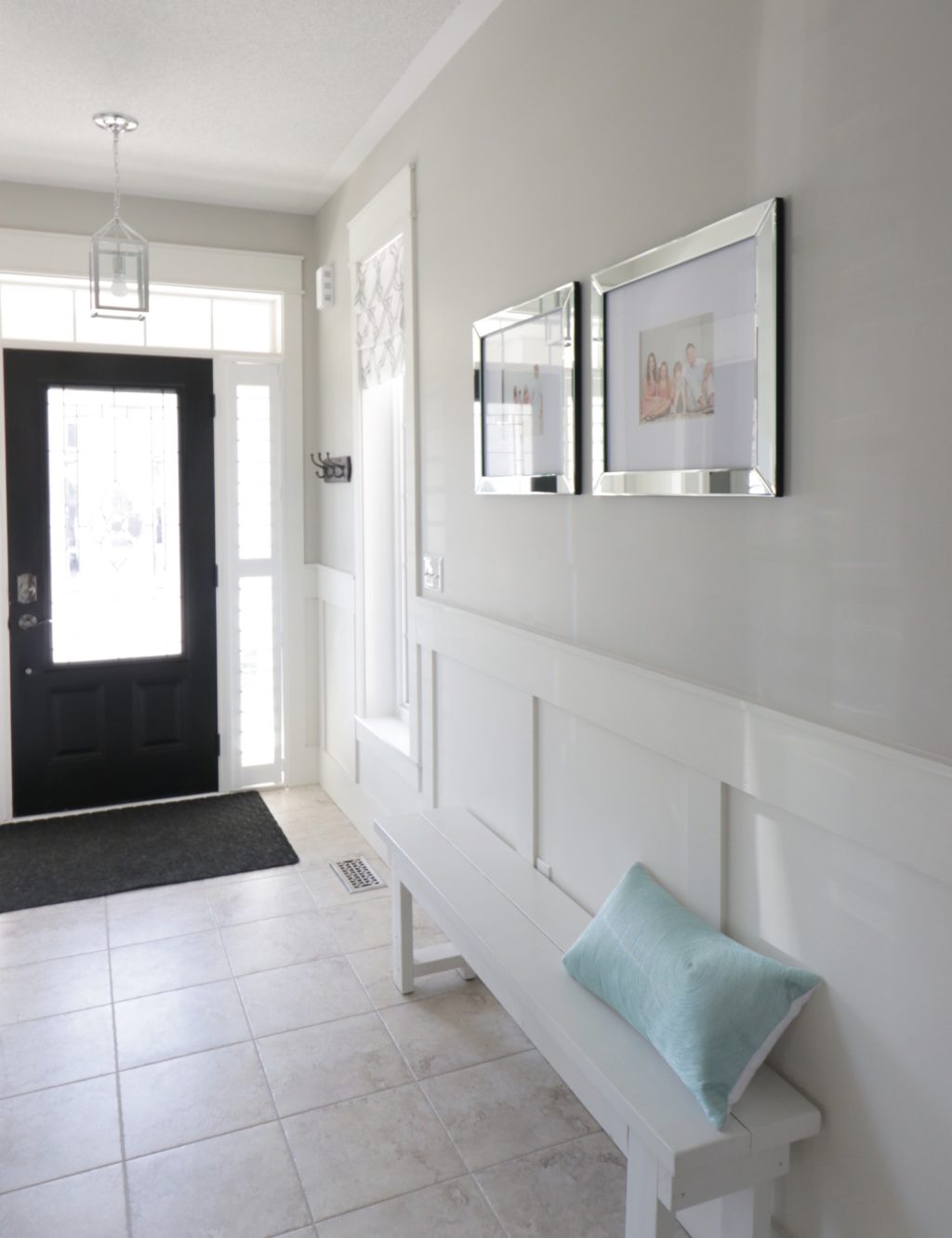 It's true what they say, "You never get a second chance to make a first impression."  The entry of your home is your "first impression".  You want it to be lovely and inviting.  You want whoever is at the door to see your entry and hope that they'll be invited in to see more.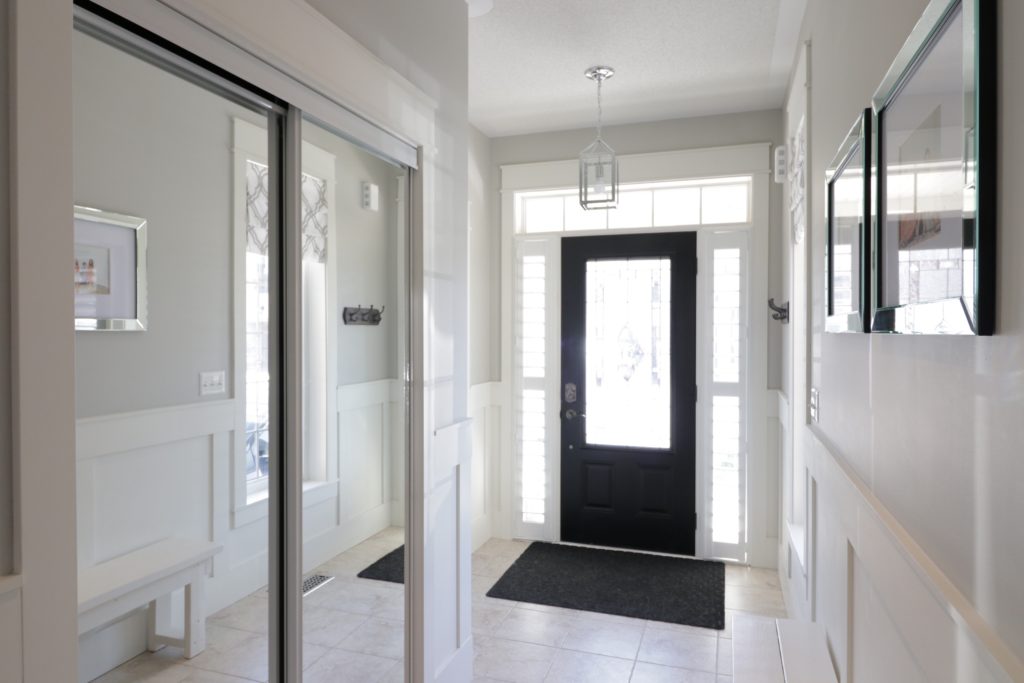 Anita designed her entry so beautifully with plenty of windows, including on the door, to allow lots of natural light.  With all of the lovely mirrored frames and hall closet doors, that light reflects off of them and creates a bright space and allows the entry and hallway to be bright and appear wider as opposed to feeling dark and narrow if there was not as much light.  It's brilliant designing!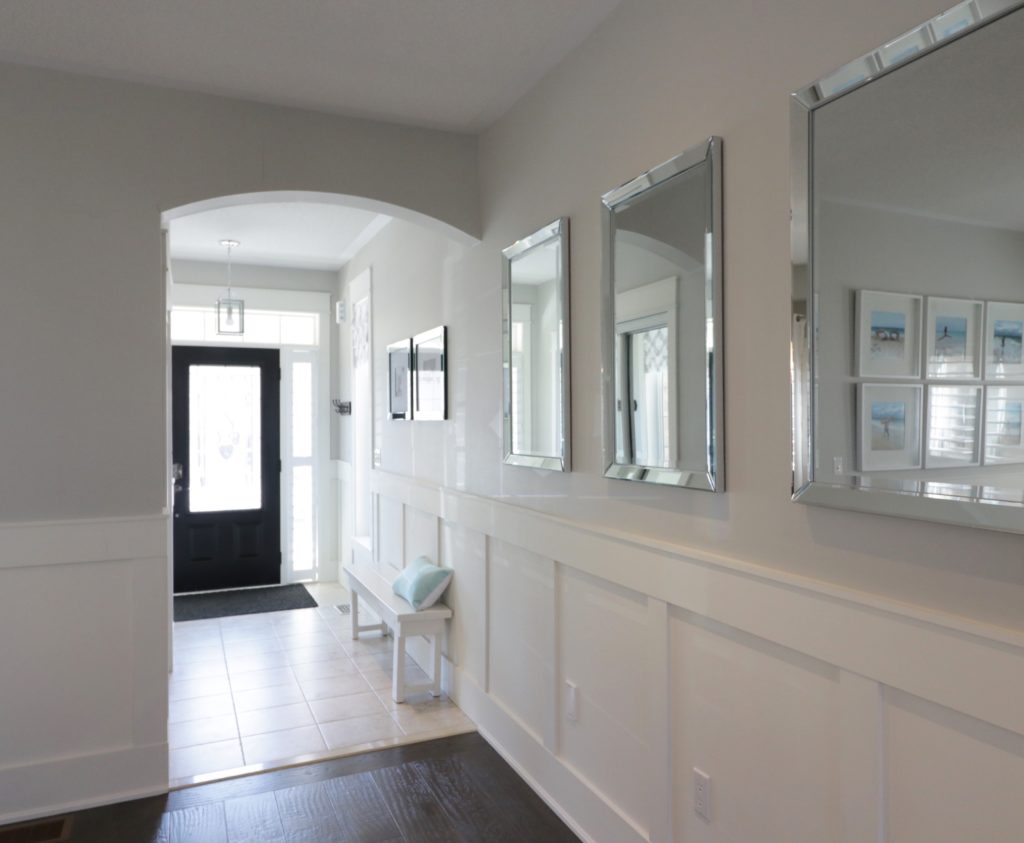 The beautiful board and batten walls continue into the dining room, as do the set of mirrors, and allow a natural flow of light into the home.
Alita is a realtor and also has a diploma in interior design. Her philosophy is to "maximize the value of your home by creating the high-end designer look without the high end designer price tag".  Alita's husband and son built this farmhouse kitchen table and bench and it is one of the pieces most special to her in this home. Her daughter and nieces and nephews helped distress it with hammers and screws and rocks before she stained it.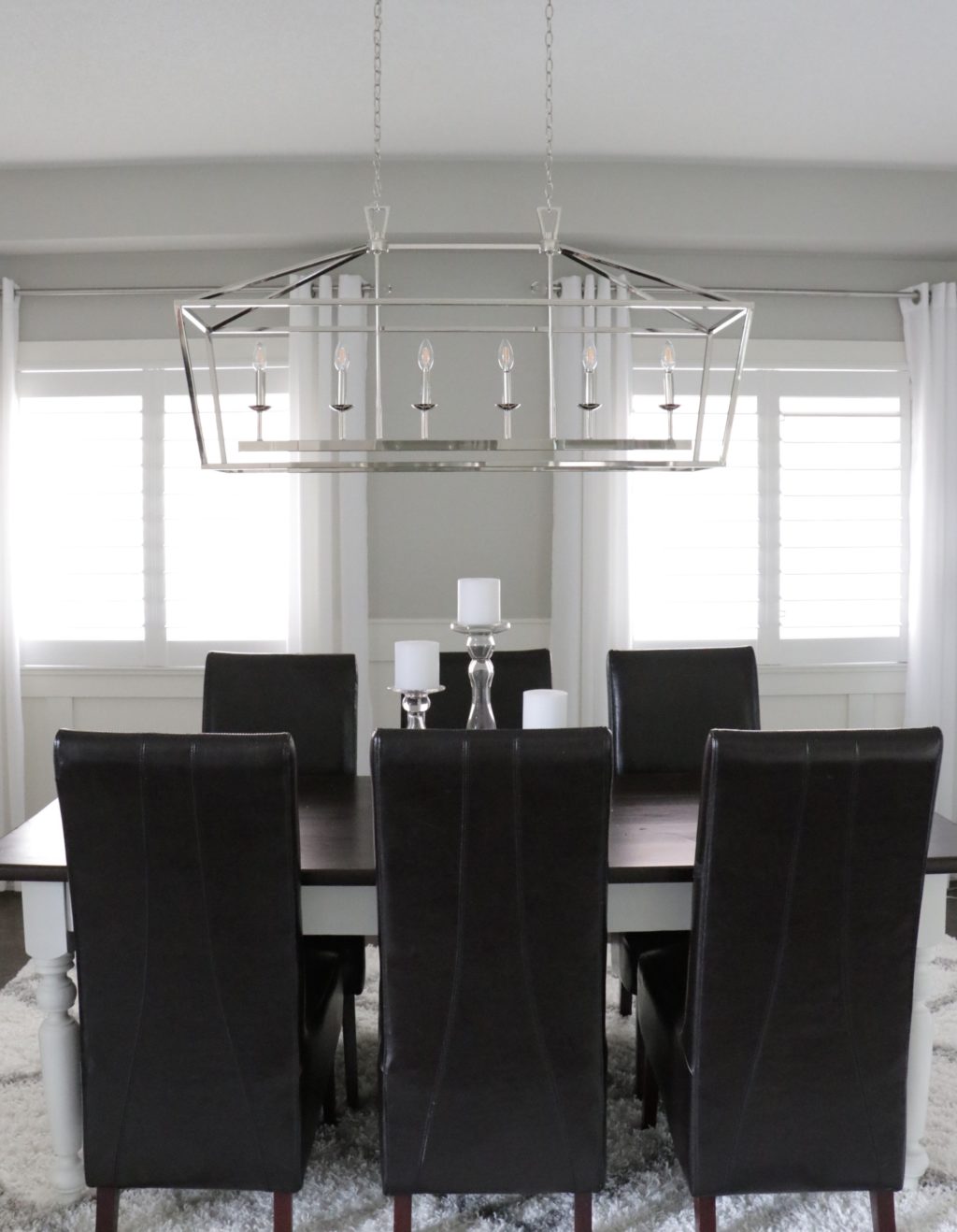 How special to have a piece to gather at as a family that they gathered to build!
This lovely dining room has such a beautiful contrast of dark leather dining chairs.  Alita kept the room bright and feeling larger by choosing just one large lighting fixture that was open and allowed light to pass through.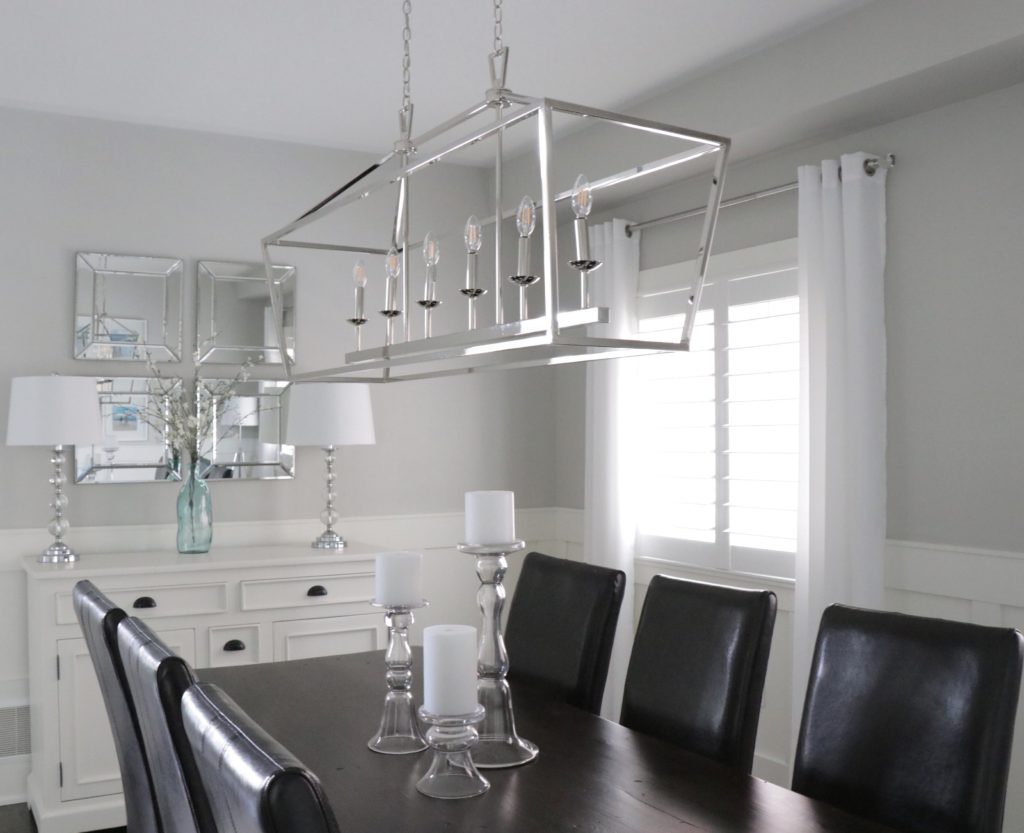 Alita was also smart to use clear glass candlesticks and lamps to keep things feeling light and choosing to use mirrored frames above the buffet as well.  This dining room is one that you'd never feel claustrophobic in. Instead, it's one you'd enjoy sitting in over a nice meal with friends and not want to leave.
When asking Alita about her kitchen, here's what she had to say:
"My favourite space in the whole house is our new Ikea kitchen. We built most of it ourselves and did several "hacks" including the crown and build up, and the range hood as well as the island. My hubby and I are very handy and we did majority of the upgrades in our home ourselves."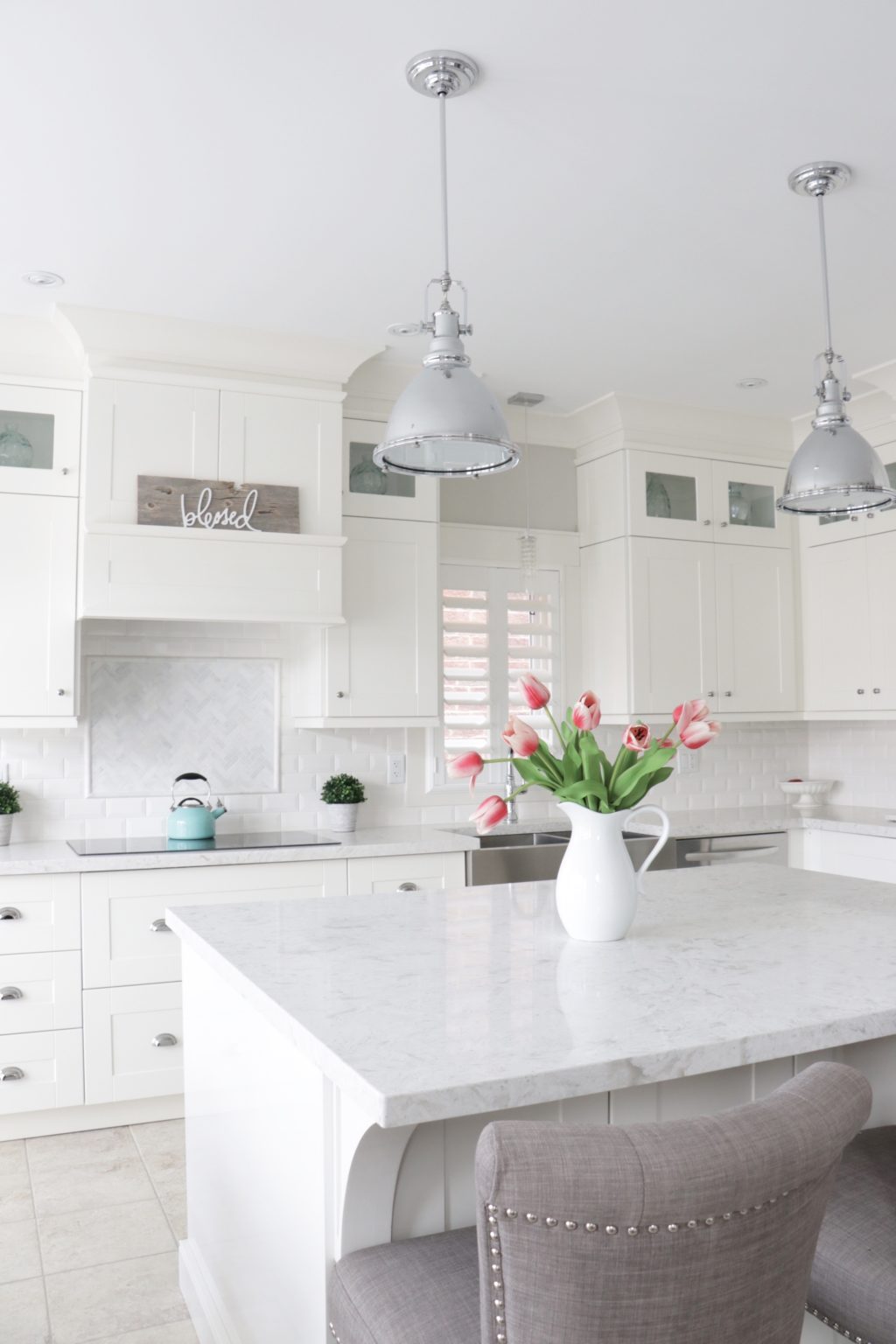 Is that impressive or what?!  There's nothing I love more than a bright white kitchen.  Alita told me that the corbels were from Home Depot, crown moulding from Lowe's, and then she had Sherwin-Williams do a color match to the cabinets.  Brilliant and budget-friendly!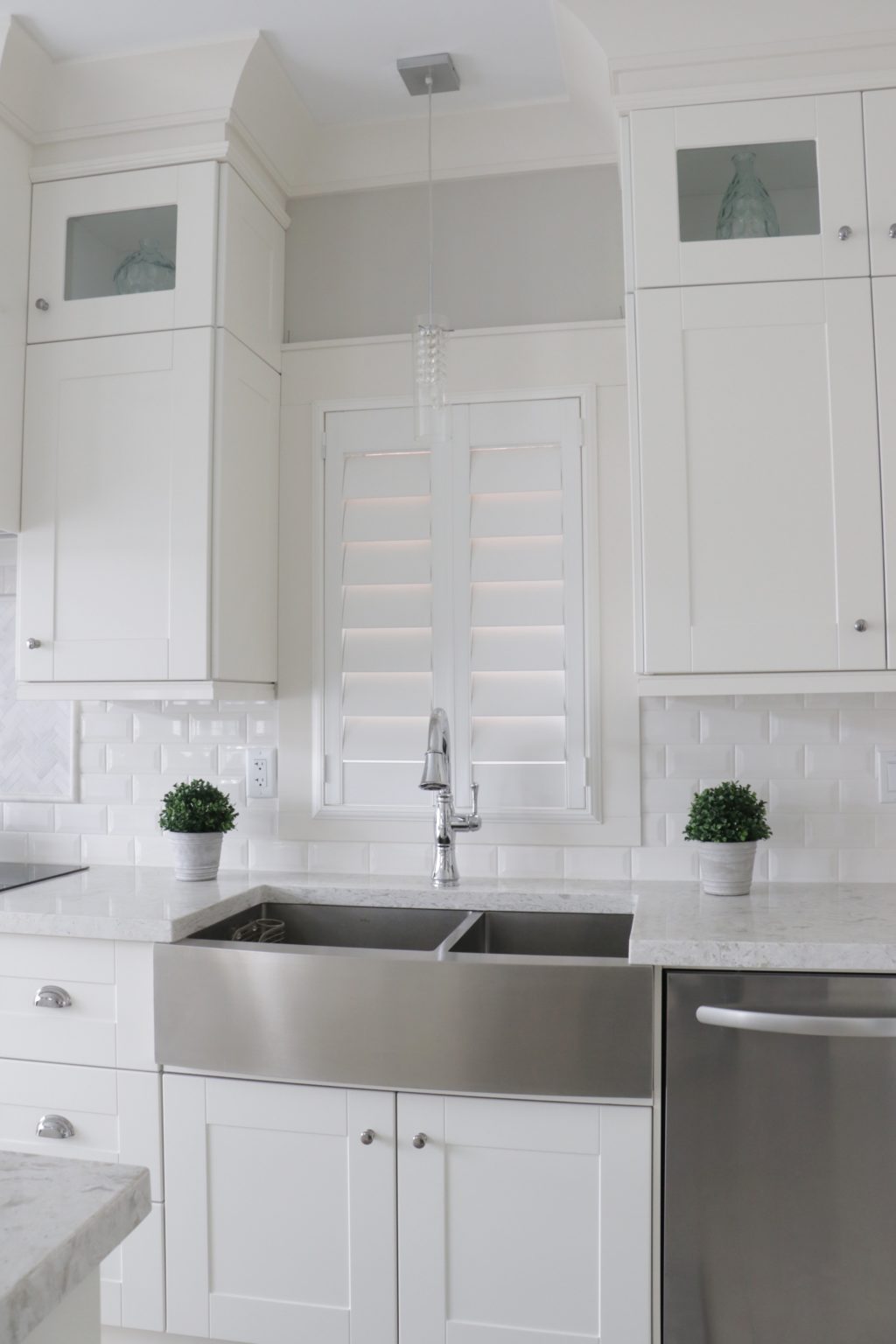 If you're one of my regular readers, you know that we are just 7 weeks away from moving into our new home that we are building and have nicknamed our "Tall Trees Lane" home, or #TallTreesLane if you follow along with me on Instagram.  As Alita did, I designed our kitchen to have cabinets in the kitchen to the ceiling and also have small glass doors all along the top cabinets.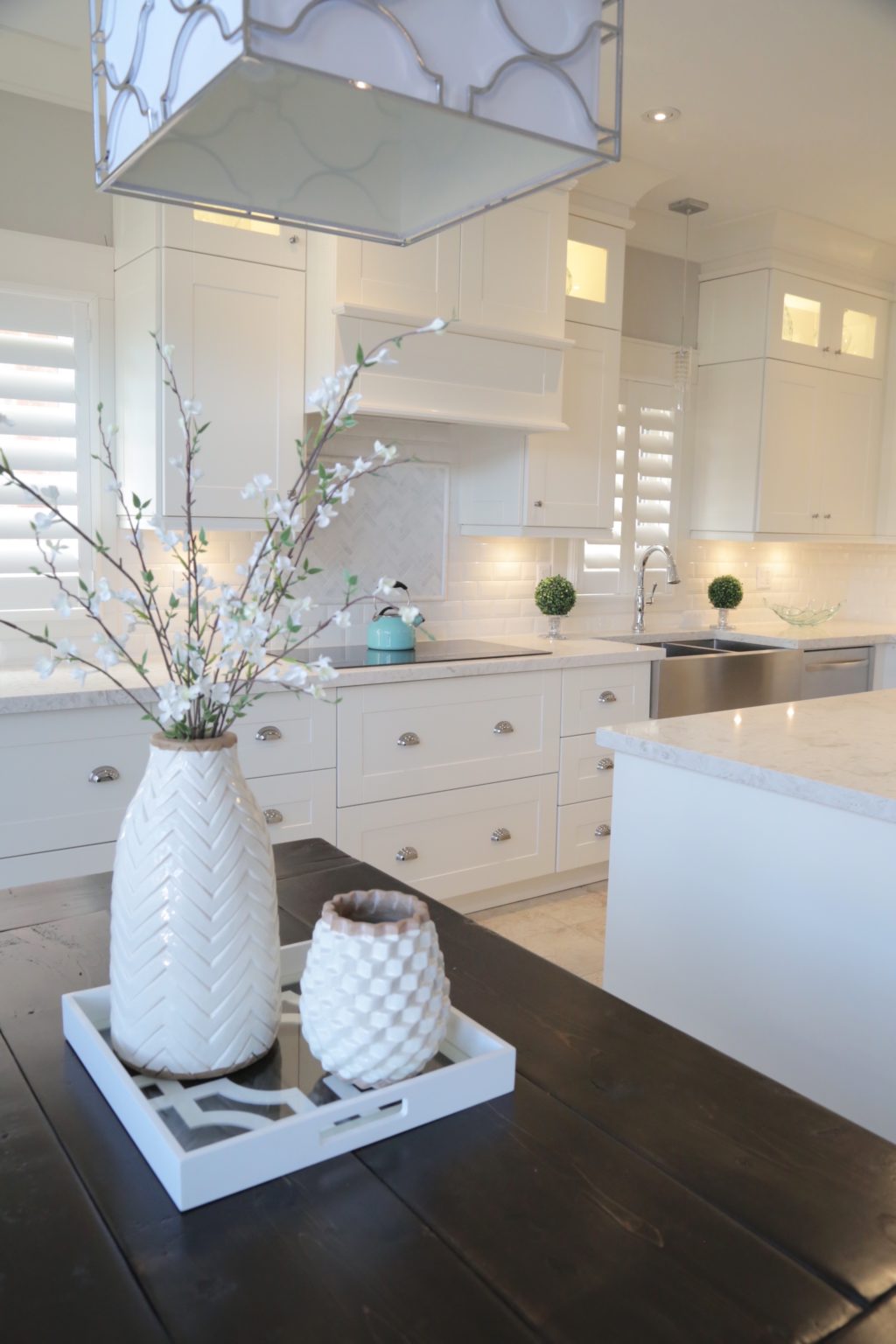 I always love the way they look at night when the lights are on in those top cabinets.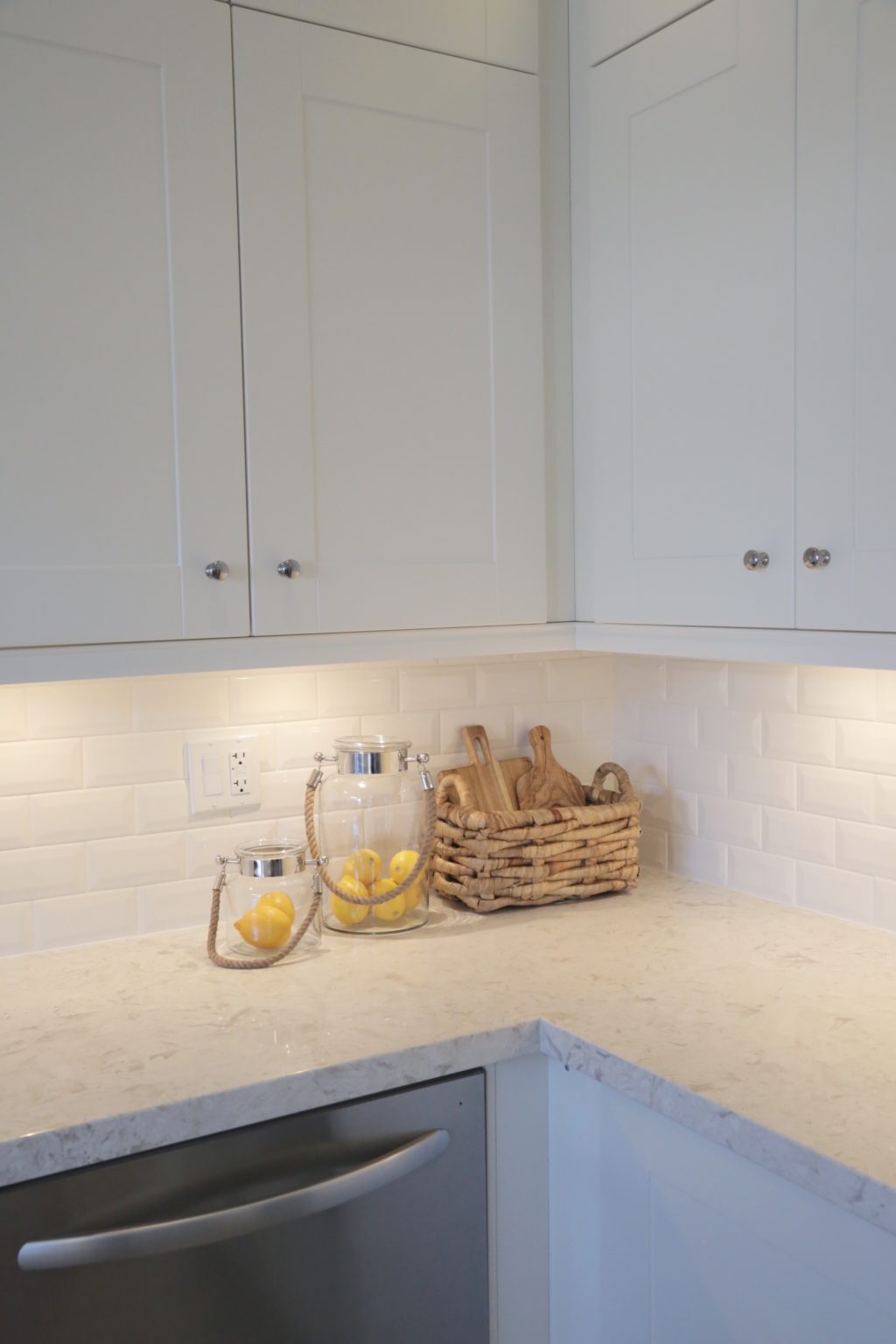 Another excellent decision in Alita's lighting was to choose the lights under the bottom of the cabinets.  Too often, people will forgo those to save money.  But if it were me, I'd most definitely try to compromise in other areas of the budget.  Those lights add so much to your kitchen and give the illusion of it feeling larger than it is.  It's also so nice to have in the evenings.  I chose to put mine on a dimmer, which also helps guests if they make a trip to the kitchen or wander downstairs in the middle of the night.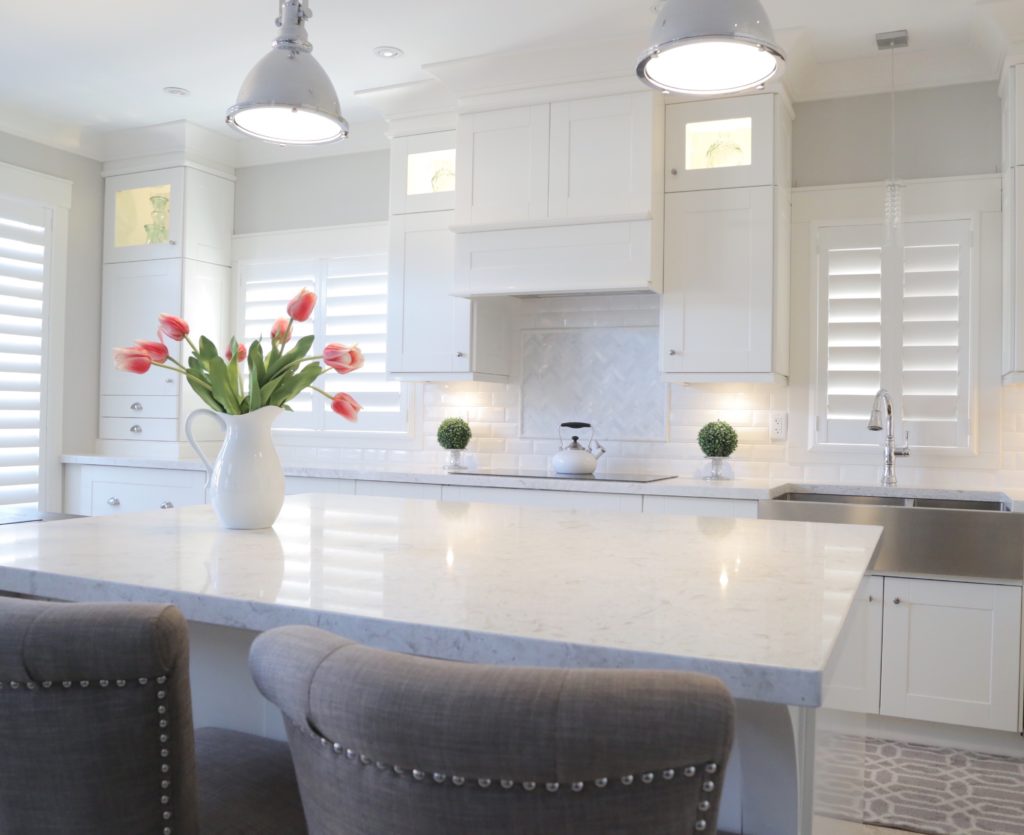 Instead of heavy window treatments, I love that Alita chose beautiful white shutters.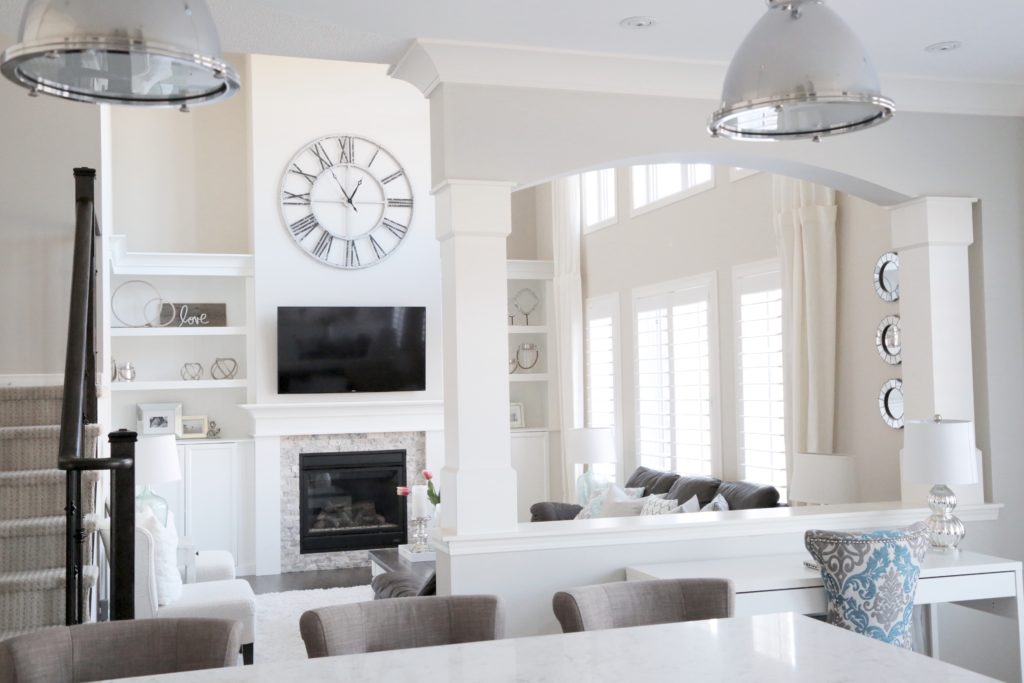 I love when a great room is just off the kitchen. It's perfect for the function of the family and perfect for entertaining!  This gorgeous space features beautiful white built-ins and white trim.
The board and batten, trim work, family room built-ins (another IKEA hack which used the billy bookcases for the bottom), the furniture refinishing, were ALL done by Alita and her husband. I admire couples who can do this together.  I have our builder taking care of our built-ins but I am dying to do my own trim work in our new home. I love learning new things. Don't you?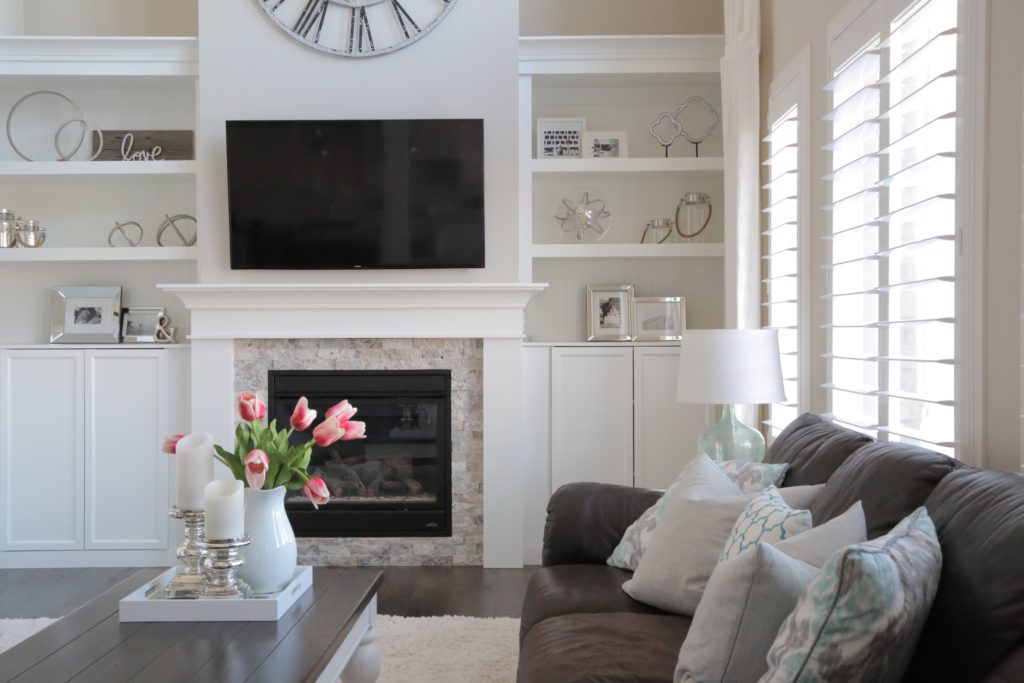 I love the way Alita styled all of her shelves.  They're not cluttered and over-styled.  She kept them simple and light, which also helps the room feel a little larger and not so closed in.  Alita also refinished this lovely coffee table.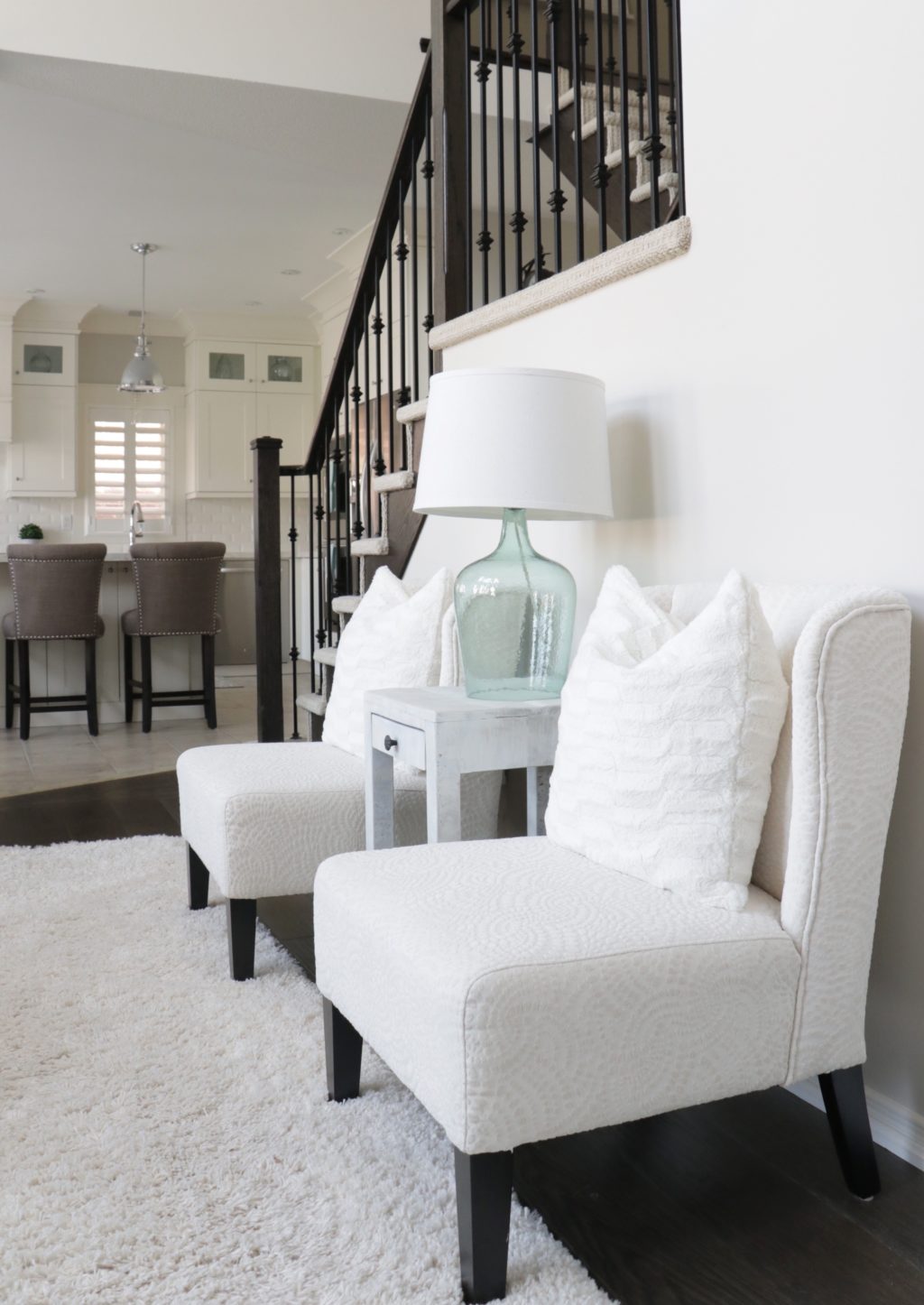 I not only love the seating she chose here, but I love the pop of aqua from the lamp.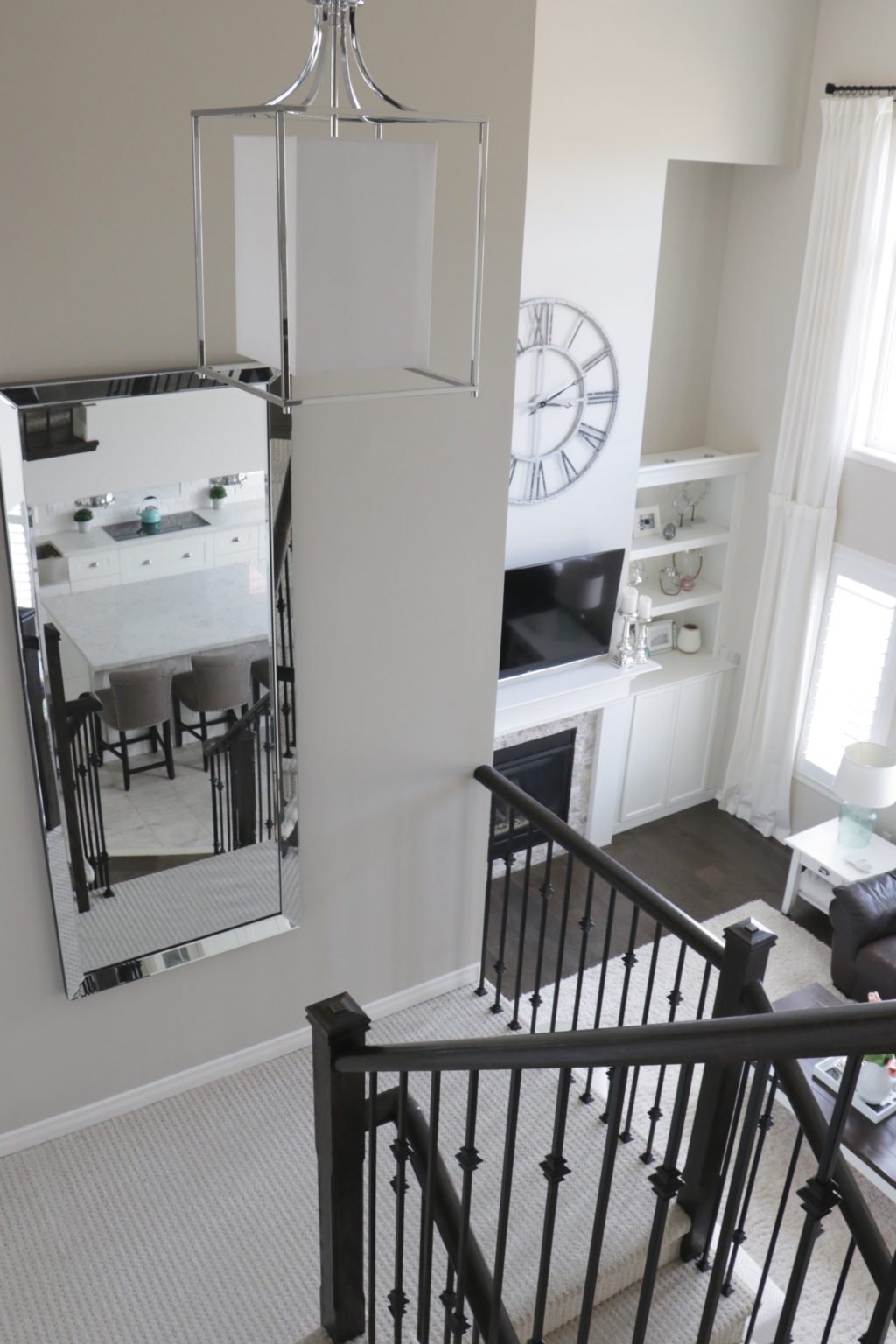 Alita's espresso dining chairs and flooring in the great room perfectly compliment her gorgeous espresso-stained stair case.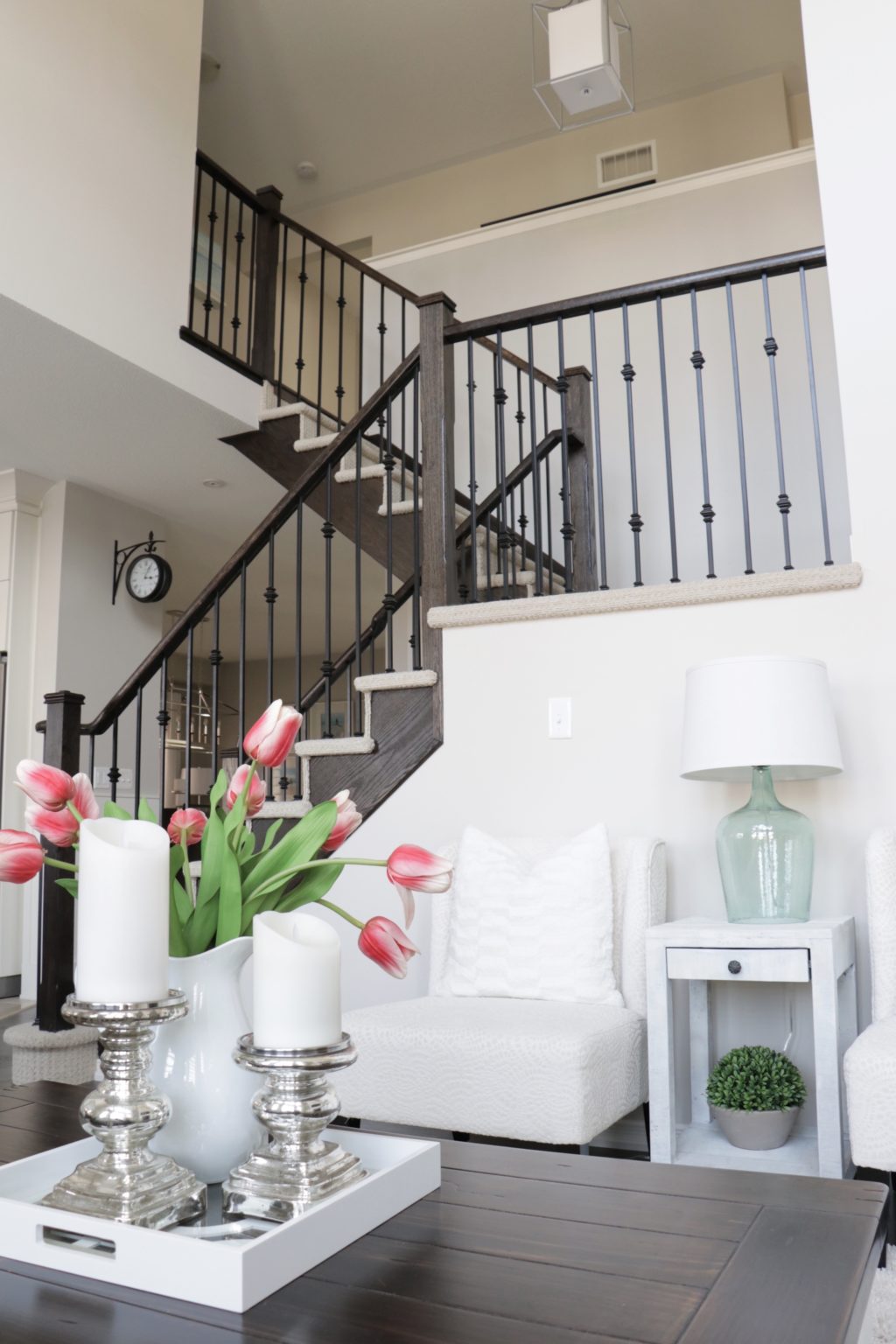 Such a gorgeous view!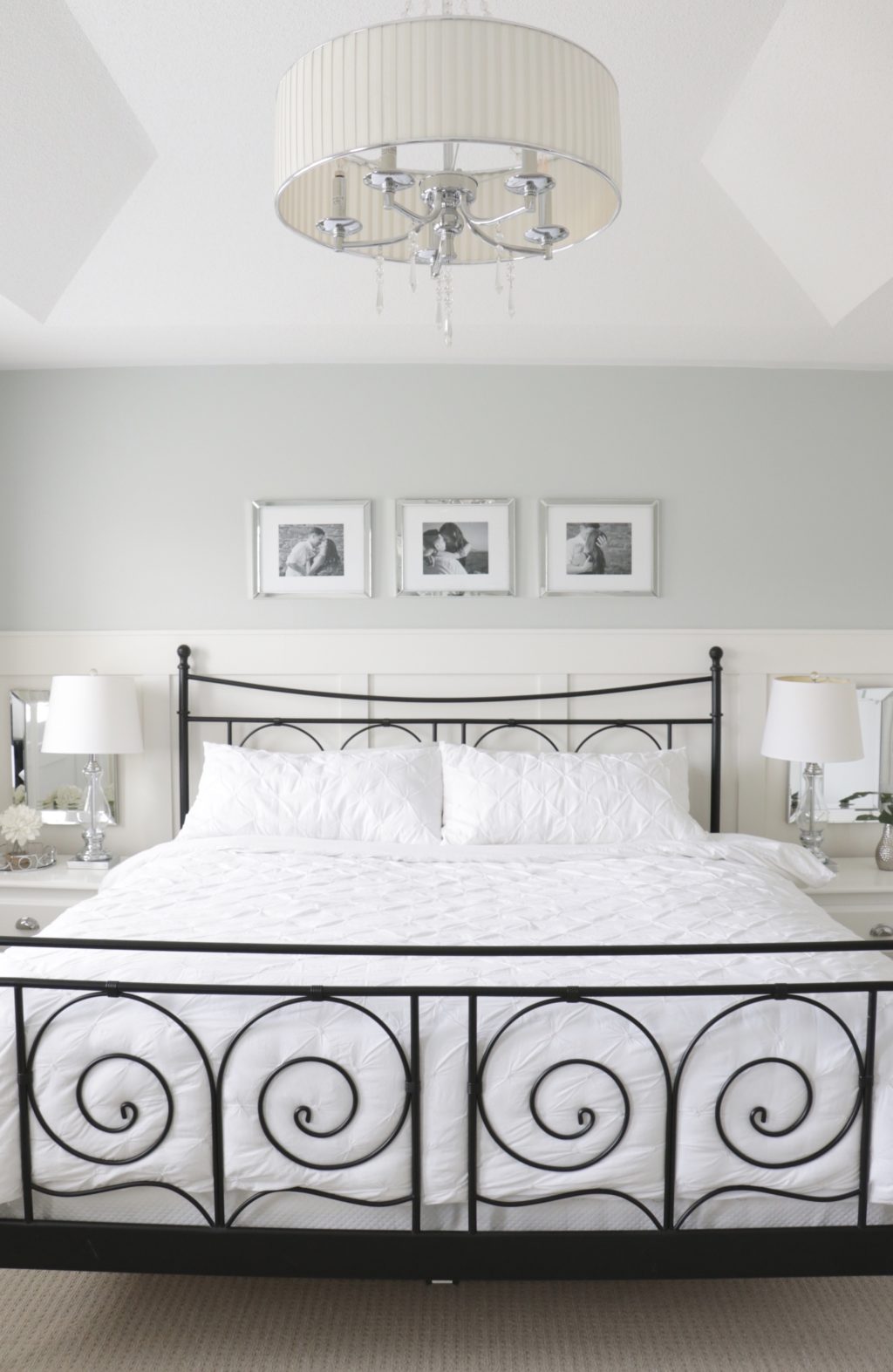 Oh how I love a pretty wrought iron bed!  Although it's black in color, it allows light to pass through and keeps the room bright.  Alita also chose board and batten, which I just adore, to continue to brighten and enlarge the room.  She also kept it light by choosing mirrored frames, as she's done in other spaces in her home, as well as mirrored accents and glass lamps.  Isn't is lovely?!  I especially love that her favorite pictures framed are the ones of her family taken at the beach.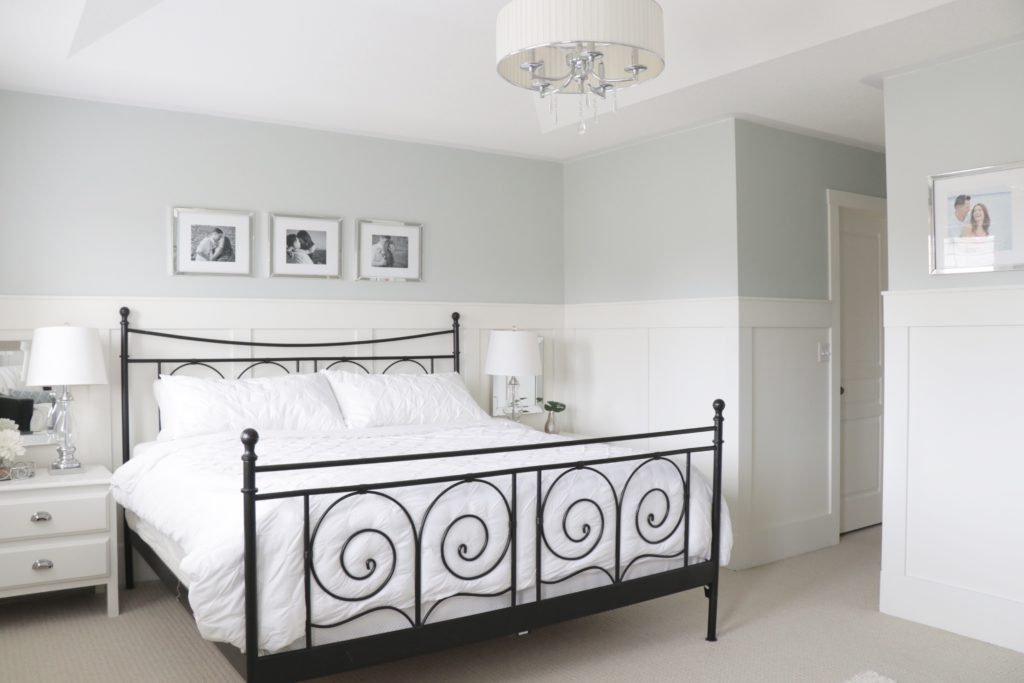 Again, more trim work shown here was done by Alita and her husband. The room is finished with this lovely drum-shade chandelier with crystals. I love how serene and relaxing this room feels!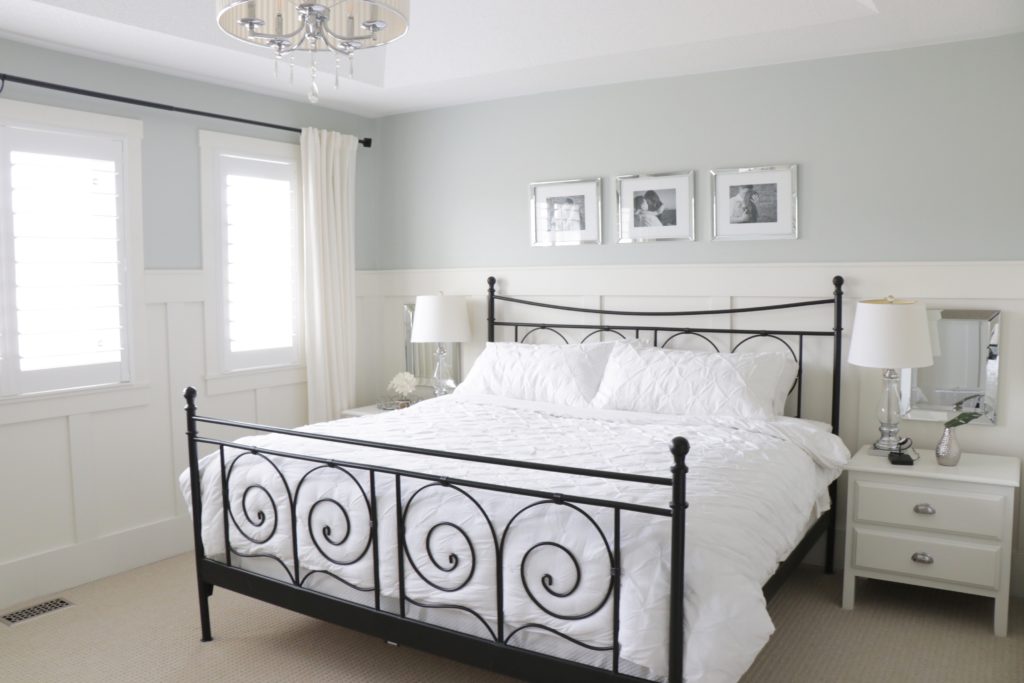 I love how she used matching iron rods with her curtains to compliment her bed.
Alita said to me, "I want a home that feels like a breath of fresh air. Light, bright, clutter free spaces make me tune into my creative side and makes me feel calm and at peace."  I definitely think she accomplished that in her lovely home.  Don't you?! Alita was also kind enough to share her sources with us below.
Dining room light:
Wayfair Carmen 6 Light geometric
Wayfair Dining room rug and Wayfair Basement rug
Family room Rug:
Costco
Family room Clock:
Kirklands
Kitchen Cabinet:
Ikea Cabinetry, Grimslov Doors
Cabinetry knobs and cup hooks:
Ikea
Backsplash:
Beveled white subway tile from Lowe's
Marble Herringbone insert from Lowe's
Counters:
Quartz counters by Kstone in color 9001
36" Stainless steel Farmhouse sink:
Kraus
Faucet:
Delta Cassidy
All Lighting:
Homesense
Farmhouse table:
Hubby and son made it
Window Treatments:
Vinylbilt 4 1/2" Shutters
Kitchen Wall Colour:
Sherwin-Williams Agreeable Grey
Dining room wall colour:
Sherwin-Williams Repose Grey
Board and Batten and all trim:
Swiss Coffee By Benjamin Moore
Family room paint colour:
Revere Pewter (on the fireplace wall) and the rest is Edgecomb grey both by Benjamin moore.
Master Bedroom Paint colour:
Grey Cashmere Benjamin Moore
Bar stools and Kitchen table Chairs:
Target
36" induction Cooktop and double wall ovens:
Monogram
Dishwasher and fridge:
Kitchenaid
Stain on furniture:
Kona by Rust-oleum
*****
Thanks so much for joining me in another edition of Bright White Homes!  What was your favorite part of Alita's home?  I hope you enjoyed touring her home as much as I did!  Make sure to follow her on Instagram for more inspiration and other ideas!
I would love it if you subscribed at the top of the page in order to receive my weekly emails of all my latest blog posts and hear about digital printables & freebies, as well as sales or new items in My Online Shoppe.  You can also follow me on Instagram, Pinterest, and Facebook to see what I'm up to in creating a home and lifestyle of inspiration!
xoxo,