I hope you're all enjoying the "Bright White Home Series" here on my blog as much as I am!  So far I have shared 3 fabulous homes with you, of various styles, and I hope you'll stop by each home and gather inspiration and ideas.  I've shared women, passionate about interior design and decorating, who have created such beautiful homes for them and their families to enjoy.  However, today I have the privilege of sharing another extraordinary home with you, not by the home owner but by the designer.  This home has never been shared before on any media platform, print or digital, so this is a real treat.  I would like to introduce you to my friend, award-winning designer, Anthony Michael of Anthony Michael Interior Design.
 Anthony designed this executive suburban home that we'll call the "Lincolnshire Project", as it is located in the Lincolnshire suburb of Chicago.  This was a total home remodel for Anthony's clients and a big undertaking, but nothing Anthony couldn't handle and a challenge that every interior designer dreams of.  Make sure you hover over each fabulous image and then pin to Pinterest because this home will knock your socks off!
The Great Room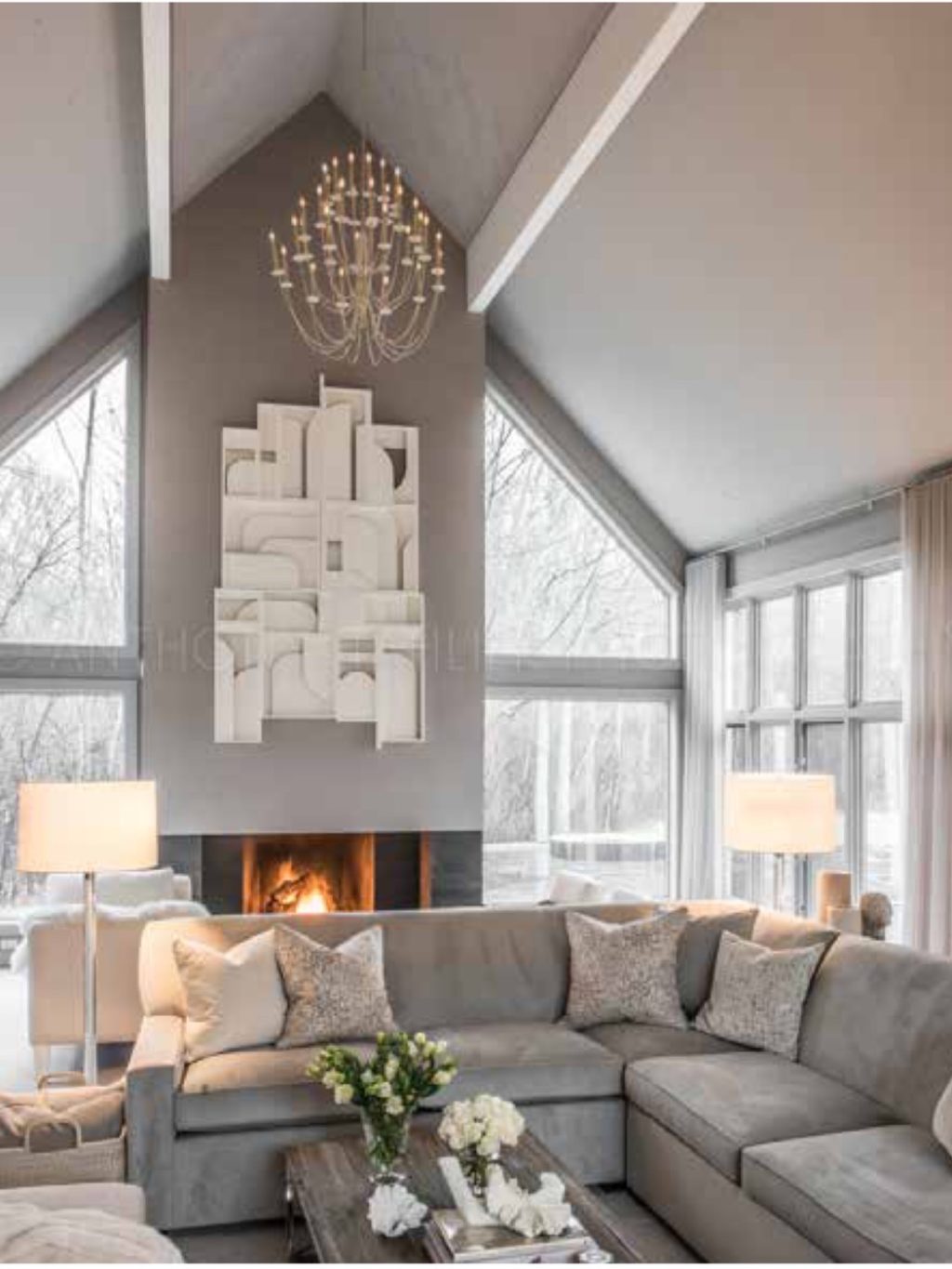 The aim for Anthony and his clients was to achieve that "modern farmhouse" look with a contemporary edge and yet still have that cozy feel.  These homeowners, along with their son, are recent transplants to the Chicago area and were anxious to make some structural changes to open up the floorpan and create an inviting, neutral, relaxed space for family gatherings and for cooking.
The large "farmhouse" distressed chandeliers anchor the space, with views out into the surrounding woods.  With fresh fallen snow just outside the windows and a crackling fire inside, you get the best of both worlds.  It doesn't get better than that!
Interesting fact: Anthony's Asian clients wished to incorporate some principals of Feng Shui.  All materials they used in this home had to be VOC and allergen sensitive as well.  The materials included marble, eglomisé, limestone, fumed hardwood flooring, steel and chrome and ombre frosted glass panels.  Making use of LED and natural lighting was a big component and essential in this project.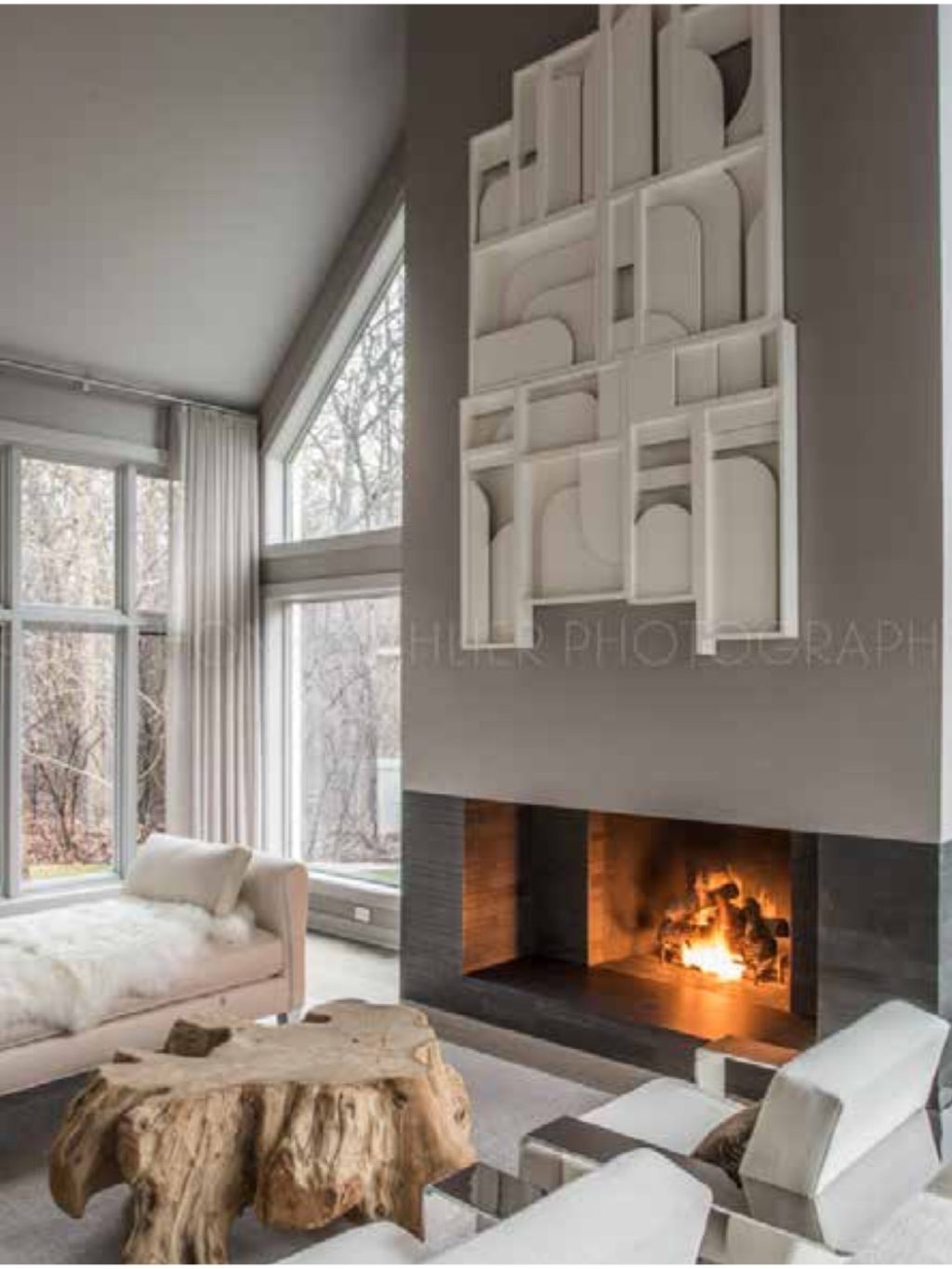 The natural elements they chose for this room keep it very cozy.  It centers around this fantastic fireplace with a comissioned art piece "in the style of" Louise Nevelson. It is a mix of chrome, leather, steel, natural wood and stone and creates an overall feel of comfort and coziness.  The neutral tones, including white, cream, and grey are calming and soothing and compliment the natural light flooding in.  I'm swooning over those large windows, aren't you?!  I also love the mixture of leather and velvet.
The tree trunk coffee table was found in Bali. Isn't that incredible?! I'm in love!  It's always neat to have such a spectacular conversation piece.
Furniture is by Bernhardt.
The Kitchen
I don't know about you,  but the kitchen is one of my favorite rooms in the home and tends to be our gathering place.  This family feels the same way and they love to cook and prepare meals together. Anthony used almost 20 pieces of Sub Zero-Wolf appliances and refridgerated storage drawers. The kitchen island is "big enough to land a plane on", as Anthony puts it, and has a ton of storage space.  That's the perfect place to roll out cookie dough, if you ask me.  Even better, a place to serve fruit and veggie platters and charcuterie trays when guests are over.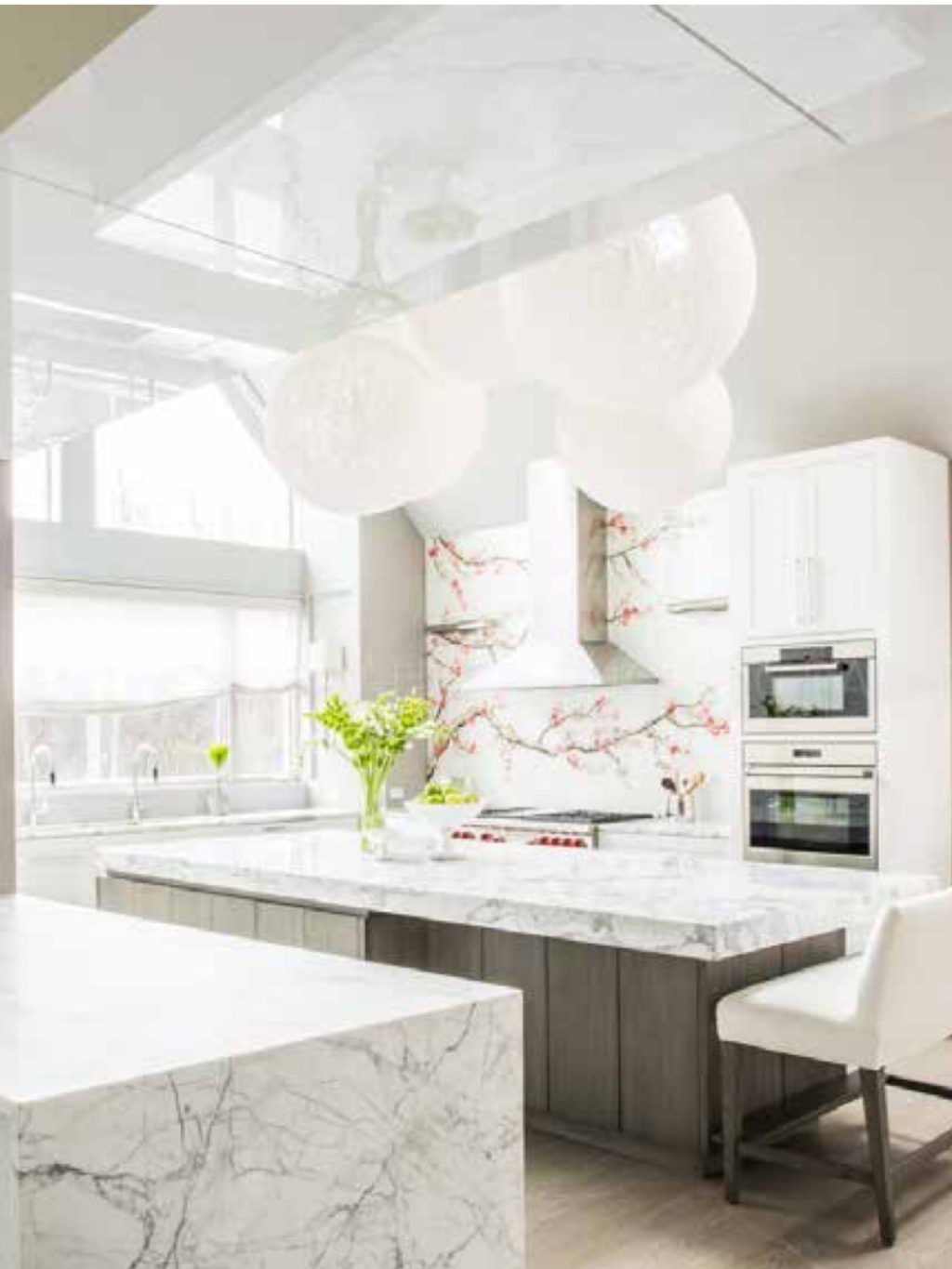 The kitchen countertops are a mix of polished and honed marble, including Calacatta and "white staturary." The large string globe light fixtures are airy and playful. Anthony comissioned a local artist to handpaint the cherry blossoms onto the back of thick tempered glass panels to install as a cool and "easy clean up" backsplash.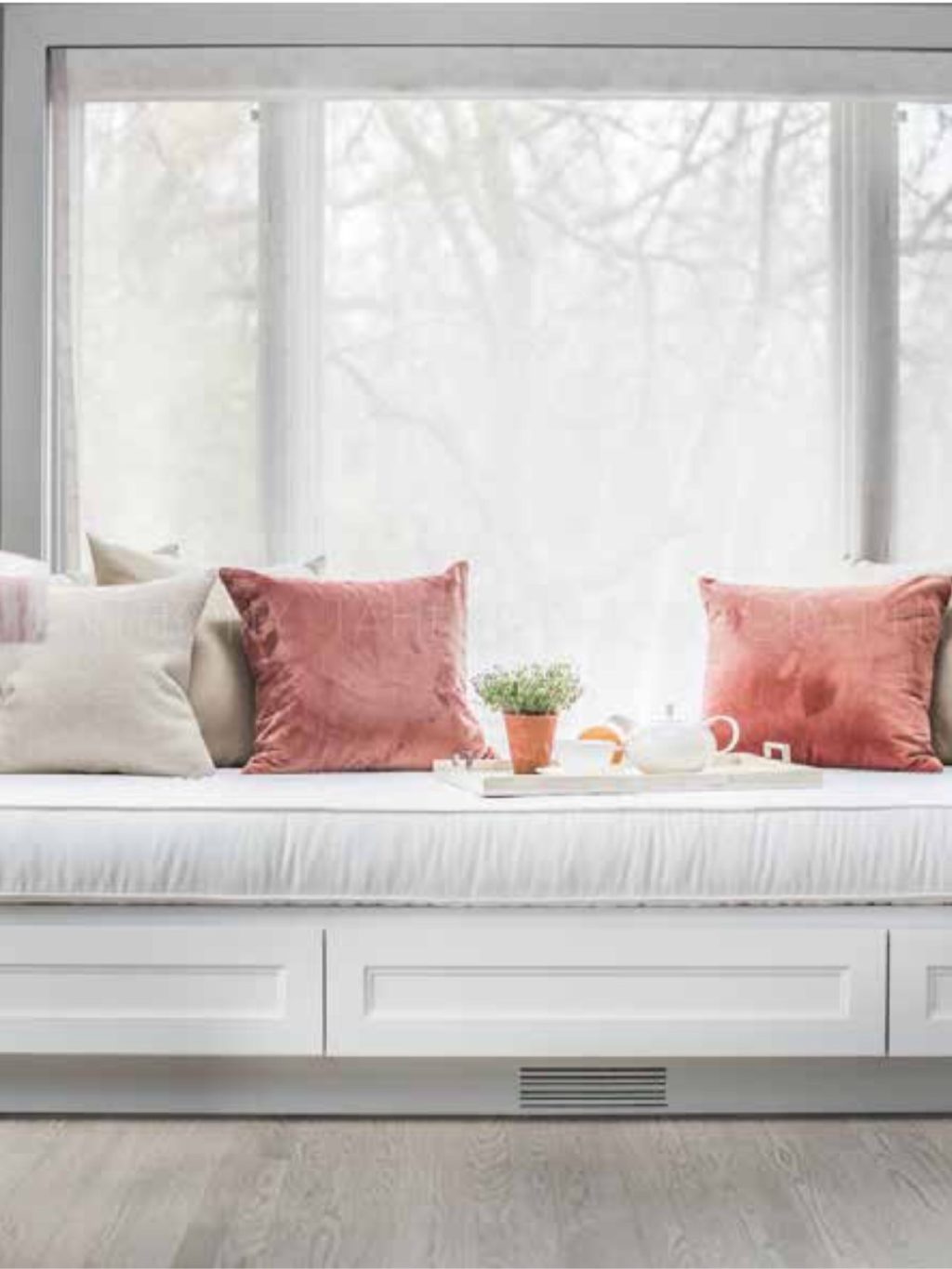 This divine little window seat just off the kitchen would be the most perfect spot for reading (or napping?) while you're waiting for a timer to go off and then pull out something delicious from the oven.  Although, at my house, it would probably be where my kids read and ask several times, "Mom, is dinner ready yet?"  Sound familiar?  Nevertheless, this fabulous spot, along with the custom kitchen sink and large island were all designed  by Anthony Michael Interior Design, Ltd.
Kitchen faucets are from Dornbracht.
The Dining Room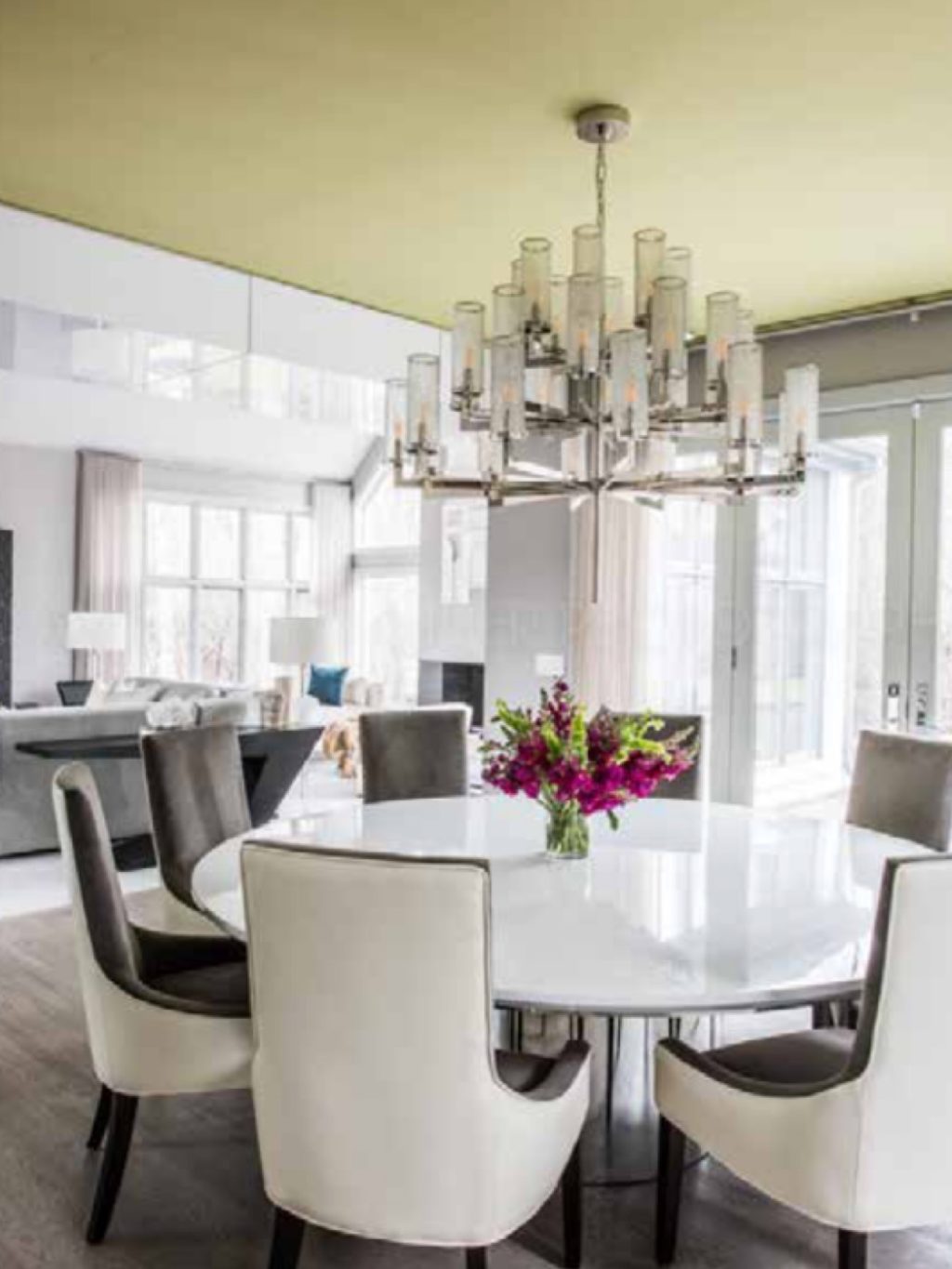 The dining room is open to both the kitchen and adjacent great room. It's quite brilliant, actually.  I love an open floor plan that flows so beautifully while keeping each space designated in purpose. A large circular table is perfect for entertaining.
The lovely chandelier is from Visual Comfort by Kelly Wearstler.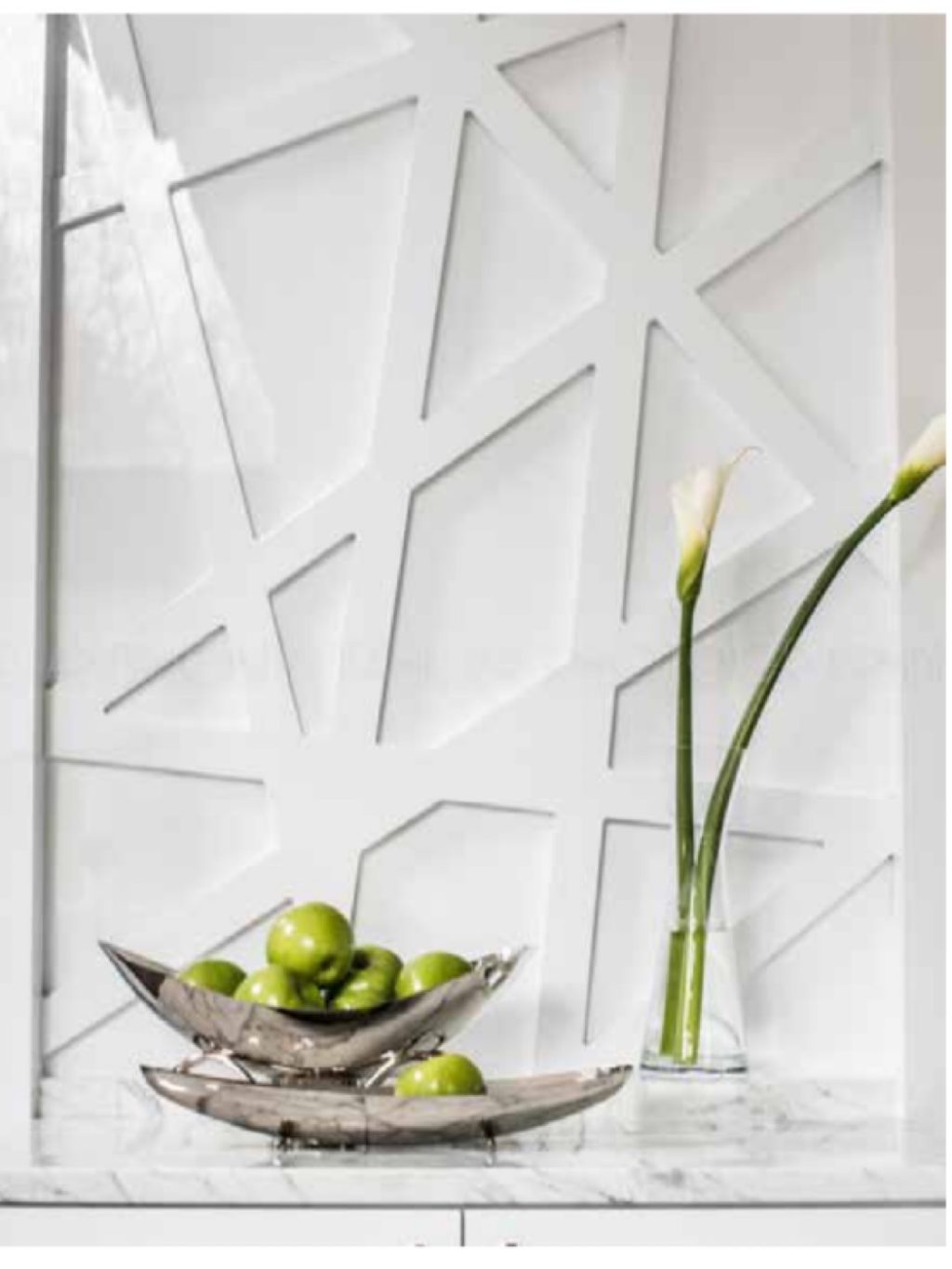 Another brilliant design in this dining area are the two built in "buffet servers" that were added with white marble tops and decorative millwork for serving food.
Just a Pop of Color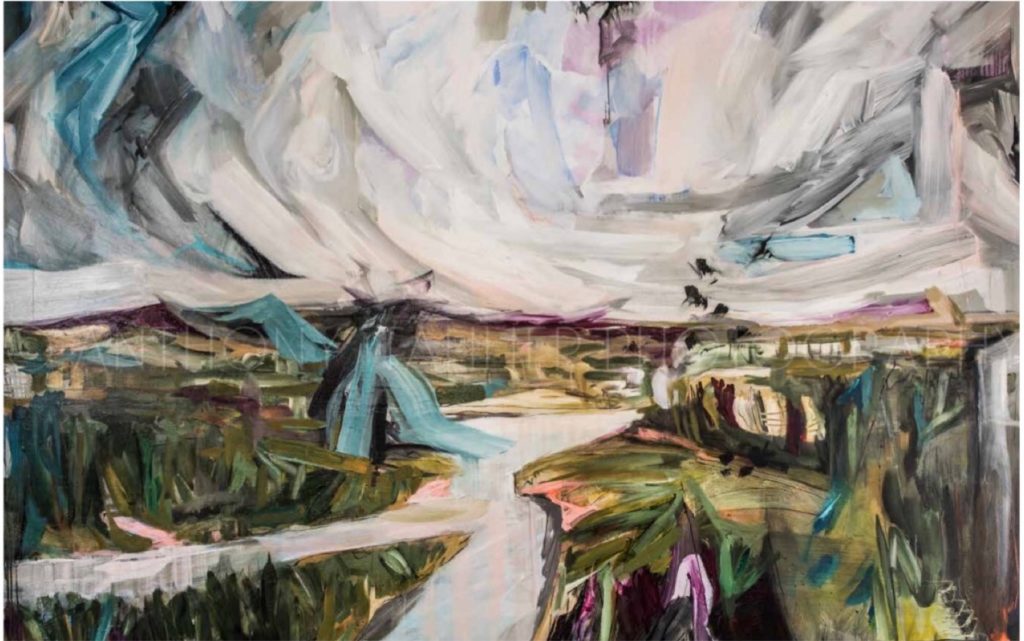 A large comissioned piece of art floats in the hallway and provides a big punch of color to this bright white home.
The Powder Room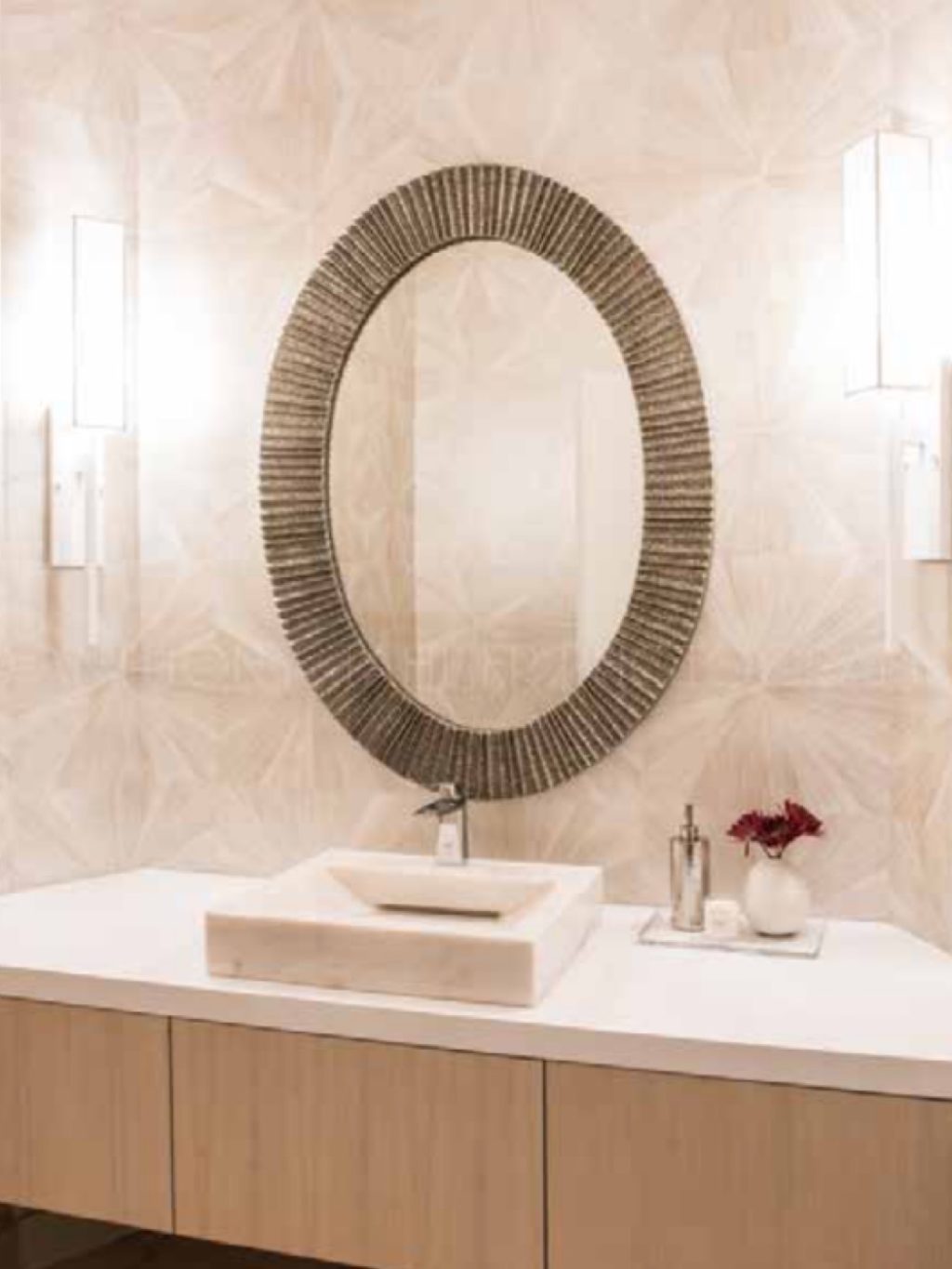 The first floor powder room has a custom floating vanity by AMID and a modern onyx vessel sink. I'm thrilled to see so many homeowners embrace wallpaper again and choose such lovely prints for their powder rooms as they ease their way into the comfort zone.  There are so many marvelous choices and these gorgeous wall coverings are by Maya Romanoff.  Elegant and timeless and keeps a small space bright.
The mirror is from Arteriors.
The Office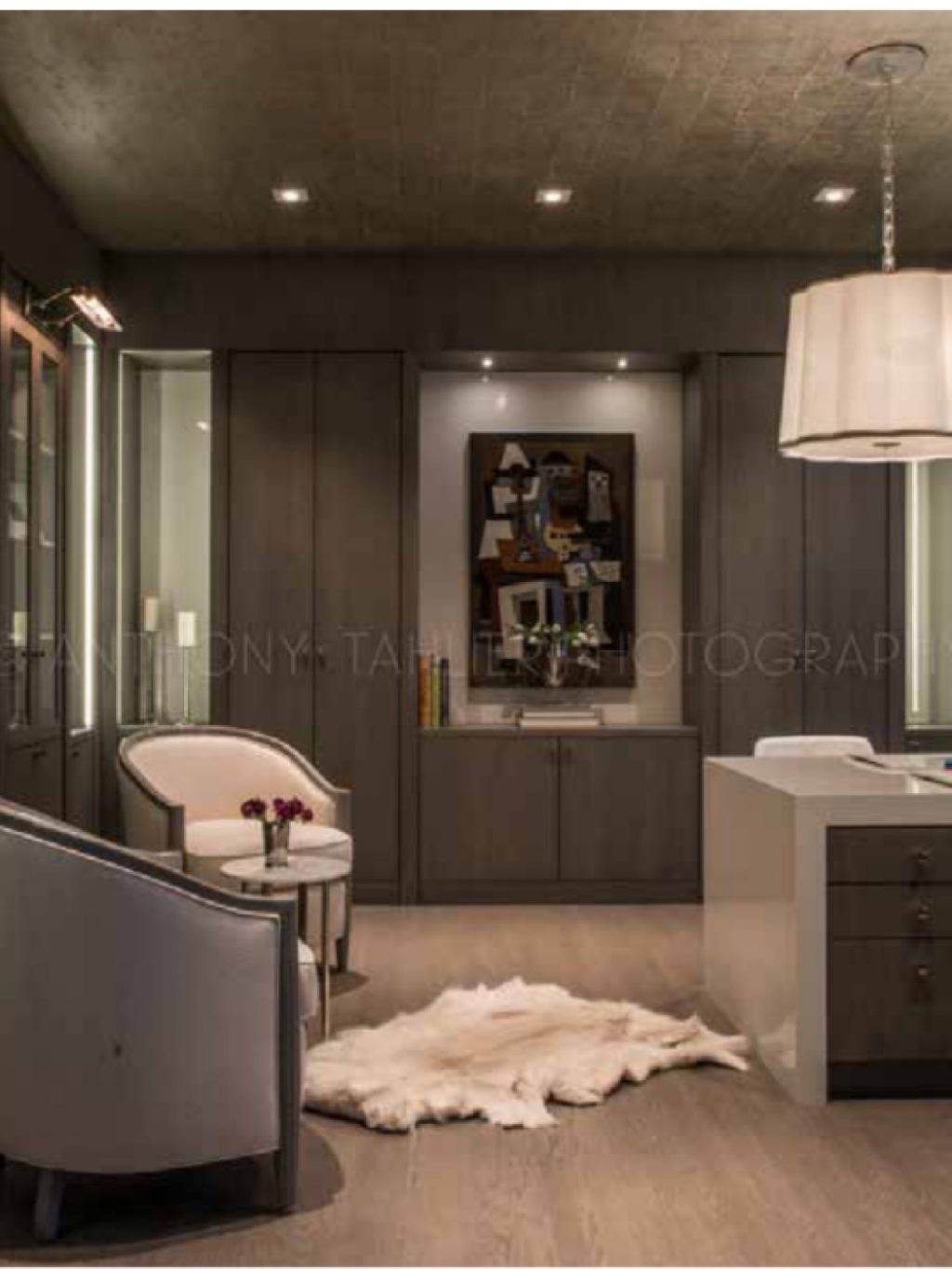 Ok, I know this series is all about "Bright White Homes" but you must check out this sultry sophisticated home office.  It has a his/hers partners desk, seating area and comissioned artwork. The floors throughout are a combination of fumed oak, not stained, and marble.  Is this divine or what?!  Such a fun contrast to the rest of the home.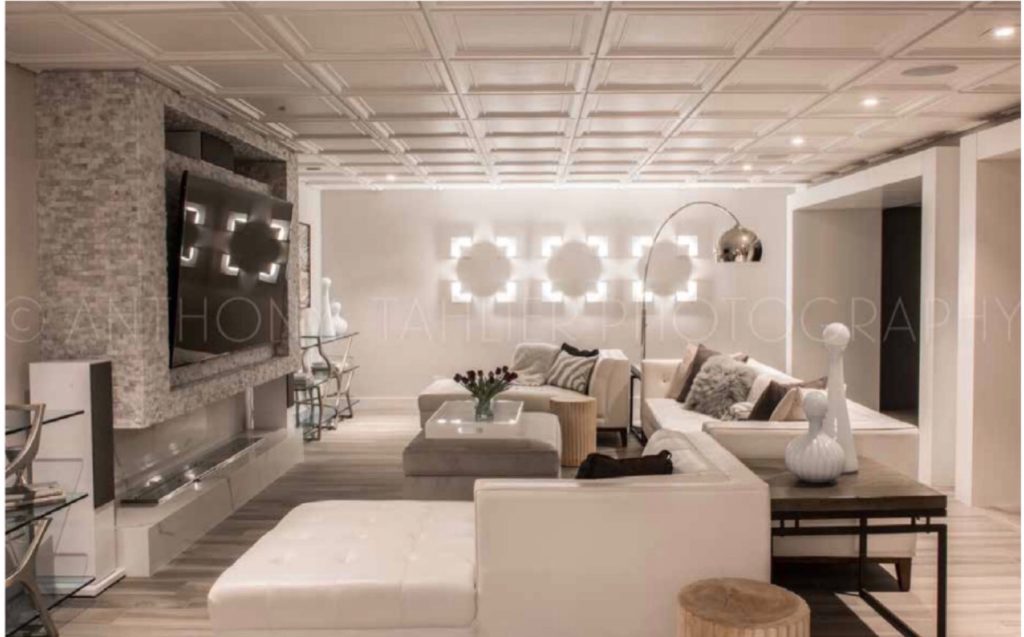 Don't be deceived by this lower level.  It's brighter than it appears.  This level houses a home gym, media lounge, billiards room and bar.  It's quite the space!  Light neutral colors were used, along with painted ceiling tiles, to help brighten this lower level.  Wise choice!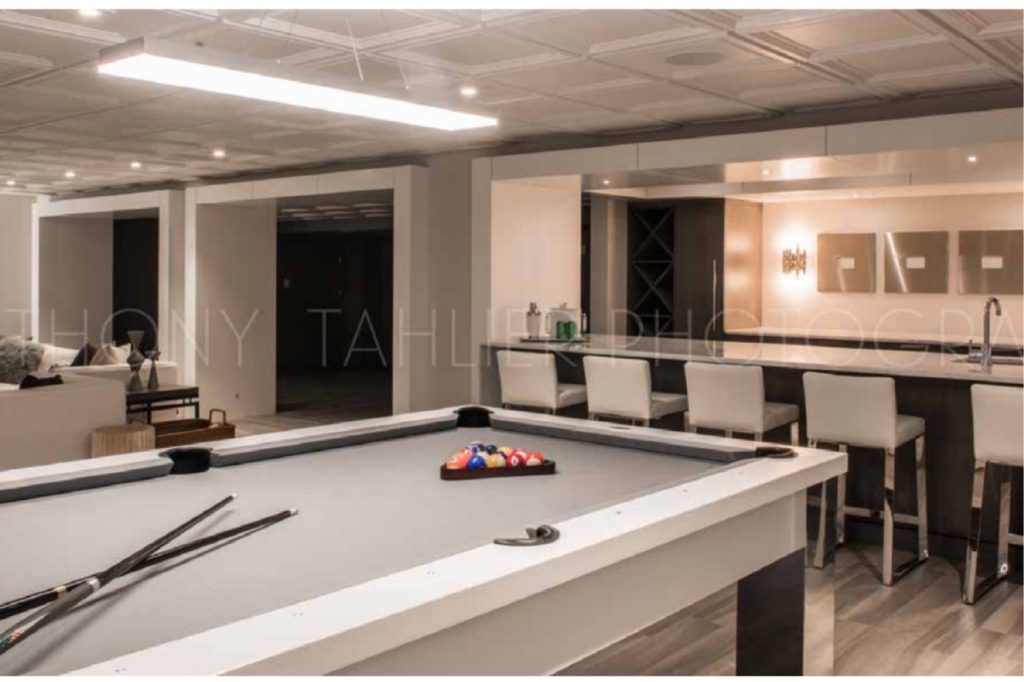 The floors all have radiant heating for lounging or entertaining (yes please).  A mix of marble, chrome, leather and plush soft fabrics keep things warm and cozy and keep a careful balance between cold and stark. Cool sculptural lighting and fun touches keep the area playful and well-lit.  What a fabulous way to invite some friends over and entertain!
The Master Bedroom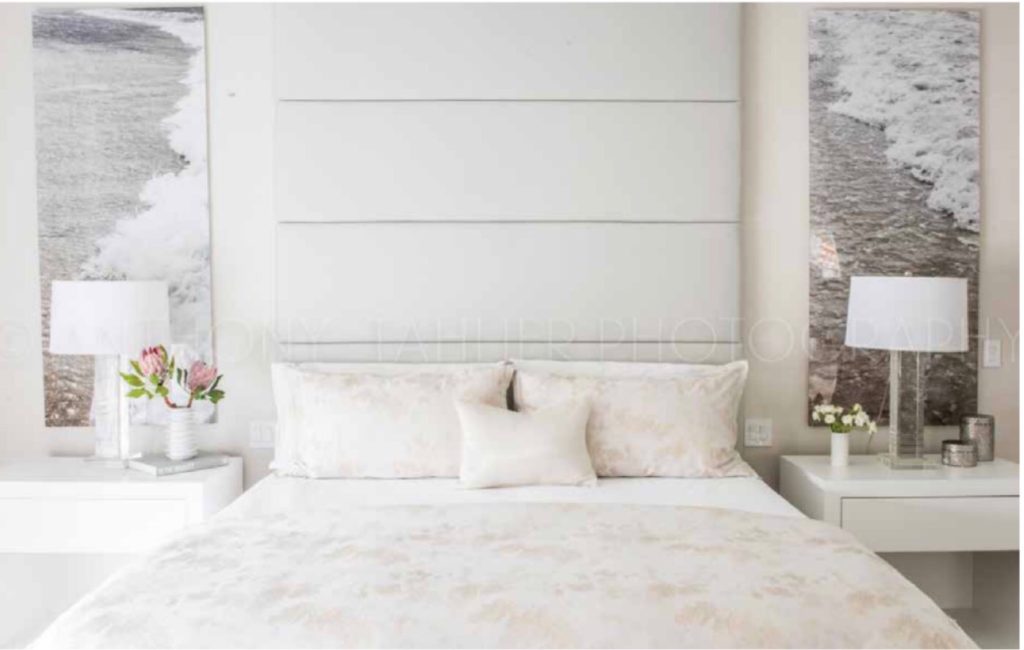 Heading back upstairs, we enter the master bedroom.  It is soothing and tranquil, almost all white. We also get to see more natural light which immediately does a fabulous job of brightening the home.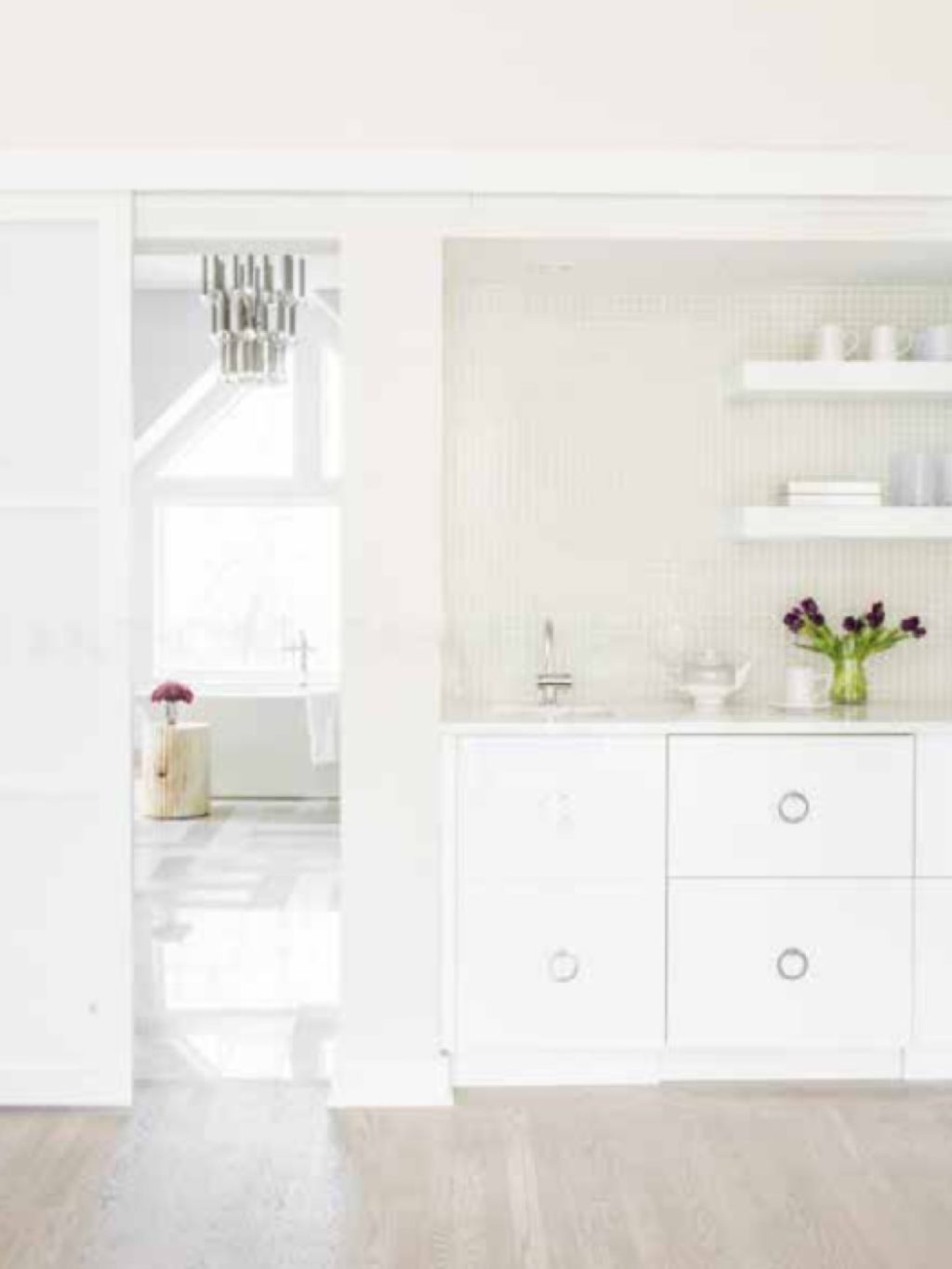 A quiet desk to read or write, custom bedding and soft rugs underfoot are comfortable and relaxing. One of the coolest features (and one of my personal favorites) is a built-in coffee/tea/breakfast bar that is concealed behind a sliding shoji screen to separate the master from the huge bathroom. The coffee/tea station has sub-zero refrigerator drawers and instant hot water dispensers.
The master bath has floor to ceiling frosted ombre' glass doors, windows that instantly fog for privacy and a pedicure sink/footbath built into the floor.  Ladies, is that a dream come true or what?!  Anthony knows the meaning of luxury.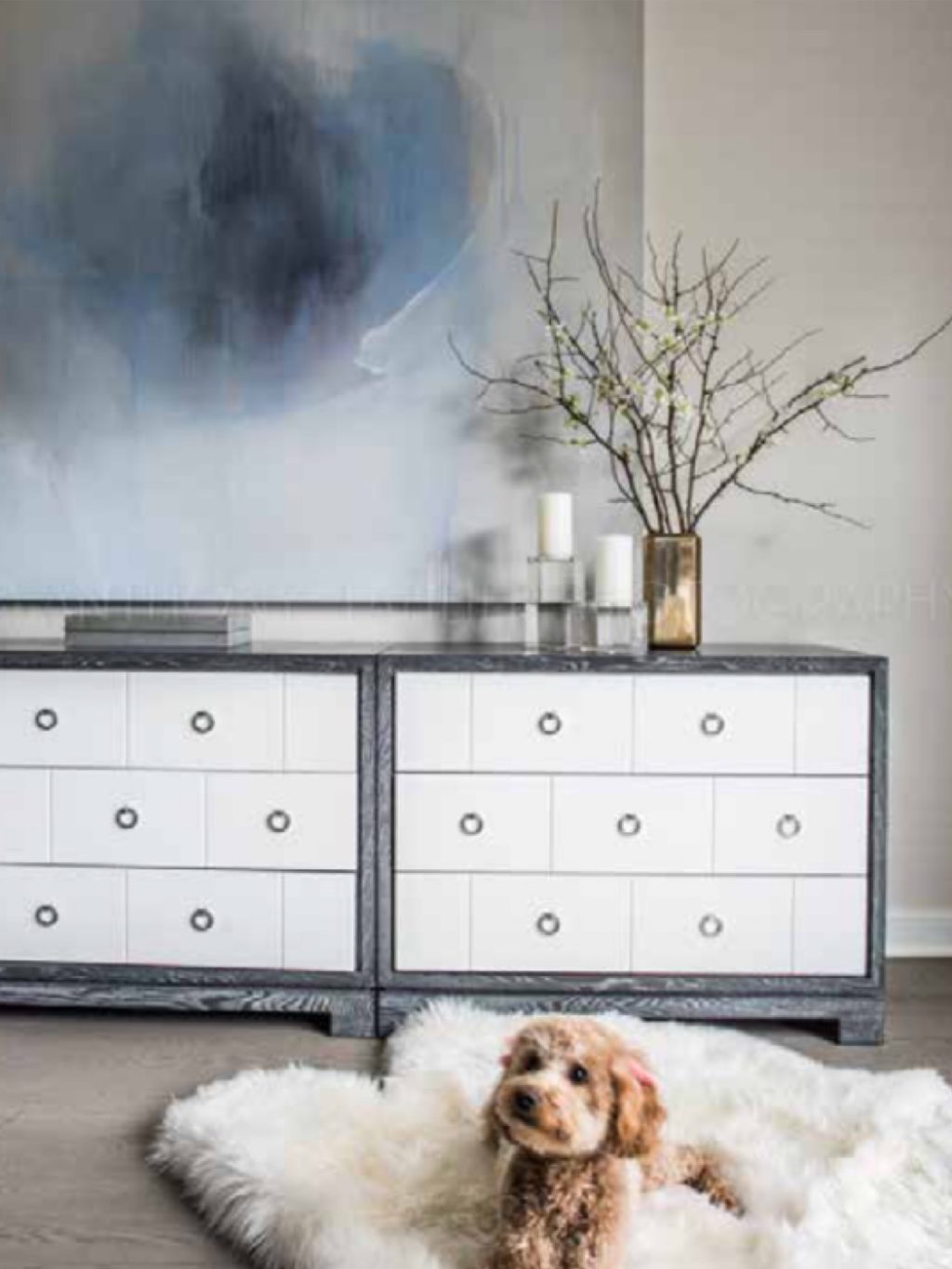 If it wasn't for the gorgeous dresser and piece of art, I might never take my eyes off this darling pup on the most fabulous faux fur rug!
But if you could join me, don't you love the two-toned dresser?  It's not an overbearing, heavy piece of furniture. It's simply striking and brings such a lovely contrast to this bright room while the decor and art also adds layers of texture.  I love this space!
The Foyer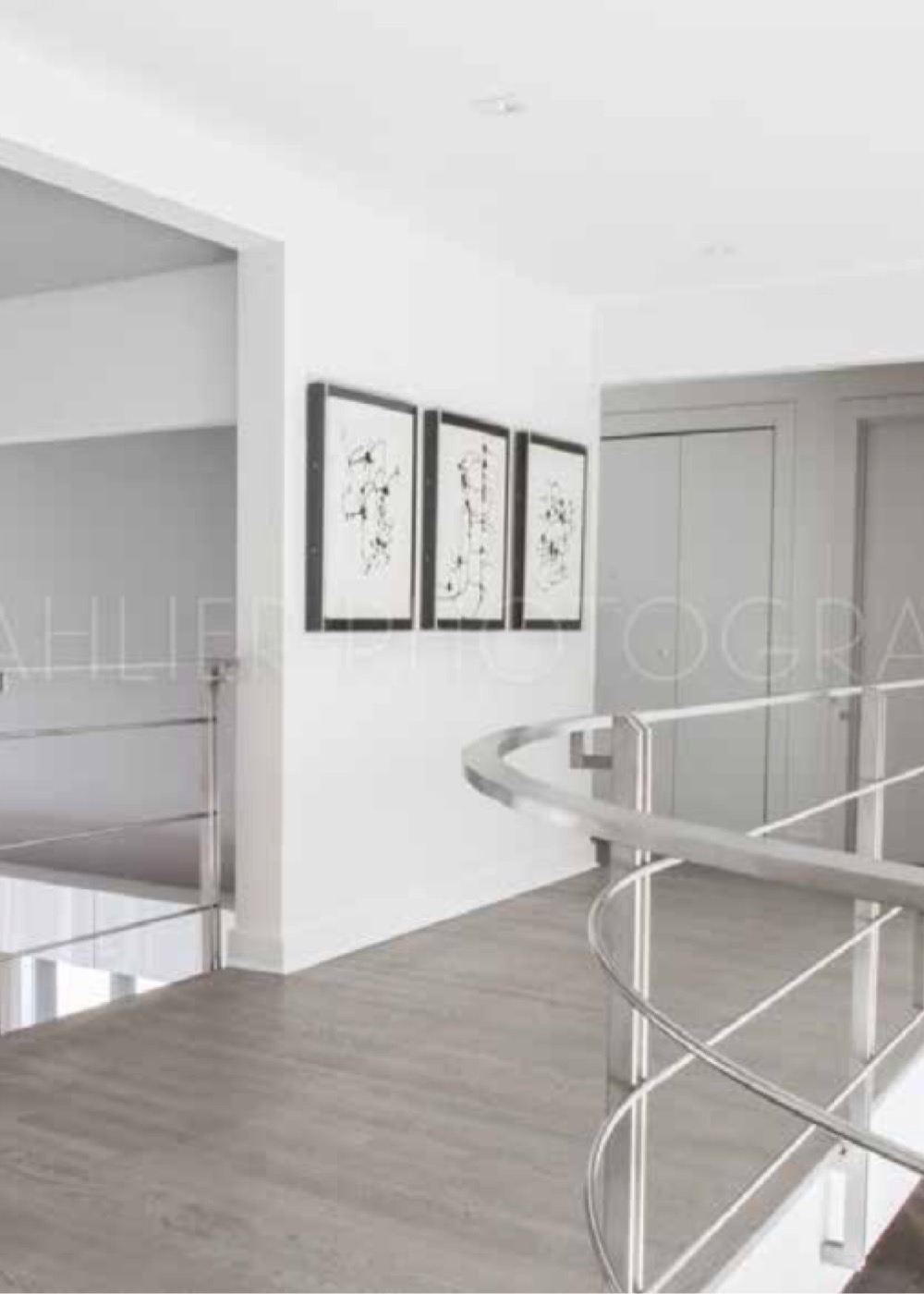 Come back with me to the foyer, down this amazing staircase, to where it all starts and ends.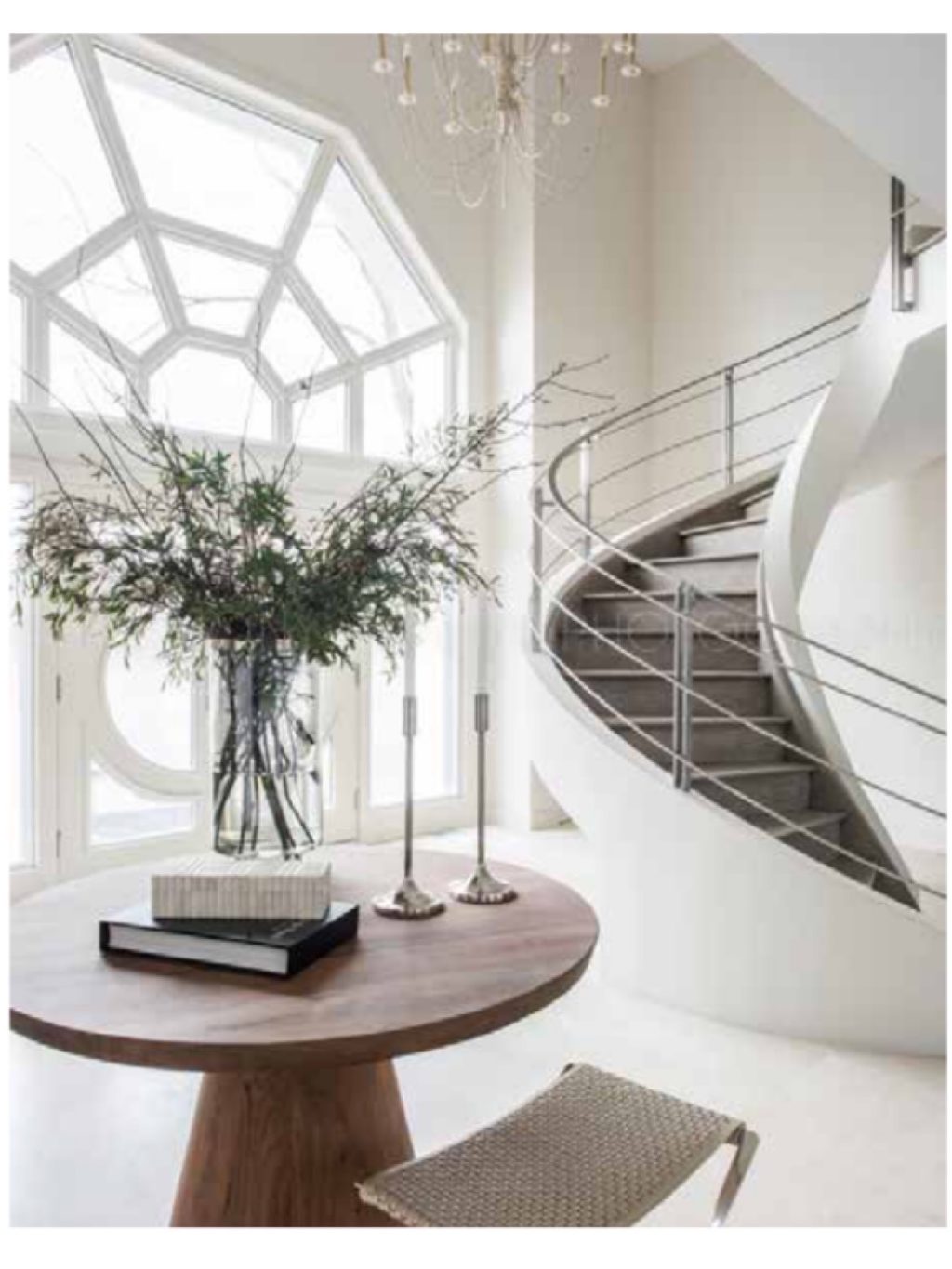 Can you believe for a second that this was once the ugliest home on the block?  Those are Anthony's words.  I just can't believe it but that's the beauty of a transformation.  A true Cinderella story!  For instance, Anthony reworked this entire staircase and had it custom fabricated (by Iron & Wire in Chicago) to become what is now a jaw-dropping masterpiece.  What a way to enter this bright beautiful home!  The windows play a unique and very important role of illuminating all of the gorgeous foyer details and bringing attention to all of the design work.  The floors are fumed oak and marble and keep this entrance of the home light and welcoming and soothing, yet very elegant and refined.
I hope you enjoyed this Bright White Home by Anthony Michael as much as I did.  Please make www.buy-trusted-tablets.com sure to continue to follow along with more of his work on Instagram and on his website at Anthony Michaels Interior Design.  Wouldn't you love to see more of Anthony's work here in my Bright White Home Series?  Leave a comment below and let us know what your favorite space was and what you adored about it.
THANK YOU for stopping by today!!!  Especially for continuing with me in my "Bright White Home Series" here on my blog.  I have other beautiful homes I can't wait to share with you AND we are still designing and building our own bright white home in the Pacific North West, after leaving our beloved Texas just 2 weeks ago.  So I look forward to sharing that, as well as the entire designing and building process, here on my blog.
••••••••
I would LOVE it if you subscribed at the top of the page in order to receive my weekly emails of all my latest posts and keep up to date on all this fun.  You can also follow me on Instagram, Pinterest, and Facebook to see what I'm up to in creating a home and lifestyle of inspiration!
See you soon! xoxo,