You may know that back in March I started a new series here on my blog called "Bright White Homes" and featured the first 2 homes HERE and HERE. The inspiration came as I've helped many clients and friends brighten up their homes or offices. So many people with the same dilemma look for inspiration but don't know where to look and how to start so I knew I wanted to share some fabulous homes and designers, with all of my readers, that have done it so well. Today I'm sharing the elegant and fabulous Bright White Home of my dear friend, Deborah Blount, of Blount Designs.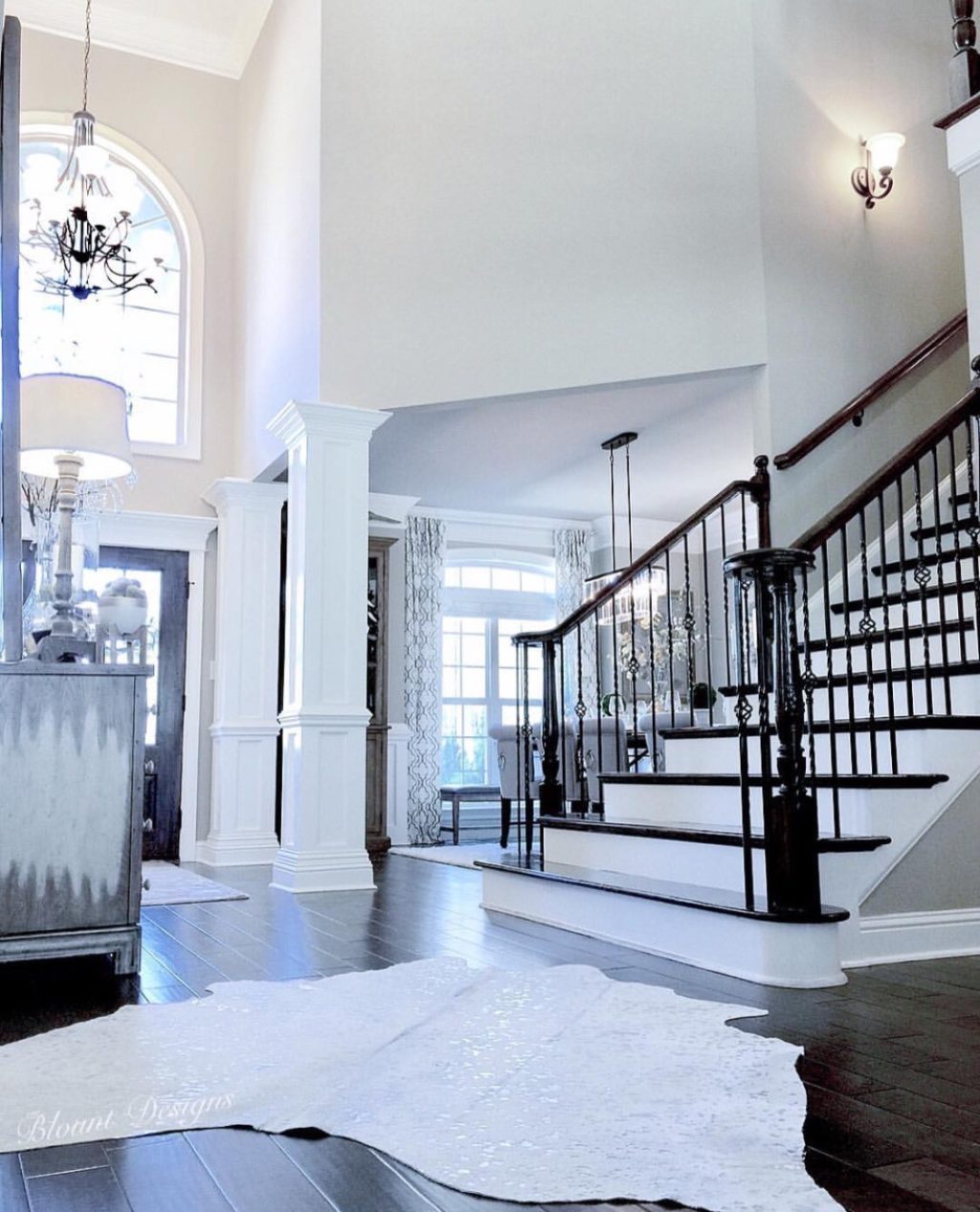 Start pinning away (hover over pic for "pin it" button) because Deborah's styling will totally inspire you!  From the moment you enter Deborah's home, you notice how bright and open and glamorous it is.  But it's not like every inch of it is white from the top to bottom.  It is definitely full of contrast.  Notice her gorgeous railing, stairs, and dark floors.
She could have chosen lots of color or darker colors that she loved.  But Deborah is a lover of adding white and light colors to open her home up and make it look brighter.  Isn't it gorgeous against that rod iron and dark wood?  The faux cow hide in her entry is a stunning way to welcome anyone into her home.  Deborah is a fellow "glam girl", meaning…she loves all the glam and bling and I just love that about her.  I loved her feed on Instagram right away when we met a couple of years ago.  We have that in common.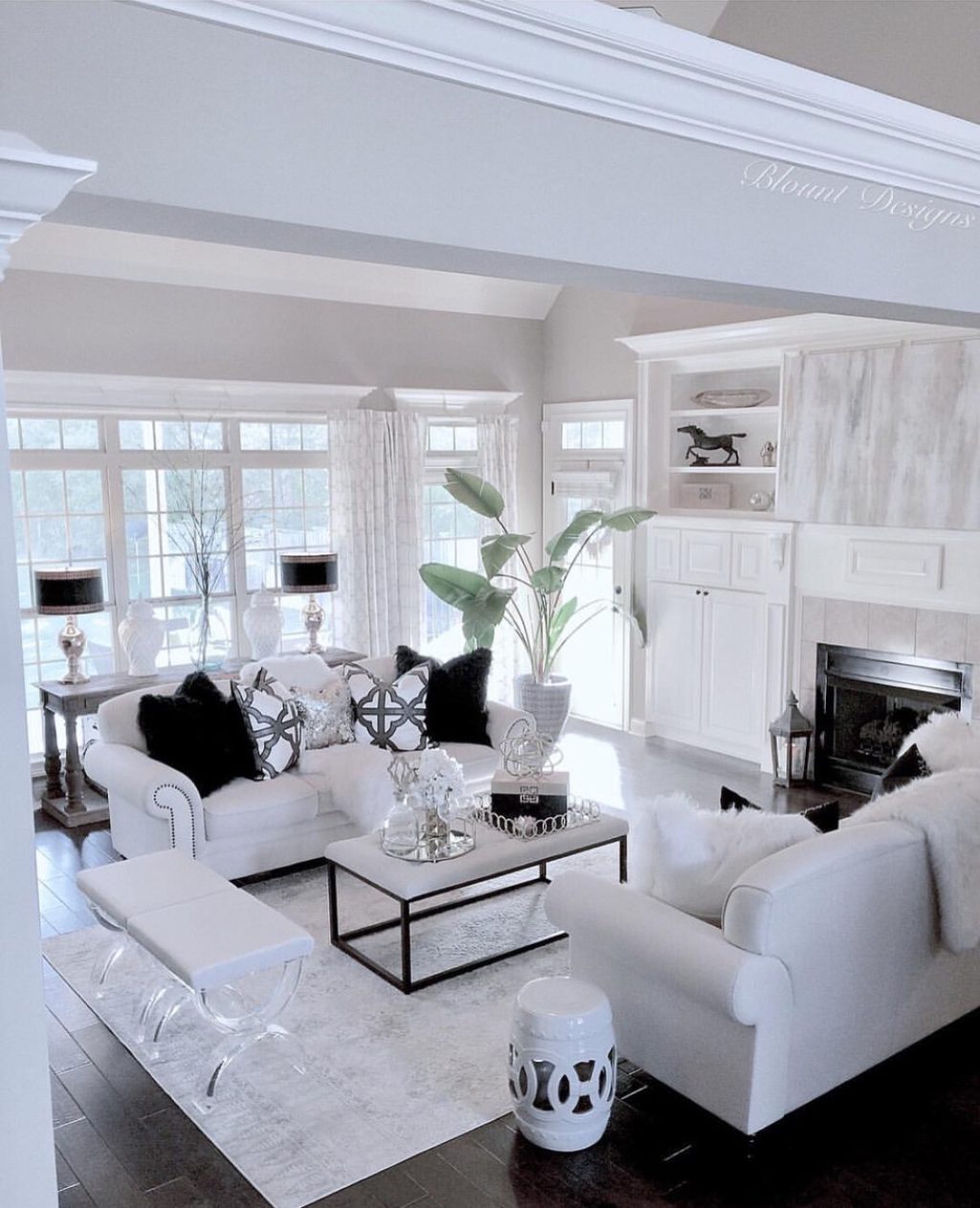 Passing through the entry, you enter Debi's great room…one of my favorite rooms in her home.  It is always changing.  She adds black, pops of color, or keeps it all white at different seasons throughout the year.  But it always has a bright white base and is so stunning and inviting. I love her art she uses to hide her television.  Such a brilliant idea.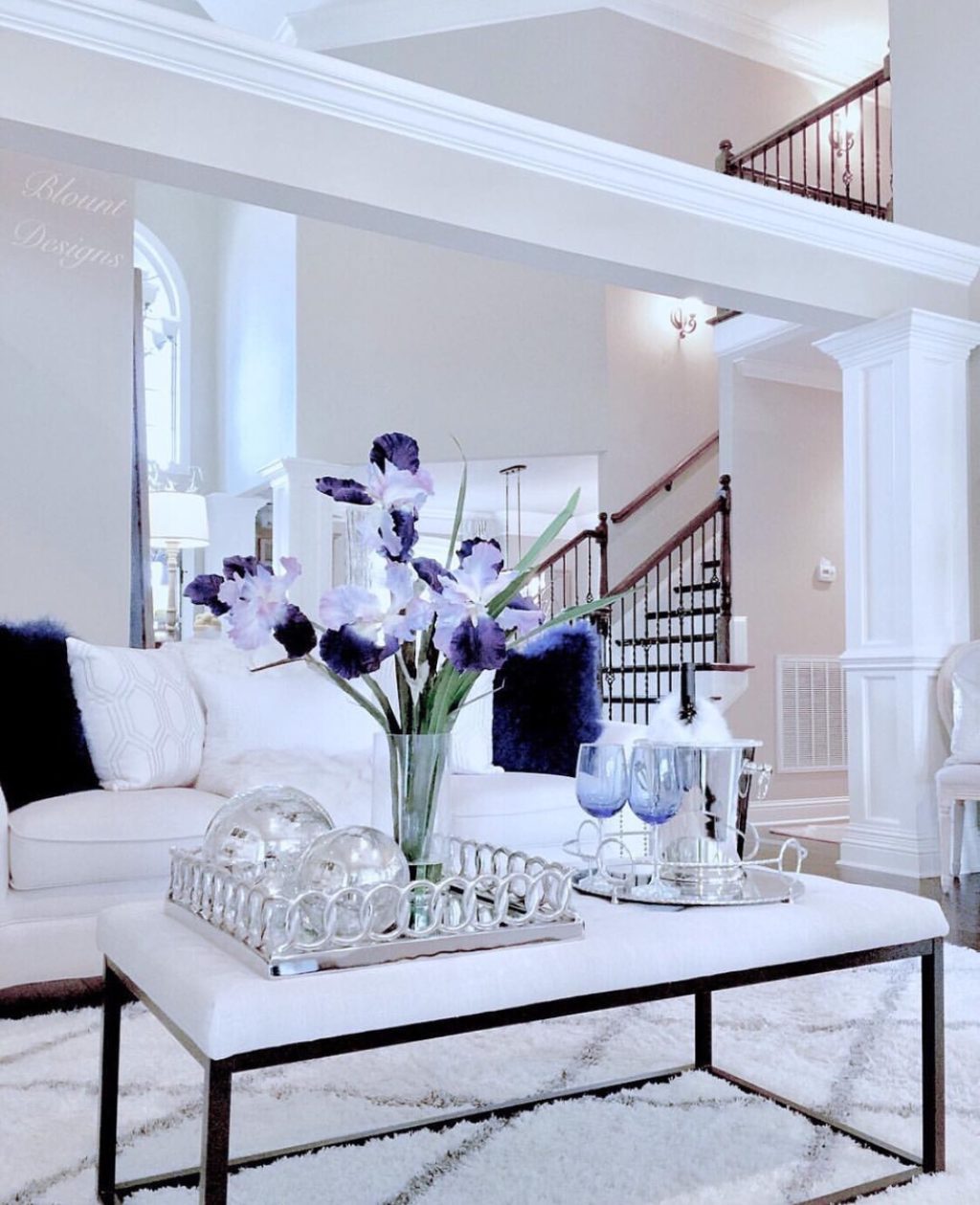 A bit of deep purple against the white is fabulous.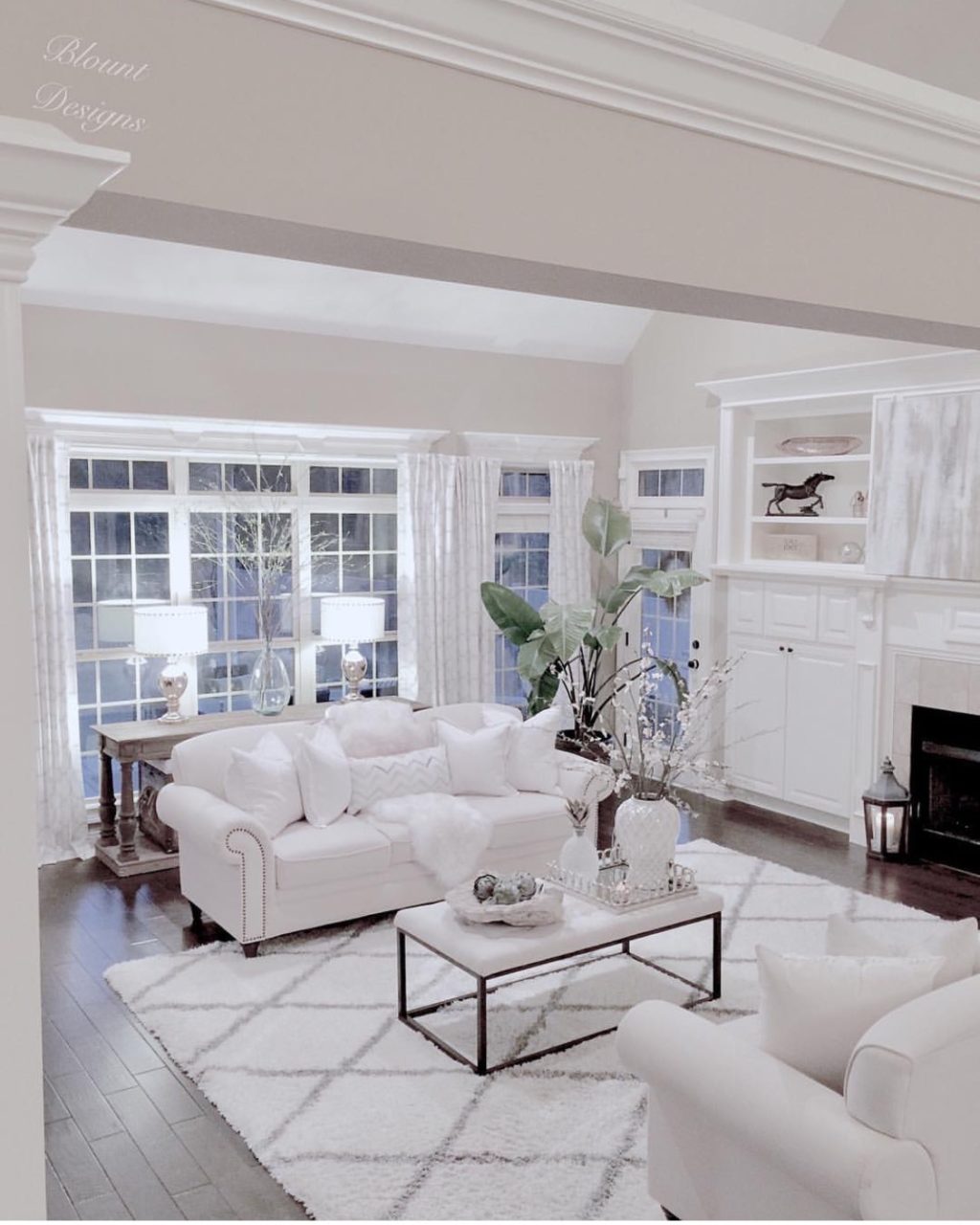 All white is always stunning!  Deborah changes out her pillows and rug and other accessories out for a different feel.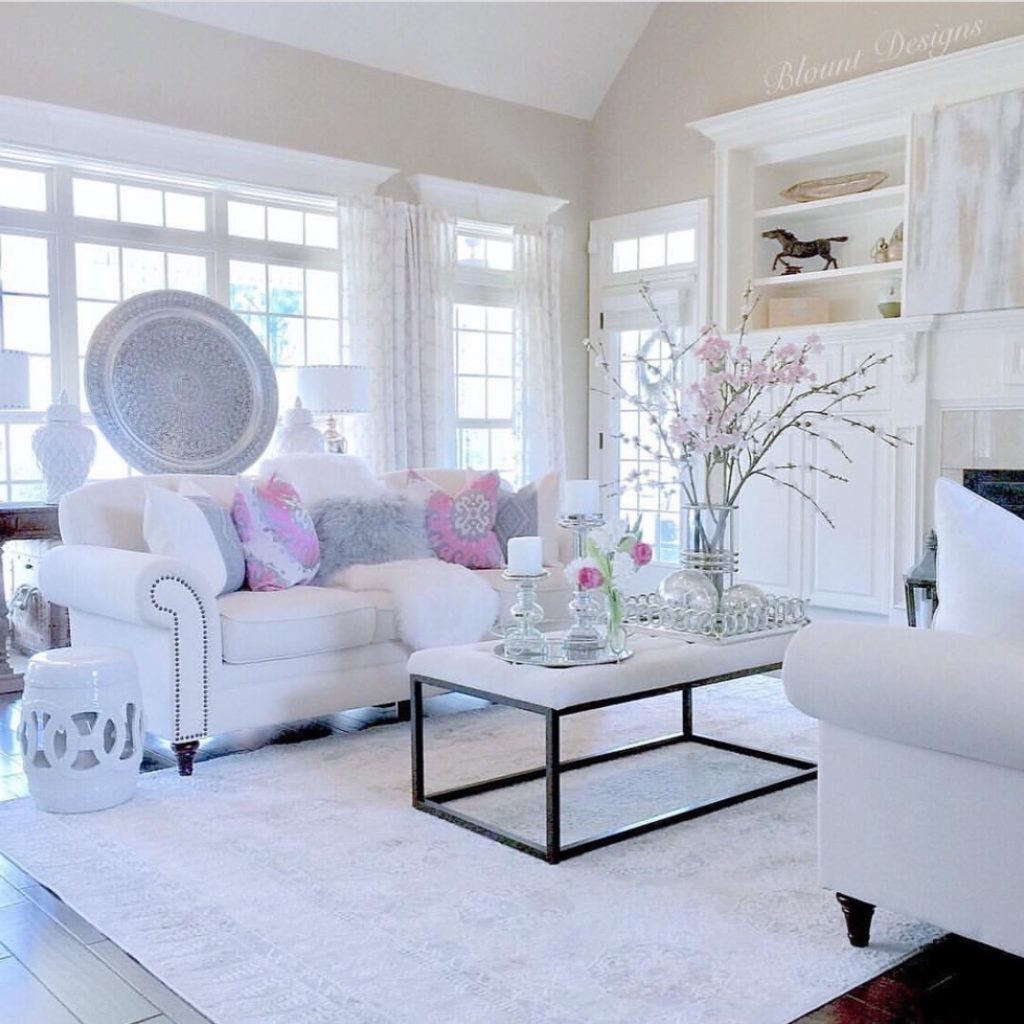 Feeling in the mood for some pink?  Yes please!  I love this look, as I'm sure my regular readers have already guessed.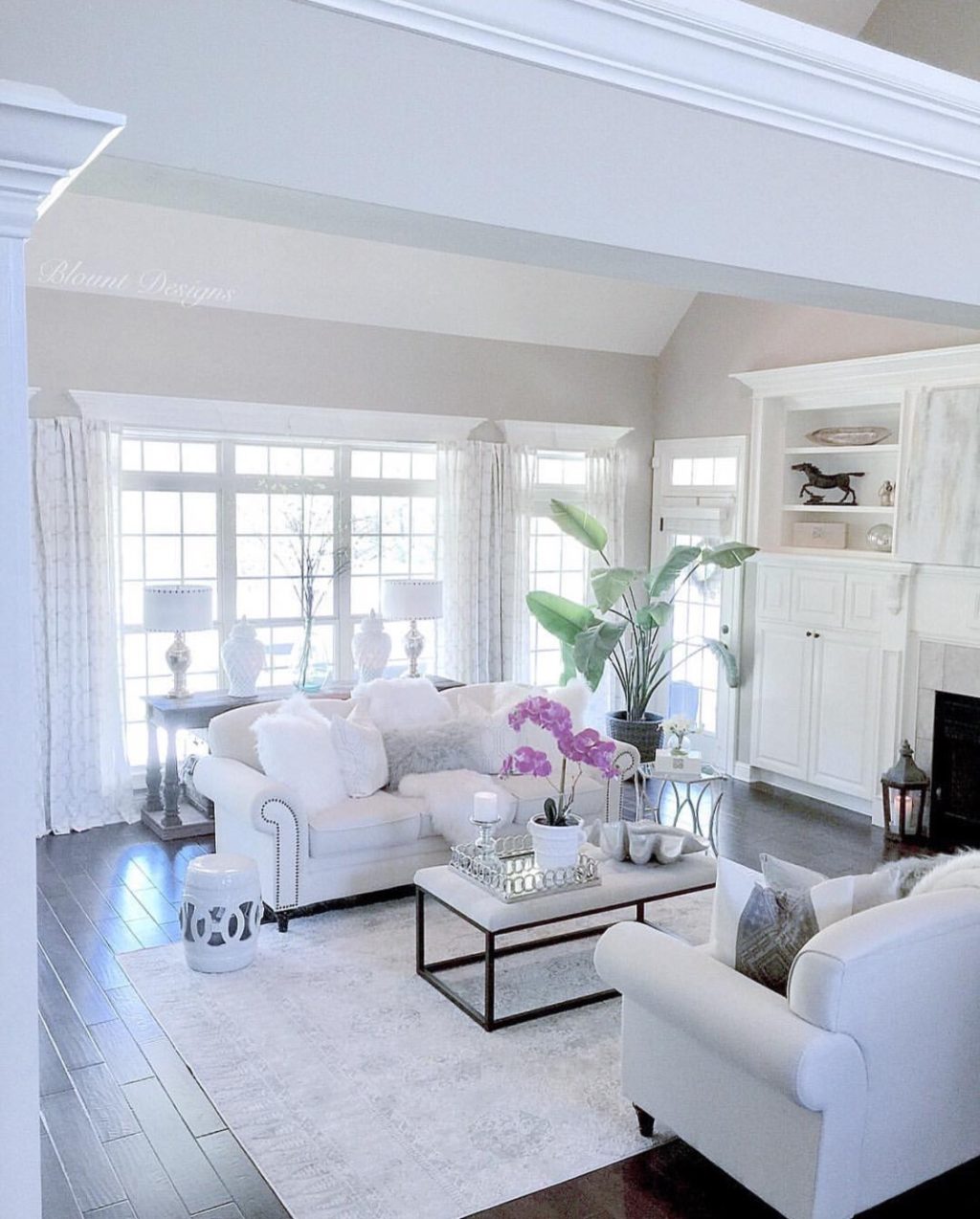 Here's another look at more white but with a touch of grey and some lilac.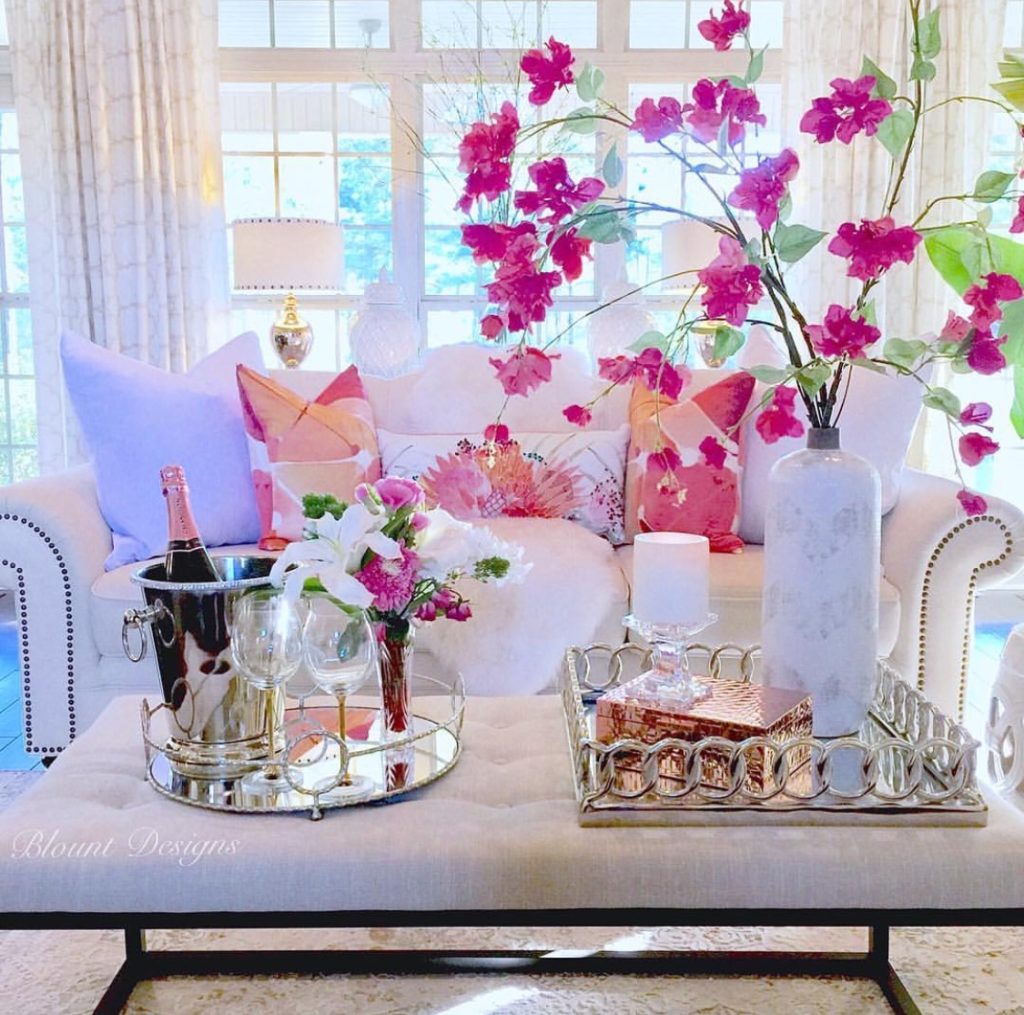 What season do you think this room has been decorated for?  It looks like Summer to me.  Either way…Deborah has done it again with her bold shades of pink and gorgeous blossom stems.  Who said bright white spaces were boring?  Silly!  They're the perfect backdrop for added layers of color.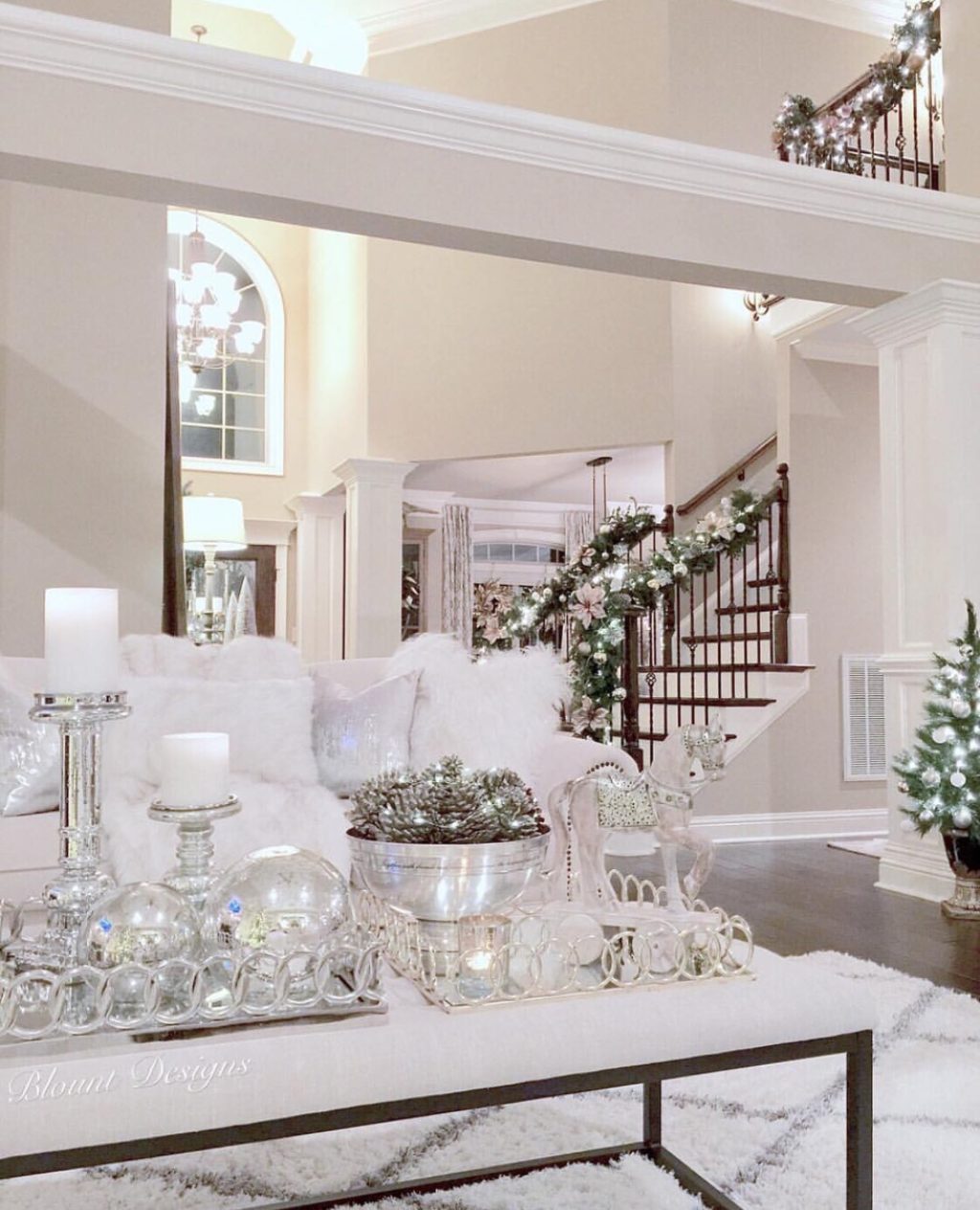 I absolutely LOVED Debi's home at Christmas time!  With her beautiful trays and lights, her love (like mine) for mercury glass allowing all the lights to bounce off and reflect throughout the room….this gorgeous space has been transformed into a true Winter Wonderland.
And it never gets boring.  Deborah switches out her pillows and decor (do you notice?) in the same season to keep things fresh and interesting.  Always glamorous though!  That's Debi's signature!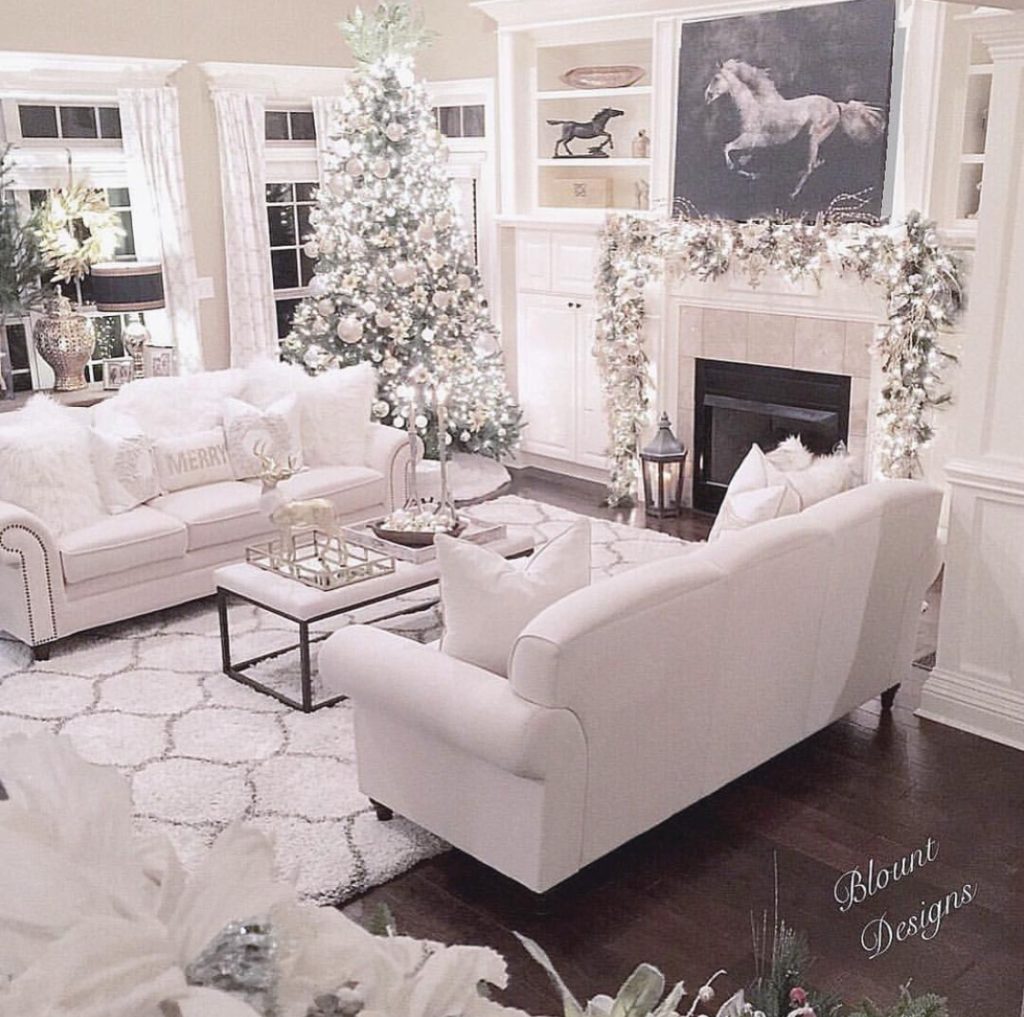 Here's another stunning shot from this angle at Christmas time.  Isn't it just magical?!  And yes…you can do this too in your home!  Notice what pieces are Deborah's staples.  From the trays and jars to decorative accents.
What pieces can YOU keep and what can you switch out to brighten up your home?  How can you create a bright white space and still add a pop of color?  Are your wheels turning?  Good!  There's still more of this gorgeous home to see.
Interior Paint Color
Deborah chose Sherwin Williams Perfect Greige, lightened at 50%.  Greige is a perfect paint color for taupes and for greys and can look warmer or cooler, depending on what your using to decorate.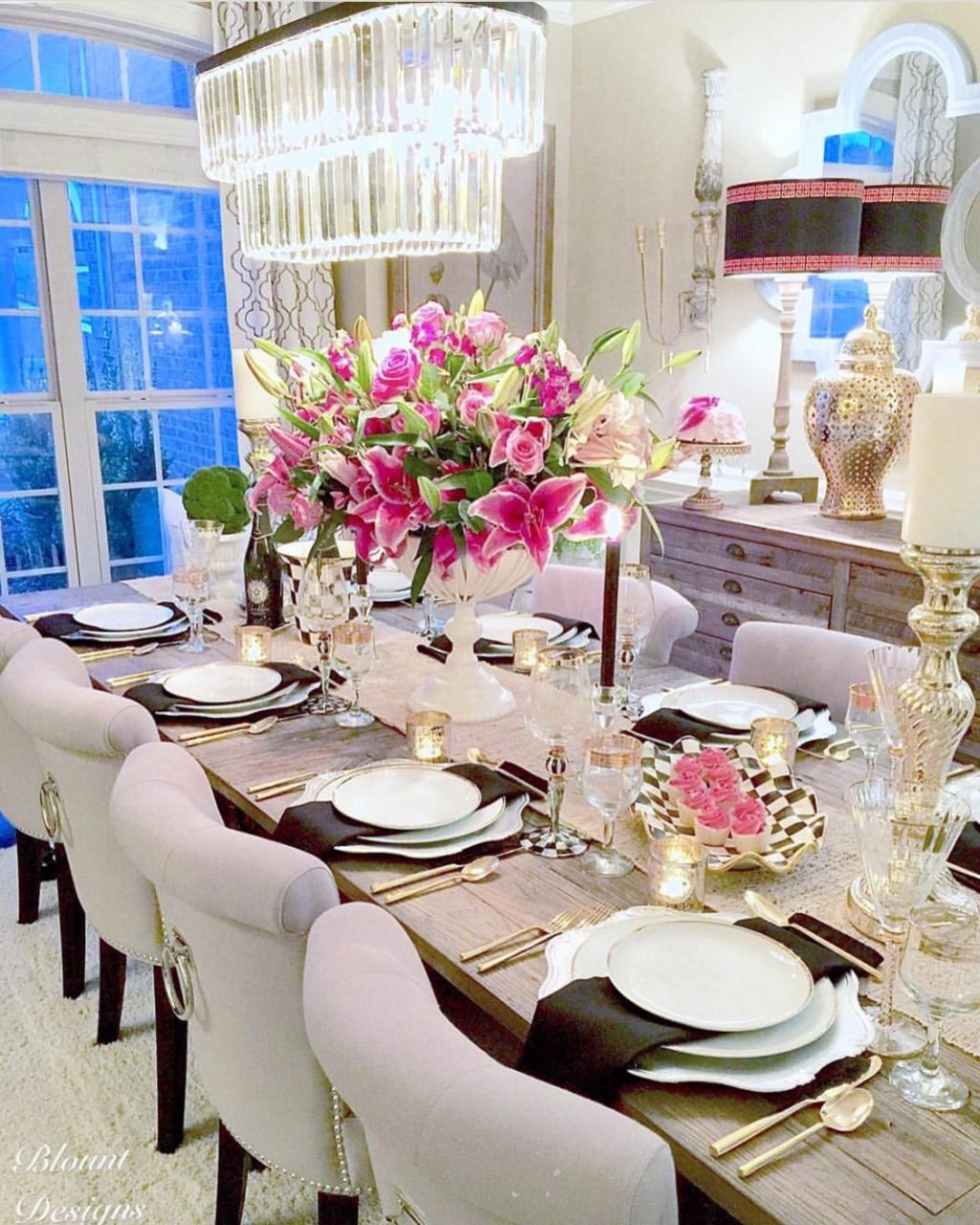 One thing Debi is known for is her love for tables capes.  Again, another way I've connected with her, as I also love to set a pretty table.  Deborah uses tons of enchanting floral arrangements and place settings to create a dramatic statement.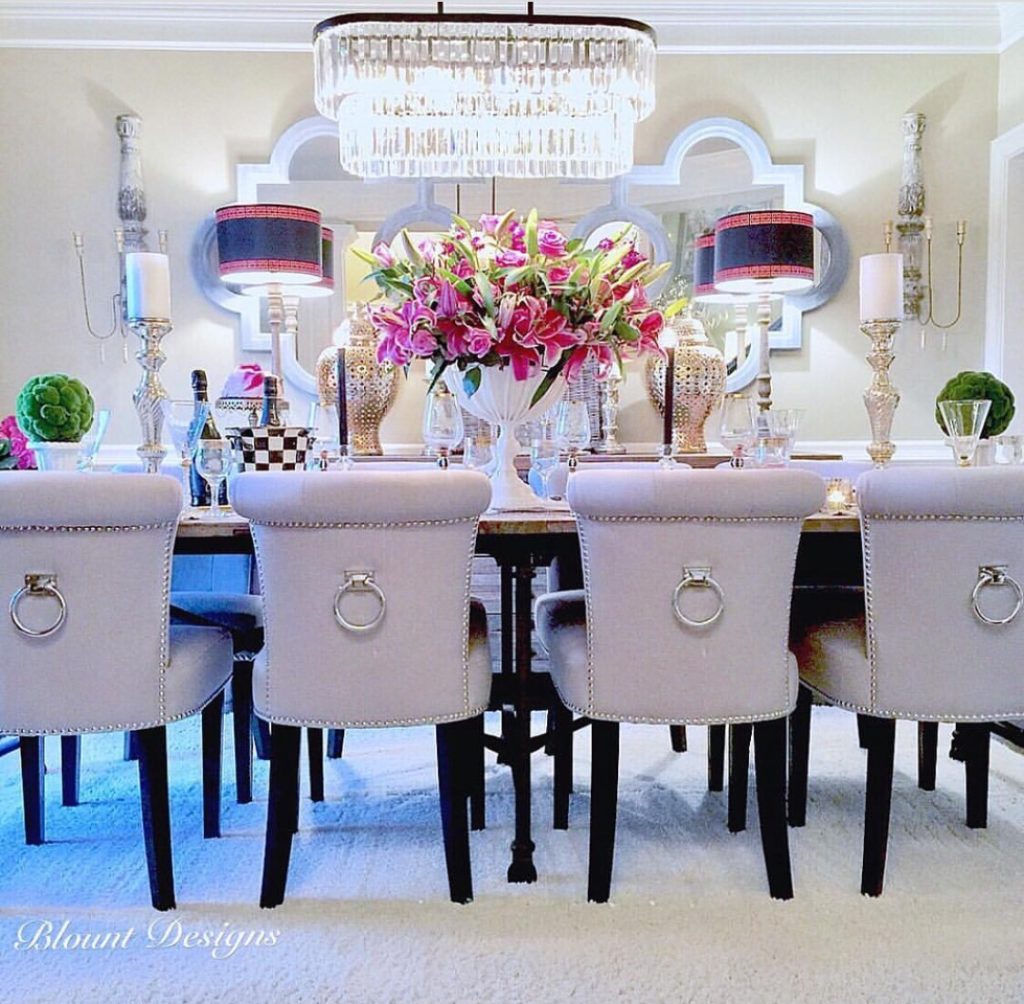 I love how Deborah chose lighter chairs to soften the space and balance out the darker wood from the table.  They're the perfect height and don't close up the table but instead allow you to see the table and the rest of the dining room.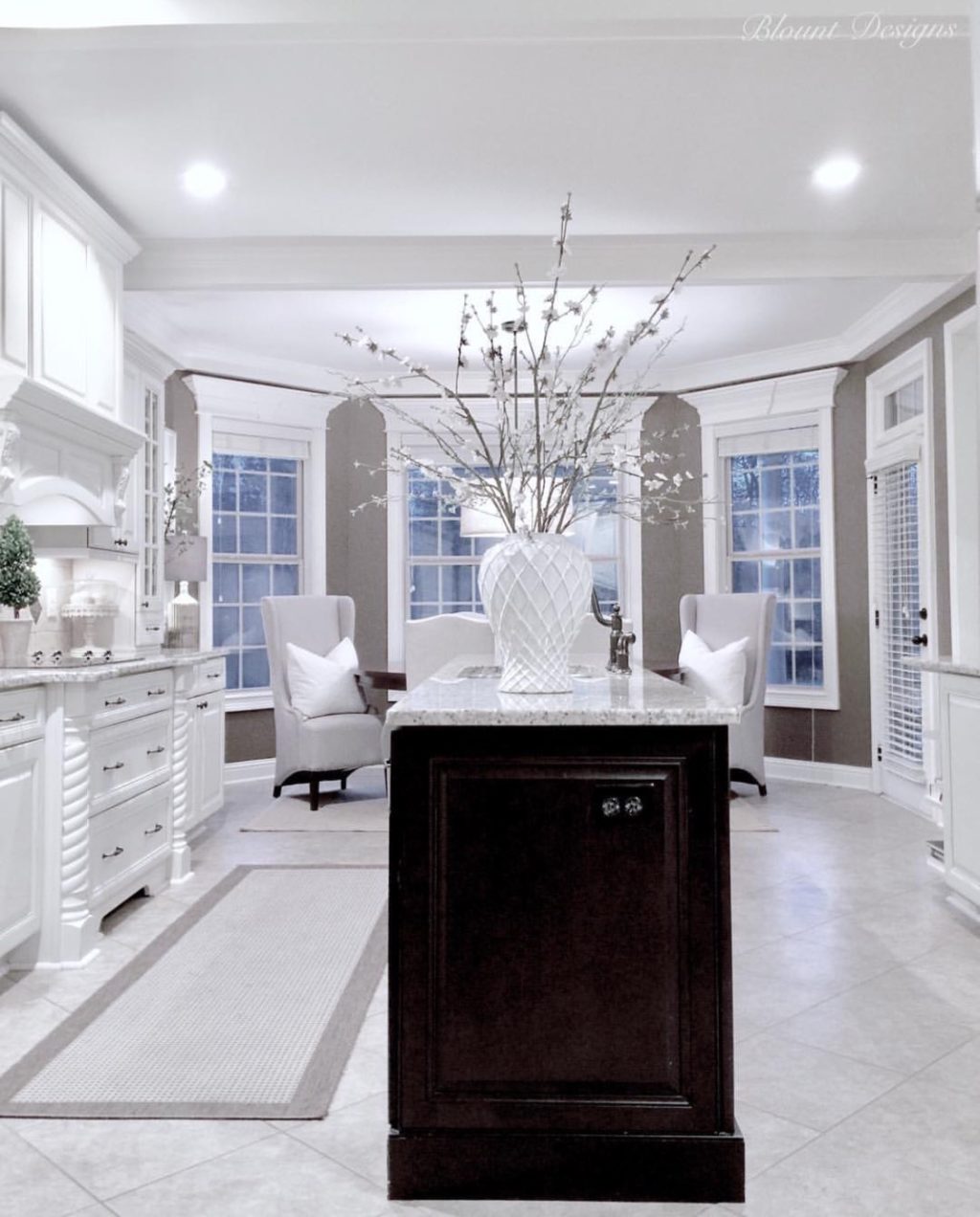 I love that Deborah's kitchen has gorgeous darker taupe walls and a dark island but still looks so bright and white with the fabulous trim and white cabinetry.  I love her countertops and those large windows were a brilliant design choice.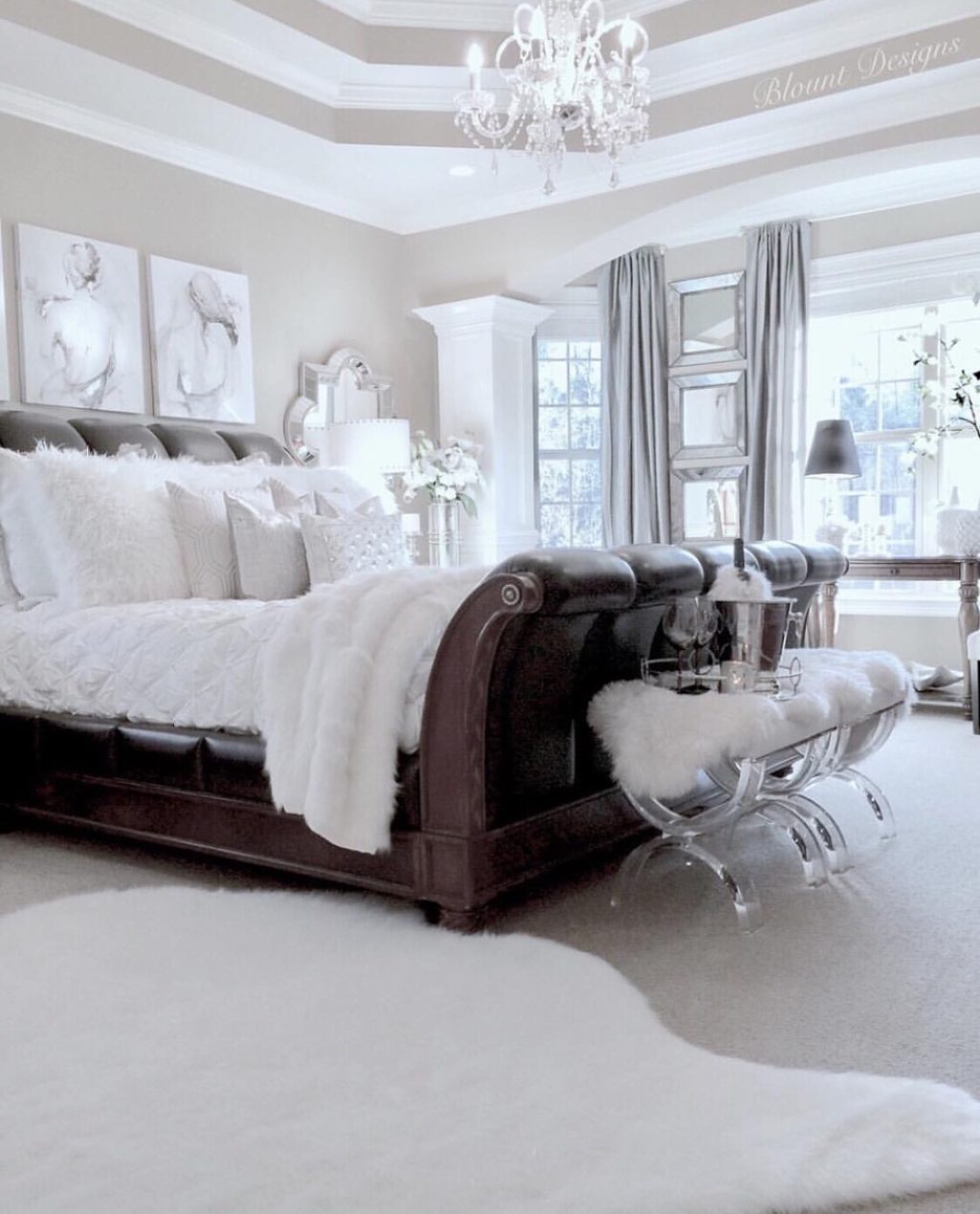 I'll never forget the client who walked me into her room and showed me her dark leather sleigh bed, almost identical to Deborah's, and said she just wanted a bright white room but her husband loved their bed and she didn't care for it.  I told her to keep it and described creating something like this room to my client.  Debi posted a picture of her bedroom on Instagram and I immediately took a screenshot of it and texted it to my client and said, "See!!!!!!  Just like this!  Look how beautiful this is!  The contrast is gorgeous and it doesn't have to be a bright white room with all white furniture.  You can still have other shades and textures and elements."  My client not only loved Deborah's room, but she A) fell in love with her bed again and loved her room with the changes I suggested and B) kept her husband happy by keeping the bed, since it turned out to be the only piece in the house he truly cared about and helped pick out.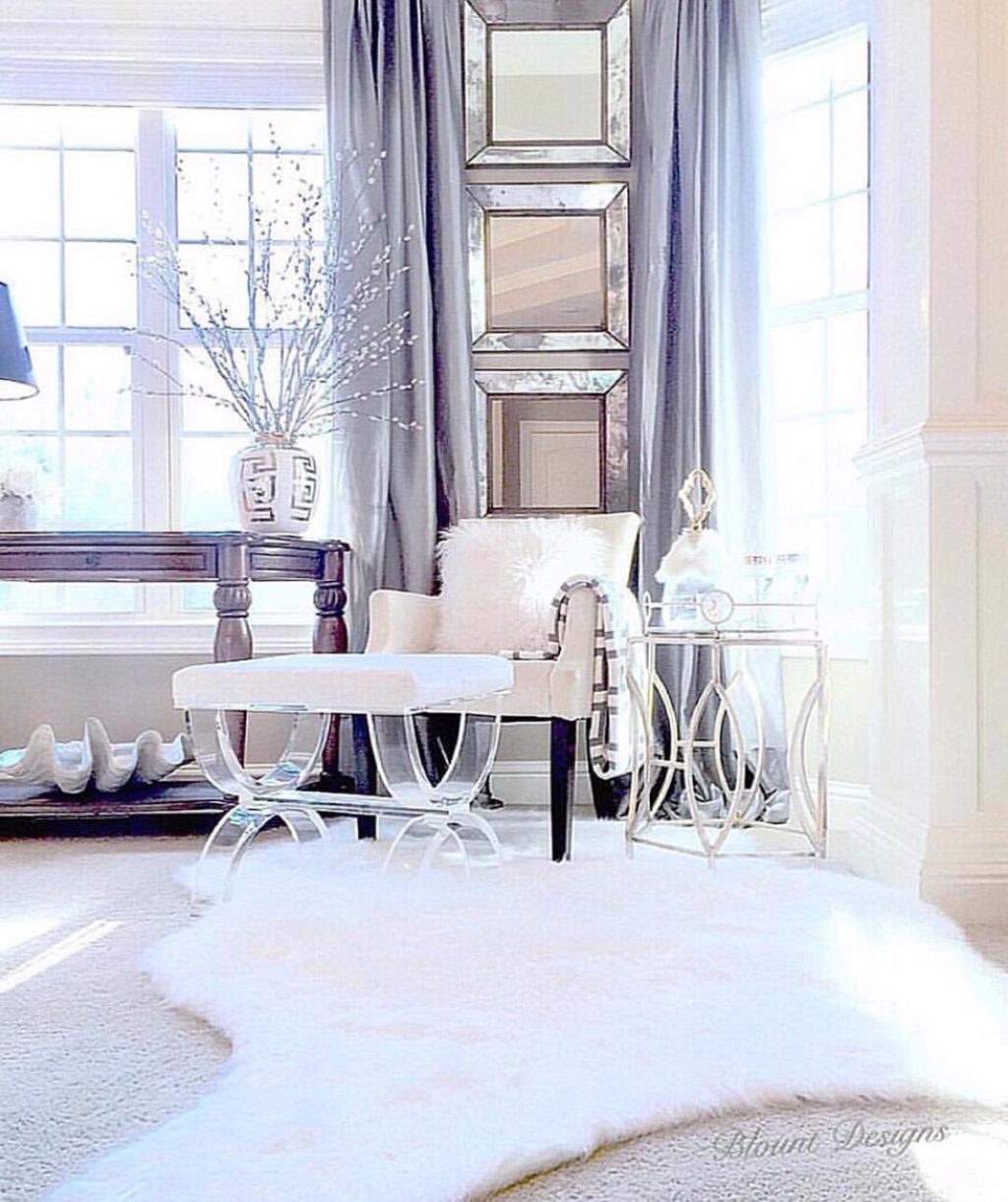 Notice how Deborah keeps her wall treatments light and not too heavy.  They're versatile enough to go with whatever pops of color she adds to the rooms.  As a girl after my own heart, Deborah uses a ton of faux white fur rugs and throws, gorgeous mirrors to help reflect light and make the room feel larger, and lovely lucite furniture to allow light to pass through.  All of these elements help in creating a bright space.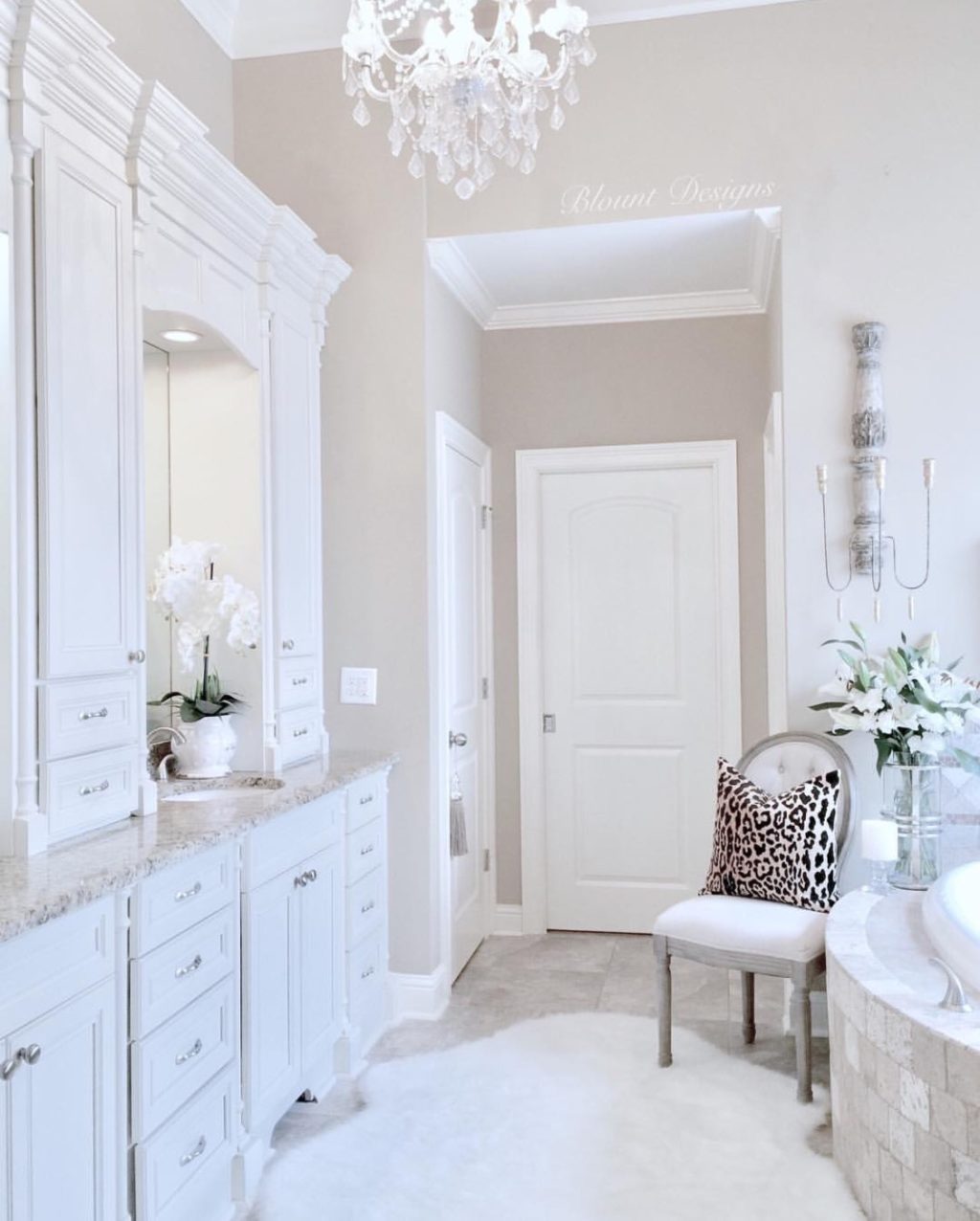 Ok, one of my favorite spaces in Debi's room is her master bath.  I'm a girl that loves to unwind and relax after a long day.  This bathroom is definitely an oasis and has the feel of a luxurious spa.  Calgon take me away!!  This space is just fabulous in every way and that leopard pillow is such a chic and glamorous touch.
How much did you love Deborah's home?  I'm dying to hear your thoughts so please leave me (and Deborah) a comment below and tell us your favorite part.  Also, let us know what questions you have and let us know how you're making your space a little brighter.  PLEASE hop on over to Deborah Blount's feed on Instagram at Blount Designs.  Not only does she share more of her fabulous home throughout the year, she shares other lovely homes and sources of inspiration.  I'm so fortunate to have gotten to know Deborah there and call her a friend.  I just know you'll love her as much as I love her!!
THANK YOU for stopping by today!!!  Especially for continuing with me in my "Bright White Home Series" here on my blog.  I have other beautiful homes I can't wait to share with you AND we are still designing and building our own bright white home.  So I look forward to sharing that, as well as the entire designing and building process, here on my blog.
••••••••
I would LOVE it if you subscribed at the top of the page in order to receive my weekly emails of all my latest posts and keep up to date on all this fun.  You can also follow me on Instagram, Pinterest, and Facebook to see what I'm up to in creating a home and lifestyle of inspiration!
See you soon! xoxo,