Last month, I started a new series here on my blog called "Bright White Homes" and featured the first home here.  The inspiration came as I've helped many clients brighten up their homes or offices.  So many people with the same dilemma look for inspiration but don't know where to look and how to start so I knew I wanted to share some fabulous homes and designers, with all of my readers, that have done it so well.  I'm adding another fabulous addition to our Bright White Home Series today and sharing the gorgeous home of my fabulous friend, Jan Scarpino.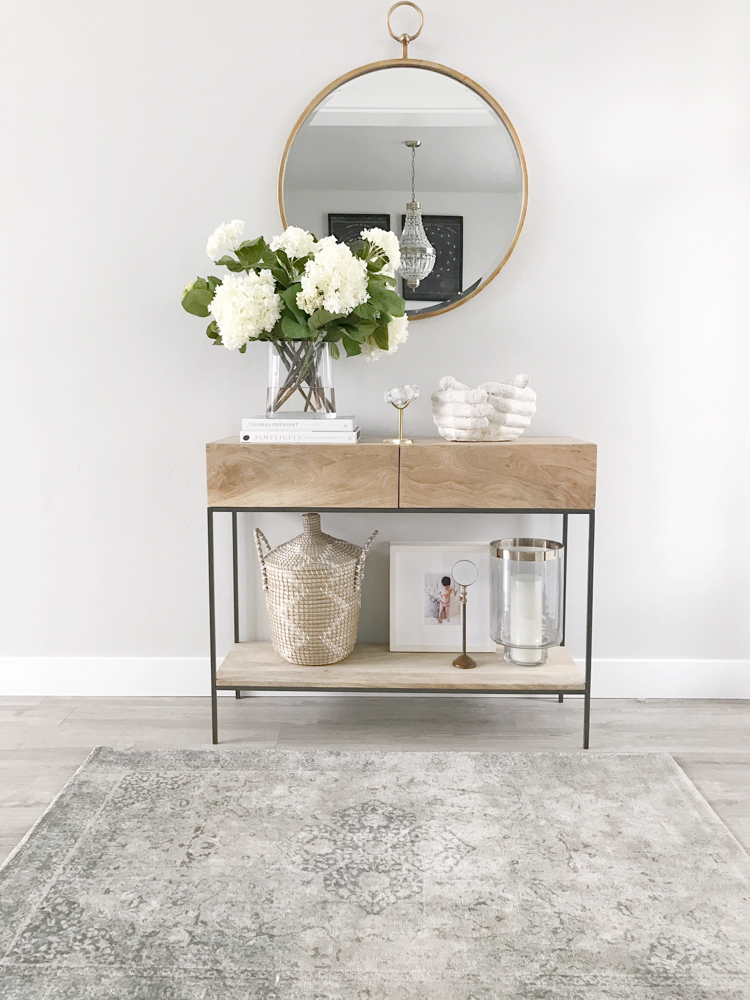 From the moment you enter Jan's home, it is open and bright.  Her style follows the "less is more" rule and keeps her styling from being over-cluttered.  This allows one to feel relaxed and welcome.
Sources: Rug is from Gatehouse and Industrial Storage Console is from West Elm.
Hoop Mirror from Anthropologie.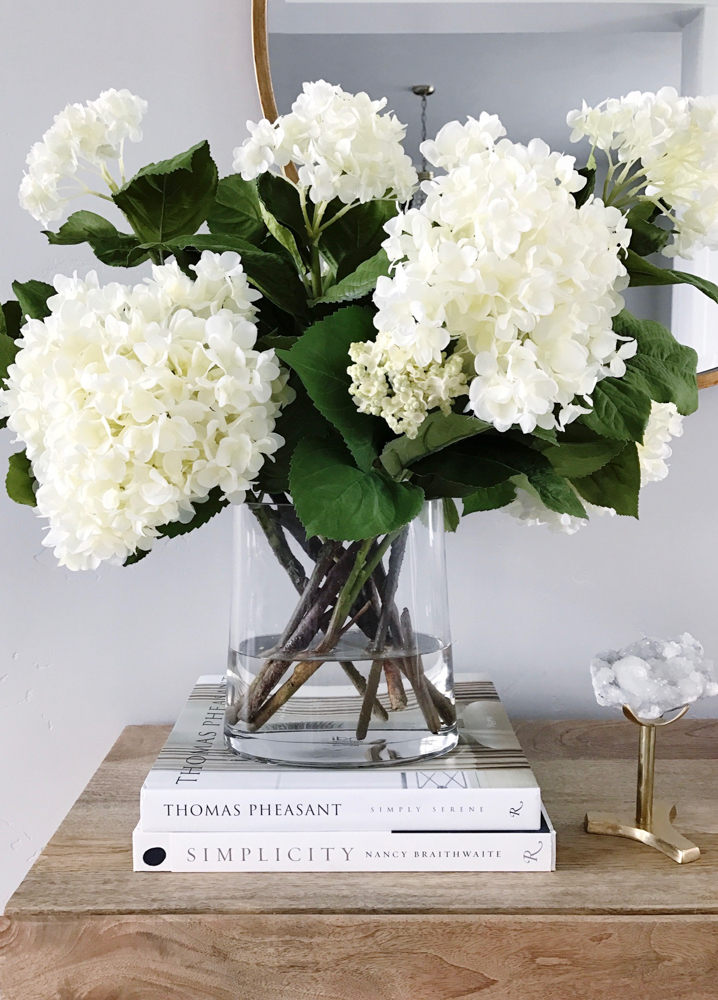 These beautiful large hydrangeas bring a bold and bright natural element to her entry and create the perfect way to welcome anyone into her home.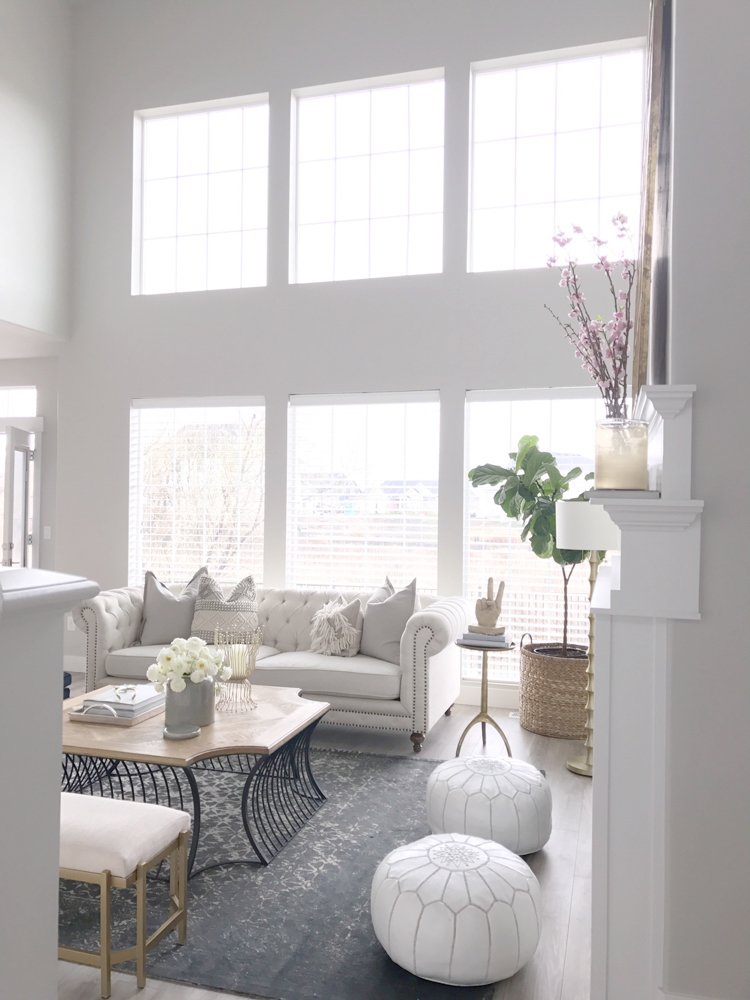 The high ceilings and large windows bring in the most beautiful natural light.  While shutters would block some of that light, Jan chose some lovely blinds to allow as much natural light as possible.  Paint colors:  Walls are Sherwin Williams Repose Gray and Trim is High Hide White, also by Sherwin Williams.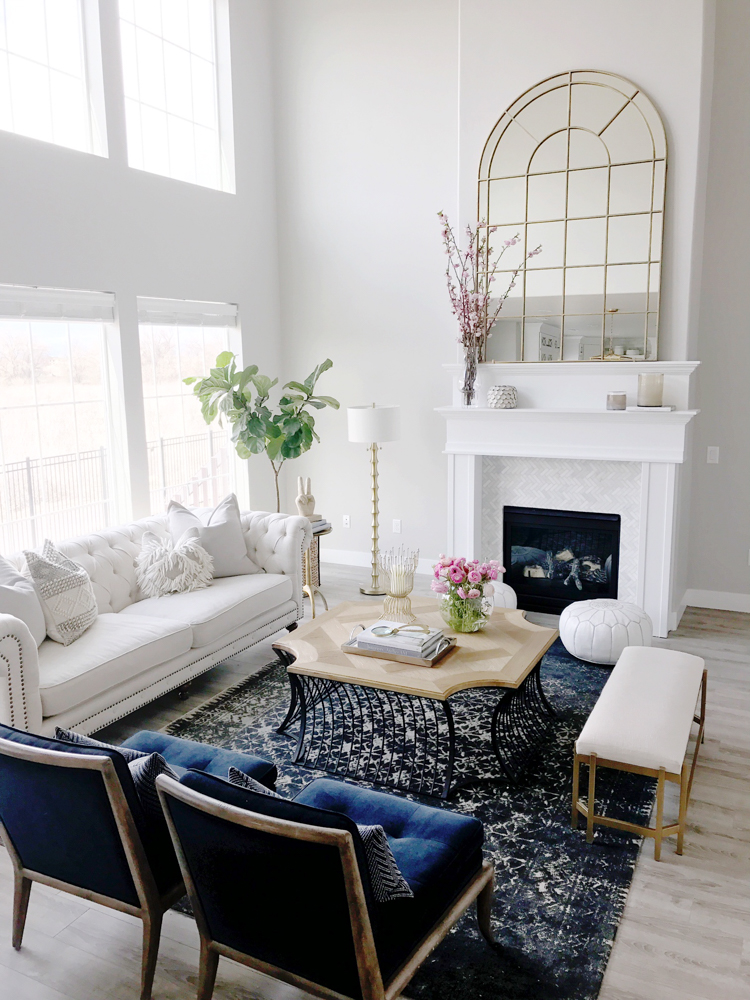 Jan kept everything bright and light in her furniture and decor while still being able to add a bold pop of navy.  There's a perfect balance.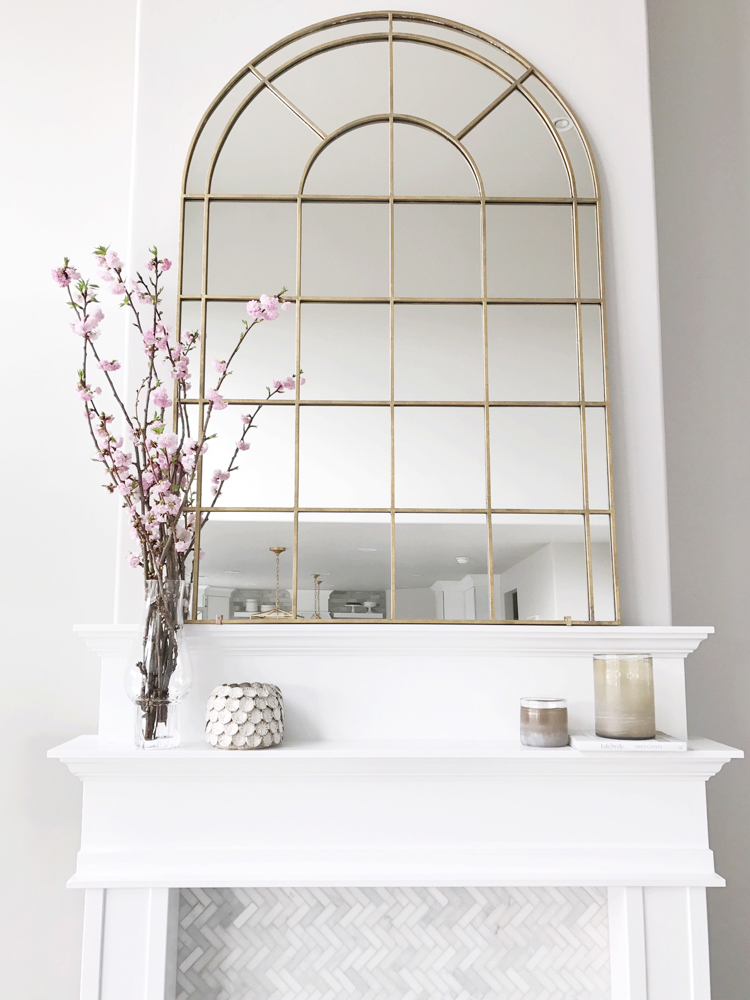 A large, tall mirror allows more light to reflect to all parts of the room and compliments the tall walls and ceiling.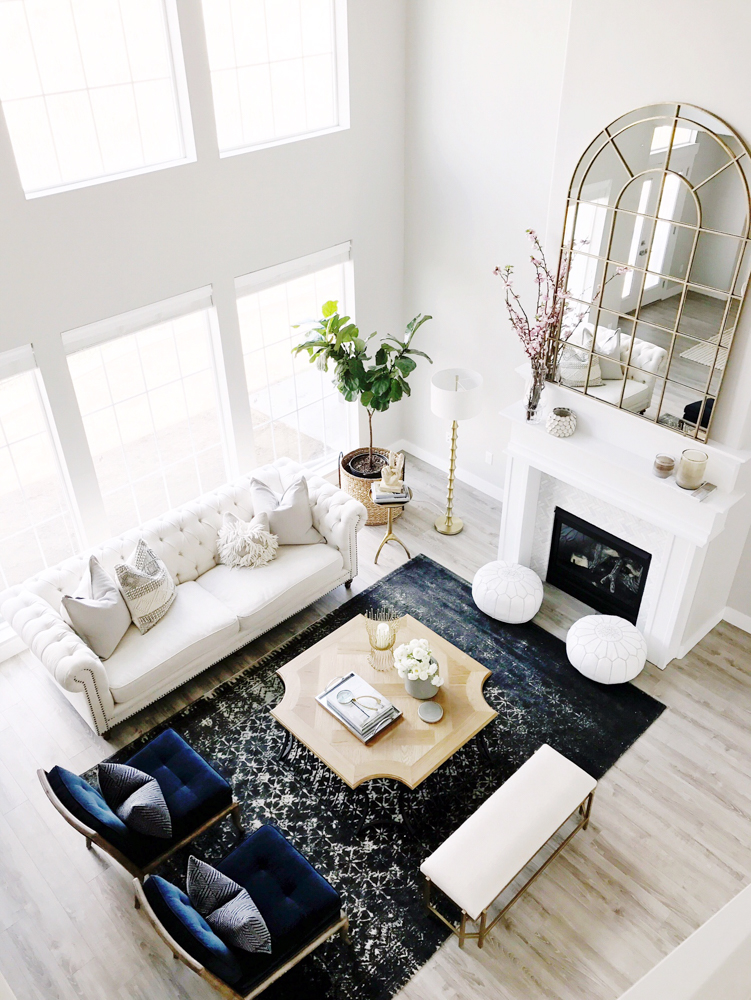 Room Sources: Great room rug-Gatehouse, Entry way rug- Gatehouse, Coffee table-Alice Lane, Navy accent chairs-Alice Lane, Linen bench-Homegoods, Coffee book Tray- Wonderland, Lamps- J. Hunt, Fiddle fig tree-Sunriver Gardens, Oversized Arched Grantola mirror-Osmond designs, Tufted Sofa-Blenheim Downeast home, Wool throw wool pillow-Gatehouse, Sofa pillow-Alice Lane, Flooring – Evoke "Danielle".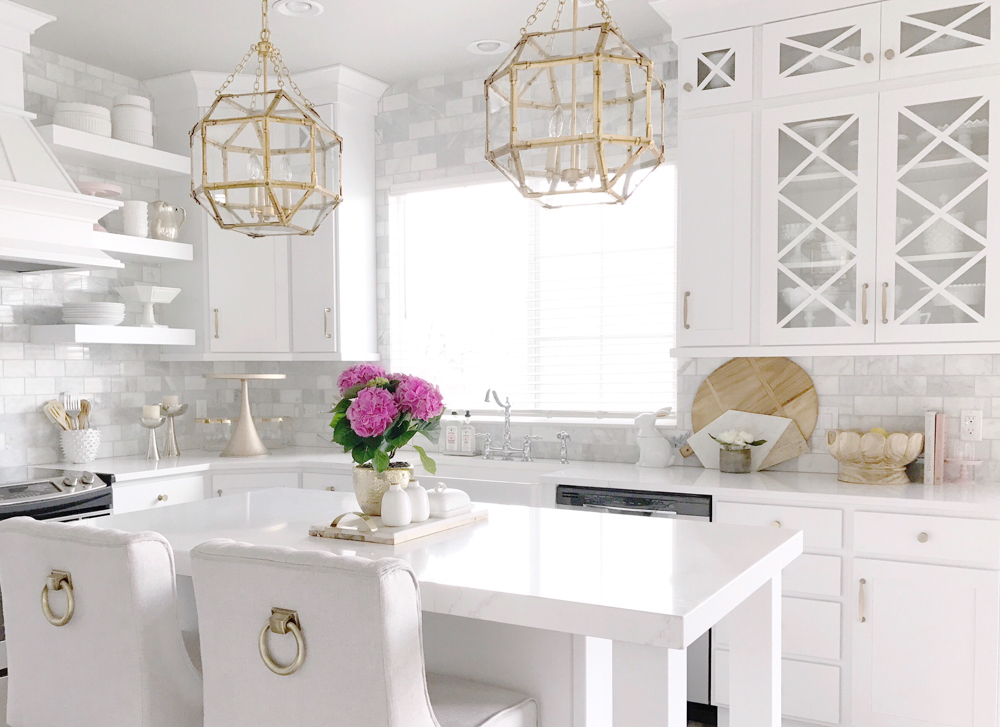 Jan designed all-white kitchen, my favorite, with tranquility quartz countertops and Carrera Marble 3″x6″ tiles for her backsplash.  These gorgeous Morris Lanterns by Visual comfort (gilded iron finish) are not only stunning but they illuminate the kitchen and also allow light to pass through, making the space feel brighter.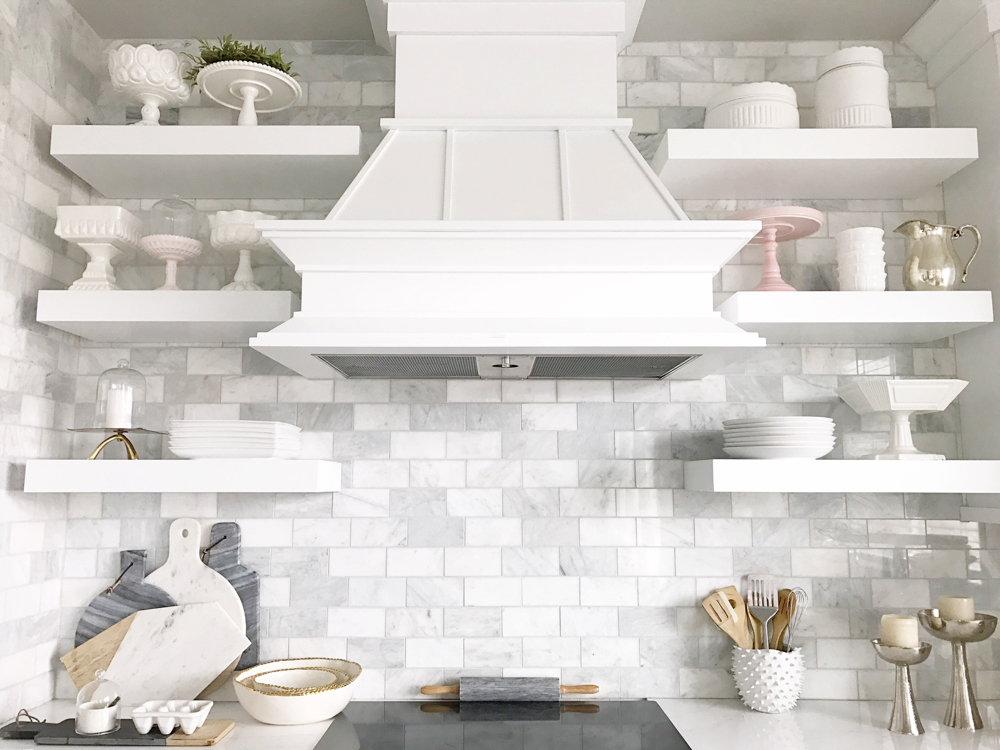 The custom hood and open shelving are not only stunning but create and openness in the kitchen and are so versatile for styling throughout the year.  Notice they are not over-styled or crowded.  They are kept simple with just a few items on each shelf.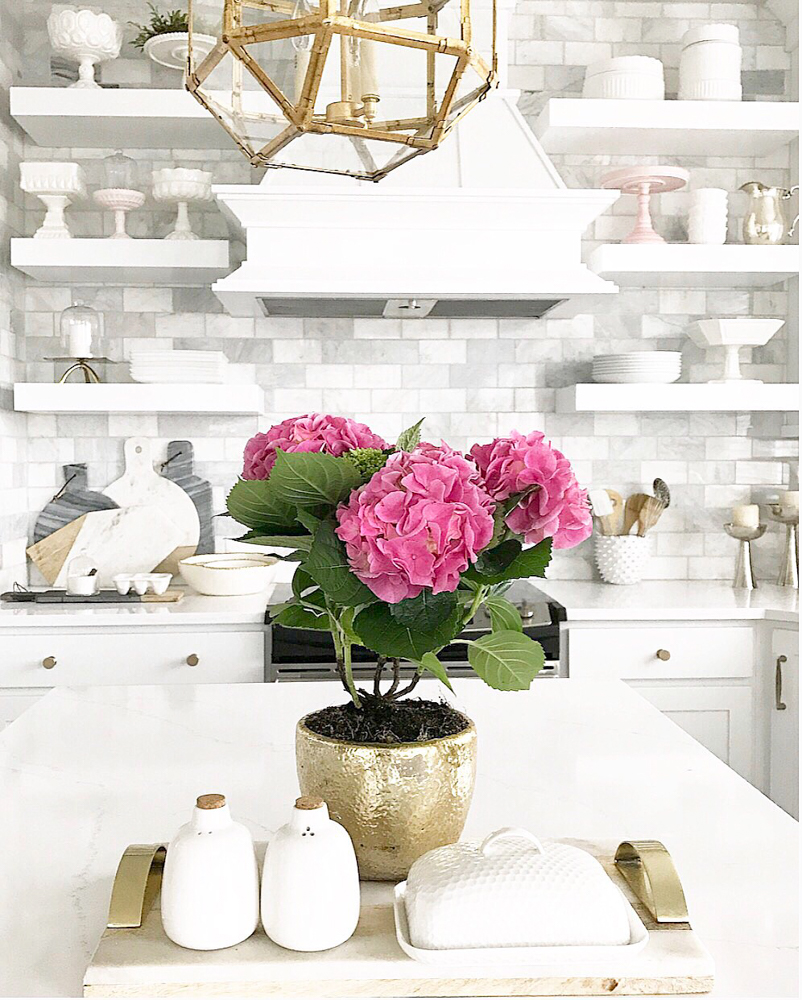 Keep it simple, as Jan shows here, on your island.  There's no need to over clutter your kitchen.  A simple tray with a couple of essentials and fresh flowers are all you need.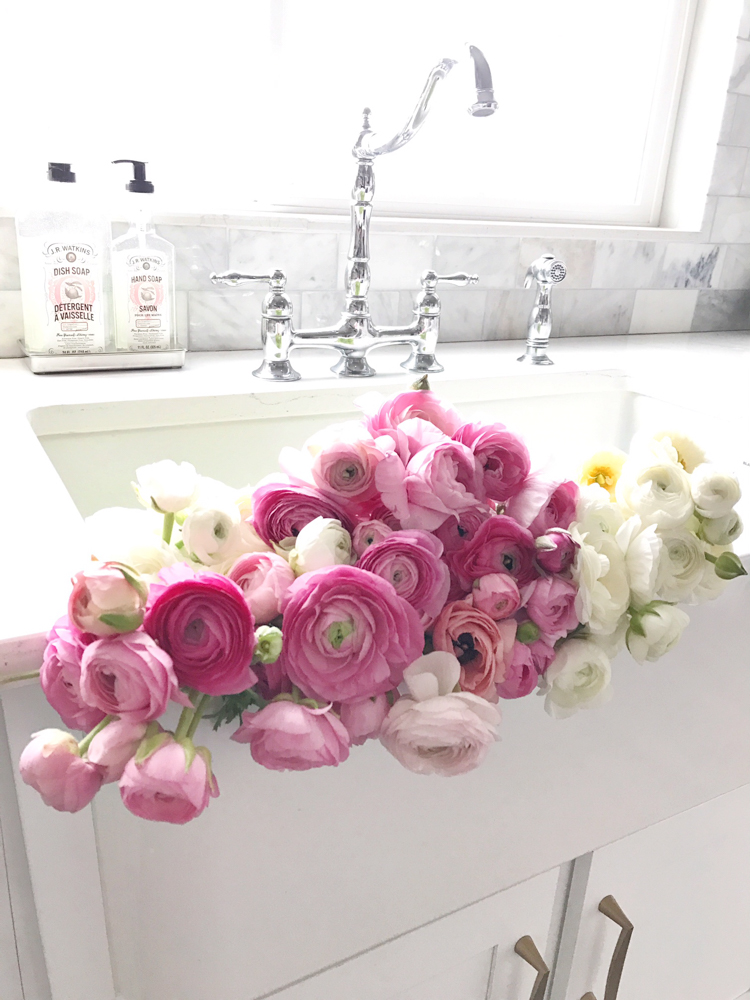 This white farm sink by Blanco is just gorgeous and perfect for arranging fresh flowers.  Jan chose this chrome faucet for her sink. Cabinet Hardware by Domestic bliss, modern bronze finish.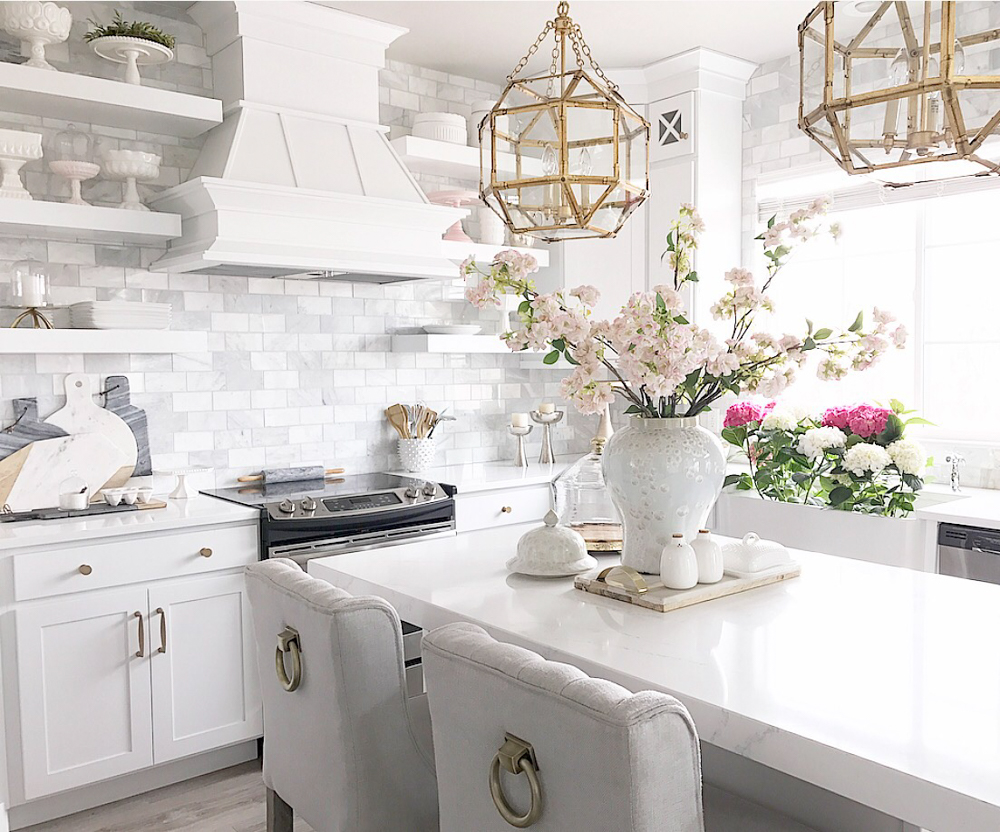 These gorgeous stools, by Nicole Miller, are elegant and yet comfortable for your kiddos.  This gorgeous white temple jar and flowers were purchased from Alice Lane.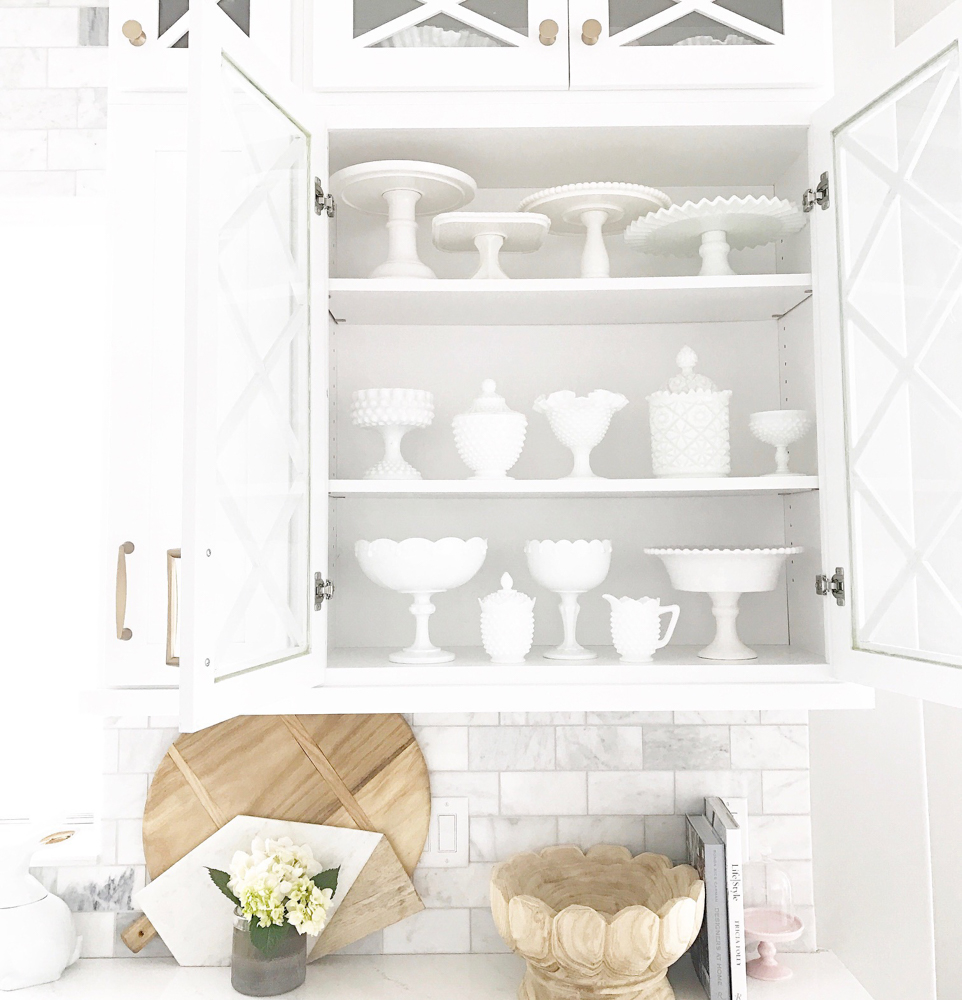 With gorgeous glass cabinet doors, Jan beautifully arranged here pretty milk glass collection to keep the space bright, instead of using colorful or darker mis-matched dishes to look cluttered and distracting.  These lovely wooden bowls and boards are another perfect way to keep everything feeling light on the countertops.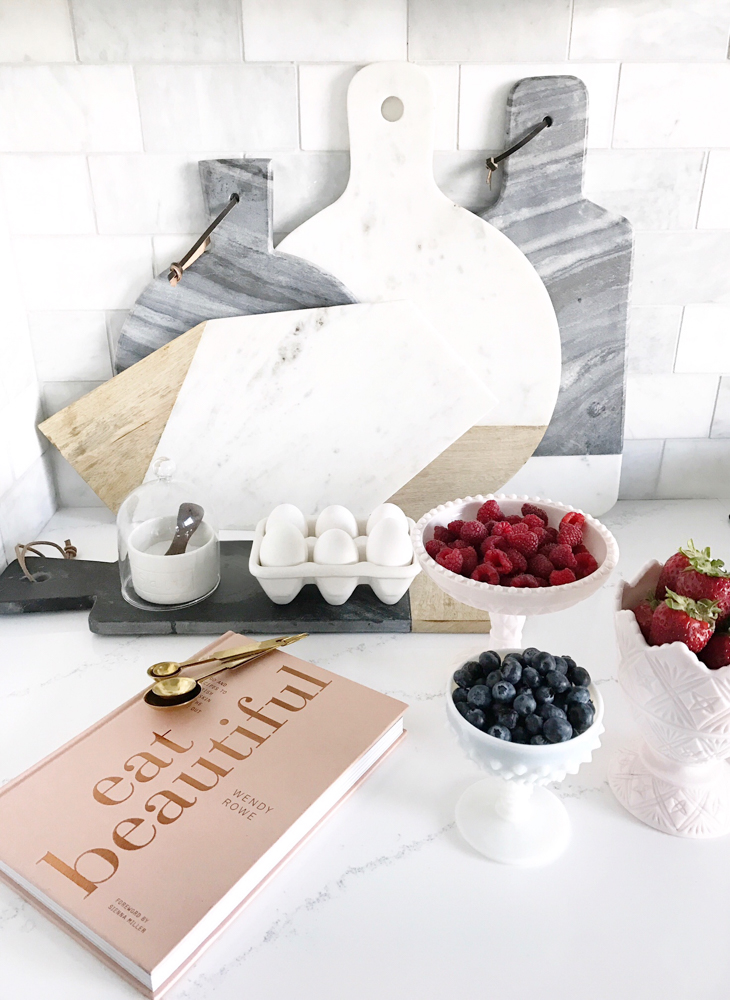 I've been eyeing this "Eat Beautiful" book.  I wonder what Jan is baking!  Everything she styles is beautiful and I bet she's a pretty good baker as well!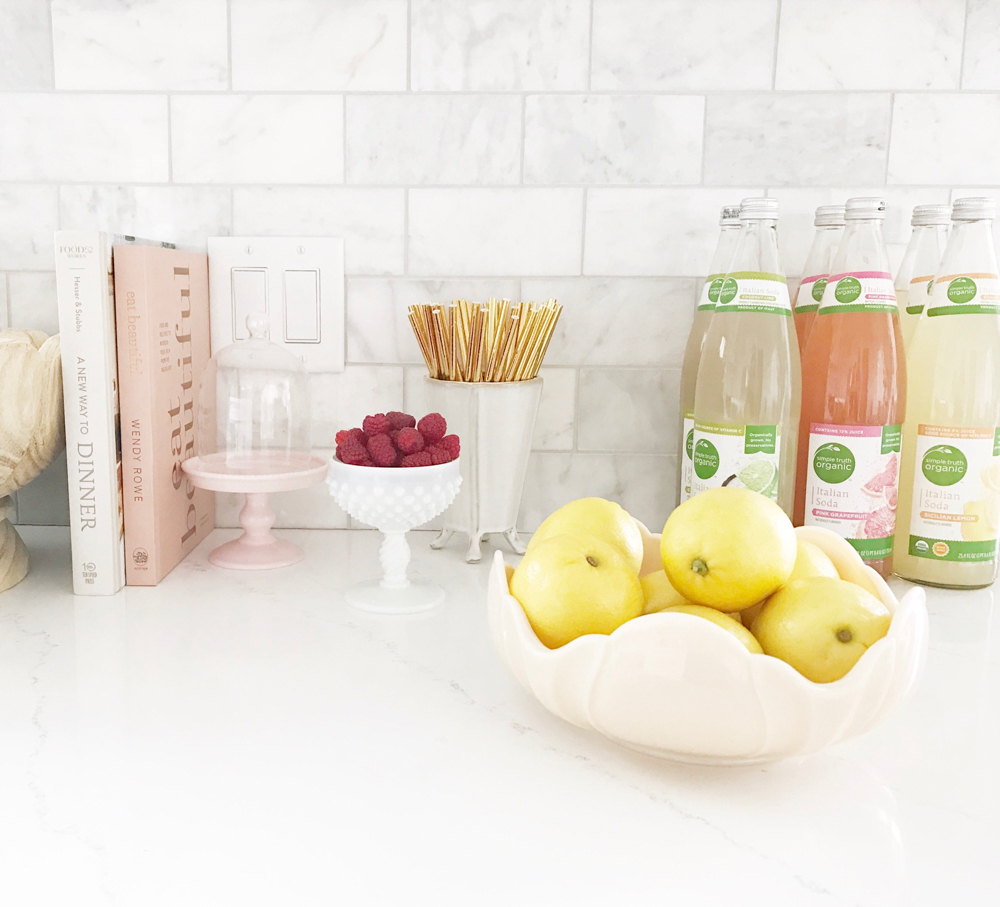 I love pretty white bowls and fruit in any kitchen!  It's always the perfect accessory!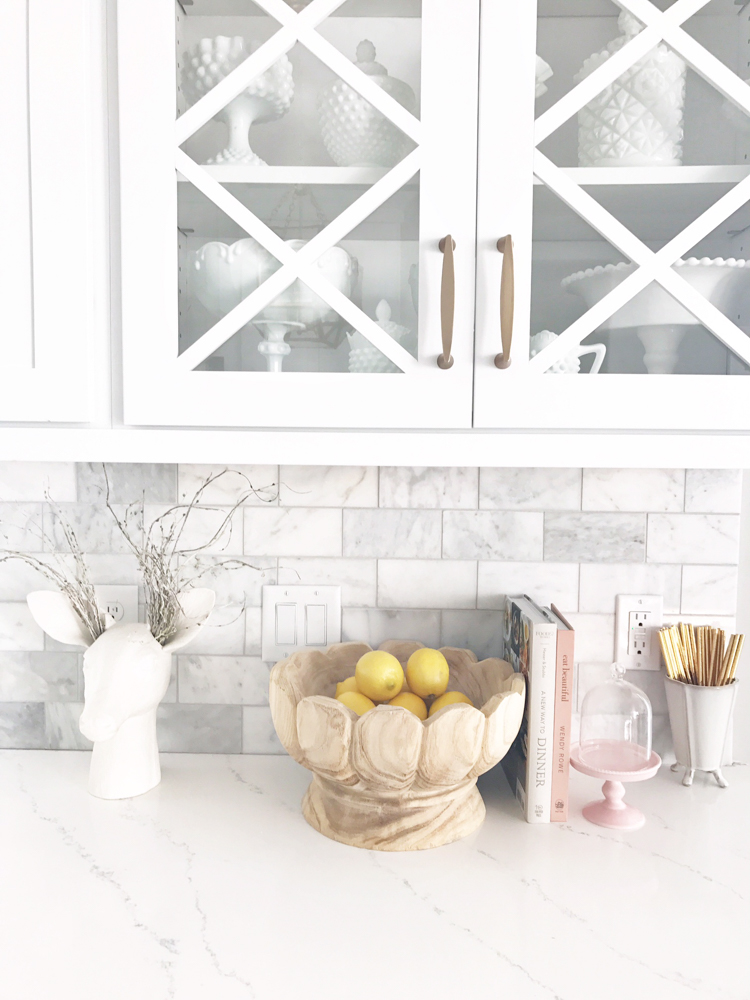 This wooden bowl will always have my heart!  How cute is Jan's doe vase?!  Adorable!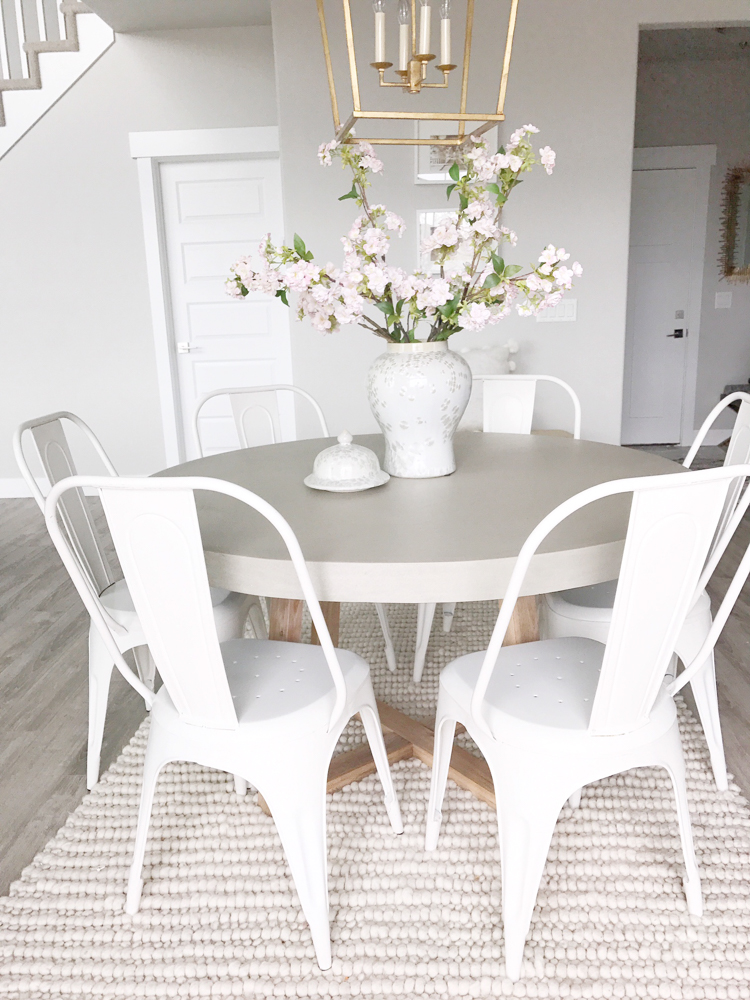 Sources:
Round stone dining table – Alice Lane, White metal chairs – Restoration Hardware, Temple Jar with flowers – Alice Lane.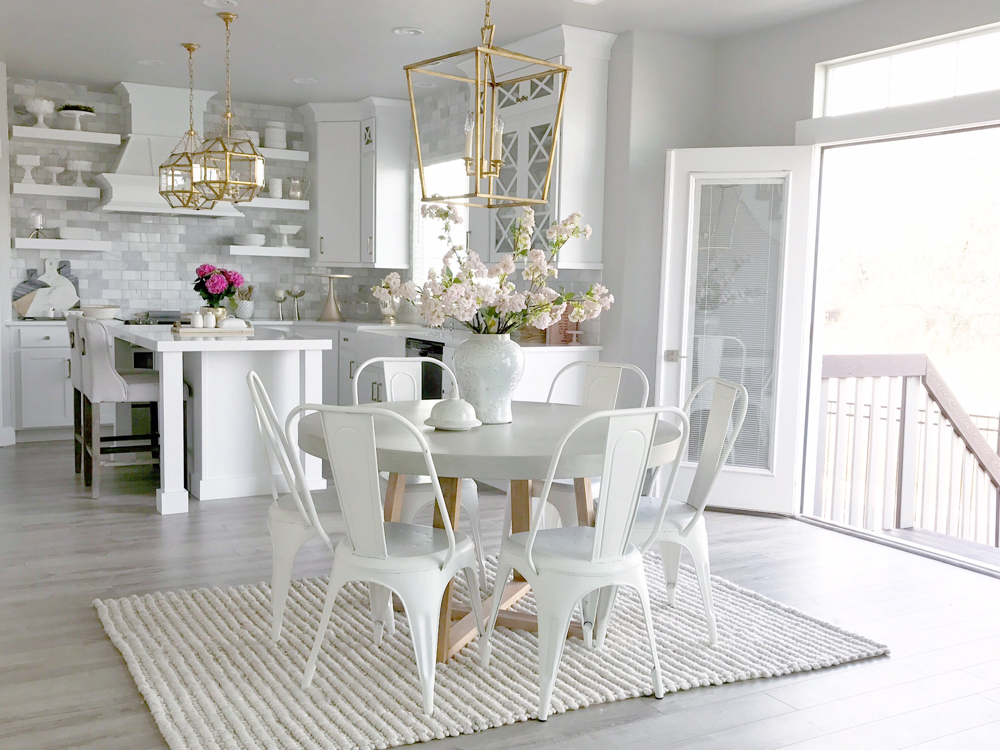 How gorgeous are those double doors?  Such a lovely way to feel like you're eating on your patio, while staying inside.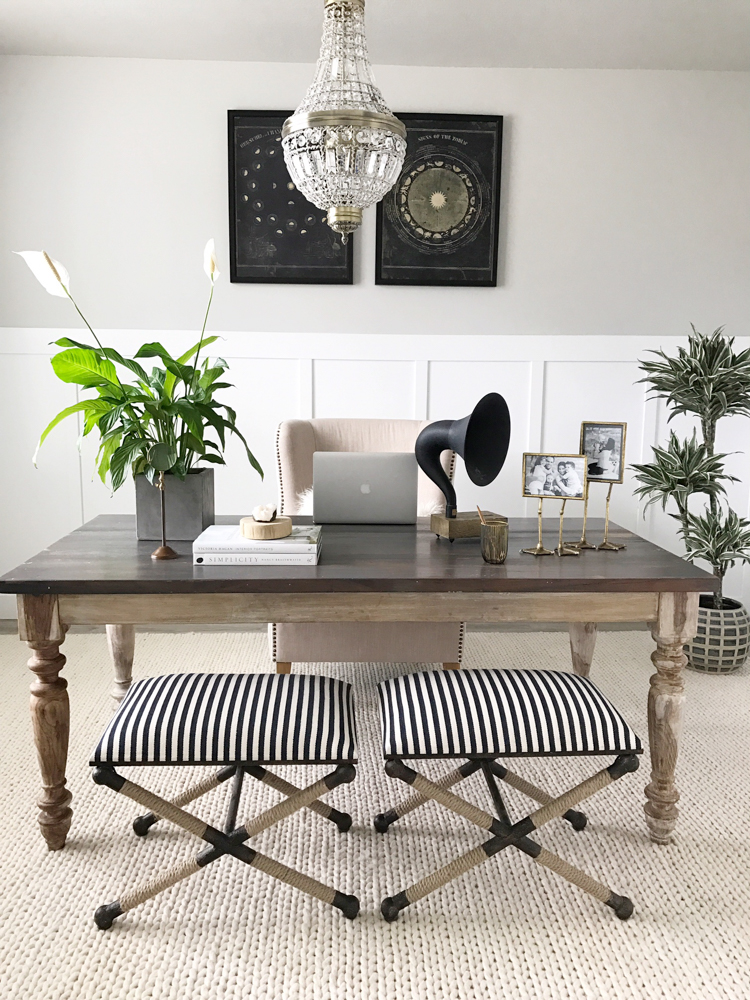 In the office, board and batten are used to brighten the room and add such lovely detail.
Room sources: Office x benches – Gatehouse, Office desk – Down East Home, Office chair -Home Goods, Office Art – Alice Lane, Office accessories -Wonderland/Restoration Hardware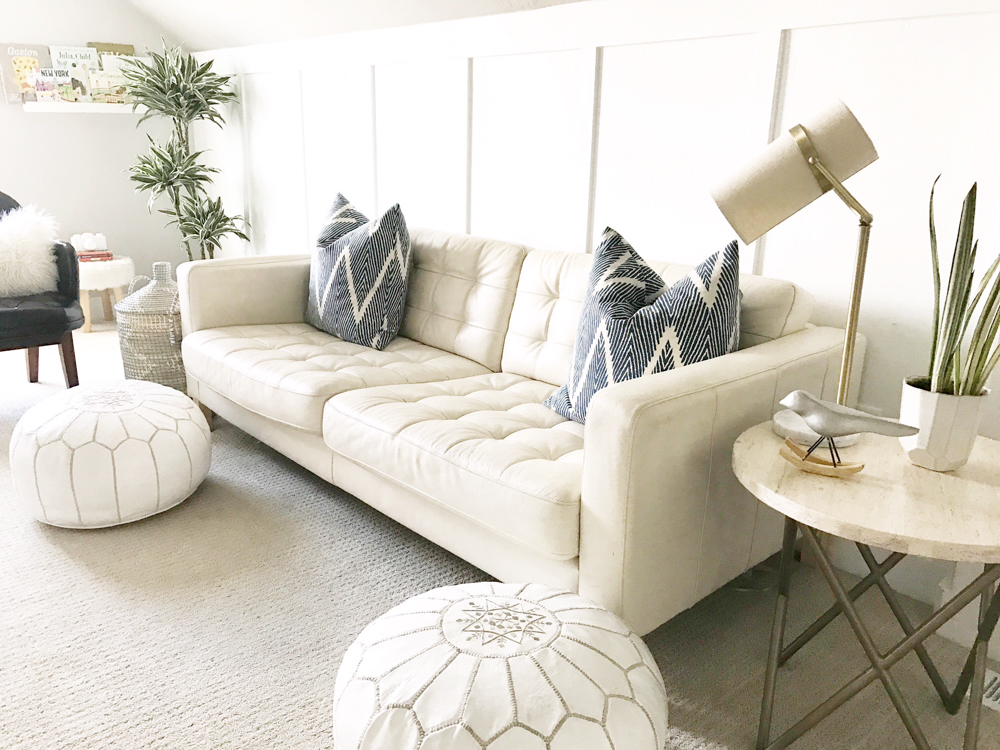 This playroom is comfortable, bright, and versatile.  It's perfect and allows the kids to be kids.
Sofa from IKEA, pillows from Studio Pillows.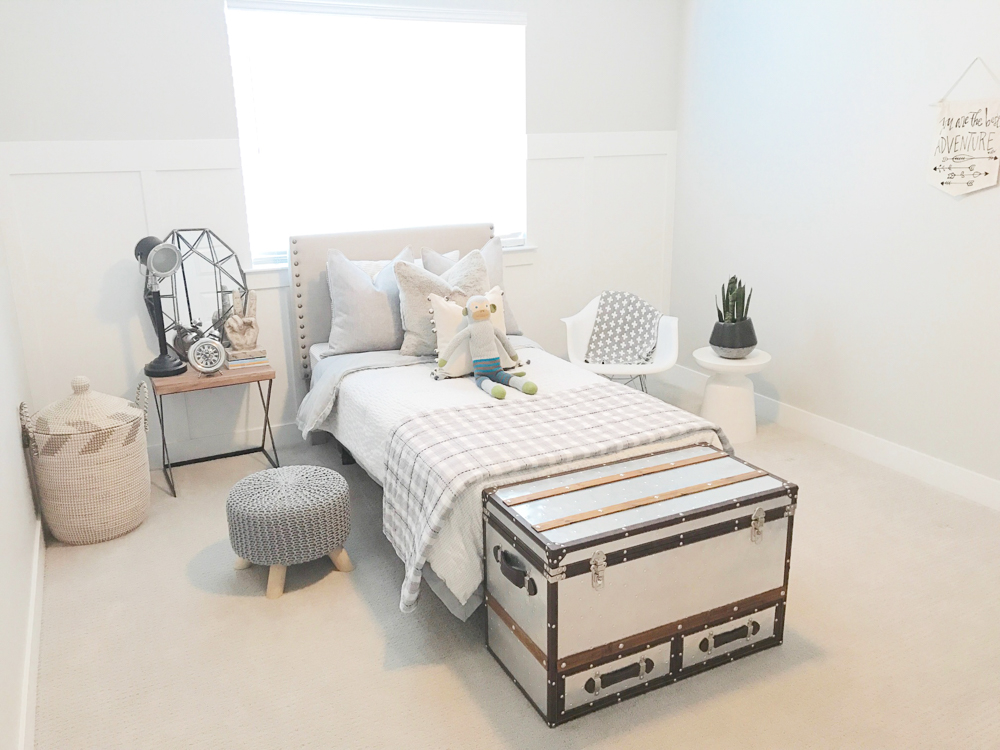 Jan designed this room for her son with a very cool minimalistic contemporary vibe that any boy would love and doesn't feel crowded, chaotic or messy.
Room Sources: Bed -RC Willey, White rocking chair- Houzz, Bed pillows- Wonderland, Mirror and side table – Home Goods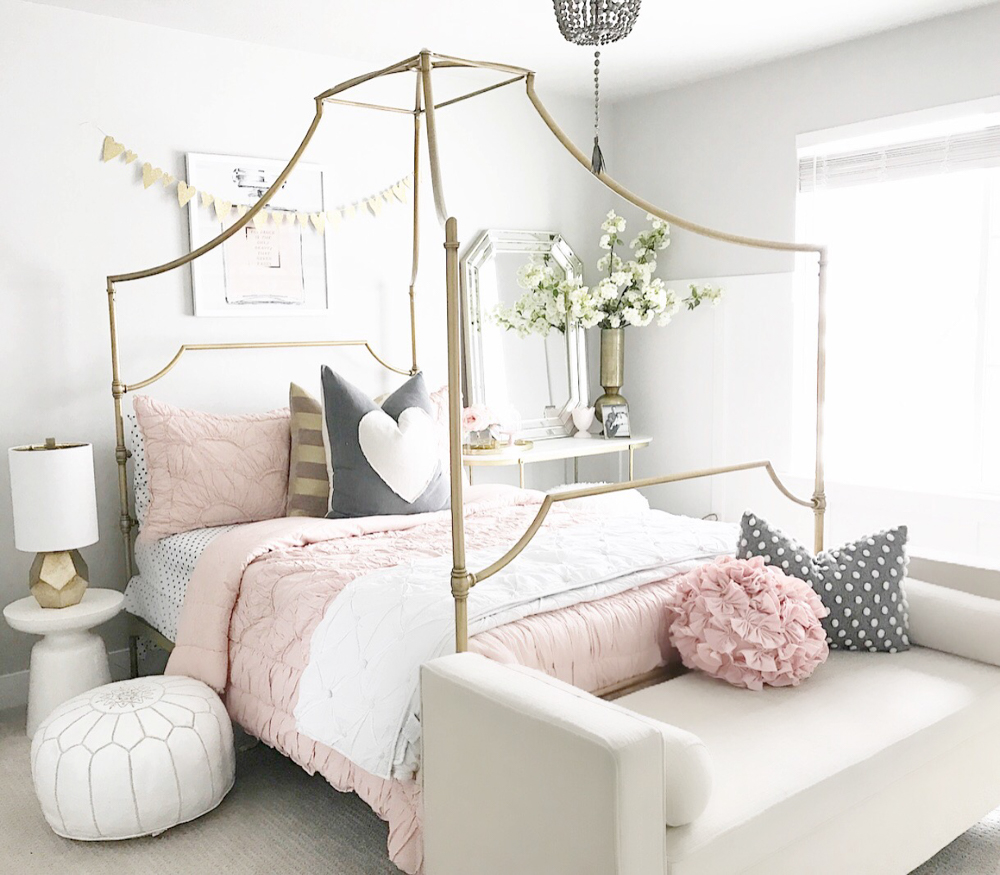 I love Jan's daughter's room! I've had a crush on this Maison Canopy Bed since it came out. This contemporary bedroom has the perfect touches of femininity and blush that any girl would love!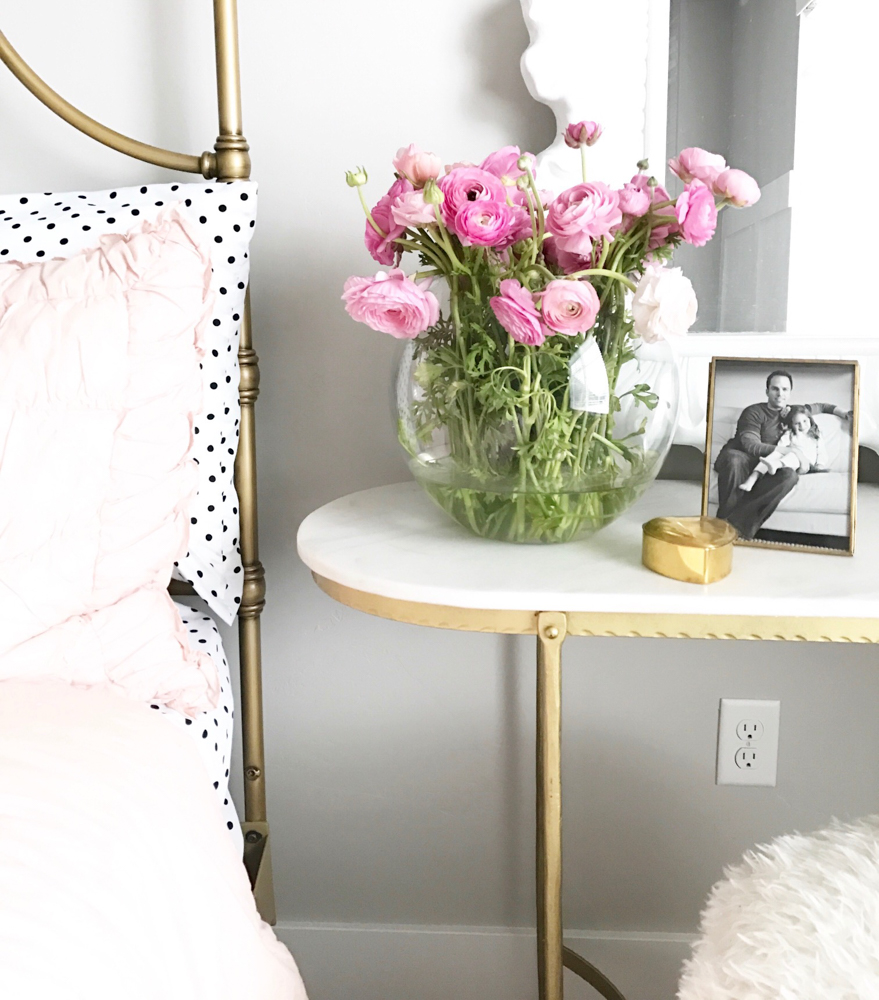 Room Sources: Linen bench -Home Goods
Pink Bedding –PB Teen
Heart pillow -Alice Lane
White round side table – West Elm
Gold lamp – Home Goods
Marble vanity – Home Goods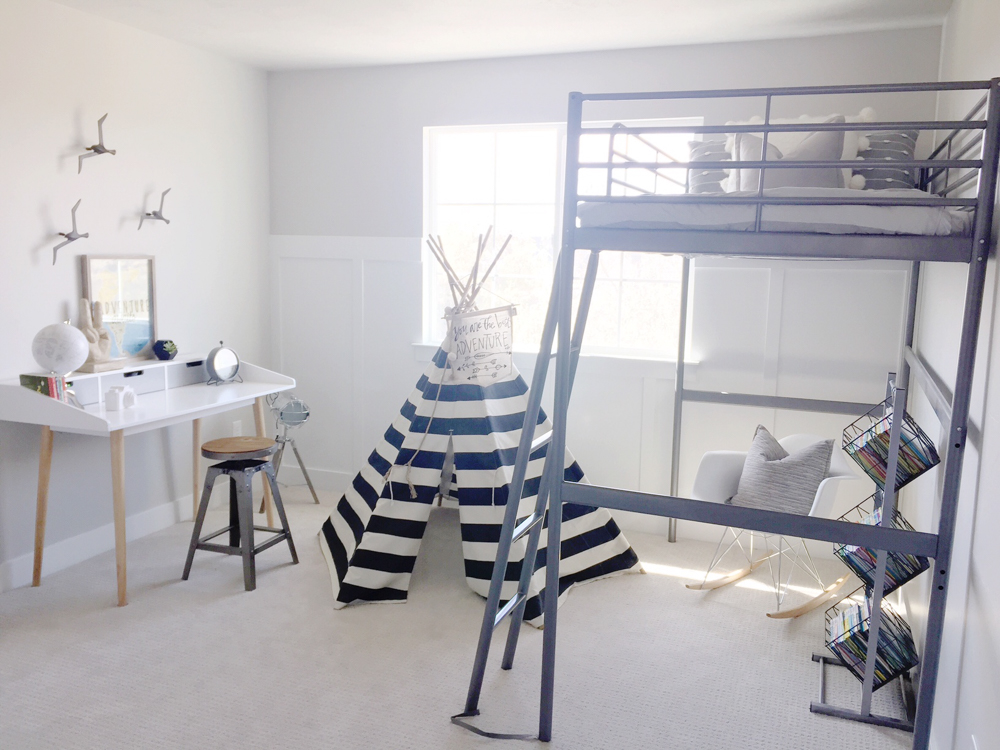 Jan's other son also got a pretty cool room! Again, keeping things simple and minimal, this room continues too look clean, neat and not over-cluttered.  I love these rooms she designed for her kids!

Sources: Bunkbed -IKEA
Stripe teepee – belittleyouandme.com
White Dresser -IKEA
Desk, stool, round mirror and lamp – Home Goods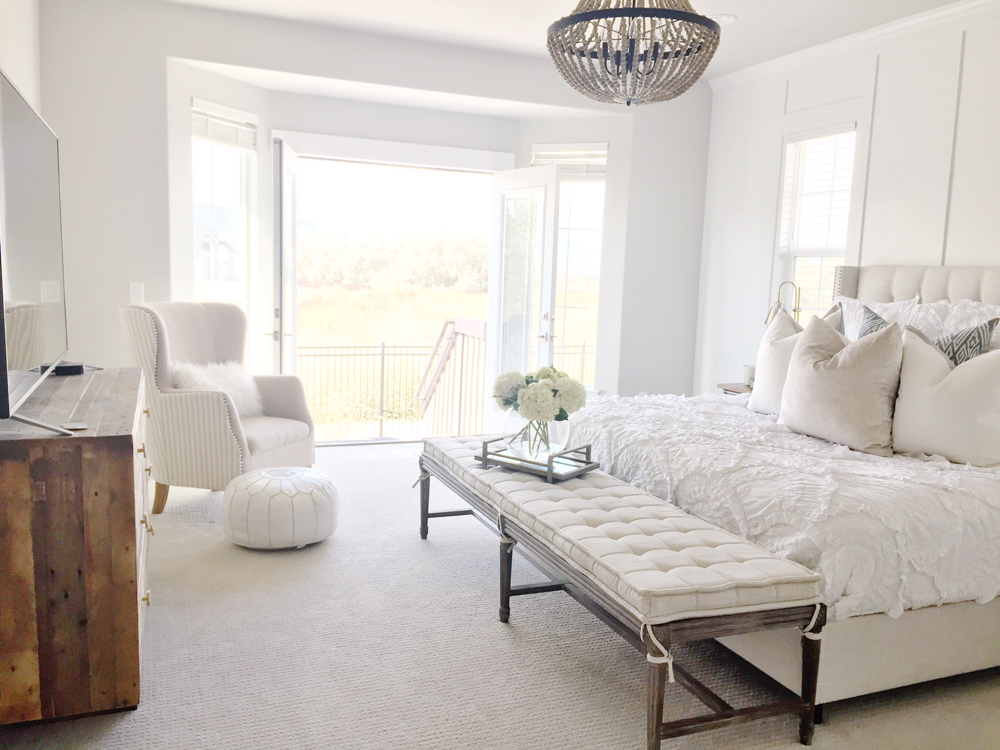 Enter the master bedroom!  Jan kept her choice of bedding bright and white, as well as her furniture.  Yes, you can still have light furniture and have kids.  Wash your linens and bedding regularly to keep them lasting longer and wipe down your furniture or treat spots when they happen and not when they've collected to make furniture dingy and dirty.  Jan has clearly mastered this for a serene and elegant bedroom.  If you follow her on Instagram, and I hope you do, you see that she always has kids snuggling with her and her hubby in bed and reading books and spending time together.  She definitely "lives" and "loves" in her home.  I just love that about her and her style.

Opening bedroom windows each day and also displaying fresh flowers are always a good idea to keep a space bright and open and not feel like a dungeon. It should be a place you love to retreat to at the end of the day.
Room Sources: Tufted bench – AliceLane
White ruffle Bedding – Anthropologie
Master Bed- One Kings Lane
Master Accent chair- Home Goods
Side tables- West Elm
Side table lamps – J Hunt
Master dresser –West Elm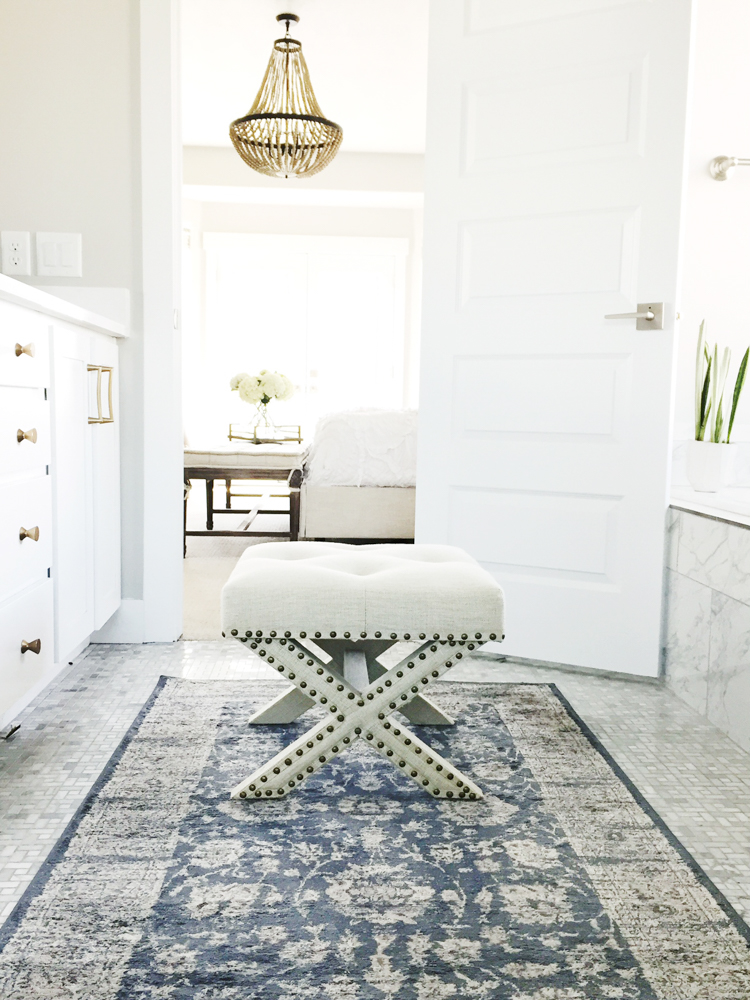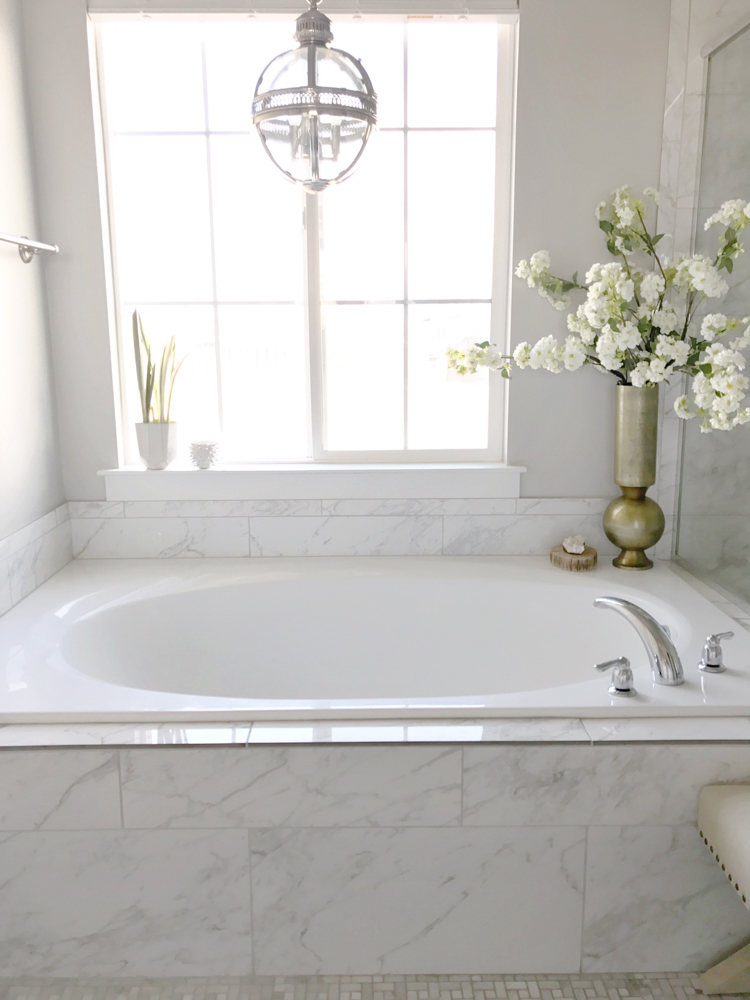 Jan's master bath has beautiful natural light coming in without being blocked by shutters or window treatments.  Such a wise choice.  Depending on which way your spaces face and depending on the amount of natural light you have coming in, this might be the best option for you.  Or you might have too much and prefer window treatments.
Master bath- Restoration Hardware Victorian hotel pendant. Polished nickel finish.
Master bathroom shower/tub- TT pietra Carrara 12×24 Horizontal- gray grout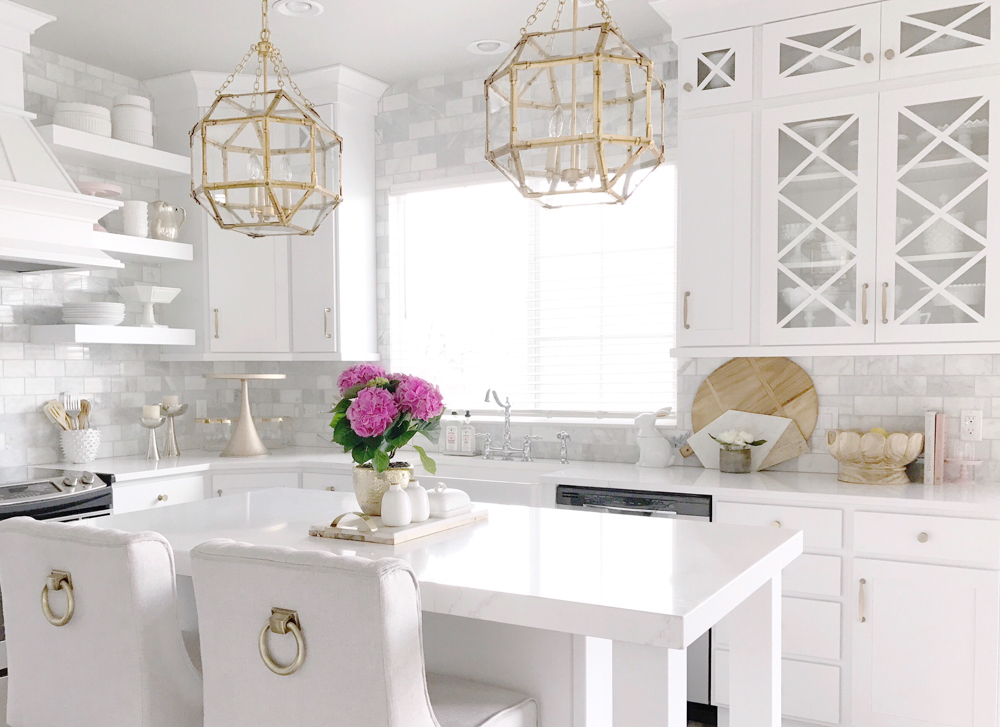 I hope you love Jan's home as much as I do and I hope it inspired you to make necessary changes to brighten up your home.  Maybe you found some design inspiration in her styling?  And maybe you were inspired to simplify your home with less clutter and clean lines, as Jan has so beautifully and perfectly done.  Which room or space is your favorite?  I can't decide but I sure do love that kitchen.  PLEASE, hop on over to Jan's Instagram account!  She'll inspire you, make you smile, remind you to stop and "smell the roses" as she has such a refreshing zest for life and motherhood, and you'll indeed find a friend.  I just adore her so much.  Jan, thank you for allowing us too "step inside" and see your gorgeous home!
I would love it if you subscribed at the top of the page in order to receive my weekly emails of all my latest posts and to receive my monthly calendars and freebies.  I have several other homes lined up for my "Bright White Home" Series and can't wait to share them with you.  You can also follow me on Instagram, Pinterest, and Facebook to see what I'm up to in creating a home and lifestyle of inspiration!
xoxo,