Hello friends!  I'm so excited to finally share something I've been waiting to share with you for months now.  Those who have been following along with me for a while know that I have an online shoppe.  And I'm sure you also know how much I love to set a pretty table for my family and friends and love to entertain.  Now, I'm bringing the two together.  I've started carrying a line of table linens in my online shoppe and they're ready to ship!  These luxurious french ruffle table linens are so gorgeous that even Lisa Vanderpump and her husband, Ken, had to place an order.  Other options will eventually be available but for now, come take a look at the first part of the line.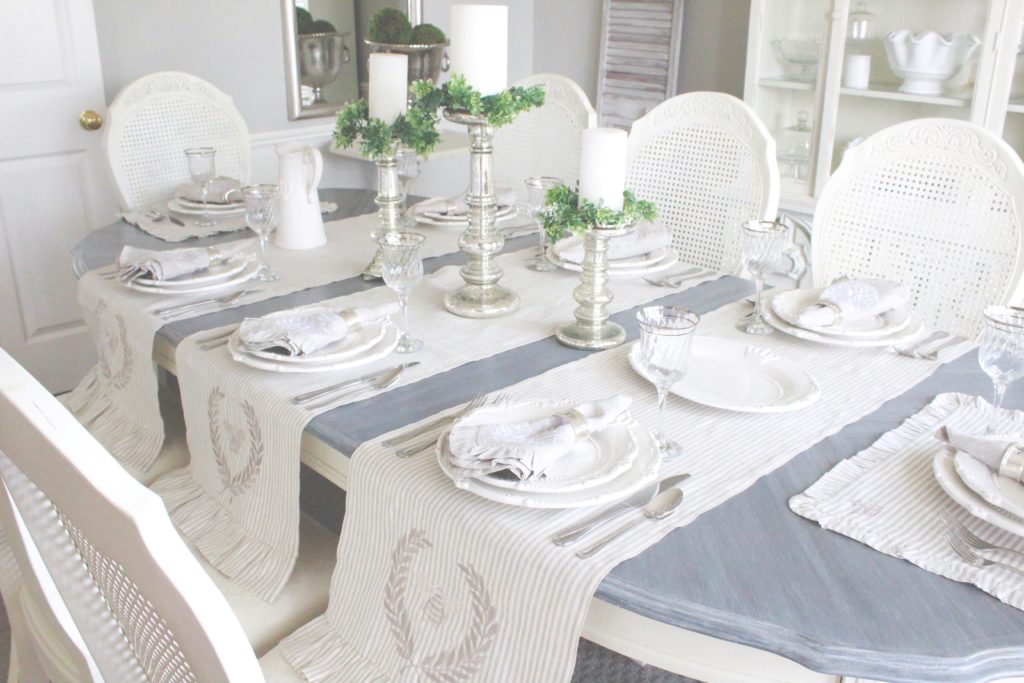 Anyone that knows me well knows that I love certain things.  Ok, besides the color pink and Diet Coke (and of course my family), I love stripes and bees and crowns and ruffles and anything french.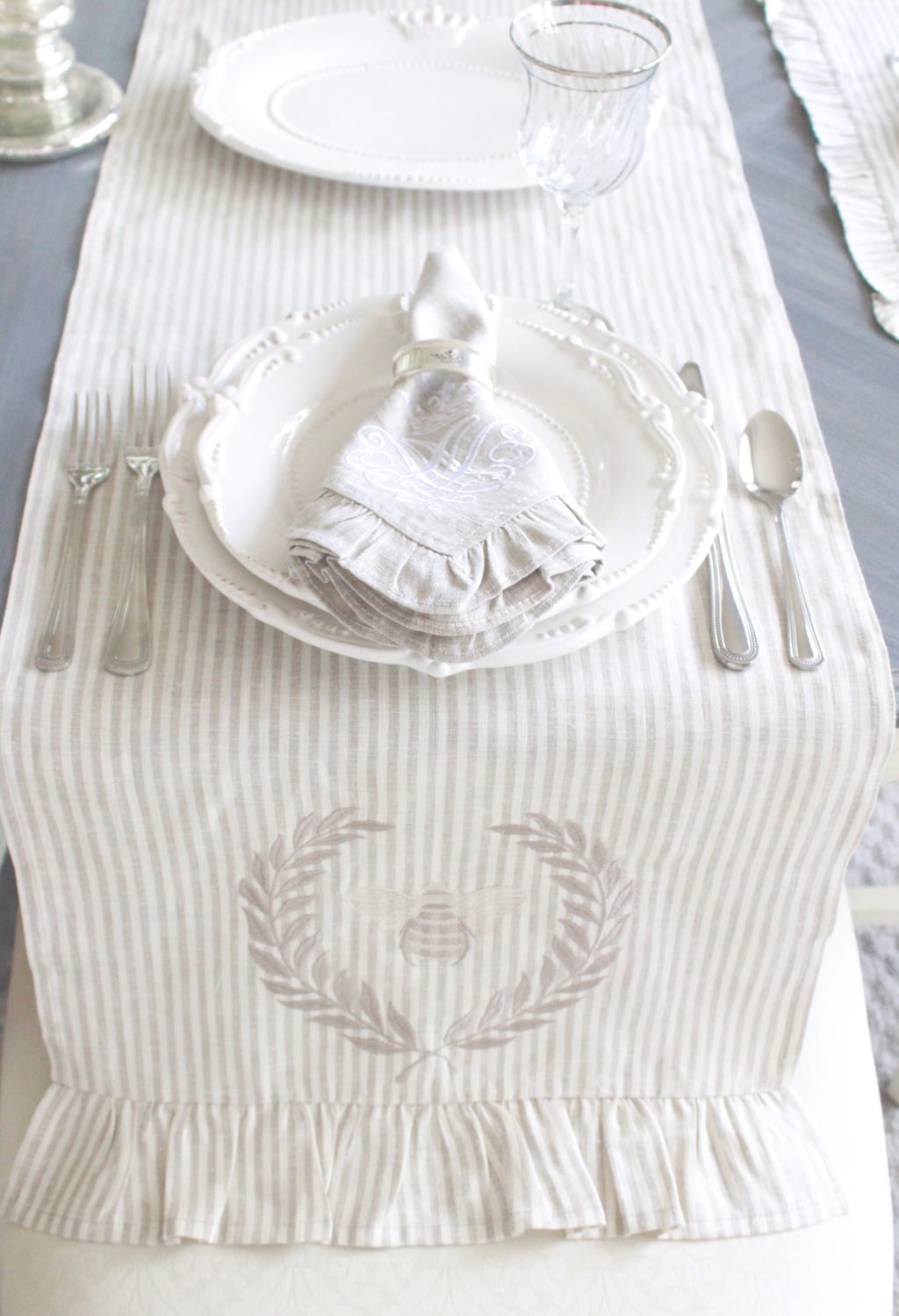 This collection includes linen and ivory striped table runners with a ruffle on each end and an embroidered bumble bee in a laurel wreath, also on each end.  It's made of 100% European linen, measures 17″ wide, and is 70″ in length.  You can put it down the middle of your table OR you can run them across the table at each seat, as I've done here.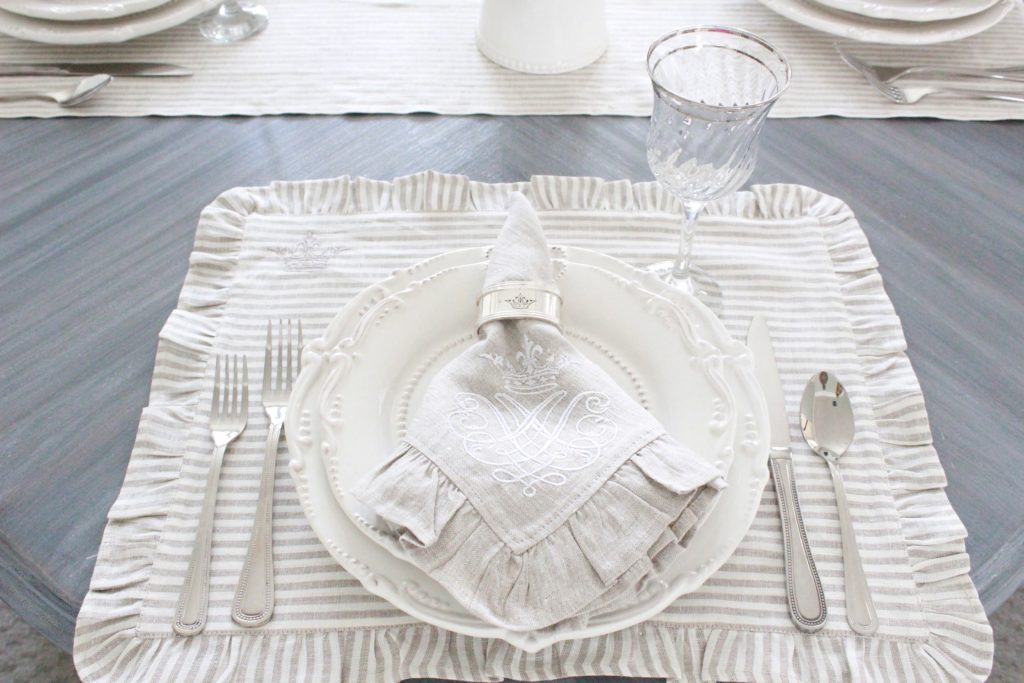 At each end of the table, I used the coordinating placemats.  I just love that look! It's such a fun alternative to a table cloth or putting a table runner down the center.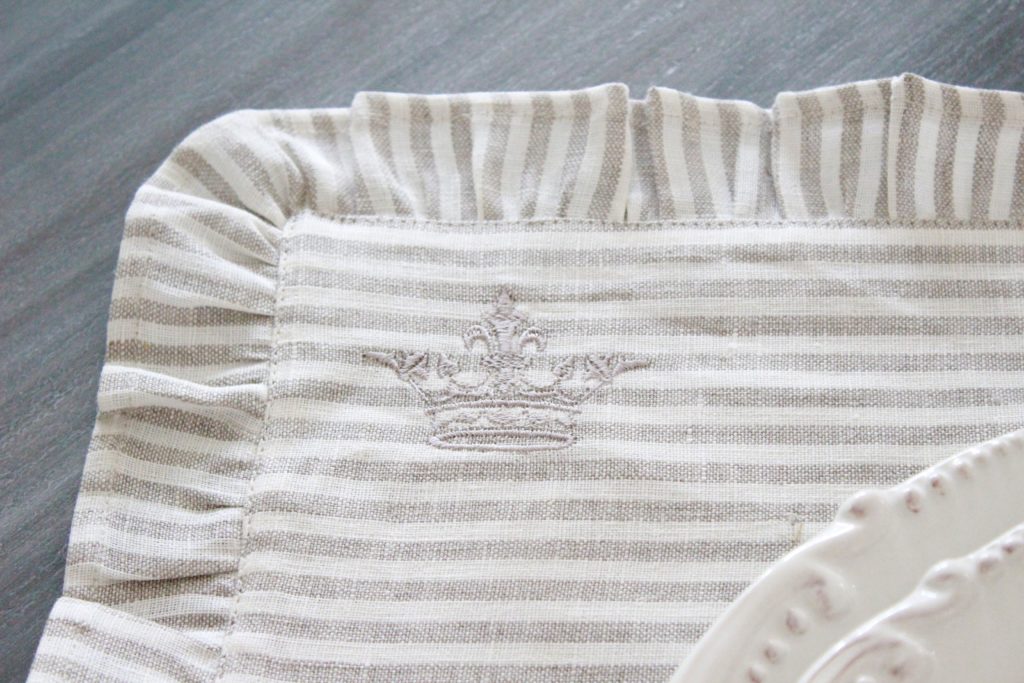 Each placemat is adorned with a signature crown.
I love the way all these pretty crowns compliment each other!  Wouldn't you feel like a queen at this place setting?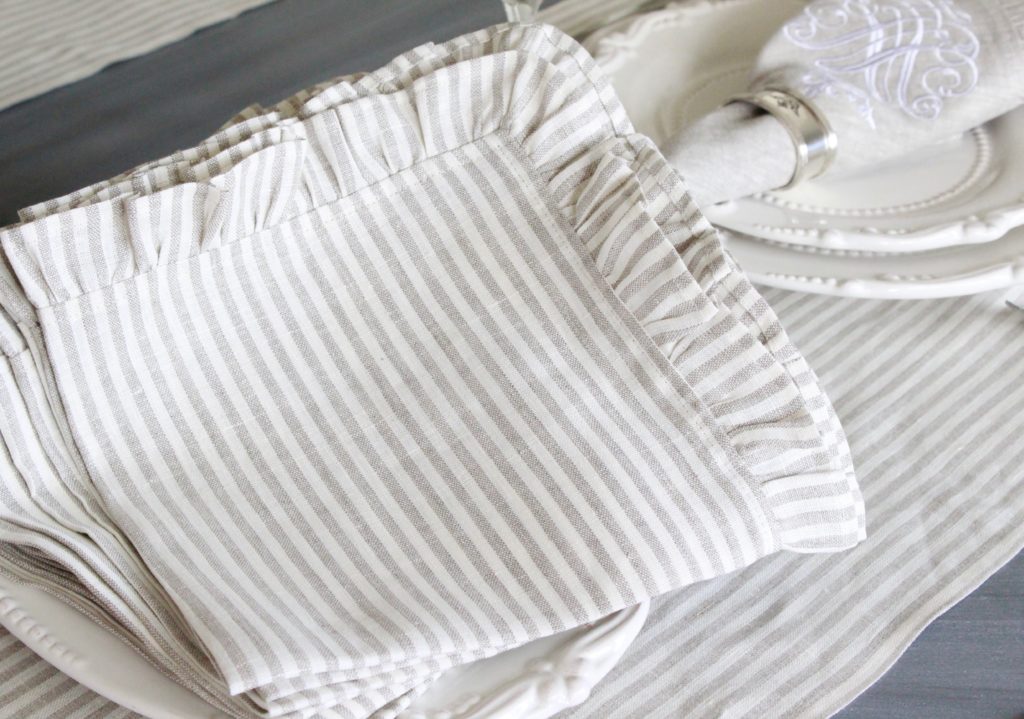 This collection includes a 3 different linen napkin options.  First are these matching striped ruffle napkins.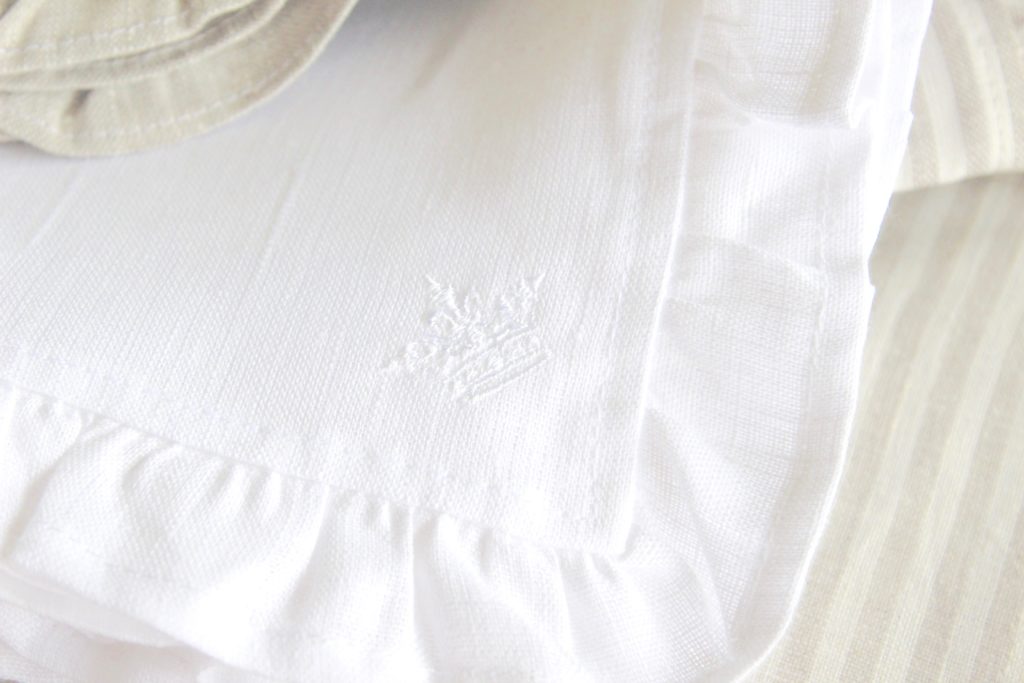 Then there are these gorgeous linen ruffle napkins in crisp white and adorned with another one of our signature crowns.  It's small an subtle down in the corner.  It can be the back or the front of the napkin….it's up to you.  The white is also gorgeous layered with one of the other colors!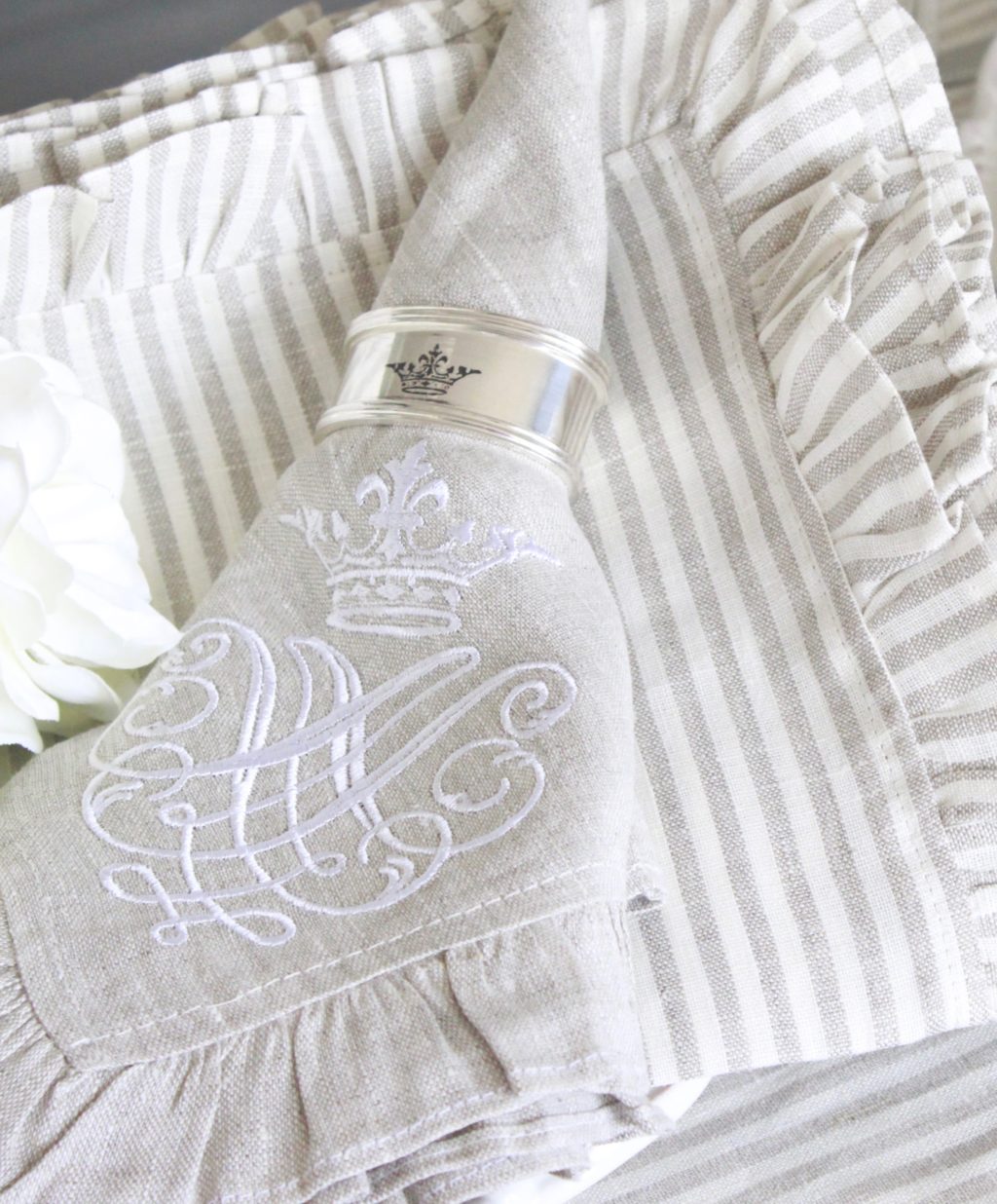 The third set of napkins in this collection are the solid linen ruffle napkins with the embroidered Royal Emblem.  They look stunning against crisp white plate!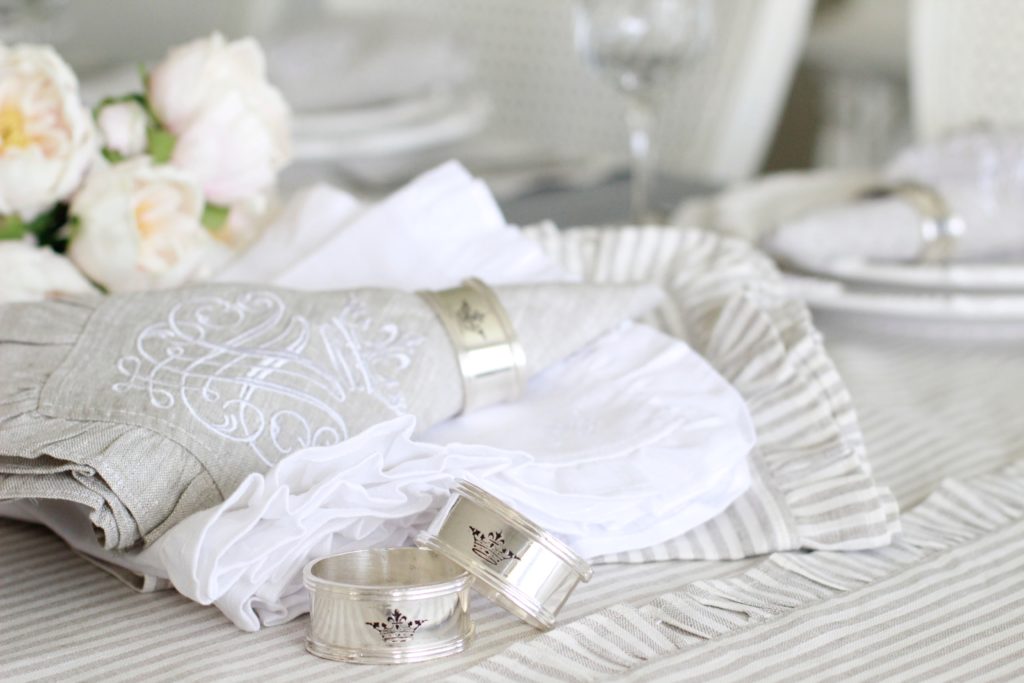 Any table setting wouldn't be complete without these pretties.  Our lovely silver napkin rings are engraved with a crown and look gorgeous on any of the napkins. They come as a set of four and wrapped in a simple linen bag (also embroidered with a crown) for safe storage.  They also make a wonderful hostess gift or any gift.
NOW……are you ready to spoil yourself?  This collection can be found HERE in my online shoppe.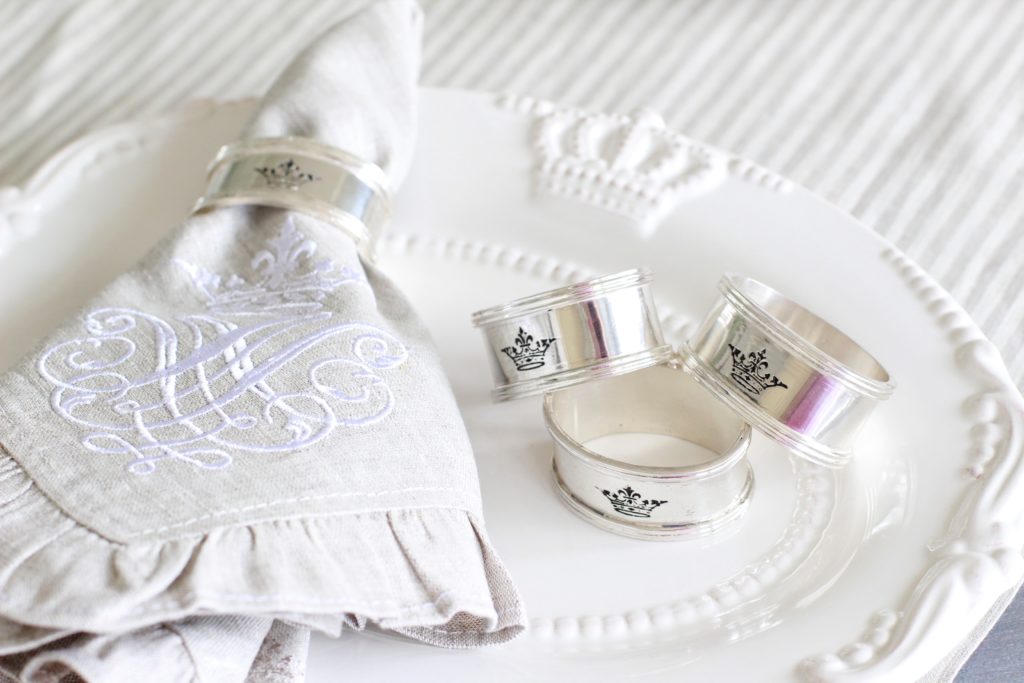 My mother-in-law gave me this gorgeous collection of crown plates and serving pieces for Christmas about 5 years ago and I'm really loving them with this luxurious french ruffle table linen collection.  I don't sell the crown plates but I'll include the shopping links below for those pieces.


I'd love to know what you think of my new collection!  Leave a comment below if you have a quick second.
Again, they are for purchase HERE in my shoppe!
I'm so pleased you could join me today!  I would love it if you subscribed at the top of the page in order to receive my weekly emails of all my latest posts and hear about your next month's calendar and freebies.  You can also follow me on Instagram, Pinterest, and Facebook to see what I'm up to in creating a home and lifestyle of inspiration!
xoxo,