I love fresh flowers!  They can be the focal point of a table, a kitchen, a living room, a bedroom, a foyer, even a hotel lobby.  A group of fabulous home decor bloggers and I are getting together today to share all the different ways you can create and display a floral arrangement in your home or any space.  I'm not sharing just any floral arrangement today.  I'm sharing how to create a fruit and floral arrangement with limes and white flowers.
Welcome to those of you from my talented friend Oscar Bravo's blog and may be here for the first time!  And thanks to all my regular readers….I adore you all!  If you've been on this blog hop, I'm sure you've seen all the gorgeous arrangements so far.  My friends are ridiculously talented, if you couldn't already tell.  Now, if you've been following me regularly, you've probably noticed my love for green as I style my home this Spring.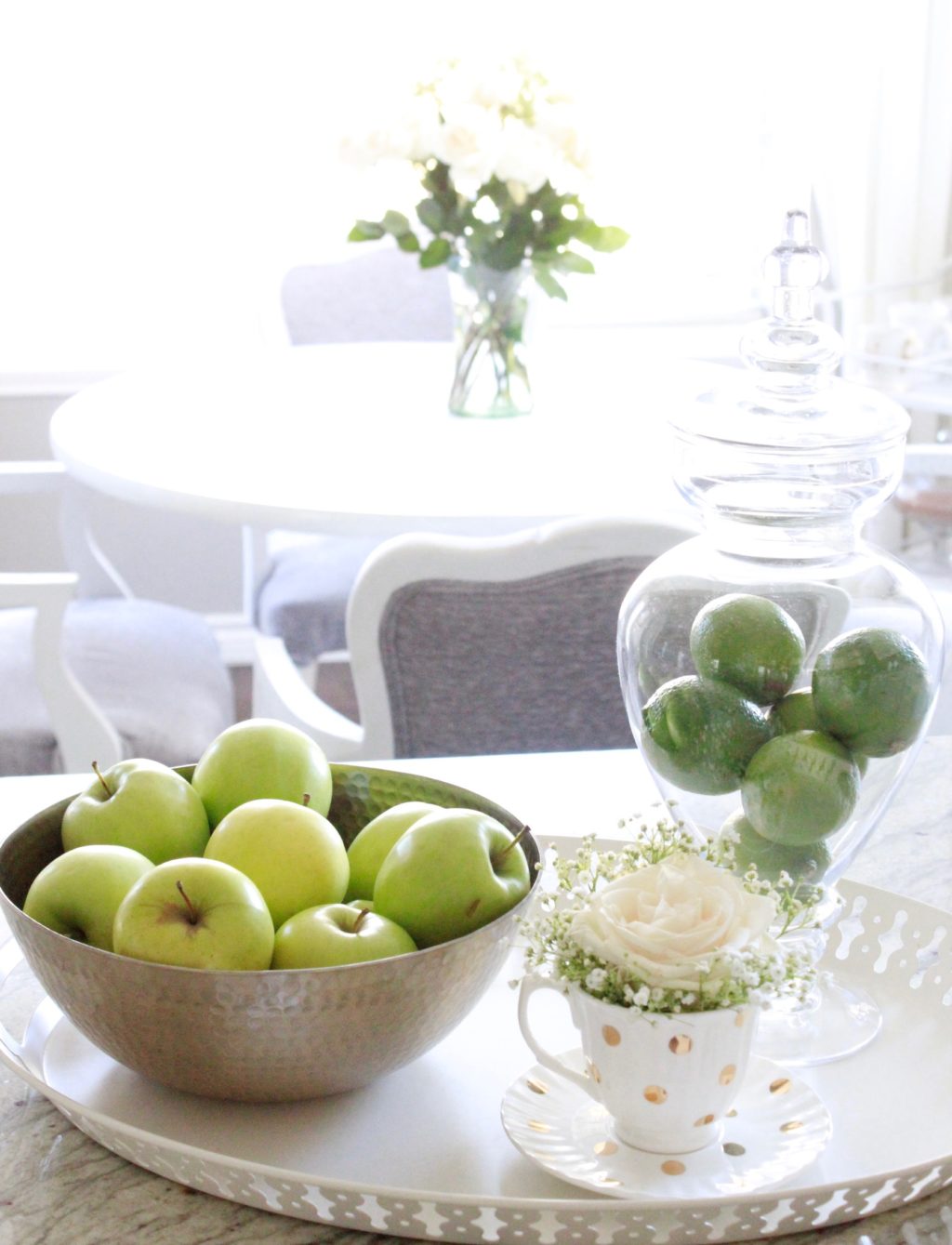 In THIS post, I shared how I used green apples, limes and white floral to grace my kitchen countertops.  I liked it so much that I decided to keep my Easter table this Sunday going with the same theme.  Fresh green produce, white floral, and lots of crisp white.  I immediately had an idea….here's what I did.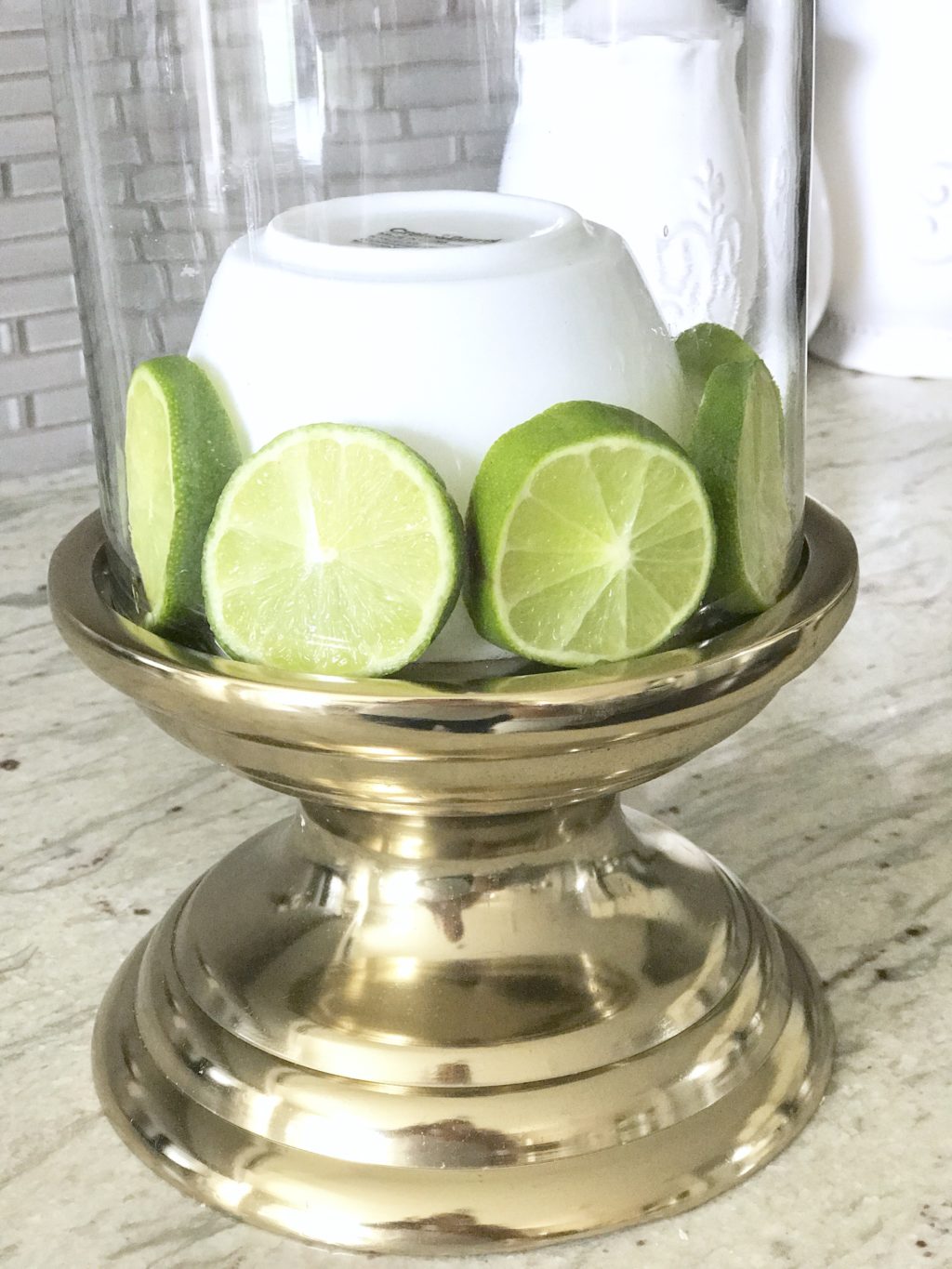 I'd seen on Pinterest how you could take a vase and stack it in a larger vase, filling the space between with citrus slices and water and then adding the flowers.  So I did this on a larger scale by taking my glass and gold hurricane and putting a bowl upside down in order to put my glass vase on top of it.  It needed height.  I sliced the limes thick enough to get about 4 slices out of each lime and disposing of the ends.  Start lining them around the bottom.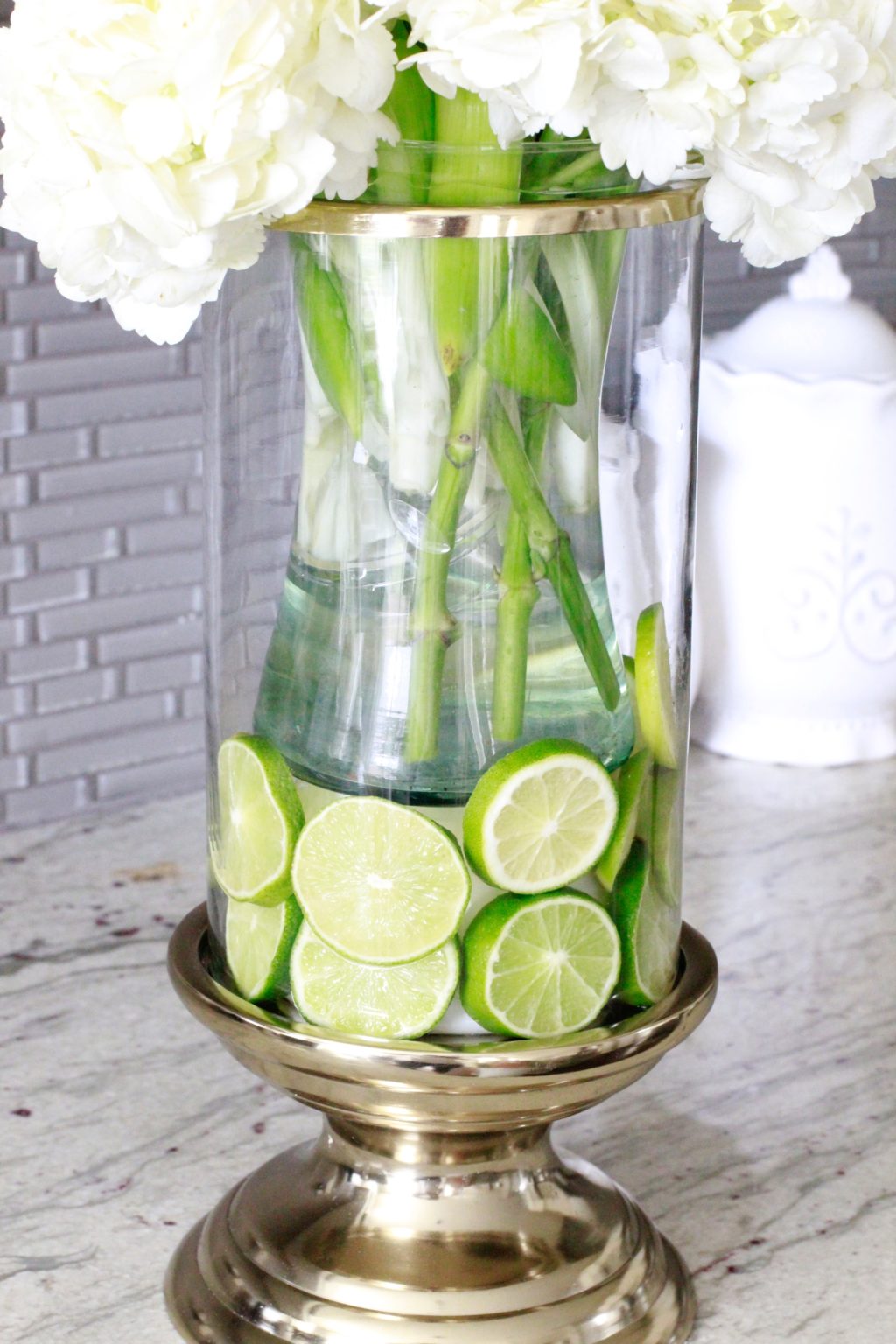 I dropped the vase inside to create a space for the limes.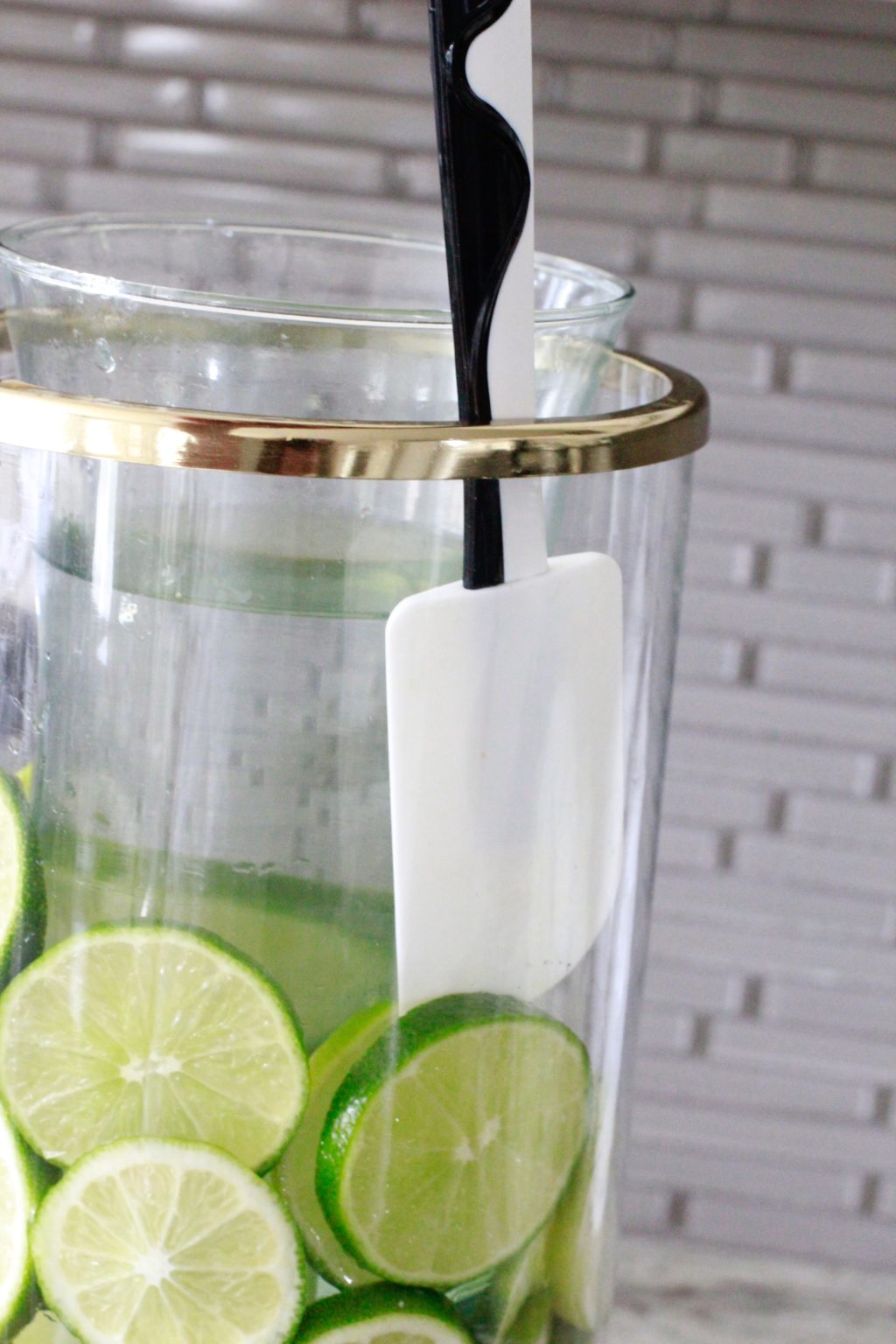 I removed the flowers so that I could see better.  Dropping slices down the in-between vases like a game of Plunko, I used a spatula to move any slices where I needed to.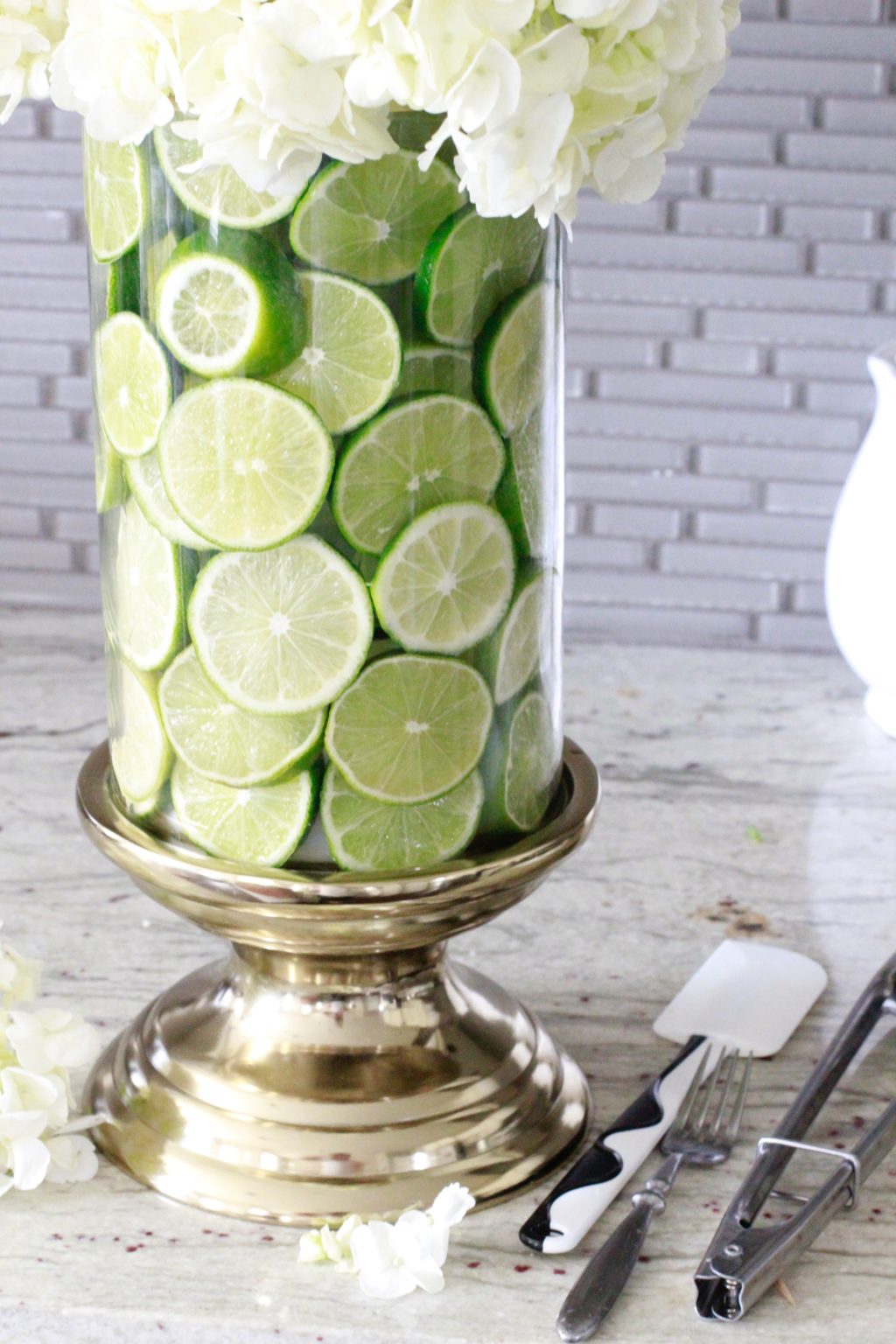 As you get to the top, you can use a fork or tongs as well to move slices around.  I added 3 huge hydrangeas to the inner vase so that they were just covering the very top of the hurricane, vase and lime slices.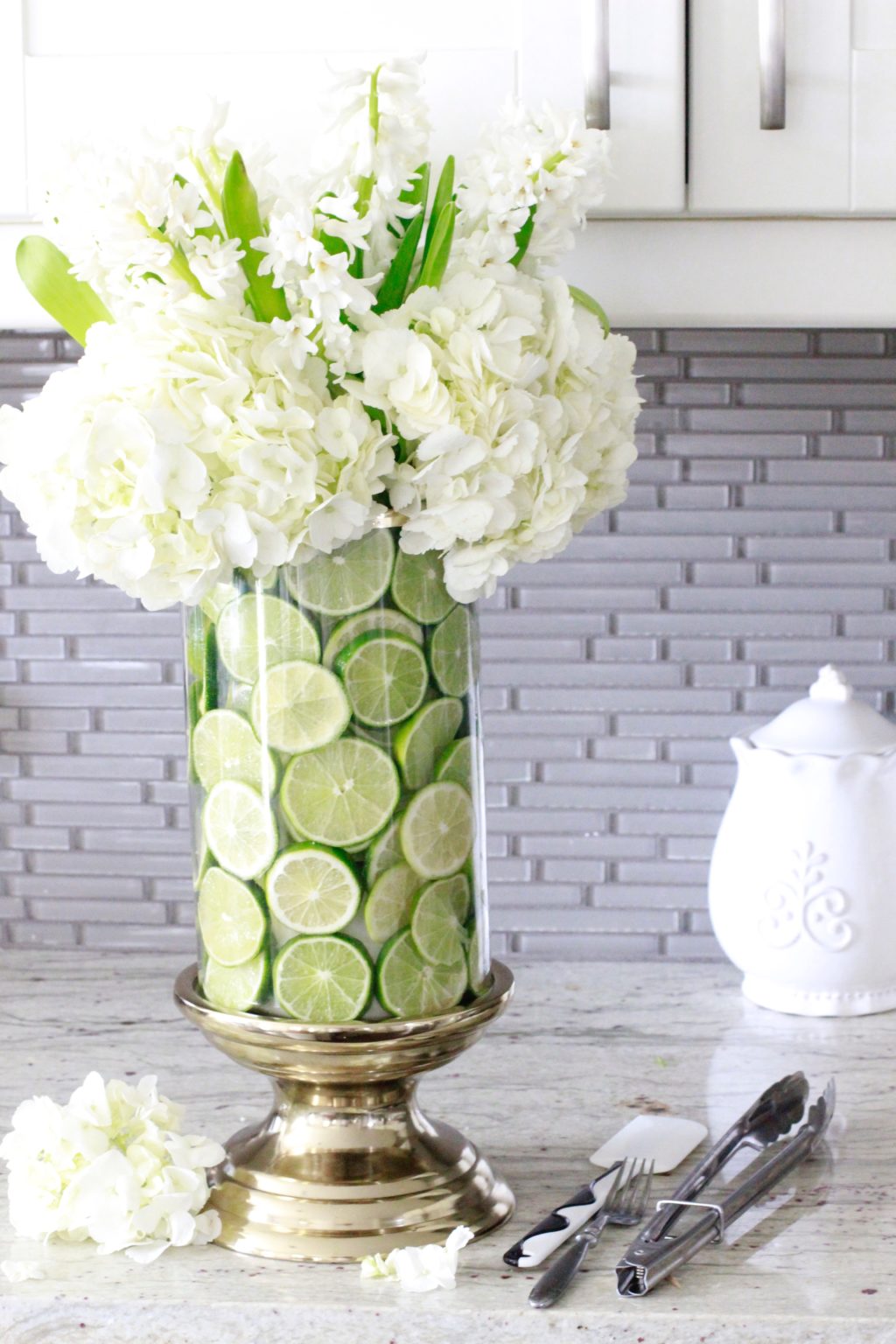 Then I added just 2 bunches of white hyacinths in the middle so that they stood taller above the hydrangeas.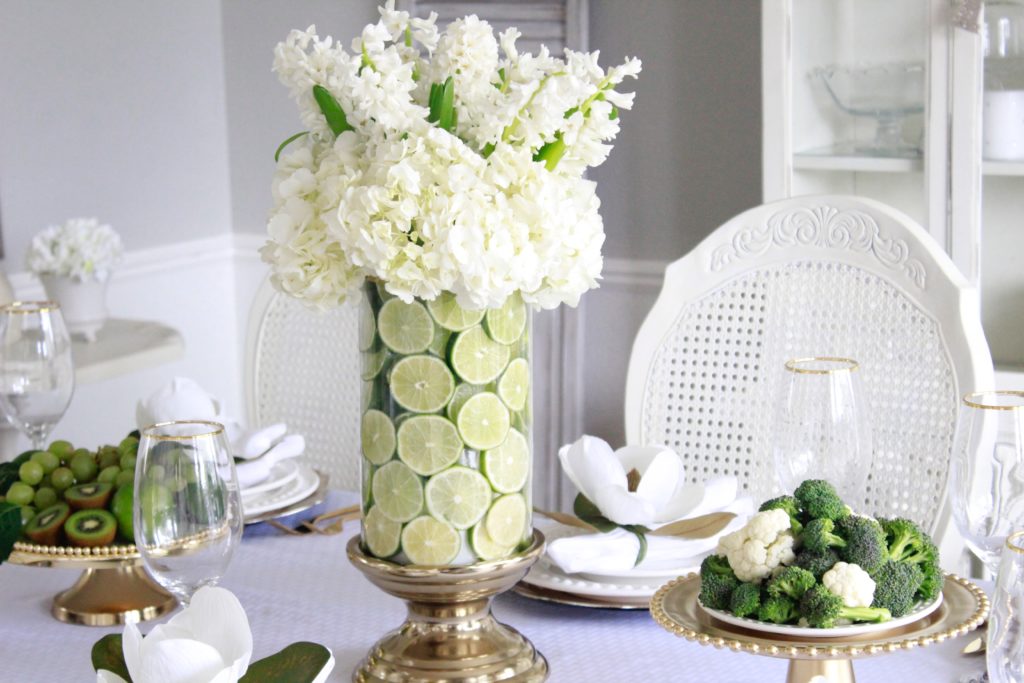 Since my hurricane top is removable, I didn't add the water to the limes but if you're using a vessel that won't leak, make sure to do that before you add the flowers.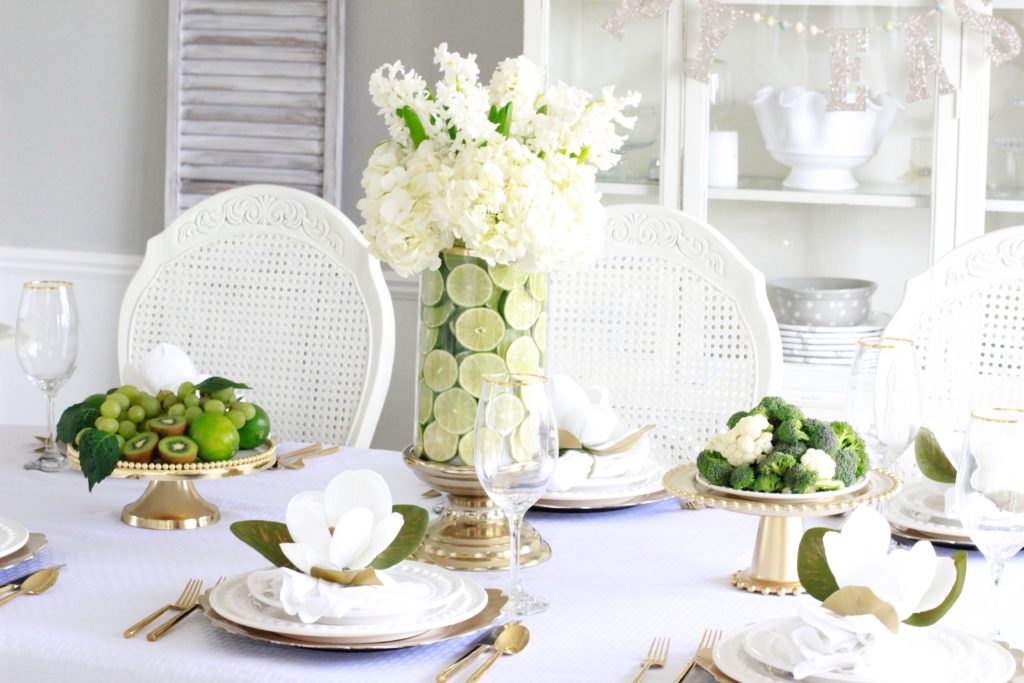 Isn't that such a fun and vibrant arrangement?!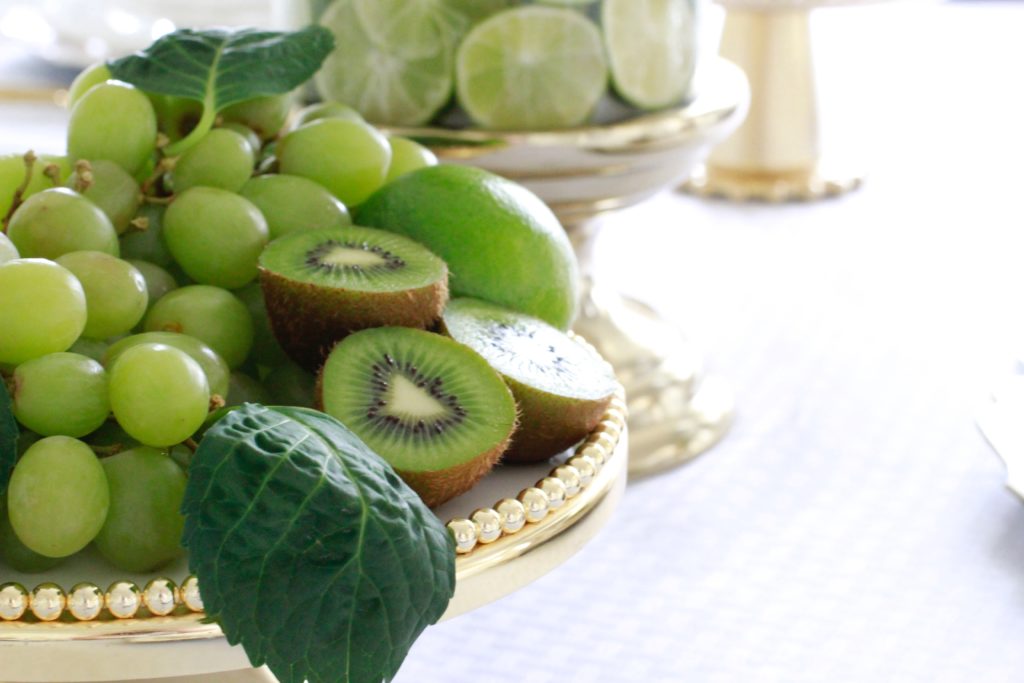 And to make it even more refreshing…..fruit!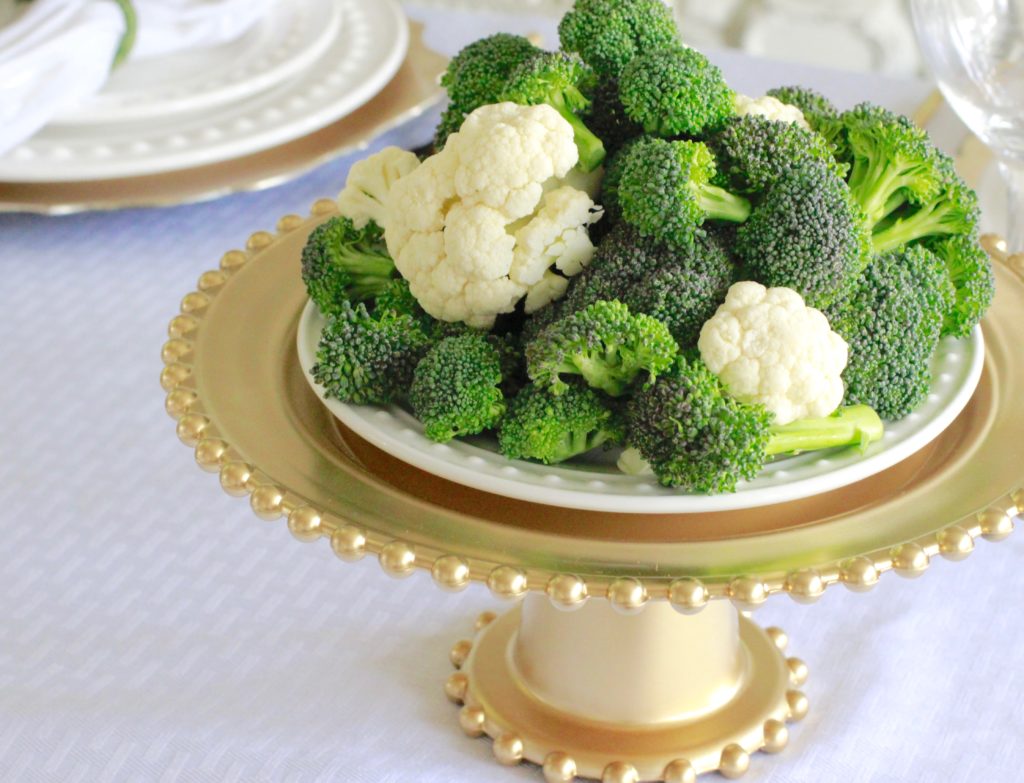 And don't forget your veggies!
With these lovely magnolia napkin rings, this would be the perfect Spring table.  But….
….this cost of levitra at costco is my family's Easter table.  So I added a few Easter touches.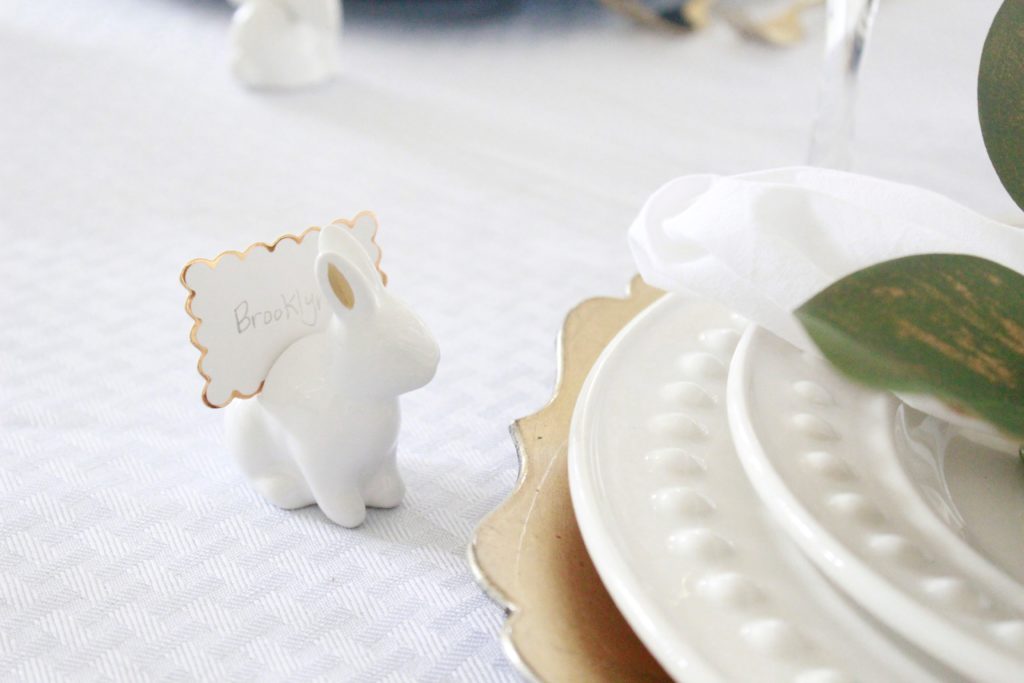 I used these adorable Bunny place card holders that I shared last week in my Kids Easter Table.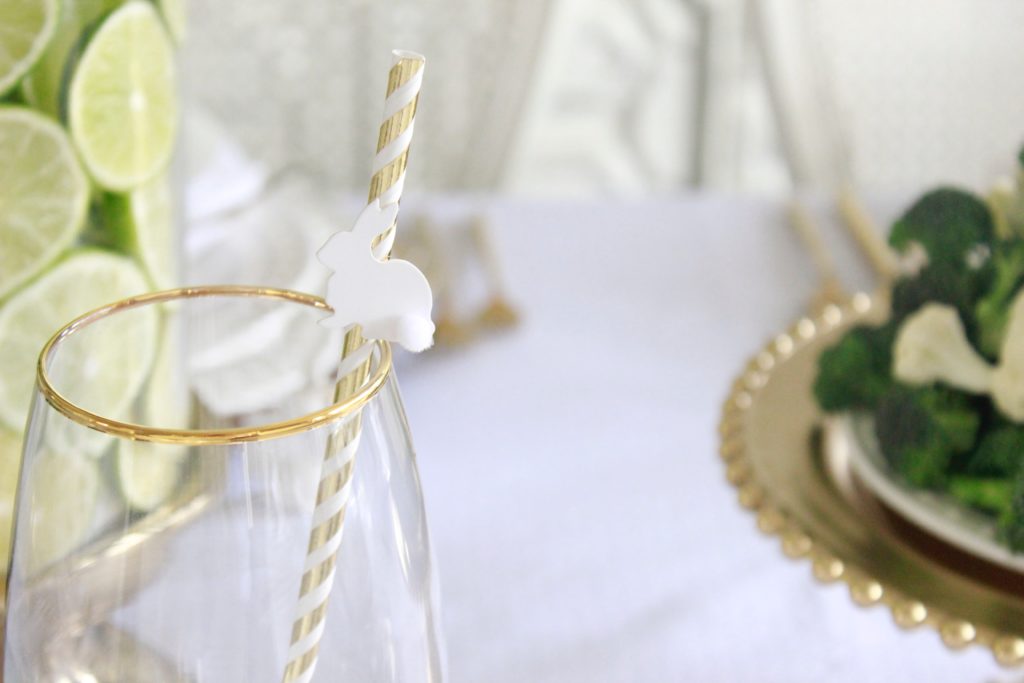 I added some gold foil bunny straws, also from the Target Dollar Spot.  It adds some fun to this elegant table and I think my kids are going to love it.  The rest of us at the table are going to be "boring adults" so I think the bunny straws are a nice touch, ha!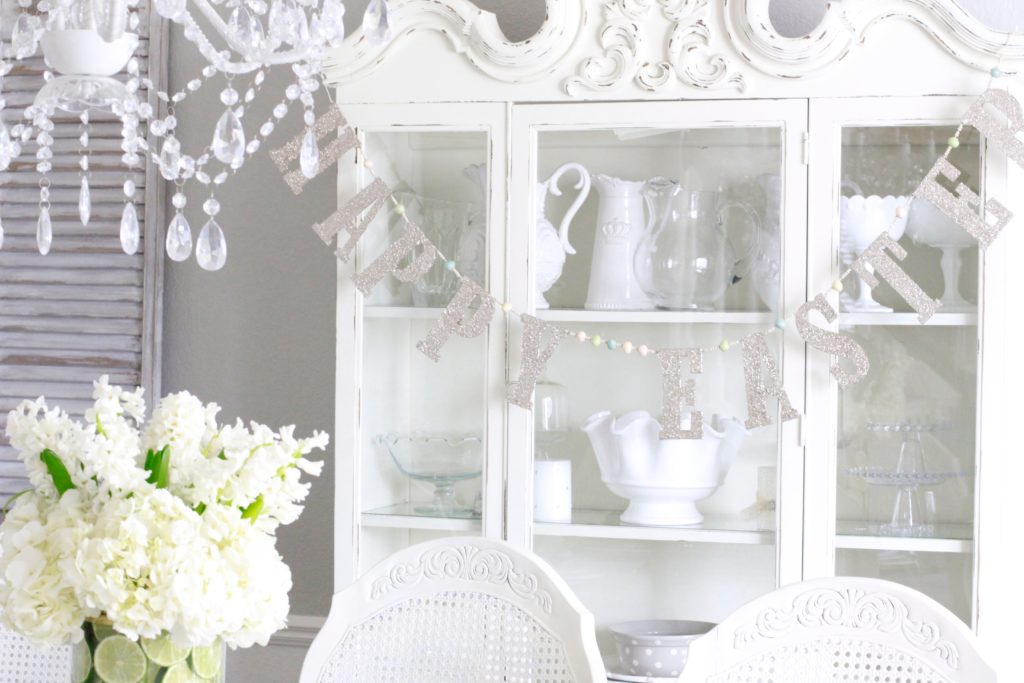 And of course, I had to add a bit of sparkle and glitter!  This glitter Happy Easter garland from Pottery Barn (purchased a few years ago) was another fun addition.  I wish they still carried it but they have a couple of other fun ones.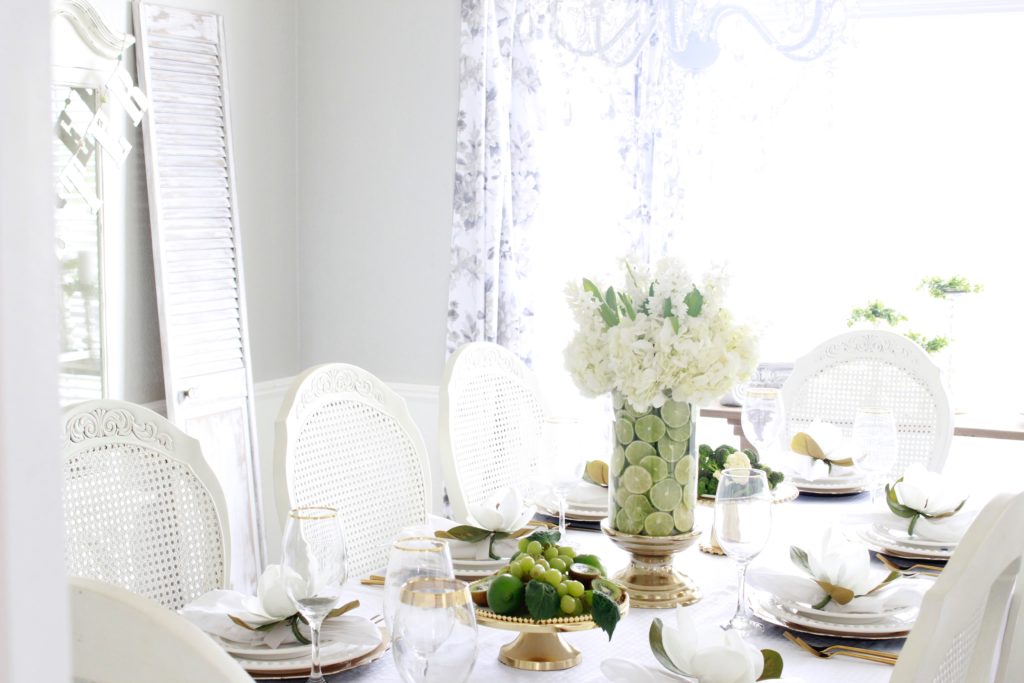 I'm so glad you could join me today!  Do you have any fun floral ideas pinned yet from our blog hop?  Make sure to save them for later. Here are some shopping links for your convenience below.



I would love it if you subscribed at the top of the page in order to receive my weekly emails of all my latest posts and to receive my monthly calendars and freebies.  You can also follow me on Instagram, Pinterest, and Facebook to see what I'm up to in creating a home and lifestyle of inspiration!
Now, please continue on to see what my friend Amy at Crazy Chic Design has in store for you!  And don't forget to stop by each of my fabulous friends joining me today to see what they share!
xoxo,