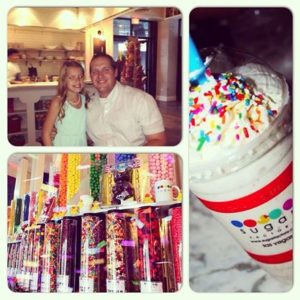 Josh sent me some pics tonight of his date tonight with Brooklyn. After he rang the doorbell with flowers (she was grinning ear to ear), he opened the door for her and off the went. They went to Sugar Factory (her fave Vegas place) for dinner and dessert. Then went to the new Gameworks to play on some fun virtual games and finally off shopping to let her pick out something special. So fun to hear them come home and tell us all about their night!!  Mom of girls, encourage your hubbies to get out there and spend some one-on-one time with their daughters.  I promise, they will develop stronger relationships and create the sweetest memories!   (Moms:  Check out our post HERE about Mommy-Son dates)
Need a few ideas and a little inspiration?  Here they are:
Ice Cream or Frozen Yogurt
Lunch or Dinner at restaurant of child's choice
Bicycling and picnic
Roller skating or Ice skating
Visit a pet store (Watch out! You might bring one home)
Take a dancing class together so she learns to dance
Sporting event of child's choice
Zoo or Aquarium
Volunteer together or make a list of kind deeds you could do for others
Go shopping to child's favorite store
Christmas Shopping for friends and loved ones
Game Arcade or Entertainment Center
Carnival or Circus if they're in town
Concert or Performance (movies are fun too but then you don't get to talk and interact as much so make this your back-up plan if other plans fall through)
Picnic at the park
Mini golf or go golfing at a course, if your child enjoys that or would like to try (my kids love this one BUT don't forget it's not about your swing, dads…it's about the interaction)
Scavenger Hunt
Hiking
The beach or a pier if you live close
Amusement park (again, if you live close to one)
The most important thing is just to have fun, interact and talk.  Get your kids to talk!  If this intimidate you, well then…make a list of fun questions to ask during your time out together! Good luck!