It's that time of year! Holiday Home Tour time!This week, I'm getting together with a bunch of talented ladies (hosted by 11 Magnolia Lane & Evolution of Style) to bring you a different room tour each day. Today, we're sharing our Christmas entries and dining rooms with you.
If you came from Rachael at This Is Our Bliss…WELCOME! I'm sure you swooned over her fabulous Christmas dining table. I get to welcome you into my elegant spa blue entry next so that you can see my tree this year and my new garlands!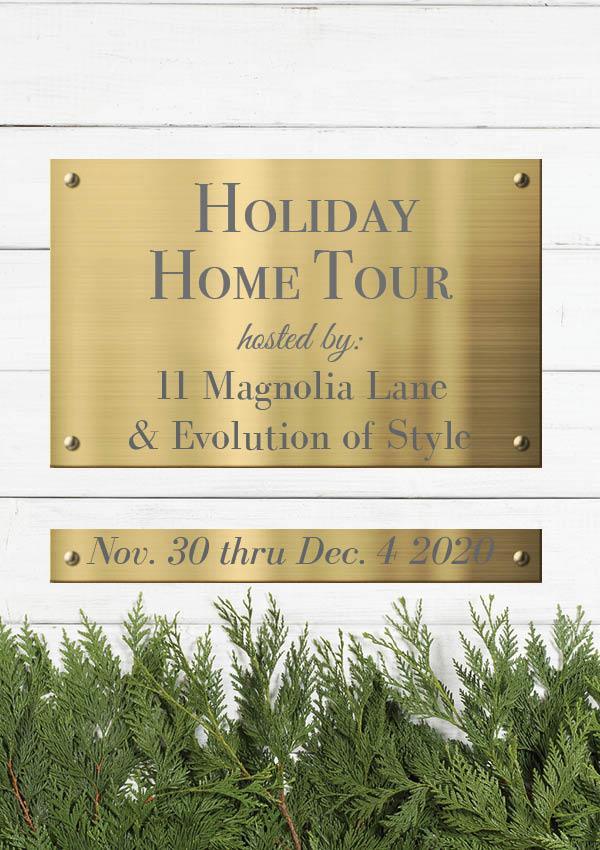 Affiliate links are included in this post. Click here to read my full disclosure policy and here for my privacy & cookies policy. All opinions are my own.
Before moving from Texas and coming west a few years ago, I partnered with Decorators Warehouse (in Arlington, TX) and I've partnered with them again today because even though they have 60,000 sq ft of Christmas fun that I recommend everyone flying into and experiencing in person, they NOW offer an online shopping experience!!! Isn't that soooo cool?!! Y'all!!! It is like Disneyland for grown women. It's Christmas there all year-long!!! (You need to click over on their site and watch the quick video tours on their home page.) It's the most amazing place ever, so the fact that they are starting to put their items online (people fly in from all over the place to shop there and experience the magic) is just so exciting. Even if you don't find the exact thing you're looking for in stock this year, you'll know about them for next year. Make sure to pin and bookmark this and get on their email list! But there's still plenty of shopping to do NOW and you'll also know to shop early next year!
Ok are you ready to see what Decorators Warehouse sent me for my entry?
Last year I decided to add a pretty spa blue color to the champagnes and silvers and golds of my entry. It was pretty but it was subtle. However, this year I ordered the Trinity Scroll Jewel Velvet Ribbon to decorate my tree and WOW! What a HUGE difference it made!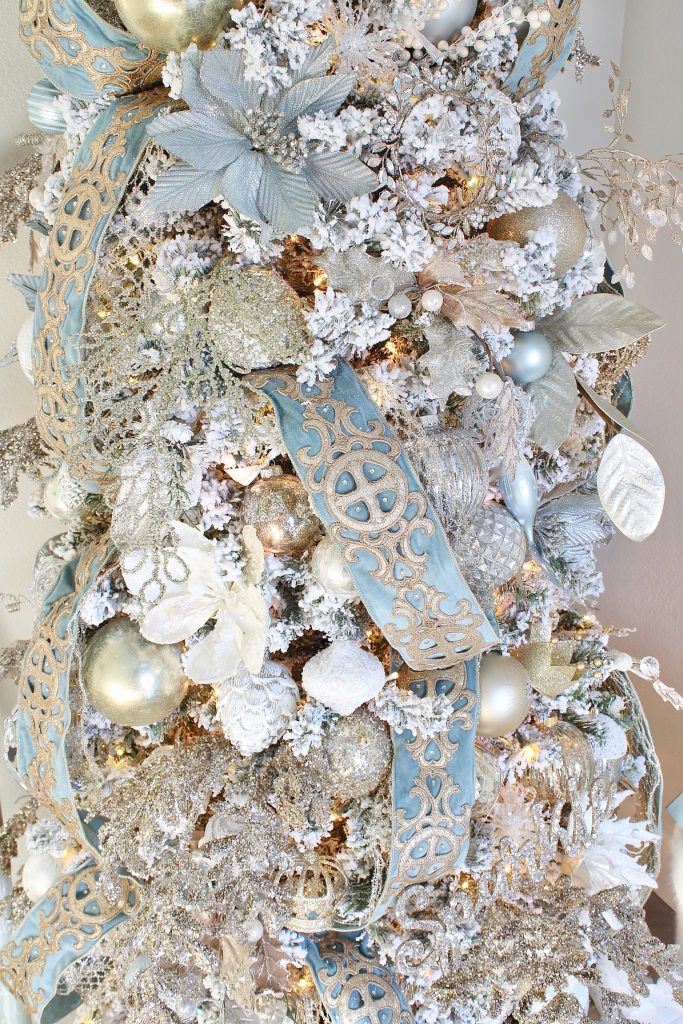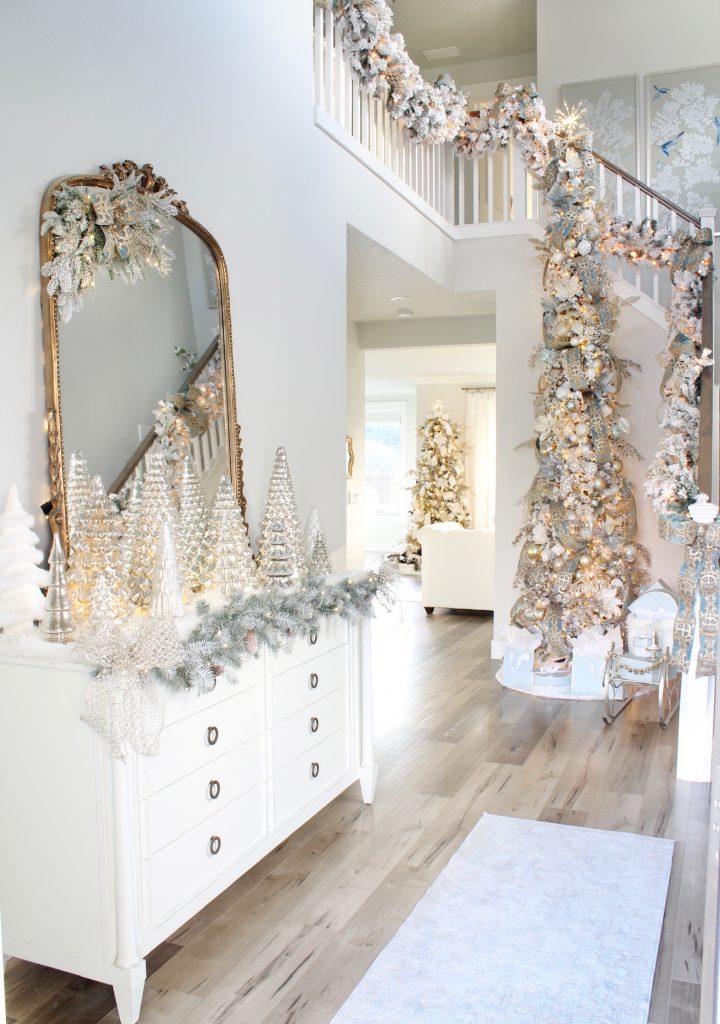 If you click on my last year's tour of that Christmas tree, you'll see my tree just did not stand out as much as it does now.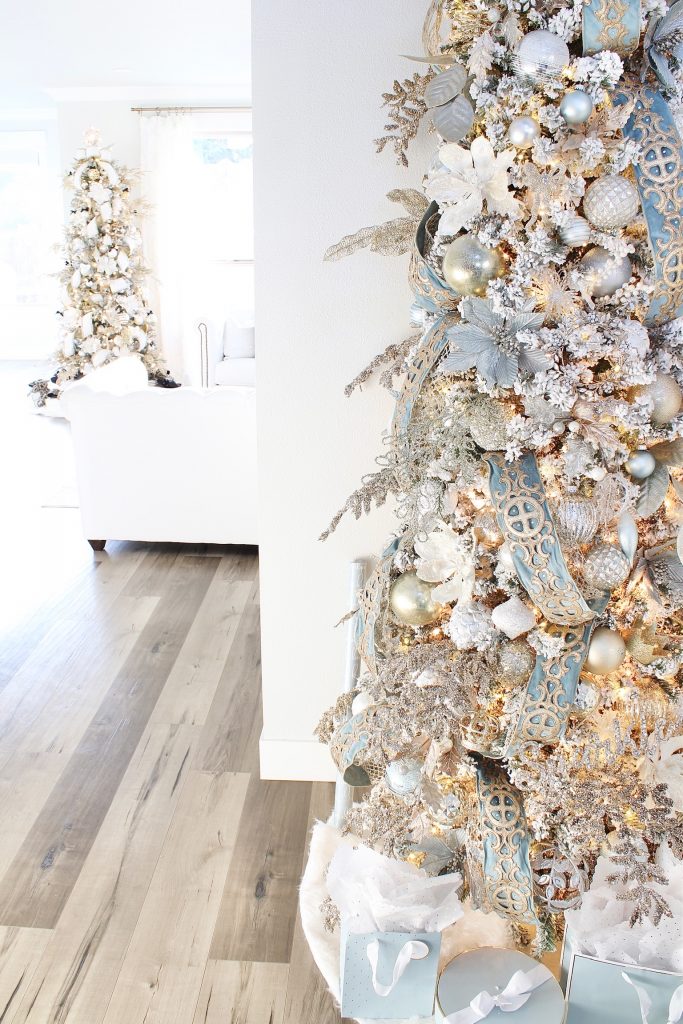 It was pretty but this year's ribbon just really makes it pop and gives it that added color it needs.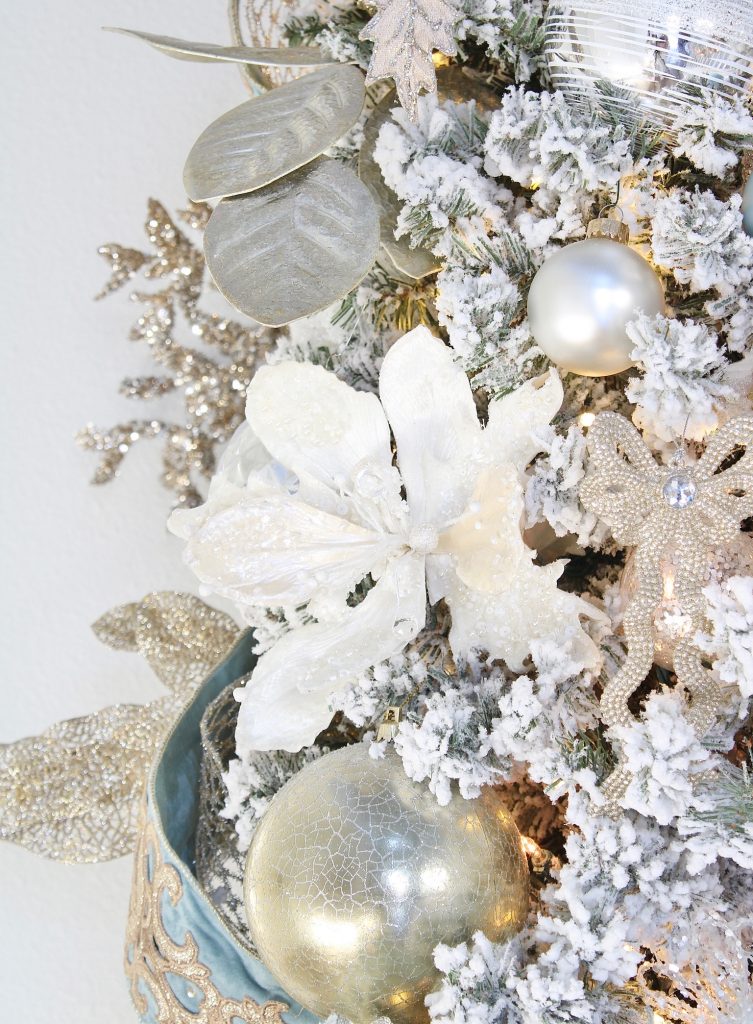 I also used their Glitter Open Weave Christmas Ribbon, glittered Christmas stems, and Christmas tree flowers as well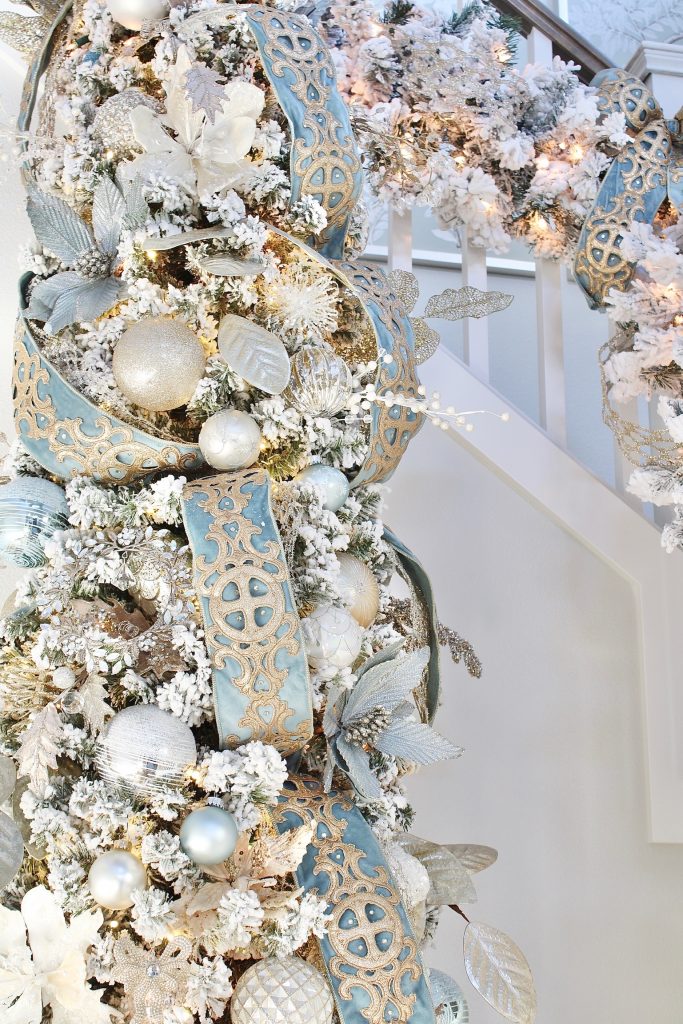 They've got the most beautiful ornaments, so make sure and check those out.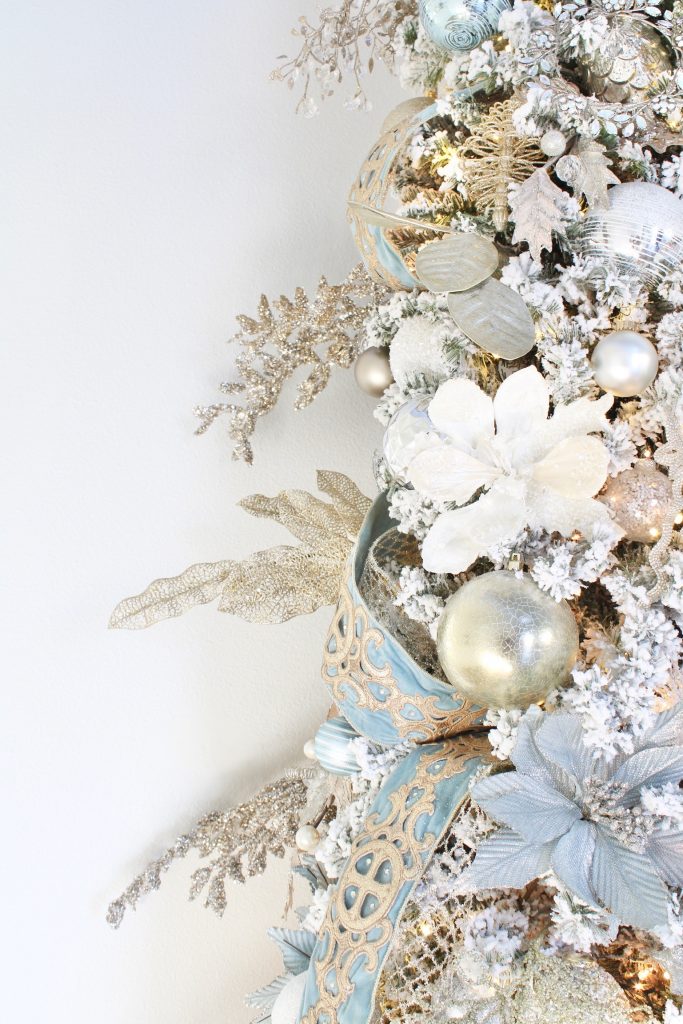 Note: This is my 12′ Slim Flocked Christmas Tree I've had for 3 years now. The trick to get it looking fuller is to dress it with thick ribbon and fill it with a lot of stems and ornaments. I use the two ribbons together and tuck them in the tree and then twist and turn the ribbon and tuck them in again after working my way down the tree a different direction. I tend to go a little zig-zag.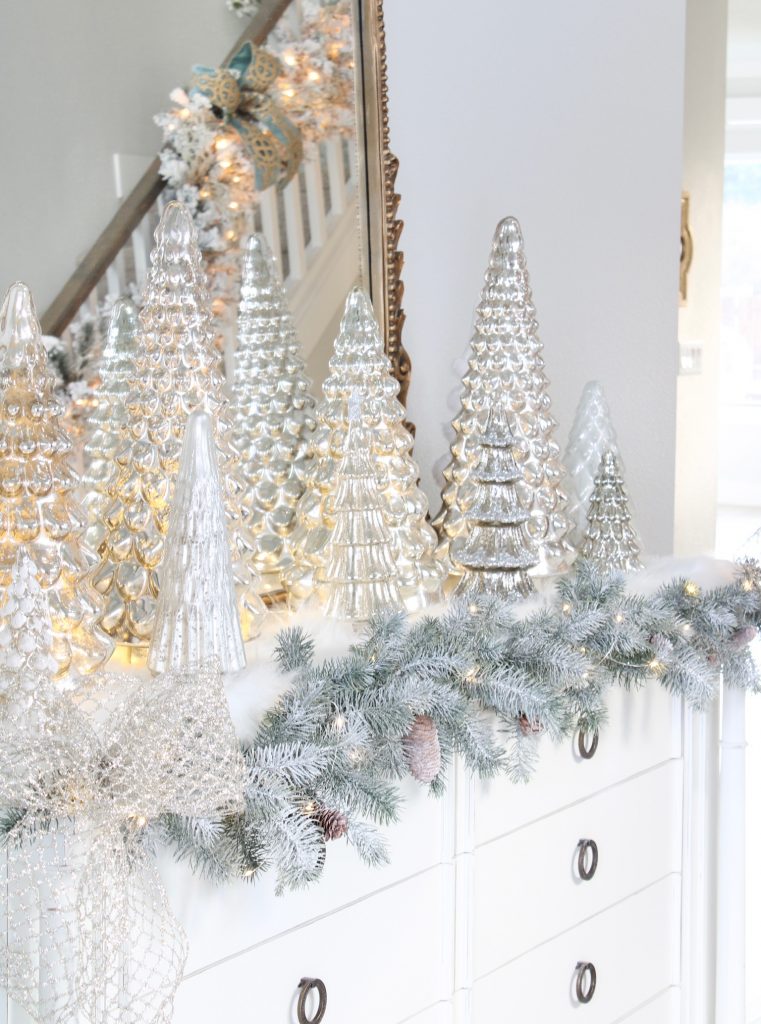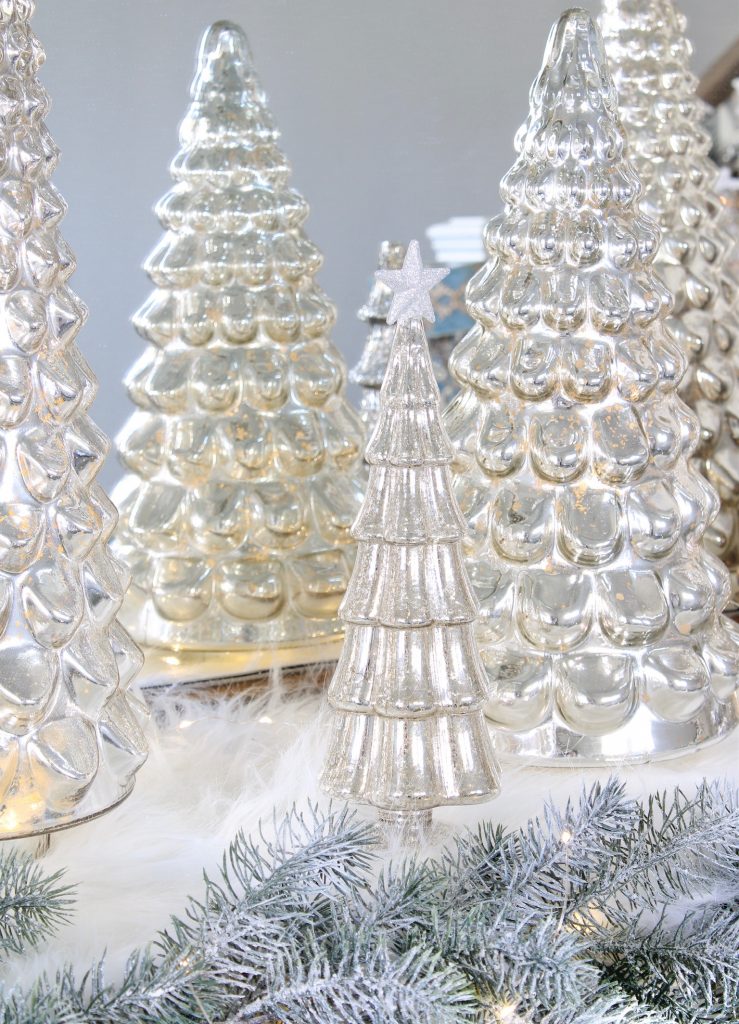 Decorators Warehouse has an abundance of beautiful decor, like this lovely glass Christmas tree. I chose the one with a star to add to my collection in my entry and it fit in perfectly!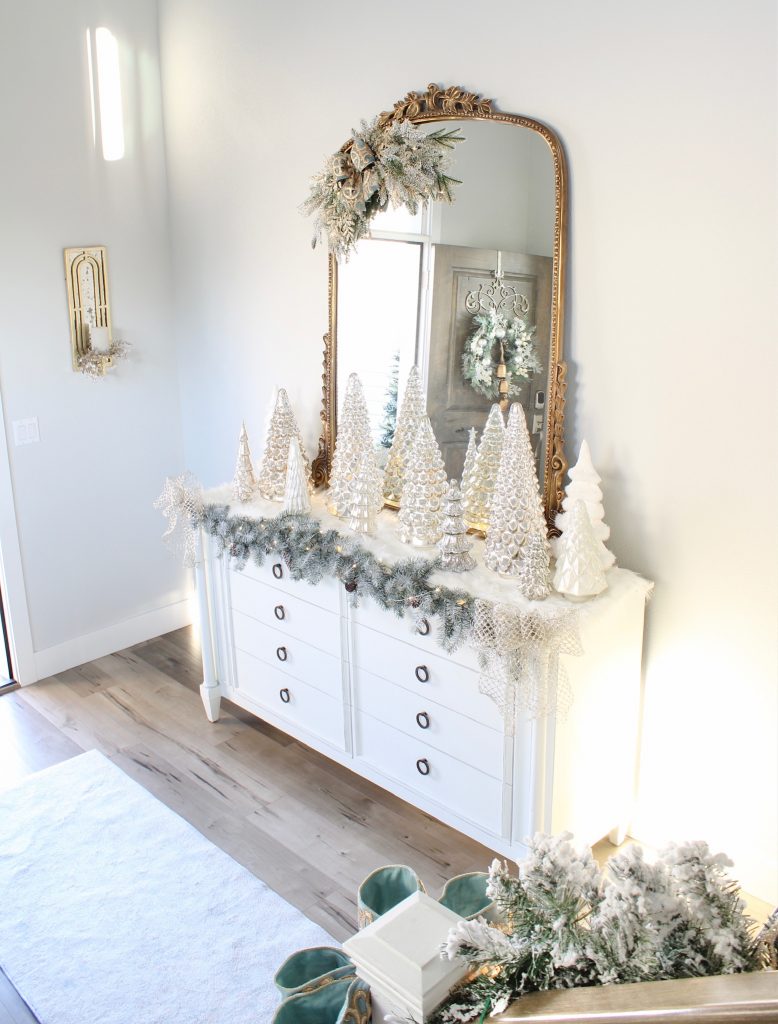 Tip: I use battery-operated twinkle lights and put them in my little garland with 3-M clear hooks across my entry table below my favorite mirror and also use the lights to go inside my other glass tall and medium trees.
I created a swag across the top of my mirror with left over faux greenery, stems, a bow and wired it together. It's also hung with 3-M hooks and I threw in some battery-operated twinkle lights on the side and they are easy to reach since they hang off the side and down the back and on the little hook of the mirror where it rests.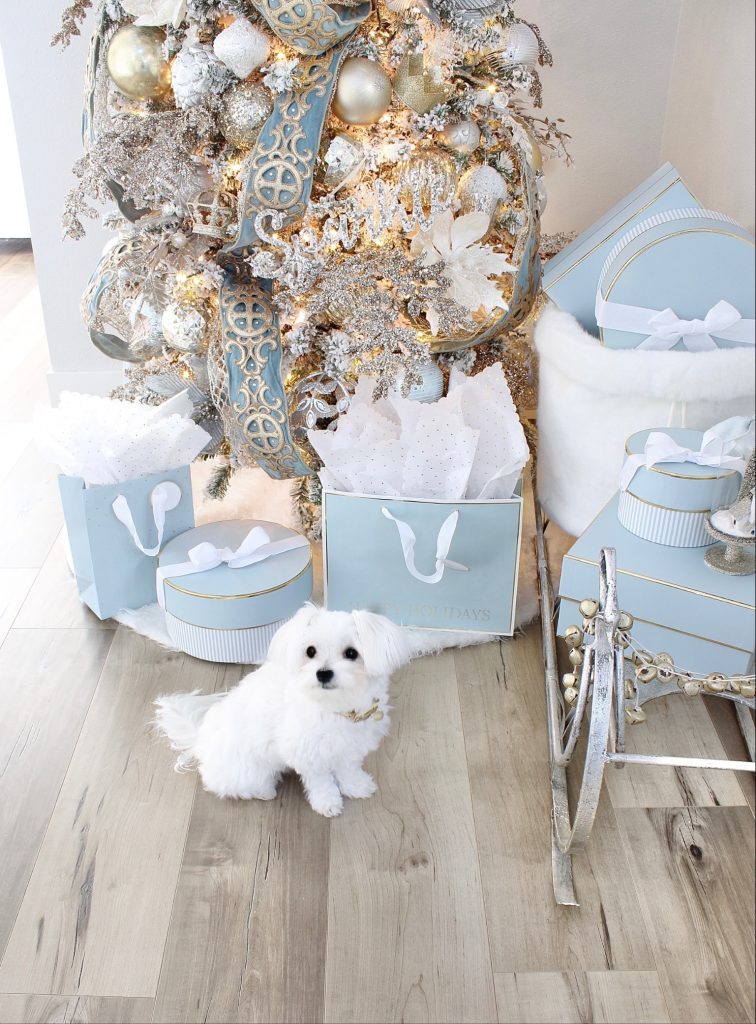 Ok, Gracie was so cute in front of the tree and she held still long enough (almost) in between escaping out the open front door during my photo shoot and thought it was cute to run around in circles and bark and put on a show for the neighbors haha! She earned her treats. But just behind her, these bags and boxes and wrapping paper matched all my soft aqua perfectly this year right?! It was so fun.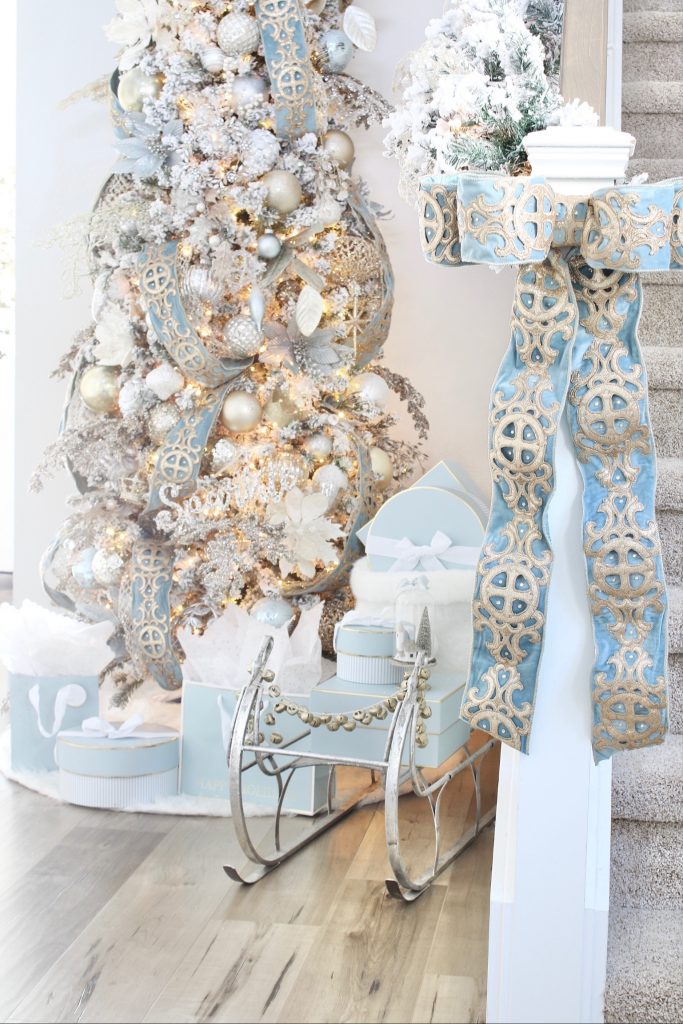 And because I know you'll ask, and I get asked every year, the sleigh and bells were a fun find years ago from some Christmas gift show. Sorry I don't have a source for those.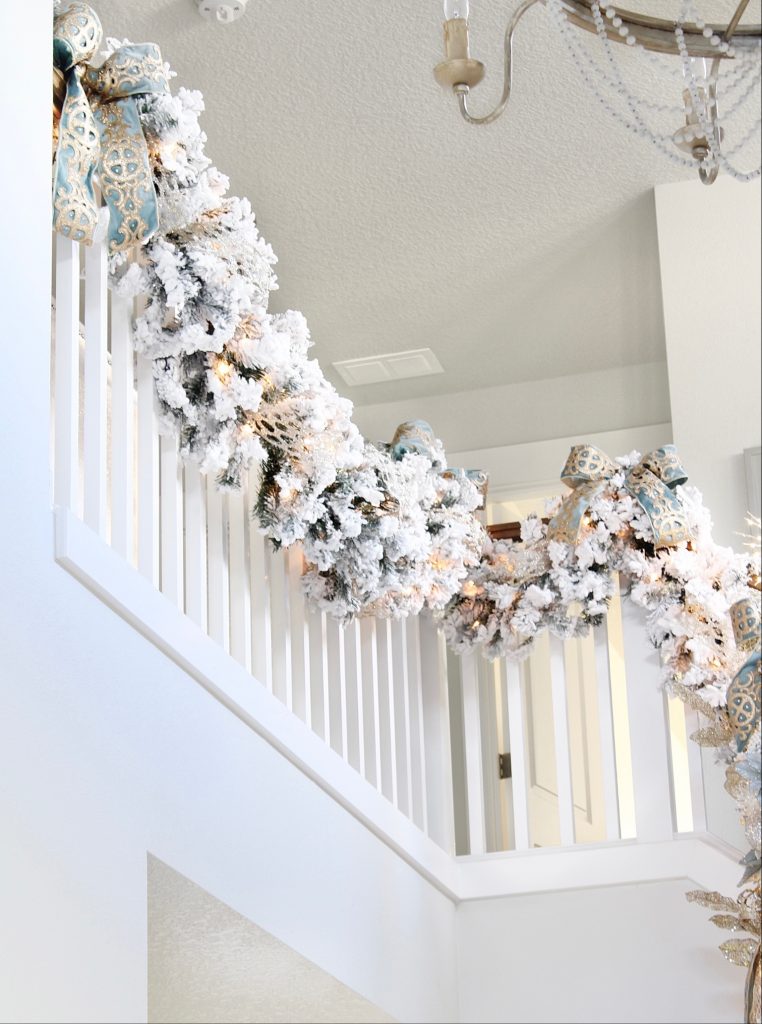 The other huge difference between last year's entry and this year's entry was the fabulous addition of the most gorgeous flocked pre-lit 9′ garlands that we added to my banisters.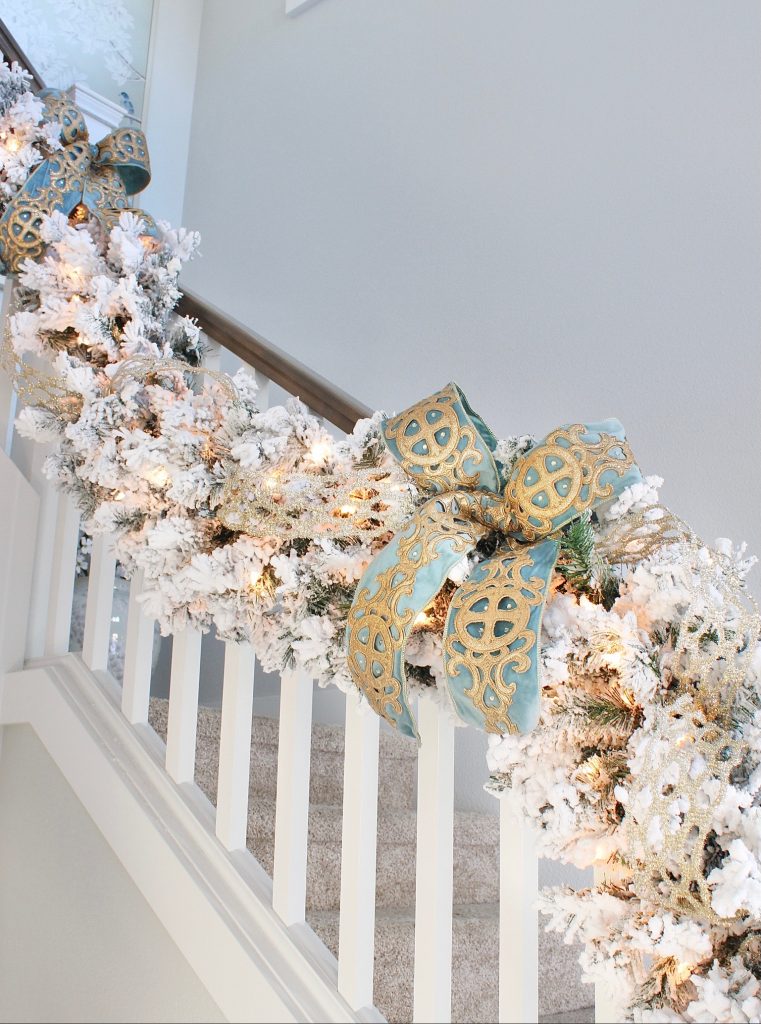 I mean…my jaw was on the floor, friends!!! I had some others that I bought years ago and they burnt out and they were not half as full and gorgeous. These knocked my socks off and were less expensive. Wow!! you need these!!!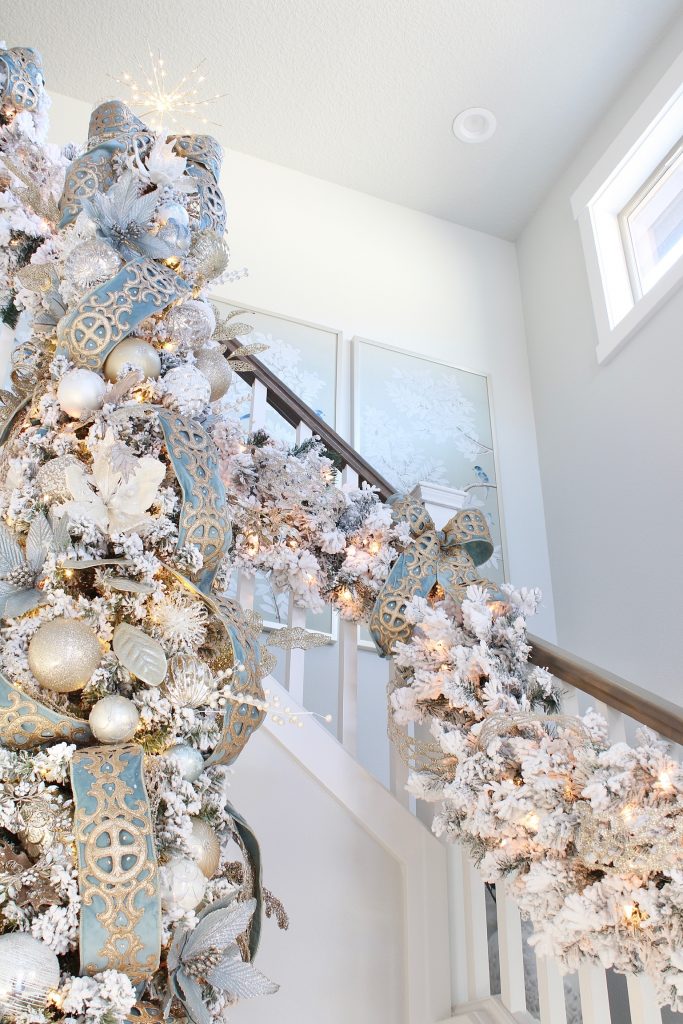 They were so stunning on their own, I didn't want to detract attention from the tree. So I just added the tinsel ribbon and large bows and skipped ornaments and stems. They're really fabulous!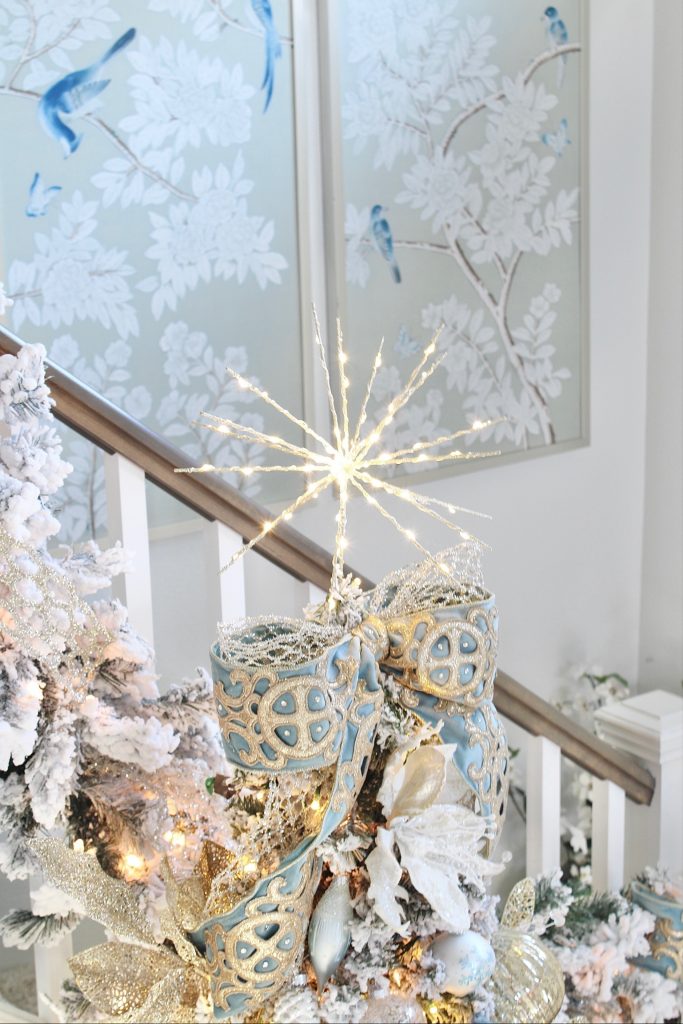 I picked up a new twinkling star this year and it really shows off the pretty ribbon from Decorators Warehouse, doesn't it?!
I love how all this decor ties in with my Framed Hand-painted Chinoiserie Panels in the background.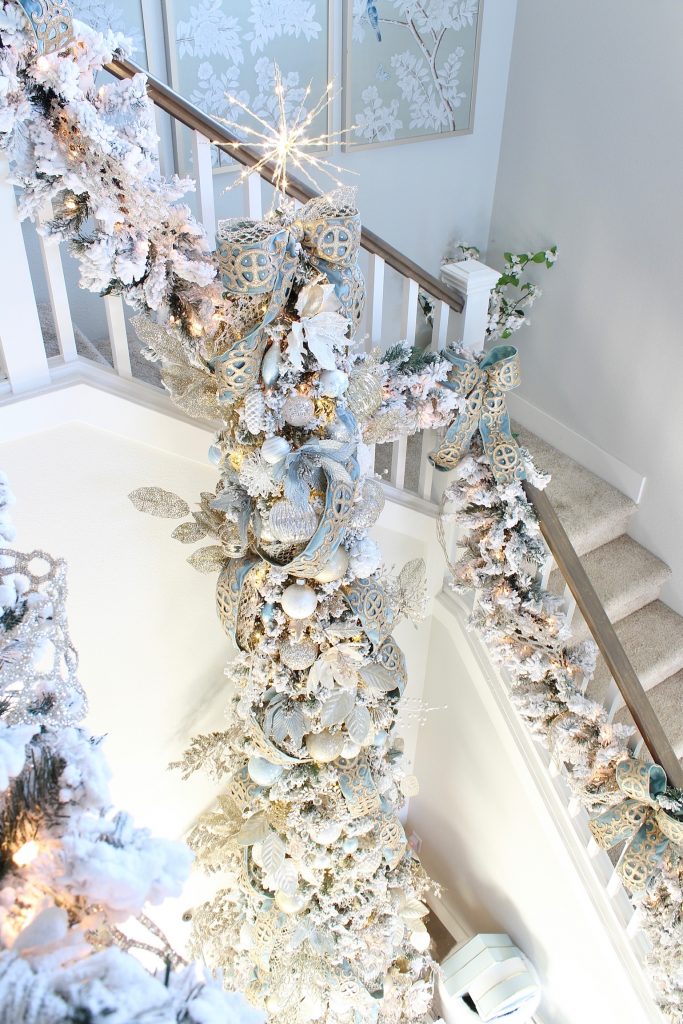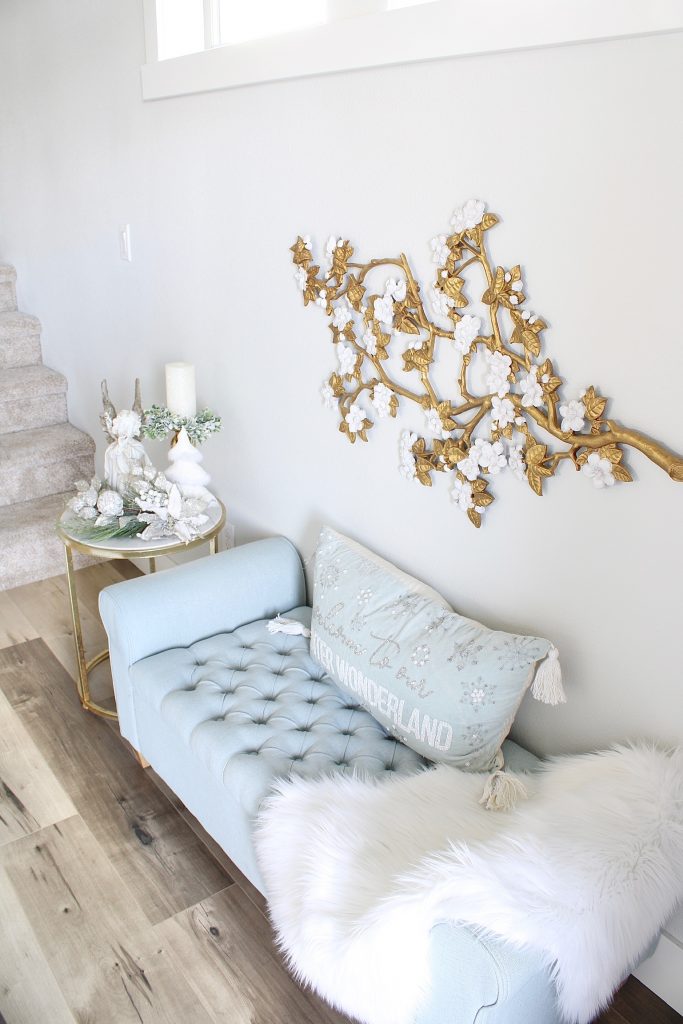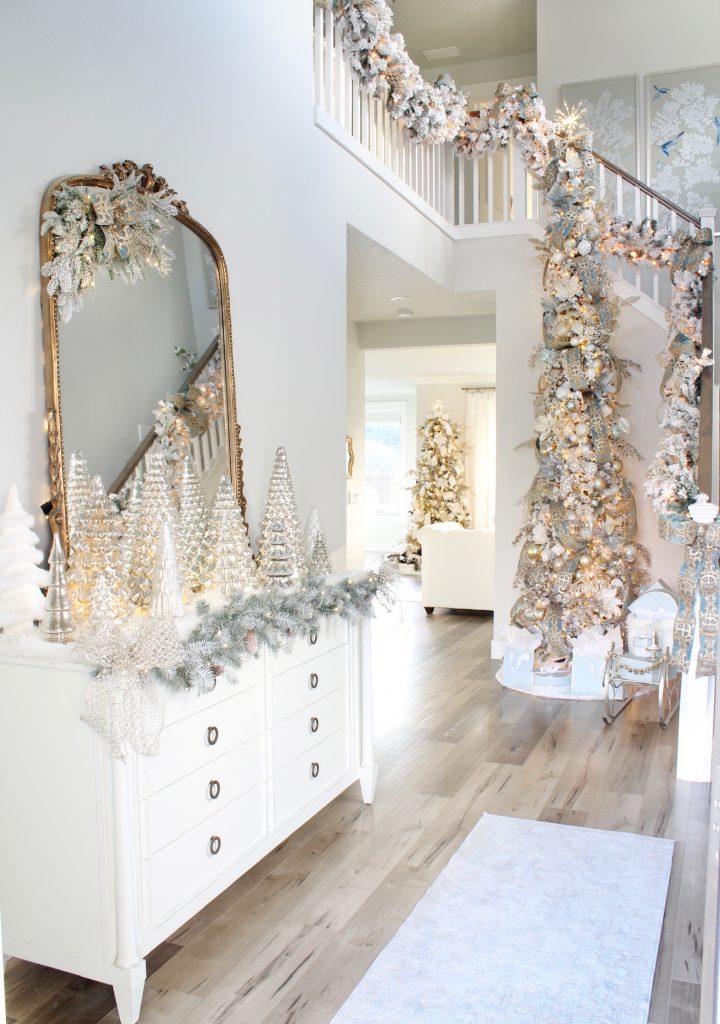 Please make sure to visit my other friends sharing today. I'm linking to them below. Christy's Christmas dining room is next to see and is just beautiful and guess what? She's living in Germany!!!! Head on over!
Monday, November 30th (Front Porch/Outdoor Spaces)
Southern Hospitality | Setting for Four | Southern State of Mind | Less Than Perfect Life of Bliss | Most Lovely Things | Cindy Hattersley Design | The Creativity Exchange
Tuesday, December 1st (Entries/Dining Rooms)
11 Magnolia Lane | Home by Heidi | A Stroll Thru Life | This is Our Bliss | Summer Adams Designs
Wednesday, December 2nd (Living Rooms/Dens)
11 Magnolia Lane | Evolution of Style | Dixie Delights | Jessica Welling Interiors | Sincerely, Marie Designs | Classic Casual Home
Thursday, December 3rd (Kitchens/Laundry Rooms/Misc.)
Style House Interiors | Quarters One | Citrine Living | Painted by Kayla Payne | A Stroll Thru Life | A Blissful Nest
Friday, December 4th (Master Bedroom/Kid's Rooms)
Sincerely, Marie Designs | Pink Peppermint Designs | The Heathered Nest | Bloom in the Black | Evolution of Style | Dixie Delights
I'm so glad you could stop by today! I would love it if you could subscribe at the top of the page in order to receive my weekly emails of all my latest blog posts and see everything I'm working on! You can also follow me on Instagram, Pinterest, and Facebook to see what I'm up to in creating a home and lifestyle of inspiration!
xoxo,

---
Want to shop my Instagram posts? Click on any square below!
Reader Interactions