As soon as I take down Christmas each year, I always enjoy the clean slate of my home and a fresh start to a new year.  But then I get the itch to start decorating and planning for Valentine's Day.  It's my second favorite holiday because I love LOVE!  There's nothing better than celebrating the ones that mean the most to me and making an extra effort to tell them just that.  Josh and I love celebrating Valentine's Day as a family with our children each year.  Just like my mother did, I make a big deal about this special holiday and try to make it extra special with a big dinner, tons of decorations, and gifts.  Last week, I shared a fun Soda Shoppe Valentine's Family Night that we did with our kids.  But today, I've gathered a few of my talented blogger friends to bring you "5 Ways To Wine & Dine Your Valentine."  I decided that since I have the family celebration planned, I would also plan a romantic Valentine's table for two and surprise my sweet husband with a very special dinner.  We did this a couple of weeks ago and was also a 2nd dinner and continued celebration for our 13th anniversary!
I'm so excited to have those of you who are here for the first time and coming from Courtney's at French Country Cottage.  Can you believe how talented she is?  Everything she does is magical and she leaves me wanting more and more.  Such an inspiration!  To my regular readers, I love you for coming back over and over!  I love having you here and LOVE your comments and feedback.  It means so much to me, so thank you!
We moved back to Texas this last year and so we take advantage of those warm winter days in the 60's or 70's between January and February and sit out in the sun to enjoy the fresh air.  So that's exactly where I wanted to create my romantic table for two.  We live just blocks from a beautiful nature preserve with so many trails and ponds and even a zipline course.  It was easy and accessible and had lots of private, cozy areas to set up in.  I grabbed a girlfriend and my kids and had their help to set everything up.  It good to have a partner-in-crime to help you pull this off if you're making it a surprise for your Valentine.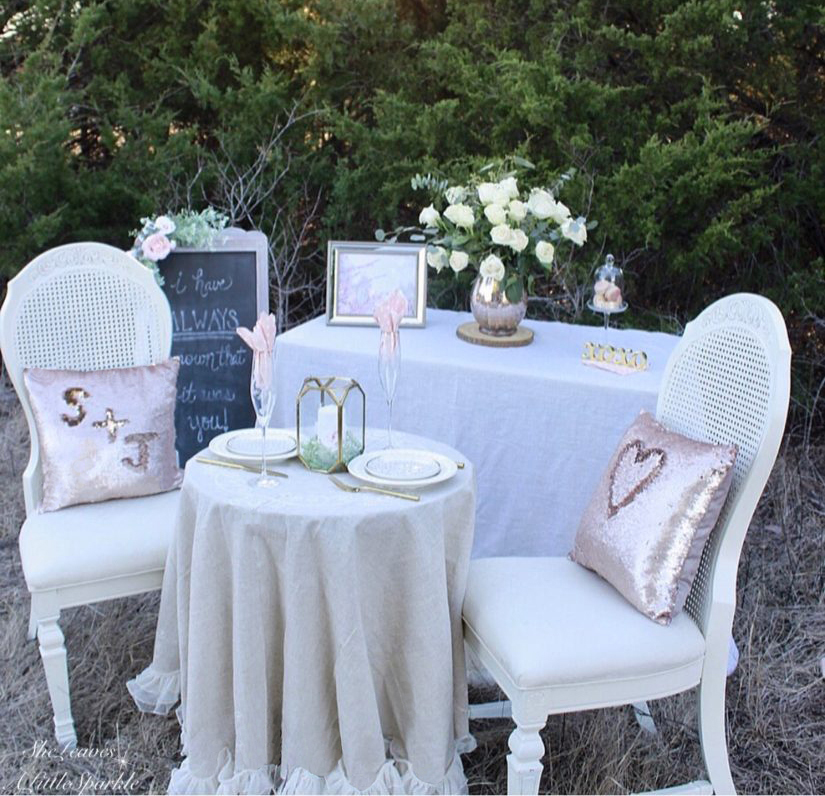 Over the years, Josh has become soooo good at surprising me and sweeping me off my feet. I was really wanting to surprise him so I told him to meet me at this one spot at the beginning of the nature preserve on his way home from the office.  It's right where you turn to come down our street so it really is just couple of blocks away and I love being this close to it. This is what he saw!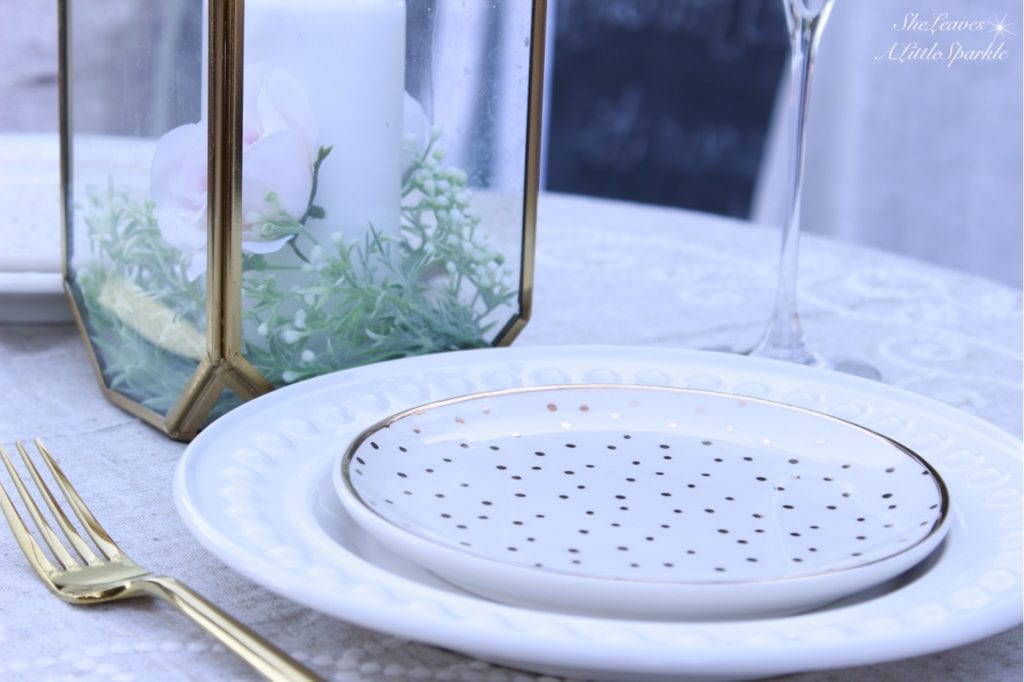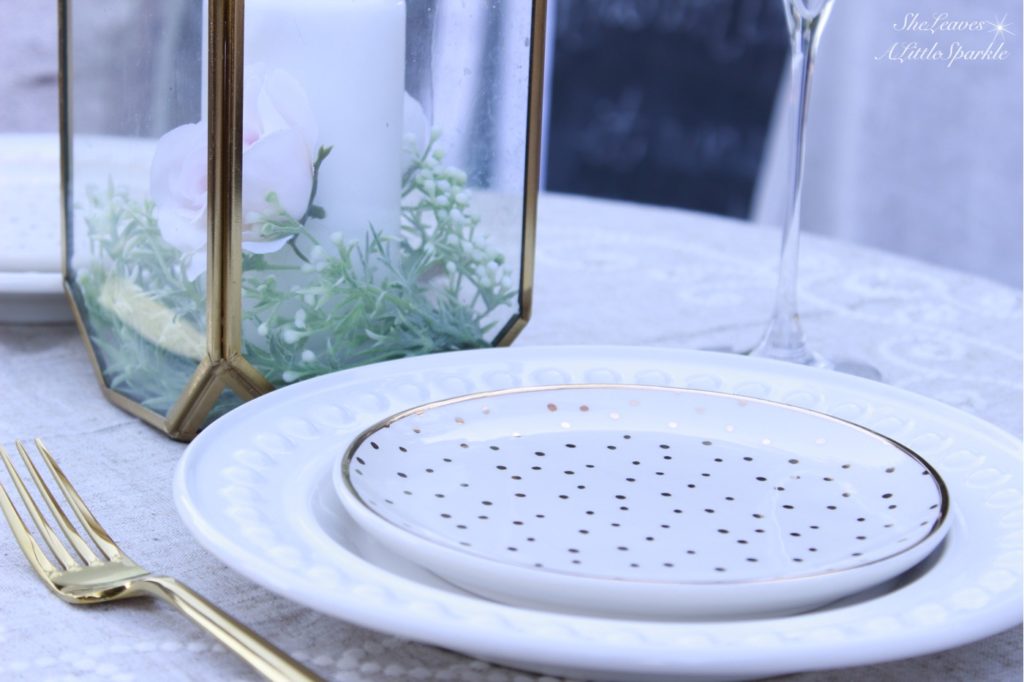 A surprise, remote, candle-lit dinner was not what he expected. He was so shocked and just loved it!  The sun was starting to set so it was perfect and romantic.  I grabbed a small patio table for 2 people and added my linen table cloth. This was a small table so I used my basic white beaded salad plates and a fun polka dot plate for dessert later.  It wasn't a five-course meal or anything so it was just the right size.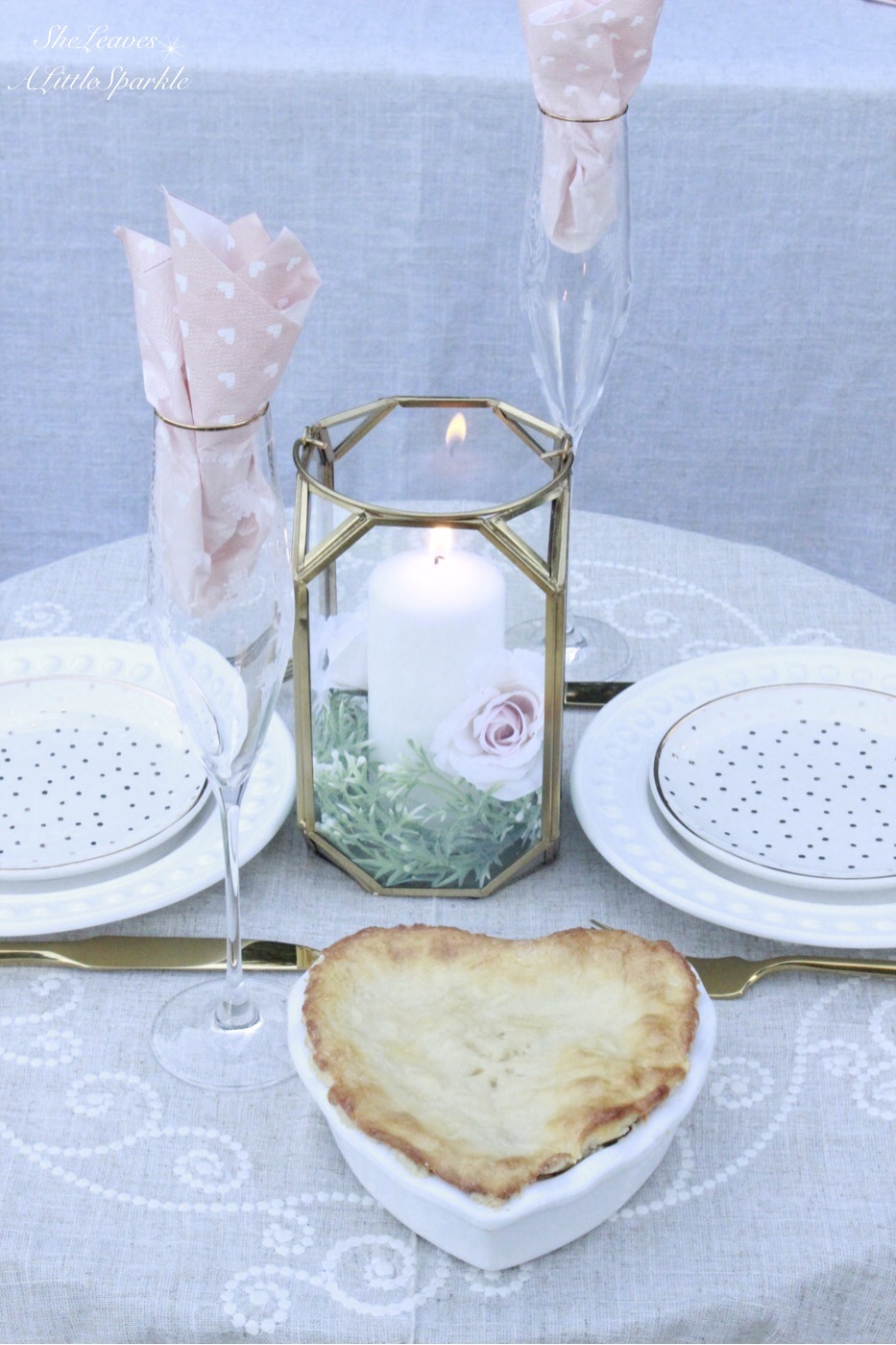 Being such a small table, I didn't have much room for anything else but some pretty flutes and a small lantern.  These flutes are so pretty and dainty that I used some small pretty blush heart napkins I found in the checkout line of Home Goods a few weeks ago (that's where they always put those little irresistible pretties that I have to throw into my cart last minute).  I served a fruit platter (not shown as it hadn't arrived yet) and made us mini heart chicken pot pies.  That's one of Josh's favorites, being a Texan boy and loving those hearty home-cooked dishes. We toasted with Sparkling Cider, another one of his favorites.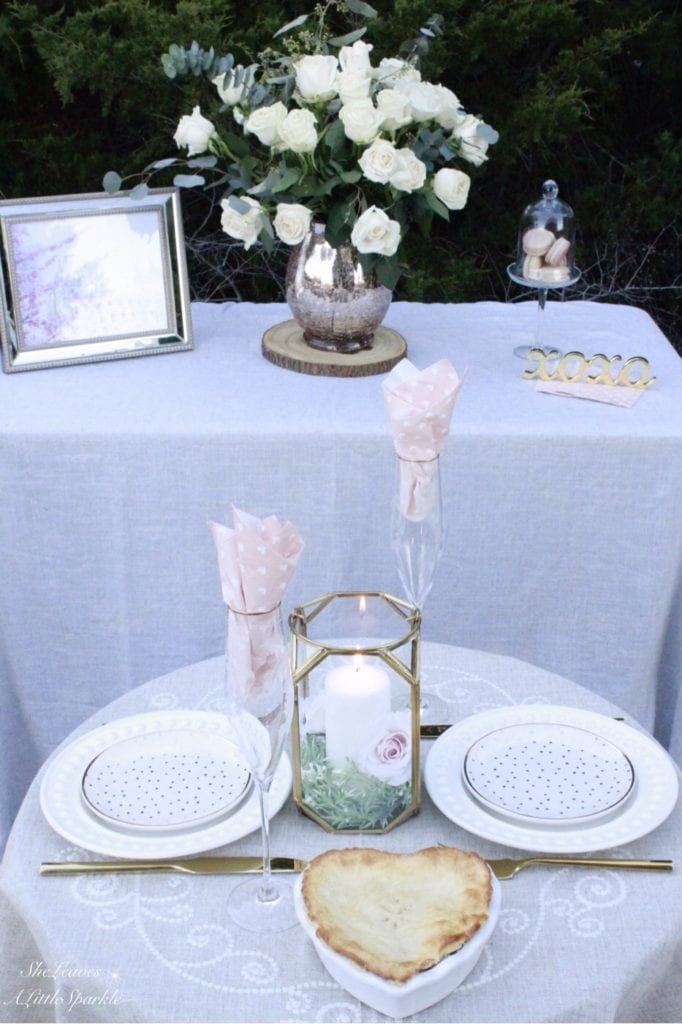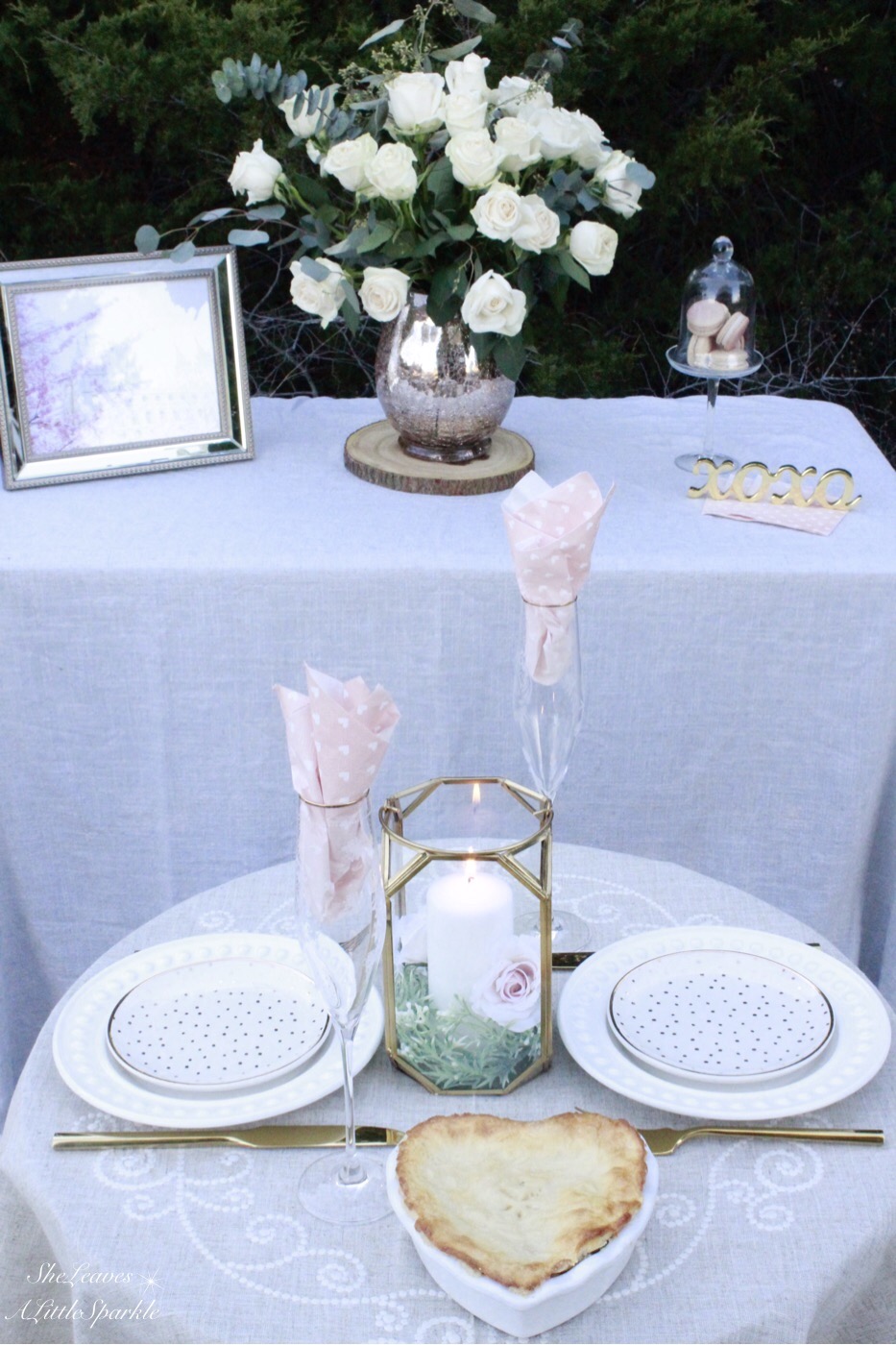 Since our table for two was so small, I also brought our smaller folding table to set other things on. I kept the color scheme very neutral with linens and white roses but I couldn't help myself and added a couple of hints of blush.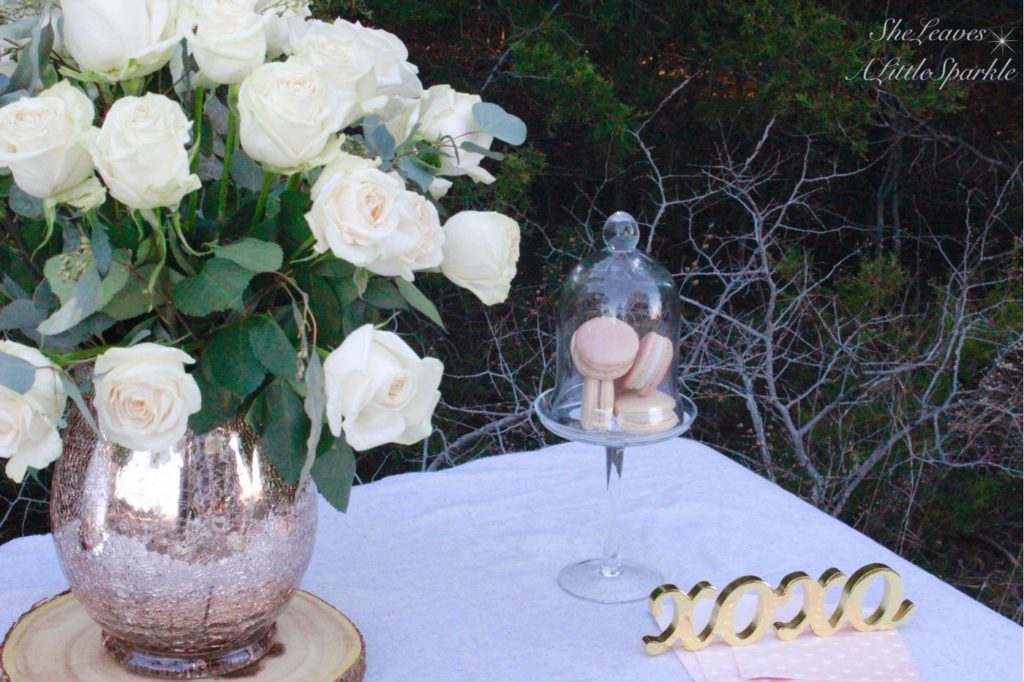 I found these blush mercury glass vases last fall and they were the perfect choice to hold these gorgeous white roses.  I kept dessert simple and light, as we are trying to make healthier choices, and went to Whole Foods Market for some rose and vanilla macarons.  I love them and they're so pretty.  I won't tell you how much I wish they were big slices of chocolate shake though, haha!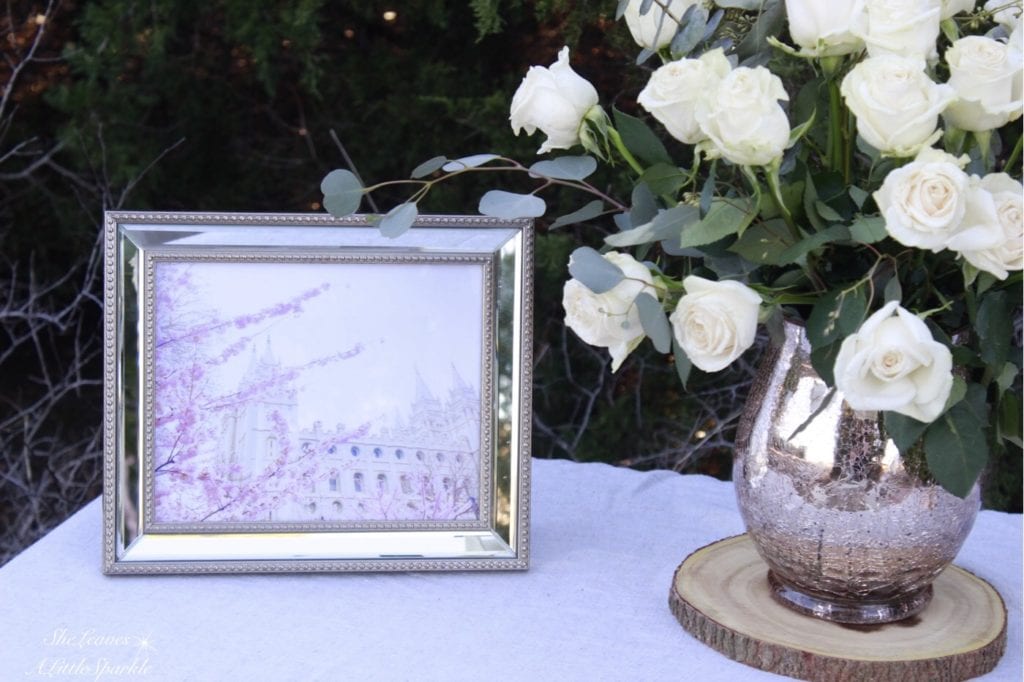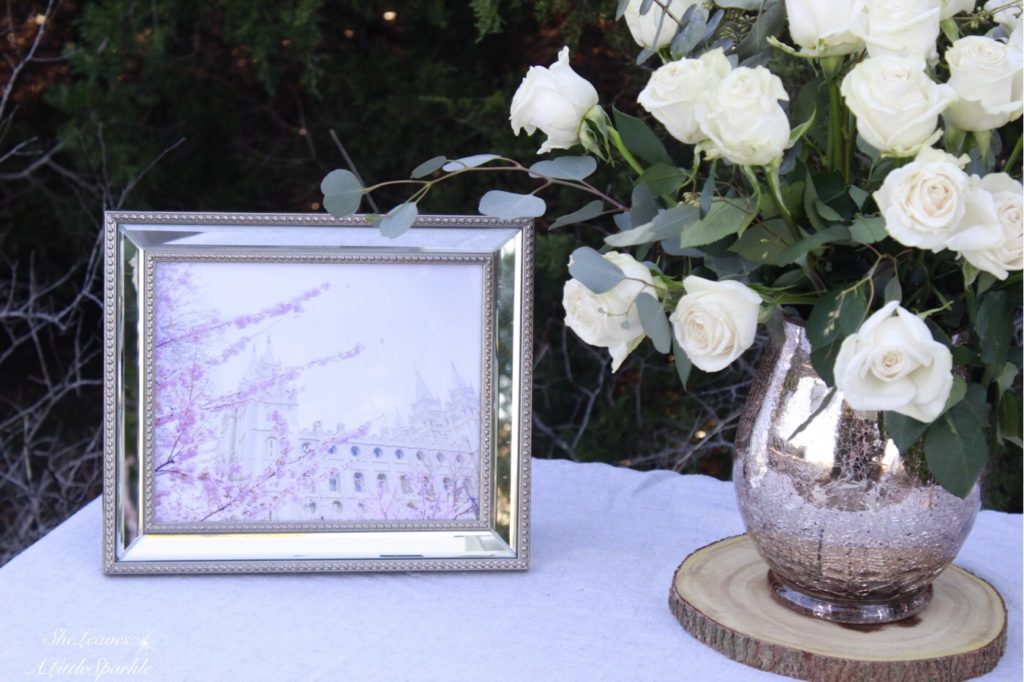 On the other end of the table, I placed a picture of one of our church's temples (in Salt Lake City) because this is where we first saw each other back in 2001.  We still remember that exact moment our eyes met from across the room.  I'm so glad it was in this lovely place because if it had been in a McDonald's or somewhere less beautiful, we would probably have that framed here instead ha!  We are silly and sentimental like that.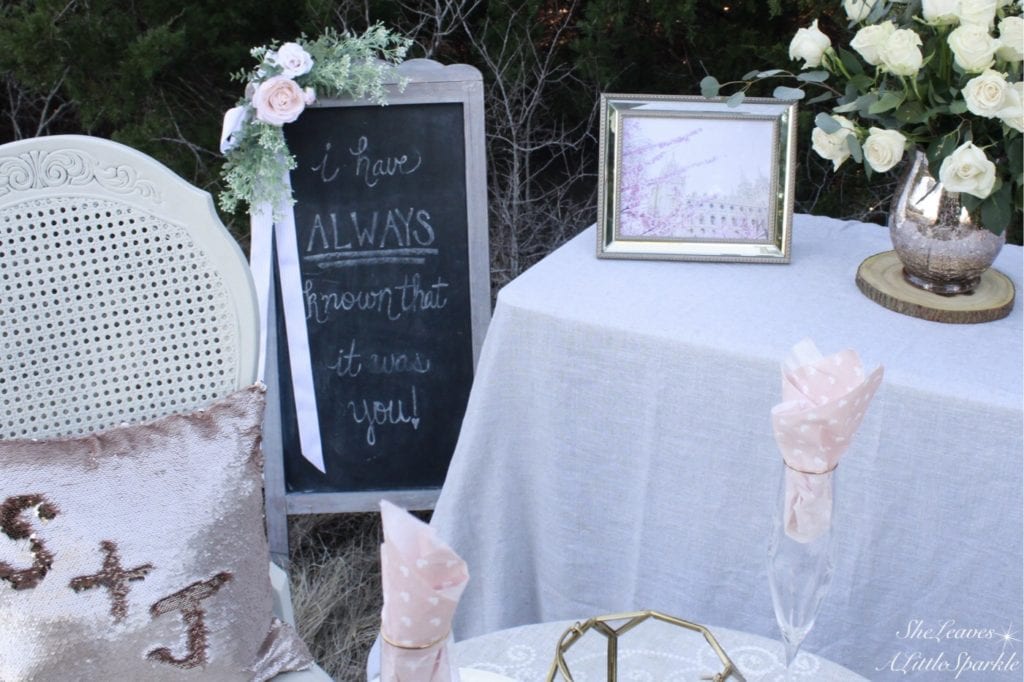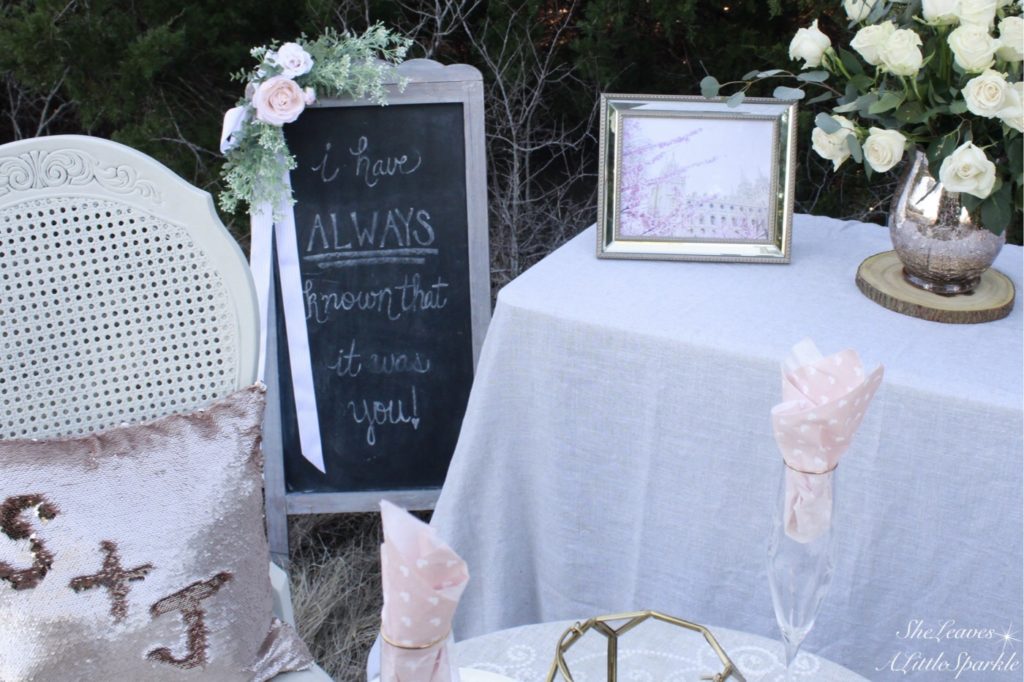 To the left of the table, I decided to bring an A-frame chalkboard that I embellished with some faux blush roses and green branches, blush and white striped ribbon, and this beautiful quote written.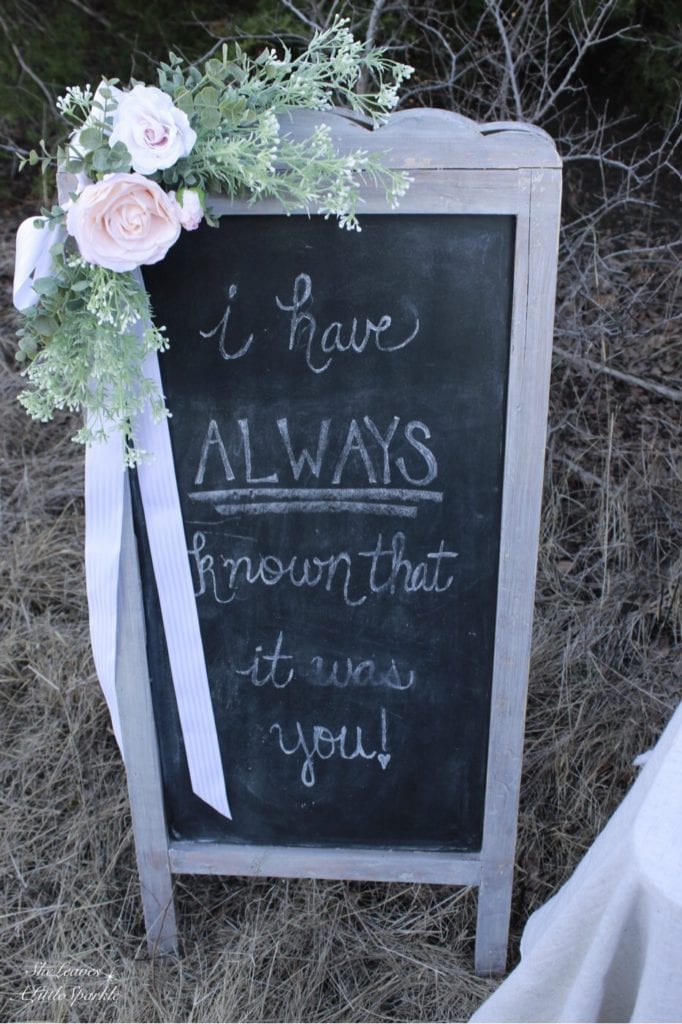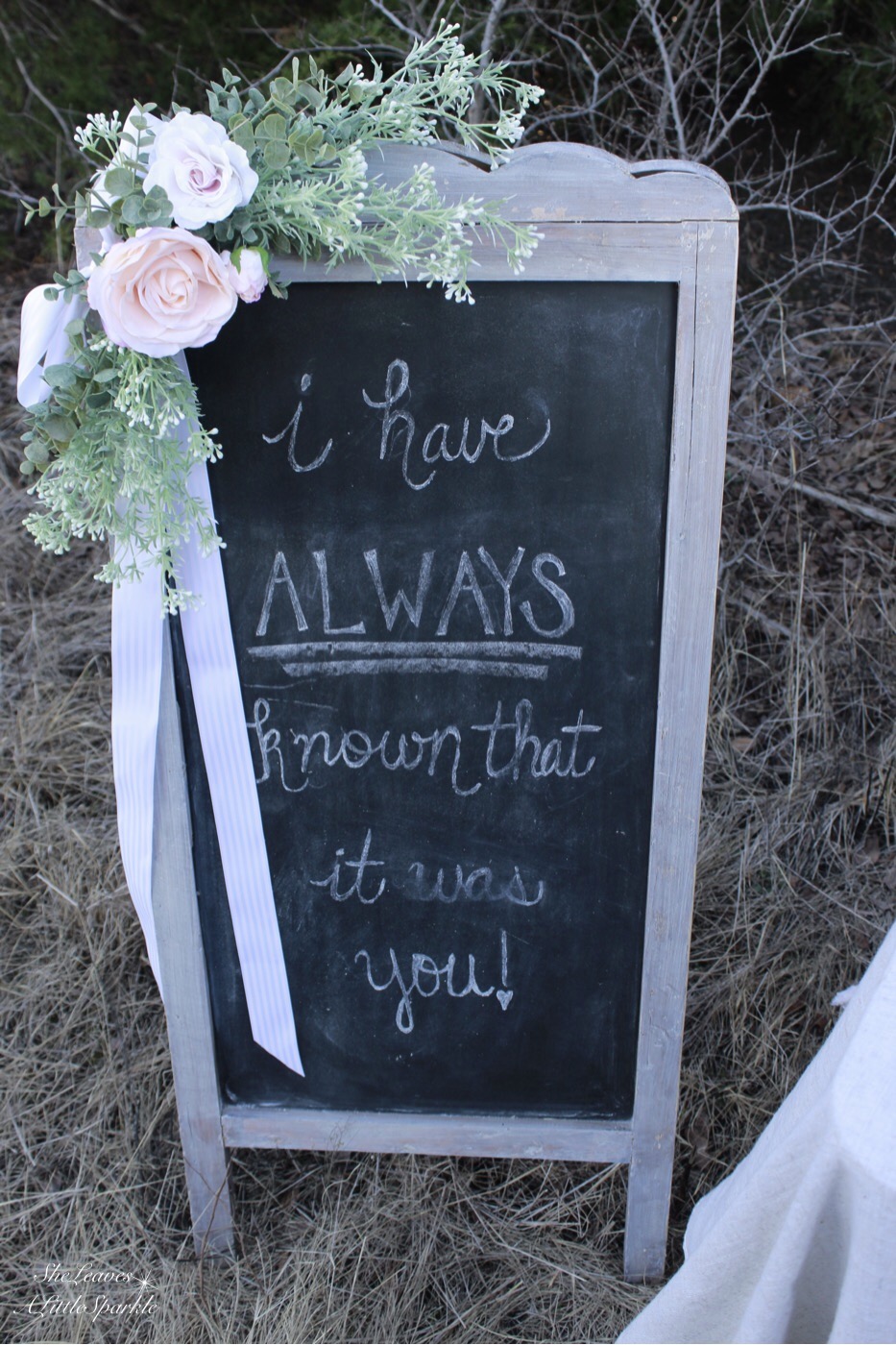 We have loved this quote because, for those that know our love story, we knew for a long time we wanted to get together but waited a couple of years (as I was in Portugal and he was in Guatemala as missionaries) until we were both back in the USA.  Also, after being married for some years and hearing friends say that they "weren't sure they picked the right one" or weren't sure if they "married their soulmate" we felt completely opposite.  We have always known that we were meant for each other AND that we made the right choice.  It's like that saying, "Forever, for always, and no matter what!"  There's just no doubting for either of us.  Ok….enough sappiness (for now).  Moving on…..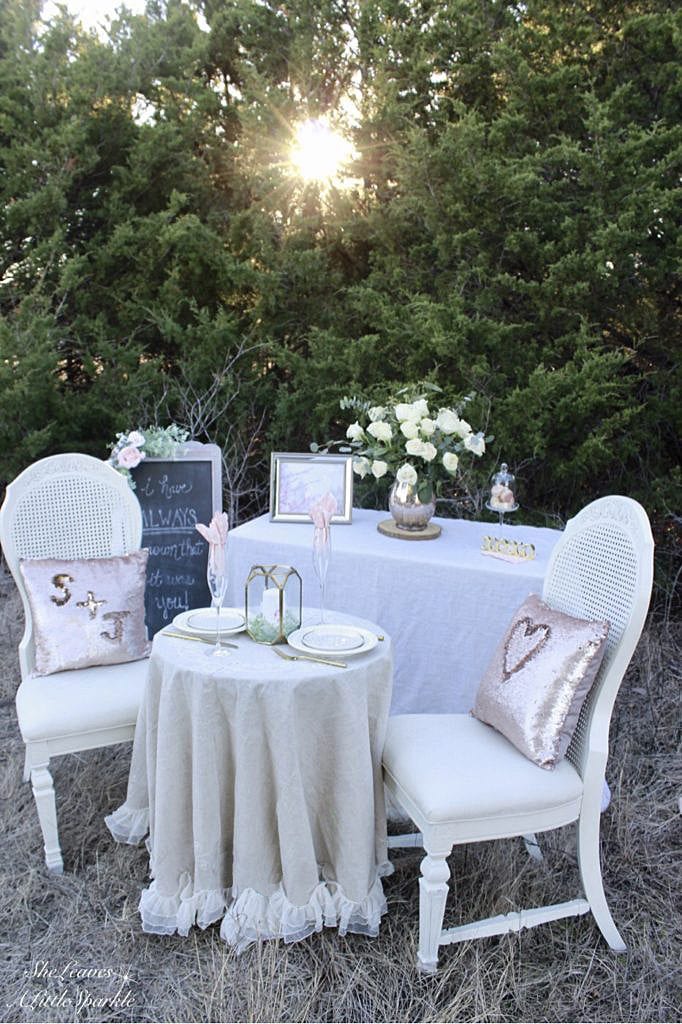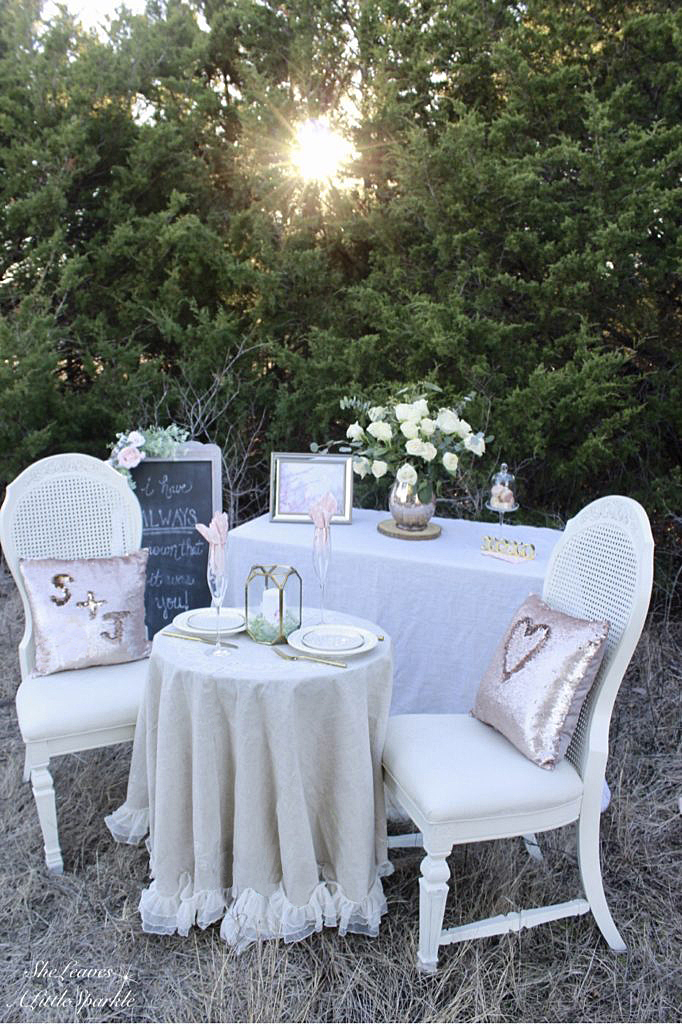 When I went to light the candles just as he was arriving, I stopped to admire the perfect backdrop that was just behind us.  That sun peeking through the trees was just icing on the cake.  The timing couldn't have been more perfect.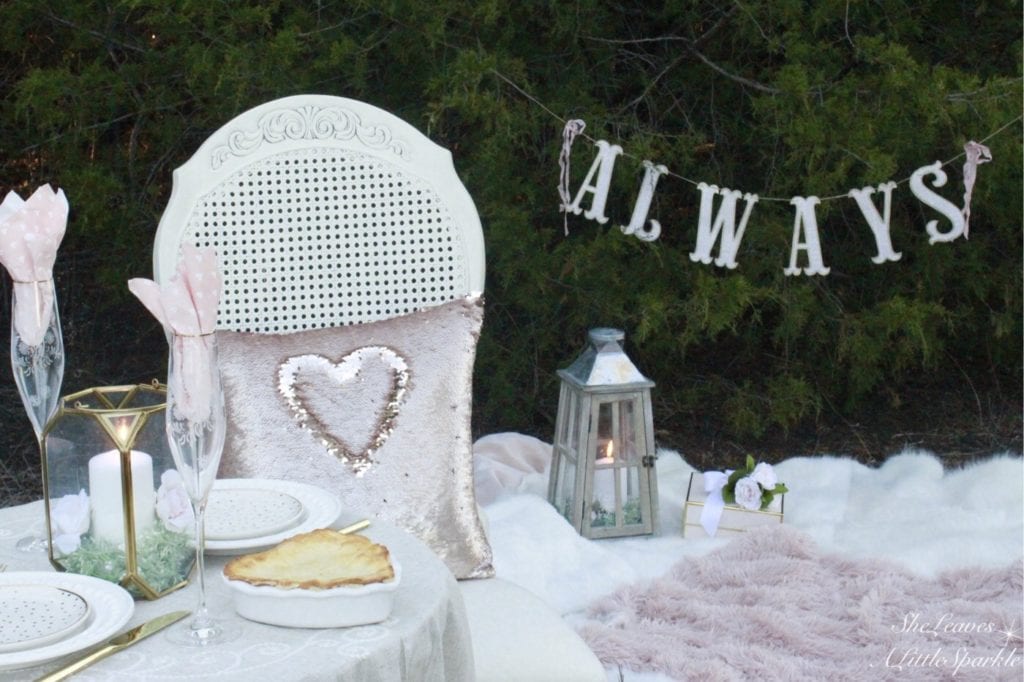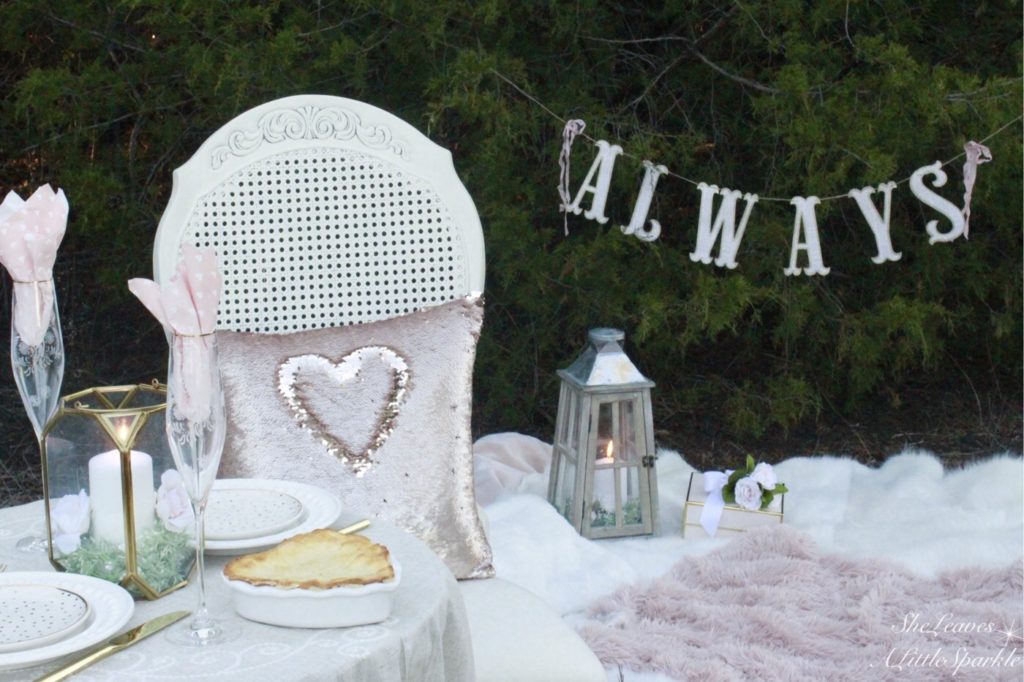 To the right of our table, I set up a little cozy spot for us to sit and snuggle together after dinner.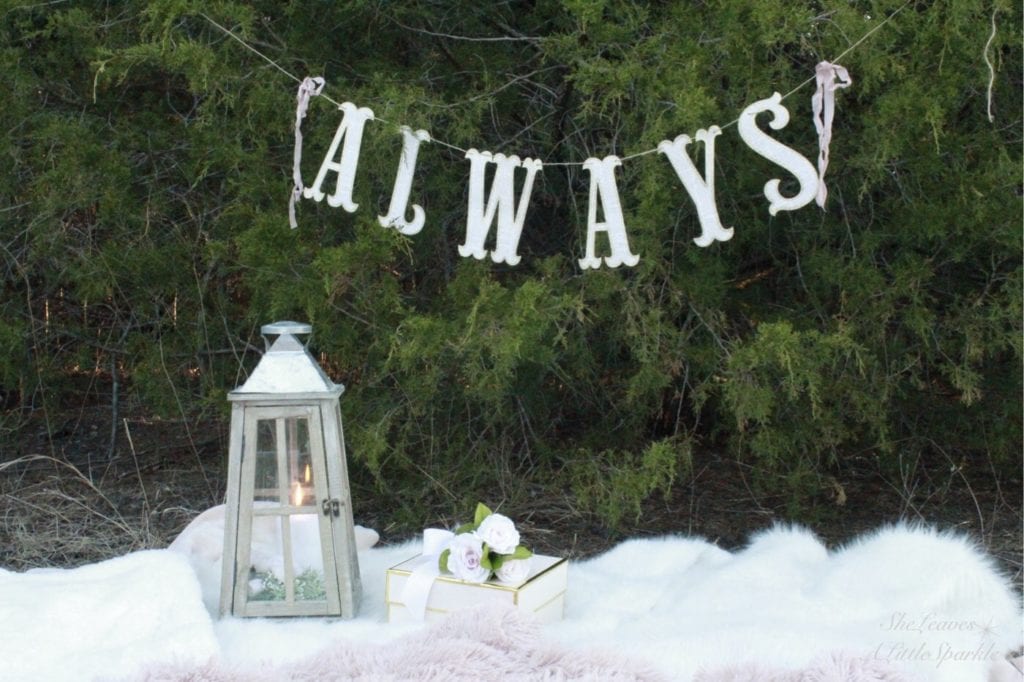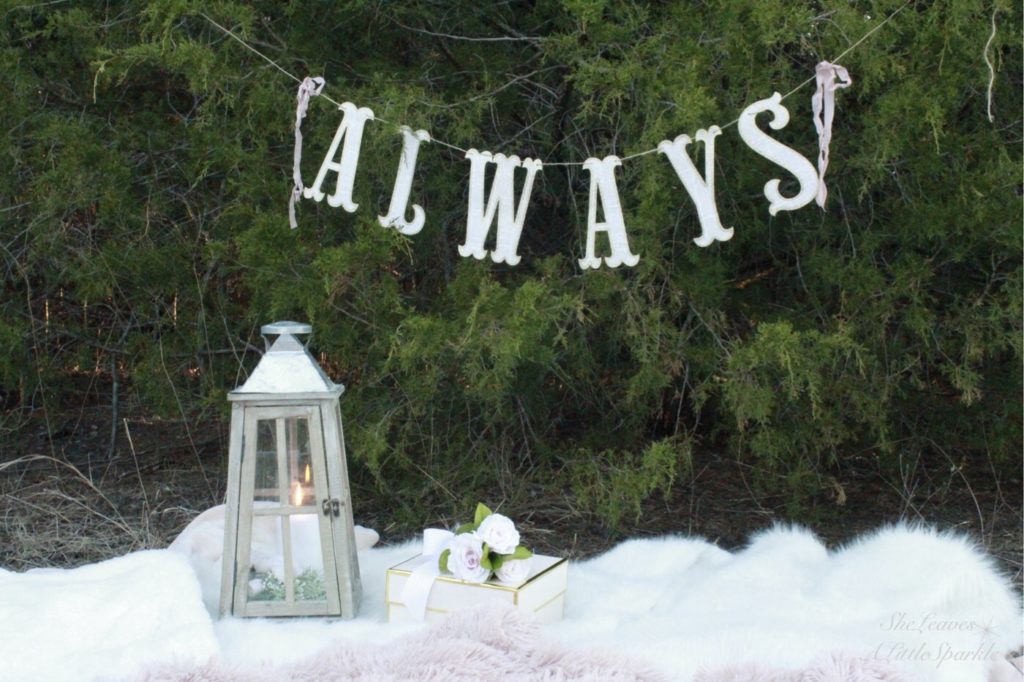 I used the Vintage Glitter Letter Banner from my online shoppe to spell out "ALWAYS".  I like it more than "forever".  We know we are forever, but we want to like each other always, love each other always, be best friends always, be united and connected etcetera always!  So that's more about the significance of that word for us.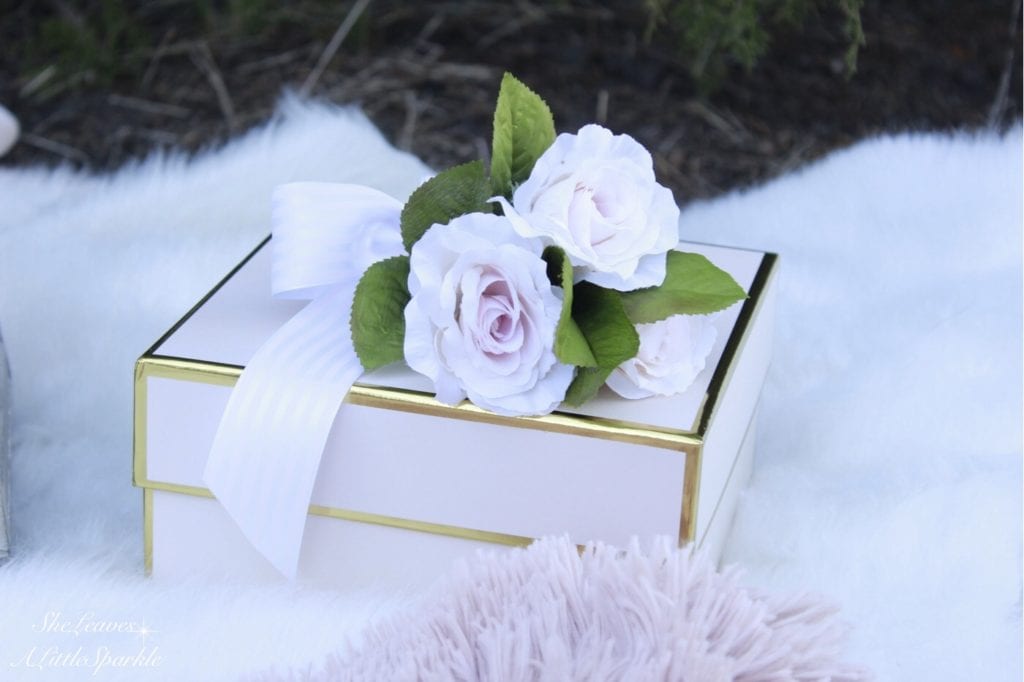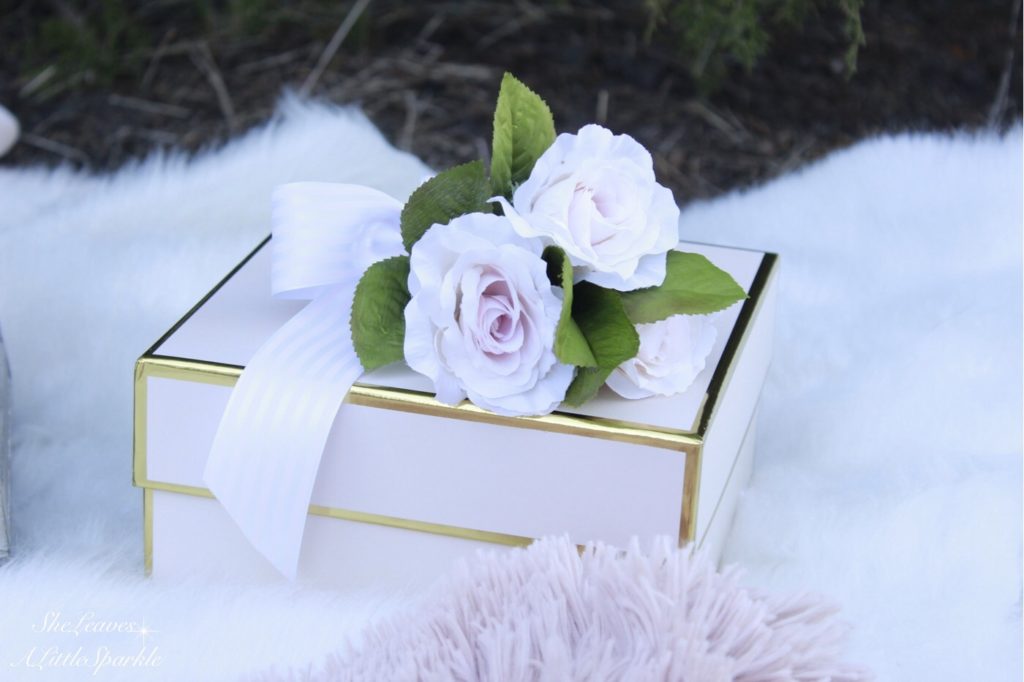 I threw down some faux fur throw blankets, a pretty blush throw blanket, and a lantern next to this lovely box.  A present for Josh?  Nope.  Inside was a stack of just some of our letter we wrote back and forth to each other, from Portugal to Guatemala, for 2 years.  There were soooo many experiences we shared in those letters.  Hard times, the best times, really funny times…..and it's through those letters that we got to know each other and become best friends and start to fall in love.  If our house ever caught on fire, I'm grabbing my kids and those letters!!!  They are priceless.  We laughed and rolled our eyes at some of the memories and even had some very tender moments. This was the most PERFECT way to celebrate 13 years of marriage AND have an early Valentine's date.  This is also where we ate those delicious macarons.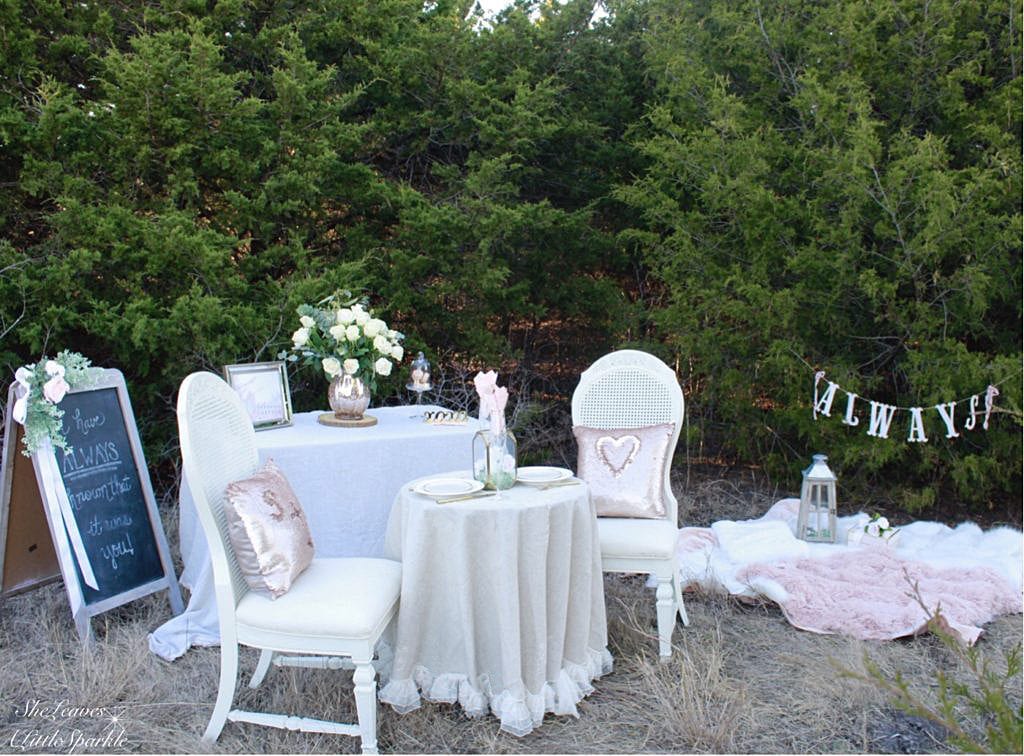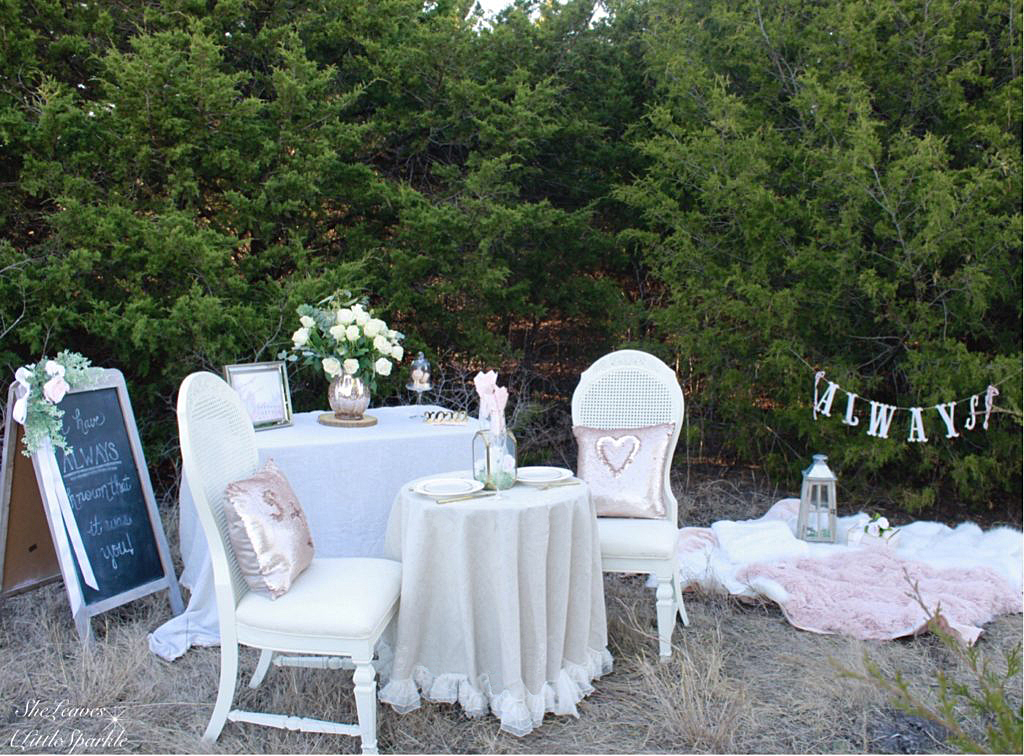 The night couldn't have gone better or been more romantic.  This is such a fun idea and really so easy.  Besides baking the Chicken Pot Pie and making my fruit platter, the only other thing I made was the floral arrangement.  The extra bodies to help set-up were very helpful but if you don't have help, you can still do this so I encourage you to plan this surprise outdoors table for two!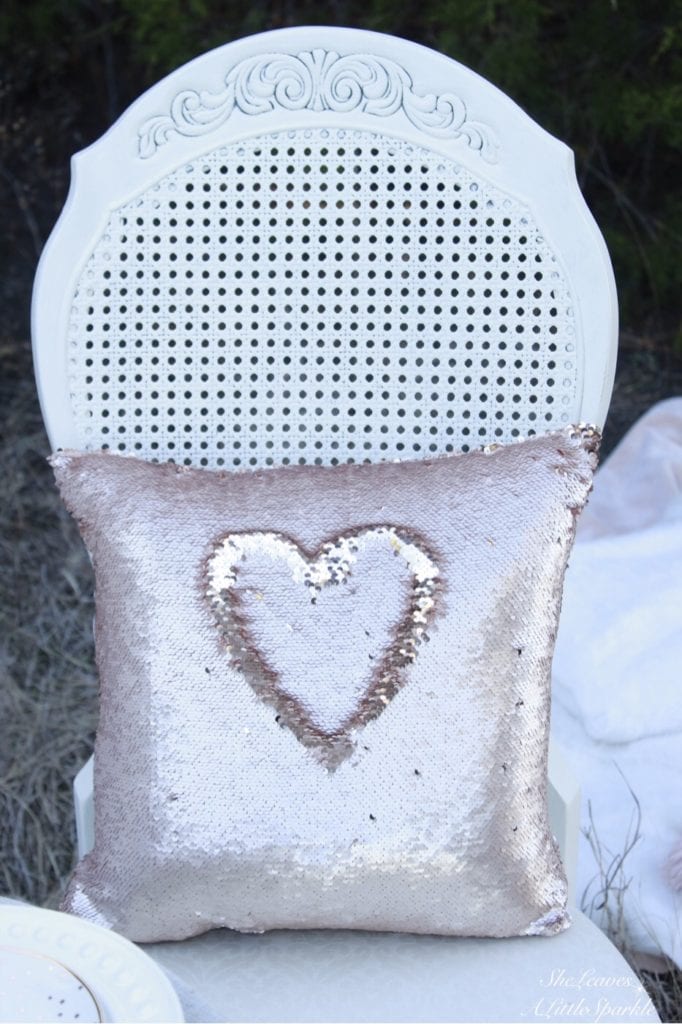 These blush sequin pillows are new to my shoppe!  They are matte sequins on one side.  And if you use your finger to "draw on the pillow" and flip the sequins up, they are shiny on the other side.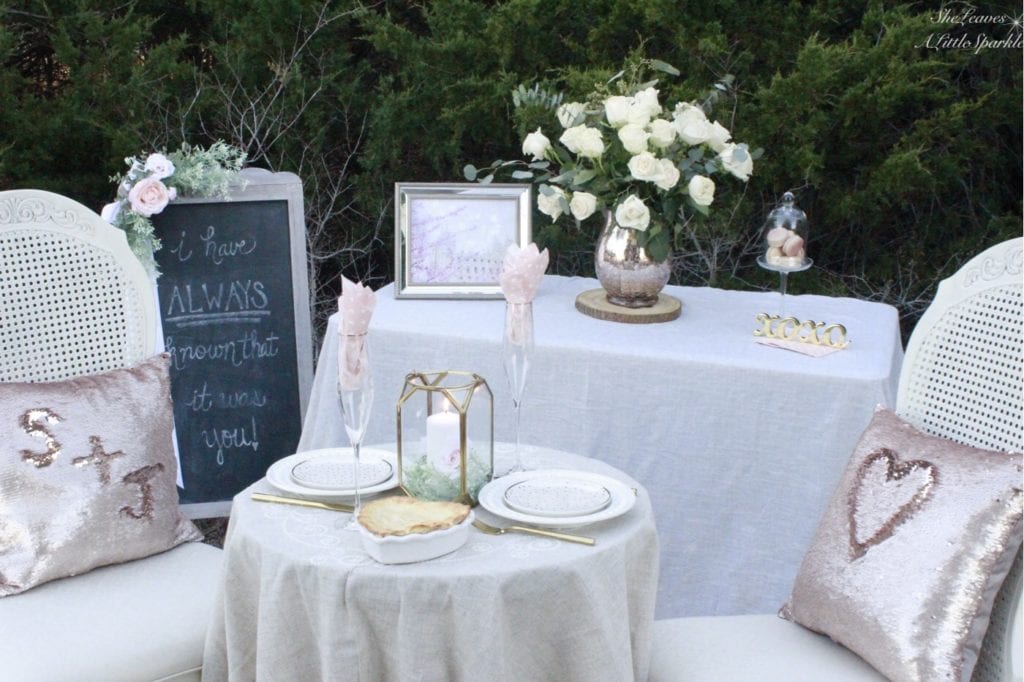 That is how I made the heart on one pillow and the "S+J" on the other pillow.  So fun right?  You can also leave the all down for the matte look or switch to the all shiny side.
I'm providing the links of what I used (or something similar if not available) to create this special evening just below, for your shopping convenience.




I can't WAIT for you to hop on over to Kelley's blog at Kelley Nan and see what she is doing to Wine & Dine her sweet Valentine!  Kelley always has the best ideas and quite the hostess with the mostest so you're in for a real treat!  Please make sure to also visit my 3 other talented friends listed below.  These ladies are a constant source of inspiration!  Make sure you're saving all these fabulous ideas to Pinterest!  You could even text these links to your Valentine if you think he might appreciate the ideas.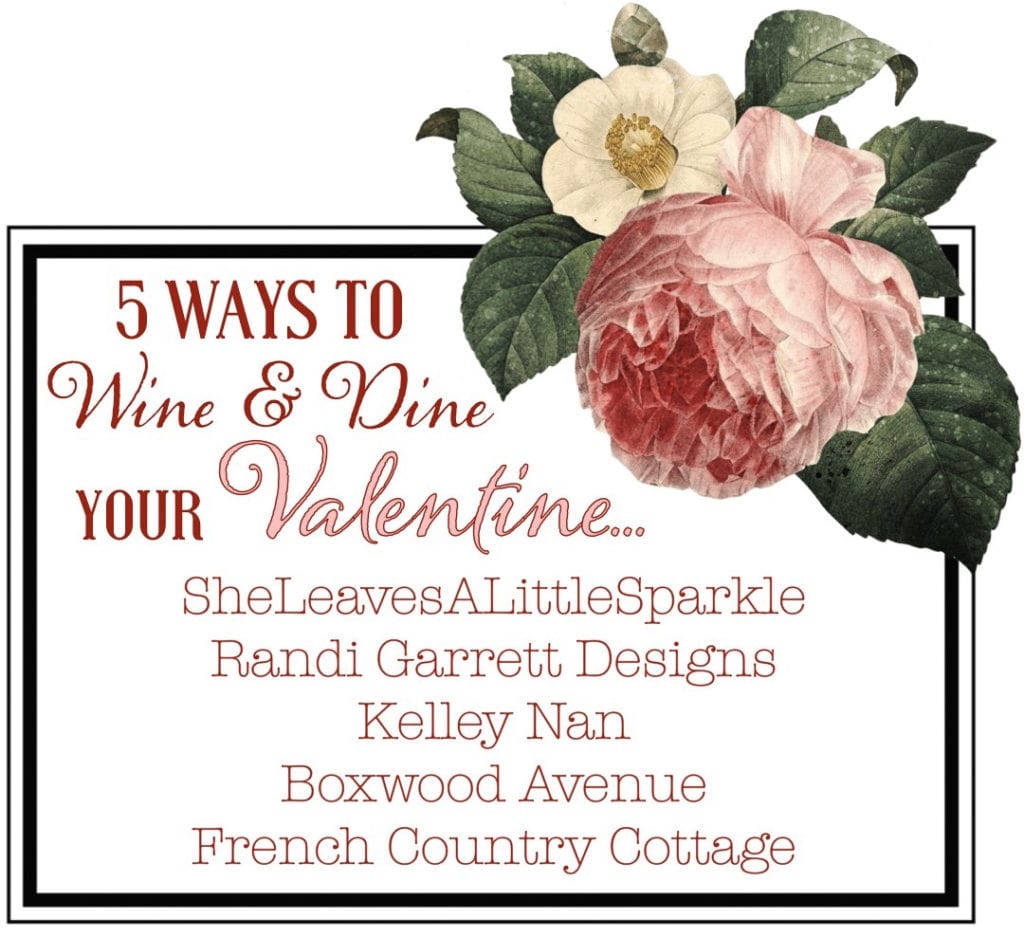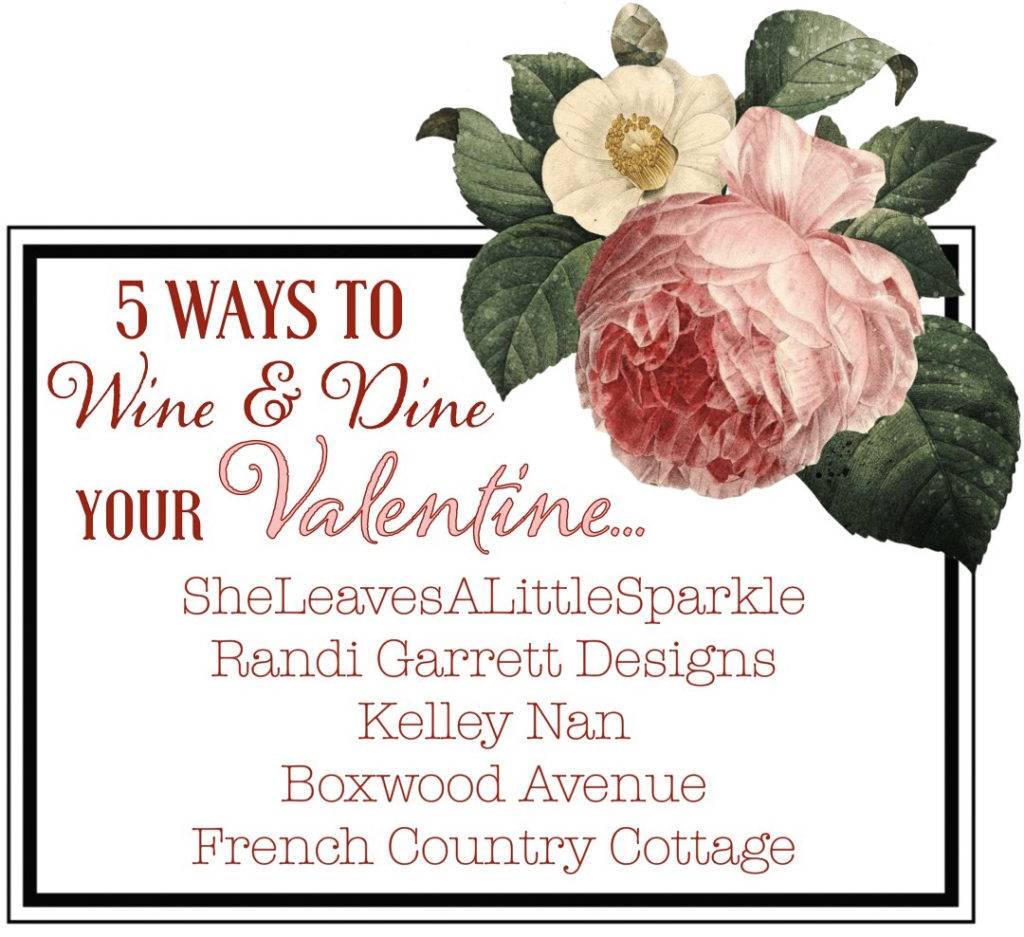 SheLeavesALittleSparkle |  KelleyNan  |  BoxwoodAvenue
RandiGarrettDesign  |  FrenchCountryCottage
Thanks so much for joining me today!  I would love it if you subscribed at the top of the page in order to receive my weekly emails of all my latest posts.  You can also follow me on Instagram, Pinterest, and Facebook to see what I'm up to in creating a home and lifestyle of inspiration!  Hope to see you soon!
xoxo,

*Post contains affiliate links.