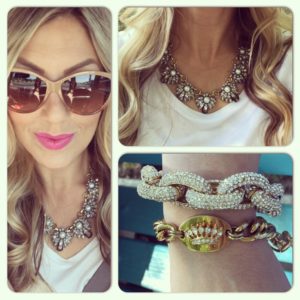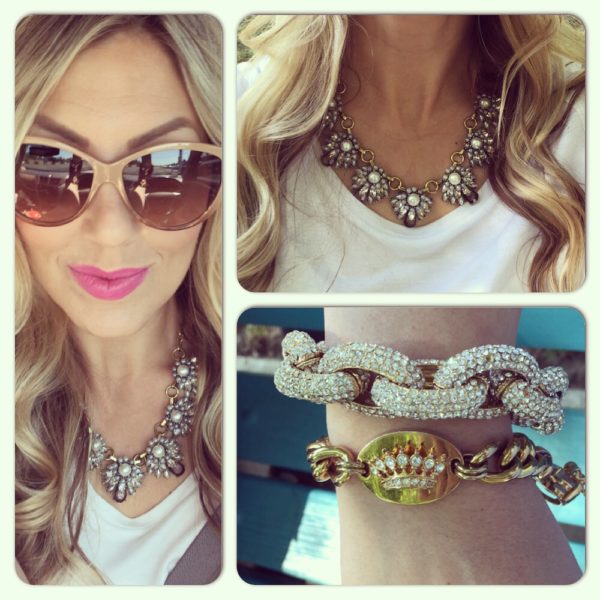 On Sundays I get dressed up and ready for church.  I also get dressed up for date nights.  And maybe another day during the week if I have lunch with friends or something planned. Otherwise…I'm in some kind of tshirt and denim, for the most part.  That being said, I try to make a casual or comfy or plain outfit less "drab" and more "fab" by doing the following:
1 – Fun lipstick!  Nude lipsticks are my most favorite and shades that I typically feel most comfortable in.  However, putting on some bright red or bright pink or coral lipstick can make you feel like a million bucks in 2 seconds.  If it is scary for you at first and if you feel like it's too much, try going easy on your eye makeup so that it doesn't look over-done.  Click HERE for great looks on how to balance eye makeup with bold lipstick.  My faves are "St. Germain" by MAC and the one I'm wearing in the first pic above called "Razzle" Butter Liptstick by NYX.
2 – Fabulous jewelry!  Of course, my favorite jewelry is from Tres Chic Boutique.  I love throwing on a bold statement necklace and bracelet with a white tshirt and jeans.  It's amazing how different you feel about yourself when you put on fabulous accessories.  I love the pieces shown above.  You can find them HERE and HERE.  I wore them to the park with my kids one day during Spring Break.  Simple, comfy, easy BUT fabulous!
So put your hair in a messy chignon (fancy for "bun") or a side braid or loose beach-wave curls….it doesn't matter.  But you don't have to look like a tired mom just because you might feel like one!  And again, how you feel determines how you treat other people (on the inside AND on the outside) and you might even flirt a little more with your husband if you feel sexy!
Go get 'em, ladies!
Bold lipstick kisses, Summer