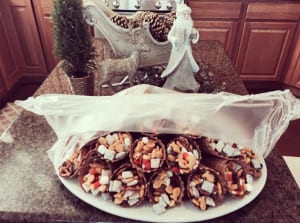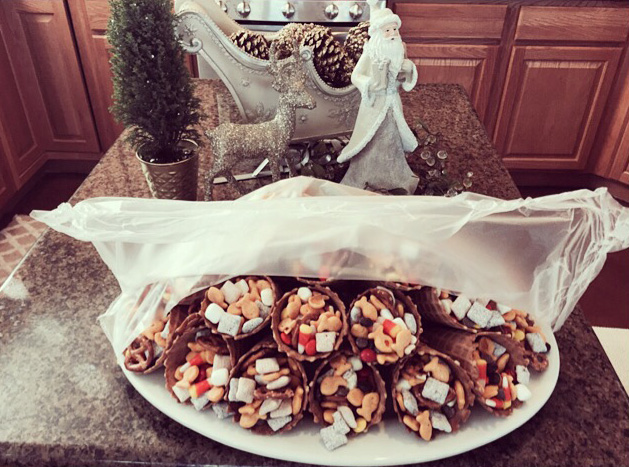 This was probably the easiest treat I've ever done for my kids' class parties.  All I did was mix (get a giant mixing bowl for this) a bunch of snacks together and then scoop into waffle cones.  We called this "Harvest Mix Cornucopias" but the idea of mixing snacks was also used in my daughter's preschool and called a "Friendship Mix", since each child (or friend) brought something to add to the mix.  So cute, right?  I used:  Cheddar Goldfish Crackers, marshmallows, chocolate chips, candy corn, Chex Muddy Buddies, fall-colored M&M's (yep…ya gotta sit and pick out the blue and green ones but you can use them later) and pretzel sticks.  It was a hit with all the kids in the class!
And yes….those are Christmas decorations starting to be put up before Thanksgiving…ha! It's also possible that I've been listening to Christmas music since Halloween 😉
*Note: This may not work at all schools or in all classes due to allergies and/or rules.  Check with your teacher first to get approval.  I even double-checked with the Assistant Principal and she said it was just fine as long as there were no classroom allergies.