Once upon a time, in a public place, my purse tipped over and everything fell out.  That "everything" would include lipsticks, receipts, medications, my cell phone (which resulted in a cracked screen), coins, wrappers, kids' toys, feminine products (face palm), every stick of gum, and the list goes on.  It was embarrassing and I'm sure it's happened to you, too.  Am I right?  Fast forward about 8 years and someone in church next to me commented on how organized and pretty the inside of my purse was, as they watched me reach down to grab us a couple of sticks of gum. My flashback of the first shared experience came into my mind and I laughed to myself.  I'd arrived…ha!  So today I'm sharing with you what every girl needs to know: How to organize and maintain the prettiest purse.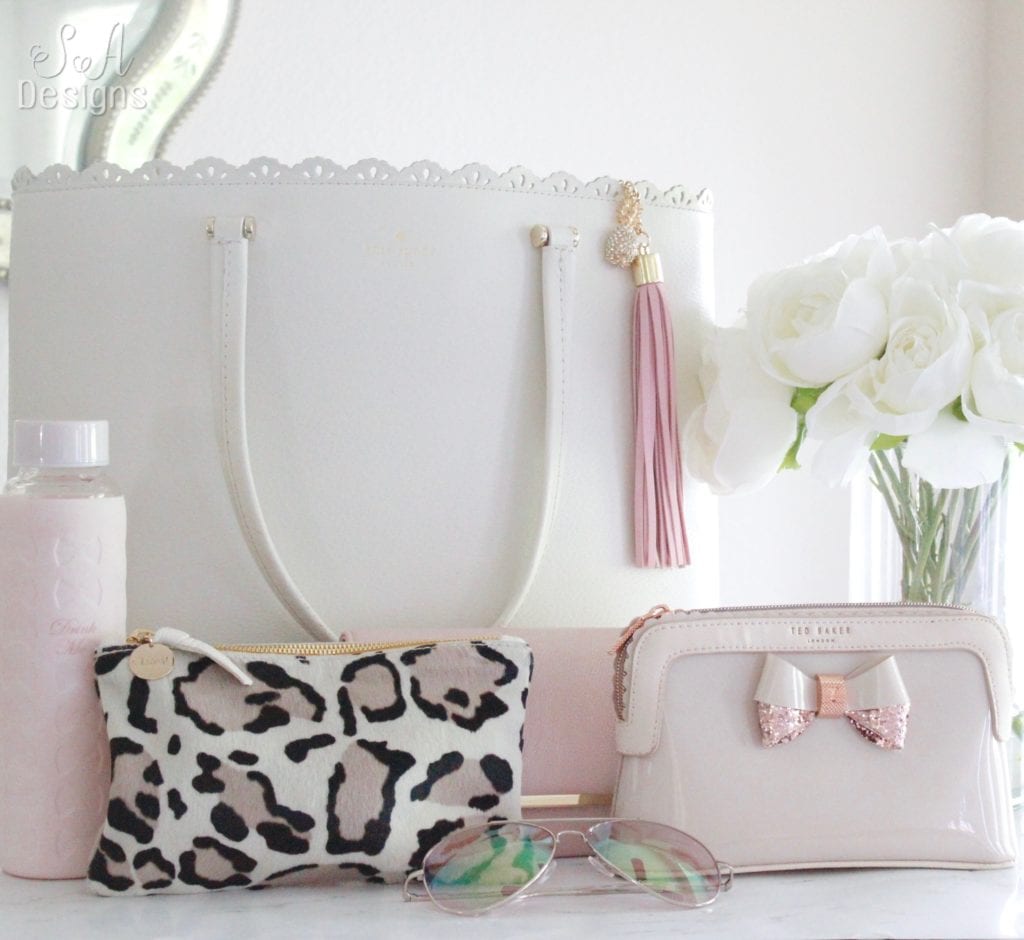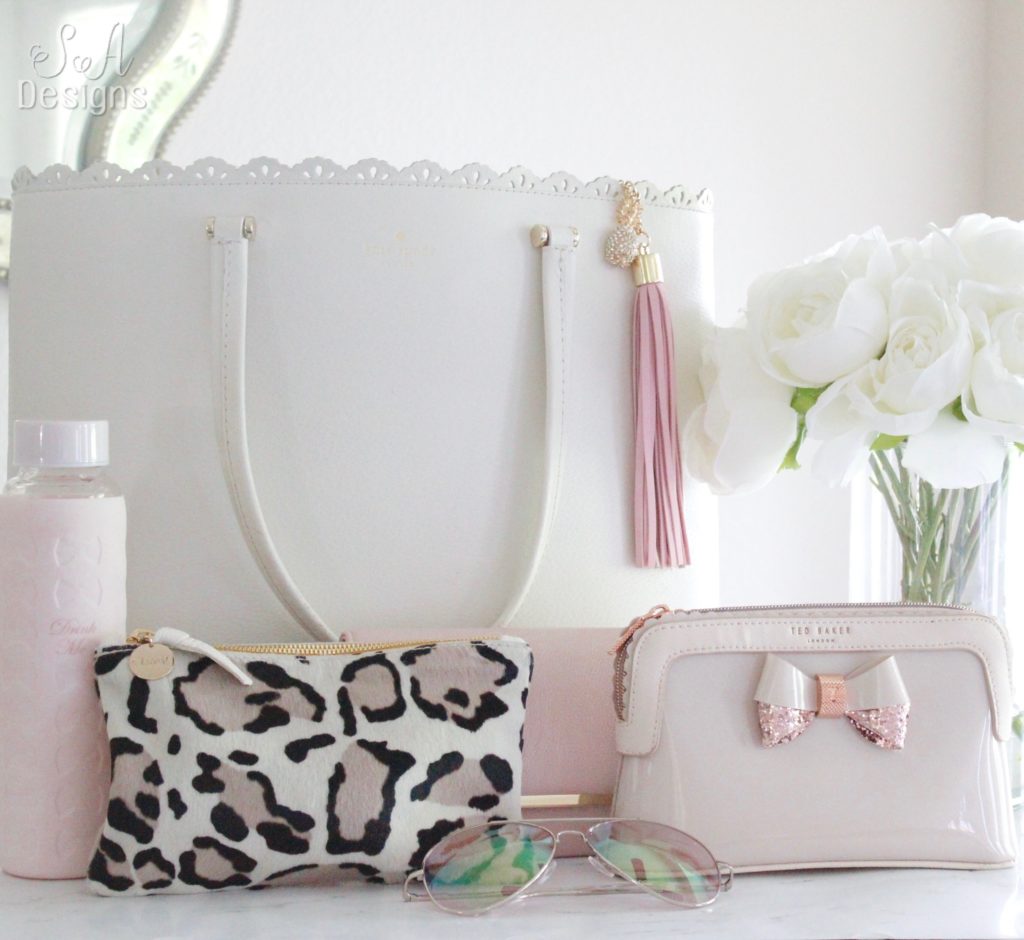 I own some very specific essentials that one must have.  They're not only pretty but they'll keep everything in its place.
Pretty Essentials Every Girl Needs For Her Purse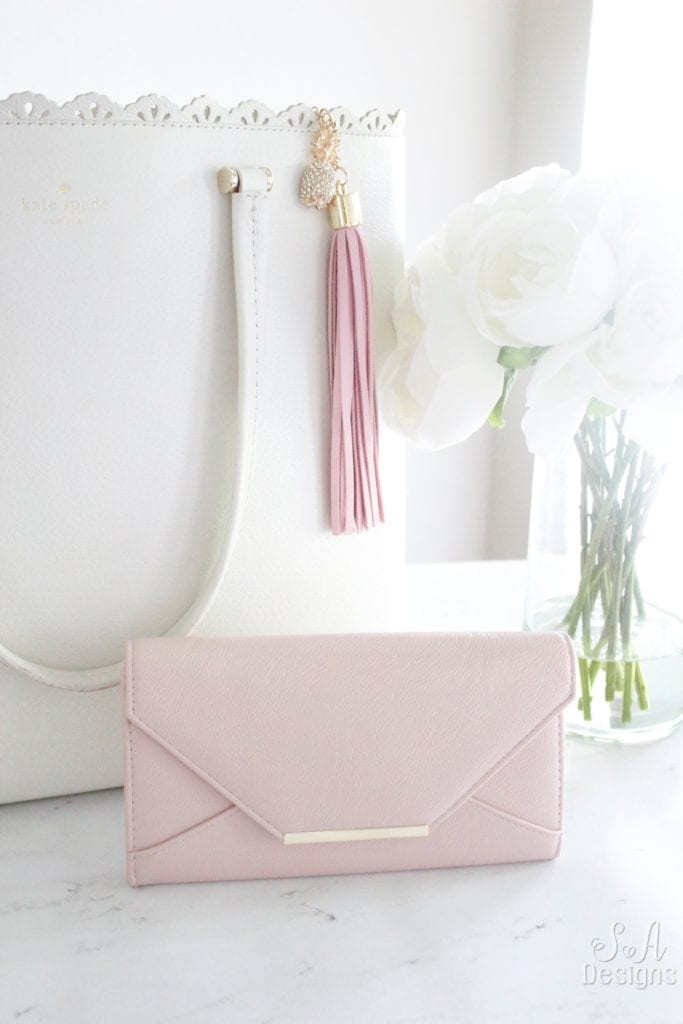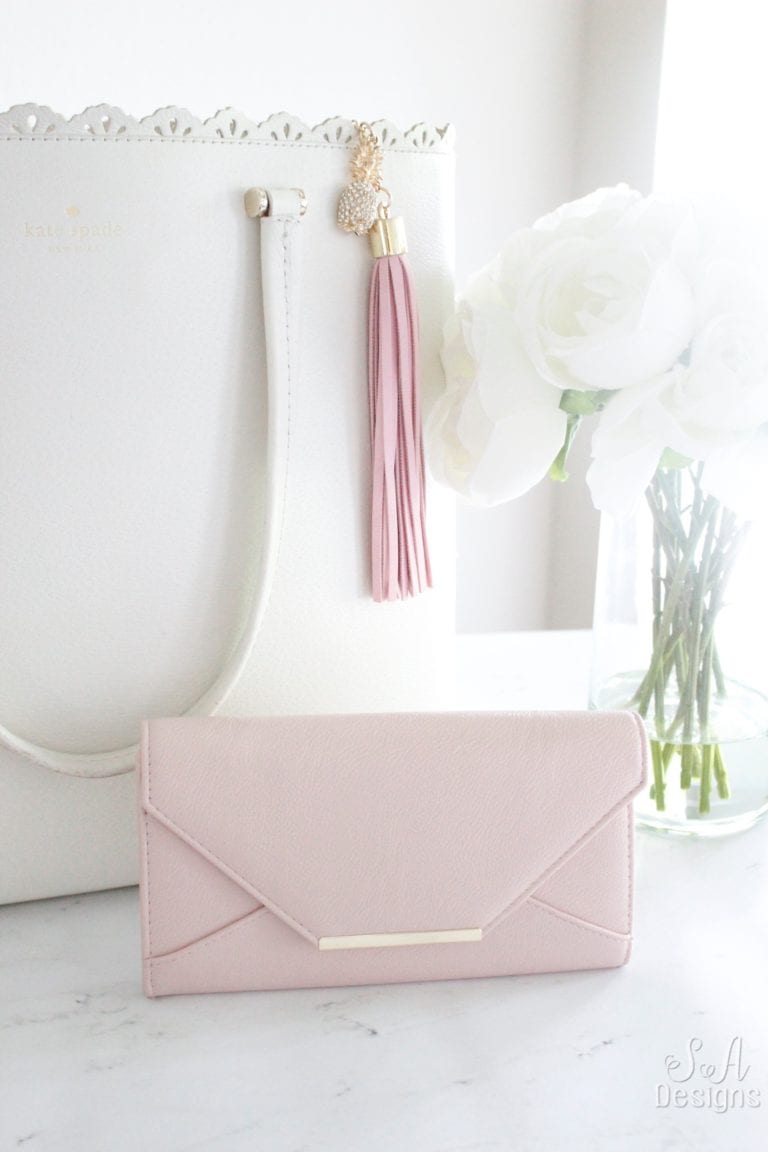 First, you need a wallet that holds everything well.
Make sure you have enough spots for all your credit cards, cash, coins, store loyalty cards, and stamp cards.
Go through all your stamp cards and toss the ones you never ever use.
Then go through your loyalty cards and decide if you need them or not.  If they are all registered with your phone number (and most of them are) just toss them!  You can use your phone number instead when you check out and then you're carrying less bulk in your wallet.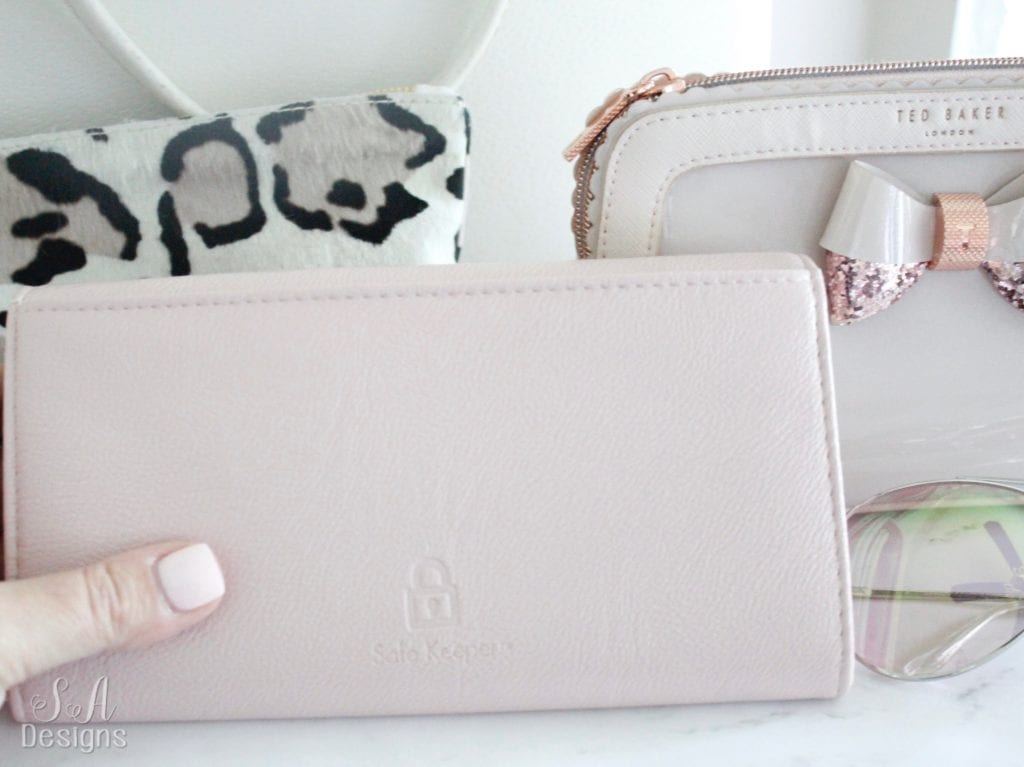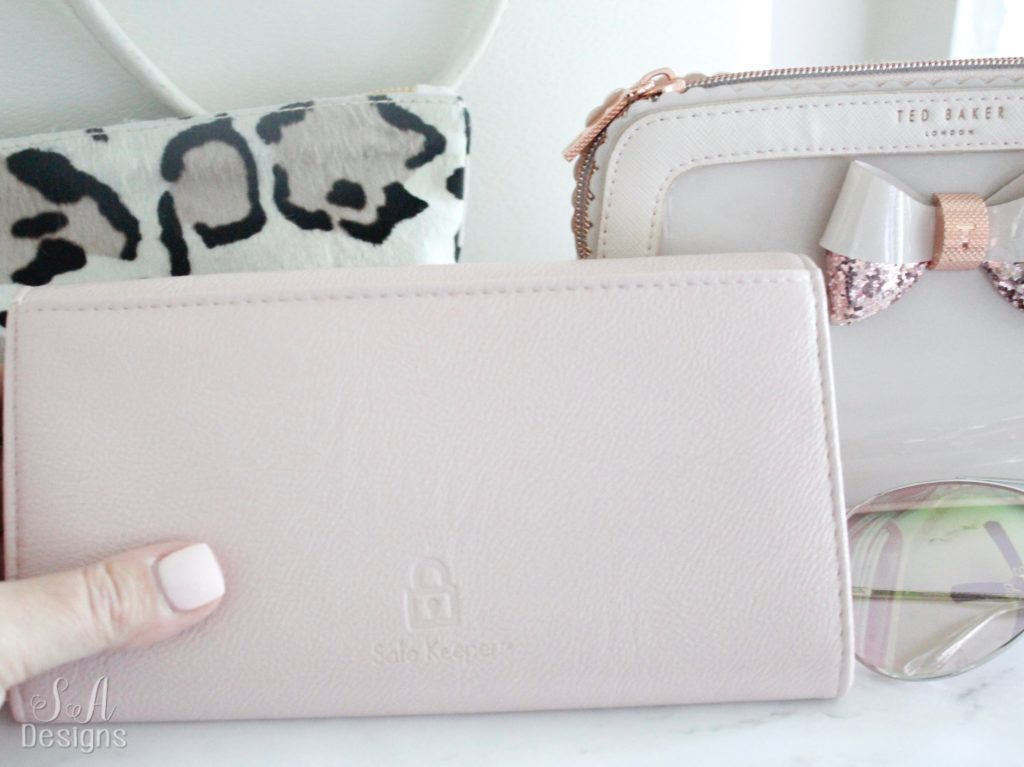 My latest wallet was a very important purchase!  We've had some serious credit card fraud lately (it had to have happened locally) and I'm not sure if it came from using my credit card at the gas pump or from someone walking by me with their card reader and snatching my card number.  So  I found this one and it has SafeKeeper™ that will protect your credit card numbers from being scanned and saved by any fraudulent devices.
Here are a few different wallets I love: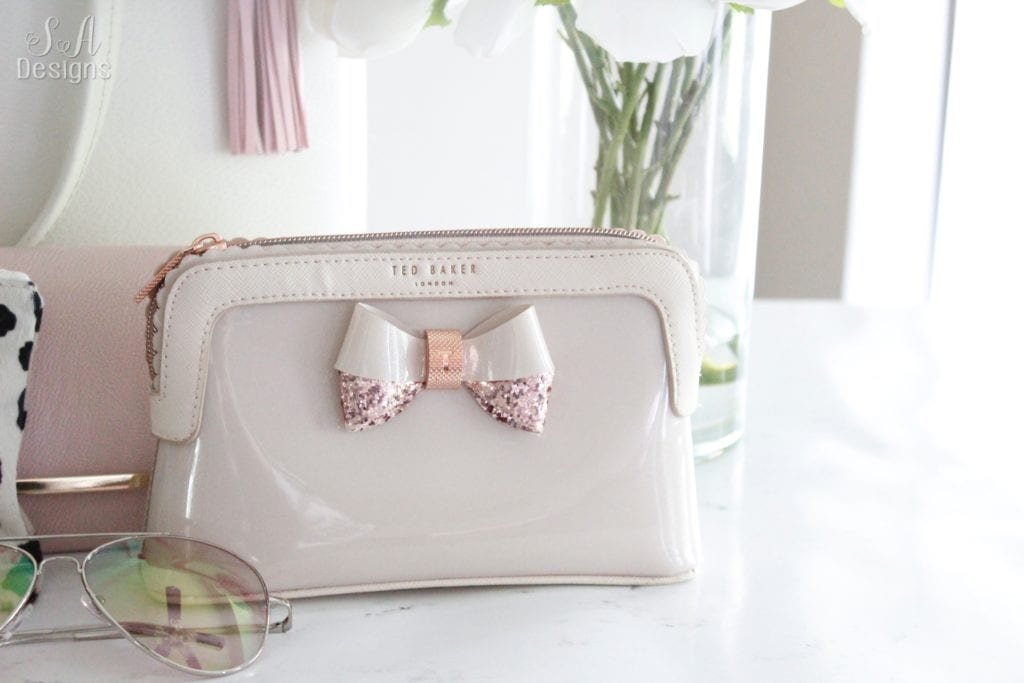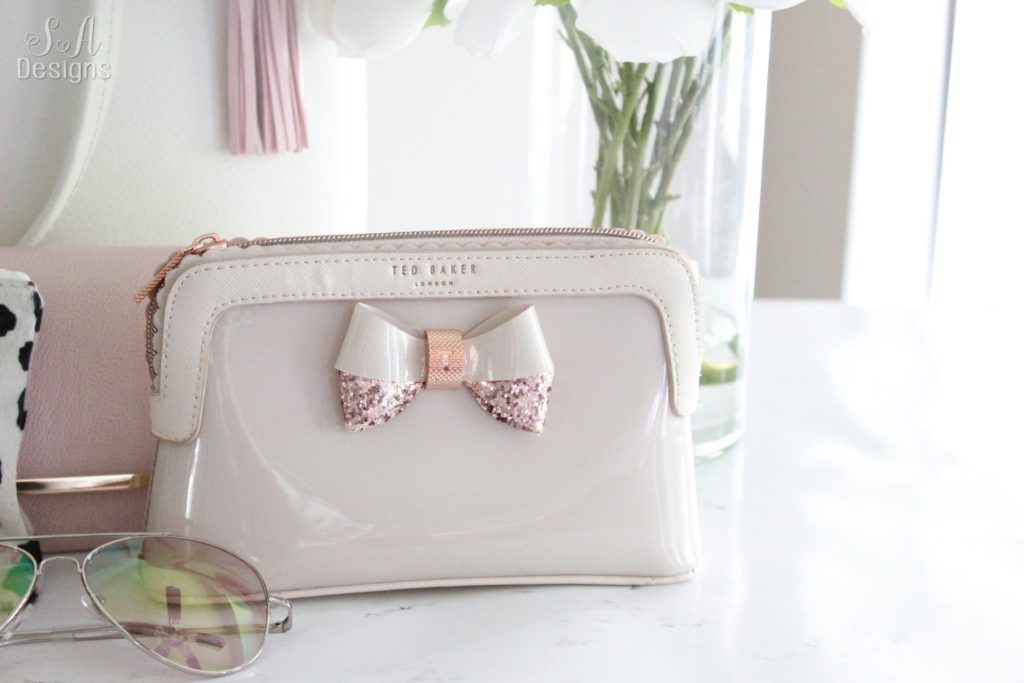 Second, a small cosmetic bag or pouch is perfect for carrying cosmetics, a roller ball perfume, and my favorite pink nail polish for an emergency.
I also keep a small pill box in there of pills that I need to take during the day, when I'm out and about.
Here are some cosmetic bags I like: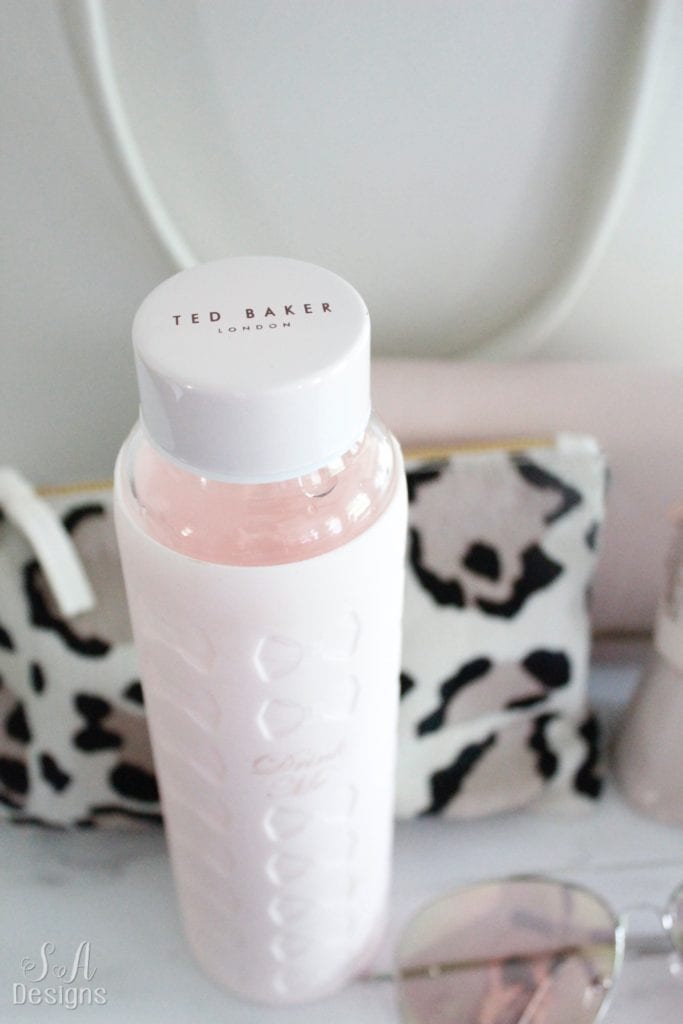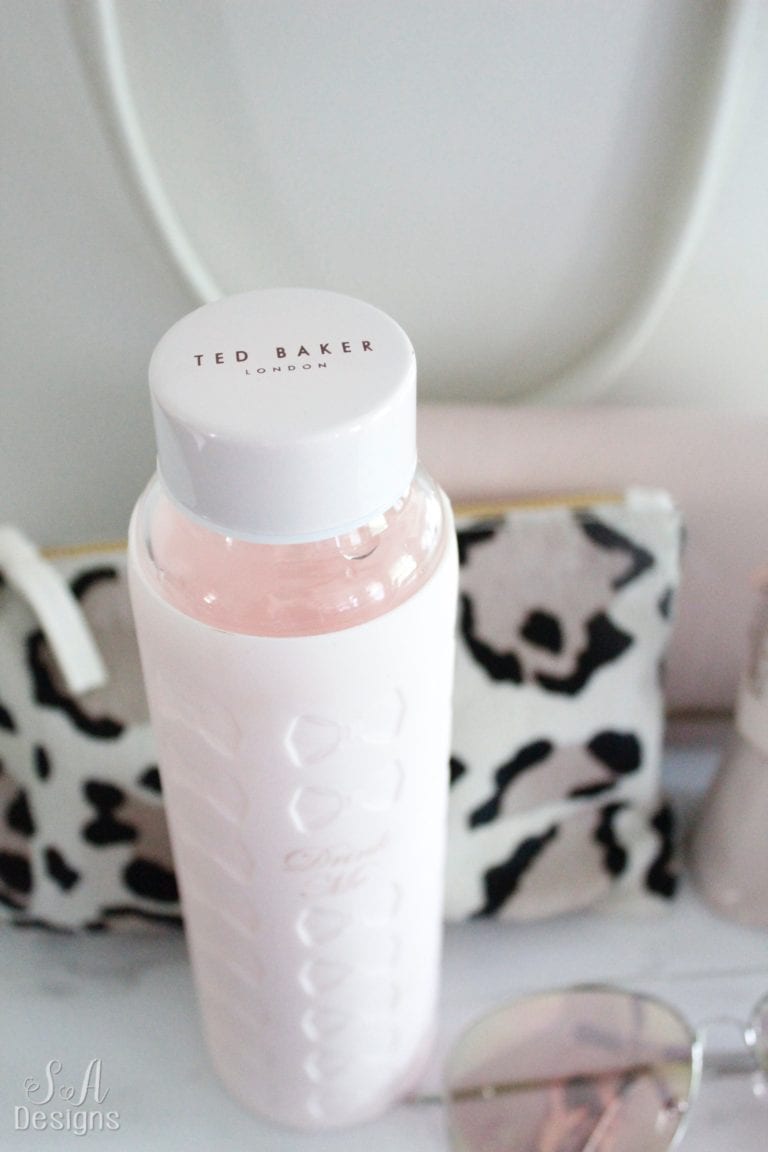 Third, a small water bottle is essential!
You don't want one that's too heavy to carry in your purse or that can crack and leak all over everything.
This one holds just 12 ounces and has a silicone sleeve so that it doesn't "sweat" all over the other items inside my purse.  If I need to take a pill or I'm thirsty from shopping, I have my water.  Do you see the cute  little bows on it and the "drink me" on the side?  It's so "Alice In Wonderland", right?!  I adore it.
This water bottle by Ted Baker sells out often so I'm sharing a few others that I love below: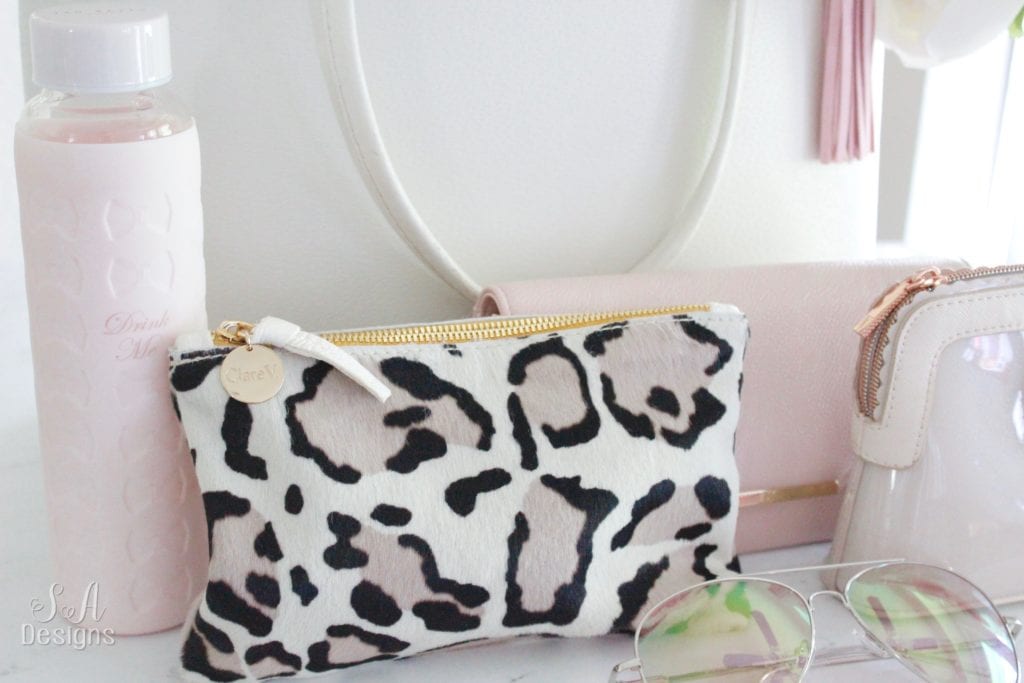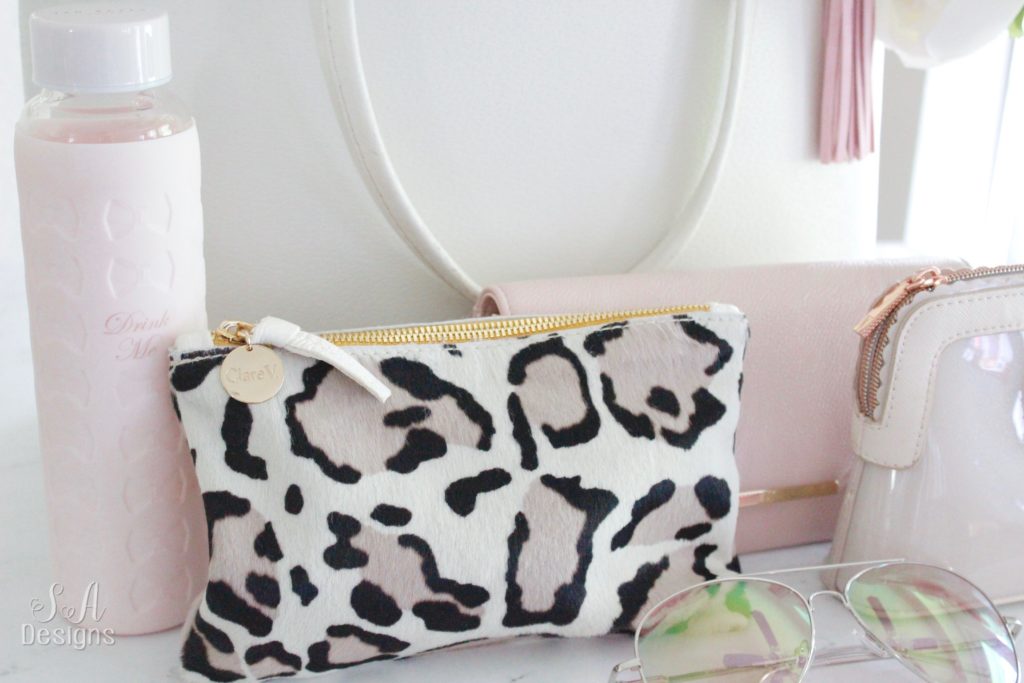 Fourth, this gorgeous small pouch is another essential for your purse and staying organized.
For some, this might hold receipts or snacks or sunglasses or band-aids, or pen and paper.  But this is what I keep inside…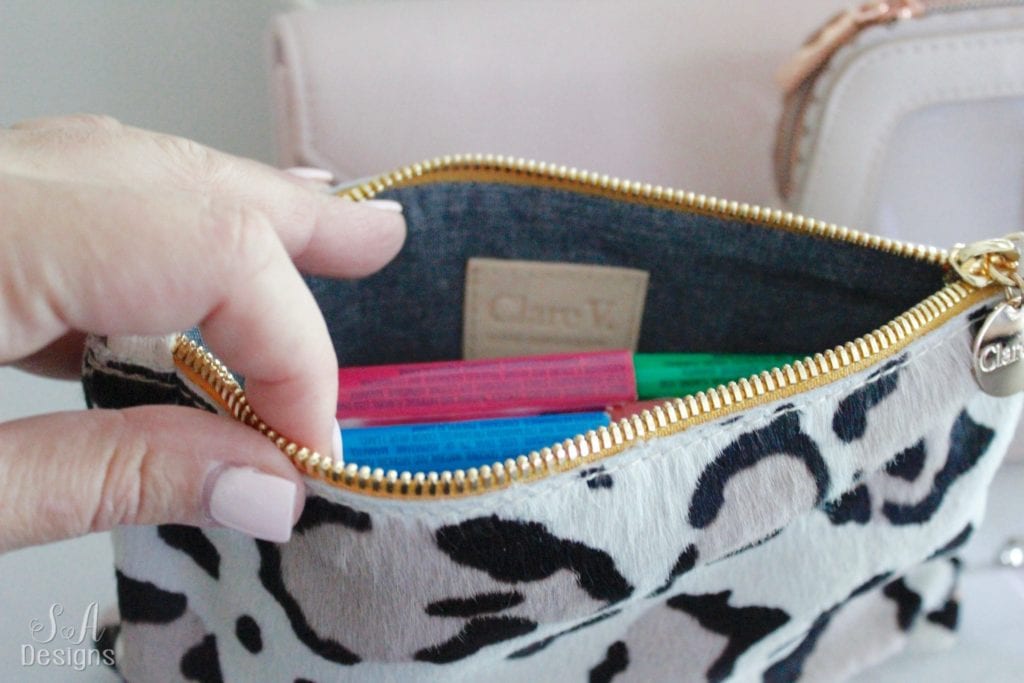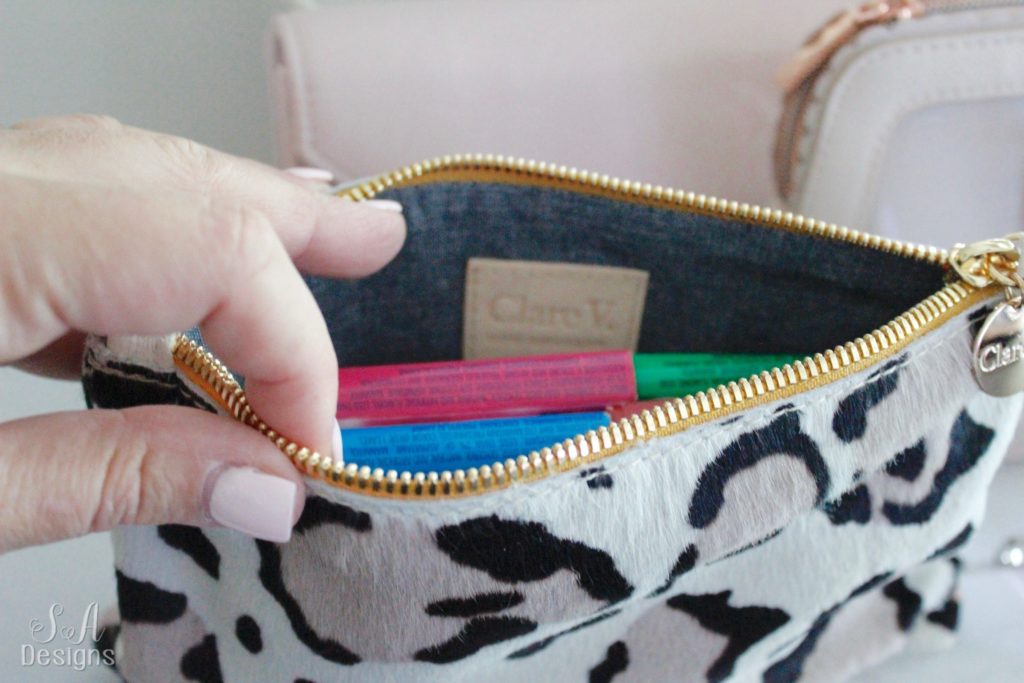 I keep 4 different flavors of gum in mine (all 4 of us in our family like a different flavor hahaha).
I also keep a protein bar in there, post it notes, and a pen.  Pouches carry all of those loose things that you would otherwise through in to your purse and end up at the bottom all crumpled.
Here are some other beautiful pouches: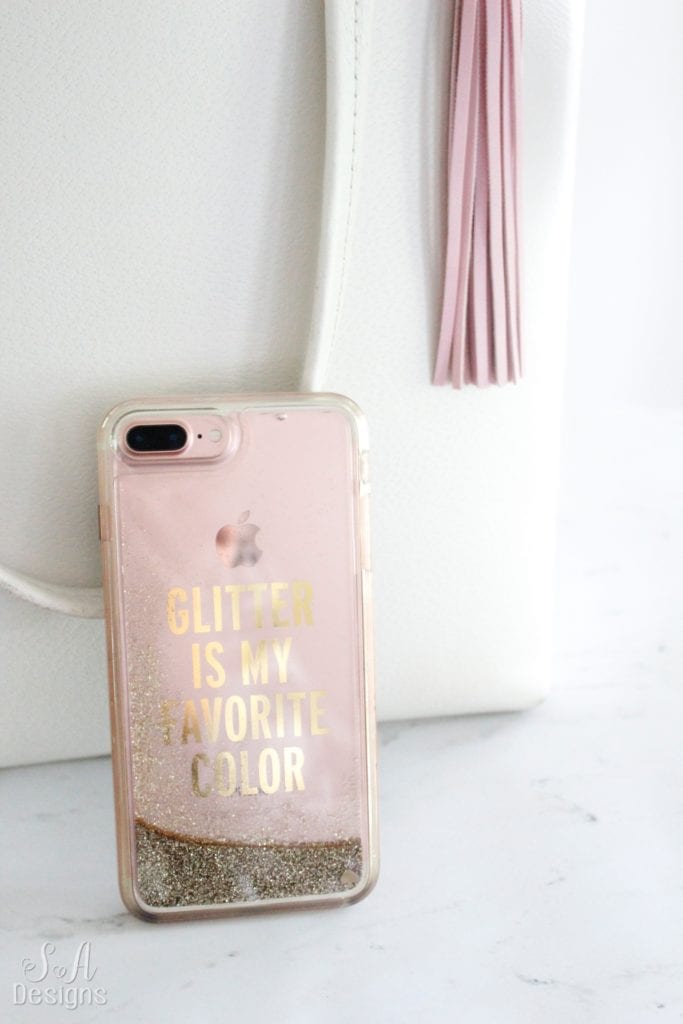 Fifth, my cell phone with a shatterproof case.  Do you notice a theme here?  I love blush pink.  It's important to be organized but it's even better for all of it to be pretty!  Who said the inside of your purse can't be as pretty as the outside???
Here are some pretty cases: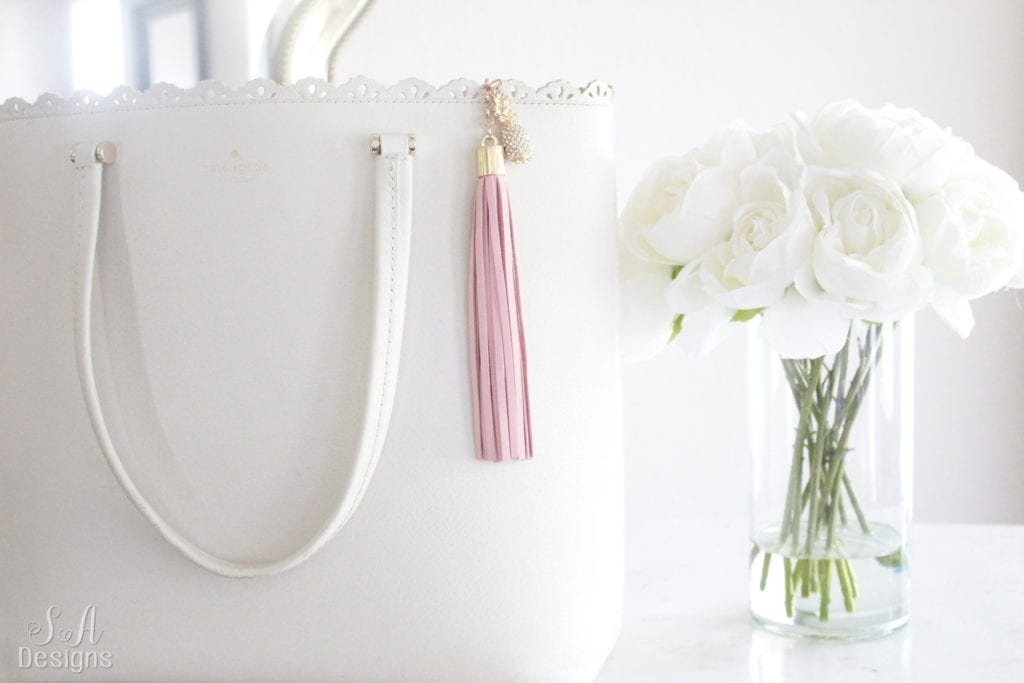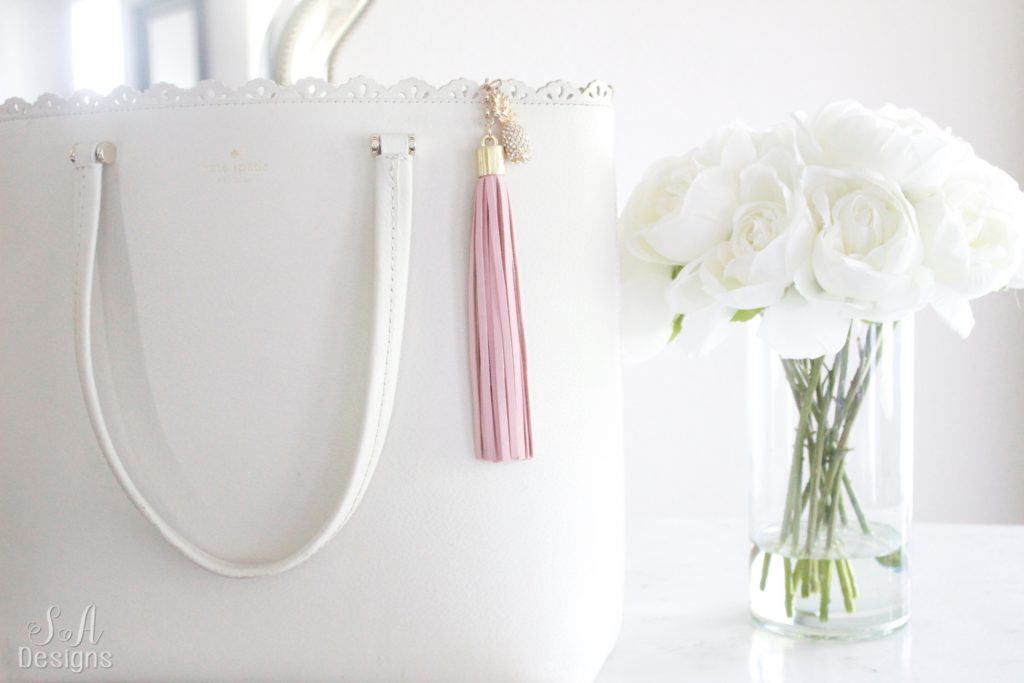 Sixth…a great keychain is essential for staying organized.  There's nothing worse than throwing your keys into your purse, or "The Black Hole" (as my husband calls it), and not being able to find them when you need them.  Even more embarrassing is taking everything out, one by one, in order to find them.  Been there, done that.
This cute pink leather tassel with a rhinestone pineapple was a keychain that I recently purchased at The Royal Hawaiian when we were in Hawaii last month.  You just toss your keys on the inside and hang the other part on the outside.  So it's stylish and it also stays put.  Then I can grab my keys when I'm ready.  No digging or unhooking.  Brilliant, right?!  I love it so much.
Here are some other great keychains I found: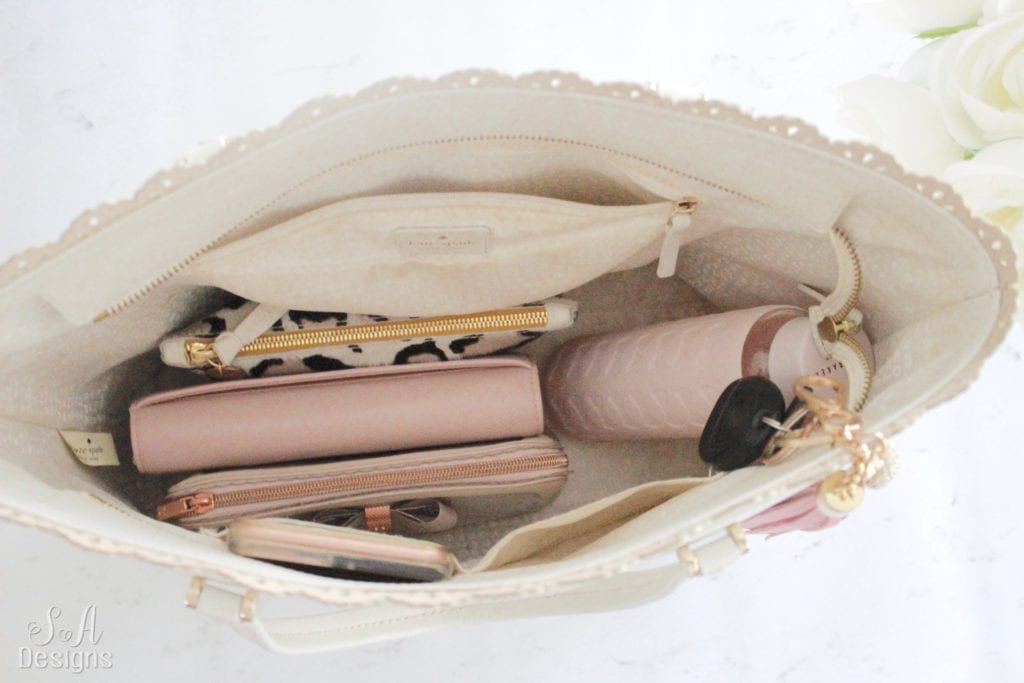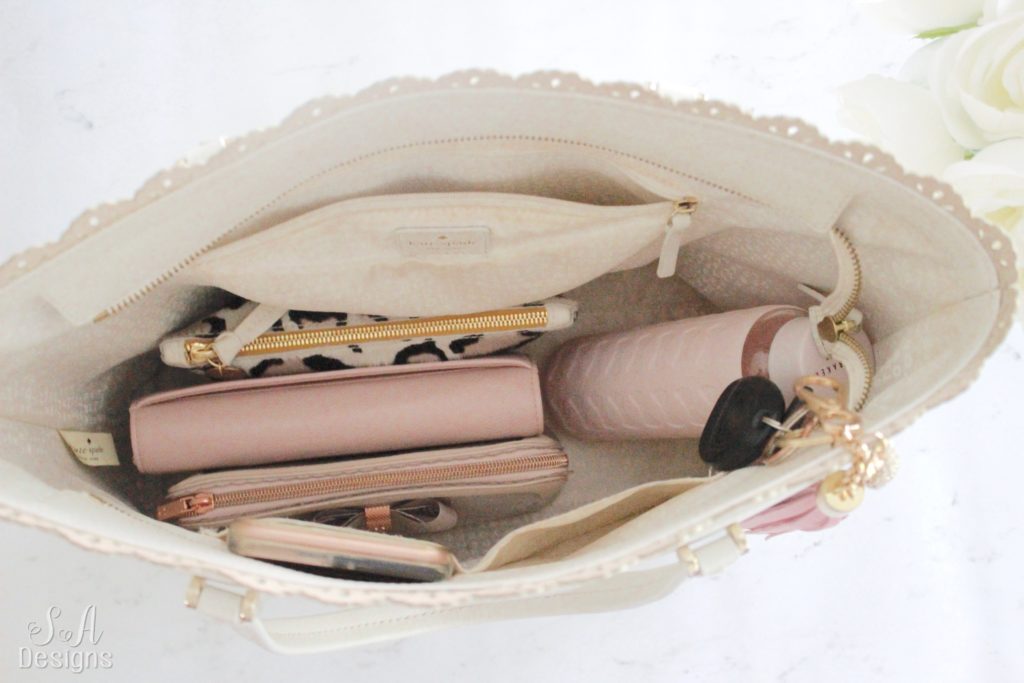 And that's how it looks inside.  My sunglasses go in the side zipper pouch and my phone goes in one of the pockets.  It's clean, everything fits, I can find anything I need quickly, and guess what…it stays pretty light.
*Update: Right after I posted this, I realized I'd left out one more small blush pink pouch.  It has a small pen, mini note pad, small tape measure (very important to have on me at all times), and a protein bar.*
You might look at this and think it's heavy but it's not.  I have shoulder issues and can't carry a heavy purse.
Without your purse being clean and organized, you'd be surprised how heavy it gets.  You tend to just throw anything and everything into it.  And before you know it, you're me eight years ago and frantically picking up all of your embarrassing contents off the floor in front of strangers and throwing it all back into your purse.
So treat yourself to some organization!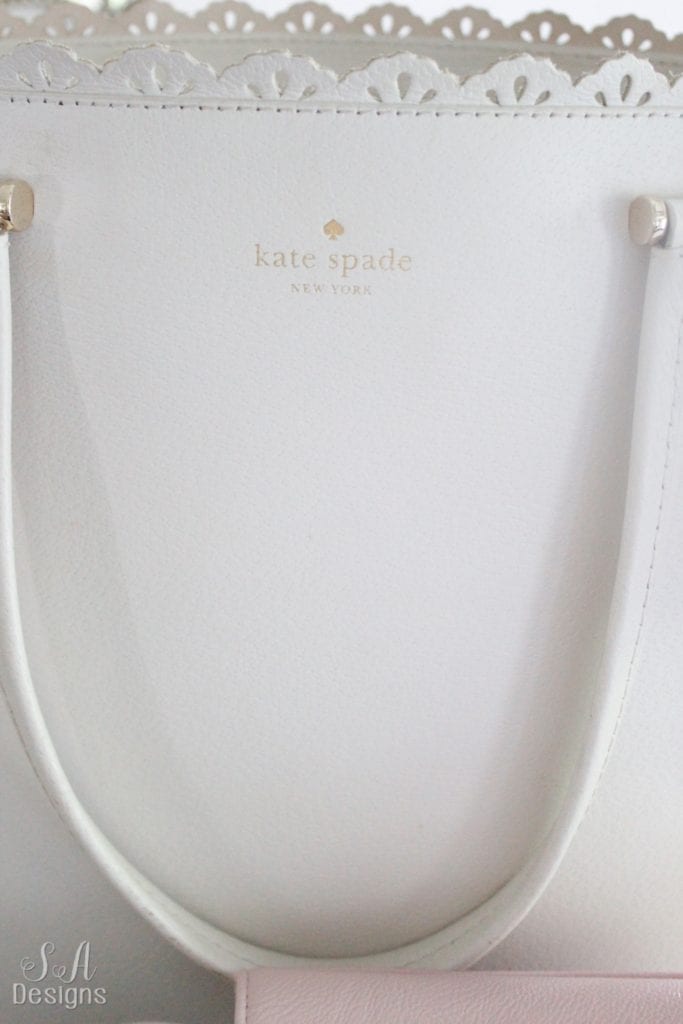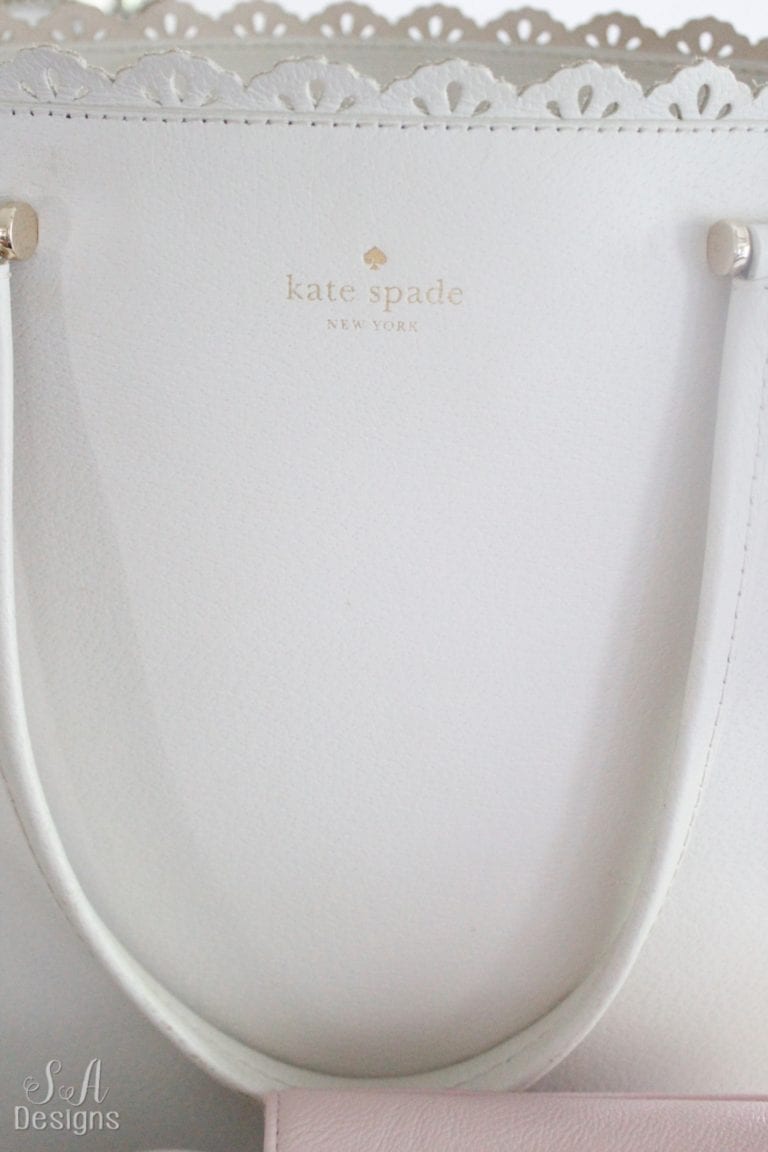 And treat yourself to a pretty purse with pretty essentials for organizing everything that should go inside.
Here are some purses I love:

I hope you find this inspiring and helpful.  I'm so glad that I got my "stuff" together and created this lovely and organized system for my purses.  There's something delightful about organization, especially when it's your handbag.
I would love it if you subscribed at the top of the page in order to receive my weekly emails of all my latest blog posts and hear about digital printables & freebies, as well as sales or new items in My Online Shoppe.  You can also follow me on Instagram, Pinterest, and Facebook to see what I'm up to in creating a home and lifestyle of inspiration!
xoxo,