Our home at "Tall Trees Lane" has just 3 1/2 weeks left and then we close and move in. I hate to say that out loud, in fear that something happens but it's soooooo exciting! I stopped by the house yesterday and I got emotional. It's starting to look like an actual home. I can't wait to move in and share it all with you! But for now, I'm sharing the perfect interior paint color that I picked and sharing a house sneak peek with you. Oh, and please excuse the iPhone pictures but I didn't bring my nice camera.
If you follow me on Instagram @SummerAdamsDesigns you may have seen the sneak peak I shared on my stories.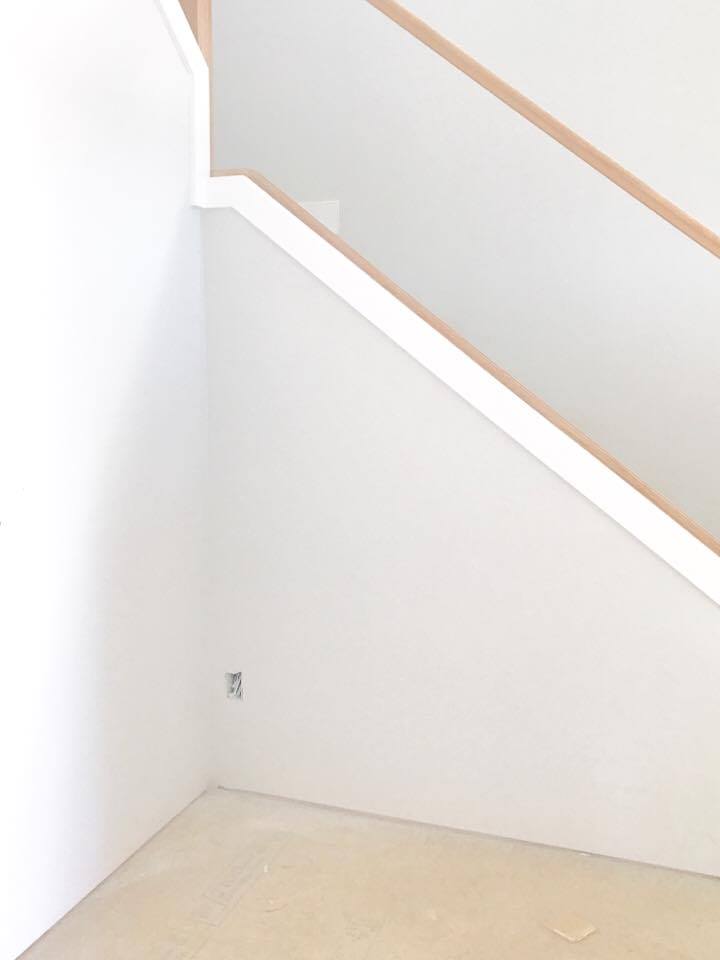 I thought the railing on the stairs would be finished already but it's not. No big deal. However, the painting had been done and most of the trim so I got to see that. Can I just tell you…
I AM IN LOVE!!!!!
I tried many samples and put them on boards and looked at them at all different lights during different times of the day. I hoped I'd love it but you just never know until it's done and you see it.
The interior paint color I chose:
Walls are Gray Owl at 50% and the trim is Ultra White, both by Benjamin Moore. Gray Owl is a pretty color but darker than I wanted. But at 50% it is PERFECT! I saw this picture below from another blogger and thought it was gorgeous.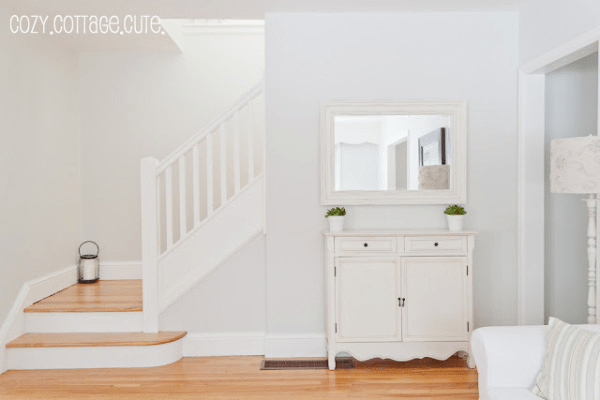 I wanted to do white walls and white trim, everything white! Josh wasn't too keen on the idea until I showed him lots of examples. Then he was on board. However, I wanted a white that had just a tinge of grey in it so that you can see a slight difference when next to the super duper white trim.
I originally wanted Paper White but it was too close to my trim. Gray Owl was pretty but too dark. But when I saw this pic by Cozy Cottage Cute…it was exactly what I wanted! It looks white when it's wet and looks white grayish-white when it's dry. But when you see where it meets the Ultra White trim, you can see that tinge of gray and it's only a subtle difference. But looking at it when entering a room, you think the room is painted white.
And because I know y'all will ask….No, it doesn't look slightly purple or green or blue. It's the perfect interior paint! I tried it in sunny weather and on cloudy days, inside and outside and at different times of the day.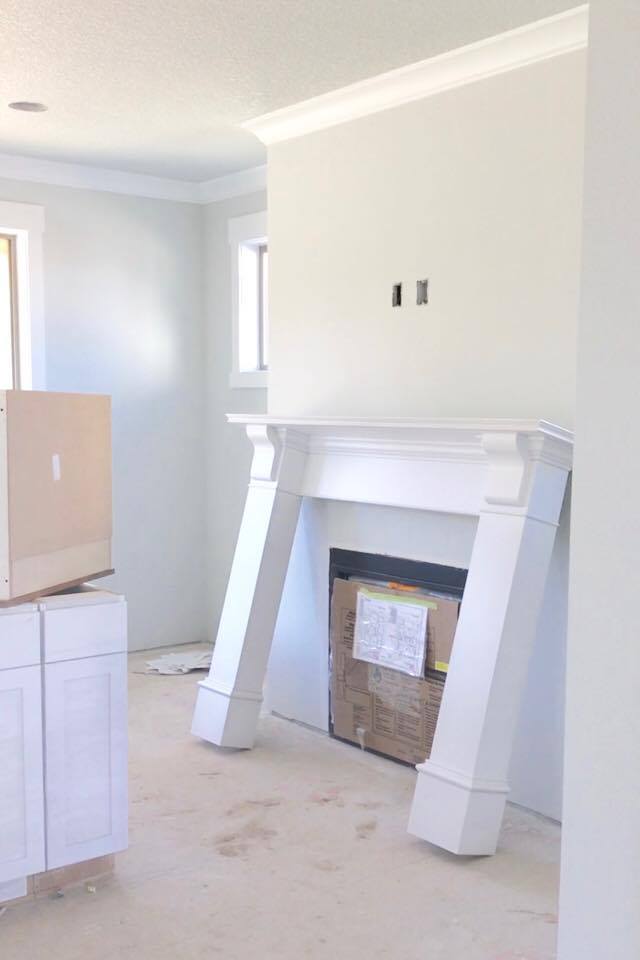 In our downstairs living area, the built-ins were dropped off and so was the fireplace mantel. I love it so much! I designed this with our cabinetry guy to have a French/Coastal look. It's called a French mantel without an arch. I didn't want any arches in the house. It will, however, have marble around the face of the fireplace. I want a very french/coastal/glam feel in this home.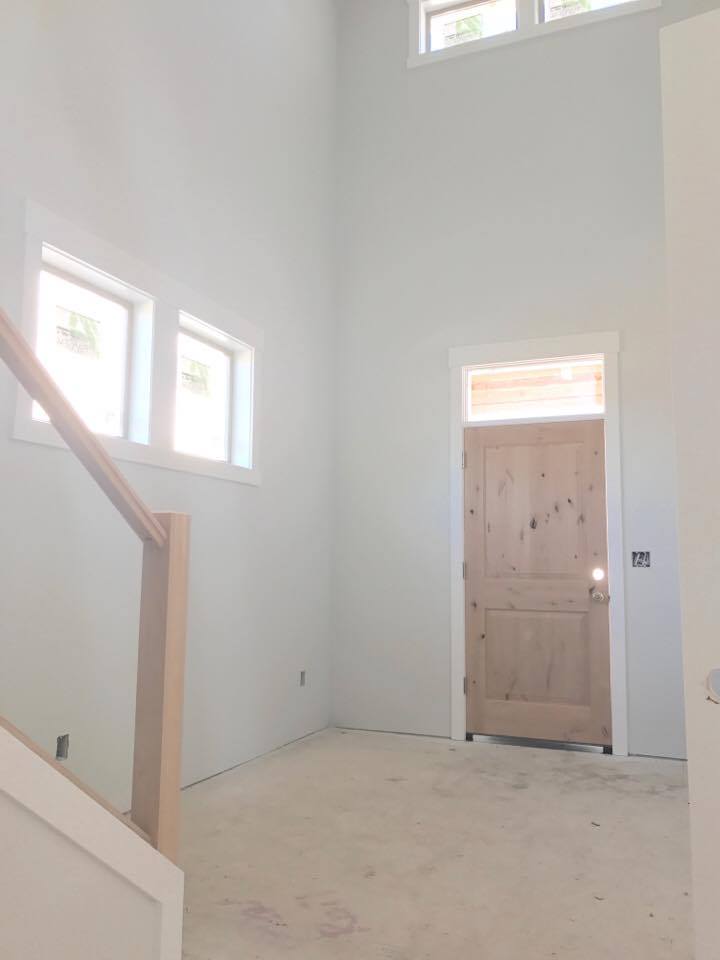 The door will be stained in the entry and I'm waiting on the perfect chandelier. I looked for months and when I finally saw the one I chose, I knew it was "the one". I can't wait to show it to you!!!
I love the 2-story entry and the stair case will be gorgeous when it's done. I'm so grateful for the windows, as we are in the Pacific Northwest and need all the natural light we can get during the grey overcast months.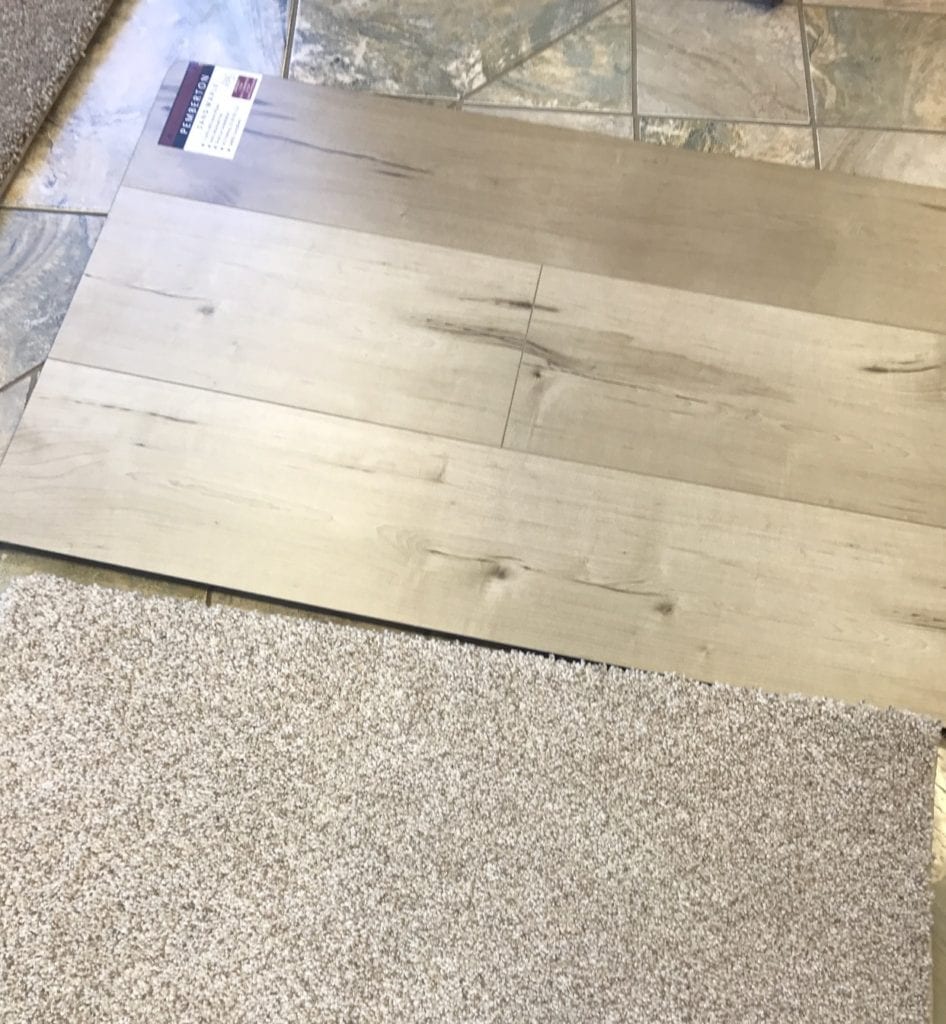 Here's a little preview of my flooring as well. I'm using this gorgeous bleached wood laminate by Pemberton in "Sand Maple" from Cascade Flooring here in Vancouver, Washington. And I upgraded our carpet to this beautiful light short shag carpet. I don't remember the name of it but I'm sure you'd be able to find it on CarpetNurse. It is stain resistant and I love that it matches the laminate perfectly. I'll update when I meet up with the flooring people next week and it goes in so make sure and check back. The top of the hand railing on the stairs will be stained wood to match the laminate flooring. The rest of the staircase will be white. Can't wait to show you!
All the hardware has arrived and it's perfect. I love it all. Lighting is showing up as well so stay tuned because I'll be sharing sneak peeks on my Instagram stories!
Thanks so much for stopping by! I'm so glad I could share the fun with you!
xoxo,

SaveSave