Charcuterie boards, food boards, and dessert boards have become my family's favorite thing to eat from this last year! We especially love a really full charcuterie board for dinner and then sit and talk and we'll have family scripture study and it has been a special bonding time for us and the kids. We also especially love a dessert board for a special occasion (or any occasion at all) and especially when company comes over because it offers a great variety of treats and everyone can find something delicious to enjoy. I'm going to show exactly how to create the prettiest dessert board for Valentine's Day.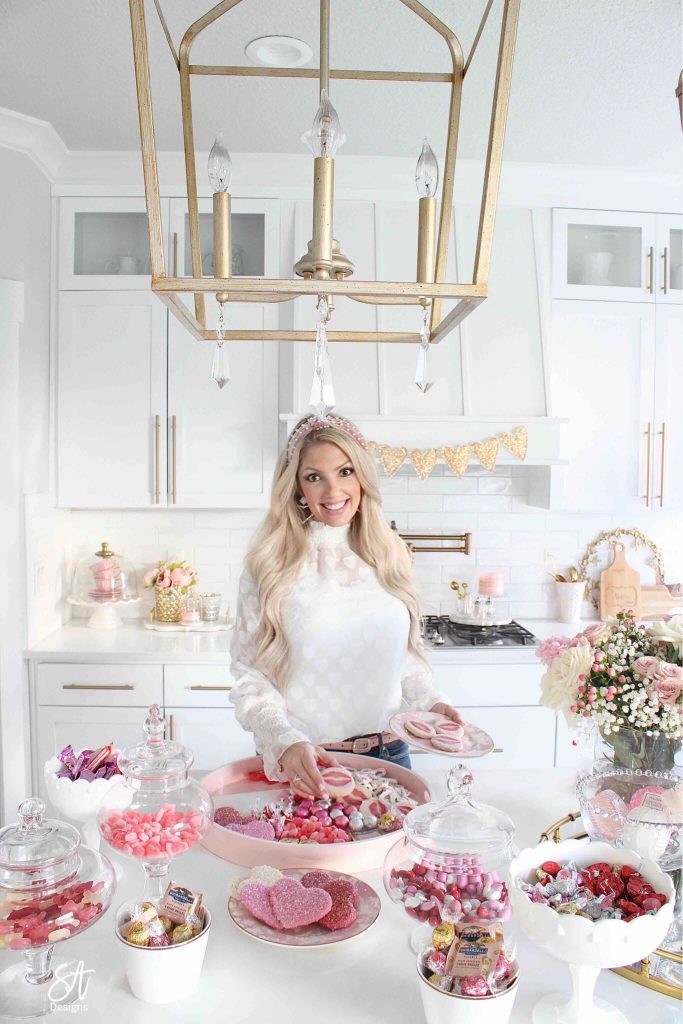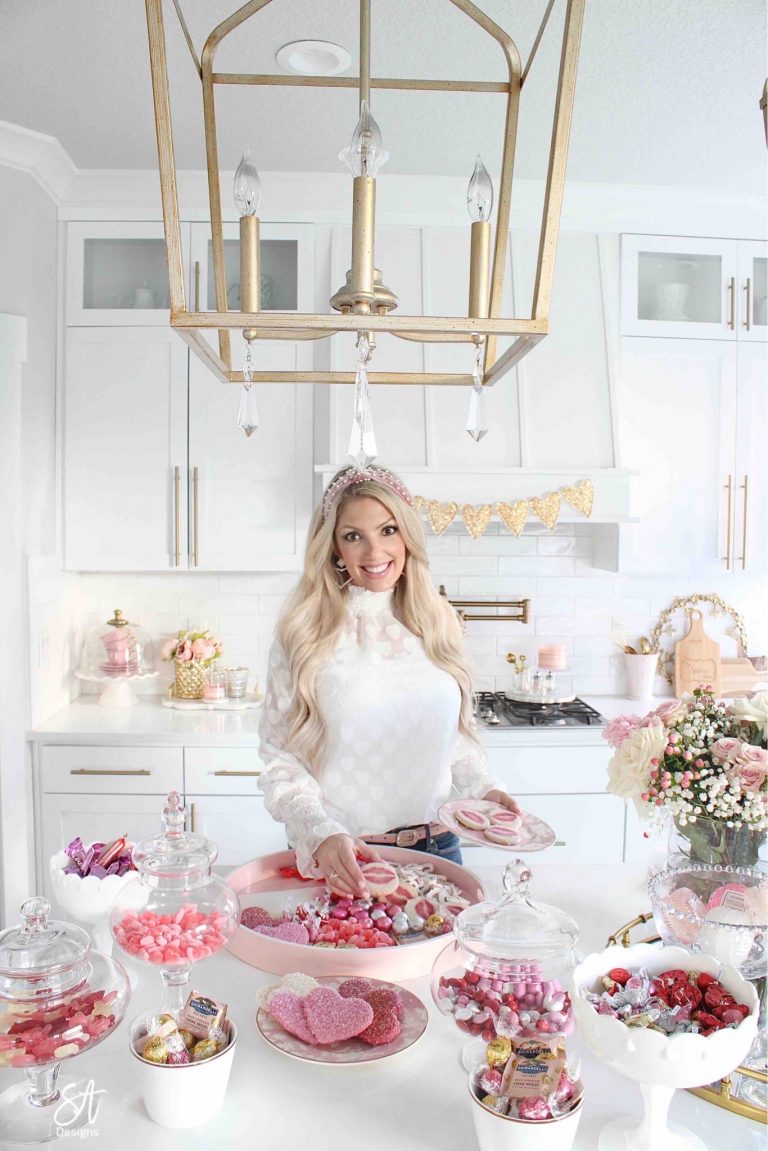 Affiliate links are included in this post. Click here to read my full disclosure policy and here for my privacy & cookies policy. All opinions are my own.
A couple of week's ago, right before I left to visit a new baby niece in Utah, I made my family this fun Valentine's Day themed dessert board and knew I needed to take step-by-step pictures for all of you. How have I been doing these and not putting them on the blog? Probably all the craziness of the holidays lately? I think so. Anyways…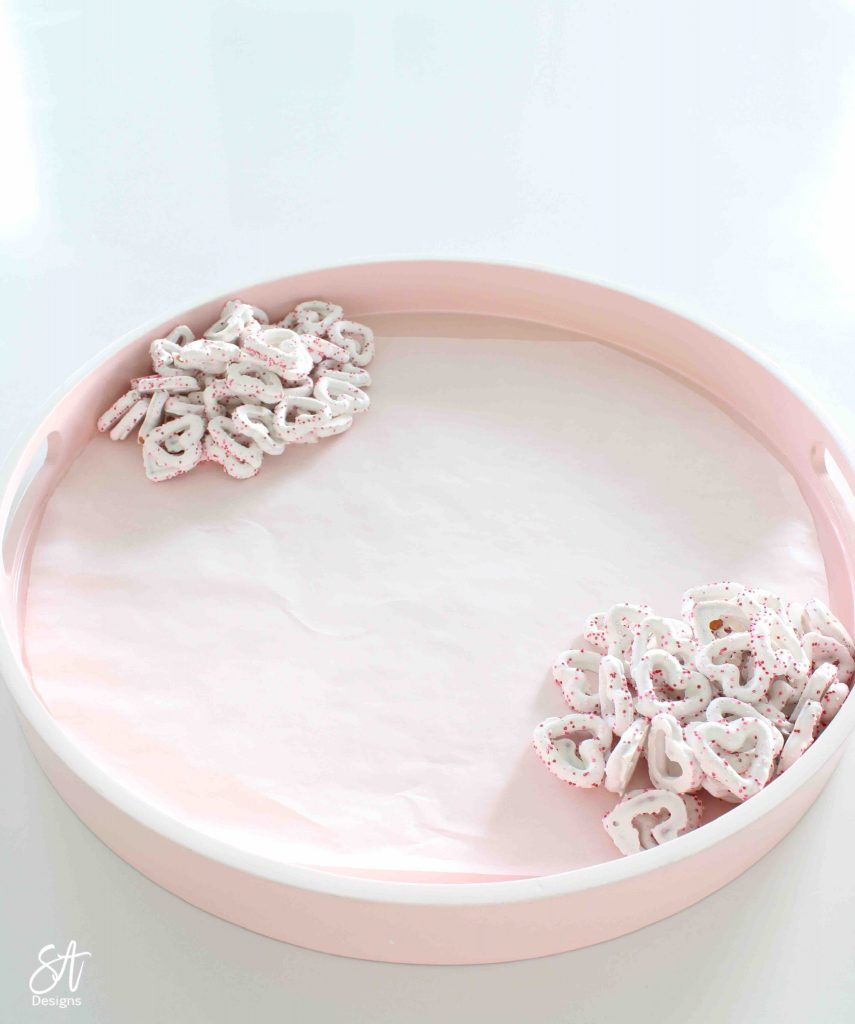 I started off with an adorable pink round tray. You can use any tray you wish but I sure love this one. I put down some overlapping parchment paper. I found these cute heart pretzel's at Winco in the bulk section at either end.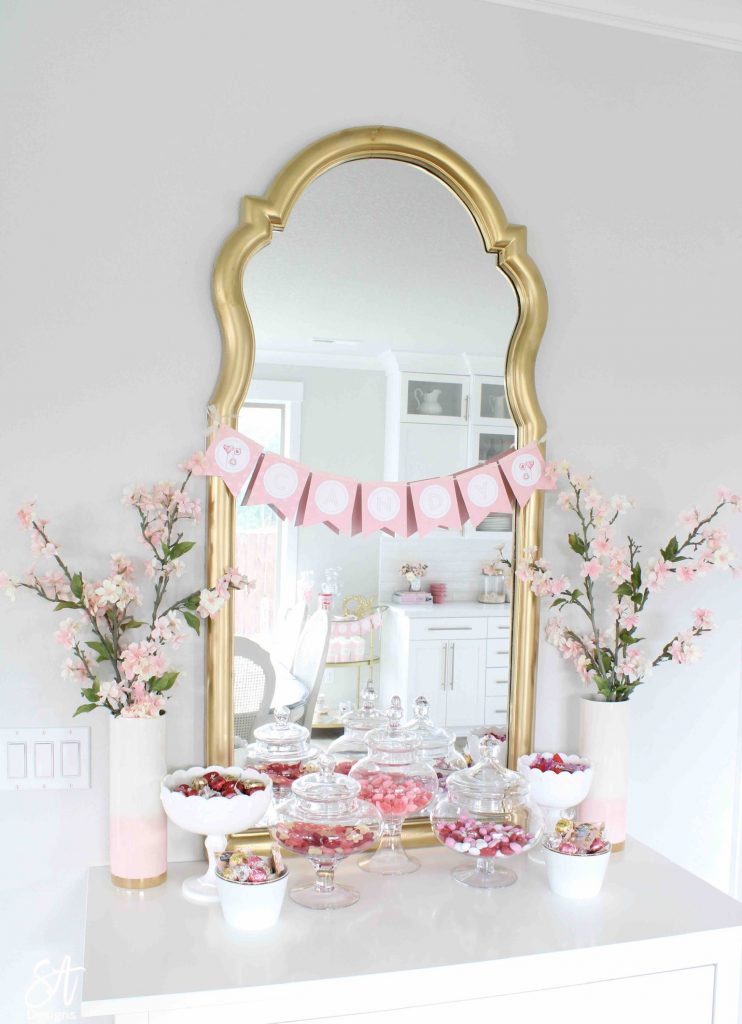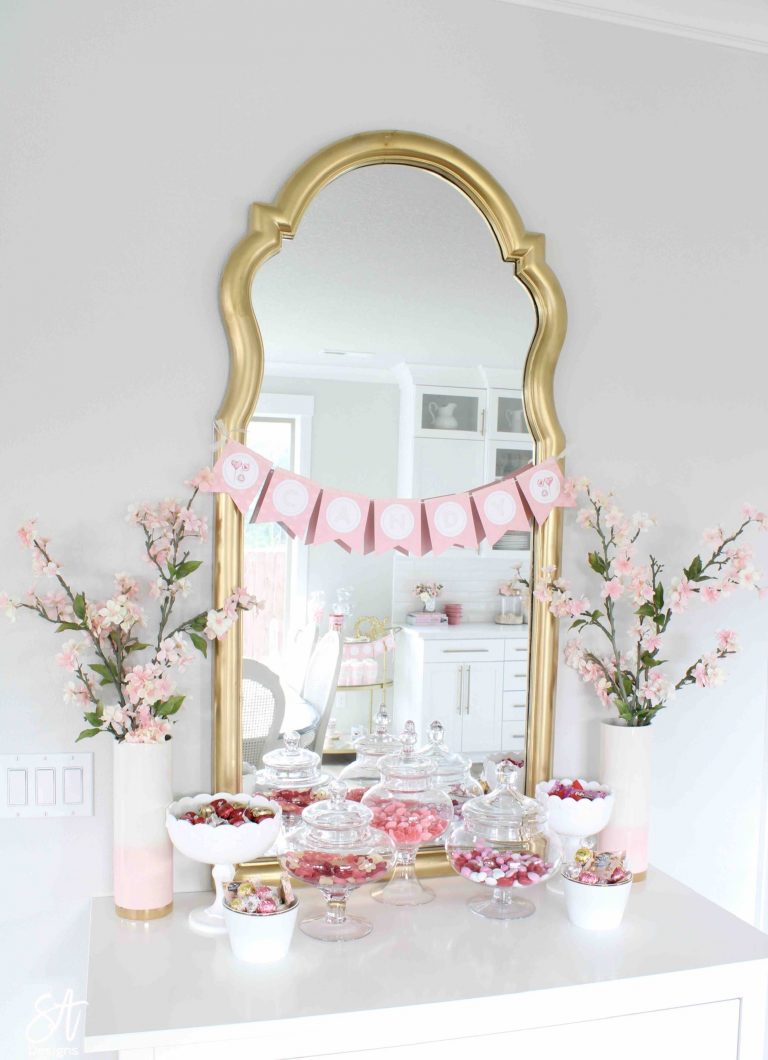 I went to my candy buffet and grabbed all of the candy that's been sitting there (I refilled it later).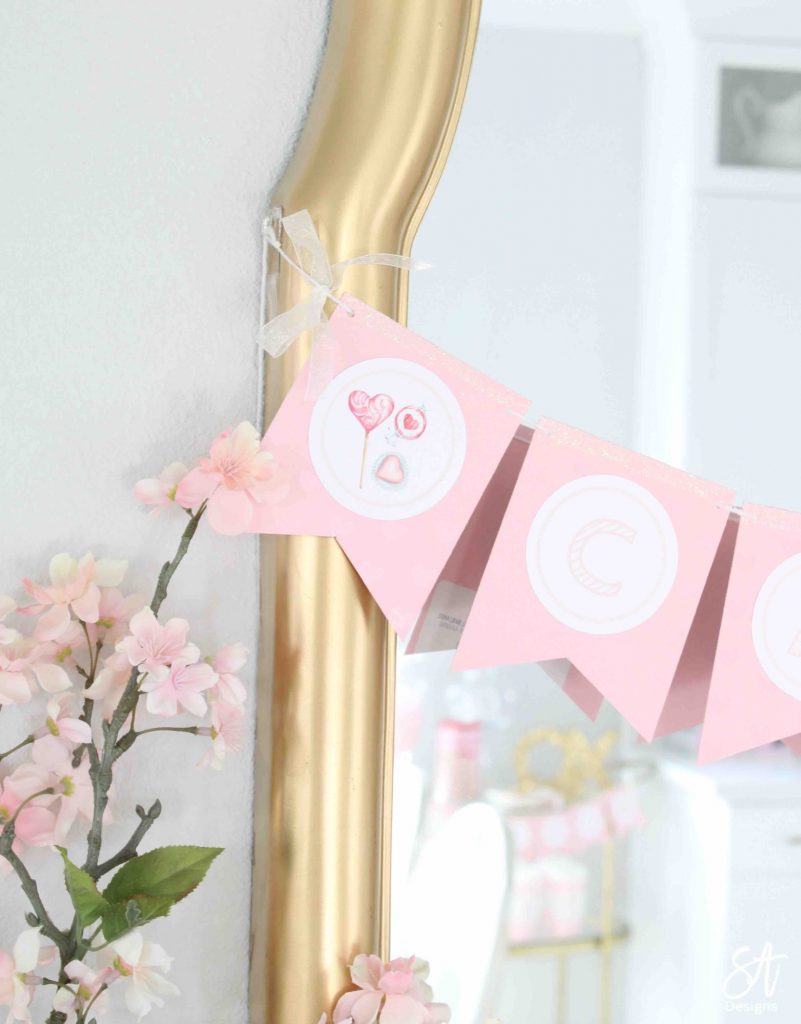 You can visit THIS POST for my DIY candy bar and hot cocoa pennant banner free printables.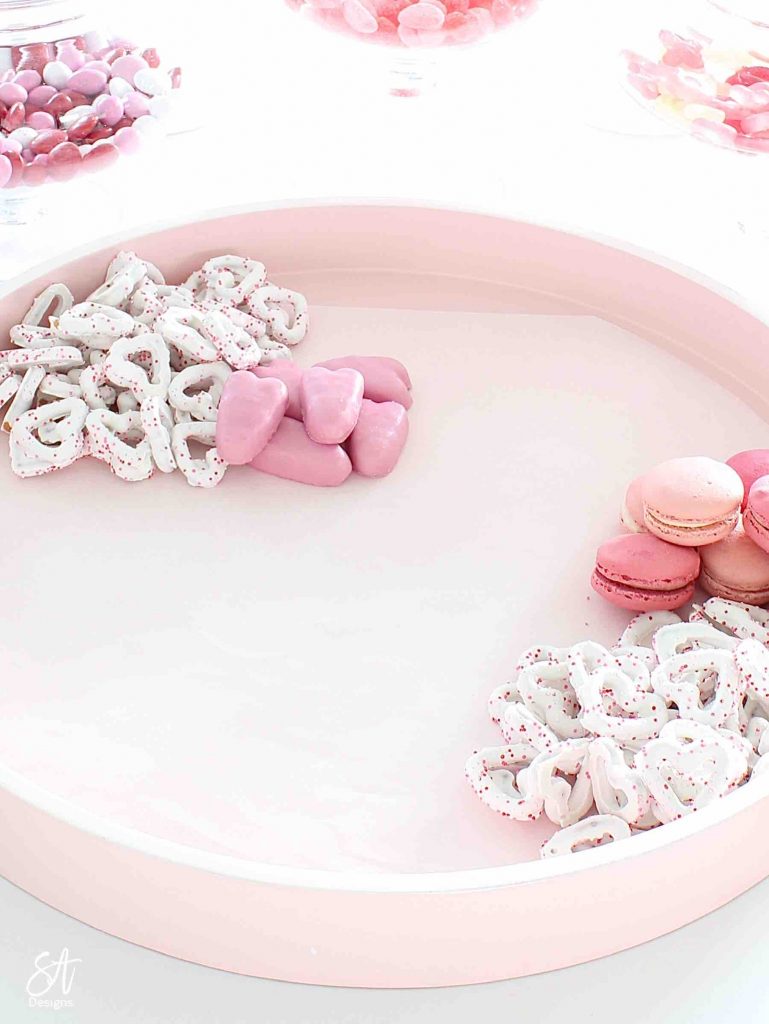 I like to use a variety of cookies, different candies, chocolates, wrapped candies and hard candies…you want a nice balance of texture and color and desserts. Here I added Reese's Peanut Butter Hearts and pink macaron cookies in different colors.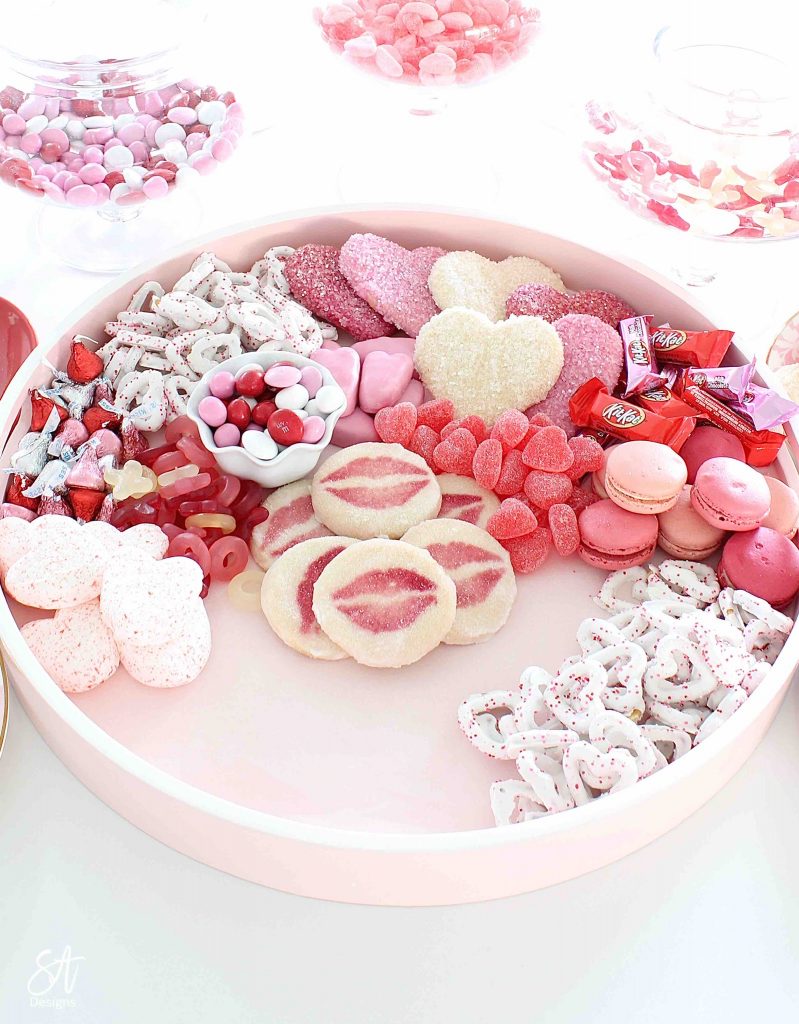 Then I added Peep marshmallow hearts, Trader Joe's XO fruit snacks (btw – these are probably the yummiest fruit snacks I've ever had in my life), Hershey's Kisses, Kit Kats, M&M's (putting little candies in a small condiment bowl I found at HomeGoods gives dimension and keeps them from getting buried by other desserts), Jelly Hearts from WinCo bulk section, and then I found cute heart and lip cookies while in Whole Foods yesterday.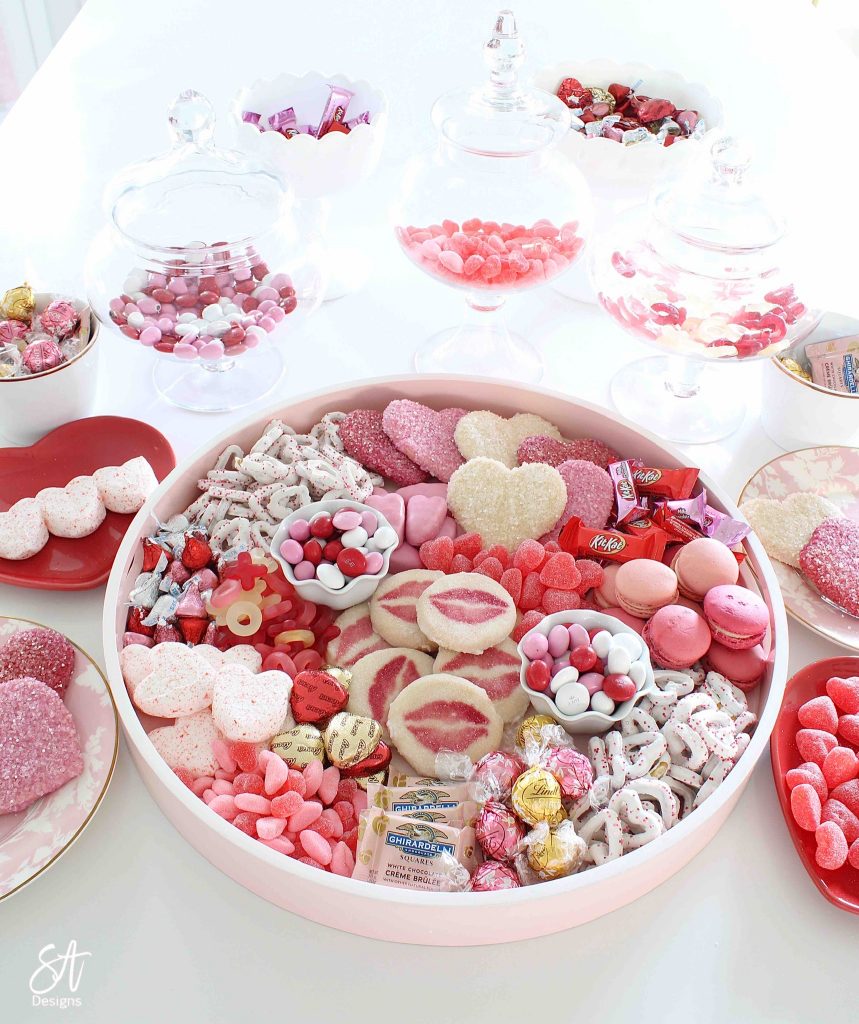 To finish off my tray, I added more cute lips/hearts candies I found in a bag in the HomeGoods checkout aisle, Ghiradelli chocolates, Lindt chocolates, another bowl of M&M's for balance, and some wrapped Reese's hearts. There's literally something for everyone!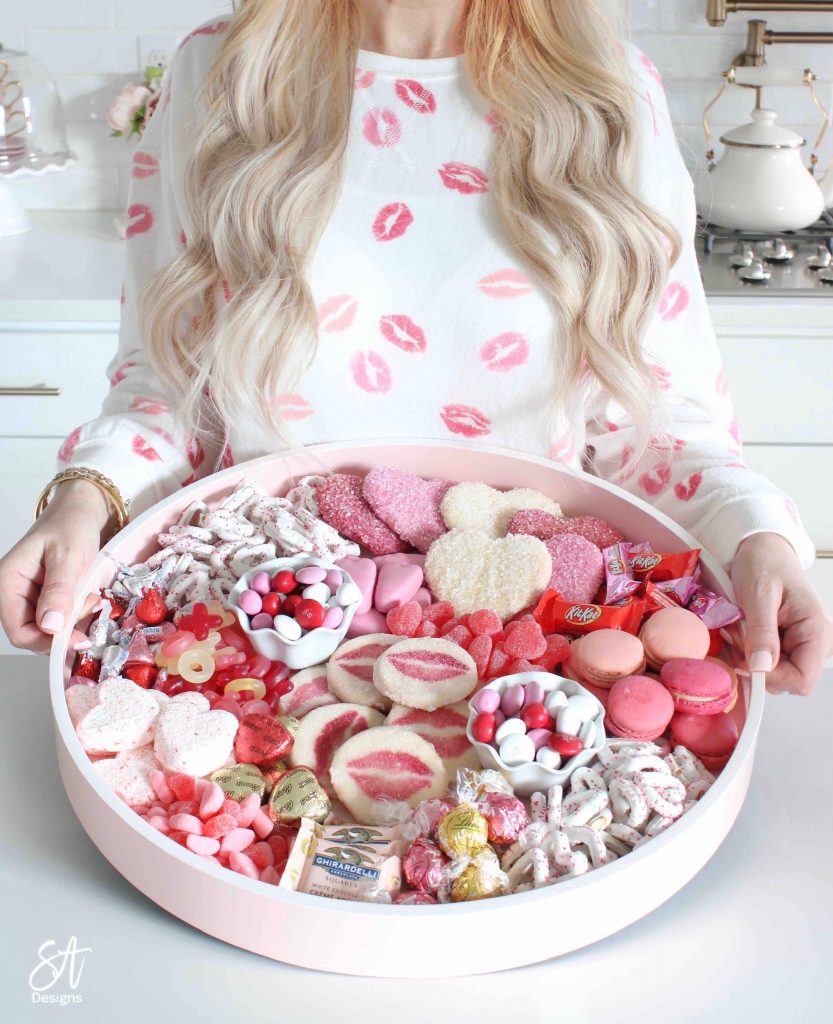 So whether you're making something sweet for Galentine's Day and inviting all your girlfriends over OR you're needing the perfect treat for your family on the 14th, now you know how to create the prettiest dessert board for Valentine's Day! I'd love to see what you come up with! Each one looks a little different and they are each a little work of art and so fun to do. The best part too is that you can through it together last minute. Everyone I serve it too gets so excited and their face lights up like a kid at Disneyland..ha! Have fun and Happy Valentine's Day!!!




I'm so glad you could stop by today! I would love it if you could subscribe at the top of the page in order to receive my weekly emails of all my latest blog posts and see everything I'm working on! You can also follow me on Instagram, Pinterest, and Facebook to see what I'm up to in creating a home and lifestyle of inspiration!
xoxo,

---
Want to shop my Instagram posts? Click on any square below!