Each year during the month leading up to Valentine's Day, my family loves the tradition of a candy bar buffet. It sounds silly, but having it available makes the kids want candy less. Crazy, right?! Also, from October to March (during those chilly months), I like to have a hot cocoa bar cart set up for the kids and their friends and other guests as well. Having both of these areas adorned with cute banners is such a fun part of holidays. I made Valentine's Day DIY hot cocoa bar and candy bar pennant banners and wanted to offer them as free printables here on the blog as well to share with all of you. Read on below for easy instructions!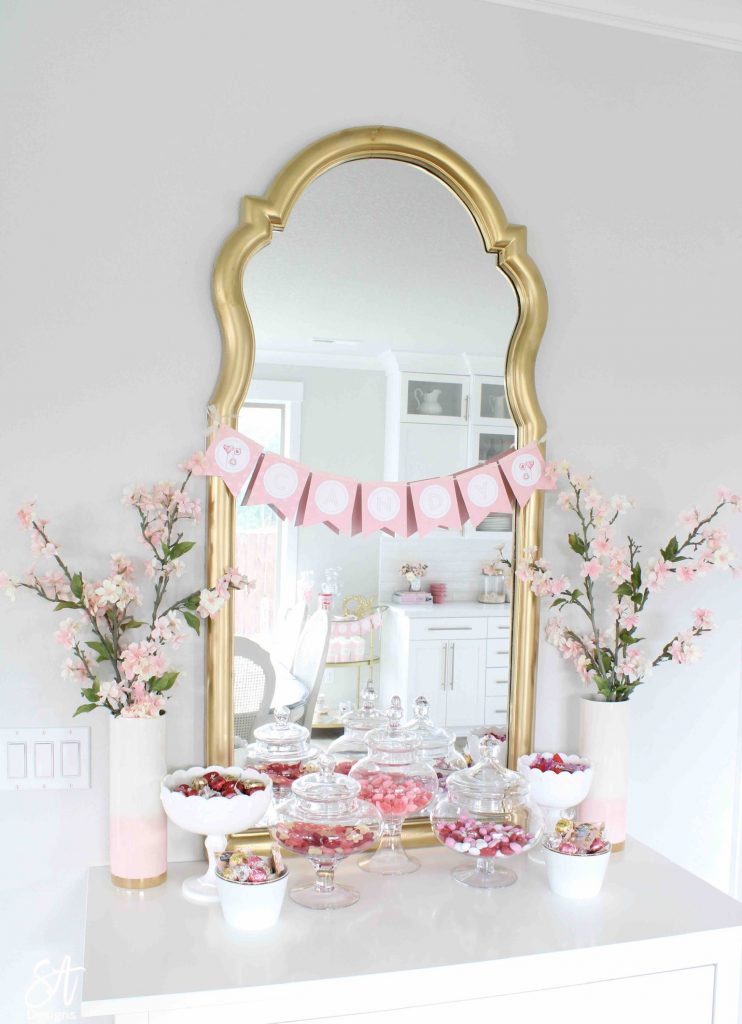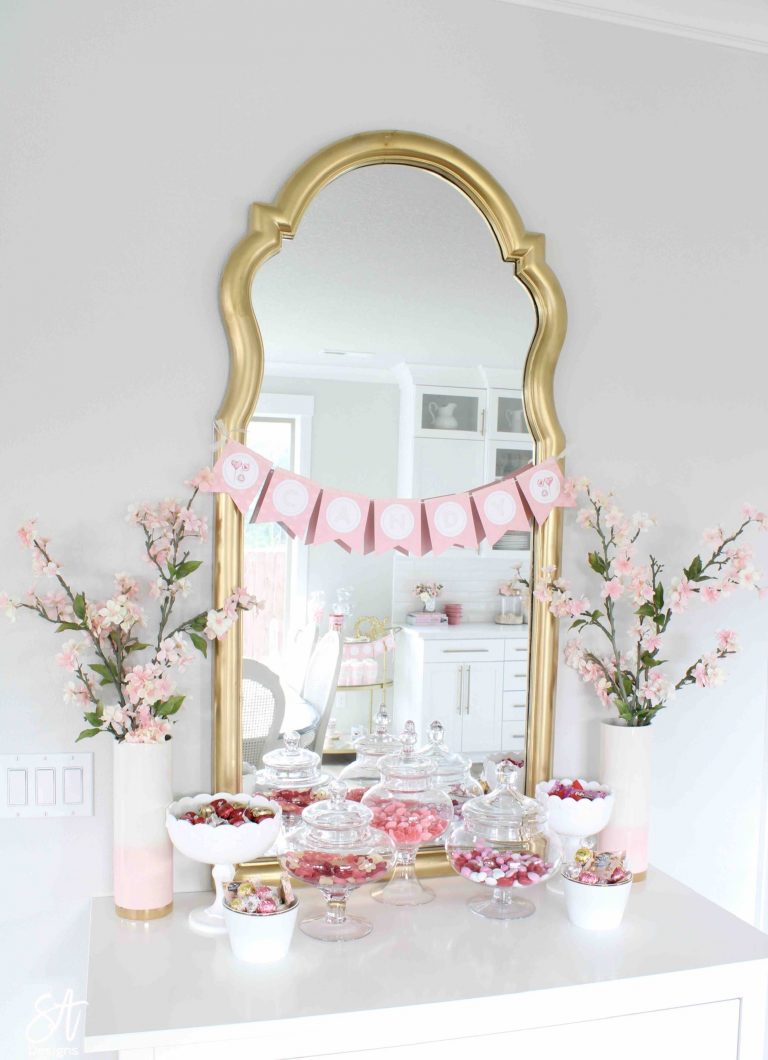 Affiliate links are included in this post. Click here to read my full disclosure policy and here for my privacy & cookies policy. All opinions are my own.
So here's my hot cocoa bar pennant banner. I really had fun creating the little graphics with the whipped cream and marshmallows and darling little mug with a heart.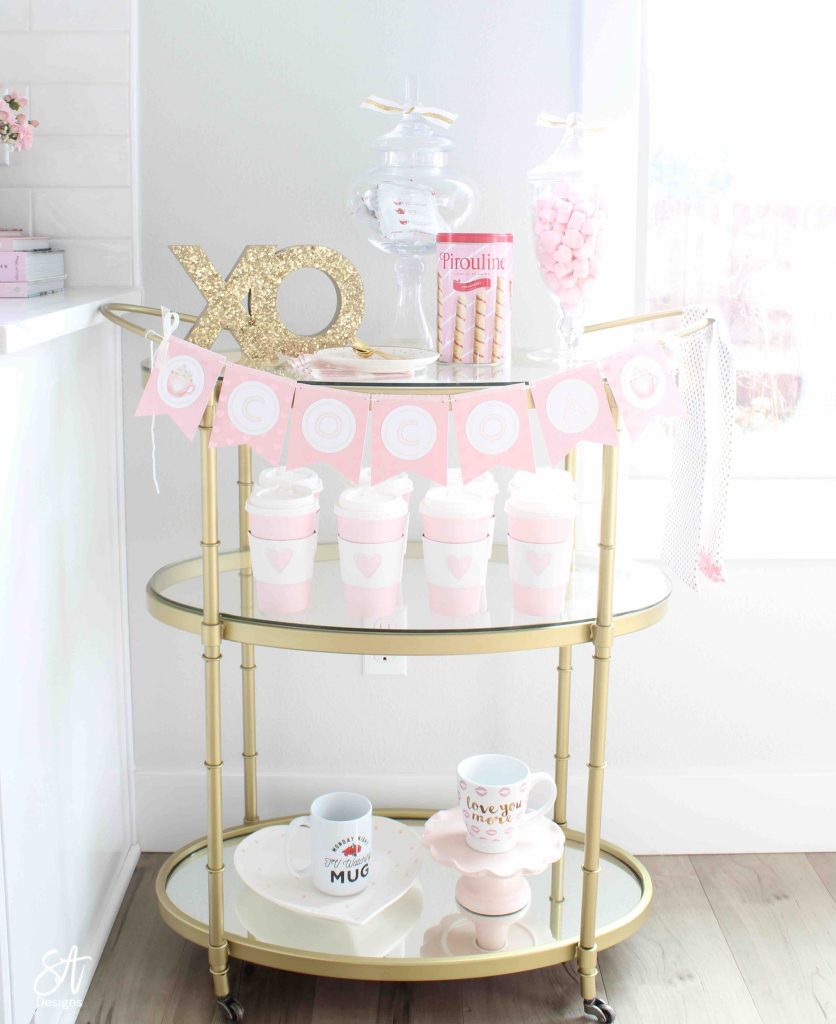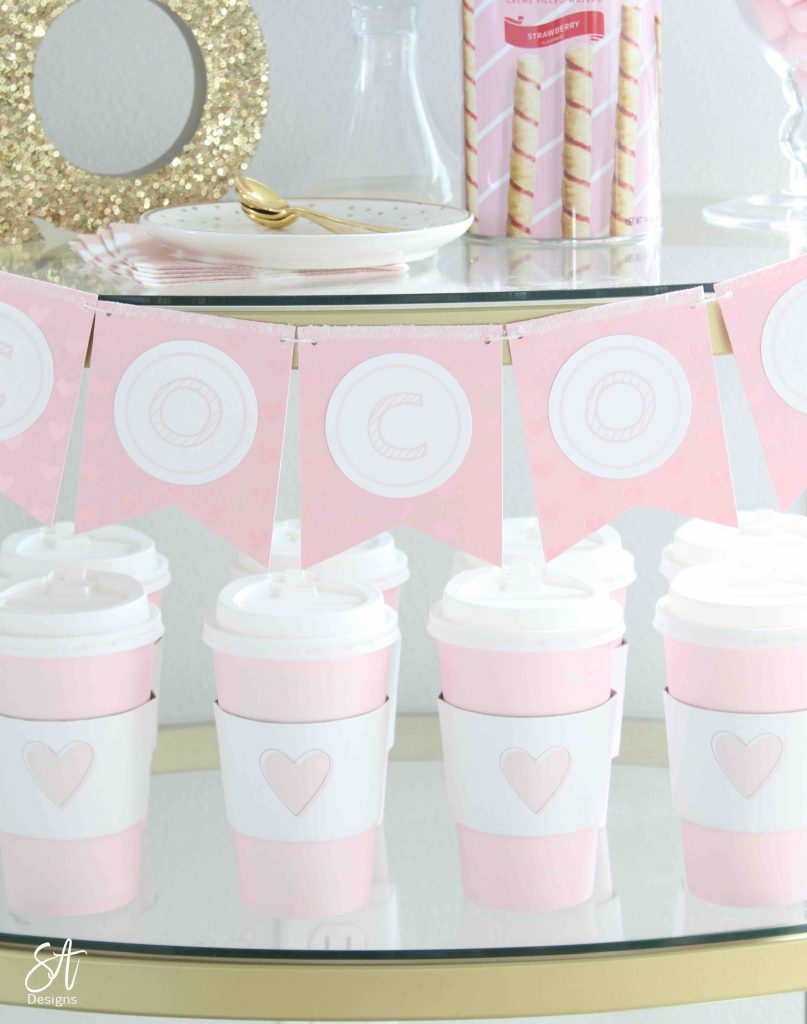 How fun are these pennant banners?!
(Adorable hot cocoa cups from Michael's)
Here's my candy buffet pennant banner. The pics don't do it justice but the heart sucker, hard candy and pink heart chocolate graphics are just even cuter in person!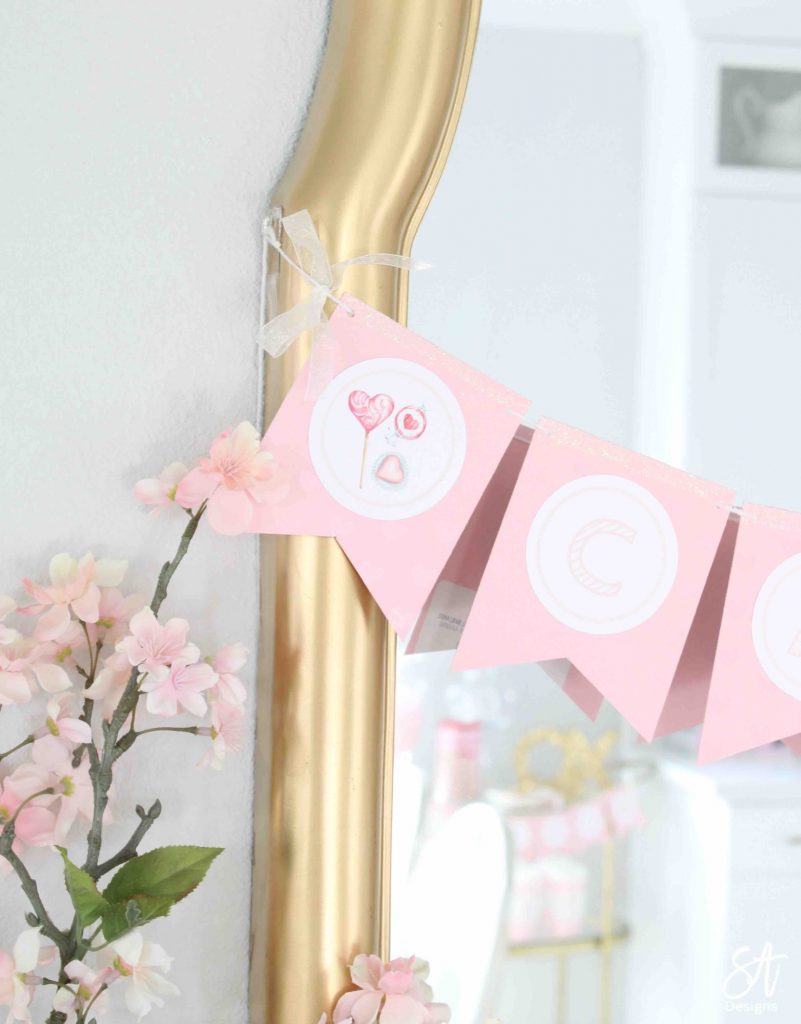 I also found this heart-embossed pink paper at Michael's.
Supplies:
All you'll need is white card stock, pink card stock, your printer, scissors and/or paper cutter, thin ribbon, glue or permanent scrapbook adhesive, mini hole punch, 2 1/2″ circle punch, string/twine, tape (if you want to center and keep paper on twine). Optional: Iridescent glitter, glue, and small paint brush OR Valentine print ribbon (as a top trim on banner).


Instructions:
Here's what I did. First, print out each sheet of 2″ circles from the links below.
Please note, these designs are FOR PERSONAL USE ONLY!!! (Protected by copyright laws and I will have to take legal action if I see them reproduced on Etsy or CreativeMarket or anywhere else. I have tools to search he web looking for them. Yes, I have to say this because some people are dishonest. Ugh. Ok…we have that out of the way. Moving on…)
Click >>HERE<< to print Valentine's Day Hot Cocoa Pennant Banner
Click>>HERE<< to print Valentine's Day Candy Bar Pennant Banner
Next, use a 2 1/2″ circle punch to punch them out or a scallop is cute too. Then I used my paper cutter to make the pennant banner flags about 4″ high and 3 1/4″ wide with a 45º angle to the center from each bottom corner. I didn't want to go up very far. You can decide how far you want to go up. I liked going up 1/2″.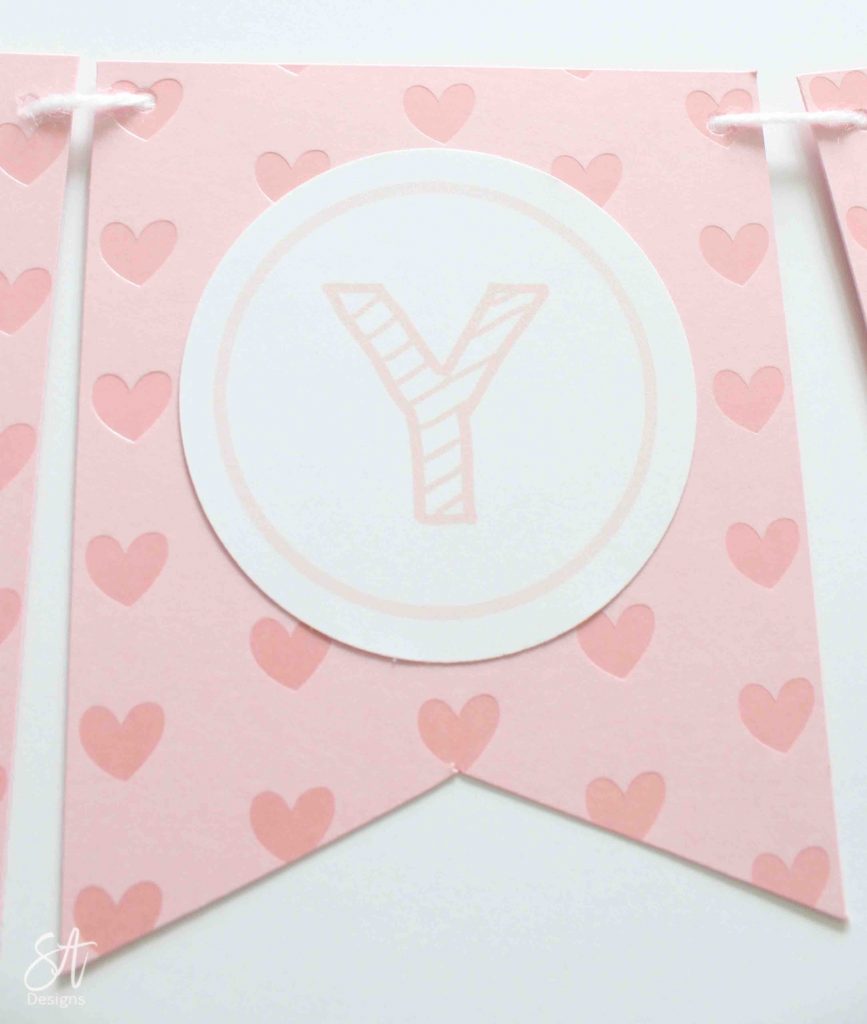 Adhere the circle to the pennant. Mini hole-punch each top corner and use twine or string of choice going down one corner and up through the opposite. Once you have the entire thing done and centered, you can tape the back so that it stays in place.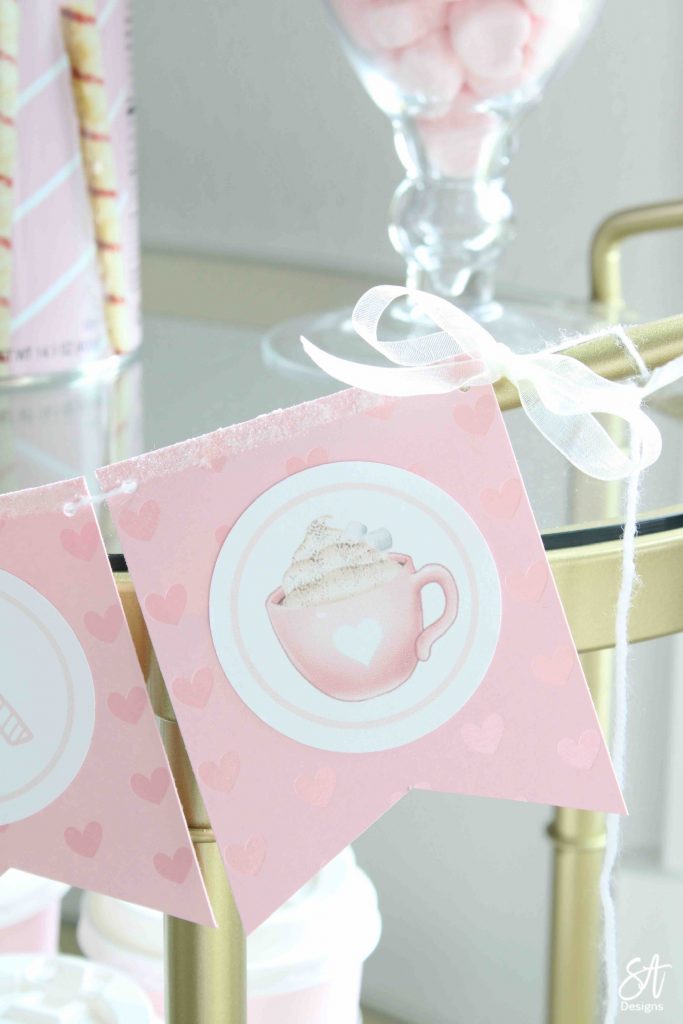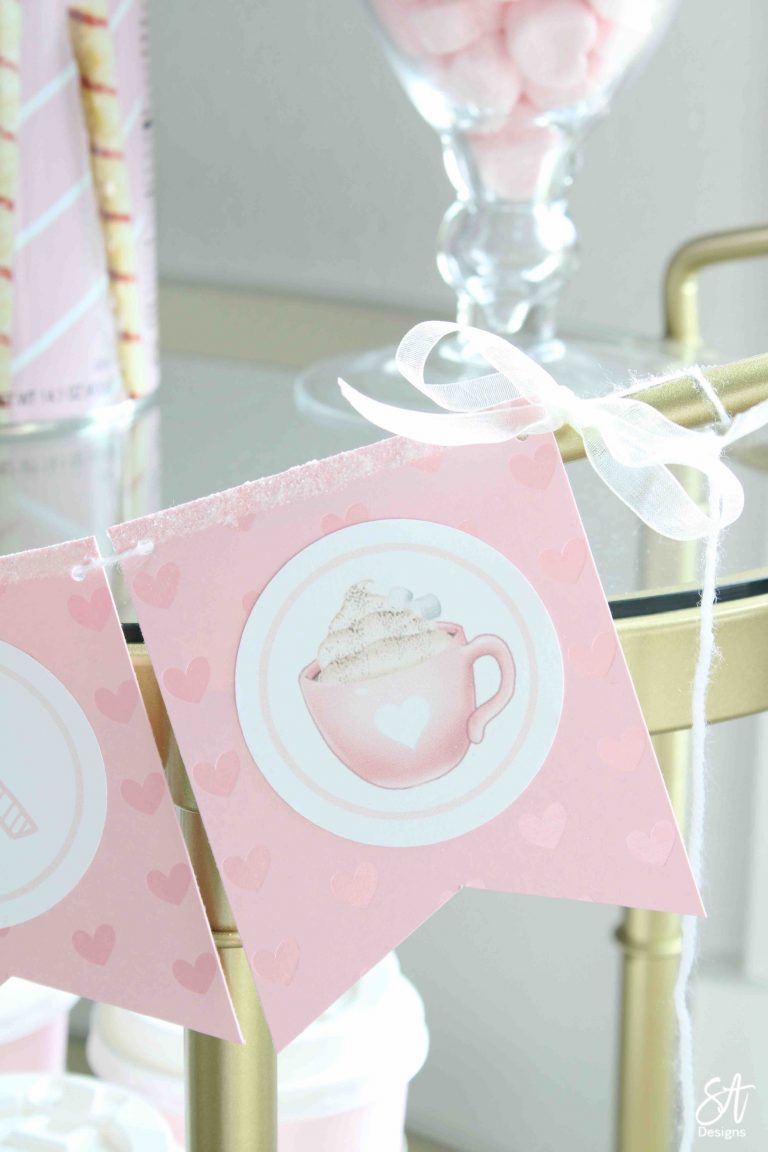 This is optional but I like to brush the top of the banner with glue and iridescent glitter (I'll even layer it on the hot cocoa banner to look like sparkly snow) for a fun effect. You can also add a small ribbon trim instead and punch the holes for the twine a little lower.
Tie ribbon on each end of banner and hang it at desired location. I used mini clear 3M hooks and then attached the candy banner to my mirror and then just used tape to hang my hot cocoa banner on my bar cart. Easy peasy!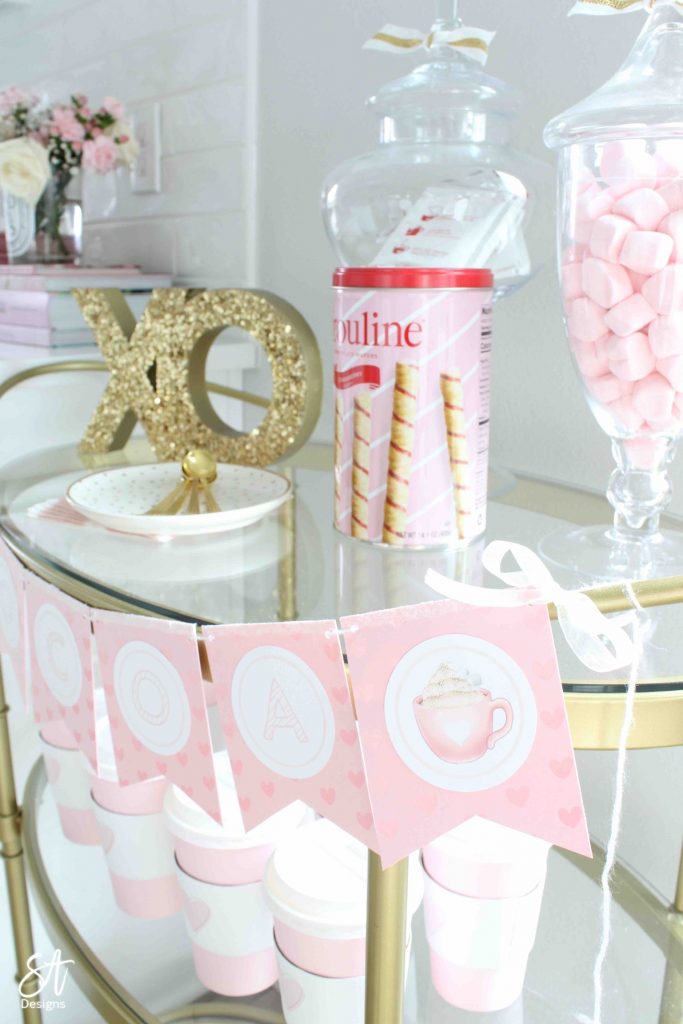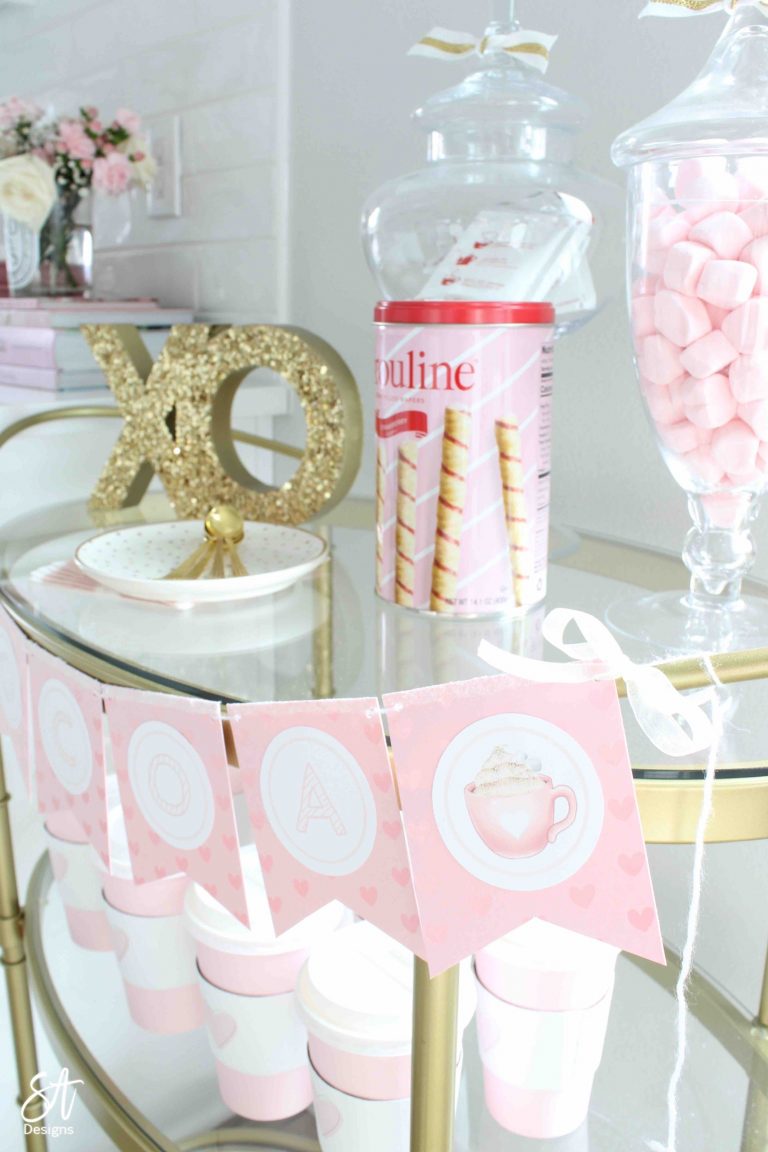 Valentine's Day is my very favorite holiday (after Christmas). Have so much fun printing these and hanging them for your friends and family to enjoy all the sweets! Don't forget to stock up on lots of candy and heart-shaped marshmallows! HAPPY LOVE DAY, sweet friends! Love you all and so glad you keep coming back and visiting me here!!


I'm so glad you could stop by today! I would love it if you could subscribe at the top of the page in order to receive my weekly emails of all my latest blog posts and see everything I'm working on! You can also follow me on Instagram, Pinterest, and Facebook to see what I'm up to in creating a home and lifestyle of inspiration!
xoxo,

---
Want to shop my Instagram posts? Click on any square below!