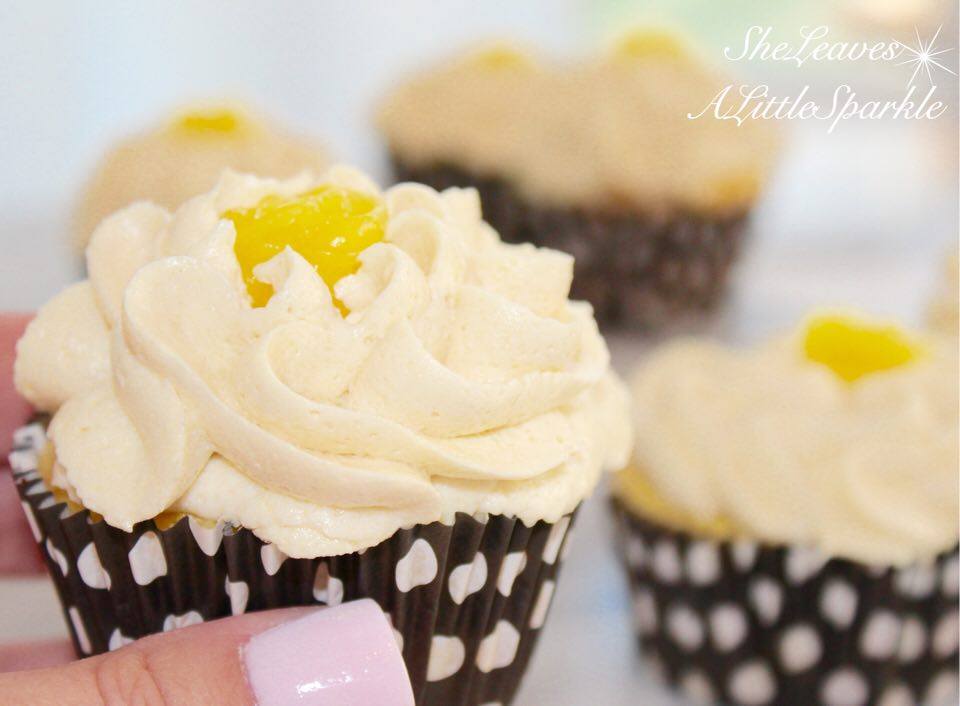 There's nothing like sticking something in the oven and then waiting…and before long that lovely smell of something delicious permeates throughout your entire home!  I love that Brooklyn, my oldest, is 10 years old now and has found a joy in baking and eager to learn.  I decided that this week I was going to teach her how to bake my Lemon Cream Cupcakes.  They are a favorite of mine and the PERFECT summer treat!  So I decided to share them with you today.  I hope you love them as much as I do!
Ingredients:
1 cup butter, softened
2 cups sugar
3 eggs
2 teaspoons grated lemon peel
1 teaspoon vanilla extract
3-1/2 cups all-purpose flour
1 teaspoon baking soda
1/2 teaspoon baking powder
1/2 teaspoon salt
2 cups (16 ounces) sour cream
Buttercream Frosting:
1/2 cup butter, softened
2-1/4 cups confectioners' sugar, sifted
1 TBSP vanilla extract
2 TBSP milk
4-5 drops yellow food coloring
Lemon Curd (for center of the top of cupcake, optional):
3 oz. (6 Tbs.) unsalted butter, softened at room temperature
1 cup sugar
2 large eggs
2 large egg yolks
2/3 cup fresh lemon juice
1 tsp. grated lemon zest
Directions:
In a large bowl, cream butter and sugar until light and fluffy. Add eggs, one at a time, beating well after each addition. Beat in lemon peel and vanilla. Combine the flour, baking soda, baking powder and salt; add to creamed mixture alternately with sour cream, beating well after each addition (batter will be thick).
Fill greased or paper-lined muffin cups with 1/4 cup of batter. Bake at 350° for 20 minutes or until a toothpick inserted near the center comes out clean. Cool for 10 minutes before removing from pans to wire racks to cool completely.
For frosting, cream butter and confectioners' sugar in a small bowl until light and fluffy. Add the rest of the ingredients; beat until smooth. Frost cupcakes.
Optional Lemon Curd:
In a large bowl, beat the butter and sugar with an electric mixer, about 2 min. Slowly add the eggs and yolks. Beat for 1 min. Mix in the lemon juice. The mixture will look curdled, but it will smooth out as it cooks. In a medium, heavy-based saucepan, cook the mixture over low heat until it looks smooth. (The curdled appearance disappears as the butter in the mixture melts.) Increase the heat to medium and cook, stirring constantly, until the mixture thickens, about 15 minutes. It should leave a path on the back of a spoon and will read 170°F on a thermometer. Don't let the mixture boilRemove the curd from the heat; stir in the lemon zest. Transfer the curd to a bowl. Press plastic wrap on the surface of the lemon curd to keep a skin from forming and chill the curd in the refrigerator. The curd will thicken further as it cools. Covered tightly, it will keep in the refrigerator for a week and in the freezer for 2 months.  You can use the leftovers to add on top of fruit, shortbread, crepes, whatever you would like!
For a unique and lovely frosting technique that I used on these Lemon Cream Cupcakes, watch this quick tutorial.  Brooklyn and I love turning on french music and dreaming of baking in our own French Patisserie.
Purchase the Russian Bulb Frosting Tip, or Sphere Ball Frosting Tip as sometimes called, as well as disposable frosting bags and cupcake liners below:

Thanks for joining me today! Turn on some french music, put on your apron, and bake away, darlings! I hope these Lemon Cream Cupcakes become one of your family favorites also!  Bon appétit!