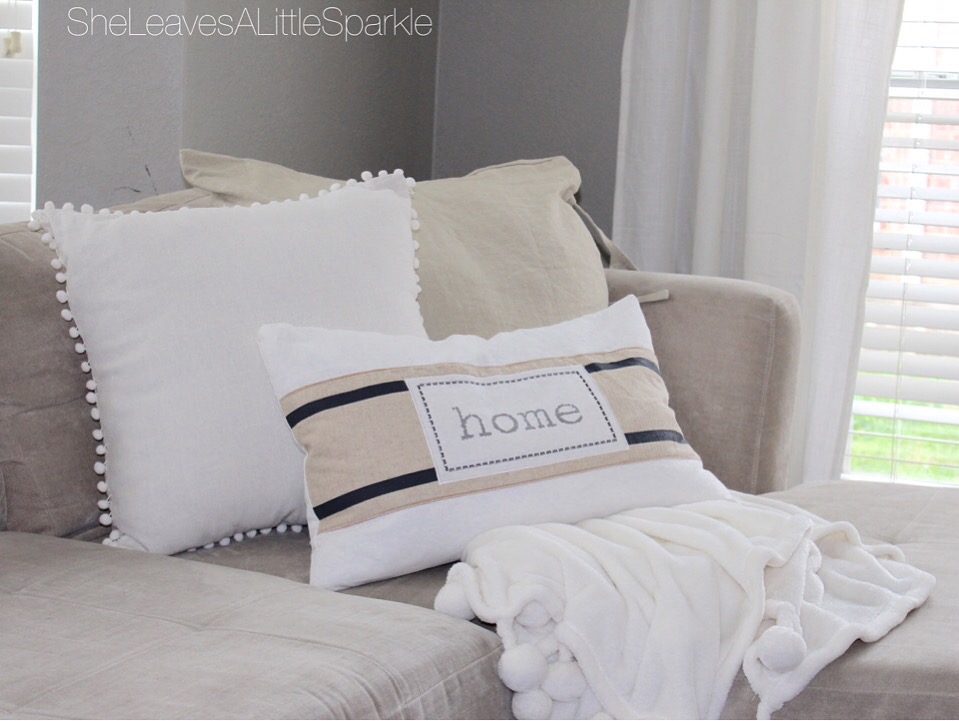 Whether you're a regular reader (thank you!) or maybe you've just come from Kristen's blog at Studio7Interiors, welcome! I'm so glad you're here! Isn't Kristen's home fabulous?! I love her style and I'm sure you learned some valuable tips for brightening your home. I have a few more for you here before you hop on over to my next friend's blog.
First, you should know that we are renting…..again! We've been climbing the corporate ladder and living where my husband's company needed us to grow an area but for such a short time that we haven't wanted to buy in any area, we've been in as they were only for a short time. When you rent you go through quite a few bits of paperwork like tenant screenings (https://www.american-apartment-owners-association.org/tenant-screening/) and credit checks, for instance. This is our last temporary move before our final/permanent move, where we will build or buy. I've been grateful for so many experiences that moving around has brought but also for the things I've learned in each house we've lived in and how to make a rental our home. Each home has had things I've loved and not loved very much. This home that we moved into almost 3 months ago presented a unique challenge of not having enough natural light coming in because of how it faces and because, like most Dallas neighborhoods, has an alley behind our garage and another street which blocks some of that light. I've never had this problem in any other home we've previously lived in but it just doesn't face the direction I want it to. So, I had to learn what I could do to brighten up this home Thus, the inspiration for this blog post.
In reading my friend Kelley's blog post months ago about curtains she used throughout her whole home, I had no idea that I'd actually be turning to that blog post to help with part of my problem. She mentioned outfitting her home in white IKEA Ritva Panels. They are not only tall enough but they are a good quality, have the loops through the back (although you can still hang them with clips) and have pleats. I love that classic look! They are so affordable AND…here's the best part, they let a lot of light in! Bingo! I didn't want sheer curtains and I really like the linen look. But these look like linen, don't have a lining, and are light enough that they allow a lot of natural light into each room. So, I did the same and outfitted my entire downstairs in those IKEA Ritva Panels as well.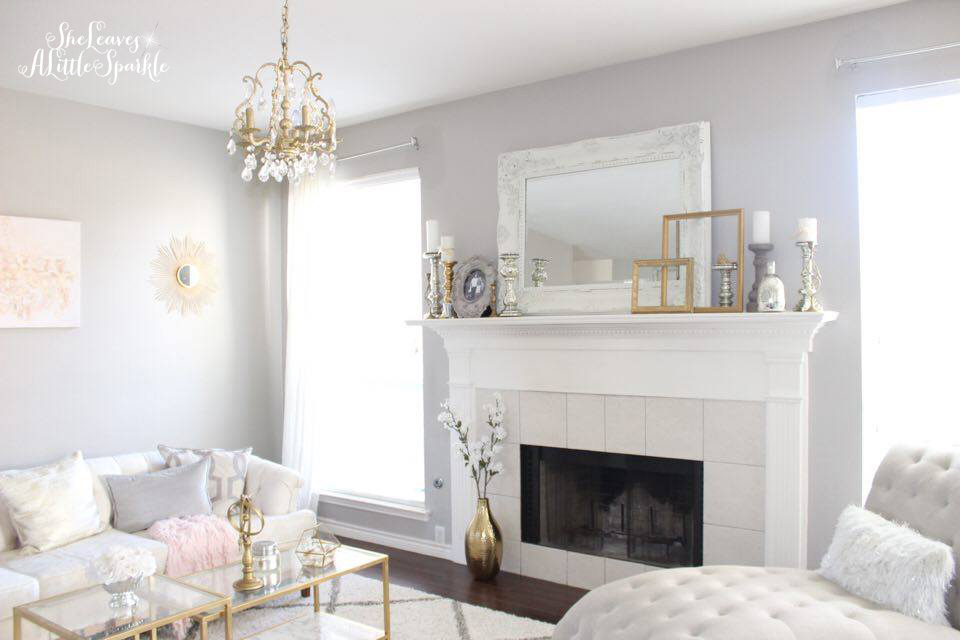 The curtains let so much light in that you'd think they were sheer (see left window) but I assure you they are not. That's what I like about them. I love to cozy up and read near these windows. It gets really cold in these parts, the secondary glazed windows have considerably helped retain the heat inside. You must think that I love to hog the heat. Well, yes! Instead of a heavy wooden coffee table like I was originally going to buy, I decided on this open, glass IKEA coffee table (comes in white or black and you spray it gold…tutorial coming later this week) to keep light streaming in from the window to across the room and into the next.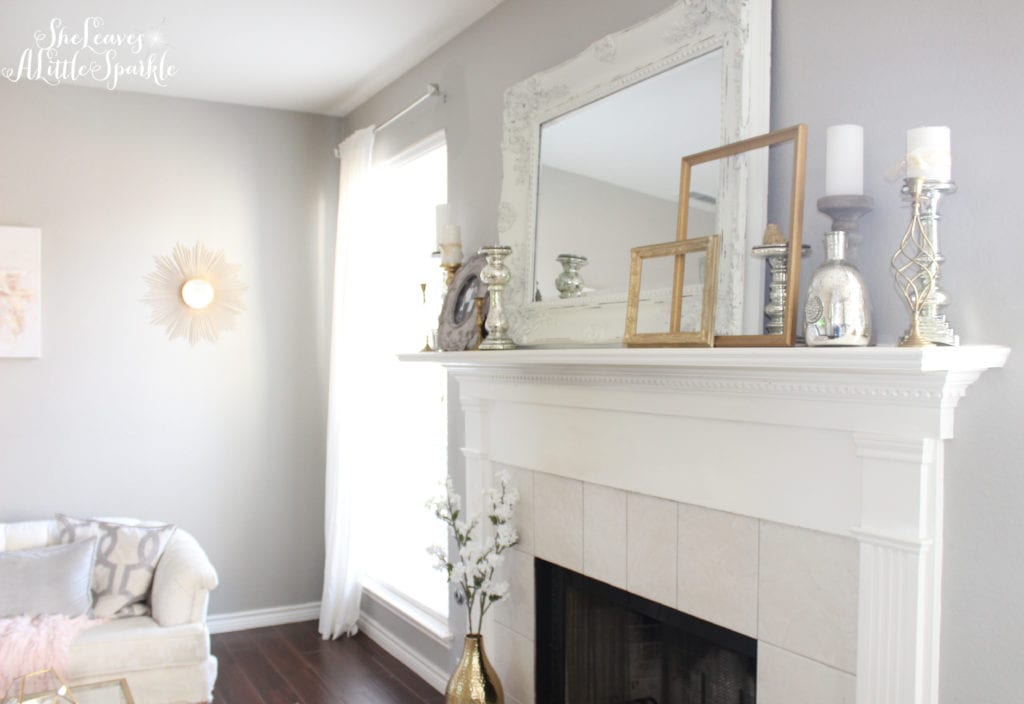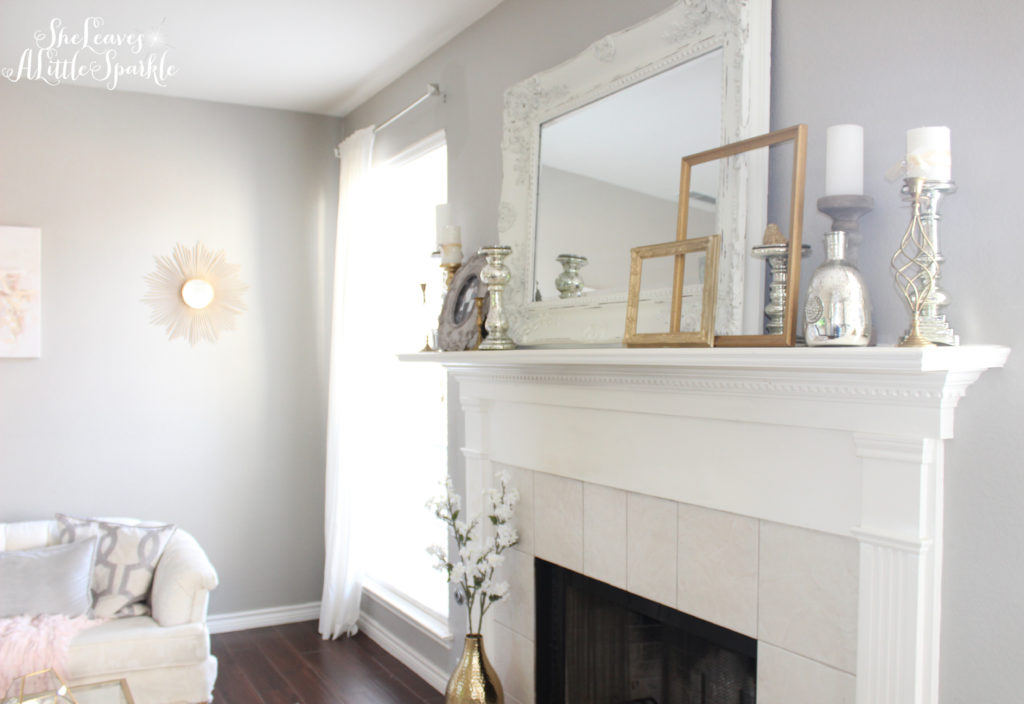 Instead of a heavy, dark mirror or wall decor, I kept everything bright and light and focusing on layering pieces to make a statement. For instance, the open. layered vintage frames continue to allow light to pass through the mantel. I even had 2 starburst mirrors on either side of my chandelier wall art to reflect light coming in and bouncing it off to other sides of objects and furniture.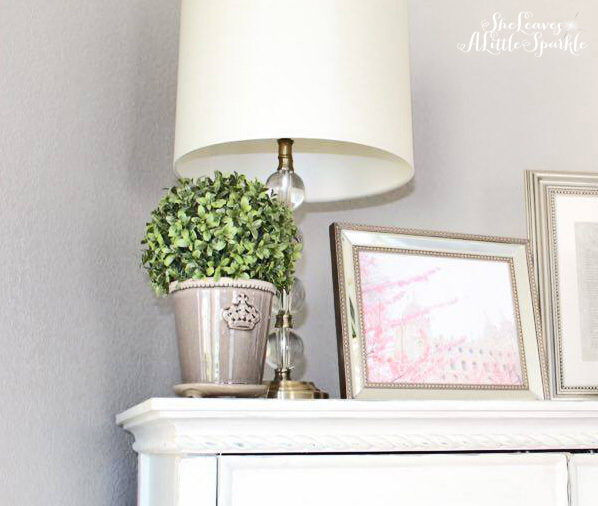 On the other side of my sitting room, I kept all the furniture white and bright. I used mirrored frames, mercury glass lamps, and white lampshades instead of a busy pattern with darker colors.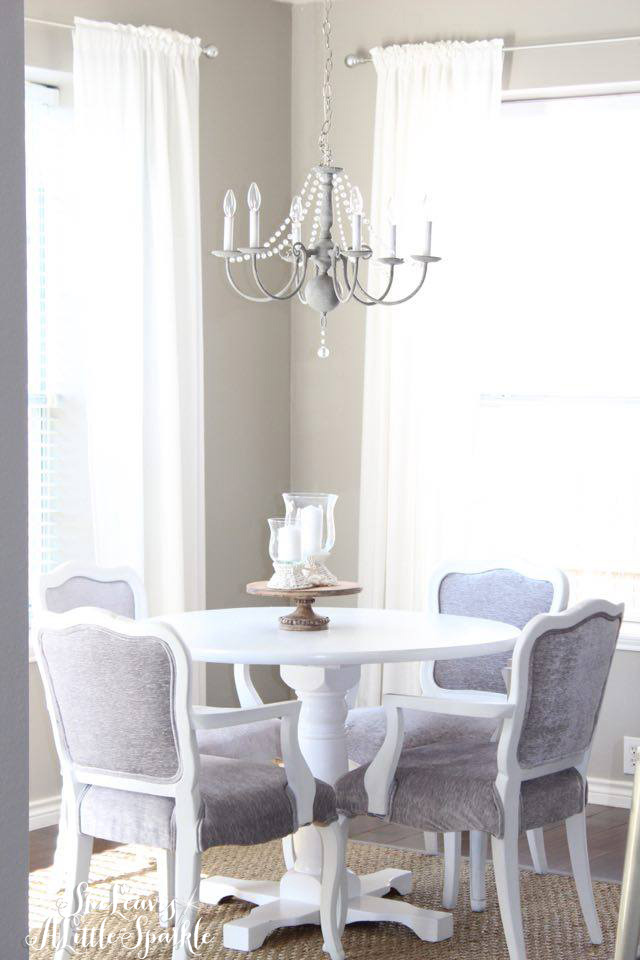 This home was already painted in a lovely custom grey color. However, it is much darker than I would have chosen, given the issue of natural light, and so these curtains really help keep the kitchen nook bright. Also, I had painted this round pedestal table originally to look like distressed wood. It was just too much grey though and too dark. I repainted it white and, especially after I had my chairs recovered and painted, it was just right and really made the space feel open. When looking for a rug, I knew I needed to keep it lighter BUT this is also my kitchen nook…meaning, where my children and their friends eat and do their homework. It had to be practical and deal with lots of traffic and crumbs. This jute rug was the perfect choice and I'm so happy with it!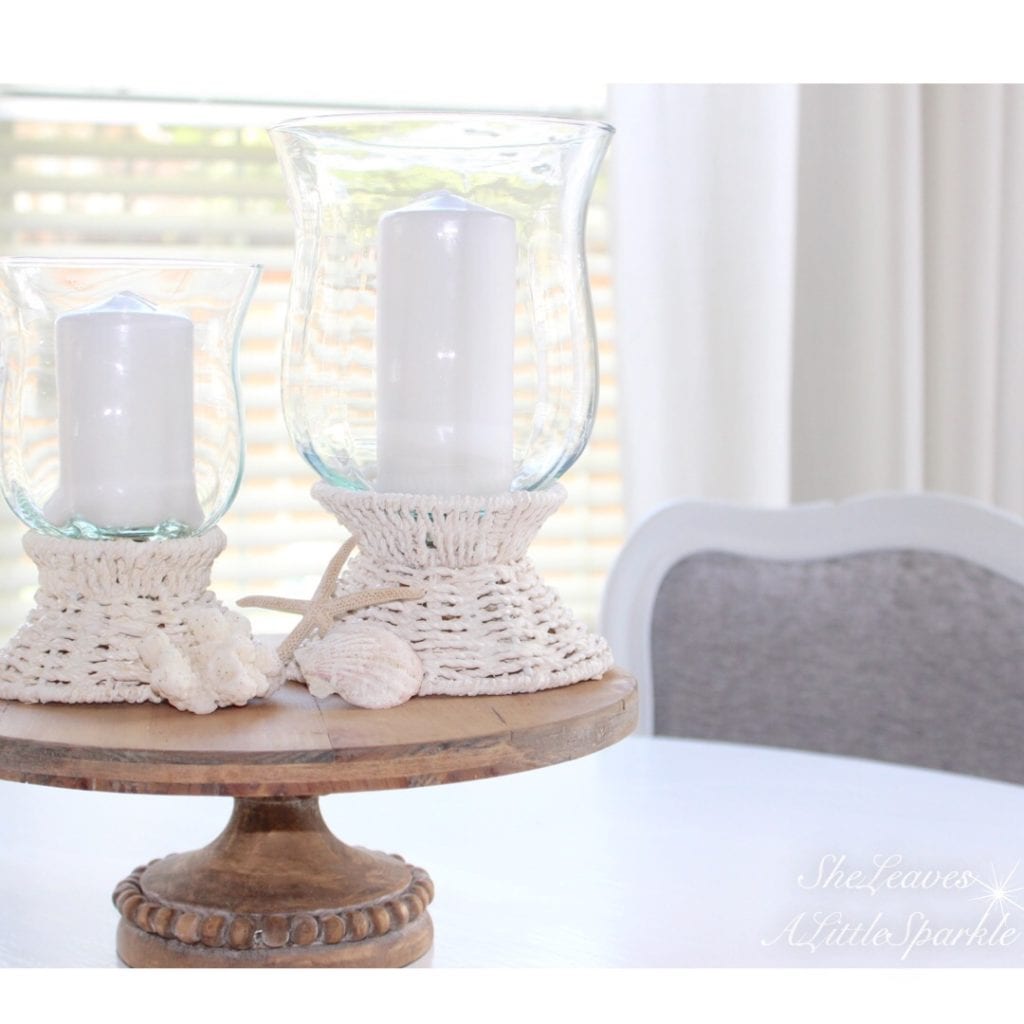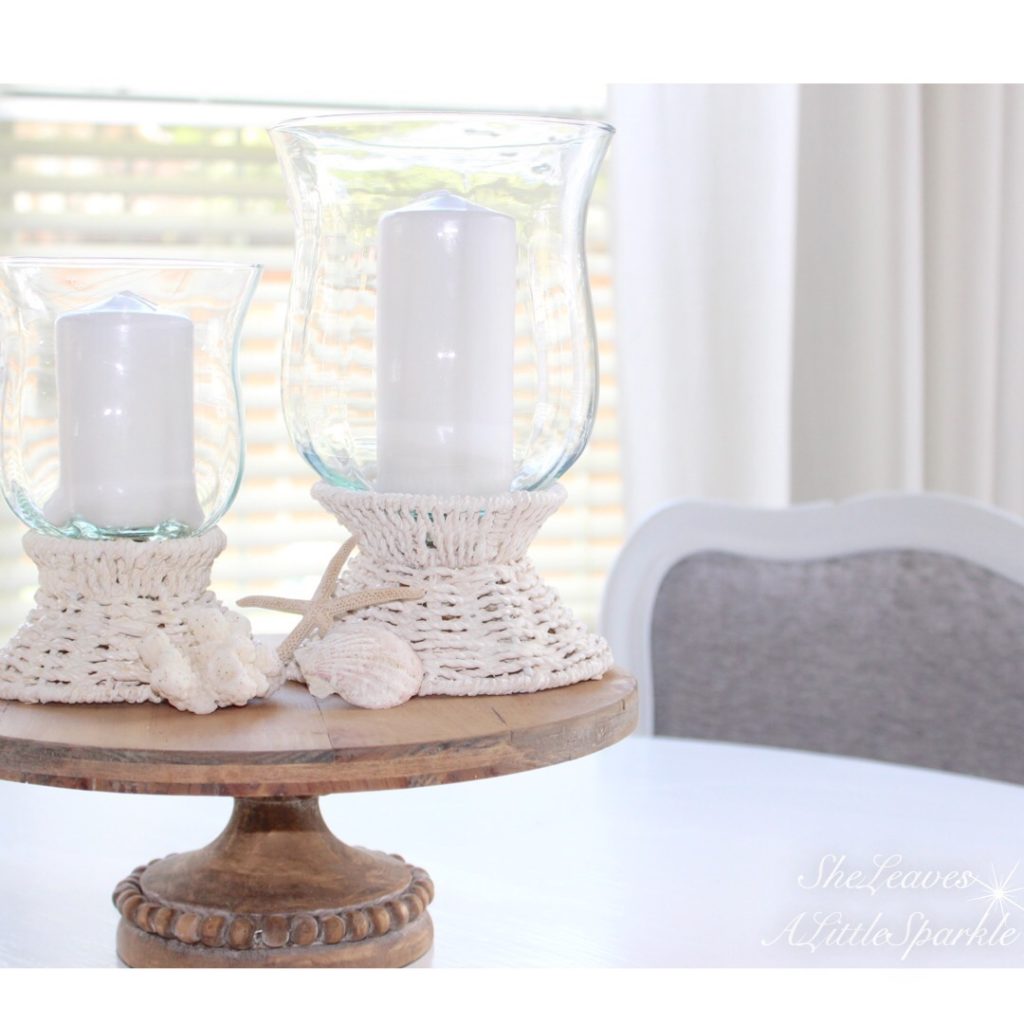 Another helpful tip is to find something bright and not heavy for a centerpiece. I loved the element of natural wood here to raise my centerpiece but I also loved the glass hurricanes to allow light to pass through. And it is such a fun summer decor vignette, right?! The shell and coral came from our trips to Hawaii and Newport Beach this year.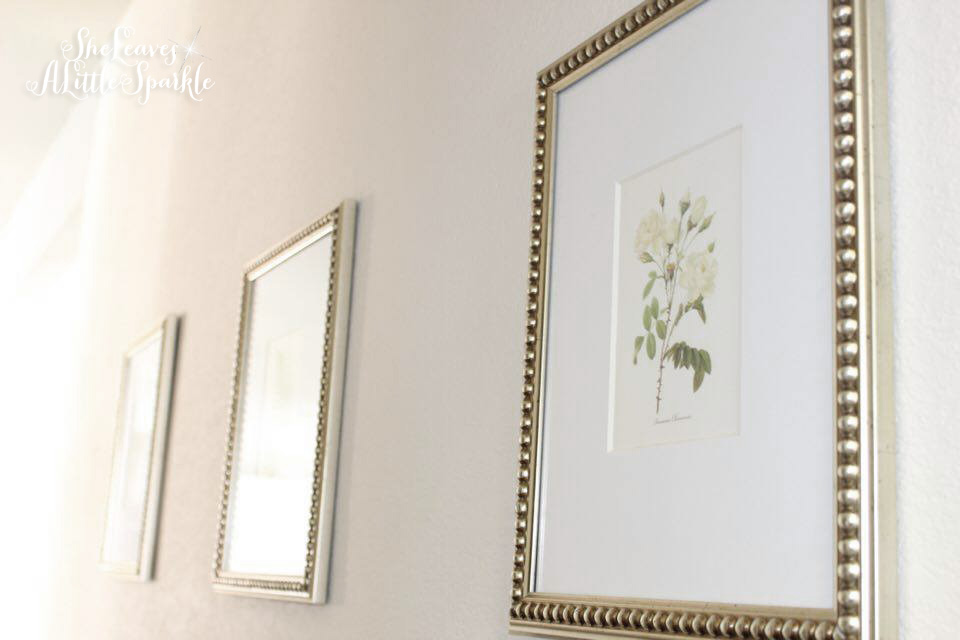 Here's the most difficult area in the entire home…my downstairs hallway that passes the powder room and into the laundry room. It is always dark! I try to remember to open the window in the laundry room to help allow light in to help a little. But I also decided against some kind of wall collage and instead just used my 3 botanical framed prints with large white matting to give a simple and bright touch. A collage would have been too busy and dark and definitely claustrophobic!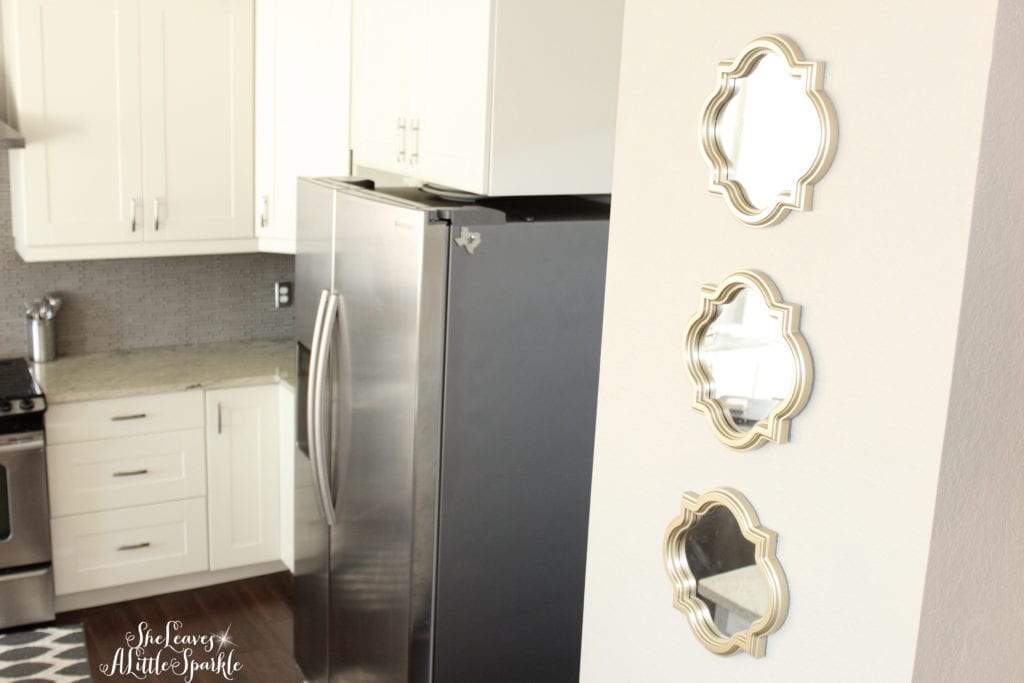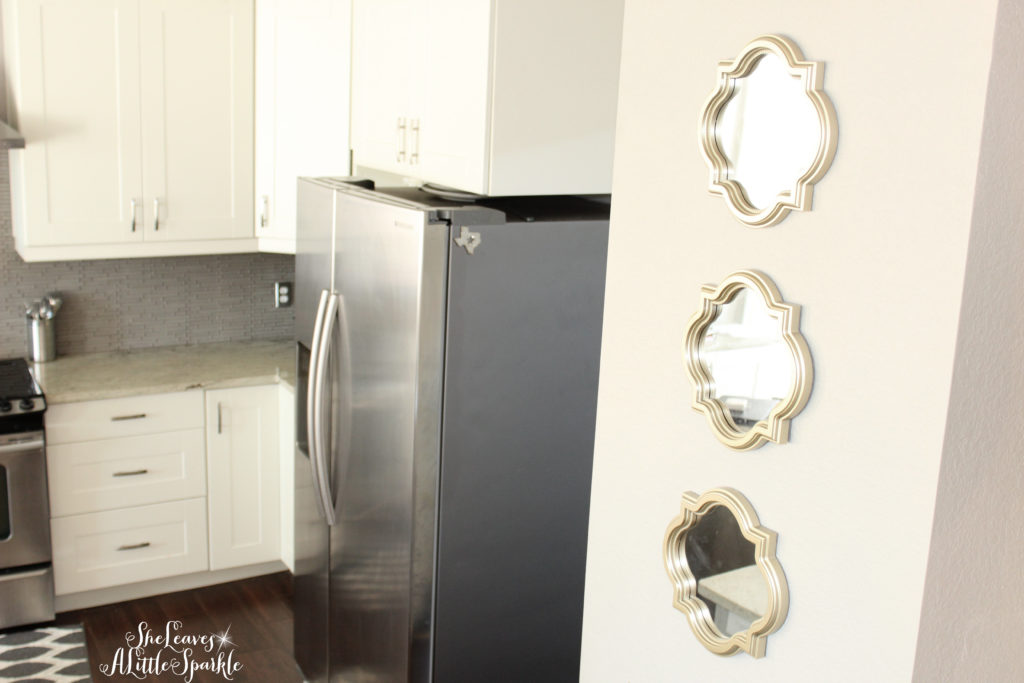 This narrow wall in-between my kitchen and sitting room was a perfect place to add this quatrefoil mirror set to allow more light in and reflect to other parts of the room.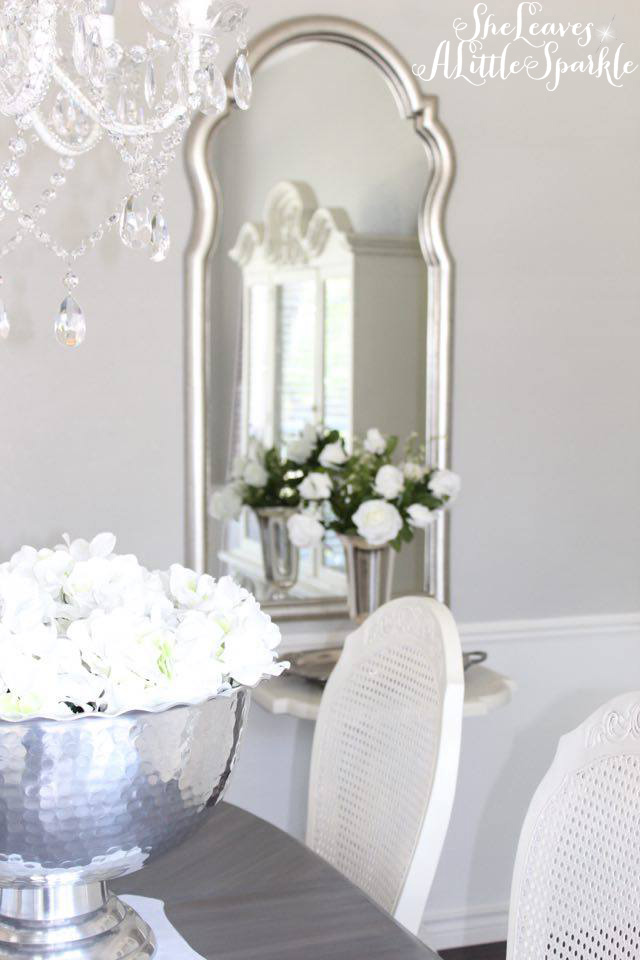 In my dining room I chose a crystal chandelier to allow the light in and reflect off the chandelier. Also, another mirror! See how helpful mirrors can be to brighten a room and allow it to feel more open or larger? The white faux flowers are also helpful but I constantly switch them out.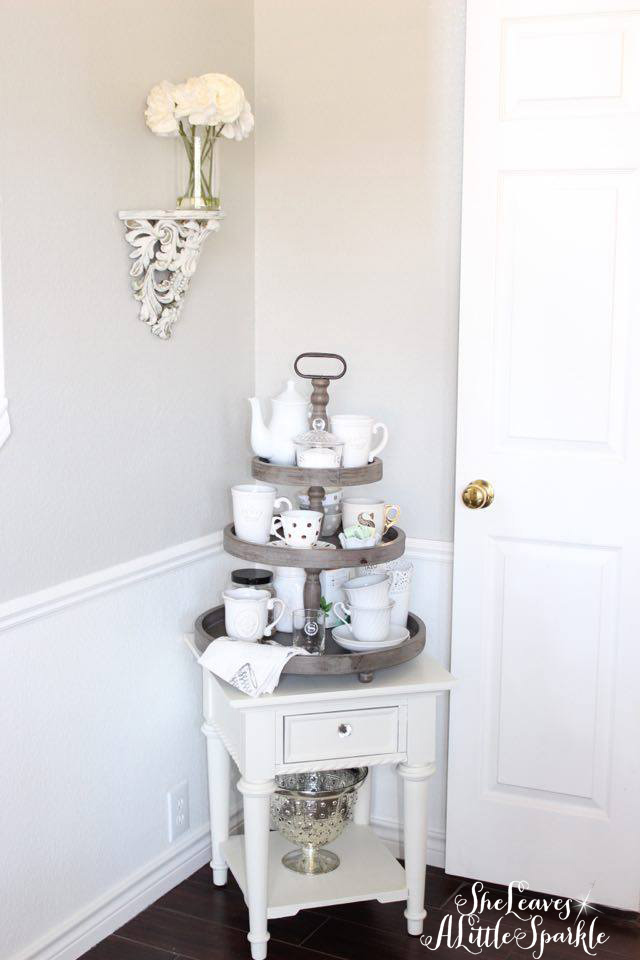 I moved my tea station to the corner of my front dining room, leading into our kitchen. Here you can see how I used a lighter grey called "Repose Gray" by Sherwin Williams and then painted the bottom half white since there was already trim. It made a HUGE difference and our landlord was just fine with it. I also decided to heighten the look of this area with white faux flowers on this vintage shelf.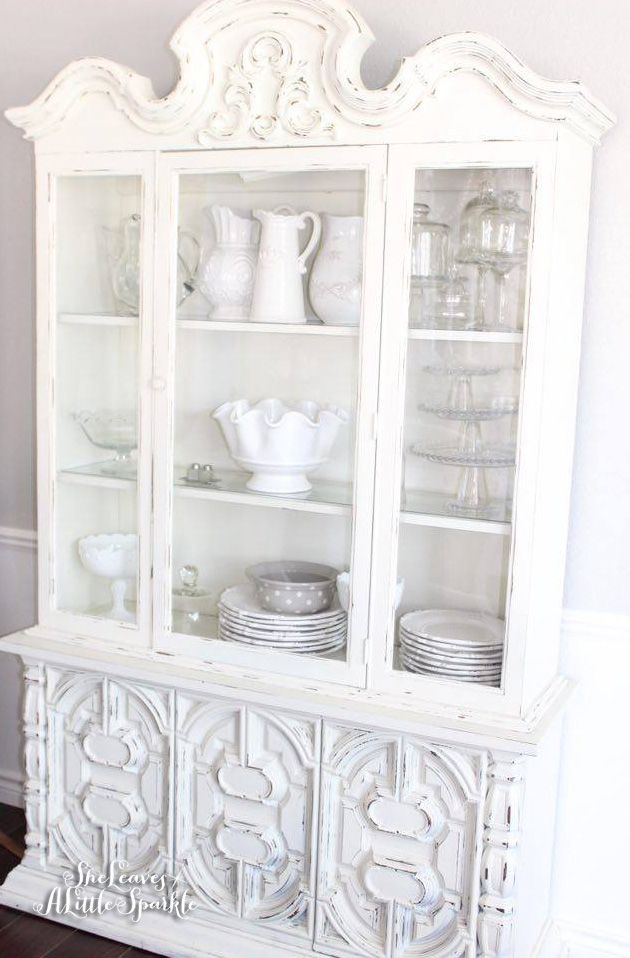 This gorgeous vintage hutch I found years ago, while living in Waco, TX, is such a bright statement piece. I originally decided to put this hutch elsewhere and bring in a different pieces here but as soon as we moved in, I knew it had to be here to keep it light and bright.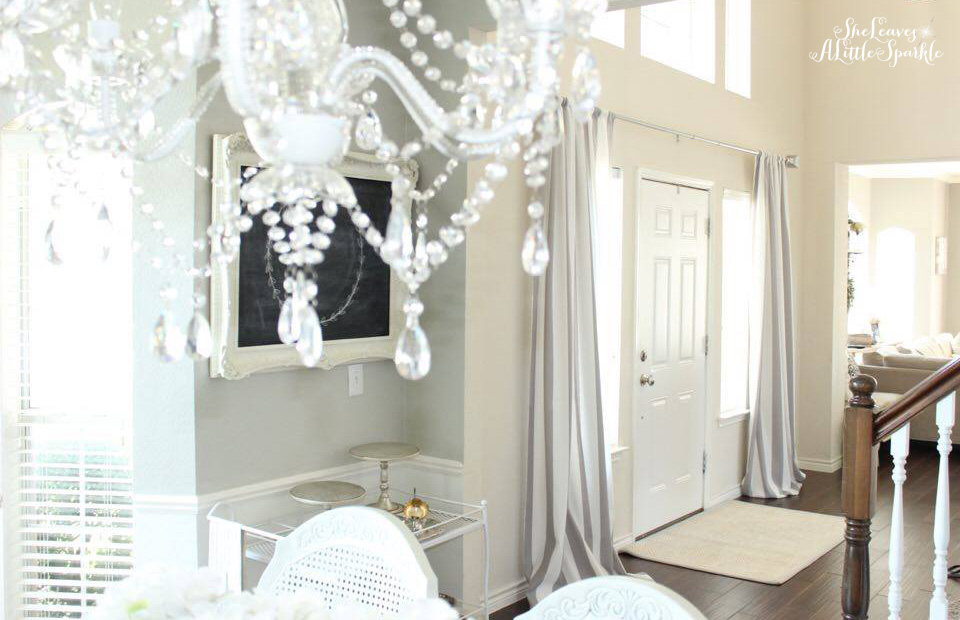 Lastly, when you walk in my front door it is very open and has a 20-foot ceiling and large windows. I love that! I almost made roman shades for the front side windows next to the door but instead decided to lengthen and brighten the area by not blocking any part of the window and making my own vertical-striped curtains with outdoor fabric. I'm really happy with how they turned out.

Thank you for stopping by and I'm so glad you came! Don't forget to subscribe to my email list to receive sale alerts to My Online Shoppe and to have new blog posts delivered to your inbox! I can't wait to have you visit my friend Kathleen next at Lindsay Hill Interiors for some really fabulous tips on brightening your home! Make sure to keep hopping and visiting each blogger sharing today.
SummerAdams.com
LindsayHillInteriors.com
LifeIsBetterAtHome.com
HappyHappyNester.com
TheGraceHouseInteriors.com
CCandMike.com
FadedCharmLiving.com
GratefullyVintage.com
Studio7InteriorDesign.com
And if you find something helpful or wonderful, make sure to pin it to Pinterest or share on Facebook!
xoxo, Summer