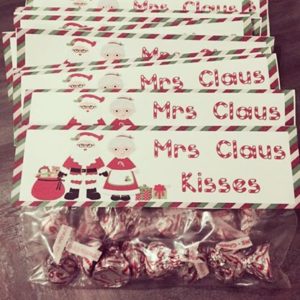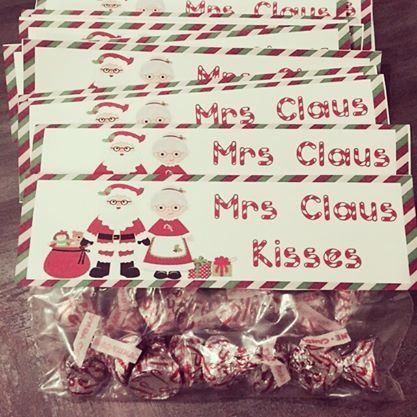 Both of my kids received letters to bring a little goody to pass out to their class members during their Holiday Parties at school.  I wanted to something cute, different and easy.  I came up with this cute little printable on Photoshop and then just printed it out, cut it, and used a permanent tape runner to attach it to snack-size bags of Hershey Candy Cane Kisses!  The kids, parents and teachers all raved about how cute it was.  Oh, how I long for these little drops of peppermint goodness to arrive in stores every holiday season.  They.are.delish. Except that I can't stop eating them.  So I grab a handful and then make my family take them away from me.
I'm offering these printables on my blog so go here —–> Mrs-Claus-Kisses-Printable-from-SheLeavesALittleSparkle
On another note….How excited am I that there is NO school, NO getting up early and NO homework!  Ohhhhh happy day!!!  Let the fun crafts and activities and outings and holiday baking begin!