Hello, friends!  I'm so excited to have you here today!  We are gathered again, as a group of bloggers, to bring all of you some fabulous spring recipes.  Not only are they all delicious, but they are so beautifully presented and would be a hit at any of your spring events.  Make sure to pin all these recipes to Pinterest so that you have them saved!  Today I'm sharing my Pink Lemonade Chiffon Naked Cake with you and, from a person who is extremely picky about cake recipes, I can assure you that it is a must-try recipe.
This post contains affiliate links for your shopping convenience.
Click here to read my full disclosure policy.  All opinions are my own.

My 12 year-old daughter, Brooklyn, and I decided we wanted to make a naked cake together and share it with you today.  Funny thing though….we both don't "love" just a traditional cake and frosting recipe.  We are really picky.  She requests Tres Leches cake on her Birthday and, if I make a cake at home, it has to be one of the really fabulous cake recipes that are in our family. That being said, I remember making a really really good cake a few years ago (and it's from a box) and that's the one I'm sharing with you today.
Pink Lemonade Chiffon Naked Cake Recipe
Ok so 2 things…
If you aren't a huge lemon person you can still add the lemonade and it will be almost undetectable in the batter but truly makes it delicious and it's necessary.
But if you like the lemon…this is a lemonade cake after all…you will need to add some lemon zest into both the batter and the frosting.  I didn't use it in the frosting this time, since I didn't want it to ruin the look of my naked cake.
Ingredients
2 boxes of Betty Crocker White Cake Mix
2 1/2 cups pink lemonade
2/3 cup vegetable oil
6 eggs, separating with whites reserved
3 Tbsp lemon zest
1/2 tsp cream of tartar
Frosting
1 1/2 cups butter, room temperature
7- 8 cups powdered sugar
1/2 cup pink lemonade
1 Tbsp lemon juice
*1 Tbsp lemon zest (I did not use it in this recipe)
*food coloring (optional and I did not use it in this recipe.  I recommend pink though if you're not doing a naked cake.)
Cake Instructions:
•Preheat oven to 350°
•Spray 3, 8″ cake pans generously with baking spray, set aside
•In bowl or stand mixer, mix on low speed cake mix as box instructs but SUBSTITUTING WATER FOR PINK LEMONADE.  So, do not use the water!!!
•Make a well in the center of the dry ingredients and add in the egg yolks, oil, pink lemonade and 2-3 drops of food coloring if desired. Beat mixture on medium high for 3 minutes, scraping sides as needed.
•In a separate mixing bowl combine egg whites and cream of tartar and beat on high speed until stiff peaks form, will take a few minutes.
•Fold egg whites into the cake batter and divide equally into the 3 prepared pans.
•Bake for 27-30 minutes, checking at 27 min.
•Cool in pans for 10 minutes and then remove from pans and transfer to wire rack to cool completely.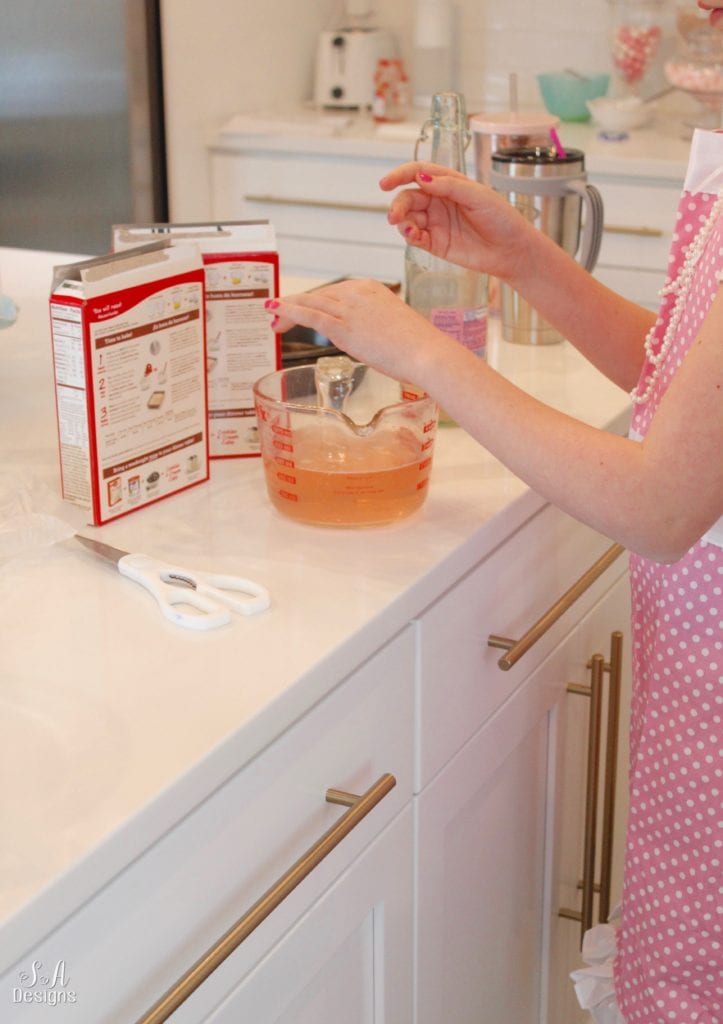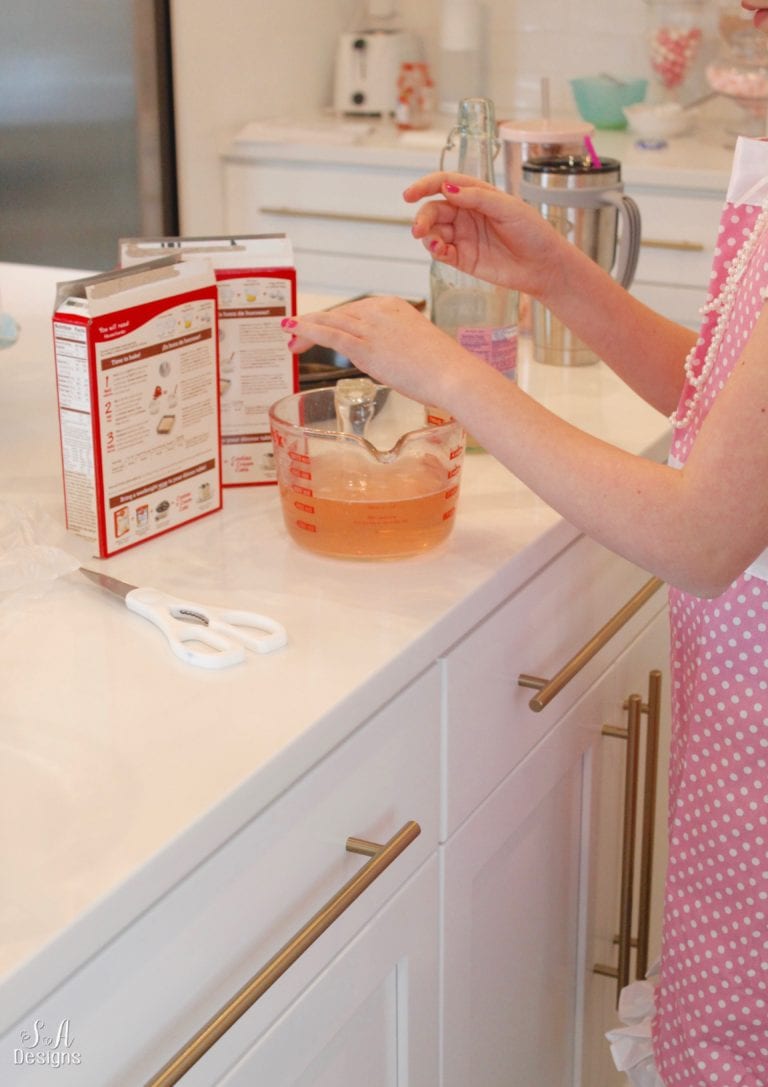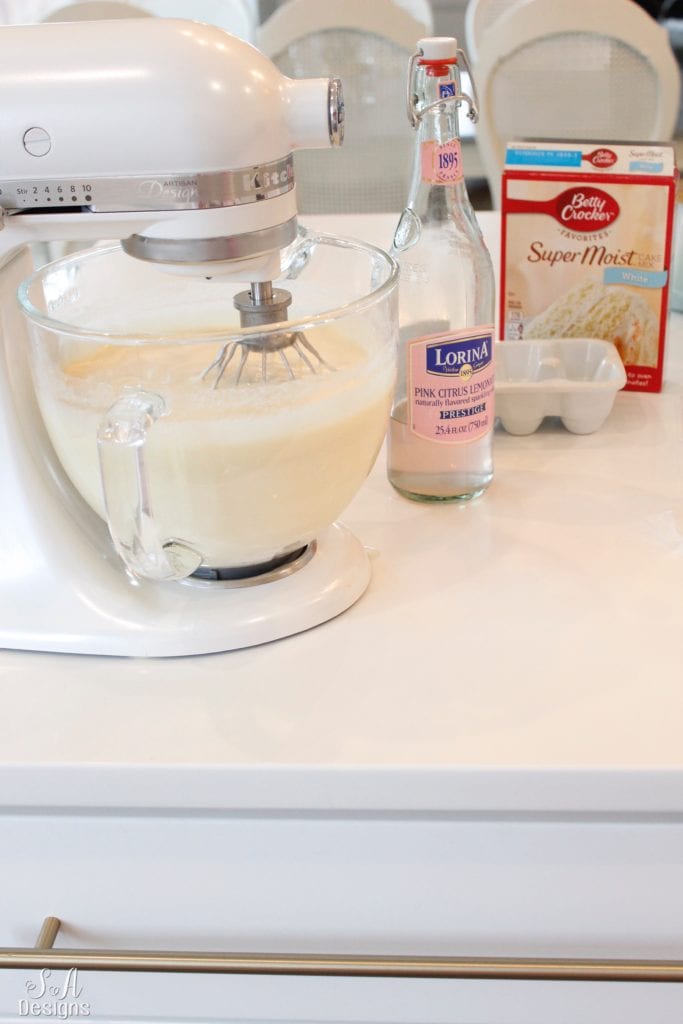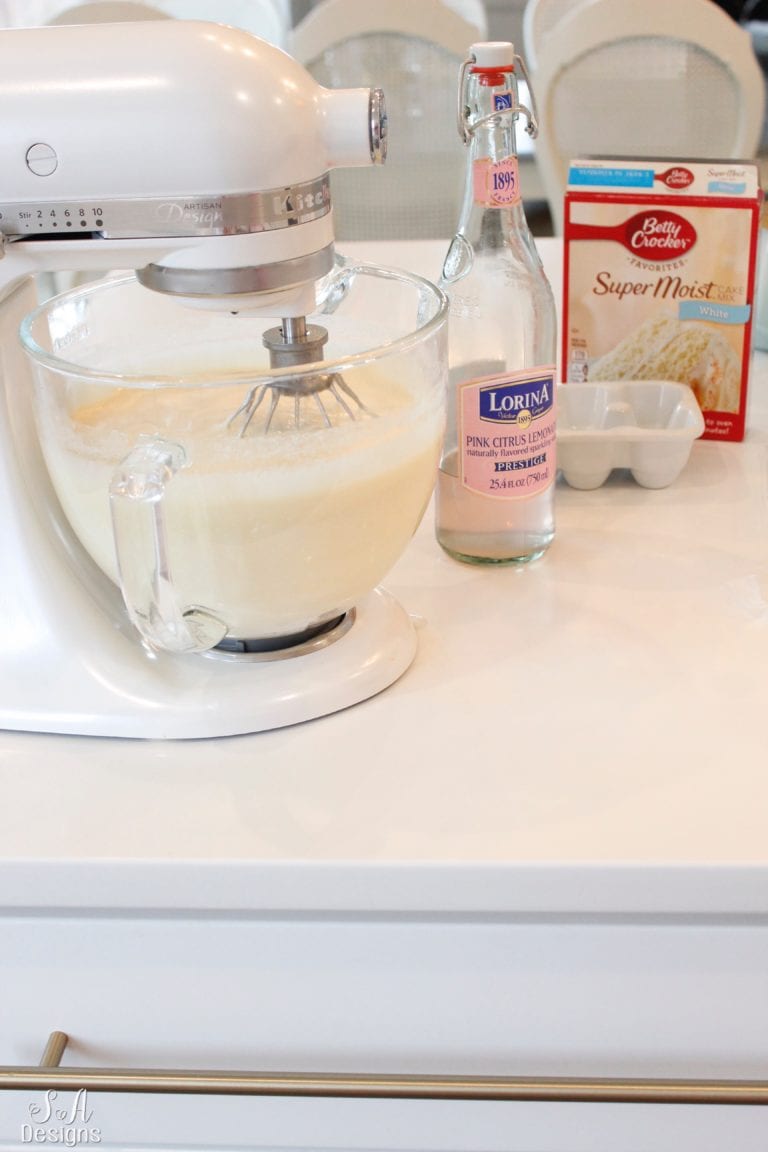 Next….
•With parchment paper in between layers, freeze the 3 cakes for a few hours.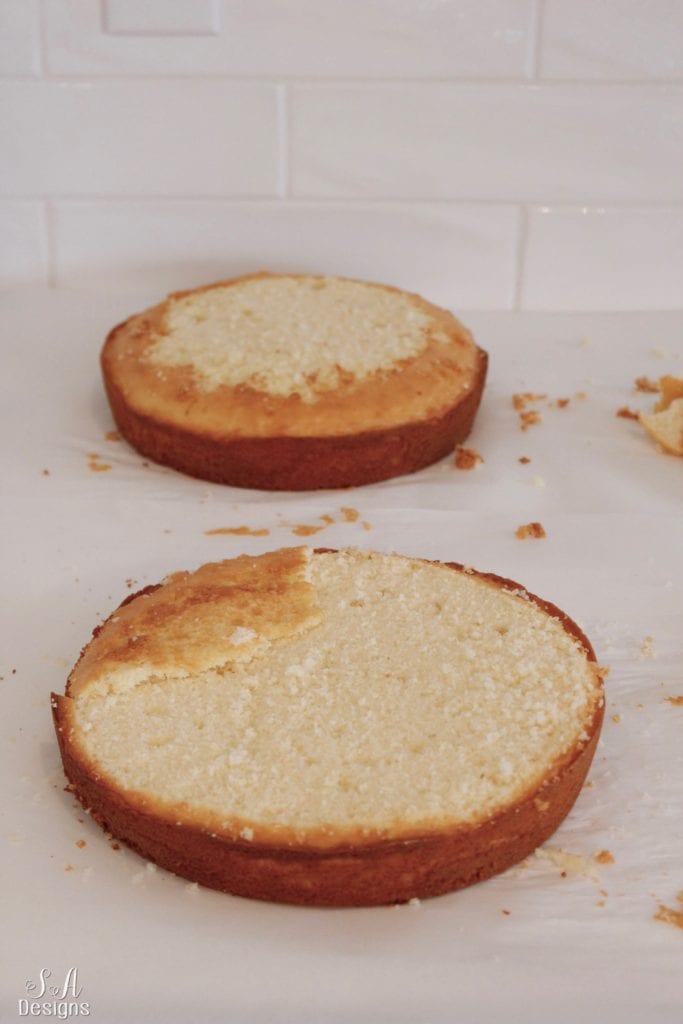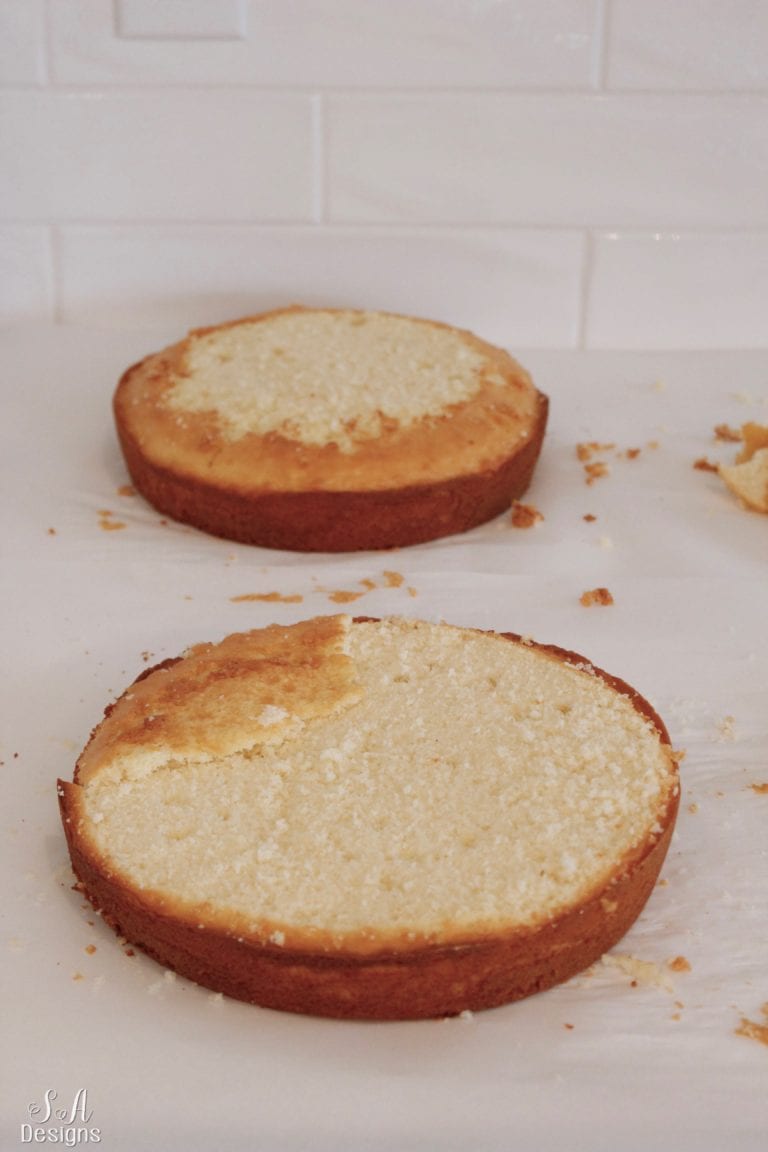 •Remove from freezer and, using a serrated bread knife, cut off the top rounded part of the cake to make it flat.  SAVE your scraps of cake because if you cut the cake unevenly, which we happen to this time to one of the cakes, you can take a thin part to put on the lower side so that the cakes will stack evenly and not be lopsided.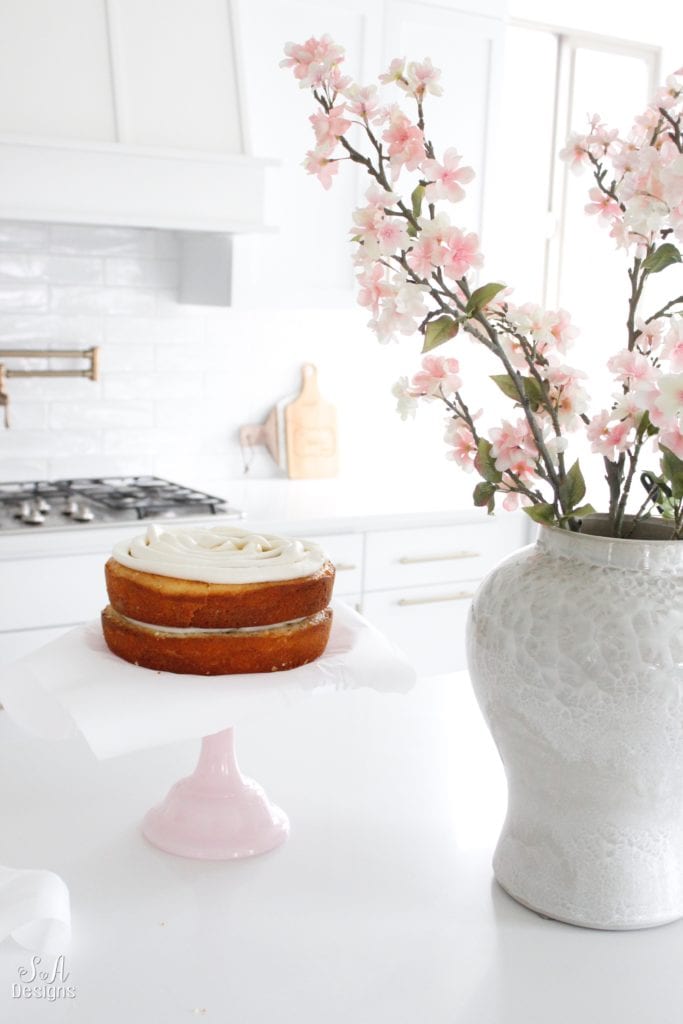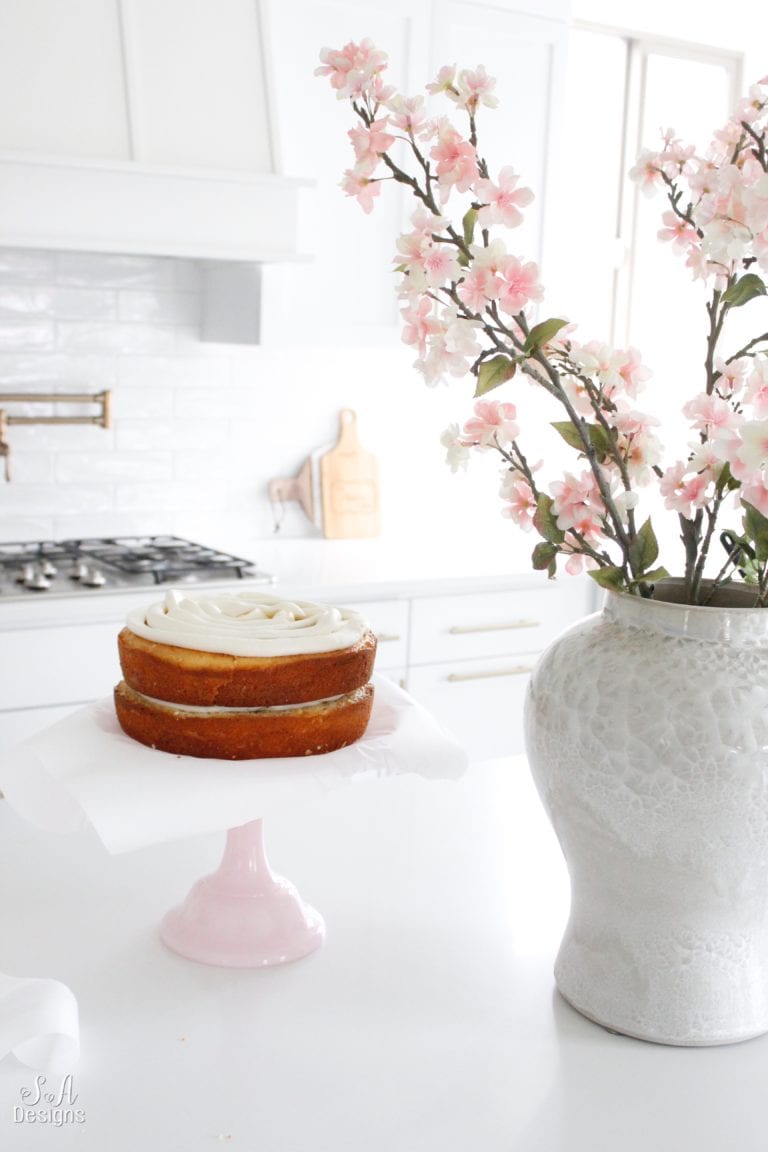 •Split a large piece of parchment or wax paper in half and put on top of the cake stand and then place the first cake on top of it.
•Fill large pastry bag (or a Ziplock bag is just fine) with frosting and generously squeeze in a spiral pattern on top of the cake.
•Place next cake on top and repeat last step with frosting and then place the last cake on top.
•Generously apply frosting to very top layer of the cake.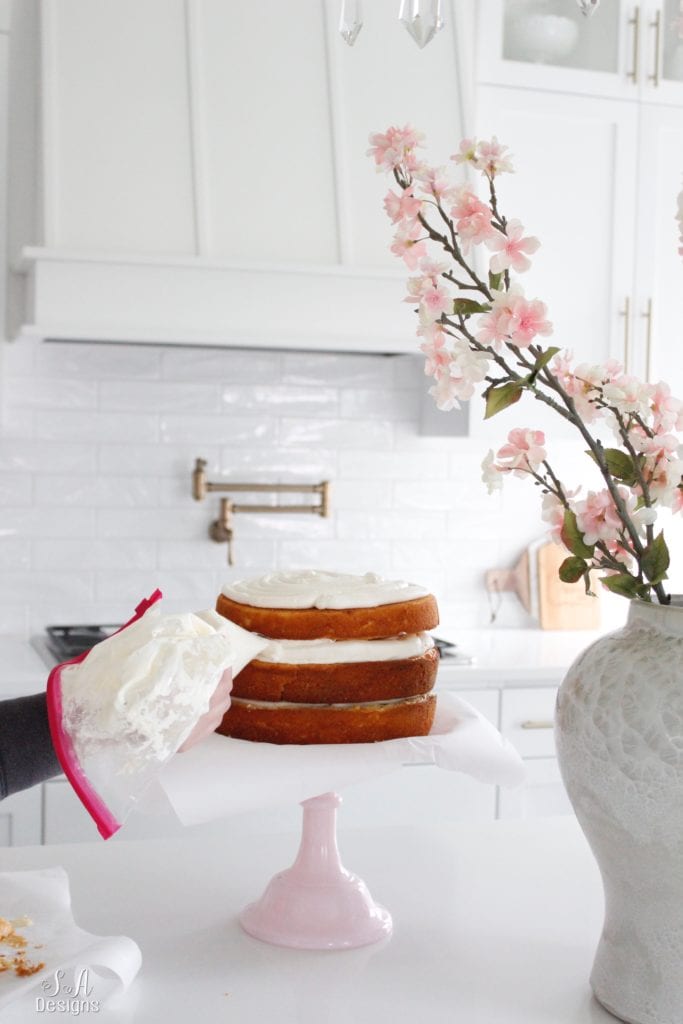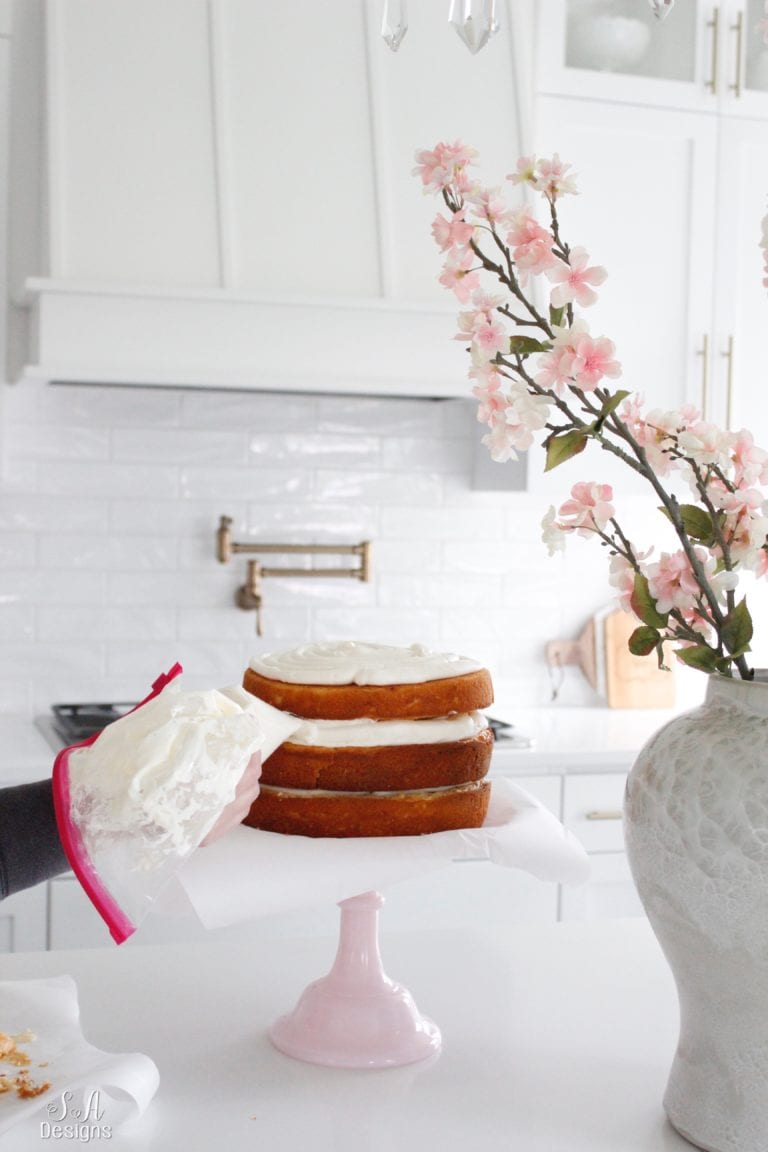 •Fill in uneven parts of cake layers with more frosting and all the way out to the very edge of cake.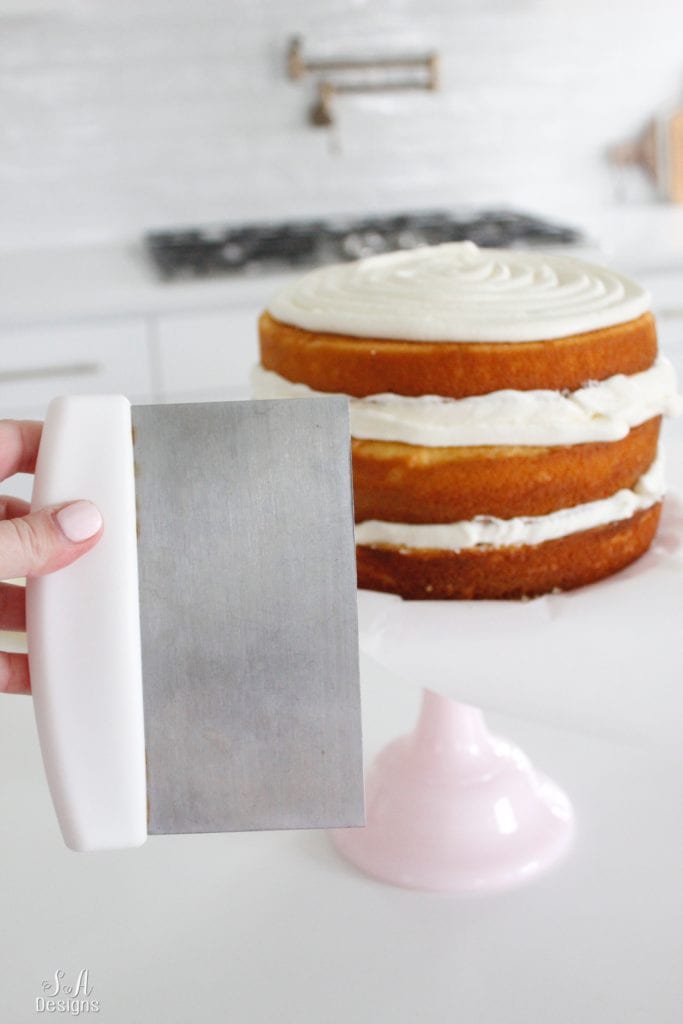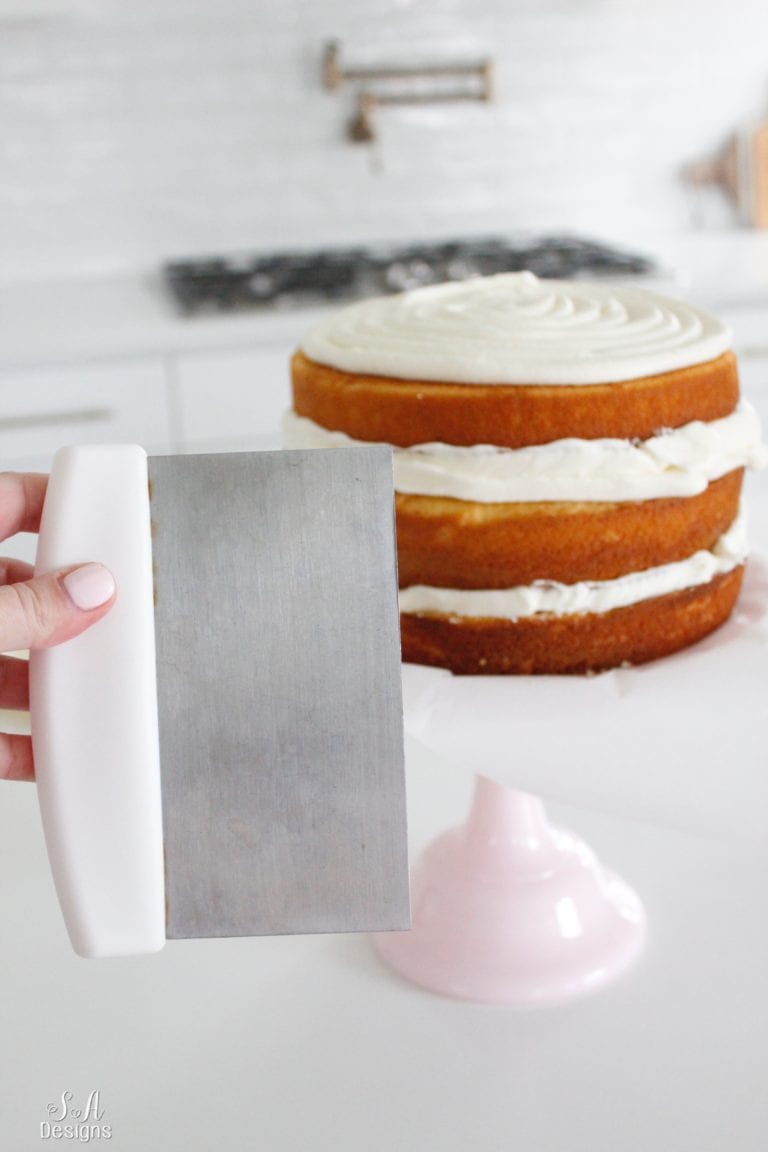 •Take a large scraper to scrape along the outside of the cake as you turn the cake stand.  You'll probably need to pipe more frosting along the "naked" parts of the cake, as to get frosting on every part of the outer edge of the cake.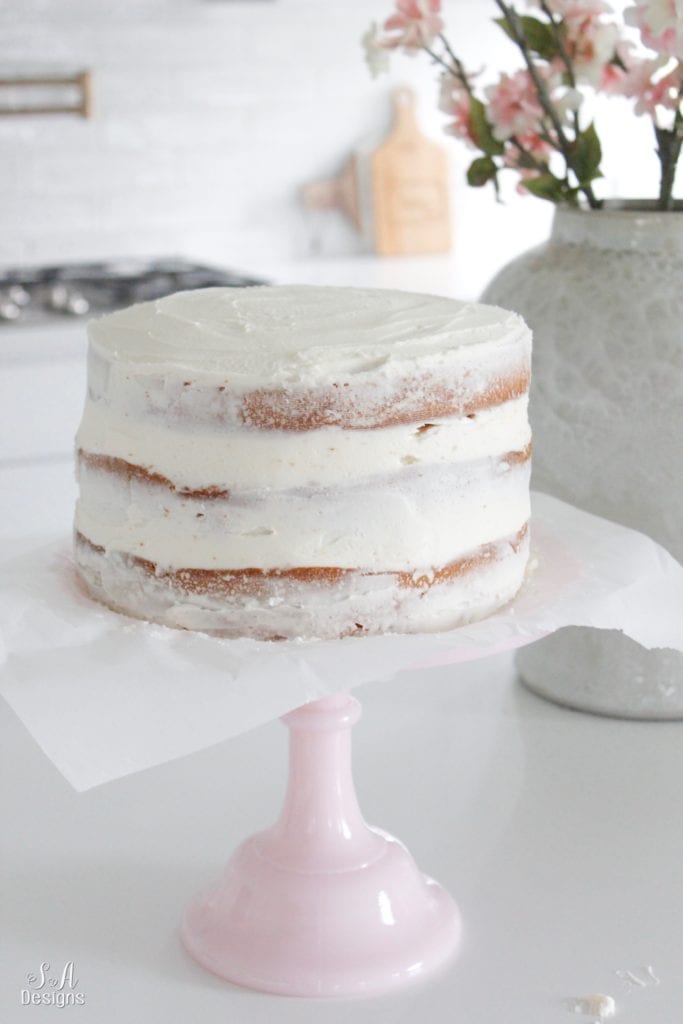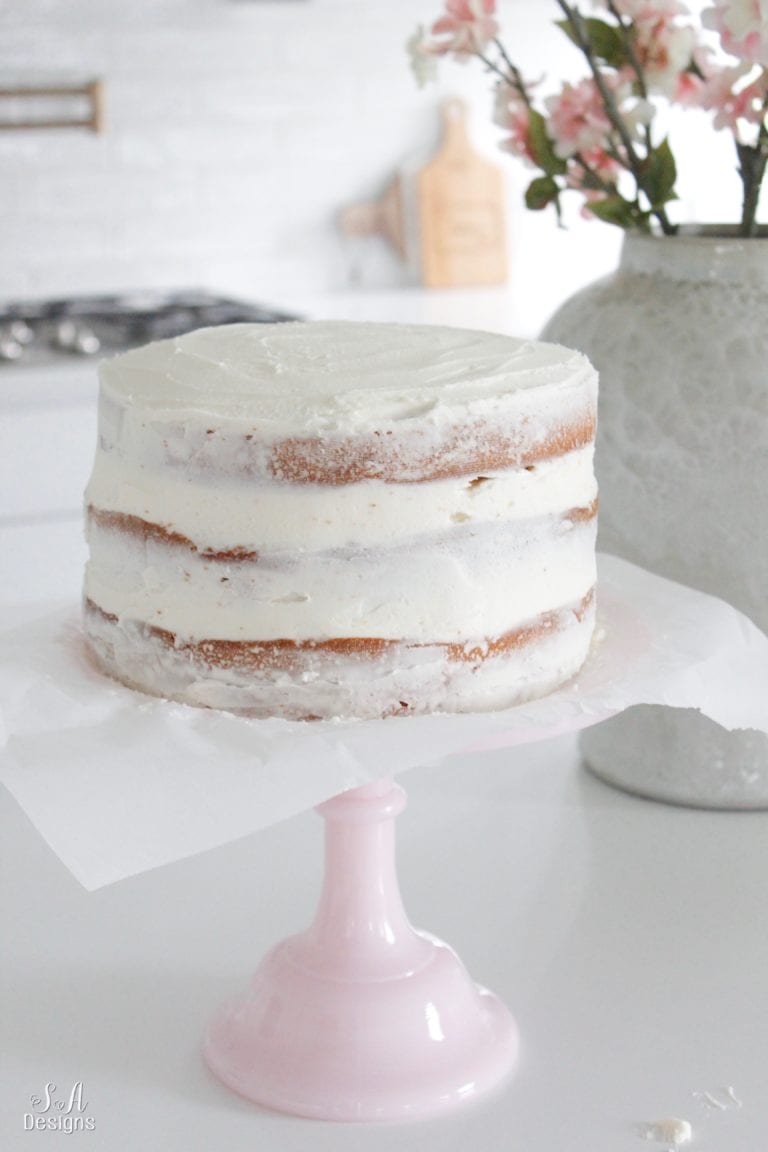 •Continue scraping until you get it how you want it, removing any crumbs in-between scraping.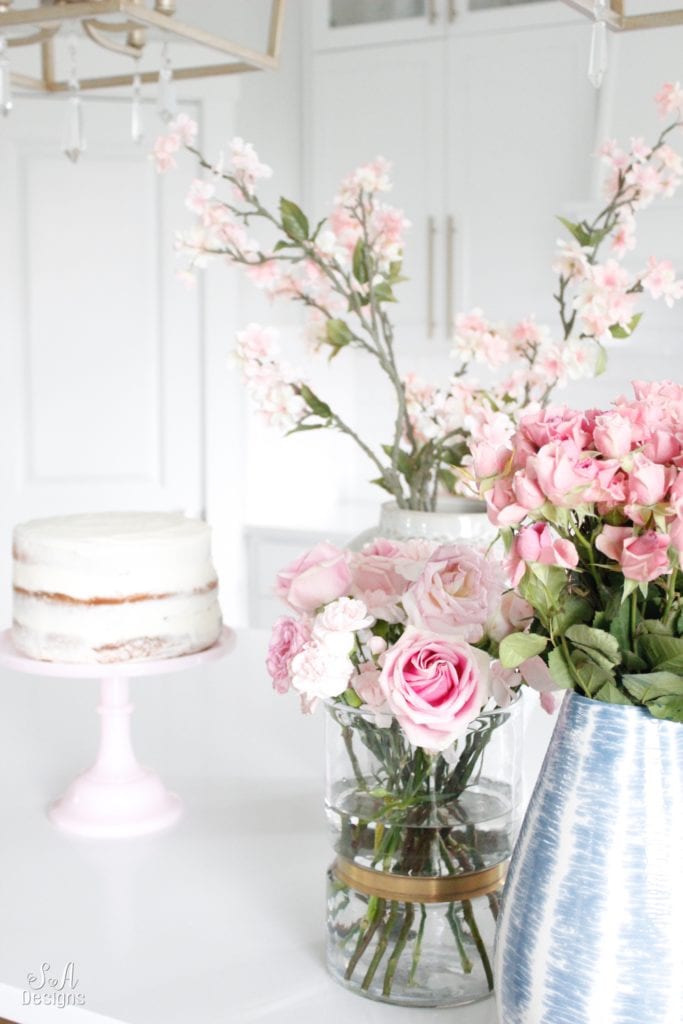 This is when you carefully remove each side of the paper from underneath the cake and discard it.  And THAT is how you keep your cake plate clean and ready for decorating.  My mom taught me this trick years ago and it's never failed me.
Grab a bunch of fresh flowers to decorate your cake.  I happened to have several different bunches of fresh flowers….pink roses, pink carnations, and pink spray roses.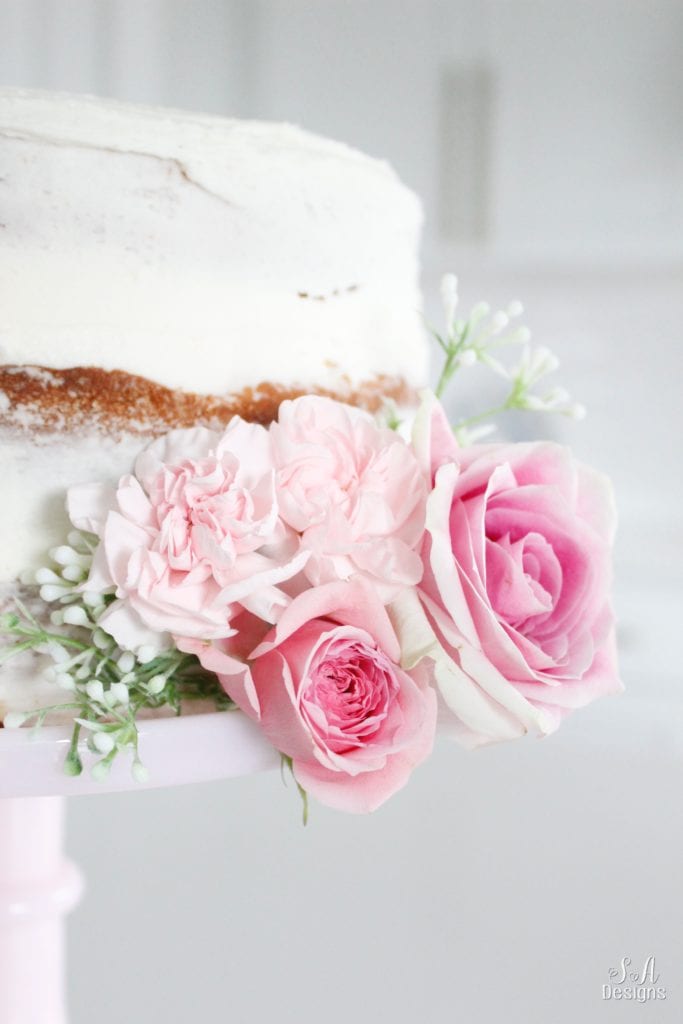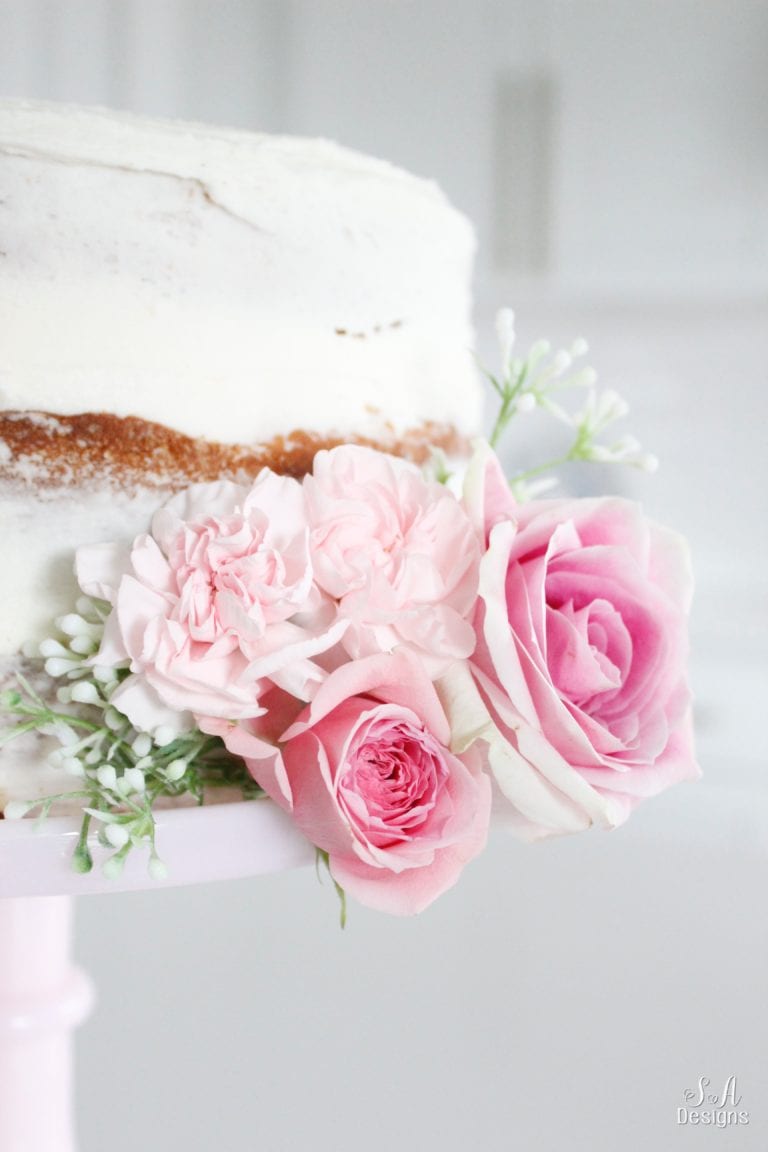 I garnished the bottom side of cake with the flowers and also plastic faux greenery that I washed and dried and clipped to size.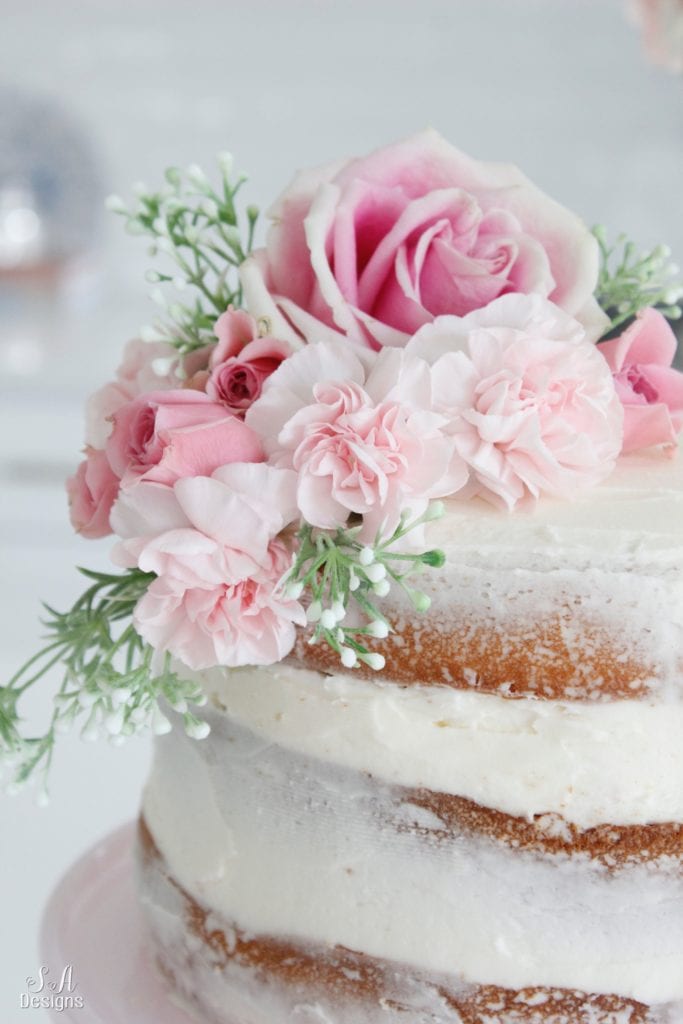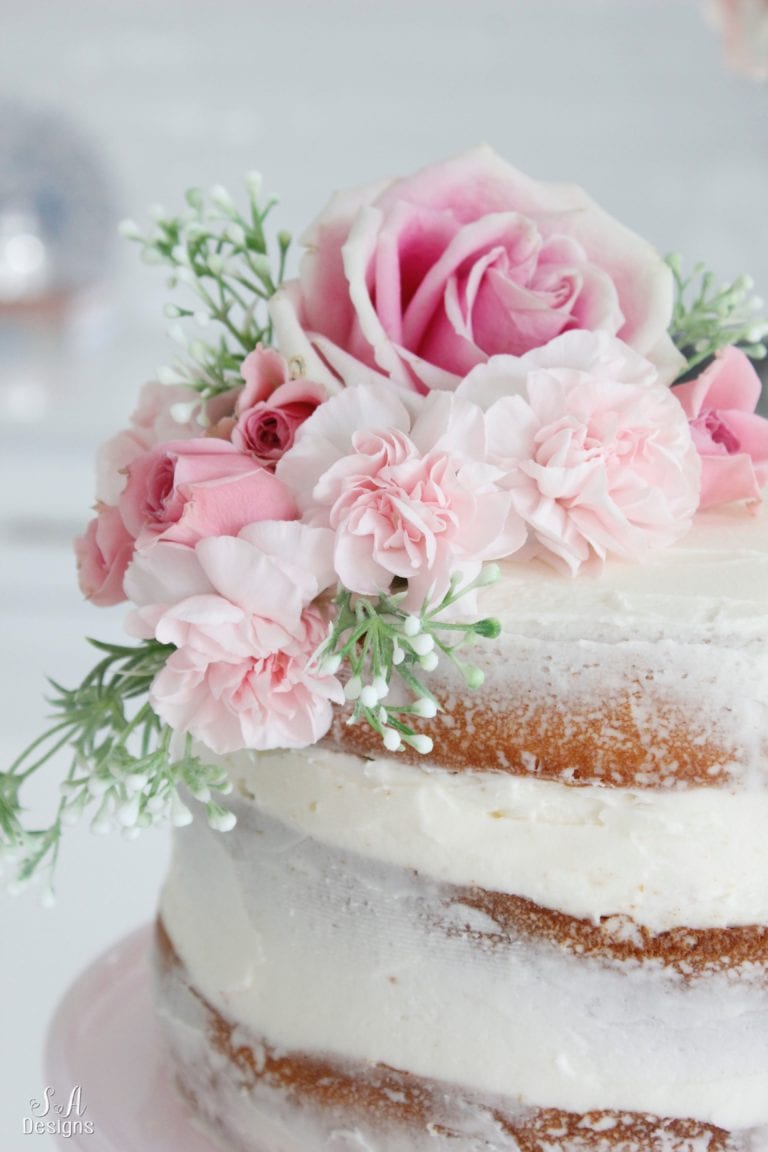 I created a similar but larger arrangement on the opposite side on top.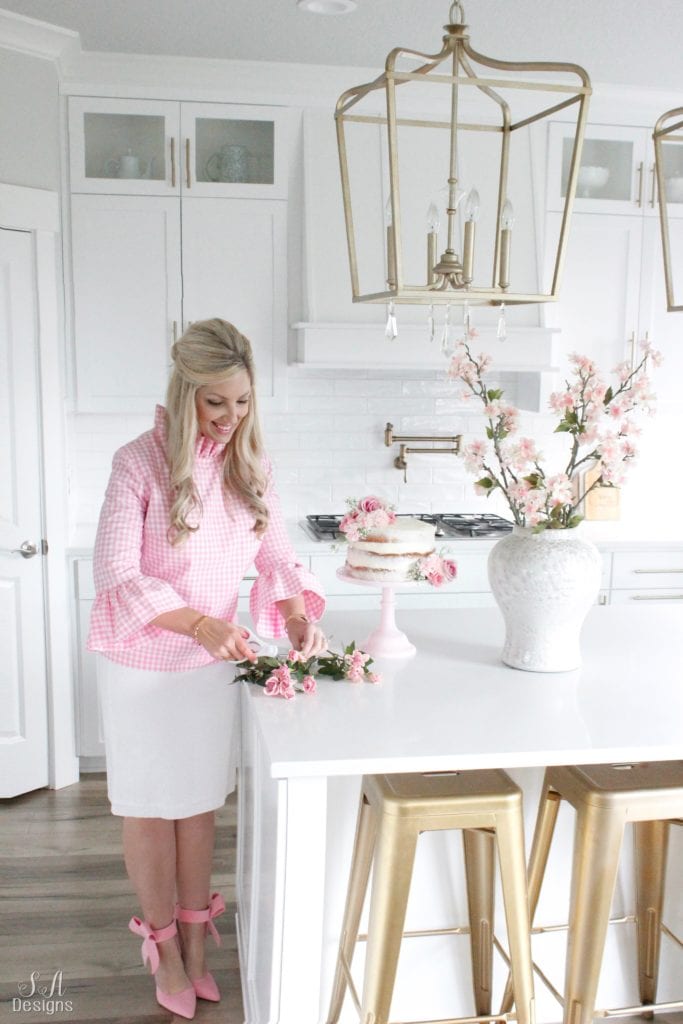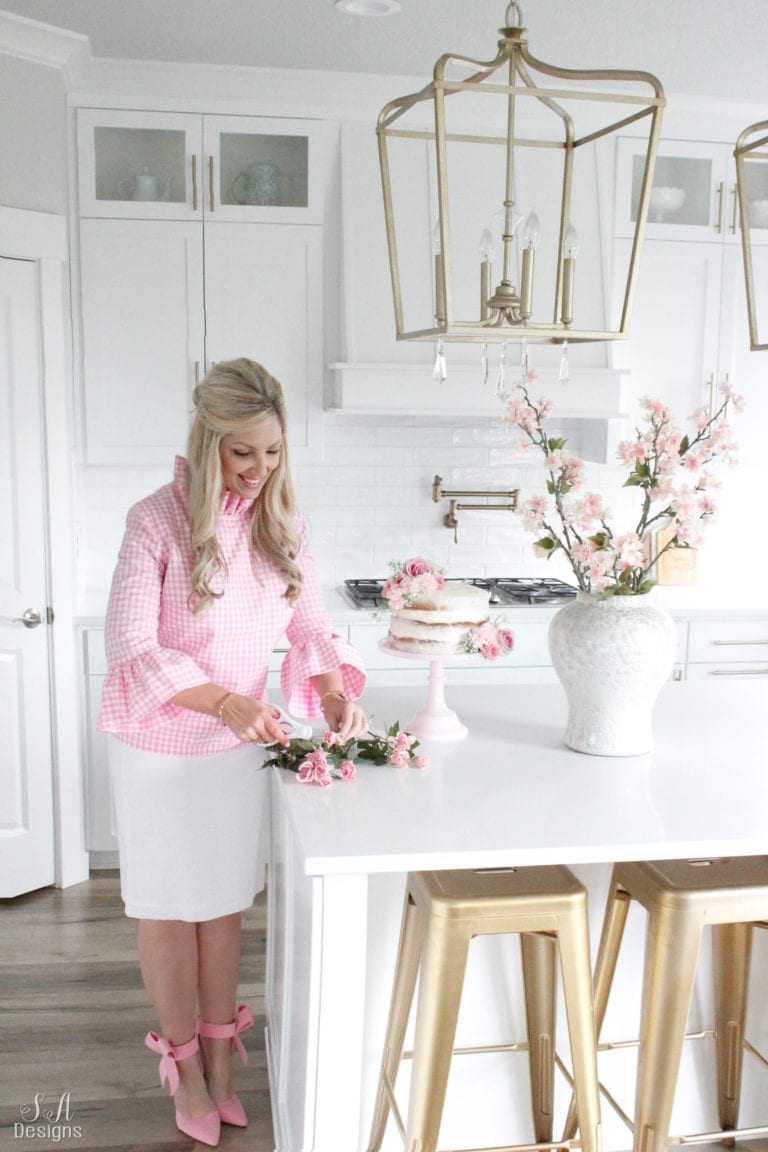 I'm so pleased with how it turned out.
Now, can we talk about how cute this top is?
I recently discovered Elizabeth Wilson Designs, a lover of gingham, ruffles and a touch of whimsy!  I fell in love with so many pieces in her collection immediately and was thrilled to receive her Katherine Top in pink gingham!  With the high ruffle-neck and bell sleeves, I mean….she was speaking my love language when she designed this top.  It's classy, fun, flattering, and just perfect for the spring!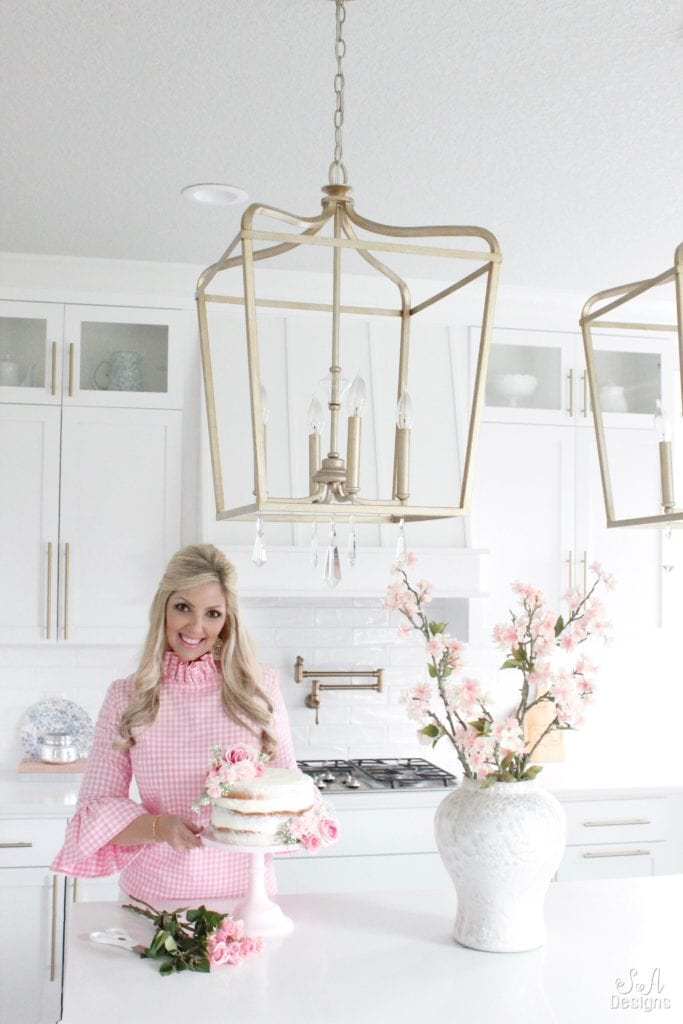 I wore it to church already and was stopped right and left to be told that it was the cutest top.  You won't find one like it anywhere else!  You'll see me in something else of hers soon so stay tuned.  But until then, make sure to visit her online store and have fun filling up your cart!  You can also follow her on Instagram @ElizabethWilsonDesigns.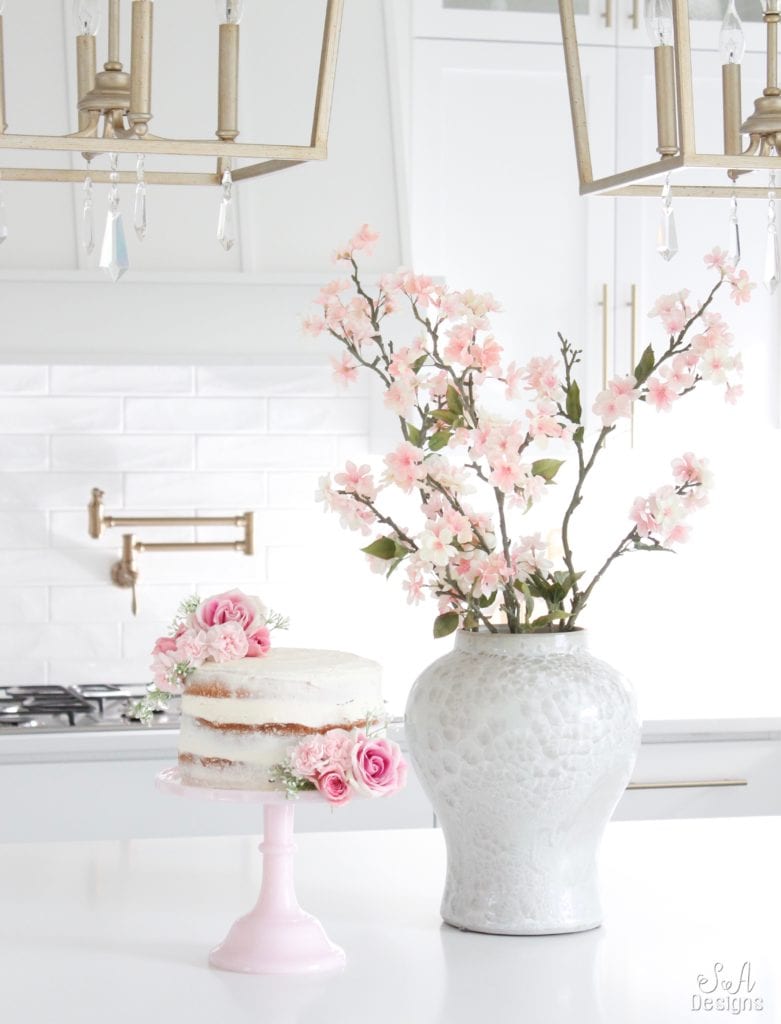 As pretty as this cake was, my family couldn't wait to tear into it.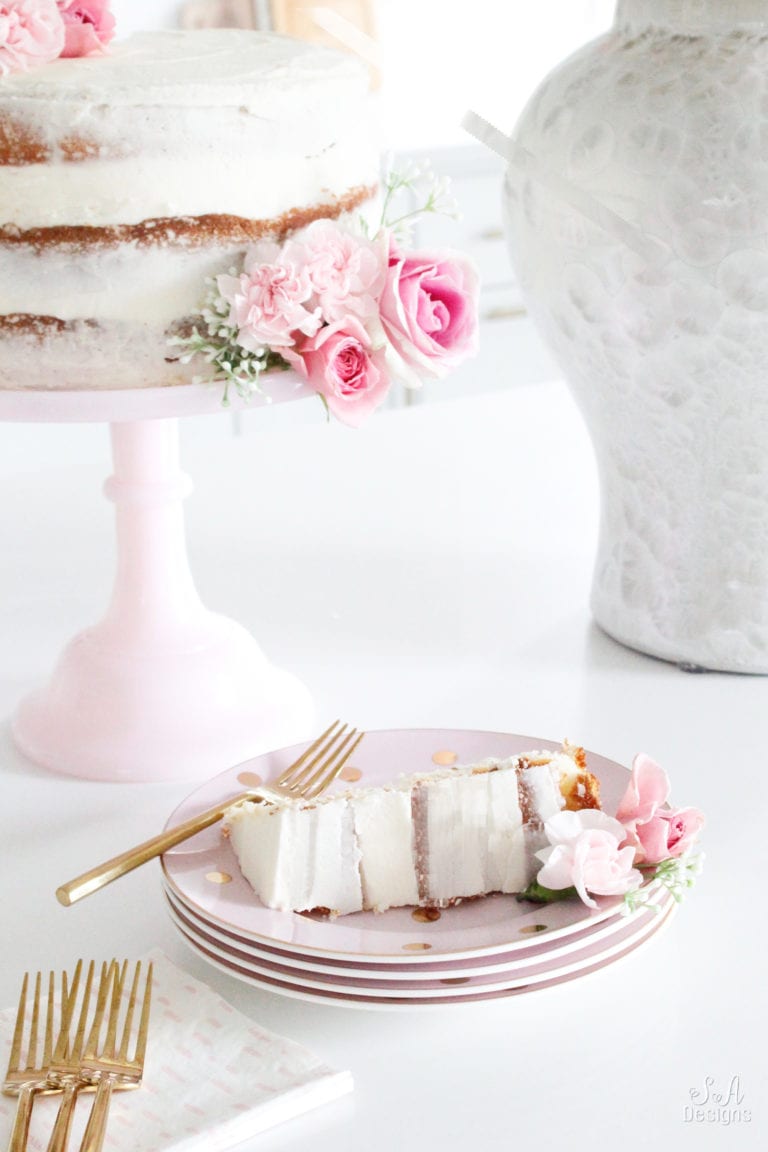 We may or may not have come home around noon from church and had cake for lunch….and ice cream.  Yes, I broke a rule and it was so worth it.  All 4 of us enjoyed every single bite!  This cake is just delicious!


Today some of my friends are sharing their beautiful and inspiring spring recipes as well!
Hop over to see what they are sharing…
Raspberry Lemon Quench at The Happy Housie
Amazing Gluten Free Popovers at Willow Street Interiors
Easy Strawberry Ice Cream Cake at My Uncommon Slice of Suburbia
Chocolate Challah Bread at Place of My Taste
Low Fat Oreo Fluff Dessert at On Sutton Place
Gluten/Dairy Free Easter Egg Lemon Sugar Cookies at Zevy Joy
Fresh Citrus Angel Food Cake with Lemon Curd at Sincerely, Marie Designs
Painted Easter Cake with Chocolate Nest at Craftberry Bush
The Best Carrot Cake Recipe at Happy Happy Nester
Lemon Cheesecake Mini Tarts at The House of Wood
Flower Pretzels at Home Made Lovely (formerly AKA Design)
Lemon Shortbread Squares at A Pretty Life
Dairy Free Avacado Egg Salad at Simple Stylings
Gluten Free Double Chocolate Chip Cookies at Taryn Whiteaker
Easy Cake Batter Dip at Amber Tysl
Tea Cake Sandwich Recipe at Shabbyfufu
Toasted Coconut Nest Cupcakes at Nina Hendrick Design Co.
Pink Lemonade Chiffon Naked Cake at Summer Adams
Kid Favourite Rice Krispie Spring Eggs at Duke Manor Farm
Thank you so much for stopping by today!  I would love it if you subscribed at the top of the page in order to receive my weekly emails of all my latest blog posts and hear about digital printables & freebies, as well as sales or new items in My Online Shoppe.  You can also follow me on Instagram, Pinterest, and Facebook to see what I'm up to in creating a home and lifestyle of inspiration!
xoxo,