Hello gorgeous!  I'm back today with another edition of Current Crushes!  I love to post these regularly, although this is a new series.  But I've also got a page called "Current Crushes" that is always on the home page of my website and these items can be found there.  That page gets updated every week or so and is a fun place to shop fun finds that I've curated.
This post contains affiliate links for your shopping convenience.
Click here to read my full disclosure policy.  All opinions are my own.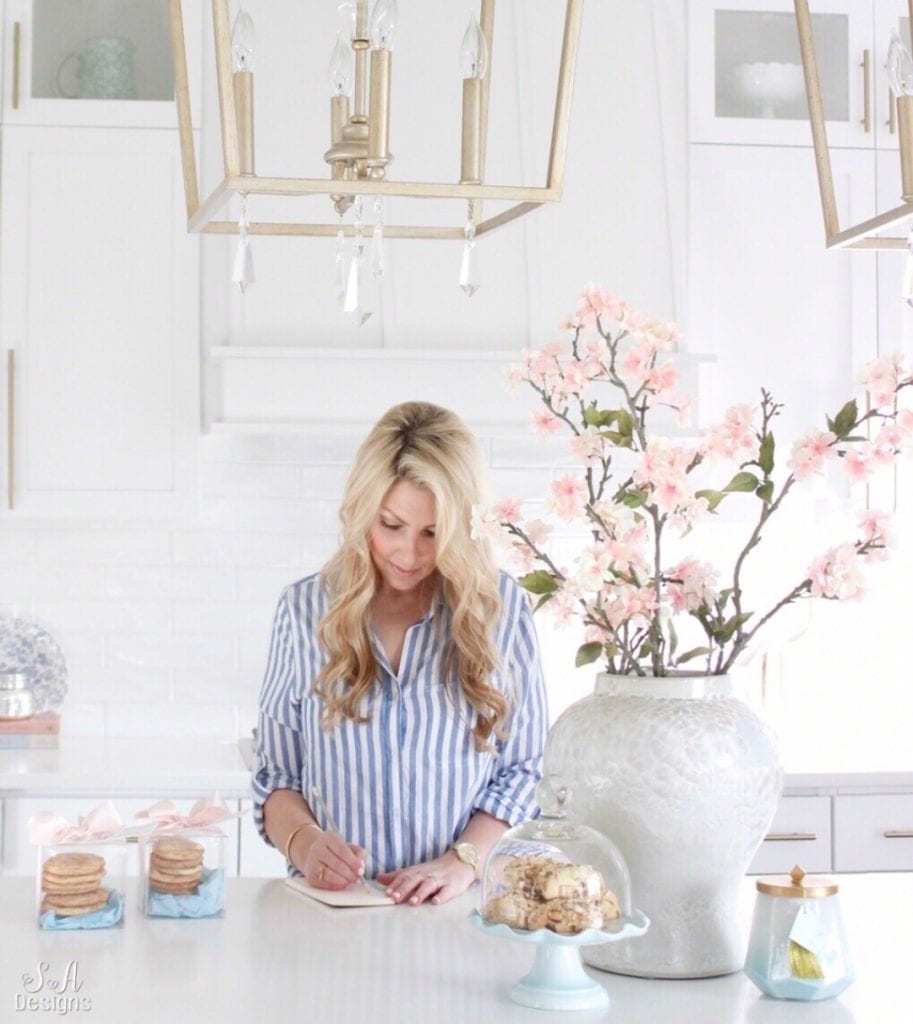 One of my favorite things to wear, when it's weather-appropriate, is a boyfriend style button-up shirt. It's nice and baggy and super comfy and perfect with a pair of good jeans.  I'll even put on a great pair of sandals or flip-flops or baseball cap and run my kids around or run errands. It's a comfortable outfit but not frumpy and it's better than sweats, ha!  This shirt is definitely one of my current crushes and I have them in a few different colors.
That candle you see on the right finally arrived, after being delivered to the wrong address.  The Sugared Blossom is a new scent and WOW it is to die for!!! It has luscious fragrance notes of sugared jasmine petals, Italian citron and creamy Tahitian vanilla bean.  I mean…it's the perfect spring and summer candle!  And it's pretty!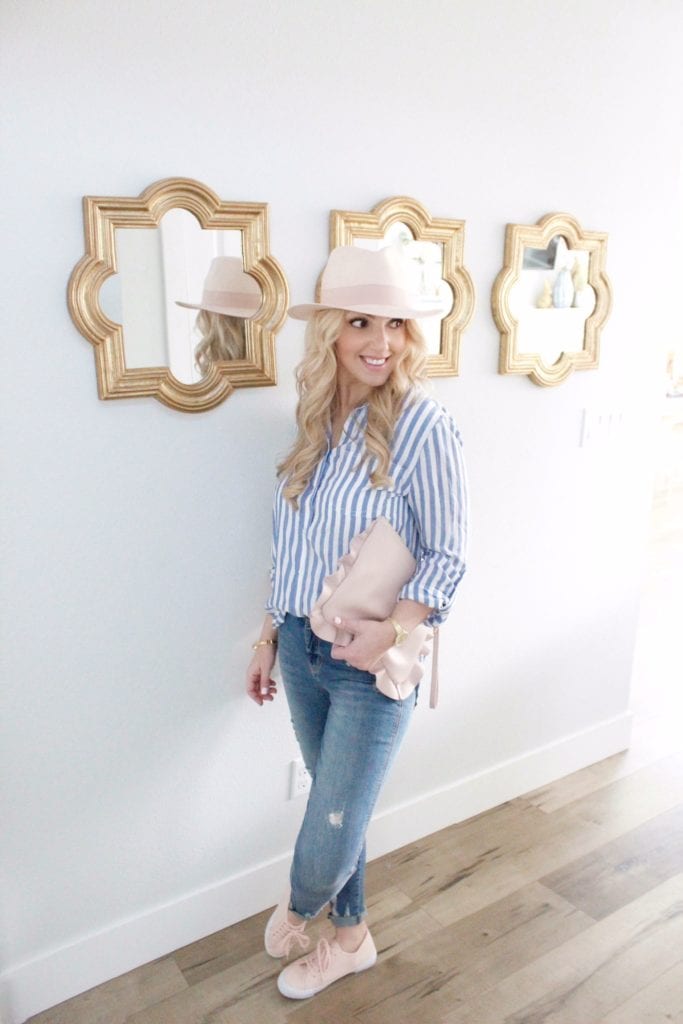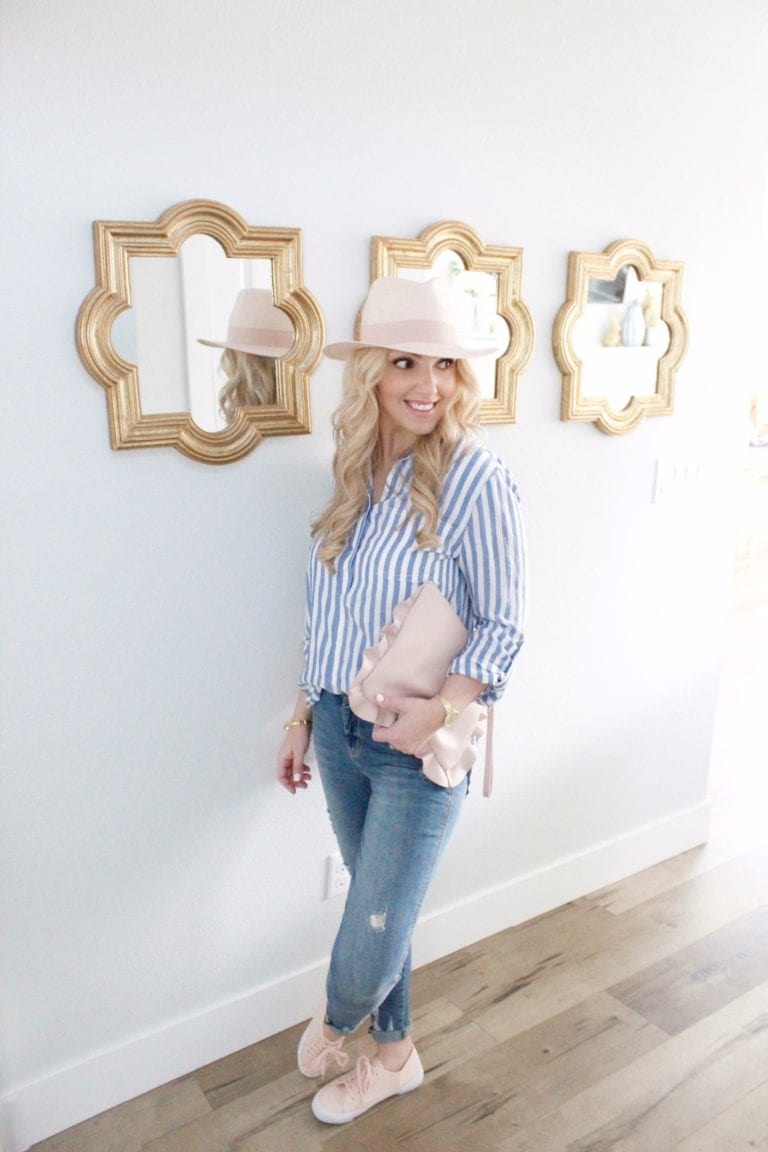 The other day it was chilly but the rain stopped and then sun was out and it was bright!  I've always been a "hat girl" so I absolutely adore this blush panama hat I recently purchased.  I already had my blush tennies so I thought it would be fun to pair them with this blue shirt and the blush hat.  I'm crushing on that combo lately, if you've seen all my recent blog posts.  It's been my "theme" for spring.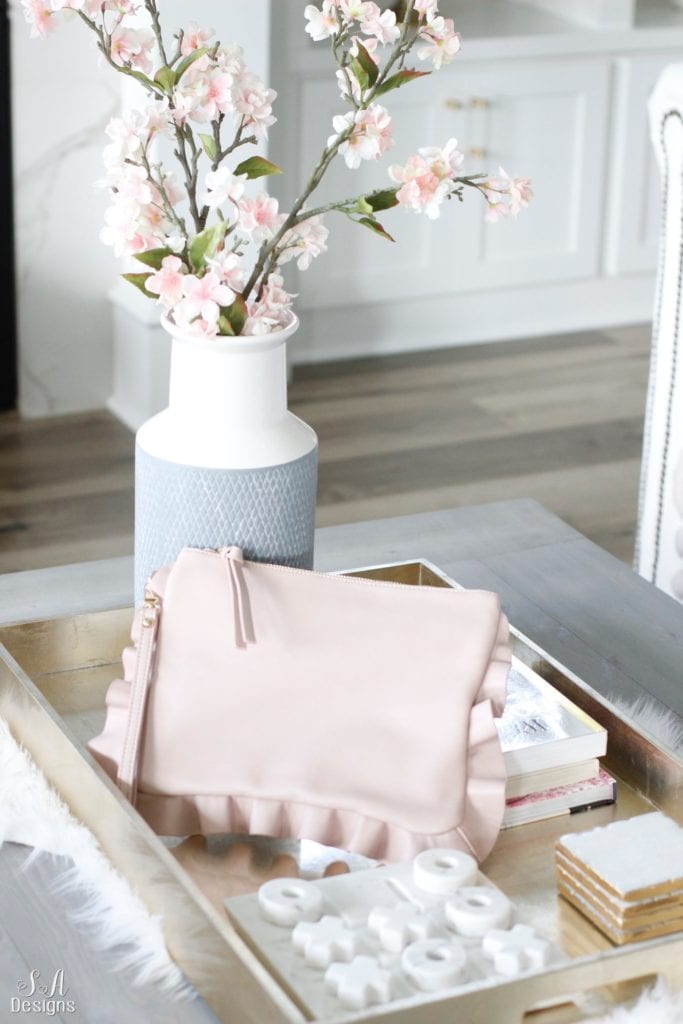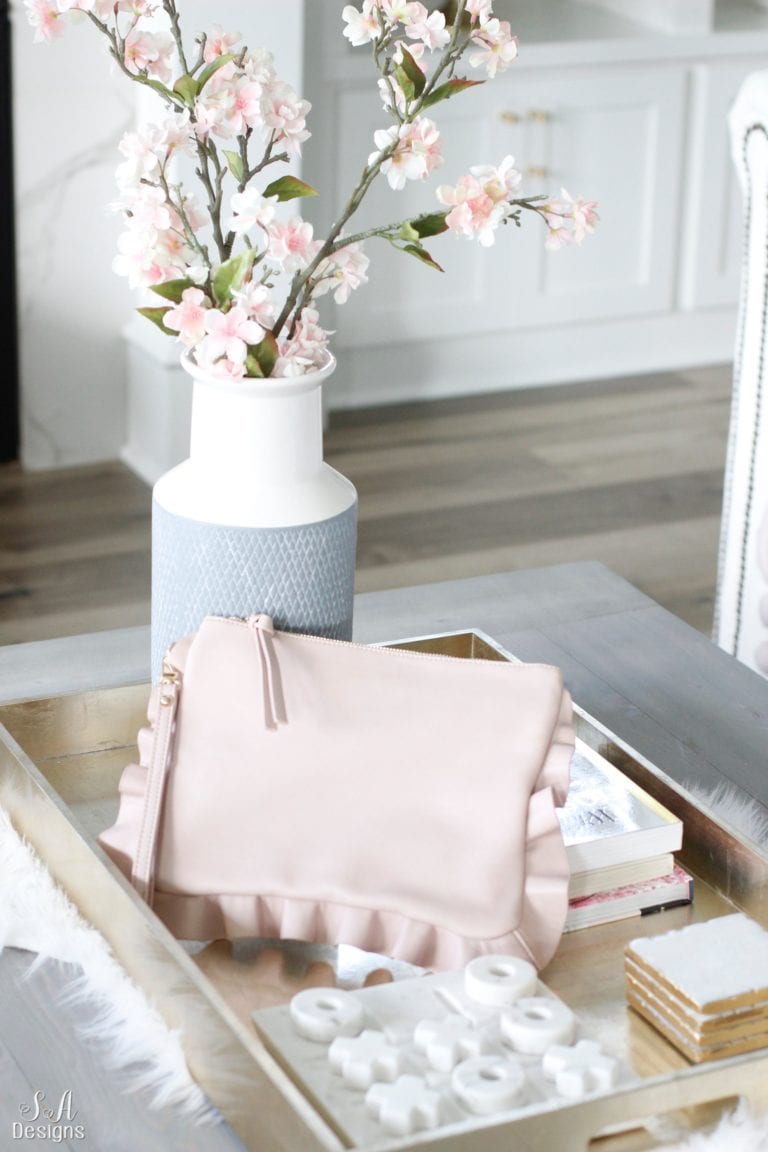 This cute blush ruffle clutch is another current crush and I just adore it.  So it was also a part of my outfit the other day.  It goes with so many other things.  I can dress it up or down and it comes in a pretty blue color as well.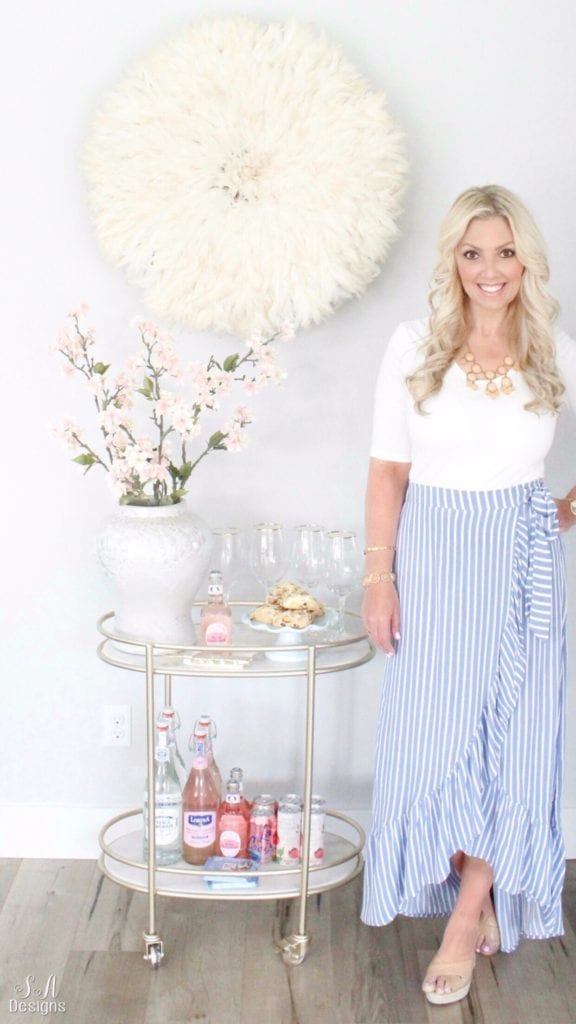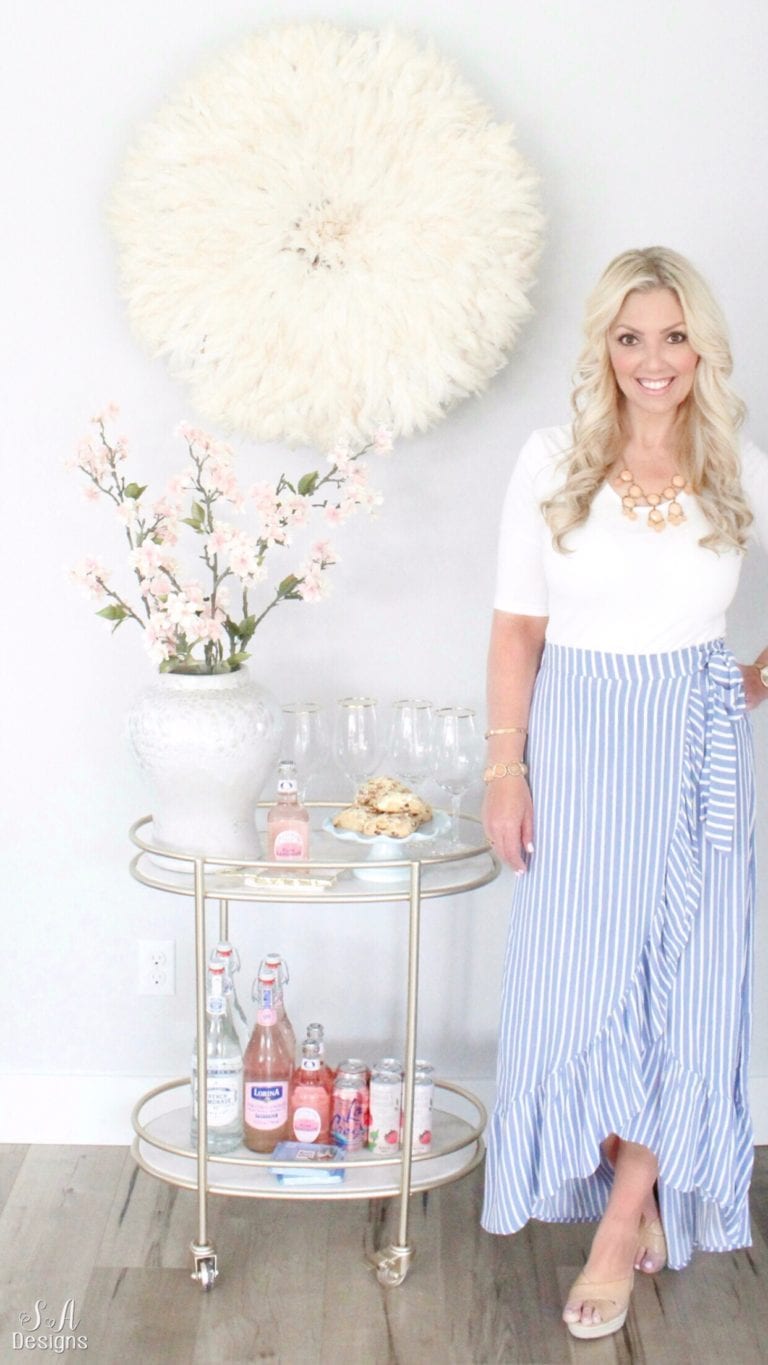 Did you catch our "Loveliest Looks of Spring Tour" yesterday?  I shared this fabulous new striped ruffle skirt that I just bought and adore.  It's so light and flowy and comfy. And the price point is fabulous!  I'll share some others I love as well that are similar.

Here are other things that I'm crushing on and I'll break them down for you in categories… Home and Fashion & Beauty. Click on items to shop and on arrows to scroll right and left.
Things for the home

Fashion & Beauty


Thanks for stopping by today and I hope you found some things to crush on as well.
I would love it if you subscribed at the top of the page in order to receive my weekly emails of all my latest blog posts and hear about digital printables & freebies, as well as sales or new items in My Online Shoppe.  You can also follow me on Instagram, Pinterest, and Facebook to see what I'm up to in creating a home and lifestyle of inspiration!
xoxo,