Hello friends!  I'm so excited to have you here today, whether you're one of my regular readers or a first time-visitor! I've invited 7 other bloggers friends to share spring fashion and spring decor with all of you  today as part of our "Loveliest Looks Of Spring Tour".  I'll be showing you how to throw together a simple spring bar cart that the entire family can enjoy and also my new favorite ruffled skirt that's perfect for spring.
This post contains affiliate links for your shopping convenience.
Click here to read my full disclosure policy.  All opinions are my own.
If you've been following me on Instagram OR if you've visited my spring mantel, table & kitchen, and spring fashion posts here last week, you are fully aware that I have a crush on the color combo of "blush and blue" lately.  So, I'll be continuing with that today!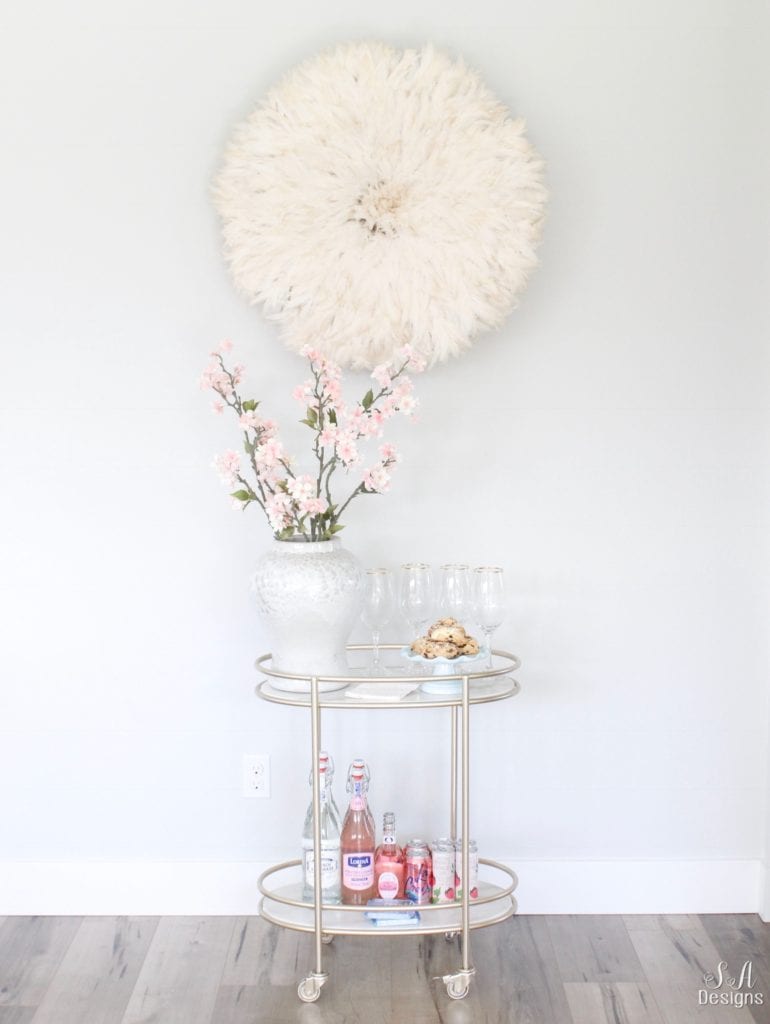 I love setting up my bar carts and tea carts and changing them up for each season.  We don't drink alcohol so whatever I set up is for the entire family and you can too. Whether you're having family or friends over for Easter or just for any occasion, all ages can enjoy this bar cart.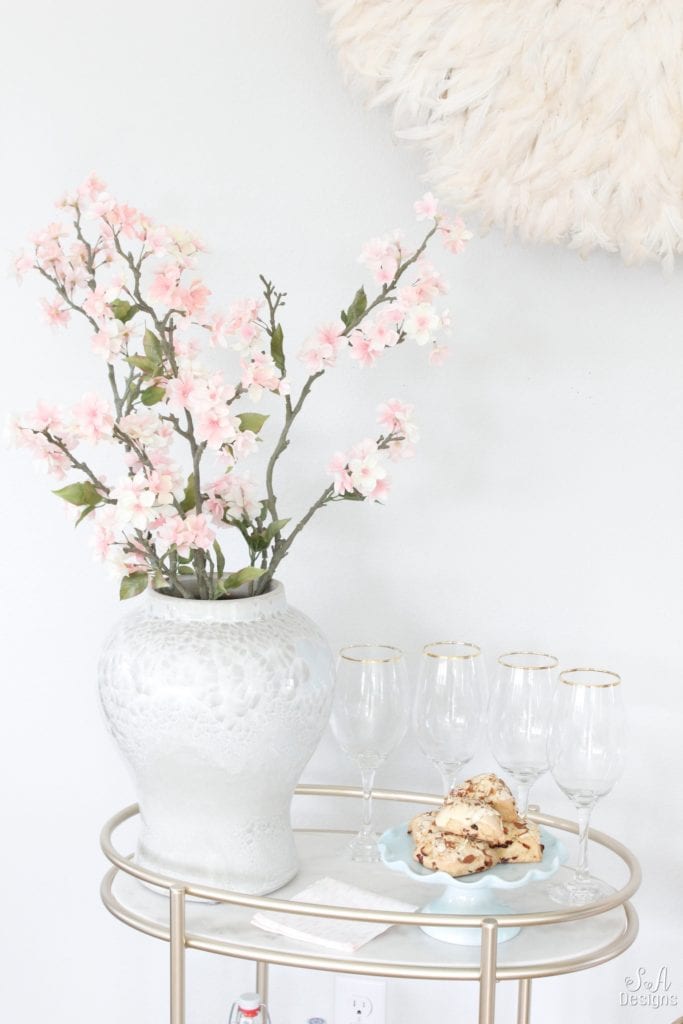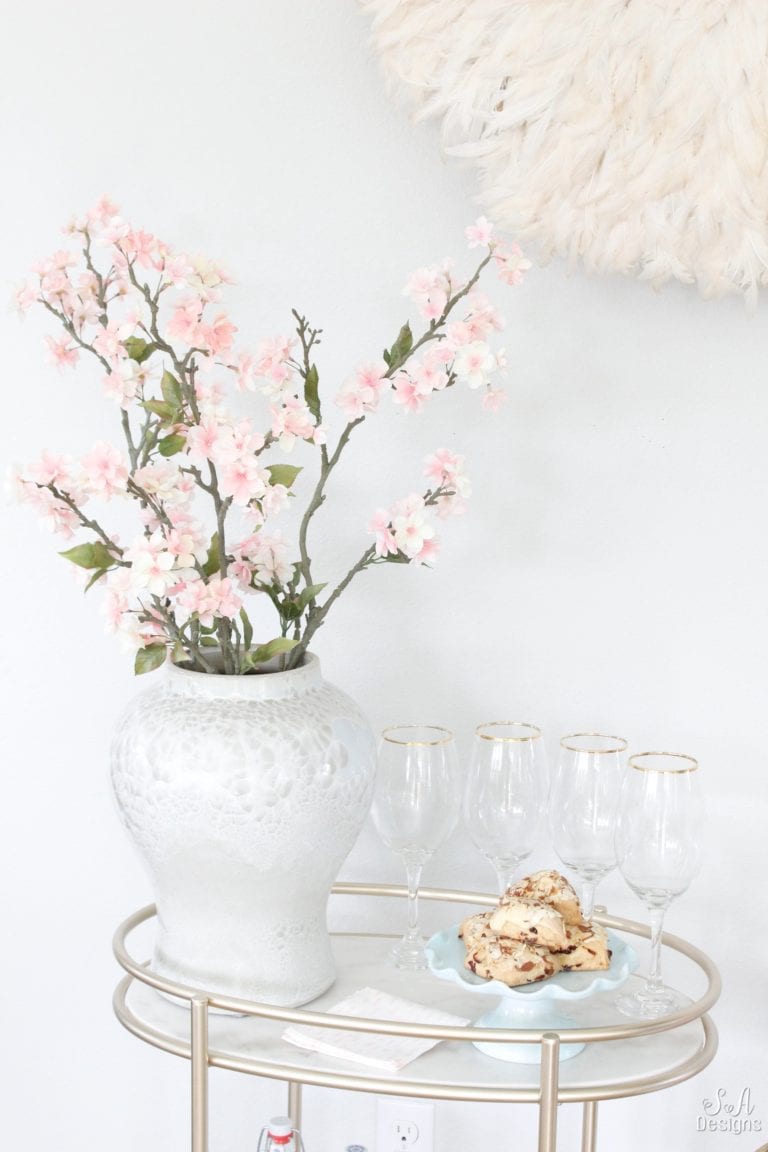 I found this darling bar cart and loved it because it has marble and because it's a pretty champagne gold, just like my kitchen lighting.  If you have fresh flowers or faux flowers, grab them and put them on your cart.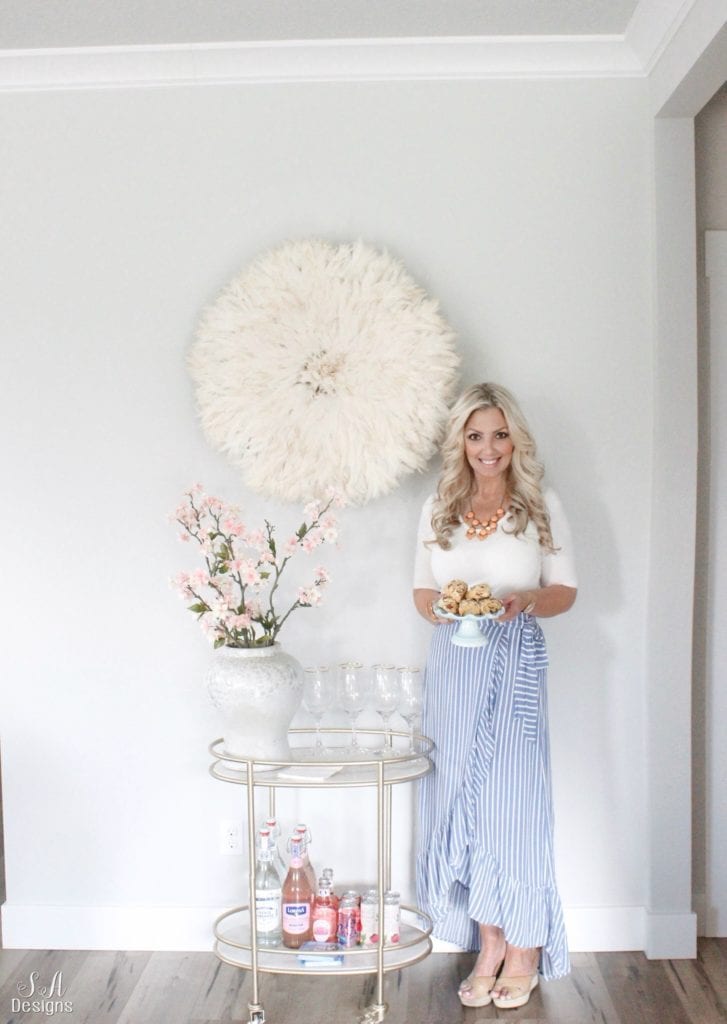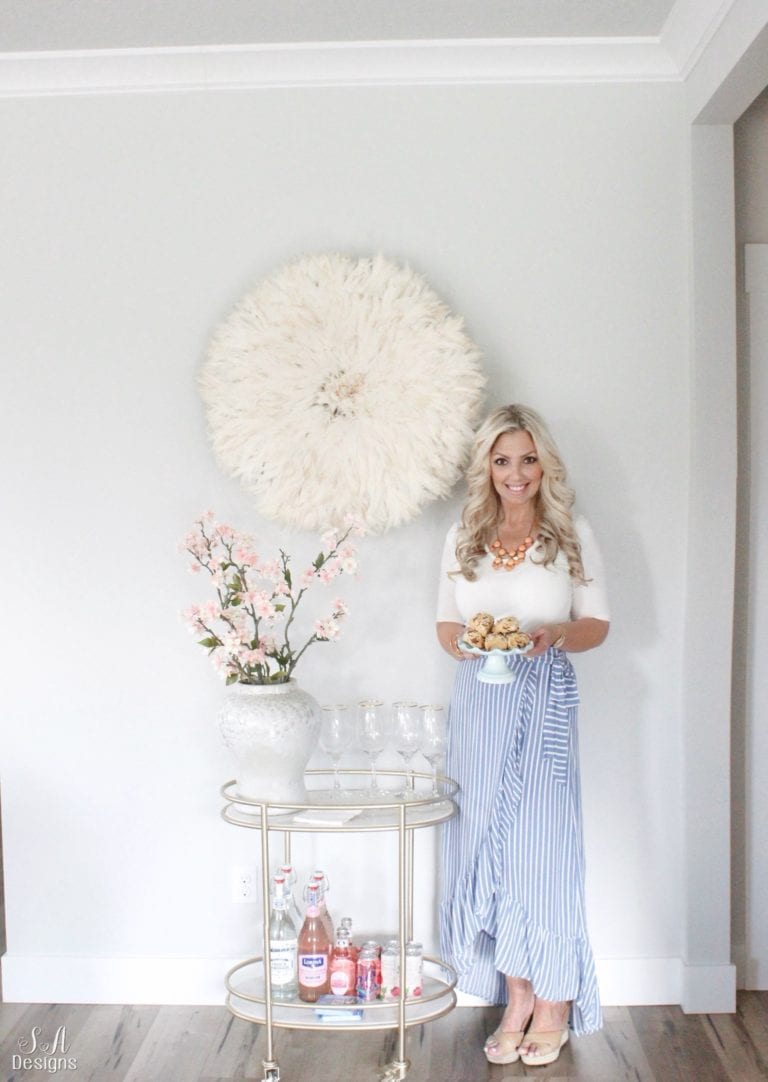 I have lots of fresh flowers in my home but I decided to use my favorite temple jar and some cherry blossom stems (from Michaels).  Nothing says "spring" like cherry blossoms, right?!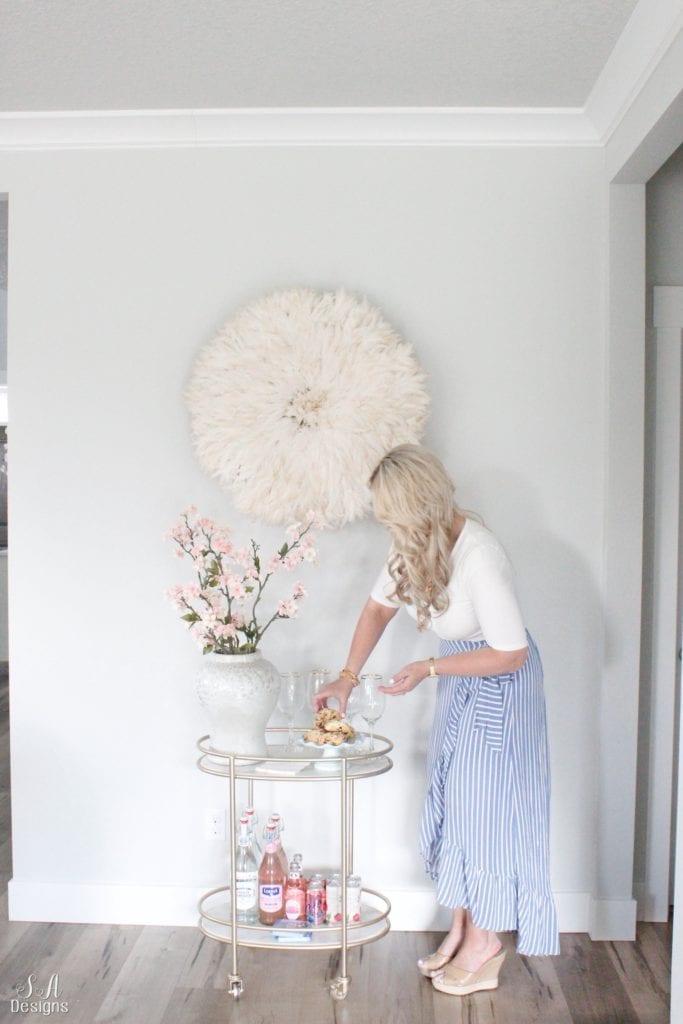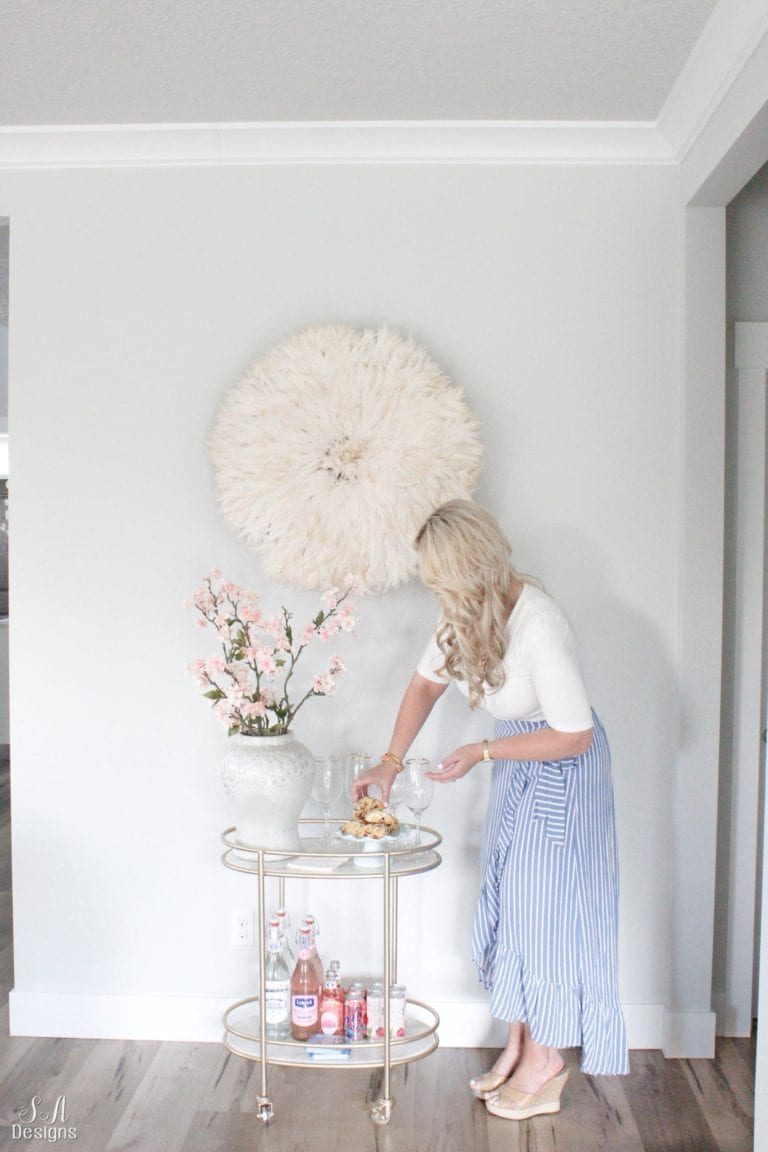 You can always bake something sweet to serve BUT as much as I love to bake, I wanted to keep this simple.  I went to Trader Joe's and picked up some of my favorite Cranberry Orange & Almond Scones.  If you haven't tried them, you are missing out!  They're divine!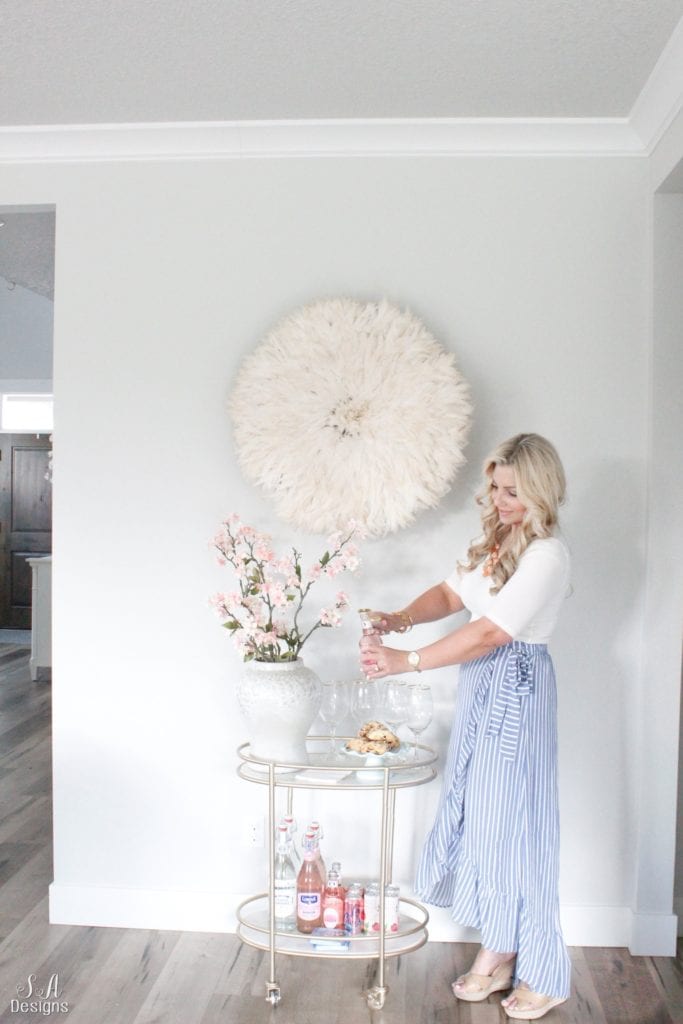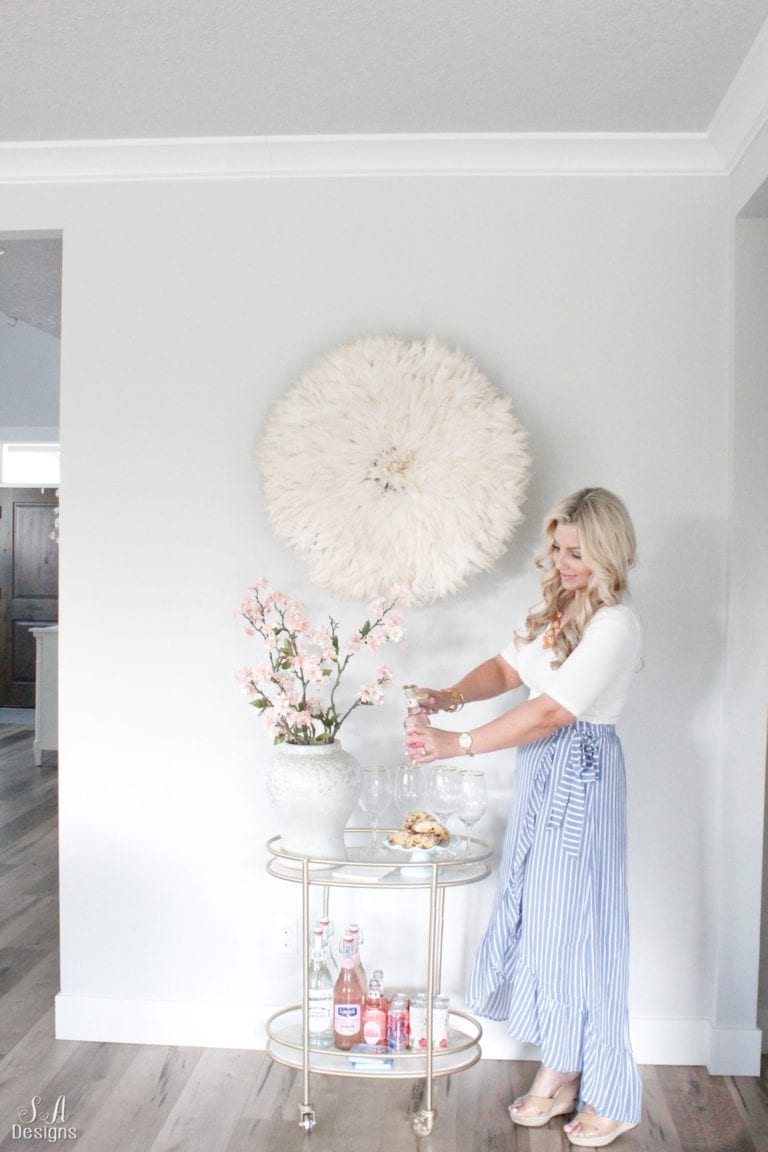 You'll also need some dessert napkins, glasses, and a bottle opener.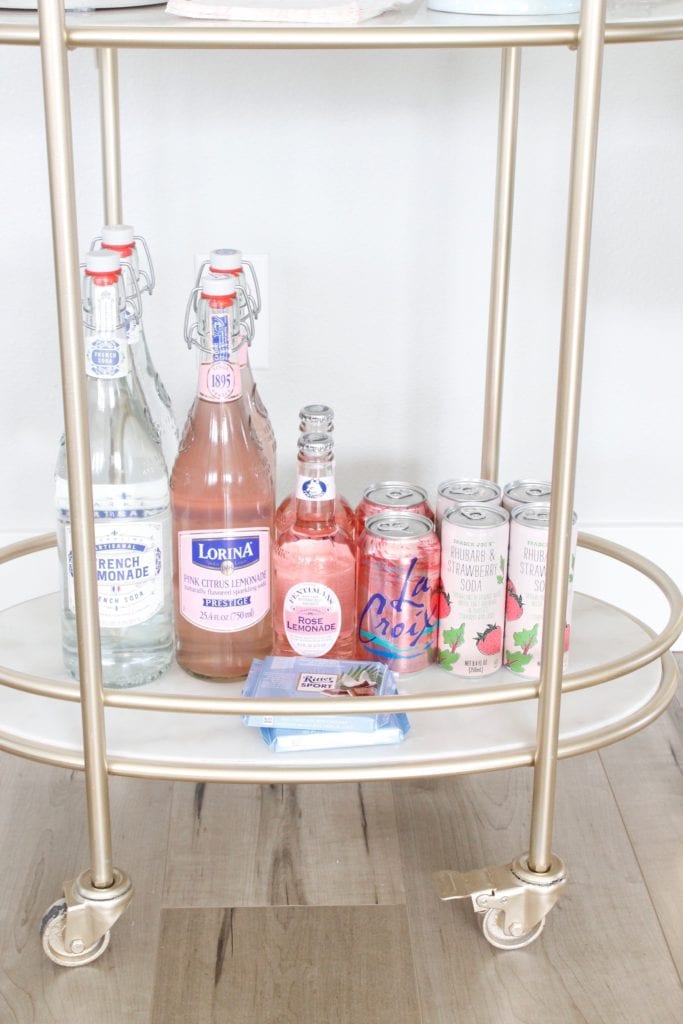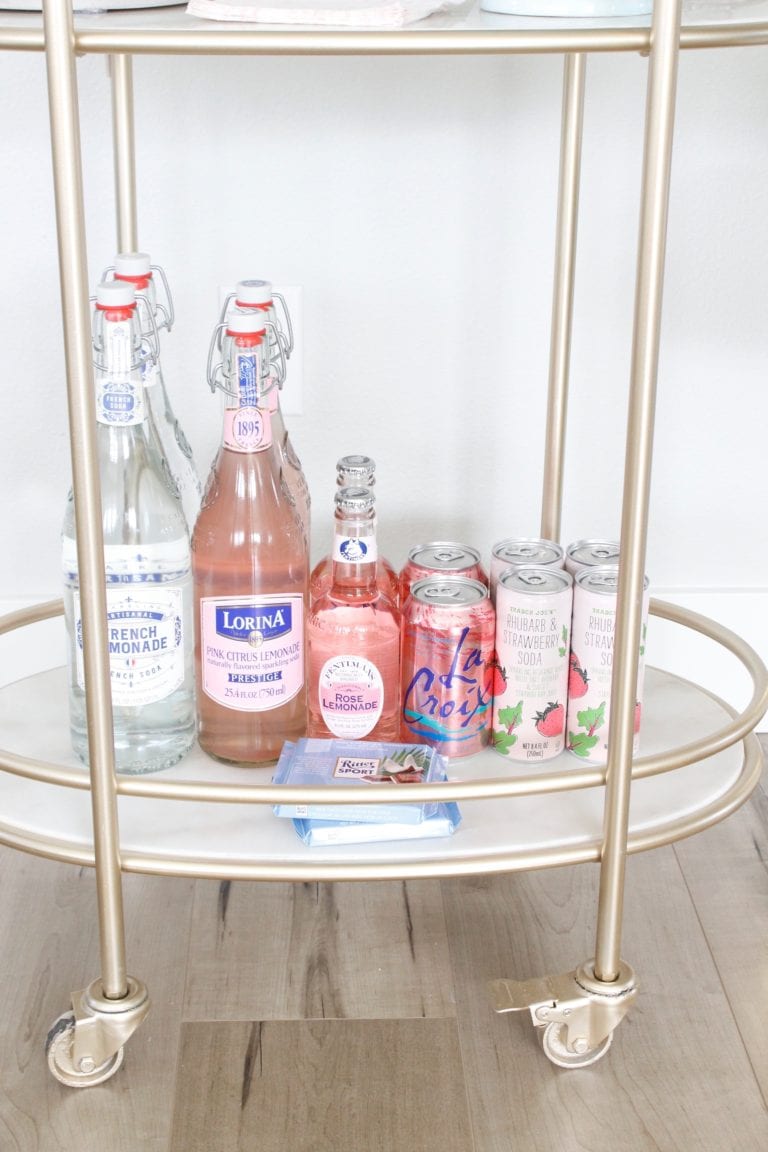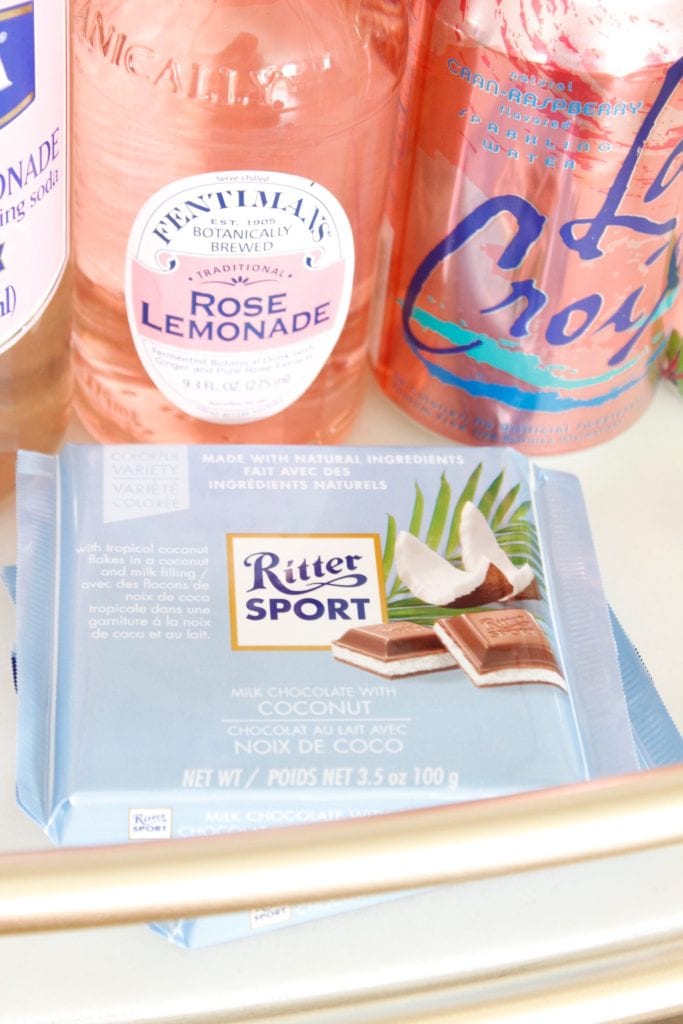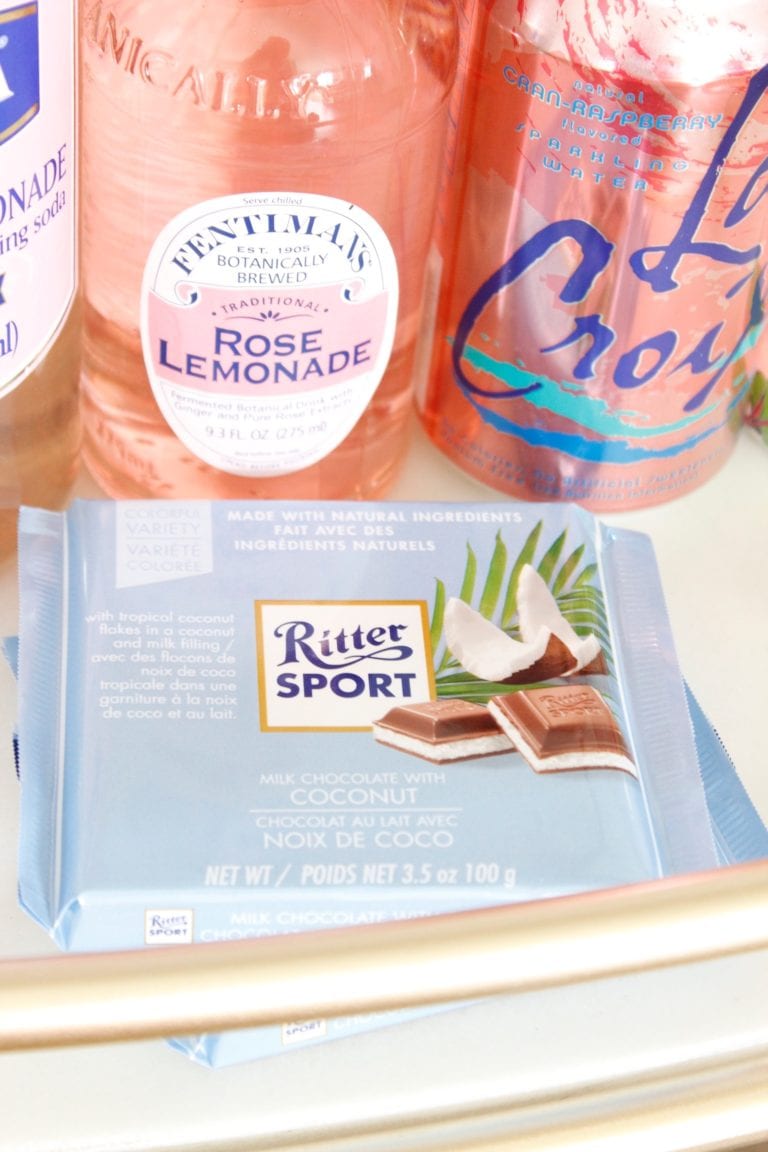 Fill your cart up with assorted drinks and flavors, if you wish.  I love getting mine at World Market because they have such fun and exotic beverages.  I also love these strawberry rhubarb soda's from Trader Joe's.  In keeping with my blush and blue color palette that I've been sharing this spring, I chose coordinating drinks and chocolates.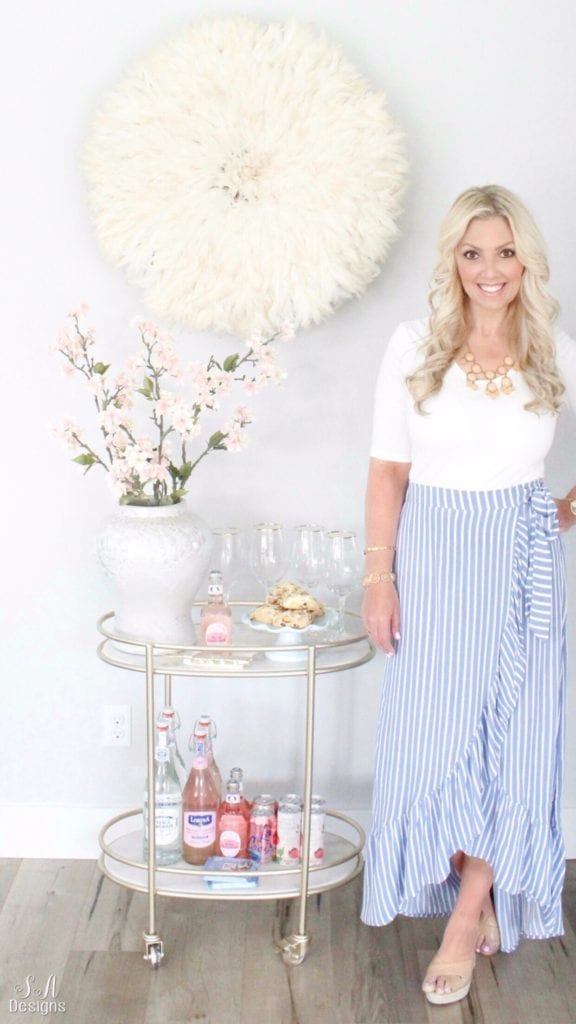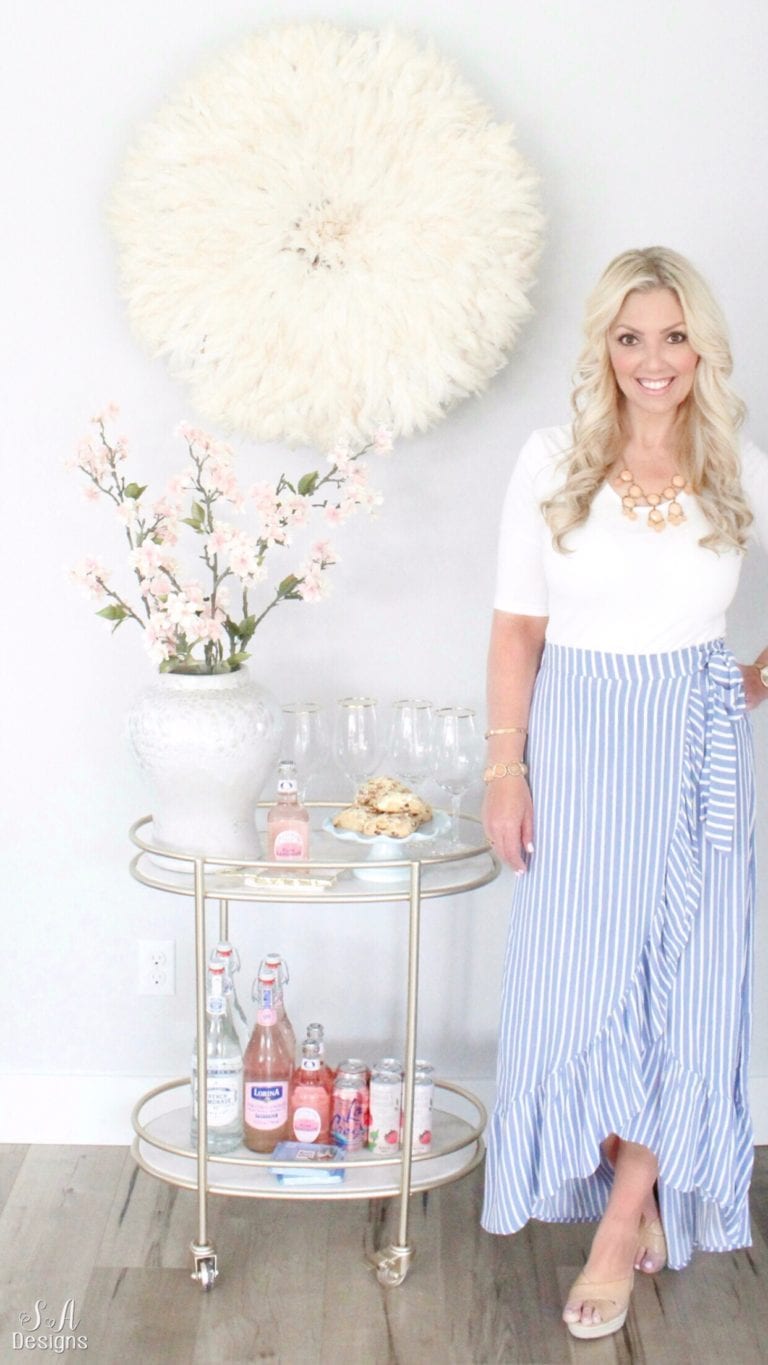 My new favorite skirt, this week, is this adorable blue and white striped ruffled chambray skirt that ties on the side with a bow.  It's lightweight and so comfortable!  As the weather has been warming up, I can wear it out with a short-sleeve shirt or even a light cardigan if it gets chilly.  I originally paired it with a fun long gold and white necklace but I thought it looked so much cuter with this peachy-pink statement necklace I've had for a few years.  It's such a nice long length that it was perfect to wear with my nude wedges.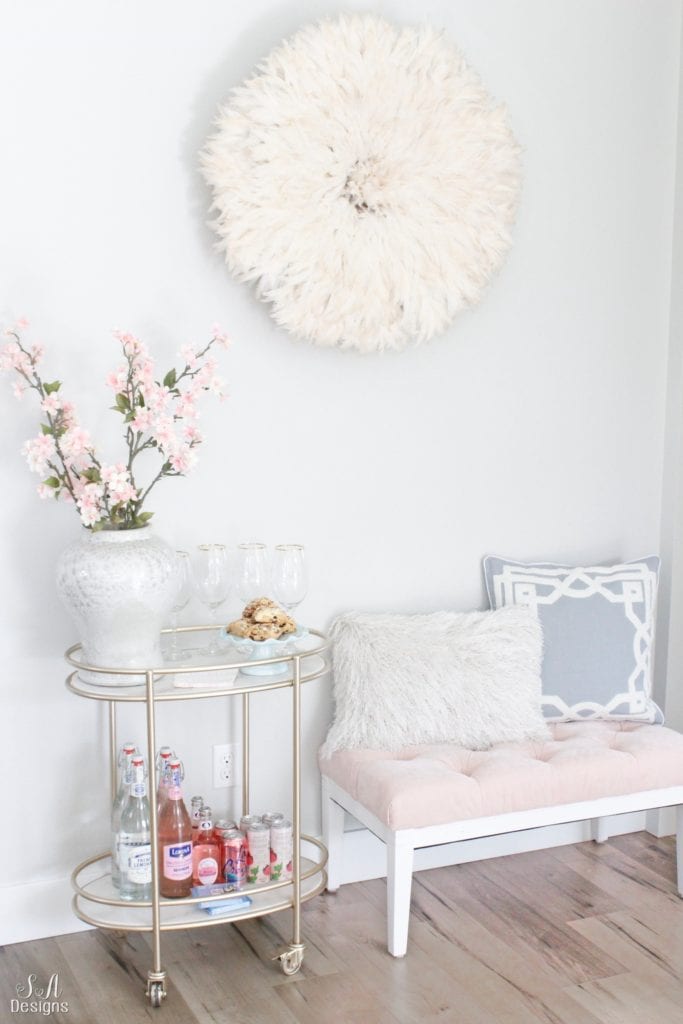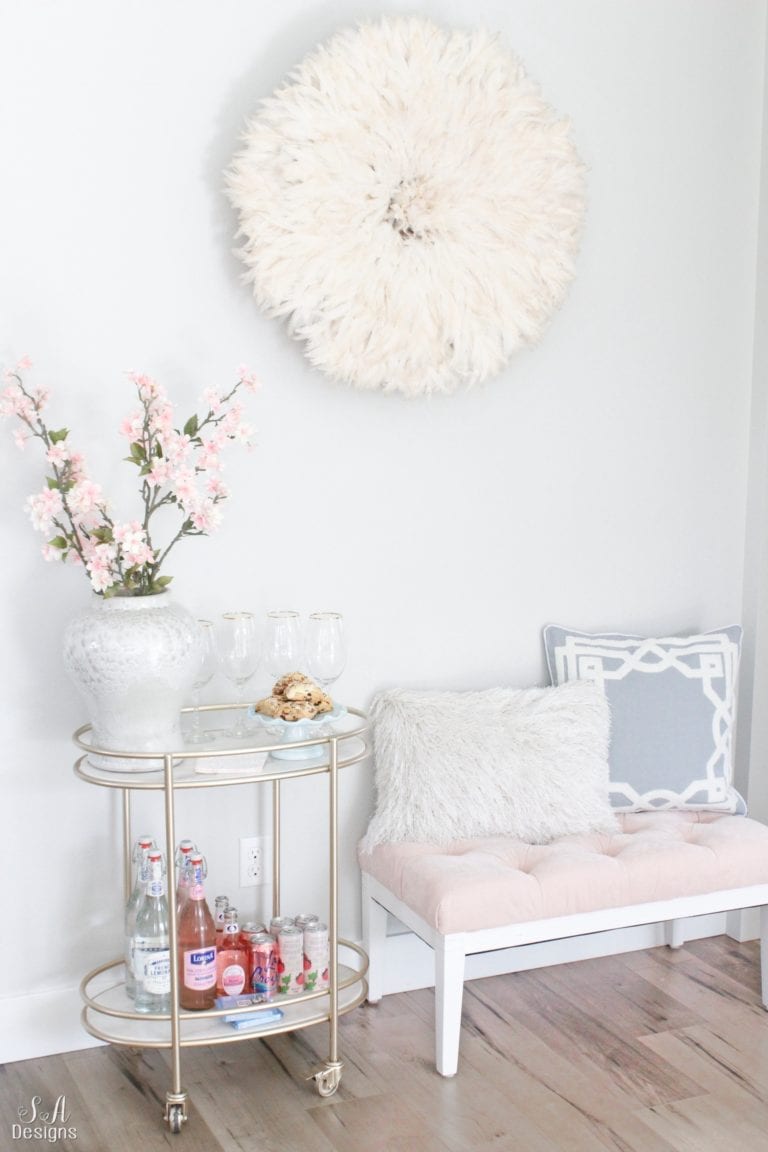 I brought down my blush bench and added a couple of pillows for a little sitting area next to the bar cart.  Now I'm ready for company!  Who's coming over?





Please make sure to visit all 8 women sharing today for our "Loveliest Looks Of Spring Tour"!

HalfwayWholeistic | A DarlingDaydream | Chandeliers&Champagne | HouseFullOfSummer


Summer Adams | CGHomeInteriors | BlueGrayGal | A Thoughtful Place
Thank you so much for stopping by today!  I would love it if you subscribed at the top of the page in order to receive my weekly emails of all my latest blog posts and hear about digital printables & freebies, as well as sales or new items in My Online Shoppe.  You can also follow me on Instagram, Pinterest, and Facebook to see what I'm up to in creating a home and lifestyle of inspiration!
xoxo,