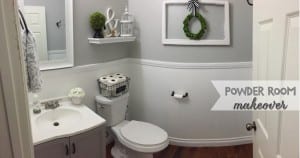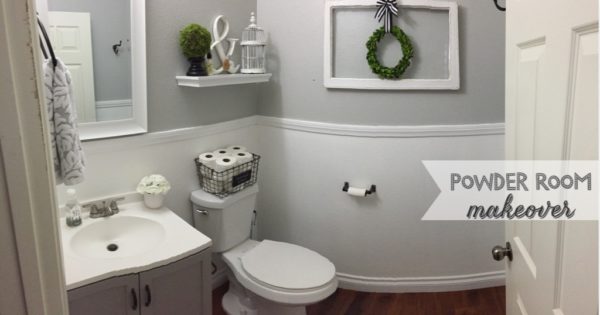 This home we just moved into has a LOT of great features!  But…the powder room….welllllll….it was bad.  It didn't have a single good feature…ha!  It could've been worse and I loooooove a good project so it was PERFECT!  Here are the befores…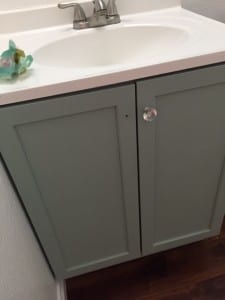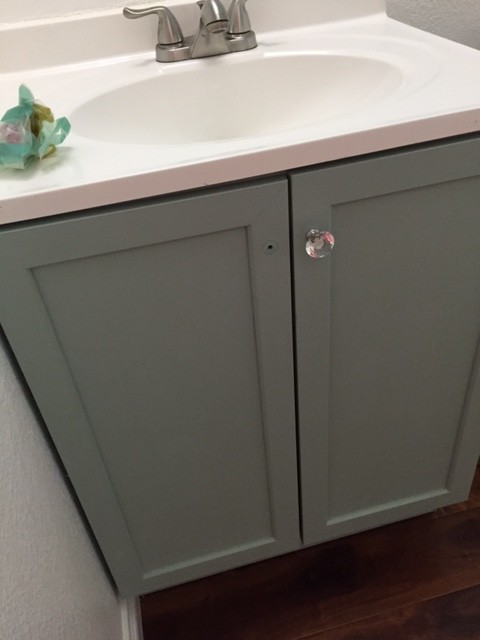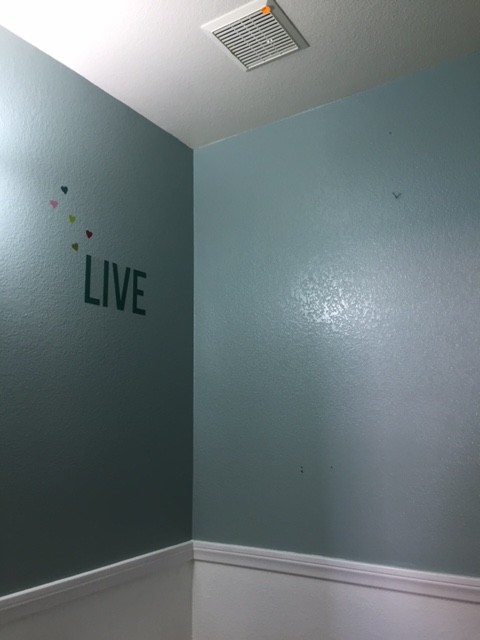 The blues are off and the stickers on the wall….{{{eek!}}}  But here are the after pics…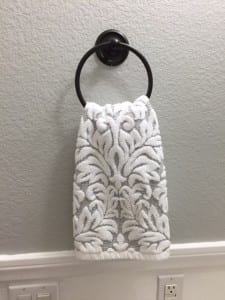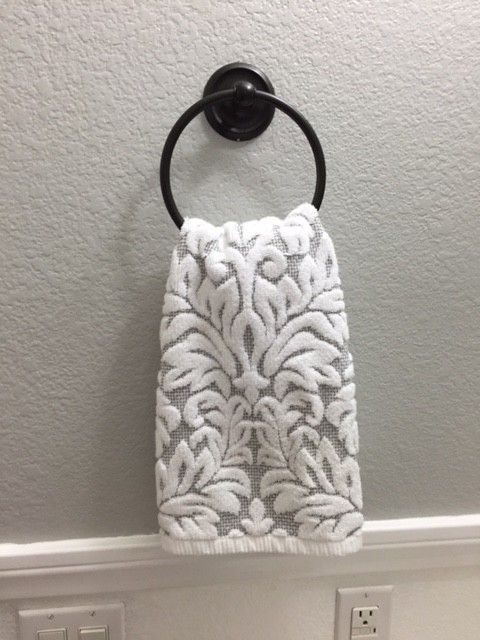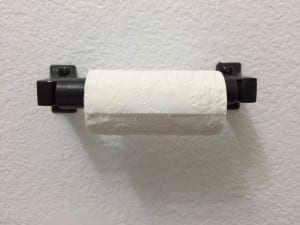 I felt like the hardware needed to be oil-rubbed bronze instead of the shiny silver.  So, I removed them from the wall and spray-painted them with my favorite Rustoleum color.  The towel holder was $5 from Walmart and I think the toilet paper roll was the same.  Now it looks more expensive and of much higher quality.  (The cute hand towel is from Marshalls.)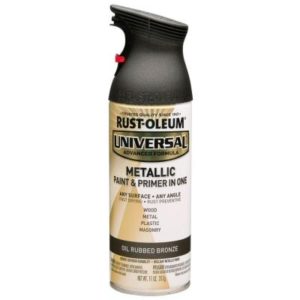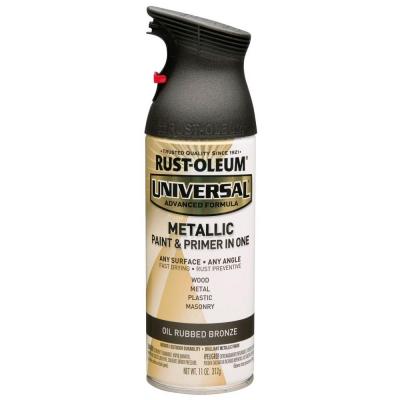 Go get some!  You can use it all around your house.  Use it on doorknobs, faucets, brackets, any hardware!  Especially on all that old brass hardware that you find on older homes.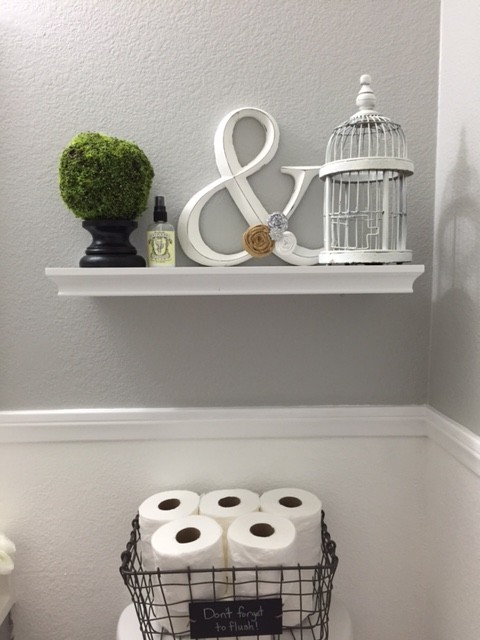 I found this great shelf at Target.  The metal wire basket is from Home Goods.  The ampersand is from Hobby Lobby and then I painted/distressed/added an embellishment.  The birdcage was a garage sale find.  Green vine ball is from my wholesale florist.  Short candlestick is from Hobby Lobby.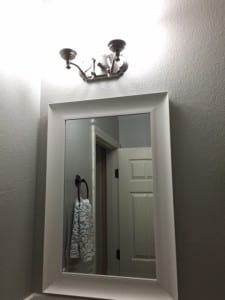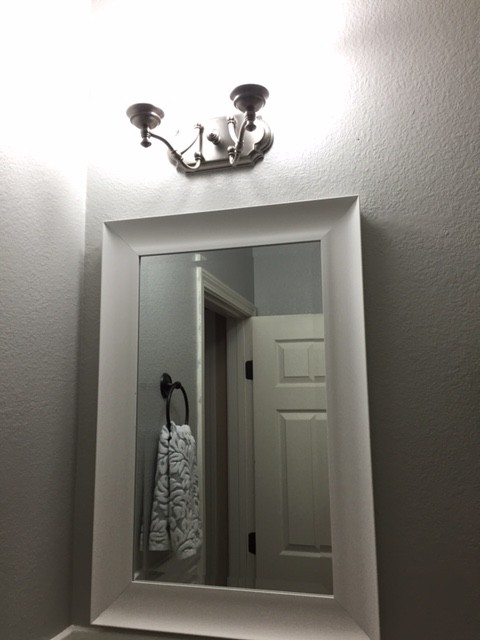 Found this great mirror (bathroom had no mirror…what the heck?) at Home Goods for $24.99 and I'm leaving the existing light fixture until I find "the one" (I've been searching…I'll know when I see it).  It'll be love at first sight…ha! 🙂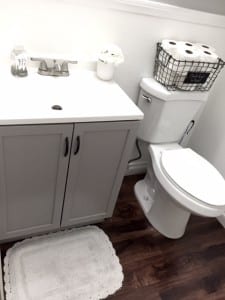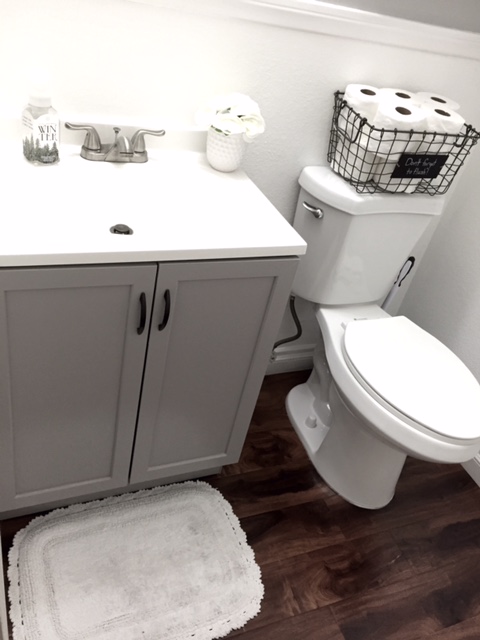 Ok, so the grey color on the top half of the walls is called "Nimbus Cloud" by Martha Stewart (your home improvement store can find it in their computer and replicate the color using any brand).  I went darker on the cabinet and used "Rocky Bluffs" by Valspar.  I had extra drawer pulls in my tool box so I sprayed them oil-rubbed bronze also and drilled an extra hole in the cabinet doors and put them on.  I think they look great.  I really want to do the faucet as well.  I like the dark hardware and floor with all the white and grey.  It feels so "Cape Cod" to me.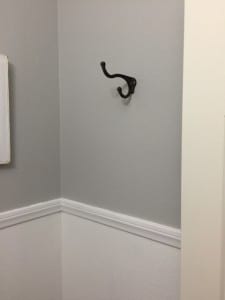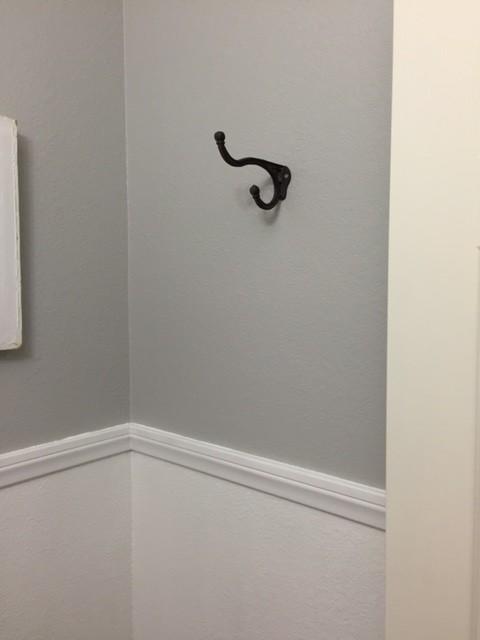 I added this hook I had in my hardware stash in the garage.  Maybe someone wants to hang their coat or purse while using the restroom?  Ha!  Not sure but at any rate….it's something small and perfect for that wall space.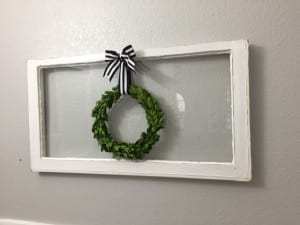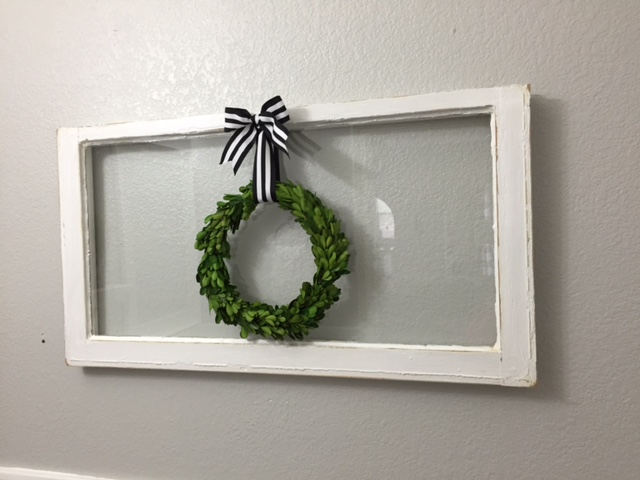 I grabbed one of my few antique windows left in my stash and thought a boxwood wreath would look perfect hanging on the front of it.  I love the pop of green from the green vine ball and boxwood wreath!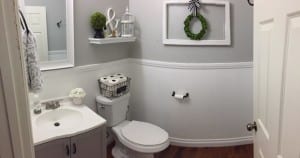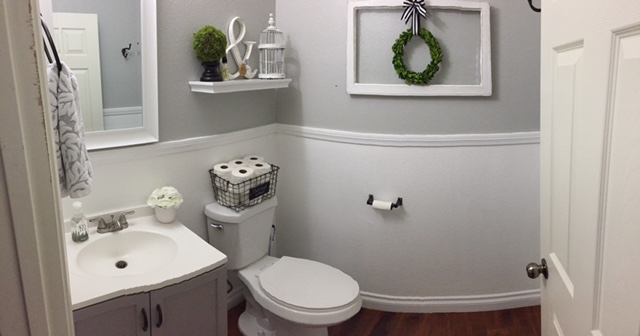 So that's it!  That's my little powder room makeover and I hope it's inspired those of you out there needing to give yours a makeover!  It was easy and inexpensive.  The hardest part was deciding which way to go.
CONFESSION:  This is the second makeover in a week!  Why?  I went against my gut instinct and did all white and silver accents with some gorgeous prints of pink peonies and a small vase of faux pink peonies.  It was pretty.  It was glam. But it didn't flow with the rest of the downstairs, just outside that bathroom.  And I did NOT love it as much as I love this look.  So, I switched it up a bit and now I'm happy with it.