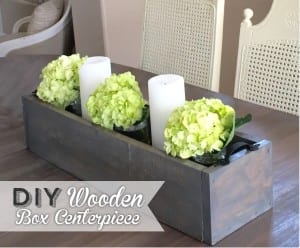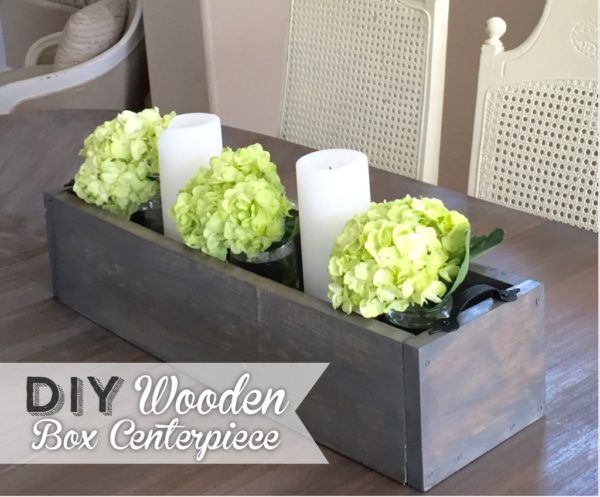 Do you ever wake up and think to yourself "I want to build this today!"???  I do it all the time and if I have other things to do, I just make room in my schedule and squeeze it in somehow. Today I woke up and said, "I want to build a wooden box centerpiece to put flowers and candles in!"  So I dropped off the kids at school and headed to Lowe's.  I prefer Lowe's because they know me by name and are always so helpful 🙂 .
I grabbed ONE piece of cedar whitewood for the entire project, measuring 1″x6″x8′ and then pulled out my measuring tape (I probably have over a dozen but 1 always stays in my purse) and then sat down in the store and planned out my box.  After some quick measurements and calculations, these are the dimensions I came up with.  ***If you own a saw, you can do this at home. If not, ask one of the employees authorized to saw wood at the store and they will do it quickly for you.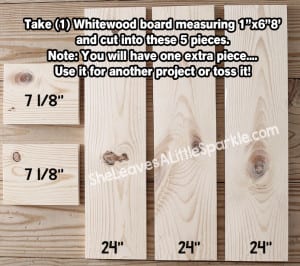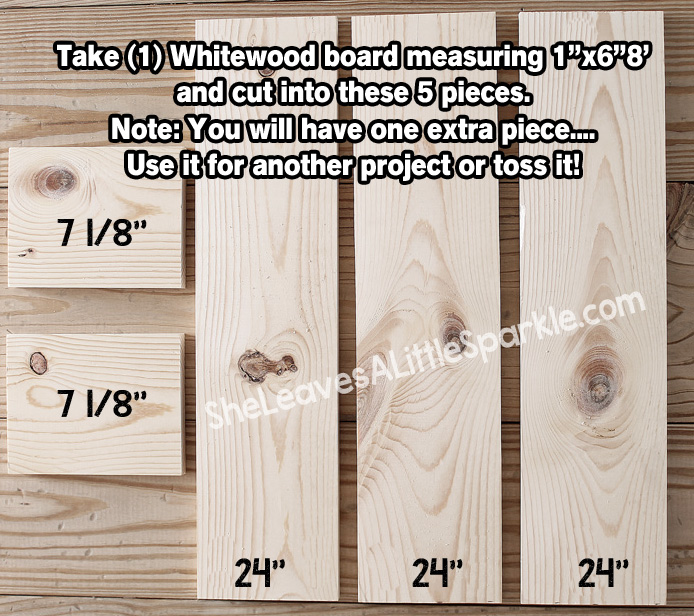 Now….you have 2 options from here….
    1) You can use wood glue and put it together and clamp it with 2 clamps and leave it over night.  No hardware would be needed to assemble.
OR…
2) You can add a little wood glue, put it together and then take wood screws (I did this because I was impatient) and screw the pieces together.  I used 4, one on each corner, and then 2 additional on each side to screw into the bottom piece.
The wood naturally bows so you might have a slight gap and unevenness but that's ok! You'll never see it or notice it!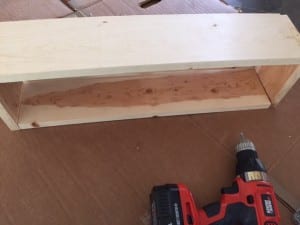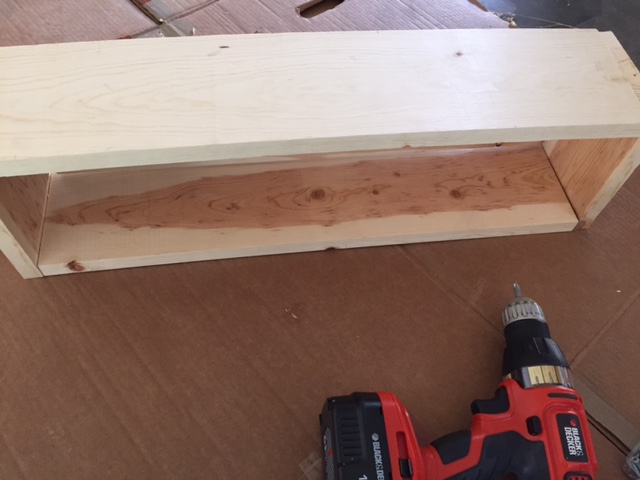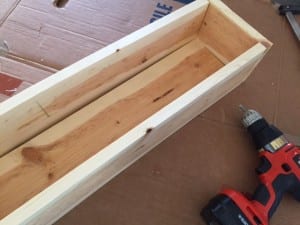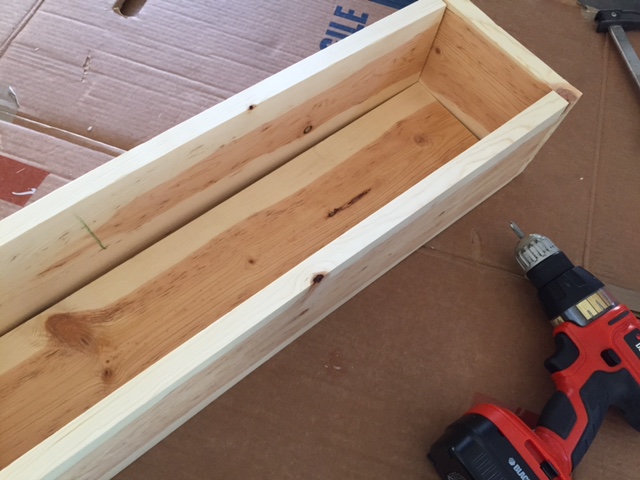 I gave it a very quick sand because the wood was already so soft and then just stained it!  I used these 2 stains that I love and always have on hand.  I applied the gray stain and then the dark walnut stain over.  No drying in between needed.  They are both small cans and just a few dollars a piece.  You won't use much of the cans.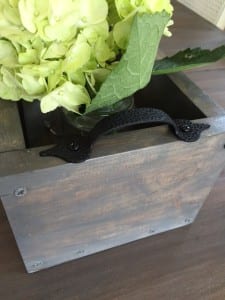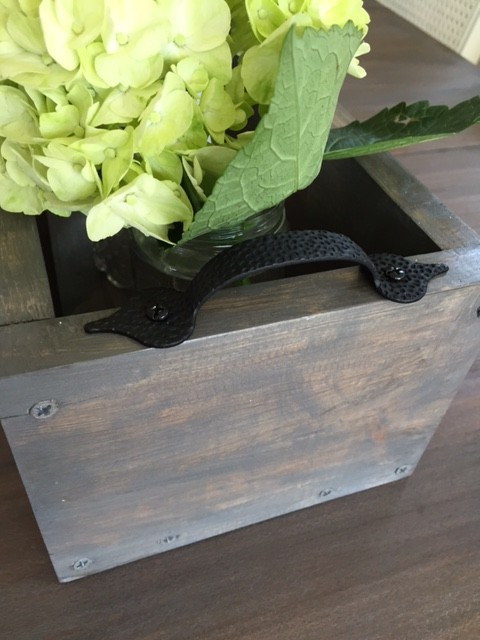 As soon as the box was even slightly dry (I'm very impatient….ha!), I applied to 2 distressed black drawer pulls that I bought at Lowe's for $1.38 each. They have that farmhouse look that I love.
And that is it! You're done!  Add jars of fresh or faux flowers, candles, herbs, fruit…whatever you want!  I not only love how it looks but I love how SIMPLE it was!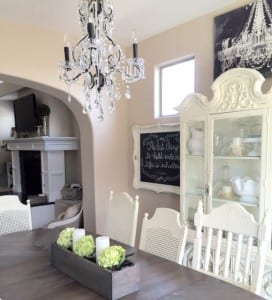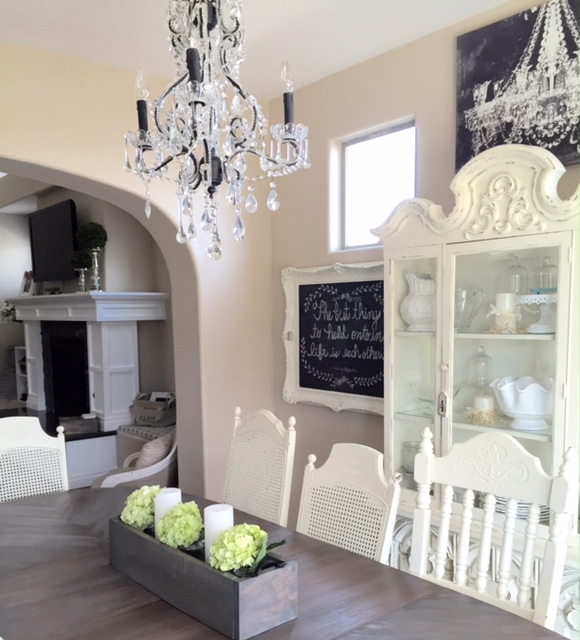 Doesn't it look so pretty on my table?  I just need a linen table runner and I'm good to go!  It would even work to put it on my kitchen window seal with all my fresh herbs that I grow!  I might just need to make another one.