Each month a group of blogger friends and I get together to bring you "Style That Coffee Table" and share different ways to share our coffee tables for inspiration.  This month, we decided to do something different and share our Christmas Tables.  I know we are all getting together with our friends and family this time of year, or even having co-workers over for a holiday party.  We need inspiration more than ever.  So join me and my friends for seven different gorgeous Christmas tablescape ideas.
For those of you coming through the tour and arriving from Janine's blog at Happy Happy Nester, welcome and thank you so much for coming over and continuing on!  Isn't Janine's home just magical?  I LOVE touring her home.  I love her style and I always enjoy reading her blog posts and her fun facts she shares. Welcome back to all my regular readers!  I love having you here, especially this time of year!  Are you enjoying all of the holiday decor and festivities?  I know I am!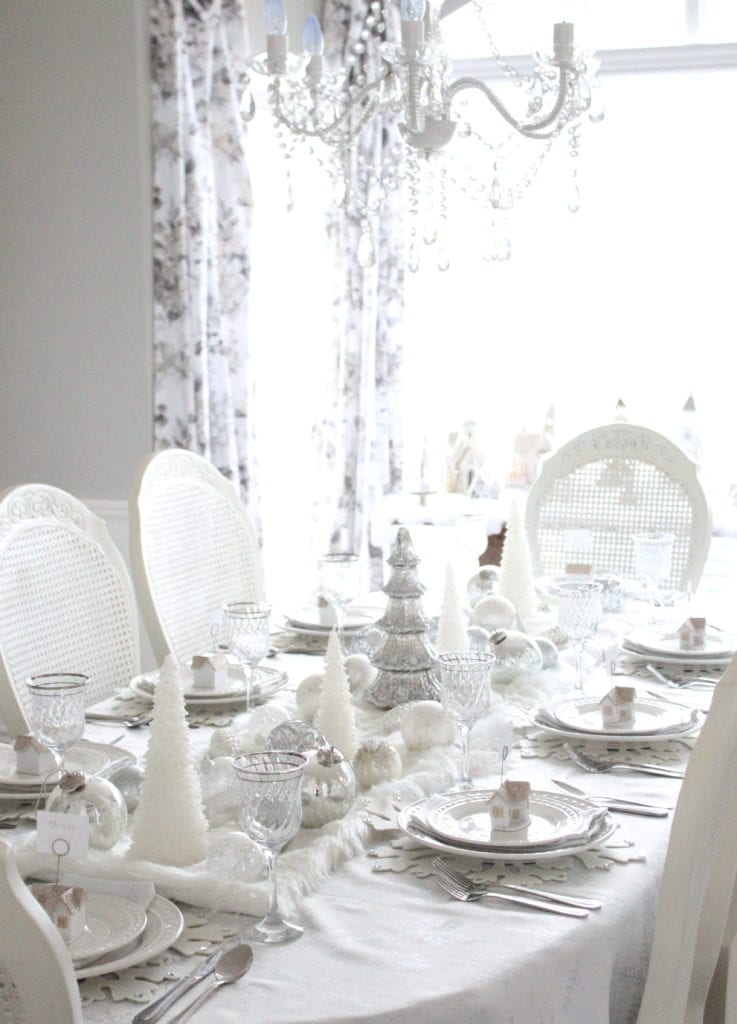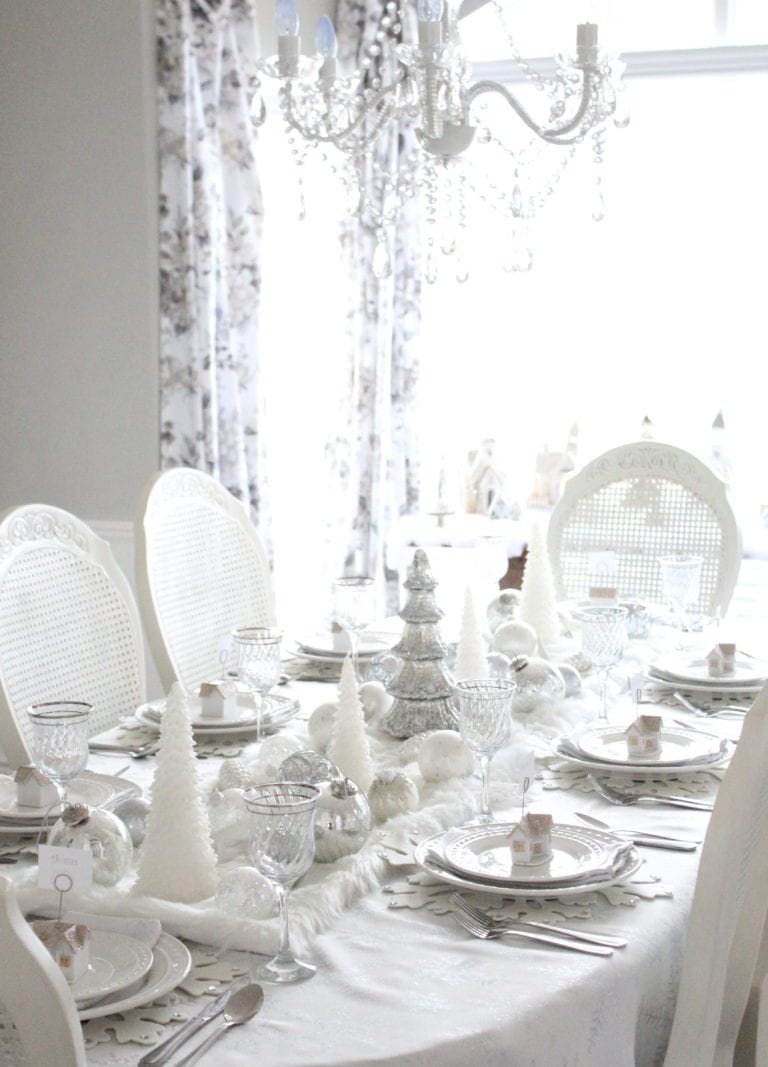 Ok, last week I shared my "Winter Wonderland" tablescape and how I kept with my neutral Christmas theme of whites, silvers, and golds.  I love this table.  But, I always love switching things up and I thought it'd be fun to have a more "traditional Christmas table" for a night with my family and some friends.
Tip: You can hover over any of my images to pin them so that you save this bit of inspiration.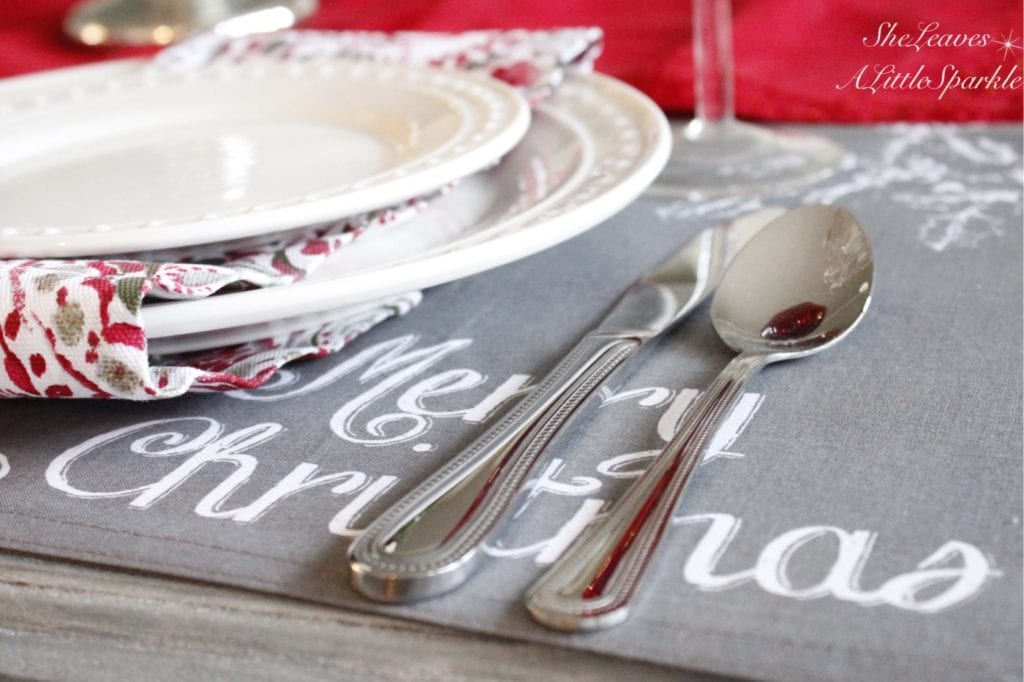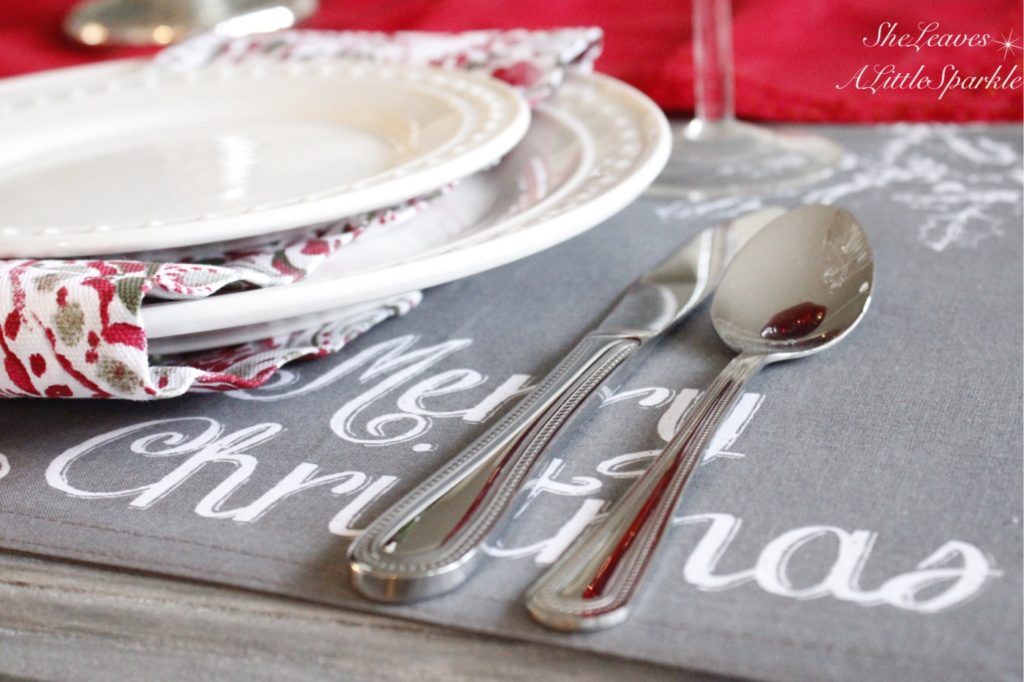 Two items were inspiration for this table.  First, these placemats I found at Home Goods last year, the day after Christmas.  I thought they were darling.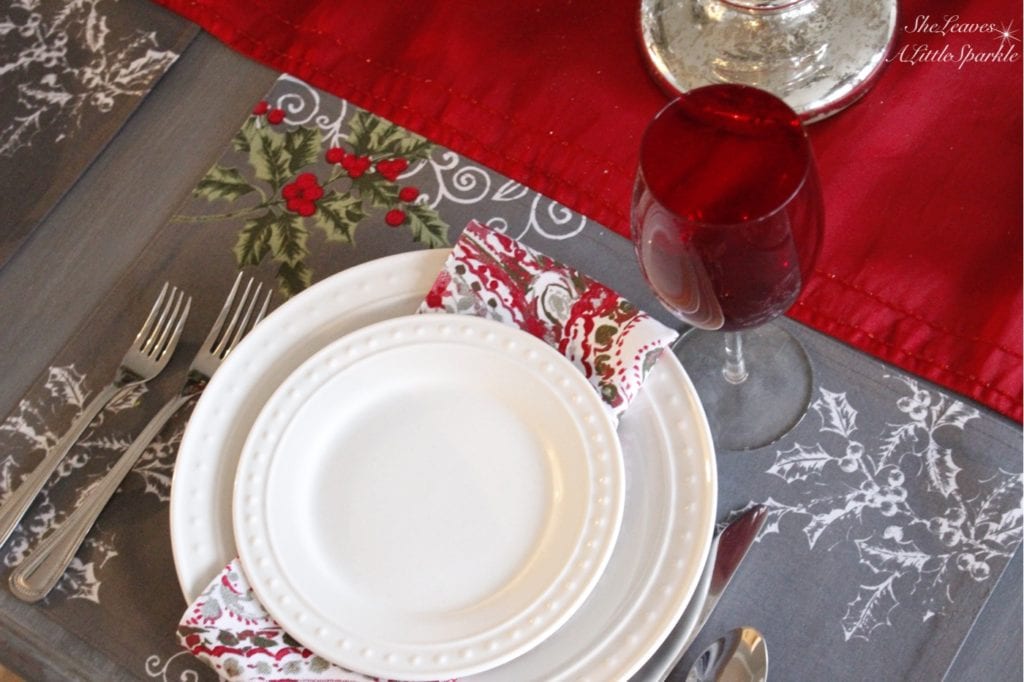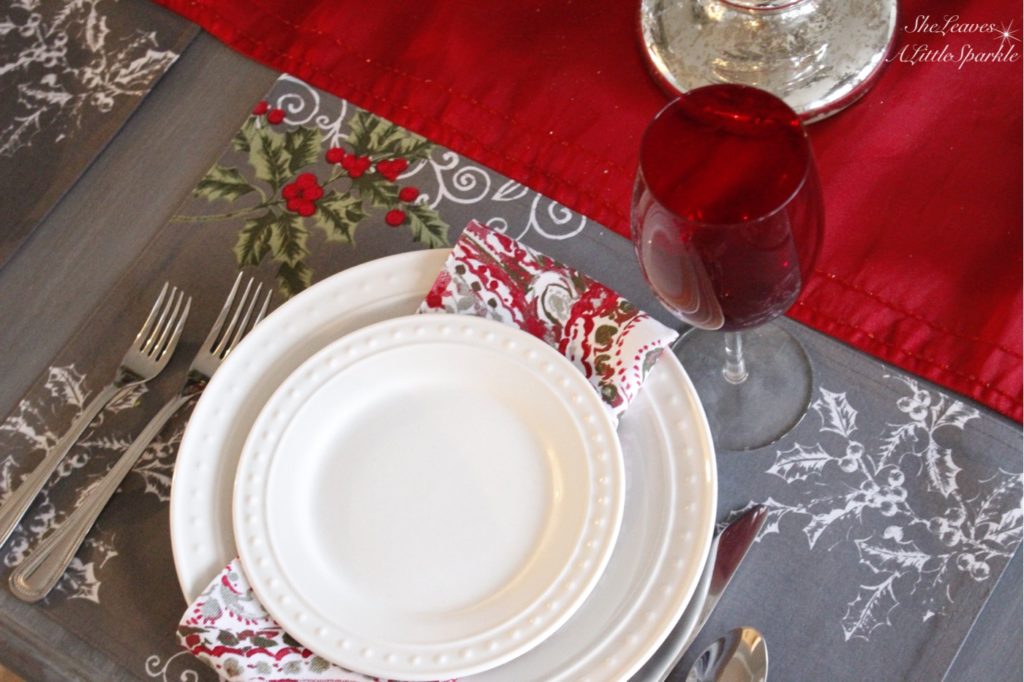 I happened to find the pretty cloth napkins there too this year, with green and red paisley print.  There's even a little grey, which ties in perfectly with my placemats.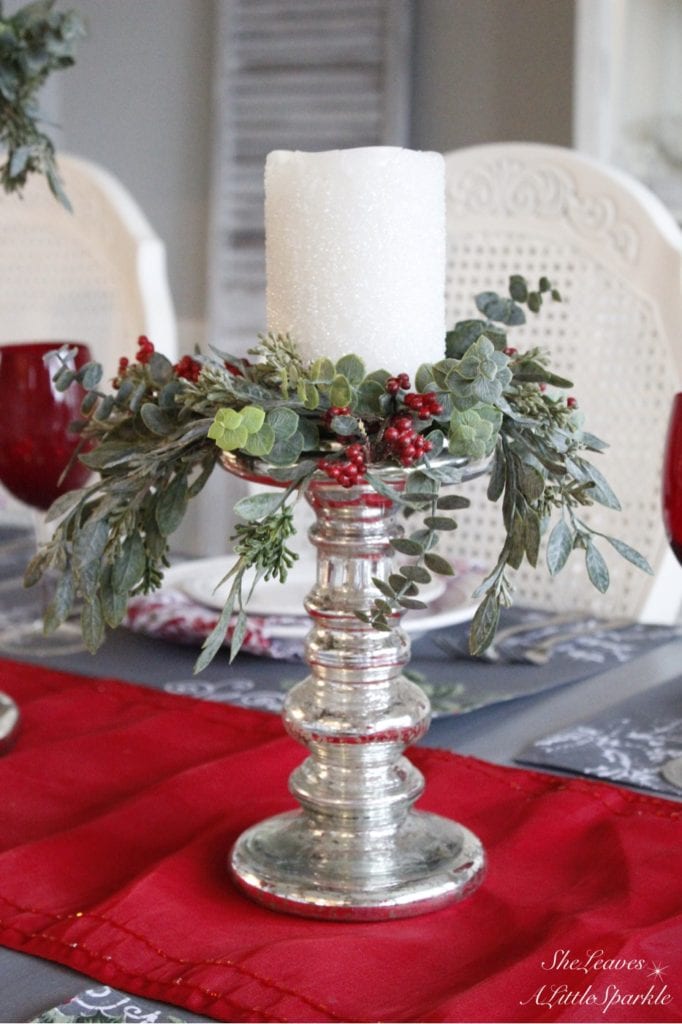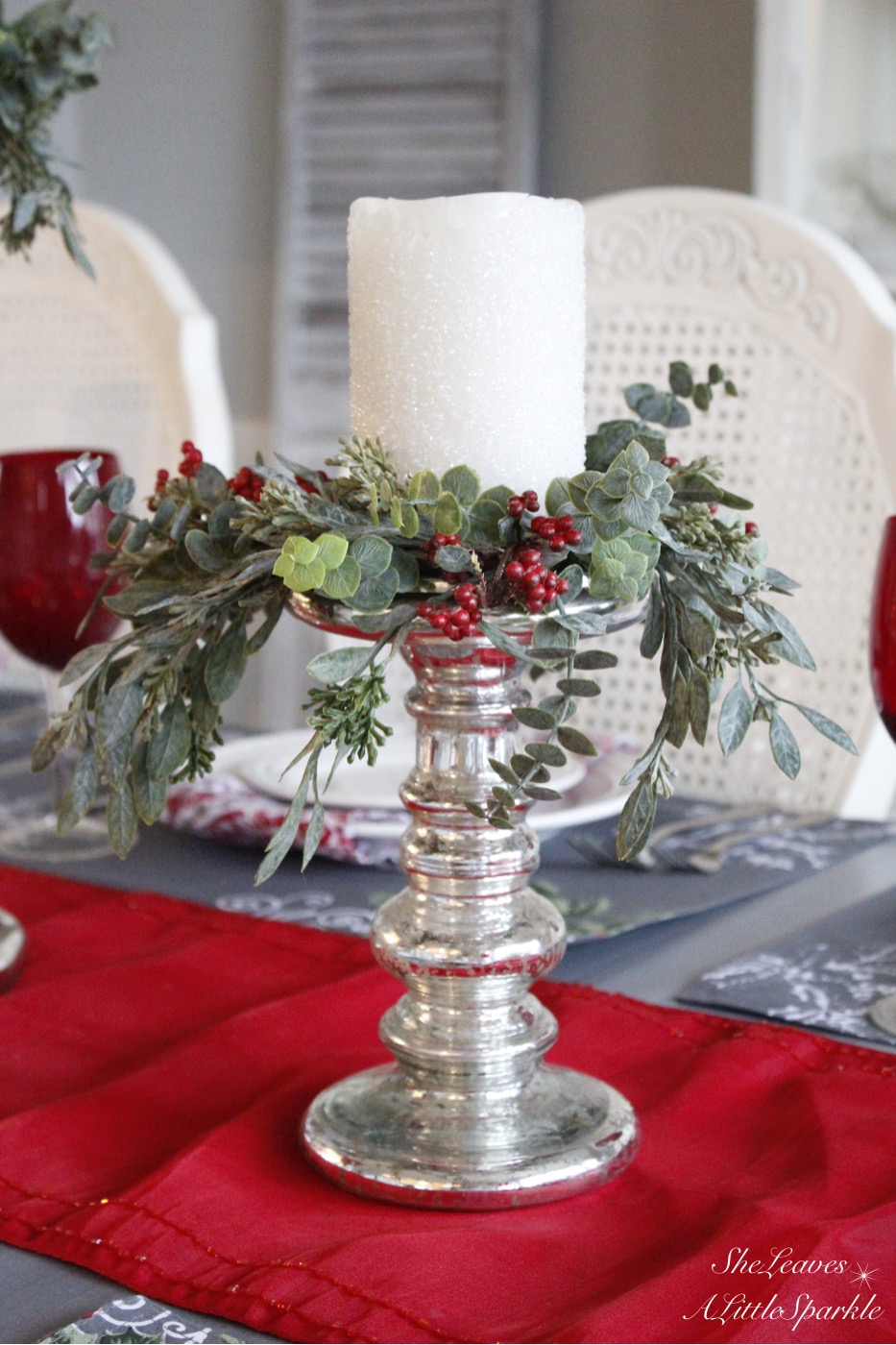 The second item of inspiration were these gorgeous candle wreaths I found at Magnolia Market last month in Waco, Texas.  I took my mom for a visit while she was in town visiting from California since she hadn't been there since we moved from Waco in 2013.  She couldn't wait to see The Silos.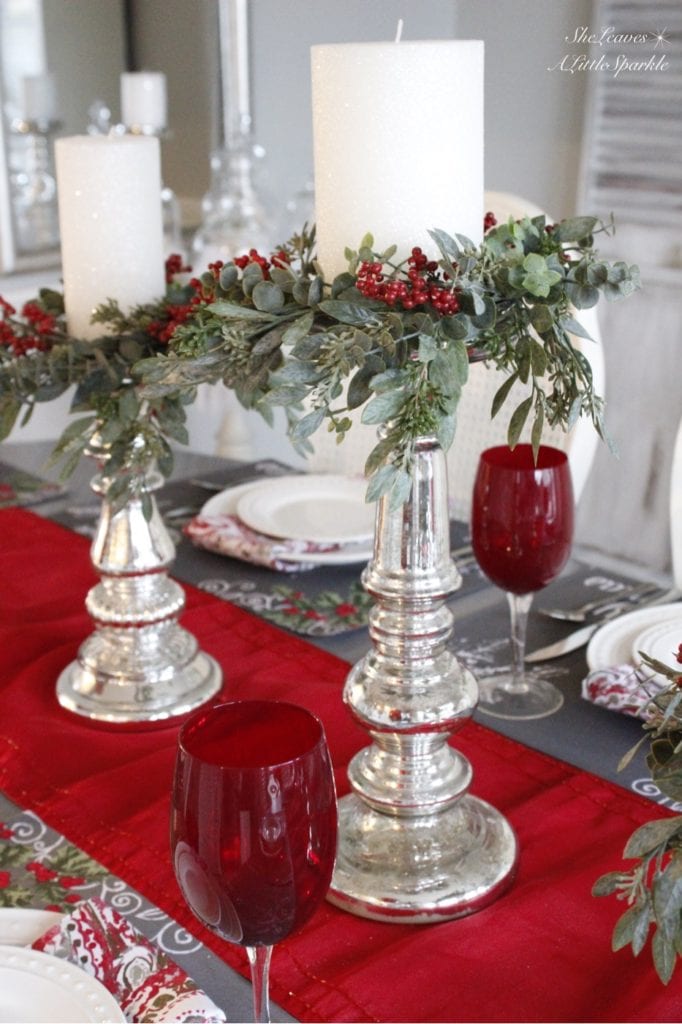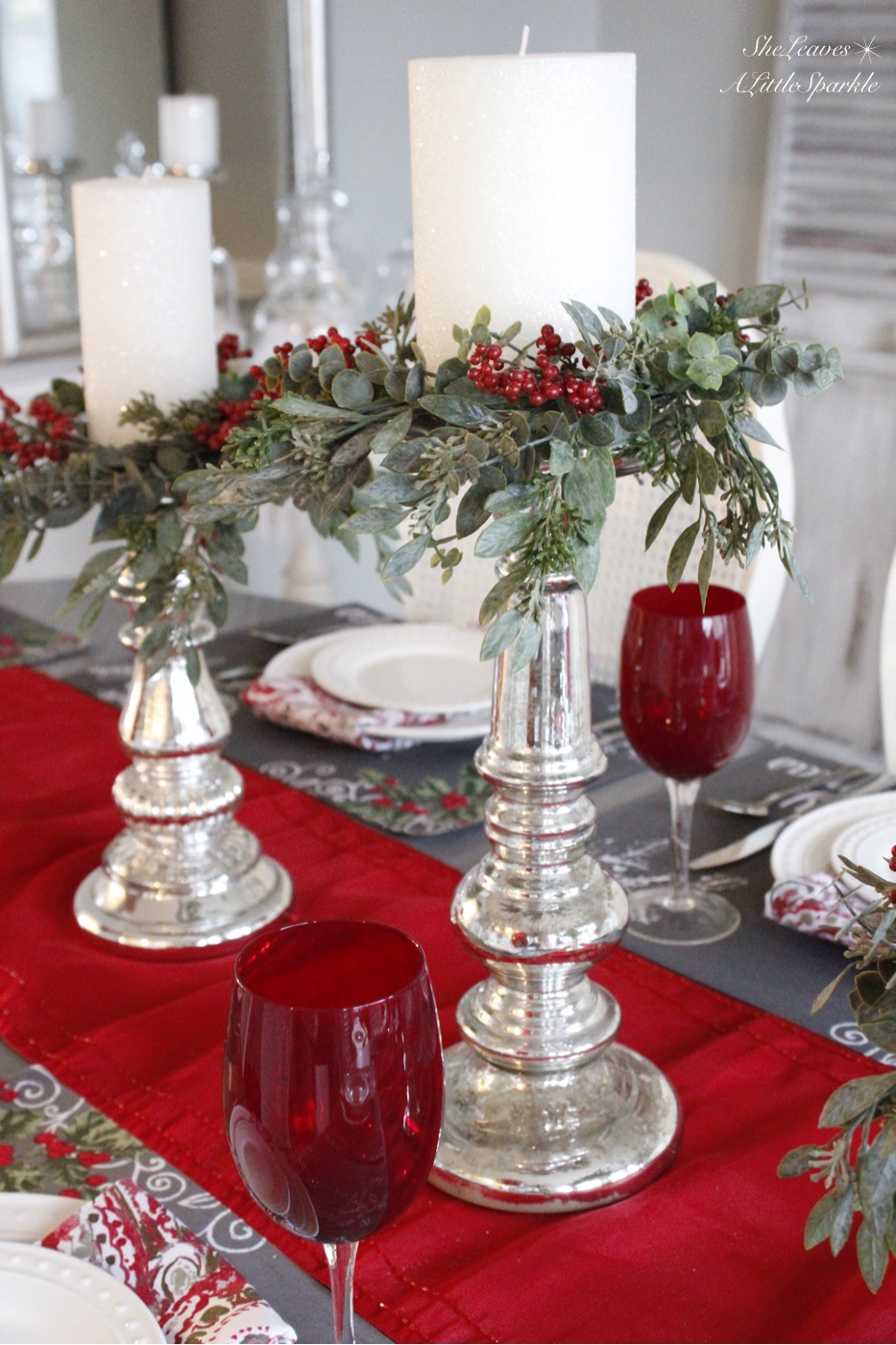 These were the last three candle wreaths so I knew it was meant to be!  They were pricey but they looked so real and were such high quality and so beautiful that I just had to have them.  Of course, I added my sparkly white candles and used mercury glass candle holders to give it a little more glam and not as casual or rustic as I also could've gone.  I wanted something a little fancier.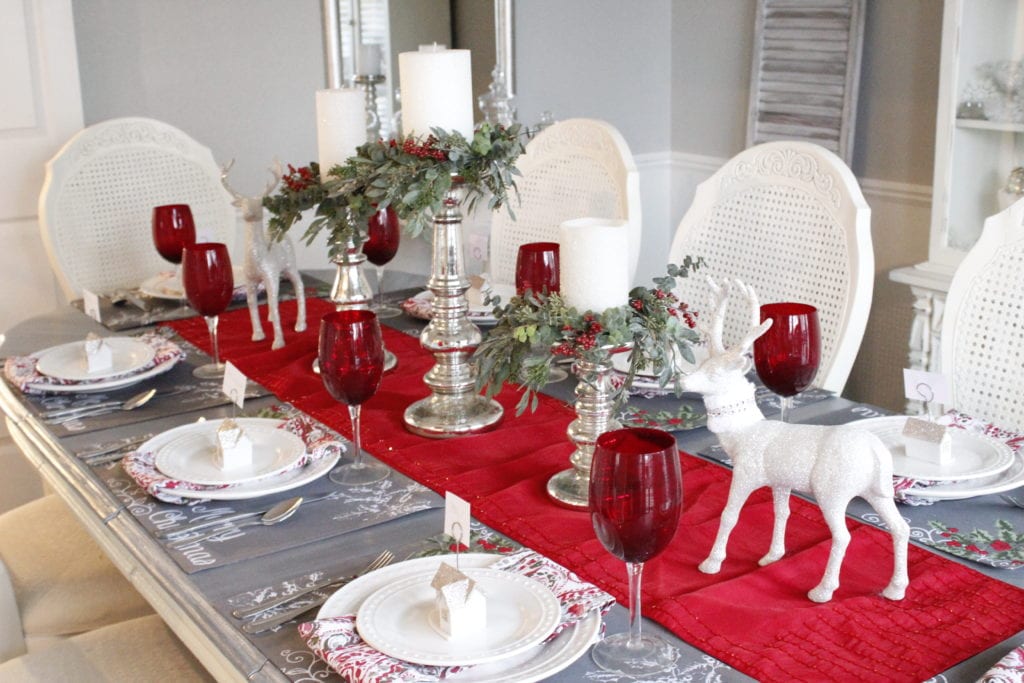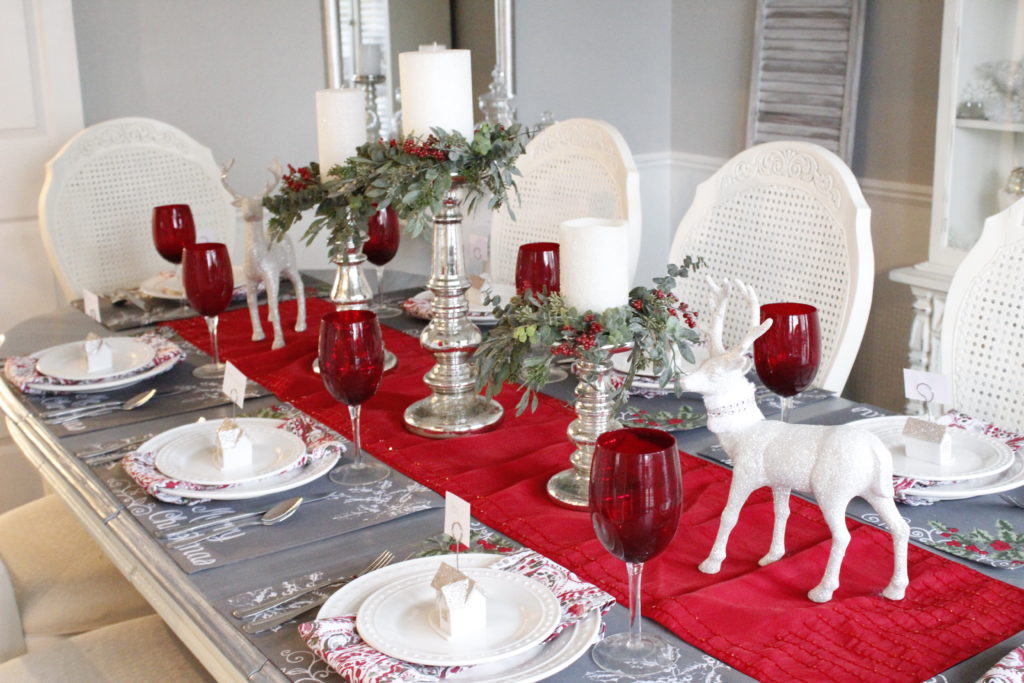 I grabbed a couple of my prettiest, sparkliest reindeer and added them to my red organza beaded table runner (I found it when we were first married, almost 13 years ago).  I've also had my pretty red stemware that long, as red and white and silver were the colors I used our first Christmas when we were married.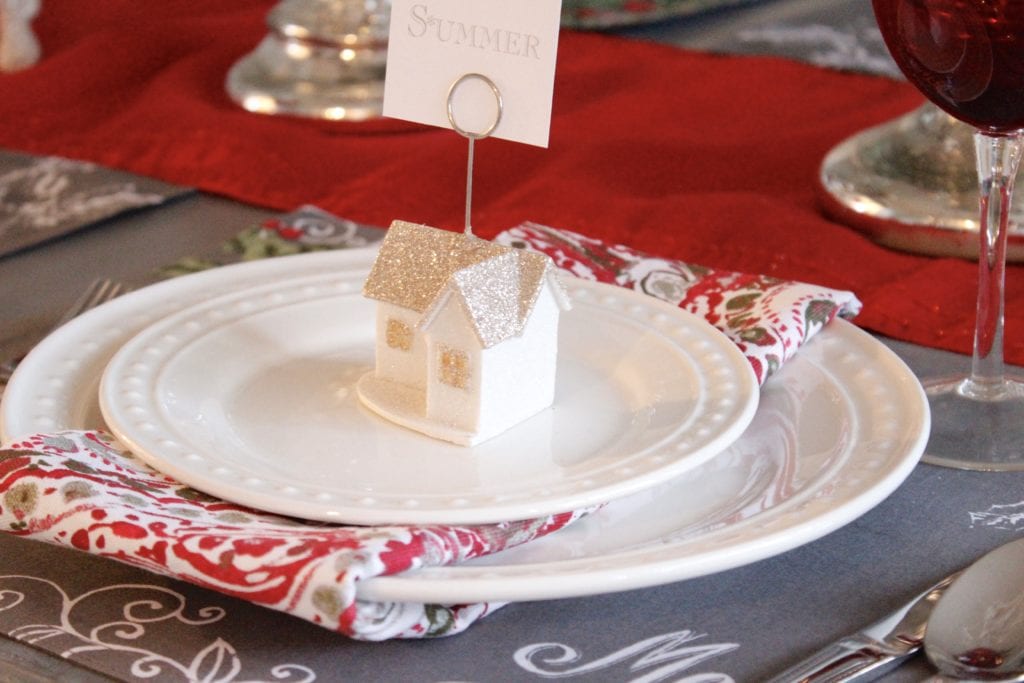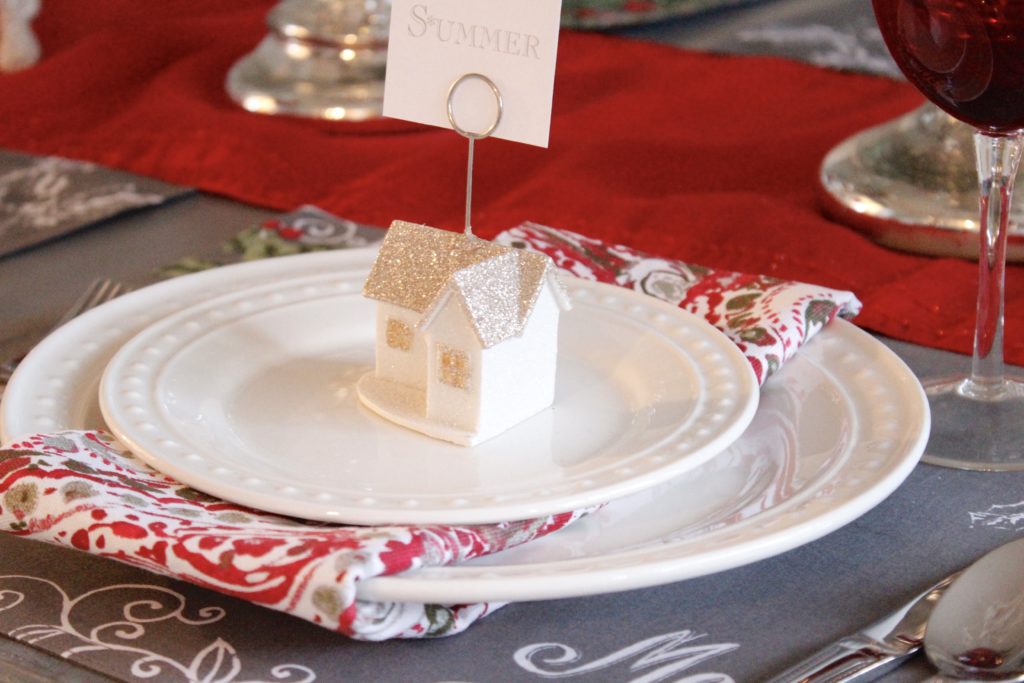 I had plans to make cute rosemary wreath place cards I saw on Pinterest BUT I ran out of time.  So, I used these cute mini glitter house place card holders I found at Pottery Barn last Christmas.  It worked well and complimented my pretty glitter deer perfectly.  Again, it added a little glam to my table and took it up a notch.  See more on ideas and inspiration for adding glam to your Christmas decor HERE in my last home tour.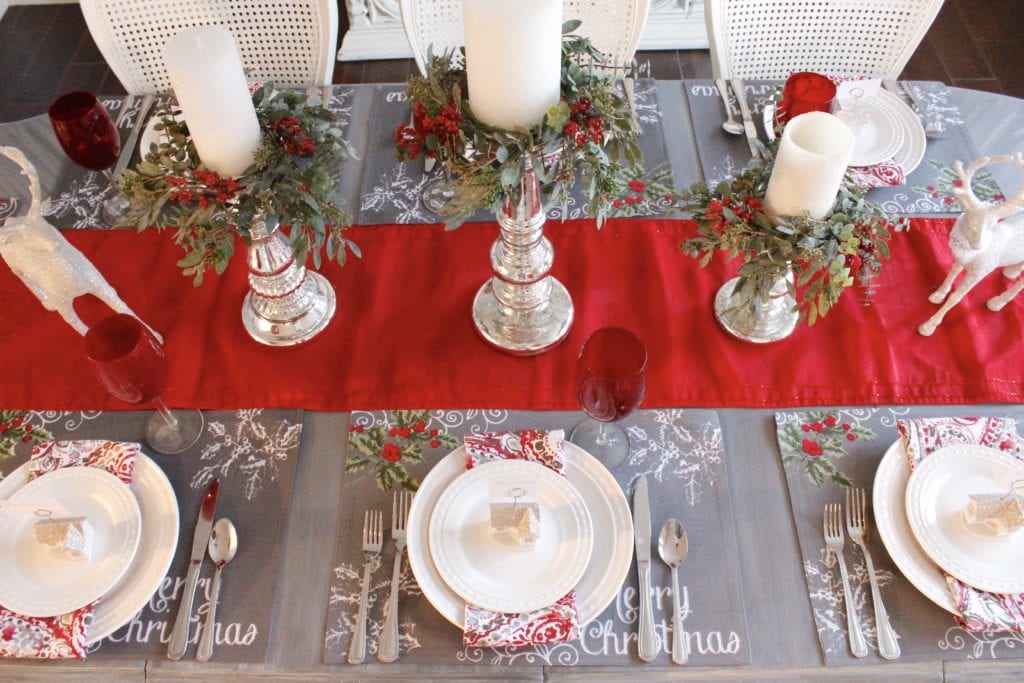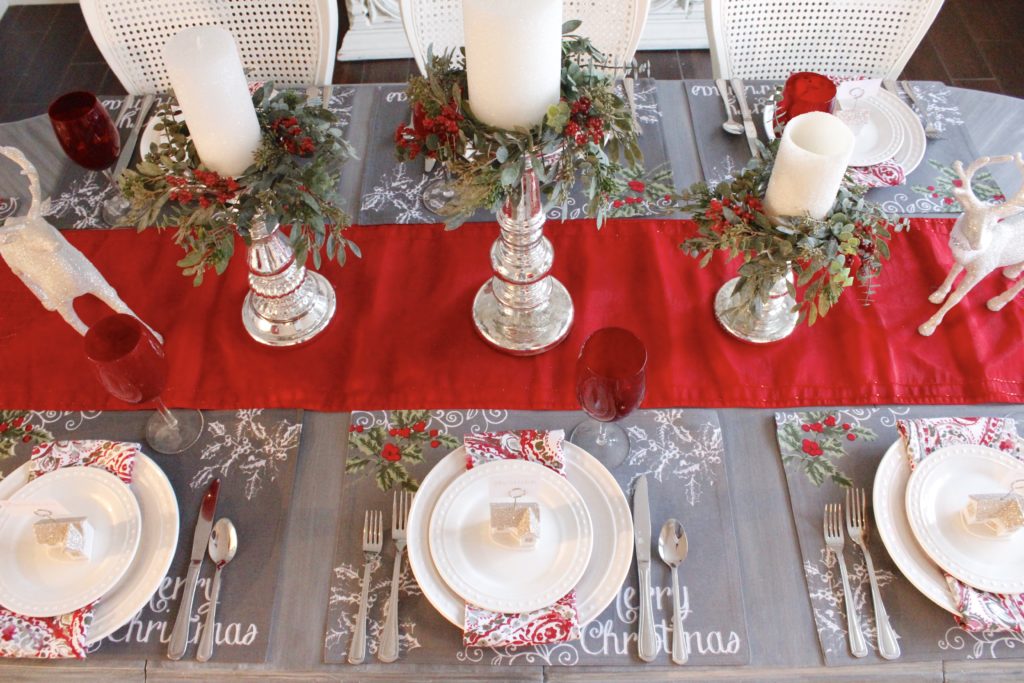 I should tell you…
My kids wanted to help me INSISTED on helping me set this table.  I love love love it.  My daughter, Brooklyn, is 10 and she is really good about straightening everything and centering it all.  Beckham is still 8 and doesn't "see it" as well yet (centering and straightening just perfectly), but I'm so so glad he's learning and willing to help.  It warms my heart to see him learn where all the silverware goes and learn how to fold napkins.  On that note, since I was also photographing this tablescape for a blog post, it took EVERYTHING in me to not hurry over and center these place settings.  But Beckham was beaming with that "I did it" look and standing there, ready to watch me photograph his masterpiece.  I couldn't go and fix it.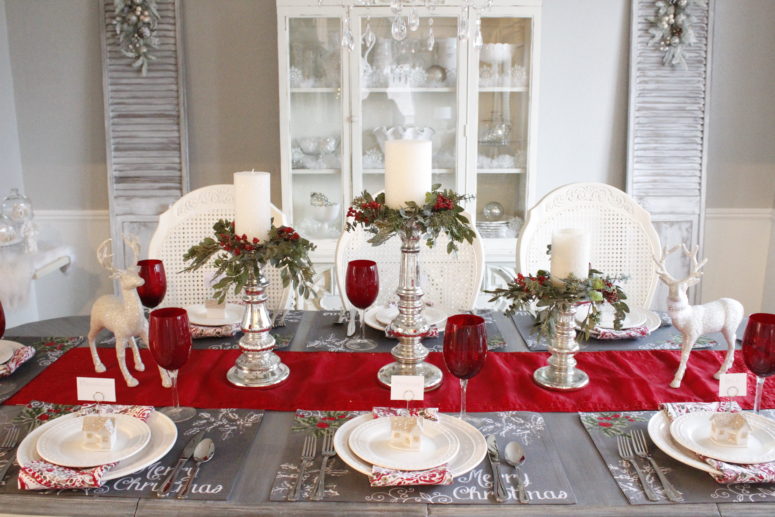 But guess what…..I will always treasure these photos.  Always, always, always.  And I'll show them off to his future girlfriends haha!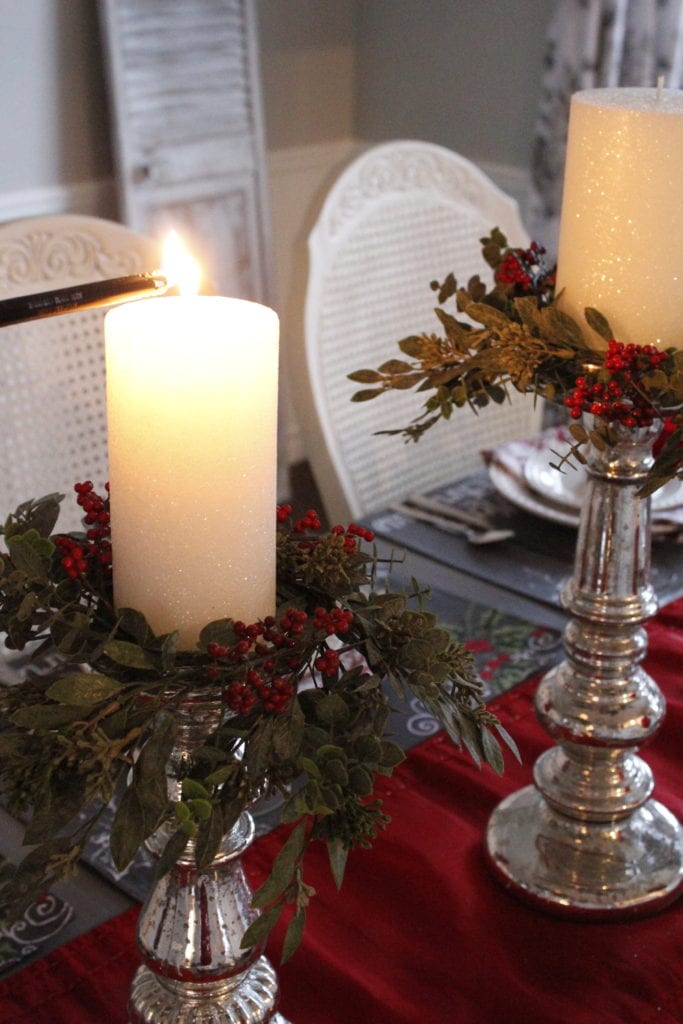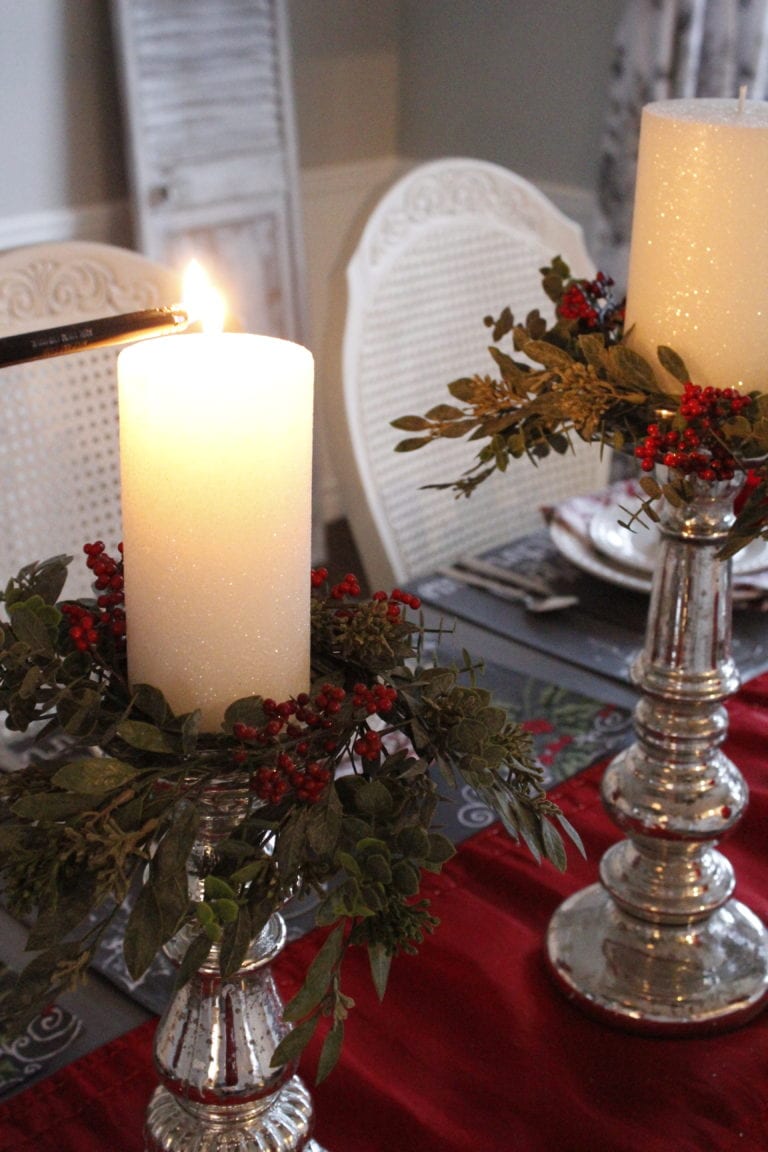 As it was a gloomy, cloudy day when I was photographing this table last week, the sun started setting a little earlier and so I gave up on good lighting and thought it would be more fun to share our candle-lit dinner with you.  So romantic and cozy, right?!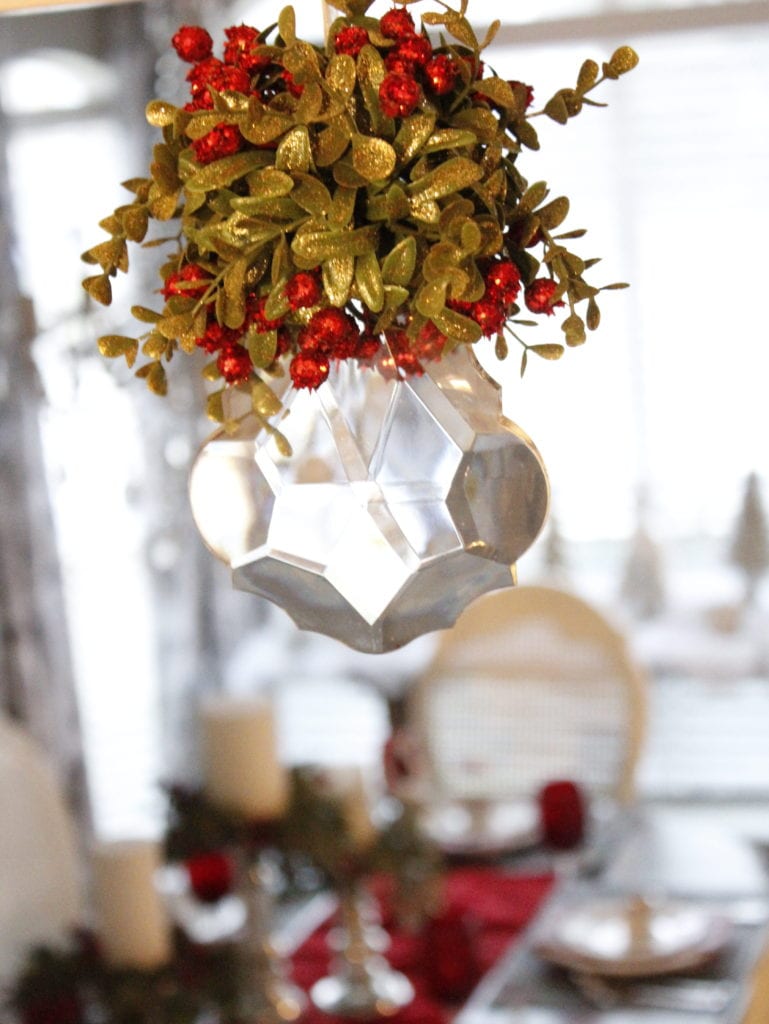 This might be a fun time to show you that before I lit the candles, I put up a second mistletoe with the red berries (I have the same one with white berries on the other side of the house) so it matched this room. It's so pretty and called a "Kissing Krystal".  The more kisses, the merrier….as far as I'm concerned (wink wink). 'Tis the season!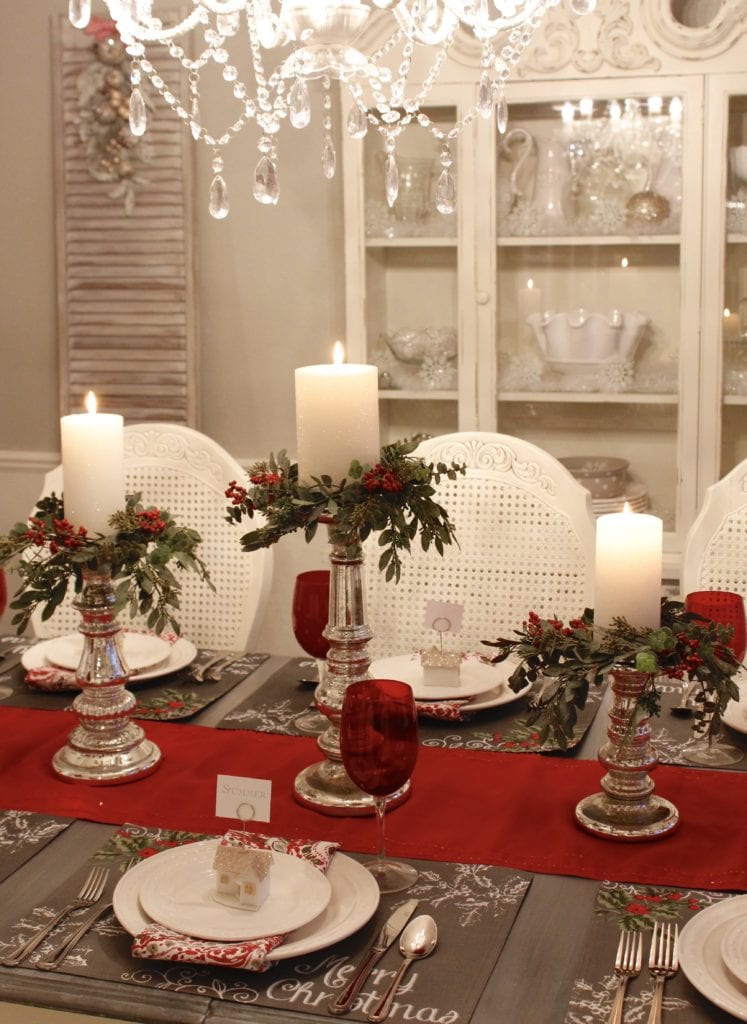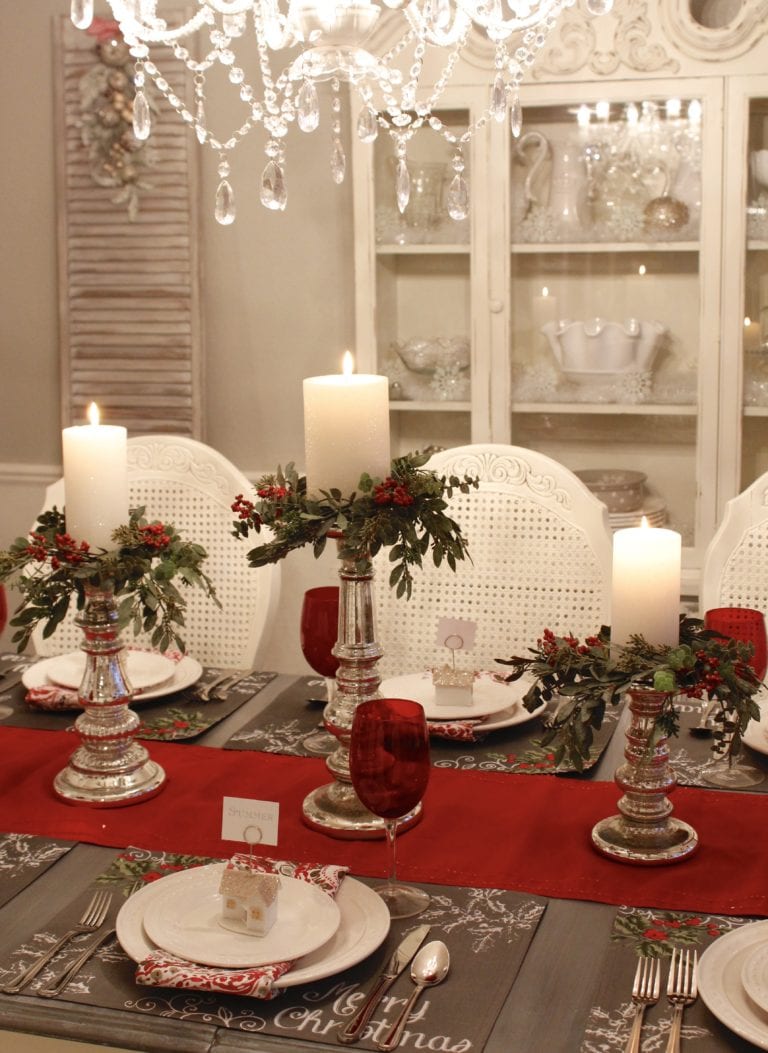 I love candle-lit dinners and wish we did it more often.  With it being winter and the sun setting earlier, it is the perfect time of year to dine by candle light.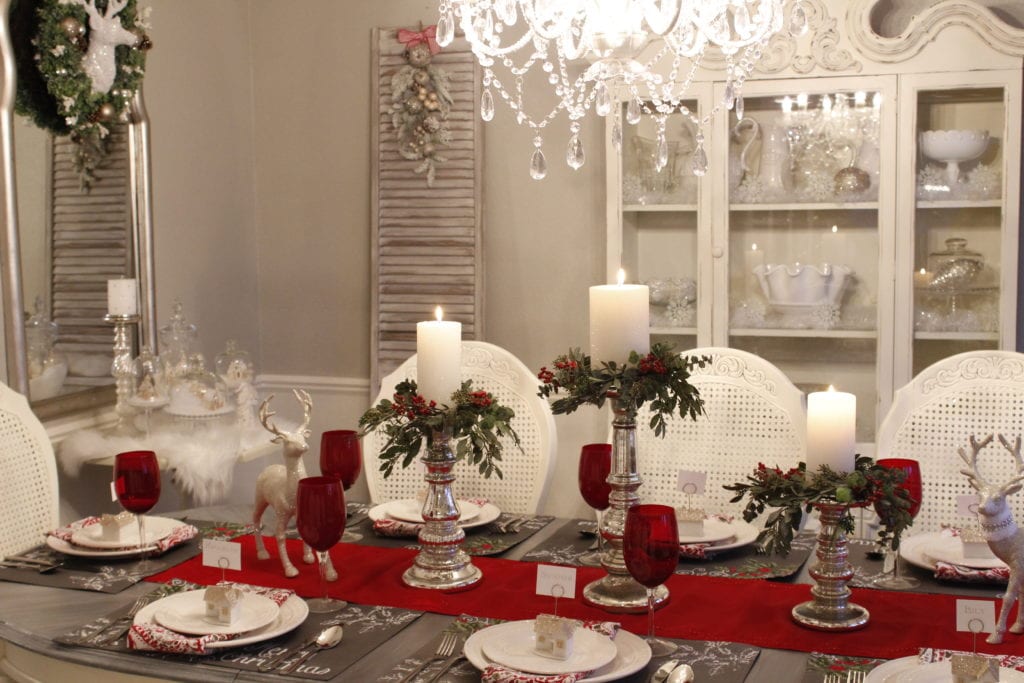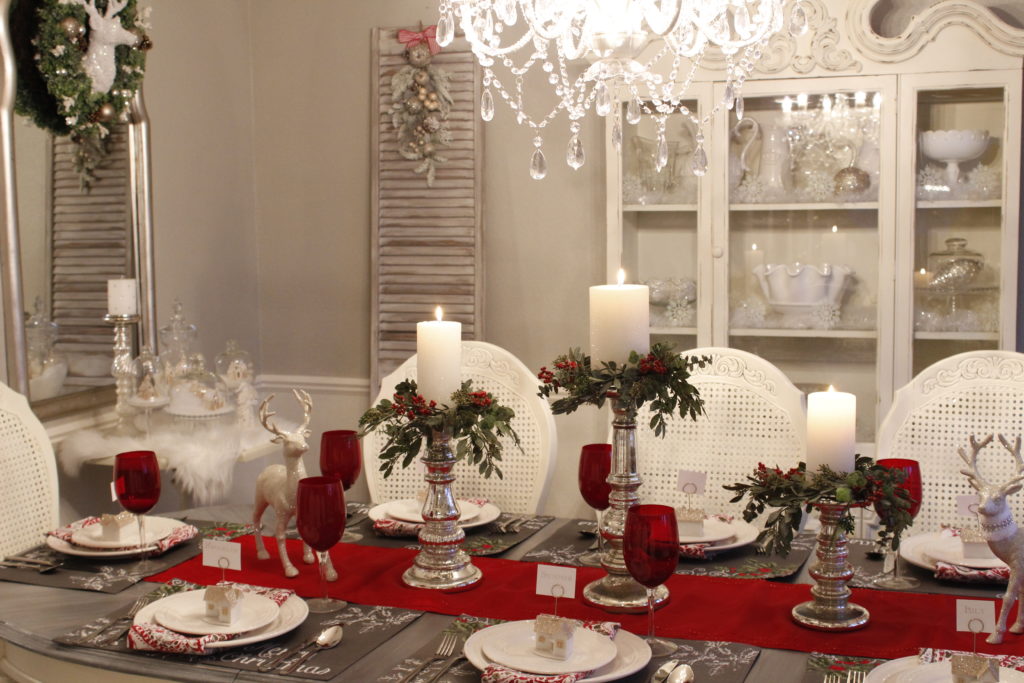 Especially with all the extra Christmas lights throughout the house.  It feels magical, somehow.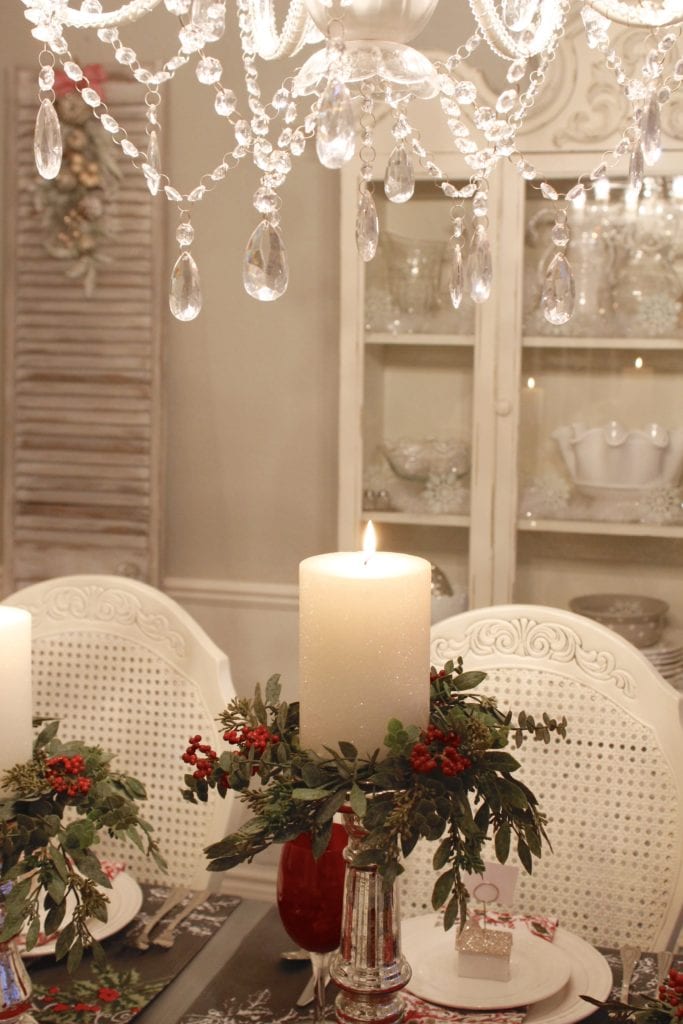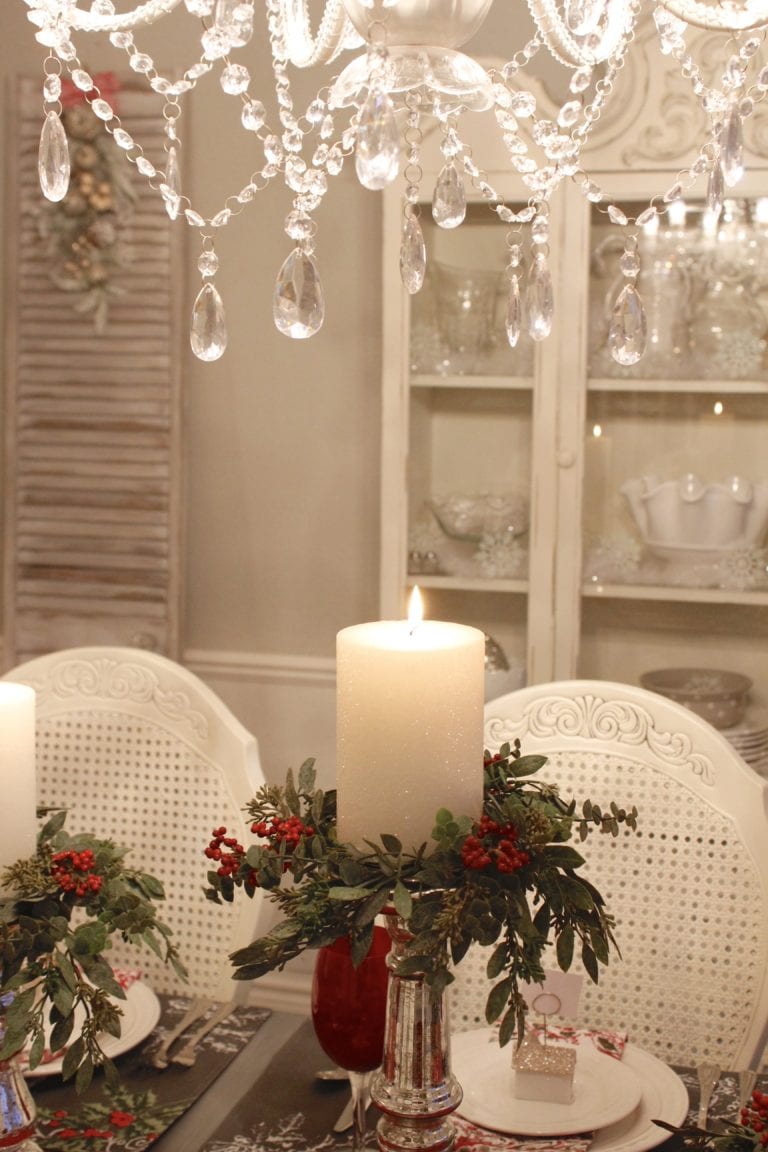 I love the way the candle light bounces off the chandelier prisms.  I'm even more glad that I chose this sparkly chandelier when I have a dinner like this.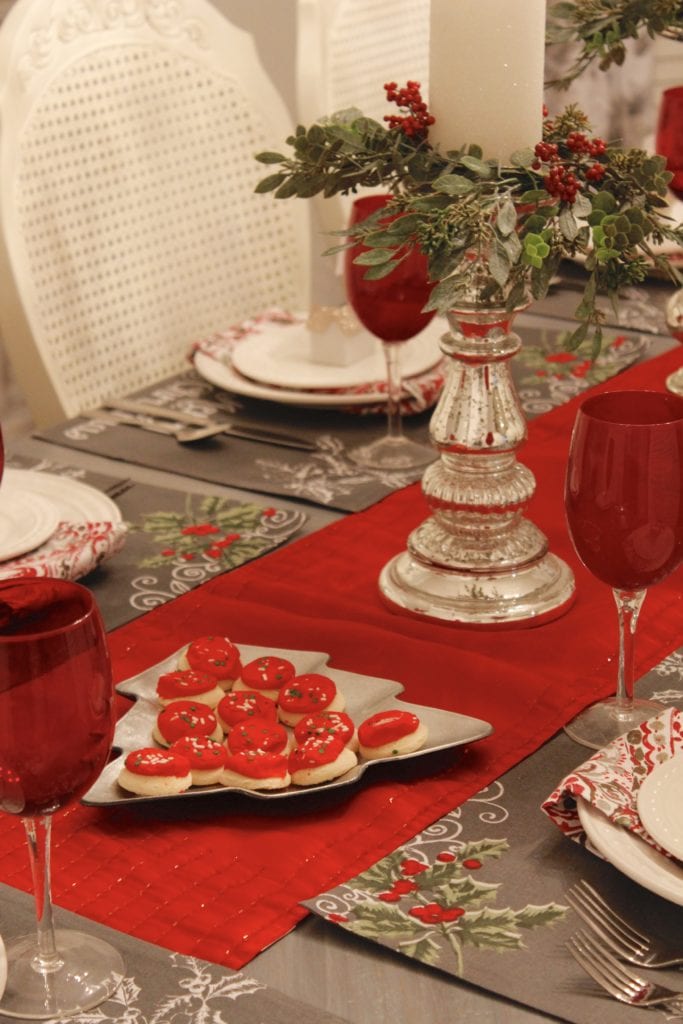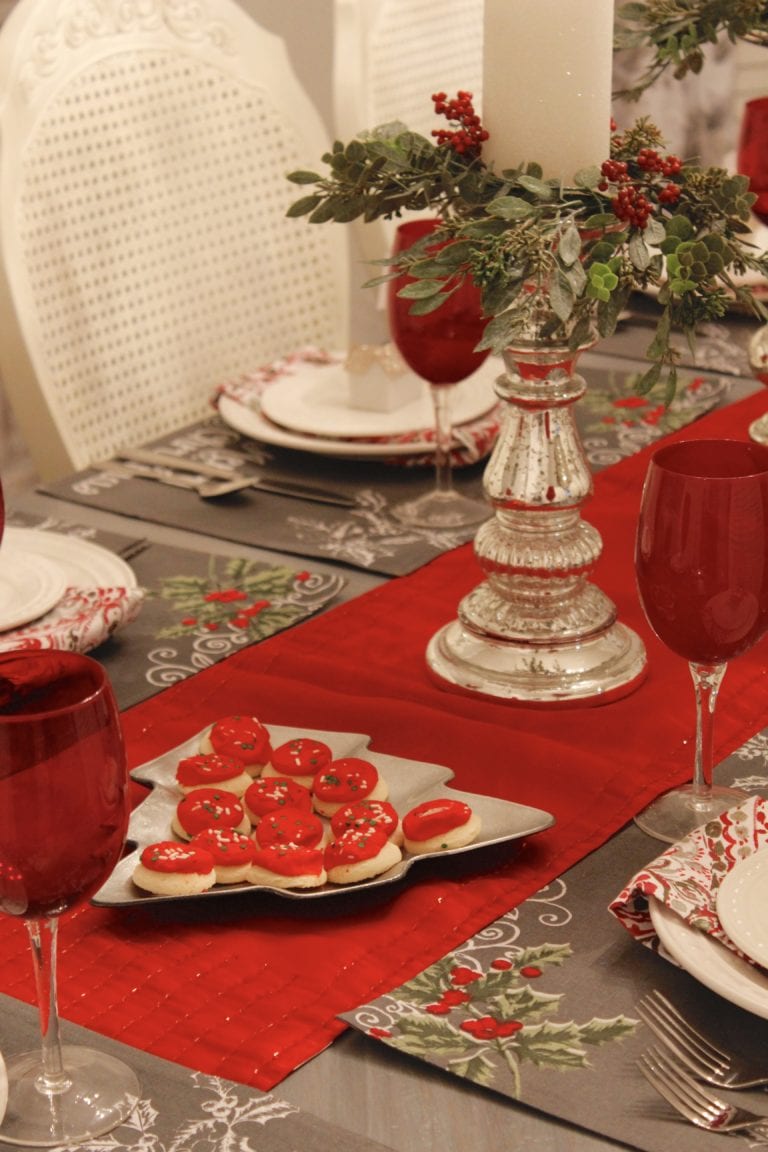 Can you guess what my kids wanted me to serve for dessert?  Yes, those store-bought sugar cookies.  Not nearly as good as my own but when you are all grocery shopping and you're hungry….you have a weak moment.  However, those were JUST eaten by the children.  The adults, however….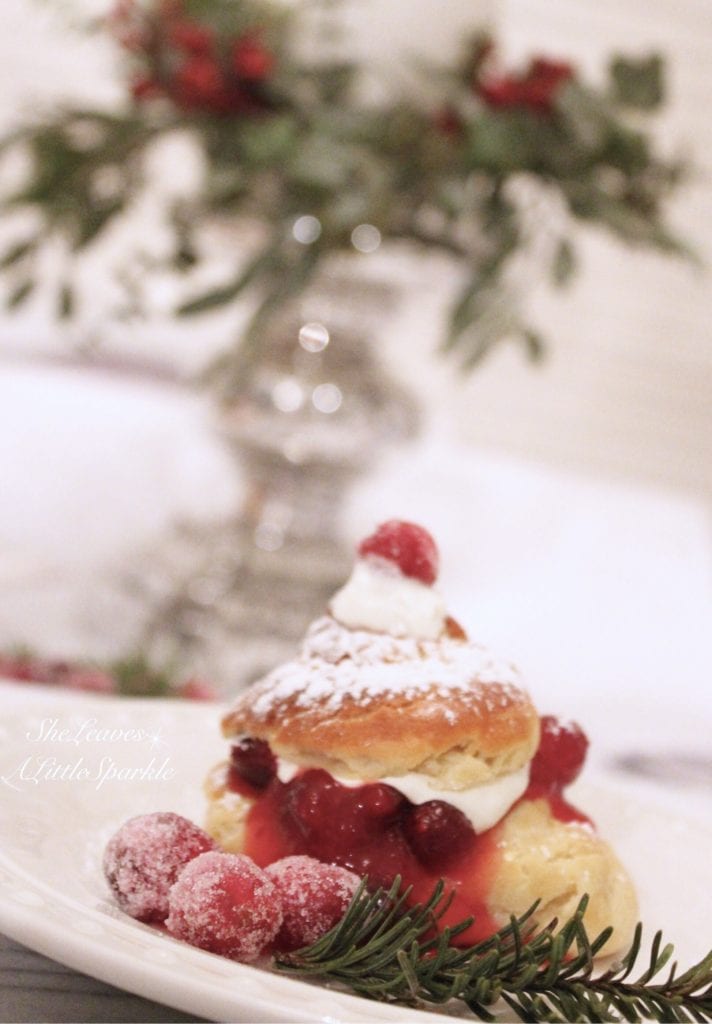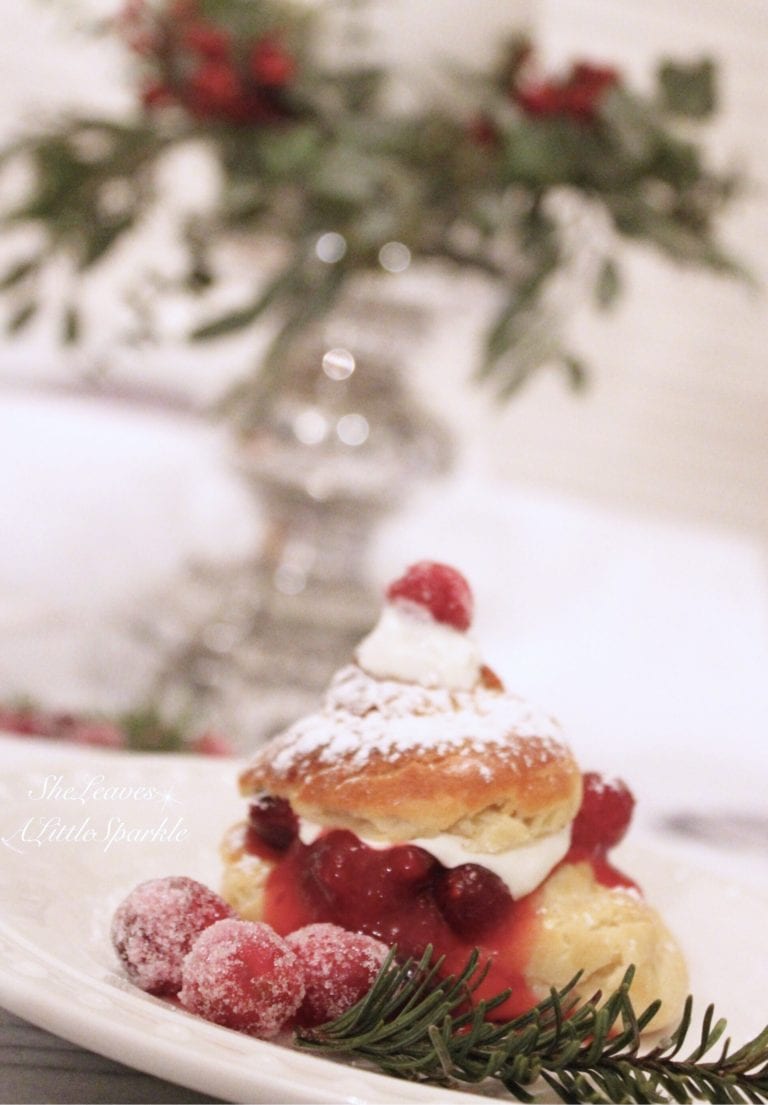 …we enjoyed my Christmas Cream Puffs with Cranberry-Orange Sauce I shared with you all last week.  They are DIVINE and the most perfect Christmas dessert this time of year.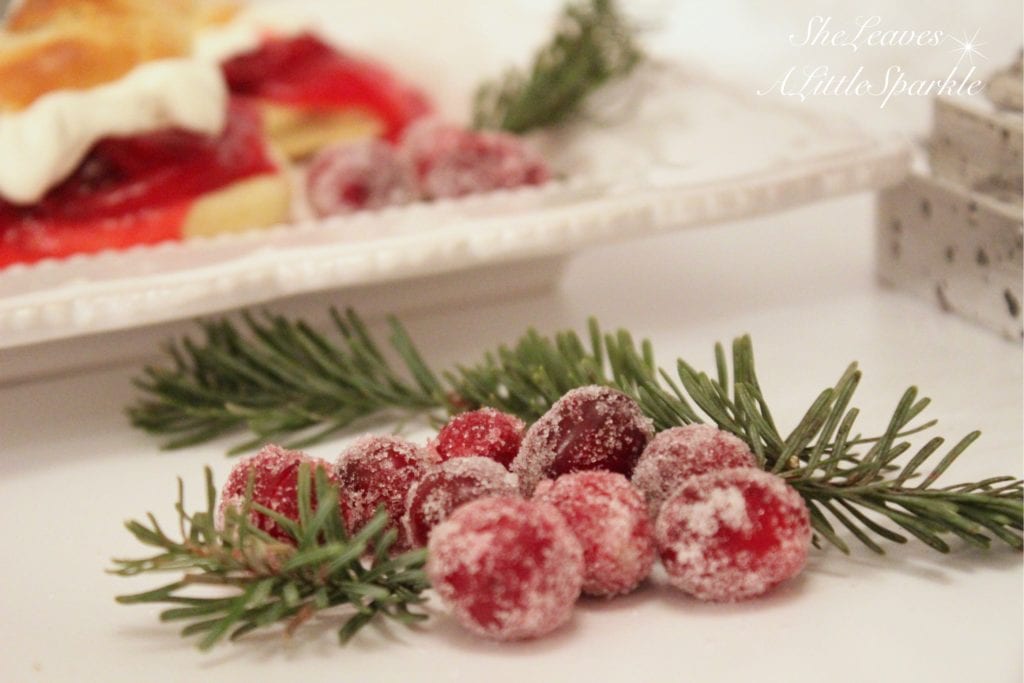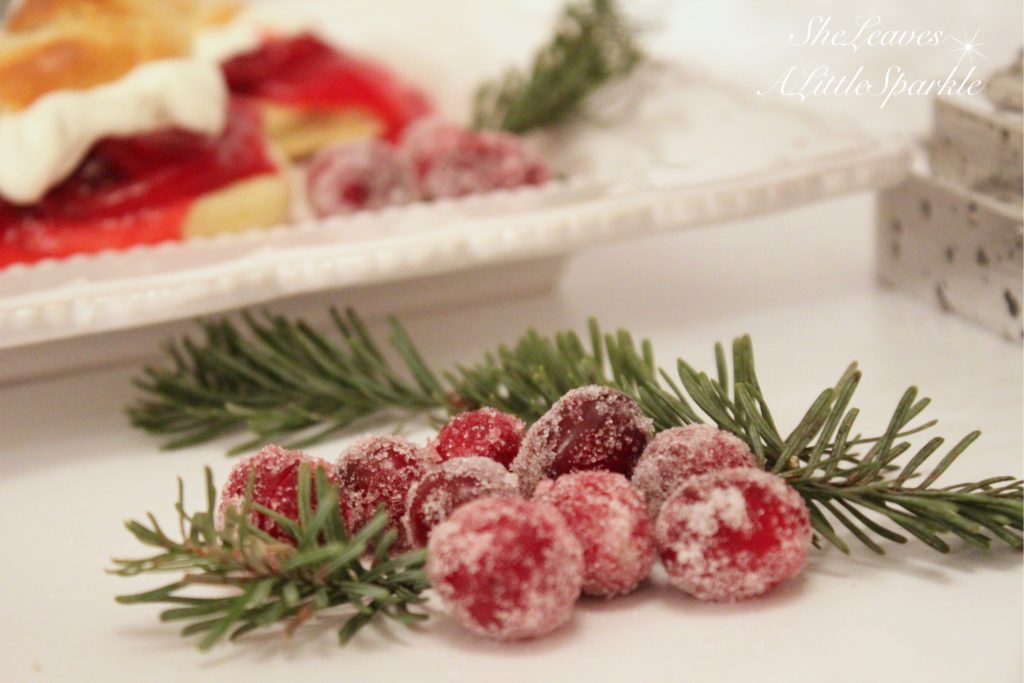 They're especially perfect because of those delicious and beautiful sugared cranberries.
For your shopping convenience, I'm including links to same or similar items below to help recreate this traditional Christmas tablescape.  Click on any image to take you to the website.





I hope you're ready to get your holiday baking on and set a beautiful Christmas table!  I'd love for you to follow me also on Instagram, Facebook and Pinterest to keep up with my latest adventures in creating a home and lifestyle of inspiration!  I'd also invite you to subscribe to my newsletter at the top of the page for my weekly newsletter of all my latest blog posts and also my sale alerts to my shoppe.  I'd hate for you to miss out on all the FUN!
Now, please head on over to my dear friends, Jodie & Julie at The Design Twins. to see what they have in store for you!  Oh how I just love to stop by and visit them!  They are always inspiring me.  And please make sure to visit all seven gorgeous Christmas tablescape ideas today.  Your hosts today are:
She Leaves A Little Sparkle (me)
I hope you're having the Merriest Christmas ever and a joyful holiday season!
xoxo,

*Affiliate links used for your convenience.  All opinions are my own.