I recently helped a client of mine take her home from drab to fab. One of her biggest complaints about her home, before I helped her with the interior decorating, was that her home was so "plain" and "boring" and there was "nothing fancy". She didn't know what elements to add to make it a little more glamorous and sophisticated. She felt that her home was too rustic and casual and masculine. I decided to bring her to my home, since she didn't live very far, to walk her around and show her what I do and then it inspired this blog post. So here are examples of a dozen ways to add glam to your home.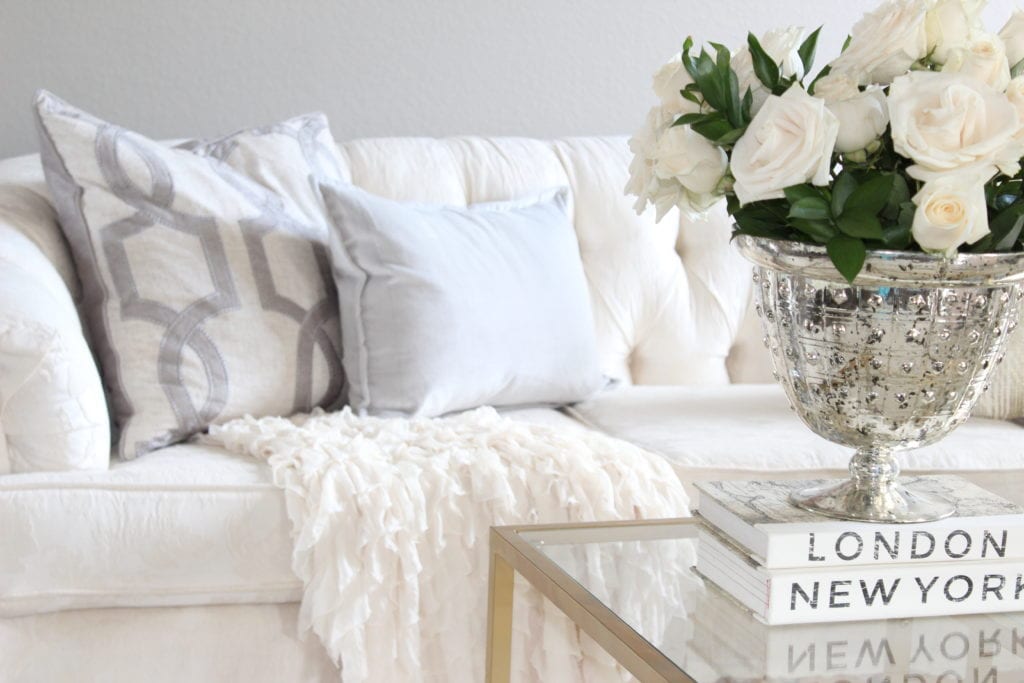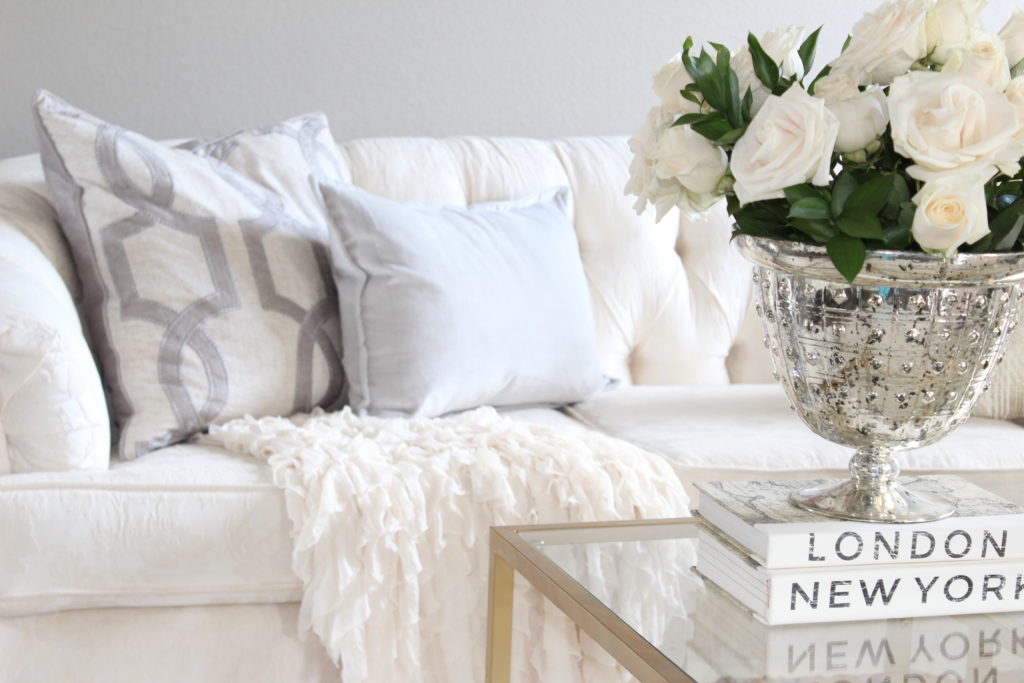 Add large pretty plush pillows to your sofas and bed. Ditch the pillows that come with your sofa. Look at your favorite home decor stores for those full and comfortable pillows that catch your eye. Maybe they have pretty details or trim or designs.
See more of this room HERE.
They can have lace or ruffles, velvet, sequin, floral prints, or even faux fur. Look for something that adds that soft, feminine touch to those large and masculine sofas.
More on this table and the special dinner we had HERE.
Use pretty pieces to set your table. Finding pieces like elegant goblets, maybe some new silverware or goldware, or using lovely chargers or placemats can transform your table. Shop for new sets that match and put aside your plastic cups when you have company. If you've been married for a while and you're still using the place settings you registered for and they are half-missing…it's time to find some new sets. I love my family dinners on Sundays, when we have company for dinner, or other special occasions because I like to set a pretty table and add a little glam. My family just loves it. Not only that, but my kids learn how to set a proper table and my daughter is learning how to create a lovely tablescape.
Choose chandeliers that sparkle or have a more romantic style. Maybe your husband has liked a ceiling fan or maybe you have the chandelier or pendant lights that came with your home when you purchased it. Well, it's time to make a change! They don't have to be the most expensive thing out there. Converting a ceiling fan, or putting in a brand new chandelier is easy and often inexpensive with the help of electricians Brookhaven or a similar company. You won't regret it, there's nothing like a little sparkle or a chandelier with a "wow" factor to add some glam to a room, not to mention the enhanced natural and artifical lighting when you need it. To help you find some gorgeous lighting for your home, I've shared some great budget-friendly options in this post: How To Pick Chandeliers For Your Home. Here are some of those favorites, including this one above that I'm purchasing for our new home:


See more on this entry way HERE.
Find mirrors with more ornate details. While I love a simple-trimmed mirror and appropriate in certain spaces, depending on the style you're going for, a more ornate or detailed mirror is always a way to add more glam to a simple space.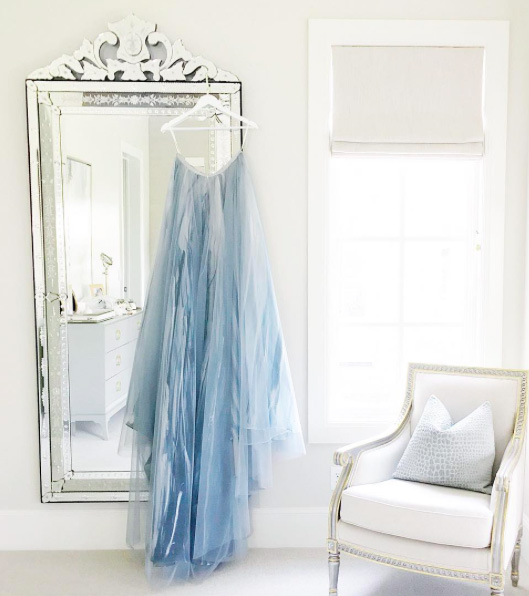 This gorgeous Venetian mirror, from Rach Purcell, is another lovely example and another one on my "New Home" shopping list. Here are some other fabulous examples:


Fill your home with pretty fresh or faux flowers. There is nothing like having the loveliest flowers in your home to soften a space and add some glam. You can put them in a pretty vase, champagne bucket, or even a lovely pitcher. Treat yourself!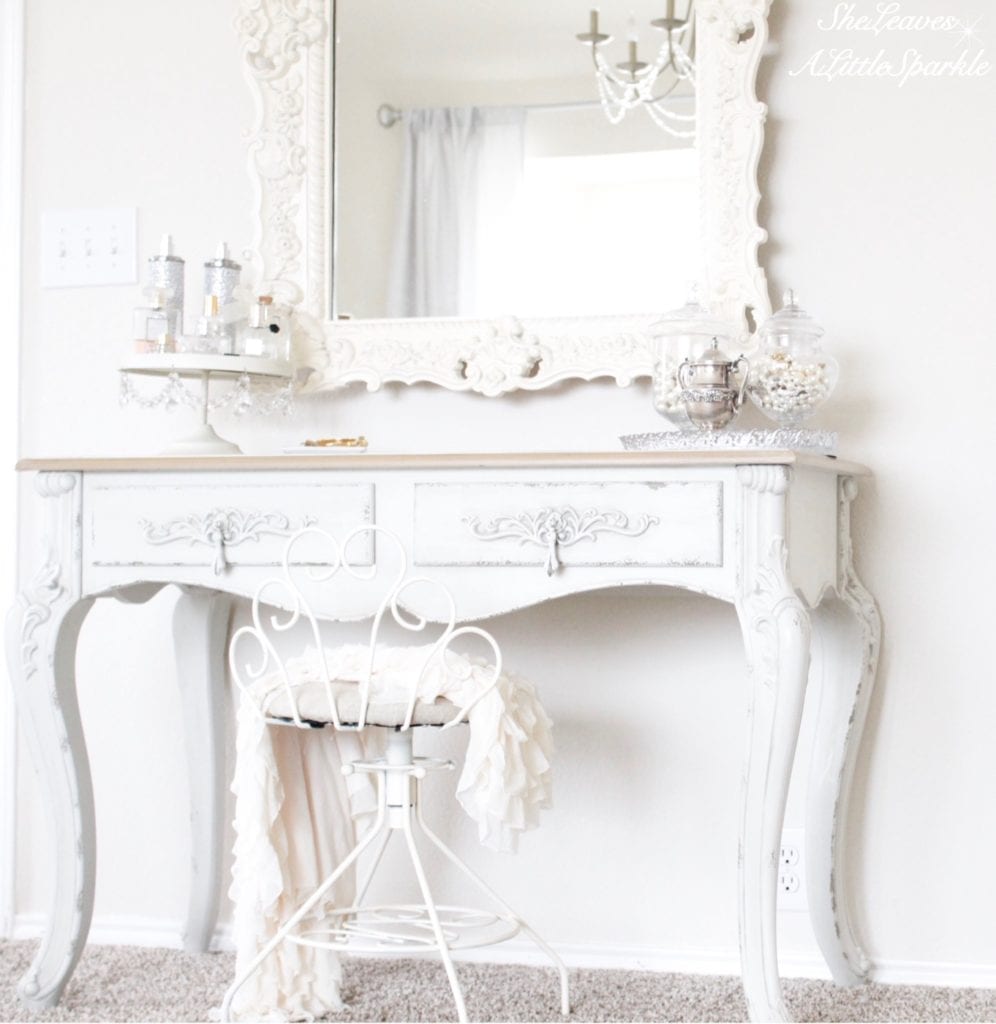 Create a beautiful vanity just for you. I recently shared my Updated Vanity Makeover and how I wanted to make a small change to this space. Every girl deserves a glamorous space to sit and put on her makeup, put on her jewelry, and spritz some lovely perfume before she heads out the door. Ruffle throw blanket is sold HERE in my online shoppe.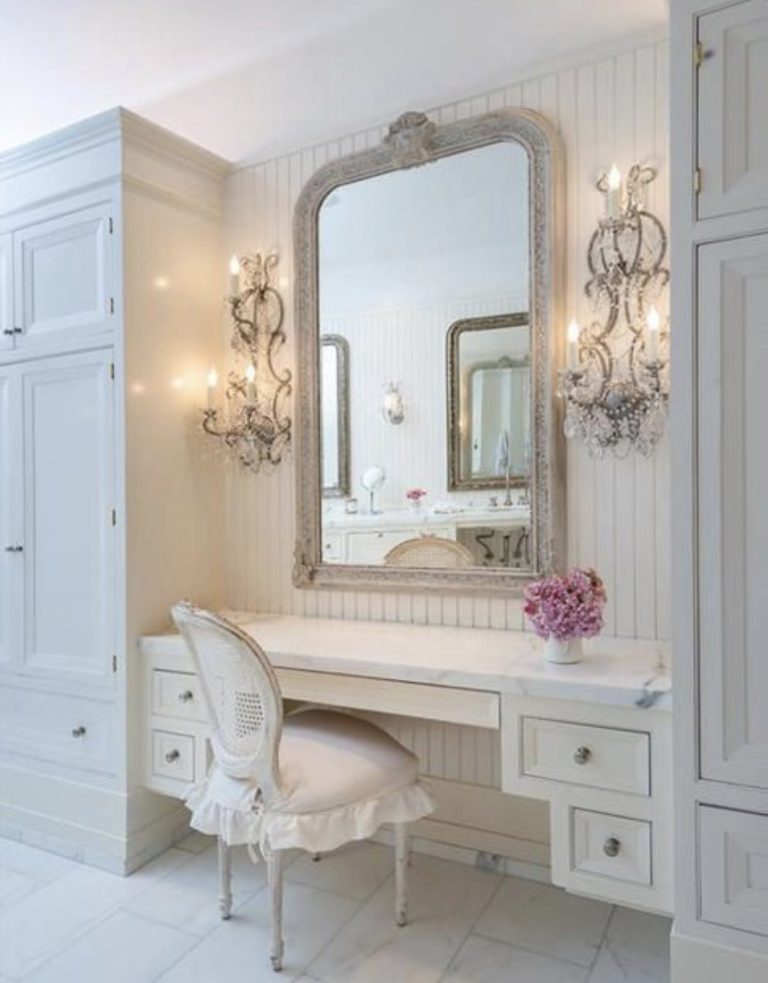 Another post, called The Prettiest Vanities, is where I share how you can achieve that glam vanity that you want. You definitely want to check it out! I have lots of fabulous shopping links for mirrors and vanities and accessories to glam them up!
See more on this gorgeous space HERE.
Add a touch of faux fur around the house. Faux fur automatically make a space feel more romantic and cozy. Everywhere I turn, I'm seeing faux fur rugs, pillows, table runners, throw blankets…the list goes on. Just like a woman might throw on a glamorous fur coat, the trend of adding faux fur adds the same, sexy feel to a room. If you love this chair (blush is always glamorous to me) you can shop the link under the picture for a ton of blush decor.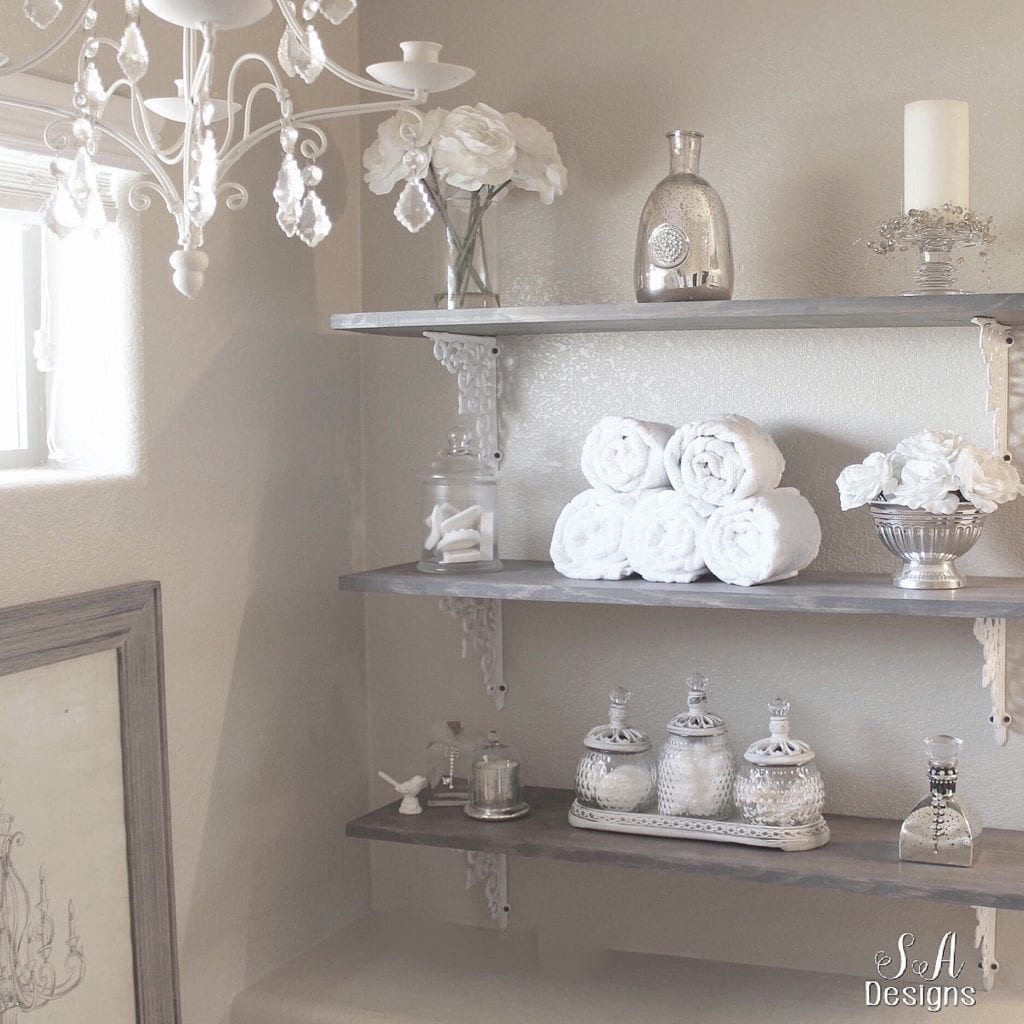 Decorate with mercury glass candlesticks, vases, or candles. When I shared this DIY Bathroom Shelving in our Vegas home, I wanted a rustic glam look. To add the "glam", I chose some really lovely pieces to decorate with, including mercury glasses candles, vases and bottles.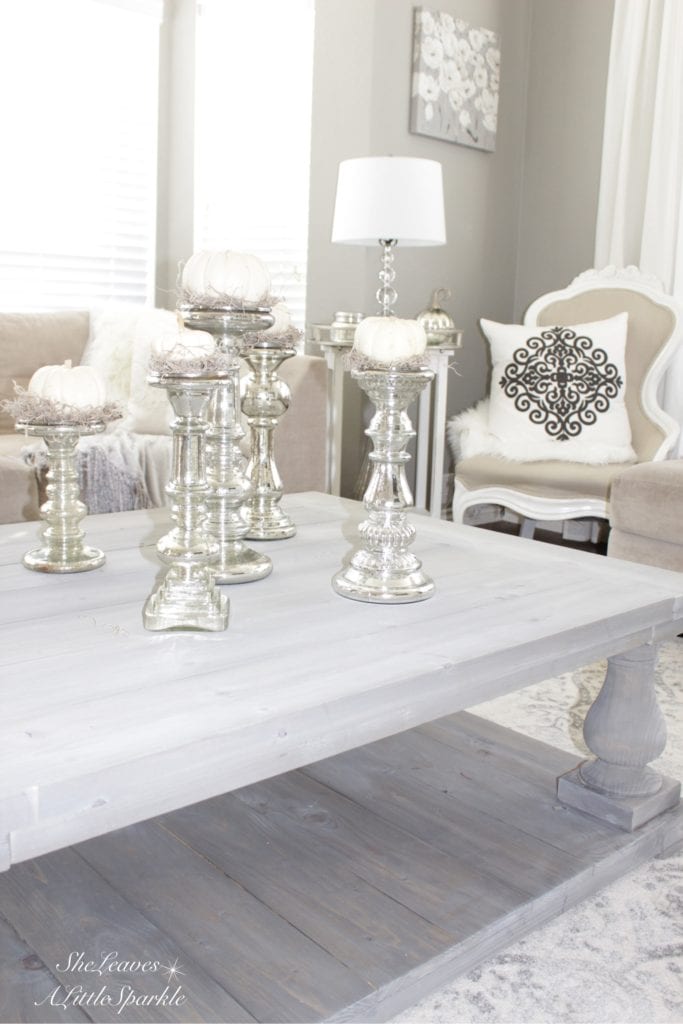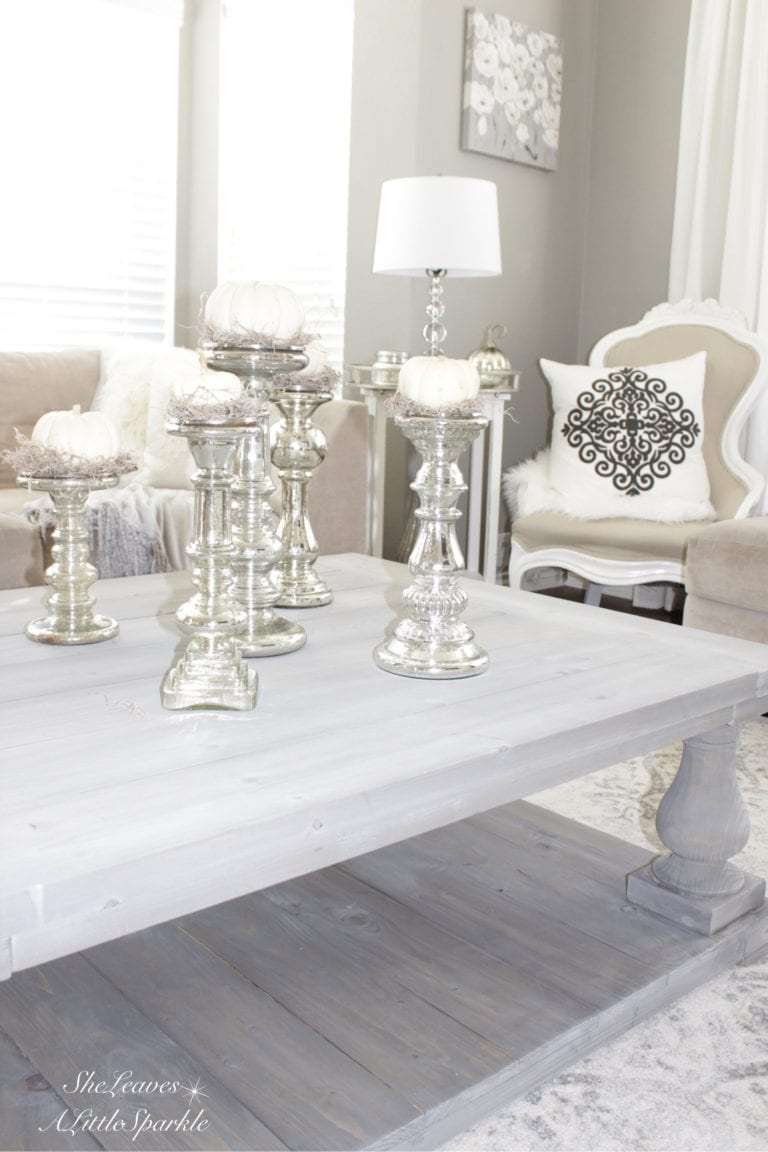 I love using my mercury glass candle sticks all year long but they were especially fun HERE during fall as I brought them all down to our family room coffee table.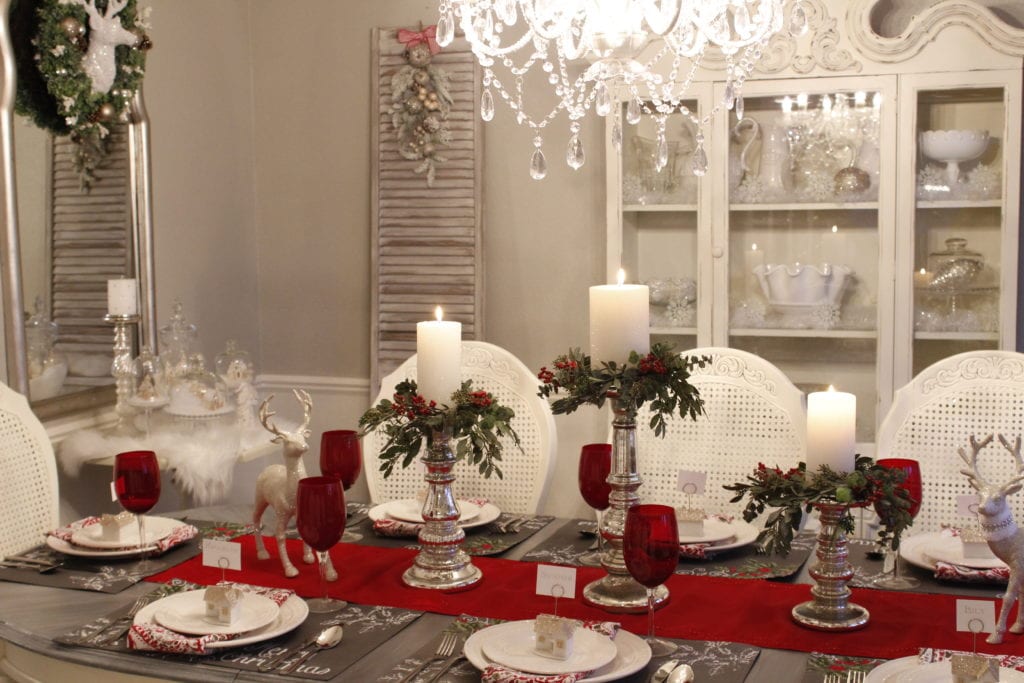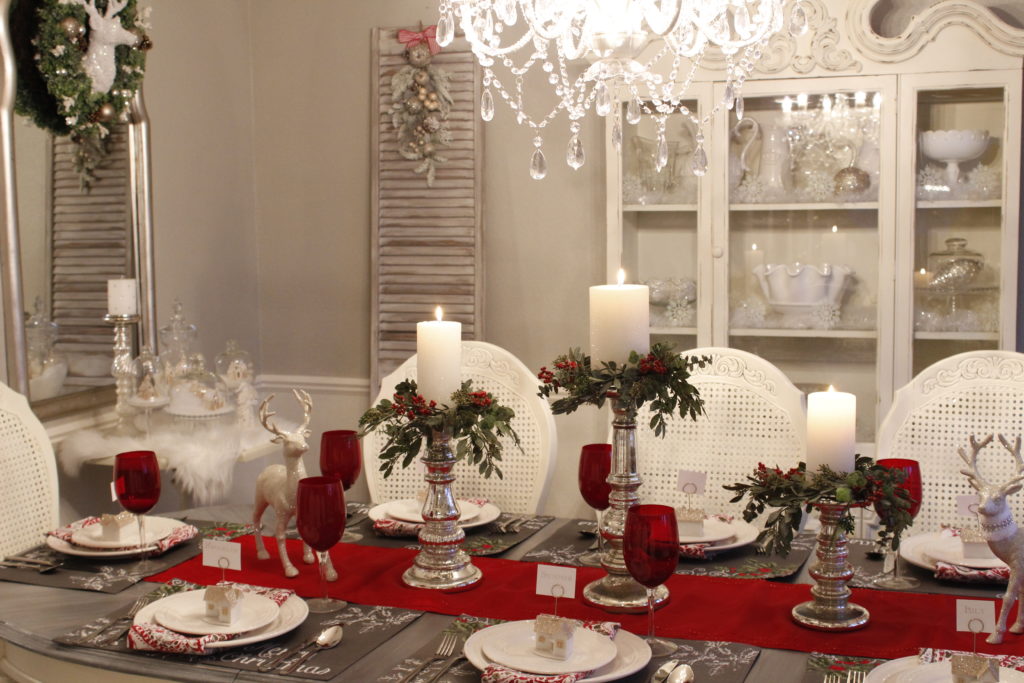 And they were perfect HERE for a candle-lit dinner at Christmas.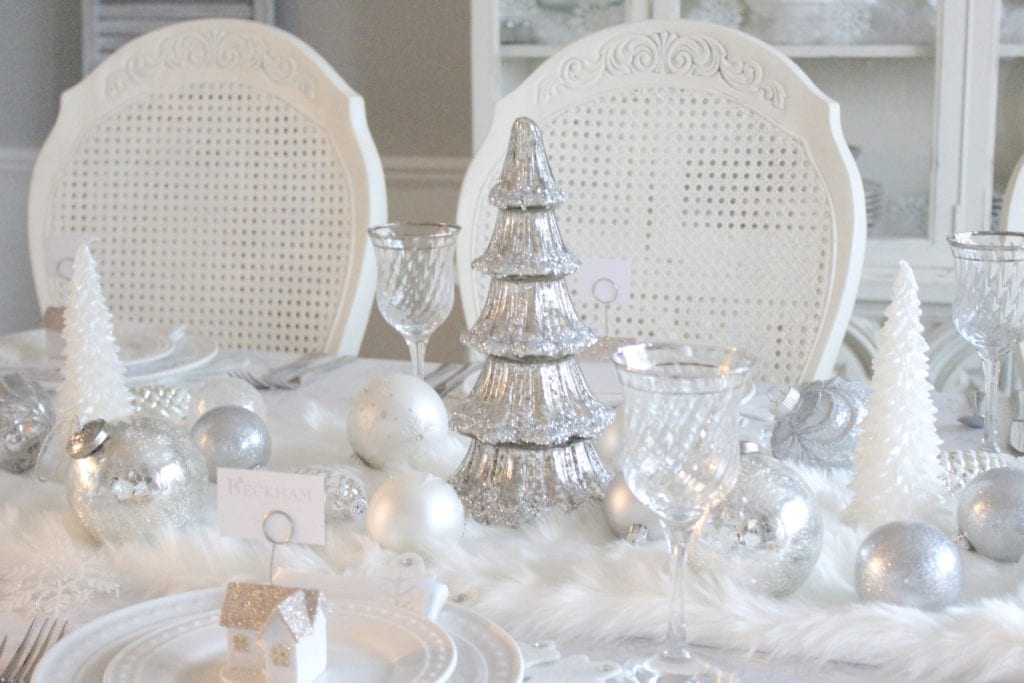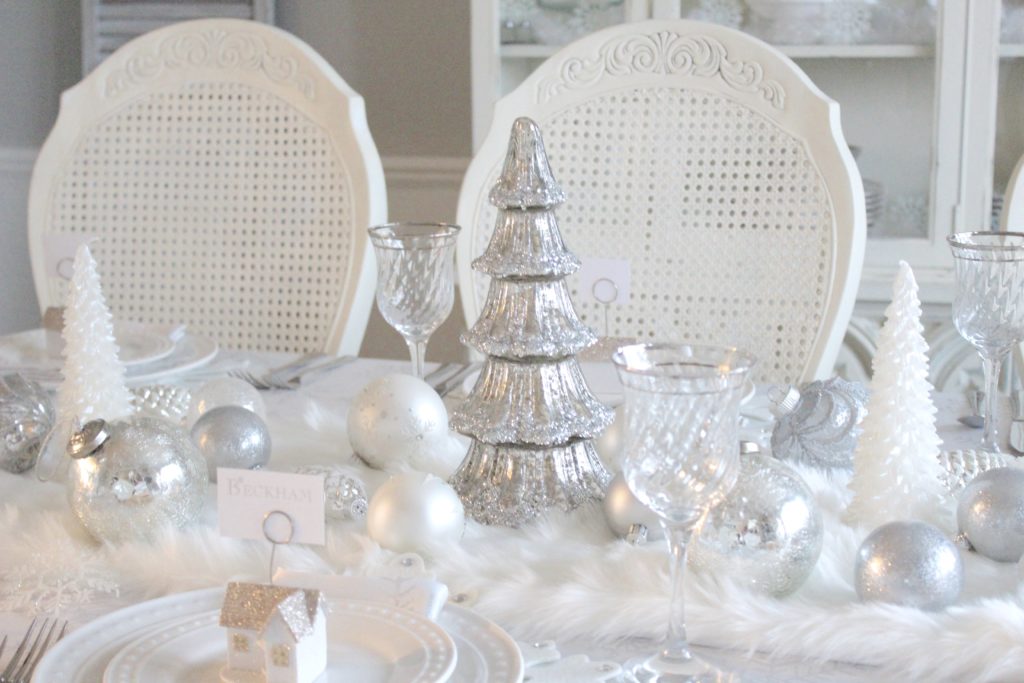 Choose french cottage vintage pieces over rustic pieces, when antique shopping. These gorgeous french cane-back dining chairs were a fabulous find and the perfect option to bring that glamorous and romantic look to my elegant dining table, seen HERE at Christmas. Can you imagine how different this room would look if I'd used cross-back chairs (which I do love but not appropriate for the look I was going for) or something modern? Now, you can add glam to any style! However, the french cottage-style pieces of furniture will really give that elegant look and can add a lot to a more modern room. By mixing styles like that, you are decorating in a "transitional" style.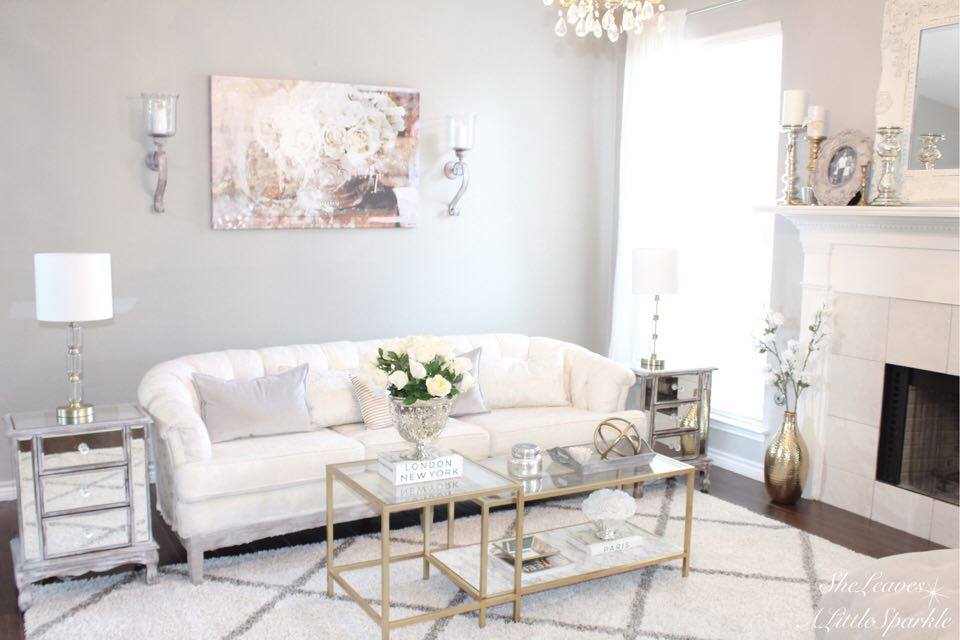 I did that in my Living Room, choosing to mix my vintage ivory tufted sofa with a more modern coffee table.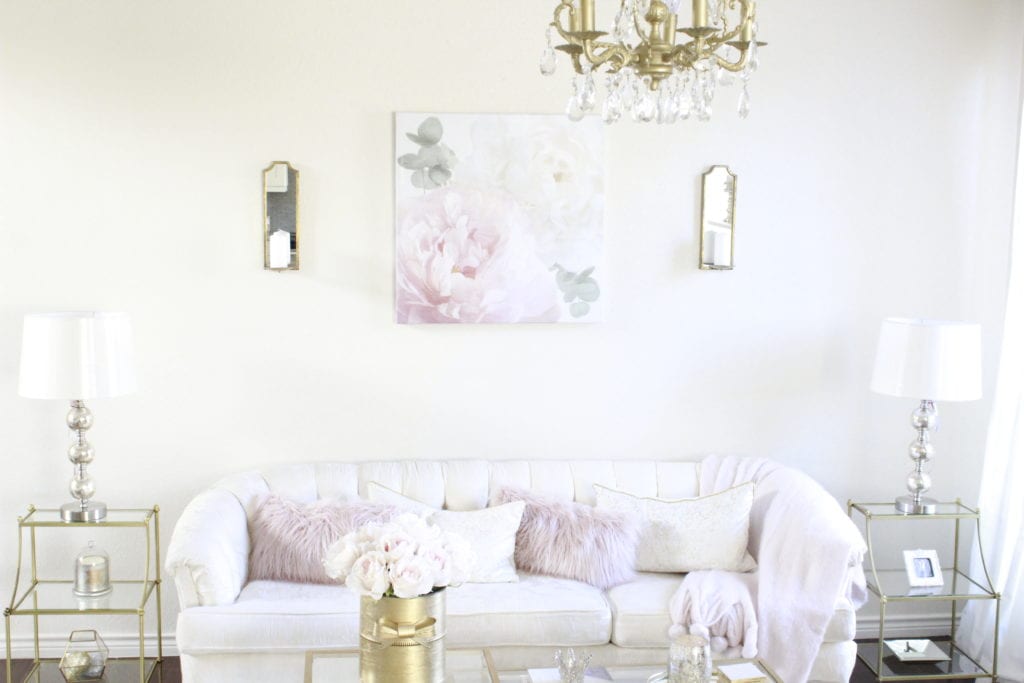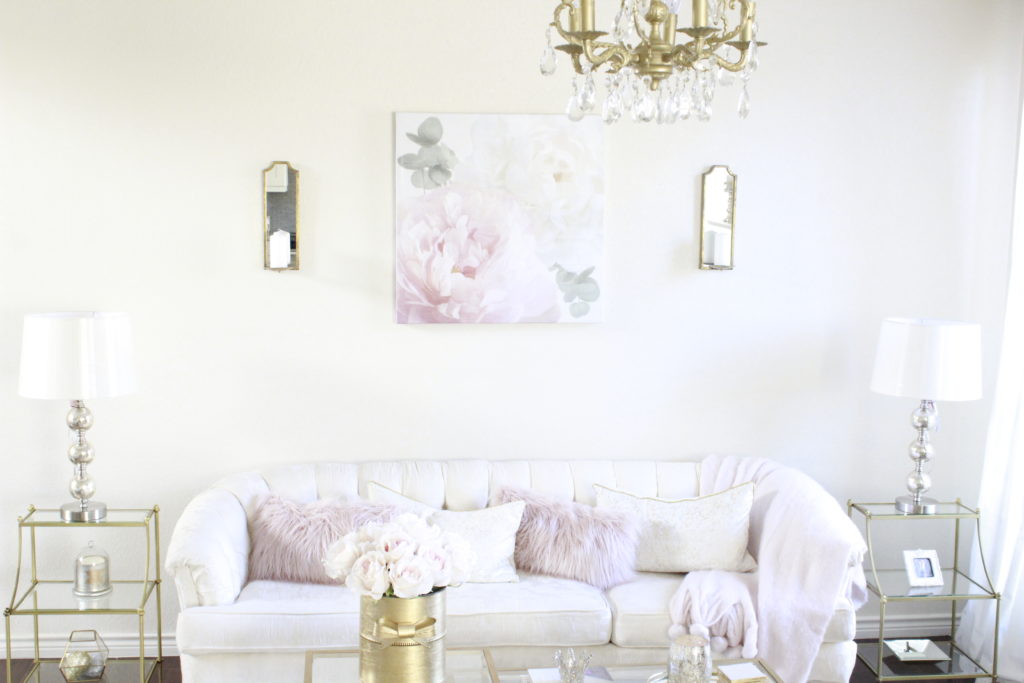 Of course, if you follow me on Instagram, you know I've changed the side tables and lamps and art and sconces again around Valentines, ha! I'm always changing things around!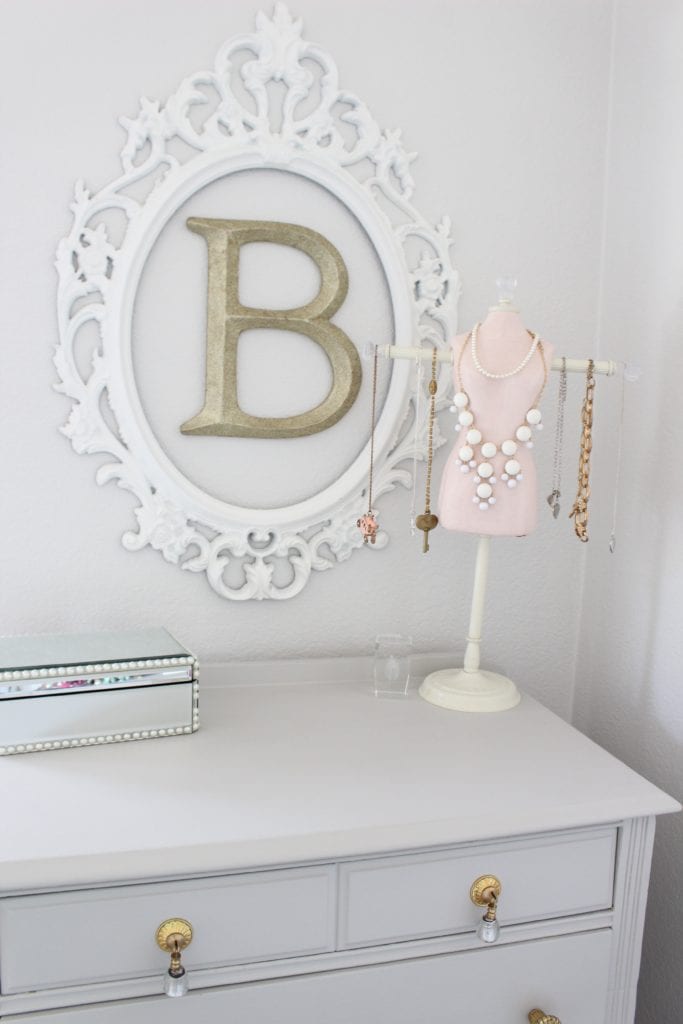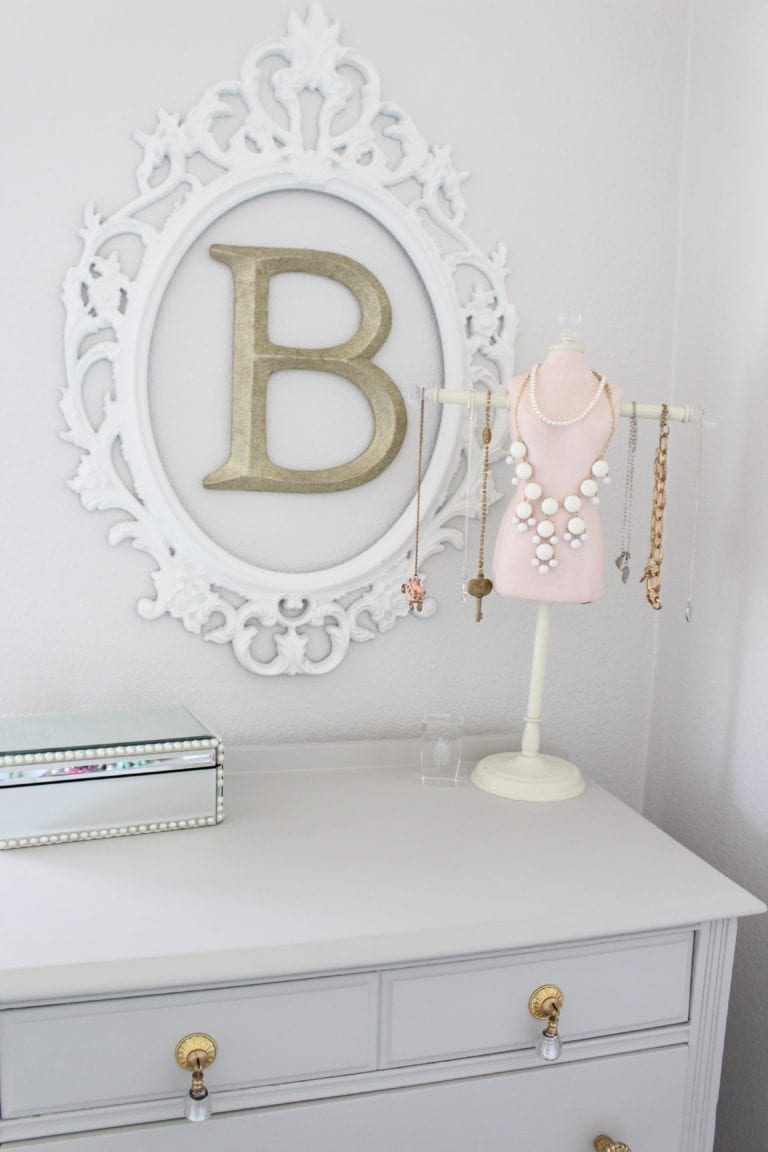 Switch out ordinary drawer knobs and pulls for fancier ones. In Brooklyn's Tween Bedroom Makeover, I shared her painted vintage dresser and how I changed out the boring knobs for these lovely brass and glass ones.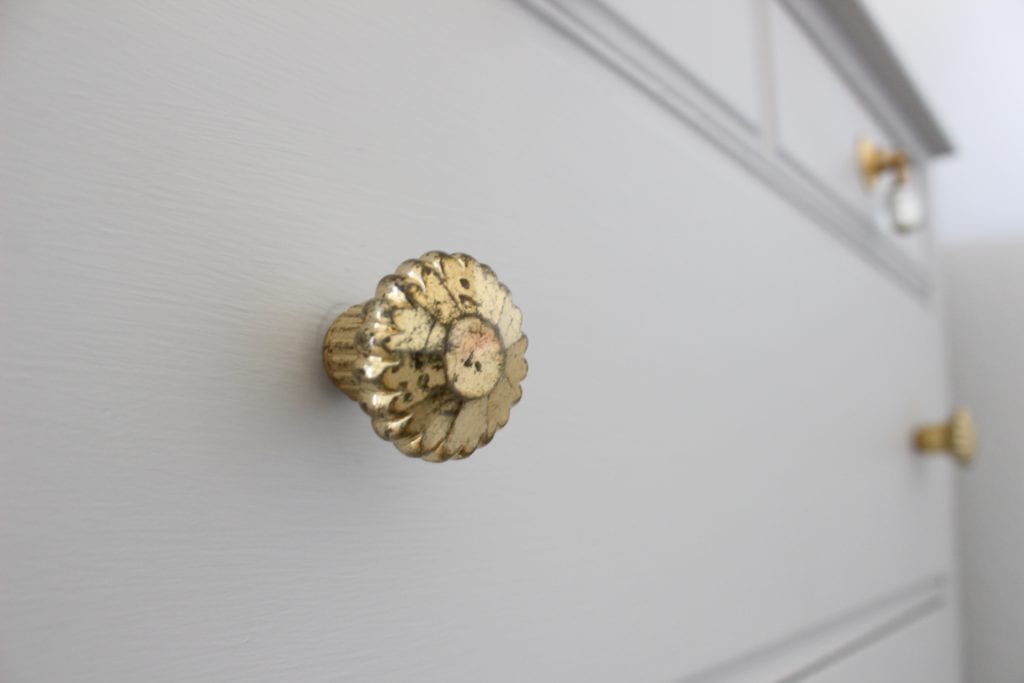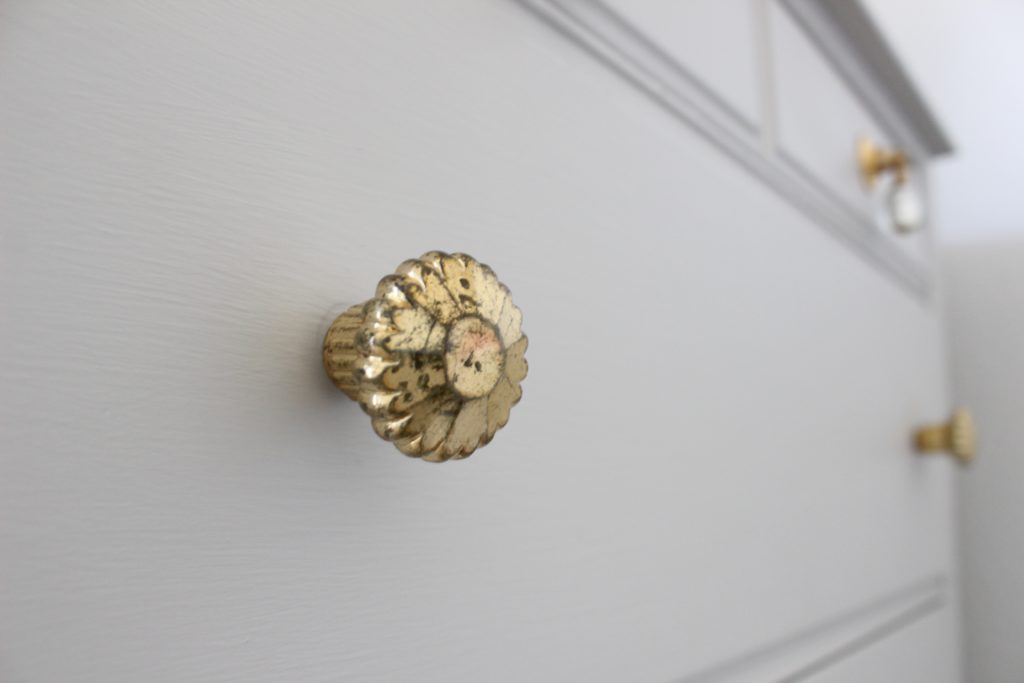 I even switched out all the ones below to these gold mercury glass knobs. Don't they just make it look that much more elegant and feminine?! I'm doing the same thing to my nightstands in my bedroom and I think it's going to look fabulous.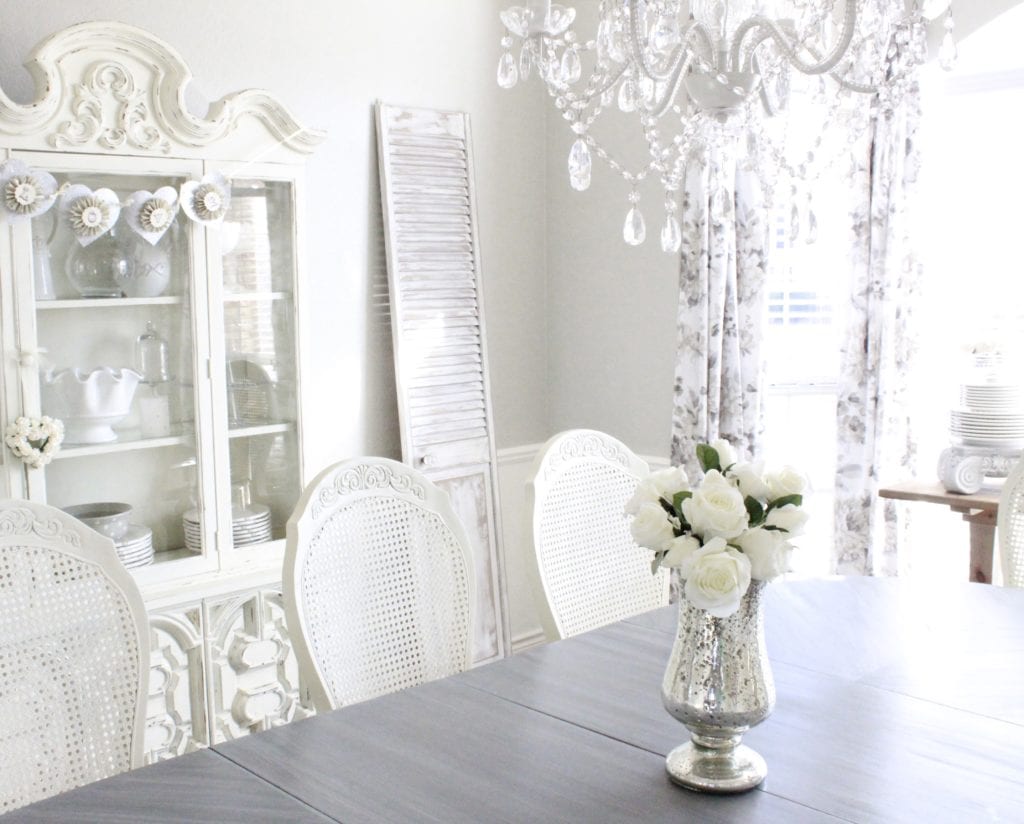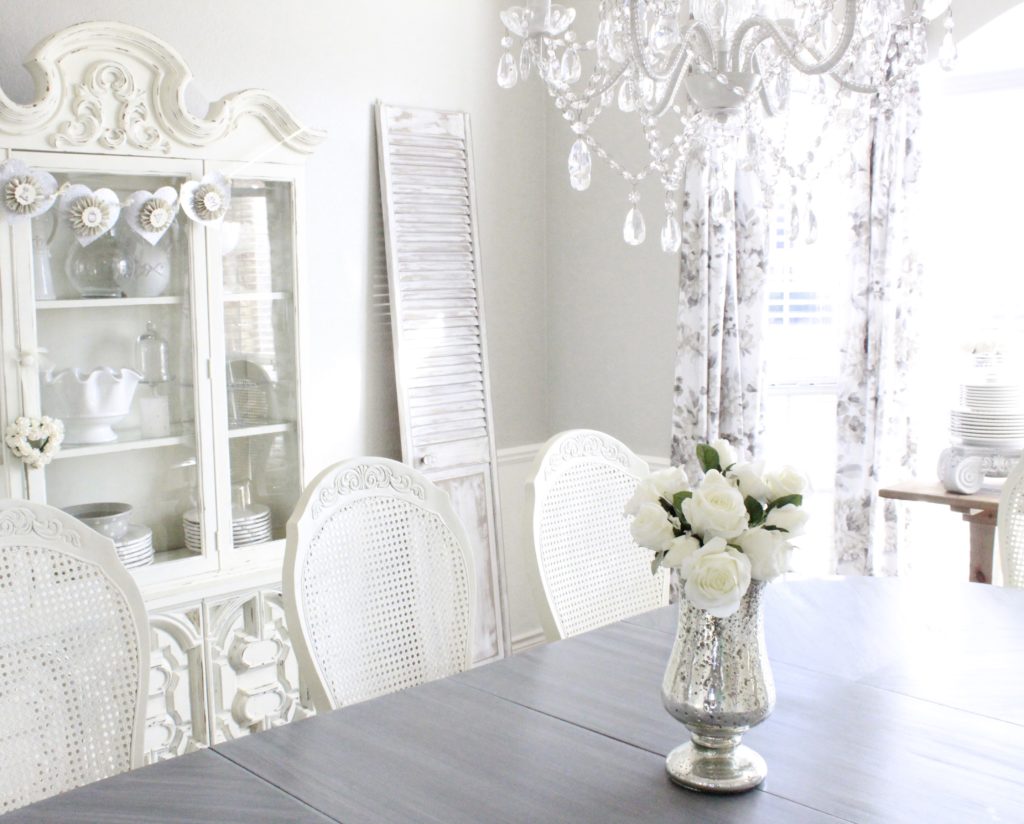 Dress up your windows. In my home, I used white linen-like curtains to outfit the downstairs. However, I wanted something a little more glamorous and elegant in my dining room. I found some gorgeous floral print curtains that were still neutral and would go well in that room and be okay when I added pops of color. I really love the way they changed the feel of the room.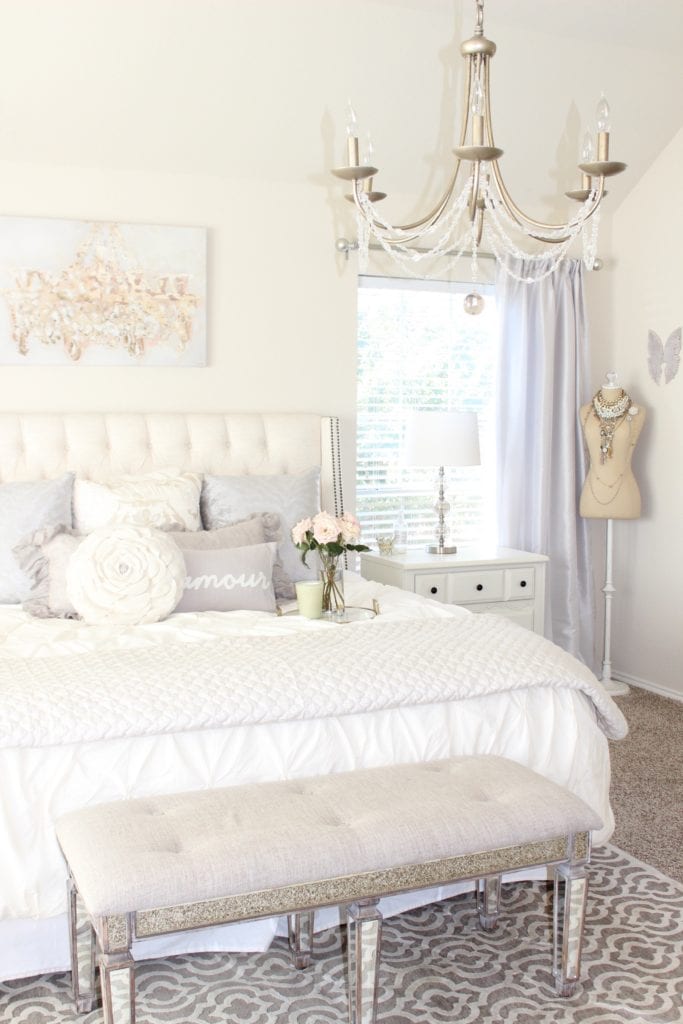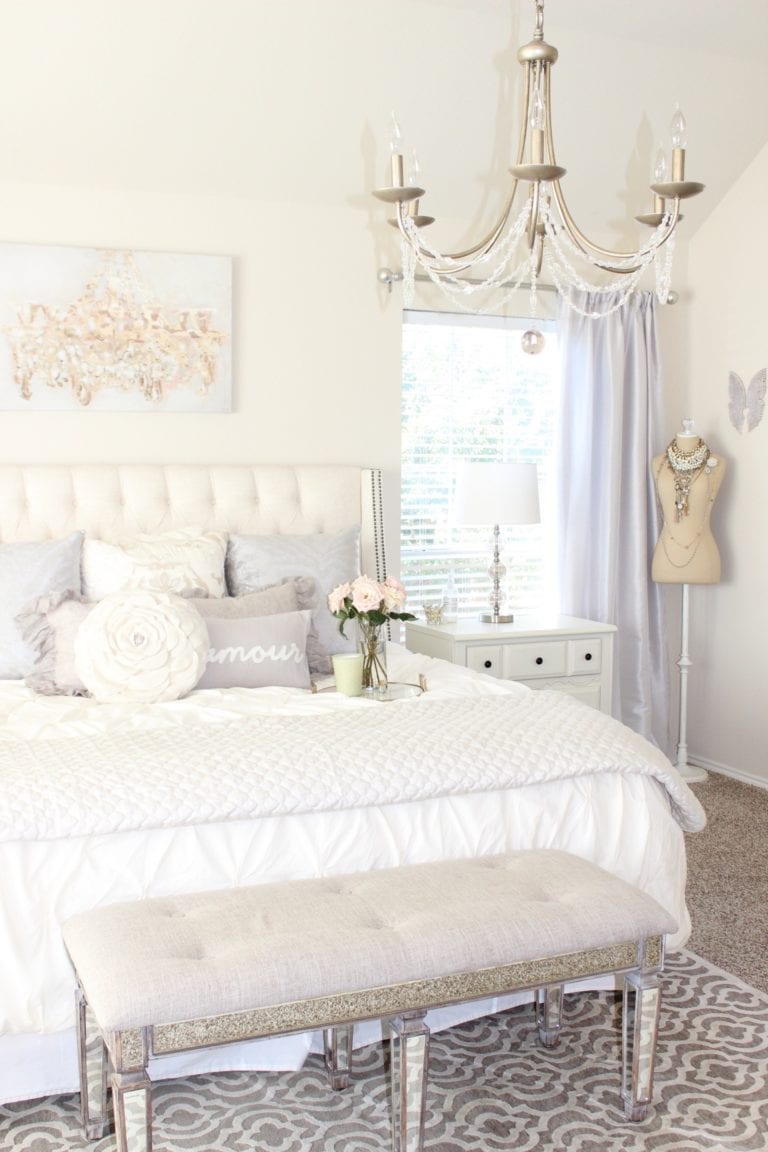 In my bedroom, I added these silver dupioni silk curtains to dress up the room. Dupioni silk is always so luxurious and glamorous.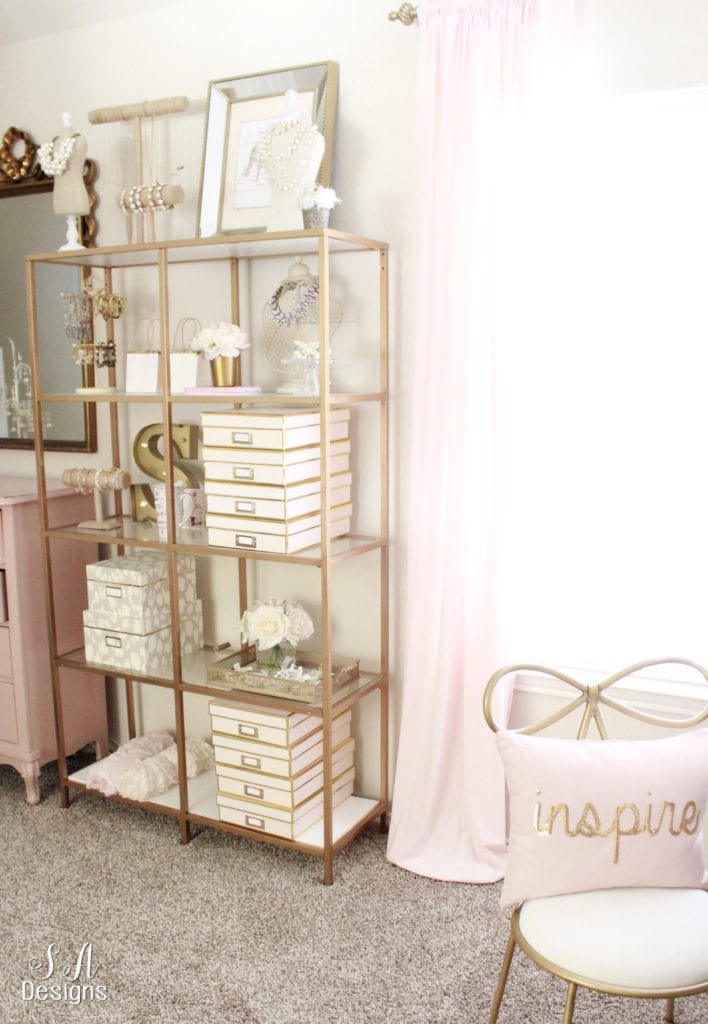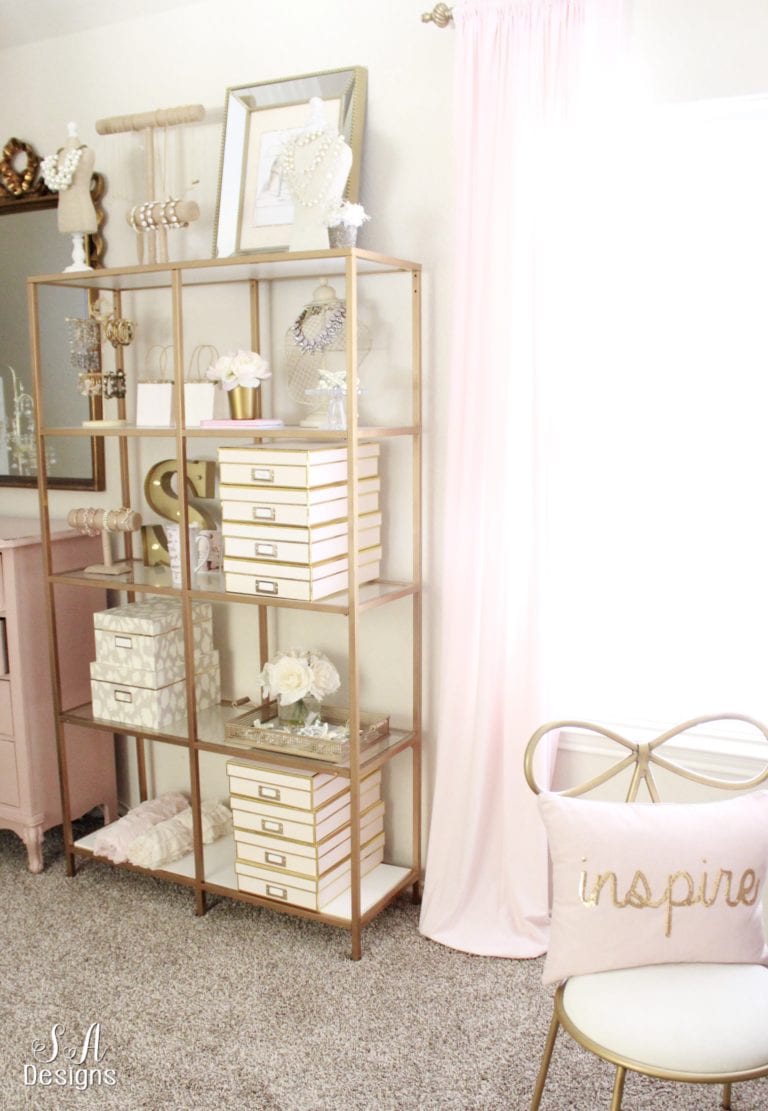 My office has these gorgeous blush silk curtains that I made after visiting a fabric store one day. This is a very feminine and glamorous space all of my own.
See more on Brooklyn's bedroom HERE during Christmas.
Brooklyn's room had a makeover when we moved and these blush curtains were also perfect to add glam to her room. Cotton or twill just wouldn't have done the job. It would have been too ordinary and simple.
See more on my Adding Glam To Christmas Decor HERE.
Leopard is always in style and always chic. There's nothing like a pop of leopard to add a touch of glam to any space. Even the most masculine spaces can become glamorous with just something as simple as a leopard rug or leopard pillows or a leopard chair.


I'm so glad you stopped by and I hope you feel inspired and ready to add more glam to your home and I hope you understand exactly how you'll do it. Go shopping! Think of these helpful tips as you are shopping here online or are out and about, browsing from store to store.
I would love it if you subscribed at the top of the page in order to receive my weekly emails of all my latest posts. You can also follow me on Instagram, Pinterest, and Facebook to see what I'm up to in creating a home and lifestyle of inspiration! See you soon!
xoxo,

*affiliate links used