A new year, a new vanity!  I'd been wanting a new vanity for a while but I've looked at so many different desks and vanities and haven't found one I truly loved.  Or I should say, I hadn't found one I loved that wasn't way out of my price range.  Here is the vanity I had before.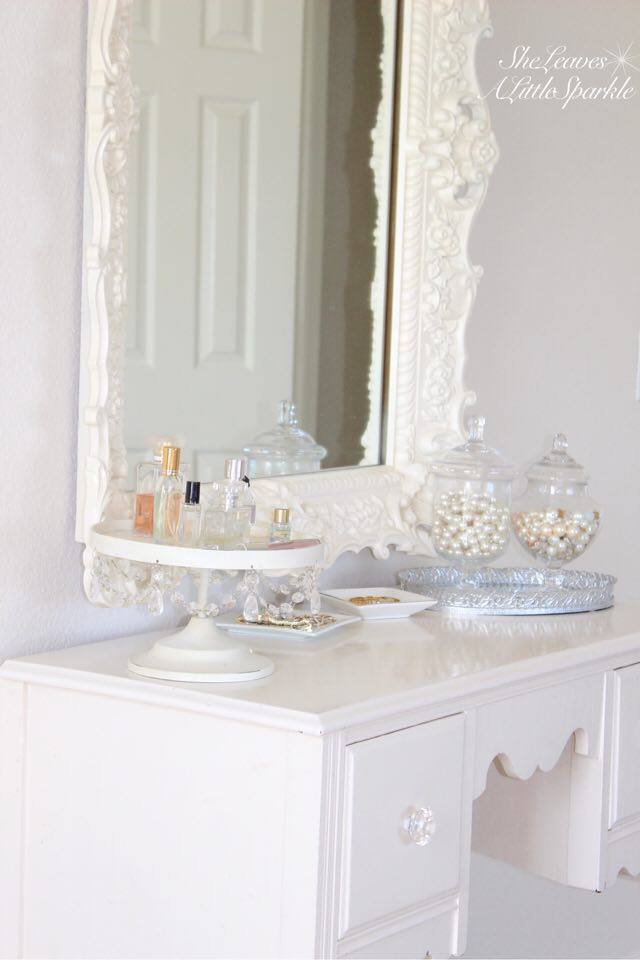 In a blog post called Adding Glam To Your Boudoir, I shared that this vanity was a gift from my mother-in-law for Christmas when we were first married.  It was a vintage piece that had been in the family and I was thrilled to get it because I'd wanted a vanity.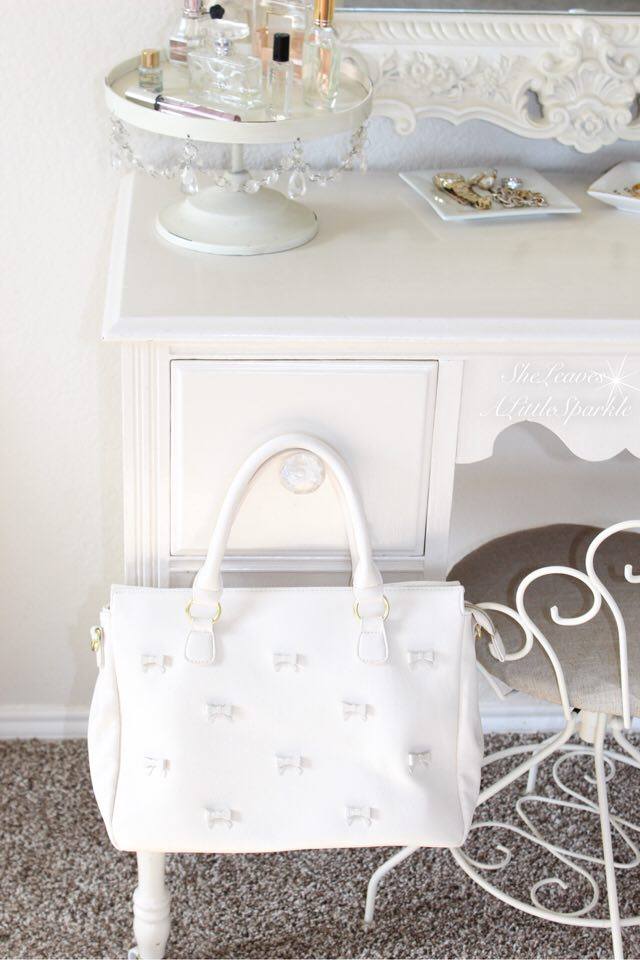 I even shared it decorated with this beautiful swag and jeweled garland in my Christmas Bedroom Decor post a few weeks ago.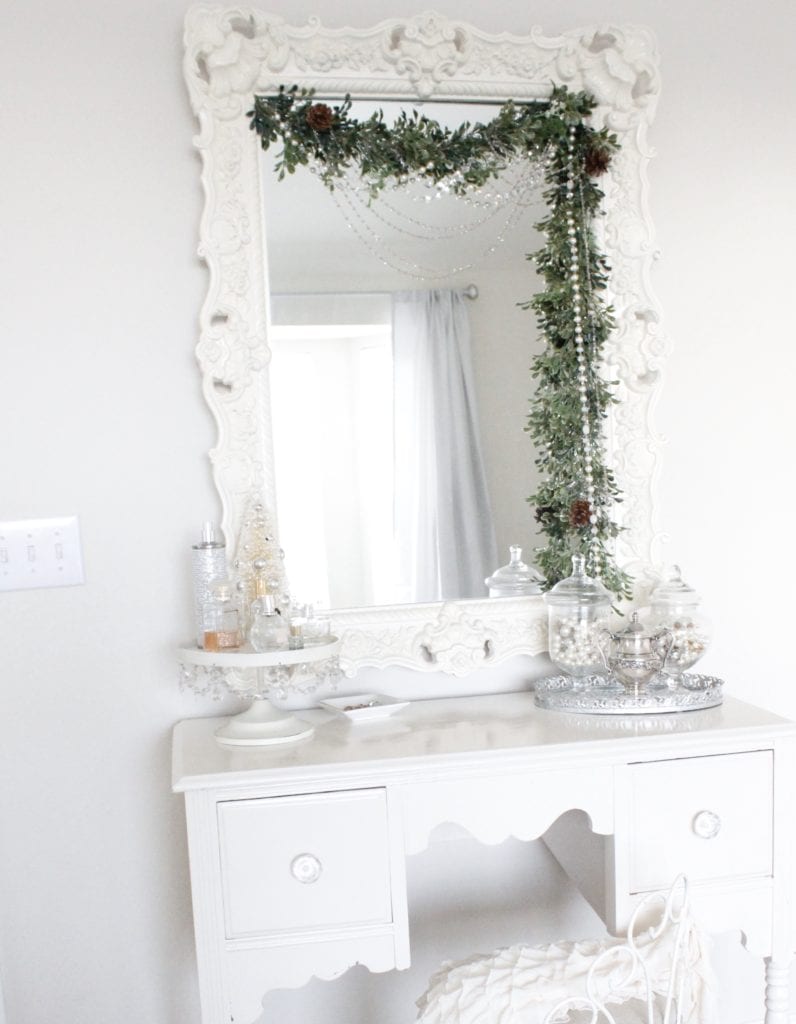 I loved it for years and was grateful for it.  I love things that have sentimental value.  However, it was little narrow and I wanted something a little more elegant and something I really loved.  I'd looked everywhere!  And then I found this beauty yesterday….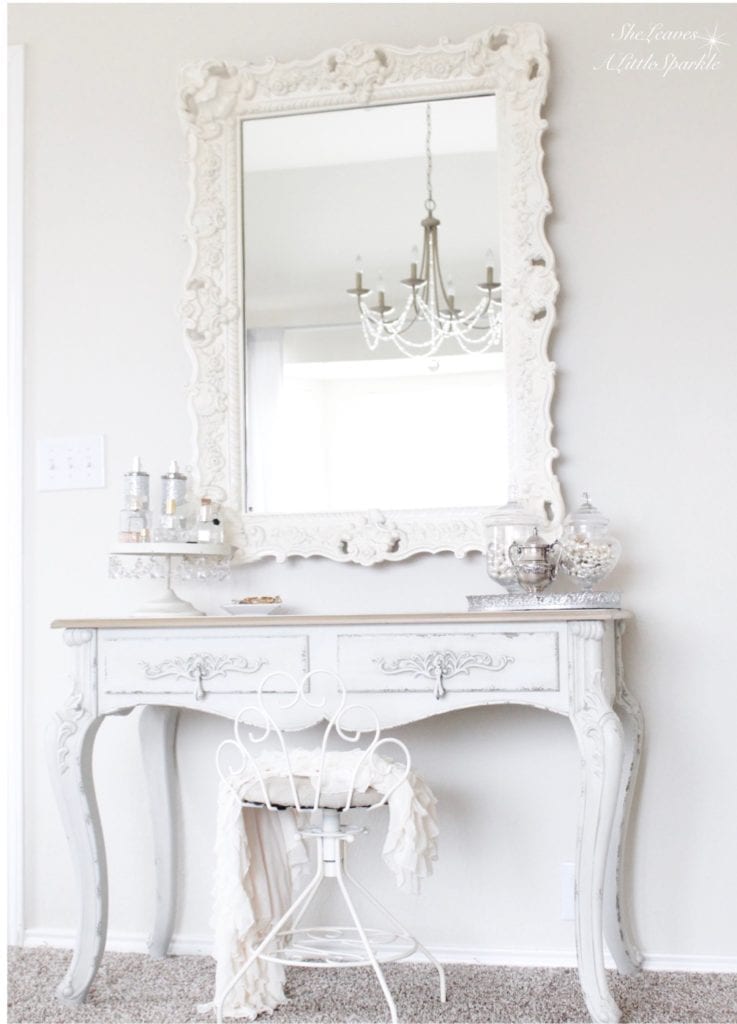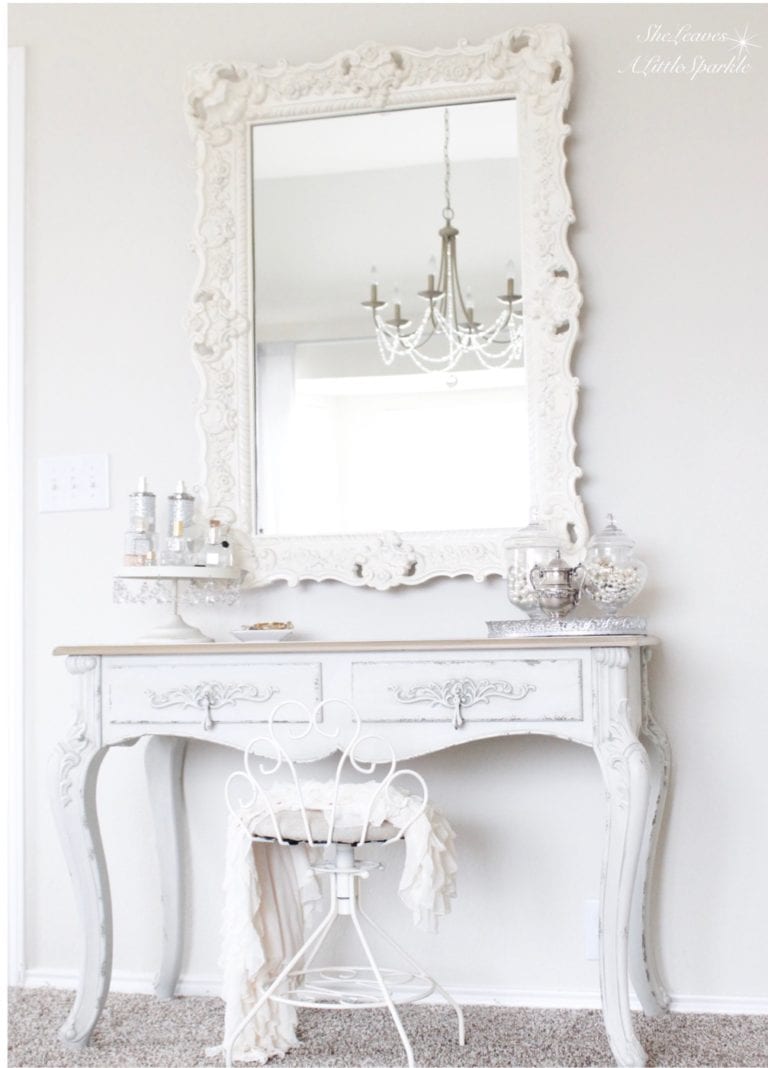 The best thing about finding it is that I wasn't even looking. I was in a store looking for something completely different when I accidentally happened upon it.  Isn't that how it happens?  The best surprises come when you're least expecting them! Seeing it was like seeing my husband for the first time and thinking, "this is the one!" Ha!  Seriously though, I love it.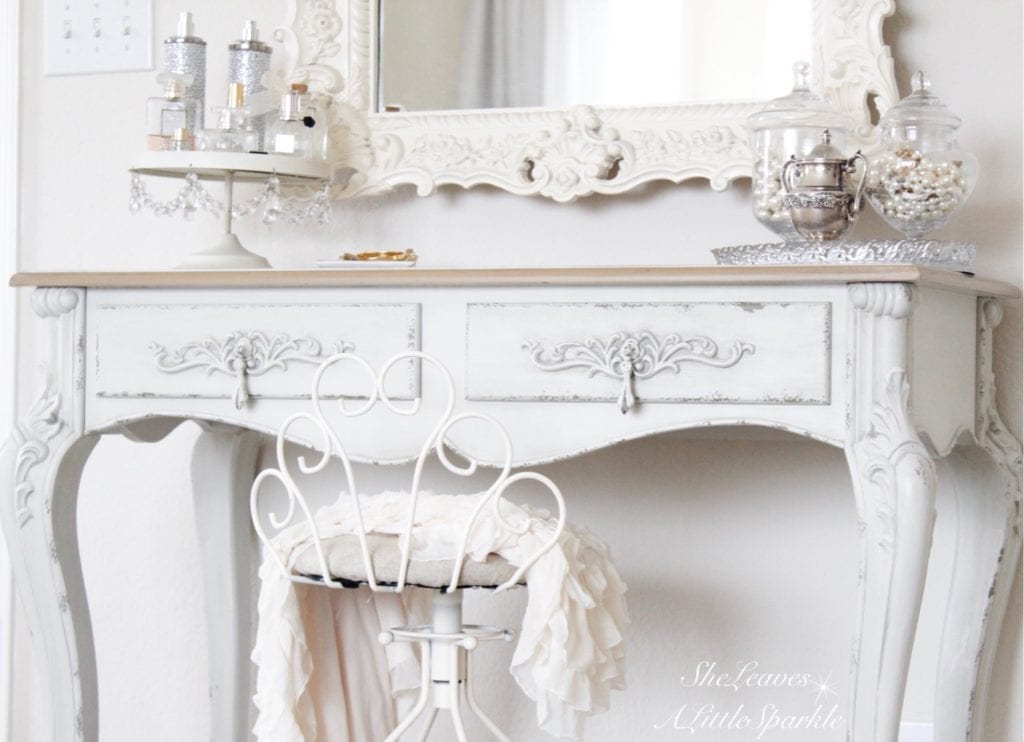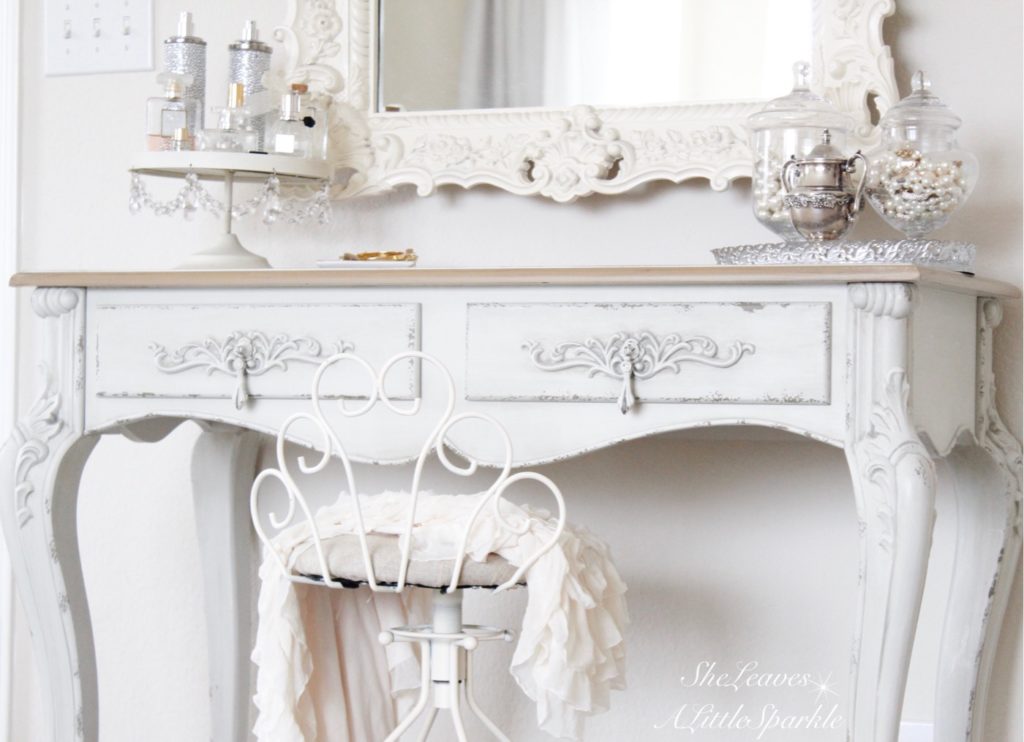 I love the french details and the vintage look of it.  The light grey goes perfectly with the rest of my room.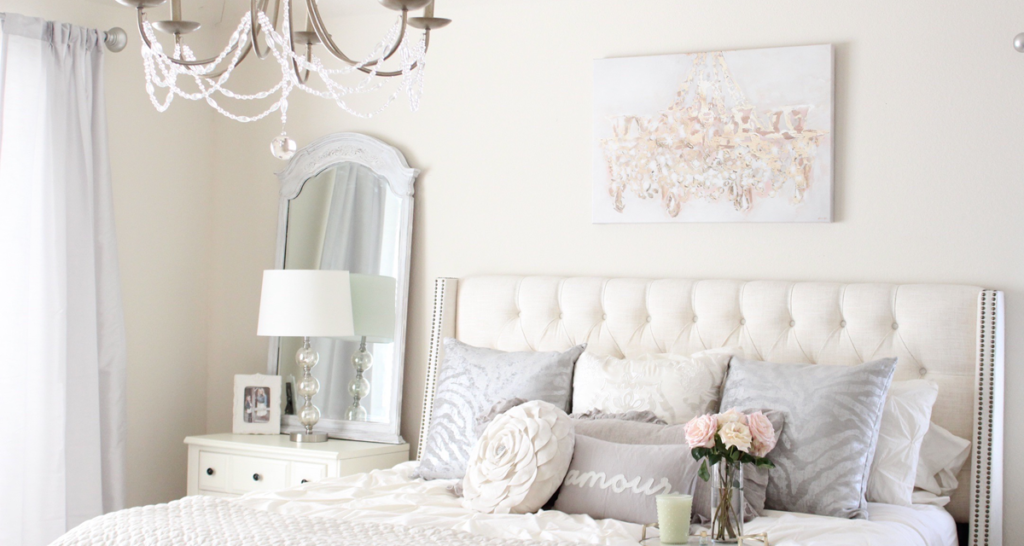 While the ivory and cream tones in my room might be warm and the greys and winter golds are cooler tones, I just love mixing them!  I like the depth it gives my room and how the difference in tones almost gives that feel that a "pop of color" gives a room.  It's serene and calming and relaxing.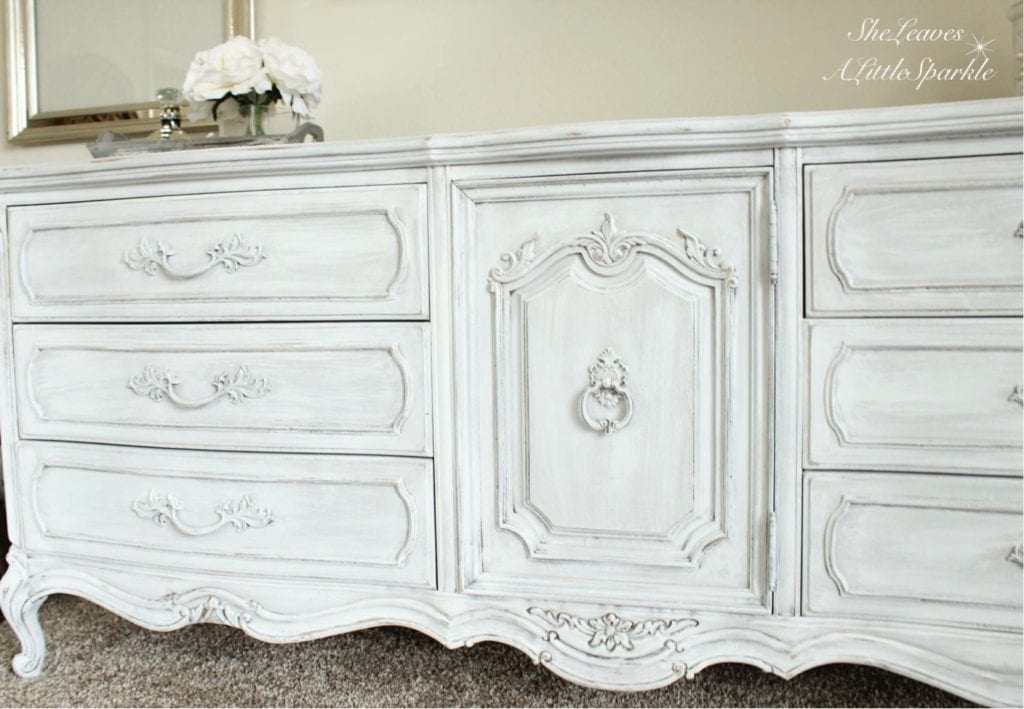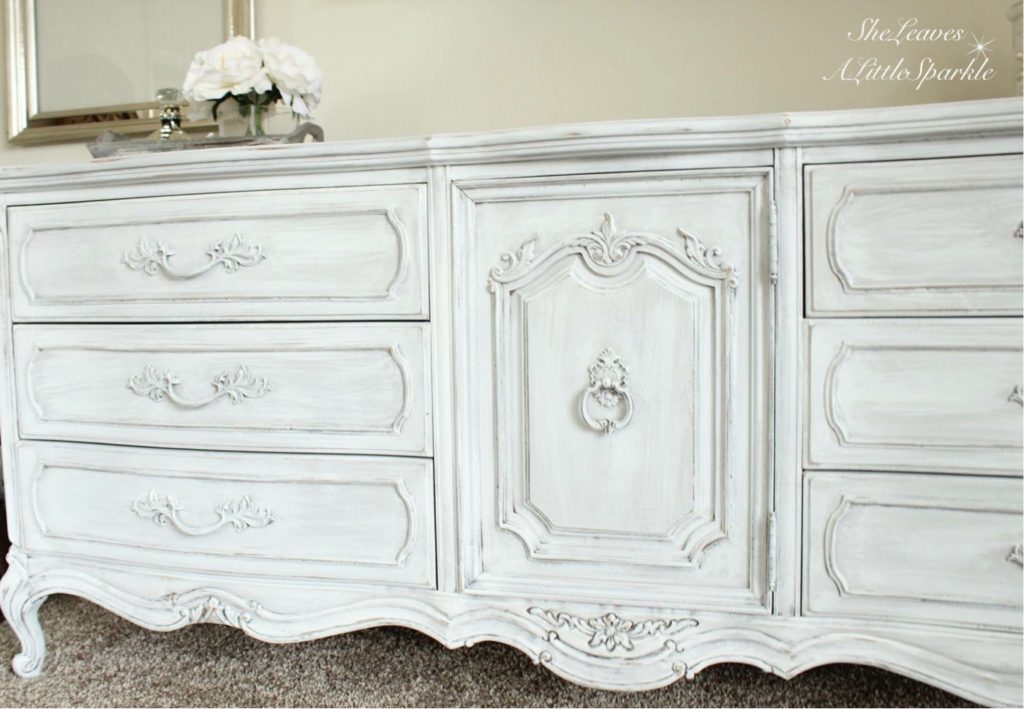 My vanity also compliments my vintage french provincial dresser (found on Craigslist) well and helps tie it in to the bedroom.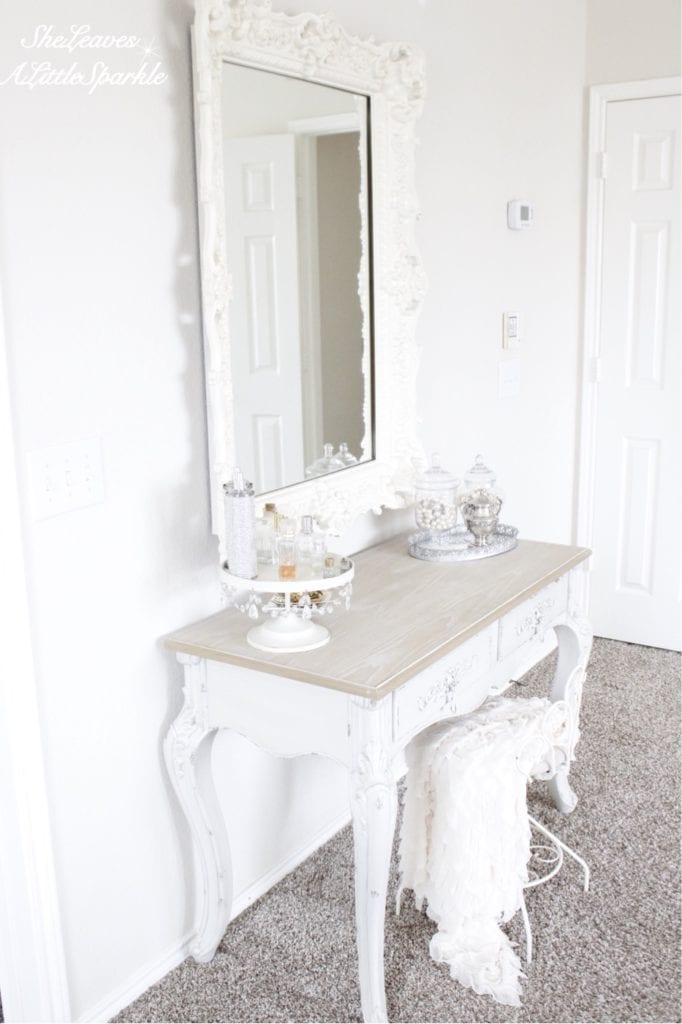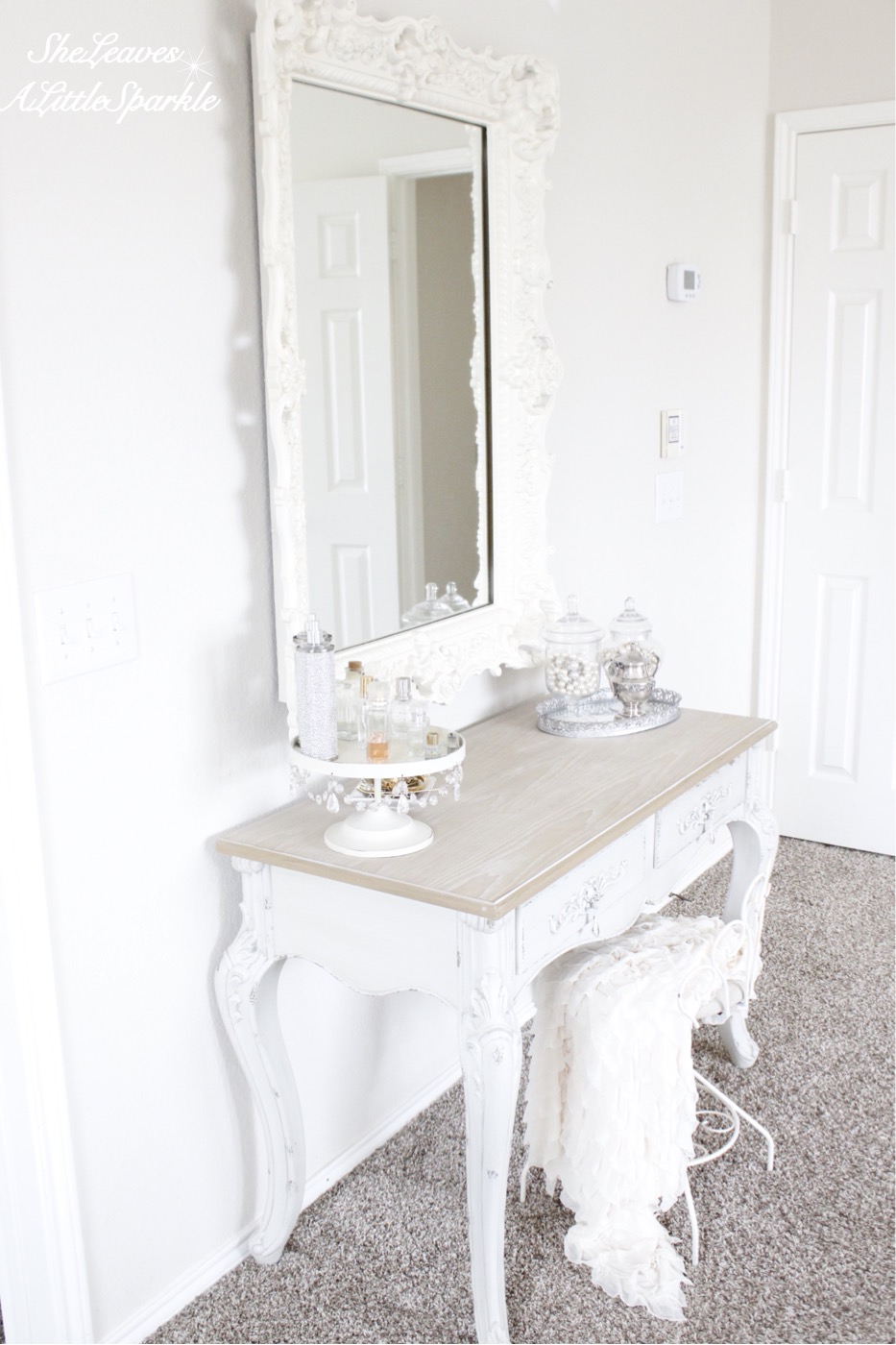 I actually brought home a beaded rectangle beveled mirror but to switch out as well and it was gorgeous.  However, it did not do this space, or desk, justice like the ornate ivory vintage one did.  So I took the mirror back and kept this one that I love so much.  I love french cottage furniture.  It's so romantic and elegant and feminine.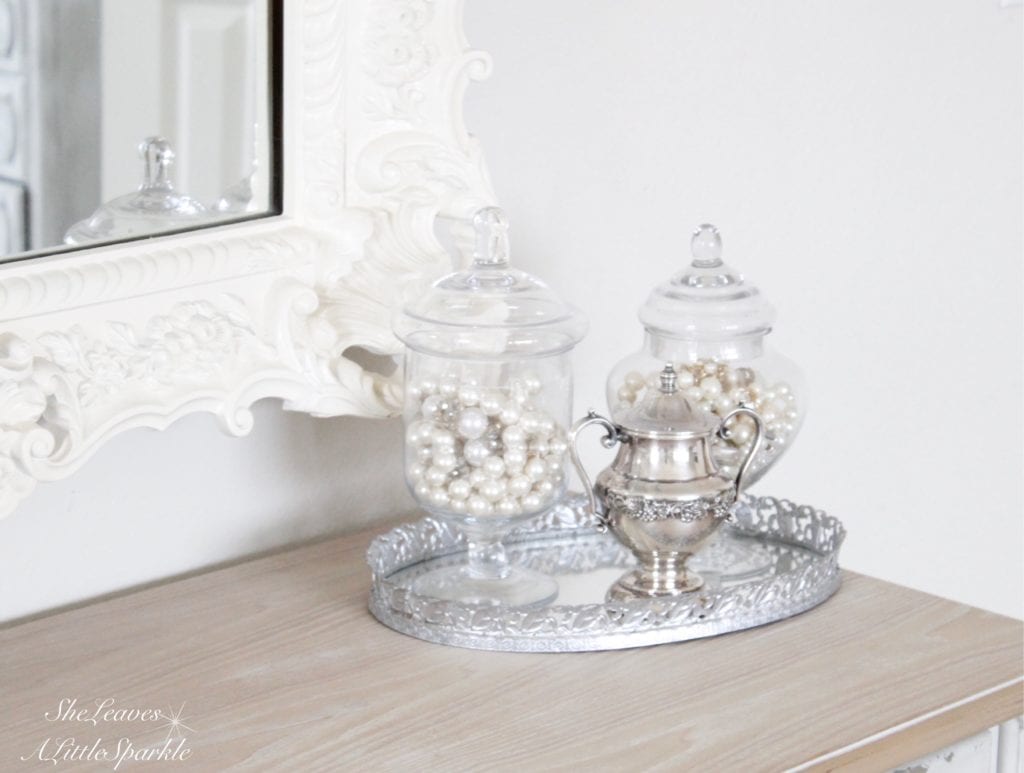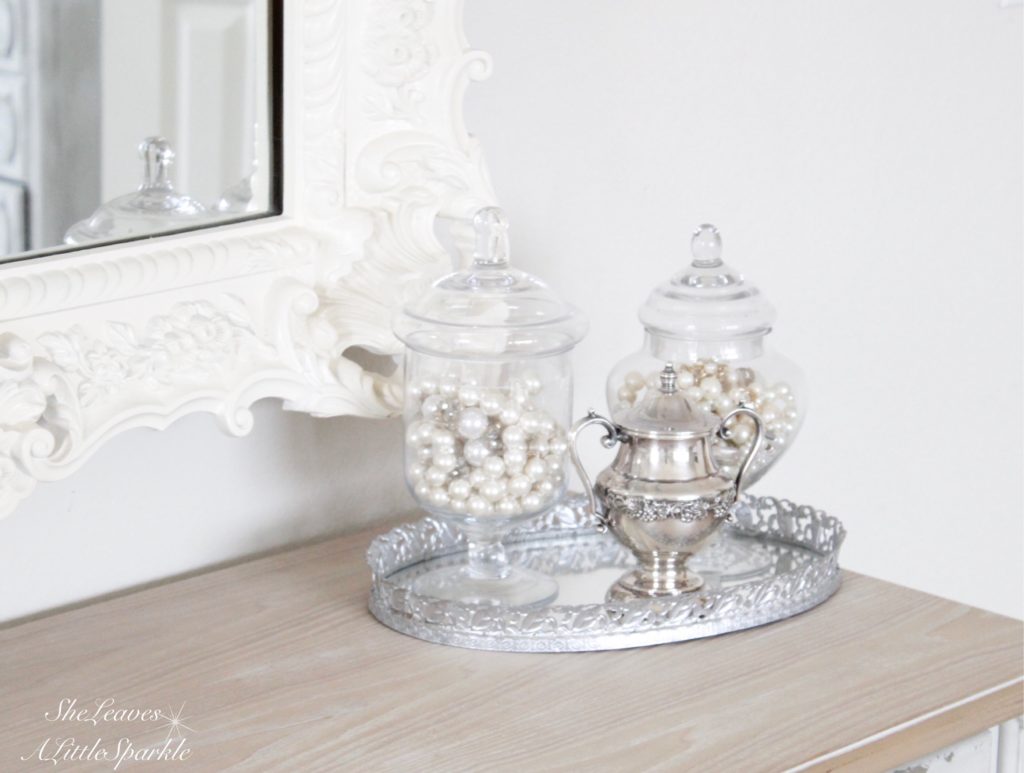 I put back my jewelry display,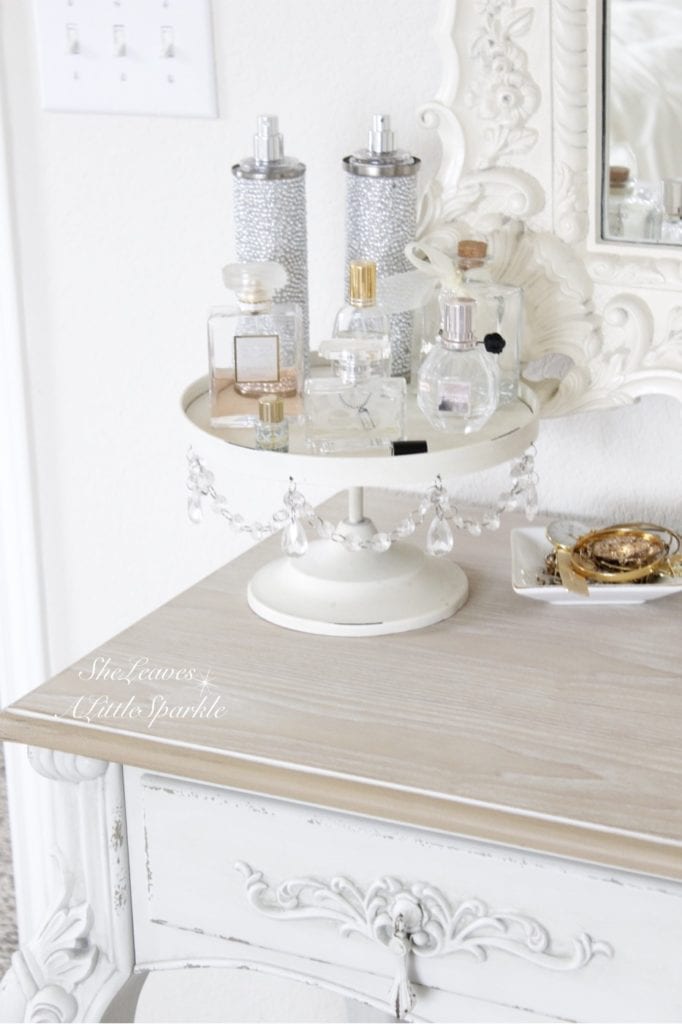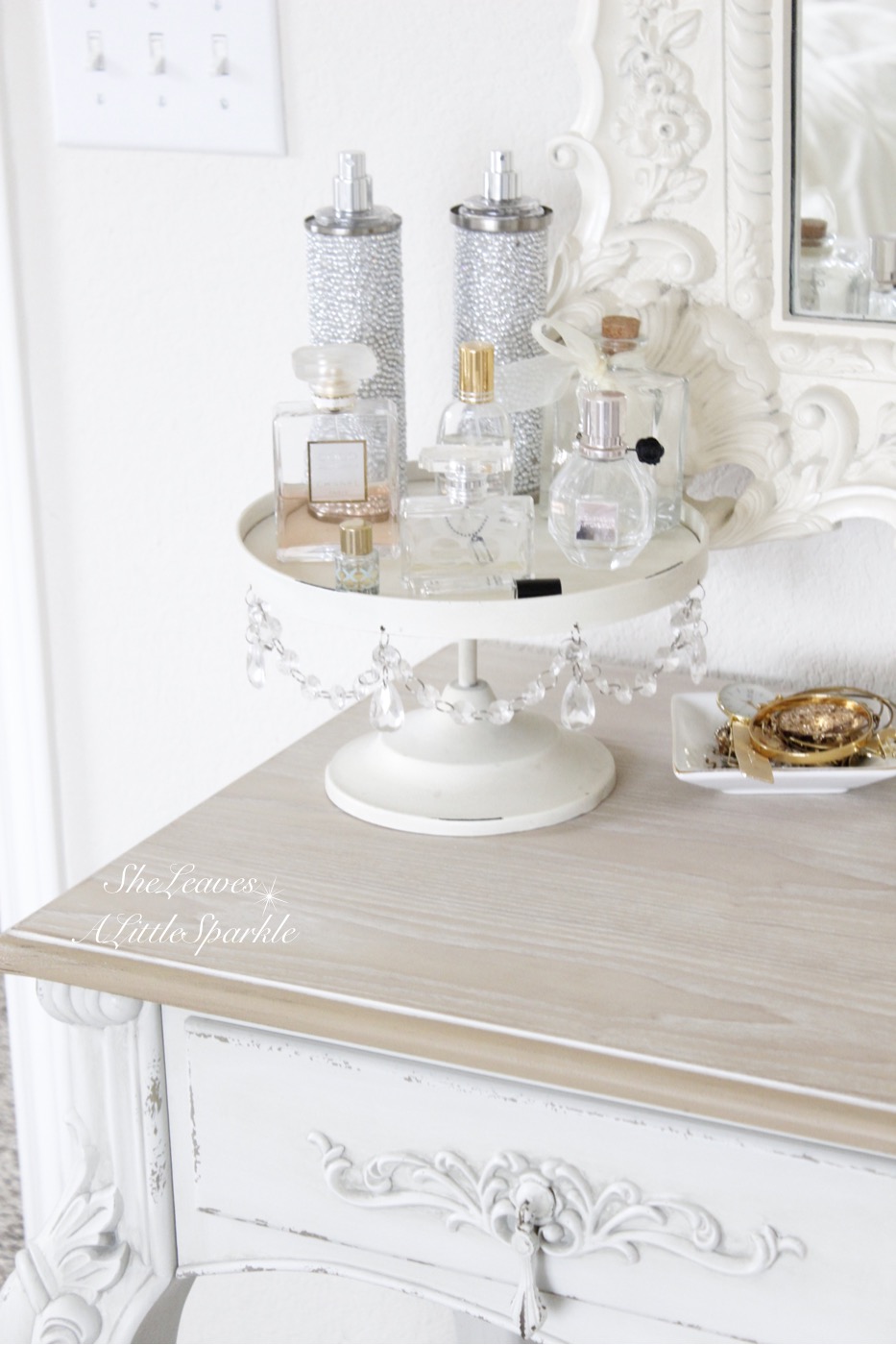 and I put back my perfume stand and jewelry dish,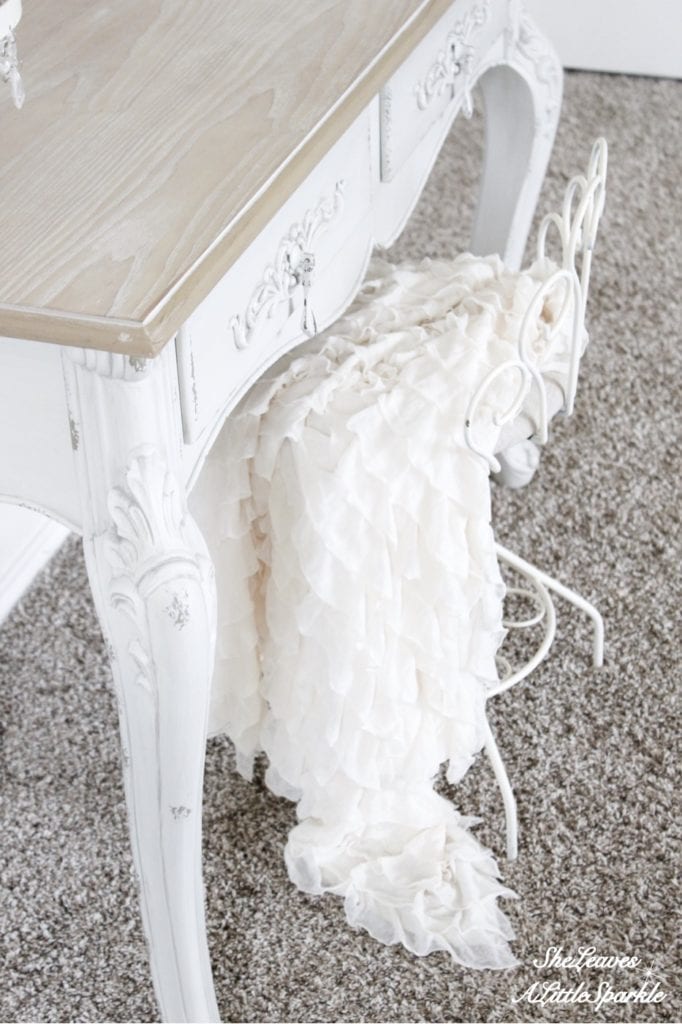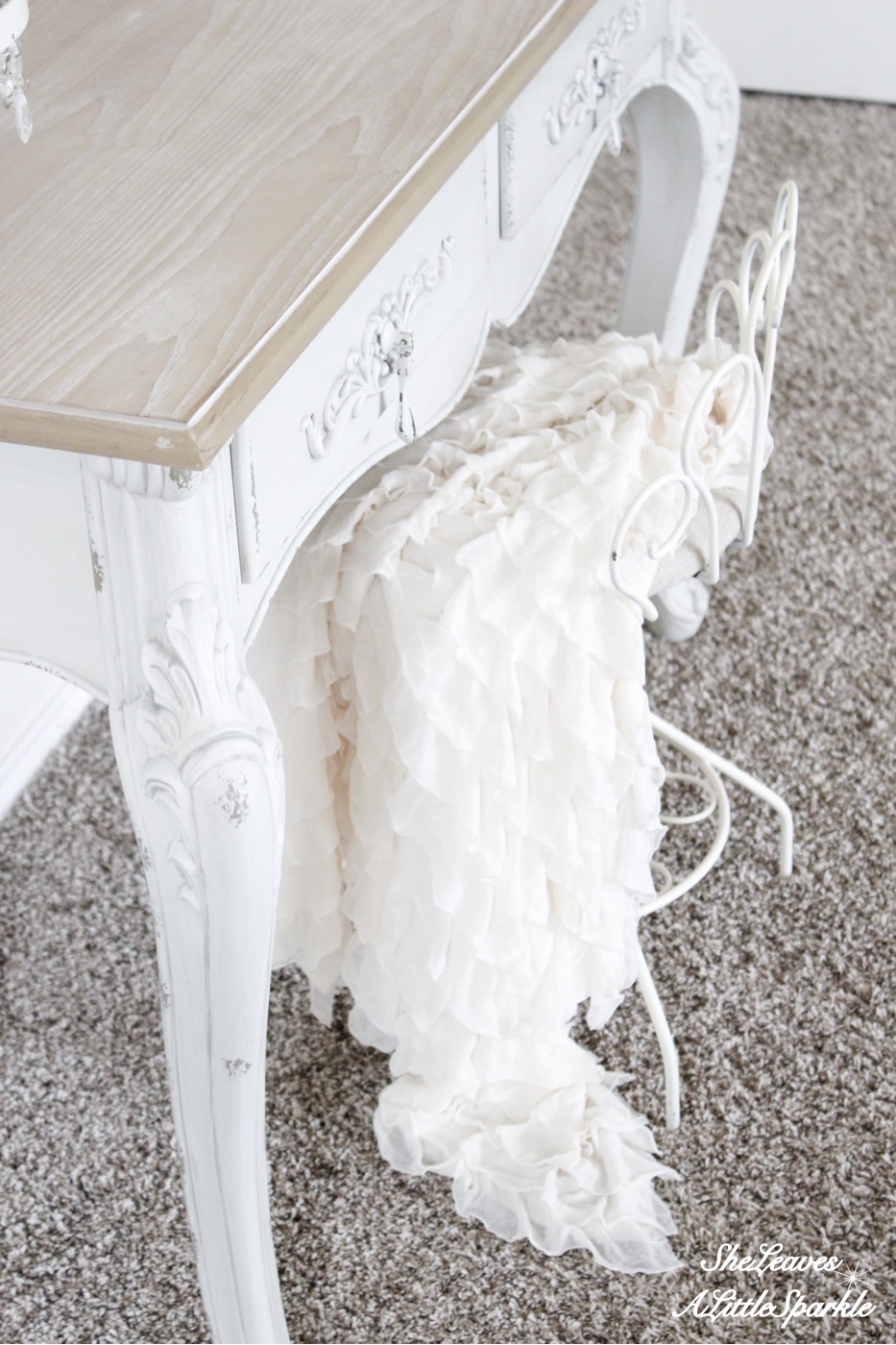 and then threw my favorite Ruffle Throw Blanket from my online shoppe over my vintage vanity chair.  I'm actually looking for a different chair but I haven't found what I'm looking for yet.  I'll update my post when I do and let you all know.
The rest of the bedroom….
A few years ago we finally upgraded from a queen to king bed.  We thought we never wanted anything bigger than a queen but we wanted a new mattress and headboard anyway so we decided to take the leap.  WOW.  What were we thinking, waiting so long?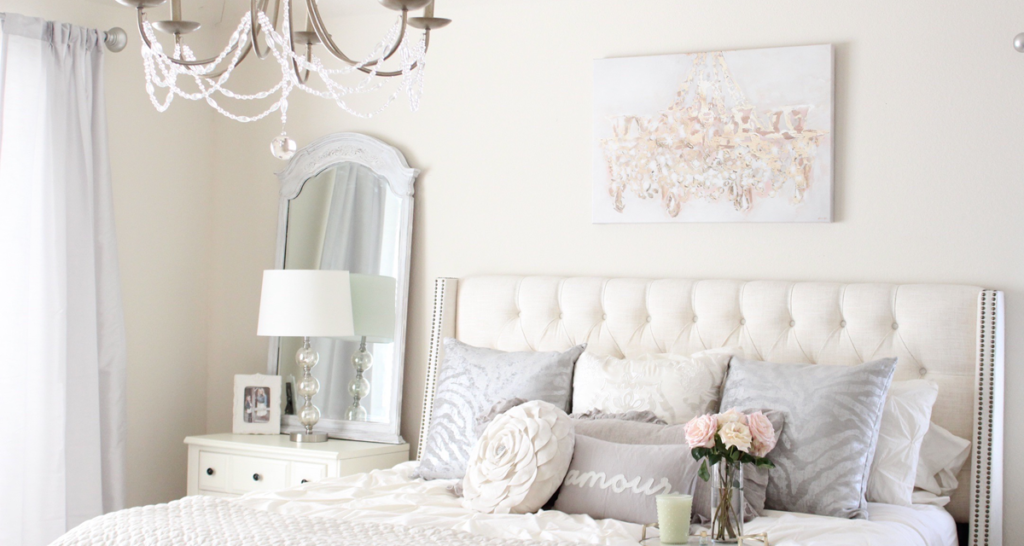 I picked an ivory tufted headboard with nailhead trim, a pin tuck duvet cover, some fabulous pillows, and a shimmery taupe quilt on the end.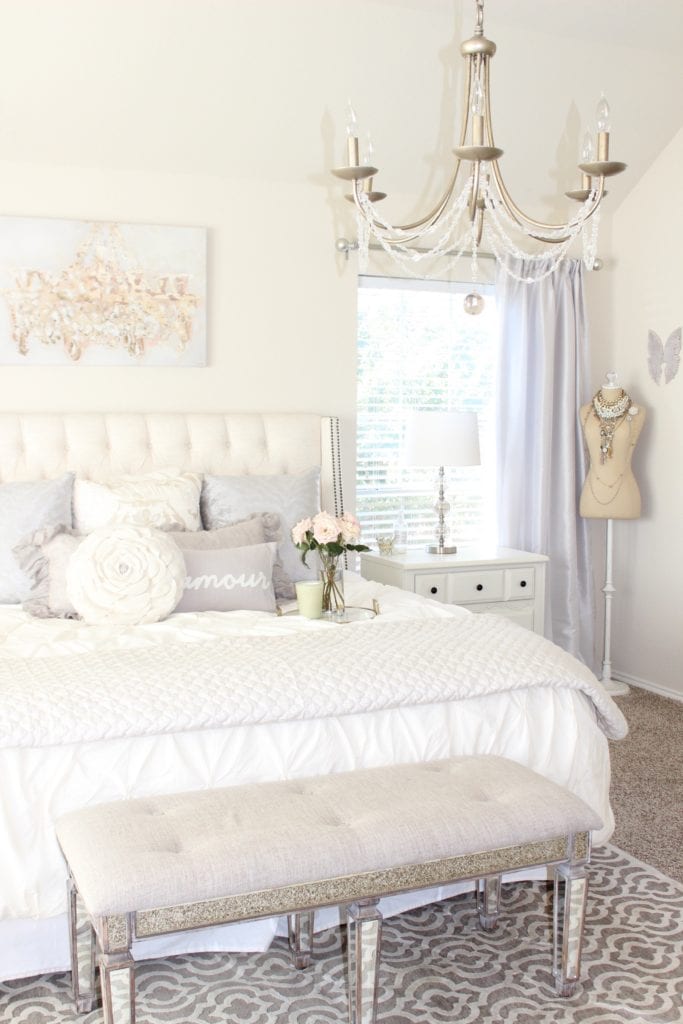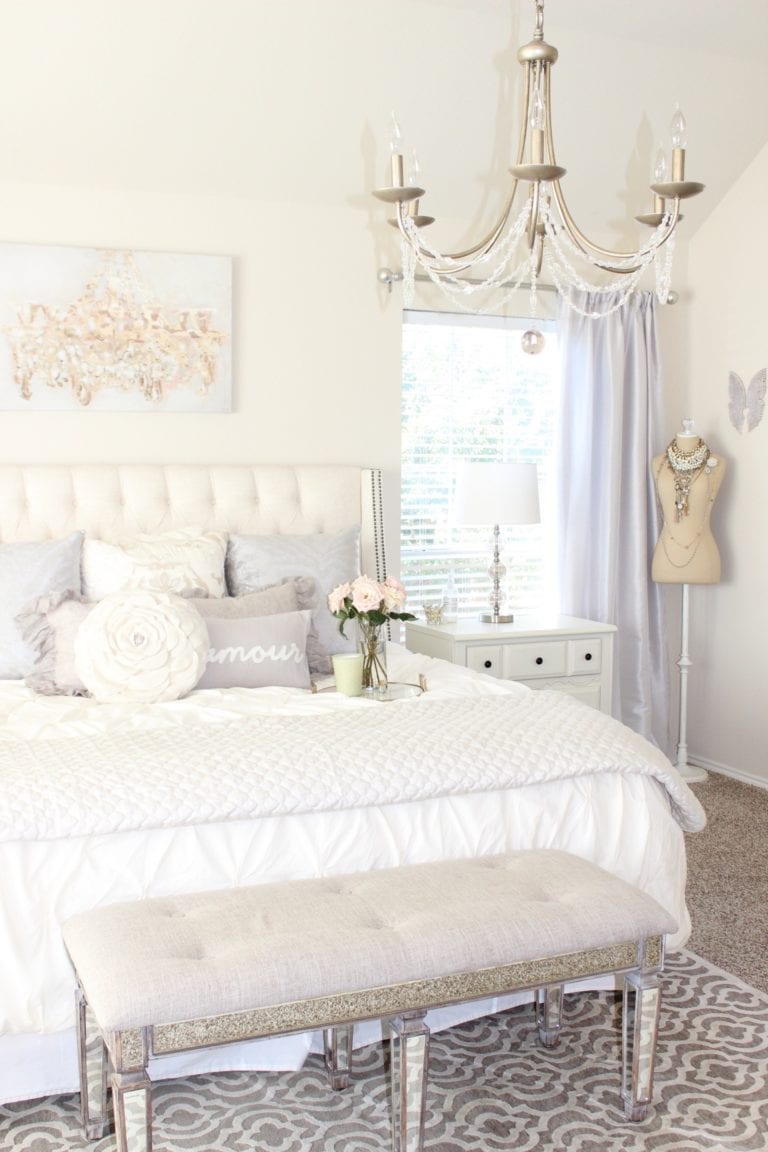 I've wanted mirrored nightstands but I'm quite content with my large vintage nightstands for now so I chose a mirrored bench with linen tufting on top. I'm waiting till our next home (since this is temporary) to choose a different rug but this one works for now, since I no longer needed it downstairs, and brought a fun modern touch to this french-style room.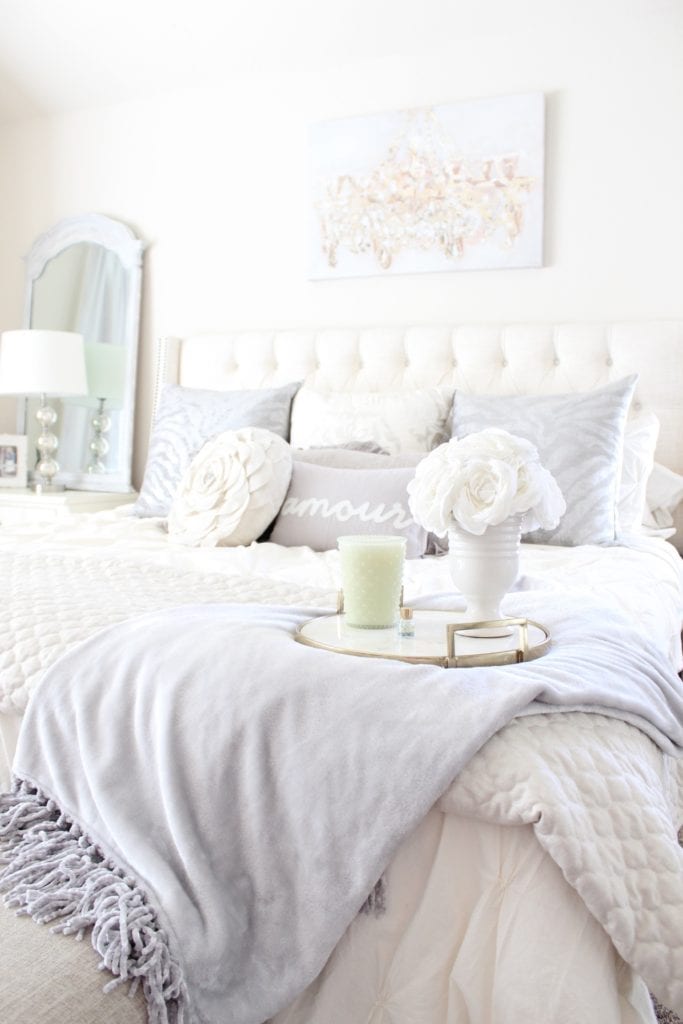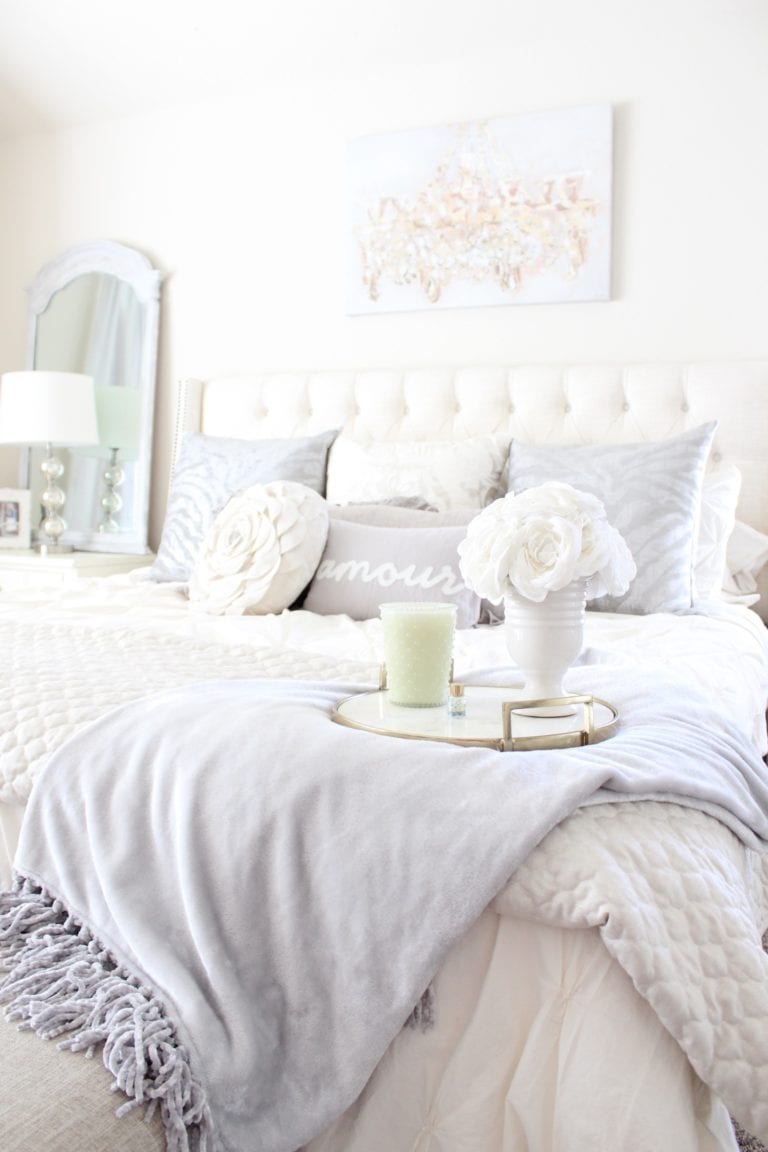 Often times, like this fall, I'll switch out a throw blanket on the end of my bed.  This gorgeous, cozy chenille throw was a perfect choice for the winter when I'm sitting on my bed watching TV or working on my laptop.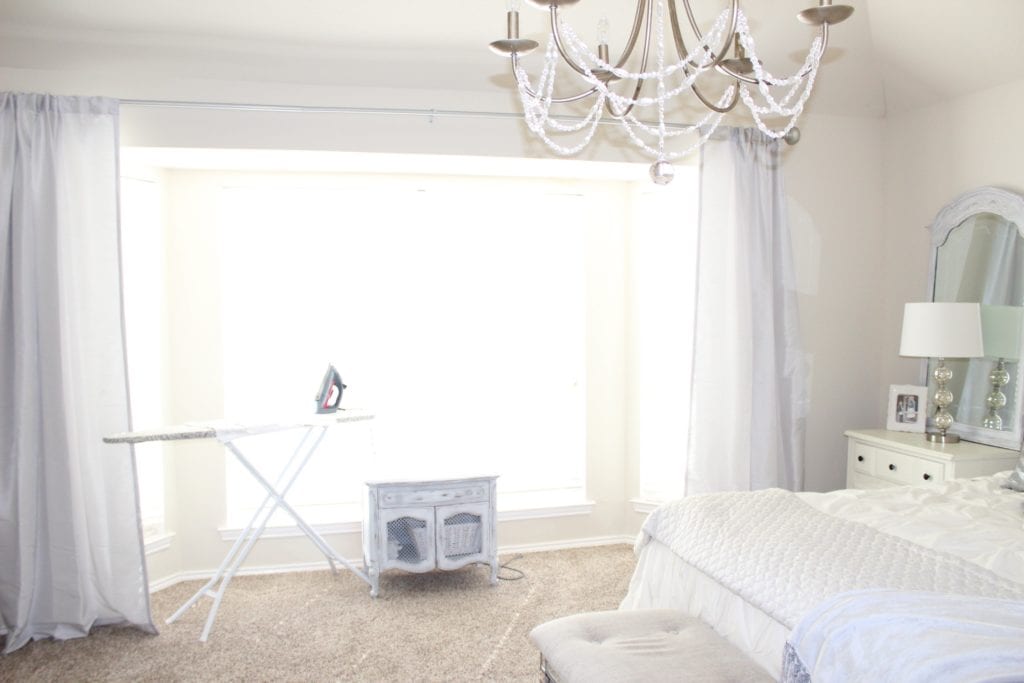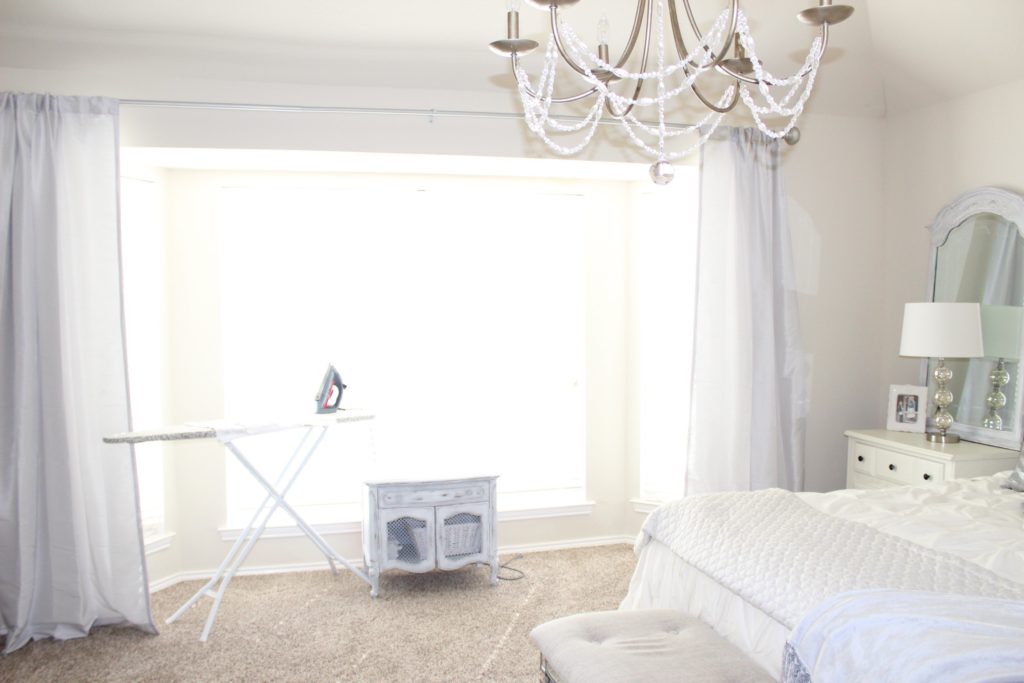 I can't believe I'm ACTUALLY sharing this picture but I want to show you that I have NOTHING on this side of the room.  I LOVE my bay windows and dupioni silk drapes.  I even painted an accent table to match my dresser.  BUT….I'm STILL looking for two PERFECT chairs for this room. I'm thinking linen arm chairs with either painted white trim or a natural wood finish, like the top of my new vanity.  There are many pairs I love but not at the right price.  I've also been scouring craigslist and Facebook marketplace for a vintage pair (at the right price) that I can makeover myself.  Crossing my fingers.  For now….this space is where we iron our clothing.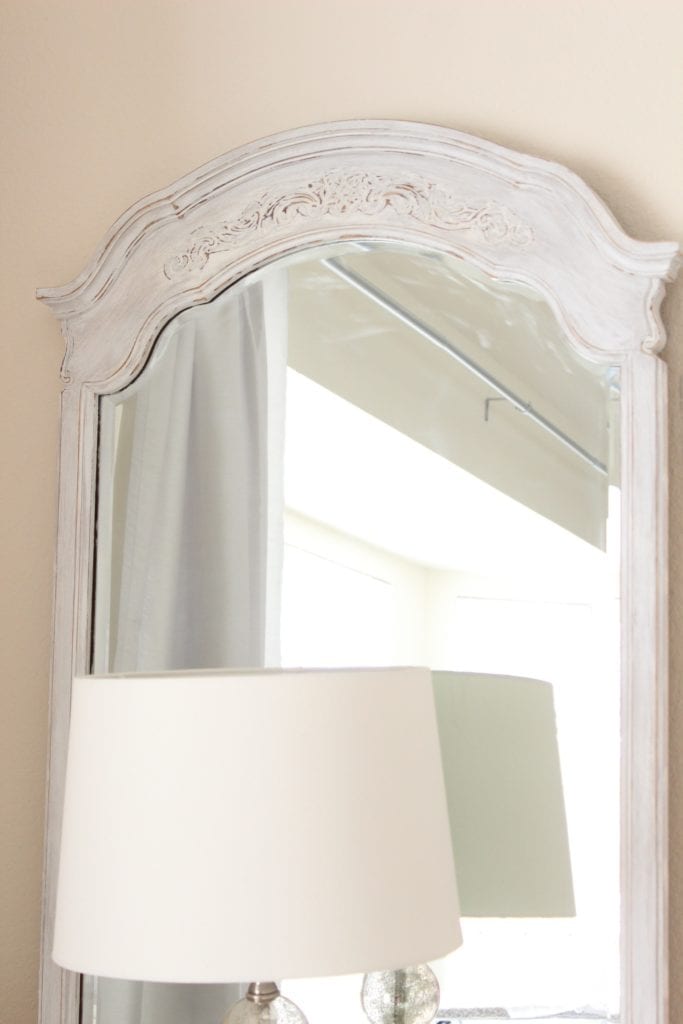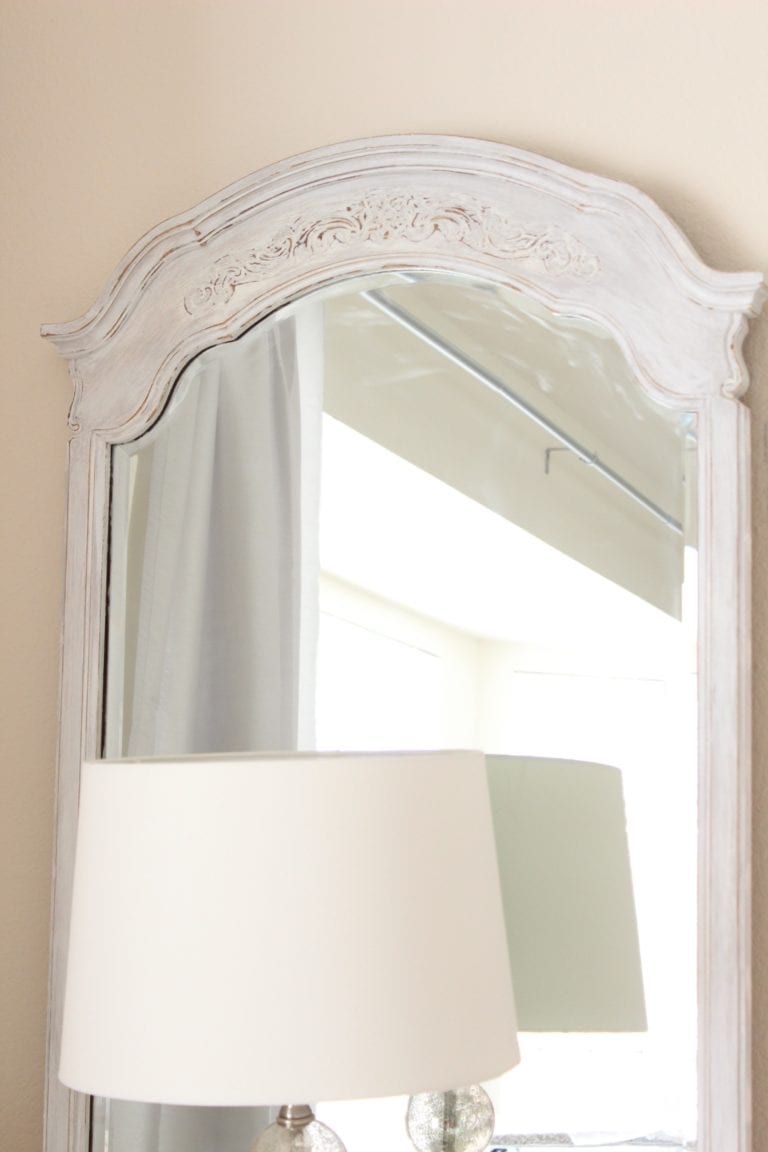 I found a vintage mirror (also painting it to match the accent table and dresser) and placed it above the left nightstand to add height because this master suite only has a window on one side of the bed.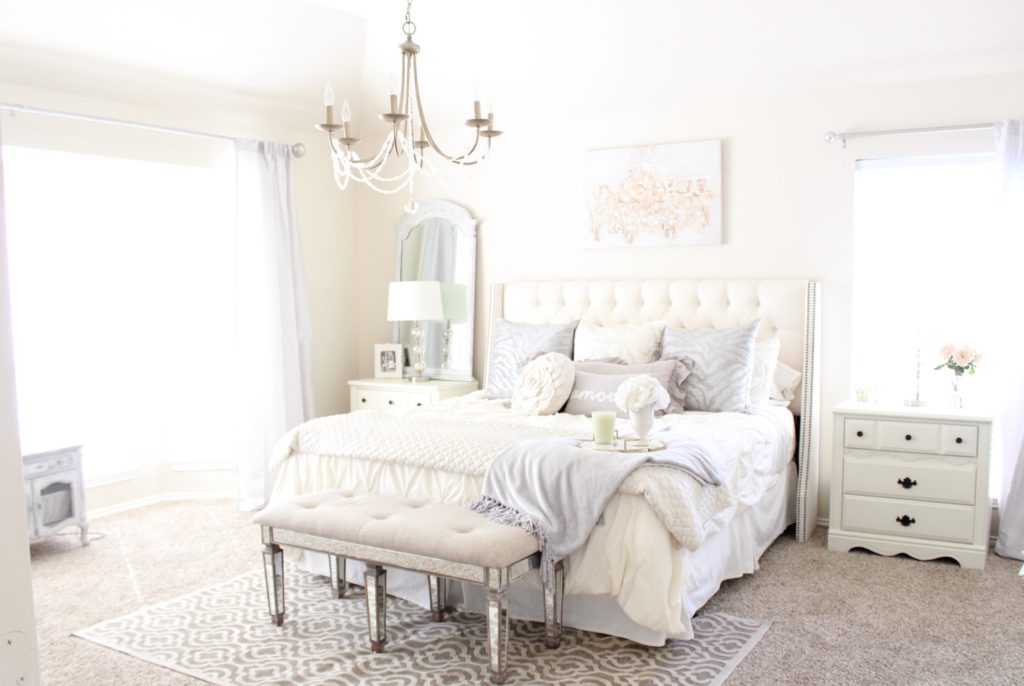 It's so strange and I was so annoyed by it BUT it absolutely works, balancing with something tall on that side.  I think we all have that "thing" about our homes that we wish we could change.  This would be one of them but it is what it is and the challenge is to make the best of it.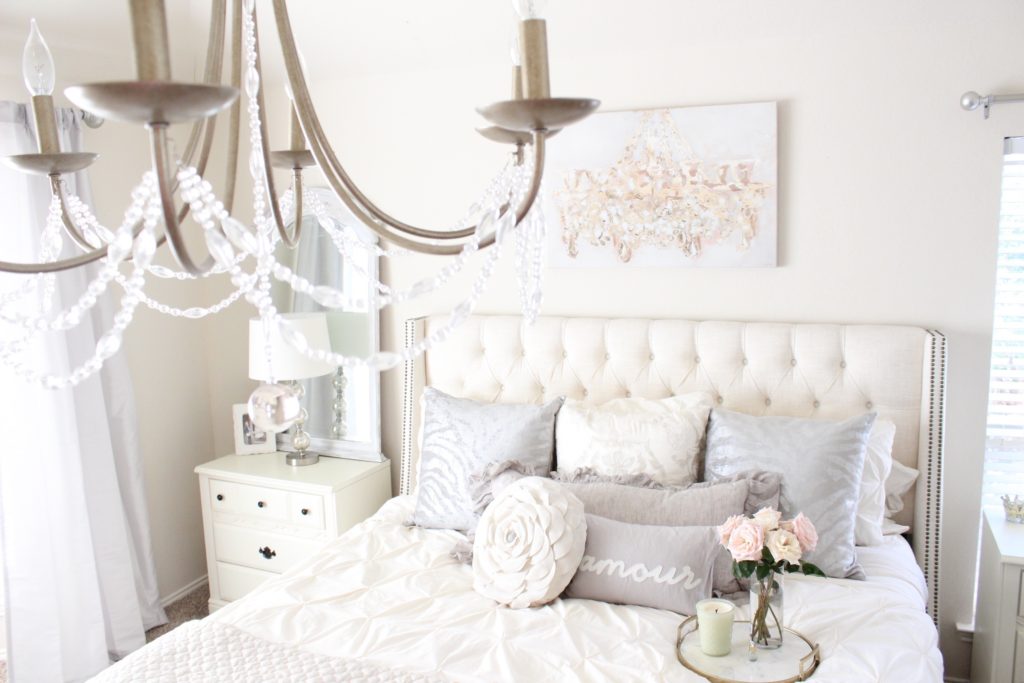 I love Oliver Gal canvas art, especially their chandelier prints.  This one is one of my favorites because it has the mixture of both light grey and gold AND it also has some blush tones used in the shadowing.  It's the perfect hint of pink and compliments pink roses or peonies, whenever I pick them up at the market and bring them home.  My new chandelier is a "winter gold" so it's not so warm and brassy and compliments the art perfectly.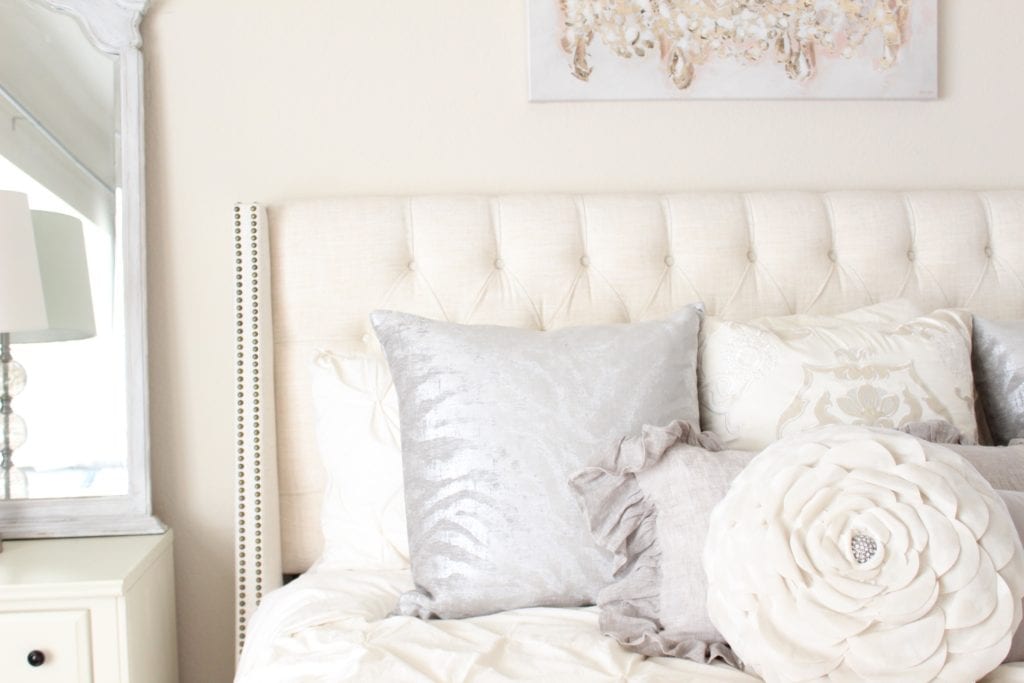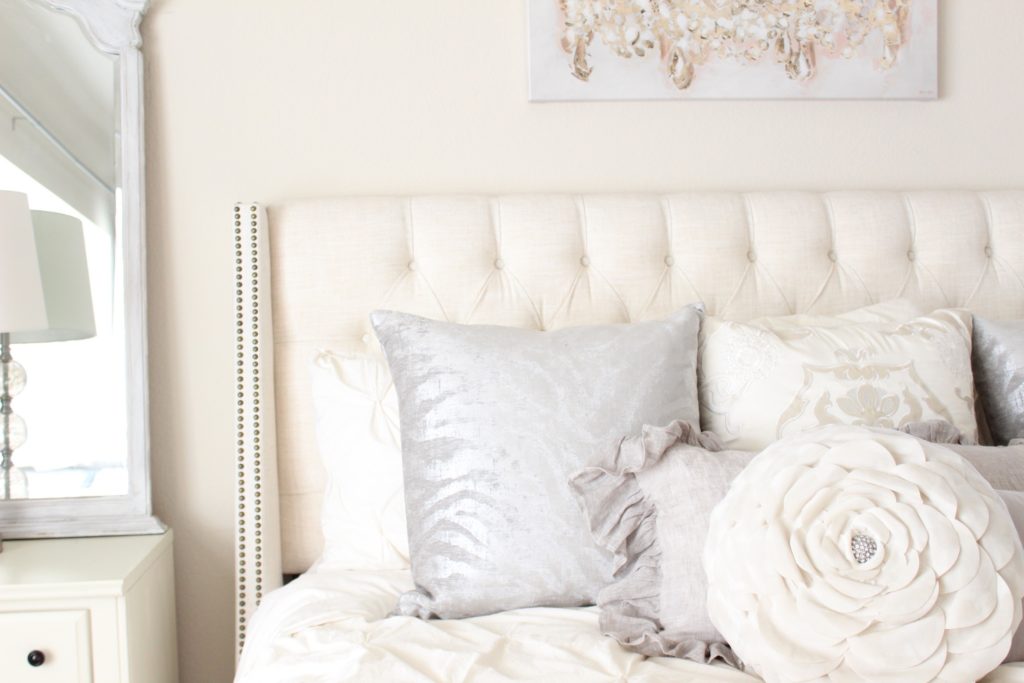 I found these gorgeous, large, silver crushed velvet zebra pillows at ZGallerie and I love how they look on either side of the large ivory pillow in the middle that I found at Horchow. I had to throw in a long ruffle lumbar pillow.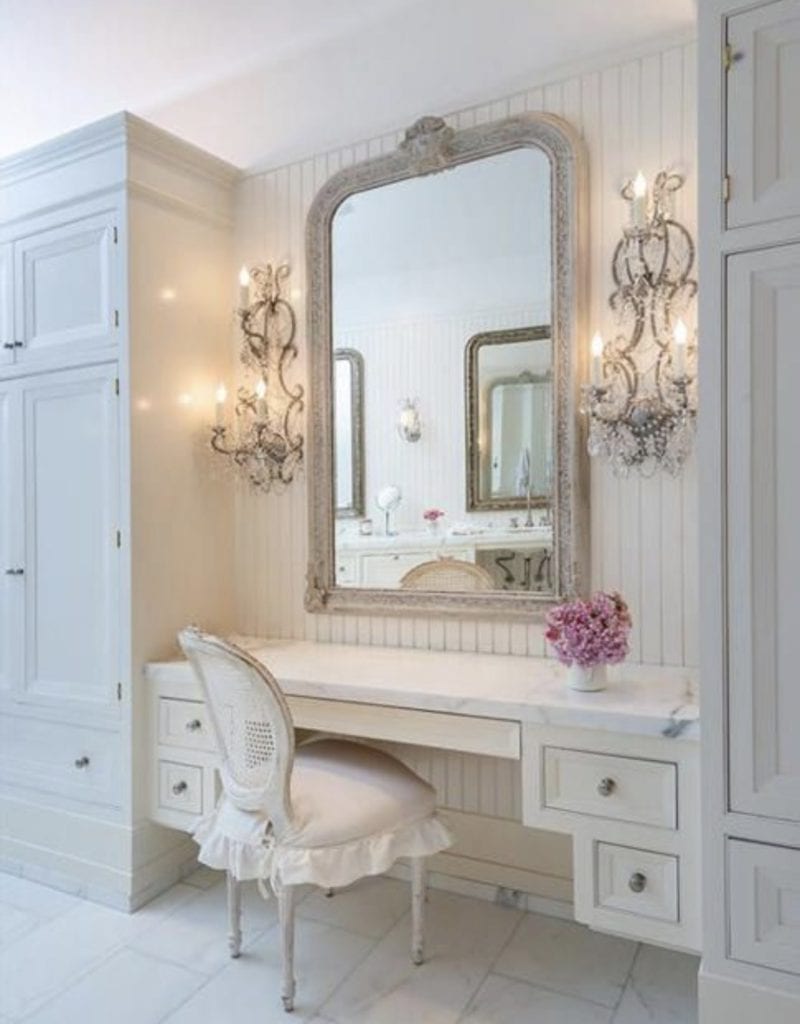 I'm really enjoying my room and updated vanity. My dream would be to have this one (above) of Jennifer Lawrence's,  from her home that she recently purchased from Jessica Simpson. But I still love it.😉💕


While the store I purchased the vanity/desk from doesn't have an online store, nor did they share who makes the desk, I am linking a similar one below and similar pieces to help you recreate and part of this look or all of it.  Every girl should have a pretty space to sit and do her makeup and put on her favorite perfume! I'm also linking items from my bedroom for your shopping convenience.

















Thanks so much for joining me today!  I would love it if you subscribed at the top of the page in order to receive my weekly emails of all my latest posts.  You can also follow me on Instagram, Pinterest, and Facebook to see what I'm up to in creating a home and lifestyle of inspiration!  Hope to see you soon!
I hope you're having the Happiest New Year!
xoxo,