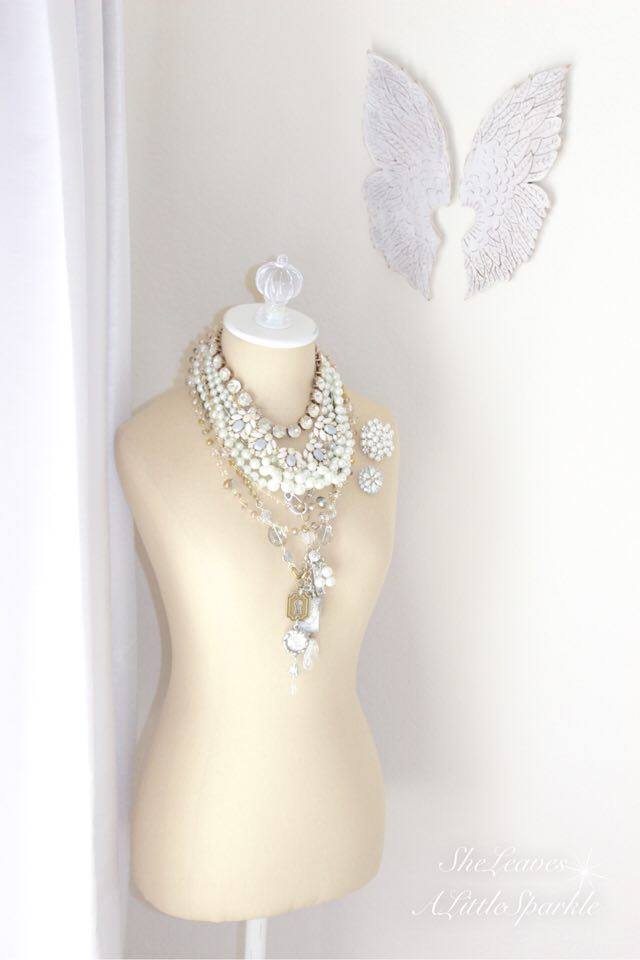 Hello there, gorgeous!  If you're linking to my blog from my friend Tanya at The Blissful Lane, welcome!  I'm so thrilled you are here!  If you're a regular visitor to my blog, I'm so delighted that you could join me again as I share some more of my home with you.  Today is a special occasion though because we're not spending time in the kitchen or visiting my living room.  I am inviting you into my boudoir, or bedroom, to see how I use of few of my favorite pieces of jewelry and perfume to be displayed and double as decor by adding glam in this blog hop.
Over the years, I've been helping clients with interior styling in their home. I've also helped them with styling their wardrobe and re-organize their closets and dressing rooms.  One of the most common things I see, besides disorganization, is that they tuck away all their pretty accessories and perfume bottles into drawers and cabinets.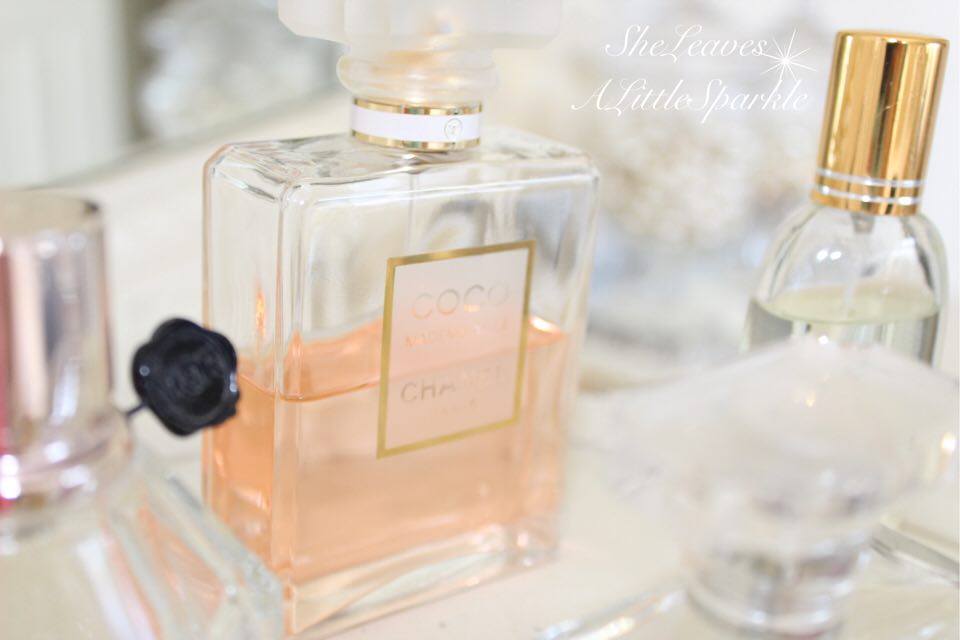 It's such a shame!  Look how beautiful these perfume bottles are!  They were designed to be seen.  Your husband, or significant partner, isn't the only one using this bedroom.  Make a feminine statement and add a touch of glam!  I'm not asking you to apply floral wallpaper, ha! Just personalizing a little more.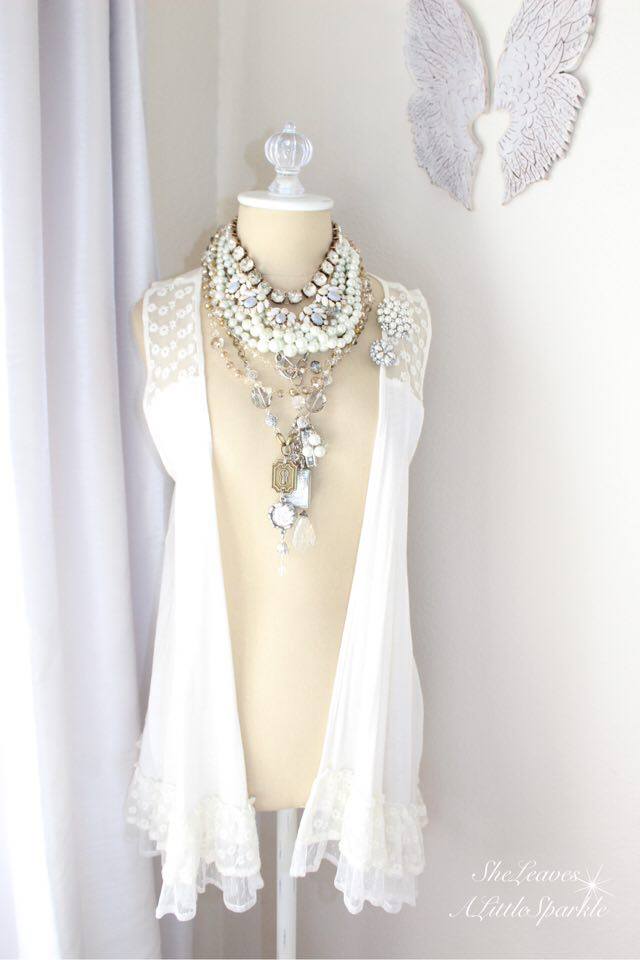 On my side of the room, just next to my nightstand, I have this lovely linen dress form from Pottery Barn Teen that I purchased years ago.  I bought one for my brick-and-mortar boutique and then loved it so much that I bought another one for my bedroom.  I add some of my favorite necklaces and switch them out from time to time.  A piece, like this sleeveless cardigan, is also a fun addition.  I may even add a belt or a scarf for fun.  Add a touch of glam by using things you already have.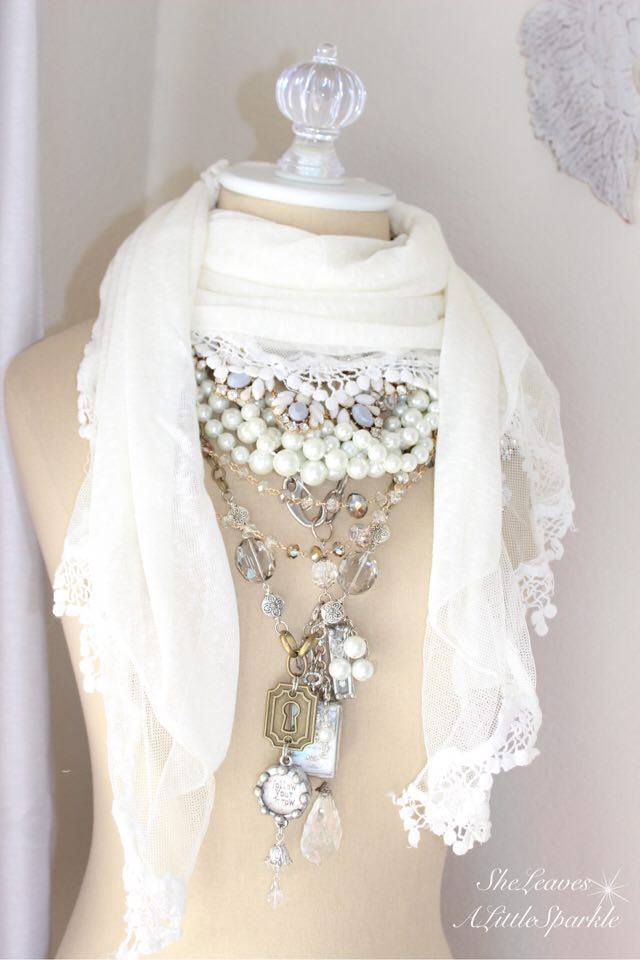 There are so many fun ways to change it up.  One important rule though – make sure that the pieces you choose flow with the color palette of your room.  Remember, you're not displaying all of your pieces. You're just using a few of your favorites that can double as decor and add femininity to the space.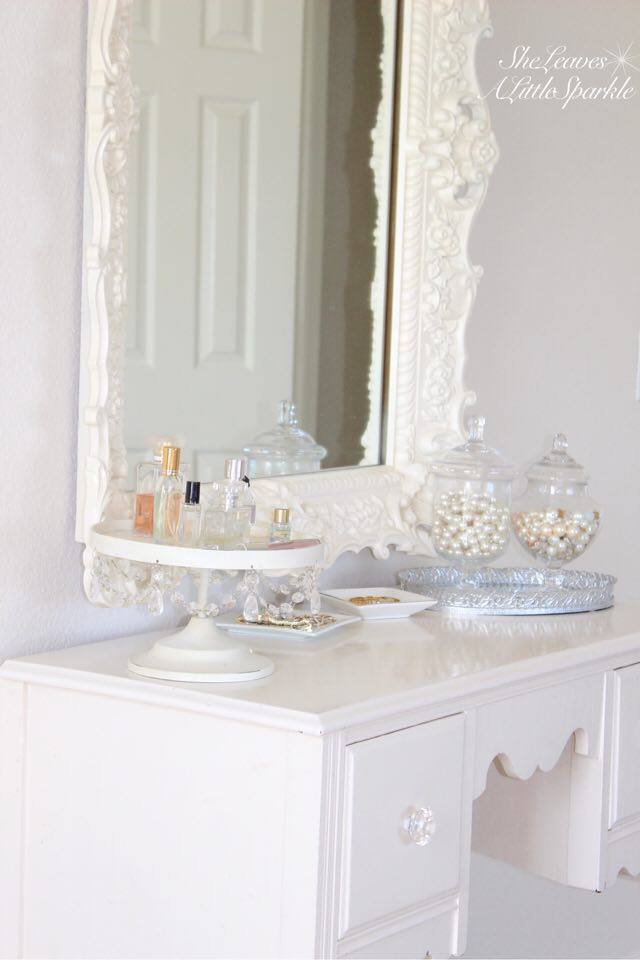 Even though I have a built-in vanity in my master bathroom, I love having a vanity in my room as well.  This piece is special because it is a family piece that my mother-in-law gifted to me years ago for Christmas.  On a girls' trip long ago, I found this cute cake stand with crystals on it and knew I wanted to use it to display my perfumes.  It was the perfect addition.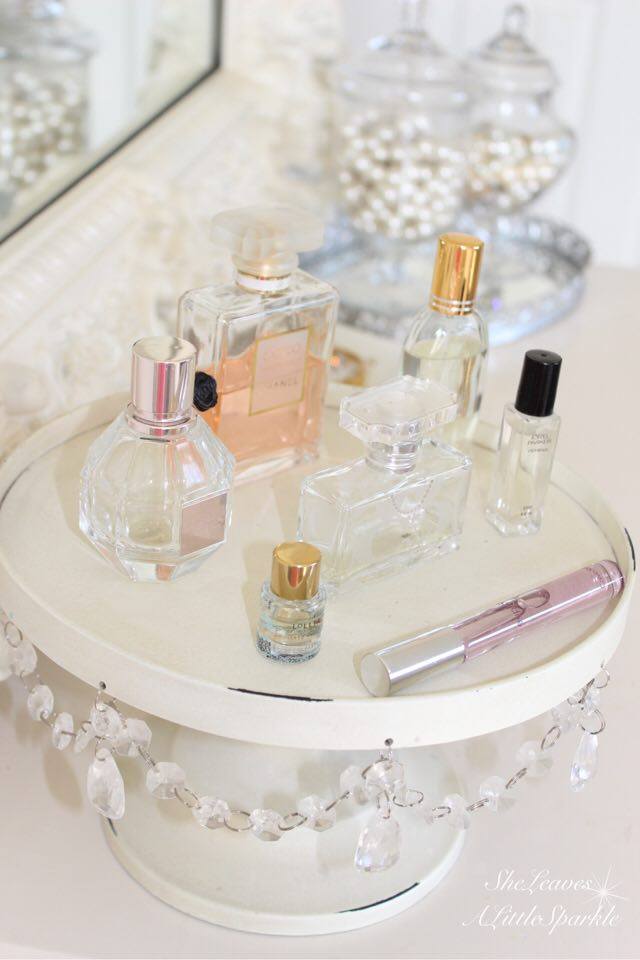 Everything just looks better on a cake stand, don't you think?  They're not just for triple chocolate chip bundt cakes! 😉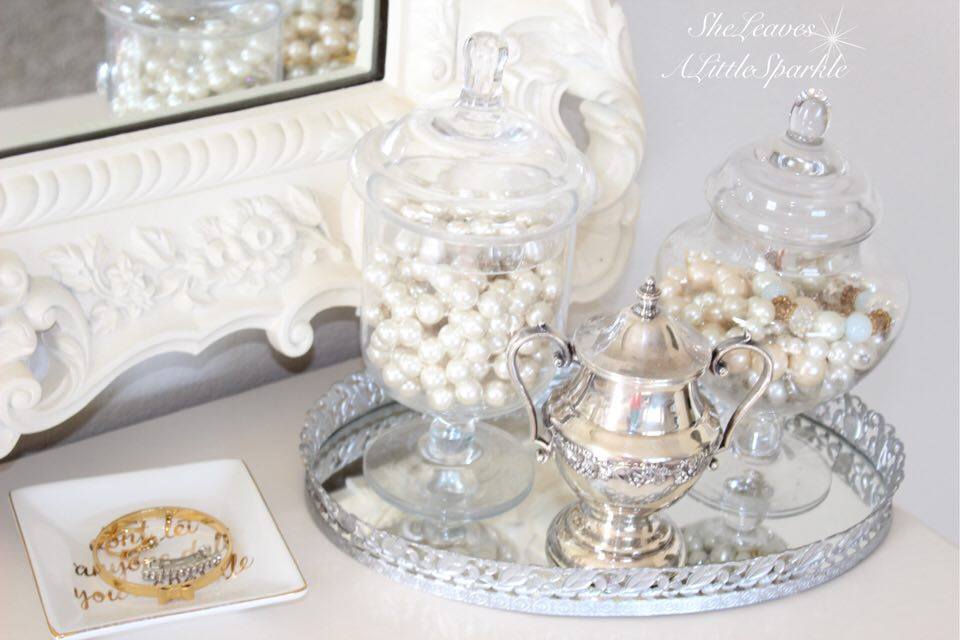 Apothecary jars are the PERFECT way to store strands of pretty pearls.  I have a lot of pearls.  Not all need to be displayed, just a few strands in one and some pearl bracelets in another.  A few weeks ago while spending an entire day antique shopping, I happened upon this vintage silver sugar urn.  I just knew what I wanted to use it for.  Any guesses?  My chapstick!  I love chapstick and apply it several times a day.  But instead of just tossing it on this vintage mirror tray, putting it in this small urn is so much prettier!  It's another easy way to add that touch of glam to your boudoir.
Owning a boutique for over 9 years now and having been a girly-girl my entire life, I have a LOT of jewelry.  I have a dresser full of drawers and dividers to organize pieces by color and then hang a majority of my necklaces on a system in my closet.  For the pieces that I wear most days, like my rings and watch and a couple pairs of favorite earrings, I like to keep them on my vanity in these little dishes.  These two dishes are both gifts from friends and so that makes them extra special.
There's no doubt when walking into this room that a woman lives here.  But it's just enough glam and femininity without being overwhelming.  It's classy.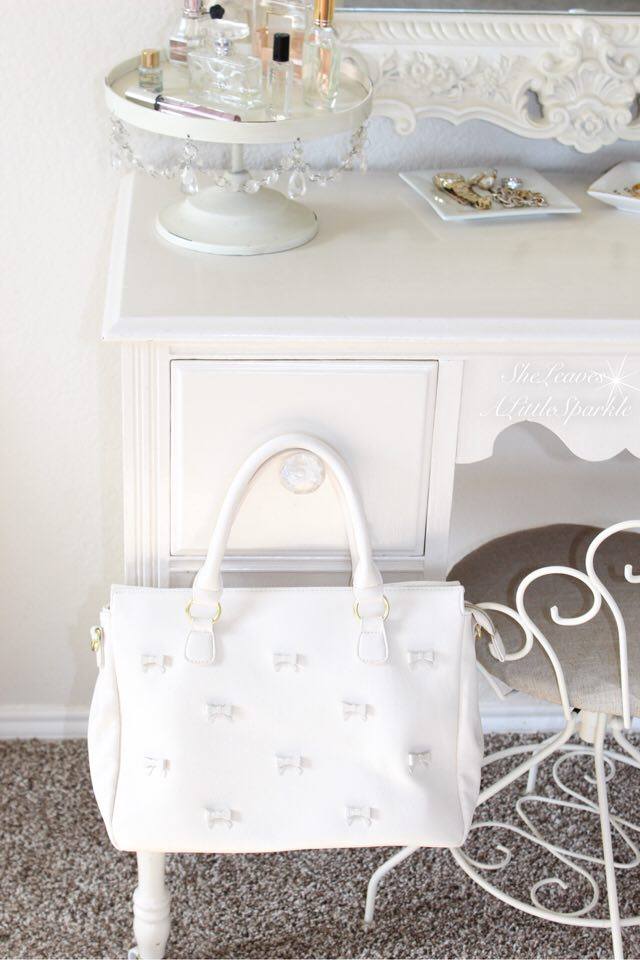 I know I sound like a broken record in my household when telling everyone to put their things away where they belong each day.  But who says you can't leave your handbag out if it looks so cute in your room and compliments the decor? 😉
I'm pretty good about my nightly routine and getting ready for bed.  However, if coming home half-awake, I just want to take out my earrings or tear off my pearls and sink right into my bed and dream away.  It's nice to have a little something pretty to put my lovely pieces in.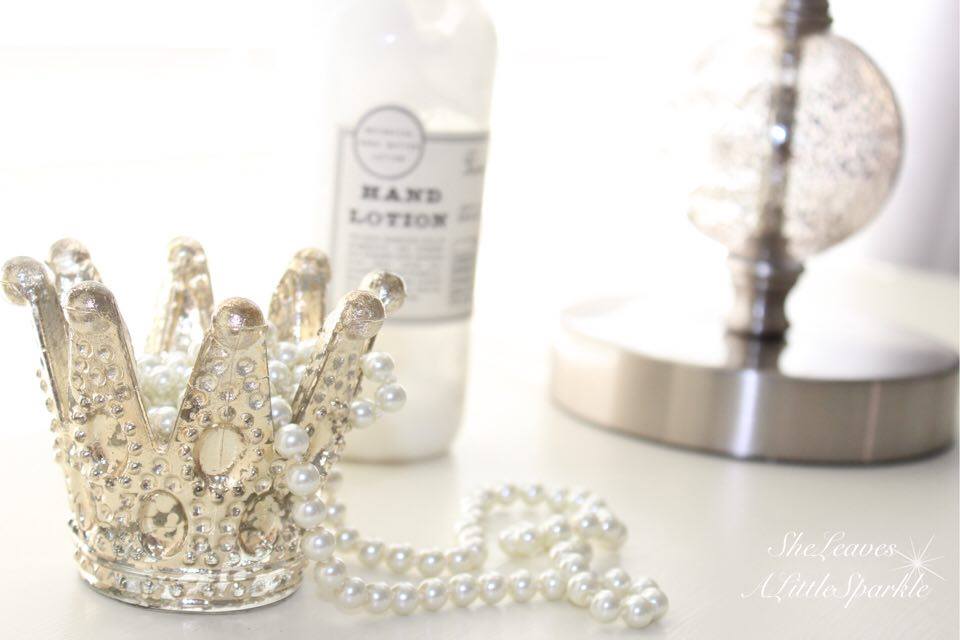 If you ask me, it looks like they're meant to be there!

I hope you feel inspired to look through your pretty things and find a way to display some of your favorite pieces. Adding glam to your boudoir is simple and it's fun. Thank you for joining me here and hope you come back soon! I would love it if you subscribed to my email list so that you'll know when I've posted on my blog. It will also let you know when I have new items in My Shoppe or if there's a sale!
I invite you to hop on over to the next blog, Moth Design, and find even more inspiration from Erica. I am loving the ideas shared today. Don't forget to share these ideas on Facebook or pin them to Pinterest so that you have them whenever you go to decorate!
All Blog Hosts:
SummerAdams.com
Moth-Design.com
LoveYourAbode.com
StyledWithLace.com
ClassyGlamLiving.com
ThePoshHome.com
LetsDazzleDarlings.com
TheBlissfulLane.Blogspot.com